Sending an engagement or wedding card is a really lovely gesture to help celebrate with the happy couple. They'll love hearing your words of congratulations and feeling the love and joy that emanates from your card.
While every card shop, supermarket and stationers sell wedding cards, not all of them have a very inclusive selection. It can be hard to find a wedding card that reflects every couple, such as interracial couples, gay couples and interabled couples.
We've found some of the prettiest wedding and engagement cards that represent a larger selection of couples. Take a scroll through and order one for your friends or family member. You can find out some ideas of what to write in a wedding card here and in an engagement card here.
NB: We have included third party products to help you navigate and enjoy life's biggest moments. Purchases made through links on this page may earn us a commission.
Wedding Cards for Black and Interracial Couples
Black Bride and Groom Wedding Card - £3.30, Etsy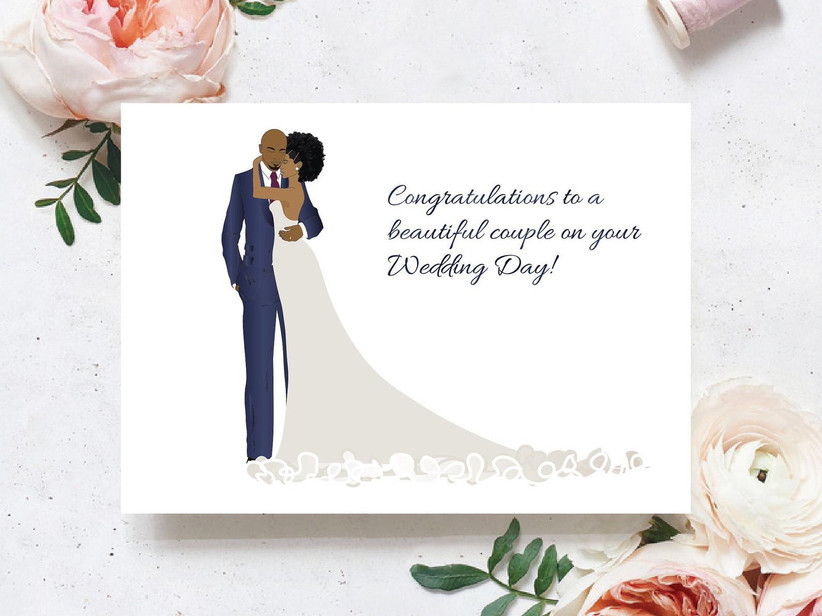 You can personalise this gorgeous card inside to make it even more special to give to the couple on their wedding day. It's particularly nice for any brides who'll be wearing their hair natural on the big day.
Congratulations Card - from £3.19, Scribbler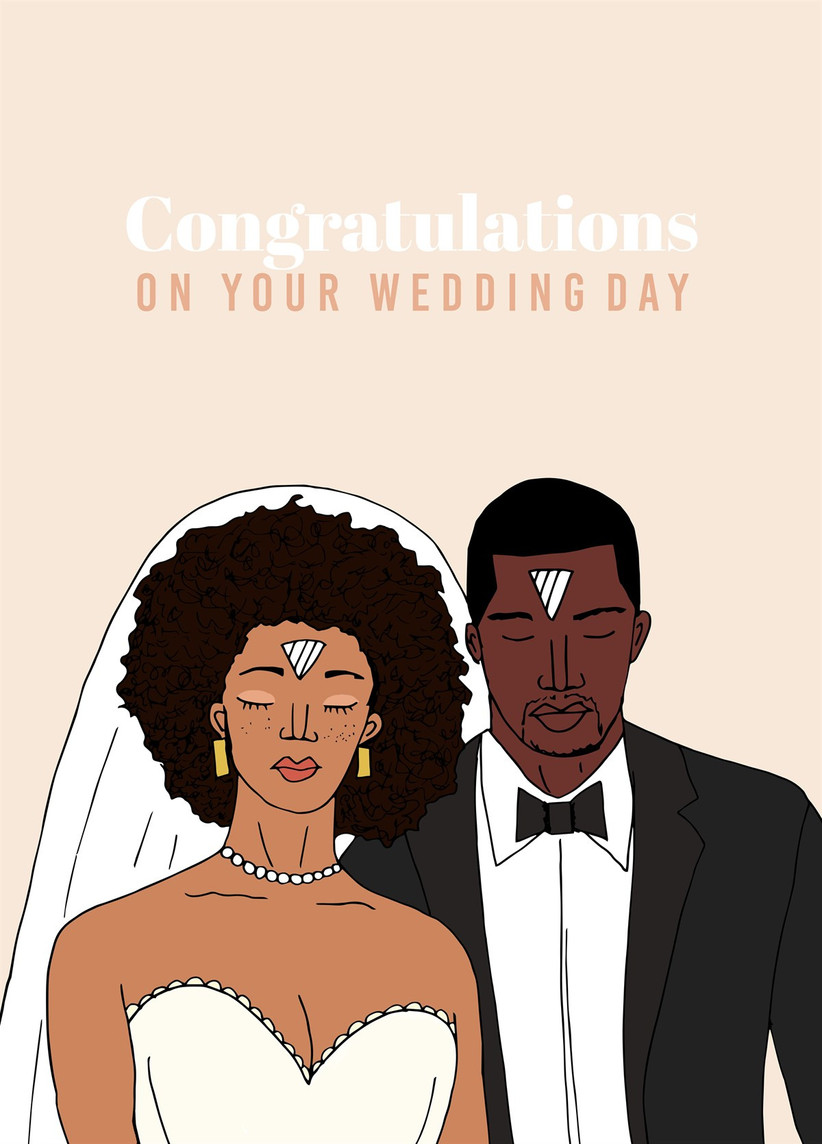 We love the cute illustration on this card from Scribbler. They're a great company for inclusive cards for engagements and weddings, with lots of gorgeously-drawn artwork.
Us 4 Ever - from £3.19, Scribbler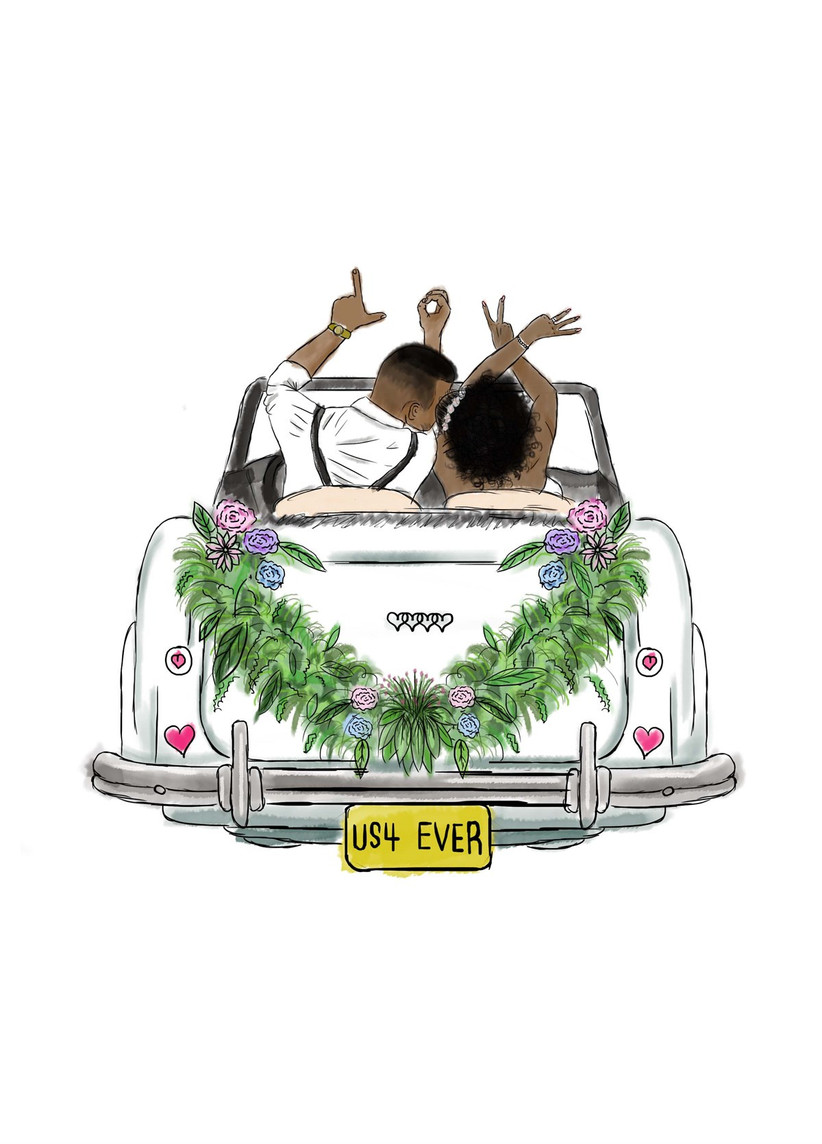 Are your friends a hip, cool couple? This card will capture their vibe perfectly as they start their new life together riding off into the sunset.
African Fabric Couple Card - £6.45, Etsy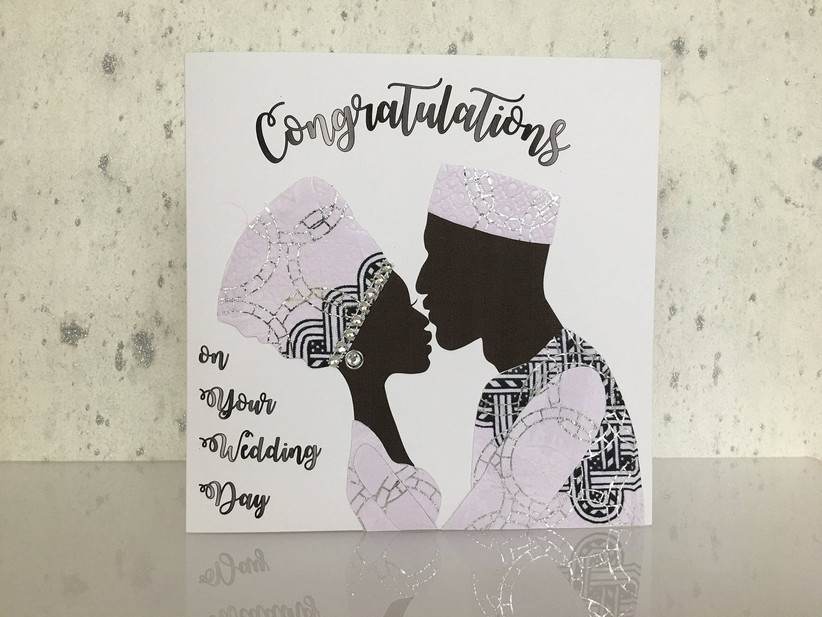 Made with embroidered black and white dashiki print fabric, you can choose from 11 different skin tones for the couple on this card. The designer makes African-inspired wedding cards in a range of fabric and designs in her Etsy shop so check them all out.
Traditional African Couple Engagement Card - £3.50, Etsy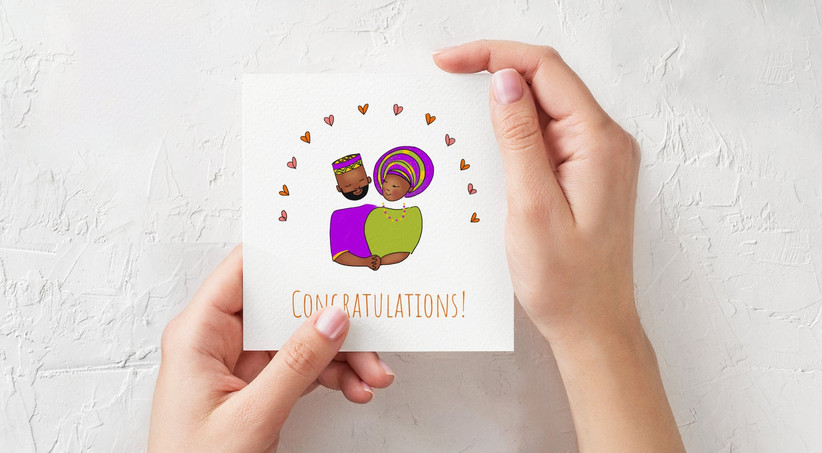 Celebrate Black love with this wonderful engagement card that has a lovely design with lots of colour and is blank inside for your own message.
Happily Ever After Card - £2.90, Etsy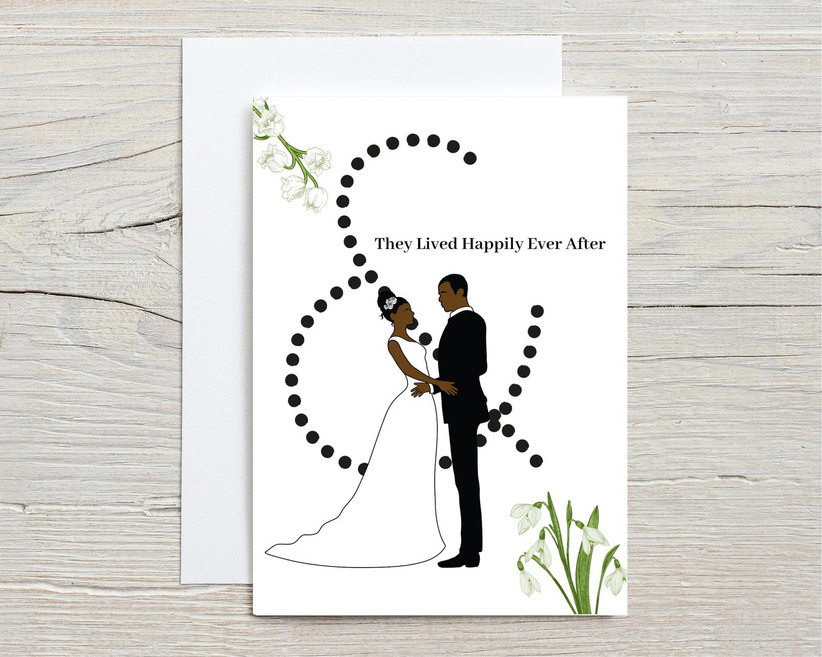 If the couple has had a fairytale romance, there's no card more perfect than this "And they lived happily ever after" card. This card designer also has a lovely one with a traditional Kente print wedding dress.
Black and White Photograph Wedding Card - from £3.19, Scribbler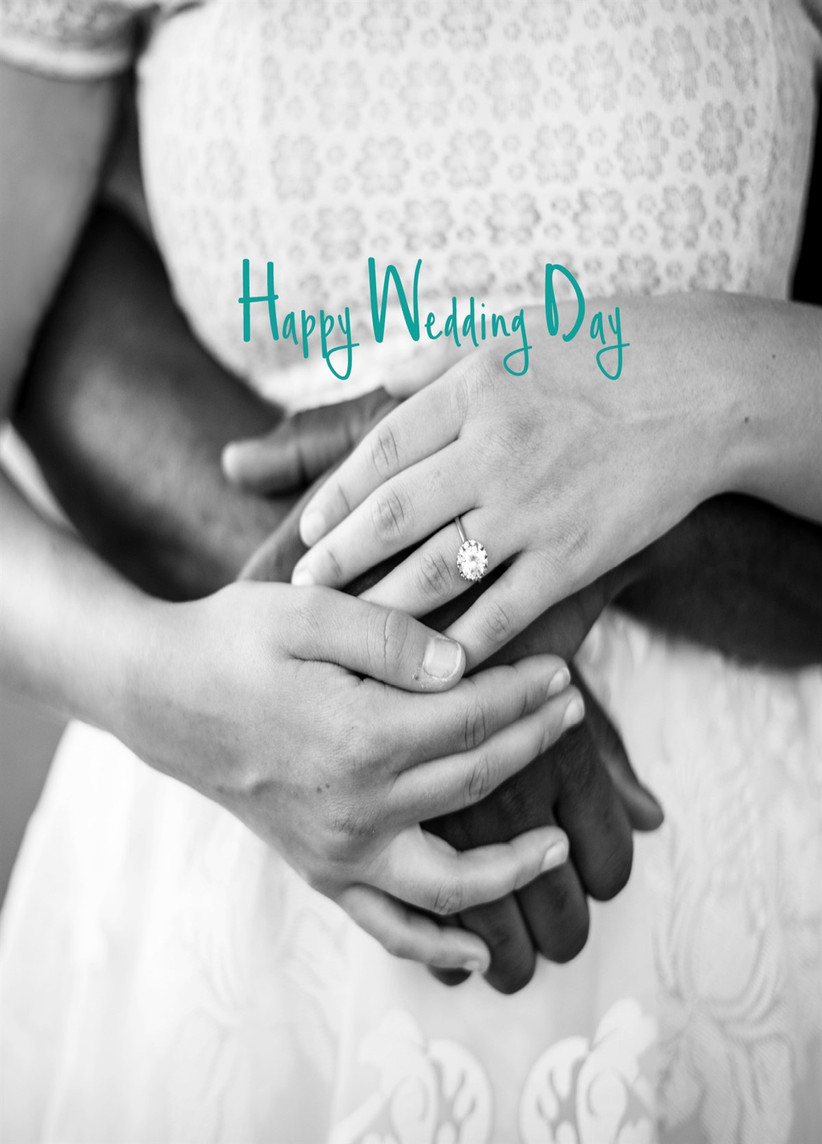 If the couple are interracial, this simple but beautiful card could be perfect.
Interracial Couple Card - £3.50, Etsy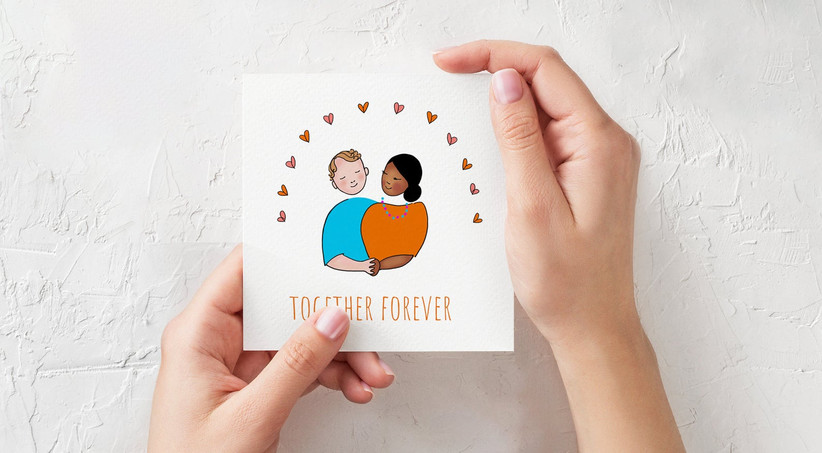 Whether this is for an engagement or wedding, this card comes in two interracial options and the couple will love that they're reflected in it.
Black Bride and Groom Dancing Card - £3.30, Etsy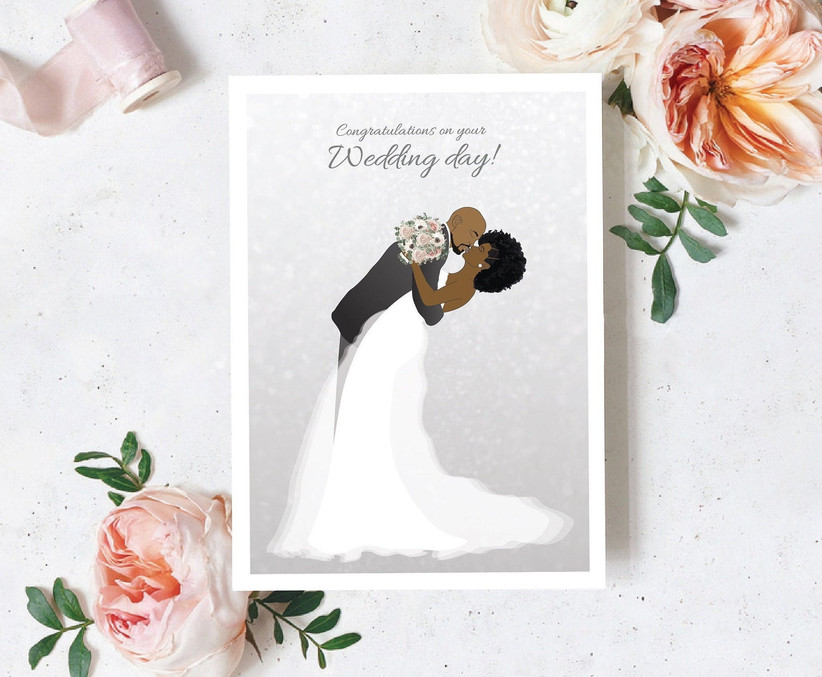 Looking for a romantic wedding day card? The illustration on this one is truly stunning and will get the couple excited for their first dance and kiss!
Kiss the Bride Card - from £3.19, Scribbler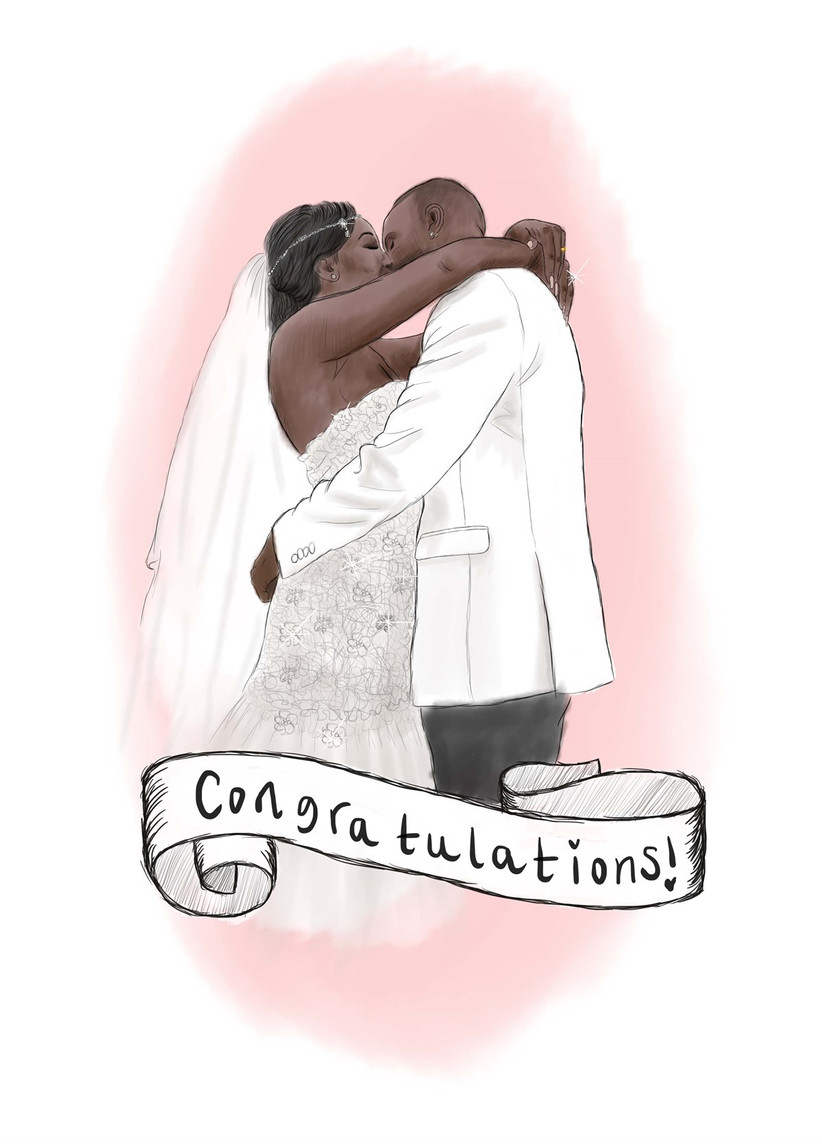 Congratulate the happy couple with this cute 'you may now kiss the bride' card. Designer Kitsch Noir have lots of seriously great designs that you'll want to check out.
Wedding Cards for Asian and Muslim Couples
Islamic Wedding Card - £3.59, Etsy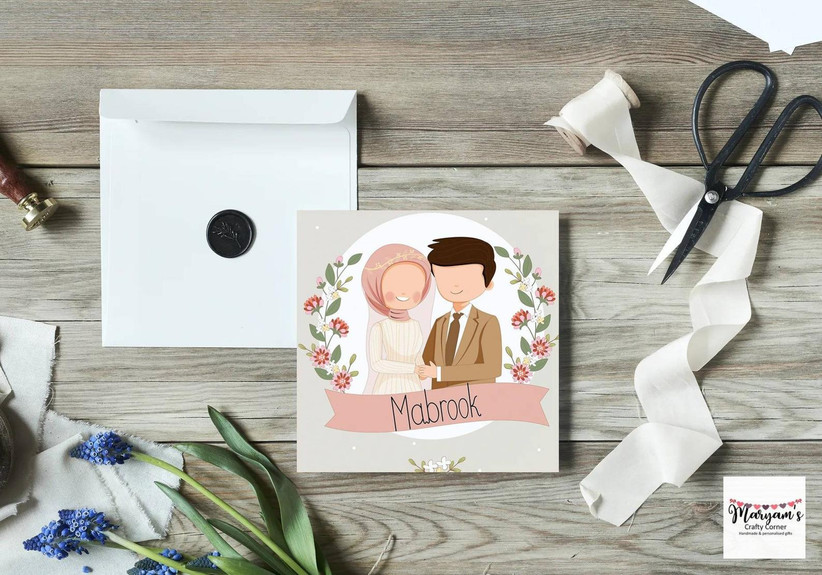 This sweet congratulations card for an engaged or newly-married couple will help them celebrate their happy day.
Eco-Friendly Indian Wedding Card - £3.50, Etsy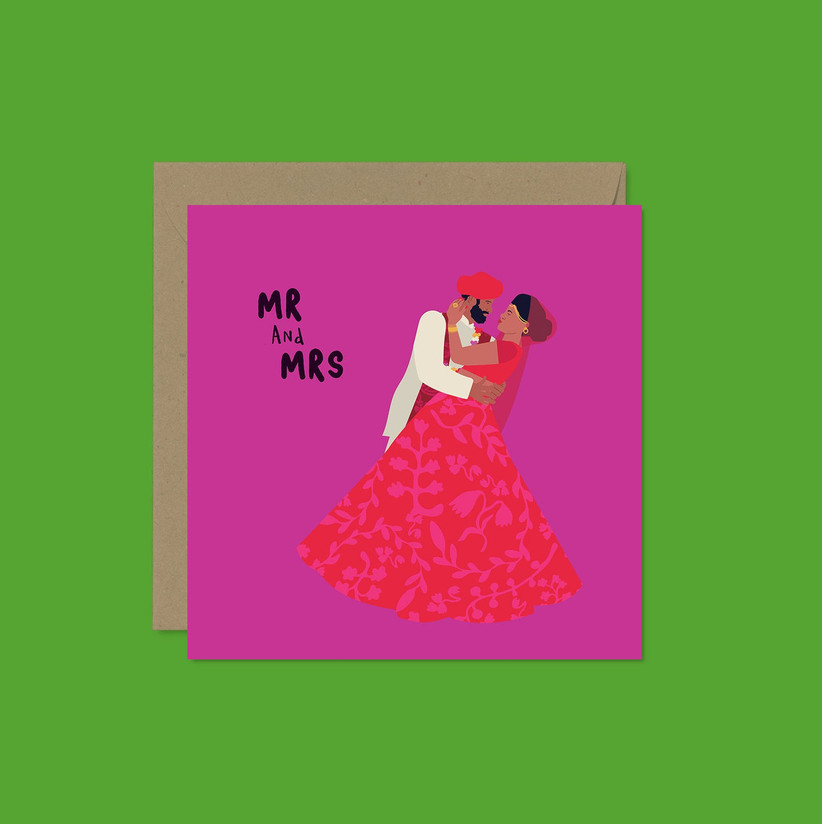 How gorgeous is this card, plus it's got great eco-friendly credentials! Not all colourful cards can be easily recycled, but this one is made from recycled uncoated card and compostable sleeve. It can be personalised too!
The Lokesh Card - £4, Etsy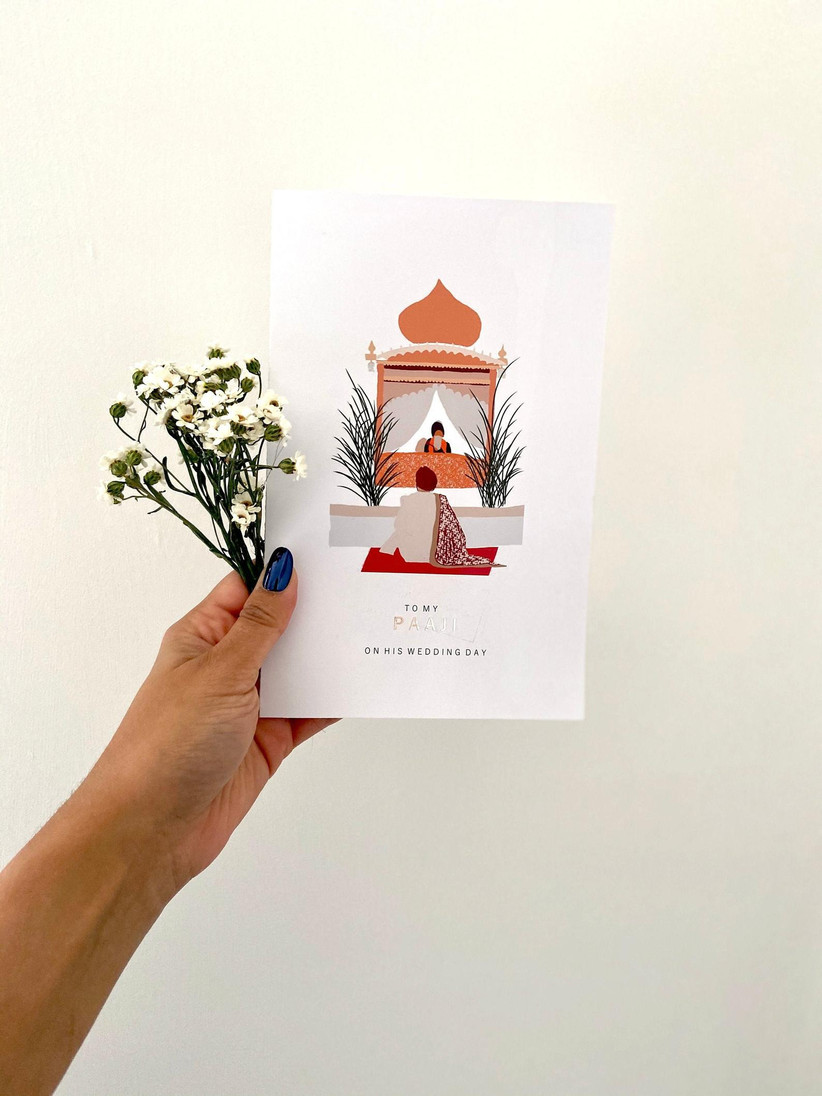 This card comes with 'Paaji' on the front so is perfect for a brother or close friend, but you can customise it with any name and the foil comes in silver, gold or rose gold.
Interracial Indian Wedding Card - £4, Etsy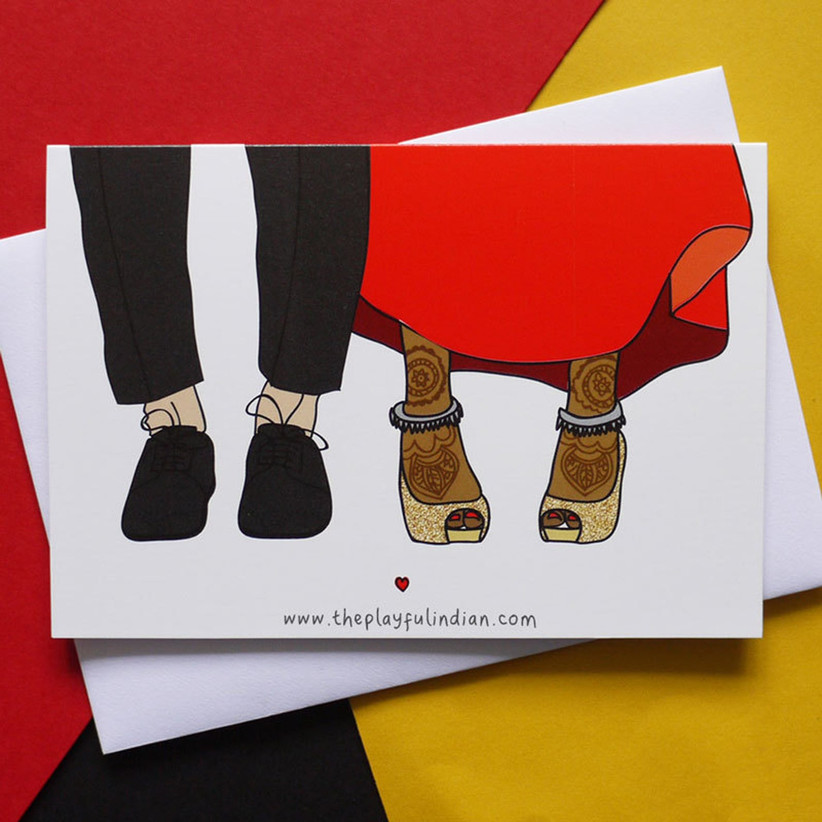 There's a whole range of couple combinations on these cards, including same-sex desi couples and interracial couples. They're colourful, fun and quirky.
Elephant and Bouquet Card - £3, Etsy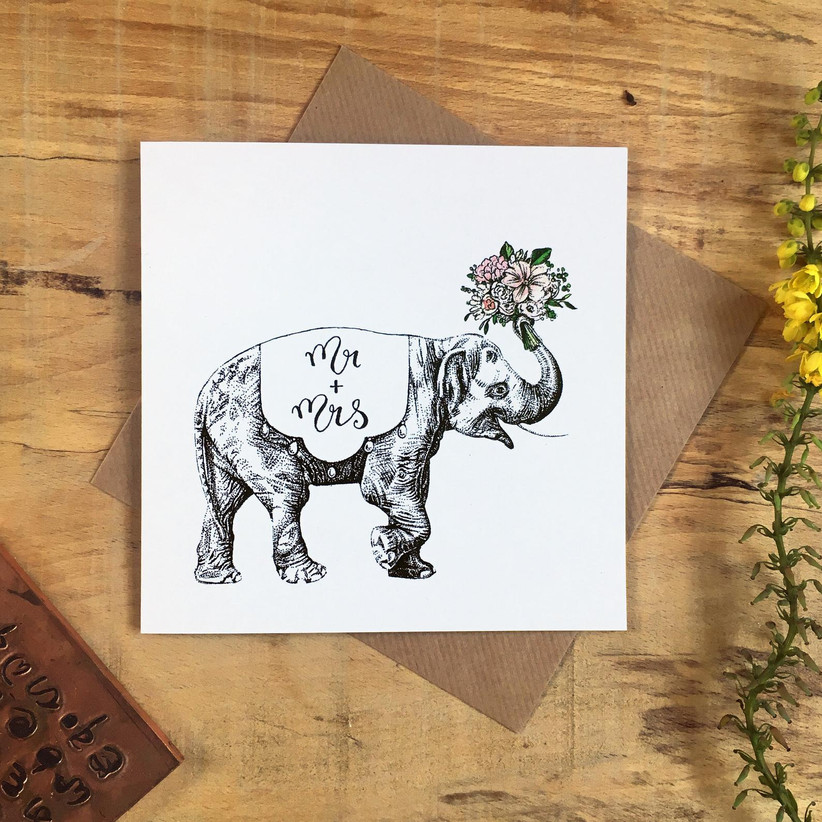 We're in love with this delightful elephant card, featuring a pretty bouquet in its trunk. It's originally a hand-drawn image, now printed onto high-quality card.
Islamic Wedding Card - £3.59, Etsy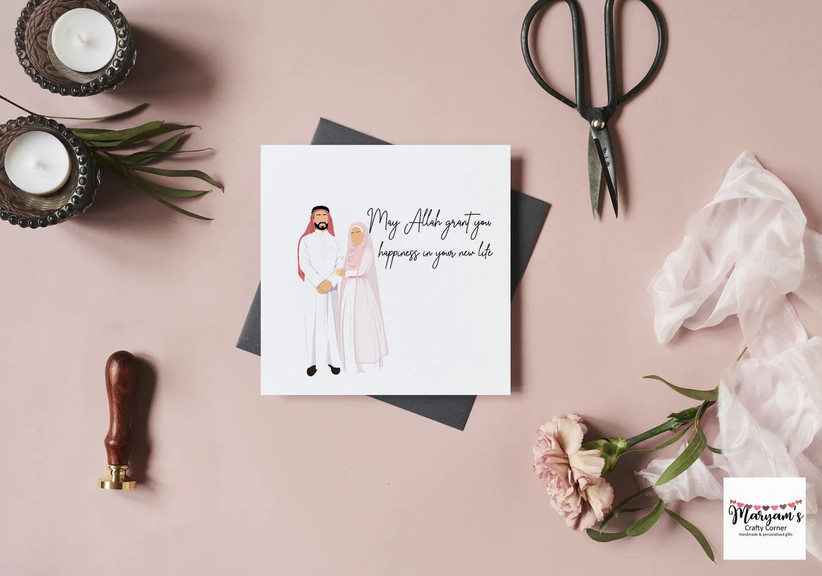 There's a wonderful message on the front of this card that will fill the newlyweds with joy.
Traditional Ceremony Couple Card - £4, Etsy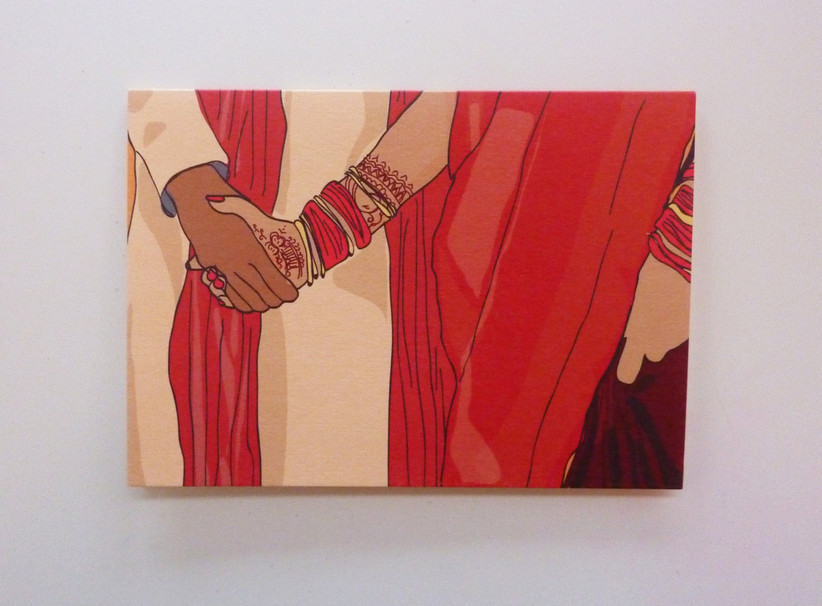 We love this image of the couple holding hands during their wedding ceremony on this card. It's a really simple, beautiful moment and makes for a wonderful illustration.
Bright Indian Wedding Card - £3.59, Etsy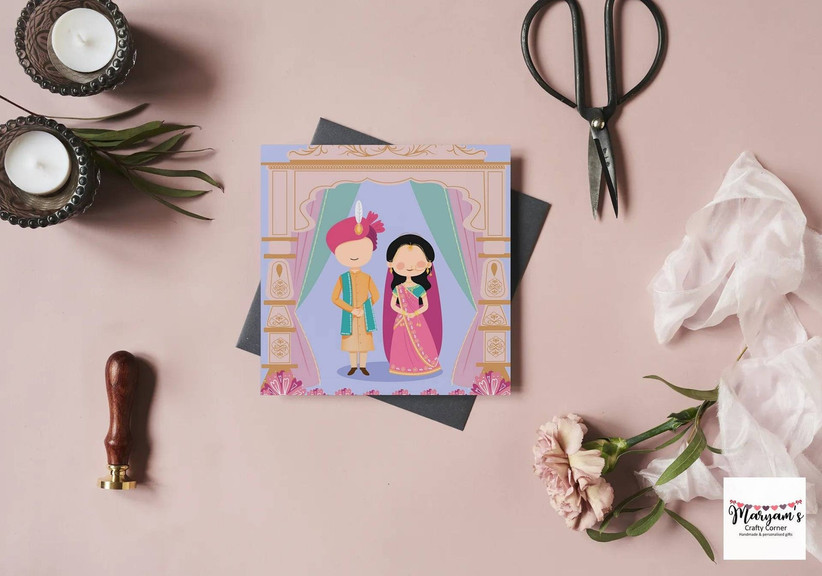 Whimsical, colourful, fun: this pleasing Indian wedding card will be so appreciated by the couple. There's a few different designs in this range so choose one that best fits your couple.
Wedding Cards for Gay Couples
LGBTQ Engagement Card - £3, Etsy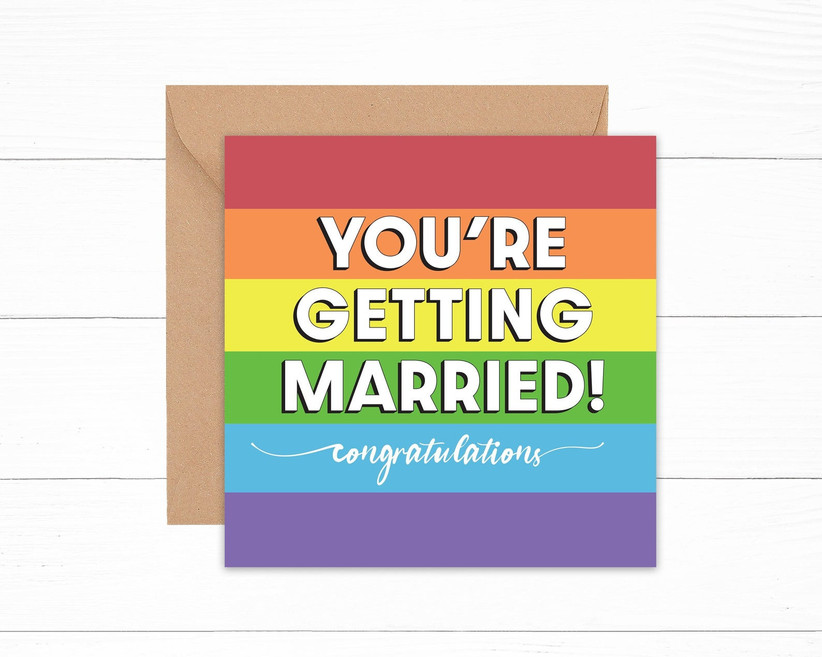 If you'd like an LGBTQ engagement card that doesn't make any illusions to gender, this rainbow flag card is perfect. It's great for lots of couples but especially non-binary ones.
Groom Groom Pow Card - £3.20, Etsy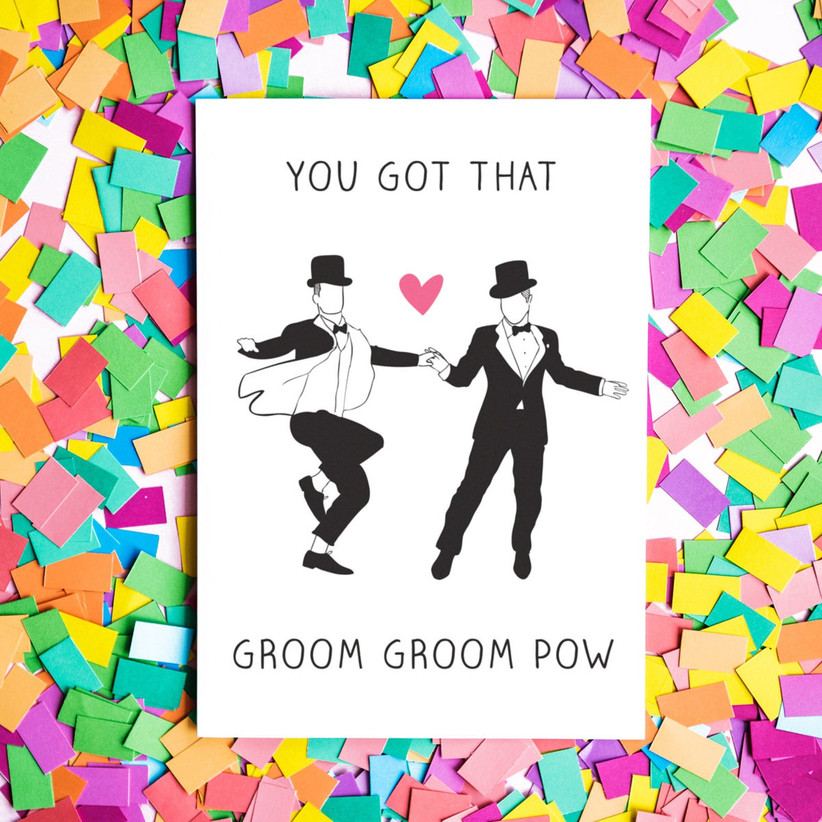 This hilarious gay wedding card is perfect for two grooms! It's guaranteed to get a laugh out the couple.
Mrs and Mrs Card - £2.45, Etsy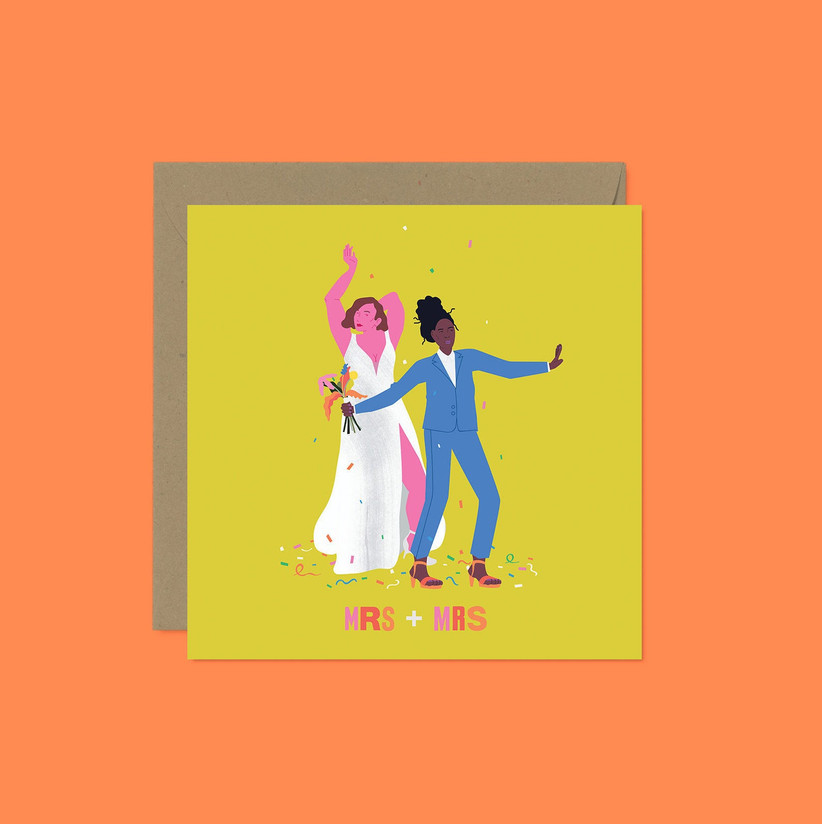 We love the bold colours and playful illustration on this cute card that'll make you want to dance along with the couple.
Just Married Card - from £3.19, Scribbler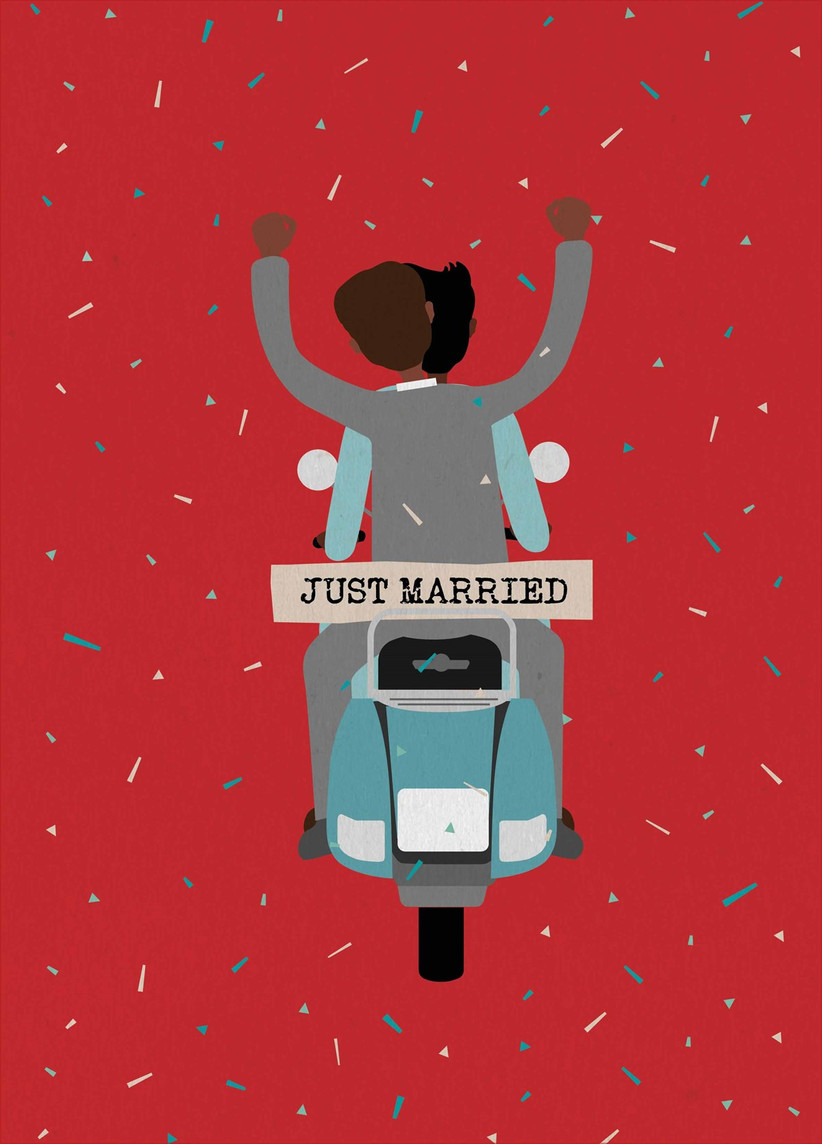 A bicycle made for two gets a modern twist in this cute LGBTQ card featuring these newlywed grooms.
Purrfect Couple Card - from £3.19, Scribbler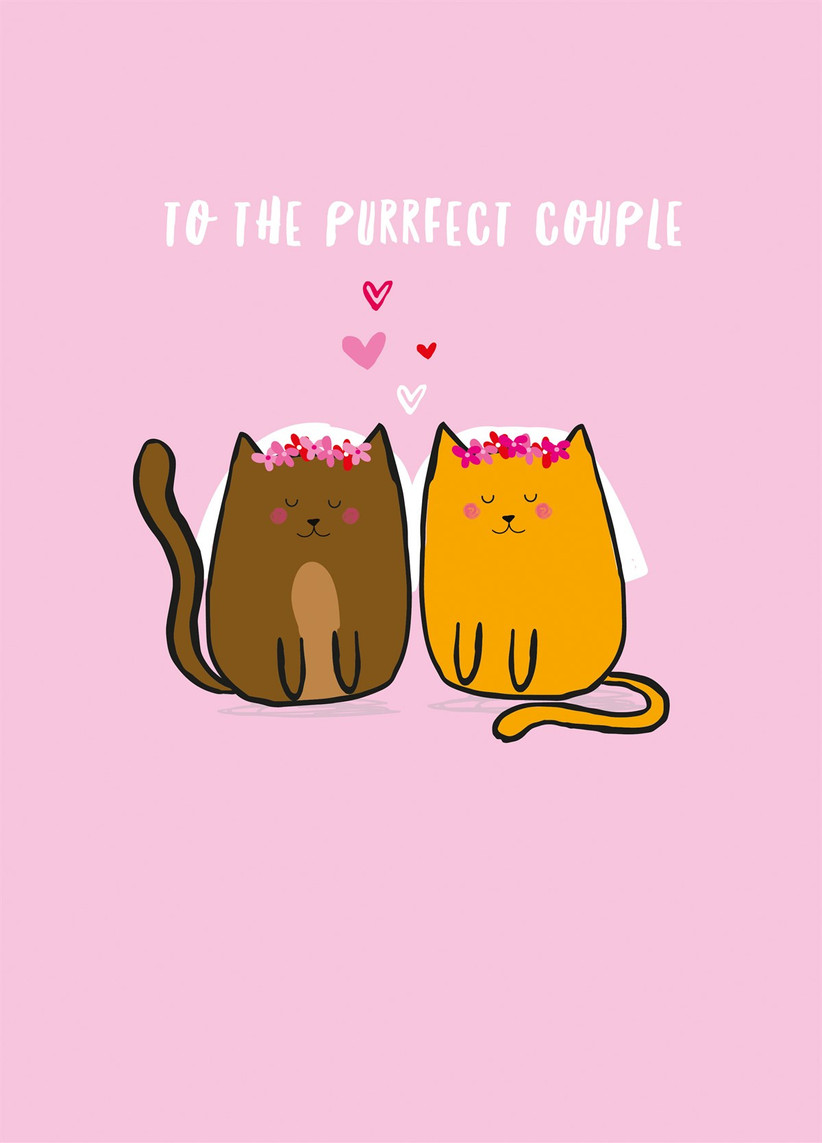 Wish your pals a meow-gical day with this adorable cat card!
Bumble Bee Card - £3.20, Etsy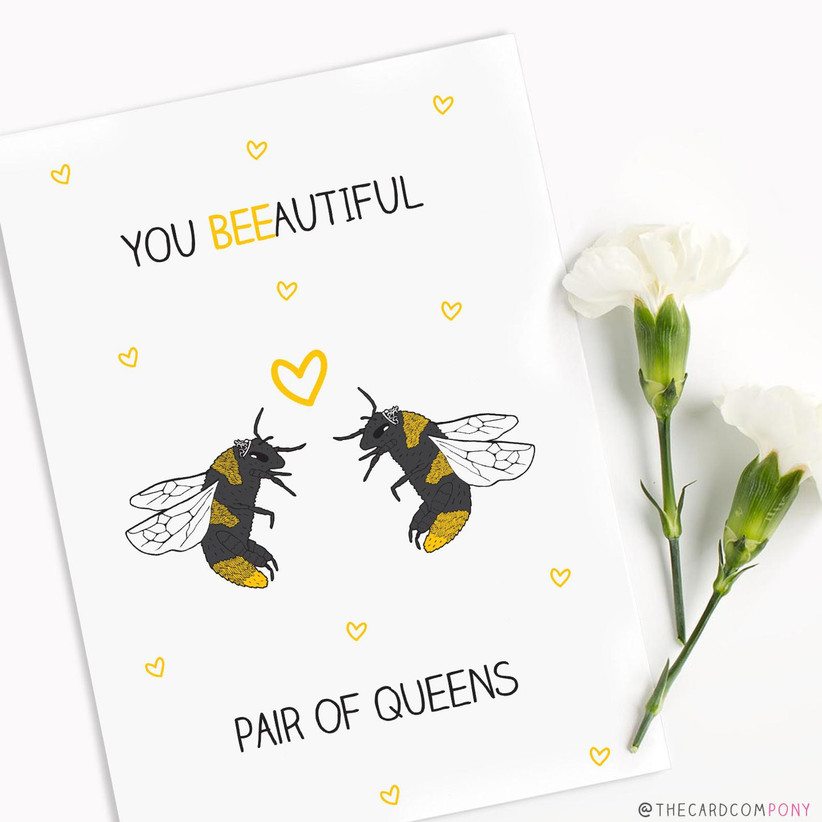 This card is great for lesbians or gay couples (especially if they're fans of the drag community), with a humorous little bee pun that'll make them smile.
Dachshund Gay Wedding Card - £2.95, Not On The High Street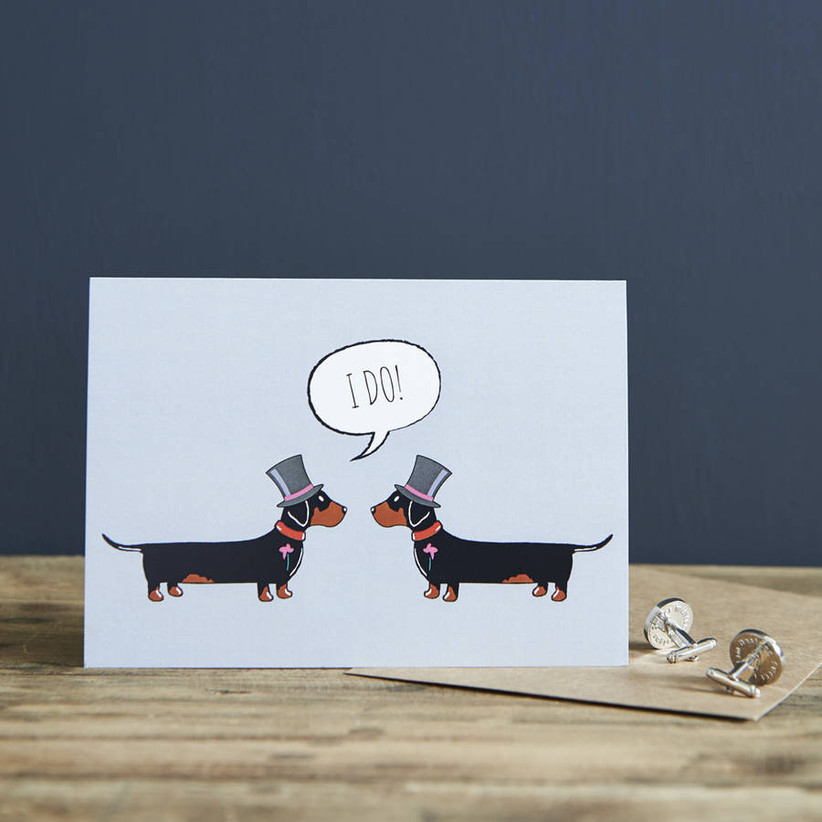 Dog lovers? This card is ideal for a couple after their wedding or civil partnership. It'll take pride of place on the mantlepiece.
Lesbian Couple Card - £3.15, Etsy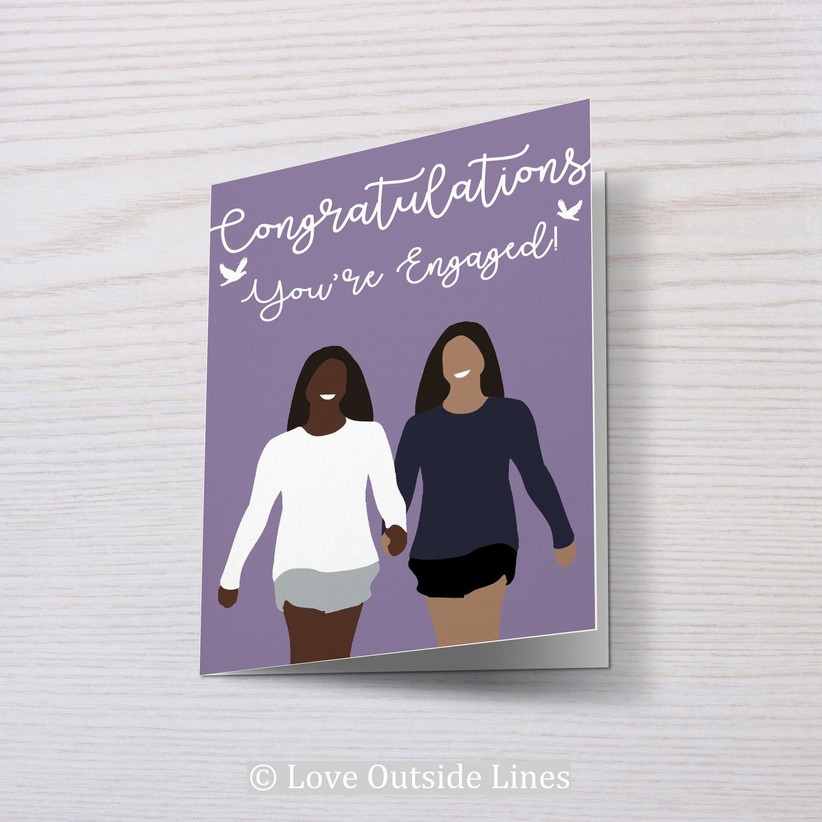 This lovely card for lesbian couples comes with lots of different ethnicity options so your friends or family can feel truly represented.
Gay Indian Wedding Card - £4, Etsy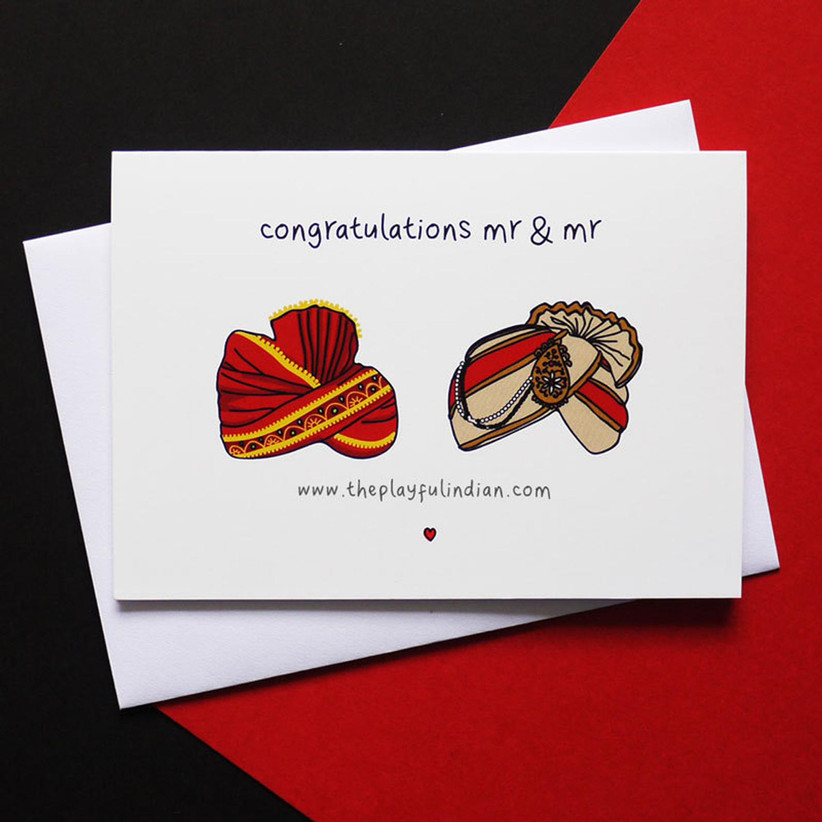 A gorgeous, high-quality card with two turbans on the front for the gay Indian couple in your life. There's a lovely one with hennaed hands for lesbian couples.
Here Come the Grooms Card - from £3.19, Scribbler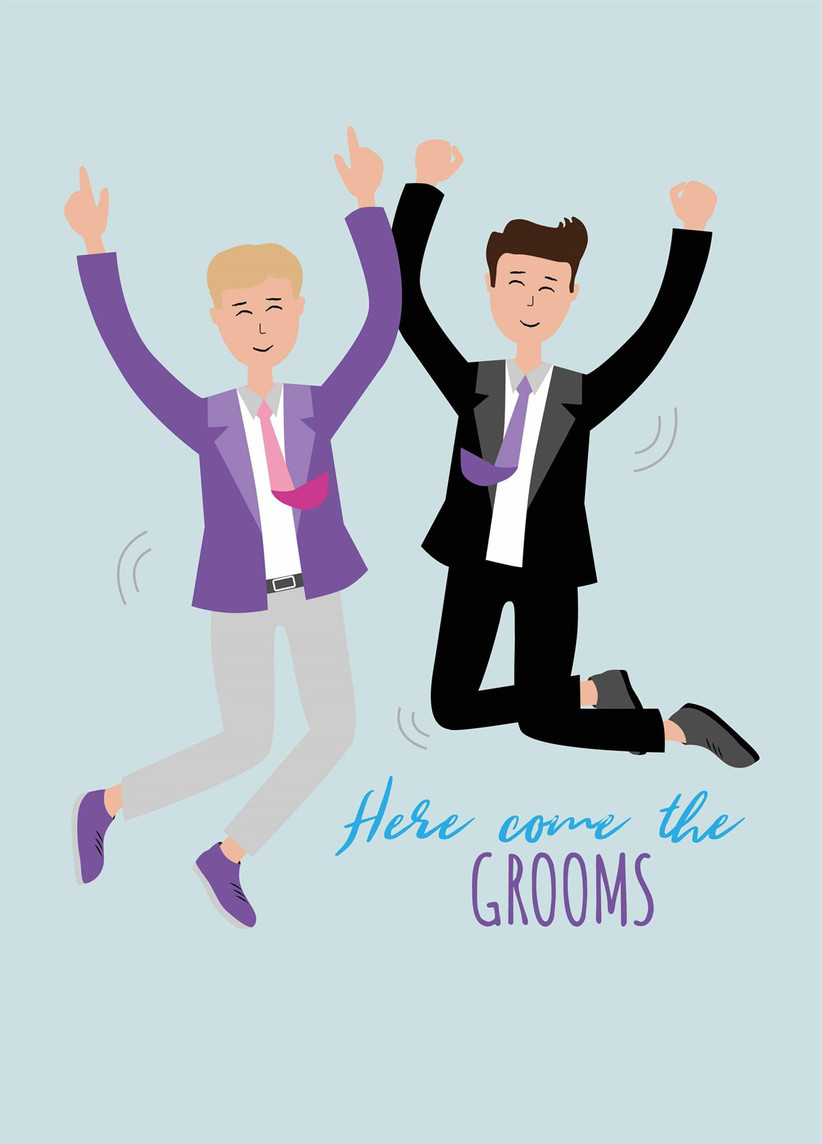 The only thing better than one groom is two! Jump for joy with the happy couple with this card.
Toast Pun Wedding Card - £2.50, Etsy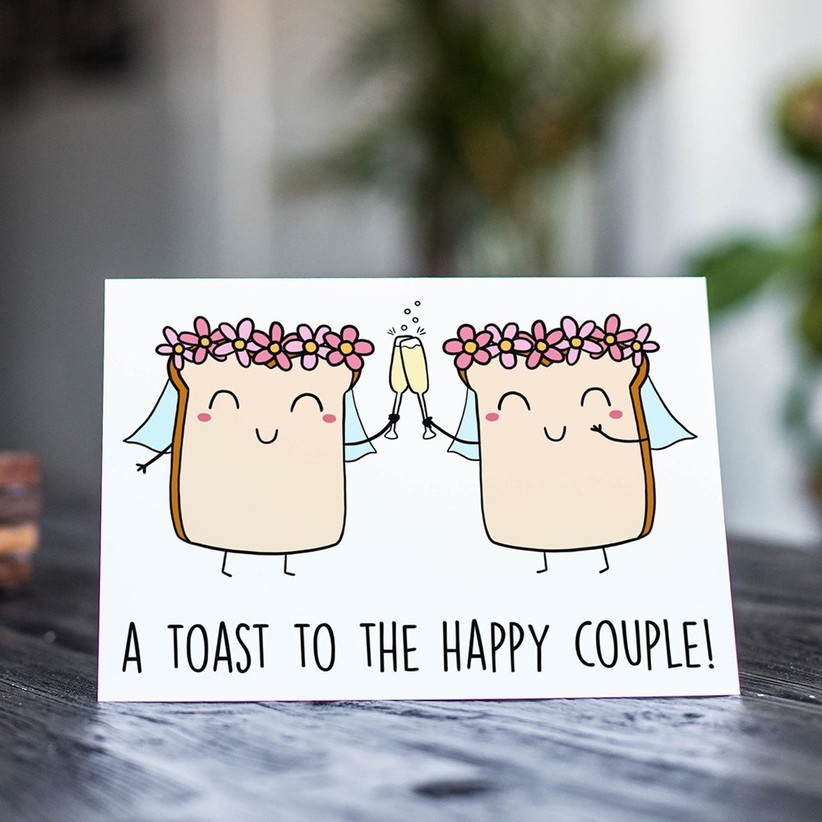 This cute card is super sweet and will make your friends chuckle. Present it with a bottle of Champagne so they can raise a toast with it!
Big Gay Wedding Day Card - £3, Not On The High Street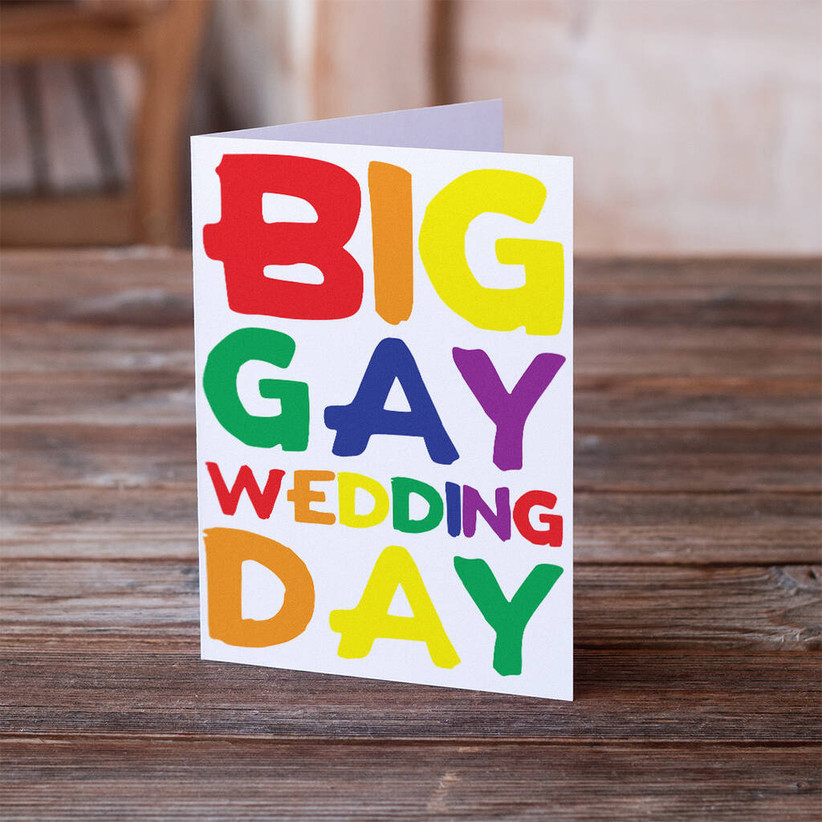 Simple and fun, this awesome rainbow pride flag card is made for an awesome couple. The message says it all really!
Congratulations Card - from £3.19, Scribbler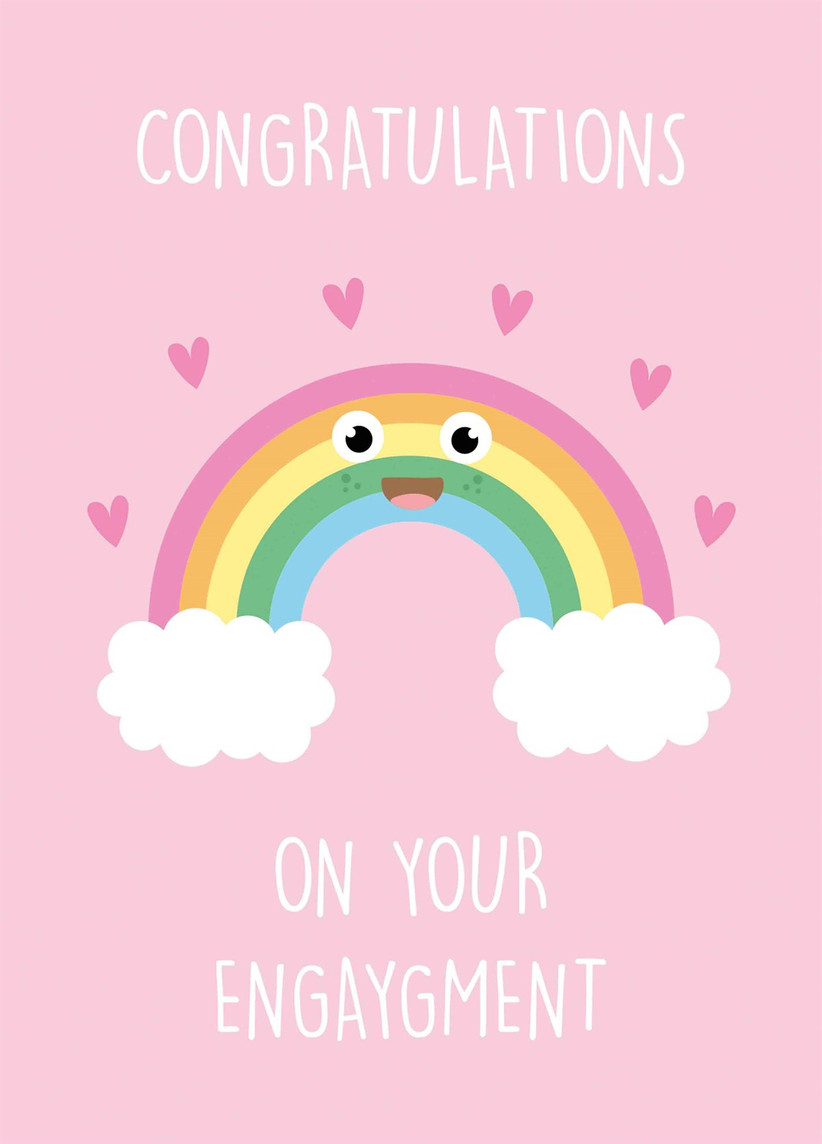 For a card as fabulous as the wedding with surely be, choose this pastel rainbow sensation.
Wedding Cards for Mature Couples
Seniors 'Just Married' Card - £2.45, Etsy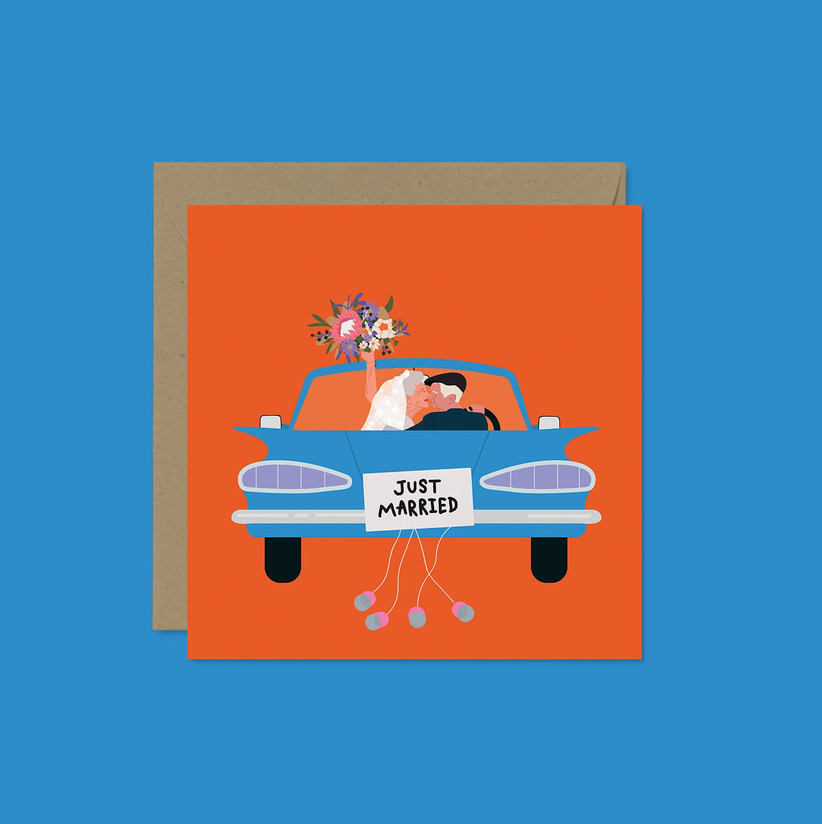 Not every couple getting married is young. More mature couples might prefer a card that reflects their stage in life. This pair are on the greyer side, but your friends might see the cheeky side in it.
Enjoy Your Ride Card - £3, Etsy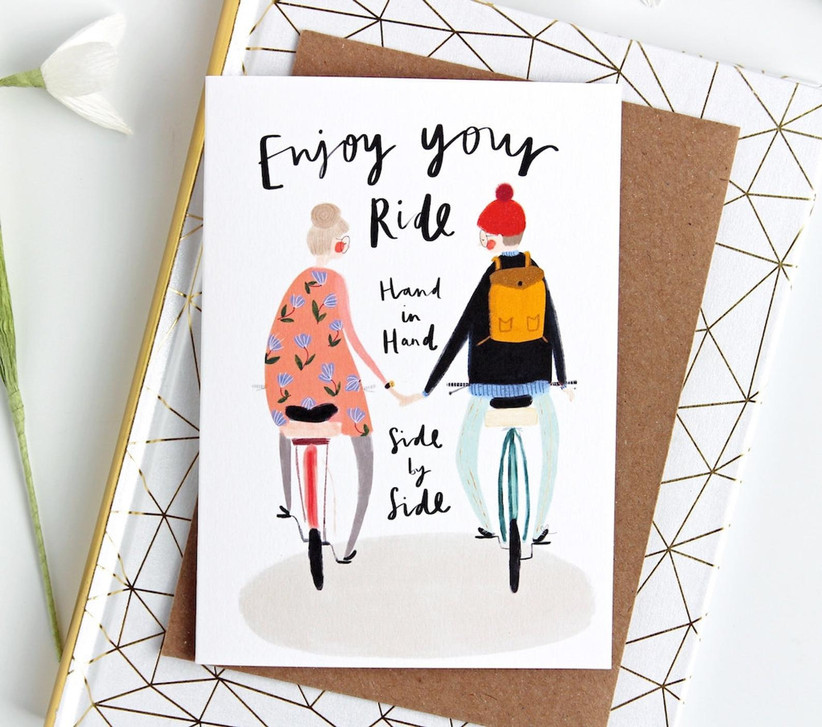 This quirky, illustrated card is perfect for engagements or weddings. You can't tell the couple's age so it's ideal for an older couple who are starting a new chapter of their lives.
Wedding Cards for Interabled or Disabled Couples
Differently-Abled Bride Card - £5.06, Etsy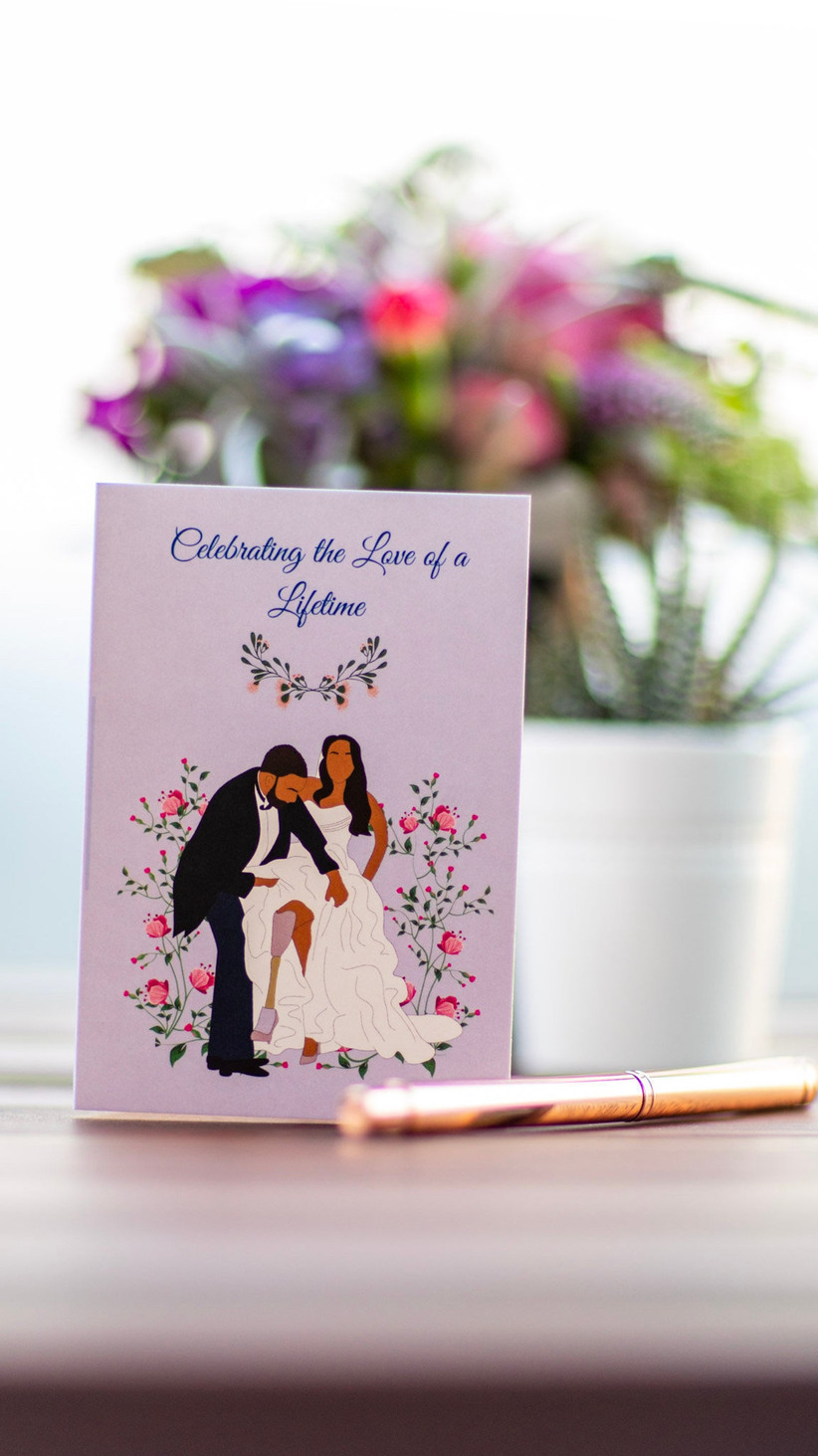 Featuring a disabled woman of colour, this card celebrates the nuptials of many brides who are overlooked by traditional card offerings. There's a gorgeous little silky rose inside too.
Hand-Painted Portrait Card - £8, Etsy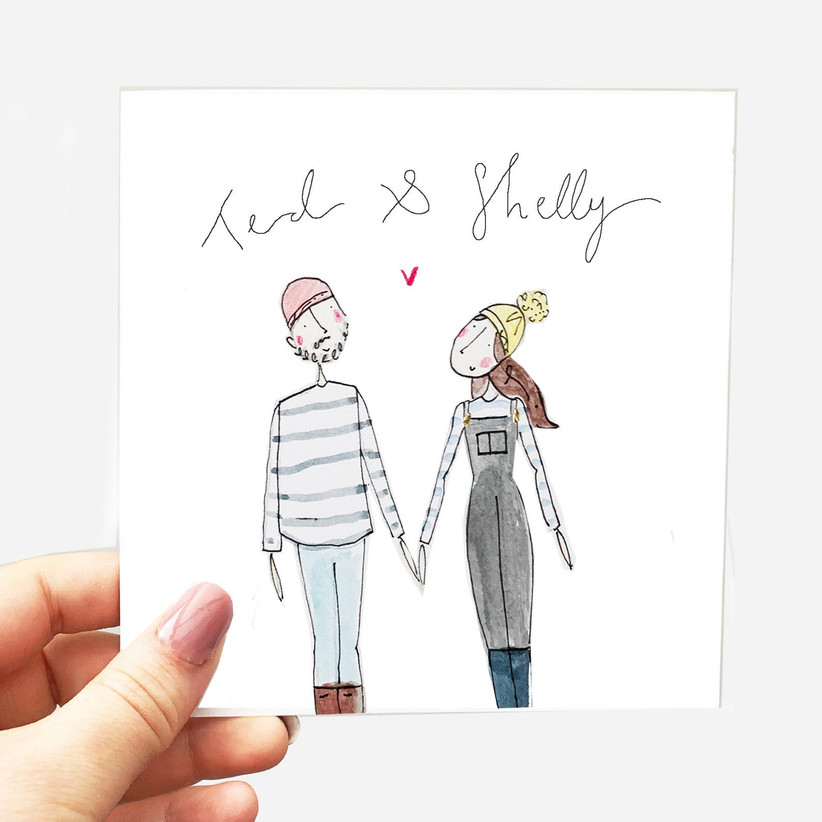 If you can't find a card that fits the couple, get a personalised painted card made for them. You send a photo of the couple and a few details to this artist and she'll send back a wonderful, personal wedding or engagement card.
Already planning your outfit? We've got the best wedding guest dress and outfit ideas to shop now.