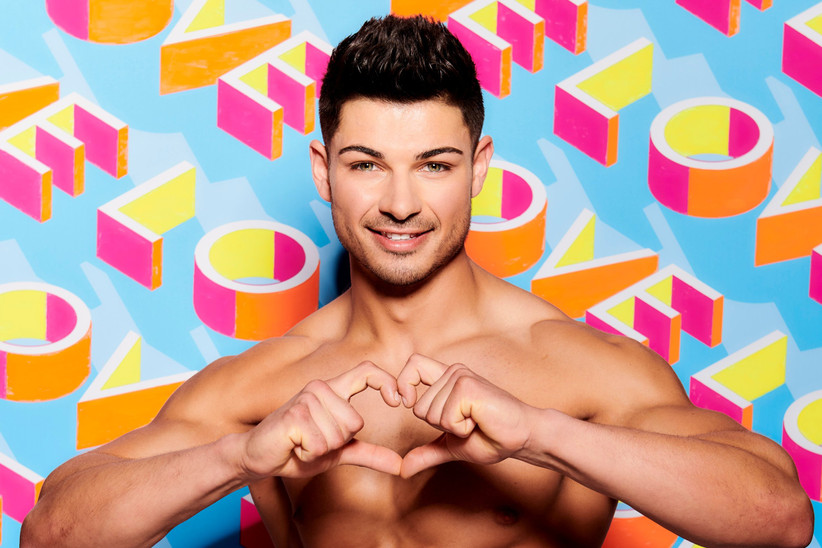 There are lots of great things to come out of this year's season of Love Island so far, including Michael's six-pack and Curtis' inspirational advice.
However, the absolute best thing to come out of the series has got to be Anton. Here at Hitched HQ we can't get enough of the Scottish sweetheart.
We know exactly what it means to be a brilliant husband (well, we do spend every day writing about it), and Anton certainly has what it takes. Here's why we think he'll make someone a fine husband one day…
READ MORE: Can You Rent Out the Love Island Villa?
1. He Just Can't Lie
Anton telling Arabella she looks good with Danny….. the guy can't lie!! Let's get this man to the final and I hope he wins on his own #loveisland

— Jake Quickenden (@JakeQuickenden) June 21, 2019
When Arabella arrived in the villa, she chose to go on a date with Anton (which was a good job after that rushed early morning transformation).
The pair appeared to be getting on really well – so much so that he told her she looked great with another guy. As Jake Quickenden tweeted, he just can't lie!
2. He's Gorge
We know looks aren't everything, but there's no denying it's great to have a husband who's the full package. Not only is Anton super nice but he looks like a dream, too!
We'd step forward for you, Anton.
READ MORE: 22 Brilliant Gifts for Your Husband
3. And Rumour Has It, He's Better Looking IRL
As if things couldn't get any better on the appearance front, rumour has it that Anton is even better looking IRL than he is on our screens!
Yep, that's right – Caroline Flack revealed on Love Island: Aftersun, that she was surprised by how good looking Anton is when she met him in the flesh… and Elma agreed!
4. He's a Total Mummy's Boy
The UK watching Anton tell his date that his mum shaves his bum ? #LoveIsland pic.twitter.com/8PY3k6zkU3

— Richard Wardrop (@RichardWardrop) June 20, 2019
Mummy's boys make the best husbands, because they're all about family and they know exactly how to treat a lady.
Anton has made is clear from the moment he stepped into the villa that he's super close with his mum… although she does shave his bodily hair for him. Is that one step too far?
READ MORE: 17 of the Cutest Gifts for the Mother of the Groom 
5. He'd Always Comfort You When You Feel Down
*one of the girls is sad*

Anton: #LoveIsland pic.twitter.com/WYbauFPl1b

— Missguided (@Missguided) June 24, 2019
Time and time again, Anton gives great advice to the girls when they're feeling sad. He was the first of the boys to run to Maura's side after the whole Tom debacle and give genuinely helpful advice.
He also helped Yewande out after her spat with Danny and consoled Lucy over the dumping of Joe. He's just always running to the rescue! Maturity levels like this can only mean one thing: he's probably ready for marriage.
6. He Never Gives Up
One thing that really matters in a marriage is dedication to really making it work – no relationship is easy and any good husband or wife will always persevere through the tough times.
Anton has been shot down time and time again in his quest to find love, but that still hasn't stopped him. We've never seen perseverance like it – another reason why he'd make a great husband!
READ MORE: Everything We Know About Cara & Nathan's Love Island Wedding
7. He'd Always Make an Effort
Lost: Anton's cool. If found please return to the villa. #LoveIsland pic.twitter.com/dzRa35rFxc

— Love Island (@LoveIsland) June 20, 2019
Did you see how much effort Anton put into his appearance for the arrival of Love Island newbie Arabella? He was straight up the stairs and into that shower when Curtis announced the news.
One thing's for sure: if Anton was your husband he'd always make an effort to impress.
READ MORE: Love Island's Arabella Chi Stuns in Wedding Dress Modelling Shot
8. He'd Always Put Your Happiness First
?FIRST LOOK ?

After Joe's shock exit, a devastated Lucie is left feeling betrayed by the remaining couples. Yewande has doubts about Danny, and Amber's struggling to tell Michael how she really feels. Will a surprise date provide the perfect opportunity? #LoveIsland pic.twitter.com/t26xjyvbNI

— Love Island (@LoveIsland) June 19, 2019
After Joe's shock exit from the island and Anna's rocky start, Anton coupled up with both Lucy and Anna just so they could stay in the villa and find true love.
We think it's so cute that he put their happiness before his own relationships. That's what friends are for!
9. Dr Alex Loves Him
Can I just say something, Anton is a gent ?? #loveisland

— Dr Alex (@DrAlexGeorge) June 18, 2019
Last year's Dr Alex thinks he's a total gent. Isn't that a good enough reason in itself?
READ MORE: These Are the Names of the Men Who'd Make the Best Husbands
10. He Wears His Heart on His Sleeve
Remember when Anton thought Anna was going to pick him, but she went for Sherif instead?
Anton wears his heart on his sleeve and doesn't let his pride get in the way of his feelings. Oh, and he backs himself until the very, very end. What's not to love about that?
11. He Takes a Great Selfie
If your other half can't strike a sultry pose for the camera are they even worth marrying?
Ok, that may be a bit harsh, but LOOK AT THAT SELFIE FACE. He would look super handsome in your wedding day pictures and would photograph fabulously in all of your selfies for Instagram.
READ MORE: Our Top Smartphone Wedding Photography Tips
12. He's a Charmer on a Date
One thing's for sure, if you married Anton you'd be in for a total treat every time date night rolled around.
How charming was he on his date with Arabella?! Full of compliments and as chatty as anything.
READ MORE: 25 Unique Date Ideas for Newlyweds
To be honest, the list could go on. If you're a true Love Island fan, check out this amazing Love Island-themed hen party idea pronto.