Summer Savings: 10 of the Best Wedding Deals to Grab Right Now!
Our top 10 deals are sure to help you save on your wedding budget - and you can discover even more wedding deals and offers in our deals section!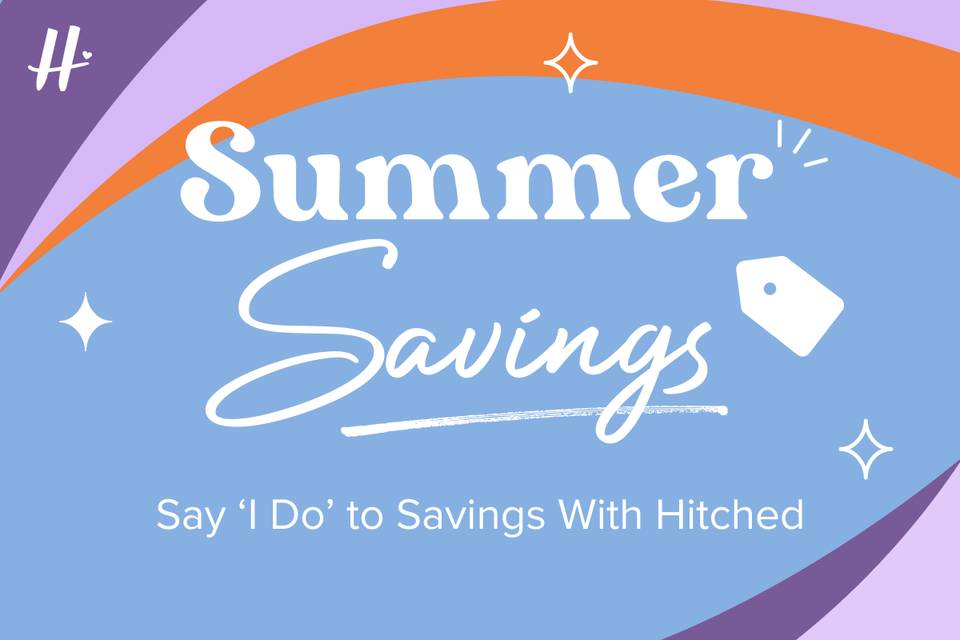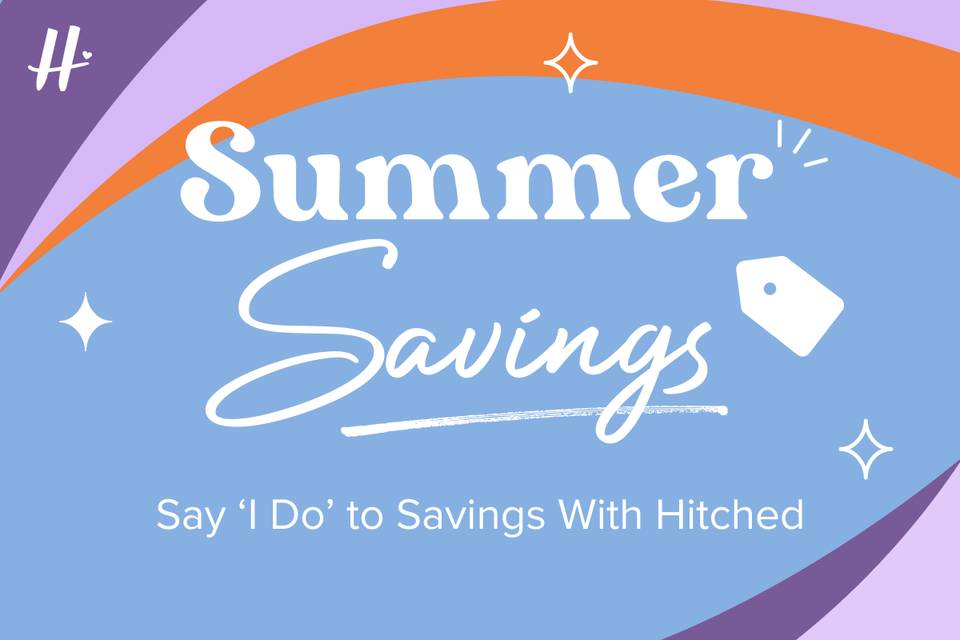 If you're in the middle of planning your wedding this summer, then do we have news for you! This summer, our Hitched vendors and suppliers are offering some phenomenal deals as part of our Summer Savings campaign, giving couples the opportunity to free up some much needed space in their wedding budgets.
From wedding venues offering discount on venue hire fees, to beauty, hair and makeup artists giving some serious savings on services, to reductions on classic wedding car hire, we've got it all for you this summer.
We've rounded up our top ten deals for couples who want to make the most of summer savings. These amazing offers, plus many more deals from our Hitched vendors and suppliers, can be found on our venues and suppliers deals section, which is regularly updated to feature the latest bargains.
10 Amazing Deals to Help You Save This Summer
1. Get 50% Off Winter Wedding Venue Hire at Tudor Barn Eltham
Looking for a budget wedding venue in London? Then you're in luck - the idyllic, exclusive use Tudor Barn Eltham could be the venue for you.
This hidden gem is nestled in 13 acres of parkland overlooking a medieval moat in South East London. Once immersed in this scenic property, it's hard to believe that you're just 20 minutes away from the city centre.
Tudor Barn Eltham is also a very important historic wedding venue - in fact, it's one of just a few Tudor Barns still around today. It was first built in 1525 and can now serve as the beautiful backdrop to your happily ever after.
Even better, if you book your wedding to take place between November 2023 and February 2024 (excluding December 2023), you can receive 50% off venue hire pricing. Prices can starting from as little as £3,400.
2. Enjoy Half Price Photography in 2024 with roberthoward
With 20 years of experience across 30 different countries, you know you'll be in good hands with roberthoward. Robert is an Essex-based wedding photographer operating throughout the UK who is more than happy to adapt to each client's preferred style.
Before your wedding day, Robert offers an initial consultation and venue walkthrough. Once done, you can download all your images from Pixiset and they'll be exclusively yours as there is no copyright maintained by the photographer. It couldn't be easier!
And it gets even better - Robert is offering half price wedding photography for the entirety of July and August 2023, meaning you can get your wedding photography for only £600!
3. Get Half Price Table Centrepieces From Guiamaraes Events
No matter your wedding venue - house, back garden, restaurant, dream hotel - Guimaraes Events can work with any space and transform it according to your personal style and tastes.
There are a variety of services on offer at this wedding décor company, including floral arrangements, draping, backdrops, table décor and more.
If you're on the hunt for some gorgeous floral centrepieces, then you *have* to check out the range here. Not only are they jaw-droppingly gorgeous, you'll also get 50% off if you confirm your booking before the end of August.
4. Get 30% Discount on Wedding Photography With Prestige Weddings
The clue is in the name at Prestige Weddings. This talented team of five exceptional photographers and videographer boast a combined 40 years of experience and cover weddings throughout the UK.
Their approach is best described as professional yet relaxed, and their priority is to ensure that couples feel comfortable in order to capture natural and spontaneous moments.
On select remaining dates in 2023, you can make use of their Late Availability Special Offer, giving you 30% off full-price photography packages. There are limited slots available, so be sure to book now!
5. Party Hard With a £1,000 Bar Tab at Gara Rock
There's no shortage of picturesque wedding venues in Devon, and Gara Rock is no exception. This gorgeous property is nestled on a hilltop, offering incomparable views over the south coast of England.
There are several spaces licenced for ceremonies here, giving you a choice between a variety of locations to tie the knot. Gara Rock is a luxury hotel wedding venue, meaning that there's plenty of accommodation for your guests to enjoy once the celebrations have drawn to a close.
And they'll certainly need to rest up after making the most of this venue's latest deal! Couples who book an exclusive use wedding at Gara Rock before 31st August 2023 will receive a £1,000 bar tab contribution from the venue.
6. Get 30% Discount at Richard James Wedding Videography
There's no better way to capture all the emotion of your big day then hiring a wedding videographer. Richard James Photography uses a documentary style to create a natural, relaxed and candid picture of your big day.
Based in the East Midlands, Richard has 19 years' experience as a wedding videographer. He is happy to film all aspects of the day, from pre-wedding prep to the first dance, and he can also add personal messages from your family and friends.
His prices start from £900; however, he very generously offers 30% discount on the services hired. Don't miss out!
7. Enjoy 30% Off Car Hire With CB Wedding Cars
When it comes to luxury wedding car hire in London, you simply can't beat CB Wedding Cars. This professional and personal car hire service offers a fully convertible classic vehicle that also operates as a superb prop for wedding photographs.
CB Wedding Cars pride themselves on not including any hidden extras on their car hire prices. They will also dress the car to complement your wedding colour scheme.
Hitched couples can make use of the 30% discount offer on services hired, making this the ultimate affordable wedding car.
8. Quick! Flash Deal Offering 20% Discount on Beauty at MINXIES
Minxies is a Cardiff-based hair and makeup business offering everything from glam to boho to basic beauty for weddings and other special occasions.
The award-winning team has over 10 years' experience working in the wedding industry and they offer various services that can be tailored to suit your needs. They specialise in bridal hair and makeup, and each artist comes with a long list of testimonials, so you can be sure you're in safe hands.
Minxies are offering a flash deal of 20% discount on your wedding invoice for one week and one week only. Act now!
9. Receive a Complimentary Veil or Accessory With Any Purchase From Marcela Giocanti
Located in Barnet, North London, Marcela Giocanti is a designer label specialising in bespoke wedding dresses. Designer Tam Trinh has been working in the wedding business for almost 20 years and uses recognisable modern furnishings and minimalist fixtures in each handmade wedding dress.
All Marcela Giocanti designs are handmade to order, and the company welcomes clients to come for a consultation and private viewing of the main collection. There's also the option to work with the designer to help create the custom wedding dress of your dreams.
Now for a limited time only, purchasing from Marcela Giocanti's coveted collection means you will receive a complimentary veil or other accessory of your choice. Get ready to celebrate your day in style!
10. 10% Discount on Wedding Planning and Celebrant Packages With Sallieann Weddings & Civil Celebrant
Sallieann Weddings and Civil Celebrant has been helping to plan officiate weddings throughout Buckinghamshire, the rest of the UK and beyond for over 29 years.
Sallieann will consult with each couple before the wedding day to learn more about their personalities and love story in order to bring their dream ceremony to life. Sallieann also offers advice for couples on their wedding planning journey.
If you fancy some help planning your day, Sallieann offers 10% discount on wedding planning packages and celebrant packages when booked together. She'll even throw in an additional ritual of hand-fasting, warming of the rings or sand ceremony free of charge.
Check out our venues and suppliers deals section for even more ways to save throughout your wedding planning journey.