A Pastel Hued Micro-Wedding at Malt House Barn with a Traditional Vietnamese Dress
Thinking of planning an intimate celebration? Trang and Huy prove that you don't need a big guest list to make a big impact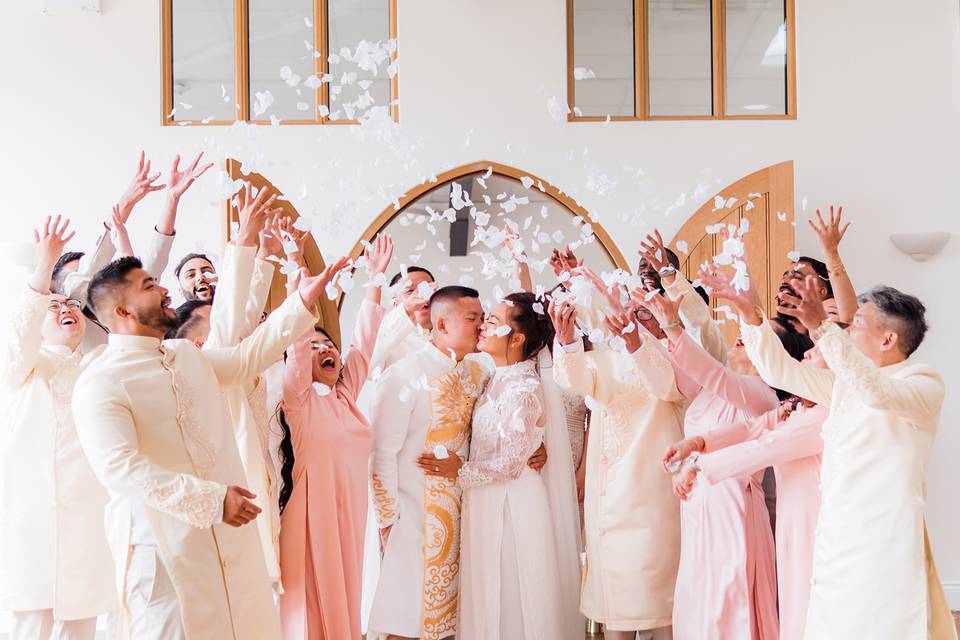 Hitched Featured Suppliers:
Cast your mind back to when Rihanna topped the charts for a staggering 10 weeks, Gordon Brown became PM and flip phones were still de rigueur. Yes, we're talking about 2007, which was when this week's bride and groom, Trang and Huy, began their love story.
"I was 14 and Huy was 15. Huy and I started hanging out during the weekends and after school and it didn't take me long to realise that he was the one. He was funny, charming and always smiling and here we are almost 15 years later! We have accomplished so many things together, like getting our first jobs, first cars, first house, first grey hair (lol!) and so much more."
After 11 years together, in May 2018, Huy popped the question on Dubai's Kite Beach, but wedding planning wasn't plain sailing.
"We started planning for a destination wedding (it was always our dream) and we planned to get married with our friends and family on a beach in Cancun, Mexico in July 2020.
"Long story short, COVID struck and my dad became unwell and so we rescheduled to May 2021. Travel restrictions were still in place, so we had nothing but hope. Wedding planning has taken us a few years – it has hard to plan as things were constantly changing here and in Mexico. We didn't know whether having a destination wedding with the family was realistic, whether to have a UK wedding or not, or to have both."
After a lot of thought Trang and Huy decided to do both and eloped to Cancun in February 2022. On 20th July 2022, the couple tied the knot again in front of their family and closest friends at Malt House Barn in Shropshire.
The Wedding Fashion
Trang was given a naturally glowing makeup look by Rachael of Rachael Davies Makeup and a soft, undone up-do by Genna of Genna Bridal Hair. Both bridal beauty elements perfectly complemented her show-stopping Morilee gown – one of three gowns Trang would wear.
"The first wedding dress I actually bought back in 2018. Sadly, this didn't fit me after the lockdown period (whoops), however after numerous visits to my seamstress, it finally fitted – she really worked her magic.
"My second dress is a cultural Vietnamese dress, which is called an 'Ao Dai' which is a long, split tunic dress, paired with trousers underneath. I wore mine with a traditional headpiece called a 'Khan Dong.' Our family all wore one too - the boys wore beige and the girls wore baby pink. Ao Dais really represents the Vietnamese traditions and we wanted to embrace our culture on the wedding day. My final dress was a fitted party dress."
For the ceremony, the groom wore a neutral toned suit, tying in with the blush and muted tones worn by the other guests and wedding party members.
The Wedding Ceremony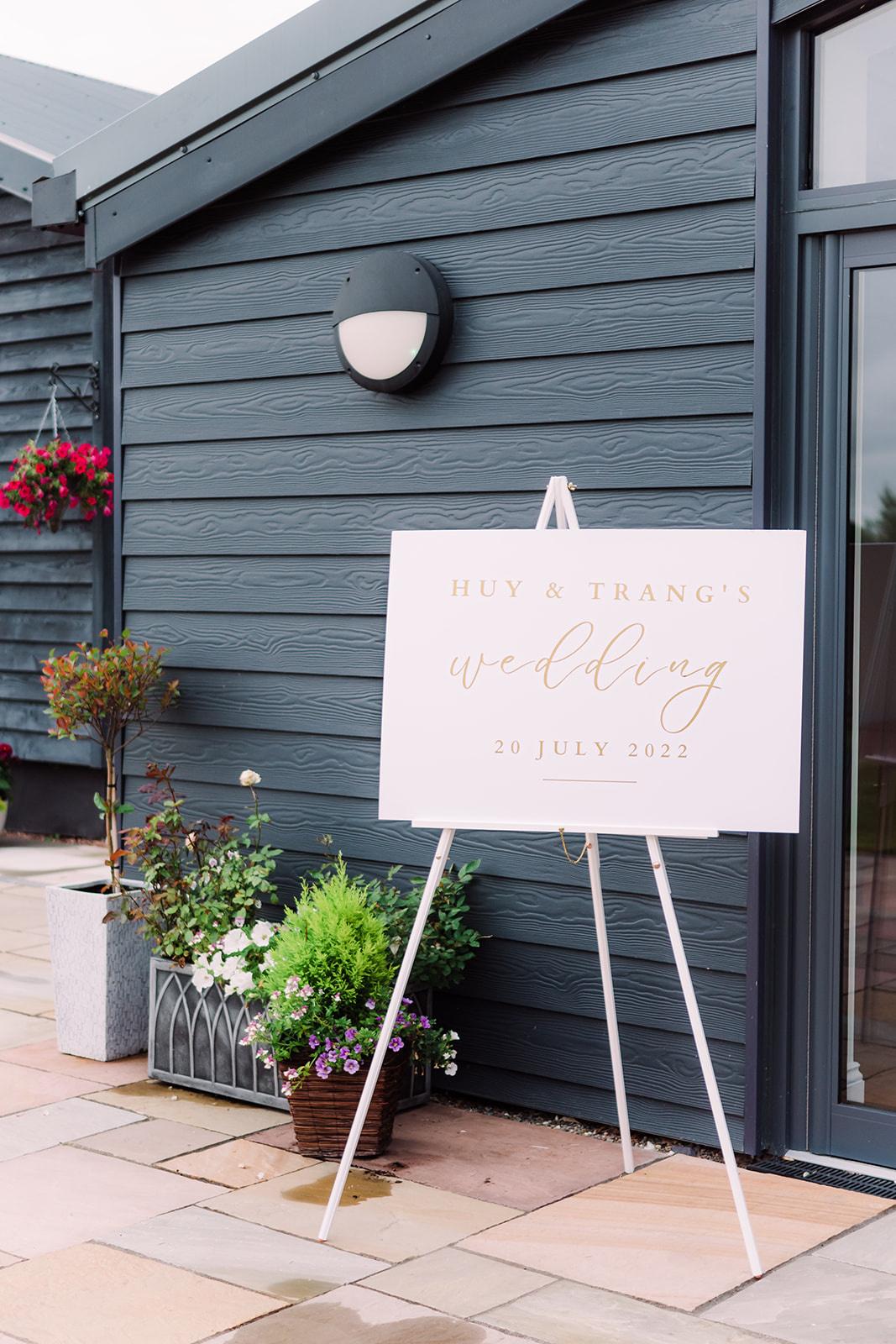 The bride and groom said 'I do' at the bright and airy Malt House Barn, a venue that the couple fell in love with a year earlier.
"We found Malthouse Barn and Veronika J. Photography online and I can honestly say, we have no regrets! We had our first wedding viewing in August 2021 with Janet from Malt House Barn and we knew straight away that this was going to be our wedding venue. She was so friendly and inviting and the barn already felt like our second home."
The Wedding Reception
The intimate celebration continued at Malt House Barn, which was beautifully dressed in white and pastel tones with gold accents.
"We pretty much DIY-ed the whole wedding barn, literally from top to bottom the day before the wedding. Decorating in 32 degree heat wasn't helpful! It was a long day of hard work, but we all nailed it and the barn looked even better on the wedding day! We made our own décor, florals, cake and organised our own catering and drinks."
After enjoying the food and drink, the couple had their wedding portraits taken before dancing into the night – impressing the wedding DJ!
"Although our wedding guest list wasn't the biggest, the whole place was filled with nothing but love and energy. We danced the whole night away (even the DJ didn't think we'd all last) and it was honestly a day to remember! Malthouse Barn will always have a place in our hearts and Veronika for capturing our special day."
Huy & Trang's Wedding Advice
"I genuinely believe that the absolute best weddings are celebrations of love, and it doesn't matter at all how many friends or guests you have. Make it your day and one to remember!"
The Suppliers
Feeling inspired by Trang and Huy's beautiful wedding? Check out these articles for more inspiration: