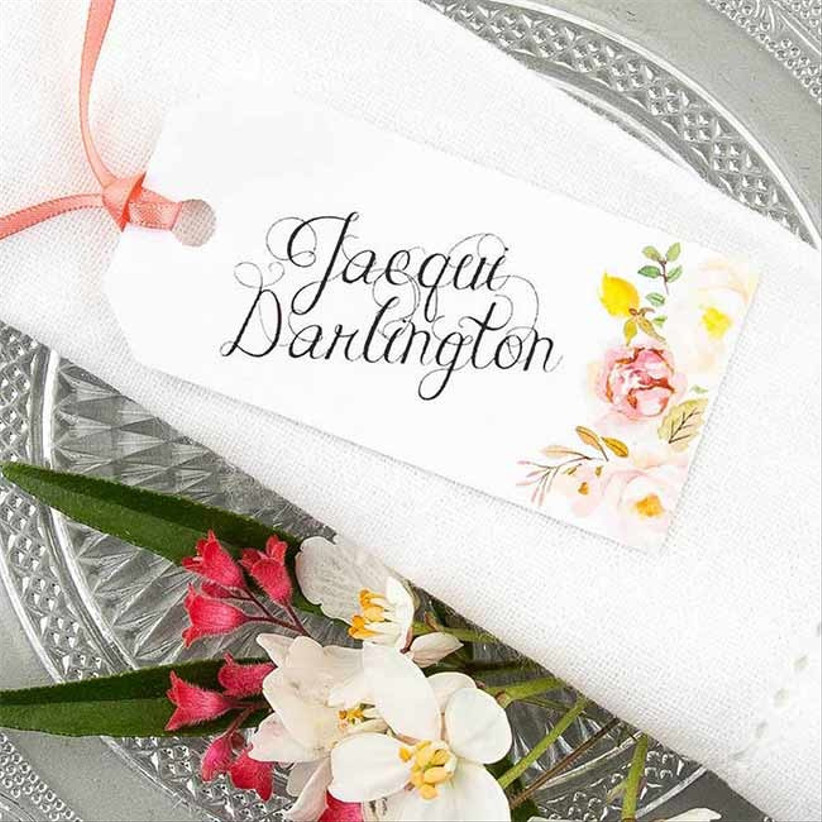 Wedding favours come in all shapes and sizes but whether you're having candle wedding favours or personalised ones, it's always a cute idea to add a tag to it.
It adds a personal touch from you and your partner to each guest and is also something they can keep forever as a memento from the wedding.
We have the cutest selection of wedding favour tags for you to choose from!
Floral Wedding Favour Tags
If you're planning on filling your summer wedding with tonnes of flowers and floral décor, these wedding favour tags will fit in perfectly. They are pretty and look super fancy. The swirly writing is elegant and sophisticated and will dress up any wedding favour that you choose.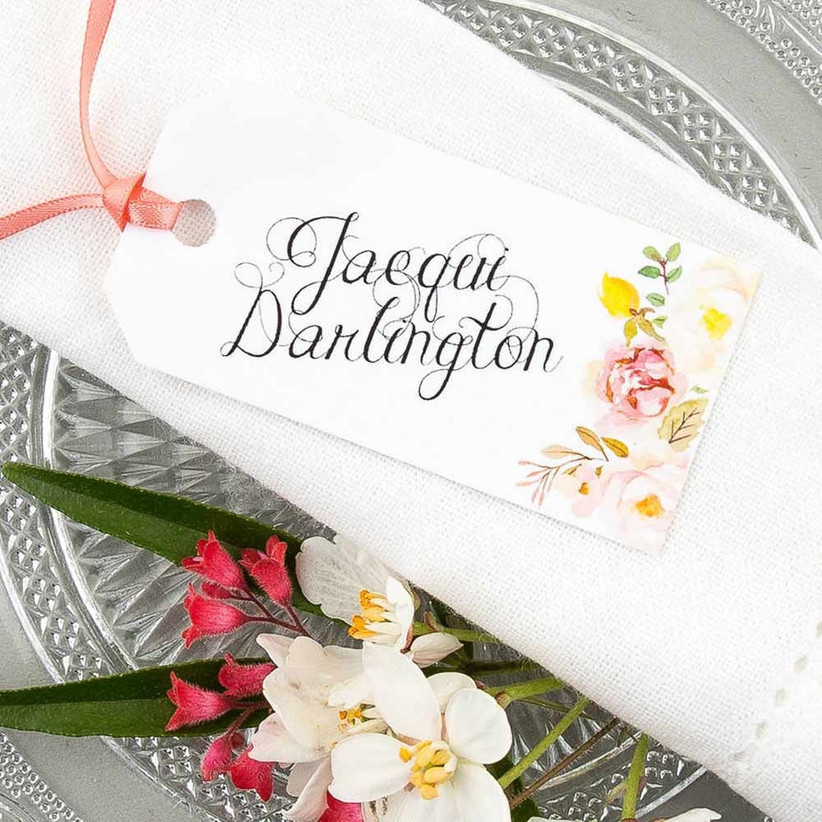 Cutlery Style Wedding Favour Tags
These vintage wedding favour tags are beautifully decorated. The cutlery drawings have so much chic detail to them and would really suit a vintage themed wedding. The colour is neutral and soft which makes them look expensive and we love the rustic rope ties!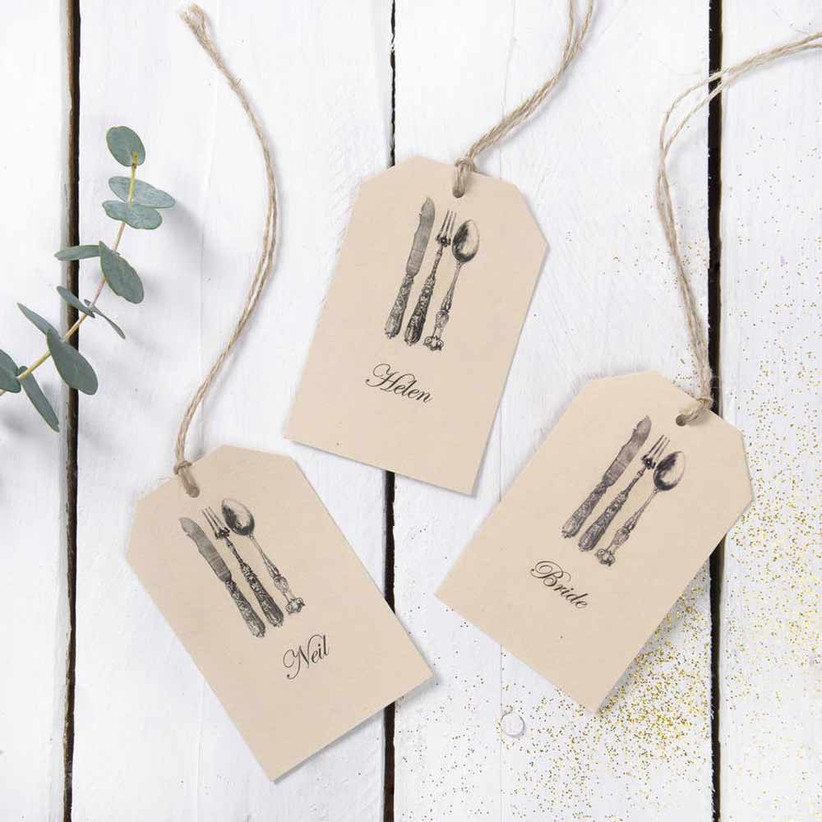 Patterned Wedding Favour Tags
These gorgeous wedding favour tags give you so much choice. There is a design for every style of wedding and the patterns are so fun and vibrant. If you really wanted to be trendy, you could use a range of the designs and mix and match. Changing up the style of favour tag could really bring your table décor to life.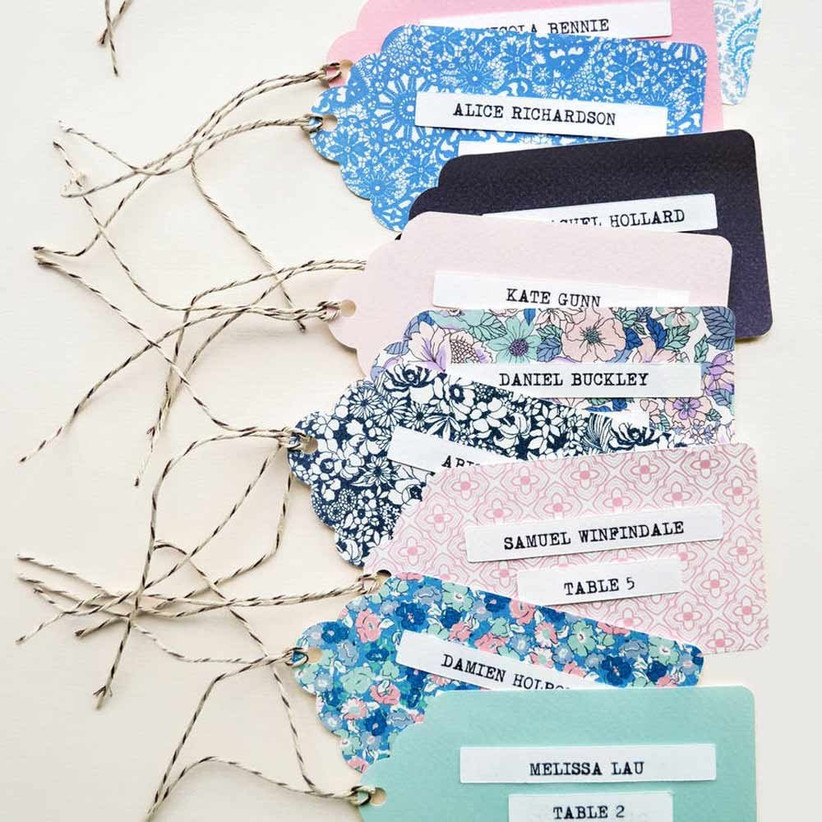 Glitzy Gold Wedding Favour Tags
Add a bit of glitz to your glamorous wedding with these sparkly gold wedding favour tags. The glitter at the bottom goes so well with the peach dip-dye style at the top and we love the font used to write the names. These are the type of name tag that would really impress your guests.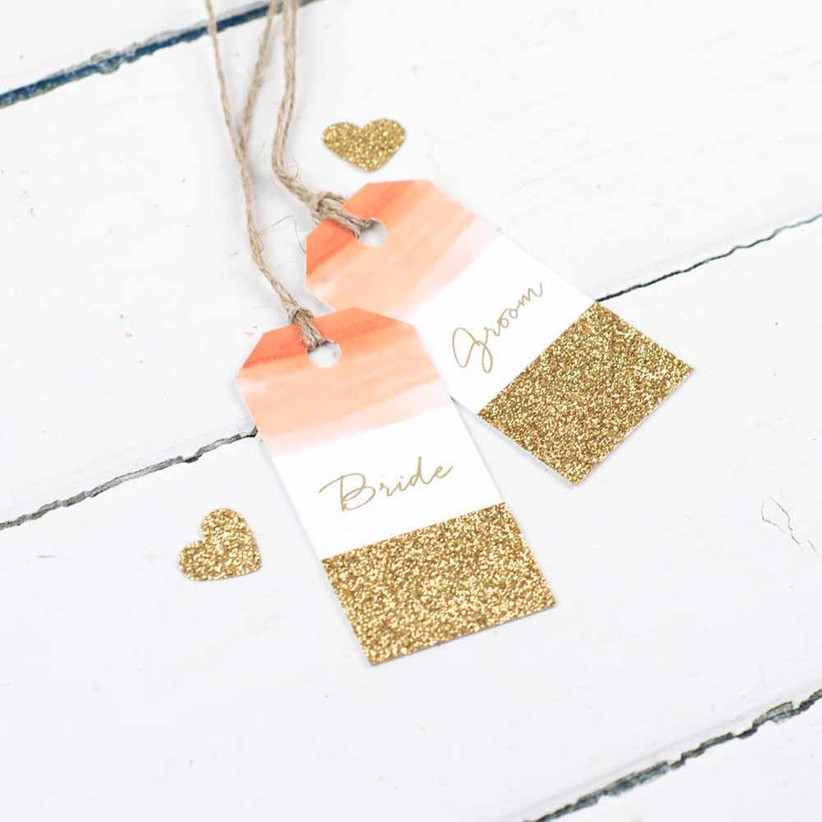 Geometric Wedding Favour Tags
Not all wedding favour tags have to be name tags. Having a one-tag-fits-all style with your initials and wedding date on it can also act as an amazing memento for your guests and this modern and colourful design is a perfect example of how great they can look.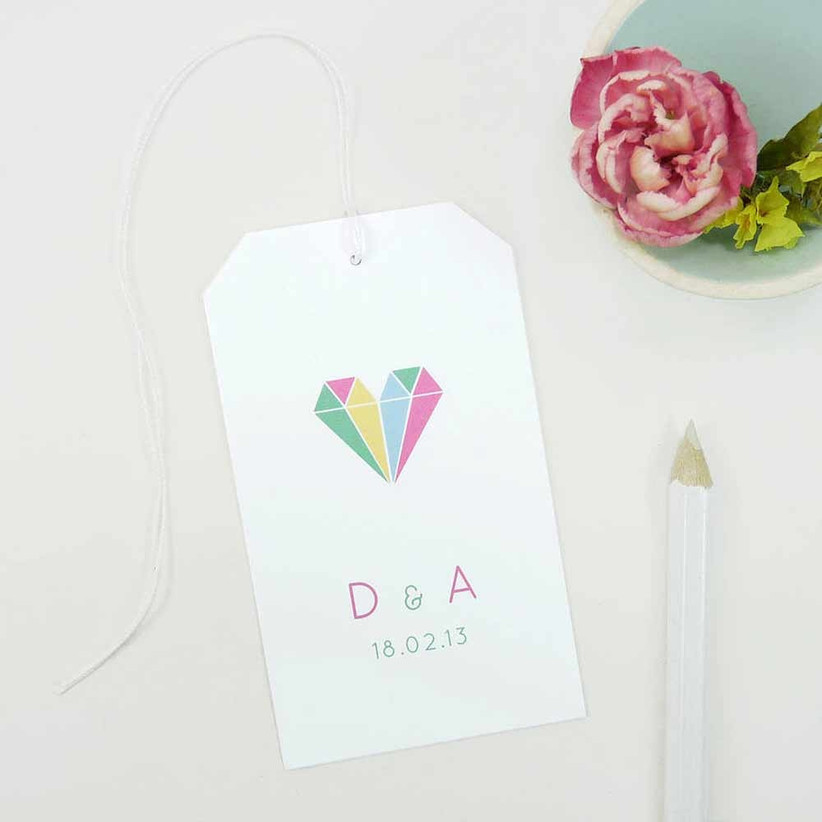 Elegant Wedding Favour Tags
The swirly and sophisticated design that adorns this wedding favour tag is just perfectly placed. The blank space on the tag works amazingly with the style of design that is being carried out. Elegance and beauty are the words that come to mind when looking at this design – it's perfect for couples planning a tasteful wedding day.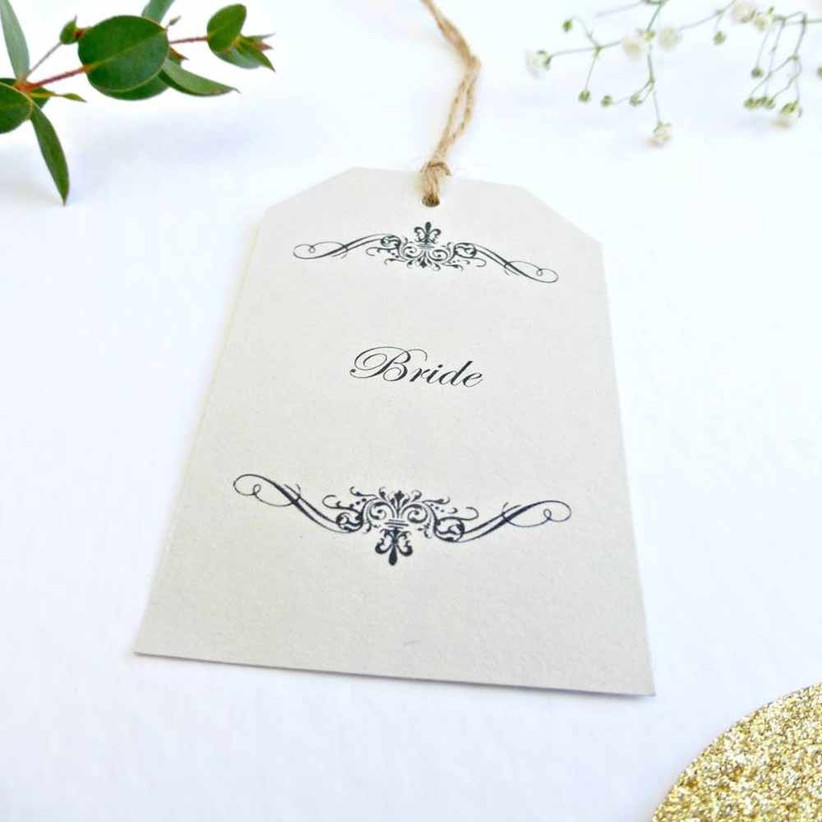 Botanical Wedding Favour Tags
If you have a blue décor colour scheme at your wedding, consider having wedding favour tags like this one. The stencil effect combined with an array of different shades of blue has come together to create something truly gorgeous. Couples will be super proud to have tags like this representing their wedding.
Stag Wedding Favour Tags
Stags are a really on-trend decoration for lots of products at the moment and wedding favour tags are obviously one of them. This colourful and floral design will make the perfect ambassador for a woodland wedding theme. The browns, greens and peachy colours look beautiful together on the drawing and are brought totally to life by the bright orange text.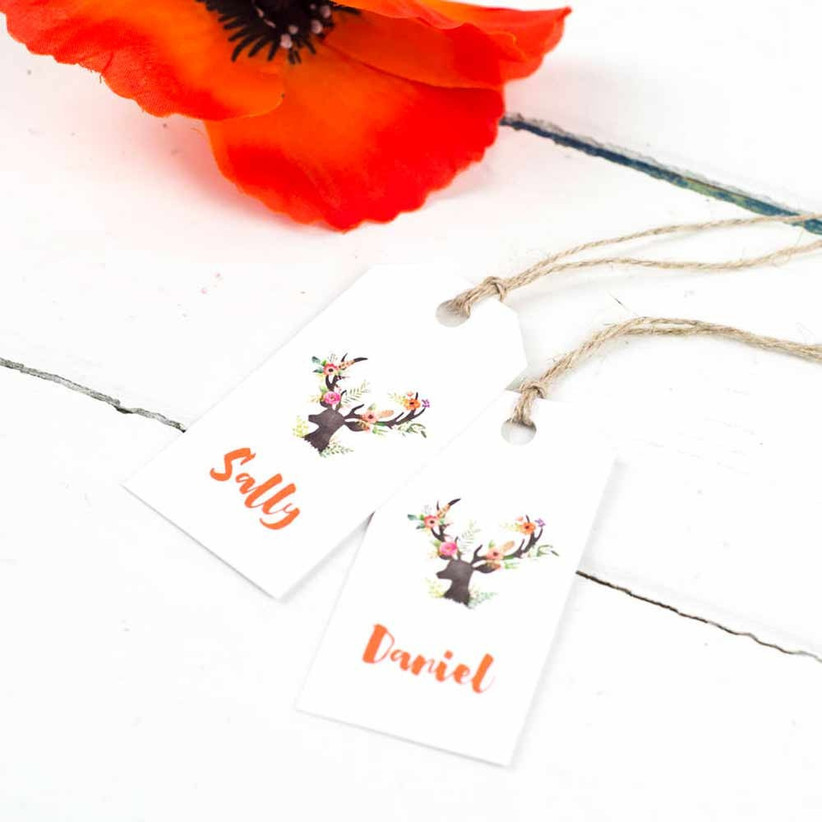 Zigzag Wedding Favour Tags
If it's bold and bright wedding favour tags that you're looking for, these colourful designs could be the perfect choice for you. The zigzag pattern is a real statement and looks so chic in the pastel colours shown. You could choose one to fit with your colour scheme or have a couple of shades or pale colours that complement each other and use them together.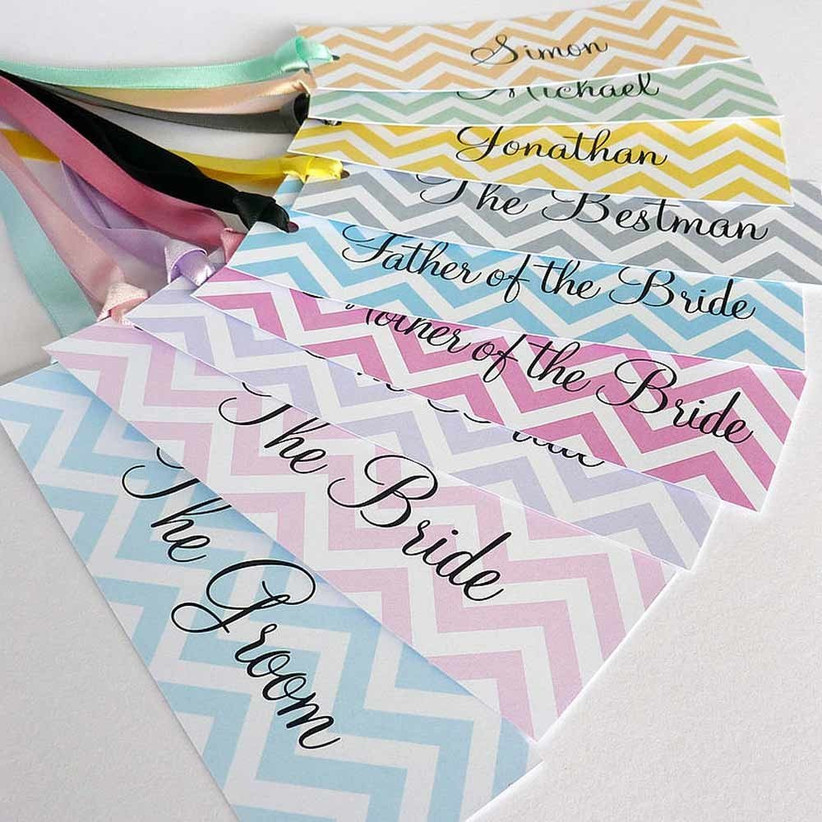 Token Style Wedding Favour Tags
These token style wedding favour tags act as more of a 'thank you for coming' memento for your guests to keep. You can have yours and your partner's names on the token along with your wedding date and a short thank you message. Putting one of these tags on each of your wedding favours will have them looking so cute and your guests will appreciate the gesture.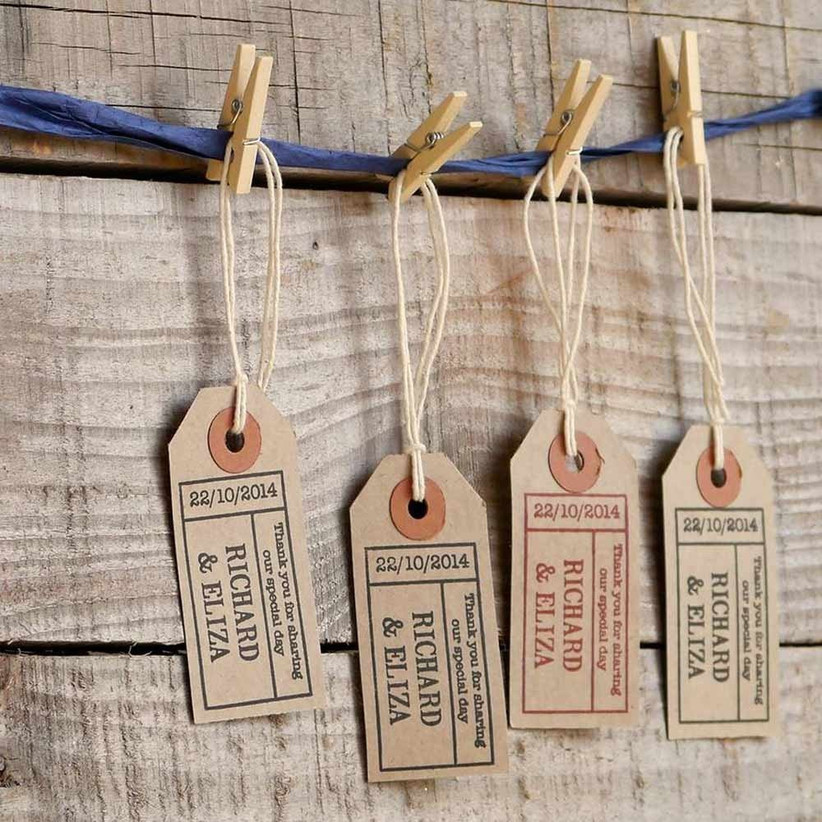 Pretty Pink Wedding Favour Tags
We absolutely adore these wedding favour tags. The marbled pink effect is beyond stunning – we're a little bit obsessed! The two layered style of the tags is fancy and gives it a dimension that makes it look like more than just a tag. Having a white top layer with darker pink writing ensures that the important part, the name, is what stands out.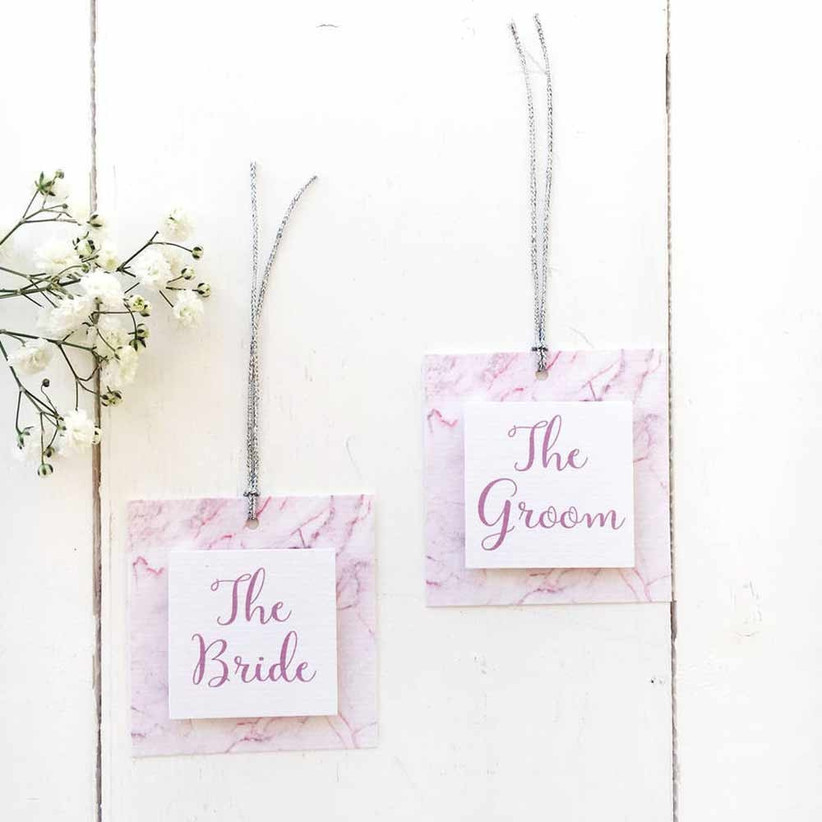 Wildlife Wedding Favour Tags
Using intricate drawings of animals is really popular when it comes to stationery for woodland weddings and we can see why. These monochrome designs are striking and stunning all at the same time. The font is bold and cute and the drawings are so well done. We really like these wedding favour tags and the rustic string that is used to tie them.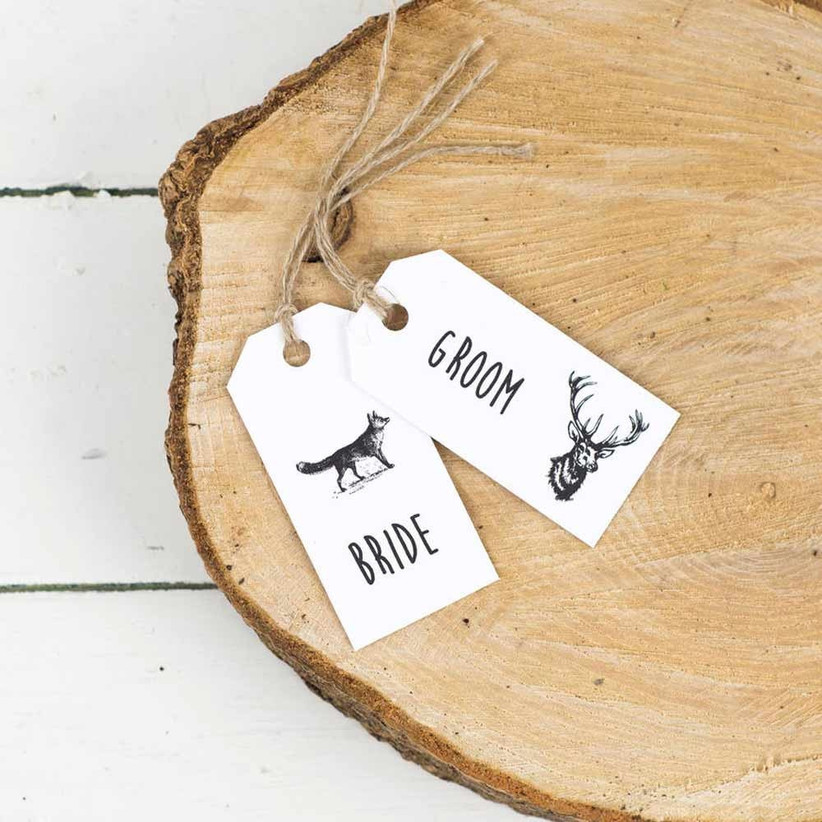 Festive Wedding Favour Tags
The colours used for the text on these lovely wedding favour tags are so festive and would be perfect for a winter wedding. The glittery dark green, gold and black look so smart together, especially in such a pretty and elegant font.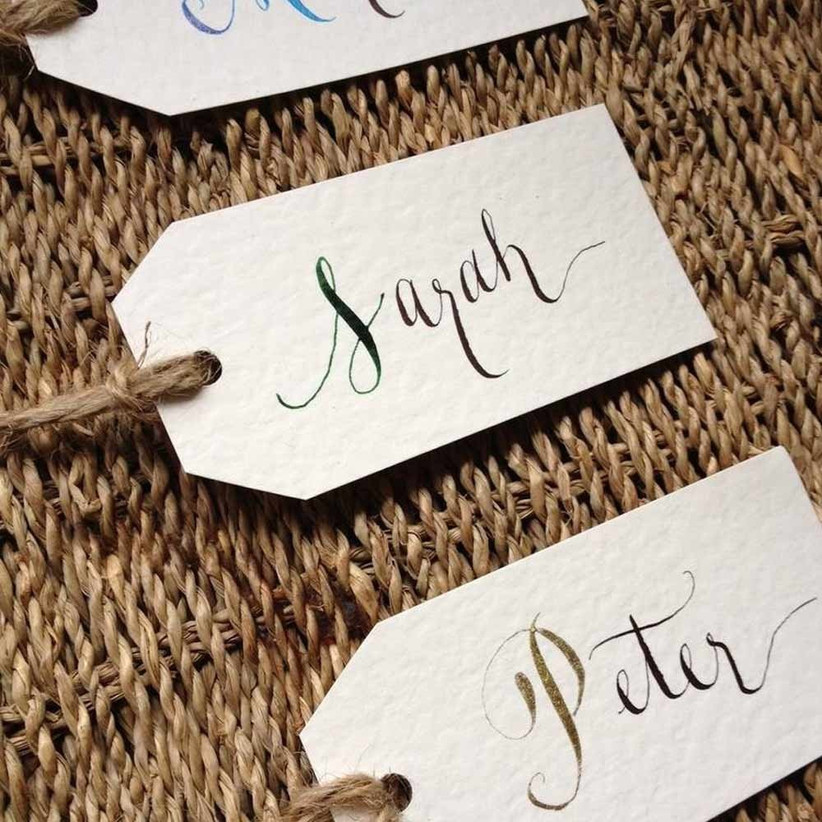 Burgundy Wedding Favour Tags
This burgundy and gold wedding favour tag looks high end and rich in colour. The narrow shape of it and presentation below is such a creative idea for both the tag and the favour itself. This idea can be recreated with a variety of wedding favour objects or simple presented with some gold string and tied to the favour of your choice.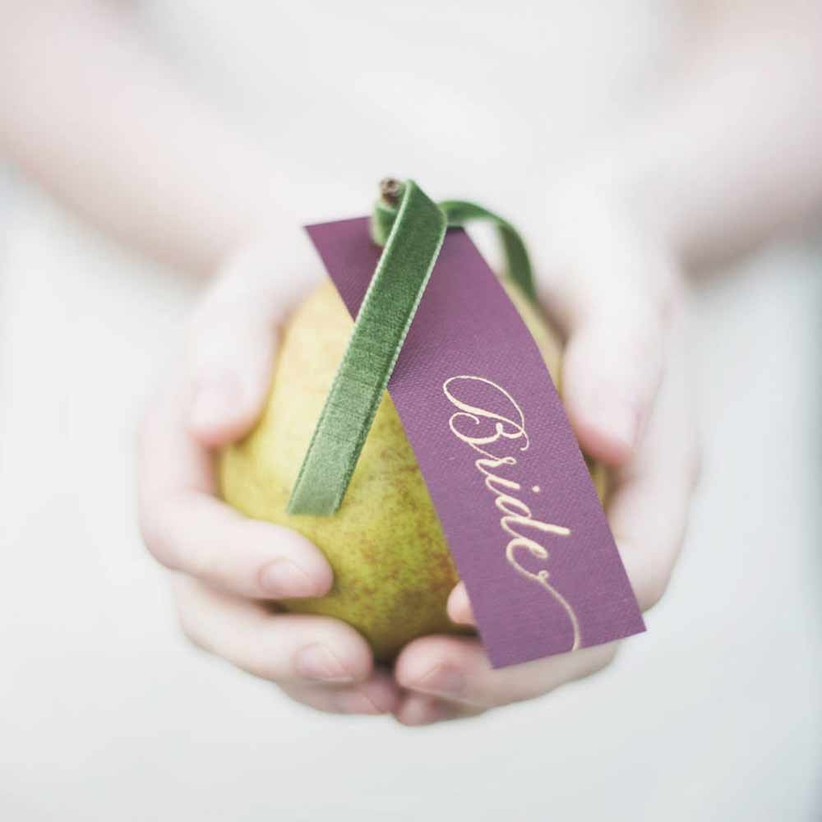 Hashtag Wedding Favour Tags
Using a hashtag for your wedding favour tag is a modern and fun idea. You could even coincide the hashtag on the favour with your own wedding hashtag to make sure guests know what to tag their pictures as on Instagram. This particular tag is a cute size and uses an adorable font and layout that even includes your name and wedding date!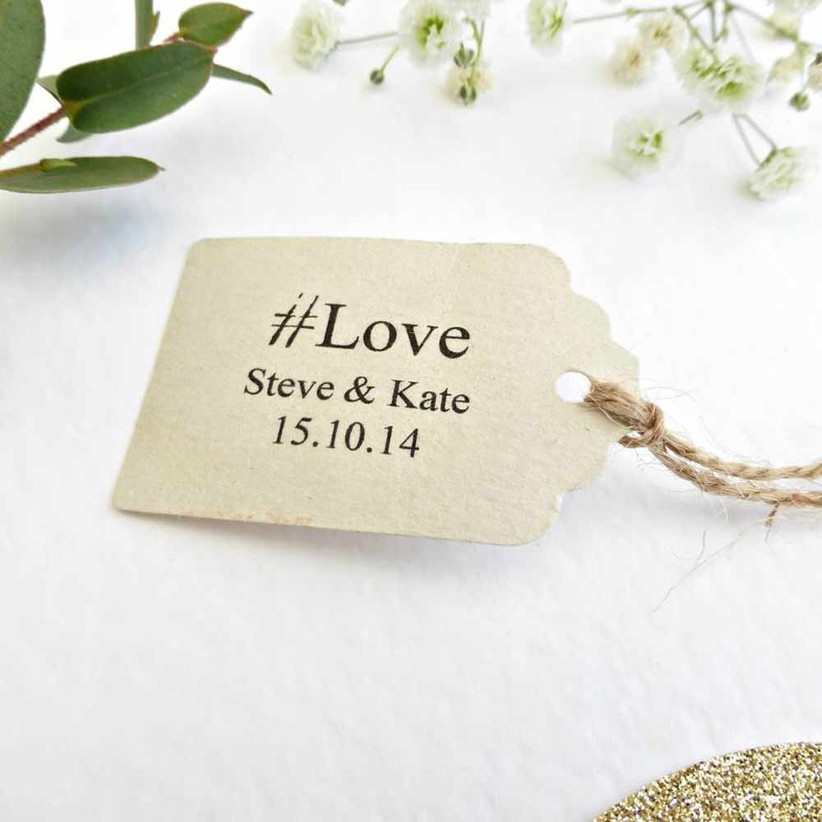 Polka Dot Wedding Favour Tags
Pretty vintage weddings with a 50's theme are the perfect home for these cutesy polka dot wedding favour tags. Pastel colours look amazing when used in weddings and the paleness of them means you can use a few different shades because they complement each other so well. The pretty black writing stands out against the pale backgrounds and will look so pretty with vintage wedding favours.
Beautiful Wedding Favour Tags
We love the style of this wedding favour tag. The name of the guest is the forefront of the design but adding the circular, faded background with the wedding date on it is such a unique touch. The stripy string keeps the tag modern and shows how well it would go with a monochrome décor theme.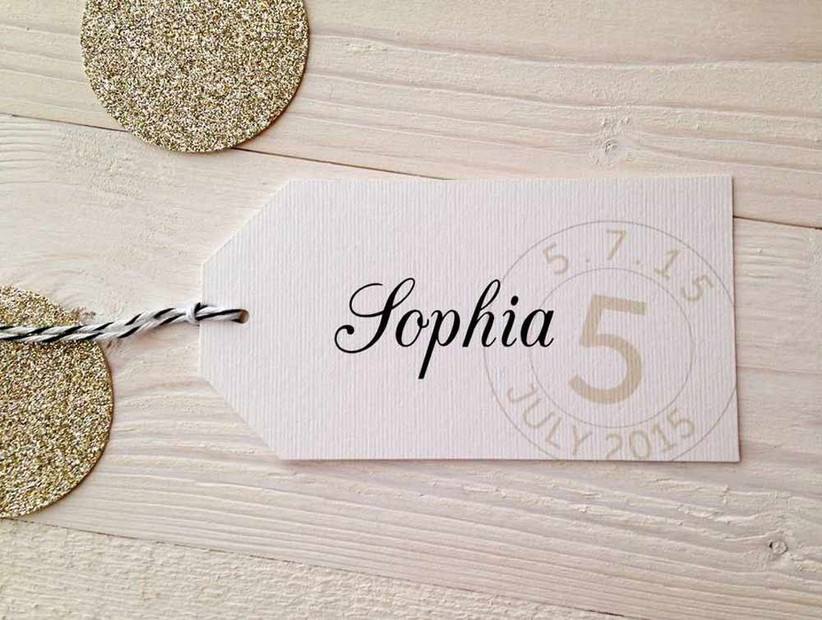 Before you decide on a tag, it's important to know what it's going to be attached to… Have a look at our amazing 101 wedding favour ideas, there's bound to be something that catches your eye!