What to Expect at a Nigerian Wedding: Nigerian Wedding Traditions Explained
Have you been invited to a Nigerian wedding? You'll want to get ahead of the game with our guide to the ceremony and traditions. You don't want to be caught out without money to spray...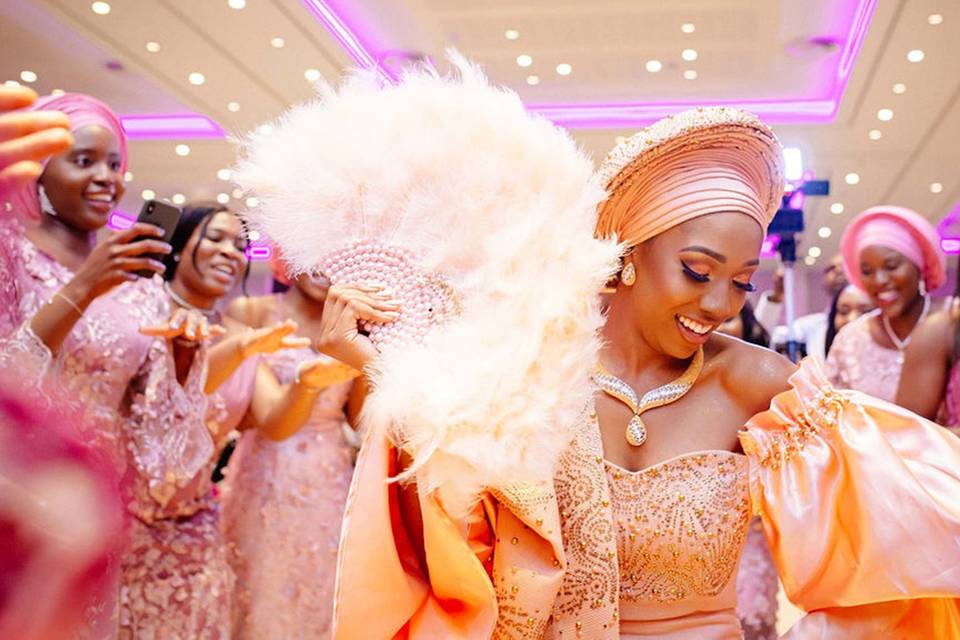 Nigerian weddings are all-out affairs, bursting with food, music, colour and dancing. Many couples have two weddings - a cultural ceremony, followed by a more Western-style day - so there's plenty of opportunity to celebrate.
There are more than 250 ethnic tribes in Nigeria, but the three major groups are Yoruba, Hausa and Igbo. Each group have their own wedding traditions, but if you're invited to a Nigerian wedding there'll be lots of common customs you need to know about.
From how long the wedding will last to what you should bring as a gift and what you'll be eating, we asked Bianca Gardner of luxury multicultural wedding planners Bumble Events to tell us what to expect at a Nigerian wedding.
READ MORE
What Are the Key Differences Between a Nigerian Wedding and a Western Wedding?
"The main differences are usually the cultural traditions that need to be observed," explains Bianca. "Nigerian weddings are colourful, lively, engaging, entertaining and often long affairs. The religious and tribal elements that need to be incorporated will be dictated by which tribe the bride and/or groom are from i.e. breaking of kola nuts or the groom and his friends prostrating before the bride's family.
"Typically, Nigerian weddings are large affairs (think of weddings running to between 600-1,000 guests) where it is common for invited guests to bring along uninvited guests! There will be lots of dancing and respect paid to honoured guests in attendance."
What Is the Typical Running Order of a Nigerian Wedding? How Long Do They Last?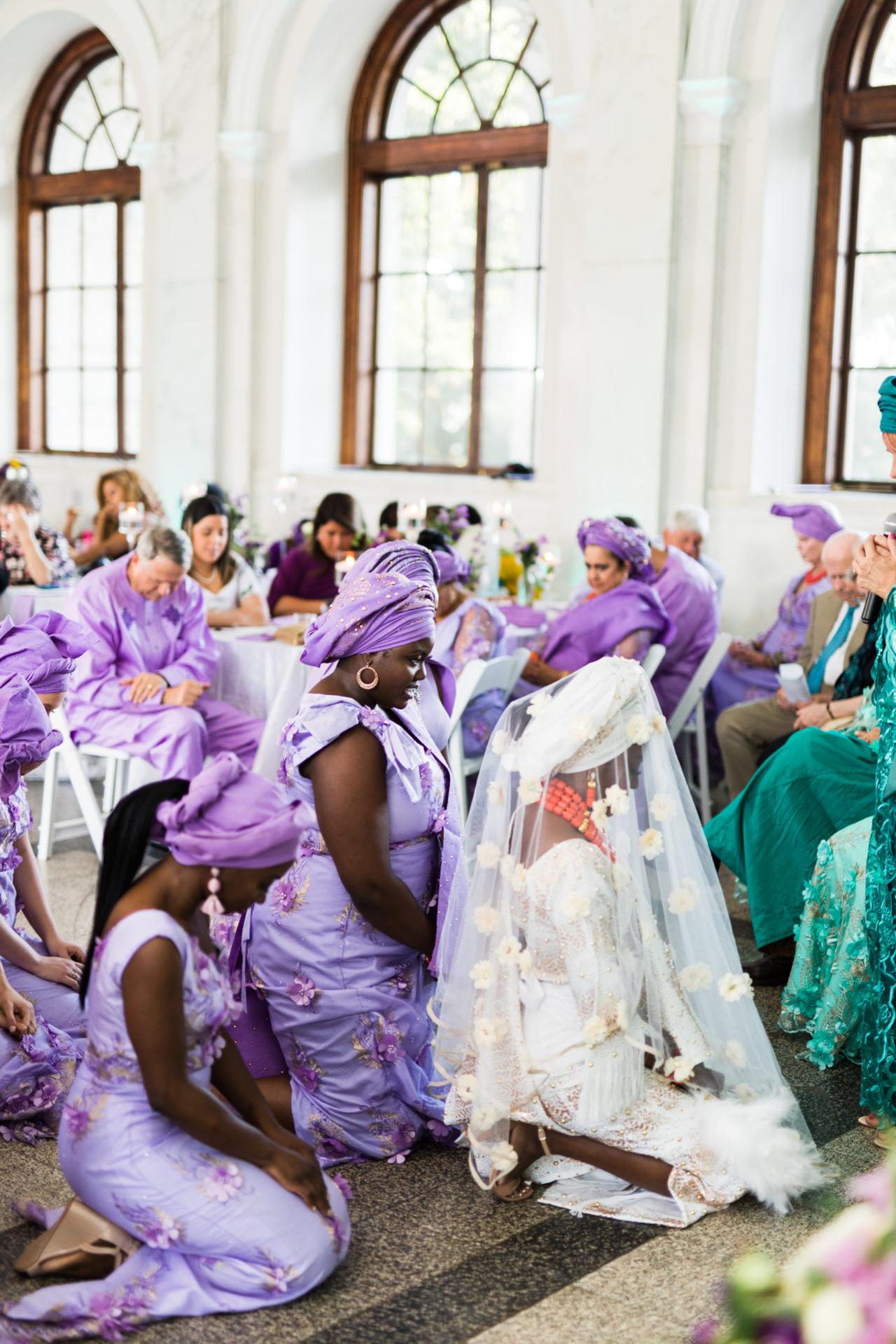 "As before, this will be dictated by the Nigerian tribe (of which there are over 200) but the most common are Yoruba, Igbo and Hausa," says Bianca.
"In most cases there will be a traditional wedding (called an engagement) held in the week before the white wedding. This is really the ceremony where the cultural elements are included. For the white wedding, the day usually follows an English wedding and during the evening the couple will change into Nigerian attire."
She explains how a typical Yoruba engagement would run. The ceremony usually takes about an hour but can last much longer, and the reception will last late into the night so there's time for dancing and often multiple outfit changes.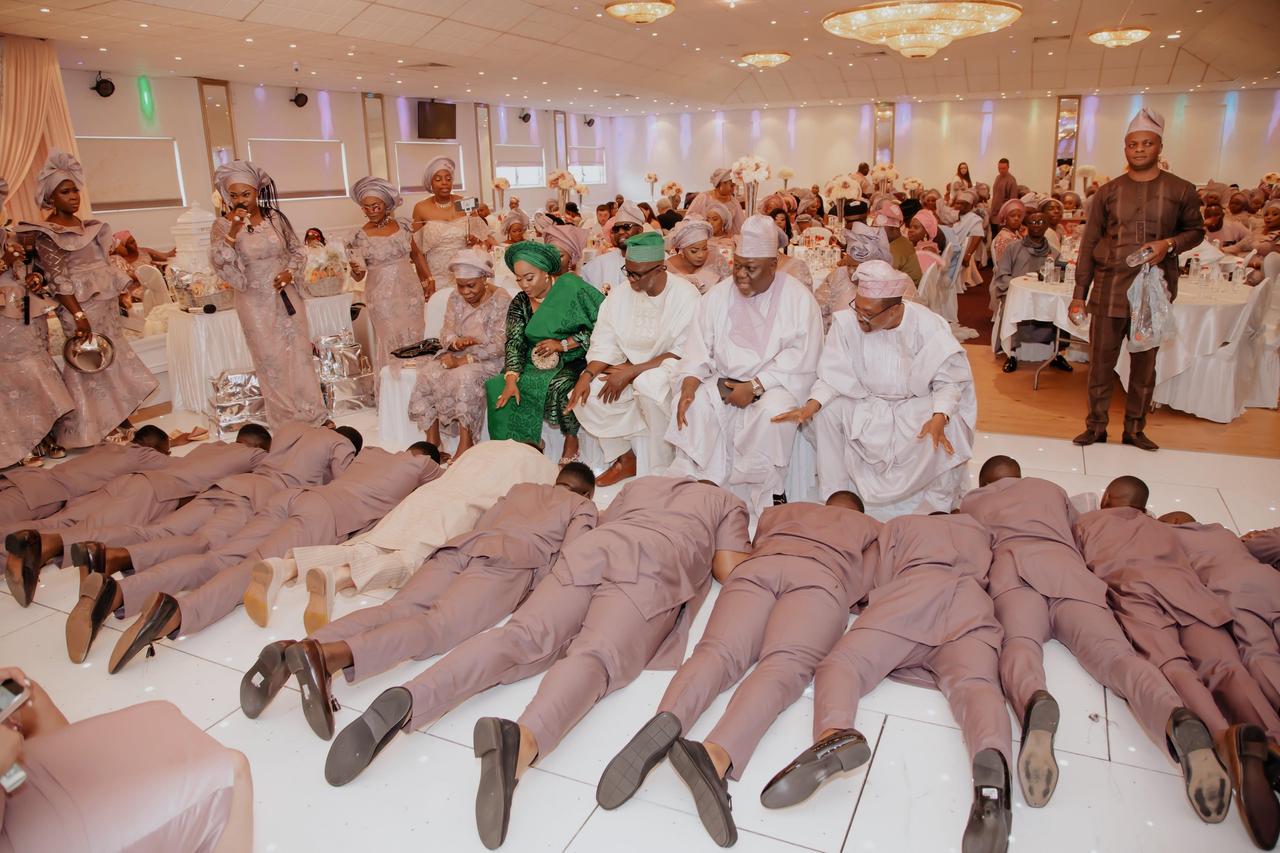 "This ceremony is the groom's public statement for his intention to marry. After both families have been formally introduced and seated, the groom enters with his groomsmen and officially asks both families for the bride's hand in marriage and their blessing.
"Following this, the bride will enter with her bridesmaids and will also ask for a blessing from both families.
"Choosing from a selection of presents (a dowry presented by the groom's family), the bride will often choose a Bible with the engagement ring enclosed. Other gifts are presented, and prayers and words of blessing are received. The couple is then engaged and a big party or reception will commence.
"The whole ceremony is conducted by an Alaga (who is like the MC) and it's expected that this role contains humour as well as the ability to make the honoured guests feel special.
"The ceremony will last a good few hours and it's not uncommon for them to start a few hours late! So have a bite to eat first and don some comfy shoes."
What Should a Guest Wear to a Nigerian Wedding?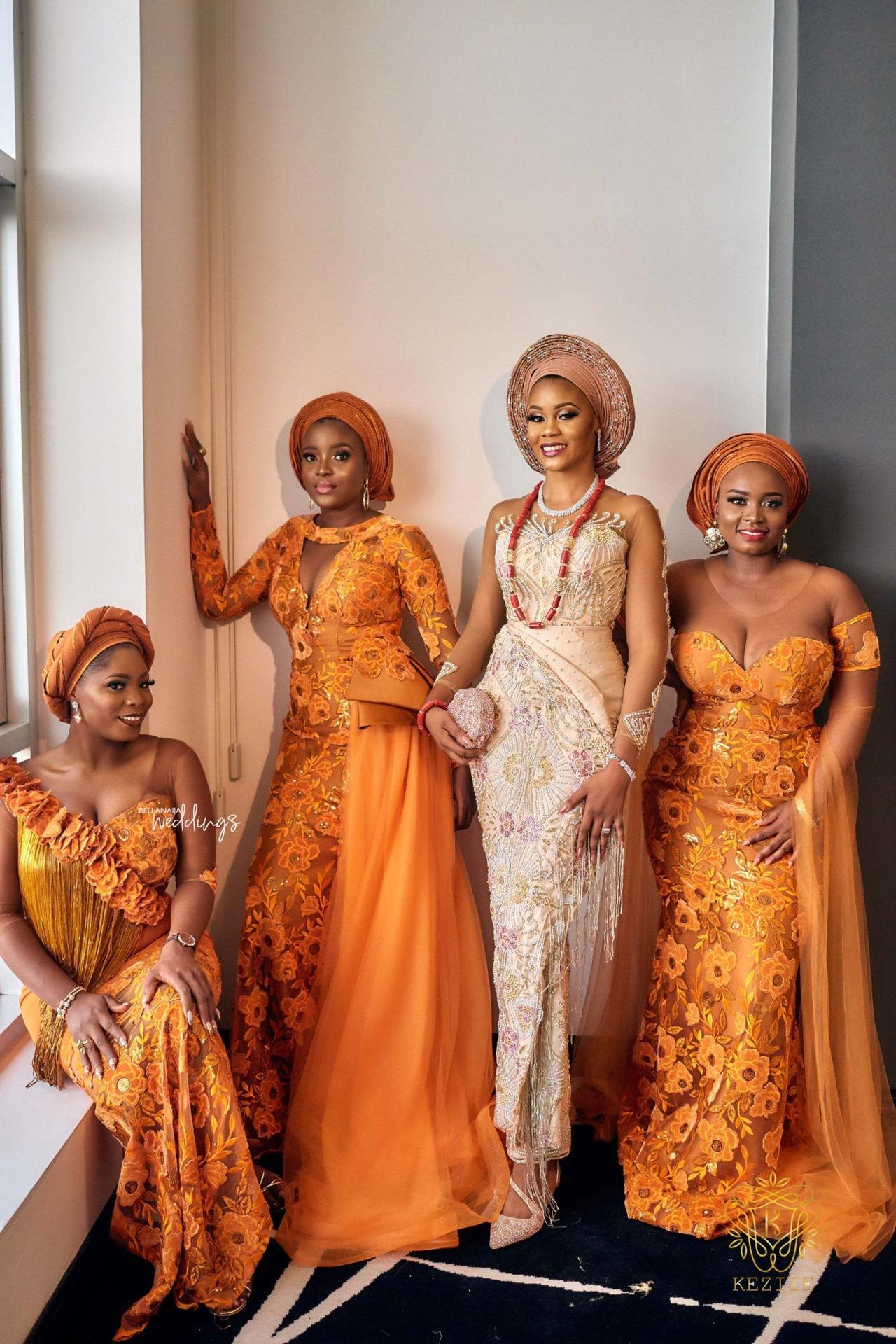 Most guests are expected to wear eveningwear to the wedding, however the couple may "share the 'colours' of the day and the Ankara or lace that they would like guests to wear," says Bianca.
The families will often wear their own colour-coordinated outfits called Asoebi; each side of the family will have their outfits made in a different fabric/colour so you can easily tell them apart. In photos, it looks incredibly striking and beautiful.
"Women often wear gele - which is a head wrap - that complements their dress and can be fashioned into elaborate styles. You can often find someone at the wedding who has been brought in specially to tie gele," she adds.
"In any case, tailors specialising in Nigerian dress are kept busy in the weeks before the wedding, and traditional and contemporary Western-inspired designs can be seen."
If you're unsure of the dress code, ask one of the bridesmaids (the bride has too much to do) and see what they suggest. An elegant, colourful cocktail dress for women or sharp suit for men will look good at any wedding.
What Nigerian Wedding Traditions Should I Be Aware Of?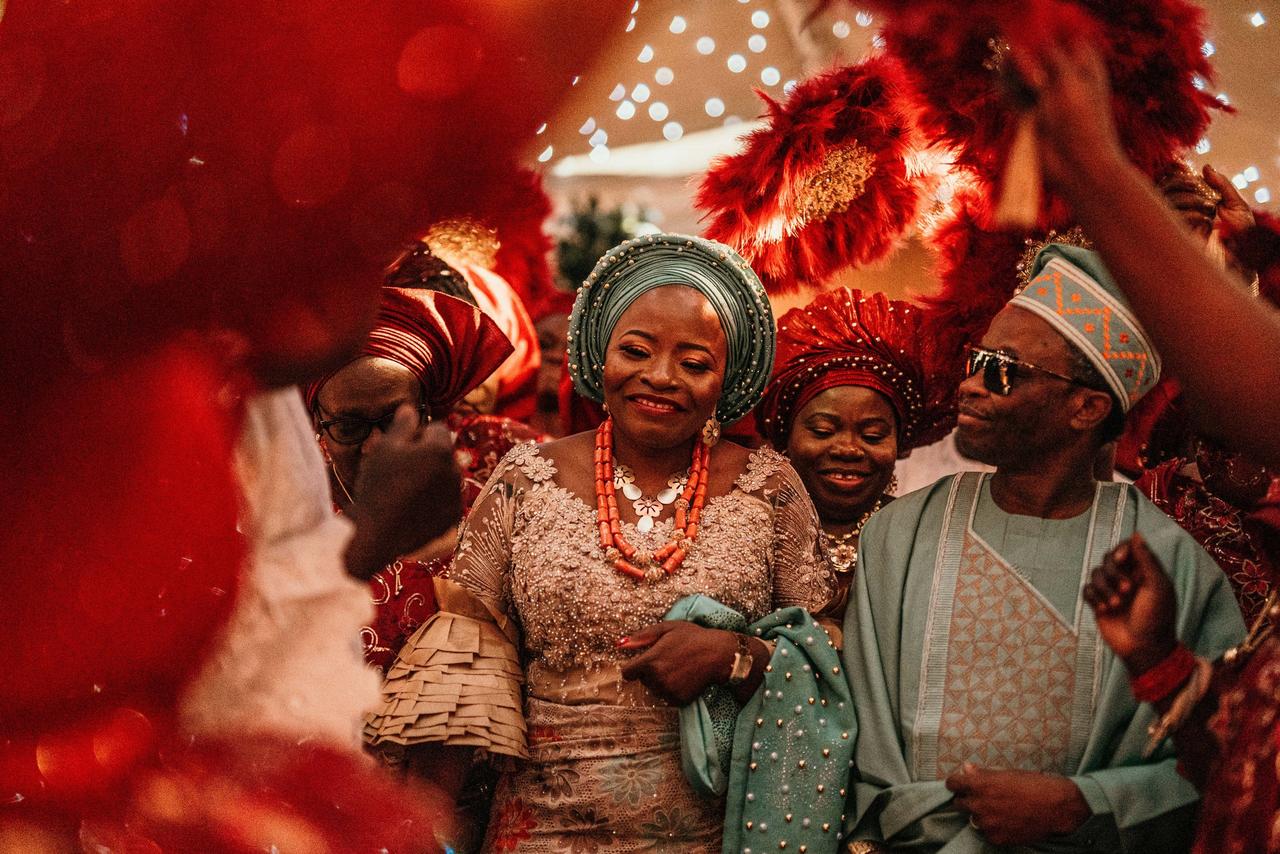 "It is customary to greet your elders by the title Aunty or Uncle and not by name," says Bianca. "For Chiefs and other persons of significant importance, it is customary to do a small curtsey as a sign of respect."
As Bianca mentioned above, there are lots of other traditions that will depend on the bride and groom's tribe. Here's a few:
Many wedding start with a kola nut ceremony, where kola nuts are broken as a sign of welcome. The nuts are blessed before they are broken and the more parts the nut breaks into, the more prosperity the guests will receive.
Grooms at Yoruba weddings are expected to prostrate themselves on the ground before the bride's parents as a sign of respect.
If you're invited to a Hausa bride's wedding, female guests may find themselves invited to the Wuni beforehand. As this ladies-only even, the bride and her family and friends will celebrate together and get their hands adorned with henna.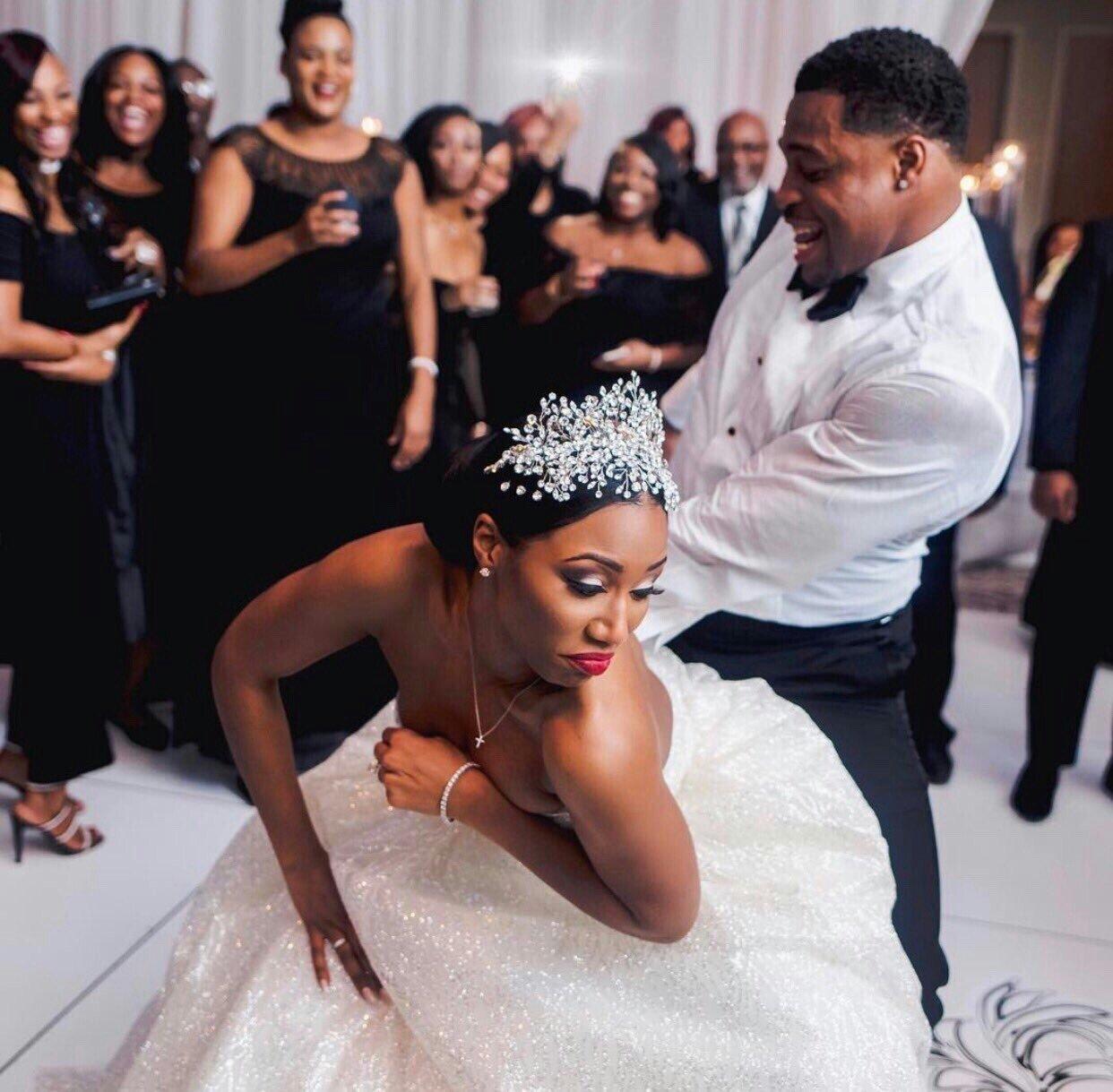 All Nigerian weddings will include a "spraying" where guests spray the couple with cash on the dance floor. This is usually dollar bills and is a way of showering them in blessings, keeping them dancing and providing money to start their married life. It is the job of the bridesmaids to collect the money.
Expect to see a lot of group dances, where it seems like all the guests will have choreographed a routine. These are just common dances that happen at most Nigerian weddings and you can search out videos for them on YouTube if you'd like to learn - look for Azonto and Chop My Money.
What Food Is Typically Served at Nigerian Weddings?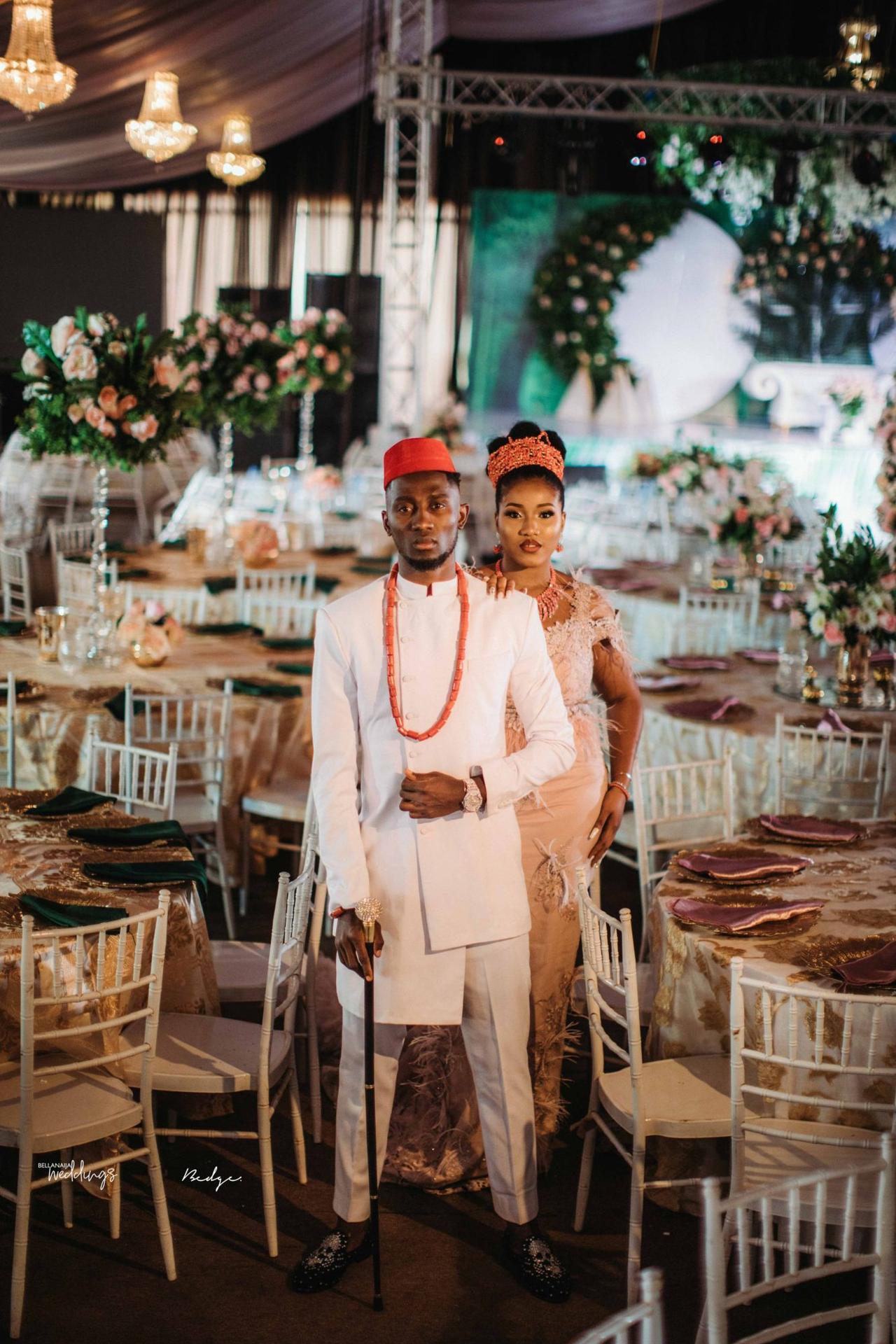 "One thing is certain, you won't starve at a Nigerian wedding! Food is served in abundance," says Bianca.
"You can expect 'small chops' (appetisers) of chin chin (fried pastry snacks), spring rolls, puff puff (deep-fried dough) and suya (spicy meat skewers). Main course is often served buffet style and will include the infamous jollof rice, fried rice, dodo (fried plantain), beef stew, moin moin (a steamed savoury pudding made from black eyed beans), chicken and noodles, with or without prawns.
"If lucky, you may also be offered pounded yam and egusi soup (a thick soup with ground melon seeds). Feeling full yet?"
What Gift Should I Bring to a Nigerian Wedding?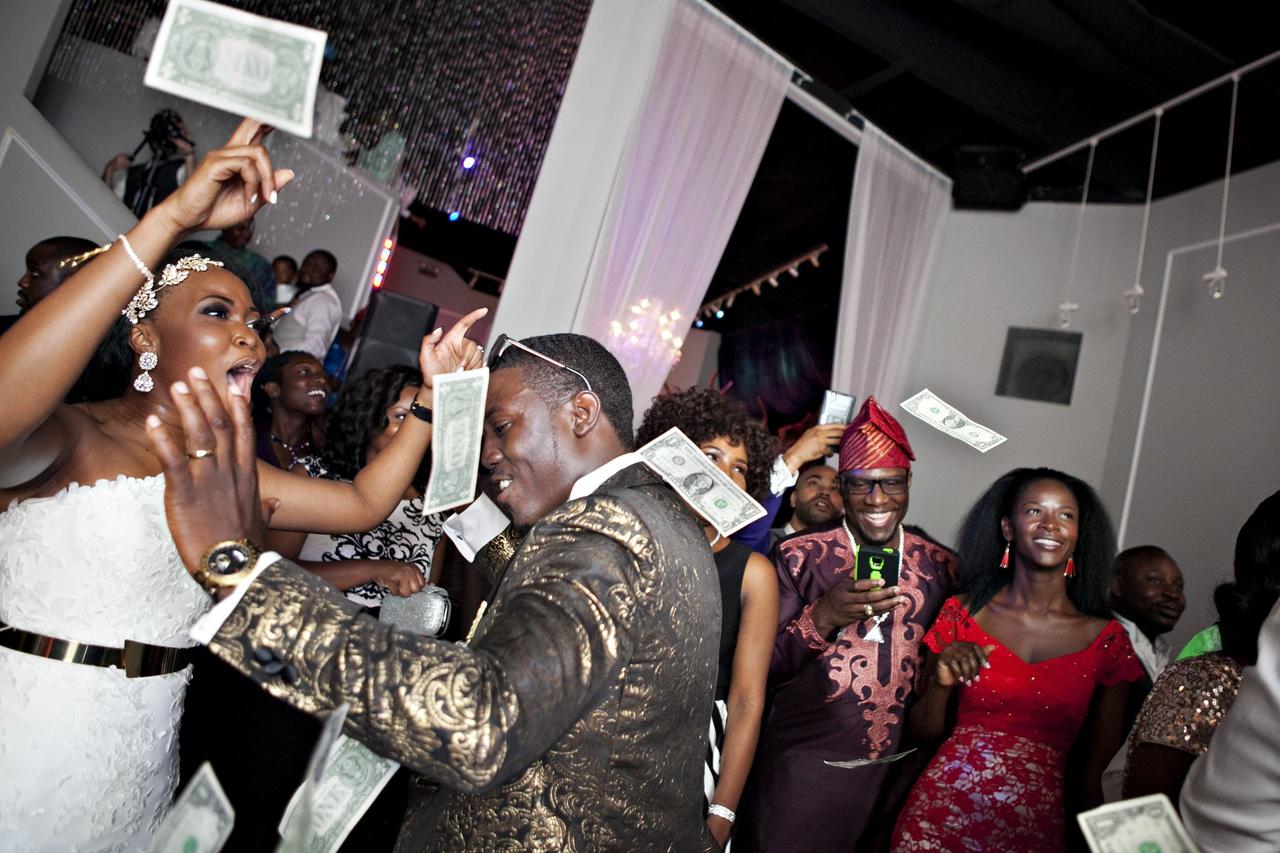 Bianca says that, much like Western culture, there's no specific gifts you need to bring to a Nigerian wedding.
"However, do come prepared with a small amount of US dollars, about £15 or so worth. During the evening, the bride and groom will change into traditional Nigerian dress, dance and be adorned or 'sprayed' with money. Sounds cool, right! At this point, you can get involved with showering the newlyweds with money."
You should expect to leave with a gift though - wedding favours are very popular at Nigerian weddings. You'll often depart with a favour that bears the couples' name, wedding date and even a photo of them.
Is There Anything a Guest Shouldn't Do at a Nigerian Wedding?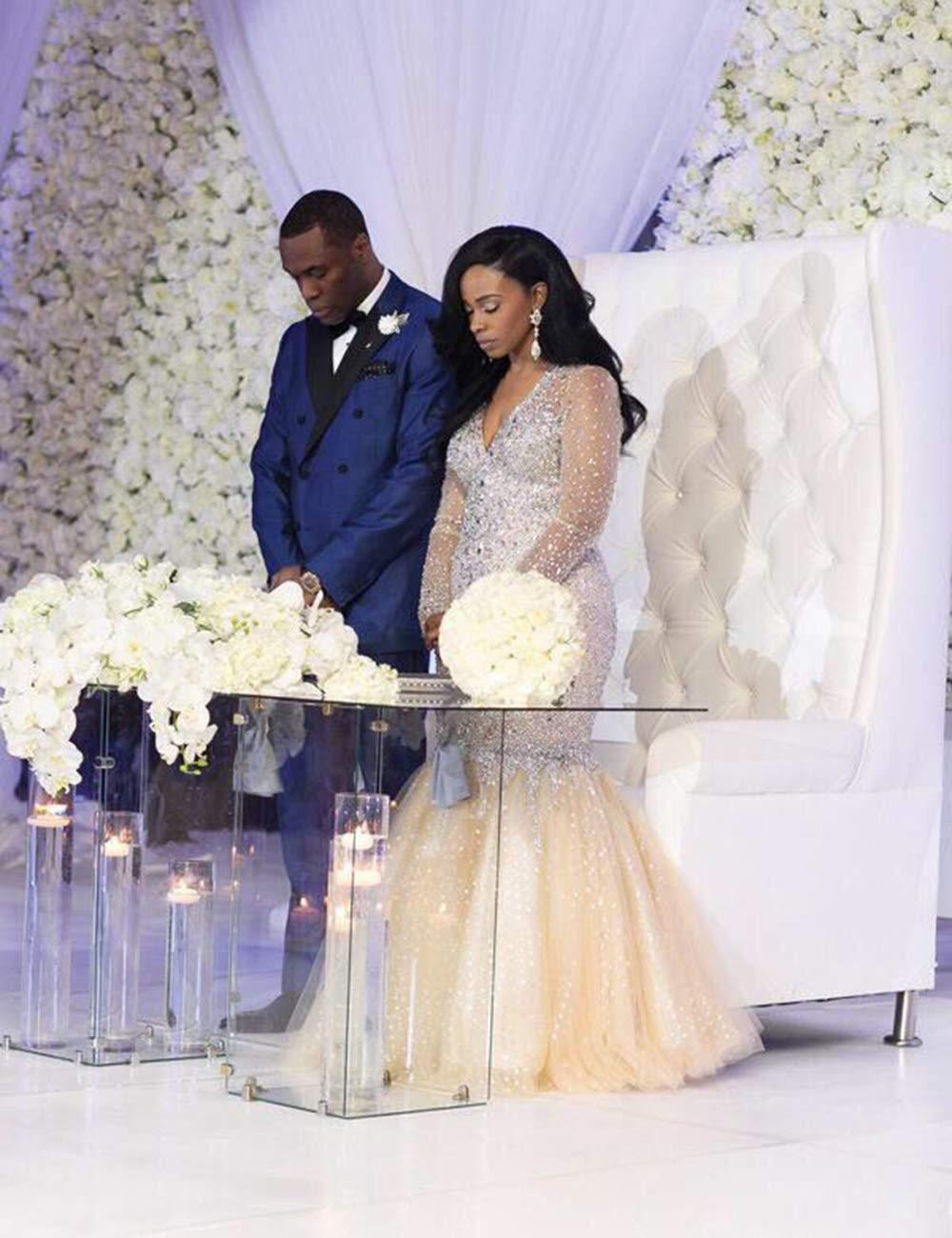 "Get drunk!" warns Bianca. "It may be stating the obvious, but the emphasis at Nigerian weddings is about partaking in and witnessing the couple's special union. Propping up the bar and stumbling around bare foot will be frowned upon."
Whether there's alcohol or not at the wedding will depend on the religion of the couple. The main religions of Nigeria are Islam and Christianity, and you may find the couple are having a "dry" wedding where no alcohol is served. It could be worth checking ahead; guests sometimes like to have a few pre-drinks before the wedding, but it wouldn't be acceptable to turn up tipsy at an event where alcohol is not served.
Looking for an outfit for your wedding? Check out these colourful, alternative wedding guest dress ideas.