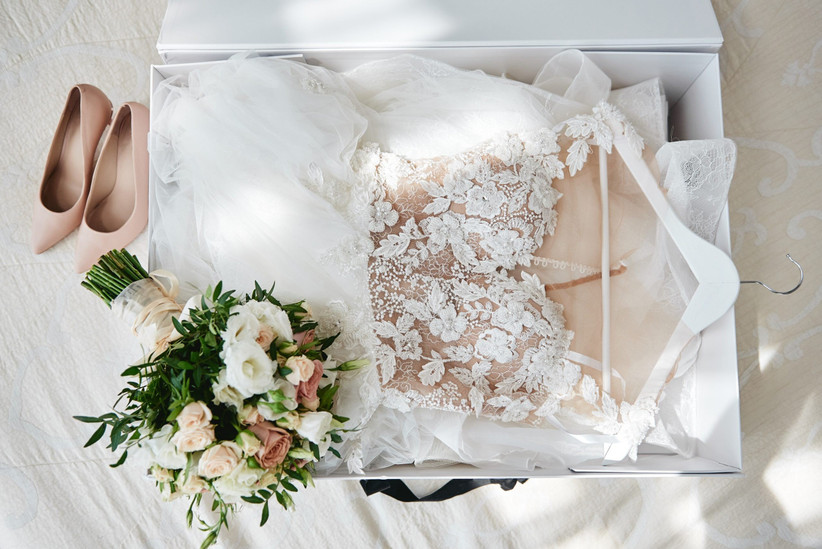 Postponing your wedding can take a huge emotional toll on a couple; you'll have a lot of feelings to process after you've spent months and months building up to your big day.
You'll also have spent months collecting or making items like your favours, décor, table plan and place cards. While you take the time to come to terms with the disappointment of postponing your wedding, you need to think quickly about storing those items so that you can use them again and they stay in the best possible condition.
From your wedding dress to your signs and favours, we asked the experts how to preserve and store your wedding items to keep them looking their best. Because your big day will come, and it's important to remember that it will be amazing when it does and you'll cherish these items all the more for being able to use them on your new date.
How to Store Your Wedding Dress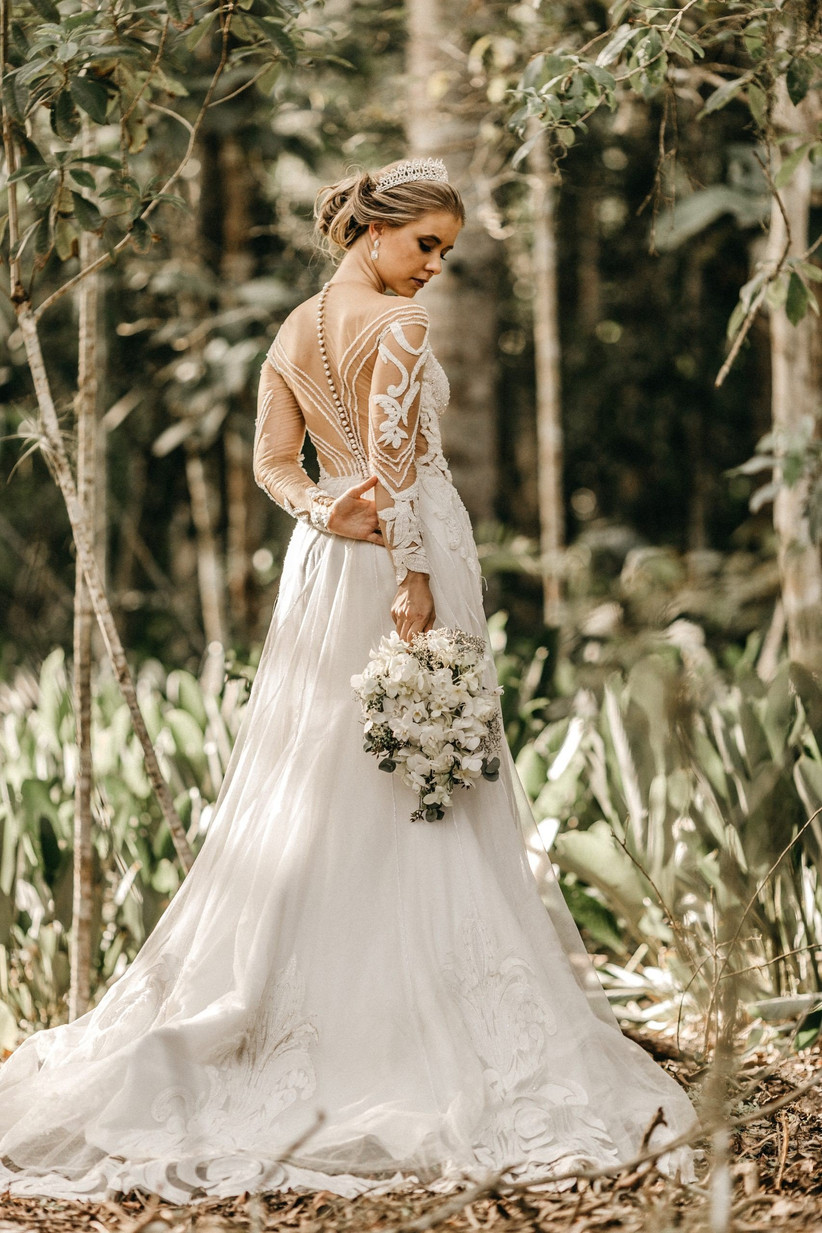 Not everyone will have collected their wedding dress pre-lockdown, but some brides will have done. It's crucial you know how to store your wedding dress so that the fabric and embellishments don't get damaged or the colour fade.
The team at the wonderful Morgan Davies Bridal boutique says, "A wedding dress will be absolutely perfect if stored correctly, however if it keeps being tried on (!) embellishments and beading may become loose and stains may appear where fingers have touched the fabric. If it's folded instead of being hung then creases may appear that are hard to get rid of. If left in bright sunlight without a cover, then beading and lace can become discoloured."
So what does each different style of dress need to keep it perfect?
"If the bride has collected her dress, then she should hang it somewhere in its protective cover. Make sure the weight of the dress is supported on the hanging ribbons and not on the shoulders/straps of the dress.
"If the bodice is boned or structured it may help to pack the bodice out lightly with some white acid free tissue paper. Make sure to hang the dress somewhere dry and cool. If the dress has a very full skirt and the dress bag squashes it, then use a large duvet cover instead to protect the dress," says the Morgan Davies Bridal team.
If your dress was due to be collected during lockdown, speak to your boutique. Almost all will happily keep it safe in the shop until you're ready to collect it. Bear in mind that they can't store it for an entire year, so make sure you've prepared a place to store it for when you do collect it.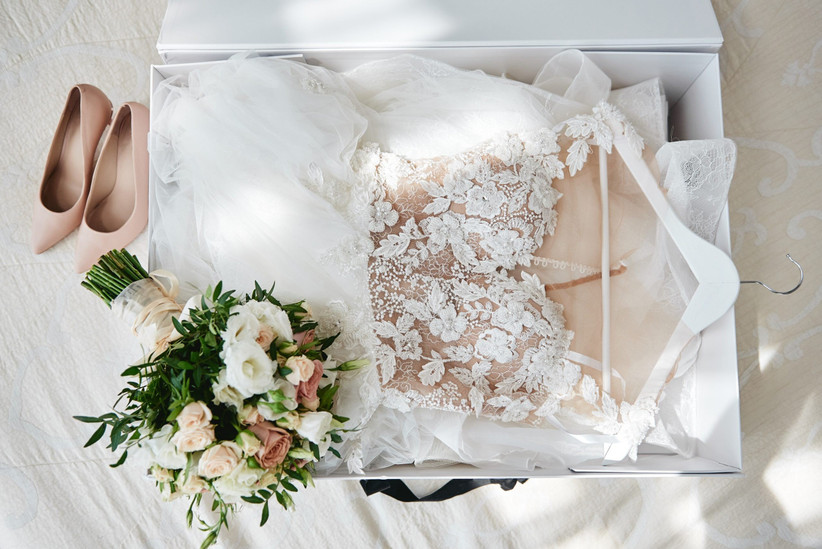 Other Things to Remember:
For most brides, it'll be incredibly important that their partner can't see the dress, so you may feel more comfortable asking a parent or your maid of honour to store it at their house.
Brides who are buying their dress from an online store rather than a boutique are sensible to wait until closer to the wedding date to order it.
Place a natural moth repellent like cedar wood balls in the wardrobe with your dress. You'll want to get your dress professionally laundered before you wear it as this can make it smell musty – but it will keep any pests away!
Vintage dresses are likely to be even more delicate so it could be worth storing it flat in a special breathable storage box with acid-free tissue paper.
How to Store Bridal and Bridesmaid Accessories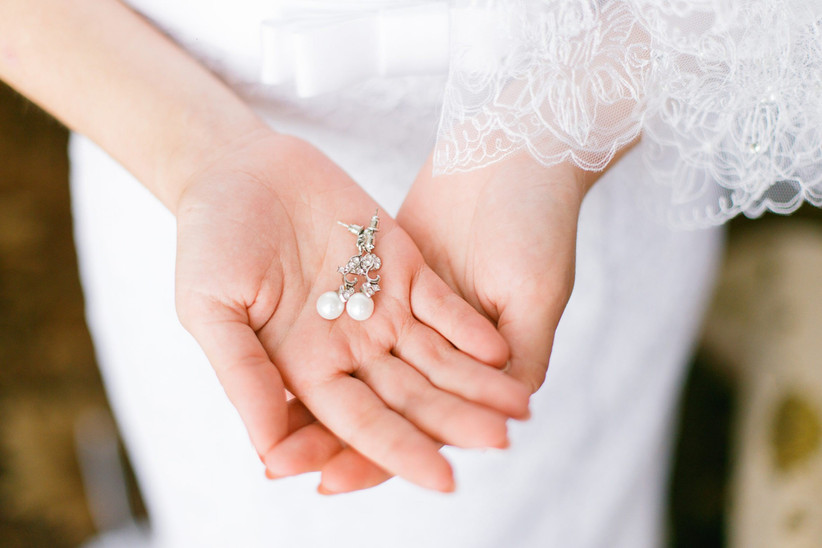 Bridesmaid dresses need to be stored in the same way as the wedding dress – protective dress bag, hanging ribbons on a padded hanger, away from sunlight etc. But what about your accessories? From shoes to veils and hair accessories, these will all need to be kept safe.
Veil
Your veil can be hung up or folded in a storage box. In both cases, you'll want to steam it before the big day, but especially if it gets any creases. The important things are to keep it away from dust, damp and sunlight. Store in a breathable box or garment bag with acid-free tissue paper and some silica gel packs to absorb moisture.
Shoes
Keep shoes in their original box, but make sure to take out any plastic wrapping. If you've invested in an expensive pair of shoes, they'll likely come in a fabric shoe bag – if not, we recommend buying one. Again, silica gel packs are great here to make sure no moisture gets near your shoes.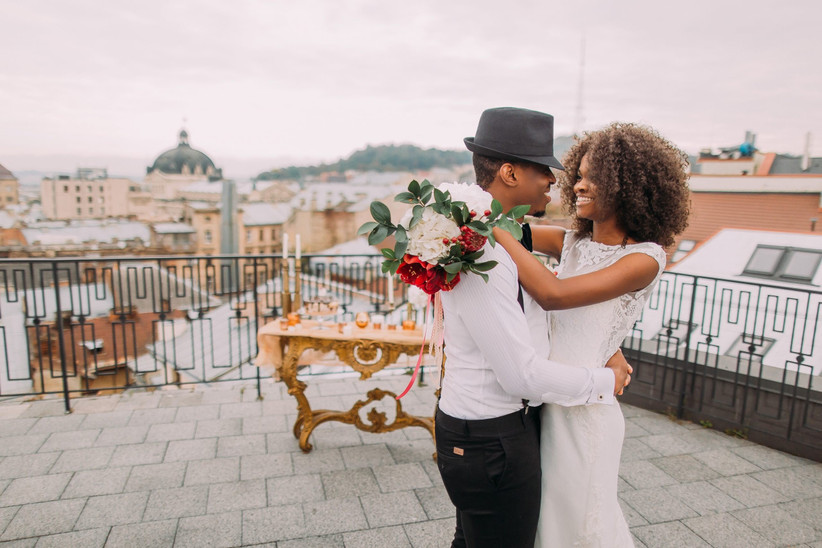 Jewellery and Hair Accessories
Most of your accessories will have been delivered to you or wrapped in store in tissue paper and this is a good product to keep them in. Put them all in one box so everything is in one place and you avoid the temptation to try them on repeatedly before the big day. Wrap some extra sheets of tissue paper around the more delicate pieces like hair vines. If any precious metal items looks a little dull after months in storage, take it to a jewellers for a polish or DIY a clean at home – you can find loads of kits online.
How to Store Your Wedding Stationery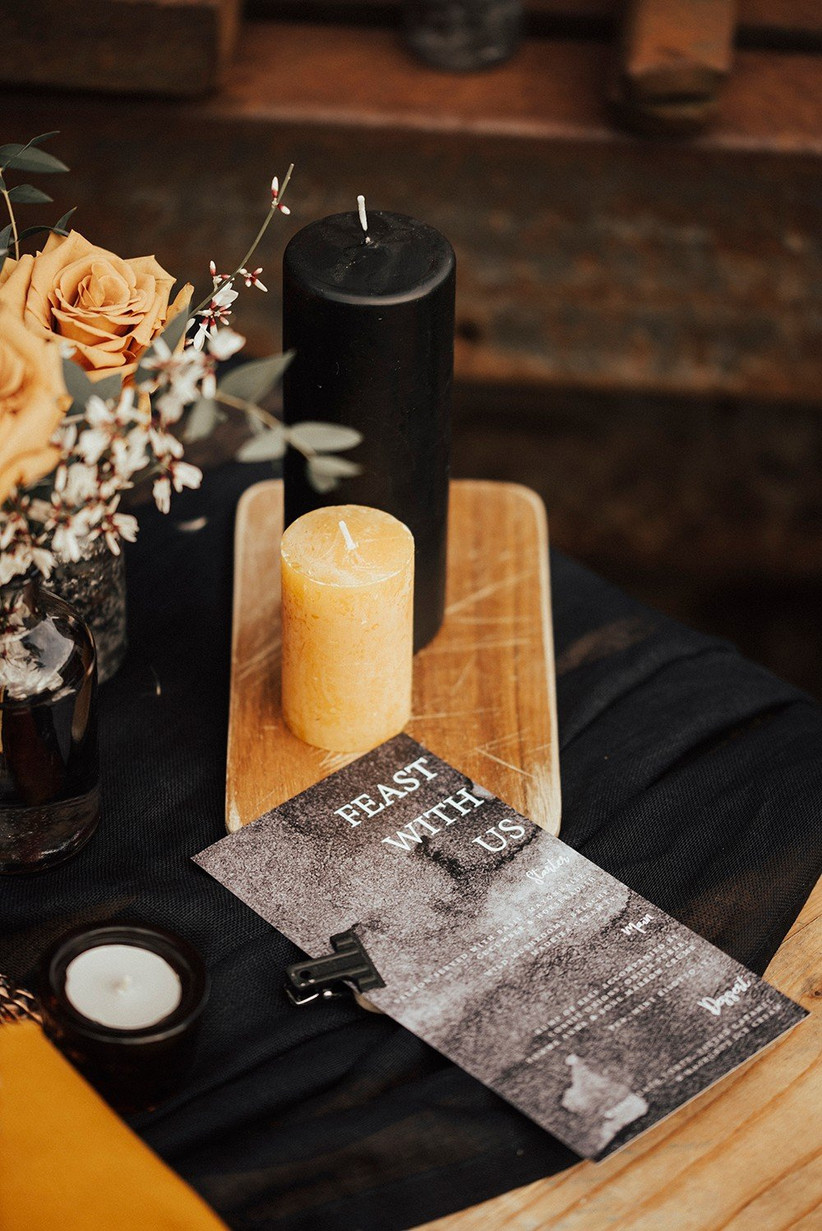 Image: Katie Ingram Photography
"Wedding signs, stationery, key pieces for your table settings… even your candles! They will all need that little loving too to ensure that they're pristine and ready to steal the show when your new date comes around," says June Glackin of award-winning Junie Poonie Events, who makes gorgeous meaningful stationery and offers bespoke wedding styling.
"After all, it's the little things that really do matter: it's the tiny touches, the textured materials, the coloured candles, the personalised touches that your guest will truly take away with them (and some quite literally too… hold onto your gorgeous candle holders kids as there's always one crazy auntie that wants to take away a centre piece or two!)"
You'll have already sent out your invites (and updated change the dates too), but there are lots of other bits of stationery that you'll need to keep safe.
"Papergoods such as place cards, menus and on-the-day stationery should be wrapped in tissue paper, laid flat and kept away from direct sunlight, preferably at room temperature," says June. "This will reduce the risk of them losing their texture, stiffness or overall finish along with saving them from being creased, faded or getting dirty finger marks on them (it also should stop you from constantly sneak peeking too!)."
The act of wrapping them up and putting them away can become a meaningful moment. Take the time to look at them, remember the excitement of ordering or making them, and wrap them up with love so they can take pride of place when it's time to use them again.
"You could make a beautiful box, have some stickers created and treasure them till nearer the time," suggests June.
How to Store Your Wedding Décor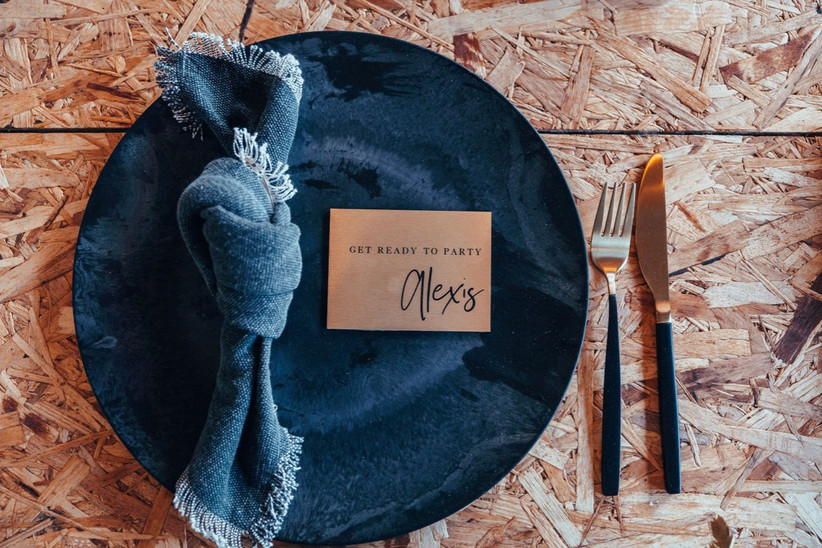 Image: Blonde Shot Photography
"Larger signs and boards such as welcome signs, order of the days and oversized menus come in an array of materials such as wood, acrylic, glass, card and linen materials to name a few," says June.
"Keeping these well wrapped and as flat as possible will protect them from any knocks and bangs, along with reducing any risk of them warping over time. A good strong bubble wrap should suffice – though you could always make them pretty too by wrapping the bubble wrap in a pretty linen material, a beautiful ribbon, a gorgeous paper or something that reminds you of your big day and allows the excitement to build when reopening them closer to when they will be on show for all to see.
"For smaller items such as candles, vases, fairy and festoon lights along with other key pieces, take care to ensure that these items are looked after too. Again, a simple tissue wrap should suffice, though take the time to ensure that each piece is either in its original packaging or wrapped separately as even candles can discolour. Candles can even lose their shape if not protected, especially in varying temperatures."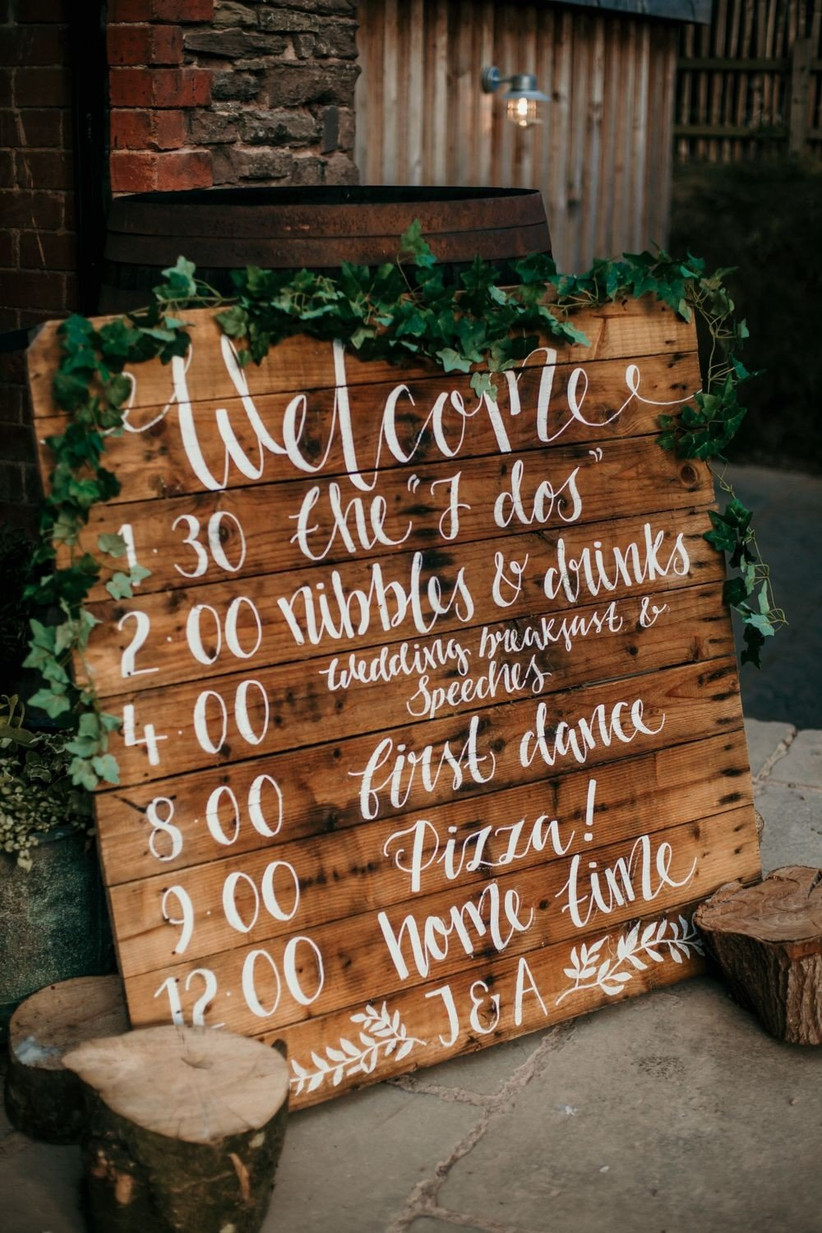 Image: Pinterest
Again, turn this into a moment you and your partner share and remember. Focus on the positive that you'll be able to use these one day rather than the fact they're going into storage for a little bit.
"Why not crank up the wedding playlist, crack open a bottle of bubbly and spend some time celebrating what's to come… all while protecting your loveliness ready for your big day," says June.
How to Store Your Wedding Favours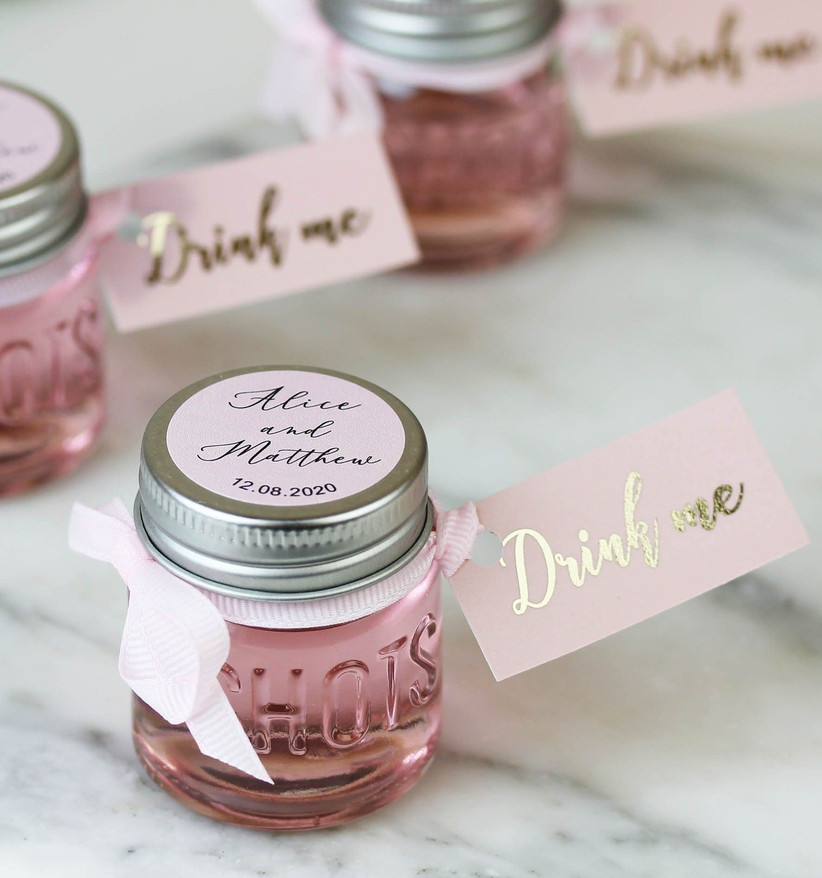 Image: Pinterest
Ultimately this depends on what your wedding favours are:
If they're edible, than nope, sorry, they likely won't last a whole year. Delay orders that you can on sweet things like biscuits, popcorn and macarons. Something like wrapped chocolates could last for a few months. Check the best before on the packaging and keep in a cool, dry place – we've all seen that unappetising white bloom on chocolate that's melted and re-set.
Dry savoury favours like sachets of spices and teabags should be fine as long as they're not near any humidity. Jarred things like jams and honeys should too, because of their high sugar content. To be safe, check with your supplier.
Alcohol favours will keep just fine, especially popular little bottles of gin. Whether they last in your house a year is another question…
Anything made of durable materials should be OK, for example wine stoppers and bottle openers, shot glasses, candles, scratchcards, coasters etc.
Some unexpected things might not last as well as you'd hope, such as soap, sparklers, bath bombs, and matches – you'll want to inspect them all before you use them again and stick to the popular rule: keep them in a cool, dry, dark place.
If your favours won't keep, see if it's possible to donate them to a charity who could use them or perhaps a local hospice or old people's home would like them.
How to Store Your Confetti and Artificial Flowers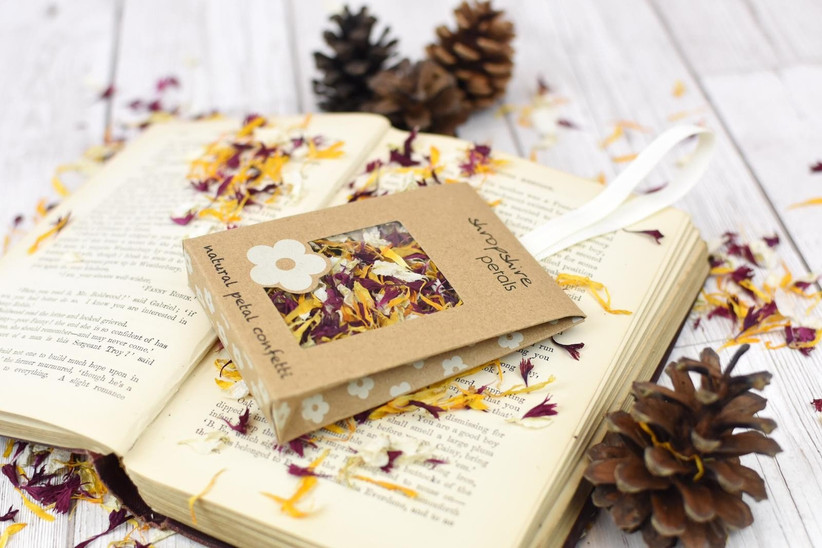 Image: Shropshire Petals
Biodegradable petal confetti is really popular as an eco-friendly confetti alternative. Shropshire Petals, who make gorgeous delphinium and wildflower petal confetti, advise storing it in a cool, dry place away from direct sunlight.
It can happily last up to a year in the original packaging if  you keep it at the back of a dry cupboard, but Shropshire Petals can also delay delivering your order if you don't have anywhere to keep it. If you need to keep your petals for longer than a year, you may notice a little of the colour fading but they'll still be in excellent condition. It's humidity that makes them start to break down so avoid damp conditions at all costs!
Your florist won't make your fresh flower bouquets until your new wedding date, but you may have some artificial flower installations, centrepieces or bouquets that you need to store. Similar rules apply, dust your artificial flowers down and then store in a dry, dark place so that the colour doesn't fade. Make sure they are wrapped delicately and placed in a large box so that they don't get crushed or bent. Add some silica gel sachets to the box to prevent moisture getting in.
If you're in search of new wedding favours, explore our list of 101 amazing wedding favour ideas.