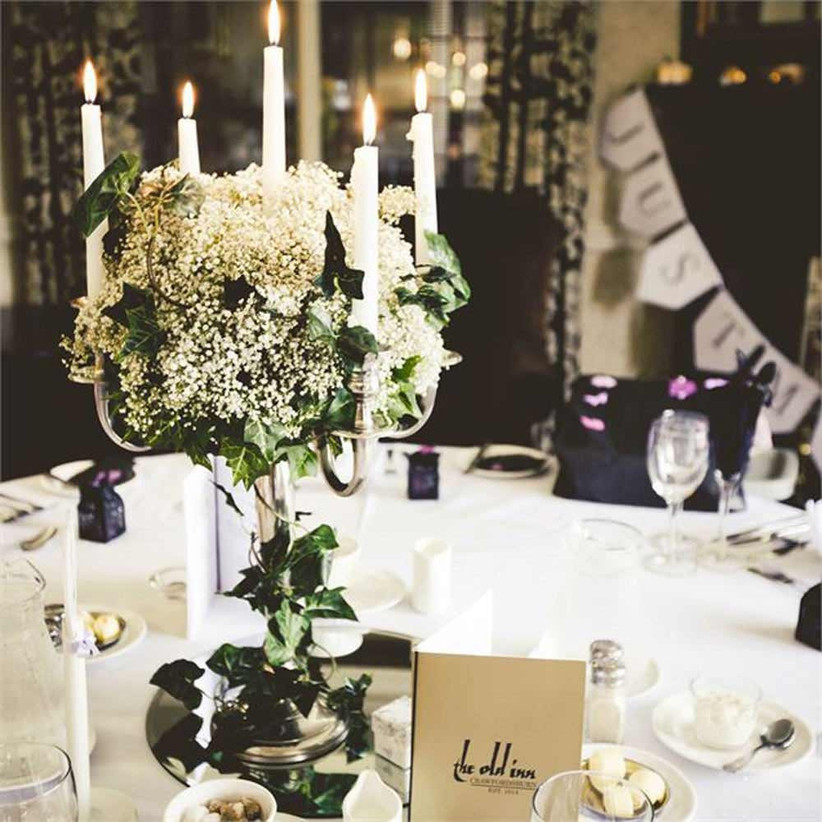 If pastel colours and glitter aren't quite your thing – why not have a gothic themed wedding?
There are so many wedding rules you can break to create this incredible theme from black wedding dresses to skull themed invitations and even more gothic wedding ideas that are so unique – and we have the ultimate selection for you here. 
Gothic Wedding Favours
These coffin wedding favours are absolutely gorgeous and the colours are to die for. They completely fit in with the gothic wedding theme but still look as stunning as ever.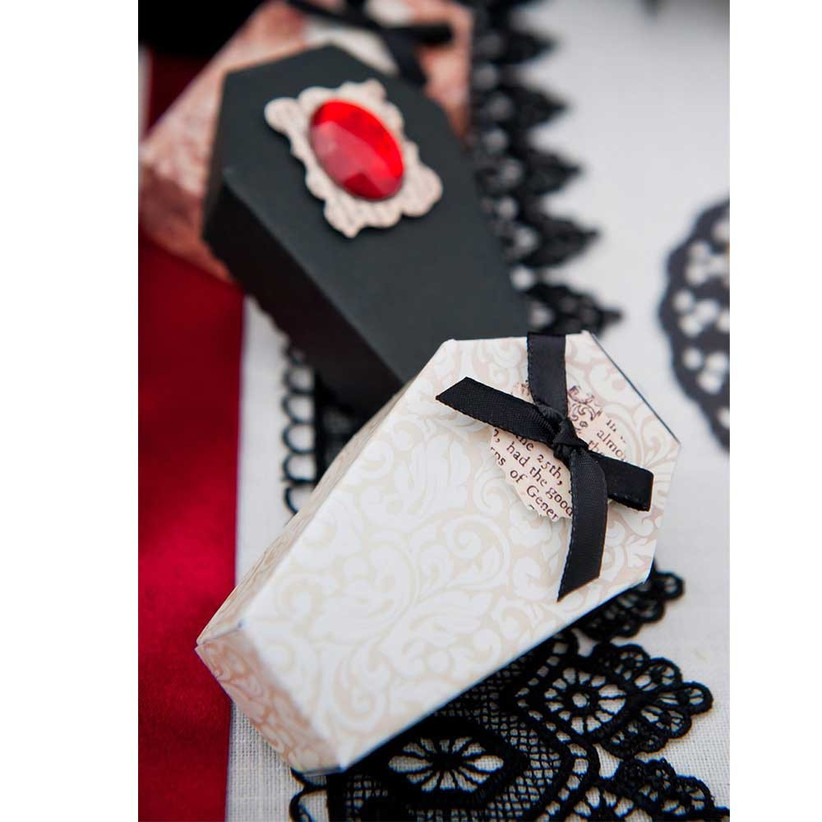 Image Credit: Kat Forsyth
If your guests are a hungry bunch, why not offer them edible wedding favours like these tasty treats. The skull pattern suits the theme and along with the love heart shape and print, keeps it feminine and wedding-worthy.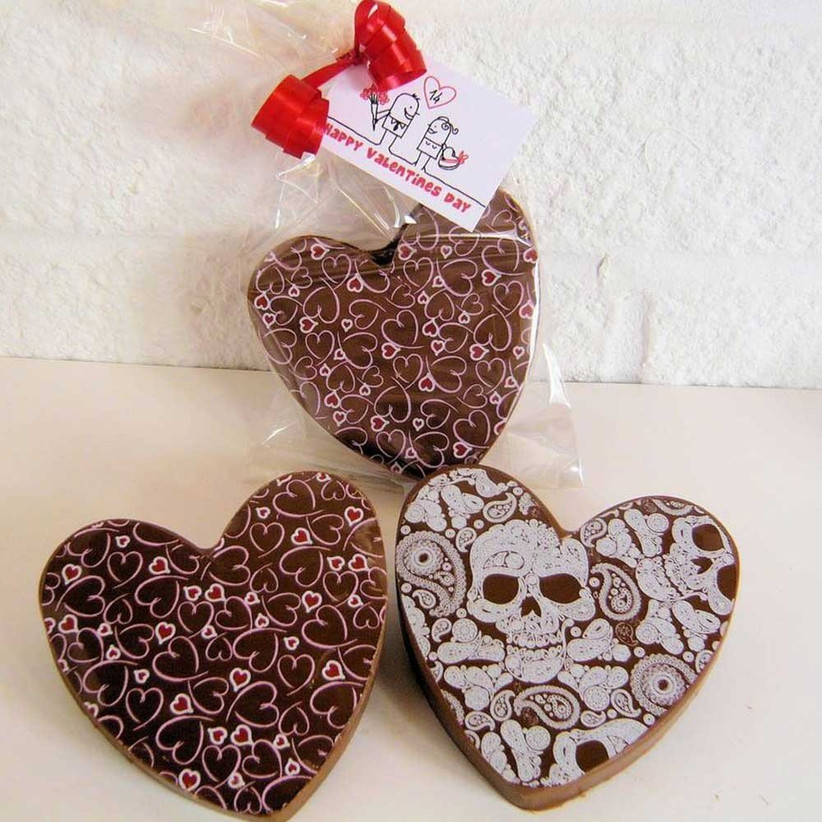 Another cool gothic wedding idea for your guests to enjoy is these skull cake toppers. Have your cake maker create a cupcake of your choice for each of your guests and put one of these in each one.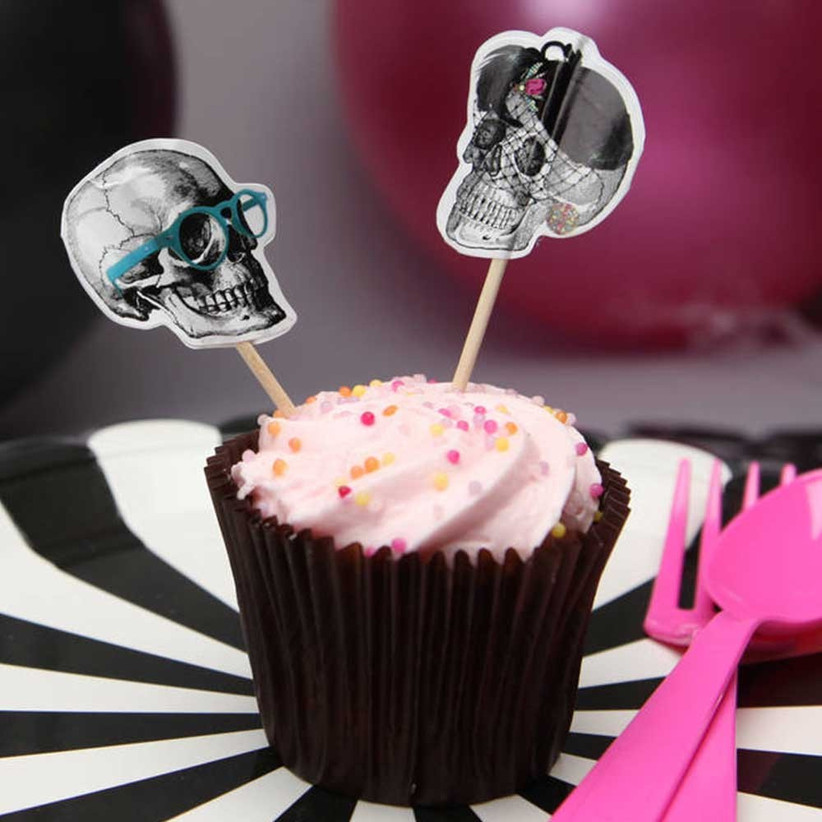 Gothic Wedding Flowers
If you're a bride who still wants a simple wedding bouquet, but in a gothic colour scheme, you'll love this bunch of black-purple lilies. The deep colour is enchanting and would look amazing with a gothic wedding dress.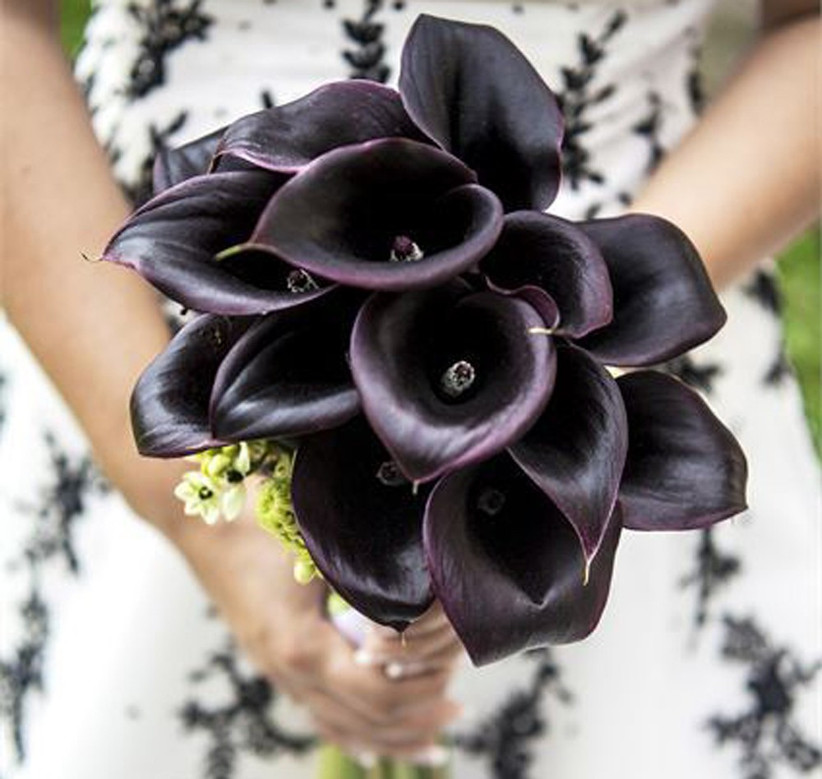 Alternative bridal flowers are becoming ever popular right now and this button bouquet is a favourite of ours here at Hitched. The colours are bright, yet still gothic and the black netting that cages it is the perfect finishing touch.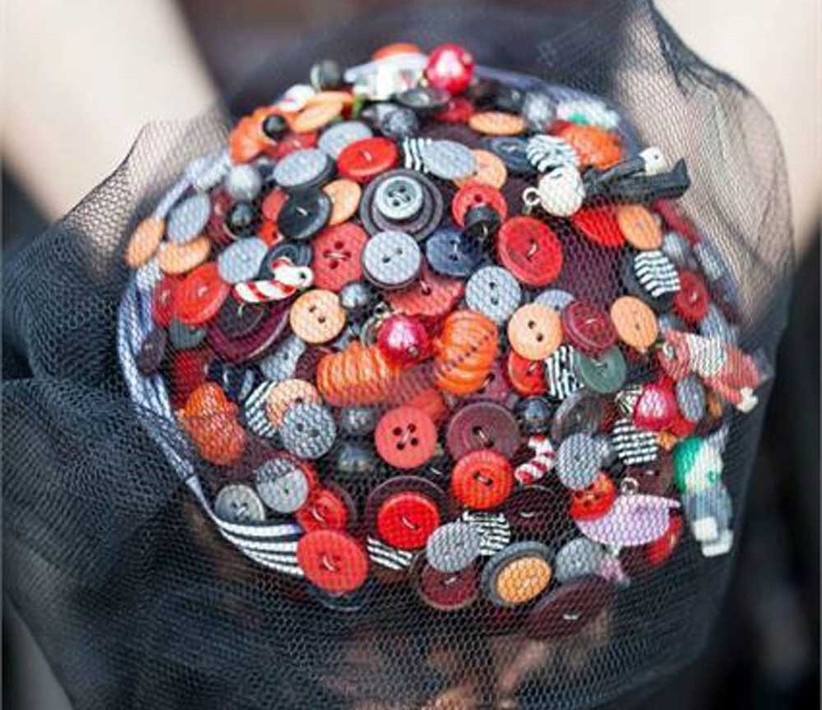 Florist: Pumpkin and Pye
To add some warmth and colour to your gothic wedding, why not try a bouquet like this one. The red and almost-black colours are a match made in heaven and look so romantic.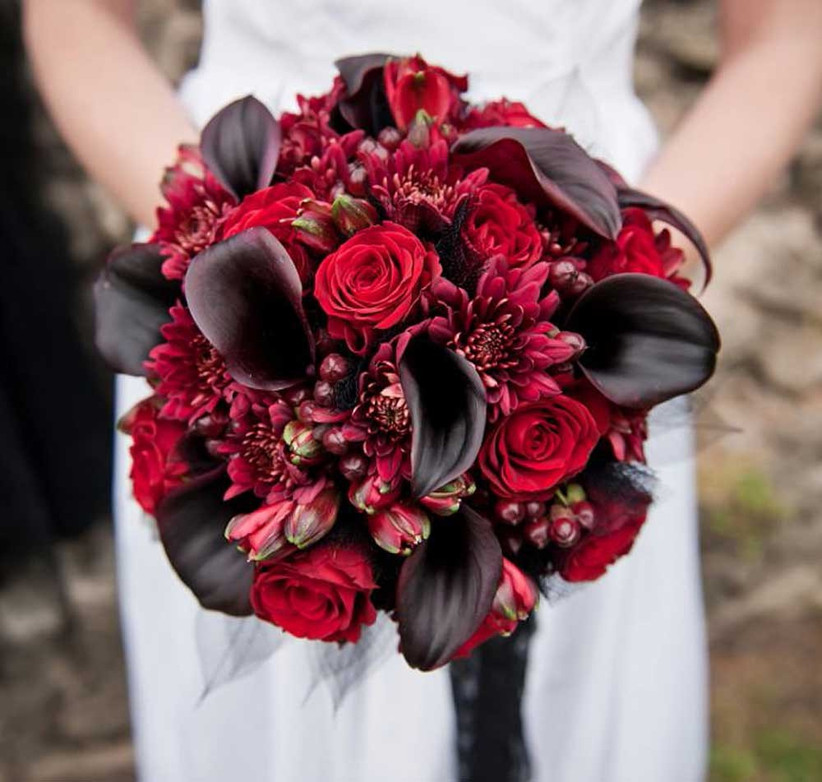 Image Credit: Kat Forsyth
As we've seen with the button bouquet, wedding flowers don't always have to be flowers and that's why we love this origami wedding bouquet. The black and white colour scheme is brought to life with the splashes of pink and would suit a punk gothic theme so well.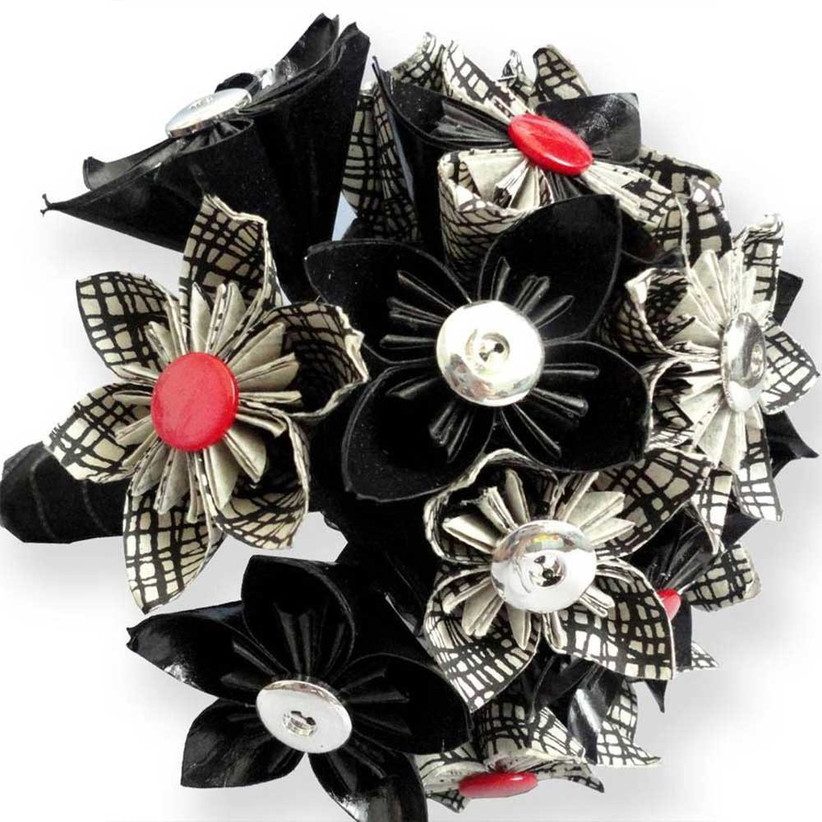 Gothic Wedding Décor
If you want to really go all out with your gothic wedding theme, have your whole wedding breakfast room decorated just like this. The dark walls, medieval mirrors and black furniture give an eerie but stunning feel.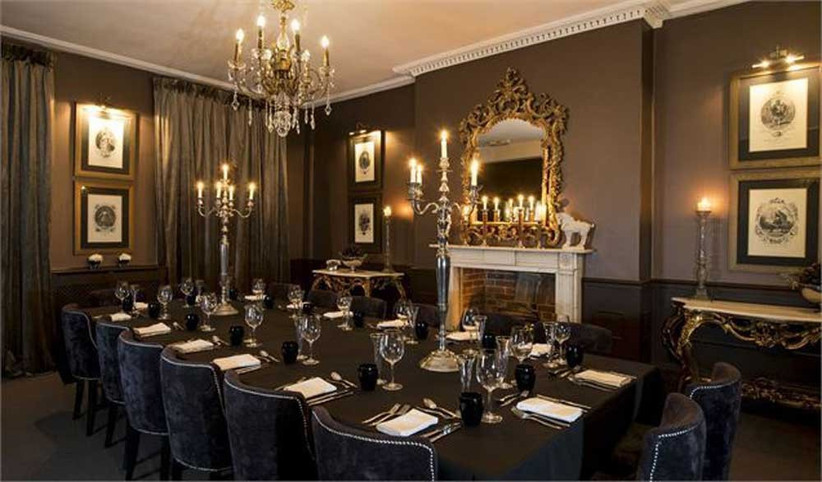 Venue: Chichester Harbour Hotel
If you are planning an outdoor ceremony, having a wedding arch like this one could add to the romance. The black arch would suit the theme and you can decorate it however you want – we think it is a fabulous addition.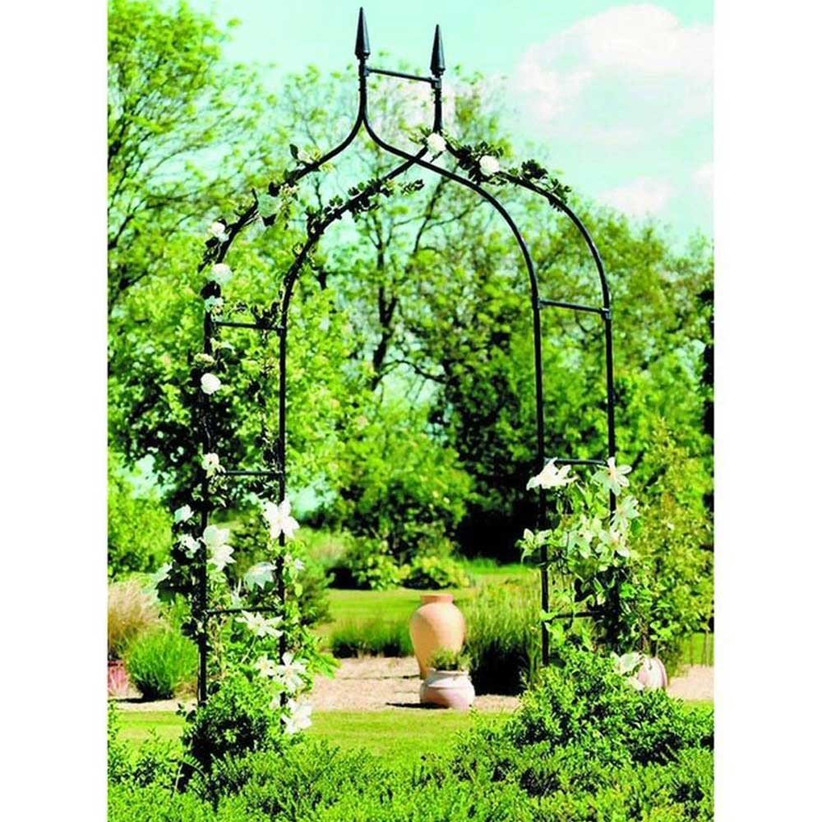 We have been absolutely obsessed with this all-white candlestick at Hitched HQ. The grand feel of it and intricate detail is perfect for a gothic wedding and we love the skull and snake theme – so cool.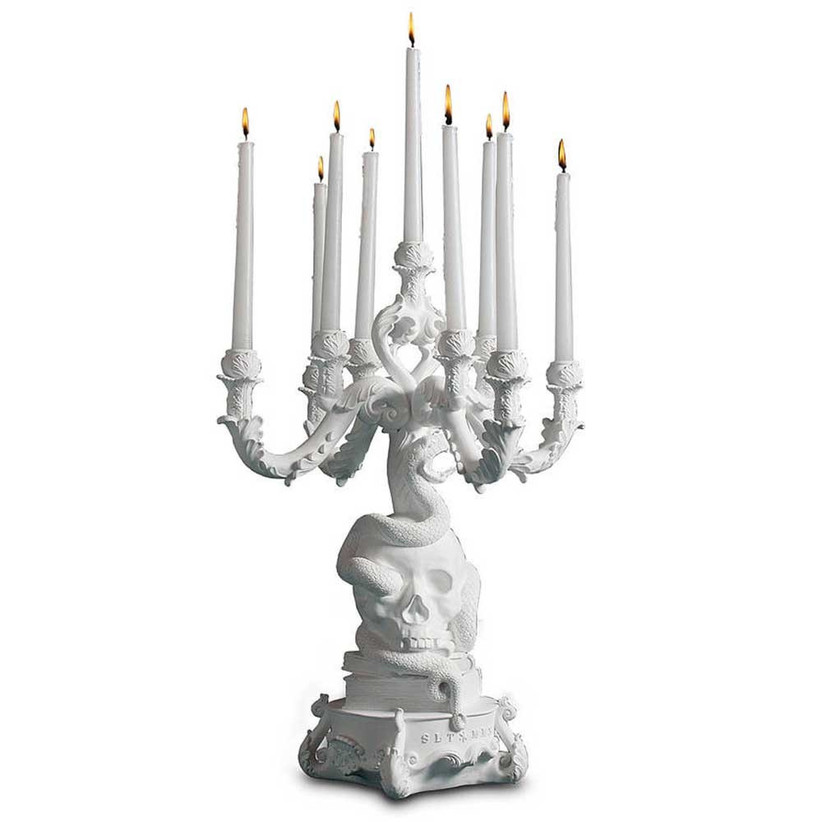 When the party gets started at your wedding, allow your guests to reach for these skull shaped shot glasses. They are understated in that the colour is clear and they are small in size, but they are also ideal for the theme and brilliantly made.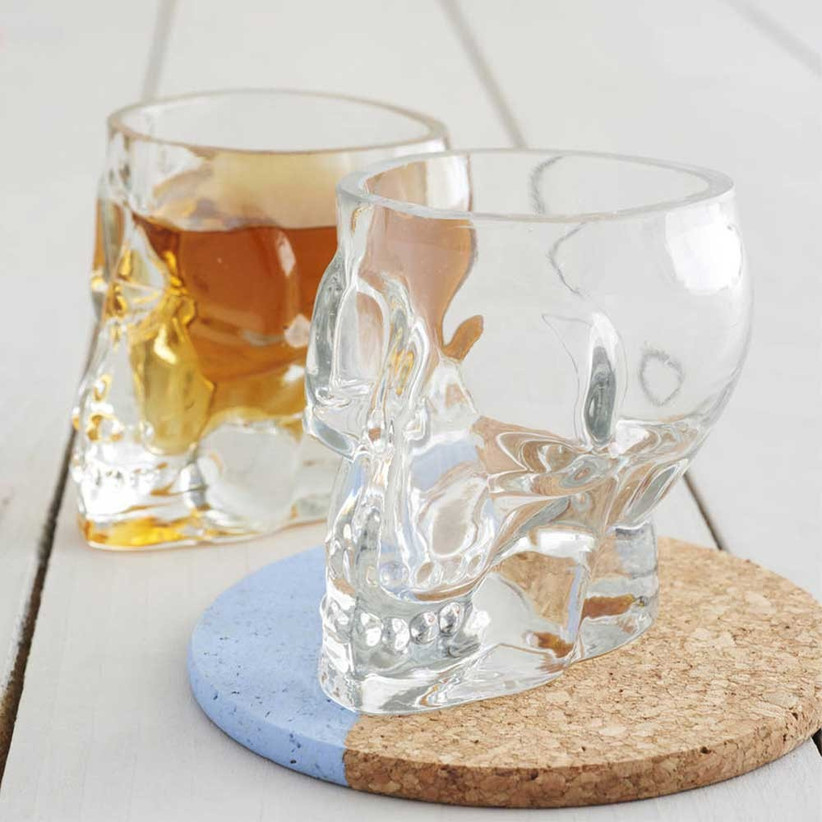 Multiple candles standing lone are often associated with gothic themes and this picture illustrates just how gorgeous they can look. The mystical look is one that a lot of couples desire and this is an amazing way to showcase it.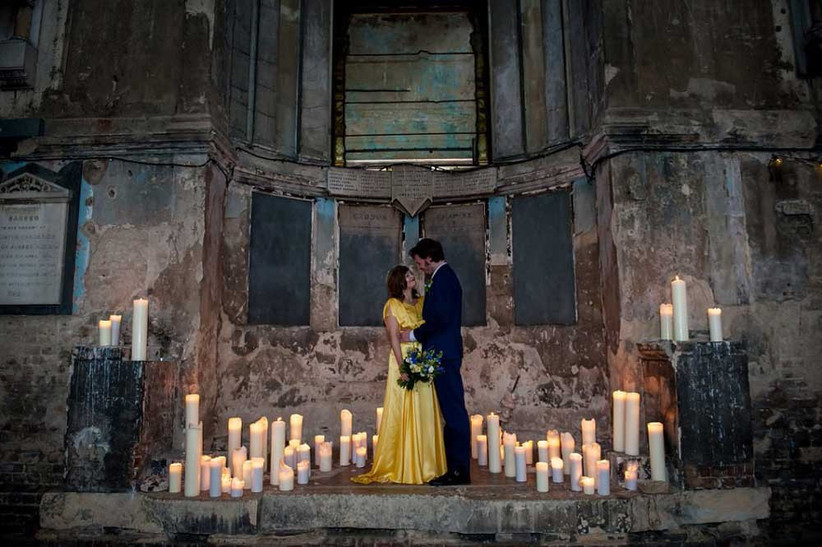 Image Credit: Kat Forsyth
We love the gypsophila used to adorn this candle-lit setting. The dark leaf colours with the black wedding favour boxes gives a gothic feel that isn't as extreme. Couples who want subtle hints of this theme should consider this style of décor.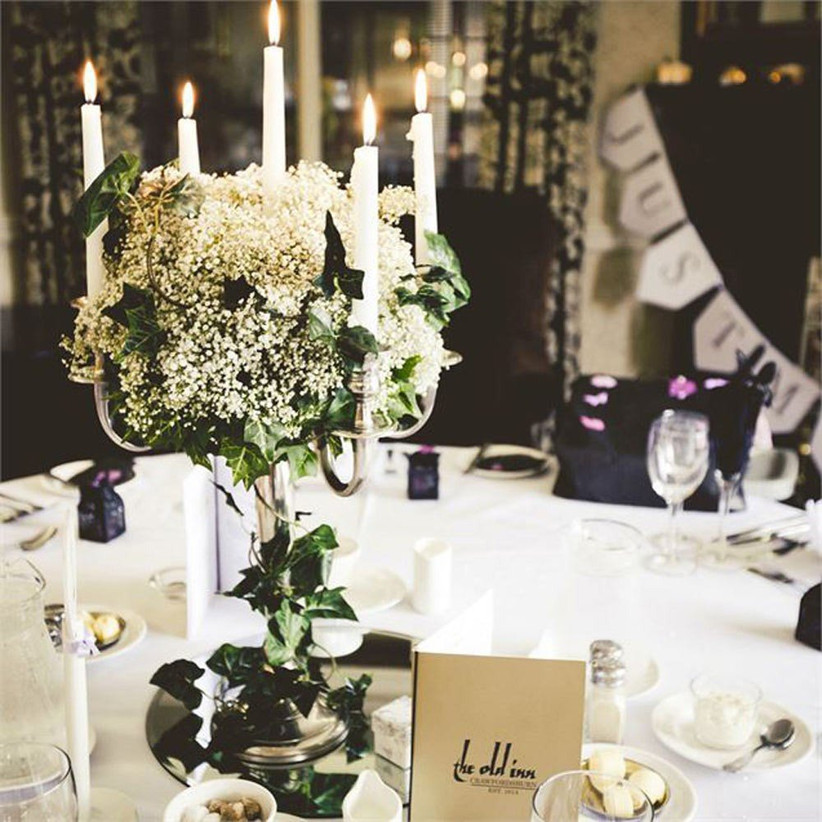 Photography: Wild Daisy Art Photography
Gothic Wedding Cakes
Rosalind Miller has created a modern and contemporary winter wedding cake that would be so perfect for a gothic wedding. The metallic and marble marriage of texture looks incredible and we love the black flower that sits at the top.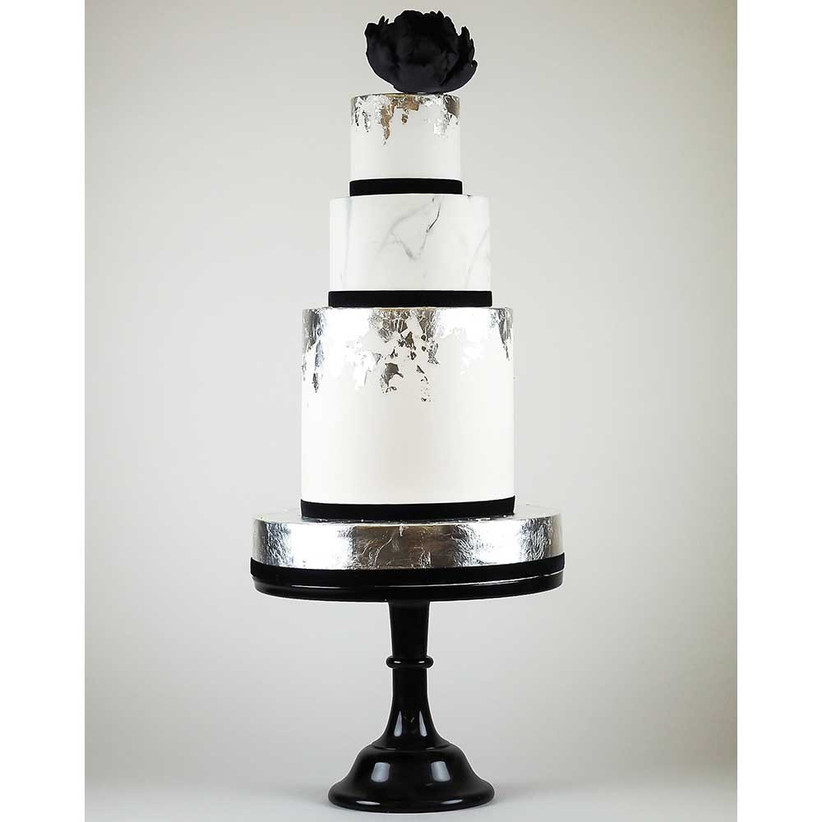 Gold wedding cakes are always beautiful, and when they're made with this type of detail and piping, they also become the perfect glamorous edible accessory for a gothic wedding. The Gifted Heart Cakes have done an amazing job with this creation.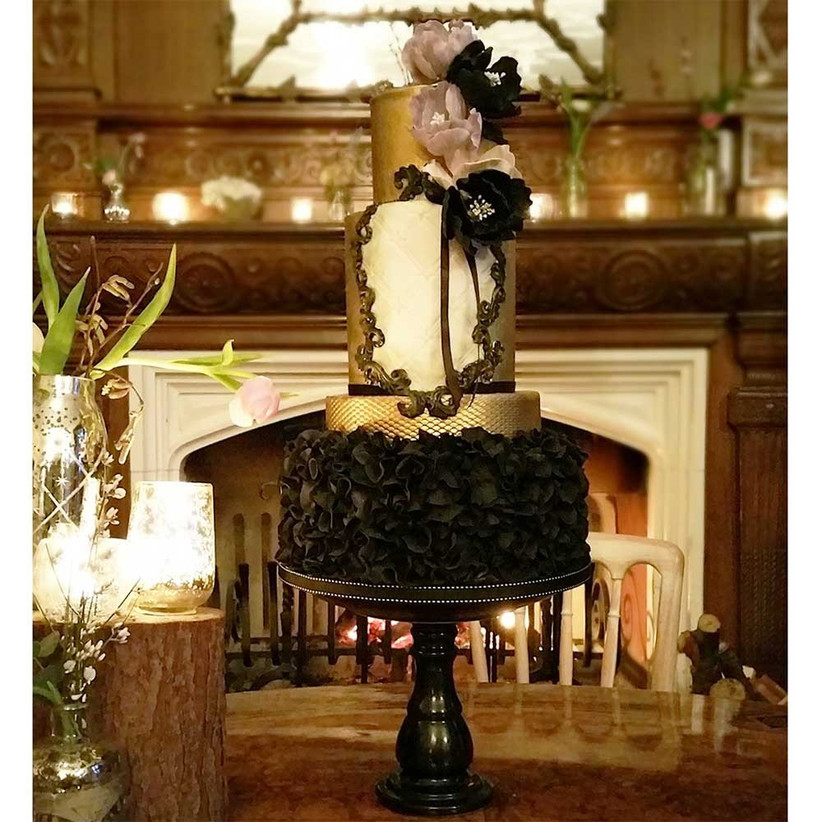 This desert table is a dream come true for anyone planning a themed wedding. The black, white and red colour scheme gives the table a 'Queen of Hearts' feel which just looks fabulous. We love every little detailed desert; it's the little things that pull themes like this off.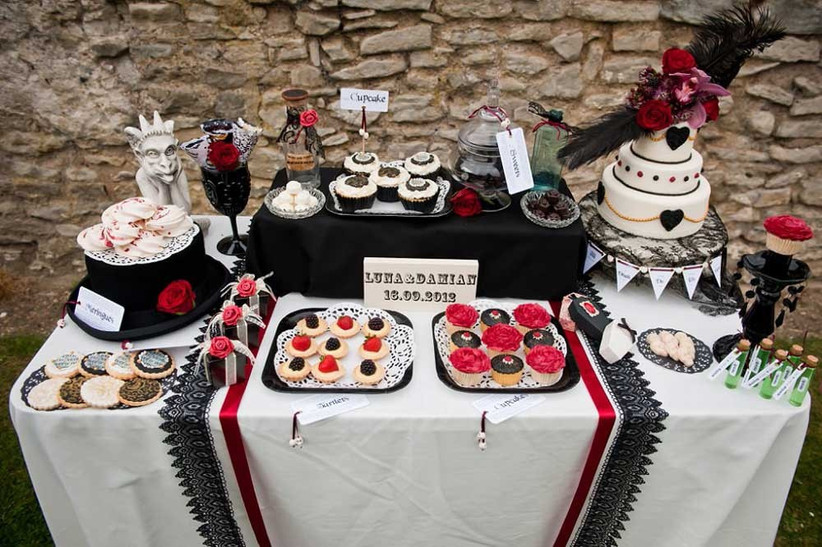 Image Credit: Kat Forsyth
The close up of the wedding cake shows just how much time and effort has gone into the theme and how wonderful it looks. Everything has been thought of from the lace markings on the black hearts to the "till death do us part" bunting around the cake stand.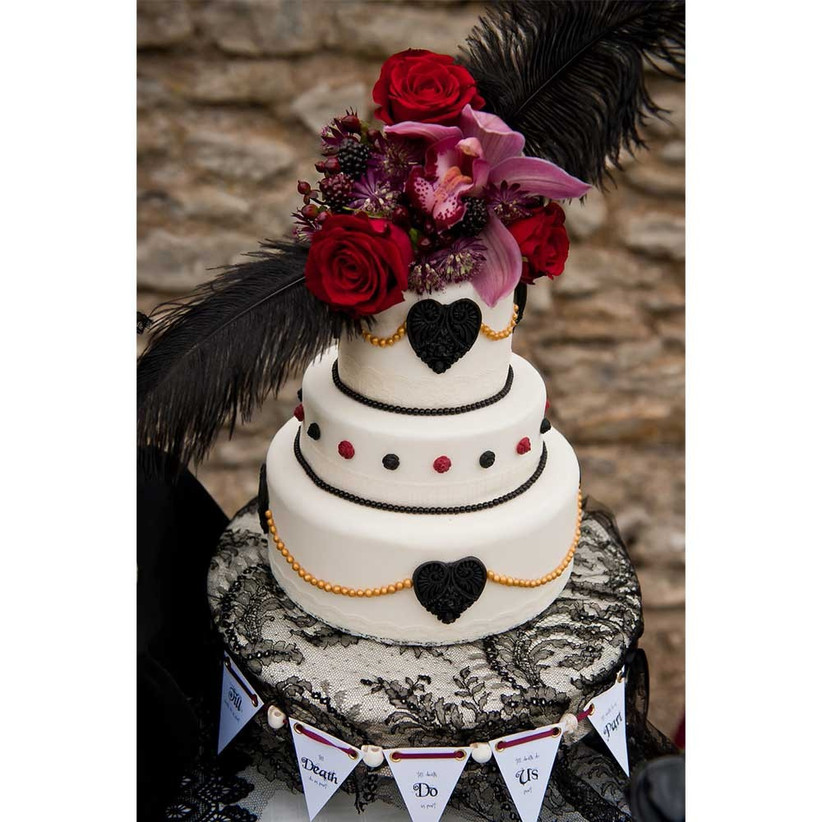 Image Credit: Kat Forsyth
Gothic Finishing Touches
This crockery is beyond beautiful. The skulls paired with the glamorous gold trimming comes together to create a high-end feel which is perfect for any wedding with a twist. We love the variation of prints and advise couples to mix and match the different plates and cups to keep it quirky.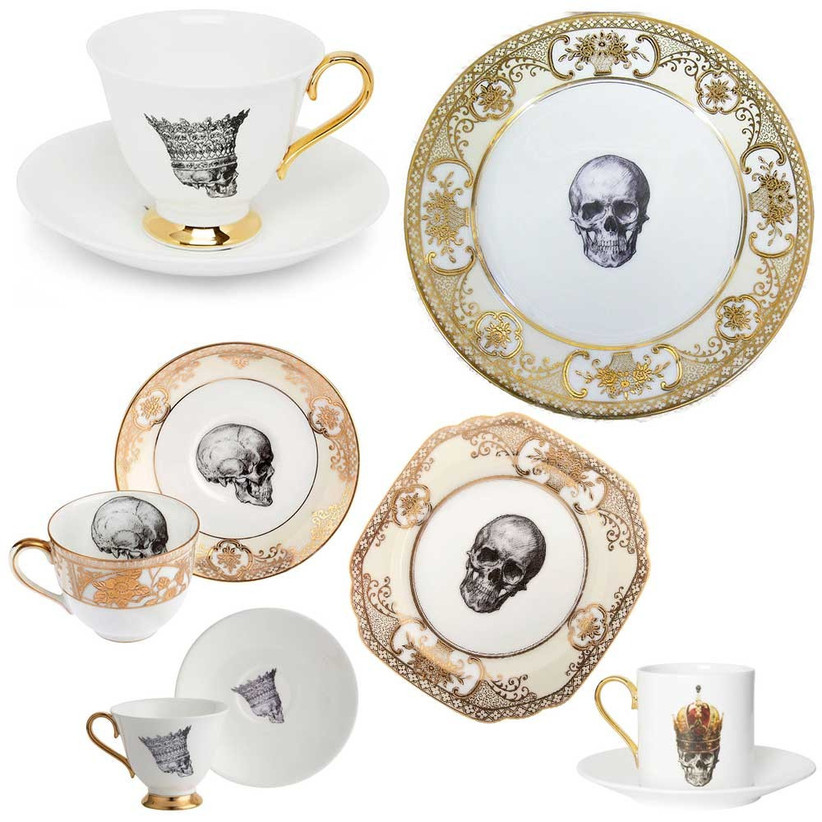 Planning on serving some funky and fruity cocktails at your wedding? Serving them up in one of these skull jugs will seriously impress your guests. They are available in an array of colours so you can get the one that best suits your colour scheme, or be really crazy and alternate each shade.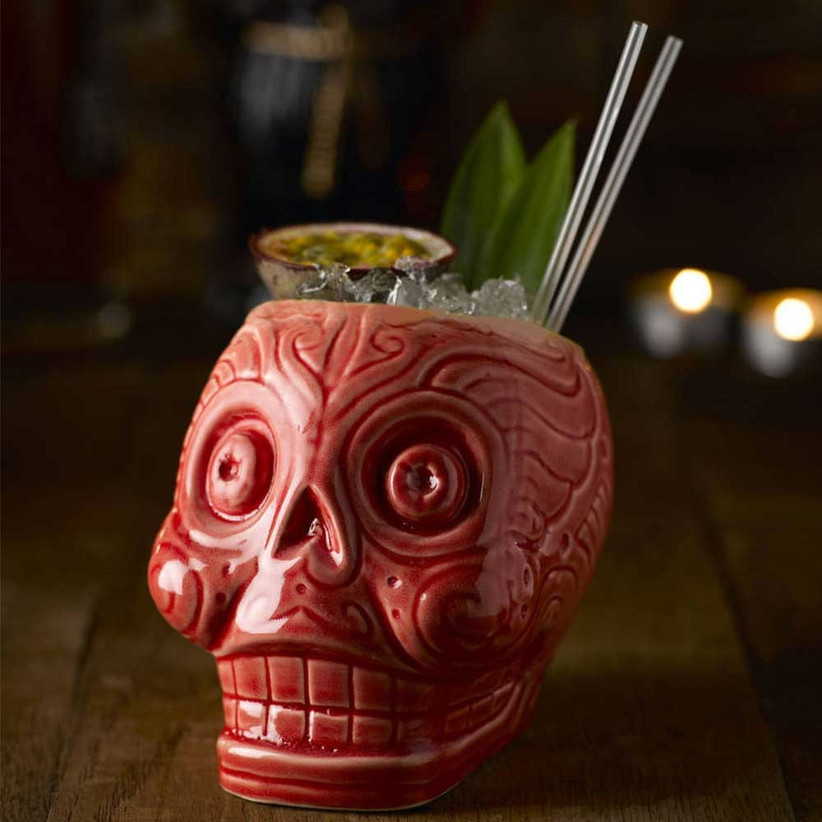 Not every couple knows how to make the most of rain on your wedding day, but one way is to have a wedding umbrella handy. These usually come in shades of white, cream and ivory, but not at a gothic wedding. No, at a gothic wedding you need this frilly, fancy accessory handy to shelter you from the rain and keep you looking fabulous.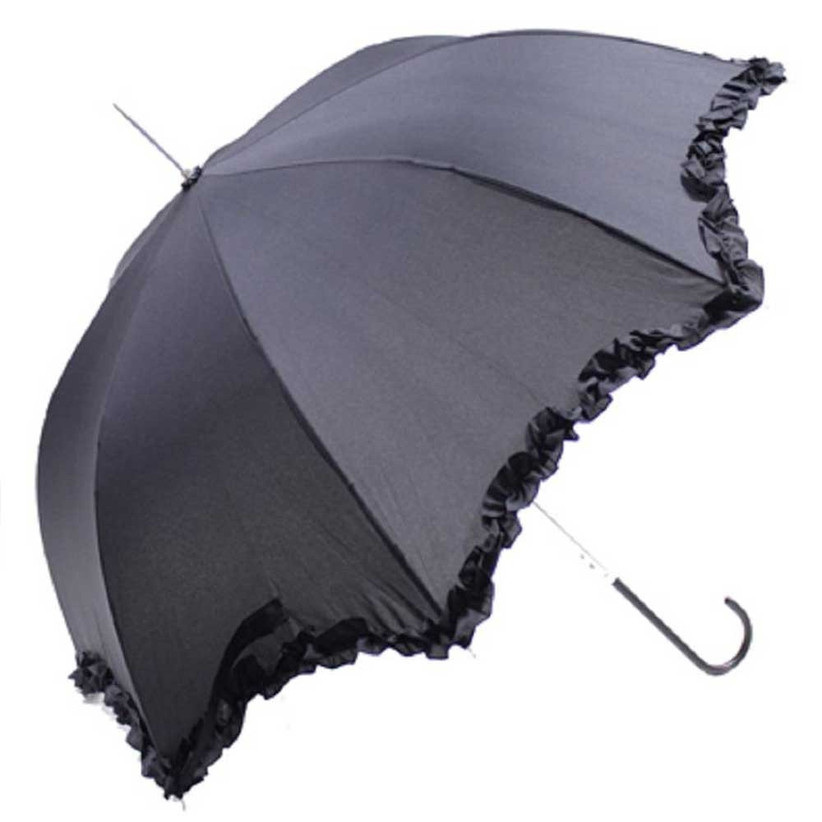 This bottle is the ultimate gothic wedding inspiration. It is such a simple look that you and your partner could create together with some wedding DIY. All you need is lace fabric, bottles and a rose hairband. Put together, you can make something as gorgeous as this and use it as drinking glasses or as centre pieces filled with black sand.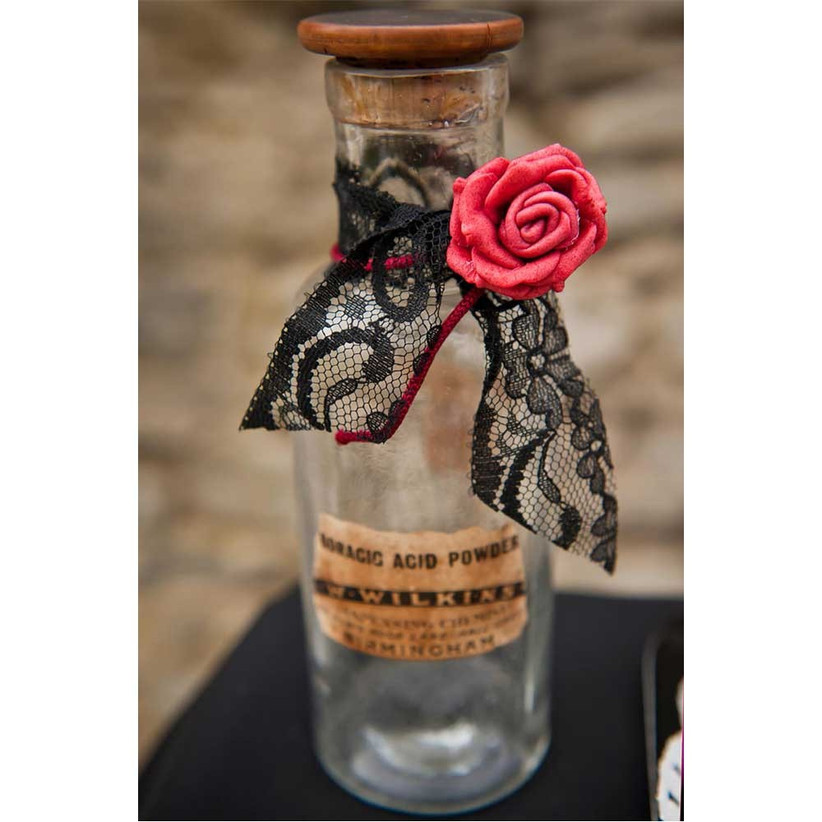 Image Credit: Kat Forsyth
Gothic Wedding Stationery
For your guests' name tags, why not use ribbon and mini skulls to adorn them, just like this couple did. The font used, and method of printing give a really dated and gorgeous look to the tag and the deep red colour of the ribbon is the ideal choice.
Image Credit: Kat Forsyth
What better way to invite your guests to your wedding than by giving them something like this. The Mr and Mrs Skull images are so funny with the top hat, moustache and fascinator drawn on. The print is stylish and your friends and family will absolutely love receiving it in the post.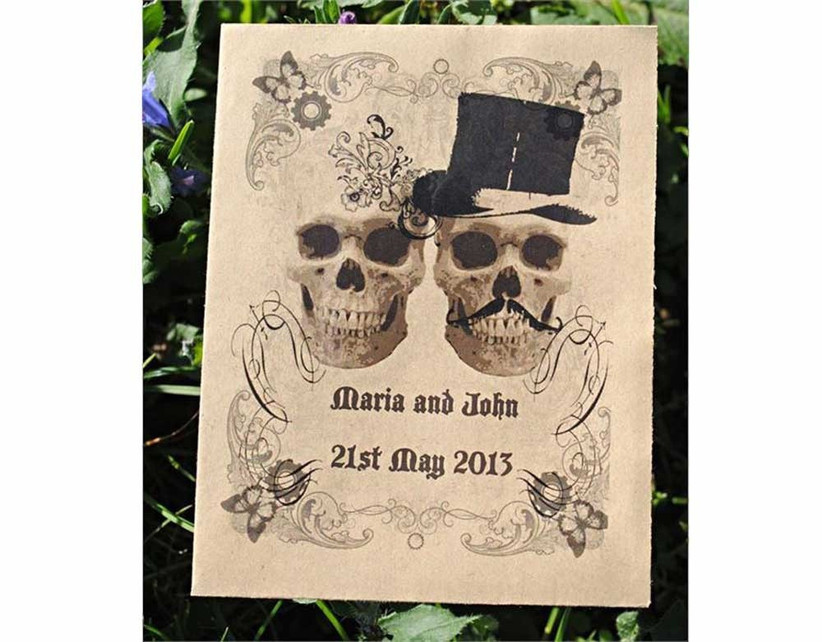 Image Credit: Wildflower Favours
You can't get much more gothic than Dracula, so be inspired by this framed quote from him.
"The luckiest man who walks on this earth is the one who finds true love."
How sweet, and if you don't want to decorate your venue with it, why not include it in your wedding vows or a wedding speech, it really is a romantic phrase.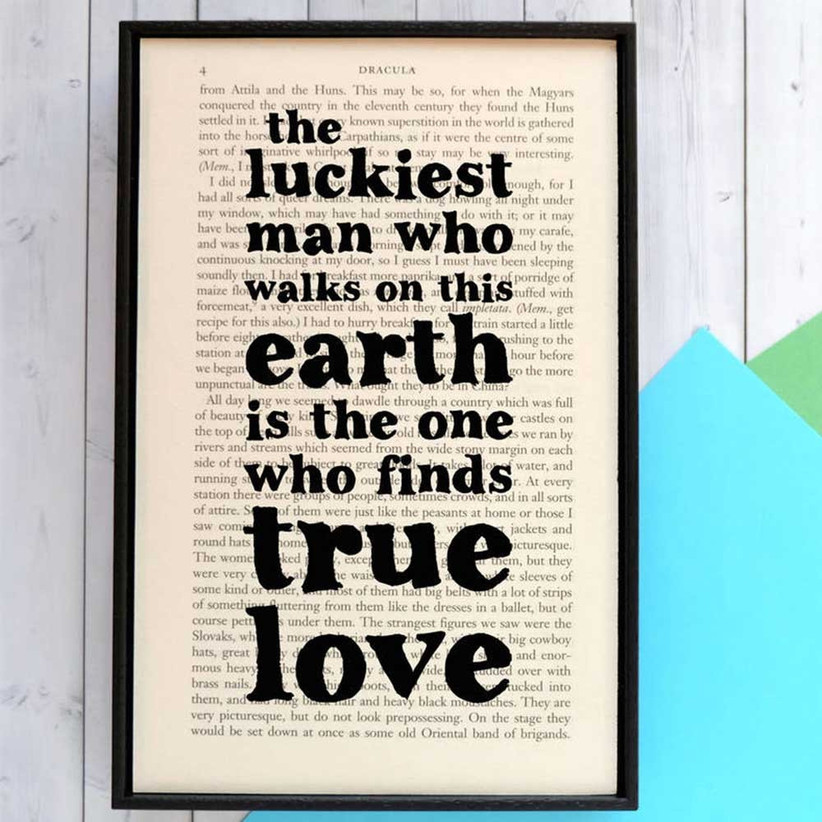 After all the fun and games have occurred, what better way to thank your guests than with this stylish skull card? It's simple, and a great representation of your gothic wedding and the skull is also a fridge magnet!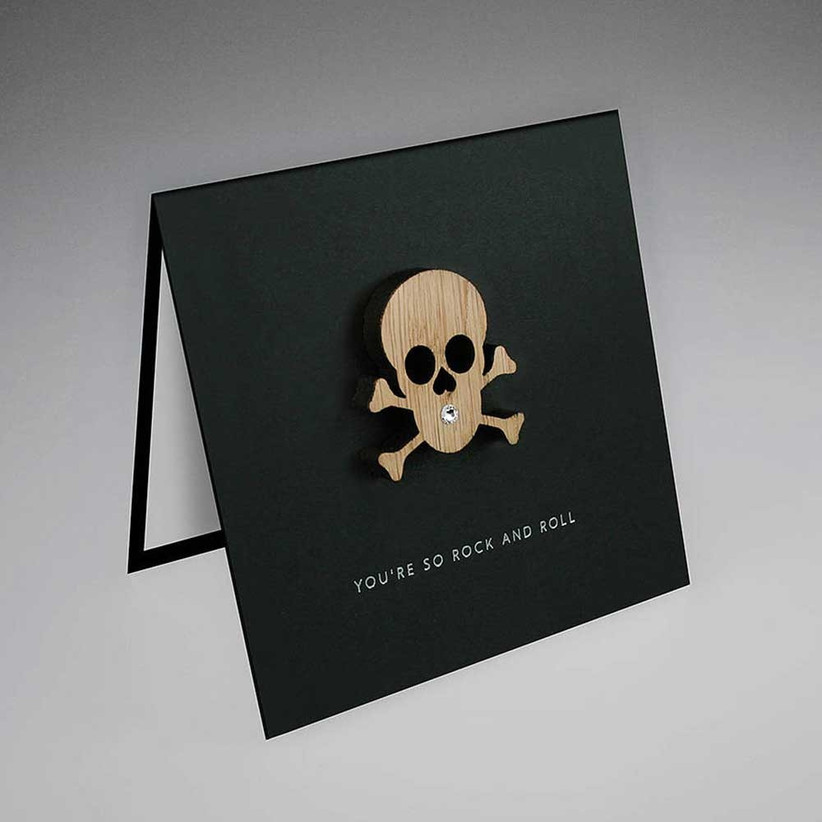 Gothic Bridal Beauty
Every gothic bride needs wedding nails that match the bouquet, and these stunning false nails get our award for funkiest nail art ever. The mismatch designs couldn't possibly go better together and we love the wacky styles. This is definitely a style we want to steal.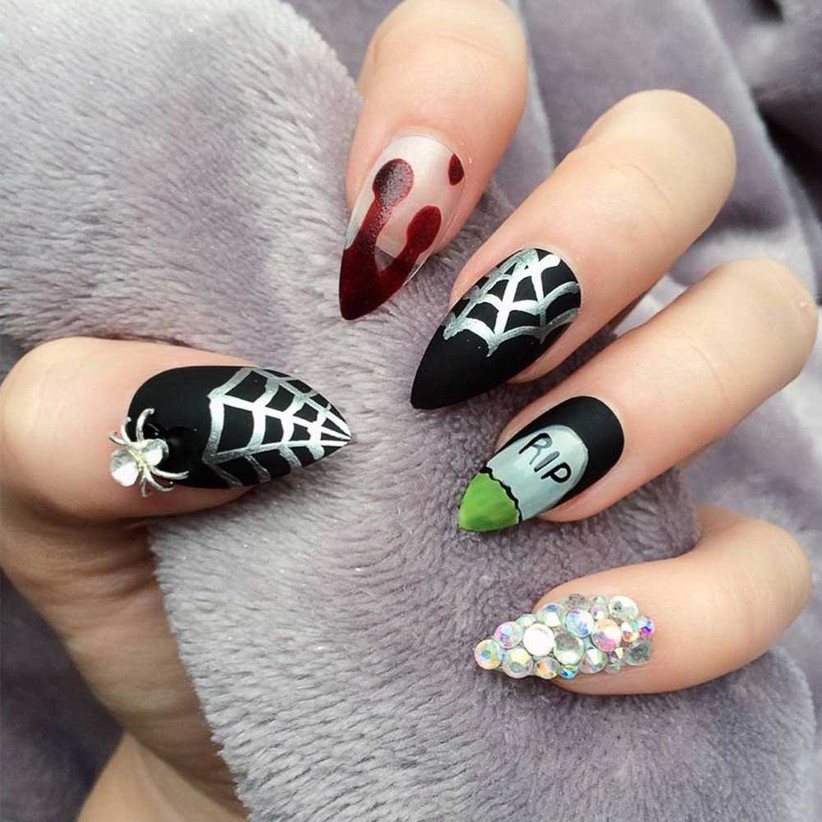 If you're a bride who doesn't like tradition, why not lose the wedding veil and get a netted black mask like this one. It looks absolutely stunning and would look even better with a gothic wedding dress. We can picture this look now and it's amazing, trust us!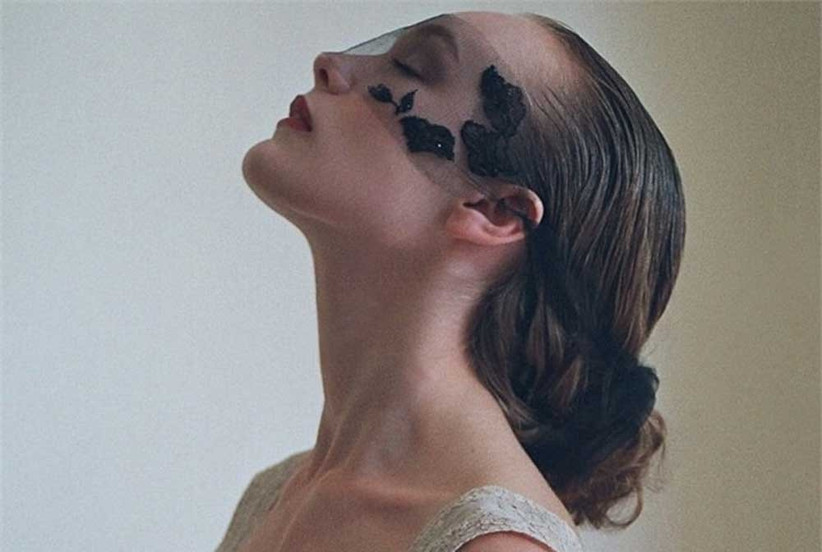 Beauty, Hair & Makeup by: Blusher Brides
You can't have gothic nails and netted mask without having some stunning dramatic makeup to go with. These three looks are beyond amazing. The different headwear accessories and theatrical lip and eye makeup are exactly what any bride aiming for this look needs.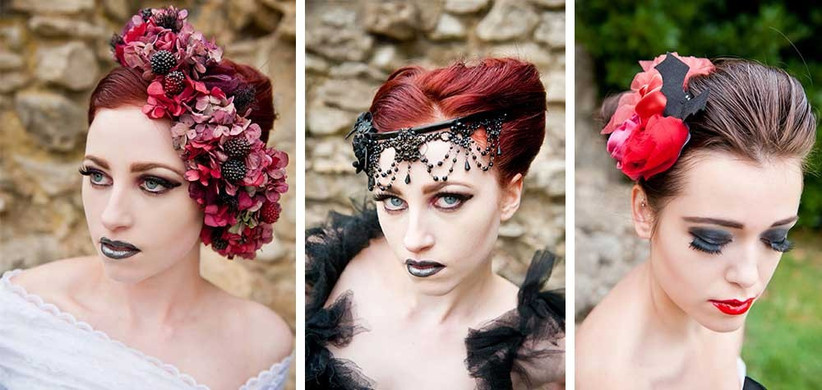 Image Credit: Kat Forsyth
With a stunning bridal beauty look, you need a pair of killer wedding heels to go with, and we couldn't have picked a better pair than these stunners. They are sky high, dramatic and covered in skulls – just what the gothic wedding doctor ordered we think…
Gothic Ideas for the Bridal Party
The groomsmen will see these skull cufflinks and fall completely in love with them. The dark metal and red gem eyes are a striking combination perfect for a wedding of this theme. They will match handsomely with a dark suit and can be worn with pride at your alternative wedding.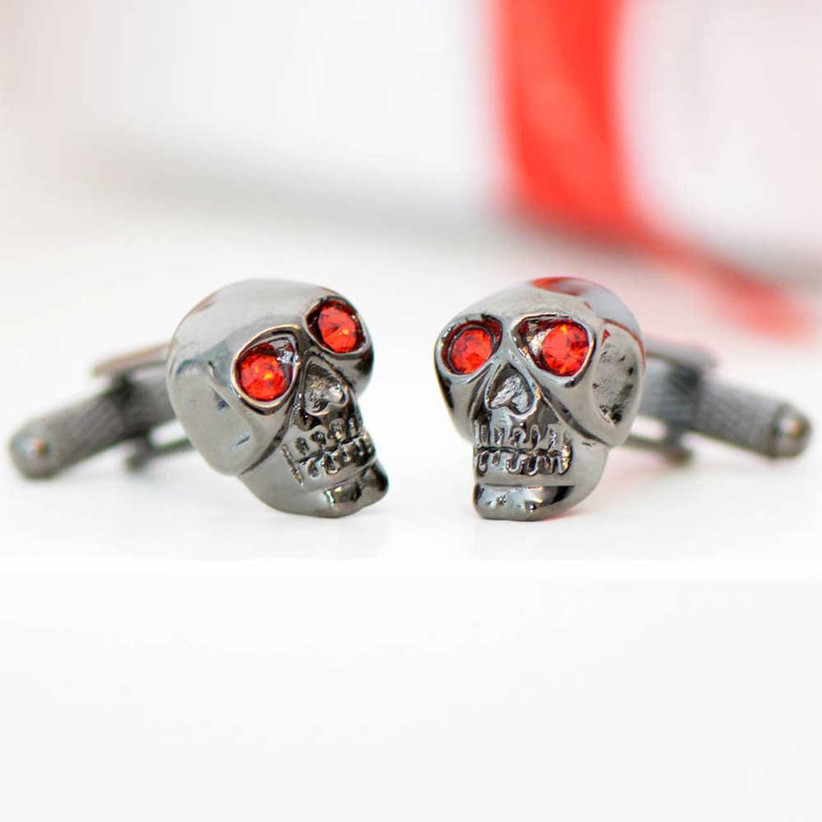 Treat your ultimate bridal squad to this tea length black dress. Having all of your bridesmaids wearing this will look insanely good in your wedding pictures. We love the lace sleeves and 50's style skater skirt.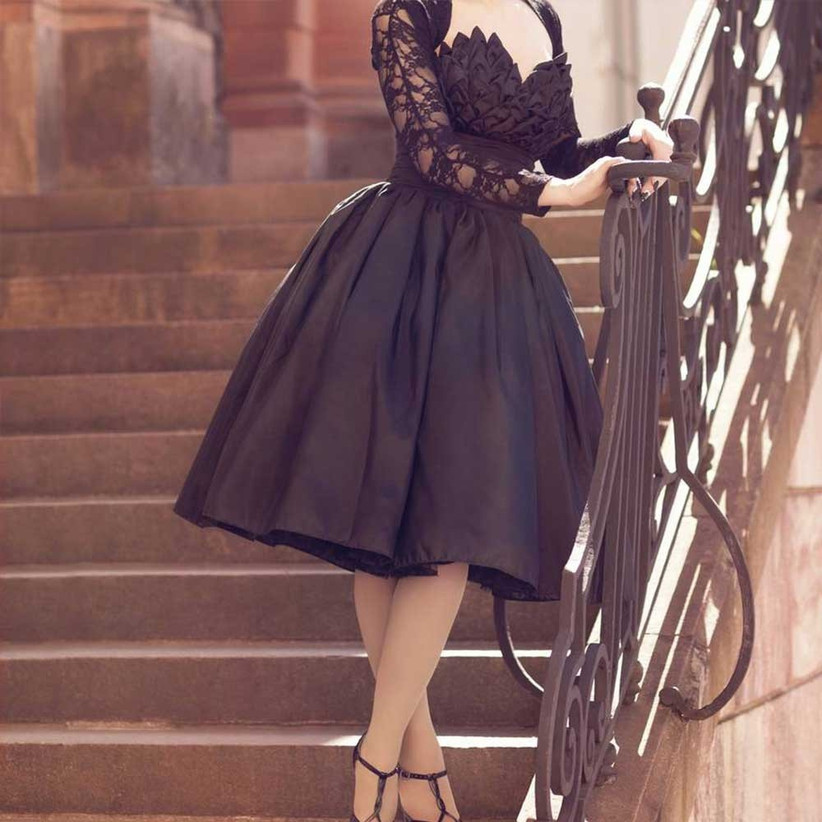 Get each of your bridal party, both men and women, one of these unisex pendants made by Jasmine Bowden. You can have each of their initials engraved into it to personalise the necklace and make it extra special. This is also a lovely idea for thank you presents for each member of your bridal party for them to keep as a memoir.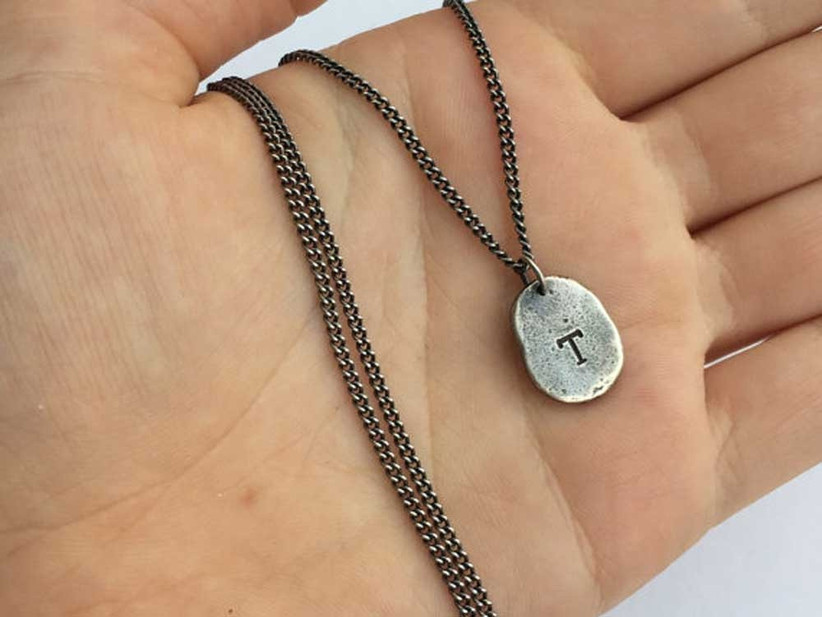 Take the gothic wedding theme to a whole new level with an all-black dress code. Black dresses and suits are guaranteed to look smart on the day and we really love this idea. It's not common for weddings to have this dress code for guests or the bridal party but here at Hitched we think it can work really well.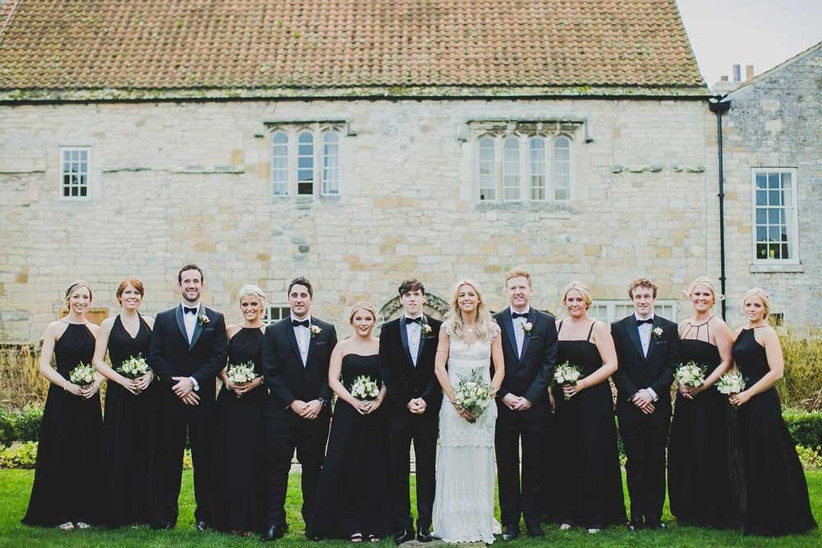 Venue: Priory Barn & Cottages Syningthwaite
To keep your wedding different and interesting, why not check out our feature on unusual wedding guest books. They are totally out of the ordinary and will shock your guests in the best way!