22nd Wedding Anniversary Gifts: 32 Copper & Spinel Ideas
Congratulations! You've made it to your 22nd wedding anniversary. Let your other half know just how much the last 22 years has meant to you with one of these winning gifts.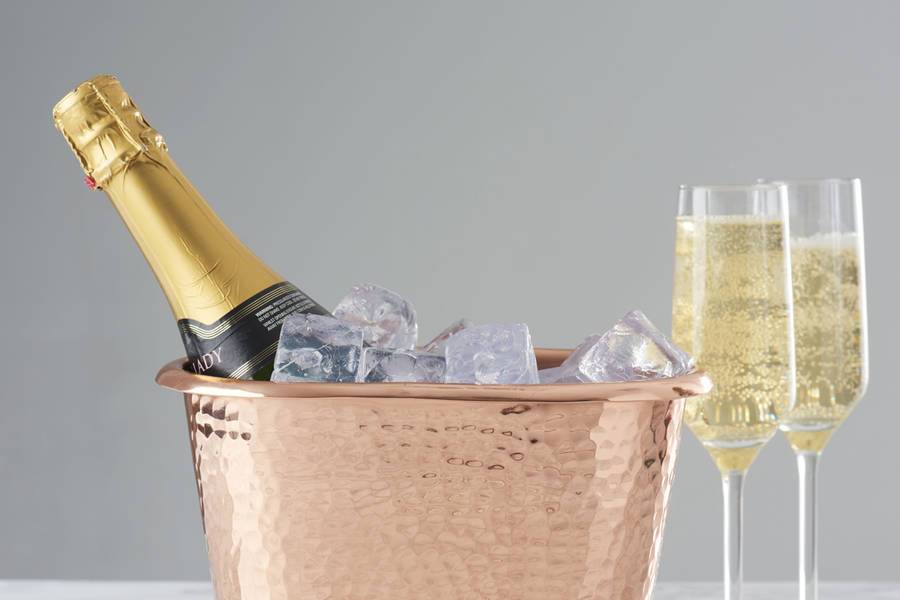 If your 22nd wedding anniversary is fast approaching and you still don't have the perfect gift lined up, don't panic! We're here with the ultimate round-up of amazing gifts for your big wedding anniversary. Whether your partner is a green-fingered god or goddess, a master in the kitchen or a makeup obsessive, we've got the gift that will tap into their passion, give you all the brownie points and tie into the traditional 22nd wedding anniversary theme.
Copper is the traditional 22nd wedding anniversary gift and this versatile material can be found in hundreds of products ranging from home accessories to stationery. To mix things up and give you some alternative inspiration, we've also added some ideas incorporating the 22nd wedding anniversary gemstone, Spinel. Whether featured on bracelets, rings or earrings, Spinel is an unusual and eye catching stone that will be welcome in any jewel-lovers collection.
So, make sure your partner is out of the way and get scrolling through our handpicked selection of the very best 22nd wedding anniversary picks below. Happy shopping!
Copper Wedding Anniversary Gifts
From home décor to tech gadgets and everyday essentials, it turns out copper is a pretty versatile theme to work with.
1. Desk Buddy Plant Gang - £38.50, The Little Botanical
If your partner loves having plants around the house (us too!) but finds it tricky to keep them alive (we feel you) then these three funky succulents from The Little Botanical may just be the way forward. They're easy to care for, and they come in on-trend grey and copper pots.
2. Victoria Metal Bar Stool - £119, Cult Furniture
Interior design enthusiasts will adore this stylish copper bar stool from Cult Furniture. It will look right at home at a kitchen island or home bar and will inject a contemporary touch to décor schemes in need of a shake up.
3. XL Boom Noella Soft Copper Vase - from £27, Amara
We love the cool, modern vibe of this soft copper vase from Amara. It's perfect for displaying your OH's favourite blooms; it also looks great on its own.
4. Kreafunk Bluetooth Speaker - £120, Trouva
Music lovers will adore this portable copper-toned bluetooth speaker. With 20 hours play time and the ability to connect to your phone for wireless calls, this is a gift that's as useful as it is stylish.
5. Newgate Master Edwards Wall Clock - £65, John Lewis
With a vintage vibe and a copper finish, we're loving this Newgate clock from John Lewis. We think it would look amazing in the kitchen or hallway of your home, plus it will remind you of your 22nd wedding anniversary every time you check the time!
6. Personalised Notebook with Initial - From £7.99, Getting Personal
Whether they could do with a nice desk accessory or are always brimming with creative ideas that need jotting down, your partner will appreciate this copper coloured personalised notebook from Getting Personal. Available in A4 or A5, this makes a great addition to the next gift on our list!
7. Montegrappa Mini Mule Copper Rollerball Pen - £200, Selfridges
Team this stylish copper pen from Selfridges with the notebook above or simply wrap it up in a copper gift box like this one with plenty of tissue paper and present it as a standalone gift. It'll be a seriously useful addition to their desk or handbag and they'll be reminded of your anniversary every time they use it.
8. Geometric Metal Tea Light Holder - £12.99, Amazon
A trio of these cute copper geometric tea light holders would look gorgeous on the mantlepiece or windowsill. To earn extra brownie points with your gift, why not invest in some scented tea lights like these to go with?
9. Copper Measuring Spoon Set - £5.99, Amazon
If Bake Off is more exciting than Christmas for your partner and they made the best banana bread of lockdown, a baking themed gift will go down better than a slice of walnut cake and a cup of coffee. Personally, we love these stylish measuring spoons from Amazon.
10. Copper Jewellery Stand - £38, MoA Design
Knotted necklaces are a struggle, let us tell you. Give your partner the gift of tangle-free jewels and a pretty bedroom or dressing table accessory with this elegant, handcrafted industrial jewellery stand from MoA Design.
READ MORE: Wedding Anniversary Stones: A Guide to Anniversary Gemstones
11. 5-Piece Aluminium Copper Pan Set - £48.97, Amazon
If you've married someone that could give Gordon Ramsay a run for his money then some quality kitchen equipment is bound to be well received. We think there's something seriously stylish about copper pans and we'd totally keep these beauties from Amazon on display at all times.
12. 22nd Anniversary Keyring - from £12.99, Cool Keyrings
Reward your other half with this badge of honour in the form of a copper keyring! You can leave the message at this or write a loving message or even your wedding date on the reverse to make it extra personal.
13. Copper Heart Stud Earrings - £18, The Dragonfly Lane
How cute are these copper stud heart earrings from Etsy? They'd make an adorable 22nd wedding anniversary gift that are subtle enough to match every outfit - winning.
14. Copper Pineapple Shaped Cocktail Cup - £30, Weddingstar
Who doesn't love a nice cold cocktail on a summer's day? Certainly not us! We reckon this fun pineapple copper cocktail cup from Weddingstar would make sipping that mojito or cosmo that bit more special!
15. Copper Full Moon Poster - from £11, The Abstract Bee
Star gazers and astronomy enthusiasts will love this copper full moon poster. The minimalist style is available in A3 and A4 sizes and would look amazing anywhere from your bedroom to your kitchen.
16. Hammered Copper Placemats, Set of Two - £25, The Just Slate Company
Little touches can make all the difference to a decorative scheme and these hammered copper placemats are a great example. Put them on your table and you'll give it an instant modern feel that we reckon your other half will love.
17. Personalised Copper Cufflinks - from £32, Chanchala
These personalised copper cufflinks would add a smart and stylish touch to a suit. You can add initials or even your wedding or anniversary date to the front or back of the cufflinks or to both, making them a super personal gift that's guaranteed to be treasured for years to come.
18. Personalised Foil Printed Map - From £8.50, Made by Mika
Add a permanent reminder of your anniversary to your home with this gorgeous, personalised foil map print. Featuring a location of your choice and your wedding or anniversary date, you're bound to get a few happy tears when your other half unwraps this beauty. You can order just the print or have it framed in A5, A4 or A3 sizes, making it easy to fit in any space.
19. Two Large Copper Stripe Initials - £22.99, Bells and Whistles Make
We love these concrete and copper initials from Bells and Whistles Make and could easily see them resting on a bar cart or nestled on a bookshelf. Buy your initials as standalone pieces or add a copper heart or ampersand for added shine and style.
20. Copper Heart Hanging Candle Holder - £24.95, London Garden Trading
How adorable is this copper heart hanging candle holder from London Garden Trading? We think this would make a very romantic addition to a candlelit date night in the garden.
21. Copper Cafetiere - £29, Farrar & Tanner
Is your spouse a true coffee connoisseur? They'll love making their morning coffee in this luxury eight-cup copper cafetiere from Farrar & Tanner.
22. Hammered Copper Bottle Cooler - £68.75, Becky Broome
This beautiful bottle cooler from Becky Broome will take pride of place at dinner parties and summer BBQs. Gift this beauty with a bottle of your partner's favourite fizz for guaranteed anniversary brownie points.
23. Garden Tools in Wood and Copper - £26.95, The Little Boys Room
Ideal for all green-fingered gods and goddesses out there, this wood and copper garden tools set from The Little Boys Room perfectly combines the traditional 22nd wedding anniversary theme with a gift they'll use time and time again.
24. Copper Cluster Wire Lights - £19.95, Idyll Home
Why not cover the house in copper lights on the night of your 22nd wedding anniversary? We think these copper wire lights from Idyll Home would add a romantic ambience to your celebrations!
READ MORE: 26 Indoor Date Ideas You Can Do Without Opening Your Front Door
25. Copper Charge Luxury Eyeshadow Palette - £40, Charlotte Tilbury
Ok, so this isn't technically made from copper but it is inspired by copper and we reckon a make-up loving spouse would be very happy indeed to receive this Charlotte Tilbury creation. Featuring rich metallics and a warm copper tone that's perfect for autumn looks, we can't get enough!
26. Croft Collection Copper Fondue Set - £85, John Lewis
Don't mind if we fondue! We're loving this luxurious copper fondue set from John Lewis and think it will go down a storm with the cheese aficionado spouses out there. Invest in some quality cheese and set the scene for a romantic night of gooey cheesiness - sounds like bliss to us!
27. Personalised Copper Mug - from £25.75, Becky Broome
If your other half is a bit of a chocaholic, then a personalised copper mug like this one from Becky Broome for their hot chocs would suit them down to the ground. We'd totally buy a luxury hot chocolate like this one to go with it and finish with whipped cream for a truly indulgent treat!
READ MORE: 37 Fun and Cheap Winter Date Ideas
Spinel Wedding Anniversary Gifts
This precious gem is the traditional stone for 22nd wedding anniversaries and we think these pretty spinel pieces make the ideal gifts.
28. Black Spinel Textured Silver Necklace - £24.75, Embers
This simple and elegant sterling silver necklace from Embers features black spinel at its centre, making it ideal as a 22nd wedding anniversary gift. The subtle piece will go with everything and is ideal for everyday wear.
29. Black Spinel Stud Earrings - £32, Artique Boutique
Like the necklace above, these 14k gold and black spinel earrings from Artique Boutique are simple and elegant enough for everyday wear. The subtle sparkle will set off just about any look, from office outfits to evening wear.
30. Evil Eye Biography Bracelet - £135, Astley Clarke
Traditionally, the evil eye charm has been used as a positive force to the wearer, warding off evil and bad intentions. While we can't promise it will live up to its protective reputation, we do think this black spinel and rose gold Biography bracelet from Astley Clarke will look seriously stylish on the wrist of your other half.
31. Sterling Silver and Blue Spinel Earrings - £198, Thomas Sabo
If your partner is a little more traditional in their tastes then we think these sterling silver and spinel stud earrings are a great choice. The gorgeous blue spinel looks vibrant and fresh against the silver while the elegant shape makes these the perfect earrings for special occasions.
32. Precious Black Spinel Ring - £559, Natalie Marie Jewellery
Another lovely spinel pick, this simple yet striking black spinel ring will serve as the perfect reminder of your special anniversary. Available in yellow gold, rose gold, and white gold, your spouse will adore this elegant piece.
No matter how long you've been married, working from home together can still be a challenge! Check out our 7 ways to make sure your relationship survives home working.