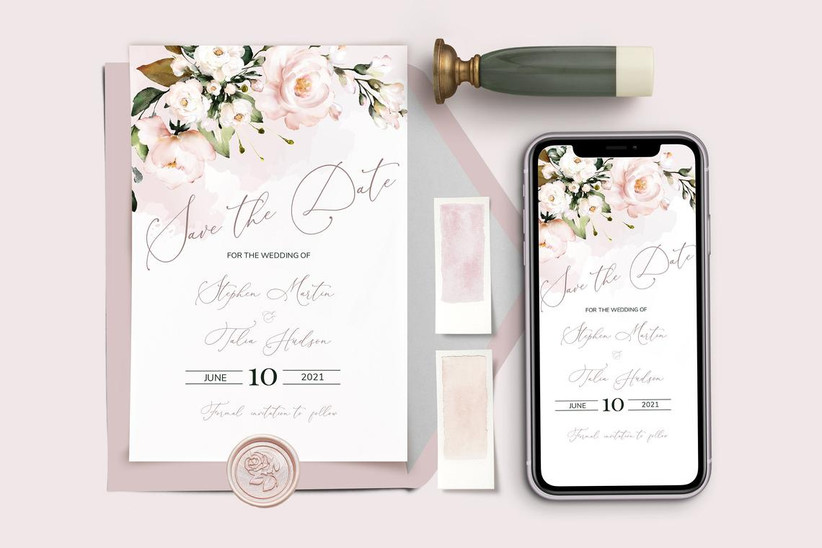 What are you looking for in a save the date template?
First, we imagine, it's a beautiful design, whether that's floral prettiness, modern minimalism or any other theme that suits your style. After all, your save the date is the first glimpse your guests will get of your wedding - you want it to look amazing.
Secondly, it's ease of use. You may be planning on printing the template at home; you may intend to customise it then send it to a professional printer. However you're playing it, the last thing you want is to spend ages wrestling with a complex editing process that leaves you wanting to hurl your laptop out of the nearest window.
Well, you're in luck. We've rounded up the save the date templates that are as easy to use as they are good to look at. Some are free; others you pay for; all are seriously covetable.
We have included third party products to help you navigate and enjoy life's biggest moments. Purchases made through links on this page may earn us a commission.
1. Calendar Save the Date Template – £8.54, Etsy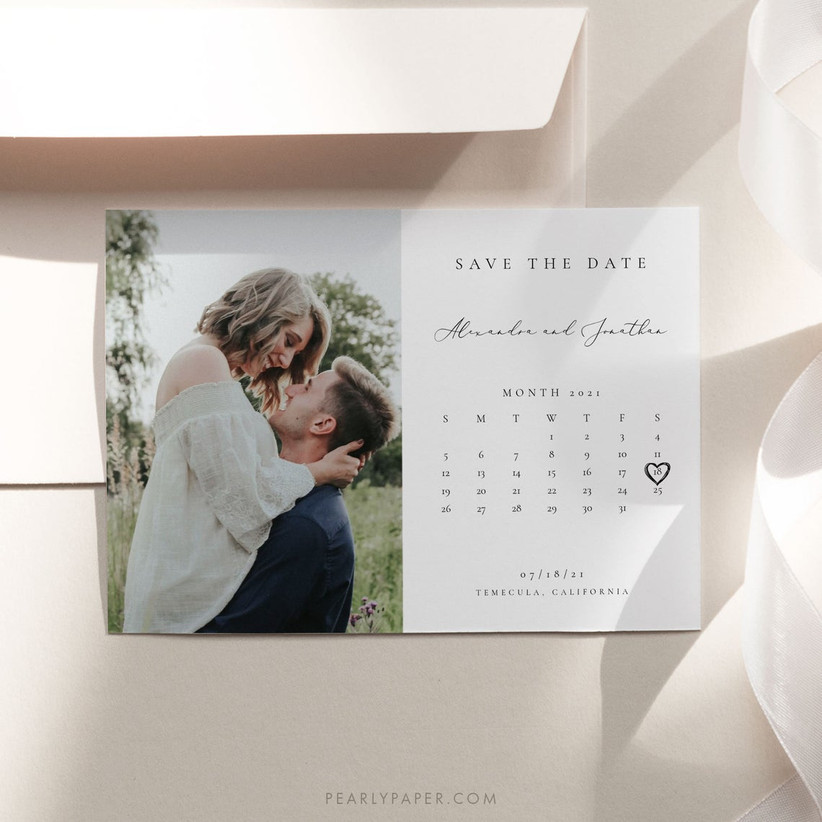 We do love a calendar-style save the date, and if you want to make it extra-personal this template lets you add a photo of the two of you. It's editable in the Templett app in your browser, which means you don't need to download any special software to customise it.
2. Save the Date Postcard Template – £7.08, Etsy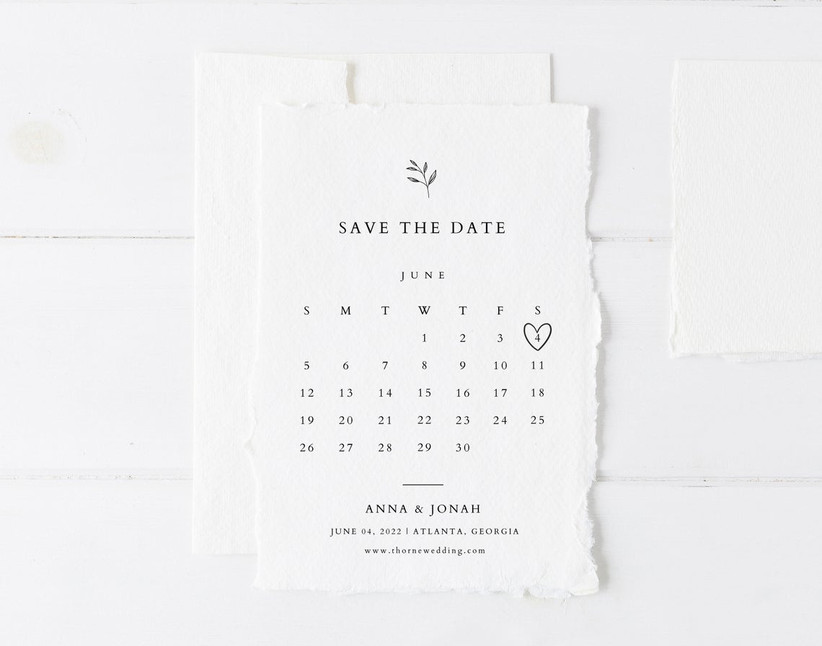 Of course, you may not want to include a photo on your save the dates. If that's the case, check out this chic, minimalist template. It's shown as it would look printed onto deckle-edge paper, but it can also be printed onto other paper and card styles.
3. Carlton Editable Save the Date Template – AUD $9.95, The Hello Bureau
This save the date design, from Australian stationery house par excellence The Hello Bureau, has a stylish retro-modern feel.
4. Dark Blue & Pink Save the Date Invitation – Free, Canva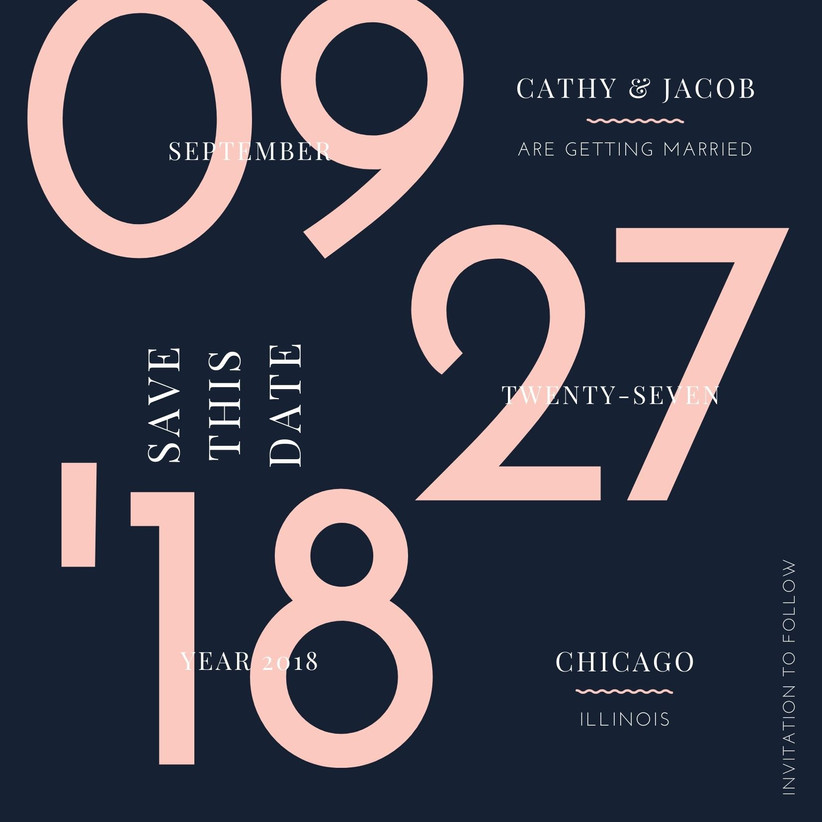 Canva have some excellent options if you're looking for a free save the date design, like this sleek design. It's very easy to edit using Canva's own interface.
READ MORE: 40 Unique Save the Date Ideas Your Guests Will Love
5. Eucalyptus Save the Date Template – £5.98, Etsy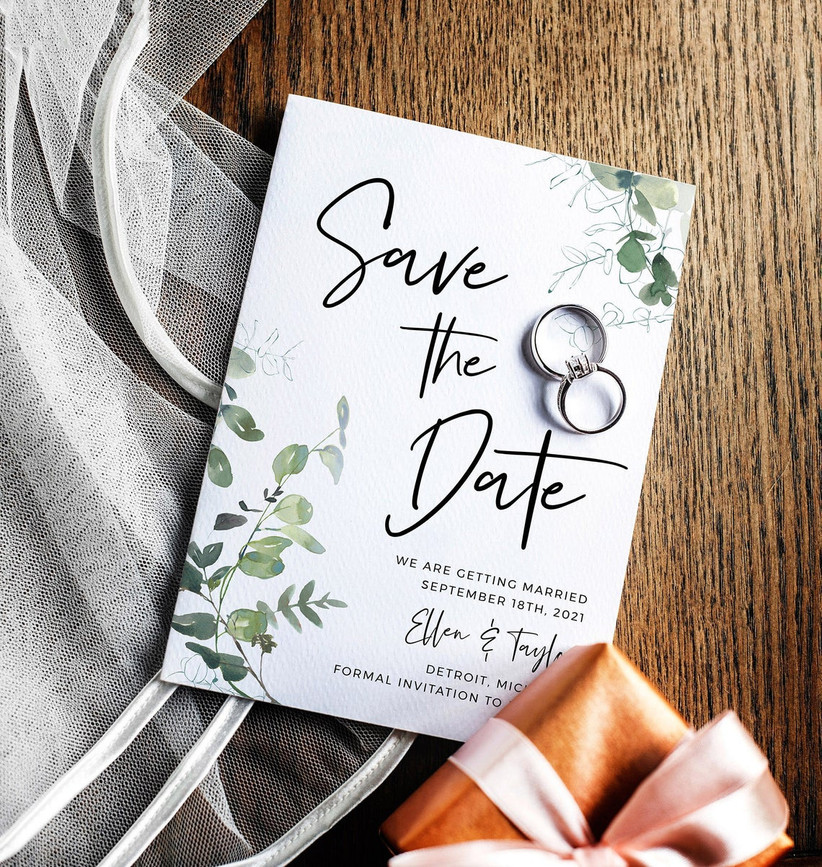 Eucalyptus is always a chic motif for wedding stationery, and this save the date design is no exception. It'll fit perfectly if you decide to have a greenery-themed stationery suite.
6. Long Story Short Printable Save the Date – £5.76, Etsy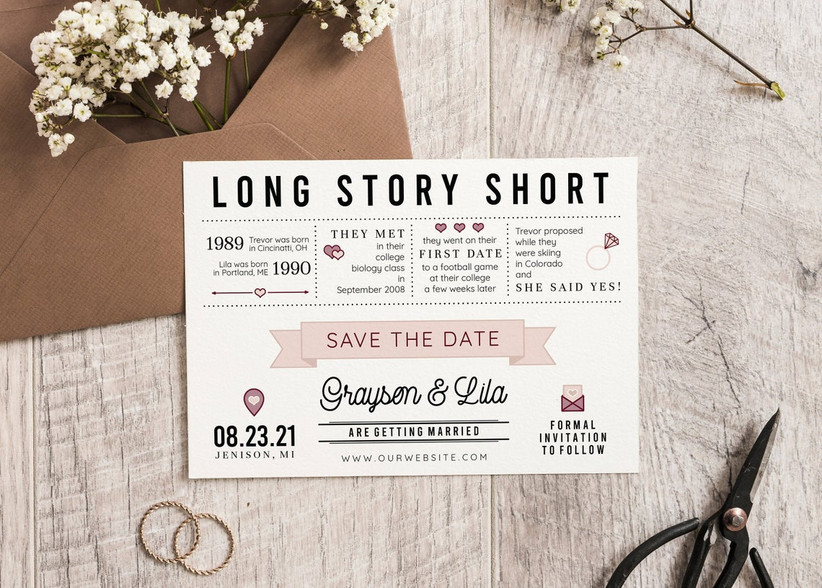 This save the date template is both sweet and funny, making it ideal if you want to inject some personality into your stationery through clever wording.
7. Starry Night Save the Date Card – Free, Greetings Island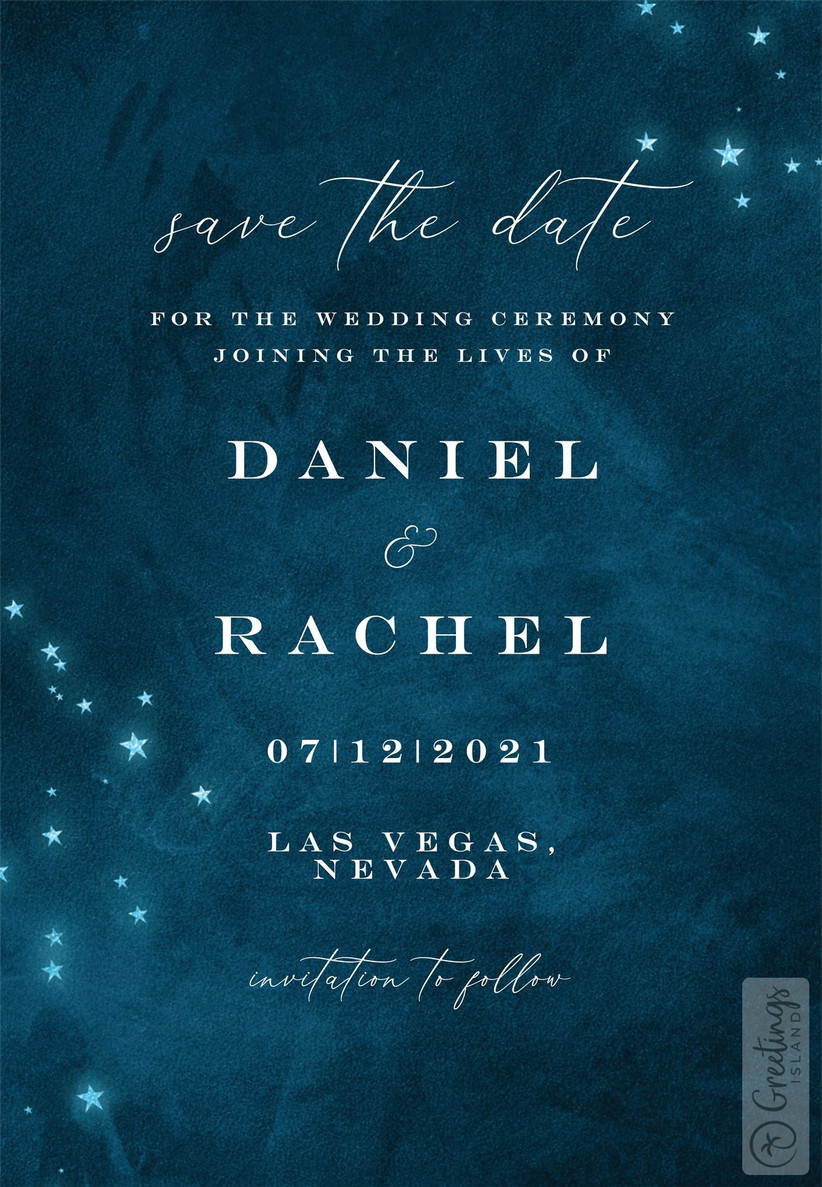 This celestial save the date feels so romantic. It's free to download and print, but you'll need a premium subscription to Greetings Island to get a non-watermarked version.
8. Yellow & Blue Cute Envelope Illustration Save the Date – Free, Canva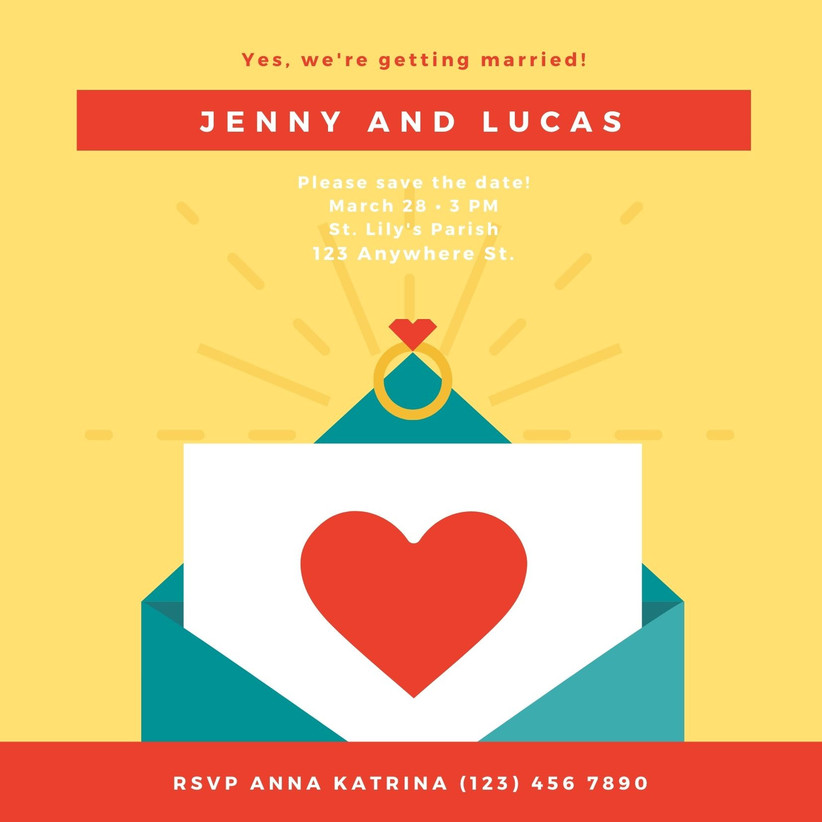 Looking for a save the date template with a difference? We love the bold colours on this design. As with all Canva templates, it can be edited and then downloaded in different file types, including jpeg and PDF.
READ MORE: Online Save the Dates: Etiquette & Our 15 Favourite Ideas
9. Coachella Editable Save the Date Template – AUD $9.95, The Hello Bureau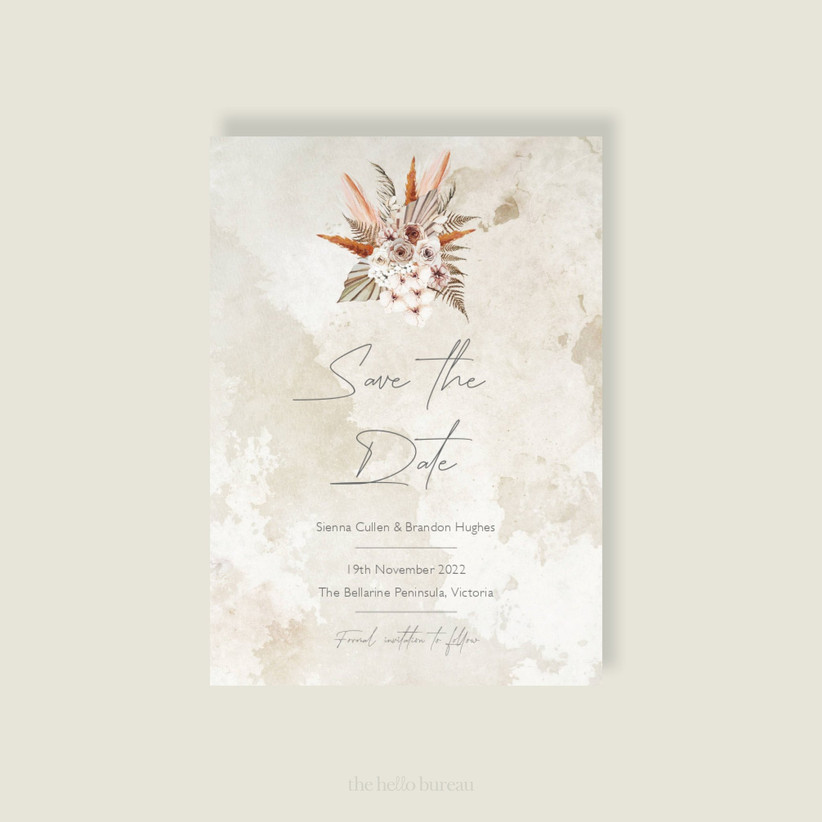 How gorgeous is this boho save the date? You can get other items in the Coachella design, including invitations, if you want all your wedding stationery to match up.
10. Ocean Spread Save the Date Card – Free, Greetings Island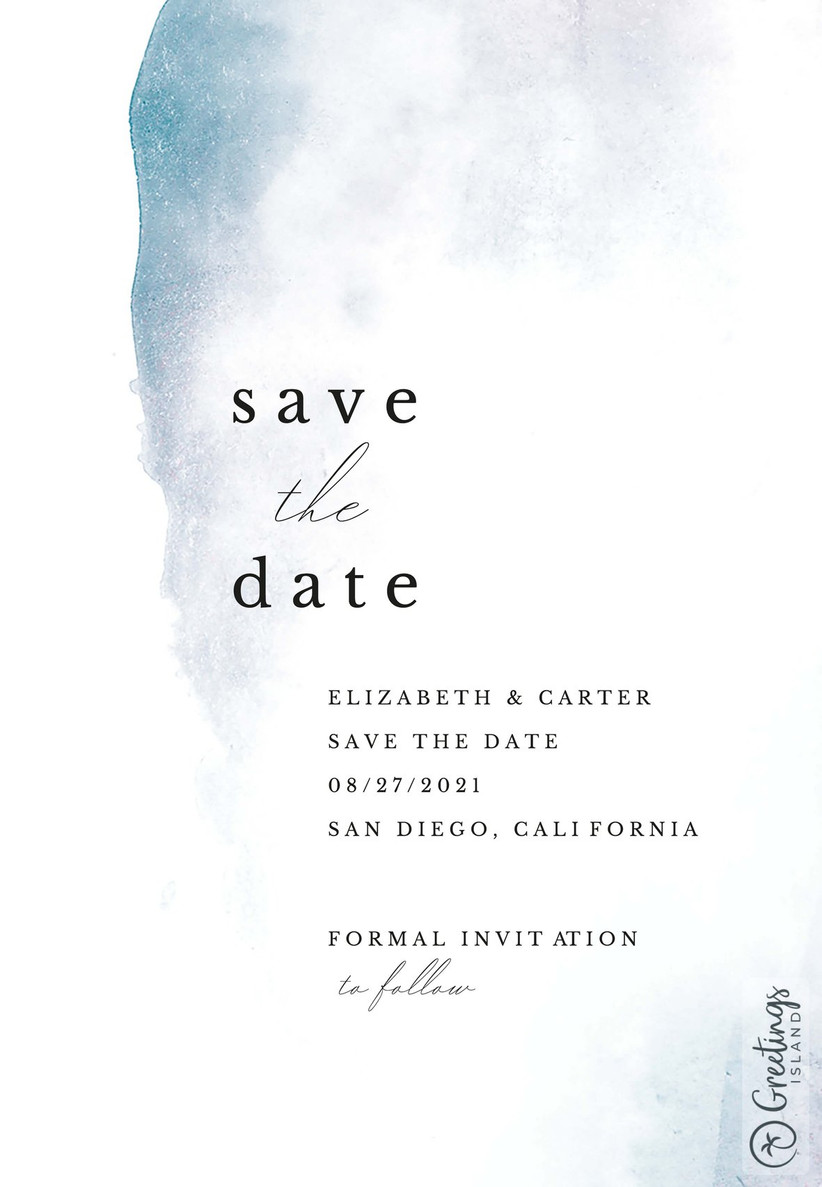 This watercolour design is just so chic. If you love the design but would prefer a different colour, you can get this save the date template in other hues, including a pretty pink.
11. Save the Date Photo – £5.49, Etsy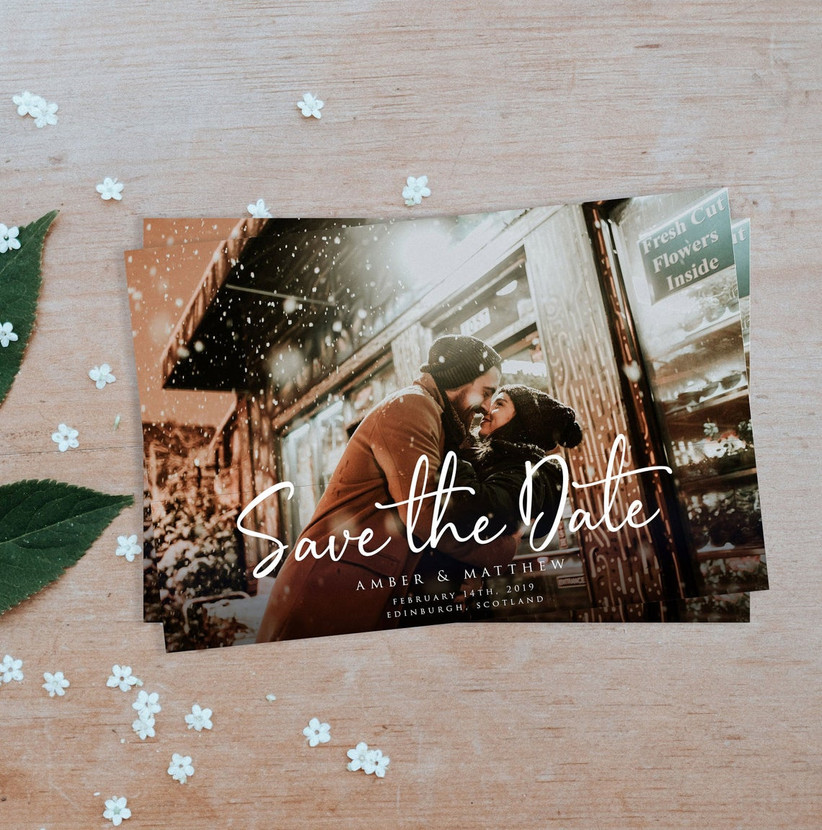 Don't fancy messing around trying to customise a template? No problem! Simply send your photo and information to the Etsy seller of this postcard save the date and they'll create a customised template that you can print at home.
12. Free Drinks Funny Save the Date – £8.84, Etsy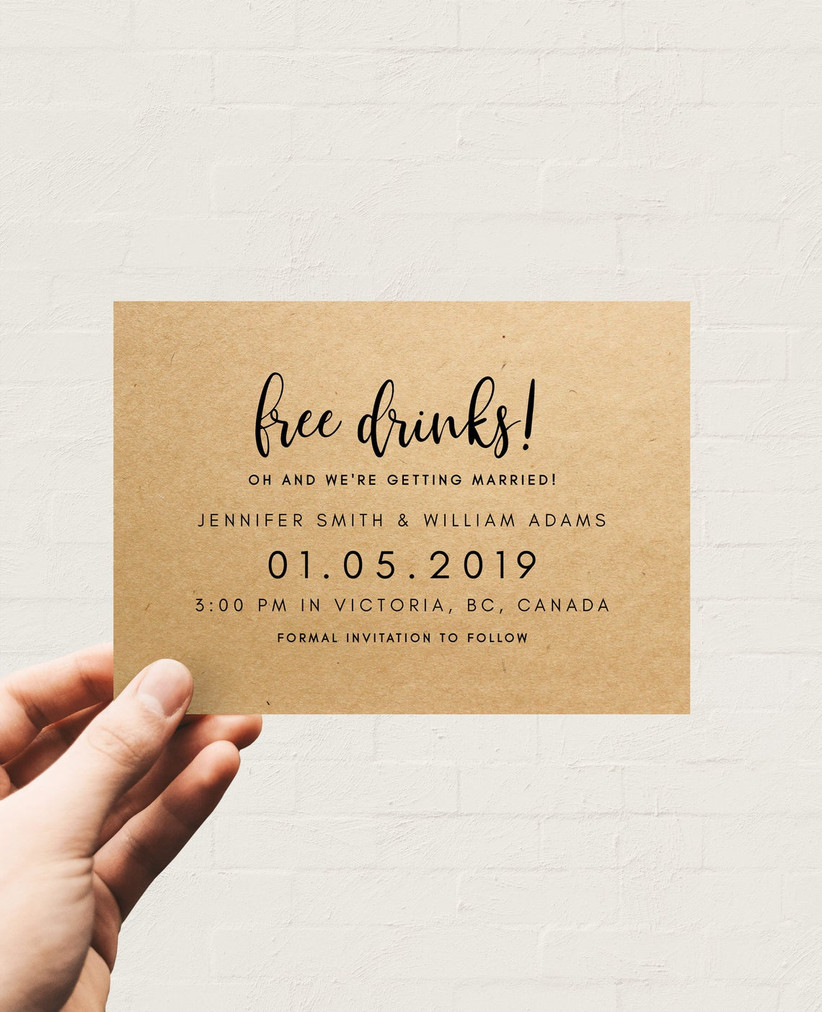 Announce your wedding date with some added sass with this simple save the date template. Just don't forget to follow up on the whole free drinks thing at your wedding.
READ MORE: 52 Funny Love & Marriage Quotes You'll Want in Your Wedding Speech
13. Decorative Save the Date Invitation – Free, Canva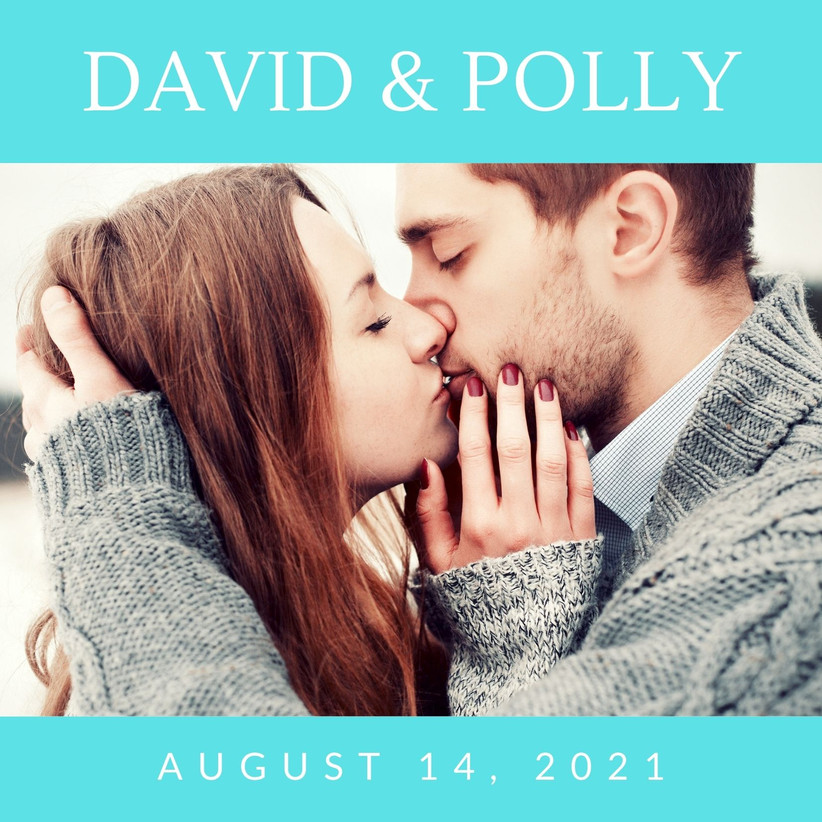 Want to keep to the basics? This Canva save the date template just has space for your names, date - and that all-important photo, of course. You can change the background colour of the text.
14. Passport Style Printable Save the Date Cards – £15, The Little Touches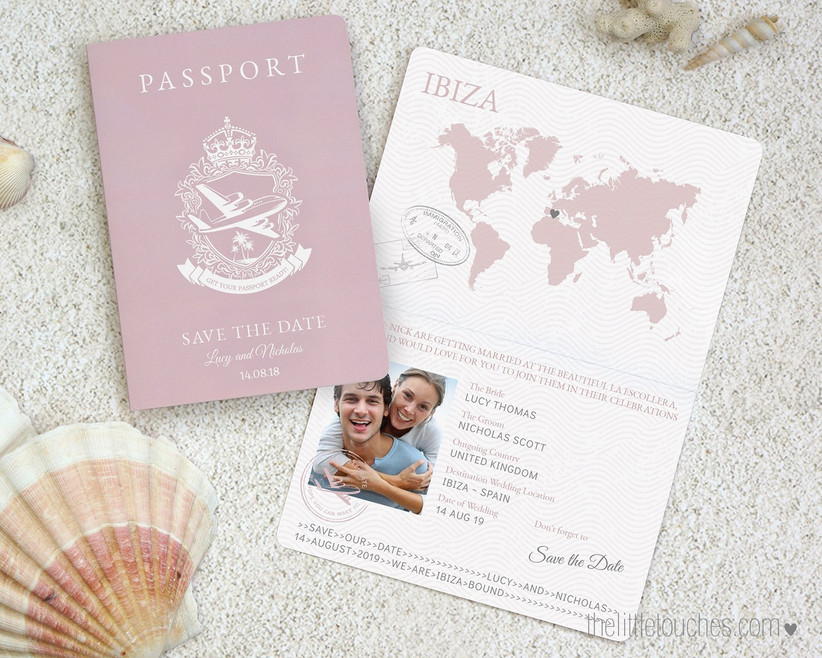 If you're planning a destination wedding, you need to check out this passport-style save the date template. It's a design that'll definitely build excitement!
15. Indian/Pakistani Premade Wedding Printable – £10, Etsy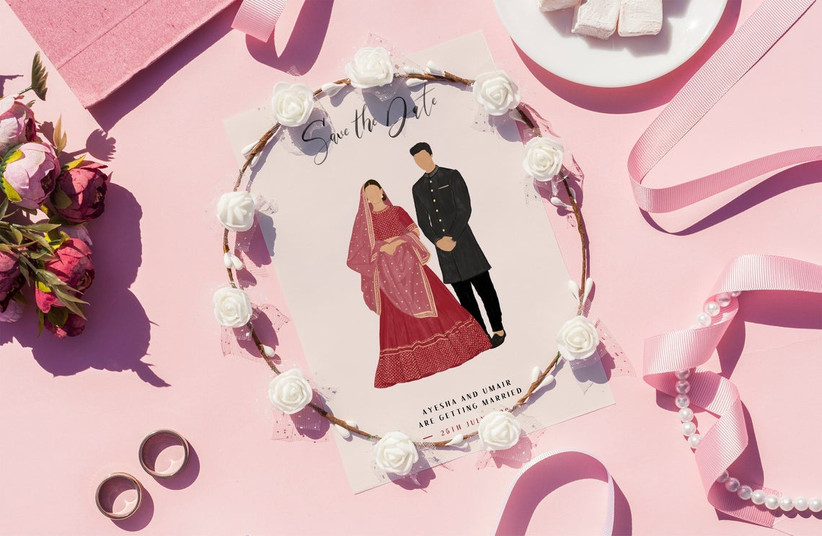 The colours on this save the date design are just beautiful, and you just need to send the seller your information to get a customised template you don't have to edit - all you need to do is get it printed!
16. Botanical Save the Date Template – £9.60, Etsy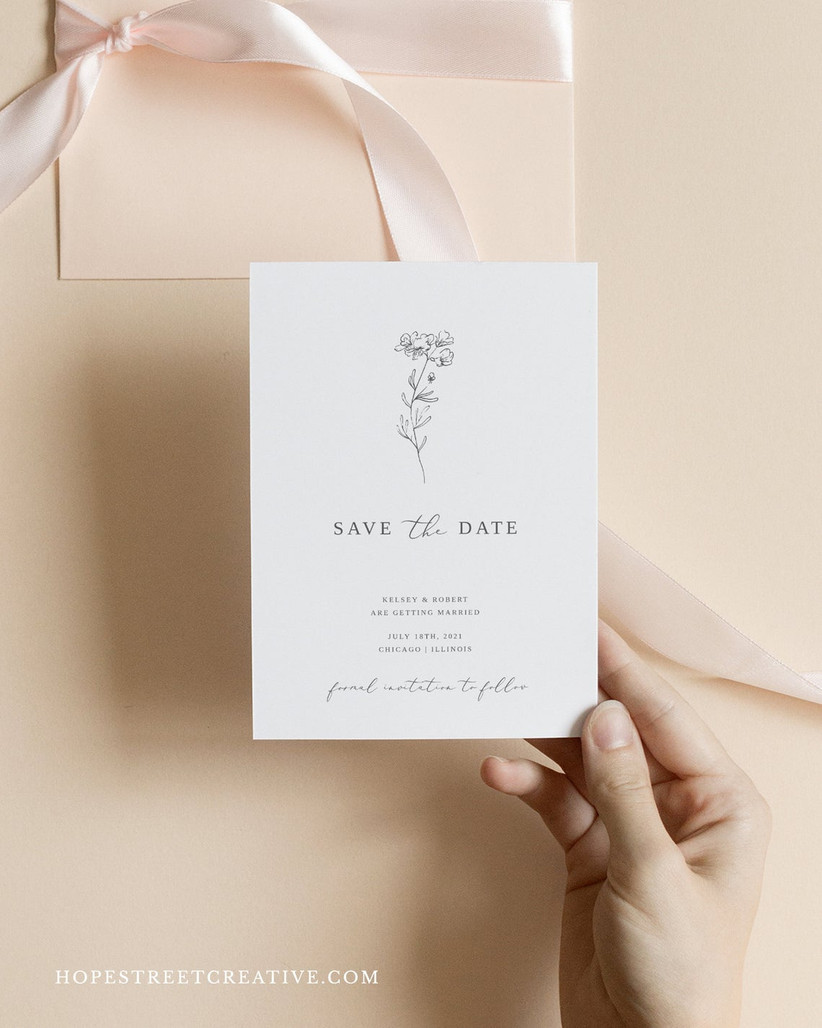 This save the date template proves that a floral design doesn't have to mean lots of colour and blooms - it's a pared-back, refined look.
READ MORE: Wedding E-Vites: Digital Wedding Invite Wording & Ideas
17. Mister Fox Editable Save the Date Template – AUD $9.95, Mister Fox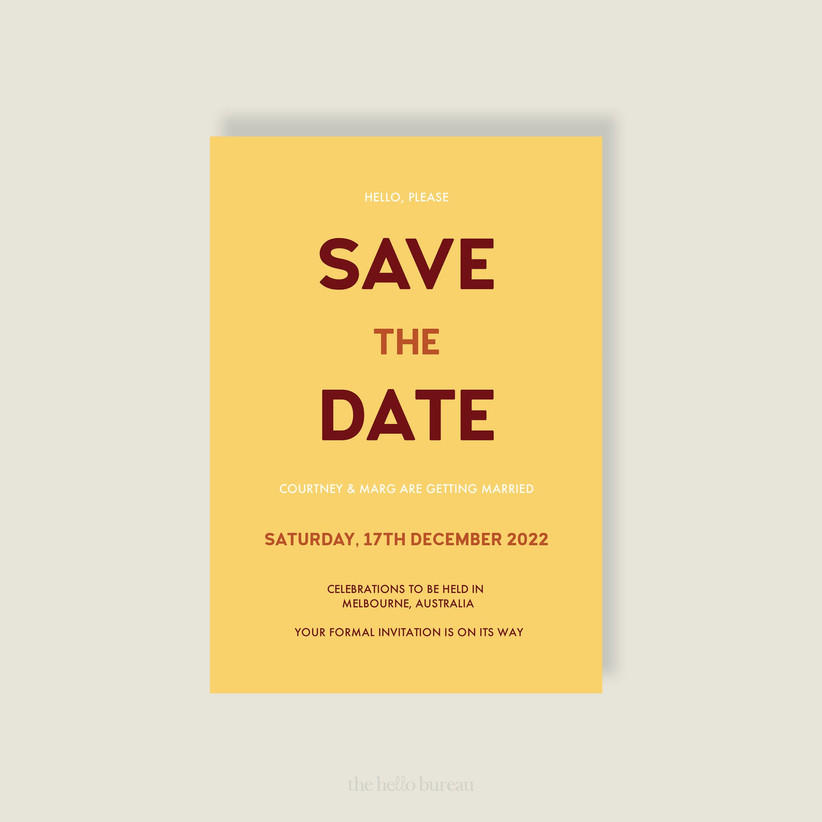 The retro colour palette of this save the date is very aesthetically pleasing - it's an ideal design if you want to give a nod to 1950s cool.
18. Peach & Greenery Save the Date Card – Free, Greetings Island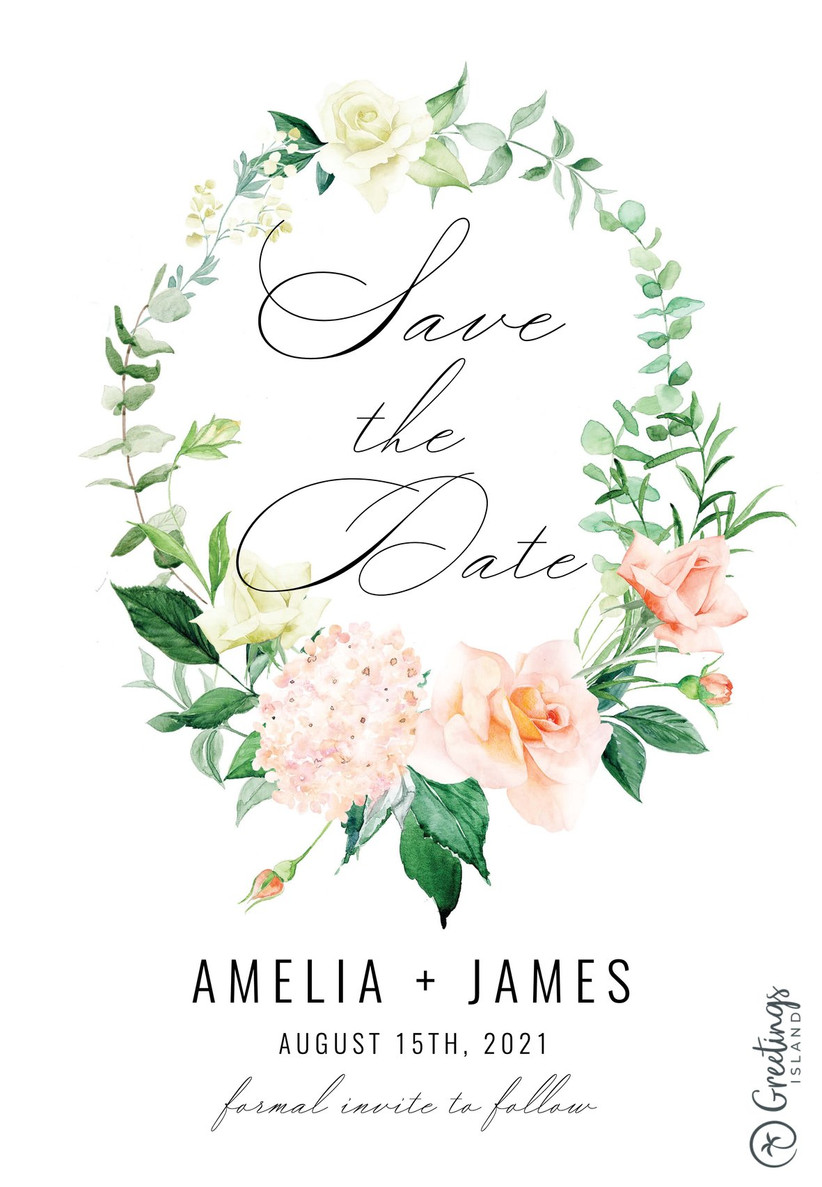 This elegant save the date would be just the thing for a countryside wedding, whether in a beautiful barn or a grand country house.
19. Chinese Wedding Save the Date Template – £11.44, Etsy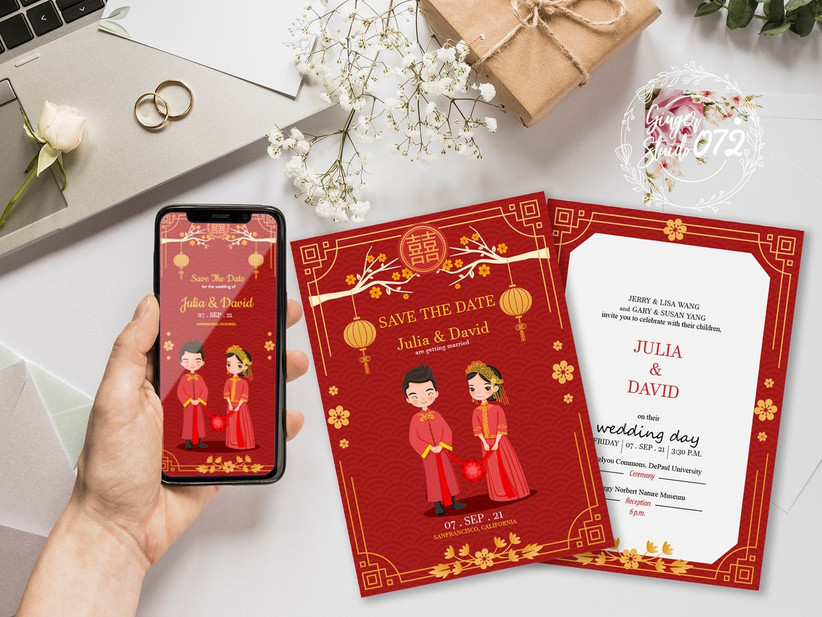 Etsy seller Ginger Studio 072 has some seriously cute illustrated stationery templates for weddings across a range of cultures, including this Chinese wedding design. Once you've edited it, you can print it as a jpeg or PDF.
20. Comic Strip Save the Date Template – From £21.31, Etsy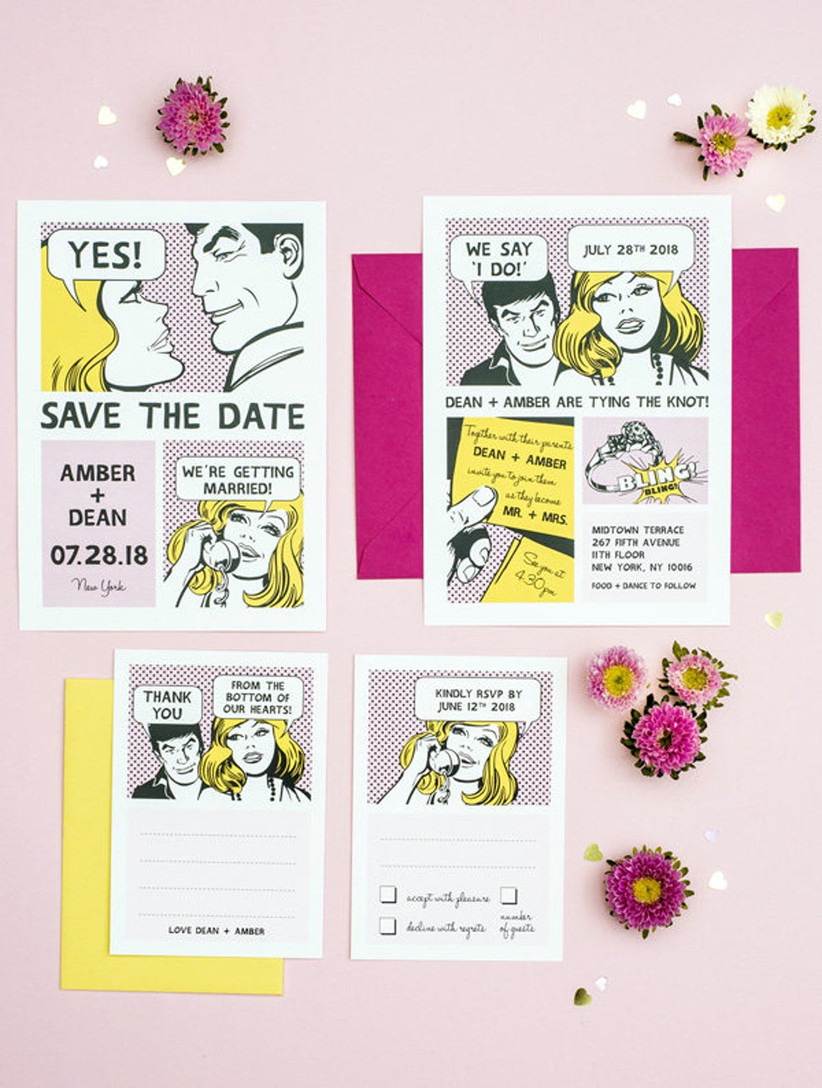 Do you love the idea of alternative wedding stationery? You need to check out this comic-strip style save the date template. If the style wins you over, you can pay more to get a whole template set of wedding stationery, including invitation, RVSP card and thank you card.
21. Save the Date Template in Soft Blush Pink Flowers – £7.72, Etsy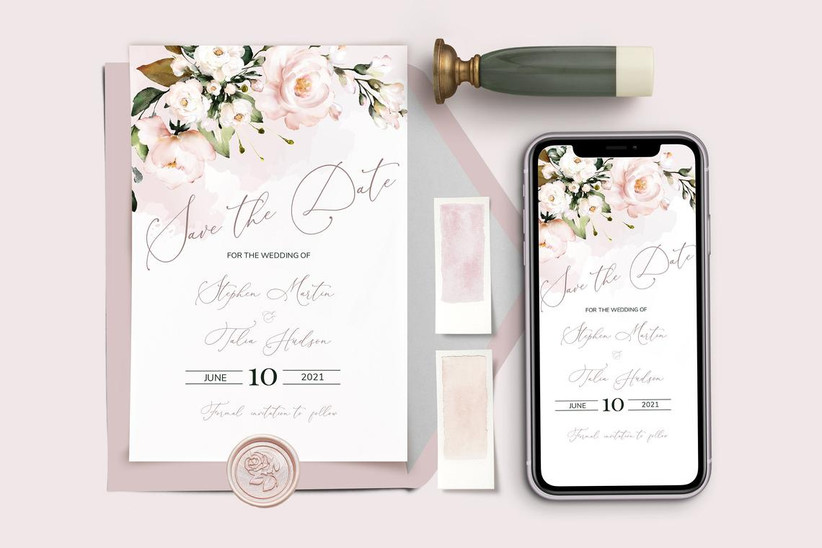 This save the date template is both pretty and practical. Pretty: well, just look at that pink floral design. Practical: you get a digital template as well as a printable template, so you can save on printing costs and be kind to the planet by sending at least some of the save the dates by phone rather than post.
Before you commit to printable save the dates, take a look at our stationery shop - it may actually work out less expensive to buy our personalised stationery, and it's a stress-free process!