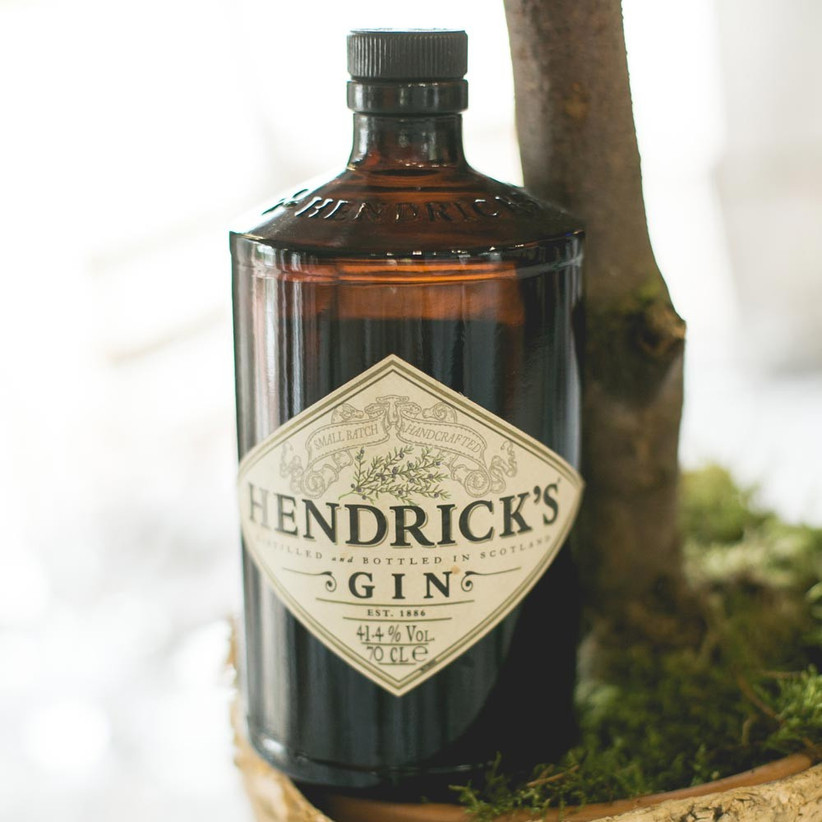 Gin is one of the nation's favourite drinks, so why not include it in your big day? 
We're not just talking about giving your guests a g&t to toast with either – there are lots of different ideas out there for how to showcase your gin obsession at your wedding that you might not have thought of before.
Real bride Caroline explains how she included her love for gin in her wedding: "Both my husband and I love gin so we decided to include a few touches of our favourite tipple in our wedding day. We had DIY gin cocktails in place of favours, where guests had the ingredients to make their own gin cocktail in a mason jar, complete with paper straws. We also used Hendricks Gin bottles as vases and filled with avalanche roses and eucalyptus."
We've come up with nine ways you can involve your best friend gin in your wedding – prepare to feel gin-spired!
Gin-Themed Favours
Share your love for gin with your guests in the form of gin themed wedding favours – why not treat your friends and family to a miniature bottle of your favourite gin? If you want to give it a homemade twist, why not make your own sloe or damson gin to dole out to your guests? You can bottle it in pretty bottles and let the tag double up as a place card.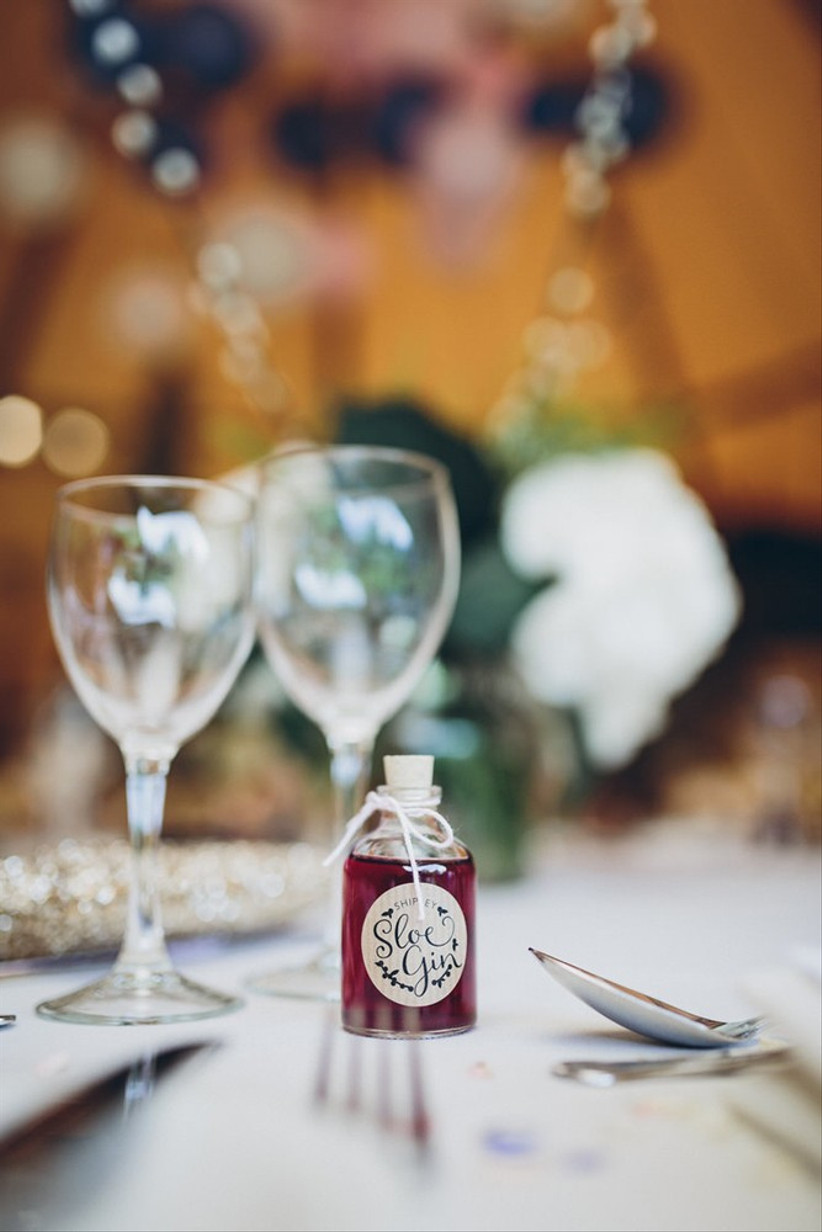 Image credit: Pinterest
DIY Gin Cocktails
Make like Caroline and treat your guests to DIY gin cocktails! This is an easy homemade wedding favour to master – all you need is a mason jar, a shot of gin and a mixer. Caroline treated her guests to a mix of gin and rose lemonade, sloe gin and tonic and the classic G&T. They're perfect for a hot summer's day.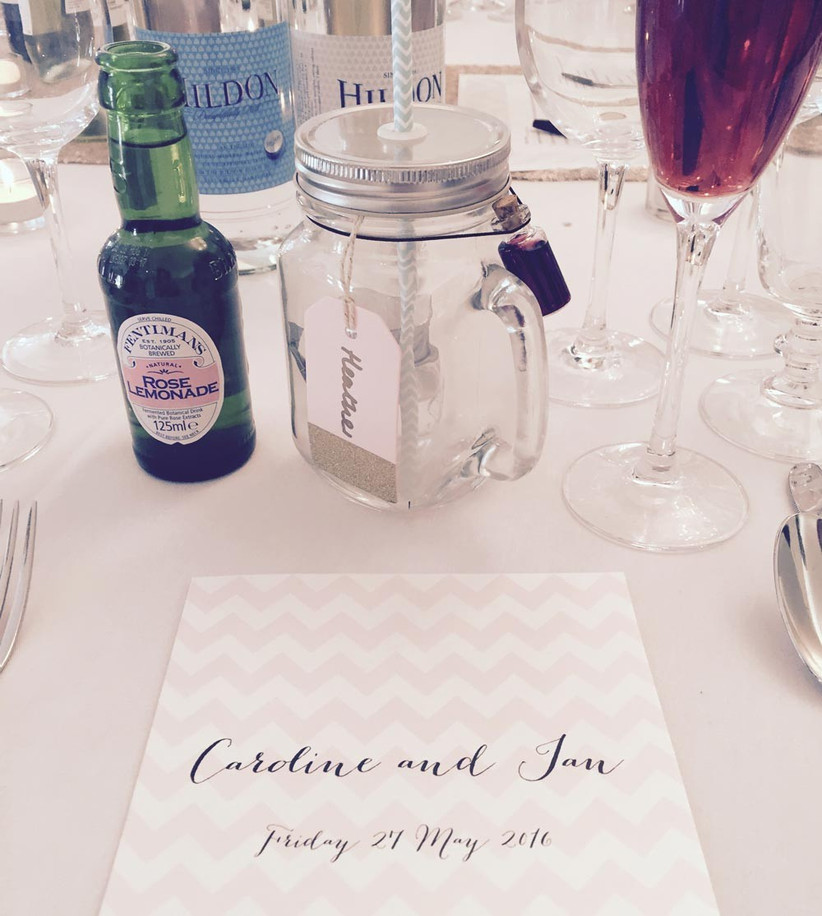 Your Own Gin Bar
If you want to go a step further than DIY gin cocktails – and why not – how about setting up a DIY gin bar so your guests can mix their own gin based drinks and keep coming back for more? This is a great alternative to the traditional welcome drink after the ceremony as it will get your guests interacting.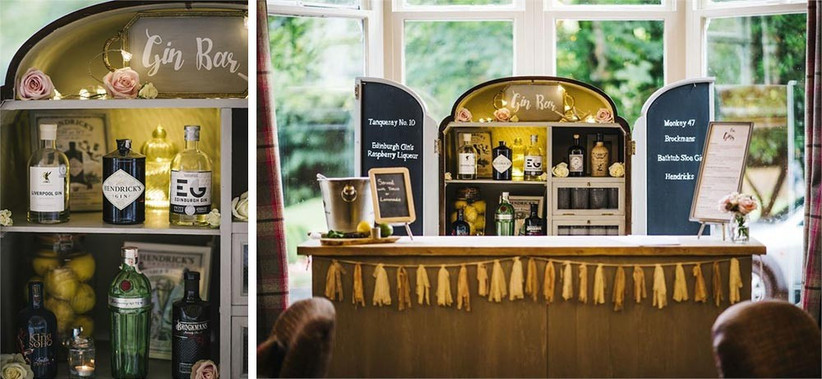 Image credit: Ashfield House
Gin Kisses
Give your first kiss as newlyweds a gin flavoured twist by applying gin and tonic flavoured lip balm ahead of the ceremony. This is a subtle way to include gin in your wedding but it's guaranteed to be appreciated by those involved…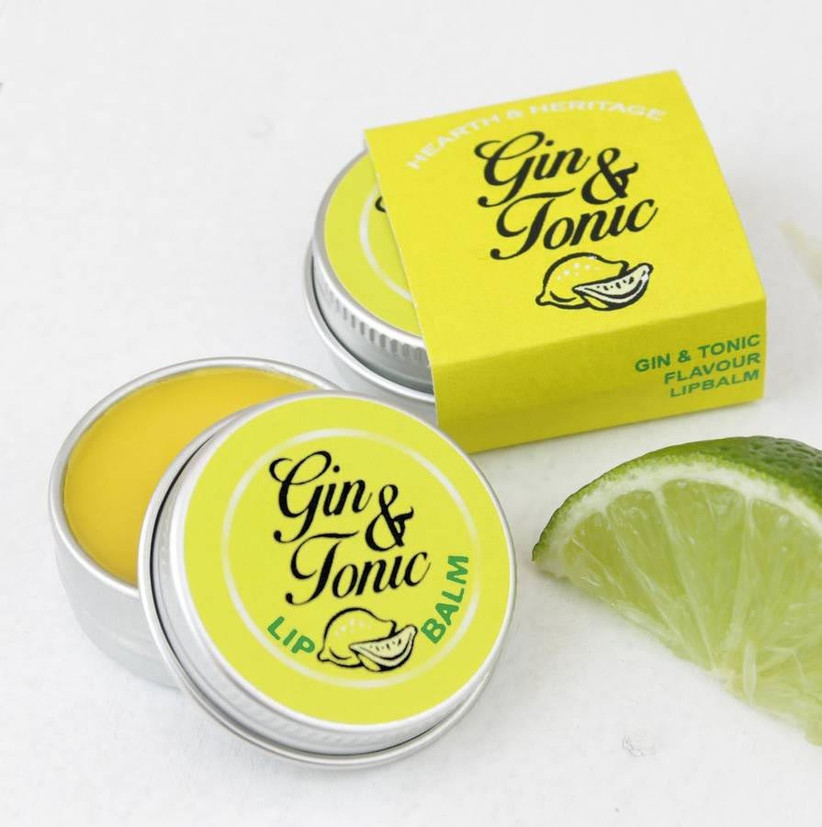 Image credit: Hearth & Heritage at Not on the High Street
Wedding Signage
We love a good wedding sign here at Hitched – they add to your décor and make sure your guests don't wander off course and get lost. Give yours a gin themed twist to match your wedding theme with this wonderful 'Let the Fun Be-Gin' slate sign from Winning Works.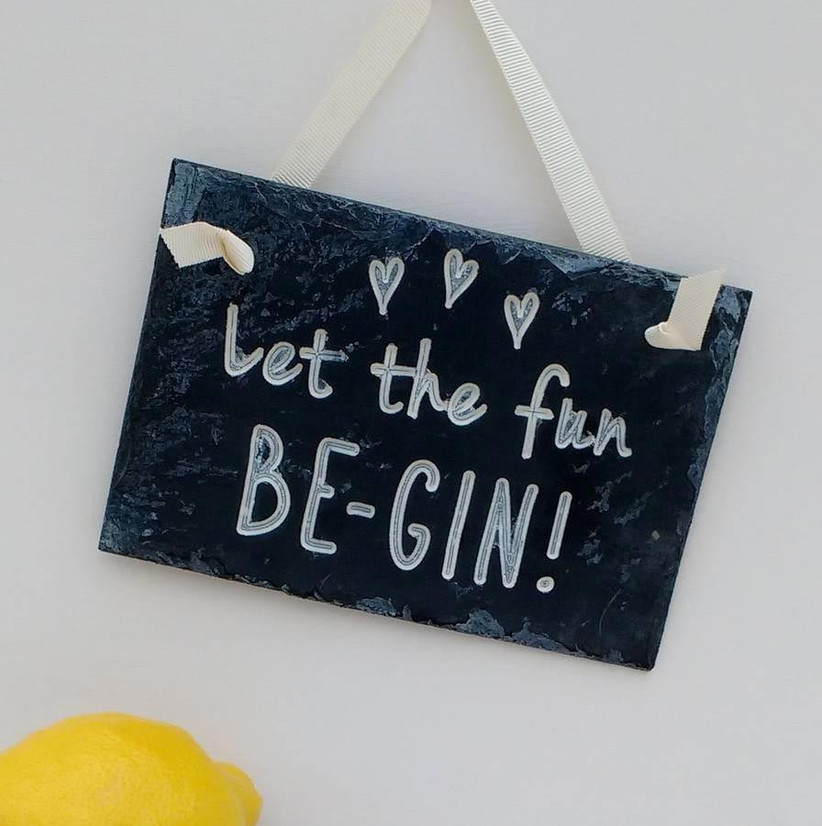 Image credit: Winning Works at Not on the High Street
Gin Bottle Wedding Décor
Gin bottles are actually really pretty – the light blue glass of the Bombay Sapphire bottle, the rich green of Gordons Gin receptacles and the unusual shape of Caorunn Gin bottles, to name a few. You can use them in your centrepieces to hold flowers or candles, or dot them around the venue to add to the décor. You just have to drink the gin first – such a chore…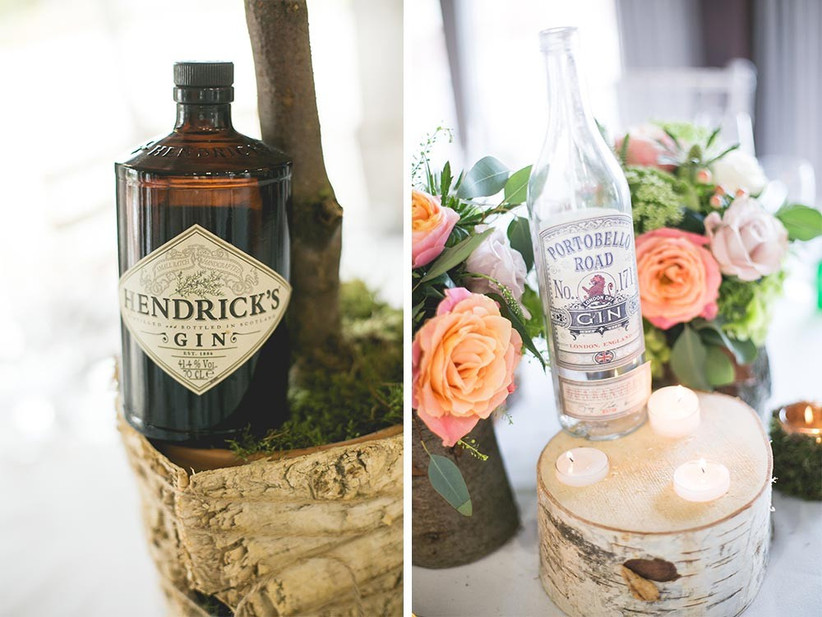 Image credit: Mr and Mrs W Photography
Juniper Berry Bouquet
We love the idea of using juniper berries in your wedding flowers – they look especially striking in winter wedding bouquets. Use the bright blue berries in your bridal bouquet and your centrepieces, and for even more juniper detail, why not have a juniper berry flower crown? They also make for perfect alternative buttonholes for the groom's party – we love this one from Which Goose.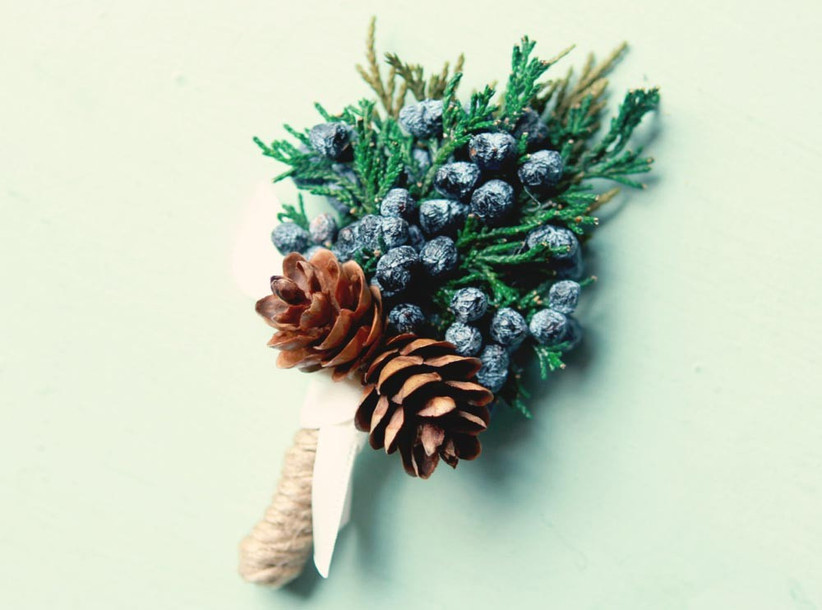 Image credit: Which Goose on Etsy
Gin Table Names
If you're stuck trying to think of wedding table name ideas, what about using your favourite drink for inspiration? You can name each table after a different type of gin and then use that particular bottle as the centrepiece for that table, or use miniature versions of that gin in your wedding favours.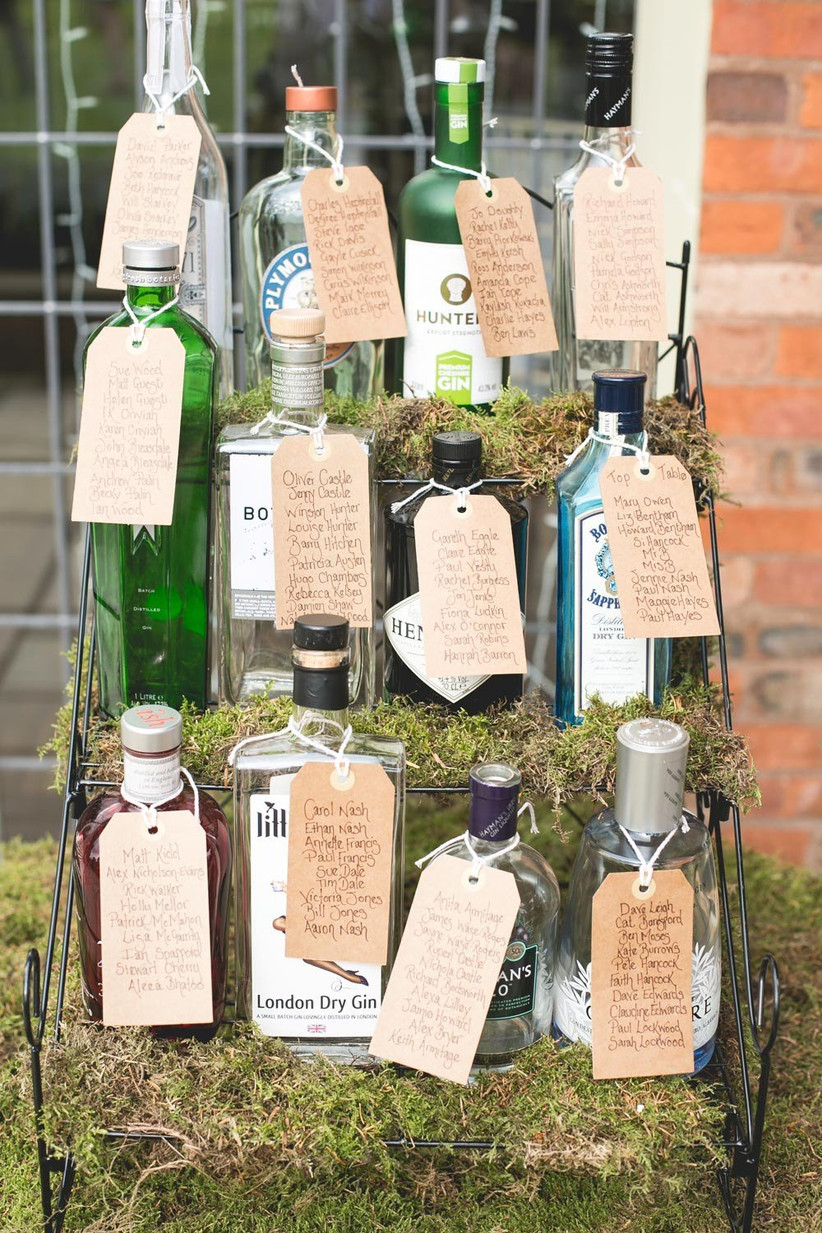 Image credit: Mr and Mrs W Photography
Gin Themed Wedding Menu
Why not go all gourmet and ask your wedding caterer about how to include gin in your wedding menu? Whether that's gin ice lollies as a creative wedding canapé, gin jelly for dessert or a main that features a fruit infused gin sauce – your guests will devour it! We also love the idea of a gin sorbet as a palate cleanser between courses.
Image credit: Mr and Mrs W Photography
If this list has got you yearning for a refreshing drink, make sure you check out our edit of the best wedding cocktails, which features advice from expert mixologists.