The vibrant city of Brighton is packed full of contrasts, from regency and Victorian architecture that harks back to a glamorous time gone by to edgy spaces designed for the creative and contemporary. It's the diverse selection on offer here that makes Brighton such an amazing choice when it comes to wedding venues. Couples can stick to tradition, do something totally different or mix the two - all while holding a cone of the finest fish and chips!
If you're feeling tempted by the colourful seaside city but are struggling to narrow down your options, allow us to help you out. We took a virtual journey through the streets and along the seafront to find the very best Brighton wedding venues.
Whether you're after a majestic seaside hotel dripping in old style grandeur or a quirky seafront hideaway where you can host the laidback celebration of your dreams, you'll find something fitting on our shortlist.
READ MORE:
1. Brighton Harbour Hotel & Spa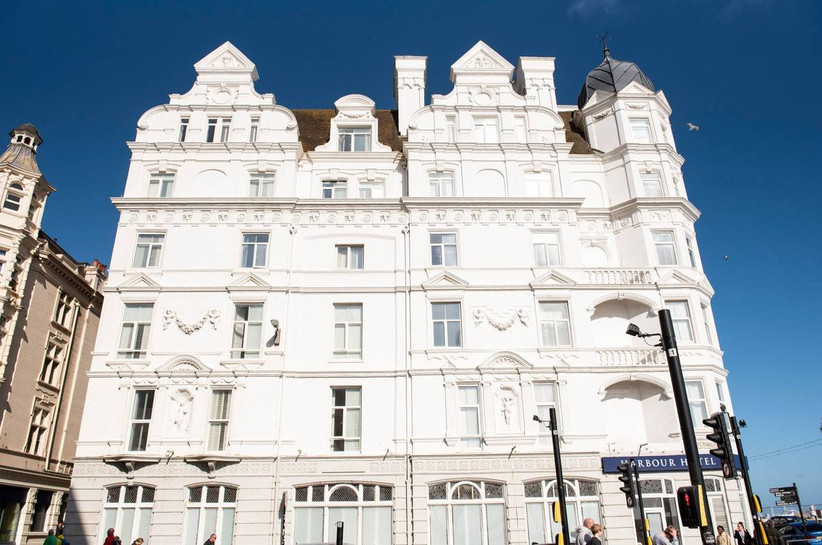 A beautiful example of Brighton's stunning Regency architecture, we defy anyone not to fall in love with this white wonder as soon as they see it. Within the elegant walls is a vibrant and quirky boutique hotel bursting with personality and contemporary touches that wouldn't look out of place on the pages of an interior design magazine.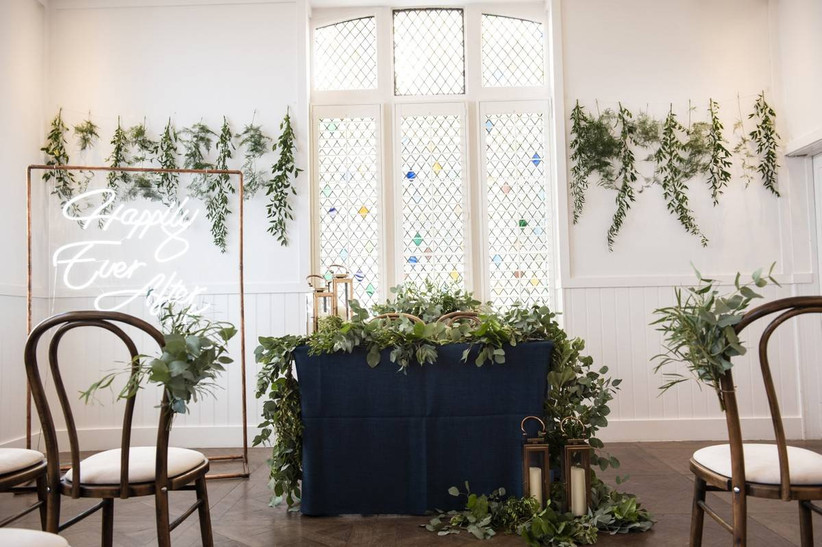 You can marry at Brighton Harbour Hotel & Spa with up to 100 guests in attendance in the beautifully light and bright Marine Room against the backdrop of stained-glass windows. Afterwards, you can make the most of the seafront setting and snap some wedding photos in front of Brighton's iconic bandstand and pier before tucking into dinner and cocktails. The fun doesn't stop there though: with 79 bedrooms on-site and the indulgent HarSpa to enjoy, we'd definitely be staying a night or two if we were you!
2. Brighton College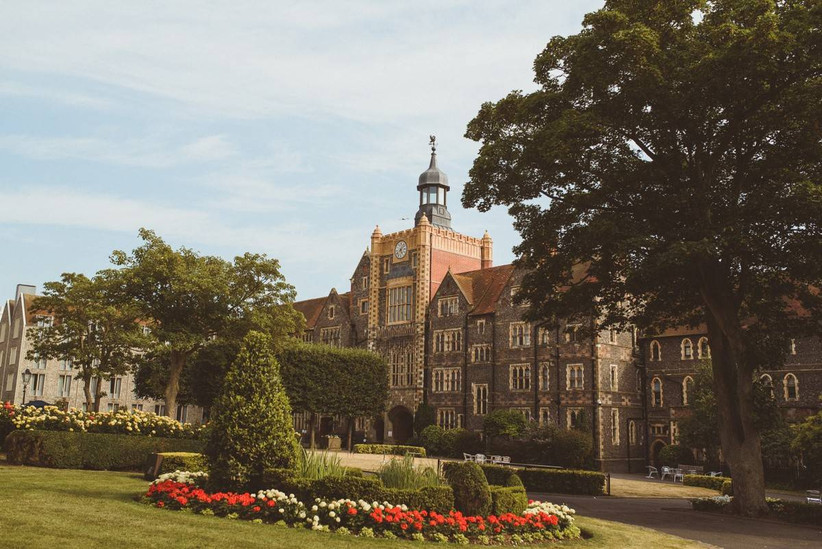 This magnificent Gothic revival building was built in 1845 and houses its own chapel within the manicured grounds, making it the ideal choice for couples dreaming of a church ceremony. Situated just a stone's throw from Brighton's centre and the seafront, Brighton College enjoys the convenience of the city from a peaceful distance.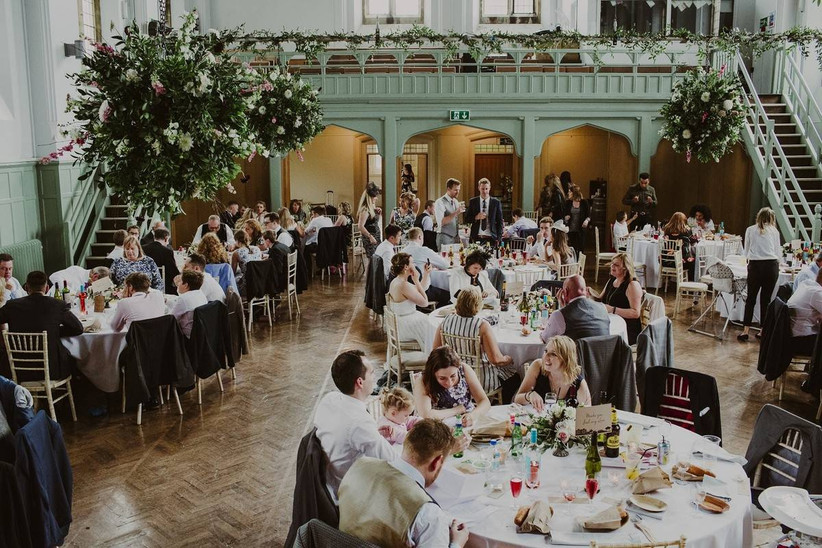 The college offers a civil ceremony space for those who don't wish to marry in the chapel but the real highlight here is the Great Hall, a fabulous dining and party space complete with a staging area for the band or DJ. Brighton College can cater for anywhere between 70 and 156 people for a wedding breakfast, prepared by the locally renowned college chefs, and 250 for the evening reception.
3. Hilton Brighton Metropole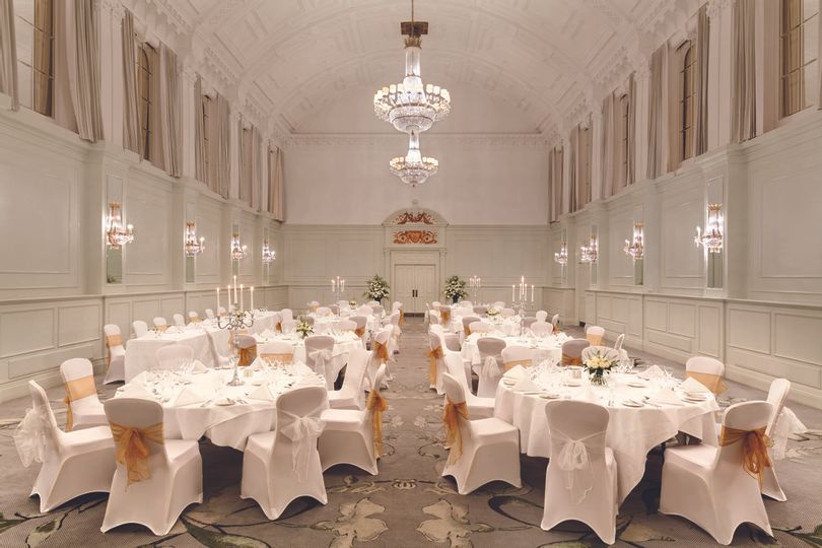 Set on Brighton's iconic sea front and boasting Victorian elegance combined with the fun and contemporary flavour the city is so well known for, Hilton Brighton Metropole offers something for everyone. Plus, with a capacity of up to 1000, literally everyone you know can join you for a celebration here.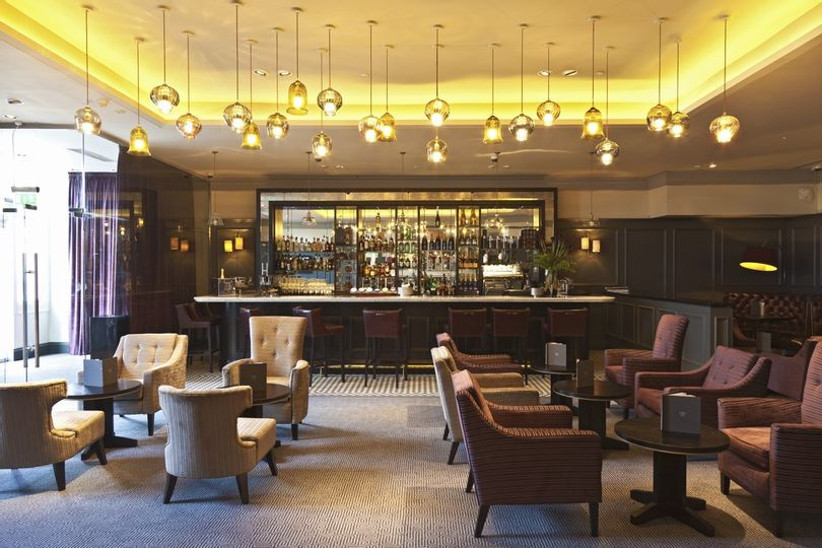 With a spa and hairdresser on-site as well as 340 bedrooms, you'll have everything you need to prepare and relax before your big day and unwind afterwards – we predict you'll need it after some of Brighton Metropole's amazing cocktails and throwing some shapes in their enormous function space!
4. The Spire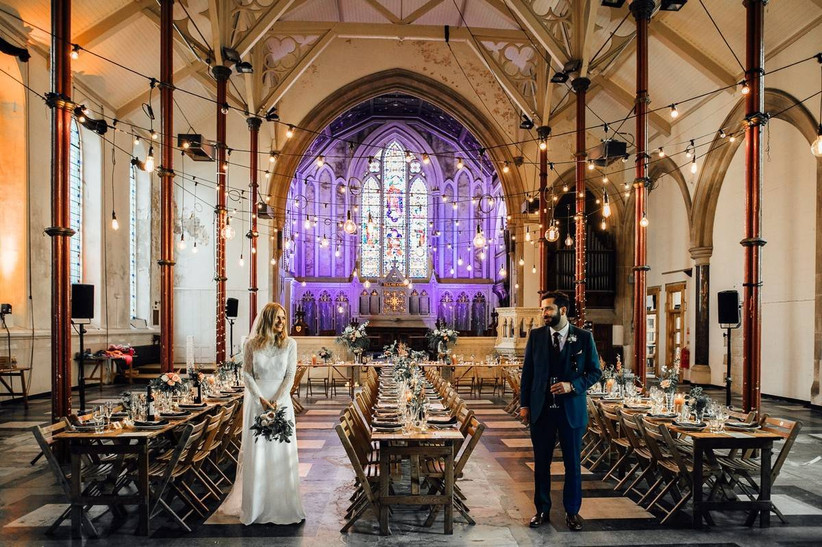 Located in East Brighton's fashionable Kemptown, The Spire provides a quirky and unusual wedding venues for couples after something a little bit different. The grade II listed former chapel can accommodate up to 300 guests and provides a characterful blank canvas on which couples are invited to project their own individual style.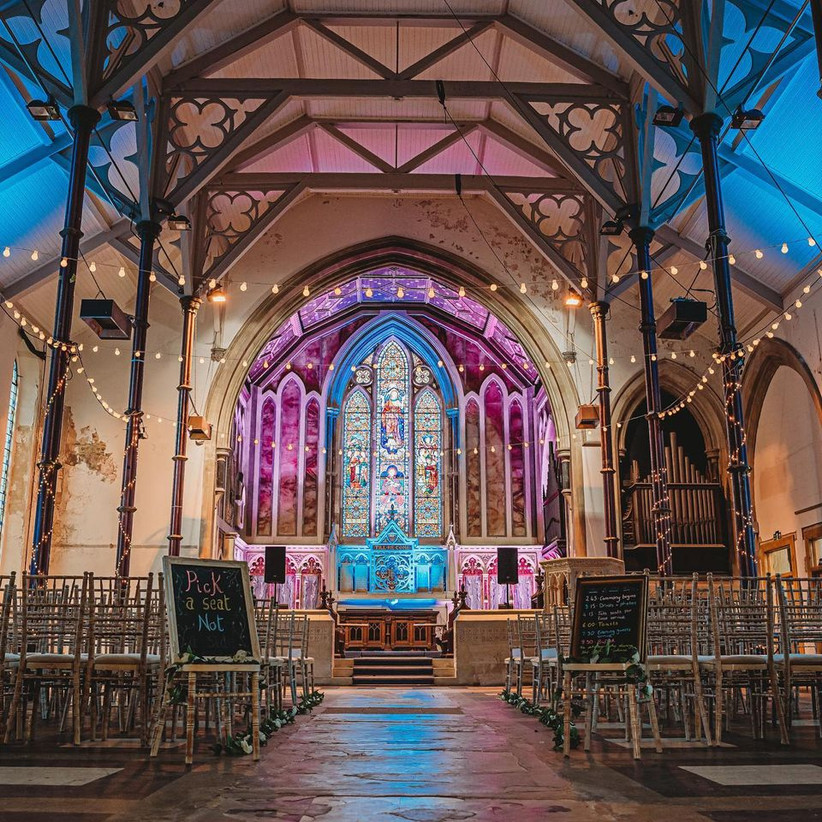 As an arts and performance space, there's plenty of drama here and so it's the perfect place to host a banquet and party after a ceremony in a licensed location nearby. Fairy lights, lanterns and flowers can all be suspended from the ceiling creating an impactful atmosphere that guests won't forget in a hurry.
READ MORE: 75 Unusual Wedding Venues: The Best Unique Venues Across the UK
5. Patterns, Brighton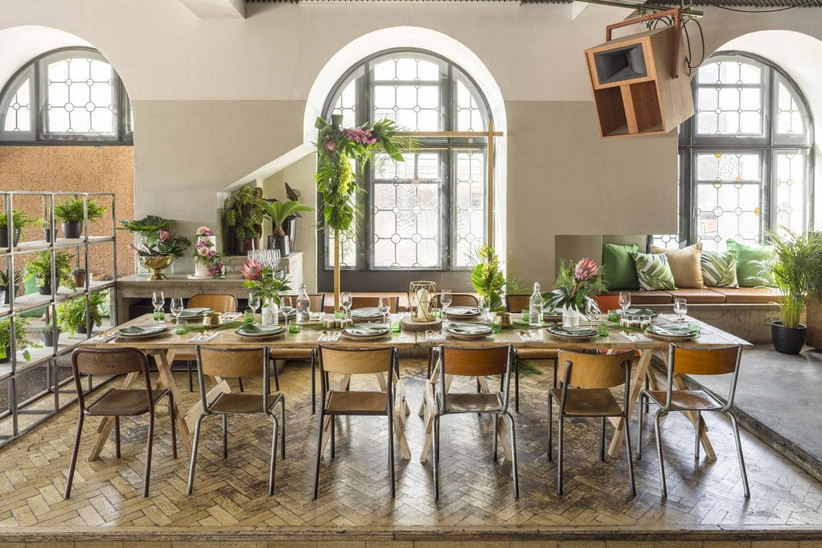 This newly refurbished events space has retained its original Art Deco features while combining exposed brickwork with stained-glass windows to create a contemporary cool feel simply perfect for couples looking for style in the city. Patterns, Brighton is a reception only venue with space to seat 85 for dinner or 200 for an informal event.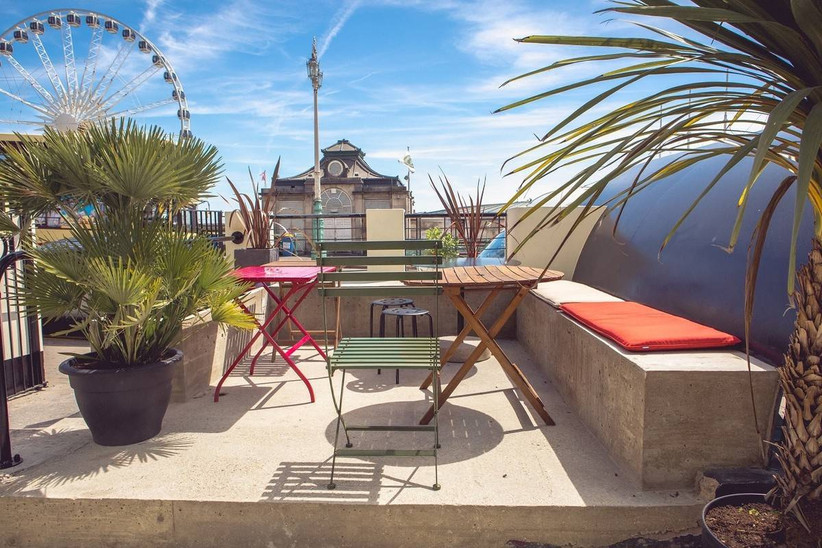 The team at Patterns are happy to help you design the day of your dreams, incorporating anything from paella to BBQs and a churro station to a glitter bar, plus a photo booth that creates GIFs from your day! Located opposite Brighton Pier and with the option to have unlimited whippy ice cream and candy floss, we reckon there'll also be plenty of amazing photo opportunities for your photographer to capture too.
6. The Tempest Inn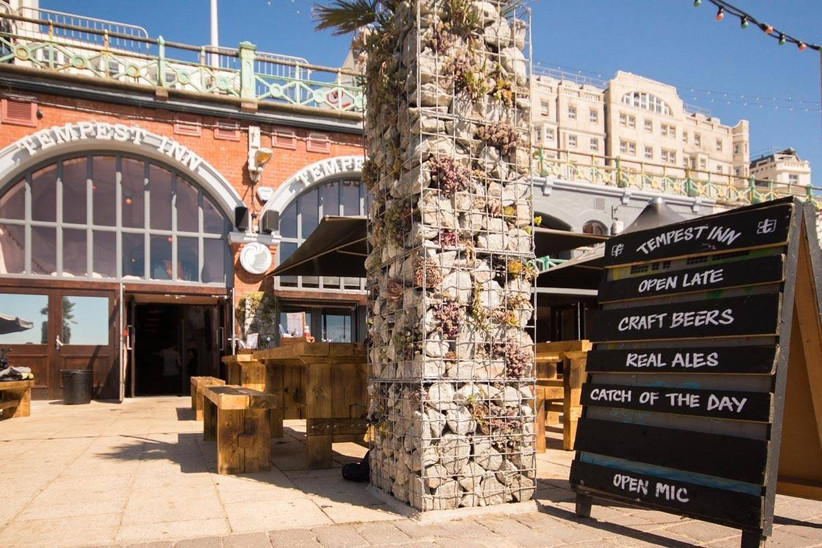 Love the idea of a laidback wedding? The Tempest Inn is where it's at when it comes to relaxed weddings in Brighton. Nestled right on the seafront opposite Brighton Pier, guests won't forget that they're in one of Britain's most iconic seaside spots for a second.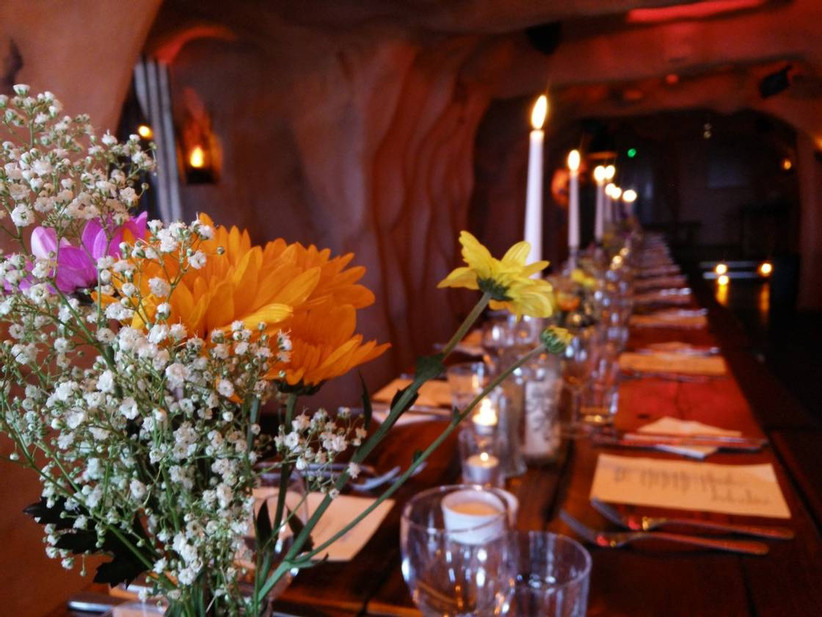 With a cave-like, cosy interior and a flexible approach to wedding planning, The Tempest Inn will feel like a home away from home for couples and guests alike. The team invite you to marry in their licensed space and host your celebration with up to 500 guests afterwards. Drinks on the seafront and a paddle in the water are a post-ceremony must, if you ask us.
7. Fabrica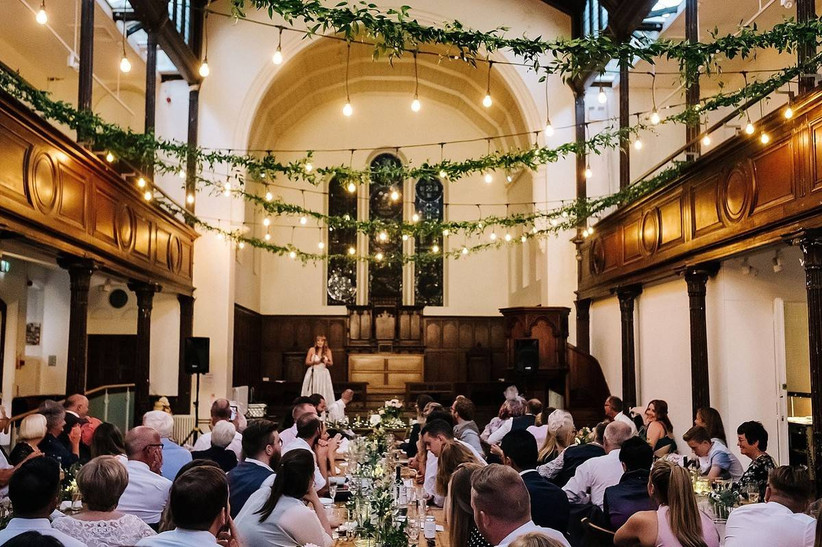 Located in the buzzing Lanes area of Brighton, this former regency church is the ideal pick for creative couples looking to make a quirky space their own. With a 10.5-metre-high ceiling and a traditional wooden overhead balcony, there's plenty of opportunity to add drama and impact here.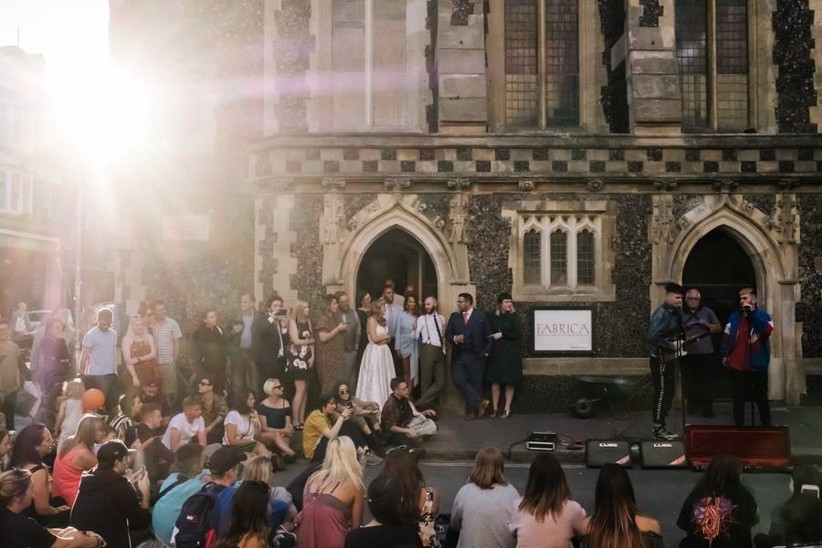 Fabrica is a dry hire venue, giving you the flexibility to bring in the catering, drinks, décor and entertainment of your choosing – it's totally your day, your way here. The space is for wedding receptions only, however with Brighton's churches and registry office just a short distance away, you won't have to travel far before you can start the party.
8. British Airways i360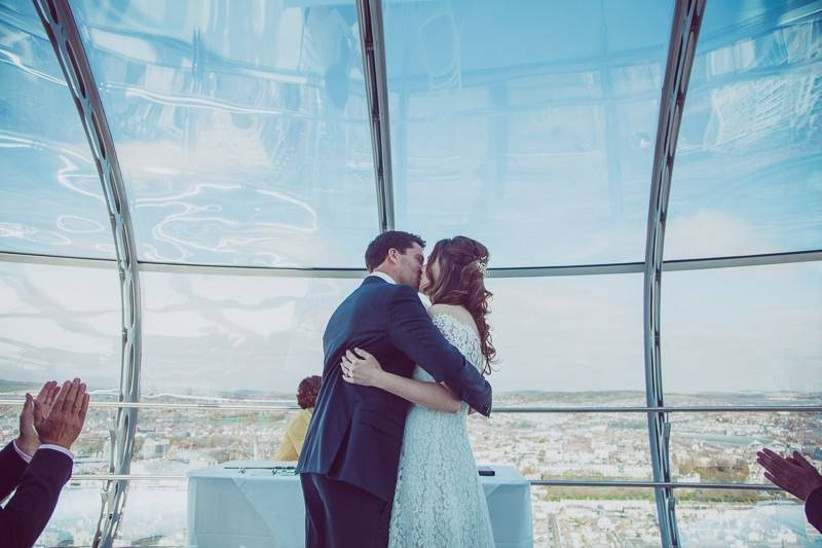 Take your celebrations to new heights at British Airways i360. Overlooking Brighton beach, this one of a kind venue allows you to say 'I do' 450ft above the sea in a glass walled pod! 175 standing guests can watch on as you say your vows or 80 seated.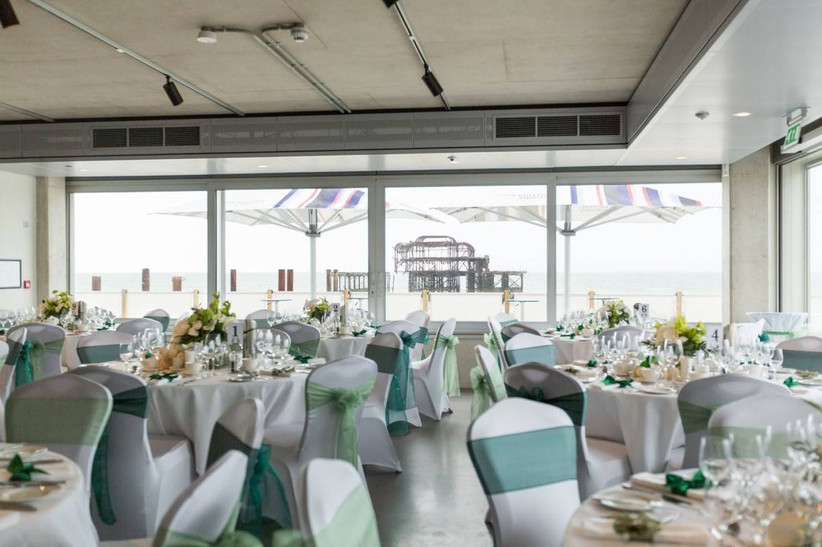 You won't need to rush back down to the earth after your ceremony, thanks to the award-winning Nyetimber Sky Bar which also enjoys panoramic views across the seafront. If you think you'll have had quite enough time in the sky for one day, you can always invite up to 400 guests to party with you in one of the venue's beachside event spaces.
READ MORE: The 20 Best Modern Wedding Venues in the UK
9. Hotel Du Vin Brighton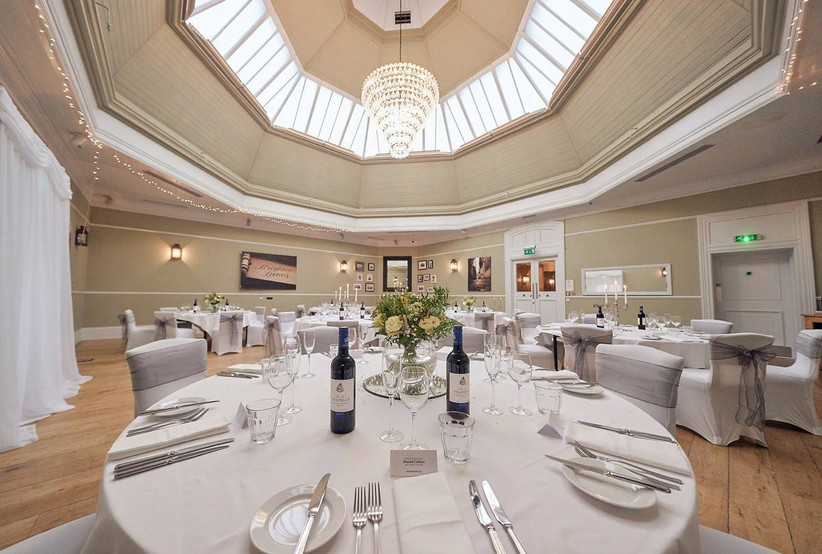 Set in the Lanes area of Brighton, Hotel Du Vin Brighton is an impressive hotel wedding venue with a selection of elegant event spaces on offer. You can marry in the Dome Ballroom, SMWS or Lombard rooms and celebrate afterwards in whichever you choose.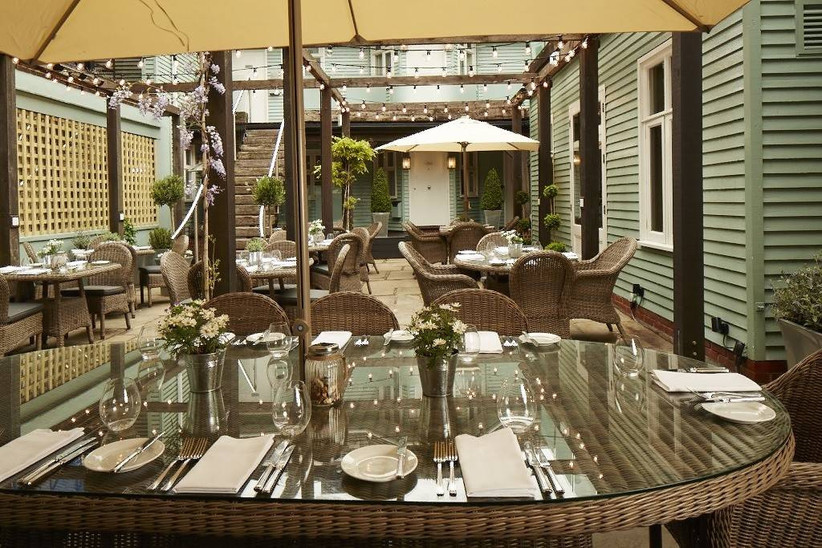 For us, the Dome Ballroom is the most impressive space thanks to its spectacular domed ceiling, light and airy feel and cut crystal wine glass chandelier. In here you can dine on the finest French bistro inspired cuisine or an informal buffet, the choice is totally yours. At the end of the night, you and your guests won't have far to go before collapsing onto luxury beds in the hotel's 49 sumptuous bedrooms.
10. The Grand Brighton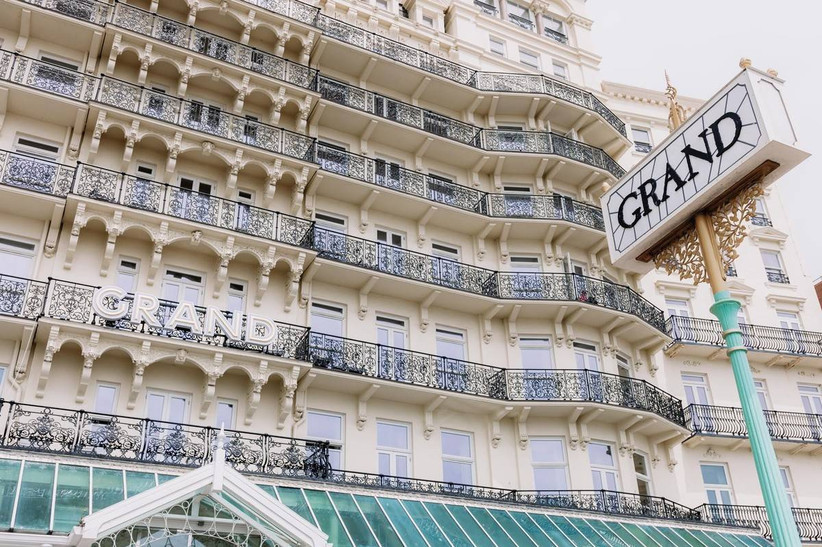 This incredible Victorian grade II listed wedding venue is situated on Brighton's seafront, just a stone's throw from the iconic bandstand. Built as an elegant seaside retreat for the London set, The Grand Brighton has elegant celebrations written into its history.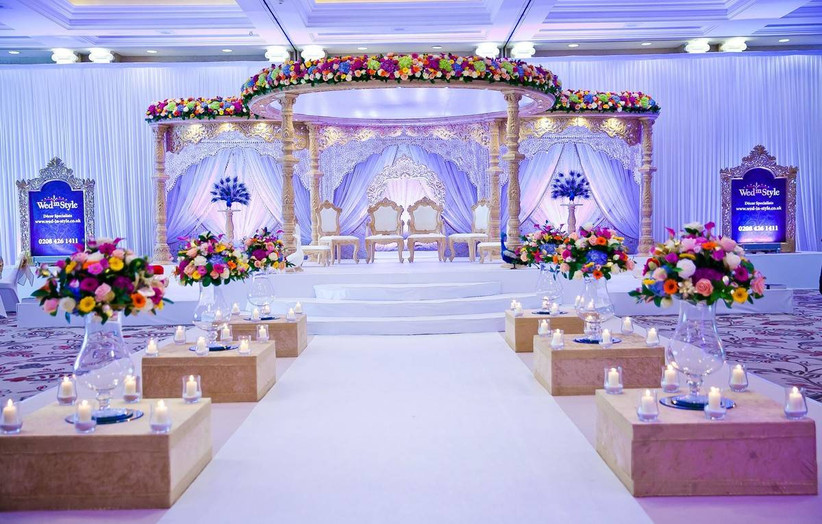 With a maximum capacity of up to 550, this magnificent venue is a popular choice for large and luxurious Asian weddings in its stunning Empress Suite. The Regent Room is the ideal spot for more intimate events and the Pavilion Suite is also available for larger celebrations. With a day spa and restaurant on-site and plenty of accommodation, this is a great choice for those wishing to stretch out their celebrations over a weekend.
11. The Royal Pavilion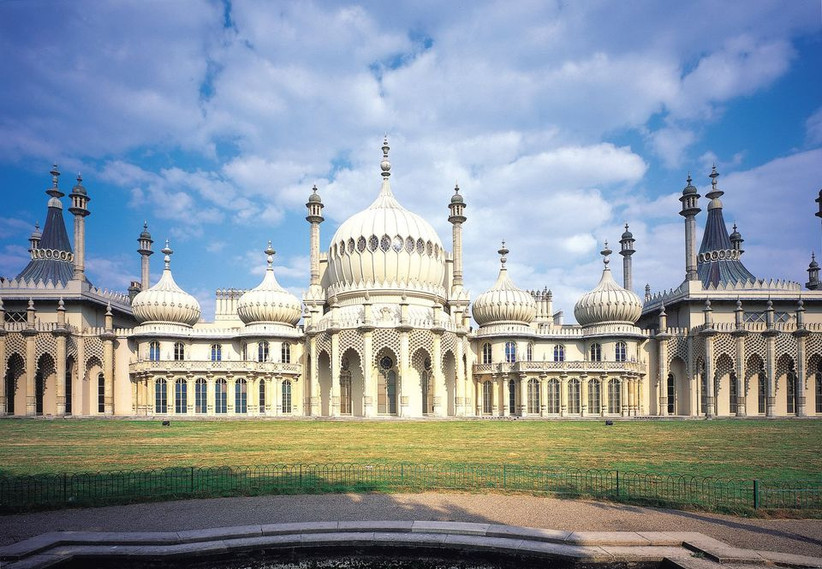 One of Brighton's most iconic landmarks and a venue that has been welcoming royalty and nobility since the 1780s, The Royal Pavilion is a fantastic Brighton wedding venue choice. While today's décor resembles the 1823 glory days of the venue, the pavilion is anything but stuffy and old fashioned. Featuring Indian style architecture and interiors inspired by the Orient, you'll struggle to find anything as unique and striking as this.
You can marry in the music room or red drawing room before enjoying drinks in the regency garden and continuing celebrations in the magnificent King William IV Room or the stylish Adelaide Rooms. The Royal Pavilion works with a recommended list of caterers and you'll be able to choose your favourite, safe in the knowledge that they're a tried and trusted supplier.
12. Mercure Brighton Seafront Hotel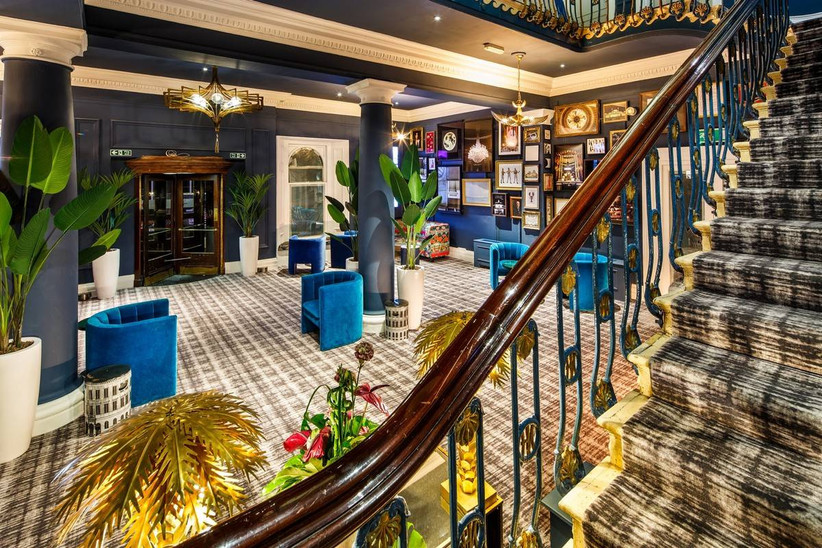 Combine historic Victorian glamour with contemporary vibes by getting hitched at Mercure Brighton Seafront Hotel. Situated in a perfect position, overlooking the promenade and seafront, you can enjoy spectacular views as you say your vows and as you climb into bed in one of the luxurious seafront bedrooms.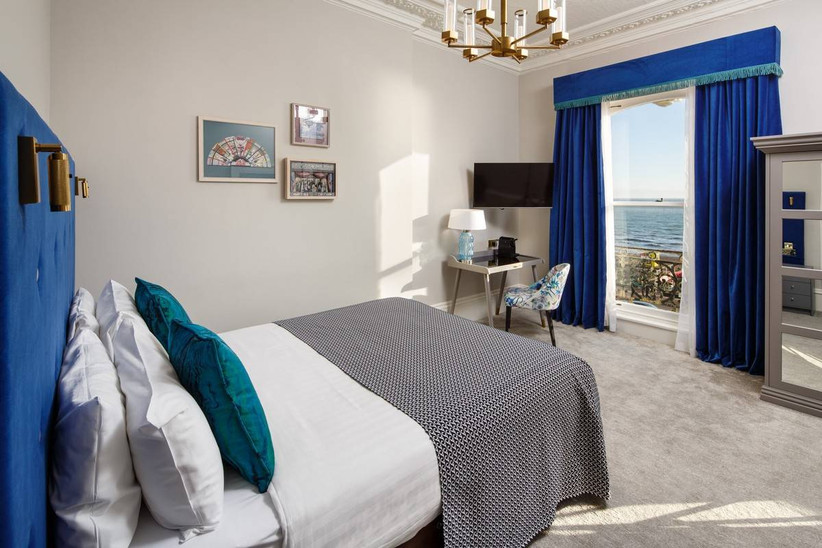 The magnificent ballroom, with its high ceilings and impressive chandeliers, can accommodate up to 180 guests, making this a great choice for grand weddings. The hotel also boasts 123 bedrooms, meaning all of your guests can stay on-site with you. With Brighton's most iconic landmarks on the doorstep, plus a fabulous range of newly renovated places and spaces to enjoy a celebratory drink in, we predict few will turn down the offer of a stay here.
Chosen a venue with a late night license? Don't miss out on the opportunity to throw an amazing wedding after party.