Making Your Own Wedding Cake: Recipes and Advice
Great British Bake Off star Beca Lyne-Pirkis shares her top tips, advice and her perfect recipe for baking your own wedding cake
We have included third party products to help you navigate and enjoy life's biggest moments. Purchases made through links on this page may earn us a commission.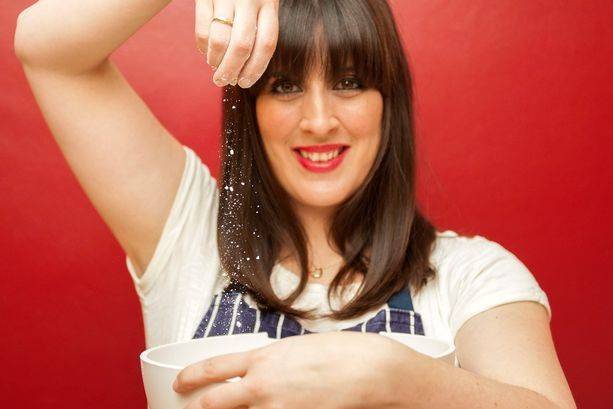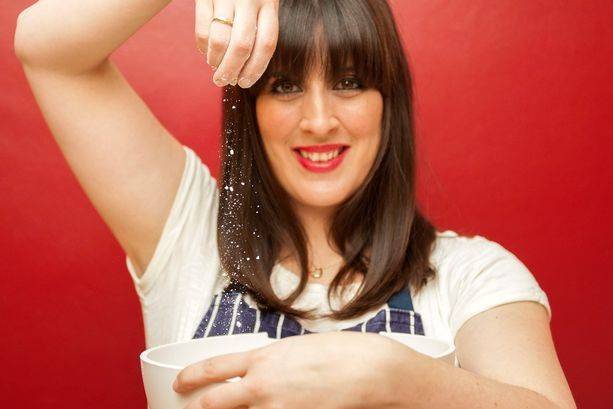 Great British Bake Off star, Beca Lyne-Pirkis, shares her top tips for creating the perfect home baked wedding cake — and the recipe she used for her own wedding.
By making your own wedding cake you can create an amazing — and delicious — talking point. You'll save money, have control over the size, cake flavour and decoration, and, if you're new to baking, you'll learn a valuable skill too.
Beca is passionate about creating beautiful bakes, cooking traditional recipes as well as exploring other cultures for flavour inspiration. Beca, a mum of one and military wife, shares her fabulous recipes at her blog, Diet Starts Tomorrow.
Beca's Top Five Tips
As a skilled home baker, we asked Beca to share her top five tips — essential reading if you're making your own wedding cake.
Tip No.1:
Plan, plan, plan. It's a busy week before the wedding and the last thing you want is added stress. Having a fruit cake will allow you to ice and decorate the cake in advance (sponge needs to be baked and decorated that week).
Tip No.2:
Choose a simple design adding colour and freshness with fresh flowers. Your florist will be able to help you with this, or usually there's a relative who is a willing helper…just make sure you tell them exactly what you want to create your perfect floral wedding cake.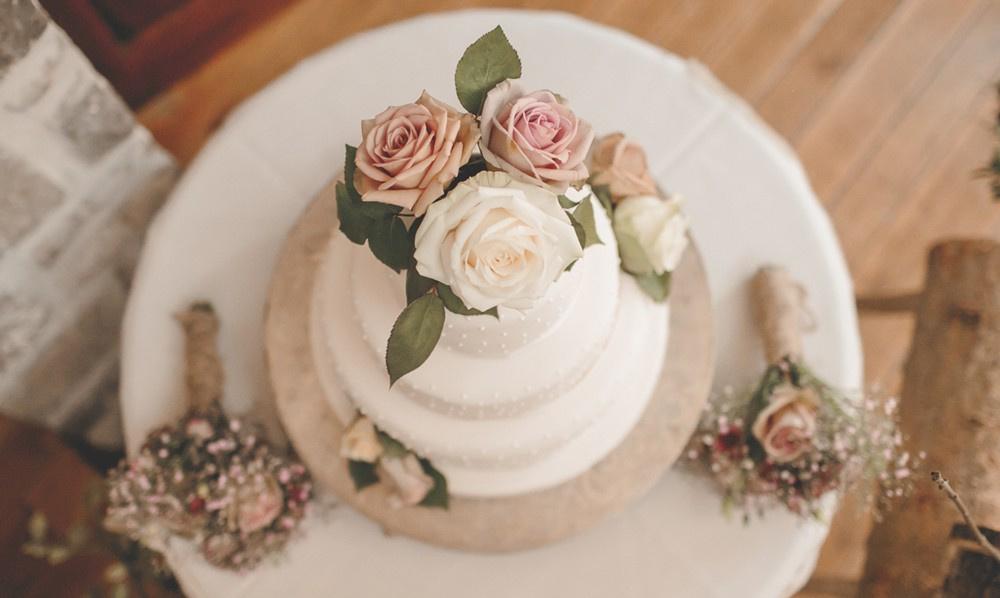 Tip No.3:
Another option is baking your cake, then asking a relative or friend you trust to decorate it. That takes away the stress of delivering and setting up the cake. That's exactly what I did: a family friend who decorates cakes finished it for me and delivered it to the venue. It was exactly what I wanted — and I wasn't covered in icing sugar the night before my wedding!
Tip No.4:
Always slightly under-cater with the cake, otherwise you'll be eating it for a week afterwards (although a fruit cake will keep for a long time). Here are some figures for different size cakes/guest numbers:
6 inch round — 20 guests
7 inch round — 25 guests
8 inch round — 40 guests
9 inch round — 50 guests
10 inch round — 60 guests
11 inch round — 80 guests
12 inch round — 90 guests
Tip No.5:
There are trends for doing things differently when it comes to the cake; it depends how traditional you want to be. To please older guests, you may wish to have a small wedding cake you can cut and they can photograph — and then go completely left-field. I catered for a friend who wanted a dessert table of treats for her guests. She bought her wedding cake from a supermarket then, between me and the venue chef, we filled a huge table with goodies from cake pops, mini cupcakes, brownie bites and macarons in many colours to a tower of meringues to make a sweet buffet. It looked great when the table was filled. Another friend had giant wheels of cheese stacked to look like a cake; this worked well for the evening buffet as we all had cheese, chutneys and crackers…you could even use a giant pork pie as the top tier of a cheese wedding cake.
Beca's Traditional Fruit Wedding Cake
I used this recipe for my own wedding cake and several of my friends'. I kept my top tier and re-iced it for my daughter's first birthday.
Makes a 6 inch round cake (perfect for a top tier)
Ingredients:
150g each of dried cranberries, currants, sultanas and raisins
45g candied or mixed peel
75g glace/candied cherries
4-5 tbsp brandy (or rum, or sherry)
175g butter
175g brown sugar
1 tbsp treacle
Zest of a small lemon and orange
Juice of ½ a small orange
3 eggs
175g plain flour
¾ tsp mixed spice
½ tsp ground nutmeg
½ tsp ground cinnamon
20g ground almonds
30g slivered almonds

Preheat oven to gas mark 2/130-150°Celsius. Grease and line a deep 6inch cake tin with two layers of greaseproof paper, making sure the paper is at least an inch higher than the height of the tin.

Place the dried fruit in a bowl and add the brandy and orange juice. Give it a good stir and put to one side. Cream the butter, sugar, zest and treacle together in a large bowl until light in colour. Gradually add the eggs with the flour and spices until thoroughly combined.

Add the ground and slivered almonds along with the fruit and brandy mixture, and stir well. Pack the whole mixture into the cake tin (it may look like it won't fit, but have faith!) Press the mixture down as you fill the tin, ensuring there are no air holes. Smooth the top and lightly cover the cake with a round of greased greaseproof paper with a small hole in the middle for you to test later with a skewer.

Put in the oven on the middle shelf and bake for 3-3½ hours. The cake is ready when an inserted skewer comes out clean. Once baked, remove the cake and leave to rest on a cooling rack (I bake the cake in the afternoon and leave to cool under a tea towel over night).

Once completely cool, gently remove from the tin and give it a "feed" of brandy (around 1-2 tbsp). Wrap the cake in double greaseproof paper, double foil and place in a tin (the cake will "sweat" in Tupperware). Keep somewhere cool and "feed it" regularly.

Decorate the cake to suit your style — I always marzipan and ice the cake ahead of adding any decorations.
Beca's recipe tip:
Soak the fruit in brandy before you start baking — and I'd make the cake at least three months ahead of the big day, so it has longer to mature.
If you love the idea of a DIY wedding then don't miss our top tips on DIY wedding centrepieces.