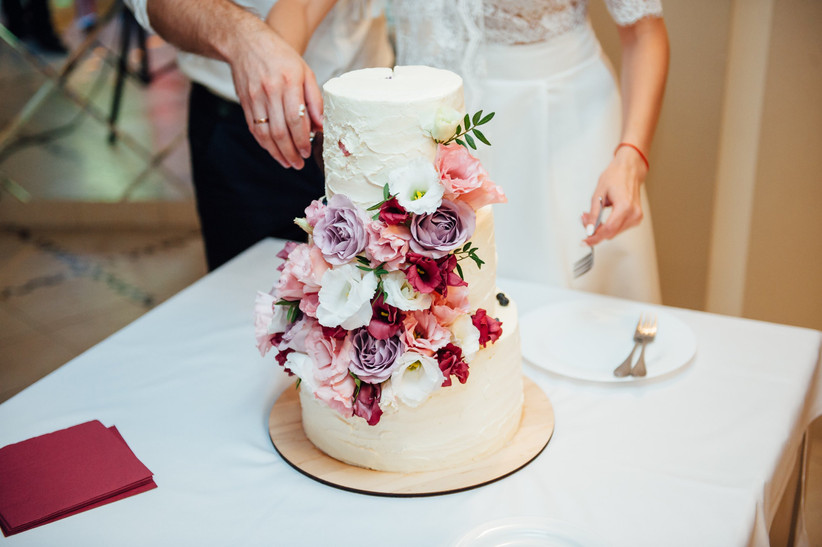 If you are planning to bake your own wedding cake, you will also have to contend with transporting it to the wedding venue.
Some wedding cake designers may also require you to pick up your wedding cake from their bakery, instead of delivering it to the location of the wedding.
In any case, it is important that you handle and move the wedding cake properly, so that it reaches the wedding intact and not in such a condition that the cutting of the cake becomes unnecessary.
Transporting a wedding cake is not a very complex task, provided you follow these straightforward guidelines:
The base of the wedding cake should be able to support the weight of the cake. Usually, having a base of three layers of cardboard is adequate support; but if your wedding cake is very big and heavy, you should place an additional base of fibreboard or wood beneath the cake, before moving it.
If your wedding cake has tiers that are held up by pillars, you need to move the cake without assembling it. Store the separate tiers in cake boxes, which are large enough to hold the tiers, and transport these to the reception venue. Take the pillars and other decorations separately. Once you reach the venue, you can assemble the wedding cake properly.
Never keep the cake boxes on the seat of the vehicle while transporting. The seats are not level and there is a chance of the boxes shifting, thus ruining the cake inside. Put the boxes on a foam mat, which in turn is placed on a flat surface. This way, the box and the cake inside, will not shift during transportation.
Wedding cakes that have the tiers stacked on one another can be moved assembled. Transport the cake in a vehicle that is big and high enough to hold the cake comfortably.
On reaching the wedding venue, do not attempt to carry the cake, no matter how strong you are or how much help you have. Instead, ask the location manager if they can provide you with a cart or a table on wheels, on which to move the wedding cake. If you're arriving at your wedding venue a day early, be sure to have your wedding coordinator or hotel manager place the wedding cake in a cool, dry, and most importantly — safe — place over night.
Move the wedding cake to its designated spot, put any last minute finishing touches, and the wedding cake is ready to go!