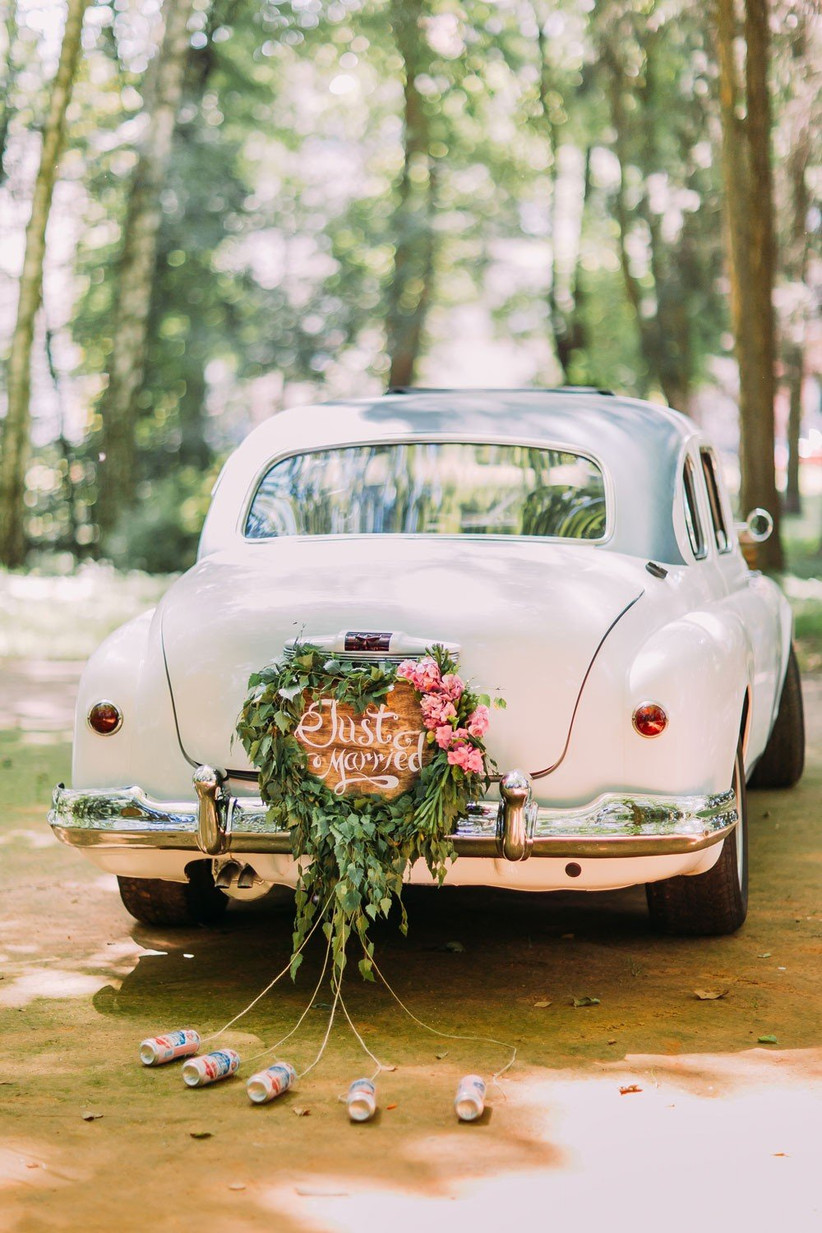 Want a stylish marriage but can't afford a carriage? Don't worry! Unusual wedding transport can be less costly than expected. Charlotte McCrea reports.
They're using trains and boats and planes. Golf karts and roller skates. Fire engines, horse-drawn milk floats and tractor-hauled farm wagons. Grand limos, vintage buses and motorbikes.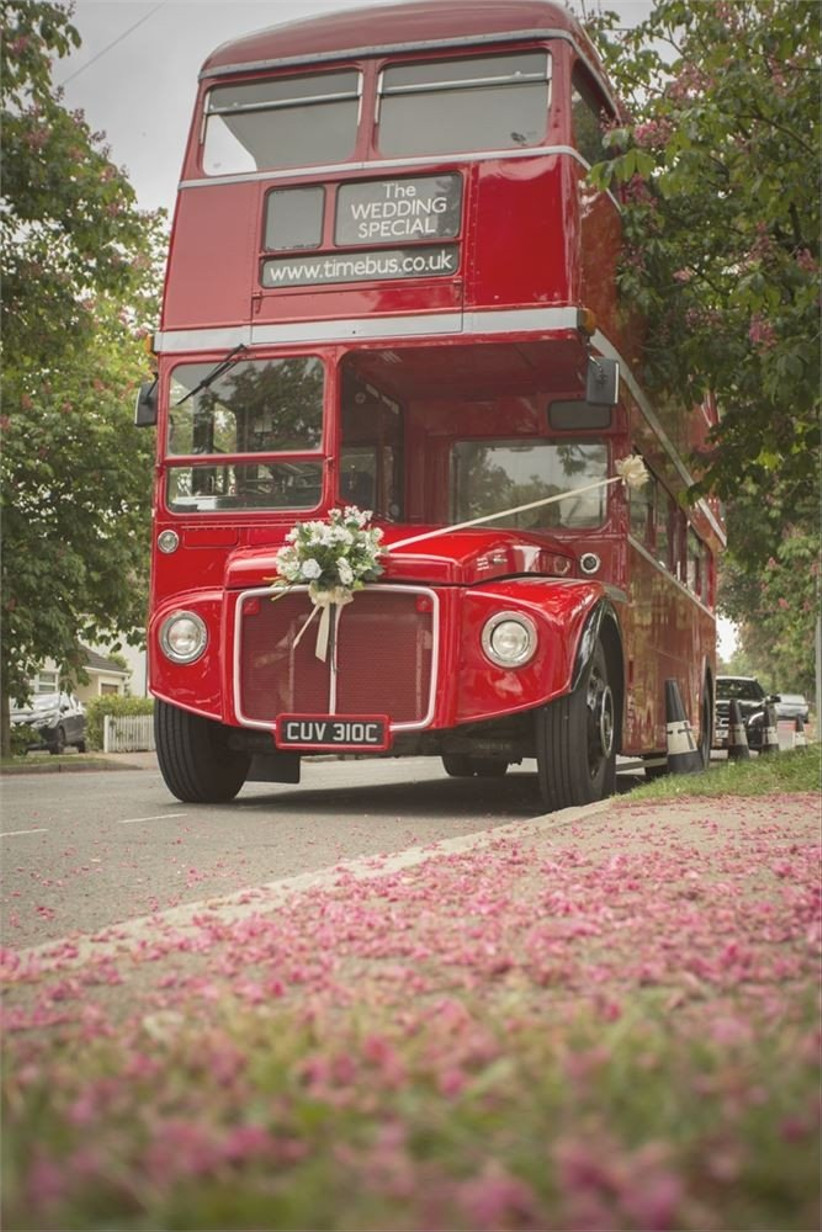 Image: Photography by Adelphos
Oh yes, and even Del Boy's three-wheeler from the smash-hit comedy series Only Fools And Horses.
Getting to the church on time, not to mention the reception and honeymoon, is no longer just a matter of sedate journeys in sedate wedding cars.
These days, many young couples want something different. A whole mini-industry has grown up to meet that demand, whether it's for a hot-air balloon, helicopter or hovercraft.
One couple weren't content only with a going-away hovercraft — to reach it they abseiled 30ft down his 'n' hers ropes from the quayside reception venue! The bride was still bravely wearing all her wedding finery.
It was as good as a flying start to their marriage — which is exactly what you get with a hot-air balloon.
"Couples usually have them tethered at the reception and then 'go away' for a piloted half-hour flight, followed by a retrieval vehicle which later whisks them to wherever they're spending their first night," says the Balloon Club of Great Britain. "It's a lovely send-off."
The one thing you can't do in a balloon is get married — not officially; special licences for this and other mobile or unusual locations are normally refused.
There's nothing to prevent you having a theme wedding, though — all-white, pure pink, rustically rural, neatly nautical, mildly mechanical or whatever — and linking in your special transport.
An old-style fire engine with brass fittings and clanging bell certainly gets you to the church on time!
Other people quickly shift their cars aside just to watch you roar past. And that's half the fun of it…
You get the same effect in a pink Cadillac, which looks great alongside a rose-garden reception with a candy-striped marquee.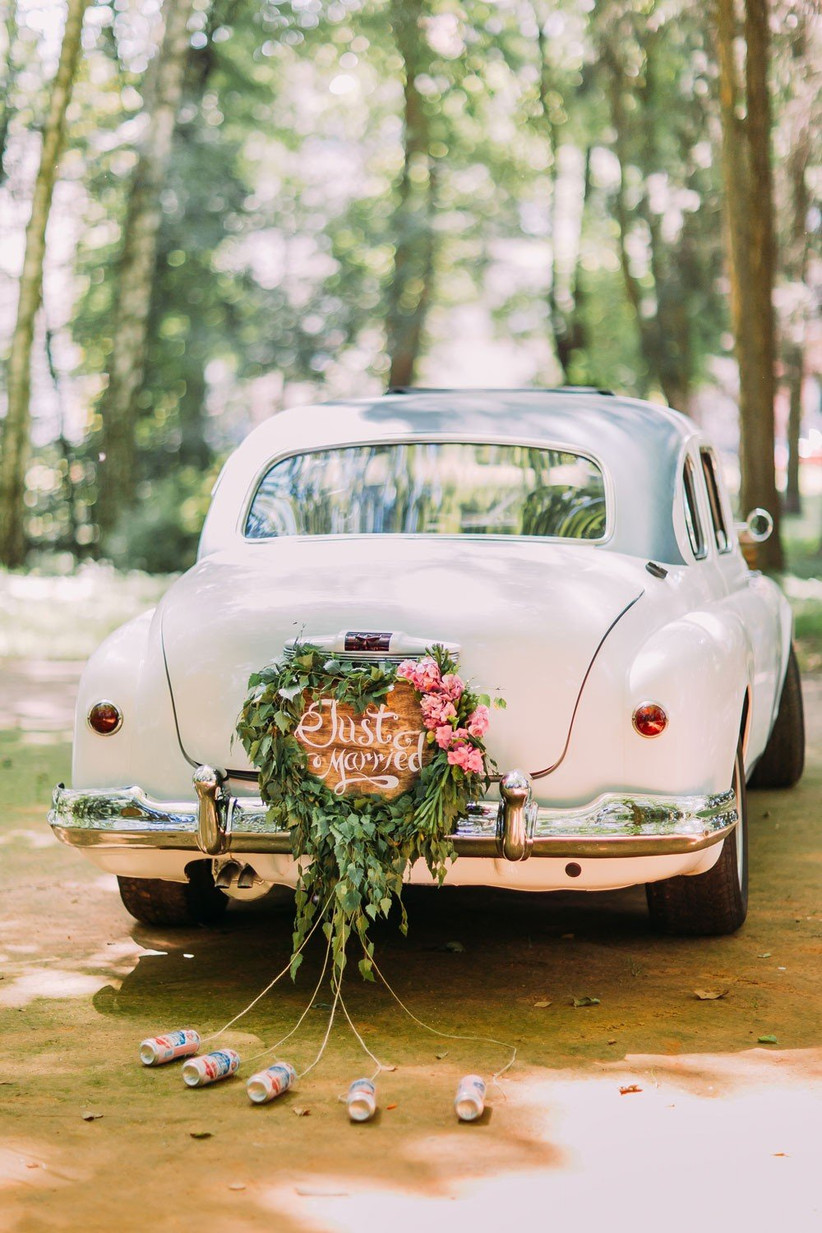 If you want to go one better, how about arriving at the church in a Batmobile, or in Chitty-Chitty Bang Bang (although it doesn't really fly!)?
If this is your cup of tea then give the Surrey-based Carriages Vehicle Agency a bell. They've got the very thing, and they even do vintage motorcycles if you prefer two wheels to four.
CVA was started 15 years ago and as well as supplying period vehicles for television and film work (Poirot etc), the company regularly provides some of the best old or unusual transport for weddings in Britain.
The company's collection extends from horse-drawn omnibuses of the Victorian era through to classic motors of the 1950s, American autos, fire engines and open-top buses.
Couples' favourite choice is a vintage white Rolls. But a horse-drawn carriage plus a 1951 'razor edge' Triumph were Sting's preference at his wedding.
CVA laid on both vehicles — just as it provided a rickshaw for a businessman and his bride.
The firm can also do you a genuine Del Boy three-wheeler — one of several used in filming the TV series. Has it got furry dice? "Of course!" says proprietor Norman Hodkinson.
There is something to suit all tastes and pockets, from thundering Nortons and purring Harley Davidsons to simmering steam trains, decorous coach-and-fours with liveried footmen. Plus whole fleets of Bentleys, Daimlers and Rollers ancient and modern.
At a certain society wedding, cars of this quality were available just to play with. Champagne-inspired races round the ample lawns ended with one in the swimming pool.
What did it cost to retrieve? "No idea, m'dear," came the aristocratically vague reply. Now that was real style…
Find perfect wedding transport for your big day in the hitched.co.uk suppliers directory.