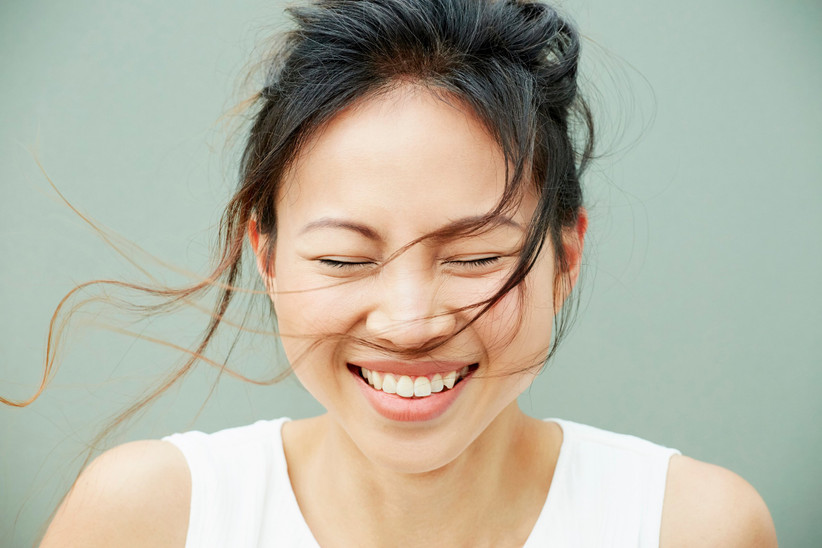 Here at Hitched HQ, we're firm believers that all smiles are beautiful – especially wedding day smiles. That said, we're well aware that lots of brides dream of having celebrity-inspired pearly whites on their big day. After all, your smile is going to be snapped countless times.
Achieving dazzlingly white teeth has never been easier. You no longer need a gazillion pounds in your bank account and hours to sit in the dentist's chair. Instead, you can pick up at-home teeth whitening kits on the internet for next to nothing. But which are safe? Will any of them leave your teeth feeling painfully sensitive? And do they *actually* make a difference?
From teeth whitening strips to charcoal toothpastes and LED lights, here are the best teeth whiteners to prep your smile for your wedding snaps.
READ MORE: The Ultimate Bridal Beauty Countdown
What is the Best Teeth Whitening Kit?
We're glad you asked. Here are our top picks…
The Best Whitening Toothpaste
Using a whitening toothpaste is an easy way to get a head start when it comes to teeth whitening.
The best way to achieve white teeth is to take a holistic approach, so although a whitening toothpaste probably won't make much of a difference on its own, it'll maximise the effects of other treatments. Here are the best whitening toothpastes that'll have you on a one way street to healthy gums and pearly whites.
1. Colgate Max White Expert Complete Whitening Toothpaste – £12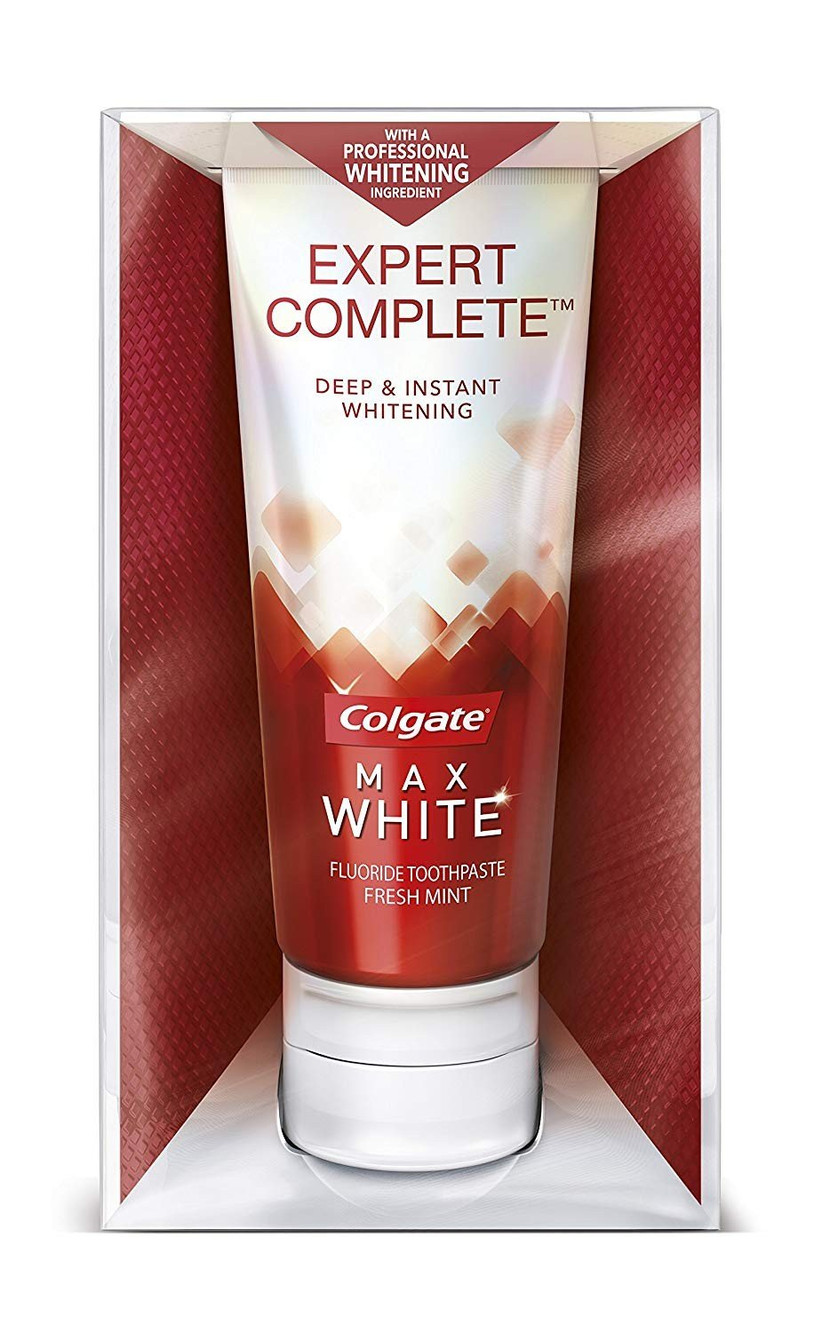 Colgate Max White toothpaste contains "optic brighteners" which reflect blue light and make your teeth look instantly whiter.
Of course, the whitening properties are only gentle, so results are minimal, but this toothpaste does a good job at banishing stains and keeping your mouth healthy.
READ MORE: 13 of the Best Nail Strengtheners
2. Janina Ultrawhite Whitening Toothpaste – £11.50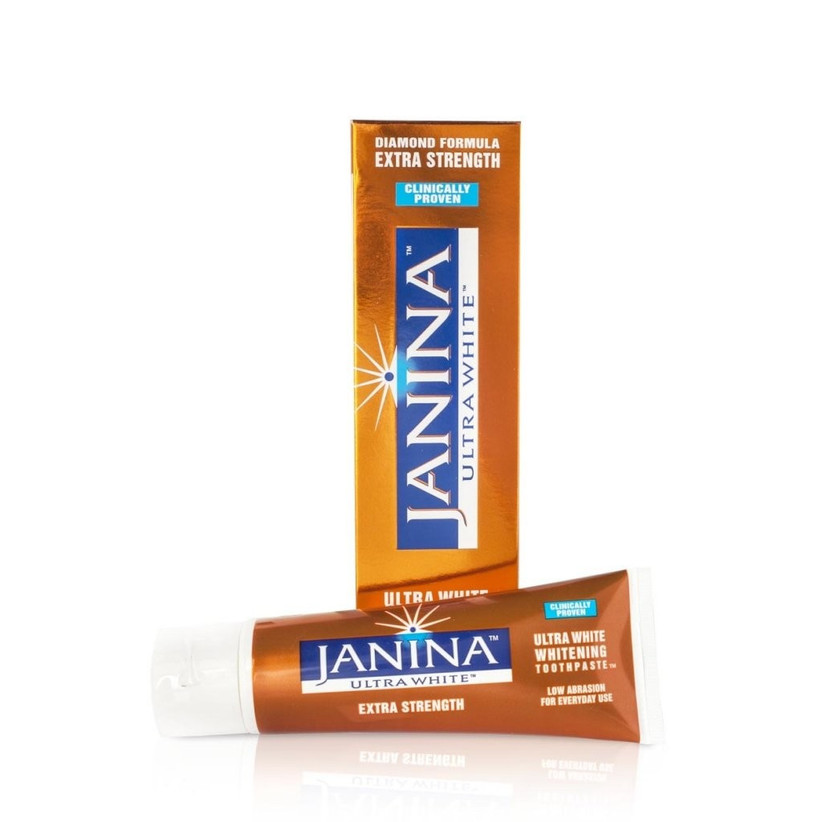 The Janina Ultra White Toothpaste contains a combination of natural enzymes to whiten teeth without harsh abrasives.
It's perfect for everyday use and should be used before and after other teeth whitening treatments to keep your mouth healthy. It also works wonders on removing stubborn coffee, tea and red wine stains, resulting in visibly whiter teeth.
3. Sensodyne Rapid Relief Whitening Toothpaste – £5.00

If you have sensitive teeth, Sensodyne should be your go-to toothpaste brand. This brilliant toothpaste will effectively remove stains and restore the natural whiteness of your teeth, all while relieving sensitivity.
Use this toothpaste twice a day when brushing, and in conjunction with other teeth whiteners for best results.
The Best Teeth Whitening Kits
Teeth whitening LED lights tend to have fairly mixed reviews. It typically isn't the LED light that is doing much to whiten your teeth but the gel you use alongside it. It's important then to pick a kit with a powerful, but safe gel.
Here are the best of the bunch…
4. SmileTime Teeth Whitening Kit – £39.99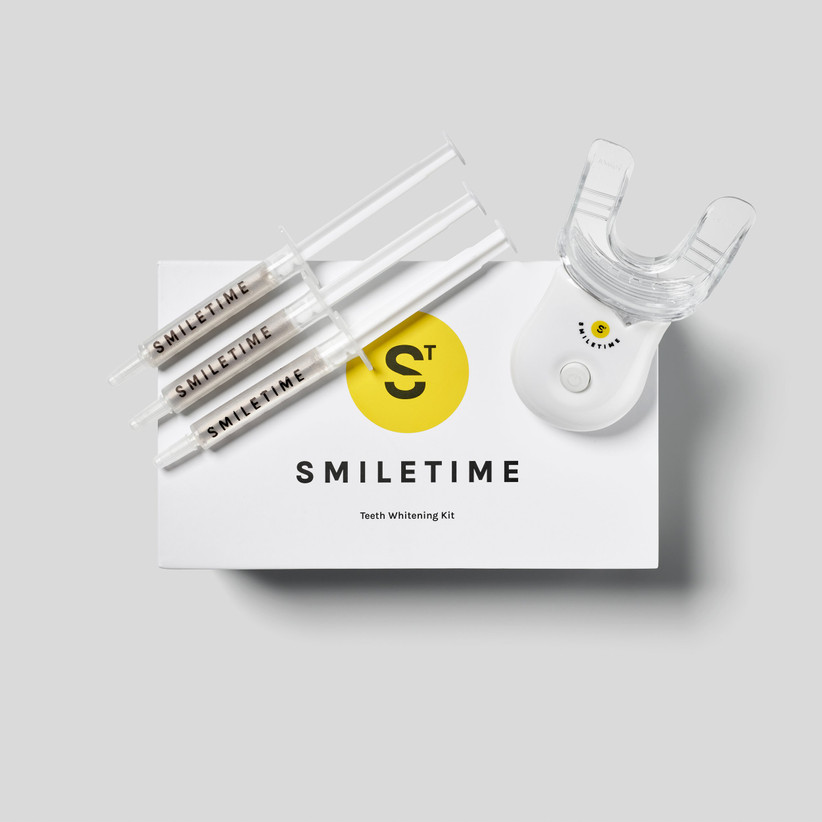 SmileTime is a vegan-friendly, sustainable teeth whitening brand so using this kit will make you feel good as well as look good. The powerhouse SmileTime Teeth Whitening Kit promises to get your teeth up to eight shades whiter in just six days – with most people getting visible results in only two.
As well as being good for the environment, it's kind on your teeth. The kit uses an advanced active whitening ingredient from the USA called sodium percarbonate, which is proven to whiten and brighten without any sensitivity. You'll receive six days' worth of gel and all you need to do is squeeze it in the tray, turn on the LED light and pop it in your mouth for 15 minutes. Rinse your mouth and the tray and you're all ready to get on with your day!
For it's purse-friendly price, the teeth whitening kits feels incredibly luxury – and the packaging can all be reused or recycled. It's an ideal product to use as a top-up whitener before your wedding or honeymoon, and we love its eco-credentials. P.S. they've got next day UK delivery too so don't worry if your honeymoon's next week!
5. Hi Smile Teeth Whitening Kit – £49.99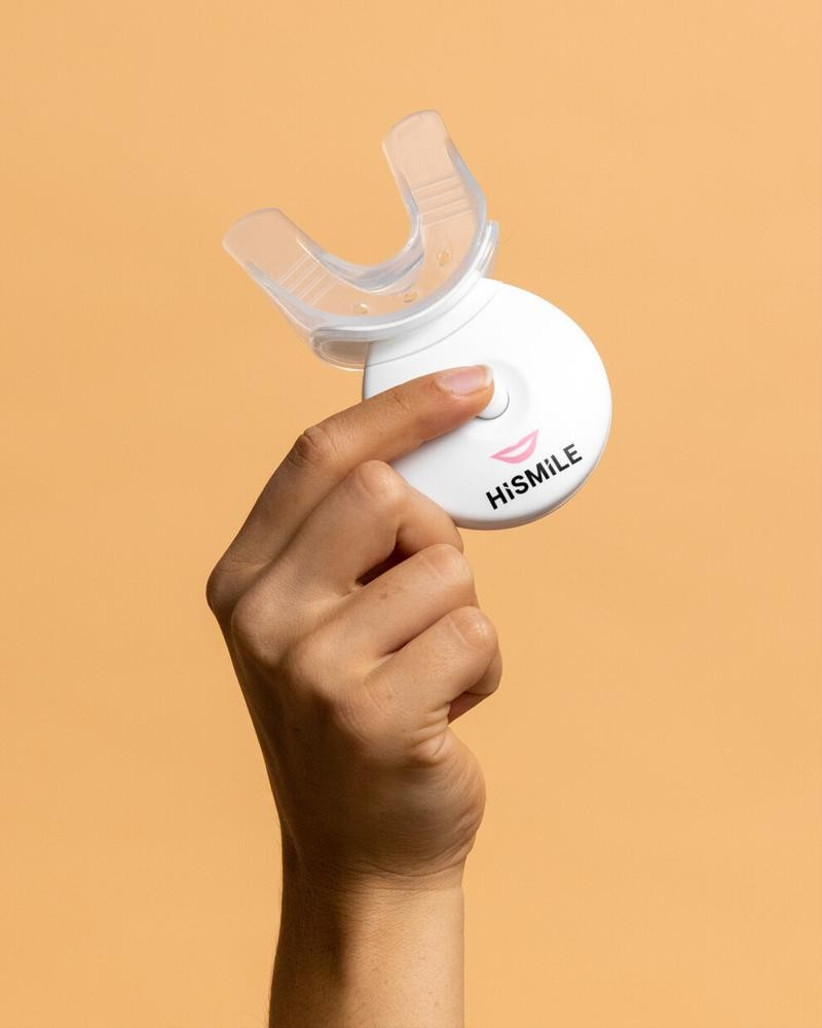 It's the teeth whitening kit the Kardashians rave about, and anything they use we're totally open to trying.
According to their site, this teeth whitening kit has been designed to deliver maximum results in just six applications. Each application takes 10 minutes, and there are three steps to the process. What's more, the key ingredients ensure this kit causes no pain or sensitivity.
The Hi Smile kit is neat and compact. You get an LED light, three syringes full of whitening gel, a day toothpaste, a night toothpaste and a set of instructions. After popping the gel into the top and bottom trays, you have to insert the tray into your mouth and wait for 10 minutes. Then, you simply wash out the tray and your mouth with water. Easy.
6. Crest 3D White Whitestrips with Light – £89.99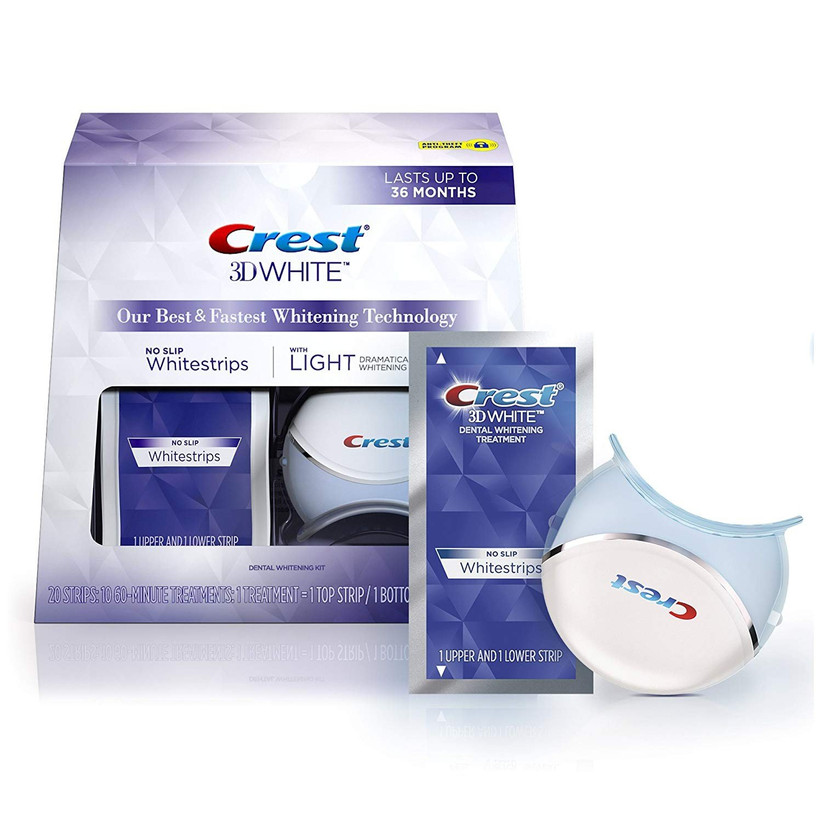 The older, cooler, more experienced sibling of the Crest 3D strips is the Crest Whitestrips with Light Kit. It comes in at just under £90, so it's a bit of an investment, but nothing compared to professional treatments.
We're huge fans of the Crest teeth whitening strips as a standalone product, so combined with an LED treatment, they're even more effective.
A lightweight, disposable and water-resistant device weakens stains and results in whiter teeth which last up to 36 months. Three whole years! We like the sound of that…
7. Harvey & Coco Teeth Whitening Kit Pro Edition – £29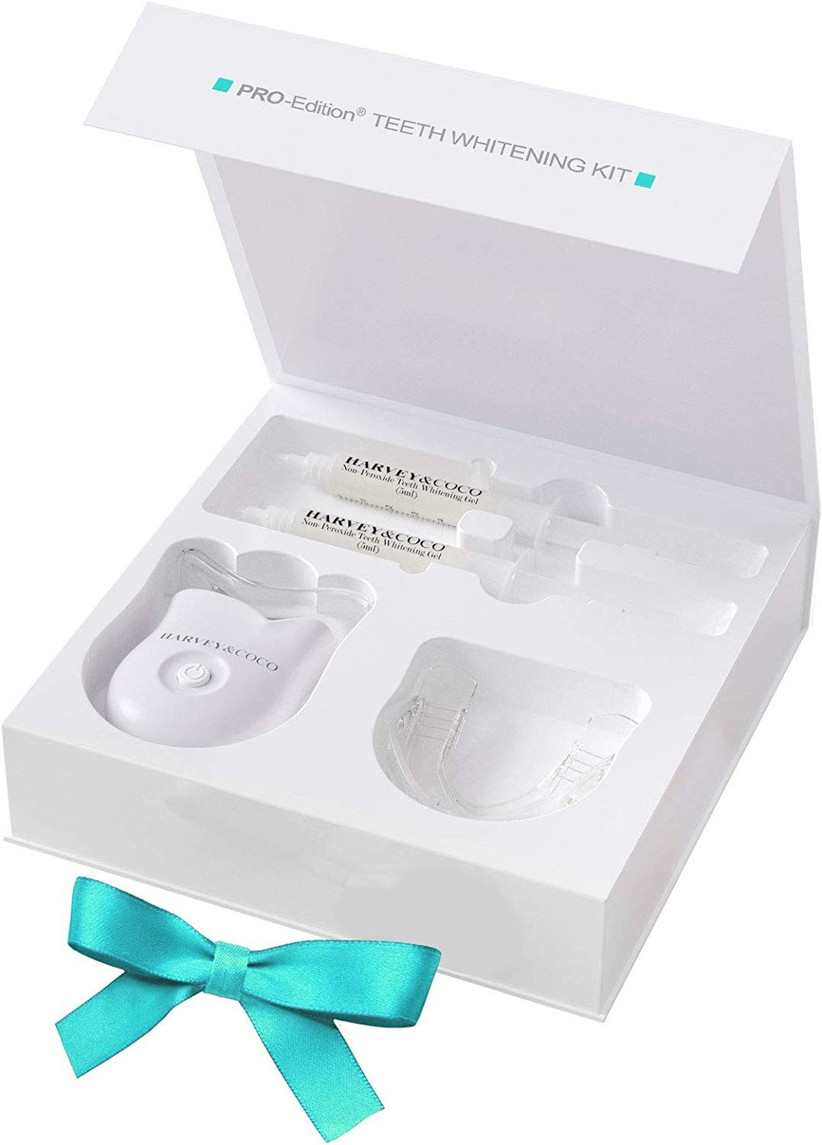 The Amazon bestselling teeth whitening kit by Harvey & Coco comes with whitening gel and an LED light for enhanced results.
Each treatment takes just 20 minutes, leaving plenty of time for wedmin. Busy brides, this is the best teeth whitener for you.
8. Luster Pro Light Teeth Whitening System – £49.99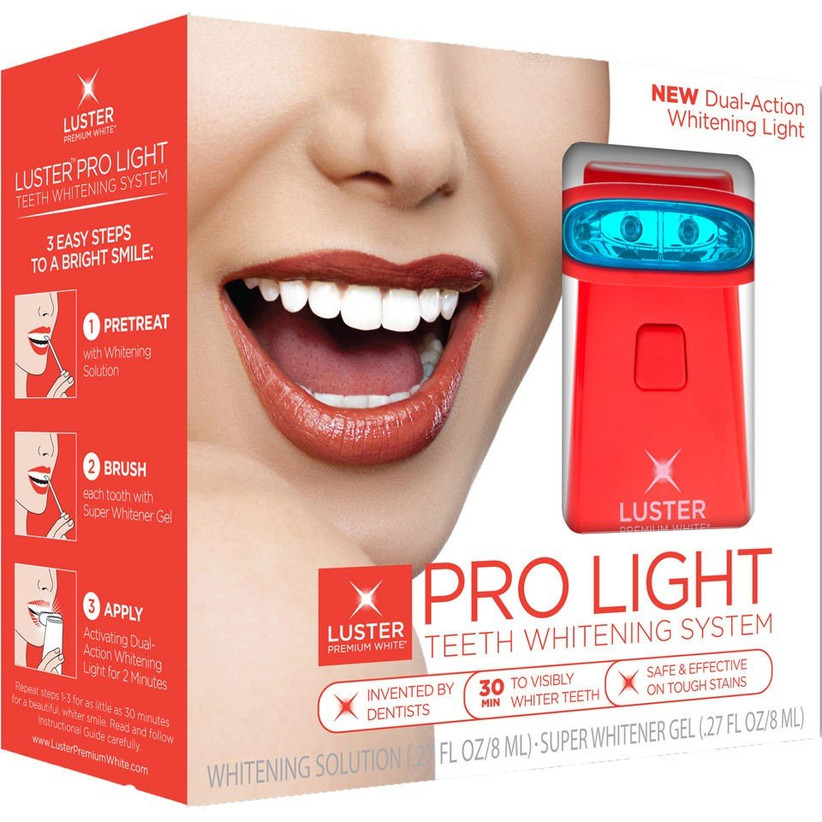 The Luster Pro Light Teeth Whitening System comes with a paint-on teeth whitening gel and a dual-action LED light to maximise its effects.
This kit promises to reverse the stains caused by smoking, coffee, tea and red wine within just 20 minutes. The effects last a long time, too.
The Best Teeth Whitening Strips
Alongside toothpaste, teeth whitening strips are another gentle but effective whitener. They can easily be applied at home, mould to the shape of your teeth and they don't cost a fortune.
Most strips are pre-coated in a teeth whitening gel which contains between 1-10% hydrogen peroxide. This is the chemical which brightens your teeth. It'll depend on the strips as to how regularly you can apply them and how long they should stay on your teeth for.
9. Crest 3D White Luxe Whitestrips – £39.95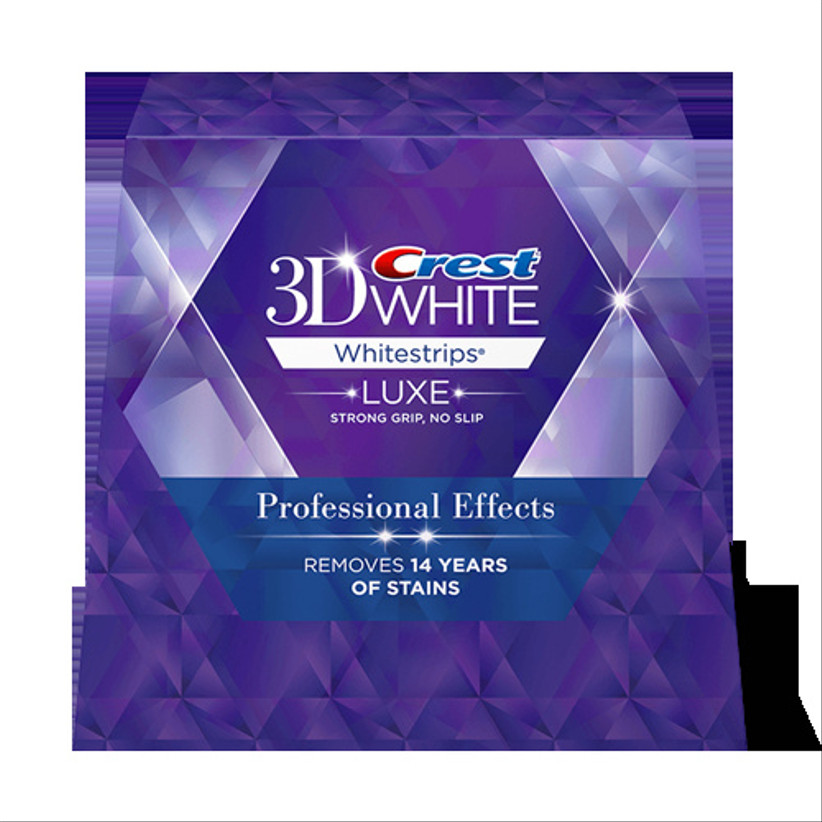 Crest 3D teeth whitening strips are the godfather of the teeth whitening world. In fact, their website claims that they're the "best-selling teeth whitening product in the world".
Not only are they super easy to use, but they remove up to 14 years' worth of stains and give you results which last up to a year. You can buy the strips in packs of 10, 14, 20 or 40, but to see the full results you'll need 20 treatments (40 strips).
These strips are great for popping on in the morning when you're getting ready, or while you read a book in bed. Each treatment takes 30 minutes and you can do a treatment a day (unless you have really sensitive teeth – then we'd leave a few days in between). Then it's just a matter of waiting for the compliments to come rolling in!
10. Spotlight Teeth Whitening Strips – £40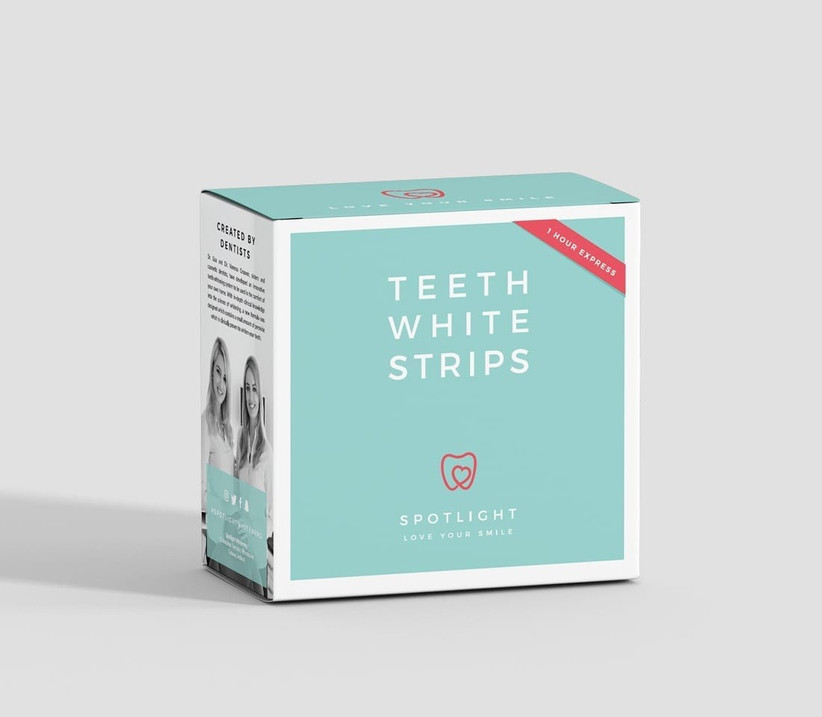 Spotlight Teeth Whitening Strips are easy to apply and, when used in conjunction with whitening toothpaste, make your teeth look visibly whiter – especially after the first use. Each pack contains 28 strips.
Apply the strips to dry teeth and leave for an hour before removing. The small amount of hydrogen peroxide breaks down the stains on your teeth by penetrating the top layer of the enamel to brighten the colour.
11. Pro Teeth Whitening Co. Premium Dental Whitening Strips – £14.99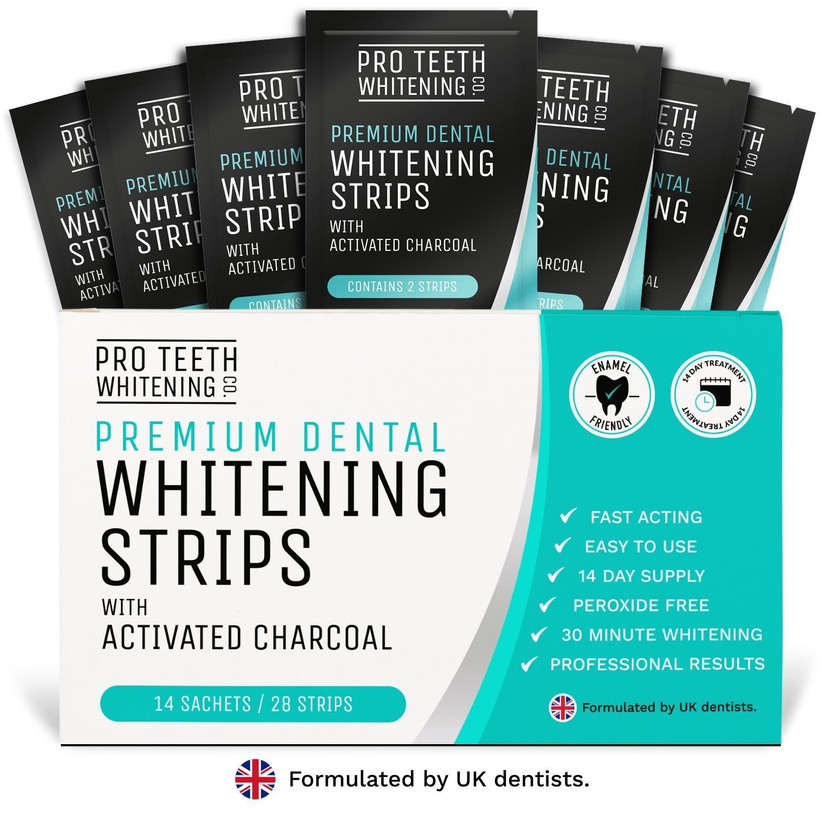 Coming in at just £14.99 for 28 teeth whitening strips, the Pro Teeth Whitening Co.'s offering is one of the most affordable.
These dental strips contain activated charcoal for professional results, and they promise to make a difference to the colour of your teeth after just one use. Each treatment takes just 30 minutes, and if you do one treatment everyday, the appearance of stains caused by coffee and red wine will be reduced.
12. iWhite Instant Teeth Whitening Kit – £29.99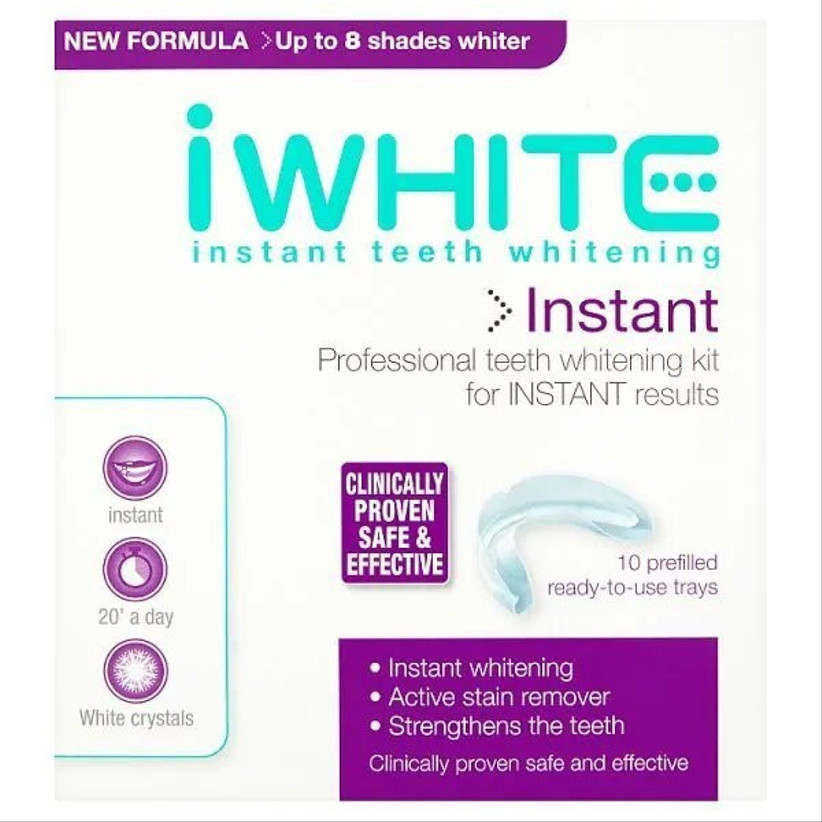 Brides on the hunt for a budget teeth whitener will love the iWhite Teeth Whitening Kit. It costs less than £30 and promises immediate results.
In the kit you get 10 pre-filled trays which we recommend using over five consecutive days (or once in a while for a bit of a boost). Each treatment should take 20 minutes, and after five days, teeth will be whiter and stronger. No mess and no confusion – exactly as we like it.
13. Mr Blanc. Minty Fresh Teeth Whitening Strips – £24.99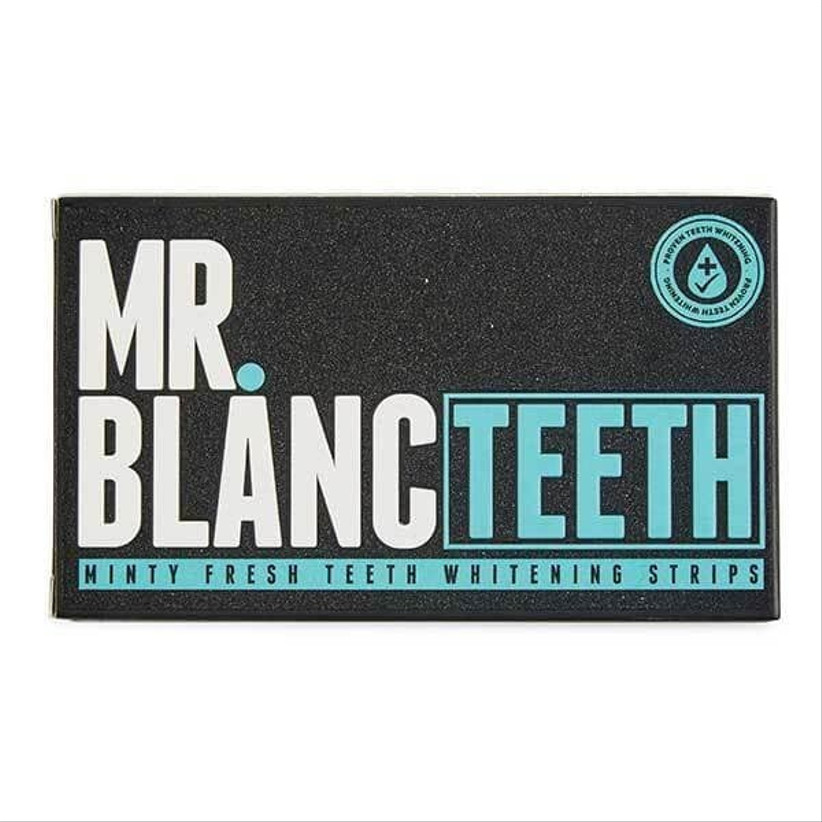 You've probably seen Mr. Blanc products advertised by every influencer and their dog on Instagram, but don't let that put you off.
These teeth whitening strips are actually really effective, and the perfect choice if you're looking for a quick fix. They won't cause any pain or sensitivity, either.
The Best Charcoal Teeth Whiteners
Charcoal is an on-trend, vegan way of brightening your teeth. Charcoal teeth whitening products tend to give a subtle yet instant effect, and we love that they're natural.
If you don't want to invest in any of the best charcoal teeth whiteners below, you can DIY your own charcoal toothpaste. Pick up some charcoal powder from your local health food store, mix it with water until it forms a powder and brush your teeth with it for three to four minutes. Follow up with your normal whitening toothpaste for best results.
READ MORE: How to Plan an Eco-Friendly Wedding
14. SmileTime Charcoal Whitening Powder – £14.99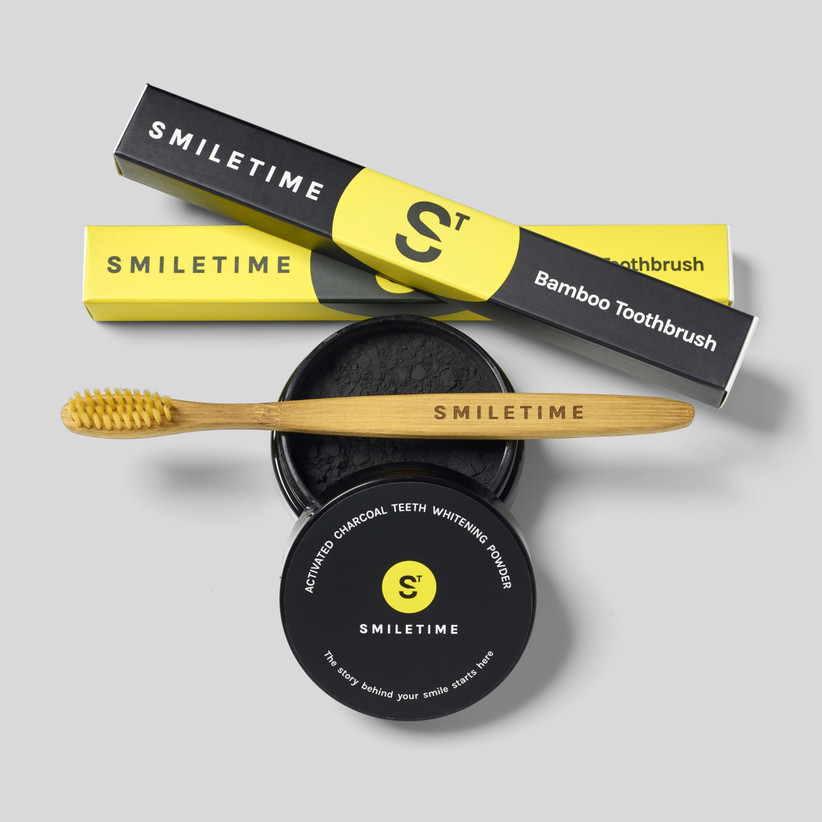 If you're looking for a natural, chemical-free way to brighten your smile, charcoal powder is the way to do it. It's an odd concept to rub something black onto your teeth to turn them whiter, but medical studies have shown activated charcoal has a large surface area which traps toxic substances (AKA ones that stain) when brushed on teeth.
The vegan-friendly SmileTime Charcoal Whitening Powder comes with both a sustainable bamboo toothbrush and a pot of their activated charcoal powder. It's great value for money for both – and bamboo brushes are brilliant for those with sensitive teeth.
Their advanced, EU-approved formula is proven to remove staining after just one use. Its fresh minty taste means you can forgo harsh, abrasive toothpastes in face of a completely natural (and sensitivity-free) alternative. We can't think of anything better to do with two minutes of brushing.
15. Pro Teeth Whitening Co Activated Charcoal Natural Teeth Whitening Power – £14.99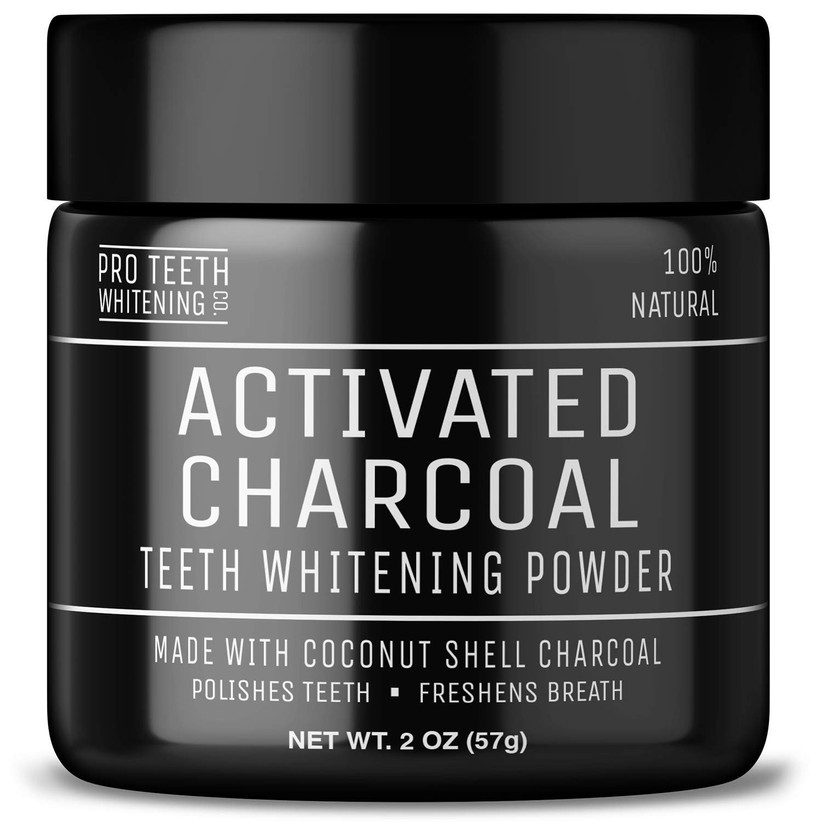 This Amazon bestseller is well-loved and for good reason. Charcoal is a brilliant, all-natural teeth whitener which polishes the surface of your teeth to brighten your smile.
This powder promises to subtly whiten your teeth by a few shades while removing stubborn stains. It's also 100% vegan-friendly and approved by UK dentists. Give it a go and see what you think.
16. Procoal Activated Charcoal Teeth Whitening Powder – £9.99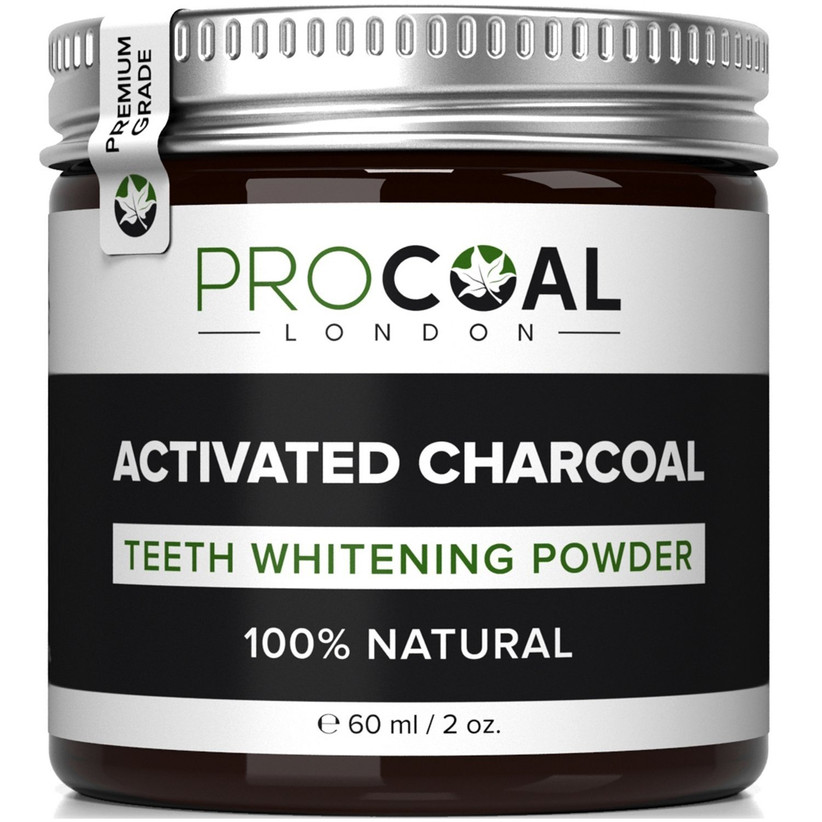 The results of this natural teeth whitener are quick and visible. Granted, having powder in your mouth takes some getting used to, but after a couple of treatments it'll become second nature.
This activated charcoal powder by Procoal helps removes stains and is best used in conjunction with a daily whitening toothpaste. Each jar contains up to six months' worth of supply, making it one of the most purse-friendly teeth whiteners around.
17. Ecodenta Extra Black Whitening Toothpaste with Black Charcoal & Teavigo – £4.99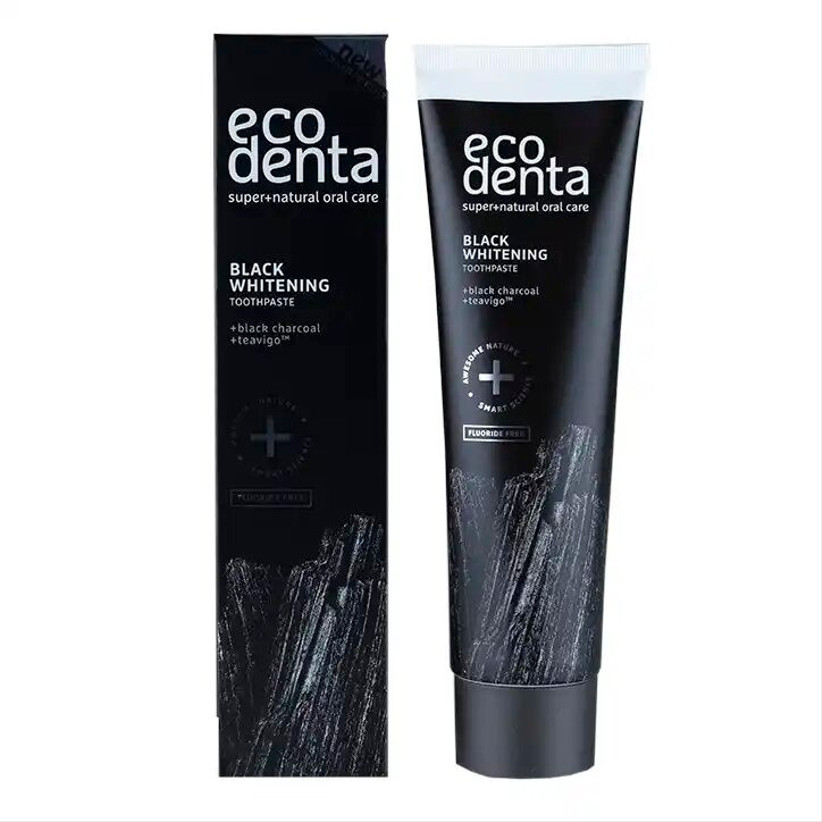 Handily available from Holland & Barrett, this charcoal toothpaste provides increased whitening in comparison to other daily options.
The natural ingredients effectively remove plaque and have a uniquely refreshing effect. This is a great, gentle teeth whitener.
18. Carbon Coco 14 Day Organic Oil Pulling in Spearmint – £27.95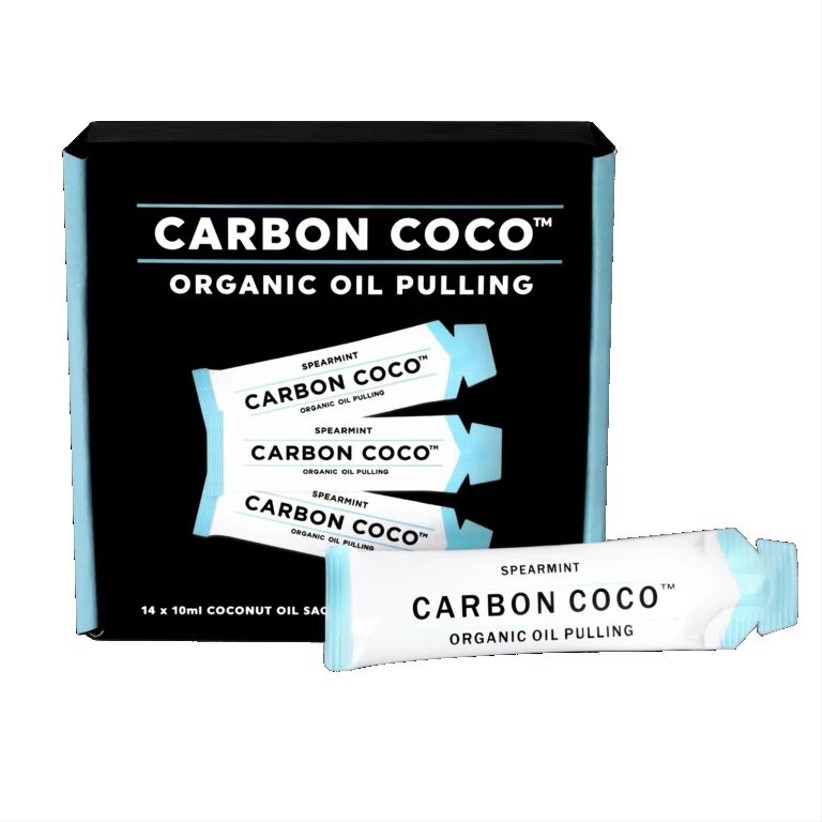 Another common whitening method is oil pulling. Made popular by Gwyneth Paltrow (who else?), it's still pretty new to the Western world, but published studies have confirmed it does have benefits for your oral health.
In short, it's the act of swilling coconut oil around your mouth for 20 minutes to reduce plaque, bacteria and stains. The taste is acquired, but after a few weeks you'll notice a significant change in the colour of your teeth.
These convenient and easy-to-use sachets make oil pulling a whole lot easier. They have a hint of spearmint which is much more pleasant than using plain coconut oil. You get 14 sachets in every pack, and they're best used in the morning before a charcoal activated toothpaste.
READ MORE: 13 of the Best Hand Creams for Dry Skin
Do Teeth Whitening Lights Really Work?
In a clinic, yes – LED light treatment can effectively whiten your teeth. When it comes to at-home teeth whitening lights, they don't tend to be the same quality.
LED lights won't whiten your teeth on their own. You need to apply a whitening agent to your teeth first – and don't worry, if you use an all-natural one, these are perfectly safe. Teeth whitening gels are the most professional and intense of all the at-home teeth whiteners. They contain a much higher percentage of hydrogen peroxide (the main whitening ingredient in the products listed above).
In fact, while a whitening strip might have between 1 and 10% hydrogen peroxide, a tooth whitening gel could have around 35%.
The results of teeth whitening gels are, quite obviously, a lot better – but we would recommend a visit to the dentist before you use one. They might be able to make a tray which fits your gums to avoid the gel spilling over and irritating your mouth.
READ MORE: 24 Wedding Photos You Need to Capture
Our main piece of advice? If you want to notice a difference in the shade of your teeth, opt for a slightly more expensive at-home LED light with a good quality gel. We've reviewed a couple of choices above.
How Much Does it Cost to Get Your Teeth Professionally Whitened?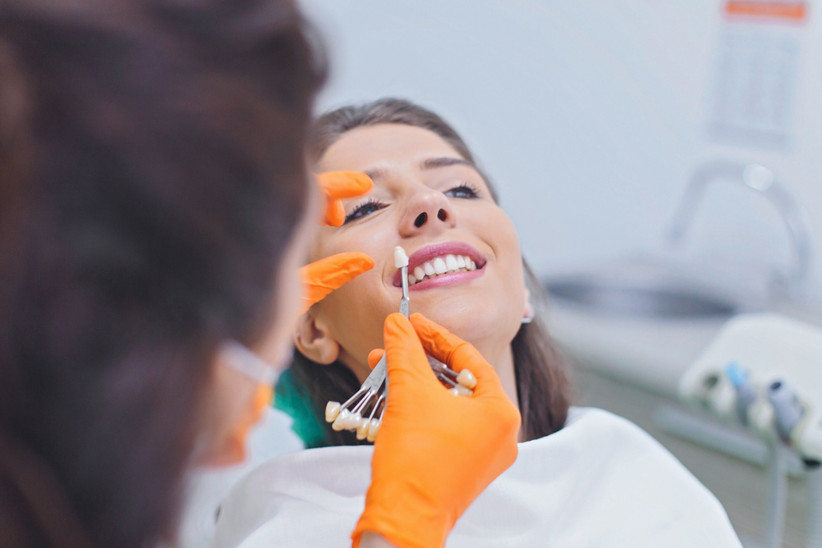 The cost of getting your teeth professionally whitened depends on where you get it done, the treatment you choose and your dentist. We'd always recommend doing your research and paying a little more for a safe service which you know will work.
Generally speaking, you can expect to pay between £200 and £300 for professional bleaching. Laser whitening will cost more. It might be expensive, but the results last for a long time and you'll only need top-ups after the first treatment.
If you're not sure about full teeth whitening and don't like the idea of whitening your teeth at home, you might want to consider a treatment called Airflow. Dr Reena Wadia of RW Perio says: "This aims to remove stains that traditional scaling and polishing may not remove. It uses a combination of flavoured fine powder particles, compressed air and water. Patients do not experience any sensitivity or discomfort. The results are immediate and leave patients with cleaner teeth and fresher breath!"
READ MORE: 15 of the Best Wedding Makeup Products
Can Yellow Teeth Become White?
Of course! Just bear in mind, the more stains you have on your teeth (and the longer you've had them), the harder it will be to reverse the damage.
Take a holistic approach to whitening your teeth if they're particularly yellow, and don't expect overnight results. Start by seeing your hygienist (an important step for maintaining gum health), buy an electric toothbrush and learn to floss. Oh, and remember that anything which stains a white T-shirt will generally stain your teeth, so minimise frequent intake of tea, coffee and red wine.
Will Teeth Whitening Make my Teeth Sensitive?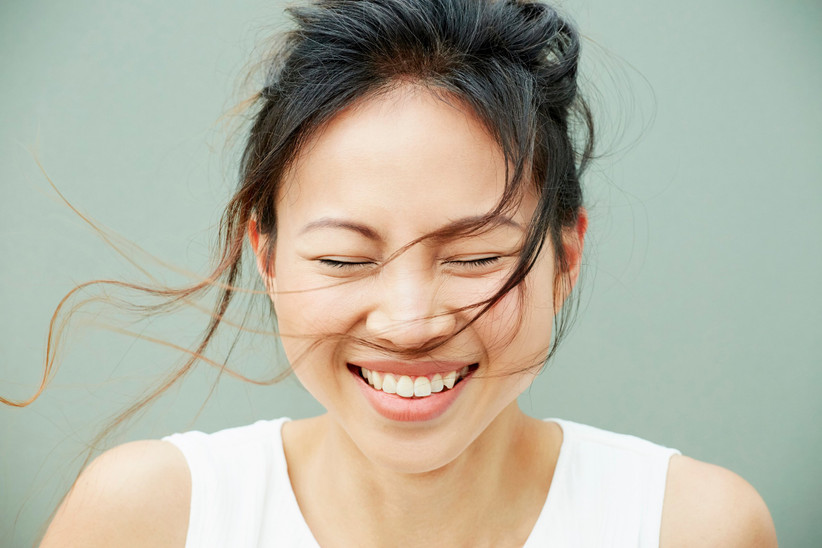 Take any horror stories you've heard with a pinch of salt. Yes, people with naturally sensitive teeth might suffer a bit more, but any sensitivity caused by teeth whitening is usually short-lived.
If you whiten your teeth properly and with a good quality kit, you won't do any lasting damage. Use a desensitising toothpaste beforehand to reduce tooth and nerve sensitivity.
READ MORE: The Best Anti-Redness Products to Calm, Soothe and Colour-Correct Your Skin
Now your teeth are looking their best, you'll want to give your nails a bit of TLC, too. It's all in the details, y'know! Check out our round-up of the best nail strengtheners to use before your bridal manicure.