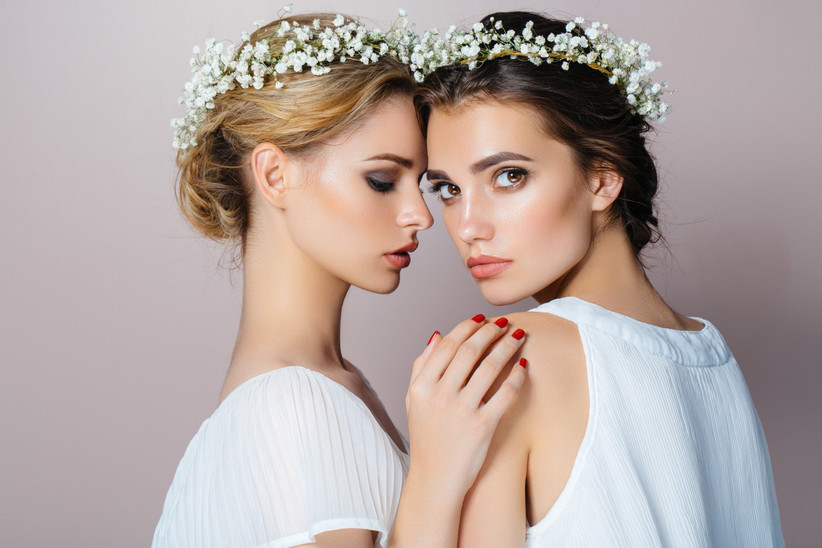 Are you planning a dreamy beach wedding? Once you've found the perfect beach wedding dress and booked an amazing seaside wedding venue, such as one of our amazing venues in Cornwall, you need to start thinking about your look.
We asked bridal beauty expert Claire Nicole for her top tips on getting beautiful beach wedding hair. As a hair and makeup artist with over 15 years' experience, her advice is invaluable!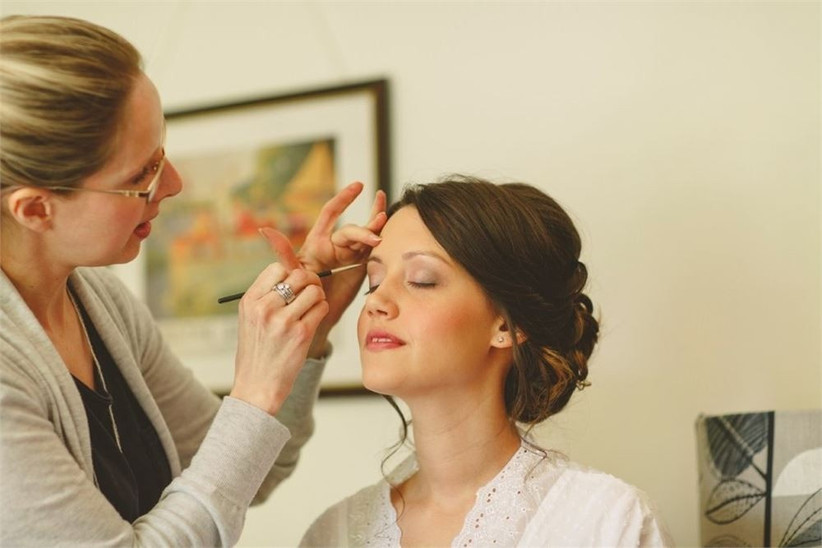 Styling by Claire Nicole
What constitutes beachy wedding hair for you?
Braids, texture with waves. A fresh unstructured playful look.
What should a bride do if she's marrying on a beach in a humid climate and is prone to frizzy hair?
The best thing to do would be to have braids or twists in the hair, or have the hair pulled back fairly tightly. I would always recommend embracing the texture and using salt spray to add to it, perhaps have some braids around her face for some pretty detail and then it doesn't matter so much if the rest of the hair gets a little frizzy as it adds to the look. You can also use a strong hairspray to seal the hair but it can look quite fixed so although it seals away moisture it may not fit for a relaxed look as much.
What styles work for a breezy beach in the UK and why?
I think it depends on how warm it is, but if it's really breezy I would suggest a loose chignon of some sort to keep the hair away from the bride's face. A look with loose tendrils and texture would be ideal, nothing too fixed and neat. Then if it isn't too structured the odd hair being blown about will add to the look and it will not look as though anything is out of place.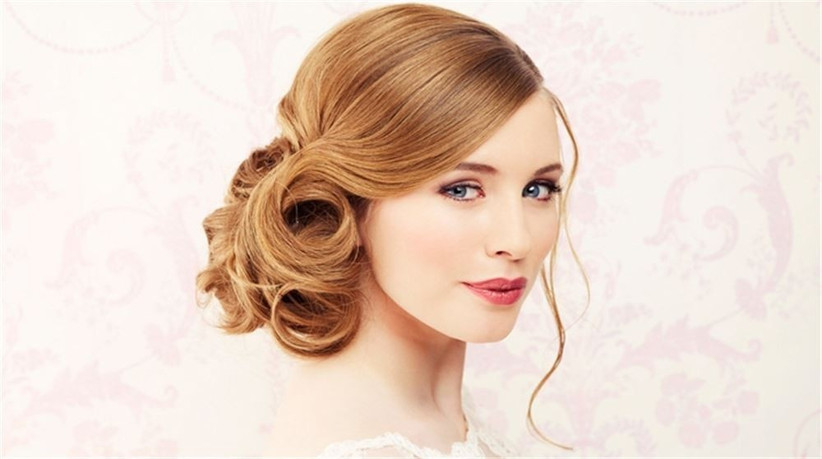 Styling by Claire Nicole
How can a bride master boho, beachy waves?
The conical wand is best to create natural looking waves in the hair, and salt spray for adding texture is brilliant. Adding a few fishtail braids woven through or around the face can look very boho; a fine floral crown looks amazing with this style or a few small flowers dotted through the hair also will look beautiful.
Browse our round up of wedding hairstyles with flowers for more ideas.
What up dos work for a beach wedding, and how can they be achieved?
I think anything goes these days. I would assume a bride getting married on the beach was probably a little more relaxed so wouldn't want too much of a structured look. With this in mind I would suggest a loose chignon, high or low, as this looks really pretty. I would start off curling the bride's hair and then breaking up the hair and curls with my hands. I would then create a pony tail with the hair and pin sections to create a loose up do. I might also weave a few braids throughout to give the look a different dimension.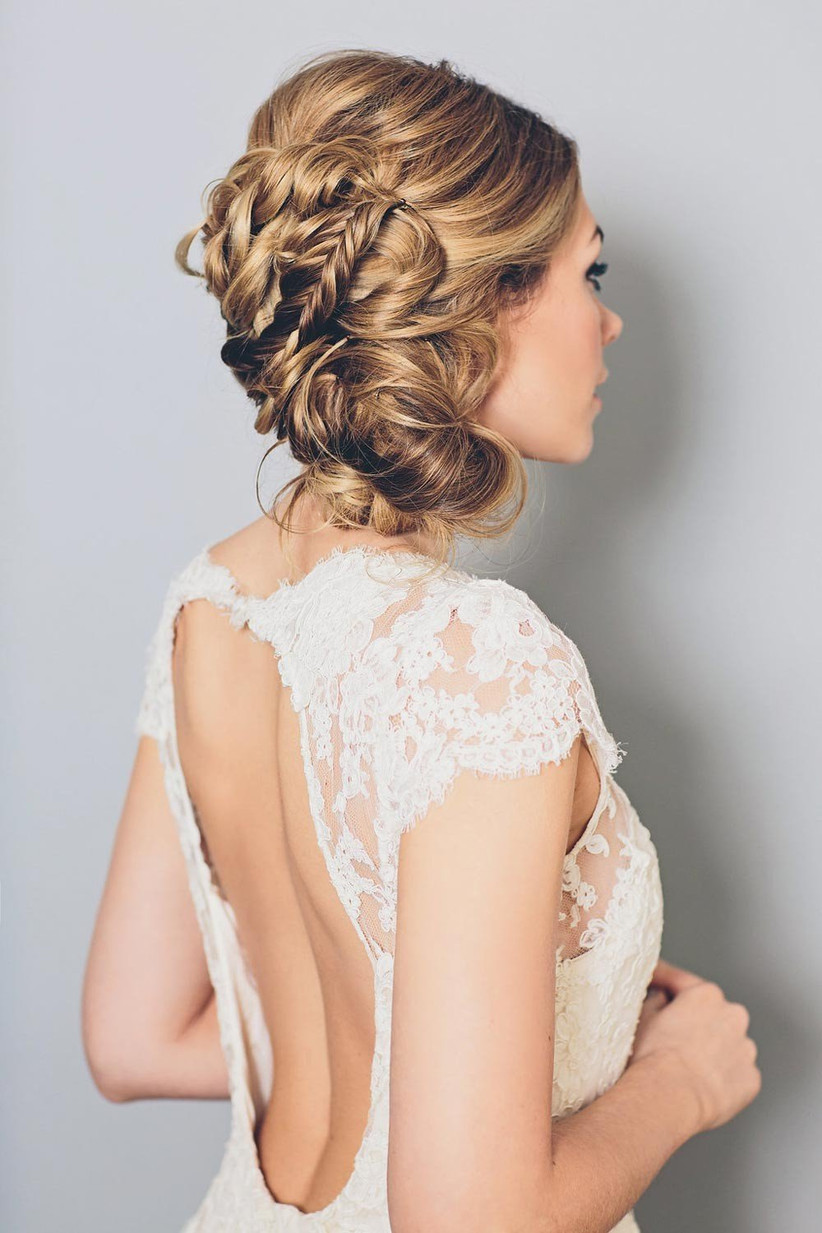 Styling by Claire Nicole
What type of hair accessories would you recommend for a beach wedding?
Definitely a flower hair crown – I love the one in the photo below, made by Siobhan Pilkington, Master Florist at La Belle Floral Designs. She is amazing. Or a few faux flowers dotted through the hair.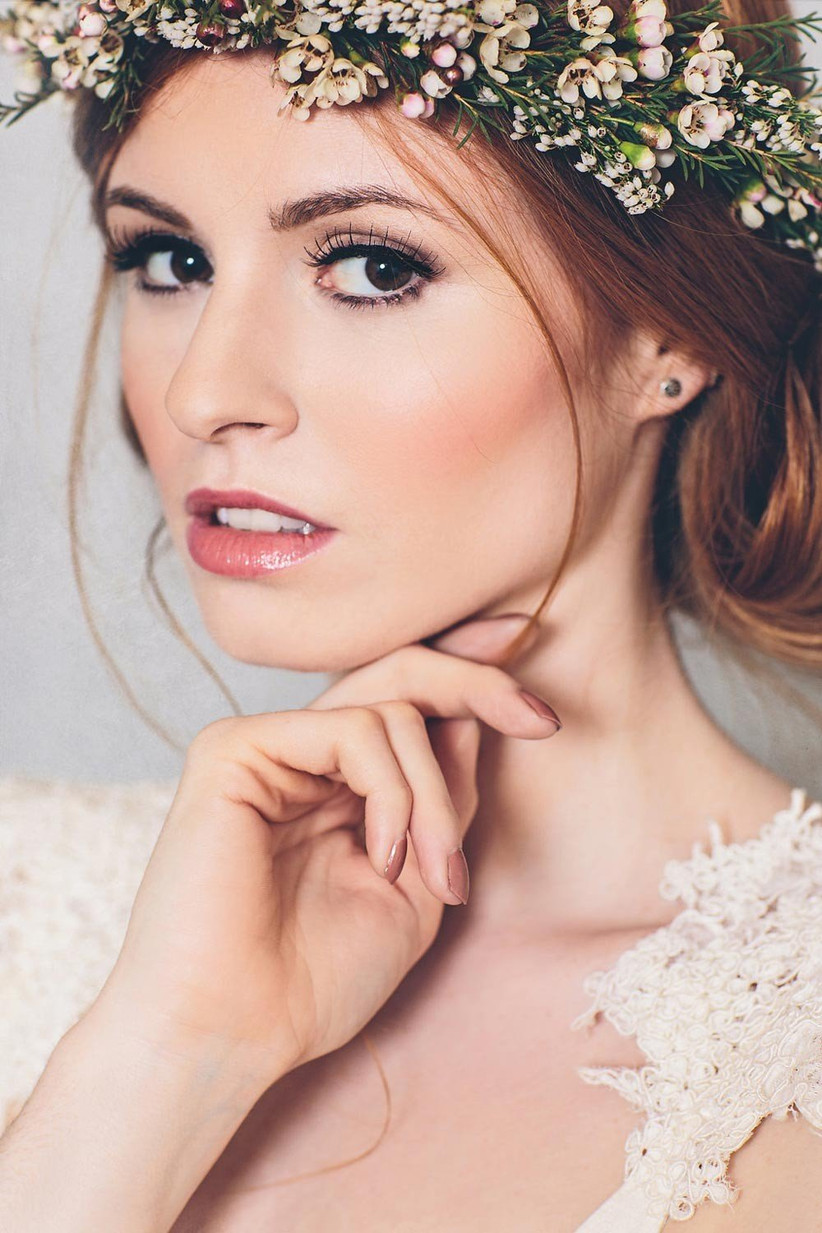 Styling by Claire Nicole
Tell us about you – your experience and your passions?
I have been looking after brides since I was just 16 years old, now at 36 I still as much as ever love being a part of a bride's special day, helping to give them inner confidence about the way they look. I love seeing hair and makeup come together with the dress. It is an honour to be a part of such a special time in someone's life.
My passion is creativity; the best thing is when a bride puts her hair and makeup in your hands and you create a look and she loves it. The moment when a bride gasps with excitement when she sees her reflection is the most amazing feeling. I like my clients to feel like themselves but a more beautiful confident version.
What are your top tips for ensuring your hair is in the best condition possible for a beach wedding?
Using a good shampoo and conditioner. I love Pureology because its smells really natural and my hair feels in amazing condition with it. Cheaper shampoos coat the hair given the impression it's in good condition when really its dehydrated and this will cause tangles in breezy beach scenarios.
With good quality professional shampoo and conditioner I also find a little goes a long way. I would say to my brides, if you feel happier washing your hair on your wedding day go for it. It's such a dated view that hair needs to be a day old to style it, with the choice of styling products we now have available. If my bride feels comfortable washing her hair the morning of the wedding that's good for me.
If you're getting married near the sea, your makeup needs to be able to stand up to the elements. The editorial team at Hitched got emotional and put the best waterproof mascaras to the test to find out which ones are up to the job – don't miss it!