A Sunflower Filled Festival Wedding in Oxfordshire
From a hairstylist cousin to a singing sister and an aunt with a flair for florals, Ellie and Tom's special day was a true family affair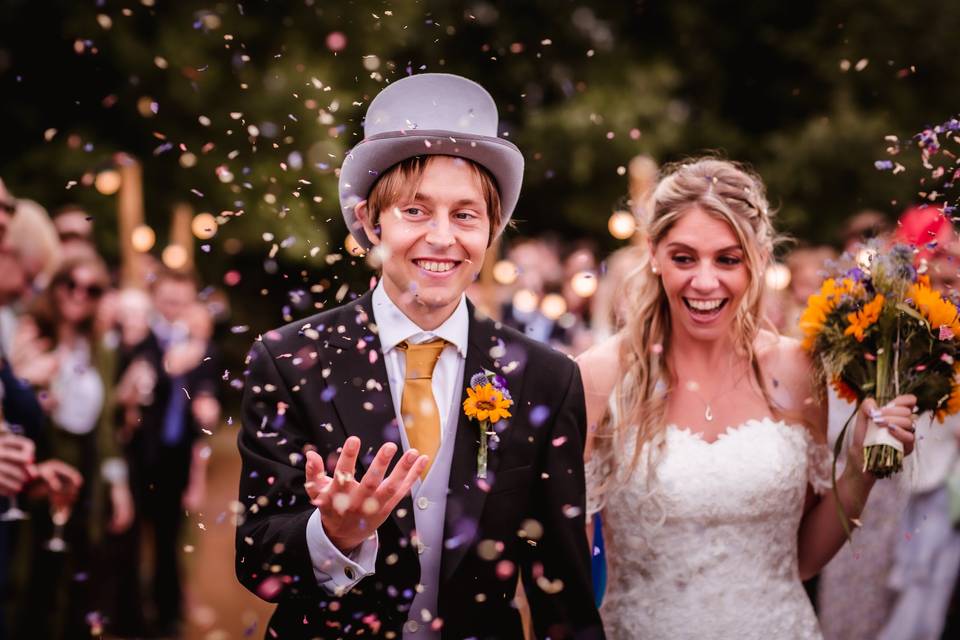 Hitched Featured Supplier: Adela Photography
Having talented friends and family can certainly come in handy when it comes to wedding planning as this vibrant real wedding proves. Everything from the lovingly baked wedding cake to the stationery and signage were made extra personal due to their maker.
Comedian, Tom, and choral singer, Ellie, also have a friend to thank for their introduction.
"Tom performs comedy and I'd actually seen him on stage before we properly met! We had a lot of mutual friends so eventually met through our friend Sophie at her house party."
Fast-forward to 2020, when the couple returned to the UK after 18 months living in Australia, Tom got down on one knee during a lockdown stroll.
"We saw some of the most beautiful places imaginable – stunning beaches, incredible rainforests, the breathtaking outback. When we returned to the UK cutting our travels a few weeks short due to the pandemic, we went to live with Tom's family in Milton Keynes before deciding what to do next.
"One day in June, Tom took us for a 'daily walk' (remember those from lockdown?!) and we went to a field near the house. He pretended to need a wee so that we went to a more secluded corner of the meadow, then he pretended to fall over, then he was on one knee and holding out a box. I opened the box, and it was one of his football medals (ever the comedian!).
"He then produced an engagement ring. It was very silly but romantic too. And I do always find it funny that of all the beautiful places we'd been to in the previous 18 months, he chose a field in Milton Keynes during lockdown."
After planning a July 2021 wedding, Ellie and Tom decided to reschedule to 23rd July 2022, allowing almost all of their friends and family from overseas to attend.
The Wedding Morning
Ellie's cousin, Hannah, styled the bride's hair in loose waves with a halo braid while makeup artists Rebecca created a shimmering, natural makeup look.
As Hannah worked her magic on the bridesmaids' hair, Ellie and her wedding party sipped Bucks Fizz as they listened to a specially created Spotify playlist which each had contributed to.
Meanwhile Tom and his groomsmen enjoyed a drink of their own.
"Tom and his groomsfolk met at breakfast for a quick vodka. His dad had done the same on his wedding day as 'you can't smell it on the breath'. This was also when one of Tom's best friends did his tie for him (as he's never learnt to do it) in a ceremonial moment!"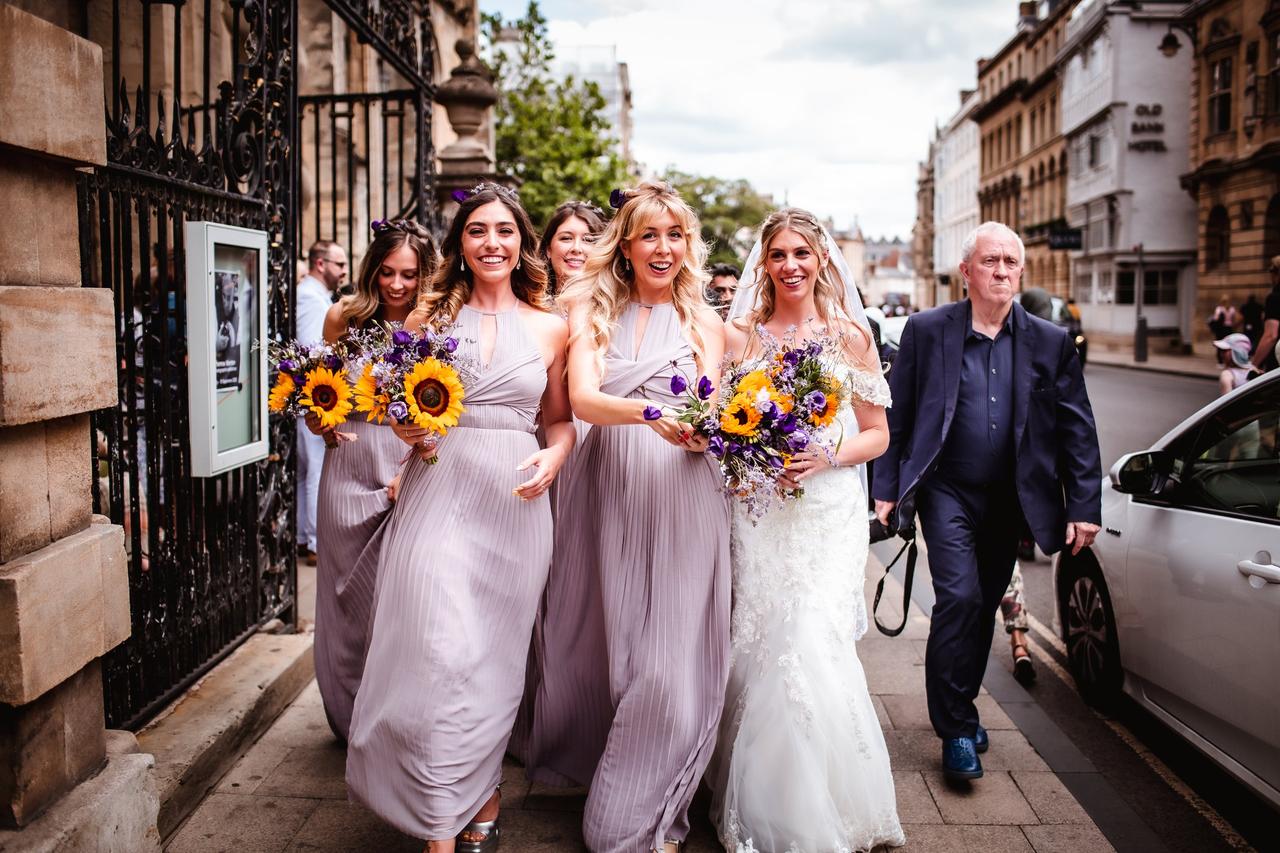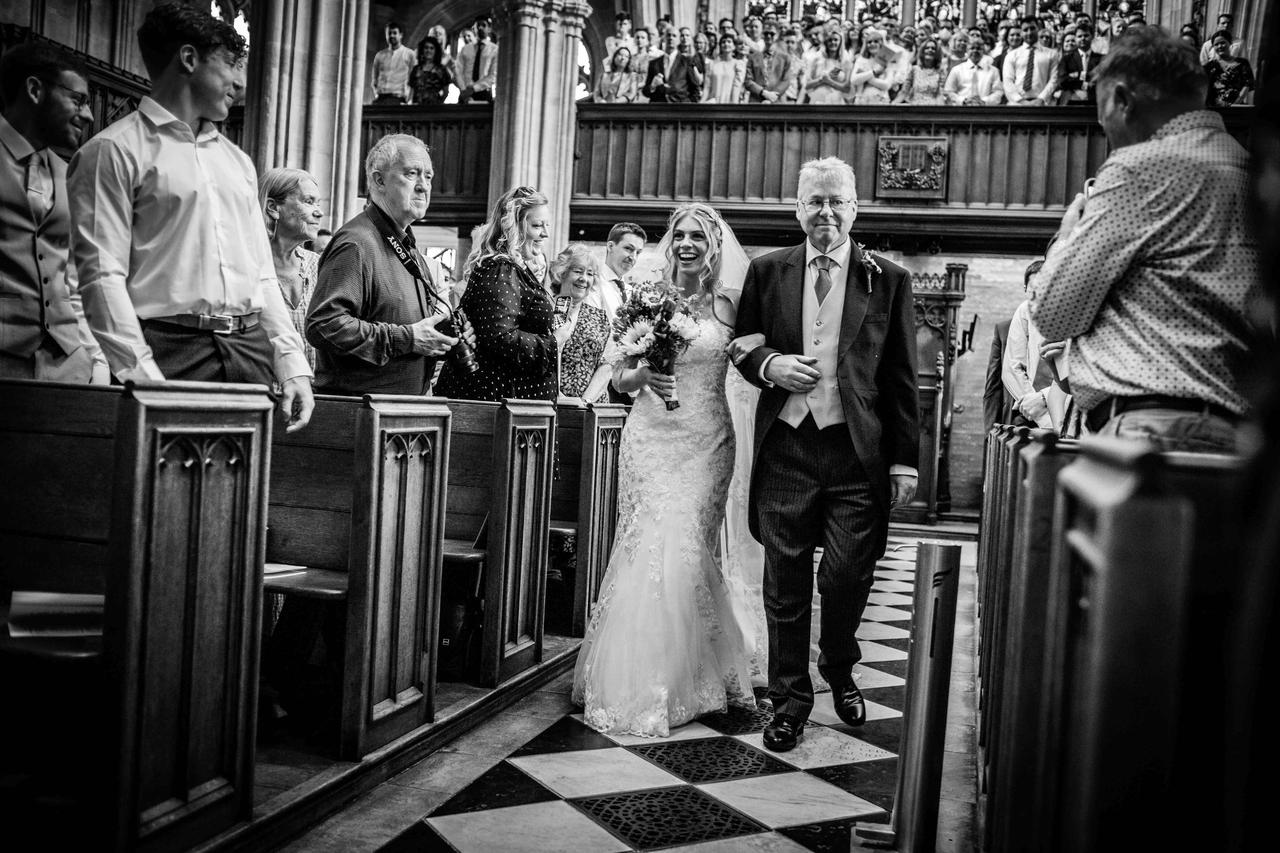 The Wedding Fashion
When it came to the dress, Ellie chose a sheath silhouette design from Anna Serrano which she paired with simple accessories.
"I loved the sheath dress style as it was very fitted and gave me an hourglass! I loved the idea of mermaid but when I tried on that style, it didn't suit me so well. So, I found this a nice compromise. It also felt quite light so was easy to walk and dance in.
"I had minimal accessories. I had a silver vine clip in my hair then some pearl earrings and a small silver pendant with an infinity symbol around my neck."
Tom hired a morning suit from Lipman & Sons complete with a top hat.
"Being a performer, I think Tom liked the theatre of wearing tails and just feeling a bit more special than usual and standing out!"
The bridesmaids and groomsmaid Sophie wore lilac gowns from TFNC at ASOS and the groomsmen, along with bridesman Rishi, wore morning suits with purple ties.
The Wedding Ceremony
The bride, her parents and her bridesfolk travelled to University Church of St Mary the Virgin in Oxford in a vintage minibus. Once they arrived at the church, Ellie walked down the aisle to a beloved classic.
"I walked down the aisle with my dad to Pachelbel's Canon in D. My dad is actually a church organist so lots of people had joked previously about him playing the organ while walking me down the aisle! I chose the Pachelbel not only because it's a beautiful piece but also because when I was little, Dad took me to a wedding that he was playing this at in church and taught me how to play the bass line on the organ, so I joined in with him while he played."
With Italian, Irish and German family present, the couple came up with a novel way of ensuring all nationalities were incorporated into the ceremony.
"We had lots of family who had come from abroad. We were so honoured that they had come to our wedding (and that travel was now finally possible again!) and we have always treasured the different nationalities that make up our family roots. So, we decided that for our biblical reading, we would have the same very short passage from the Song of Solomon but read in four different languages. My cousin Emma read it in English, my cousin Mariah read it in Irish, my cousin Grazia read it in Italian and Tom's cousin Detlef read it in German. It felt very special.
"Our non-biblical reading was WB Yeats' When You Are Old, read by Tom's dad, as a tribute to the three grandparents we had lost and missed. Tom's 95-year-old gran was able to attend the ceremony though and for both of us, seeing her face in the front row during the ceremony, was so emotional!"
The ceremony also featured the vocal talents of Ellie's friends.
"I'm a choral singer and at school, university and since, have had the privilege to sing in choirs with very talented fellow singers. I knew as soon as I got engaged (well, before actually!) that I wanted a choir of friends to sing at my wedding, made up of all the different people I've sung with over the years. They sang three pieces: Ave Maria by Rachmaninov, Cantique de Jean Racine by Fauré and then as a surprise for Tom, I got them to sing a choral arrangement of When I'm Sixty-Four by the Beatles."
The pair swapped wedding rings that had previously belonged to their grandparents.
The Wedding Reception
Following the ceremony, the happy couple and their guests made their way to Newbridge Farm in Witney, Oxfordshire where they continued celebrations that had begun the night before.
"We were both keen on a festival vibe. The meadow was a blank canvas so we would have to hire the marquee, loos, put up our own signage and hire furniture. It was a lot of work and coordinating all the different suppliers was a bit tricky at times, but it meant we were able to make it exactly how we wanted it.
"We got the meadow for the whole weekend so on the Friday night, hired a pizza van and lots of our friends and family joined us for a pre-wedding gathering. Similarly, we hired a breakfast van on the Sunday morning and spent the day with as many friends as could stay just sunbathing and relaxing by the river." Sounds pretty amazing to us!
On the wedding day itself, guests tucked into a variety of dishes, including some delicious Italian desserts.
"We had four menus: a meat (crayfish cocktail and duck confit), fish (crayfish cocktail and salmon), veggie (bruschetta with parmesan and stuffed butternut squash) and vegan (bruschetta, stuffed butternut squash and vegan panna cotta for dessert). The dessert for everyone else was a mixture of chocolate brownies and limoncello cheesecake (for the Italian side of course)!"
The Flowers, Cake and Special Touches
Almost every detail was crafted by a talented friend or family member, from the flowers carried by the bride and her bridesmaids to the cake and even the centrepieces – pretty impressive, if you ask us.
"It was my aunt Anne who did all the flowers. She really loves floristry so made the bouquets for me and the bridesmaids and all the buttonholes! I had given her a very vague idea of what I wanted: 'purpley, yellow colours. But definitely sunflowers, I want sunflowers'. So, she managed to turn this description into absolutely beautiful bouquets!
"We also had centrepieces that my mum had cleverly made using foliage from our back garden. It worked really well and meant we didn't have to spend loads of money on expensive centrepieces. We then used the bridesmaids' bouquets for top table.
"My friend Nicola is a really skilled baker and offered to make our lemon cake. It was beautiful and had three tiers with purple flowers dotted around the sides."
The final touch was the stationery and signage – very important when hosting a festival style wedding – all created with the help of some artistic friends.
"Our wedding stationery was DIY. My friend Jenny is a very talented artist so she had drawn the University Church and we put this lovely picture on the front and back of our orders of service.
"My mum made the table names with a sunflower picture on each of them which looked really sweet. The big table plan was designed by another very talented friend, Amy. She also did all the place names as she is so good at calligraphy. Amy also provided all the signage in the field using beautiful calligraphy so although all the stationery was DIY, it looked very professional!"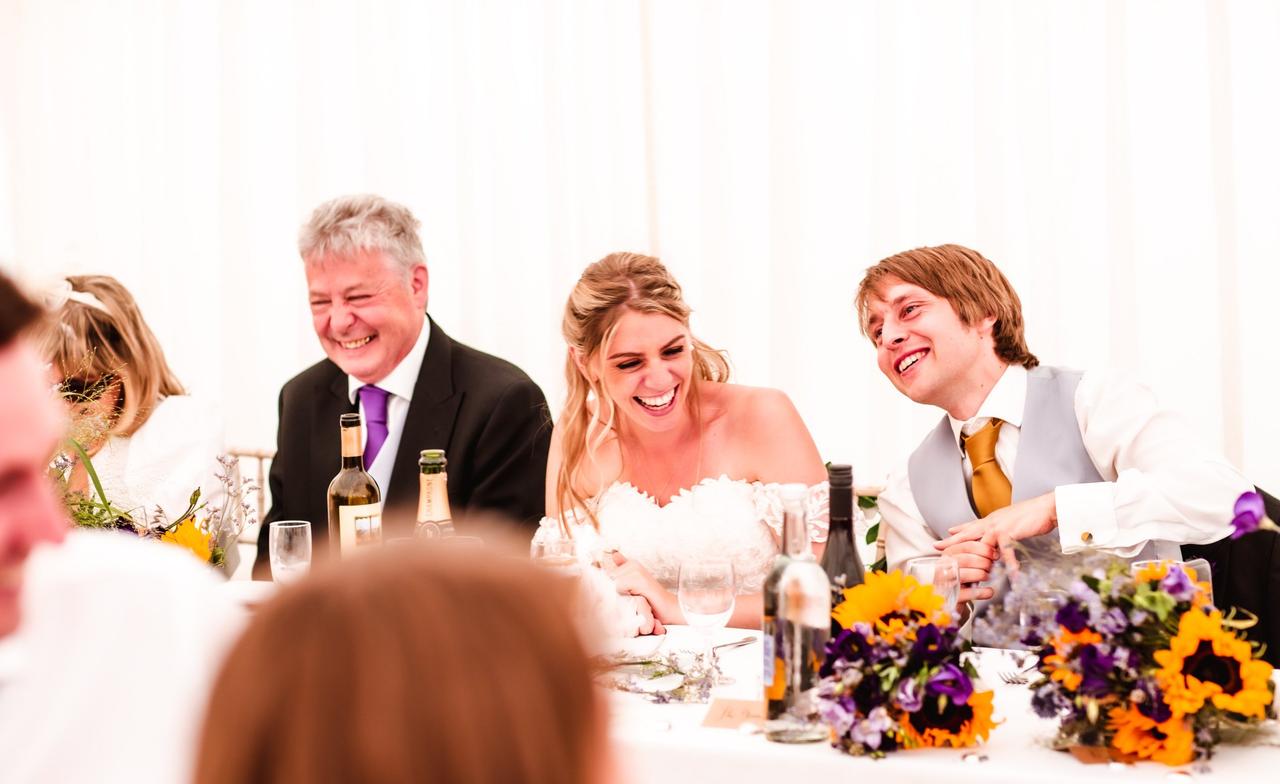 Entertainment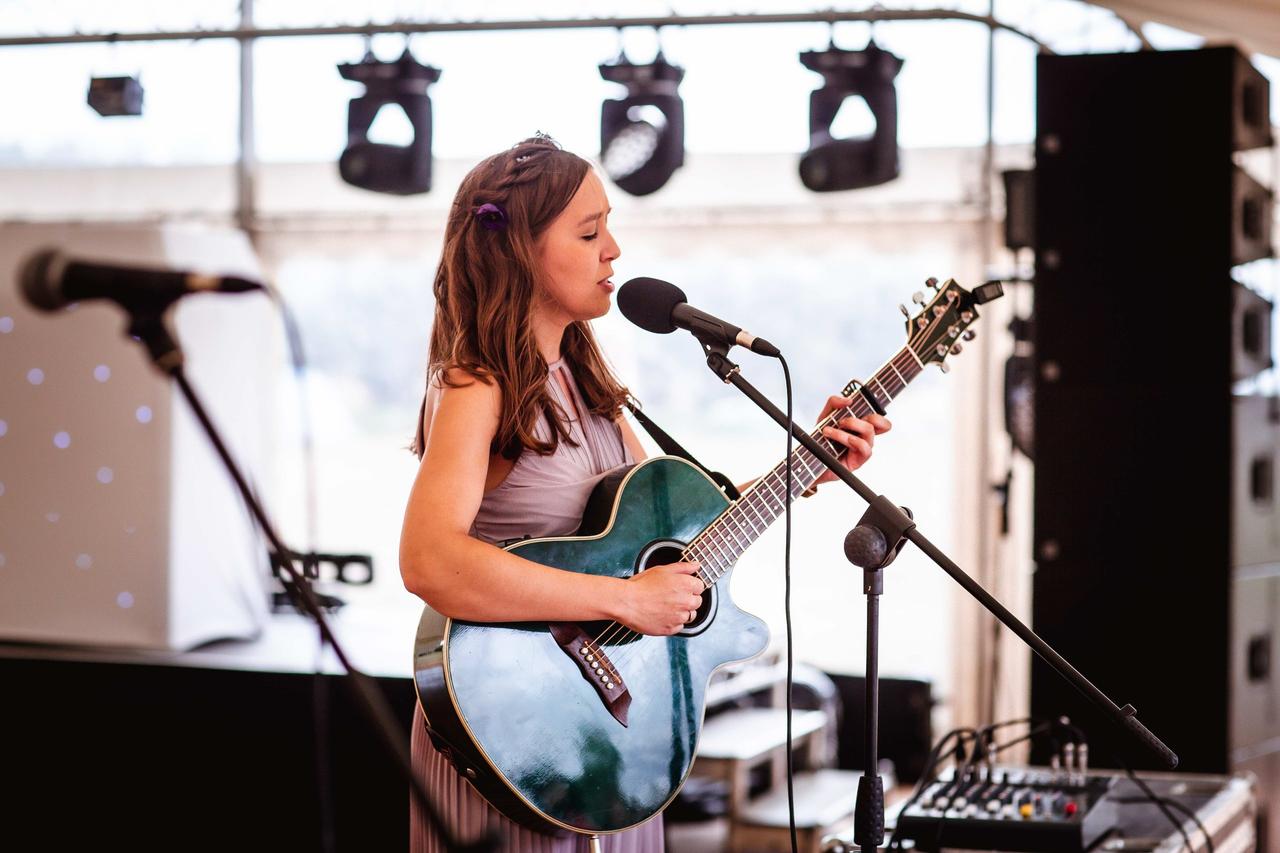 The entertainment was kicked off with a performance from Tom's sister, Anna, who sang Plan to Marry by Lucinda Williams before some wedding breakfast games began.
"Jenny (my artist friend and generally very funny person) and Daniel (Tom's groomsman and fellow comedian), were our Toast Masters and unbeknownst to us, had planned the most amazing games for between courses.
"They'd given each table a Wedding Bingo card, had a game about who knew us both best by asking the room questions about us and guests having to sit down if they got an answer wrong and also got each table to compete for 'best table photo'. It was a really clever way to help people get to know the other people on their tables and just helped create a really fun atmosphere."
The couple's first dance was to I Want to Hold Your Hand by the Beatles, starting out with an acoustic version before inviting everyone onto the dance floor for the original, energetic version.
The Suppliers
Feeling inspired by Elie and Tom's gorgeous wedding? Check out these articles for more inspiration: