Good food, great music and excellent company was the order of the day at Kerry and James' April 2018 wedding. Choosing the eye-catching, monochrome Swynford Manor in Cambridgeshire as their venue, the couple's only aim was a "happy and relaxed atmosphere". As you'll see from their real wedding photos, it was definitely achieved.
With a magician, DIY wedding favours, and a delicious brownie tower for a wedding cake, it was a unique and personal day with lots of touches we love. Expectations were high for the first dance with a dance teacher as the bride – but did they deliver?
Photography by Ben Bull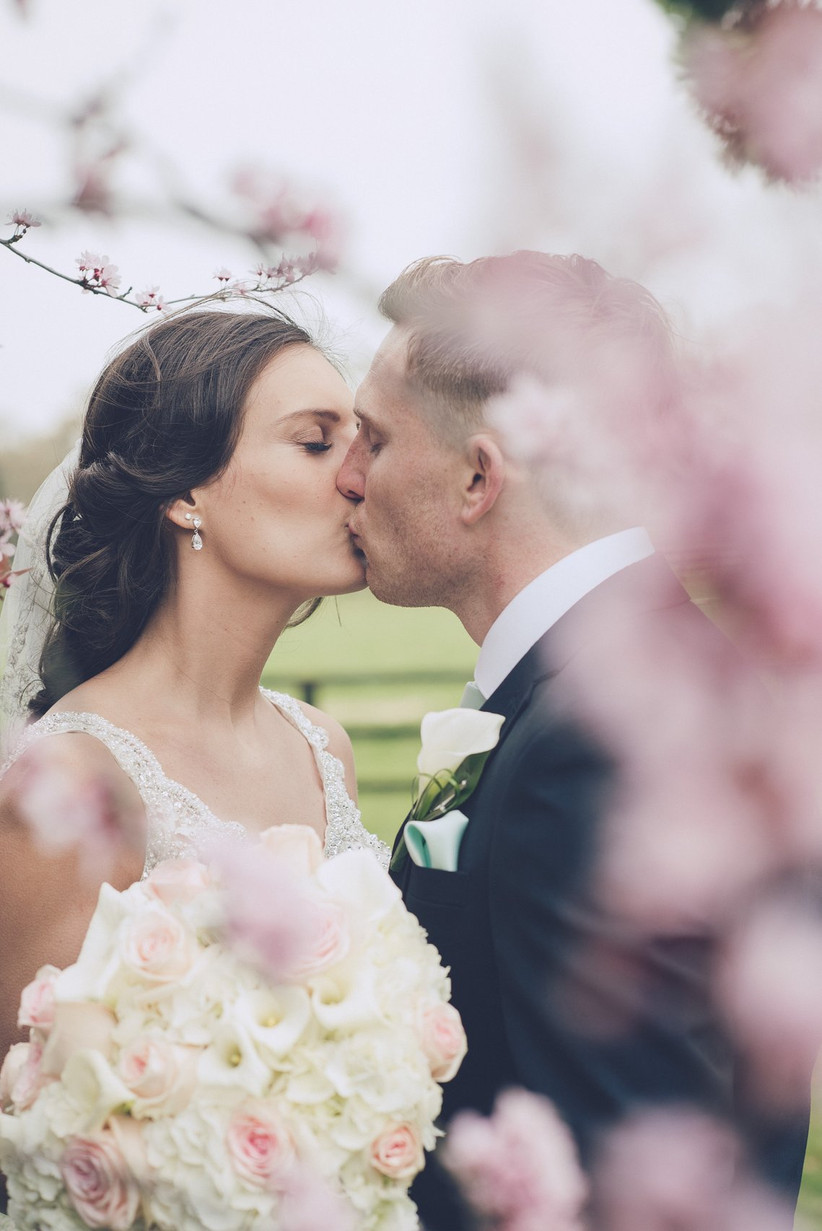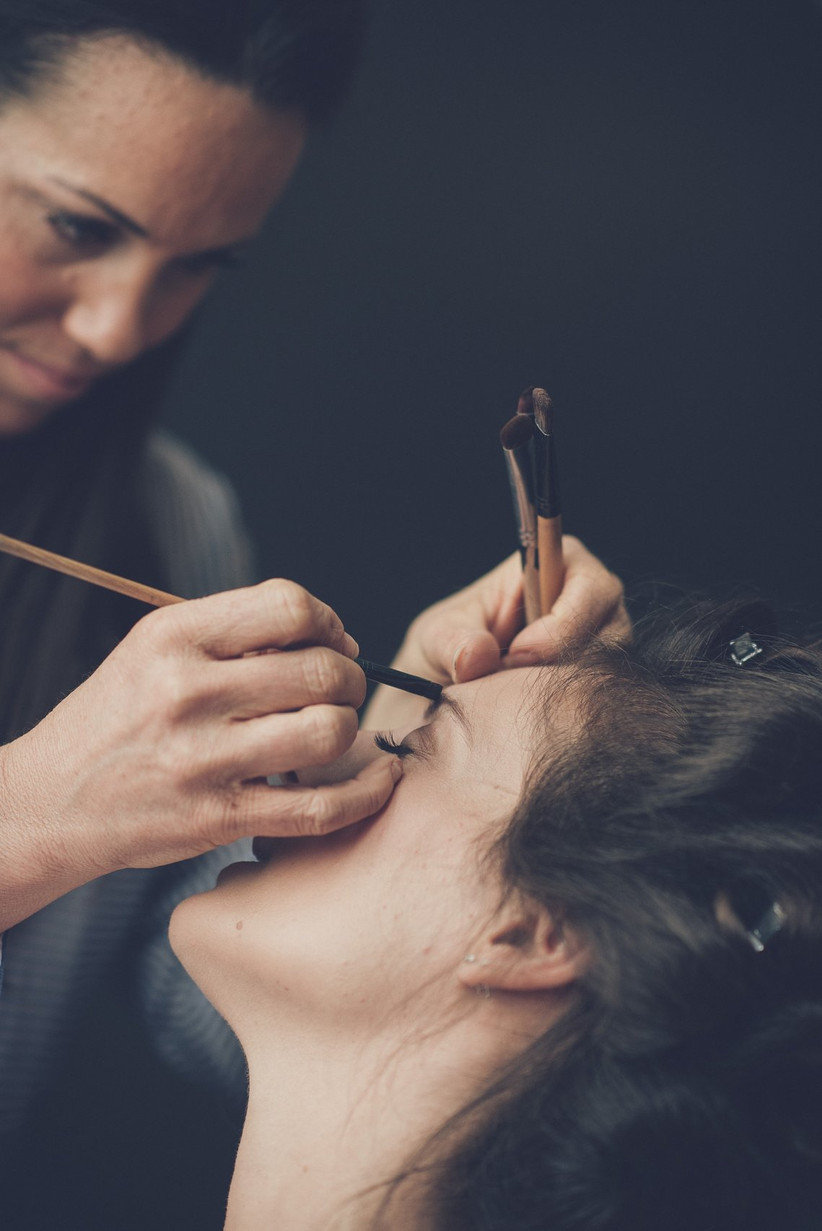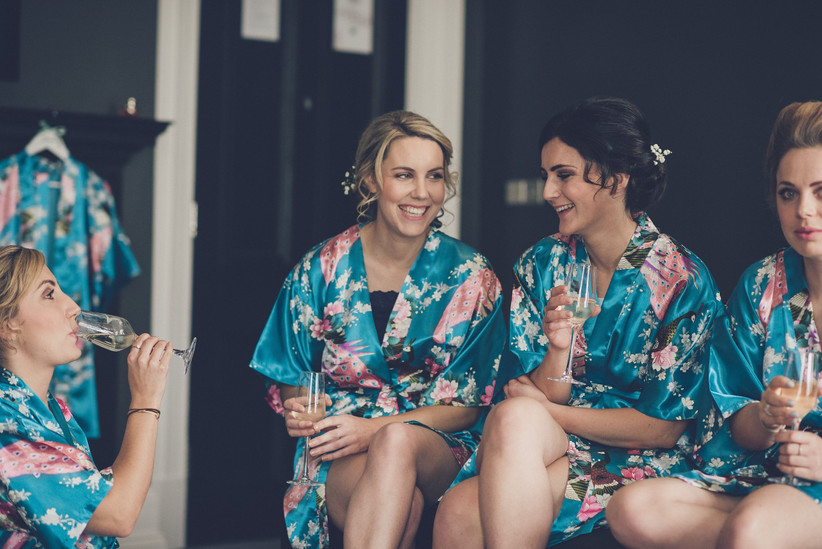 The Wedding Dress
Buying your wedding dress should be one of the most special experiences of wedding planning, but for Kerry it turned into a disaster! Luckily, she ended up with the perfect illusion plunge mermaid gown from Allure.
"My dress ended up being the biggest nightmare! I bought it from a shop in Buckhurst Hill, Essex and when I called to see if it was in there was no answer. Long story short, I found out that the shop had closed down and had taken our deposit! I ended up calling another shop that stocked the same dress make and they called the supplier who luckily had it – we then had to pay the deposit again to get the dress in!
"When I tried it on (feeling so pleased to have a dress) I noticed that it had a massive stain on the front of the dress. Another long story short, it ended up having to be remade and it arrived two weeks before the wedding!!!
"I loved my dress when I finally got it: the colour – a sort of champagne colour – and all the detail on it, front and back, and then the plain bottom half.
"I wore it with a bracelet from Carat and earrings from Carat that were a wedding gift from my parents. My shoes were from Jimmy Choo, also a gift from my mum."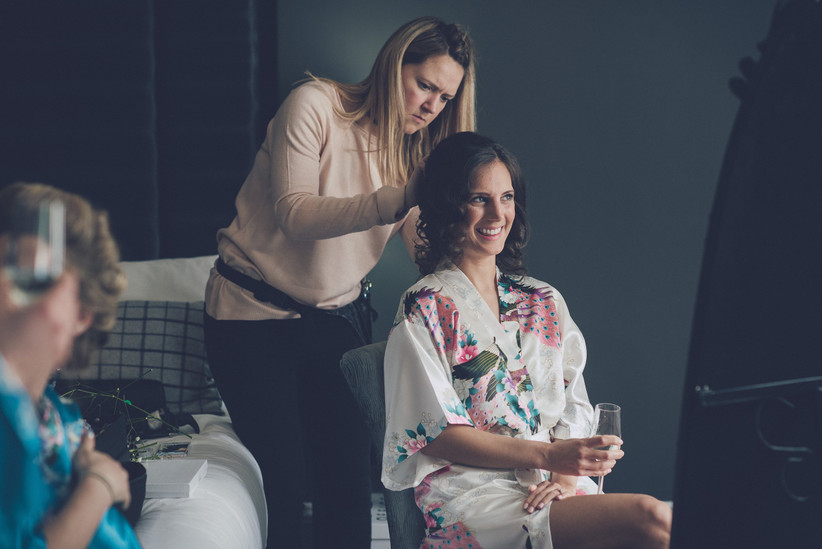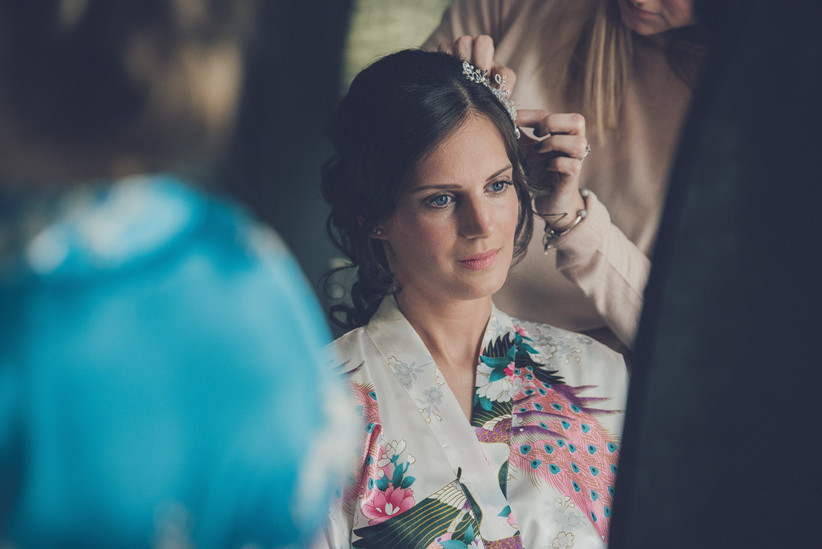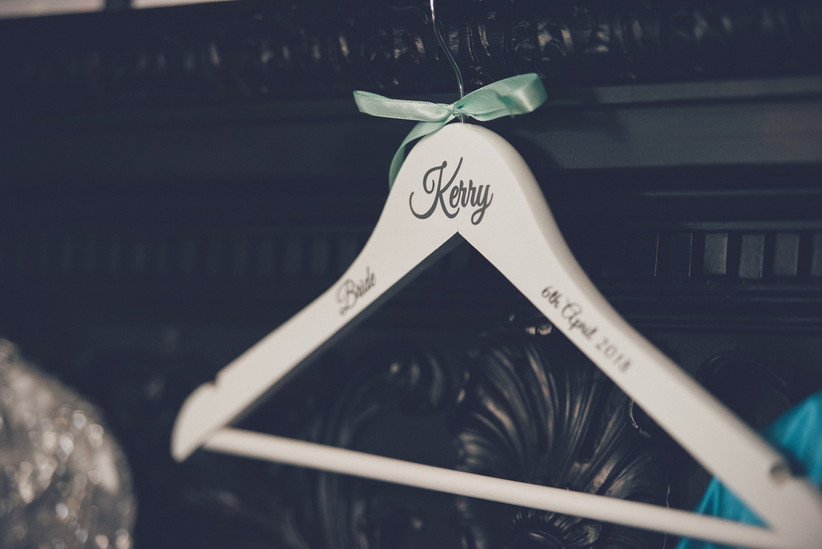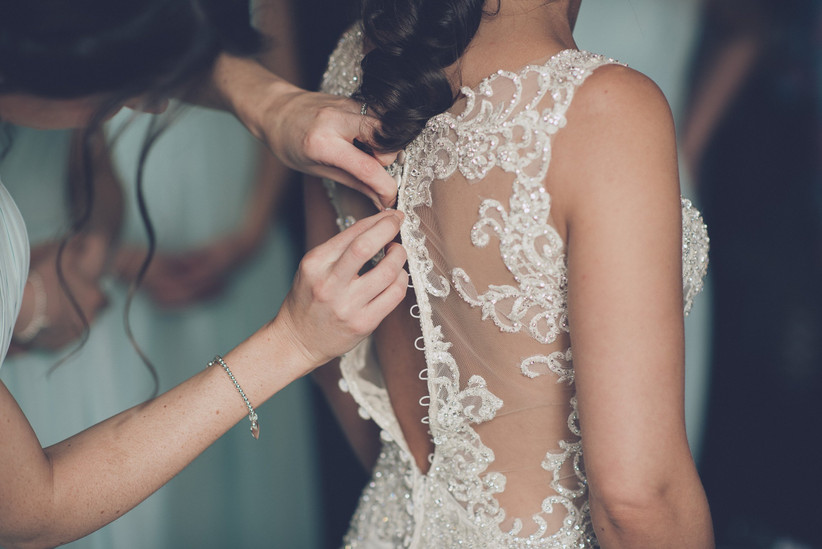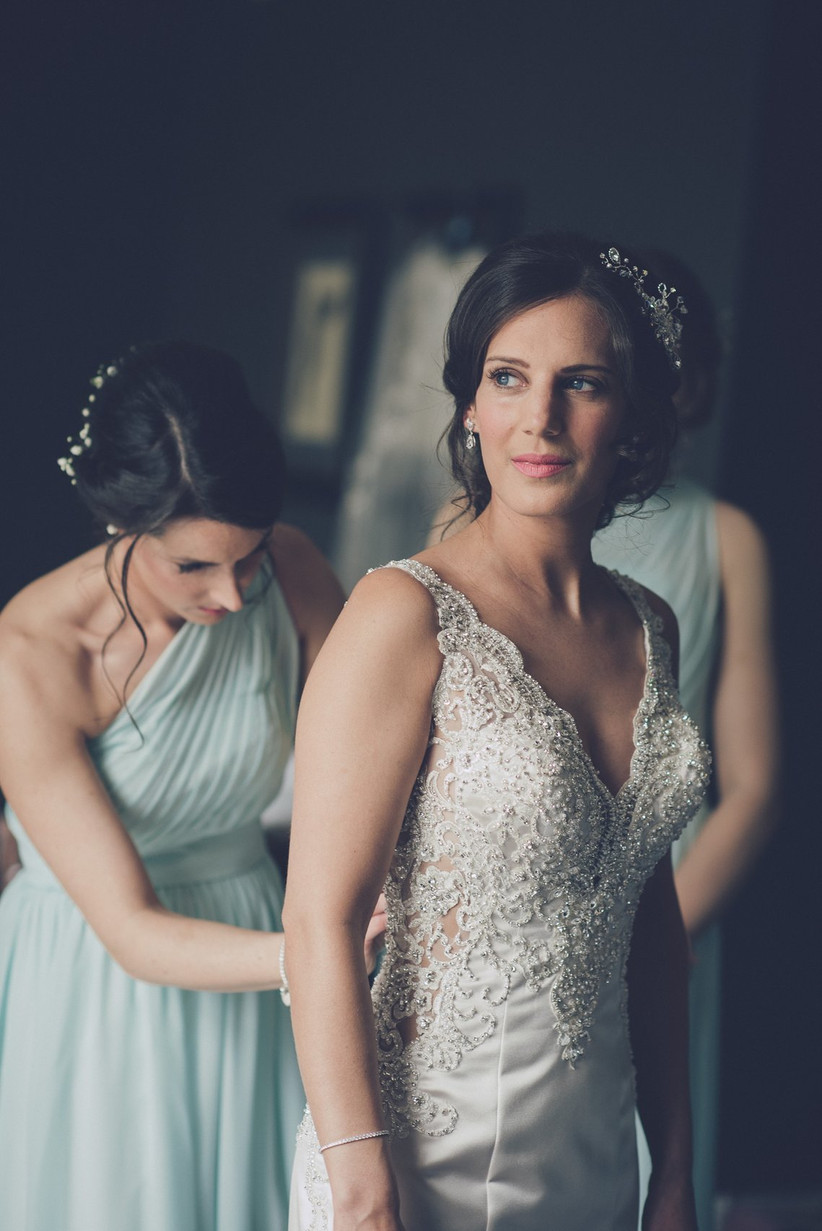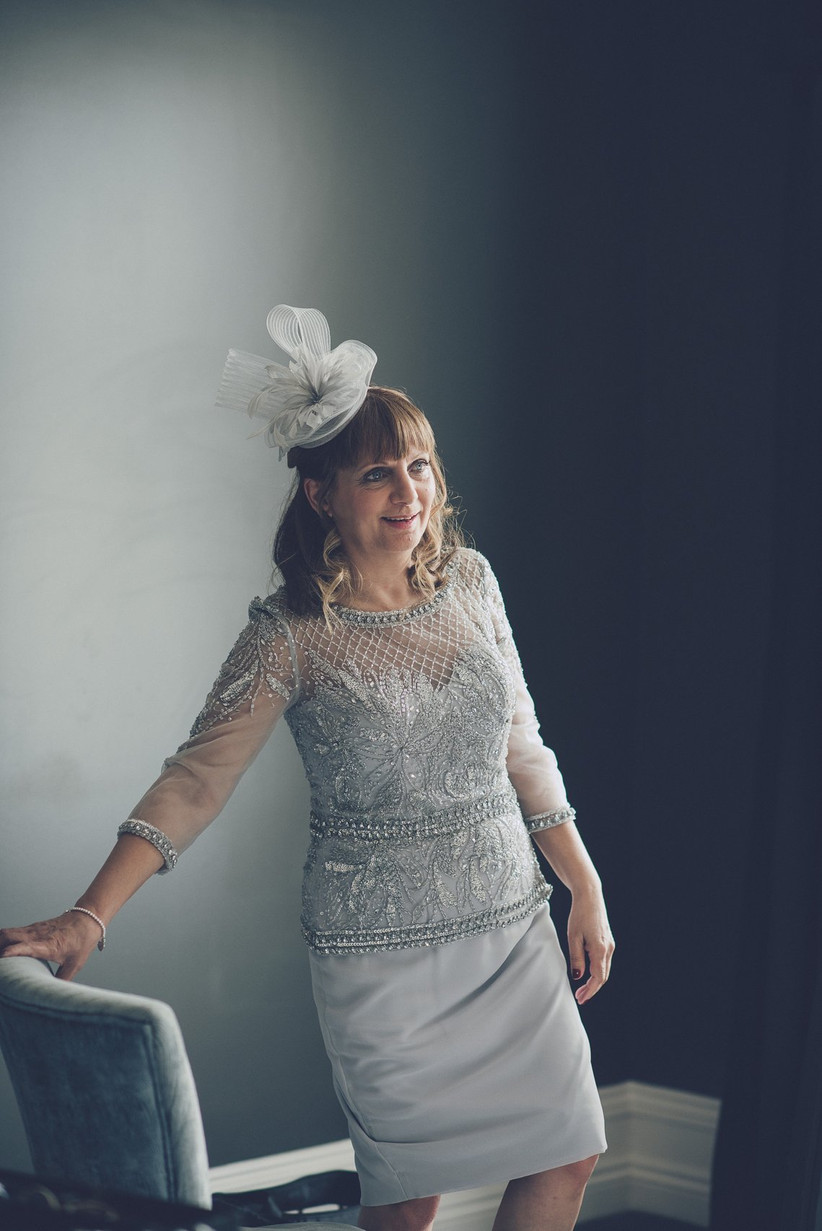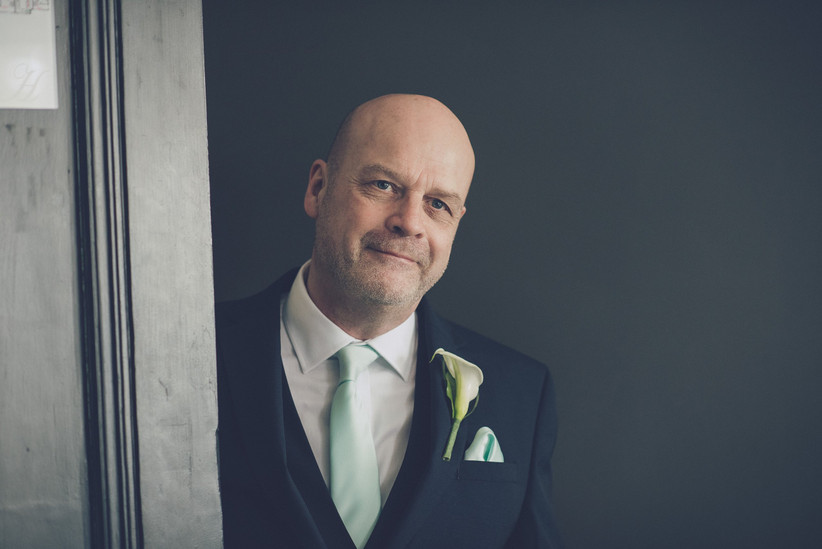 The Wedding Party
Kerry's 'hint of mint' colour scheme united all the wedding party, from the dresses for her six bridesmaids to the ties and pocket squares of the groom, groomsmen and both Dads.
"I chose mint green for the bridemaids. They had long, one shoulder mint dresses from an online shop called For Her And For Him and, as a thank you gift, they all wore bracelets I had personalised for them.
"The groom, his ushers and the Dads wore suits from Next with shirts from T.M. Lewin.
"However, I didn't want to have the colour in the venue too much. I kept most things ivory and silver and had a hint of mint on the table with the table numbers, favours, and a couple of little extras that we had."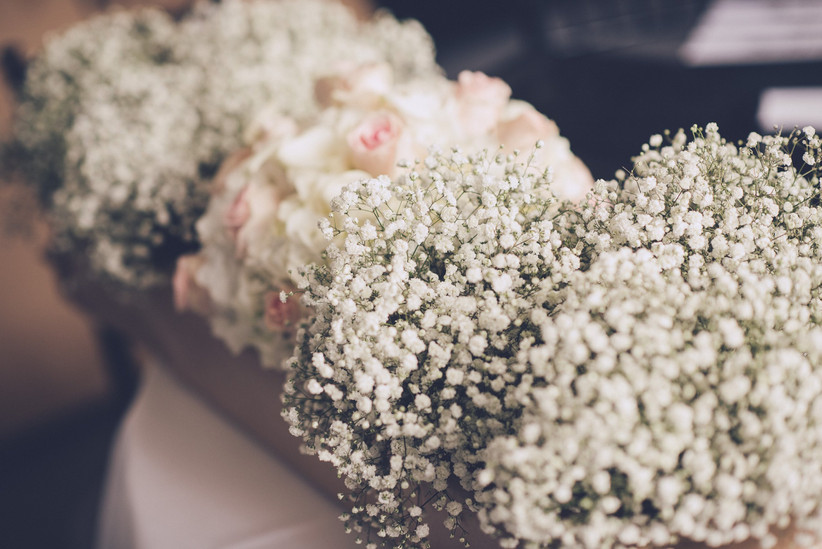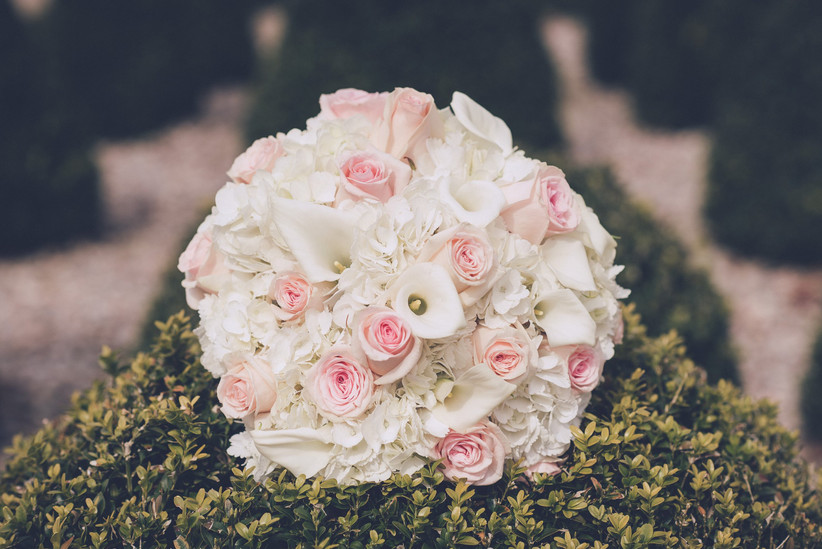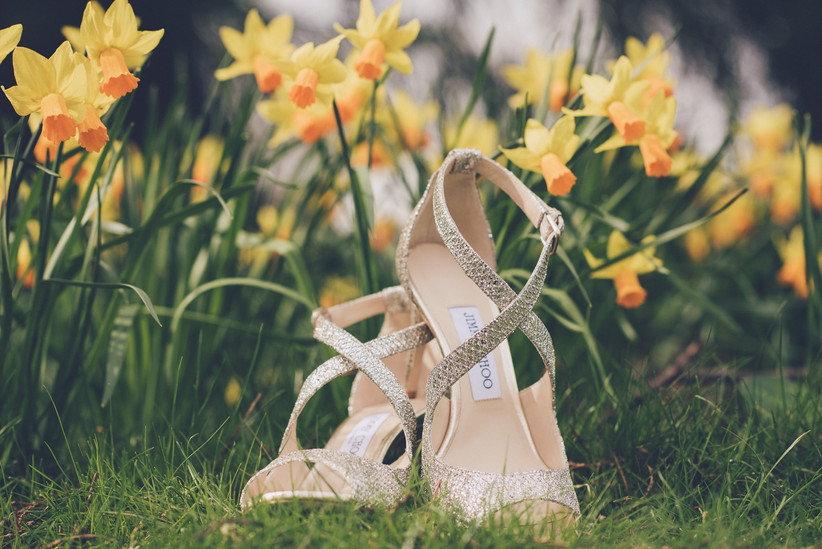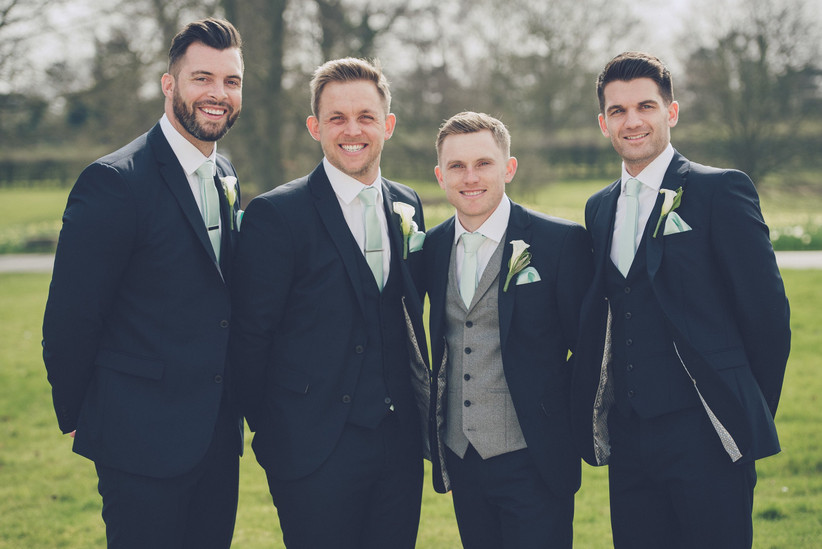 The Venue and Reception
Swynford Manor was the perfect mix of "modern and classic" that Kerry had in mind. They had a religious ceremony first at Holy Trinity Church, Bottisham, before driving four miles away to the distinctive 18th century country manor house for their reception.
"I really wanted a venue that was exclusive, had rooms for people to stay and where everything could be in one room and that people wouldn't be in lots of different rooms. I loved how modern and bright Swynford Manor was and that it didn't need any decoration to achieve the look I wanted.
"We kept the decor fairly simple. We had white tablecloths with a silver sequin table runner and silver place names (the name itself cut out of plastic, not written on a card). Our table plan was on the stand that the venue provided, which was perfect for our silver frame and mint card. We also had a quiz, menu and thank you message on mint card wrapped in silver elastic and with a pencil tucked underneath."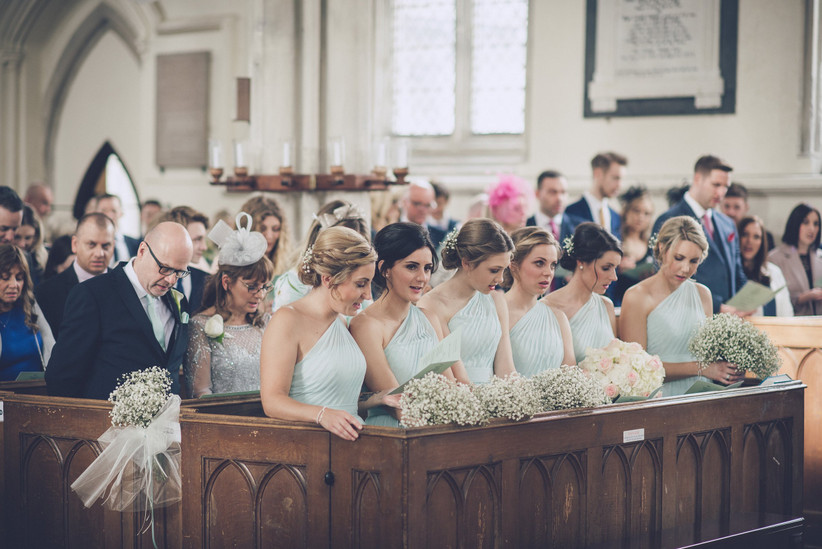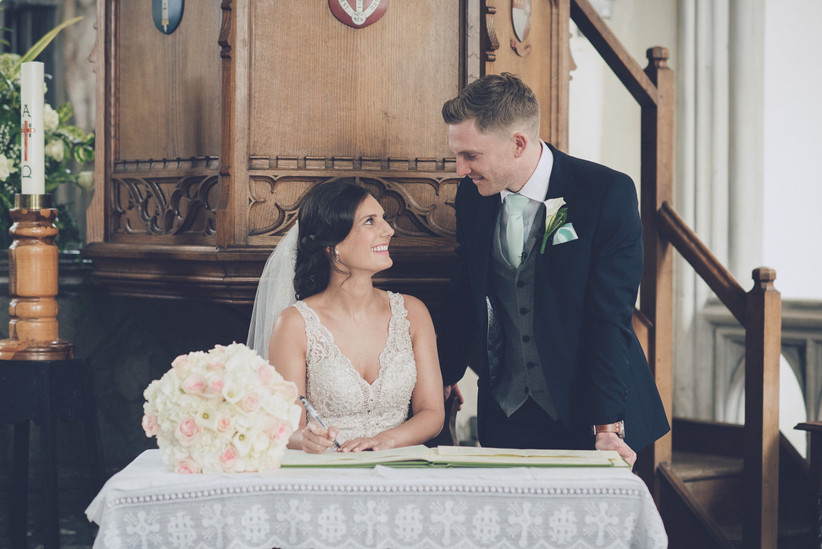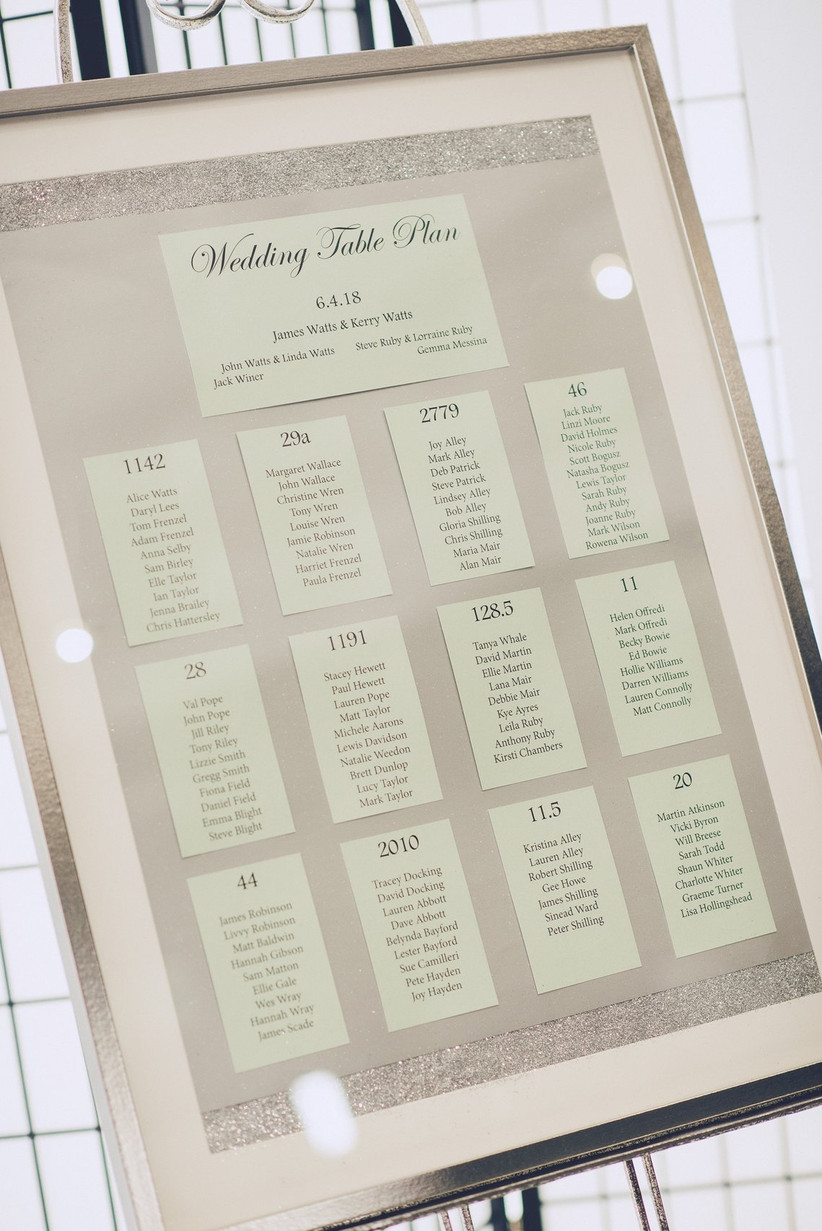 The Flowers
Kerry and James filled the quaint Holy Trinity Church with gypsophila for their ceremony. It fitted in with their white and blush pink theme at Swynford, which was packed with calla lilies and roses – made by the talented Designer Flowers Essex.
"I had a bouquet full of hydrangeas, roses and calla lilies. It was beautiful, but very heavy! I actually had an achy arm the next day! The groomsmen also had calla lilies and silver metal leaves in their buttonholes, and the bridesmaids had bouquets of gypsophila.
"We used flowers in the centrepieces. I had three vases of different heights with calla lilies in, a floating candle on top, with rose petals and crystals scattered around."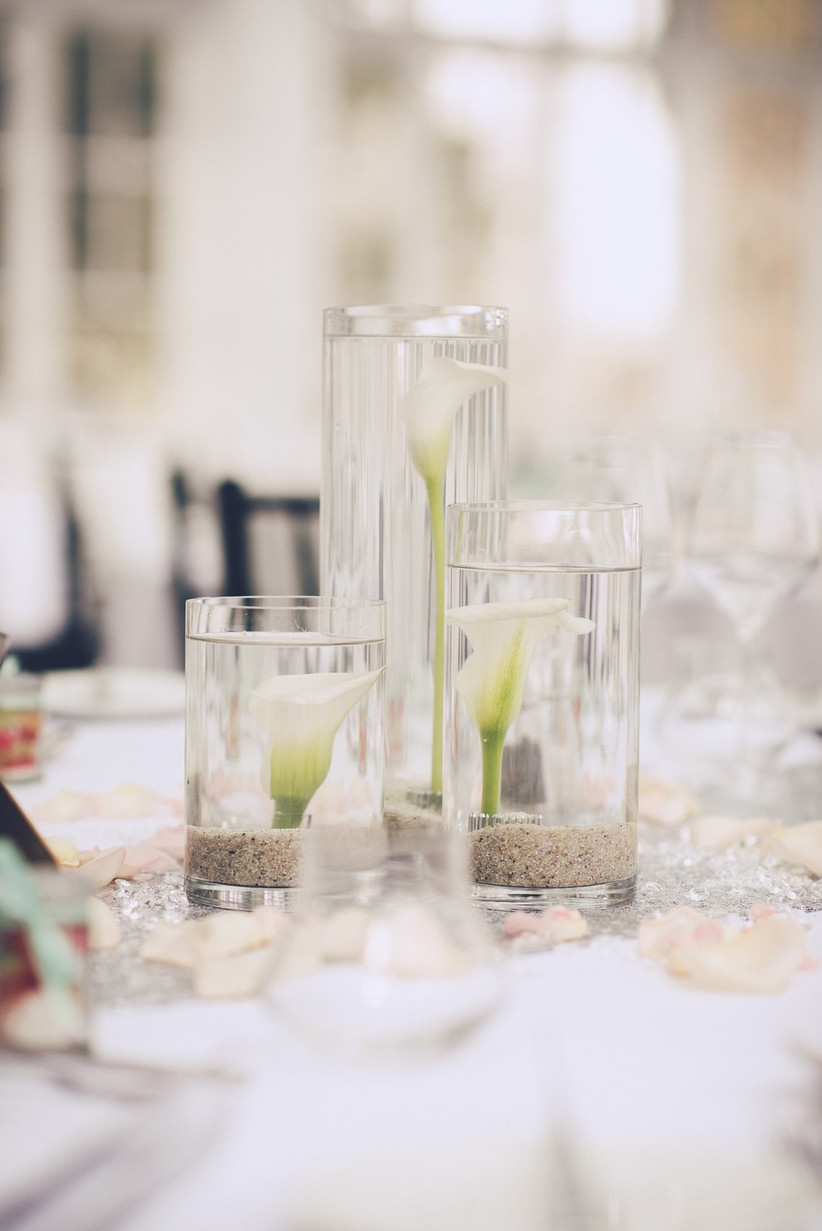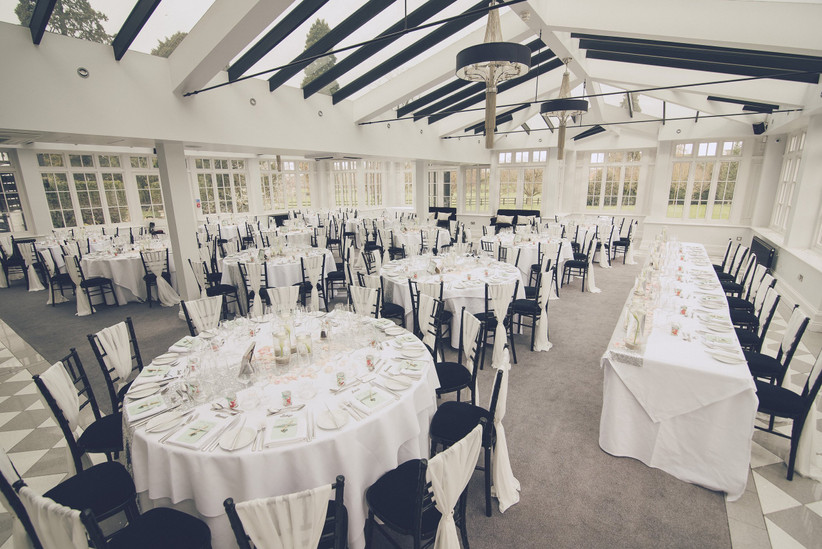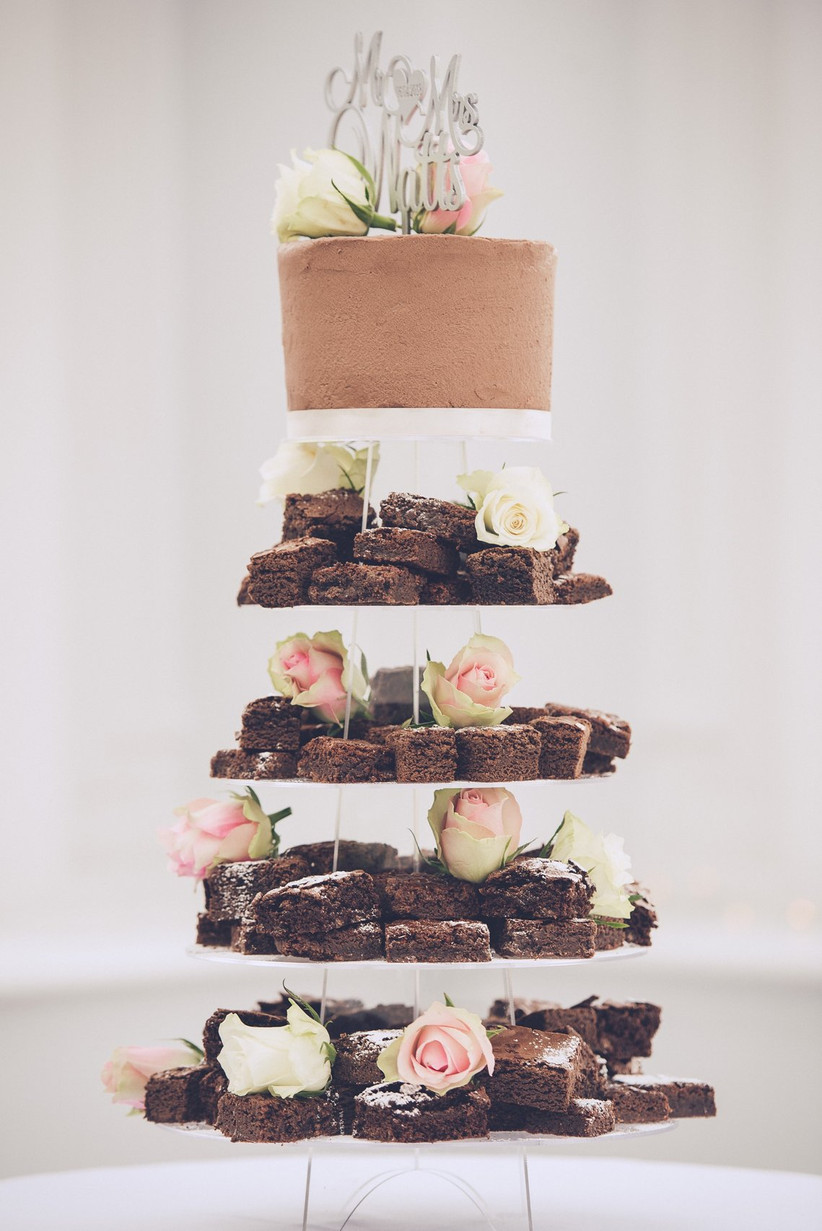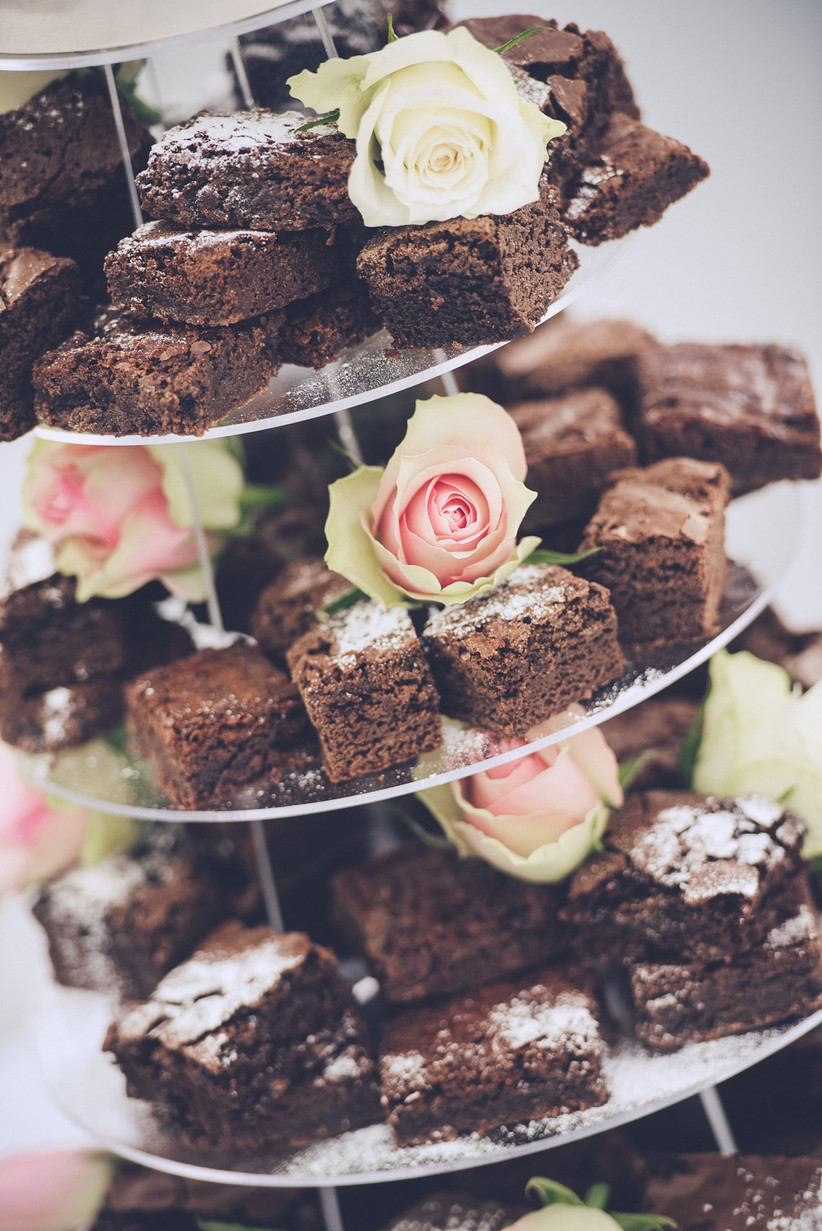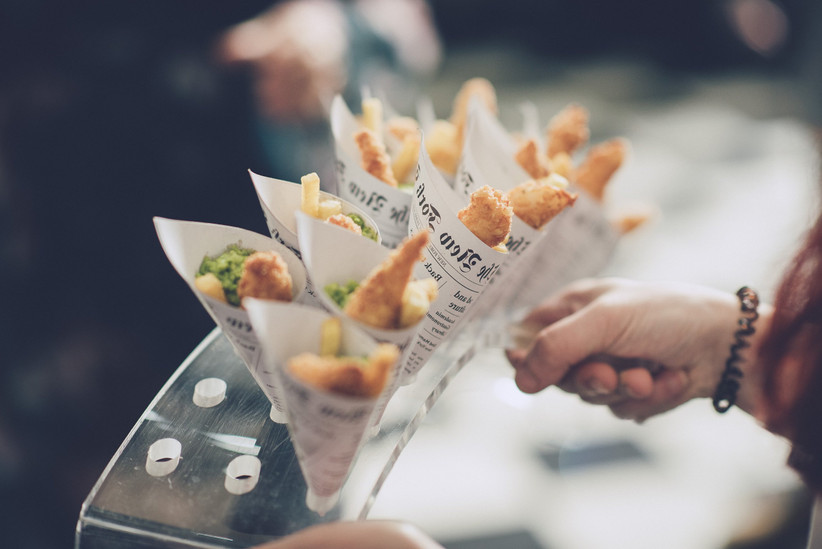 The Reception and Entertainment
Kerry and James continued their "modern meets classic" theme with their wedding reception, which included a magician, DIY wedding favours and an open bar.
"We started with a drinks reception held at Swynford, with a 'Pimp Your Prosecco' table and beer, mini fish and chips, duck and a baked brie. We had a magician called Wayne Goodman and singer/guitarist Marc Halls for the welcome drinks and wedding breakfast, and a DJ in the evening.
"Our first dance was to Nathan Sykes' Over and Over Again. And no, it wasn't choreographed! Even though I am a dance teacher, I didn't want to make it a big thing. But we had confetti cannons which made our first dance a little special.
"We were able to have a free bar (split between ourselves and both parents) and instead of gifts, we asked for donations towards a charity very close to our hearts and managed to raise over £1,700!
"For the menu, we chose a modern prawn and crab starter, chicken for main, and lemon tart from dessert. There was bacon and sausages in brioche buns for the evening. We chose what we like and what we thought most people would enjoy.
"To make the favours, I filled jars with sweets (Haribo hearts and rings). I decorated the lids with silver glitter and tied a mint ribbon around them."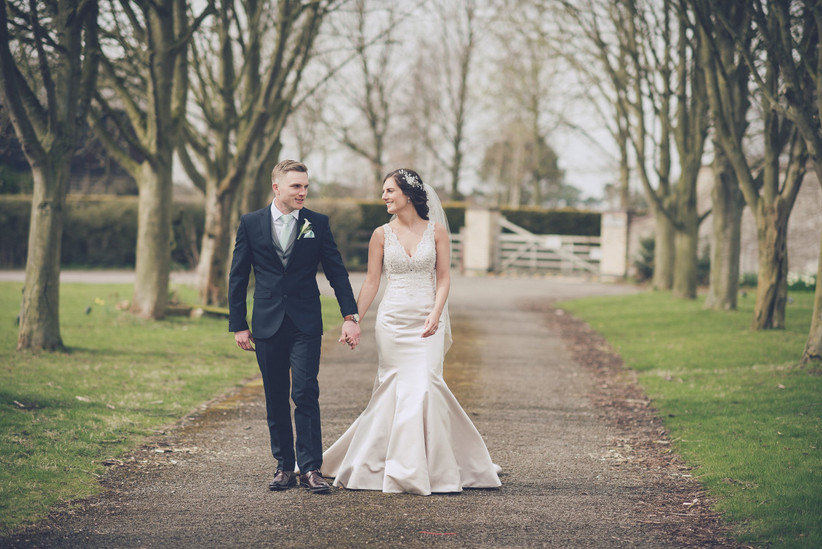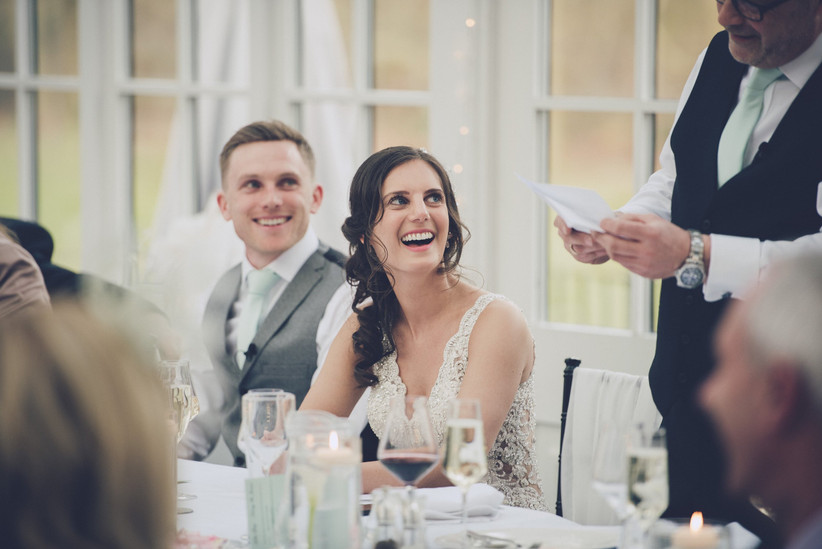 The Cake
Wedding cake alternatives are all the rage at weddings, and Kerry and James' choice  – made by Dream Big. Dream Cakes. – didn't disappoint.
"We had a brownie tower and a chocolate sponge cake at the top which we cut, all decorated with roses. Our cake topper was a personalised silver one which said Mr and Mrs Watts with the wedding date in a heart."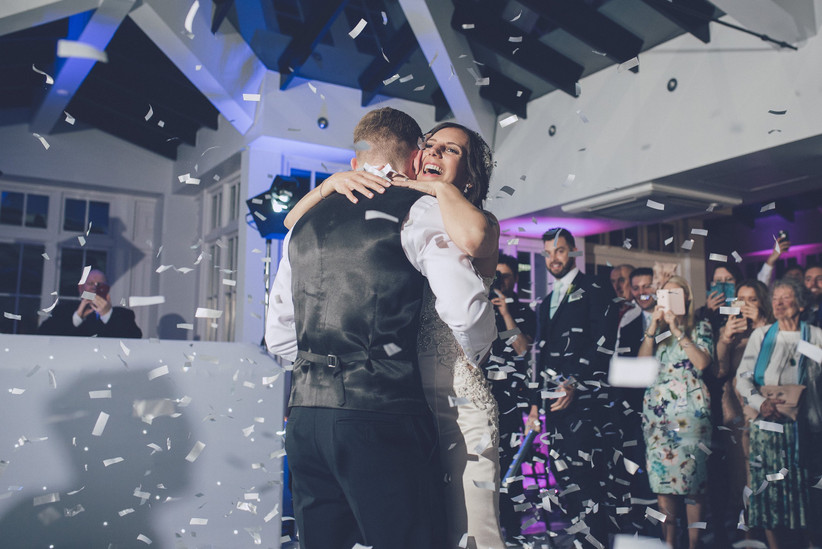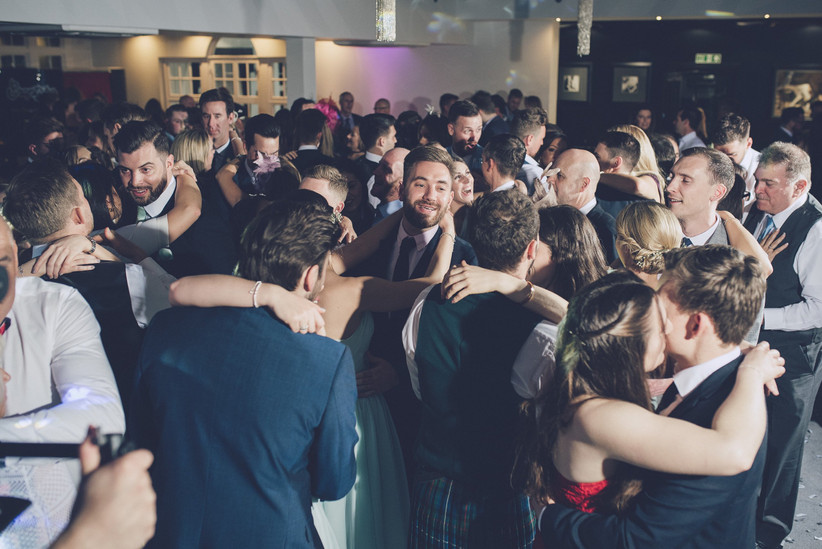 The Suppliers
Venue: Swynford Manor
Photographer: Ben Bull Photography
Videographer: Martin at Special Occasions Videos
Wedding Dress: Allure Bridals
Bridesmaid Dress: For Her And For Him
Groomswear: Next; T.M. Lewin.
Florist: Stacey at Designer Flowers Essex
Catering: Galloping Gourmet
Cake: Dream Big. Dream Cakes.
Entertainment: magician Wayne Goodman; singer Marc Halls; DJ Nick Chatten
Thank you to Kerry and James for sharing their beautiful wedding day with Hitched! If you've been inspired by Kerry's beautiful dress, don't miss our favourite beaded wedding dresses.