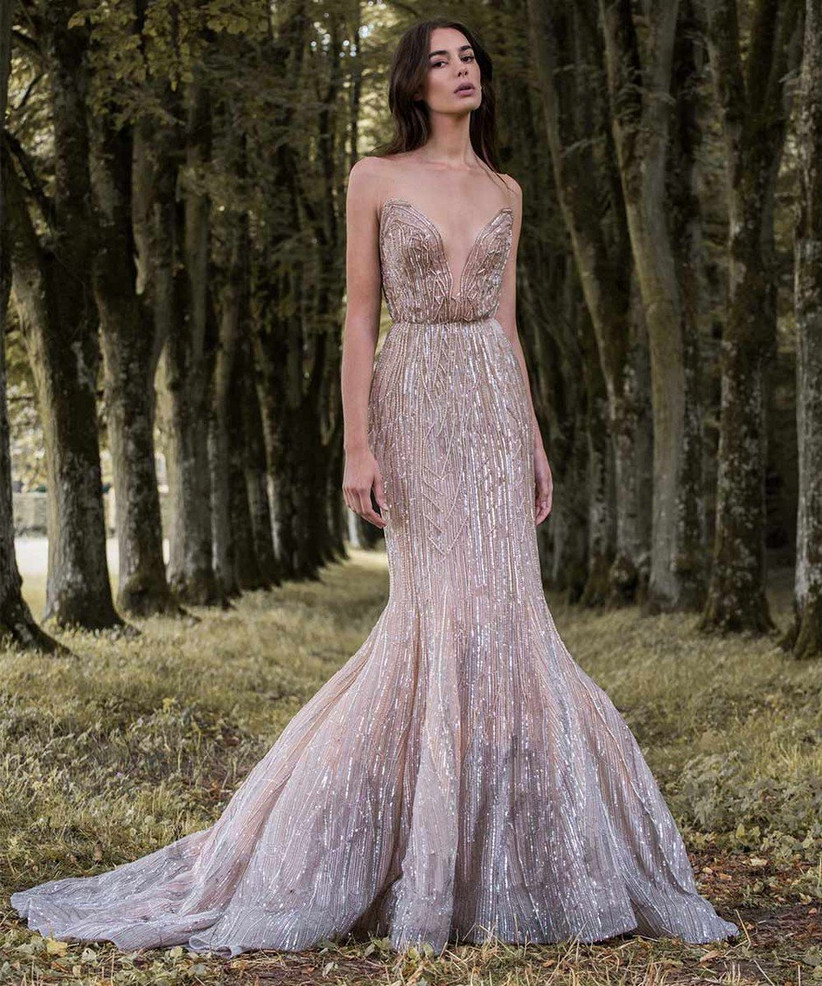 There are so many potential mistakes to avoid when choosing your wedding dress, but missing out on gorgeous detail shouldn't be one of them.
Whether it's embellished wedding dresses or sophisticated bridal gowns, a detail which will never go out of style is beautiful beads.
We've put together an elegant selection of beaded wedding dresses that will take your breath away.
Jenny Packham – Carrie
Jenny Packham's Carrie dress is a classic design. Breaking up the incredible beaded detail with a silky, shiny skirt is the perfect way to balance out detail with simplicity. The embellished detail boasts a stunning pattern which is unique and gorgeous to look at.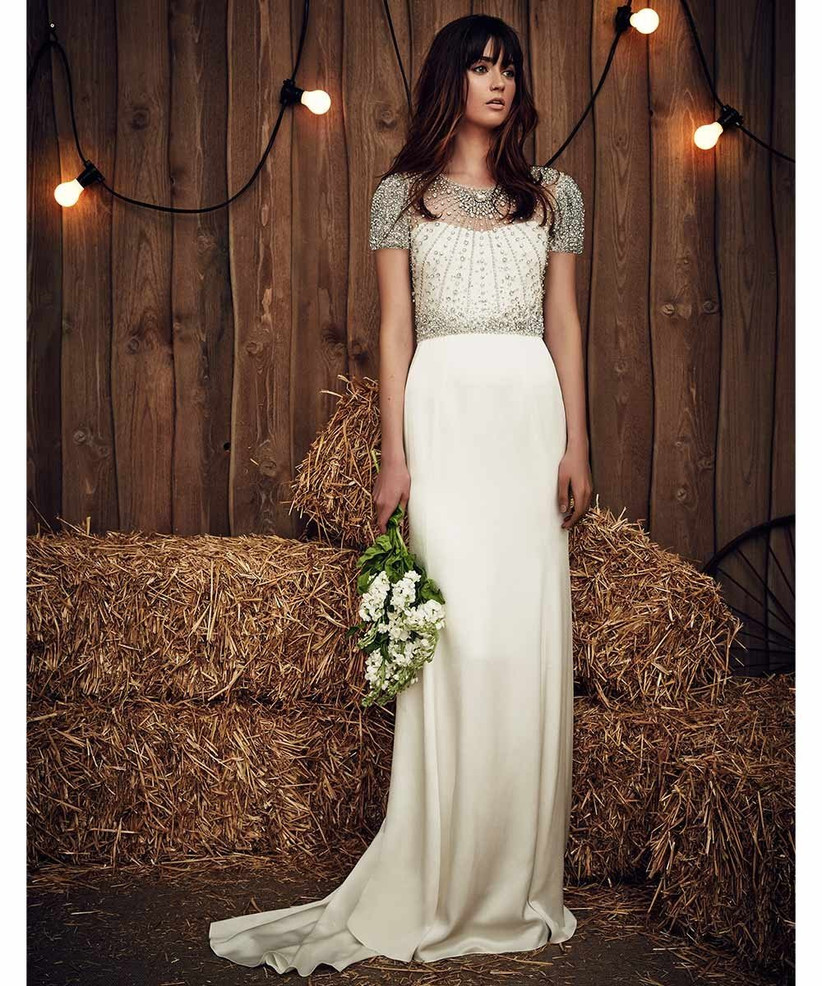 Pronovias – Olmedo
Beaded wedding dresses don't always have to be covered in elaborate embellishment. This Pronovias wedding dress has stunning beaded detail on the waistband and back which gives the gown a real sparkle that will keep you shining all day long.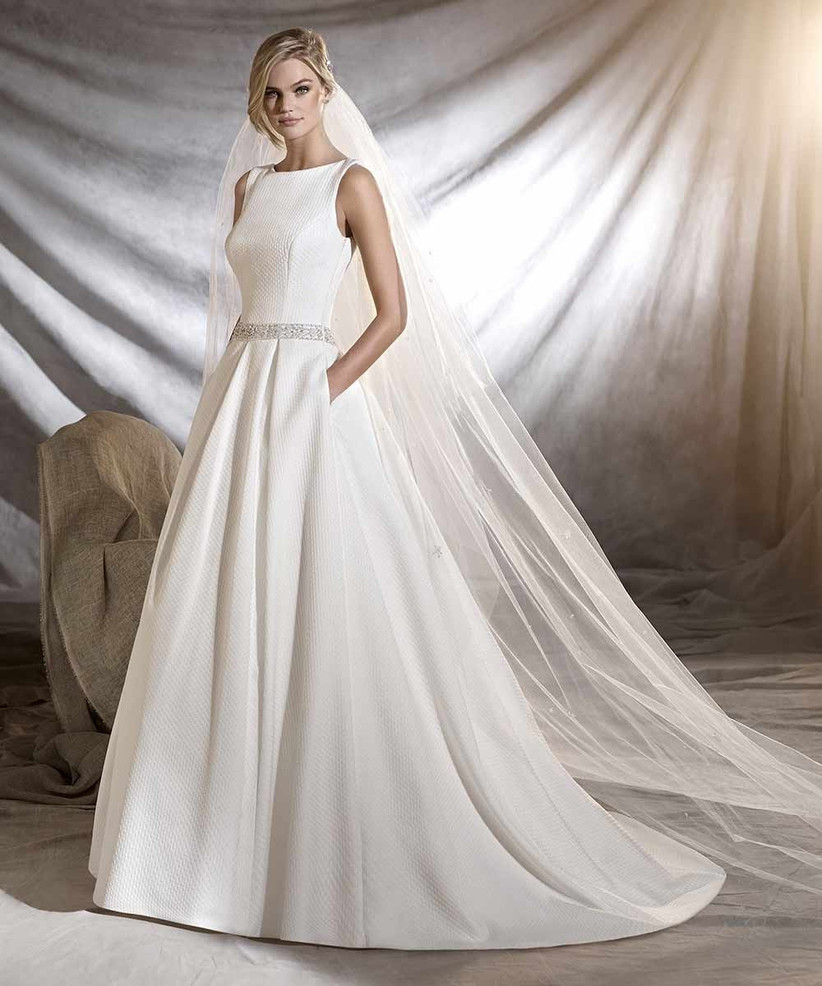 Justin Alexander – Style 9839
Brides who want to make a real statement will love this design because it totally stands out with all the glitz and glamour. The beauty of the dress lies in every individual bead that has been perfectly placed onto the gown. The variety of feminine and elegant patterns that have been created by the beads is the kind of detail that girly brides will just adore.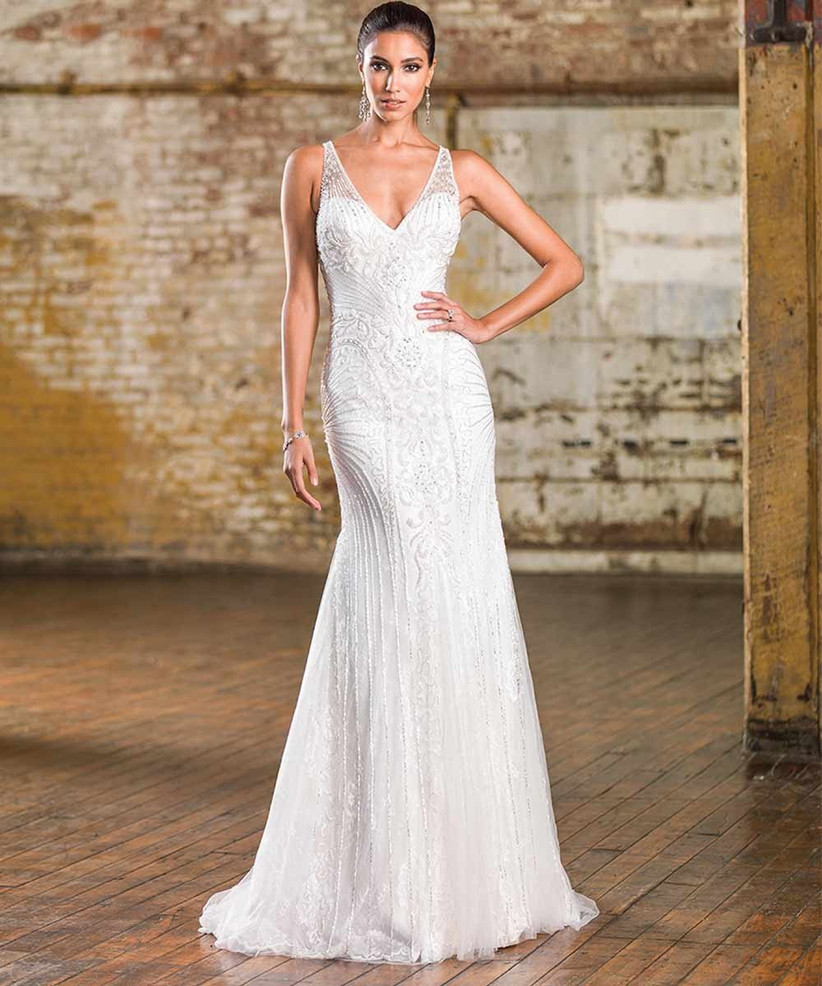 Elio Abou Fayssal
If you're the type of bride who wants a wedding dress that is totally unique and unforgettable you will fall head over heels in love with this Elio Abou Fayssal design. The regal shape and puddle train makes it such a gorgeous and unusual wedding dress and we are obsessed with the beaded caged detail on the bodice. This is such a statement gown that none of your guests, or your partner will ever forget!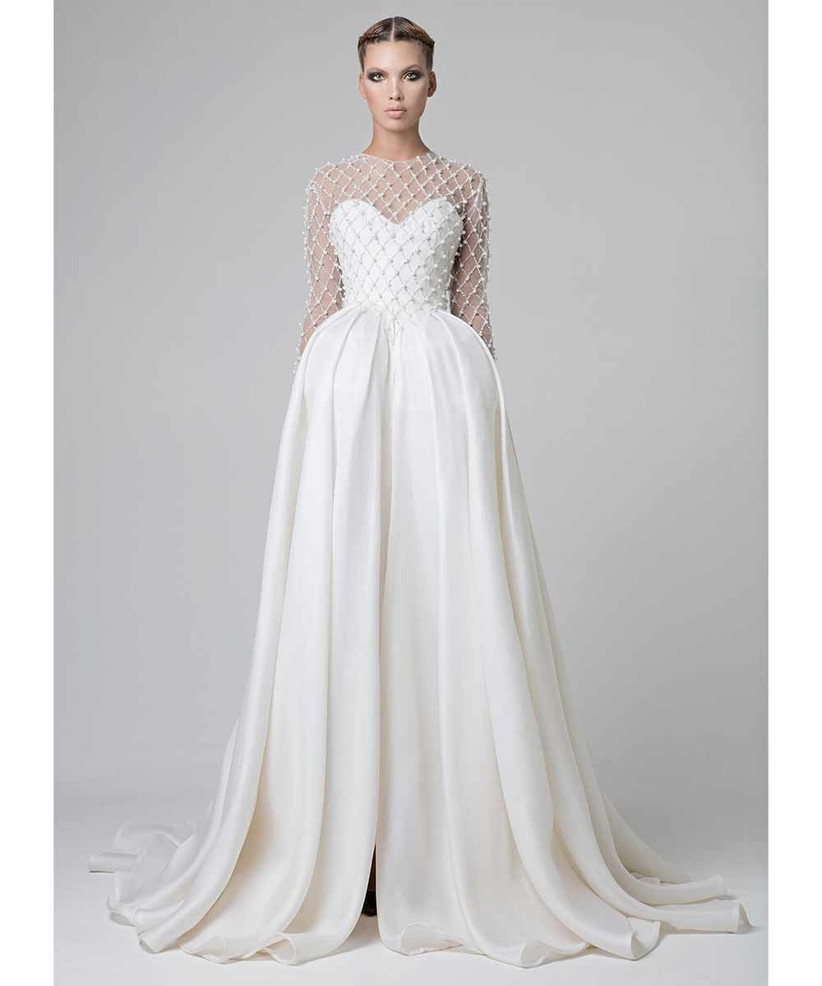 Justin Alexander – Style 8883
This pearl pink wedding dress designed by Justin Alexander is made in the most flattering shade. The soft blush colour and silver beaded embellishment are a match made in heaven and we love the classic shape and sweetheart neckline – they are the perfect choices for this particular dress.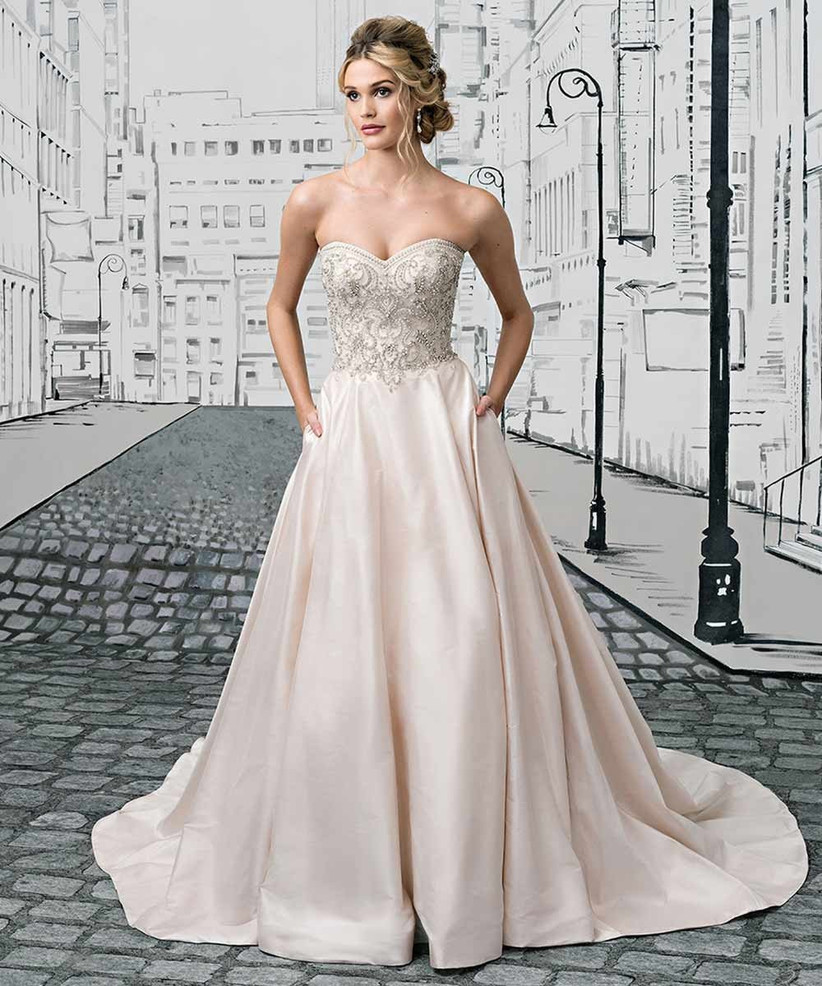 Paolo Sebastian
Just one of the many beauties from Paolo Sebastian's Gilded Wings collection, this fishtail wedding dress is a real treat. The shimmery metallic colours are so enchanting and will help any bride pull off a really glamorous look. We love wedding dresses with plunging necklines, they are perfect for brides who dare to go low and this is one of the best we've seen.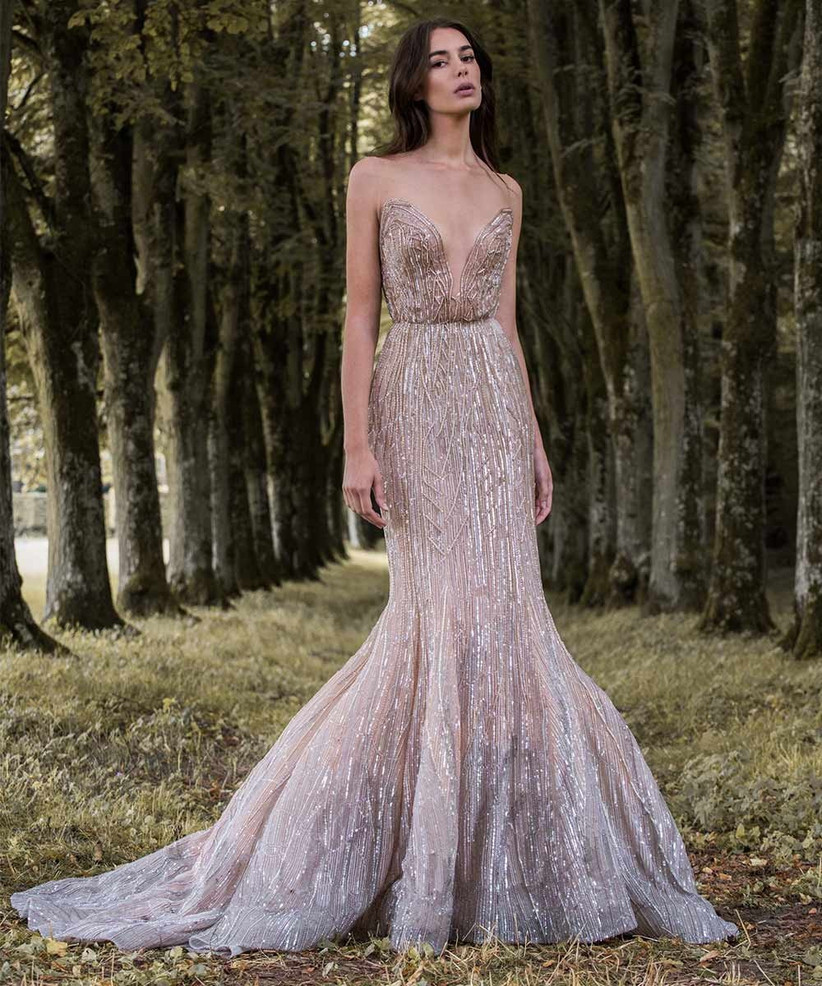 Justin Alexander – Style 9847
Looking for a ball gown wedding dress? Why not embrace your inner princess and grace your wedding day in this Justin Alexander design? The ruffled skirt has so much gorgeous volume and plenty of ruffles for a waterfall texture which contrasts beautifully with the beaded bodice. The illusion neckline is another detail which we love about this dress, it looks so amazing.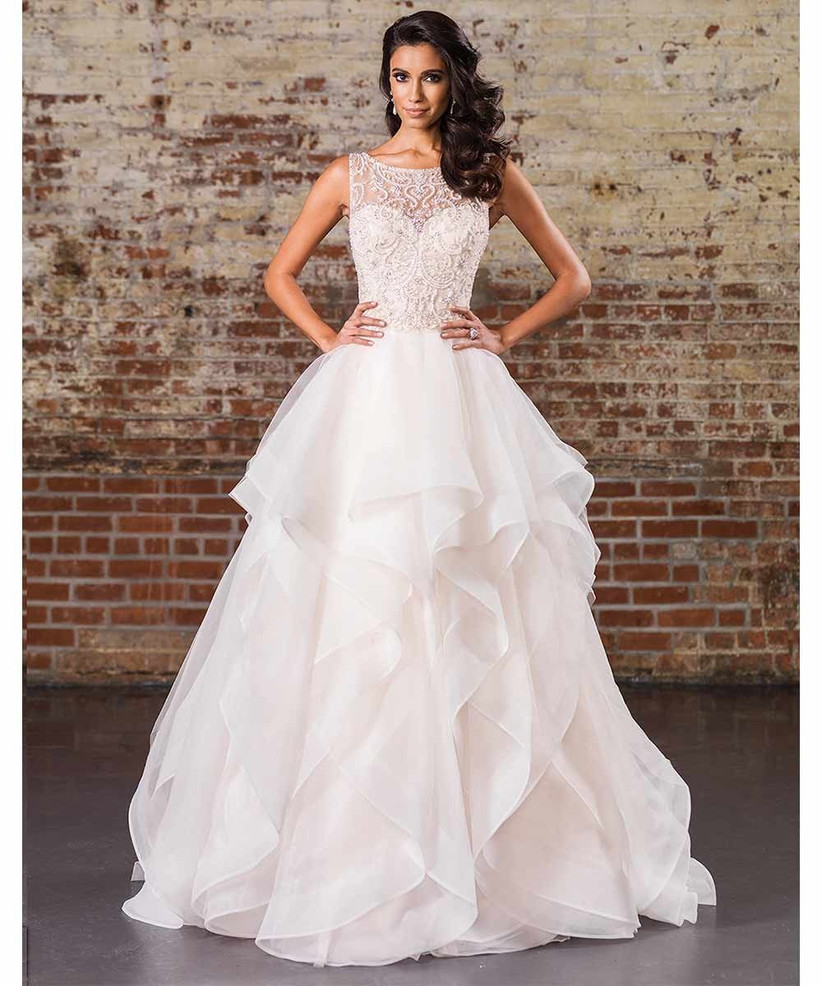 Anna Campbell – Coco
Are you planning a beach wedding? If so, this Anna Campbell style is the perfect beach wedding dress. The beautiful pearl coloured beads are set out in the prettiest shell patterns and the lace cap sleeves are an intricate and adorable detail that are the finishing touch this dress needs.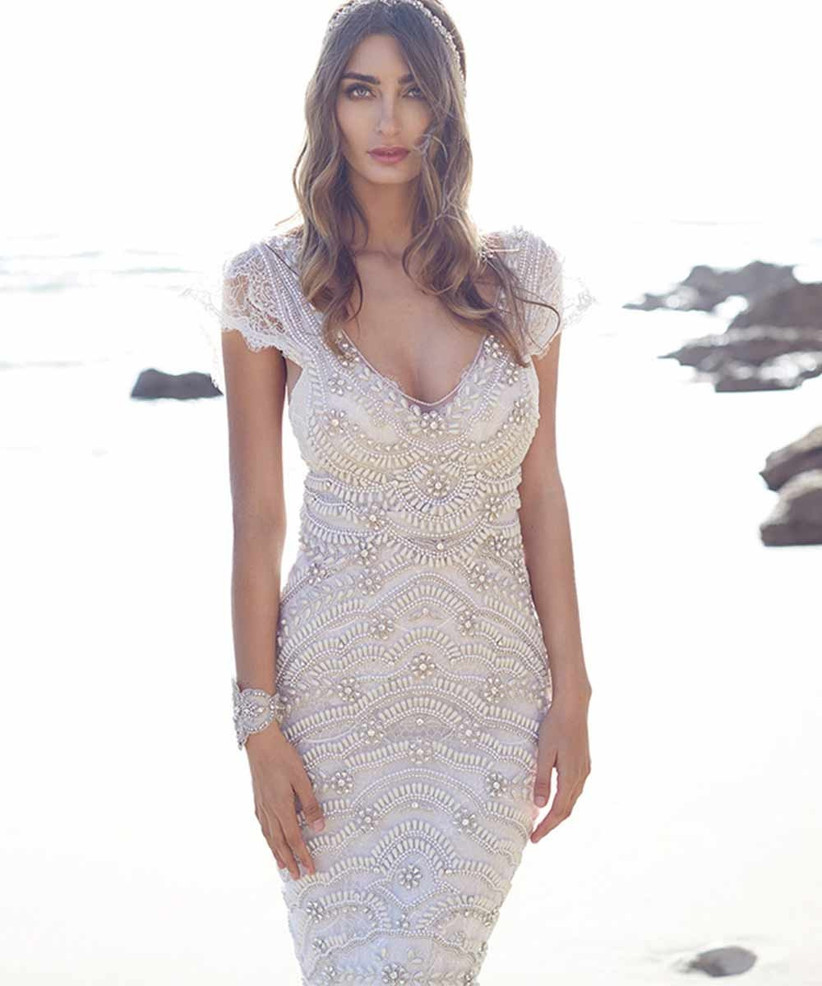 Elio Abou Fayssal
Looking for a stunning, but simple wedding dress? This Elio Abou Fayssal gown will tick all of your boxes. The simple shape and batwing sleeves are totally covered from head to toe in elegant white beads which make the entire dress glisten beautifully.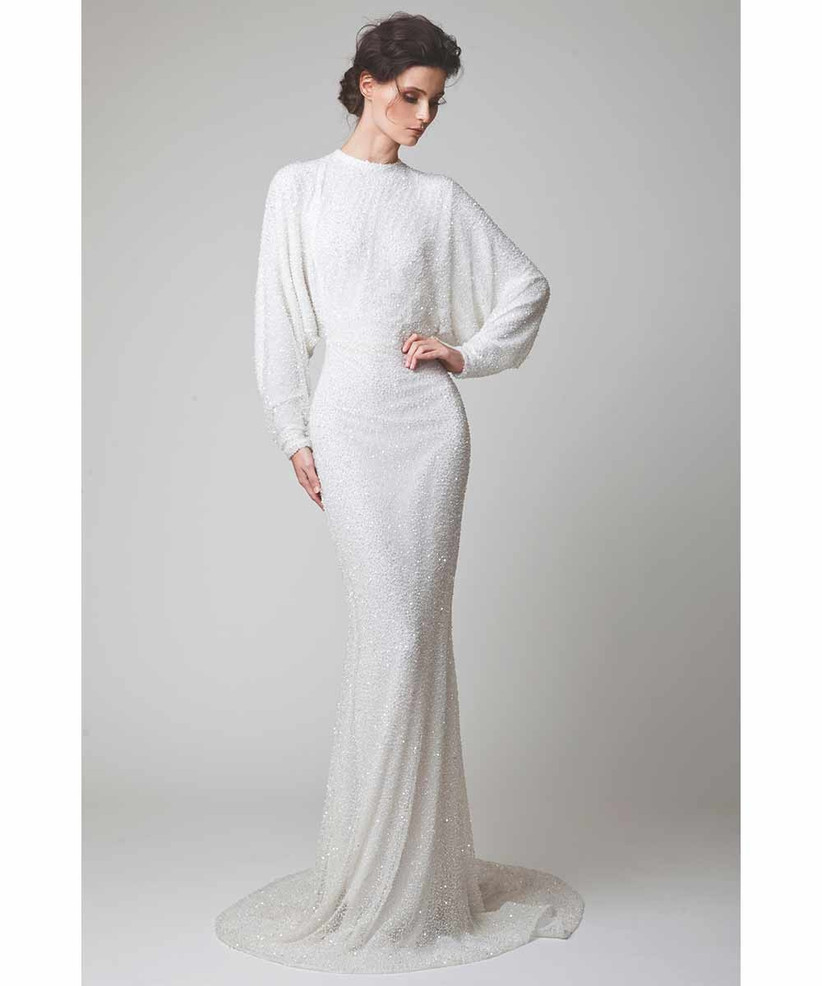 Pronovias – Olalde
Wedding dresses with amazing backs are something which so many brides search for, and when you come across designs like Olalde by Pronovias, you know you have found something special. The soft and easy-flowing fabric that the dress is made from will be super flattering and skim over your skin and the plunge back and beaded detail is what really takes it up a notch.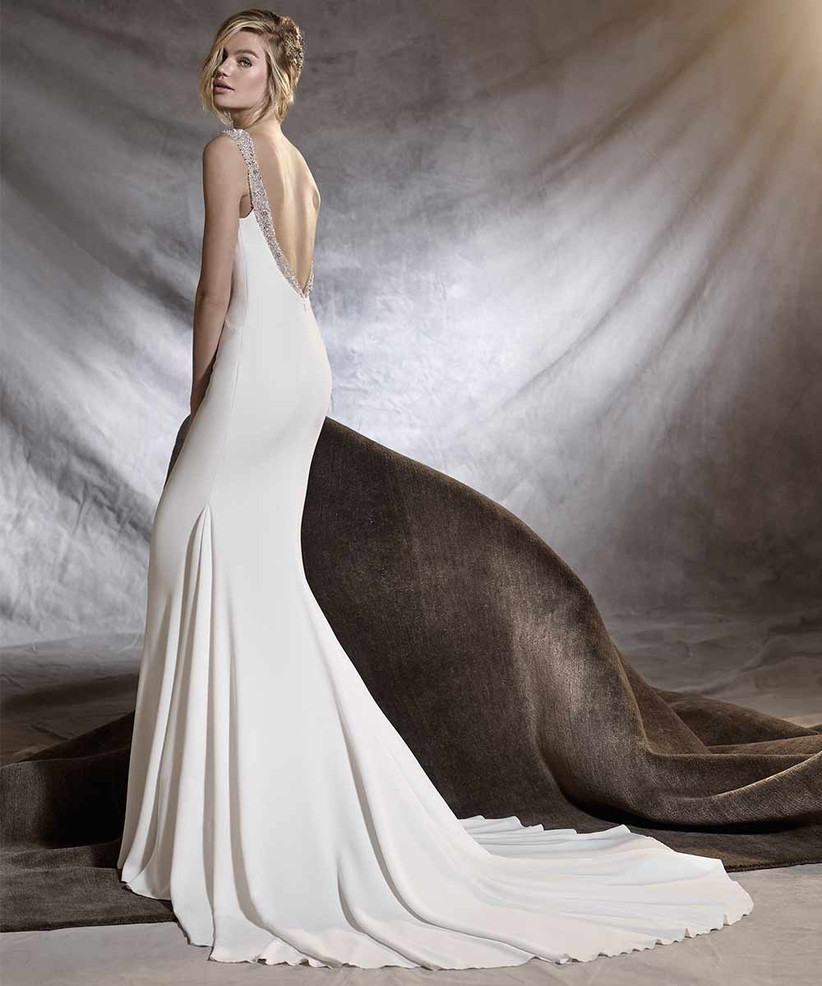 Justin Alexander – Style 9837
Brides looking for a beaded wedding dress with structure and a sexy shape, look no further. Style 9837 by Justin Alexander has all of these things and more, including a figure-flattering mermaid skirt and beautifully embellished cap sleeves.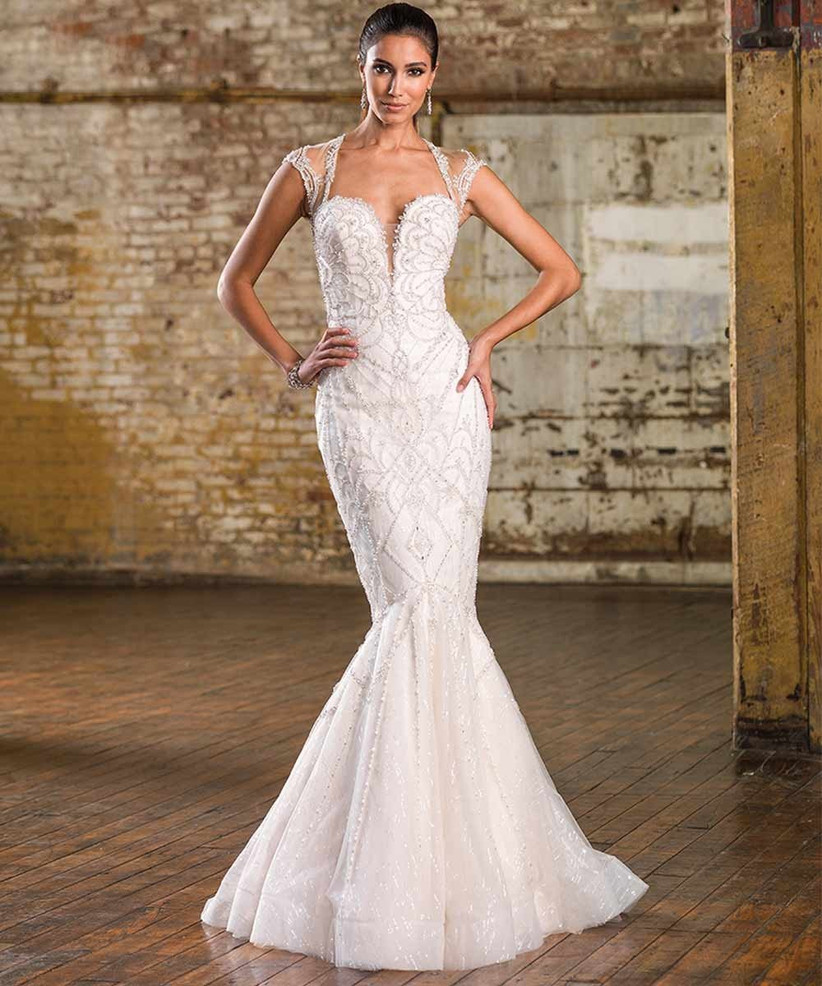 Jenny Packham – Nashville
Jenny Packham has designed the perfect bohemian wedding dress with extra glamour. The beaded detail has been used to create a whimsical and wonderful pattern and the added (best) detail of all is the illusion neckline which gives the design a real feminine touch.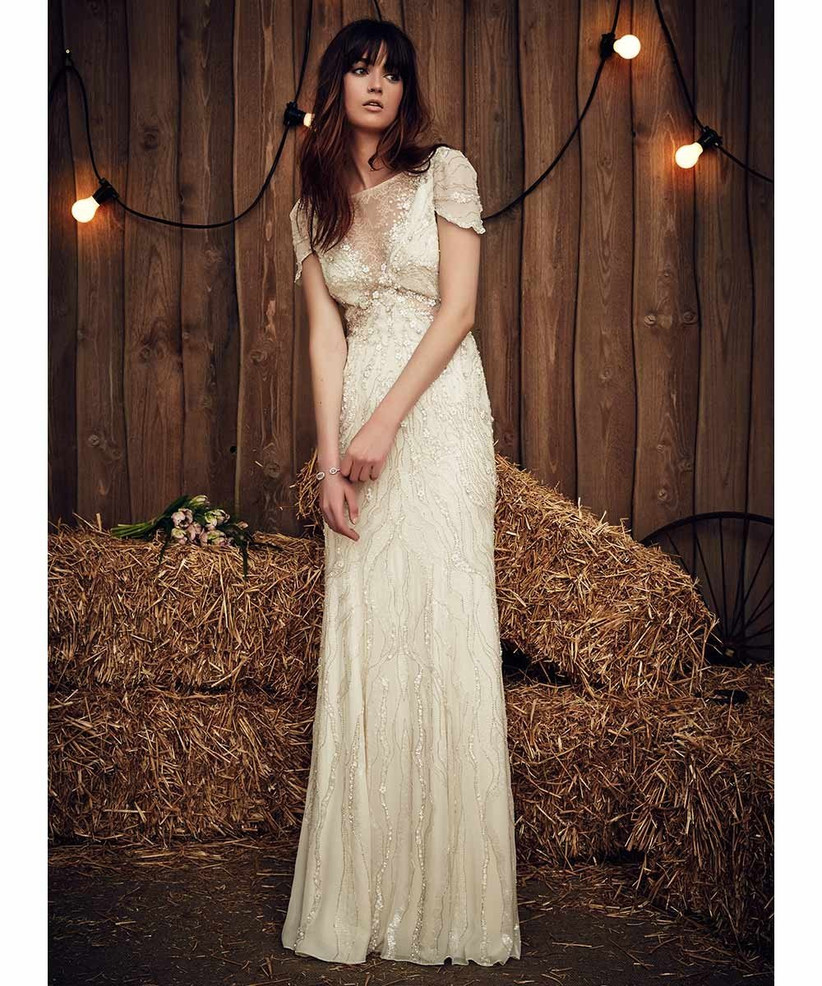 Anna Campbell – Adelaide
This Anna Campbell wedding dress has to be one of the most romantic designs we have ever come across! The chiffon skirt flows beautifully and is the perfect fabric to flatter the beaded detail that sits at the top half of the dress. The neckline is super pretty and leaves just enough room for a dainty piece of bridal jewellery.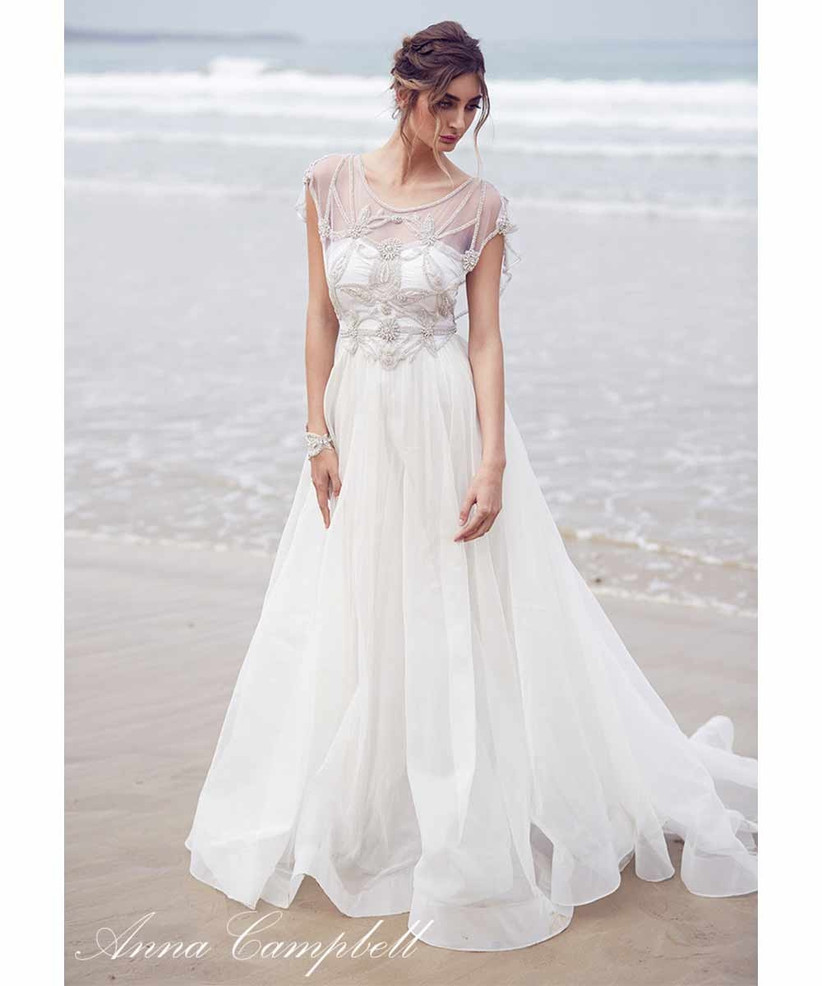 Elio Abou Fayssal
Gold wedding dresses are a huge bridal trend right now because they look so elegant and sophisticated. This Elio Abou Fayssal design is all of the above and more with its regal shape and tapestry-like texture. The rich gold colour gives a perfect background for the beaded bodice detail which lacks nothing in the style department!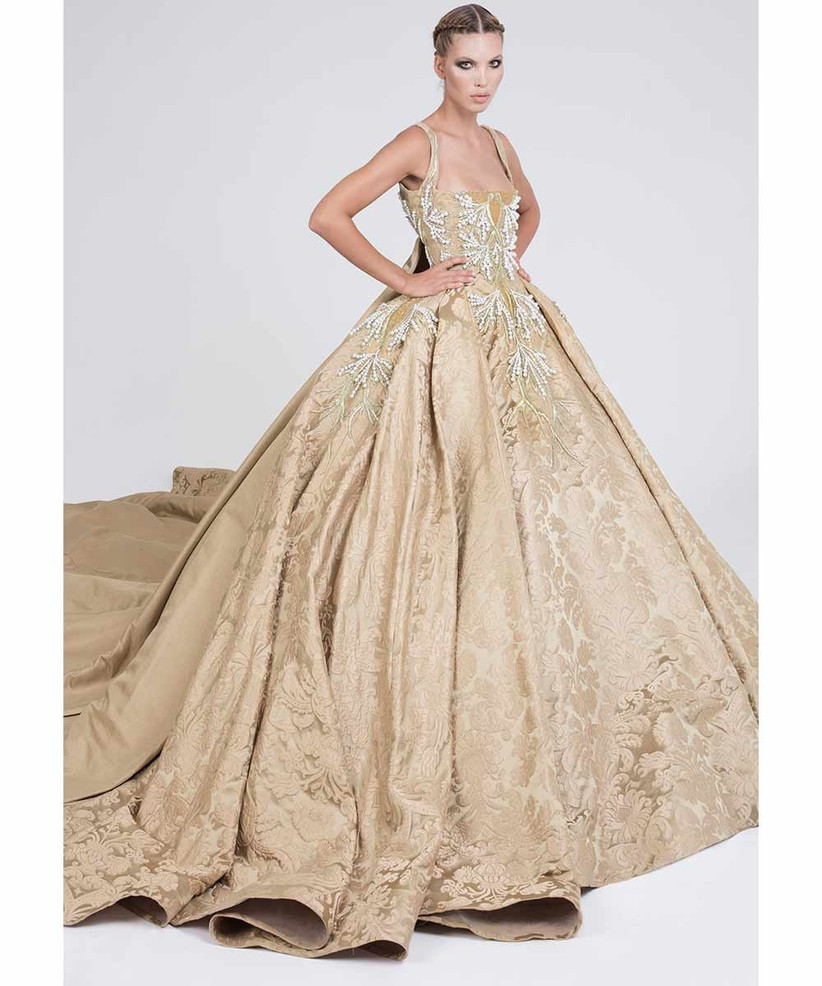 Justin Alexander – Style 8887
A classic and simply shaped wedding dress can so easily be transformed into something totally dreamy by adding embellishment and beads and that is exactly what has happened with Justin Alexander's design Style 8887. The sweetheart neckline and fit and flare shape are features which are highly sought after by brides and we can definitely see why! The attention to detail is second to none and we truly are in love with the entire design!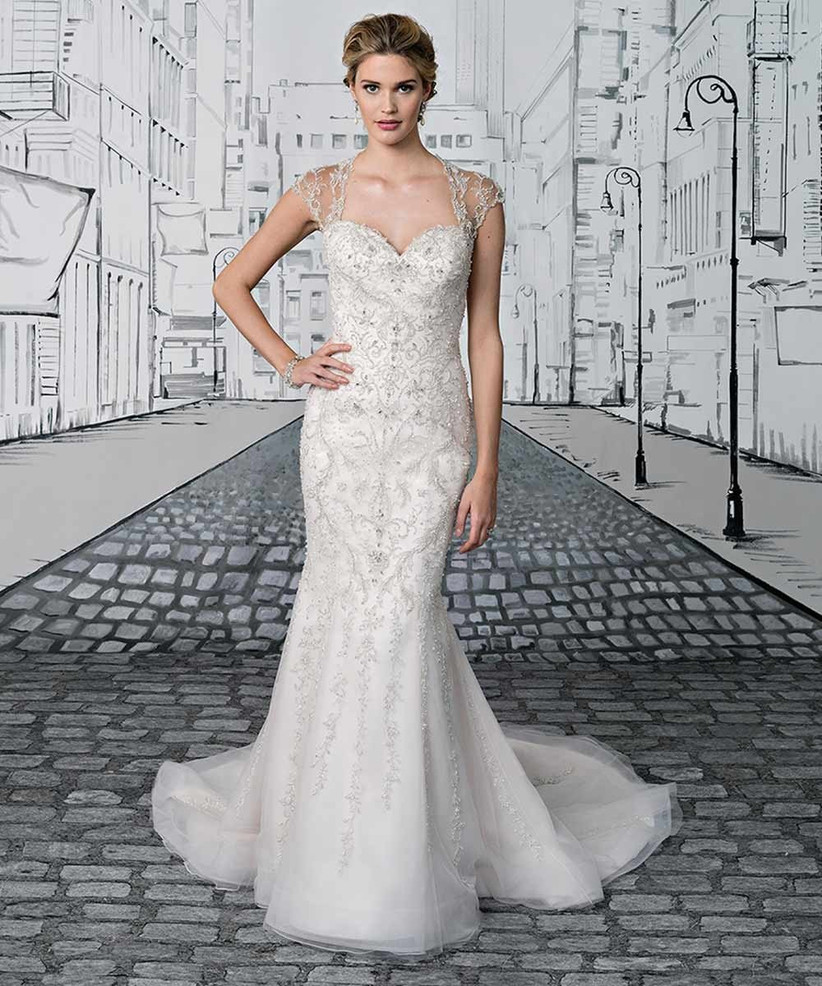 For more beautifully detailed gowns, check out our edit on embellished wedding dresses!