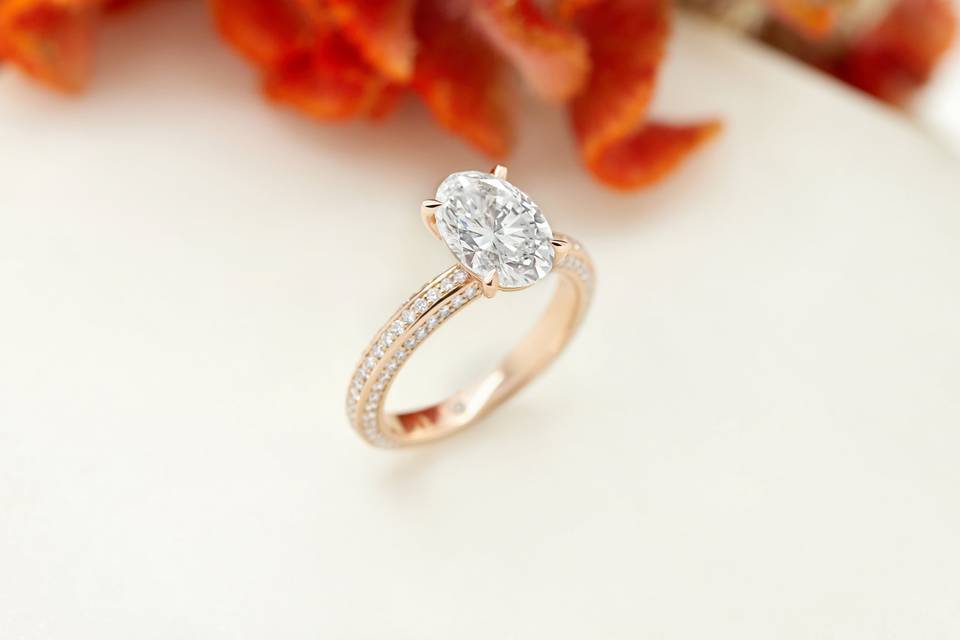 Your wedding ring is the most precious and personal piece of jewellery you're ever likely to own.
Whether you've been dropping your partner hints for months or you go together to choose the ring, the one you pick is going to be on your finger forever - so naturally it says a lot about who you are as a person.
There's lots of different decisions you'll need to make to find the perfect ring for you, from the shape of the gem, to the kind of stone, and the type of metal on your band. Will you go or a classic diamond or for something unusual like a ruby? Do you want an eye-catching halo ring or a sleek solitaire? Are you more rose gold than silver?
From statement rings to elegant classics, celebrity-inspired trends to quirky and original - here's what your dream ring says about you.
READ MORE:
Round Cut Ring
Allure Ring, Taylor & Hart
Worn by: Miranda Kerr, Emily Blunt, Kate Moss
Perfect for: Traditional, romantic brides
Round cut diamonds are the most popular cut for engagement rings, and have a timeless quality that stands the test of time. The faceting is designed to make the stone catch the light from every angle so you're guaranteed a dazzling sparkle. Often, there's an elegant, vintage feel to a round cut diamond too that emphasises their classic look.
If you're a magpie for anything shiny, a round cut gem is for you. You don't mind all eyes on you: you're sociable, confident, and reliable. A loyal friend and a true romantic.
Princess Cut Ring
Auric Ring, Taylor & Hart
Worn by: Jessica Biel, Sarah Michelle Gellar, Kate Bosworth
Perfect for: Wanderlust-fuelled adventurers
Probably the second most popular cut, a Princess shaped ring has clean, contemporary lines and is loved by modern brides. If you're drawn towards an alternative wedding dress or a jumpsuit, an edgy, square stone goes perfectly with it.
The shape is said to manifest energy, style and beauty - if it's your choice, we bet you're fun, spontaneous and embrace all that life has to offer you. You're drawn to people and things that are quirky and beautiful, and you'll thread that playful attitude into your wedding day celebrations. That said, your mind will constantly be going back to where you can travel on honeymoon. Adventure is calling!
Oval Cut Ring
Halcyon Ring, Taylor & Hart
Worn by: Blake Lively, Hailey Bieber, Scarlett Johansson, Kirsten Dunst
Perfect for: Those with a creative streak
Think classic with a contemporary twist. Oval rings have the shine and elegance of a round cut but with a little more originality. The elongated shape is ideal for those with short fingers as it makes them look longer.
Owners of an oval ring have a creative streak and are as sharp-minded as the sparkle of their ring. You have a daring, individual streak that sees you happily take well-calculated risks in life and in your wedding planning. You love one-of-a-king things, which means your wedding guests can expect lots of unique and DIY touches.
Emerald Cut Rings
Utopia Ring, Taylor & Hart
Worn by: Amal Clooney, Anne Hathaway, Beyonce, Jennifer Lawrence
Perfect for: Discerning design-lovers
If that roll call of A-listers with an emerald-cut ring doesn't make it clear enough, this ring style is seriously sophisticated. It's inspired by the Asscher cut (a super glitzy style that Pippa Middleton has), with a refined and effortlessly cool architectural edge to it.
Emerald-cuts tend to err on the understated side, due to the elongated shape and smaller amount of faceting. A woman with this on her finger loves minimalist elegance, and favours simple but sleek styling in everything from her outfits to her home. Your wedding will reflect this, and ooze clean, fresh, contemporary chic.
Marquise Cut Ring
Affinity Ring, Taylor & Hart
Worn by: Victoria Beckham, Catherine Zeta-Jones, Portia de Rossi
Perfect for: Those who move to the beat of their own drum
This design has royal roots: the marquise cut was reportedly commissioned by King Louis XV of France to resemble the lips of his mistress. As that would suggest, it's a bold, dramatic and elegant style that suits outgoing types who love to keep their friends and family on their toes. You're resolutely the leading lady in your own life story, and love being the star of the show.
The cut is also known as Navette, meaning 'little boat' in French. It's a true one-of-a-kind look and perfect for those who plan to forge their own path - whether that's in wedding planning, married life or their career.
Heart Cut Ring
Embrace Ring, Taylor & Hart
Worn by: Lady Gaga, Rochelle Humes
Perfect for: Sentimentals who wear their heart on their sleeve (or finger)
You can't make more of a proclamation of your love than a whopping heart-shaped rock on your finger. A heart-shaped ring is a real conversation starter and designed for those who love all the attention on them.
That's not a bad thing. You don't mind stepping outside the norm; you want to show off your love and share it with everyone around you; and you love a public show of affection that makes your partner feel like the most special person in the world. A true rosy-cheeked romantic with eyes only for the one you love.
Pear Cut Ring
Dawn Ring, Taylor & Hart
Worn by: Margot Robbie, Sophie Turner, Emily Ratajkowski, Katherine Heigel
Perfect for: Independent women, not afraid to express themselves
Remember when Carrie Bradshaw freaked out that Aidan planed to propose with a pear shaped ring on Sex and the City? How wrong she was. Pear-cut diamonds grace the fingers of some of the world's most chic celebs (and , FYI, slim wide fingers, which is very handy to know).
Pear-shaped diamonds are bold, alternative and have a raw, organic feel to them. Brides who choose that statement teardrop shape will be fiercely independent, larger than life, with a confident sense of style and self.
Cushion Cut Ring
Talisman Ring, Taylor & Hart
Worn by: Kim Kardashian, Priyanka Chopra, Hilary Duff, Karlie Kloss
Perfect for: Modern romantics
A cushion cut is a princess cut with curved edges that gives off true vintage vibes. It's classically romantic, delicately feminine and bewitchingly sparkly. It is firmly rooted in traditional style but hasn't lost its popularity over the centuries.
Wearers of cushion cut rings will be faithful friends, dependable and organised. You're sophisticated and glamorous; pragmatic and driven; feet firmly on the ground but with a good dose of fairy tale magic thrown in for good measure.
Coloured Gemstone Ring
Bespoke Ring, Taylor & Hart
Worn by: Katy Perry, Eva Longoria, Blake Lively, Heidi Klum
Perfect for: Fashionistas
If you want a trend-setting ring that'll stand out from the crowd, look to your favourite celebrity's left hand. Celebrities are leading the way with bespoke gemstone rings: Katy and Eva have rich red ruby rings, Hilary Swank rocks a huge emerald, Blake has a romantic light pink diamond, while Heidi's is an eye-catching canary yellow.
Bride who choose a coloured gemstone will be on the pulse of everything that's hot in the world of fashion. Your sense of style is the perfect mix of timeless and contemporary, and your wedding will be elegant and chic with a few seriously glamorous surprises to impress your guests.
Royal Family Replica
Bespoke Ring, Taylor & Hart
Worn by: Kate, Meghan, Eugenie
Perfect for: Traditionalists who love to make a statement
The Royal family have good taste in jewels and every engagement ring we get a glimpse of is completely unique - be it Meghan Markle's trio of diamonds to Princess Eugenie's coral-coloured padparadscha sapphire. If you're a fan of the Royal family's impeccable sartorial style, it's no surprise you might want to adapt their heirloom ring designs for yourself too.
What we particularly love is their preference for a big central stone, in either a halo or trilogy design. Meghan's was a diamond chosen by Harry from Botswana where they first went on holiday, while the Duchess of Cambridge has a stunning central blue sapphire in a ring once owned by Princess Diana.
Wearing a ring that replicates the Royals style is a sign you're a sentimental person, with strong family ties. You'll want your parents walking you down the aisle on your big day, and would love to wear an heirloom from your grandparents, be it a dress or piece of jewellery.
Fallen in love with pear shaped diamonds? Check out our favourite pear-shaped rings.