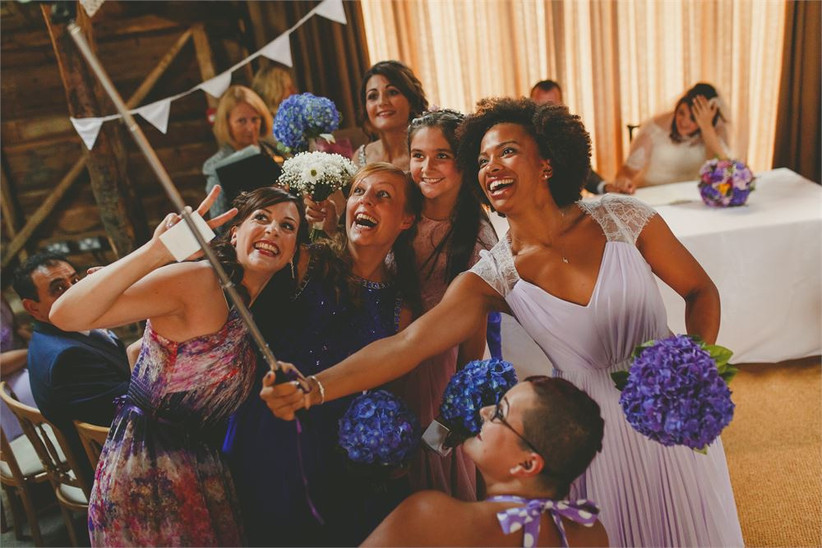 Whether you like it or not, there is one photographic trend which is taking over the world and that's the selfie.
Whether it's a long-armed picture, or a selfie stick, someone always manages to find a way to get everyone into the shot.
Although it's not putting wedding photographers out of business, the selfie is particularly popular at weddings and we have some of the cutest and funniest ones to show you.
Gorgeous Couple Wedding Selfie
This couple are beyond gorgeous and their wedding photographer has managed to capture a beautiful moment where they pose for a selfie. The smiles on their faces speak for themselves and we only wish we could get a glimpse at the 'relationship goals' picture that we're sure is being taken.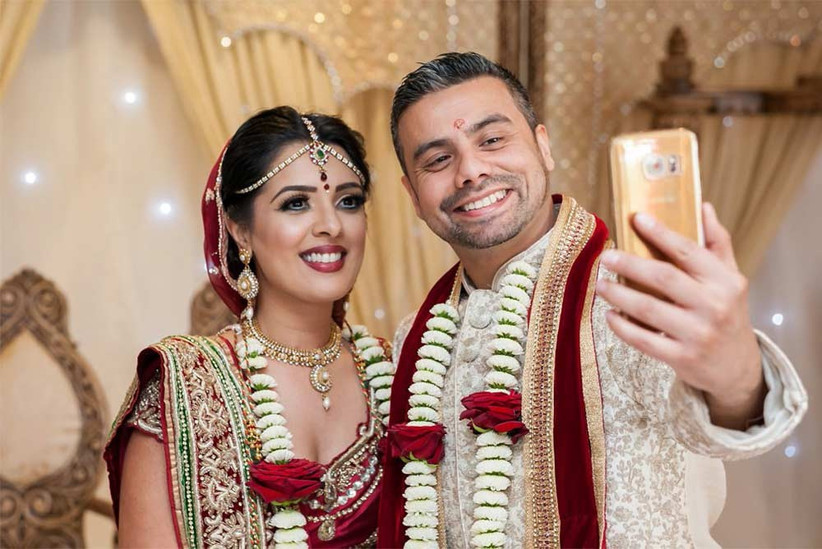 Image Credit: Kat Forsyth 
Guest Wedding Selfie
In this playful shot we can see the famous selfie stick being used to its full potential as bridesmaids and guests pose for a smiley picture where they all look delighted to be where they are. You can see the newly married couple in the background holding hands and soaking up the moment – such a lovely image.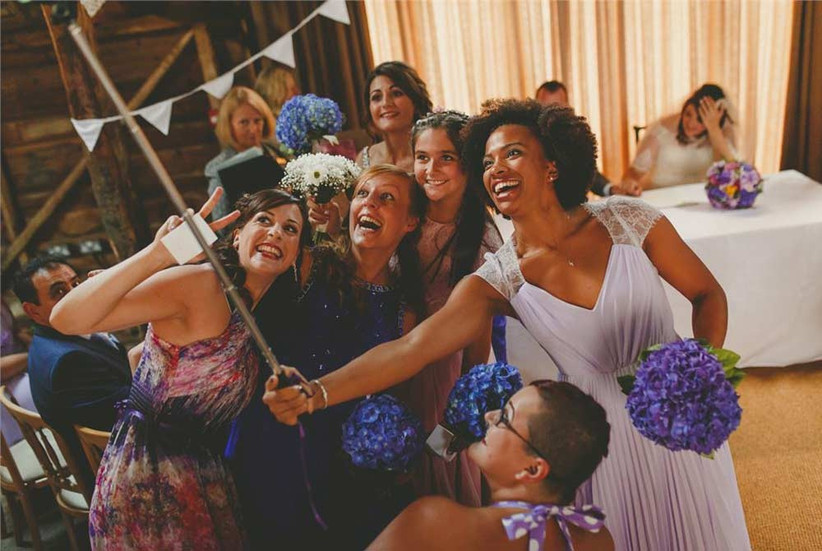 Image Credit: Benjamin Stuart 
Bridal Party Wedding Selfie
This stunning bride is an absolute vision, no wonder she wanted to nab a quick selfie with her bridesmaids and flower girls. They all look gorgeous and the black and white filter on this image brings out every lasting detail in their dresses, wedding flowers and overall wedding look.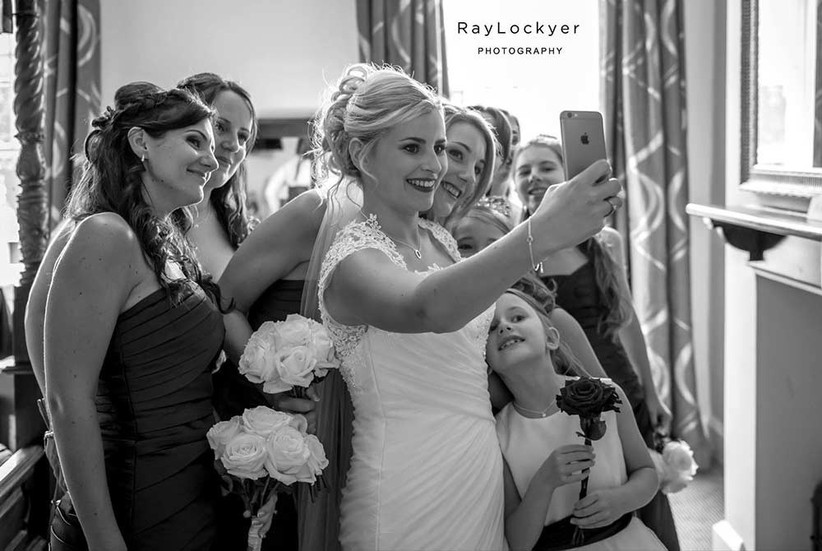 Image Credit: Ray Lockyer
'Lads' Wedding Selfie
These strapping gentlemen make for one hell of a groom's party. Their charismatic facial expressions and sleek grey suits really make this picture. The long-armed selfie technique is totally working for us, cheers to you guys!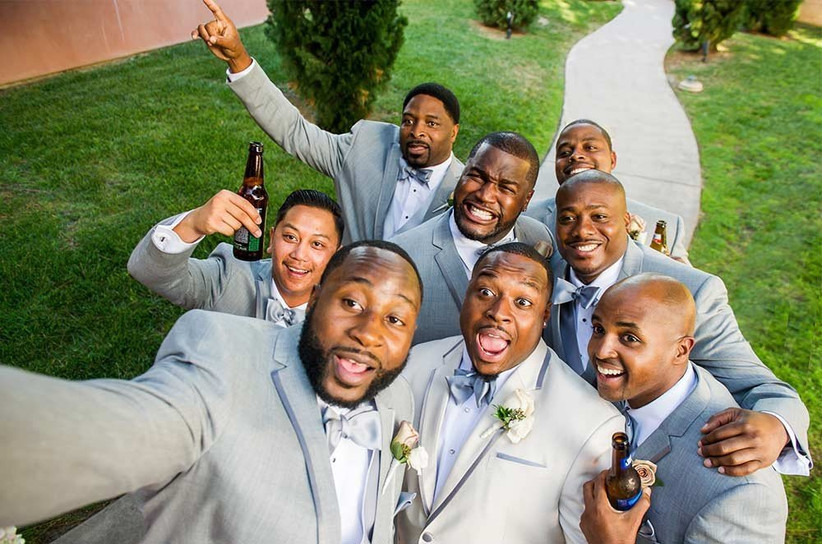 Image Credit: Martin James Photography 
Tom Hanks Wedding Selfie
Unless you like under a rock, we're sure you would have heard about the magical moment that the man, the myth, the legend, Tom Hanks crashed a couple's wedding. The famous actor was innocently out on a jog when he bumped into the bride and groom and asked for a selfie. If that isn't THE best wedding present ever, we don't know what is!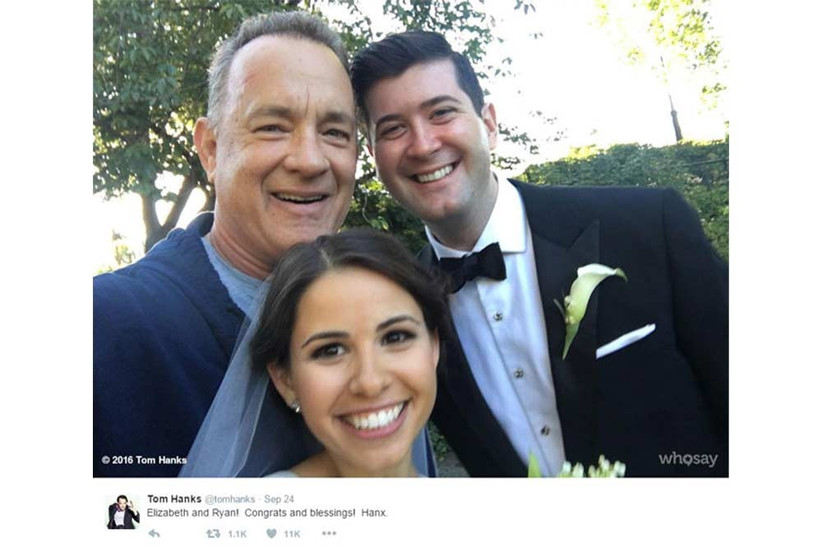 Pouting Wedding Selfie
The pouts and glam faces in this wedding selfie are so well done – these girls have definitely been practising. The bridesmaid and bride selfie is definitely a wedding moment you have to capture, especially when it looks as stunning as this.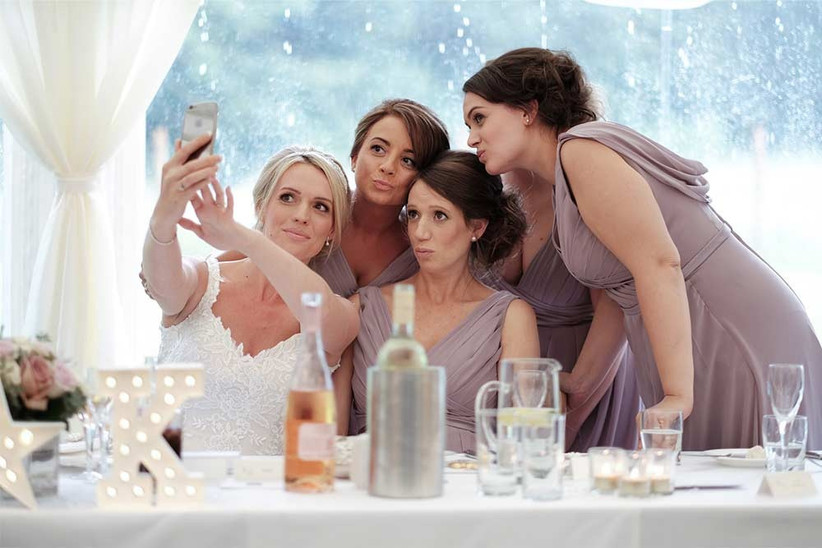 Venue Credit: Elvey Farm 
'Get the Party Started' Wedding Selfie
There always a time at a wedding where the party really starts and everyone gets up and grooves – and we are so happy this photographer caught this moment on camera. The award for the most energetic selfie ever definitely goes to this group of lively guests, we only wish we could have been there to enjoy all the celebrations, it looks like a super fun party.
Image Credit: Perfect Wedding Photography
Summer Wedding Selfie
Firstly, can we just say, this guy's suit is so cool, checked prints are so on trend right now. As for the selfie, well it's a masterpiece really. The selfie-taker has managed to fit everyone in and the group's poses are happy and up-beat, just what you want for a good old wedding selfie.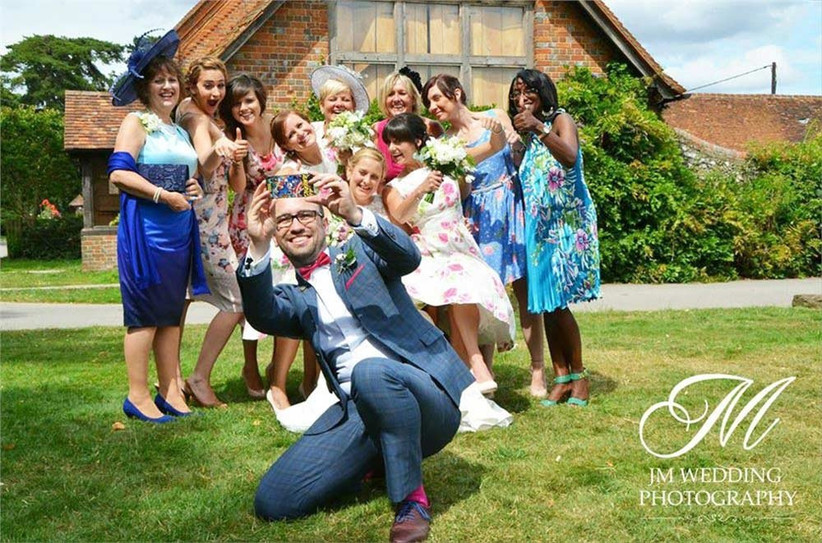 Image Credit: JM Wedding Photography
Fun Bridal Party Wedding Selfie
The all-important 'getting ready' pictures are a real must when you're a wedding photographer, and this bride seems to have the same idea. Her bridal party couldn't be more excited and we love the flower girl's cheeky expression. This is the kind of picture that the bride can cherish forever.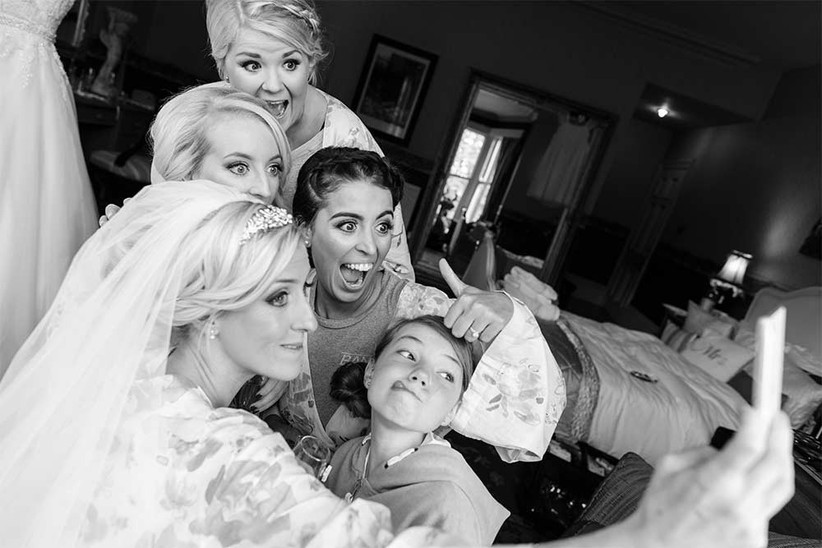 Image Credit: Tux and Tales
Big Group Wedding Selfie
The long-armed selfie is back and it's better than ever. We would even go as far as to say that we predict the end result of this selfie could probably rival that famous picture from The Oscars. The poses are just great and we can't help but 'aww' at the cutie at the front pointing – something else obviously had his attention!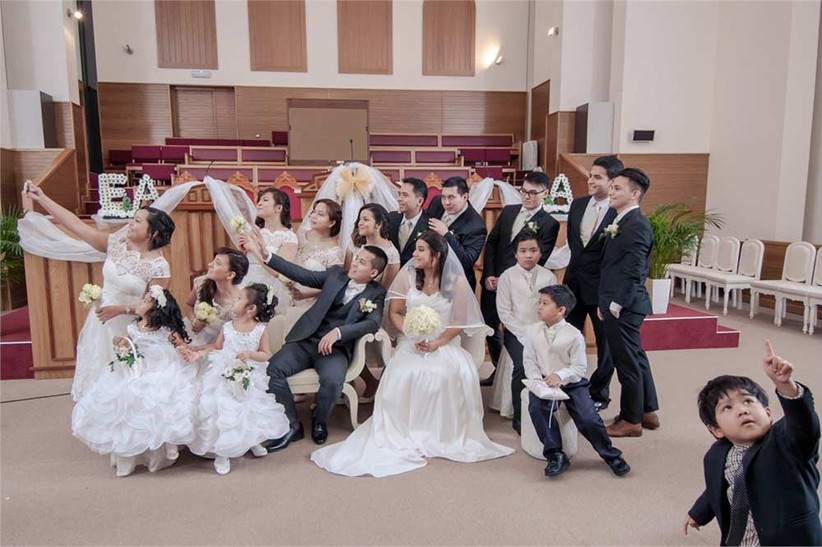 Image Credit: Sandra Reddin
'Just Married' Wedding Selfie
Out of all the people who need a selfie at the wedding, the bride and groom have to come up trumps and this one taken by couple Faye and Stu is just beautiful. They are a gorgeous couple who have taken an even more gorgeous 'first marital picture' that we just know they will always look back on with happy memories.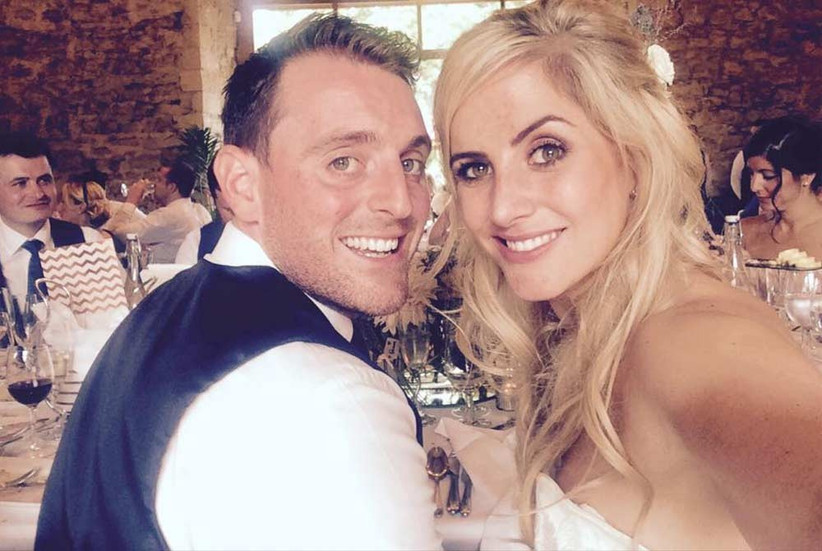 'At the Altar' Wedding Selfie
In the midst of all the wedding day goings-on, what better place to take a selfie than at the alter just before your bride-to-be walks down the aisle. This best man can't wait to capture the moment where he and the groom stand together in their finest wedding suits. They couldn't look happier and those cheeky grins speak for themselves.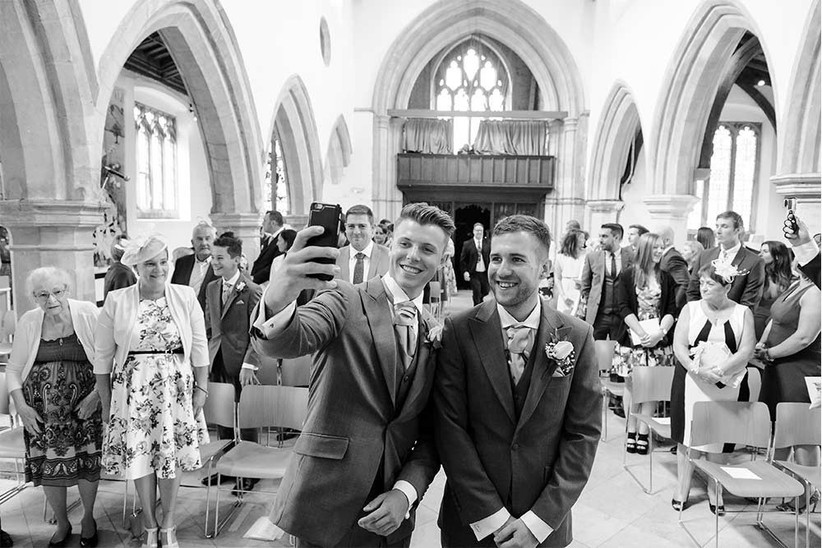 Image Credit: GN Photo Art
Smiley Wedding Selfie
Firstly, we couldn't ignore this bride's style. Her vintage headwear and lace Victorian-style wedding dress creates such an elegant look and we're not surprised how keen her newlywed husband was to snap a picture.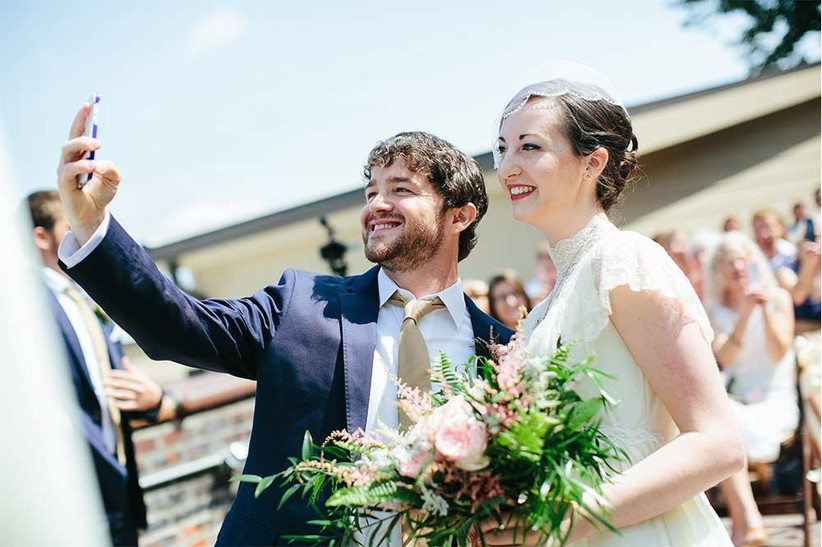 Image Credit: Alex Bee Photography
Bridesmaids and Bride Wedding Selfie
Another gorgeous picture of a bride with her bridesmaids and it's stunning. They all look in high spirits and we're sure that this will be a selfie to remember!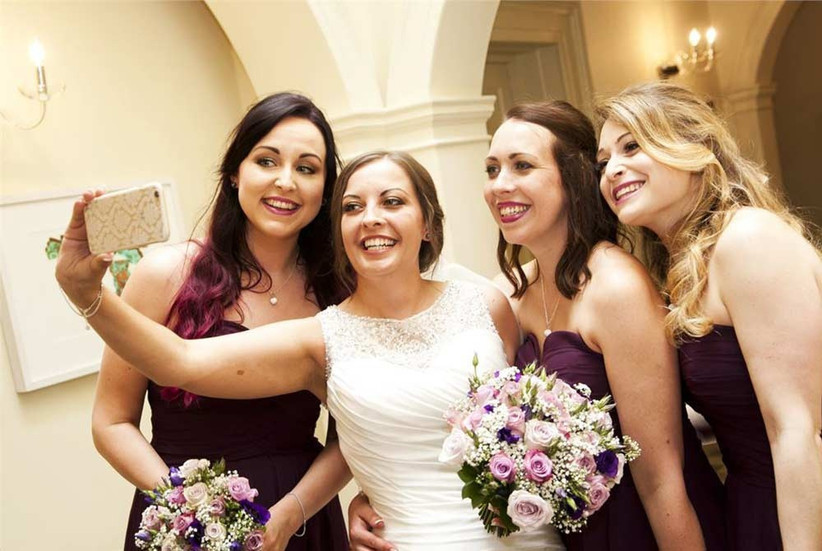 Image Credit: MJB Photography
Funny Faces Wedding Selfie
This is a hilarious wedding shot that could bring a smile to anyone's face. The selfie-taker is super keen to get the best picture possible, and all the poses are brilliant. From the bride's sassy pout to her bridesmaid's comical expression, it all comes together to create such a fun shot.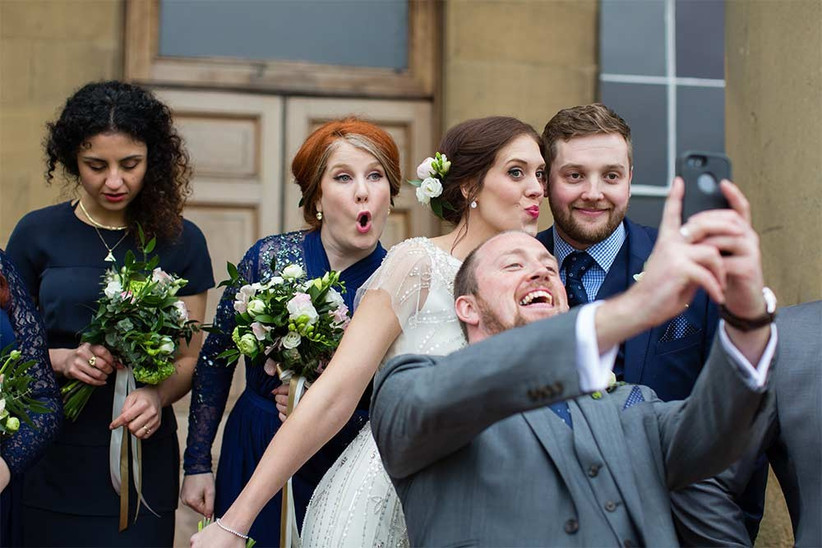 Image Credit: Tux and Tales 
Dapper Groomsmen Wedding Selfie
Getting all the boys together for a quick wedding selfie is a must and these men are bringing out their best smiles for the photograph. Looking dapper as ever, we love this shot and the black and white filter on the photographers image makes it look even more sharp and smart.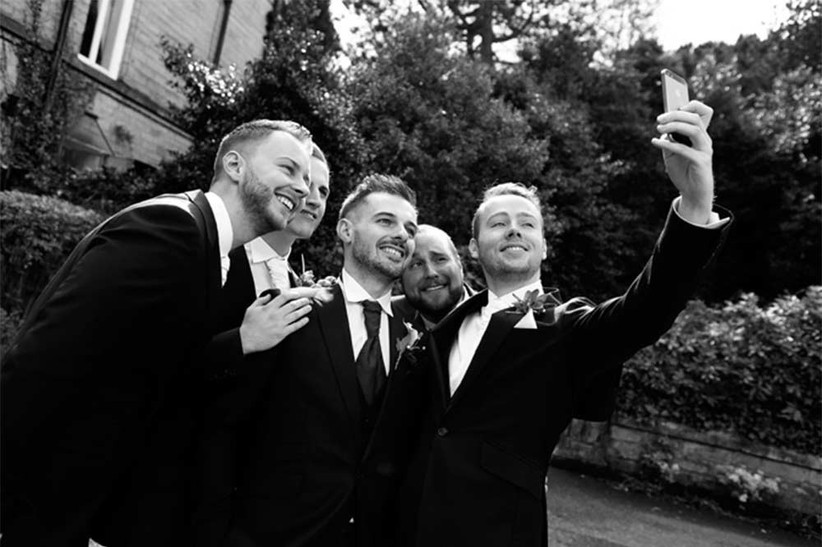 Image Credit: Stephen Redfern
The Stretch Wedding Selfie
The Hitched award for best effort in selfie taking goes to this gentleman. The concentration on his face and his leant-back stance will all pay off when he gets each and every one of his fellow models into this selfie. If you're reading this now, we want to see the end result… Such a brilliant shot!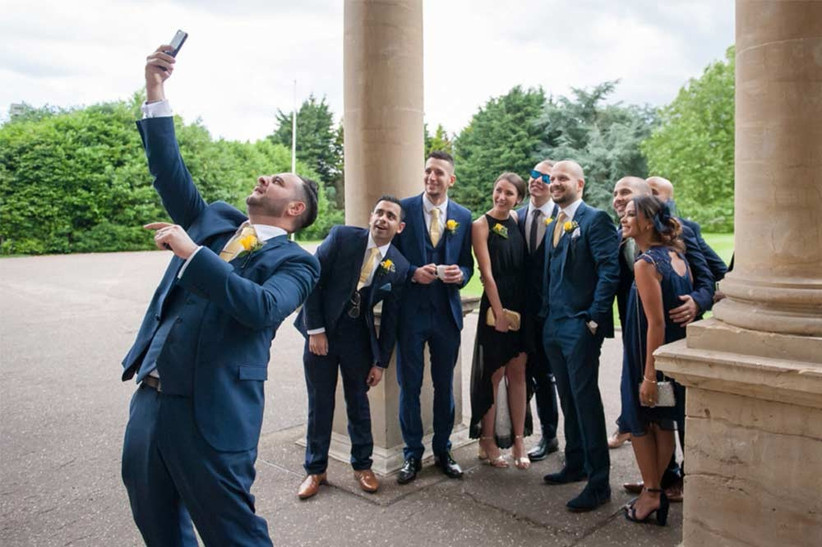 Image Credit: Kat Forsyth
To ensure you get even more great and hilarious pictures taken at your wedding, have a look at our brilliant selection of fun and unusual photobooths!