Tips on Choosing Your Wedding Rings
Picking your wedding rings is a serious task - make sure you consider everything so you have the best wedding rings for you!
We have included third party products to help you navigate and enjoy life's biggest moments. Purchases made through links on this page may earn us a commission.


It is customary around the world for married couples to wear wedding rings as a symbol of their love for each other. Below are our top ten tips on how — and when to choose the wedding rings you'll love and wear forever.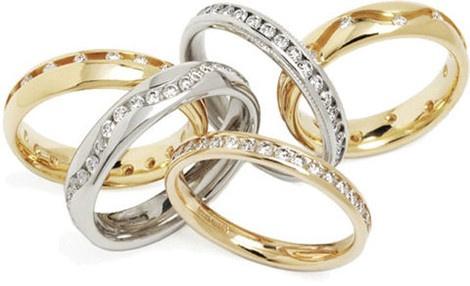 Wedding rings by Taylor&Co
Budget
When setting your overall wedding budget, be sure to include wedding rings. Seeing as you'll be wearing your wedding rings forever, it would be nice to spend a little bit more than you would compared to your regular jewellery.
Shop as a Couple
During your wedding planning some decisions may not be done as a couple, but choosing your wedding rings should be. Dedicate a weekend or two to shopping for your wedding rings and try and visit more than one jeweller so that you see different styles and variety before making a final decision. You may not choose to wear a matching pair of wedding rings, which is absolutely fine. It is traditional for the bride to buy her groom's wedding ring and vice versa, so make your wedding ring shopping trip as fun as possible.
Choose from Home
Some companies prefer to bring their selection of wedding rings to your own home. If you prefer this option of shopping then choose a date and a time that suits you both as a couple. This is a great option if you don't like shopping on the high street, and you'll be given the un-divided and un-interrupted attention of the person showing you the different designs.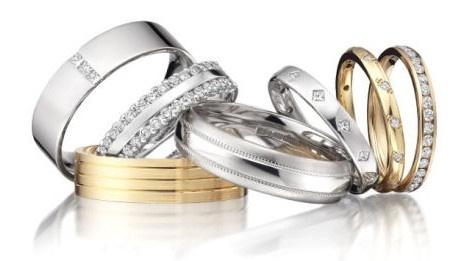 Wedding rings by Taylor&Co
Consider Shape and Size
Wedding rings come in a variety of different shapes and sizes. For the groom, different metals and styles may be a factor, and for the bride, careful consideration needs to be take, especially if you have an uncommonly shaped engagement ring. If the groom is not used to wearing a ring or has never worn a ring in the past then it might be an idea to have a wax mould created to wear for a few weeks. This will give the groom an idea of what shaped ring he likes and how comfortable the ring feels. Bespoke jewellers will be able to help, guide and advise on what metals and styles are the best when it comes to your wedding rings. You could also consider visiting a bespoke wedding ring jeweller if you plan on melting a vintage wedding ring or turning a family heirloom into something special for your own wedding.
Choose the Right Metal
Years ago wedding rings were mainly purchased in a classic gold style, however now a days wedding rings can be designed in a number of different materials. For the bride it's common to choose a metal to match your engagement ring as it will look lovely in photographs and for the groom, something stylish and sturdy could be a good option. Material options for wedding rings include gold, white gold, rose gold, silver, platinum, palladium, titanium and zirconium to name a few. Prices will vary depending on the style and weight of metal you choose so consider this when discussing your initial budget.
Comfort is Key
Your jeweller will have a special ring size guide so that you can measure exactly what size your wedding rings will need to be ordered in. The size of your finger may change over the years, but having your wedding ring re-sized is always an option in the future.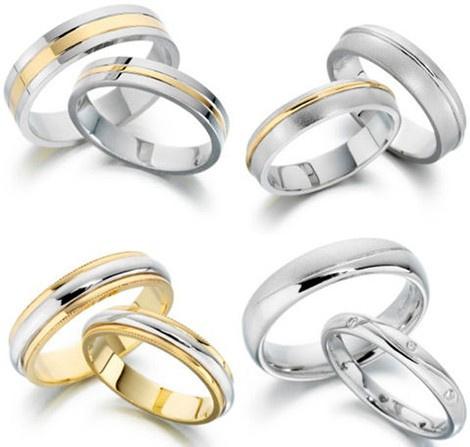 Wedding rings by Taylor&Co
Shop for Your Rings Early
Some wedding rings need to be ordered or made bespoke. Plan to shop for your wedding rings around 6 months before your big day, just to ensure you have enough time ahead of your wedding.
Love What You Buy
You'll be wearing your wedding rings forever so be sure to love what you buy! If you have any doubt then consider shopping around before making a final decision on your purchase.
Don't Forget Wedding Insurance
Before you spend any money on your wedding, including your wedding rings, consider purchasing wedding insurance — just in case something goes wrong. However, once you're married, it is advisable to include the bride's engagement rings, and both wedding rings on your house hold insurance, just to protect you in case they get stolen or go missing in the future.
Don't Forget Your Rings on the Day
If the Best Man is going to be in charge of looking after your wedding rings on the day of the wedding then make sure he is aware of his role and responsibility. If you're having a page boy carry your wedding rings down the aisle on a ring cushion then be sure to leave someone in charge, as you'll be busy getting ready for your big moment.