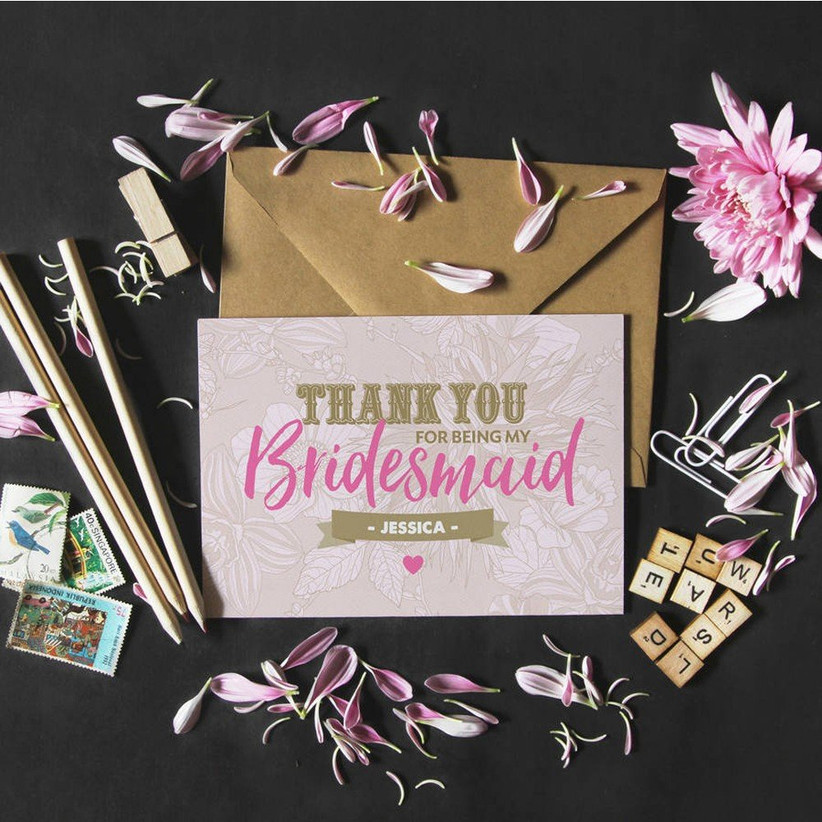 Planning a wedding can be very stressful for the couple, but there are so many other roles that are played by the ones close to you.
Once you've put together the ultimate bridal squad, andthey have fulfilled their duties, it is then time to say thanks.
These wedding thank you cards are the perfect way to show your appreciation and thanks for everything that they have done.
Bridesmaids Thank You Cards
Emma Moore Illustration do a gorgeous bridesmaid card with pretty Gold writing in the most gorgeous font. We love the purple flower décor too.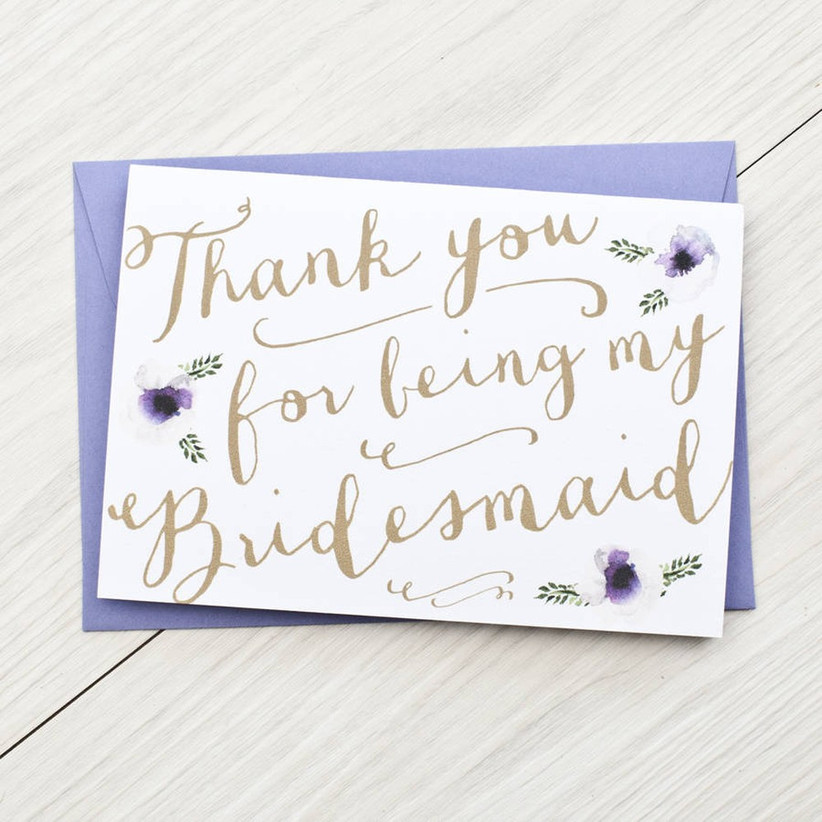 If we were a bridesmaid, we would love to receive this card from Joanne Hawker. It's made in a super nice colour with floral detail that would put a smile on anyone's face.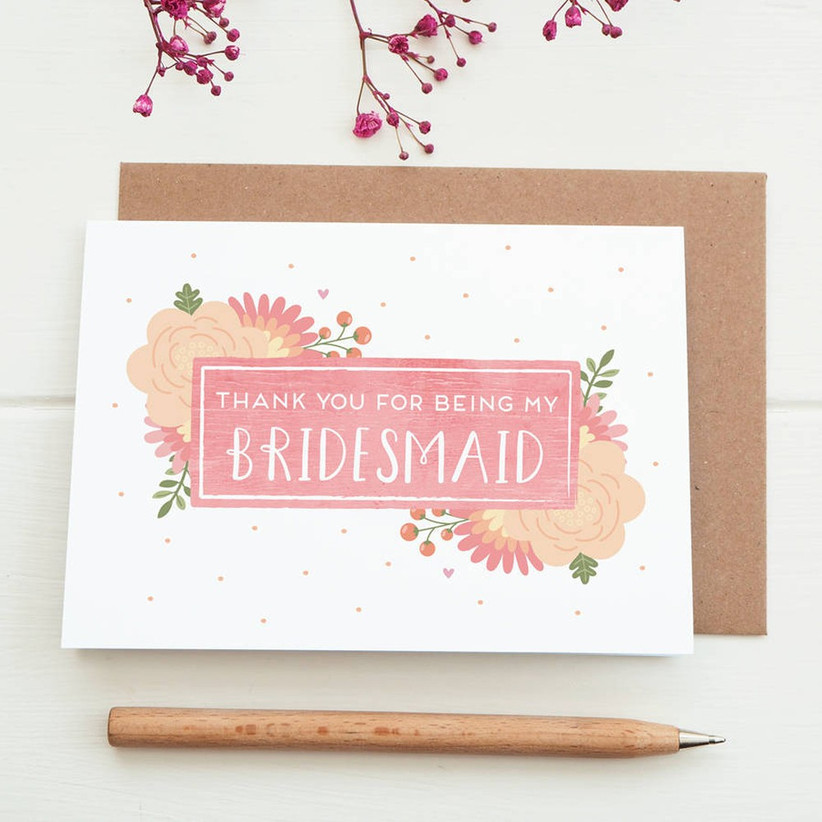 We are loving the humour in this card. If your bridesmaids aren't one for soppy messages, this creation from White Hanami could be the perfect pick to thank them with.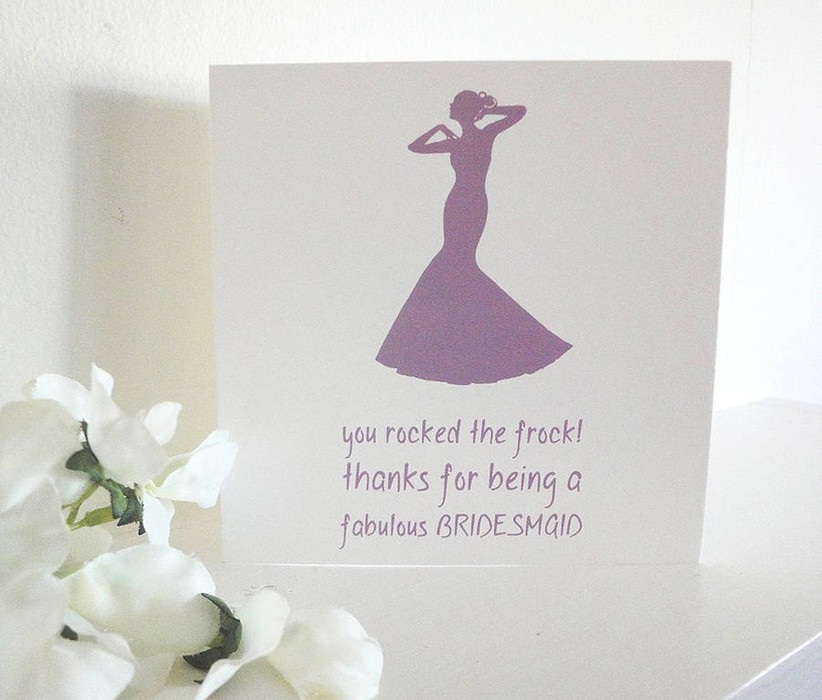 The fact that this card from Claire Close has no words on the front makes it extra special as the cute illustration says it all. It is stylish and sleek and perfect for brides with simple taste.
Thank your girls with a bit of glitz and send them this Love Give Ink card. The super cute personal touch will have any of your girls tearing up when they open it.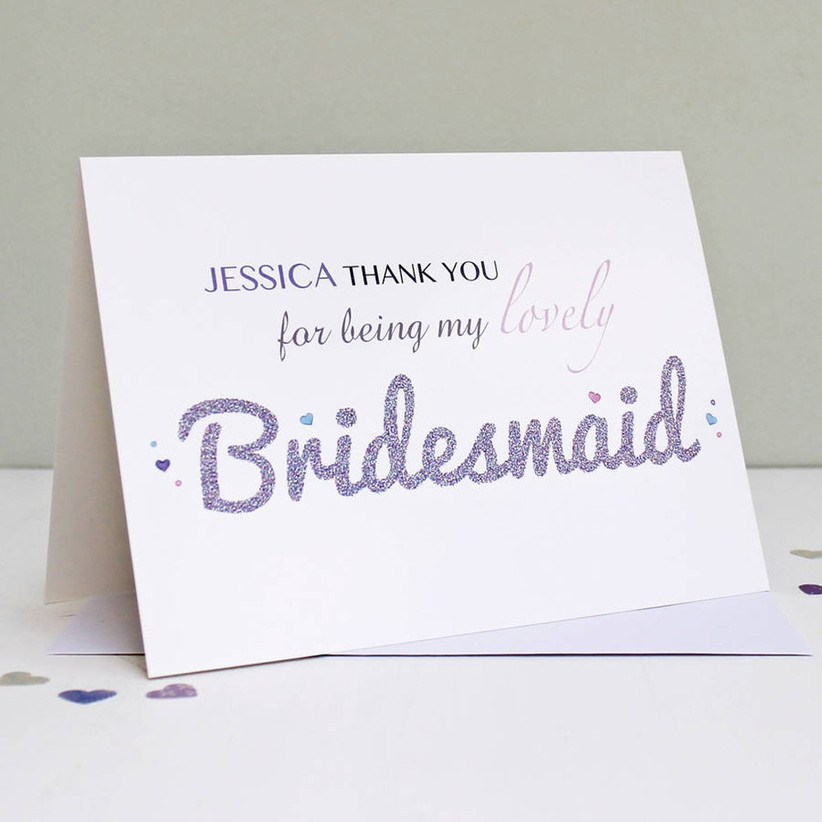 Your bridesmaids will giggle when they open this card from Slice of Pie Designs. What a 'bobby dazzler' they were! The simple writing is all the card needs as the words say it all. We love the black and pink colours too.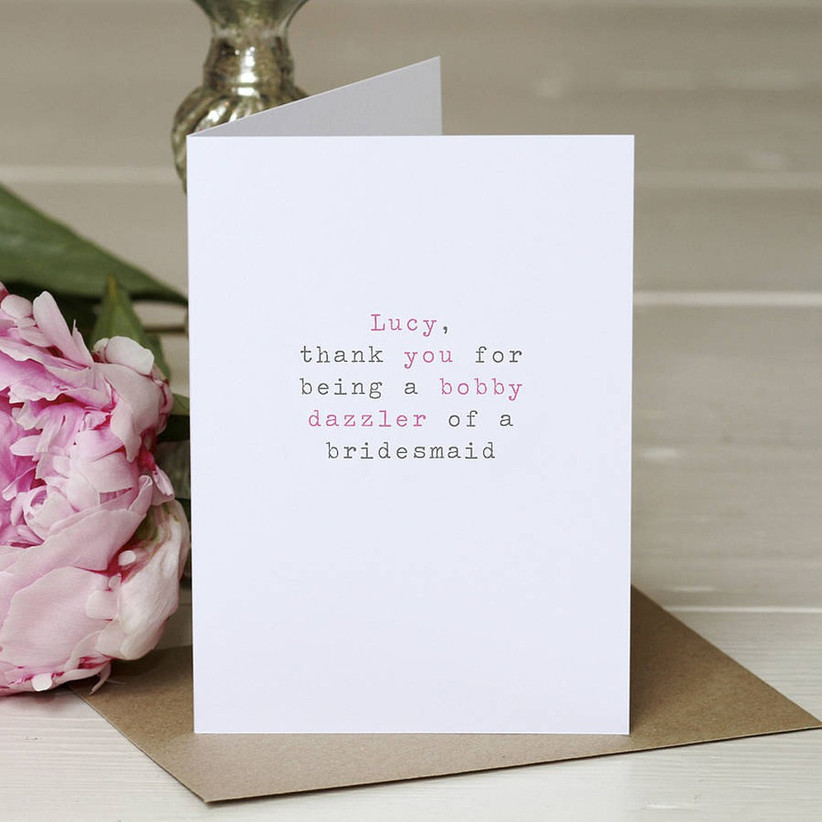 This card from The Two Wag Tails is super special because you can personalise it. Not just with the name, but with the date of your wedding too. The thankyou's are left for you to write on the inside so don't hold back!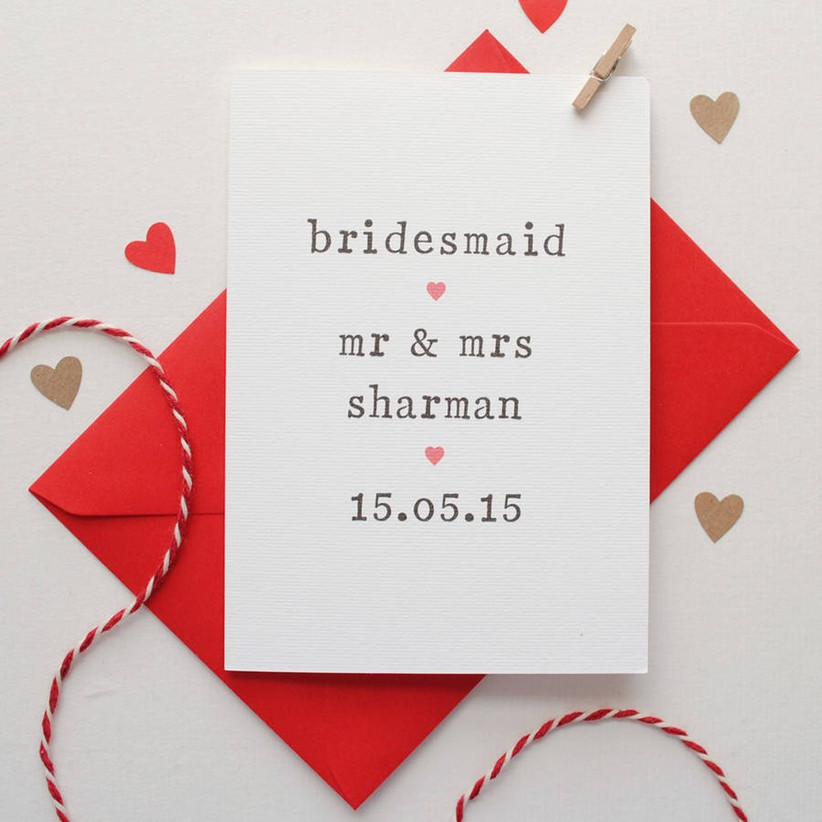 We love the glam-factor with this thank you card from Love Paper Co. Bridesmaids who sassed it up at your glamorous wedding with their killer style and attitude need this card in their lives. It is shimmery and desirable and we can't stop staring at it.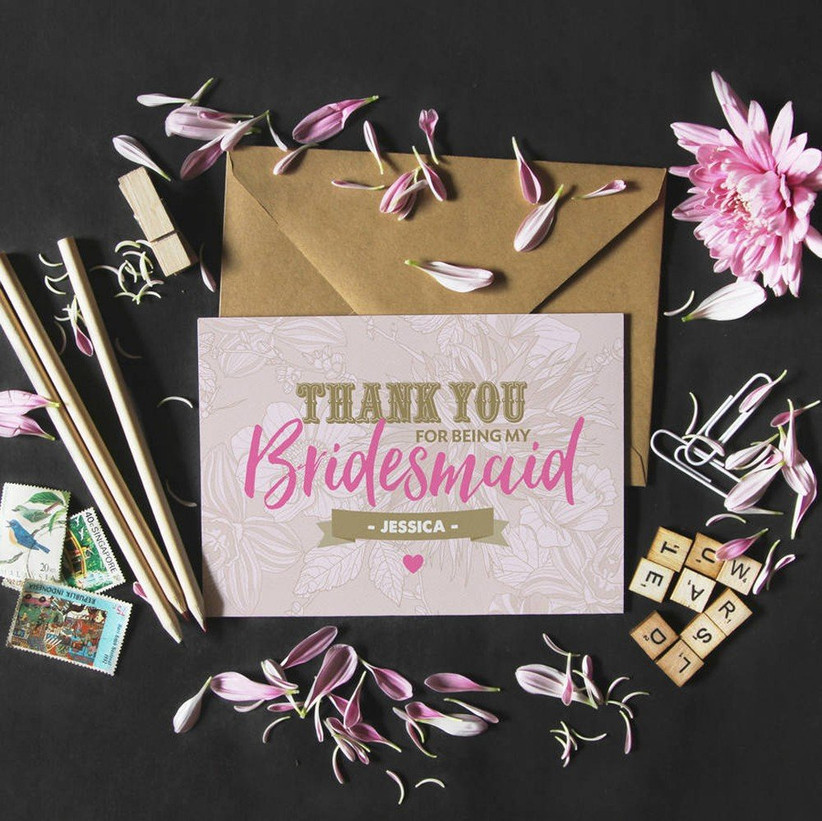 Flower Girl Thank You Cards
Love Give Ink does a beautiful botanical personalised thank you card for the little princess who you had as your flower girl. The design is whimsical and has lots of pretty foliage as adornment.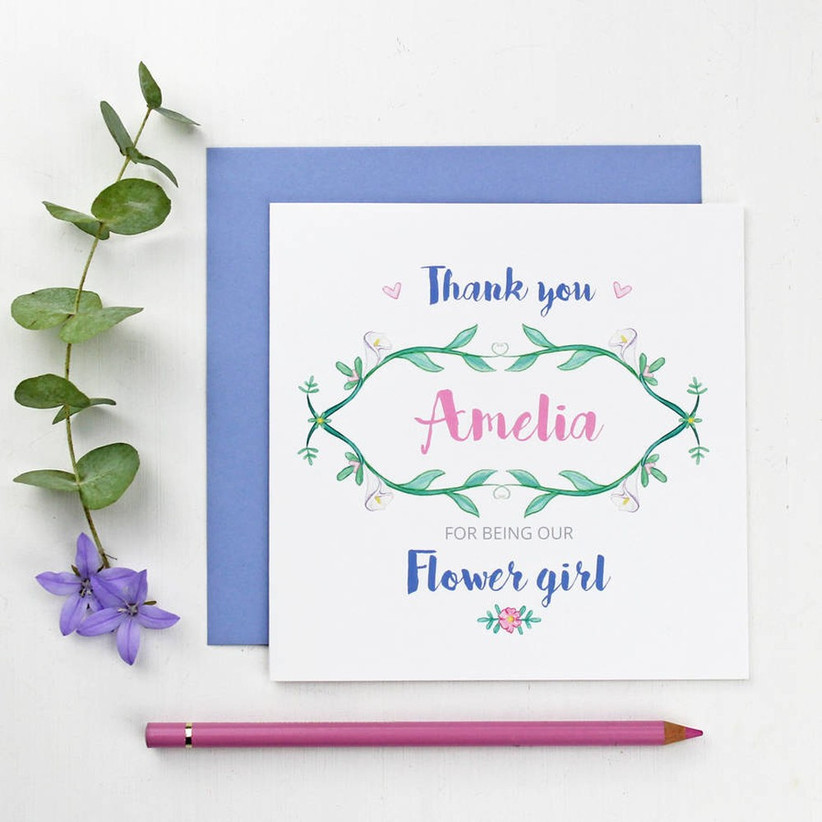 Emma Moore Illustration and Design offer a hand-cut card with all the flowers you could wish for on it. Who wouldn't want to receive this in the post? We sure would.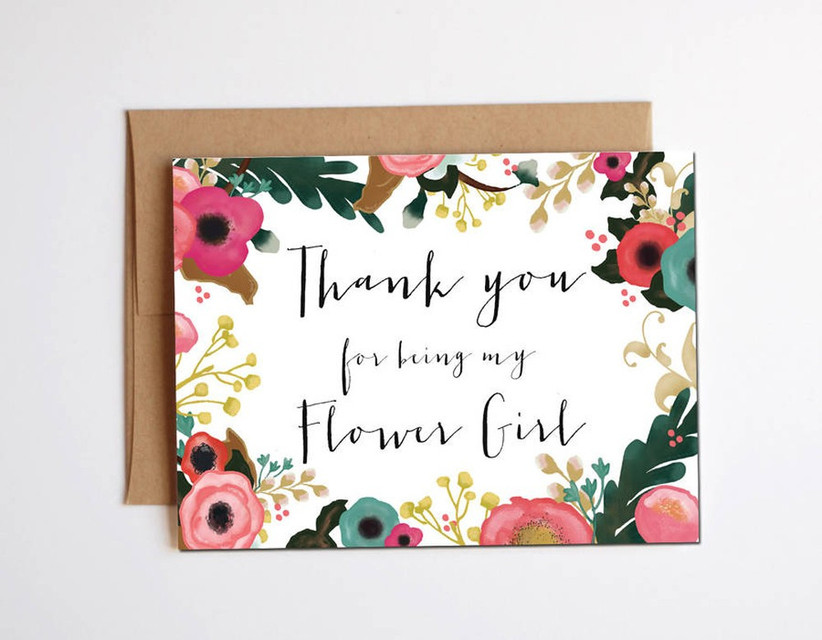 We love this card from Country Heart so much because it has that extra detailing of a detachable wooden keepsake that your flower girls can keep forever to remember their extra-important role at your wedding. They are beautifully made and will mean so much to your girls.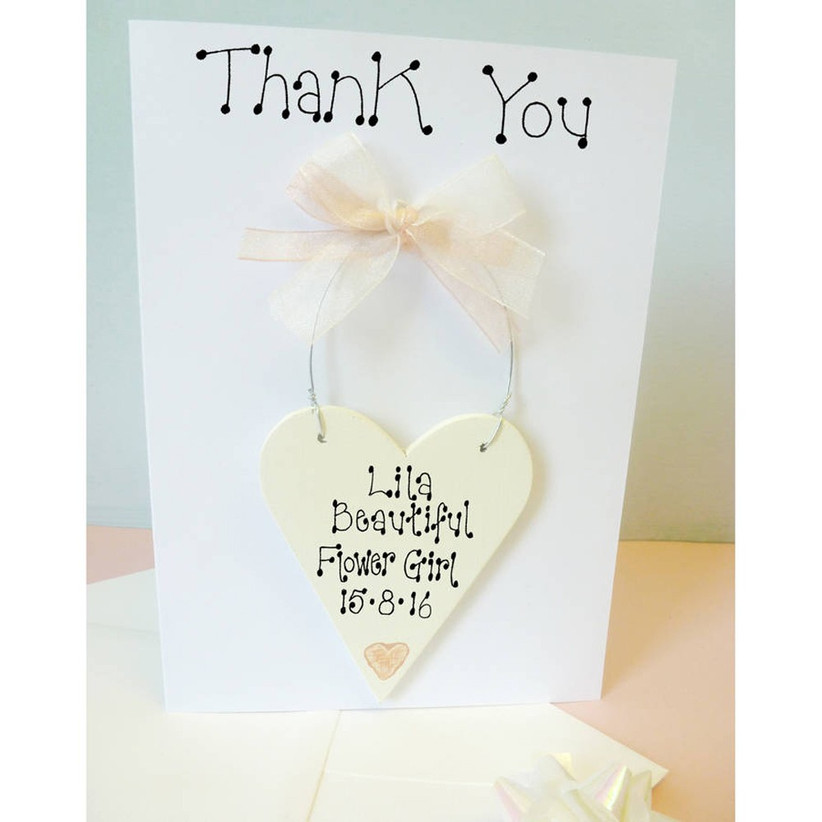 What little girl wouldn't want to receive this pretty card from All Things Brighton Beautiful? The fluffy pink skirt will probably become her new flowergirl outfit goals and why not, it's so cute. It's bound to make her feel just as special as she should feel after the great job she did.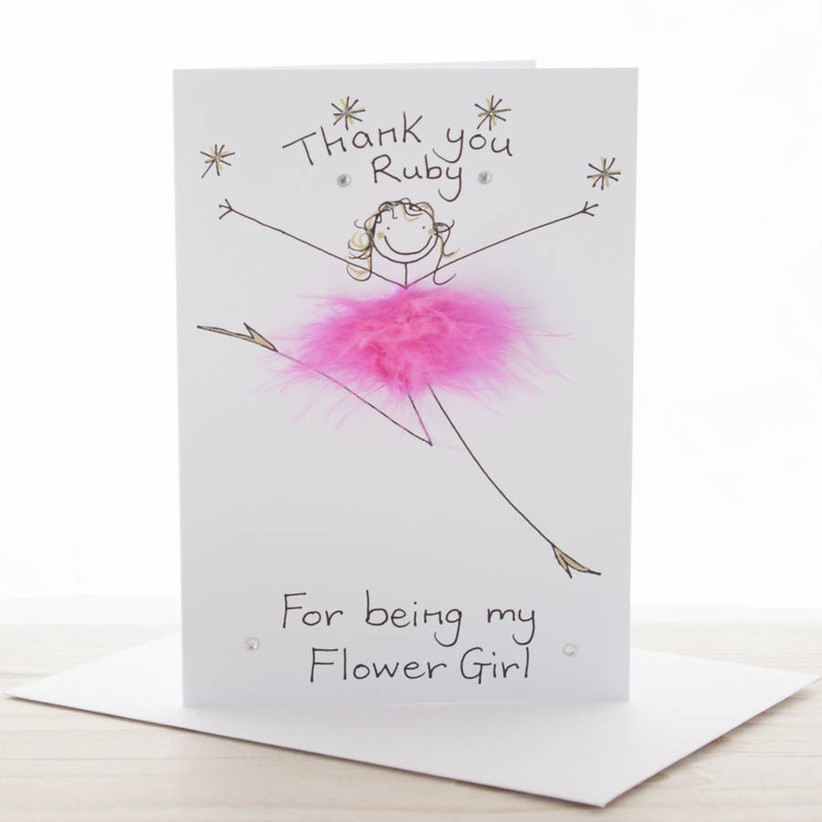 Maid of Honour Thank You Cards
This card from Sweet Pea Sunday is perfect for any maid of honour who did her duties at a summer wedding. The flower crown is super cute and the gorgeous design just took our breath away.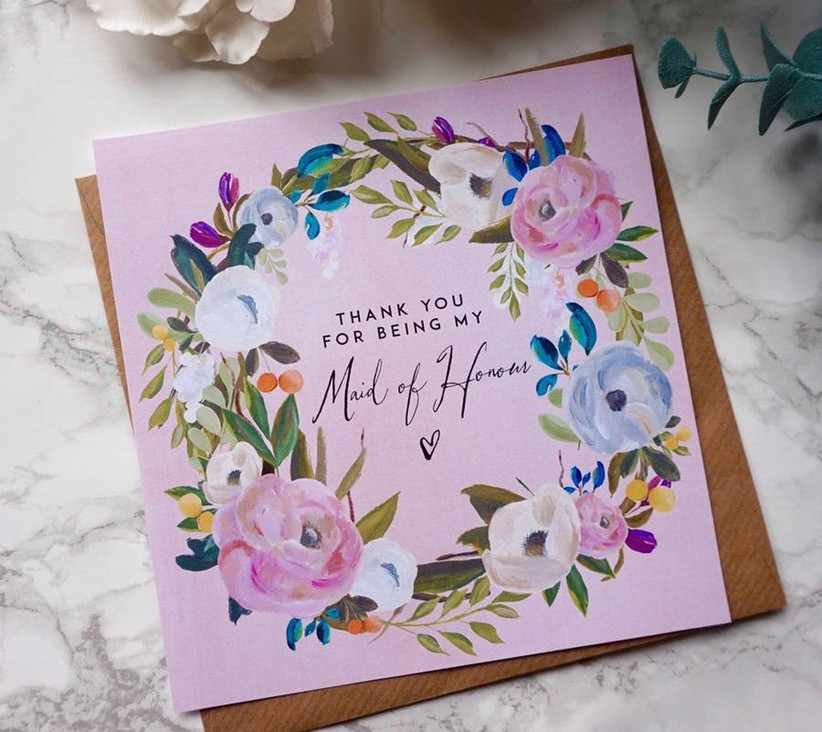 How super cool is this card from Love Give Ink? The card has a secret pouch on the front where you can hide three message cards… And it's personalised. What more could your maid of honour ask for?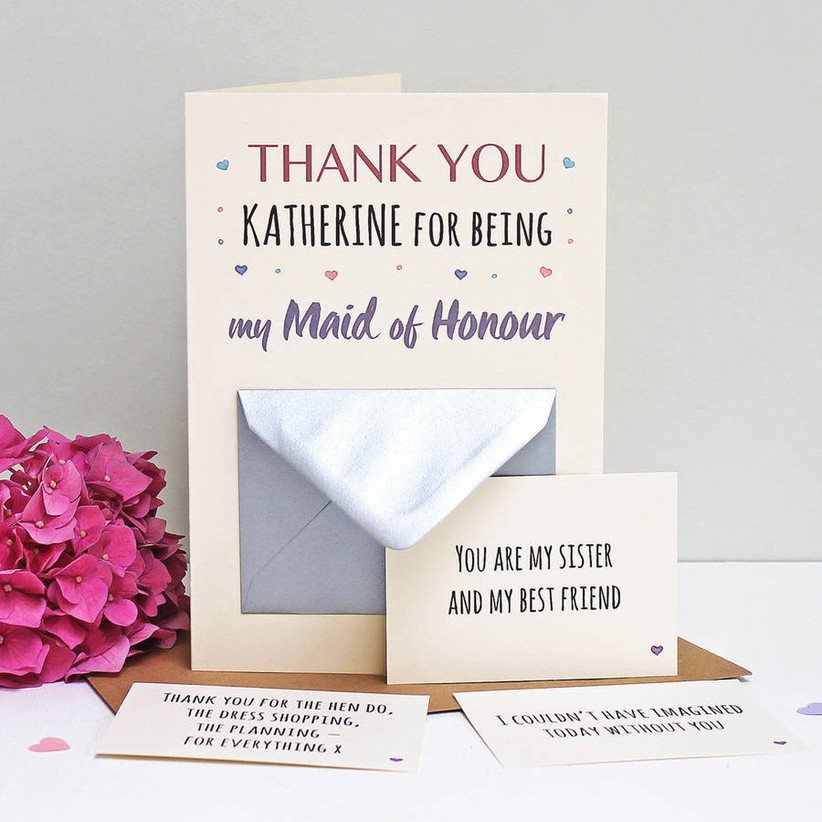 Such a beautiful colour! This White Hanami is a premium quality thank you card with the prettiest pattern and it even comes in a protective cellophane bag which will make it look even nicer when it's received.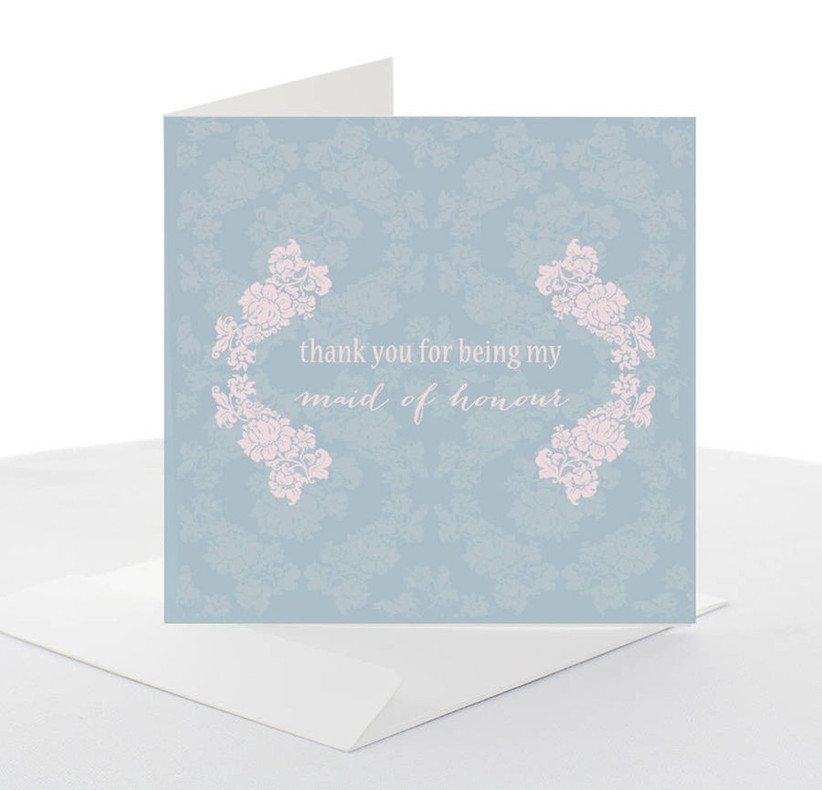 What is one step up from a thank you card? We know; an official certificate. Eskimo Kiss Designs have super chic certificates which you can personalise and show your thanks to the most important friend ever. We are obsessing over this idea.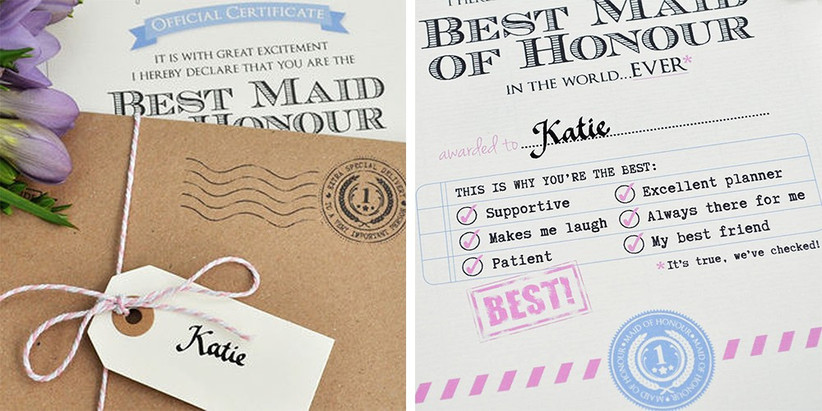 Best Man Thank You Cards
Men love a bit of tongue and cheek humour and that is what this thank you card from Wordplay Design is all about. The print is metallic effect and will have him crying with laughter for sure.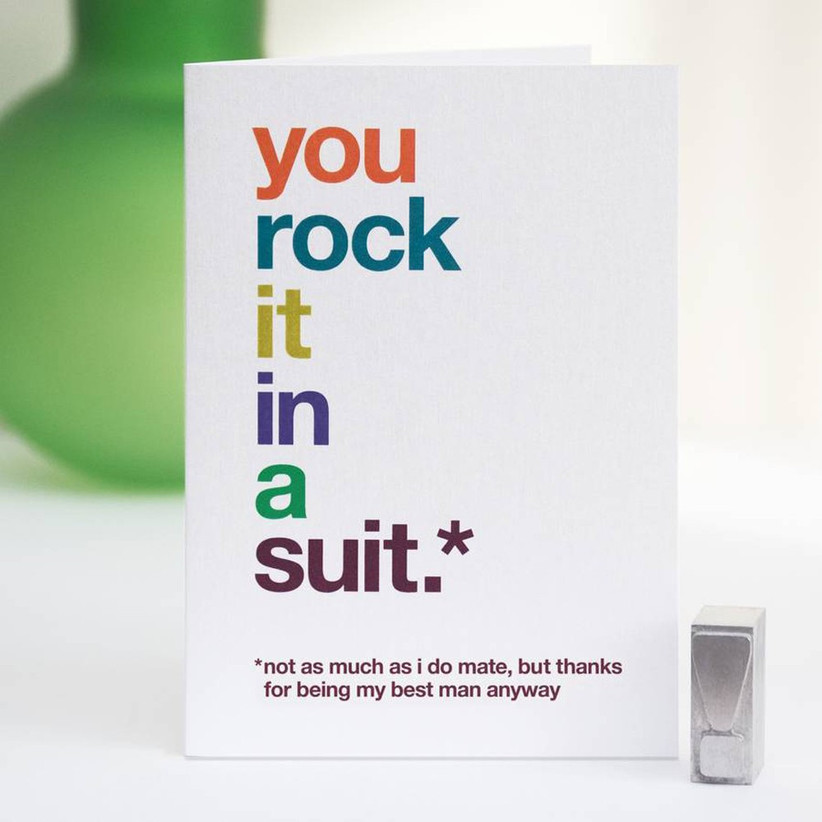 Little Silverleaf offer handmade cards made from recycled materials. The personalised feature and the cute bow-tie are the perfect way to detail your thanks.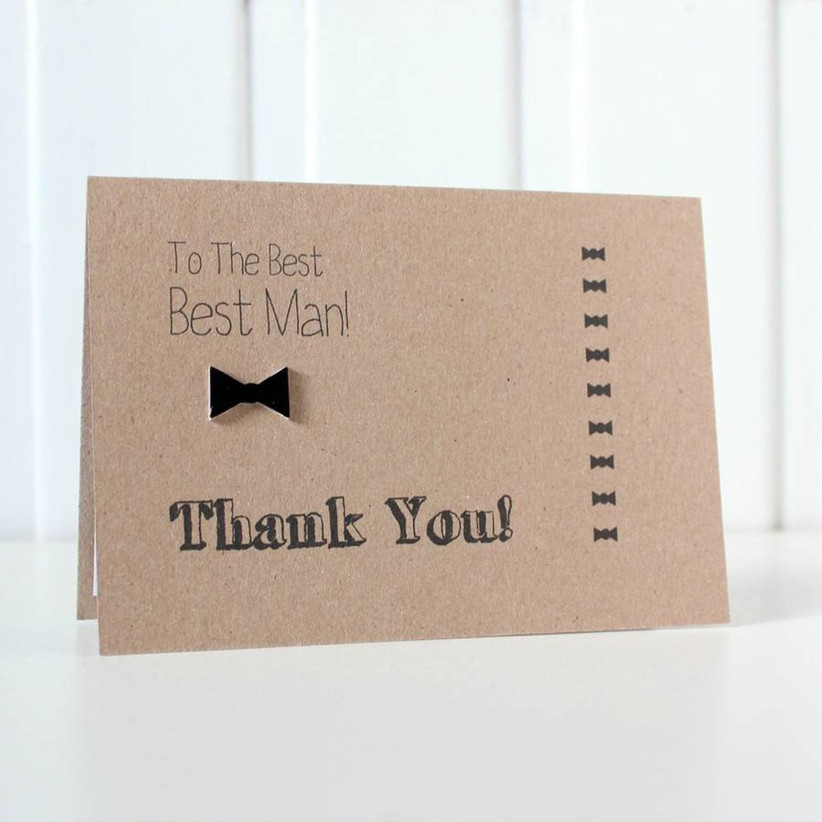 We love the wording of this best man's card from Pretty Wild Design. He is a scholar and he is a gentleman, and he is an amazing best man, so make sure he knows it!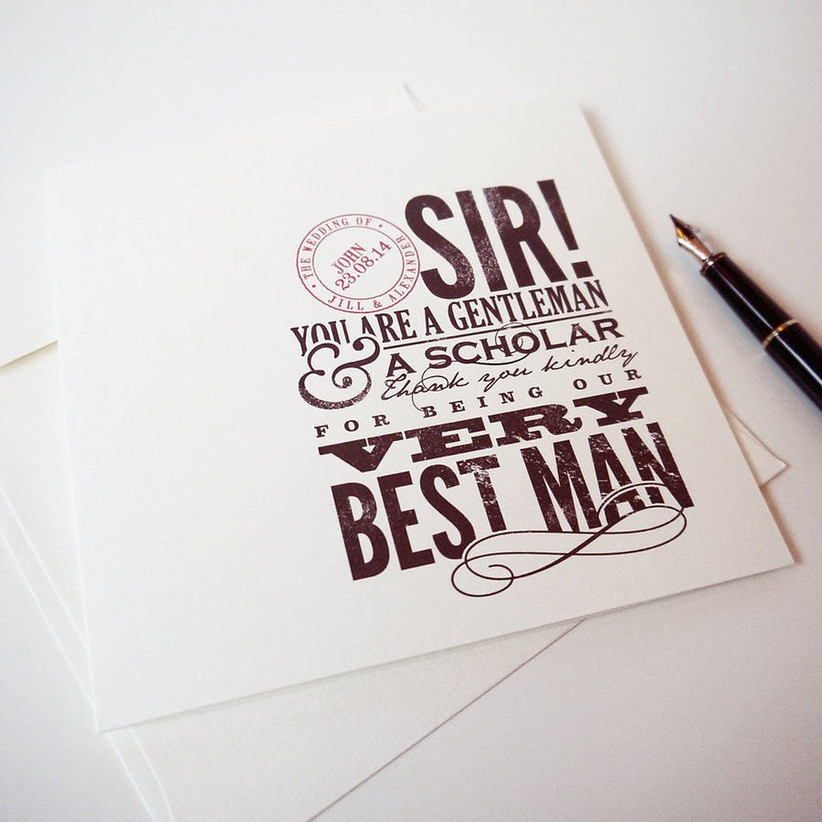 Show your best man that he really was amazing with this Dotty pink Designs card. The rustic design gives plenty of space to personalise with short funny messages that will make all of his efforts feel so appreciated.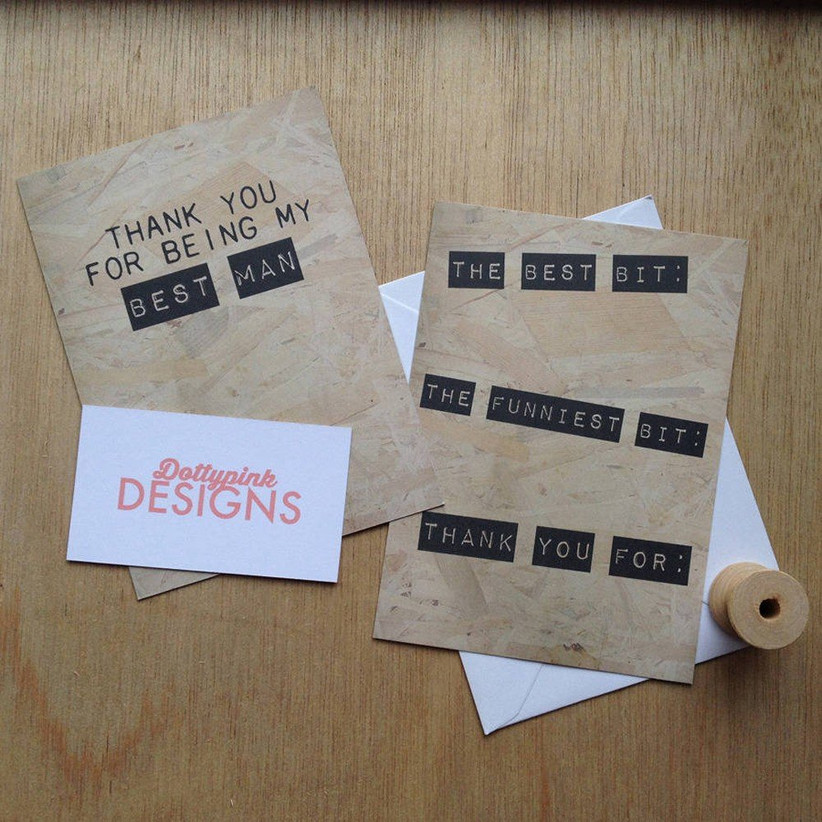 Usher & Groomsmen Thank You Cards
If you're ushers were indeed 'top blokes' at your wedding, this card from Joanne Hawker is the perfect way to tell them. The colour scheme is nice and smart, just like them.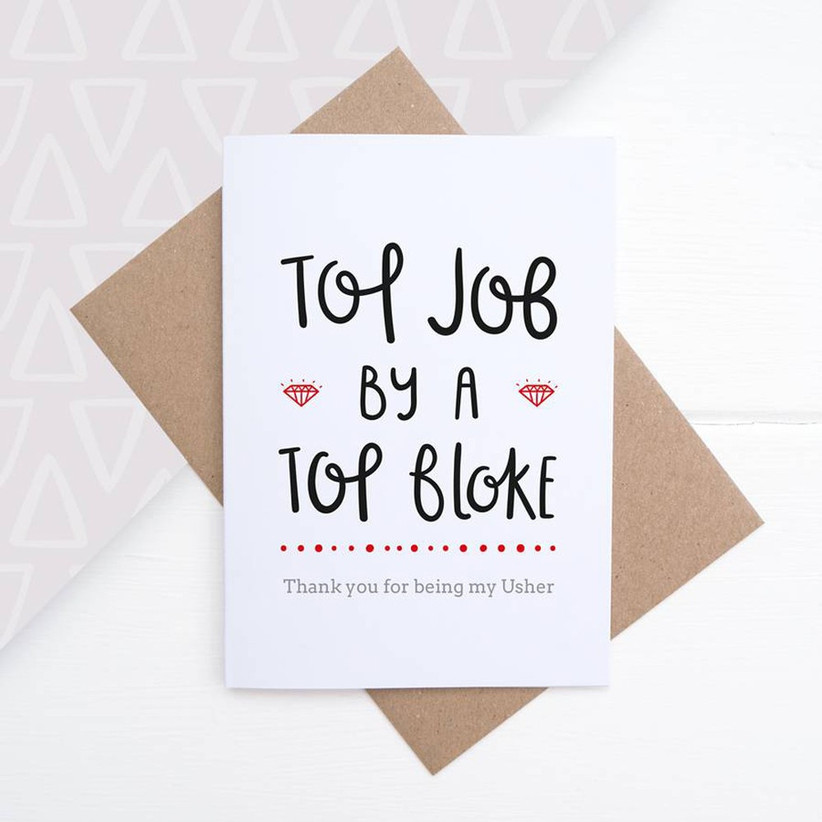 Wordplay Design have created another hilarious card for your groomsmen and we haven't stopped laughing since we set eyes on it. Just make sure that your message inside is as funny as the cover.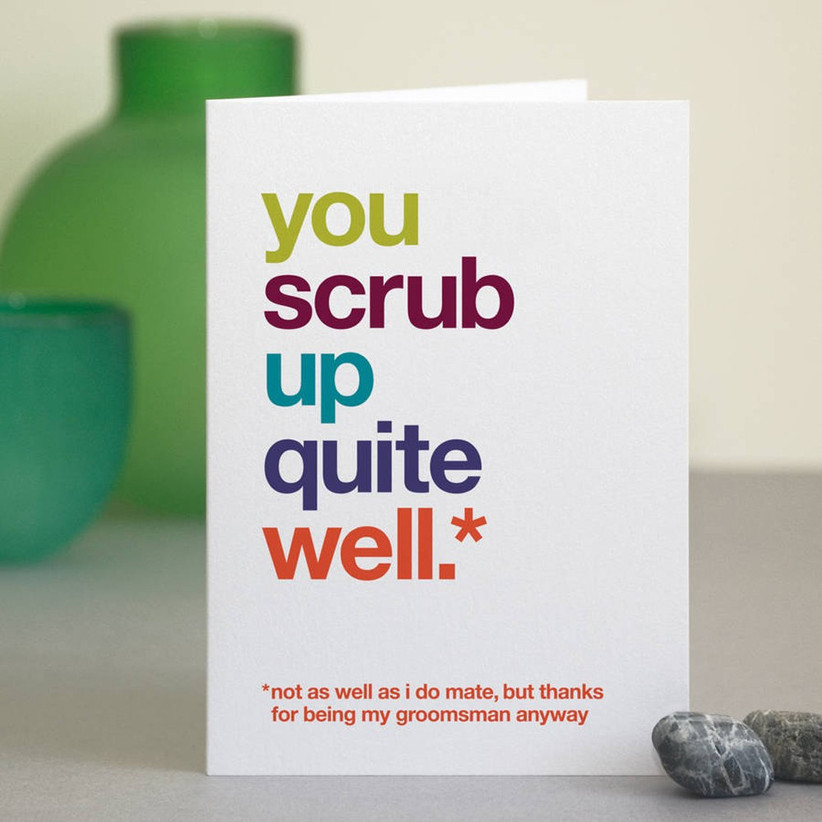 The Quirky Gift Library have made a really elegant and classy thank you card for your ushers. The sleek detail that embellishes it is totally fit for purpose in such a meaningful card.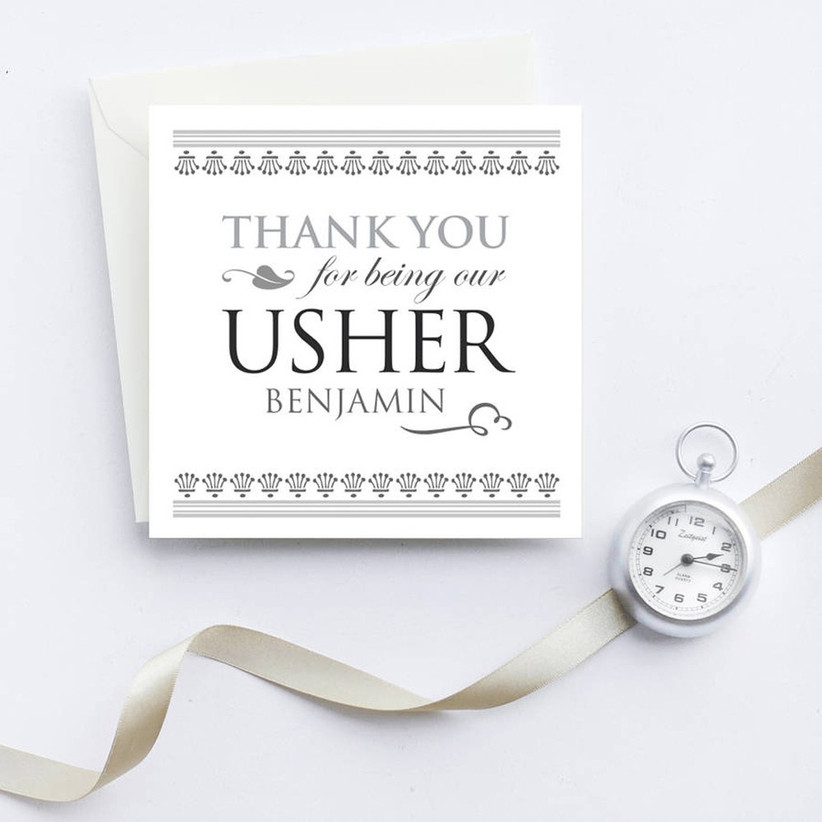 Violet Pickles have created a thank you card that is not only super stylish and smart, but is also eco-friendly. They are made from natural white recycled card so your green minds can be put at rest as well.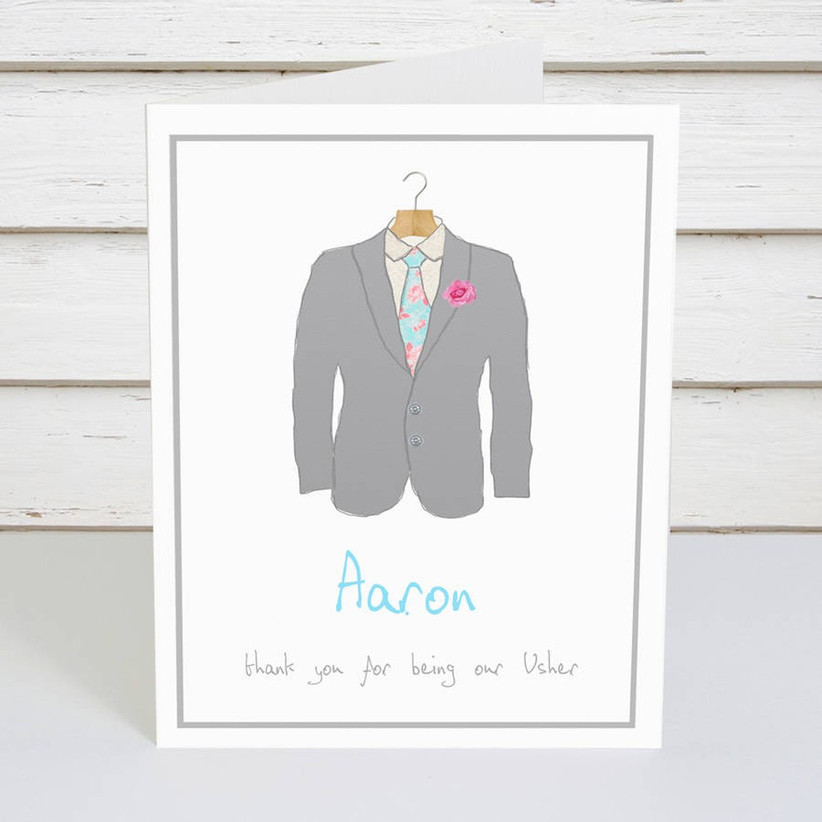 Page Boy Thank You Cards
We love this colourful and modern page boy card from Spotty N Stripy. It is bold and bright and suits a page boy perfectly. He will love receiving this and the fact that it will have his own name on it will most likely make his day.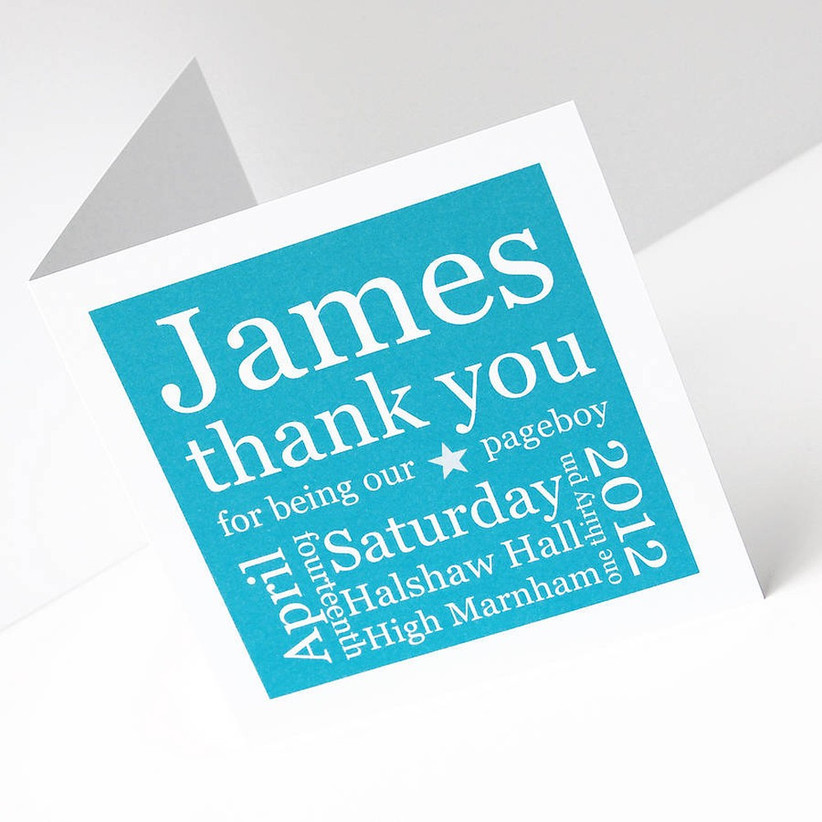 Violet Pickles offer this adorable page boy thank you card with a super sweet illustration that will remind this miniature-adult just how smart he looked on your wedding day.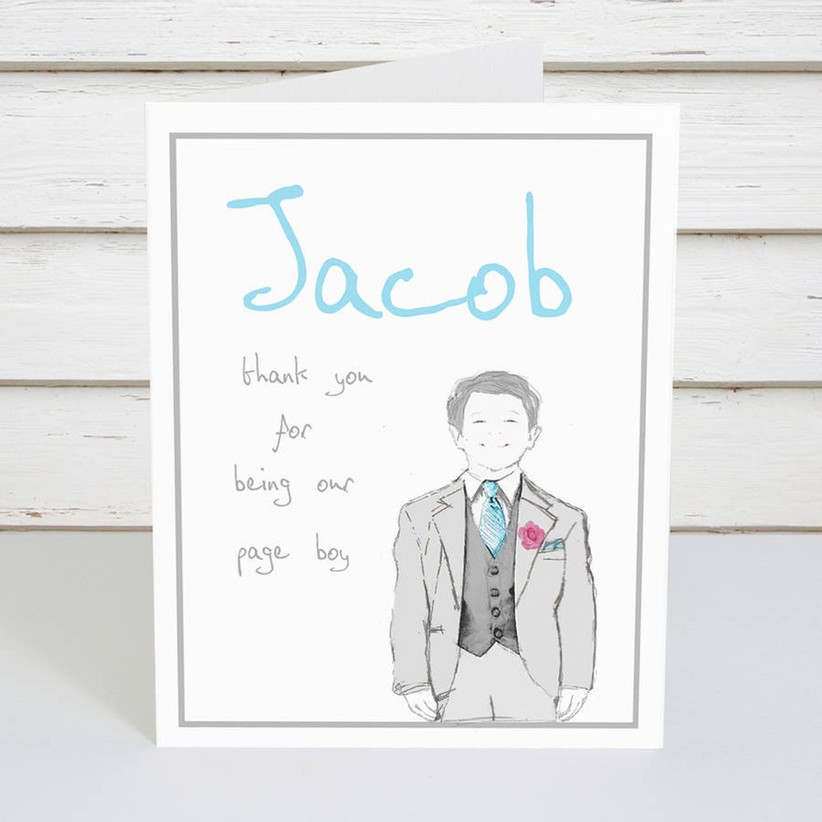 What a cute card this is from Lisa Marie Designs. The luxurious design is encased in a smart brown envelope and will put a huge smile on his face. The illustration is so handsome and we're sure he will be more than happy when you give it to him.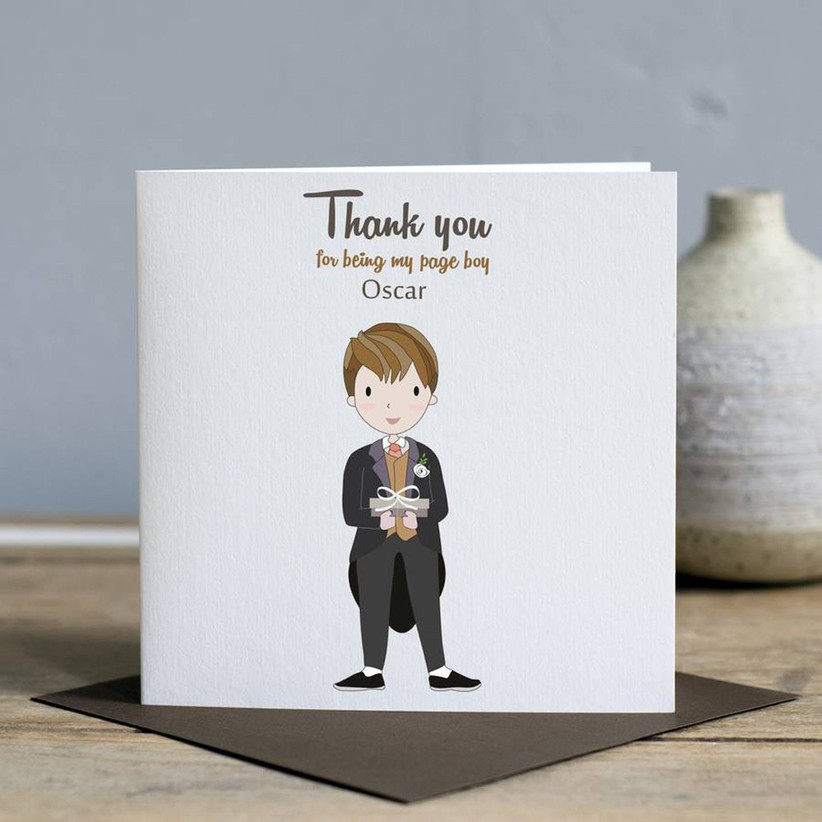 We love how fun and funky these cards are by Little Cherub Design. The bold patterns give off a really youthful feel which is exactly what any page boy wants in a thank you card. And even better, it comes with a super cool badge that they can wear with pride!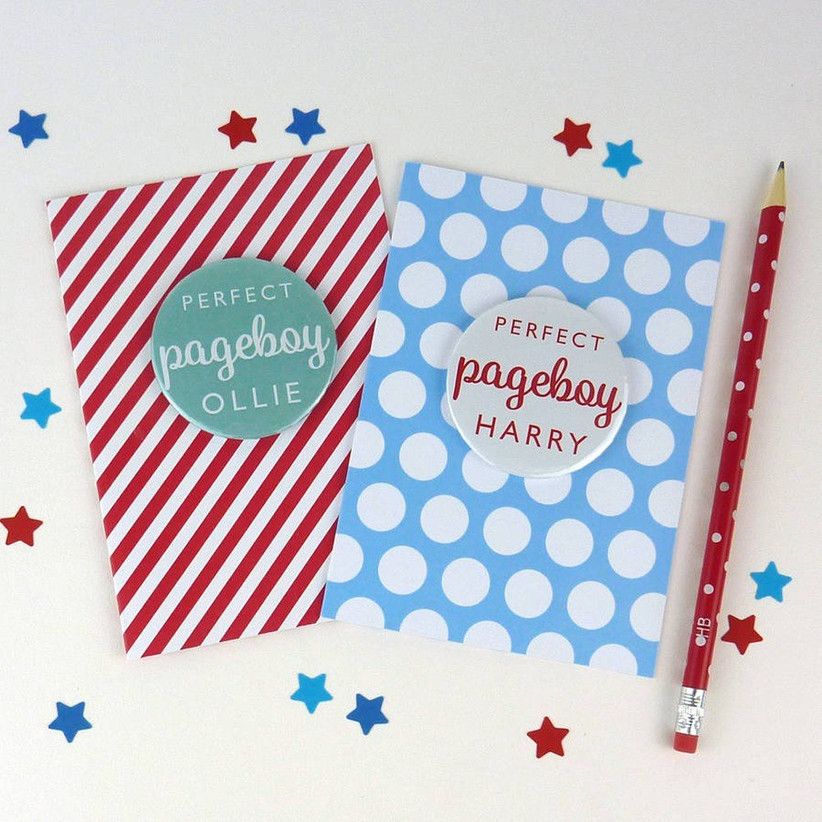 Now you have chosen the cards, it's time to learn the magical art of writing the wedding thank you cards.