Weddings can be a stressful and pricey business. In fact, the average wedding cost in the UK stands at £31,974, with most couples spending 20 months planning their nuptials.
It's fair to say that an awful lot goes into weddings and we reckon allocating at least a small amount of that spend to a good cause is a great way to make it even more meaningful.
Luckily, there are plenty of wedding suppliers who give back to causes ranging from environmental to humanitarian and health issues, meaning couples can choose suppliers not just based on their work but on the causes they support.
We found out more about the suppliers who are using their businesses to give back and why it means so much to them.
READ MORE:
Makeup Artists Giving Back
Joyce Connor Makeup
Reading-based makeup artist and skincare expert, Joyce Connor, has been working directly with causes close to her heart for years but has stepped up her efforts in the wake of COVID-19.
"I've been in the wedding industry for 24 years. When the pandemic hit last year, it changed everything. I was already doing charity work, but the smaller charities needed help even more than ever. Most small charities get fundraising from live events.
"I decided to work for Look Good Feel Better because I wanted to use my skills as a makeup artist to give back to my community. My grandfather passed away from cancer when I was 17 and ever since then I have done what I can do to raise money for cancer charities.
"I currently run the skincare workshops for Reading and Newbury in Berkshire. My sister has cancer and she attended one of my workshops, it was an absolute joy to make her smile. The women absolutely love feeling better and when we run the face-to-face workshops, I get so many hugs and thank yous from them.
"Cianna's Smile is also a charity very close to my heart. My daughter Hayley set up the charity after my granddaughter was born at 29 weeks and diagnosed with sickle cell anaemia. The charity helps families in the Thames Valley area with support and days out.
"It's also a voice to the public to raise awareness of sickle cell. When Cianna was born there was very little information available about the disease. I help with fundraising and on days out helping to coordinate the day and offer support to the families as a volunteer.
"I absolutely love helping others and hope that I inspire other people to help charitable causes to have a voice."
Cake Makers Giving Back
Luminary Bakery
Luminary Bakery is so much more than a bakery – although their wedding cakes are truly divine – the organisation is also a social enterprise designed to offer training, employment and community to women from disadvantaged backgrounds in London.
Some of the women invited onto Luminary's programmes have experienced a range of issues including domestic abuse, sexual exploitation, trafficking and honour based violence. At the bakery they can learn transferrable skills as well as build a network of support. They will also benefit from post-programme help and guidance when it comes to taking the next steps, whether that be finding employment or embarking on further training.
Alice Williams, Founder and CEO, explains why Luminary's work is so important: "Too often, violence and trauma isolate us from the community, when that is the very thing we need the most. Every woman has shown immense courage to survive her circumstances alone, but it is only when others embrace her that she can really start to fulfil her potential. Luminary is more than a bakery; it is a community and a sign of hope for so many."
READ MORE: How to Support Wedding Venues & Suppliers During COVID-19: 9 Ways You Can Help
Fashion & Jewellery Brands Giving Back
Brides Do Good
Brides Do Good is an ethical and sustainable bridal brand based in London. Their new and preloved collection of designer gowns are priced with up to 65% off and for every £3 they make, they invest £1 in their worldwide partners' work.
Partners include Plan International UK, who work to advance children's rights and equality for girls all over the world, and the Safeguard Futures: Ban Child Marriage campaign that aims to criminalise child marriage in the UK.
Brides and brands alike donate dresses to Brides Do Good, keeping the community of women helping girls going.
Lebrusan Studio
Ethical jeweller, Lebrusan Studio, was among the first in the UK to become a Fairtrade Gold Licensee and founder, Arabel Lebrusan, is committed to sourcing the finest materials, mined and created only through sustainable practices. This means that the precious material is mined causing minimal damage to the planet. On top of that, diamonds are sourced specifically from trusted suppliers, to ensure they are conflict free, and the brand now works with recycled gemstones.
The team at Lebrusan Studio has also chosen to donate to The Water Project on a quarterly basis. The Water Project helps those living in Sub-Saharan Africa get access to safe, clean and reliable water. Lebrusan's efforts are honed on Sierra Leone, a region which has suffered 11 years of civil war, fuelled largely by feuds over the diamond mining industry and the traffic of blood diamonds. As a jewellery brand, Lebrusan sees it as their responsibility to support the people affected by these issues.
Brilliant Earth
Conflict-free and lab diamond wedding and engagement ring retailers, Brilliant Earth, have come up with a range of ways to help the planet while providing couples with conflict-free wedding jewellery.
The company support Pure Earth's mission to empower miners in the artisanal gold mining community of Madre de Dios by providing training in mercury-free mining practices. Brilliant Earth also work to restore rainforest areas that have been degraded by gold mining practices. Plus, they launched the Rainforest Alliance Pendant, donating 10% of proceeds from all sales of the necklace to the Rainforest Alliance.
Finally, the retailers have also partnered with the Diamond Development Initiative to fund a primary school in a rural diamond mining community, providing an education to children who have not previously had the opportunity.
Florists Giving Back
Pinstripes & Peonies
Luxury wedding florists Pinstripes & Peonies ensure that their stunning floral creations are enjoyed long after the 'I dos' thanks to their partnership with Floral Angels, a charity that works to reuse and recycle wedding and event flowers.
Pinstripes & Peonies' director, Ruari McCulloch, explained why the partnership is so important to the company: "We love what they do! It's such a basic thing and one I am sure most people can relate to but receiving a bunch of beautiful flowers is always a joy. Receiving one completely unexpectedly even more so.
"We have a zero waste to landfill policy and see Floral Angels as an extension of this. The flowers we donate have been used for a wedding or event but are in perfect condition and its horrific to see them composted or worse thrown away. Having them made into bunches for care homes, hospices and even some of our venues such as Royal Hospital Chelsea is a lovely idea and effortlessly simple."
Ruari is a trustee of the charity and has donated far more than flowers – although 33.5% of the flowers received by Floral Angels come from Ruari and the team – the charity has also been provided with a space within Pinstripes & Peonies' New Covent Garden Flower Market unit.
"The best bit about working with them is a combination of the volunteers themselves who are without exception lovely and the feedback from recipients. It's always a pleasure knowing you have, even in a small way, brightened up someone's day."
Photographers Giving Back

Soul Photography
Soul Photography is committed to donating 5% of company profits to Leicester-based charity Menphys and Food For Life Vrindavan, two charities that are close to the hearts of the husband and wife team.
Owner, Mickey Shah, told us why giving back to these organisations means so much to him: "Menphys is a very local charity to my studio. I work closely with their fundraising and marketing manager, Liam, and I really appreciate the valuable service they do for disabled children around Leicester, especially supporting their families through this Covid period.
"Food For Life Vrindavan is a charity close to my heart. My wife and I have been supporting this charity for almost a decade. It's within our culture and beliefs that as a family we should contribute back to society by making sure the less fortunate are fed and educated. We have chosen FFLV as we believe it is a credible charity that is making a huge difference to the lives of young girls from the poorest parts of India."
Stationers Giving Back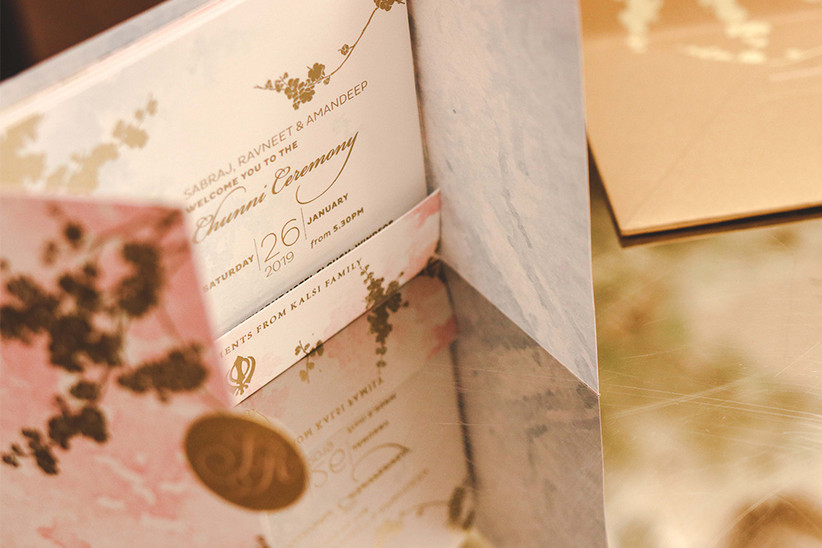 Ananya Wedding & Event Stationery
Vaishali Shah, founder of this luxury bespoke wedding stationery company, chose to contribute 10% of the firm's profits to charitable organisations since its inception in 2006. As a business that revolves around paper, Ananya takes its commitment to the planet in particular very seriously.
Right now, Ananya is supporting SankalpTaru, a non-profit organisation that plants trees in India, while also supporting rural livelihood, empowering women, promoting biodiversity and making schools cleaner and greener.
"At Ananya, the sustainability and ecological impact of our work is hugely important to us. Our whole business relies on paper so it's crucial that we give something back.
"For every stationery order placed, Ananya will plant trees on behalf of the happy couples choosing to use our services. Together, we can support reforestation and environmental conservation projects across India."
Favours are one of the easiest ways to give back during your wedding day - check out these charity wedding favours.