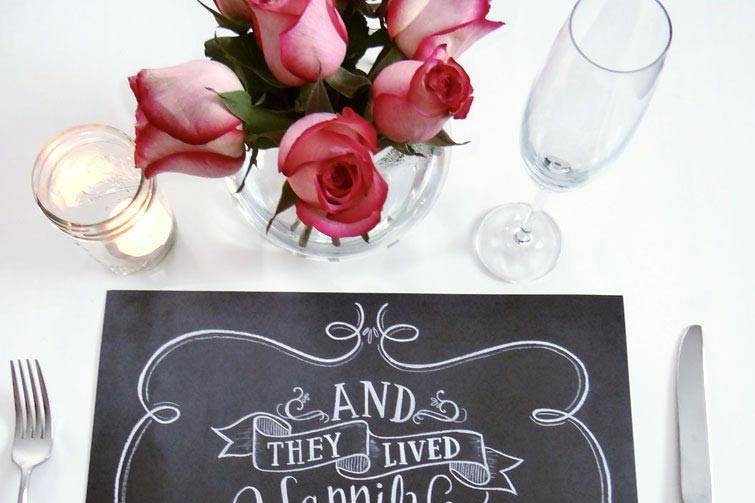 Every wedding is different and unique in its own way, but there are a lot of traditions that a lot of married couples tend to follow. There is nothing wrong with traditional weddings but if you are an alternative wedding dress kind of bride, and have picked a quirky wedding venue, you may want to have a more unique wedding with some unusual, romantic and personalised twists. Have a look at what we have come up with and see what suits your style…
Coaster Notes
A really nice way to show appreciation to your guests is to use paper lace coasters or doilies as a place mat for each guest and write a little personalised note for each of them to read as they sit down. This can however, be a lengthy process and you may not have any type of note to leave for your second cousin's new girlfriend, so you could limit the notes left to just the top table. Your parents will be able to cherish those notes forever, just make sure they don't spill that prawn cocktail starter all over it.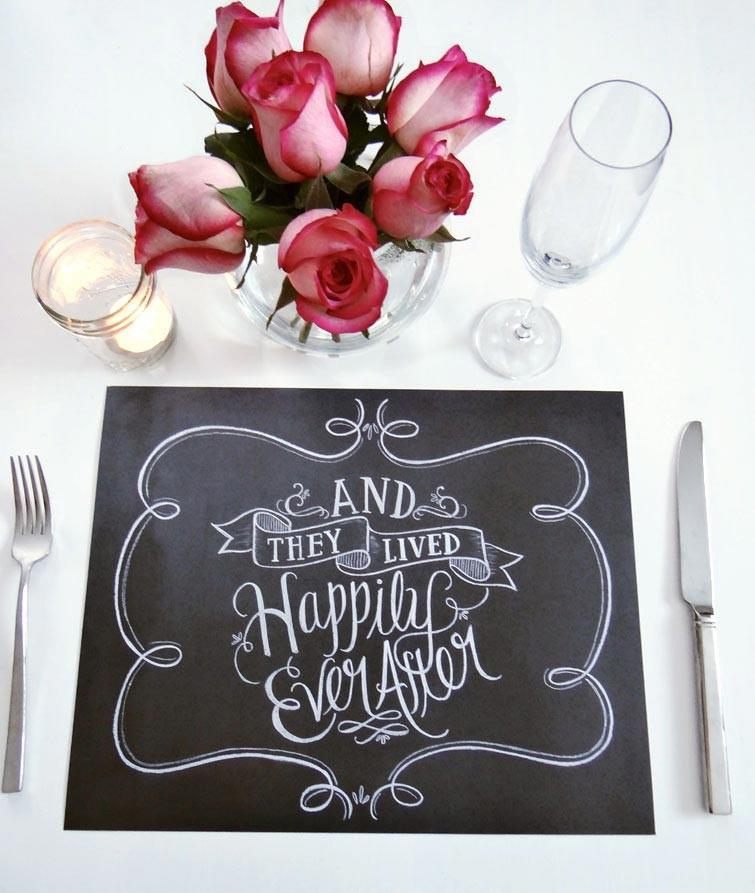 Image credit: LilyAndVal on Etsy
Named Glasses
?As the bride and groom, write your names on your champagne glasses so you keep the same ones throughout the day. You can keep the same glasses you used for the wedding and bring them out on each anniversary evening to pop open a bottle of something special and celebrate every year in the same way you did when you tied the knot! You could even go one step further and have your names engraved into the glasses for that even more special touch.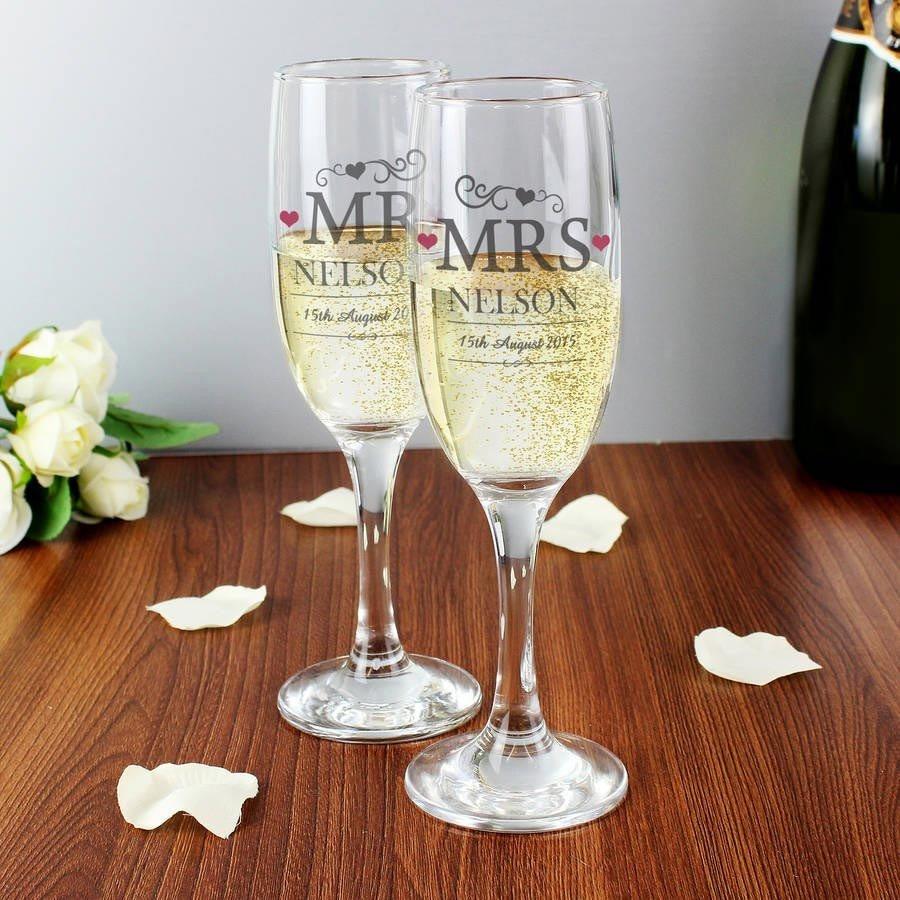 Image credit: Contempo Home at Not on the High Street
Personalised Labels
Use little bits of fabric with each other's names embellished into them, and sew them into the wedding gown and the groom's suit. The bride can sew her husband-to-be's name onto the inner lining of her dress and the groom could use the inside of his tie as the chosen spot. This will be soothing when pre-wedding nerves kick in minutes before the ceremony, as your other half will feel closer to you than you thought.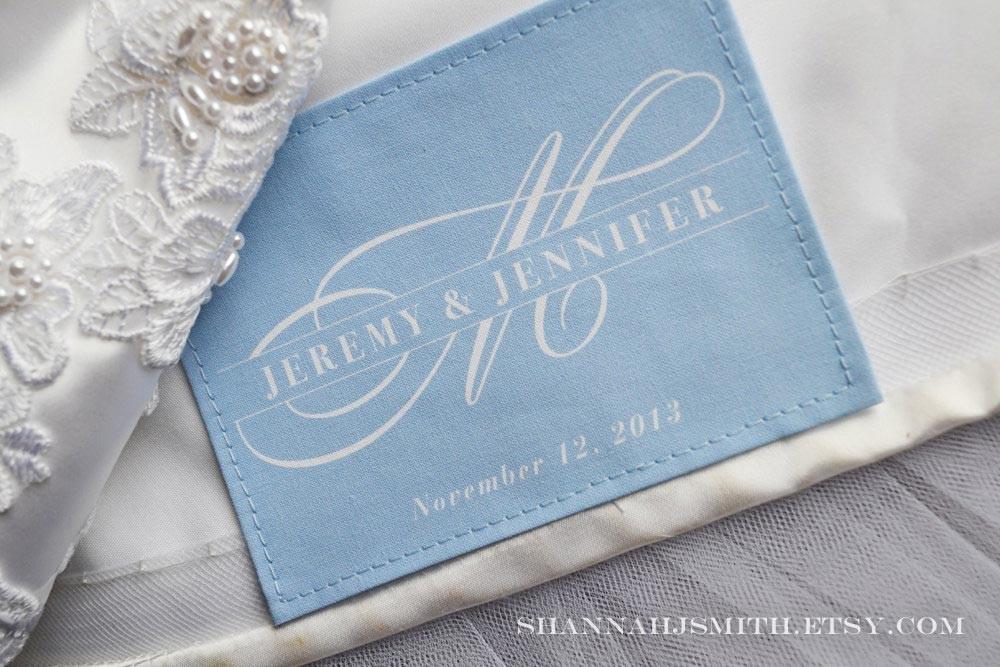 Image credit: ShannahJSmith at Etsy
Table Numbers 
Use table numbers to signify special moments in your relationship prior to the wedding. For example you could have table number '10, the day in April which we met', or '4, the number of beautiful children we share together'. You could even go for table number '50, the amount of centimetres between us in height'.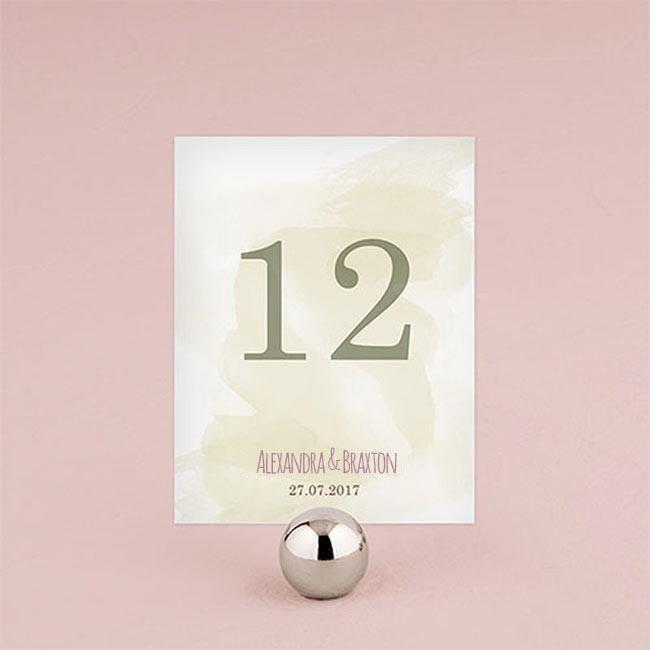 Image credit: LoveAndLuxeHandmade on Etsy
They could literally be anything you decide; all personal and completely tailored to both you and your partner. They will all have meaning and a little sentence to explain their purpose. You could even encourage the guests to take part in the romance and try to guess the significance of each number. Making and deciding these numbers is also a nice way for you as a couple to look back at all your memories together. Browse our edit of table number holders to display them beautifully too.
Date Jar
Place a big jar next to the entrance and give all your guests wooden lolly sticks. Ask all of them to write an idea for a date night on the stick and put it in the jar. This will leave you and your new husband with plenty of activity ideas to explore on a rainy day to ensure you never leave that honeymoon period!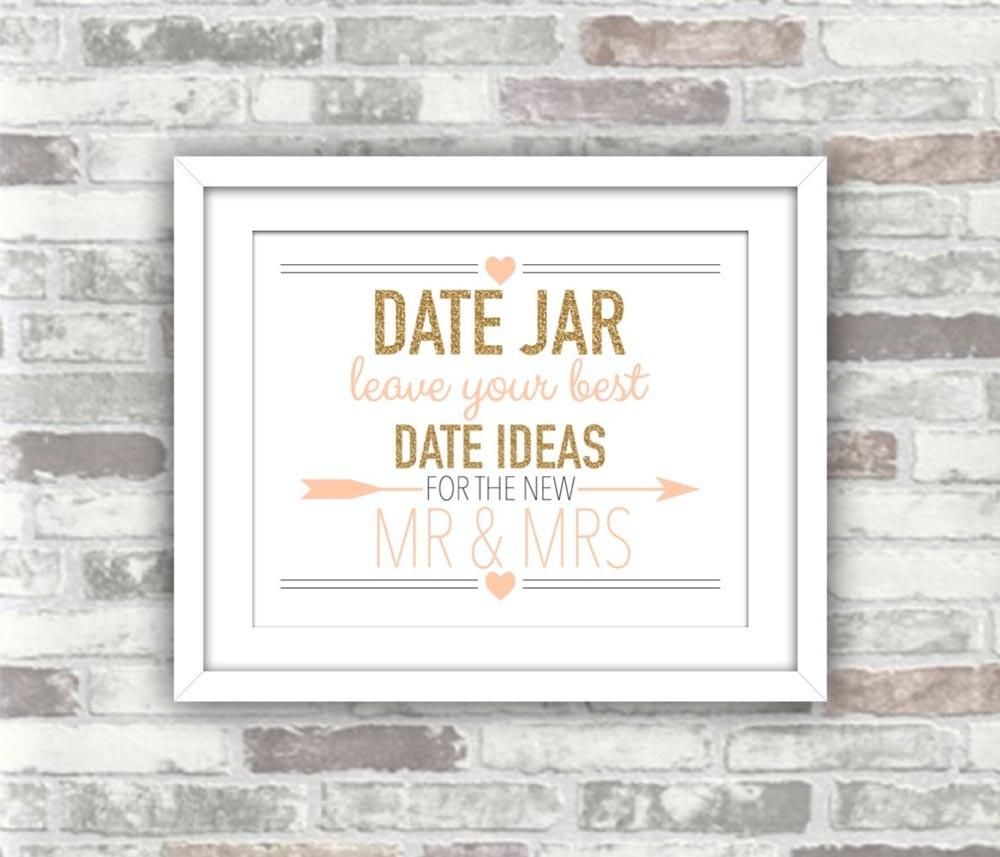 Image credit: LulaWithLove on Etsy
Time Capsule
Before the ceremony, write a note to your partner, and ask them to write a note to you. As part of the ceremony, seal these notes and your favourite bottle of wine in a wooden box and lock it. You should agree to open this box together on your 10th, 20th or even 50th anniversary, whichever one you want – like your very own time capsule!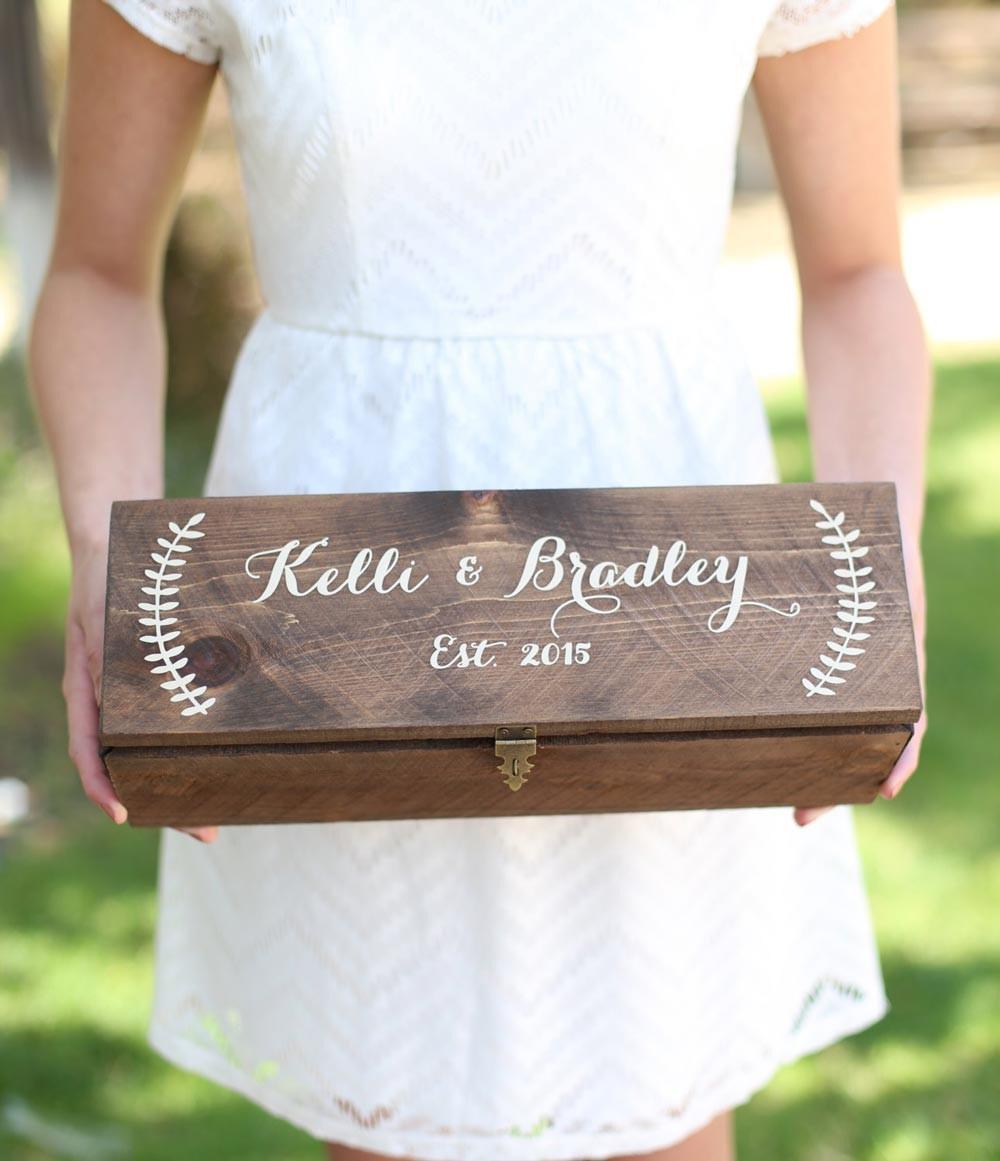 Image credit: BraggingBags on Etsy
This is also a good tool for if you ever do have that frightful big bust up in years to come. Open the box, have a glass of wine each and go away to read the notes and then you can just kiss and make up.
Share the Planning
We're not suggesting you do your own version of 'Don't Tell the Bride', but how better to prove your trust in your other half than giving them the responsibility of planning a part of the big day? One way you could do this is letting him choose the song that you will do your first married dance to. This could be a great opportunity for him to show you just how much you mean to him by picking a song that suits your relationship down to a tee.
Make it even more romantic by keeping it a surprise until you step on to the dancefloor. Just hope and pray he hasn't read our Kanye West wedding article and picked 'Gold Digger'.
Reward Commitment and Break Traditions
Traditions are all well and good and they aid in keeping the value of marriage present in the modern day. But sometimes it is nice to break away from certain traditions, such as the throwing of the bouquet. Instead of aiming for all the singletons in the room, throw the bouquet to the couple who have been married the longest! This can inspire you and all your other guests.
For Happy Tears
The ceremony itself is usually the main tear-jerker of the day, and you, as the bride and groom should be making sure your guests are well equipped for the floods to come. In the wedding programme, add a pocket with tissues for all the 'happy tears'. You could really go all out and even get personalised batches of tissues with your names on them, but that's just showing off isn't it…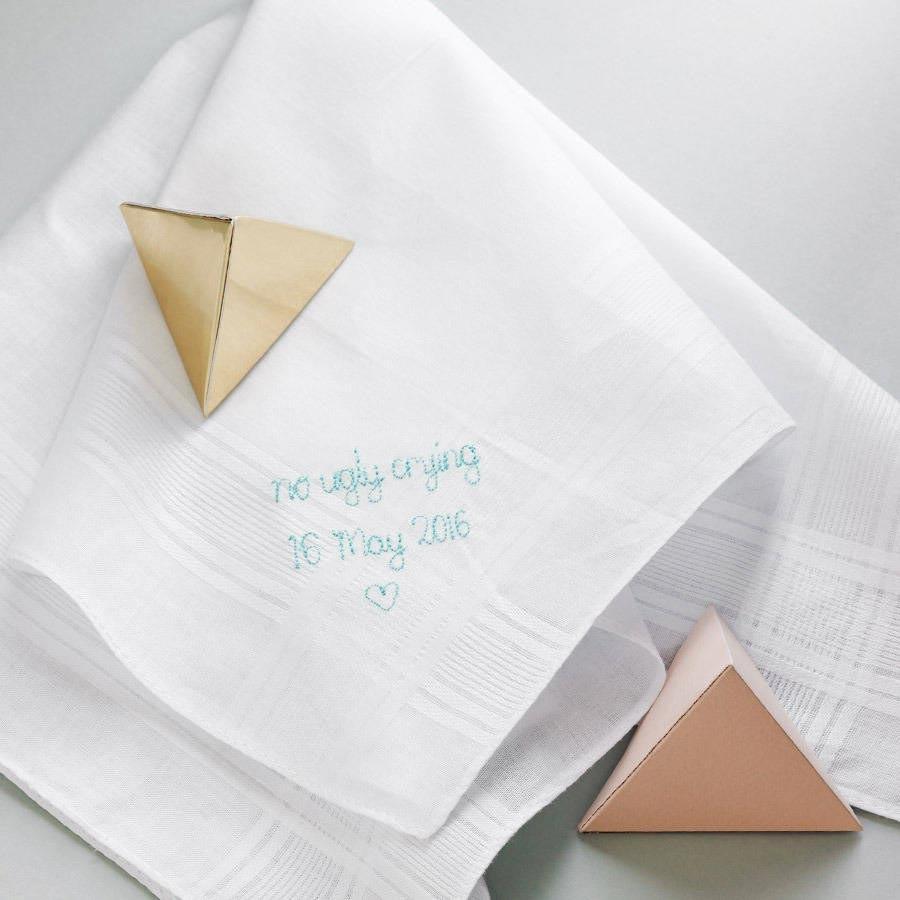 Image credit: Mr Teacup at Not on the High Street
Remembering Absent Friends
Sometimes there's a sad moment during the day where everyone's attention veers towards absent friends who couldn't be present for the special day. Put aside a moment or two after the speeches to remember these people. A toast to absent friends is due, and might set a few people off, but it will be nice to make sure everyone is a part of your wedding! You could even set up a memory table with pictures of those who have sadly passed away.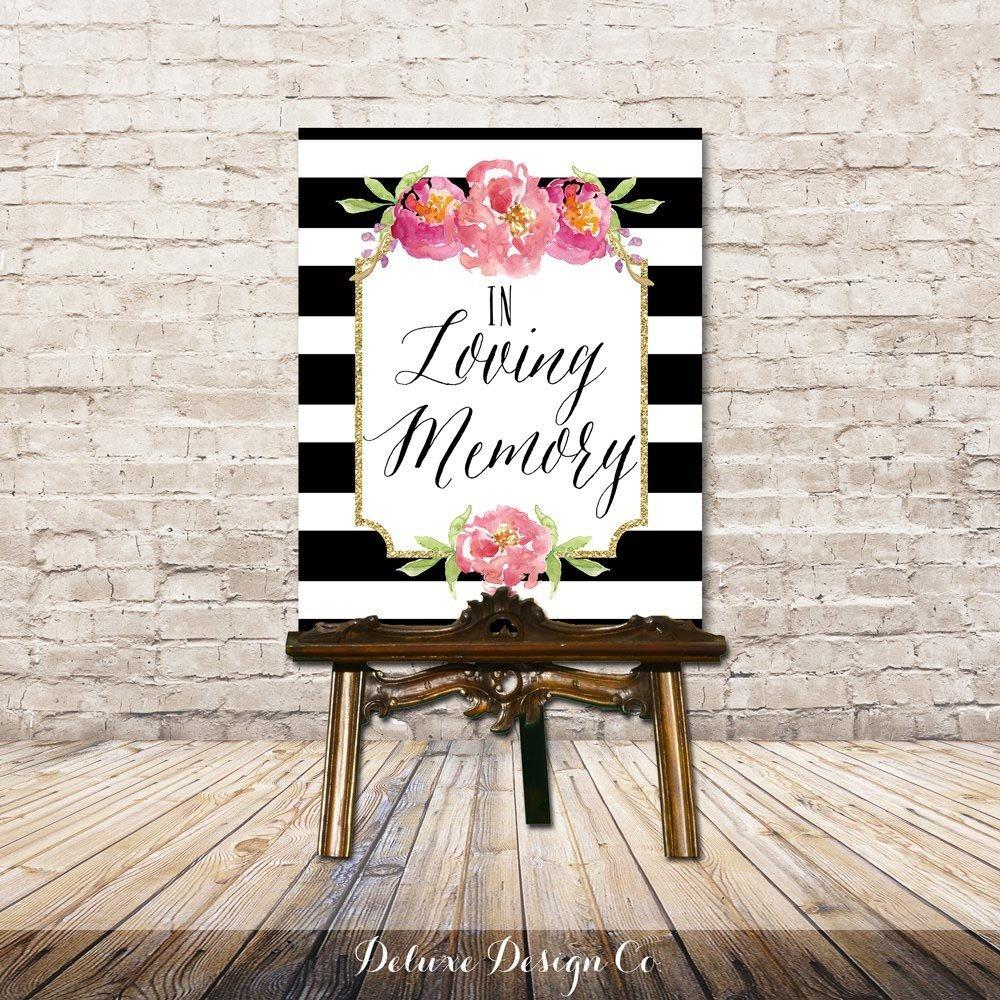 Image credit: DeluxeDesignCo on Etsy
For those guests who merely couldn't make it to the wedding for other reasons, ask them to create video messages, which you can play to the wedding party wishing you the best on your day.
Parent Pictures
When you have your time alone with the photographer to take the all-important wedding pictures, have handy a picture of your parents and your partner's parents on their wedding days. Get a picture of you and your husband holding these pictures of your parents getting married to signify the influence their marriages may have had on yours. This could make for a very touching photograph. We have more wedding photography ideas in our wedding photography checklist.
Circular Ceremony
When planning the ceremony, try and find a venue where the entire seating arrangement can be a circular shape with you, your partner and the person marrying you all in the centre of the circle so you are literally surrounded by the people you love watching you get married. With a circular seating arrangement, there is less depth of rows and it will bring a feeling of more 'togetherness'. This usually works best with outdoor ceremonies. Browse our round up of the best outdoor wedding venues for ideas.
Petal Aisle
Walking down the aisle is arguably one of the most significant parts of the day as far as tradition is concerned, so you want to make it special. One way to do this is to create a runner down the entire aisle purely of flower petals of your choice.
The usual favourite, roses, would make a lovely romantic touch. However you could go one step further and use the petals of the flowers in the first bunch that your partner bought for you or simply one which goes well with the colour scheme. If you don't have the budget to do this, consider faux petals as they can work out cheaper. 
Advice Slips
If you have lots of happily married couples at your wedding, take advantage of it. At the reception dinner, while the guests are waiting for food, have advice slips ready for them to fill out. To add humour, you could set it out like a real life questionnaire including questions like: "What are Mr & Mrs Smith most likely to argue about and how can this argument be best resolved?"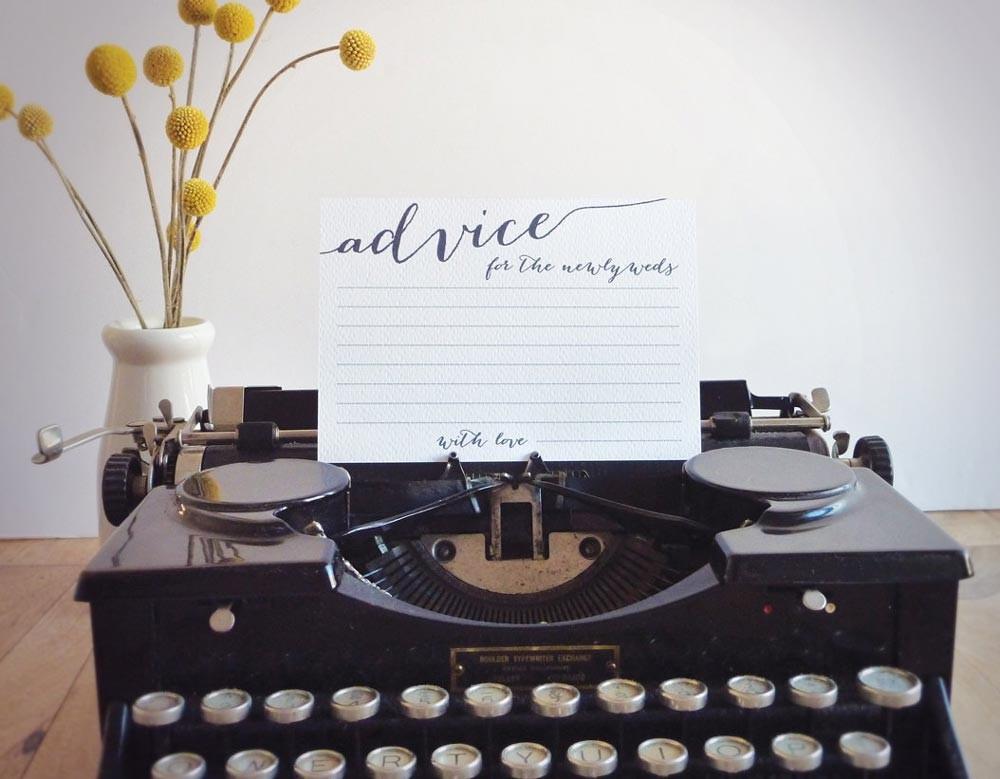 Image credit: WhiteWillowPaper on Etsy
These people know both you and your partner very well and the advice could actually be helpful. Even if you don't listen to a word of it, it gives you both a funny bunch of forms to go through on the plane to your honeymoon destination that'll be sure to crack some smiles.
Treat Table
At the meal after the ceremony, you will obviously have a table for the wedding cake (placed on a gorgeous wedding cake stand, obviously). Extend this stand to a whole table; this can be the 'treat' table. Ask all the day guests to bring along a dessert, cake or treat. By the time everyone has arrived and been seated, the table should be filled with different home-made dishes to create an array of sweet treats for the final course of the meal. This incorporates a personal touch from each and every guest which adds meaning to the menu and helps you save money.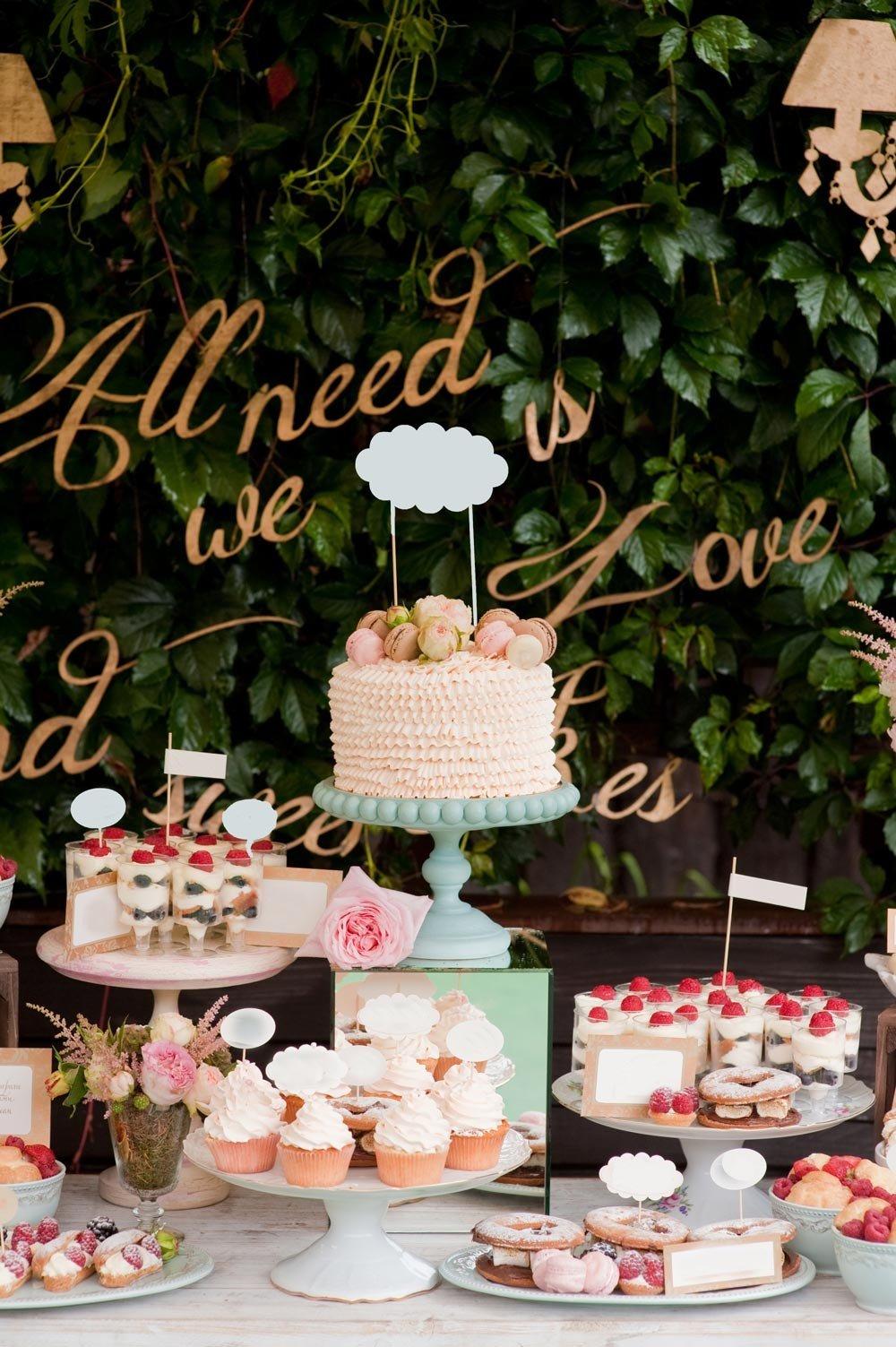 Ring for a Kiss
As it's your wedding day, you're totally entitled to indulge in lots of PDAs. The 'money shot' for every wedding guest is the all-important snap of the bride and groom having a little smooch. Why not give them all the chances in the world and include a 'kissing bell' in the day. Hang a bell up at the reception within reach of all guests with a very cute sign saying "ring for a kiss", and every time the bell is rung, the newlyweds must kiss. Just hope that after the flow of alcohol increases, people don't get carried away with it otherwise you'll be doing a lot of kissing – but we're sure you won't mind too much.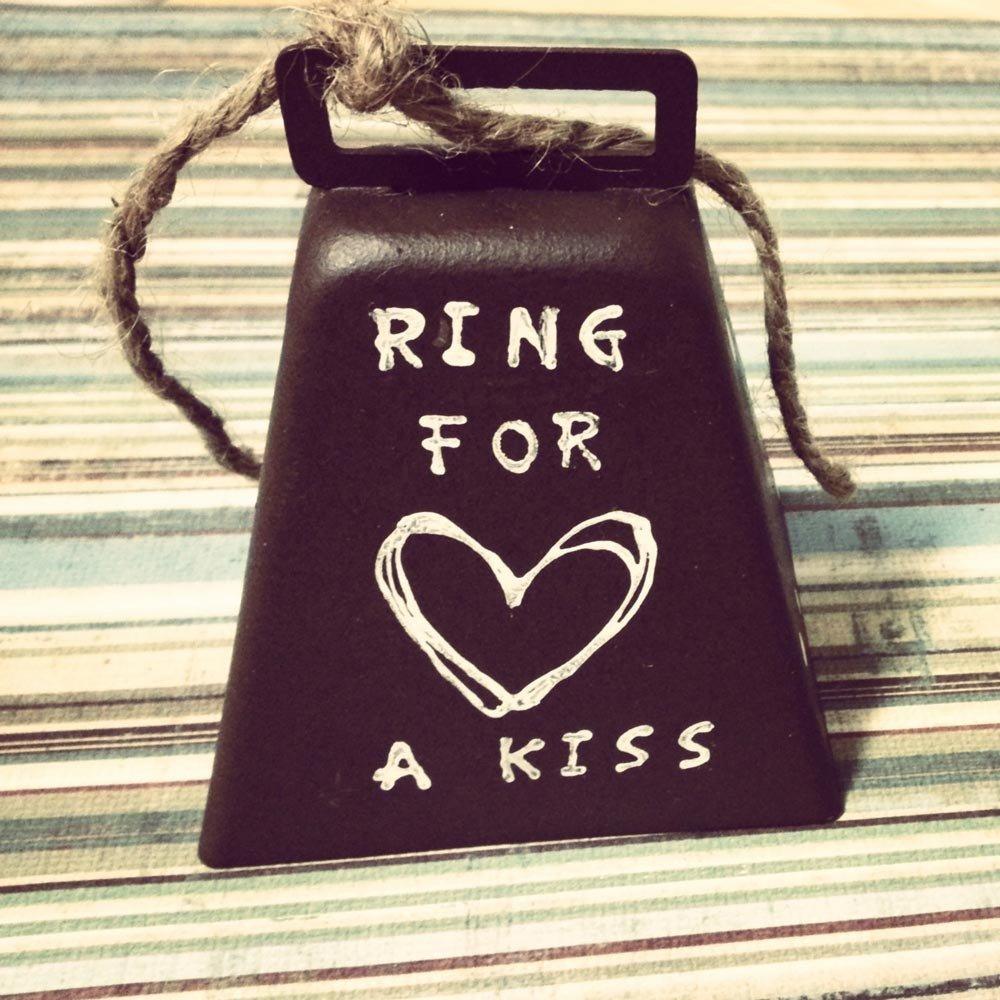 Image credit: FrecklesAndWhiskers on Etsy
Guest DJs
When drafting the invitations, have a space on the back for all the reception guests to request a song for the DJ to play at the party afterwards. This saves you time when planning the wedding DJ playlist but also gives you great ideas as to what songs to have and what your guests will get up and dance to. When the party is in full swing it will bring a sense of unity as your guests dance the night away to the songs that they picked. But don't let that wannabe DJ guest get carried away – read about the 11 types of wedding guests to spot the signs.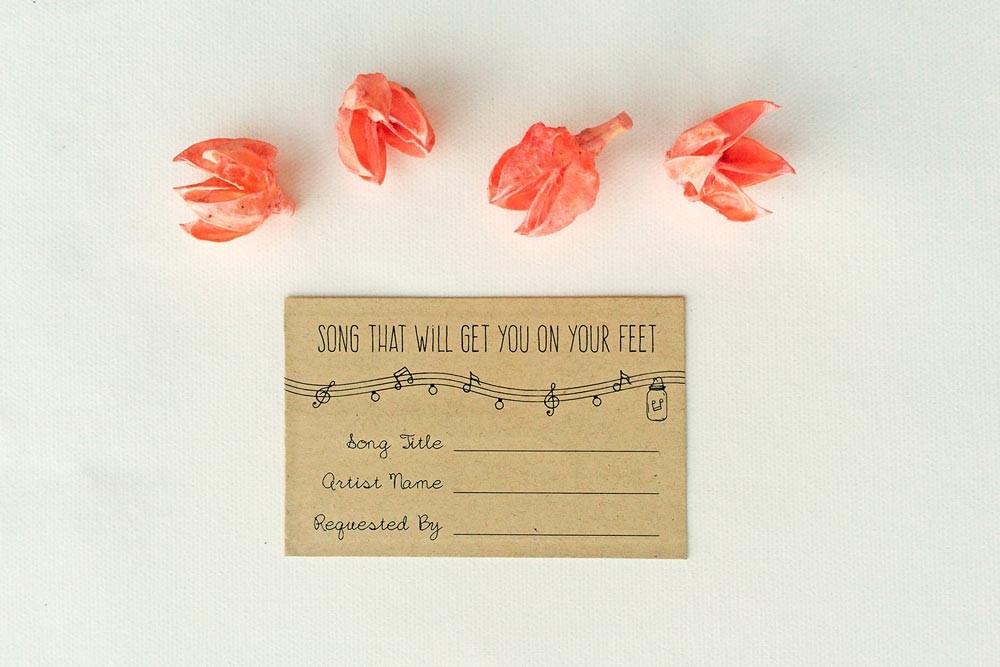 Image credit: APrintableMatter on Etsy
Video Messages
If you have a video camera in your possession, make sure it's fully charged with spare batteries, and set up a stand after the ceremony and at the reception with a nice white background. Ask all the guests to leave a video message to the happy couple, or a memory from the day that they want to share. All the videos can then be edited into a short film that you can watch back after it's all over.
If you and your partner aren't whiz-kids with technology, pop down to your local university and offer a film or media student a small sum to edit it for you. They will love the experience and it will help you keep costs down.
The Couple's Love Story
Our last and final top tip is one which you and your better half can enjoy creating before the big day and will be a reminder to you both as to why you decided to get married in the first place. Create together, a small booklet which guests can read at the ceremony titled 'Our Story'. This can include all the milestones in your relationship. It can be as vague as:
"He saw her. They kissed. The film was hilarious. Her jokes weren't. My house became our house. He asked. She said yes. Now you're all here."
Or you could detail it as much as you want. This gives the guests a real chance to refresh their memories on the story of your romance whether it be funny, soppy or very unromantic. You can present it as casually as you like – even writing it in messy writing on a giant vintage chalk board at the entrance is cute enough! Browse our round up of the best wedding signs for some inspiration.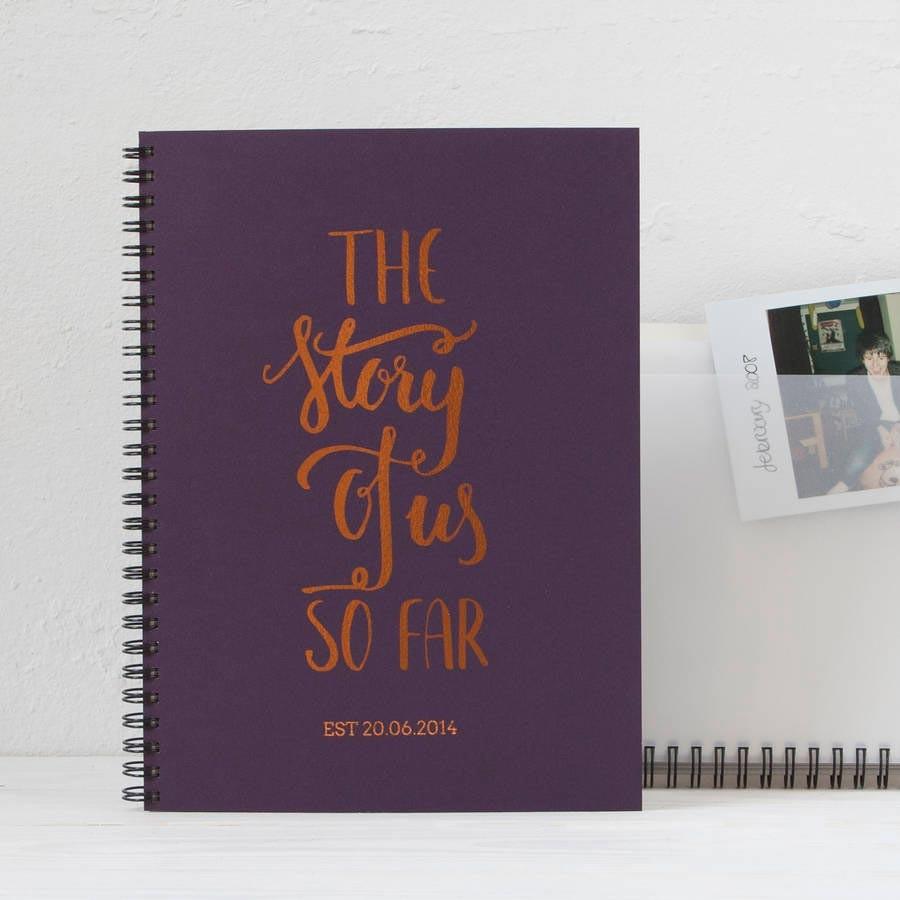 Image credit: Hannah Lloyd at Not on the High Street
There are loads of different ways to add romance and individuality to your wedding and those are just a few. Check out 50 DIY wedding centrepiece ideas for even more unique ideas.