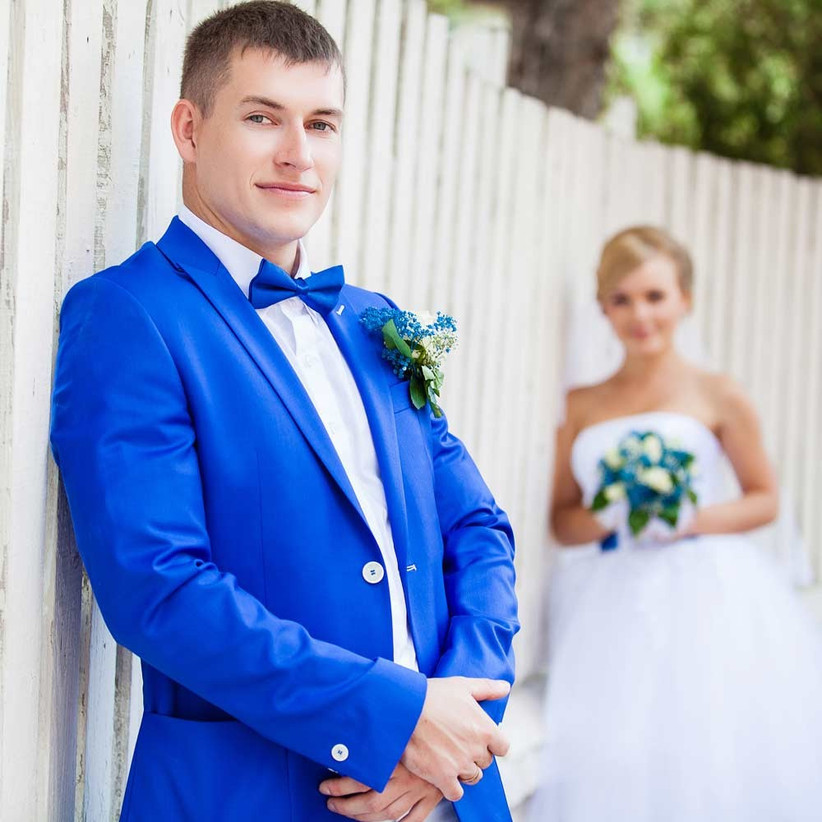 Wow, this is crazy right, you're actually engaged! He actually asked! You actually said yes!
Being engaged and planning a wedding is such an exciting time but there is always so much focus on the unreasonable worries a bride has in the lead up to the wedding – but what about you grooms?
Here are the things that go through EVERY groom's head before they say their vows…
She Said YES!
What an overwhelming feeling – all that stress of what ring to choose, how to pop the question and fear of rejection is over because she said yes. She is going to be my wife… Now I can breathe – and celebrate of course!
READ MORE: 33 Awesome Proposal Ideas
It's Celebration Time
I can't wait to share the news. It's time to get all the friends and family that I can possibly think of over, pop open the bubbles and celebrate the fact that she didn't hate the engagement ring and actually wants to marry me.
READ MORE: Creative Wedding announcements – 9 Ways to Break The Exciting News
That Was Quick
So I've been engaged for approximately 5 minutes and 3 seconds and my fiancé has already booked up my next 7 weekends with wedding venue viewings – oh and her bridesmaids have already been picked. I've barely finished my celebratory beer and I already feel poor.
It's Time to Talk Budget
Before things get out of control, it's time to rein her in and talk budget. I have no idea whether I'm planning a wedding for £5,000 or have a £25K budget – but either way, I need to decide before she goes completely rogue.
SEE MORE: Wedding Budget Planner
The Family and Friend Dilemmas
Every family has their own politics and when a wedding occurs it unfortunately gets even more heated. Uncle Ray and his new girlfriend have to be at least 5 metres away from Aunt June and the best man has just dumped one of our bridesmaids – great news.
The Stag Can't Come Soon Enough
Give me a drink. Give me my friends and give me a night off wedding planning.
SEE MORE: How to Plan a Stag do – Everything You Need to Know
Just Say Yes
When it comes to the wedding suppliers, décor and the other 5,982 small details that need to be decided on, I do this really clever thing where I just say yes and my wife-to-be smiles and then we pay and then I feel poor. 'Sweetheart if you want to spend £500 on fairy lights, you go ahead and do that…' – Works like a treat!
The Diet Phase
She's on a diet to fit into the two-sizes-too-small wedding dress she bought – so apparently this means I'm not allowed Dominos Two for Tuesday either – great!
READ MORE: Wedding Fitness – Loose Weight and Get Fit for the Big Day
This is Really Happening
Things are starting to get booked up, the plans are in place and I just realised that I'm actually getting married.
Eek, Speeches!
Wedding speeches are the make or break of a reception, if they're boring then everyone switches off and if they're funny you become a total legend – I know which one I want to be, I just don't know how to be it. Note to self: Don't say anything embarrassing.
READ MORE: 11 Top Tips for Making an Amazing Groom's Speech
Best Man Speech Nerves
I think to myself; the best man roles are pretty simple – help me out, arrange my stag do and say a few small and polite words at the wedding breakfast that won't offend, embarrass or shame me…
Then I remember my best man is the same man who once got me so drunk I fell asleep in a recycling bin 75 miles from my home – and then told my parents about it.
READ MORE: How to End Your Best Man's Speech – 15 Funny and Touching Ideas
Shall We Just Elope?
Maybe it would just be best if me and my future wife flew to somewhere beautiful, hot and secluded and just said our vows there. Funnily enough when I suggested this two months before the wedding, it didn't go down very well.
READ MORE: Thinking of Eloping? 19 of The Best Destinations
Not Long Now
Apart from having the realisation that I'm marrying a wedding-crazed, overly organised emotional wreck and I have no money left to my name – this whole process has been much more bearable than I thought. I got to try lots of free food at the tastings and the maid of honour is really more of a life saver than I had ever thought.
Time to Get Excited
It's just around the corner now and I realise that I would do anything for my partner. This wedding planning malarky was well worth it to see the smile on her face as she walks down the aisle…tomorrow…wait – TOMORROW!
She is Beautiful!
I always think the lady in my life is a vision but seeing her walk down the aisle in that (really, really expensive) wedding dress is something that I'll never forget. This is when I feel the luckiest of all.
READ MORE: 29 of Our Favourite First Look Wedding Photos
Thank God We Didn't Elope
As nice as it would have been to do it on our own, everyone is here – and I mean everyone. Even my Aunt and uncle are getting along. Every crazy, mental moment is worth it for this one evening being surrounded by friends, family and my wife.
Time to Fly Away
The wedding is done and I feel incredible. I have a wife, my best man didn't ruin my life and now I need a holiday. Bring on the honeymoon.
Now, enough of the feelings stuff – it's time to get find out just how the men should get suited and booted for the wedding day with our grooming tips for the groom!