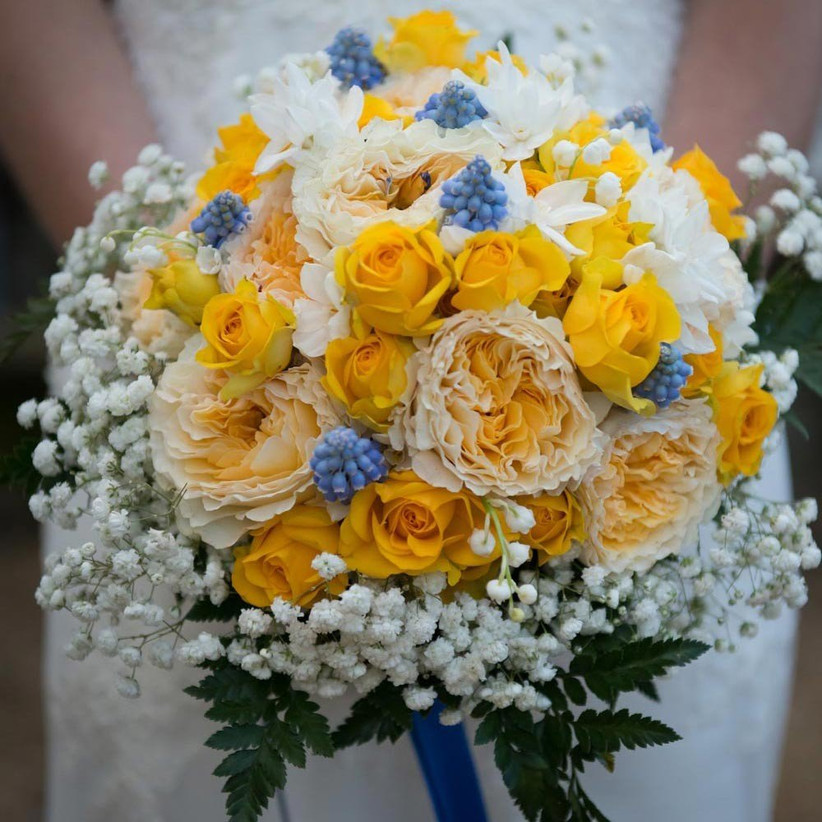 Spring is a gorgeous time of year for a wedding – lots of beautiful flowers are in season and nature is waking up after the winter so the trees are full of blossom and everything is starting to turn green.
We asked expert wedding florist Angi Boucher-Clift from Annie May to give us her top picks and recommendations for spring wedding bouquets so you can be sure to pick out beautiful blooms that are in season as well as the right style of wedding bouquet for your big day.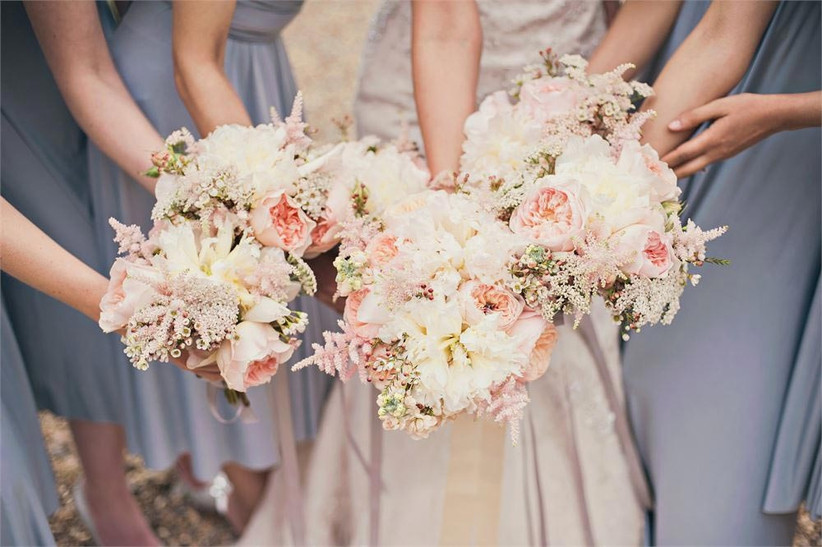 What Flowers Are in Season in Spring?
"The perfect flowers for spring are hellebores, fritillaries, anemones, muscari, hyacinths and narcissi," Angi explains, "These flowers come in a variety of colours and can suit many different styles of wedding. You can mix them together or use one type of bloom in different colours for a striking impact."
If you're having a wedding that's taking place in March or April, so once spring is well underway as opposed to February time, there's even more choice: "You can choose from some blooming beauties, such as tulips, ranunculus, hyacinths, guelder-rose, lilac, blossom branches, lily of the valley, bluebells and irises."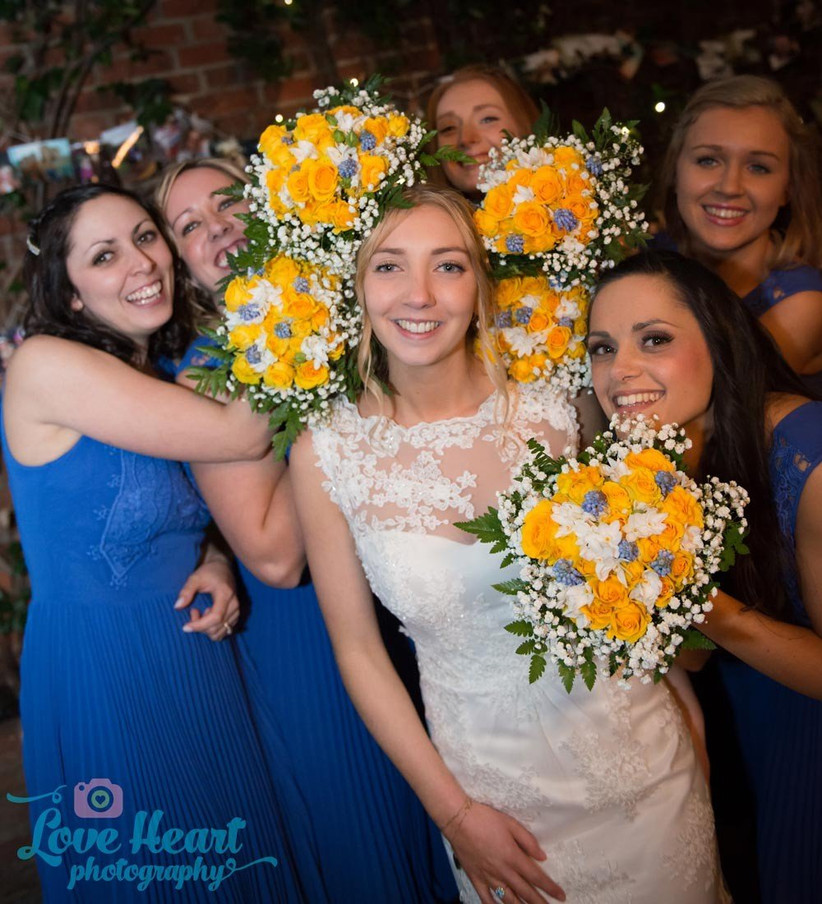 Image credit: Love Heart Photography
Bouquet Styles for Spring Weddings
Laidback brides who have already picked out the perfect boho wedding dress are in luck – spring is an ideal time for romantic boho arrangements in muted colour palettes. "I suggest you choose from the pastel and paler spectrum of colours if this is the kind of arrangement you want," advises Angi, "Consider using ranunculus, anemones and lily of the valley. Mix them with soft old style roses in pink, peach or lemon for a romantic, blousy vibe."
Quirky brides who want to add a bright pop of colour to their alternative wedding dress should heed Angi's advice on how to spice up your bridal bouquet in spring: "This is a great choice for a spring day, when the evenings draw in more quickly and it may be overcast. Go bold with tulips, lime gelda and narcissi. Brighten up the mix even more with some daisy faces from single bloom cheysants – these are available all year round but look great in spring." See the bouquet below, styled by Annie May for more inspiration.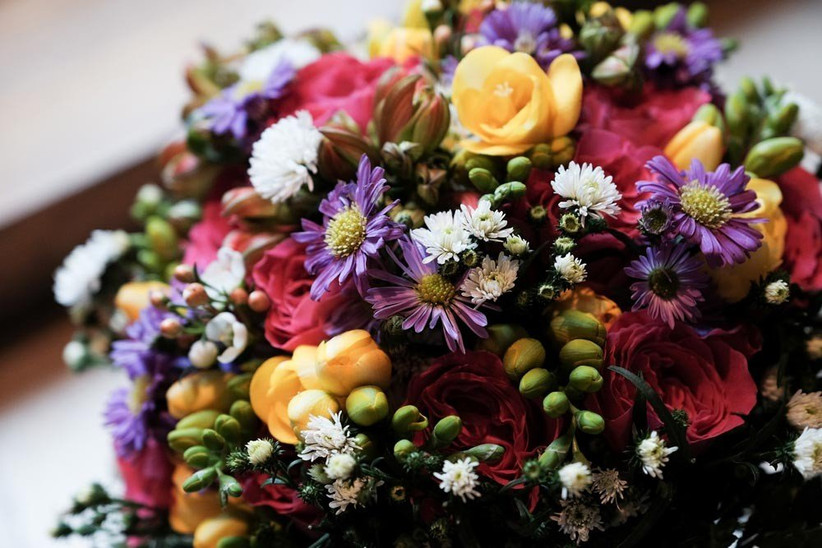 Image credit: Kevin Watkins Photography
Other Ideas for Spring Wedding Flowers
"Be different with your table decorations," Angi suggests, "why not plant bulbs in glass bowls and vases and surround with moss for a rustic look? Or if you want a big impact, try filling large galvanised buckets, vintage milk churns or even elegant urns with large branches of blossoms.
"I also love the idea of creating an archway using blossom branches to add another element to the bride and groom photos."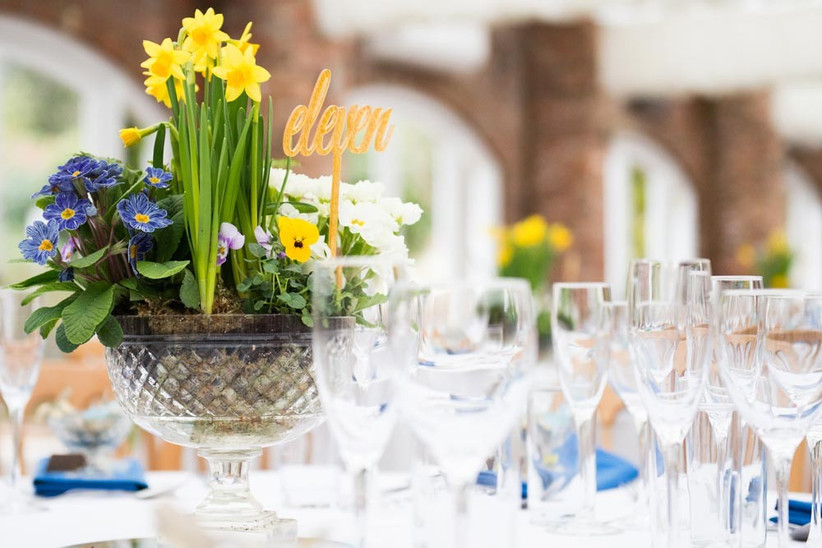 Image credit: Love Heart Photography
Spring Wedding Bouquets in Real Life
Angi has plenty of experience creating bouquets for spring weddings, with beautiful results. She created the wedding flowers for Christina and Dave's wedding at Upwaltham Barn, which took place on the 24th March. We asked Christina what made her go for a spring wedding and how she came to choose her flowers to suit that time of year…
"Spring is my favourite time of year and when planning our wedding, Dave and I couldn't think of a better time for a romantic and rustic wedding – and we were able to give it a spring theme!
We love the flowers at that time of year and the fact the days are getting slightly warmer and longer. We wanted to have a spring feel at our wedding during the day and make the most of the lovely outside areas at a wedding, before creating a warm, cosy atmosphere for the evening with tea lights twinkling everywhere and a log fire warming everyone through in the bar.
"When choosing the flowers for our spring wedding, we knew we wanted a mix of colourful spring wildflowers in jam jars for the table decorations, which were in keeping with our theme. We also decided to let our guests take the flower jars home at the end of the night, which everyone loved.
"For the bridal bouquet and the bridesmaids', we wanted bright colours that would really stand out against the navy blue bridesmaid dresses and we wanted bright rustic buttonholes for the boys to complement their navy wool suits.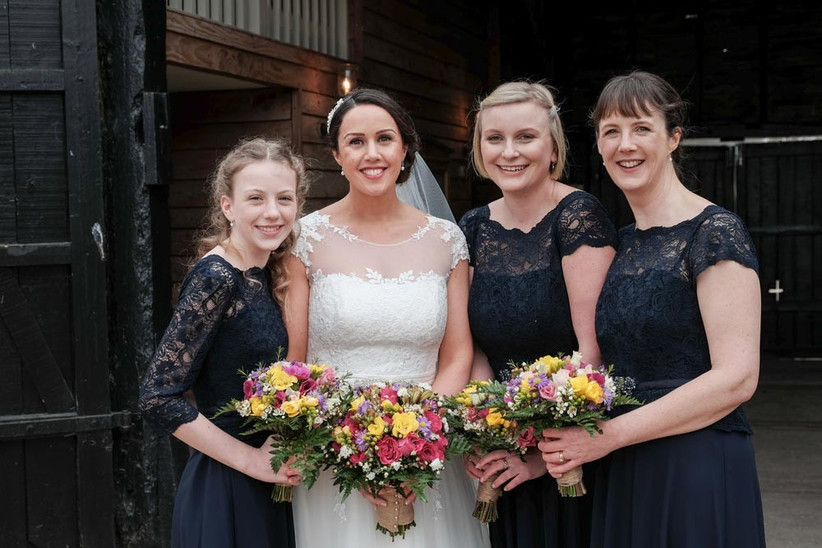 Image credit: Kevin Watkins Photography
"Annie May did an absolutely amazing job. The flowers were gorgeous. I loved my bouquet, the structure and the flowers themselves were perfect. My wedding bouquet was tied with hessian and secured with pearl pins which added a lovely extra detail.
"The colours we chose really stood out and added a bright pop of colour in our wedding pictures."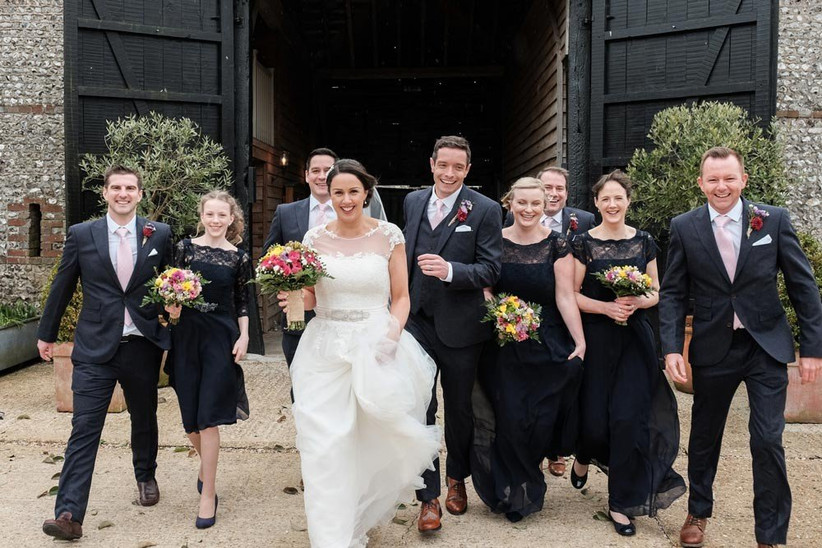 Image credit: Kevin Watkins Photography
Another of Angi's clients, Chloe, also wanted a spring wedding bouquet for her wedding at Farnham Castle on the 4th March. "I know Chloe really wanted the flowers to be in keeping with the season," Angi reveals, "So I suggested using the paper white narcissi and blue mauscari to tie the colour scheme together and create interest. They took my advice when it came to the table decorations and planted bulbs in glass vases which they were able to do easily at home – they looked fabulous on the tables at the reception!"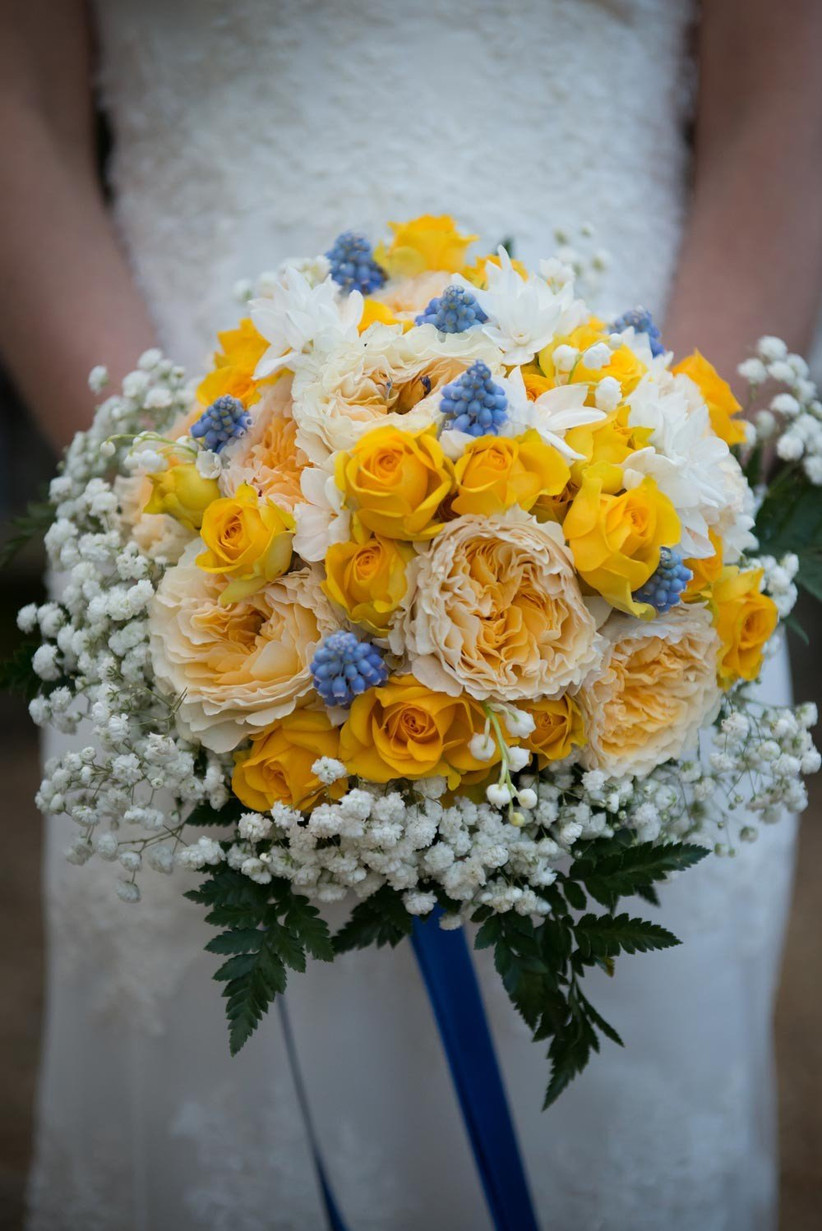 Image credit: Love Heart Photography
Spring is the perfect time of year to embrace florals – we have plenty of floral ideas for your wedding, or why not dress your best girls in floral bridesmaid dresses to further enhance the theme and pay homage to the time of year?