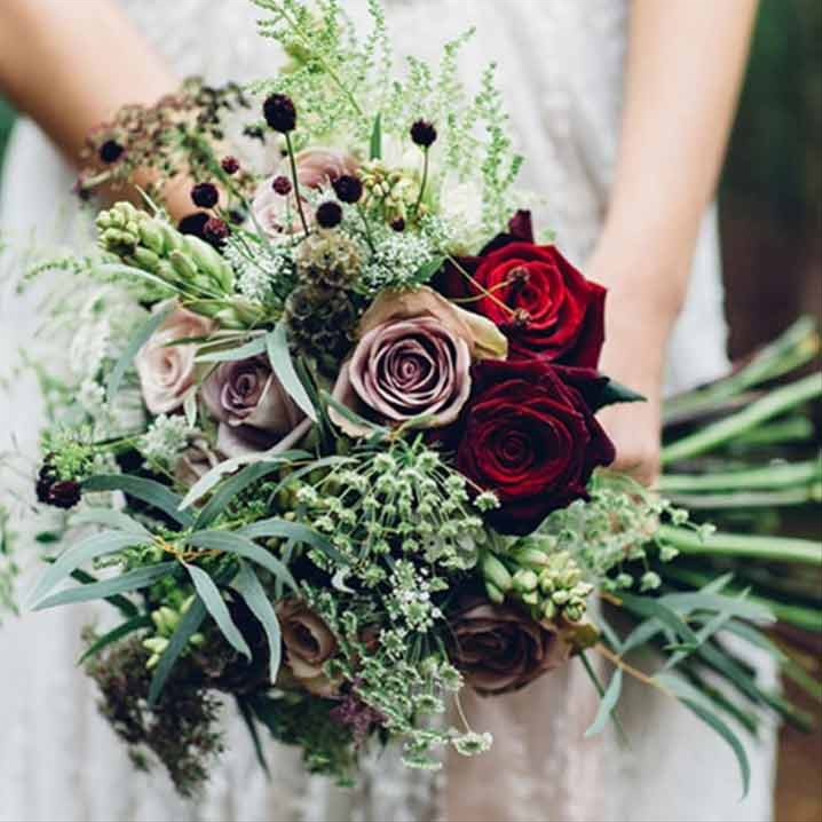 Rustic themed weddings are something which seems to never go out of style and we can see why – they look absolutely gorgeous!
When it comes to wedding flowers, brides always want to match them to the colour scheme or theme of the wedding so we have put together a guide to rustic wedding flowers for our brides to follow.
Here are some of the most beautiful rustic bouquets to inspire brides who want this as their theme.
Pastel Coloured Rustic Wedding Bouquet
This large rustic bouquet has a mix of flowers including pastel roses and plenty of foliage to create a woodland feel which always suits rustic weddings. The slight 'messiness' of the arrangement is perfect for a rustic style and we love the range of different plants used.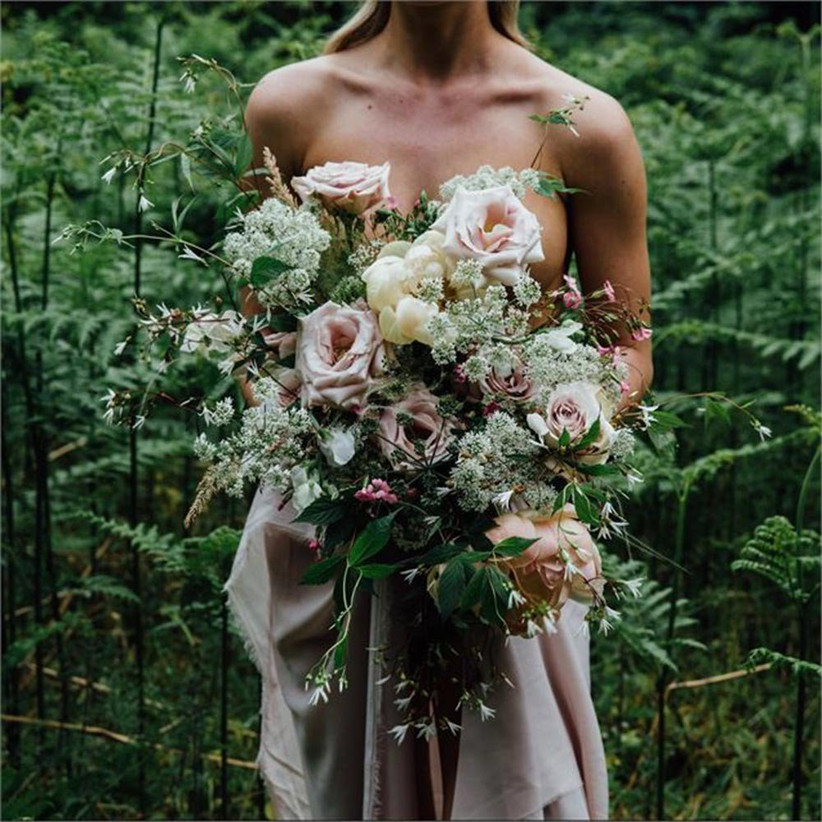 Florist – Joseph Massie Flowers
Pink and Purple Rustic Wedding Bouquet
This bouquet of flowers has a real rustic vibe to it with the use of dusky pink roses and greenery. The round shape is neater than most rustic bouquets but we love the petite size and use of more vibrant colours.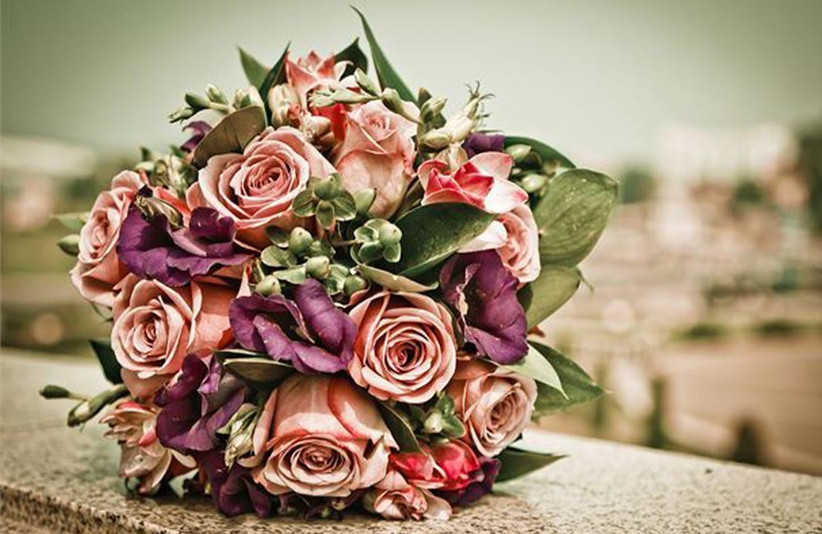 Foliage and Roses Rustic Wedding Bouquet
The splashes of lilac and deep red used in this wedding bouquet are what really set it apart from other wedding flowers. The colours are striking and look so good with the randomly placed greenery and foliage.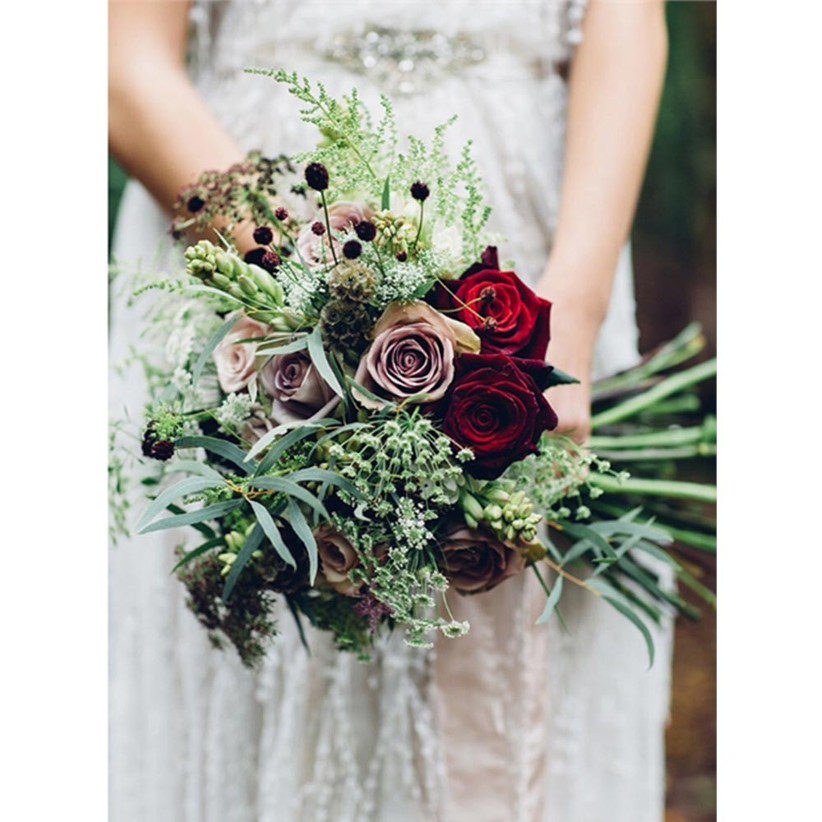 Florist – The Flower Bird
Summery Rustic Wedding Bouquet
Although most rustic weddings are based around autumnal colours, this beautiful bouquet has lovely orange flowers to brighten up its vibe and the florist has even used feathers to add something different. The wicker string used to tie the flowers together makes it look super rustic and we love the variation of flowers used.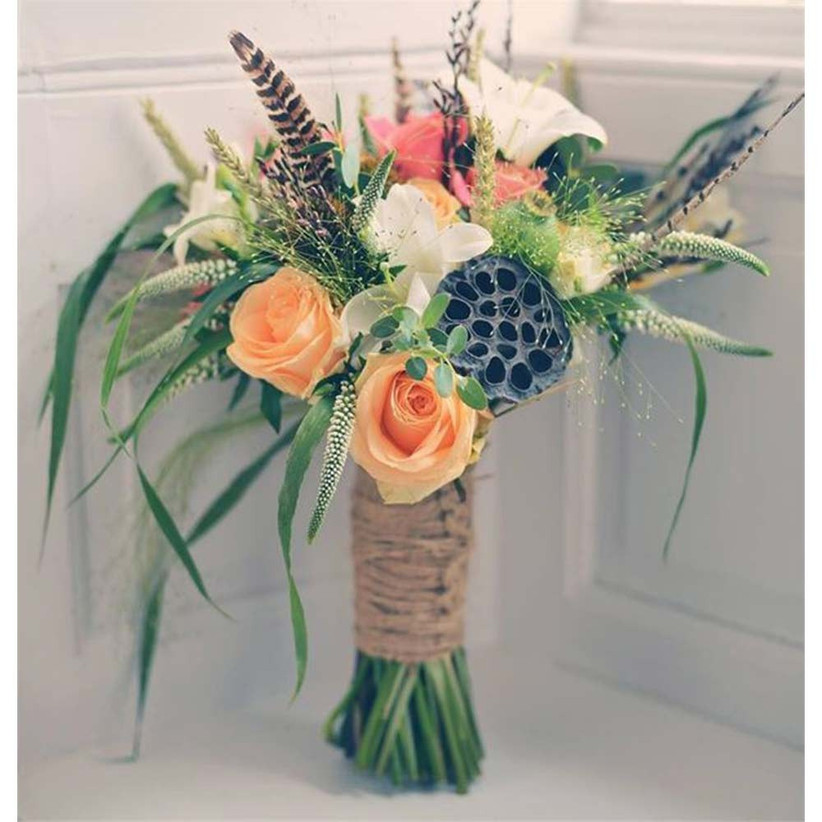 Florist – Sue Billington Floristry
Leafy Rustic Wedding Bouquet
This arrangement uses beautiful protea flowers as its main focal point and it really works well. The leafy embellishment and draping red foliage come together to create a really unique style of bouquet that couples having a rustic wedding will love. This style of bouquet is perfect for brides wearing a bohemian wedding dress.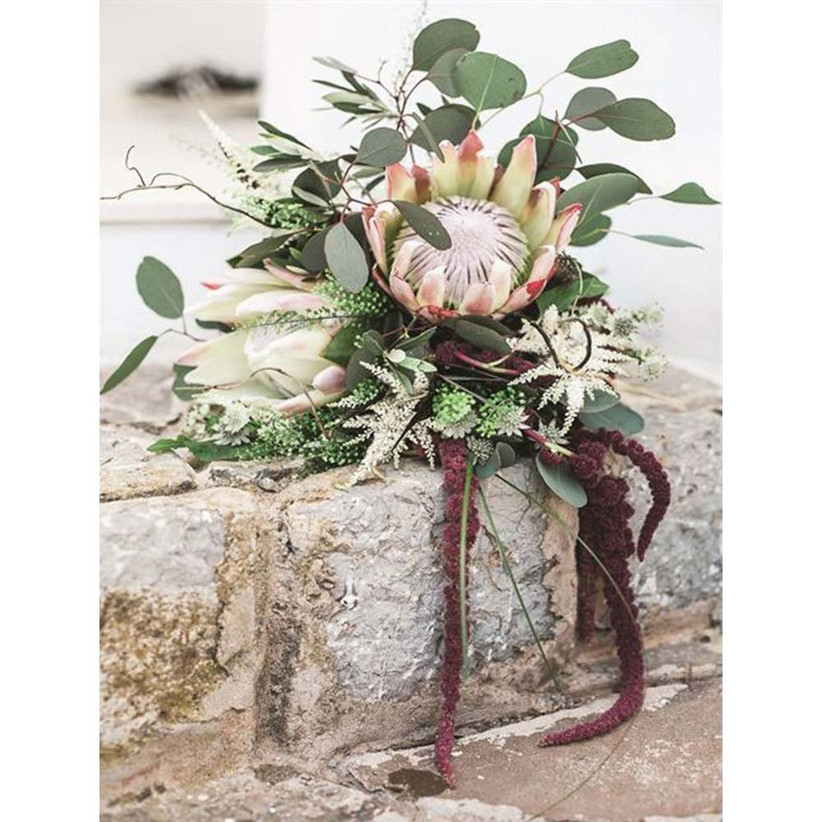 Image Credit – Samie Lee Photography
Winter Themed Rustic Wedding Bouquet
Rustic weddings can look gorgeous in the winter time and one bouquet which will suit a winter wedding perfectly is this beauty. The pine cones being used as flowers is such a clever wedding bouquet alternative and the gypsophila adds a frosty touch which we adore.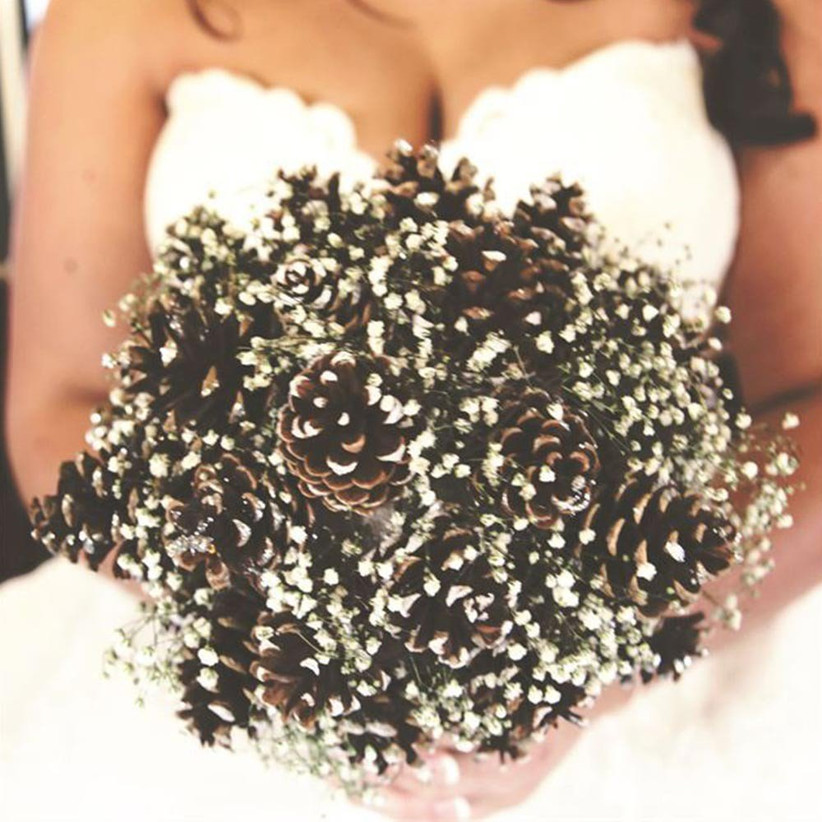 Image Credit – Carla Blain Photography
Pastel Coloured Rustic Wedding Bouquet
We love the added touches to this wedding bouquet. The brown string and name tag are a super cute way to personalise your wedding day and the large amount of green in the bouquet keep it looking fresh and beautiful. Pastel colours are perfect for rustic bouquets and this is a perfect example of how gorgeous they can look.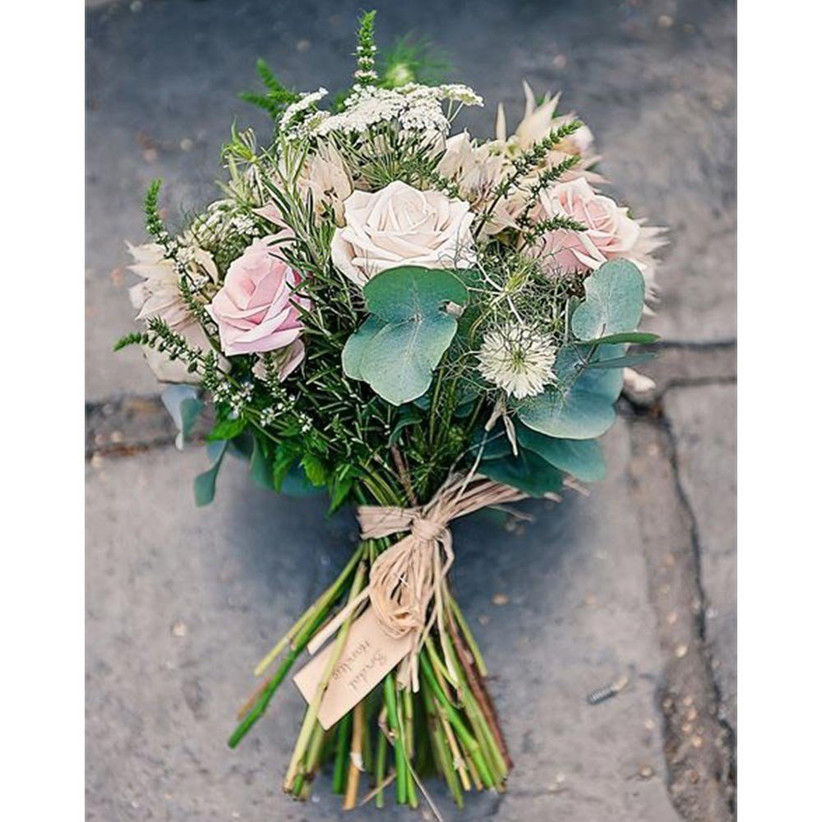 Image Credit – Darima Frampton Photography
Green Rustic Wedding Bouquet
Having lots of green leafy plants in your bouquet can give it a real woodland feel which fits in perfectly with rustic weddings. This style of bouquet is perfect for couples who are having a spring wedding or getting married outside.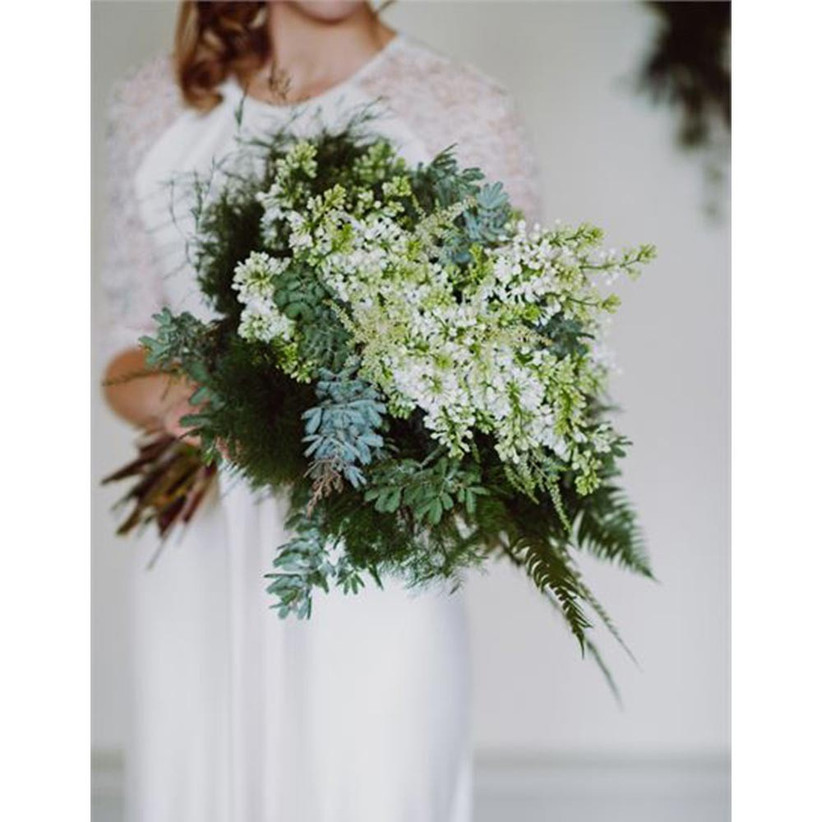 Florist – House of Blooms
Ombré Rustic Wedding Bouquet
Ombré is such a trend with so many things: hair, dresses, lip-liner, and now bouquets! The use of different pastel coloured roses with the top being a very light shade of pink and the bottom being a deep lilac, it creates a faded affect that is so trendy. The dusky colours are perfectly rustic and we love the way the stems of the roses have been left long and the leaves left on.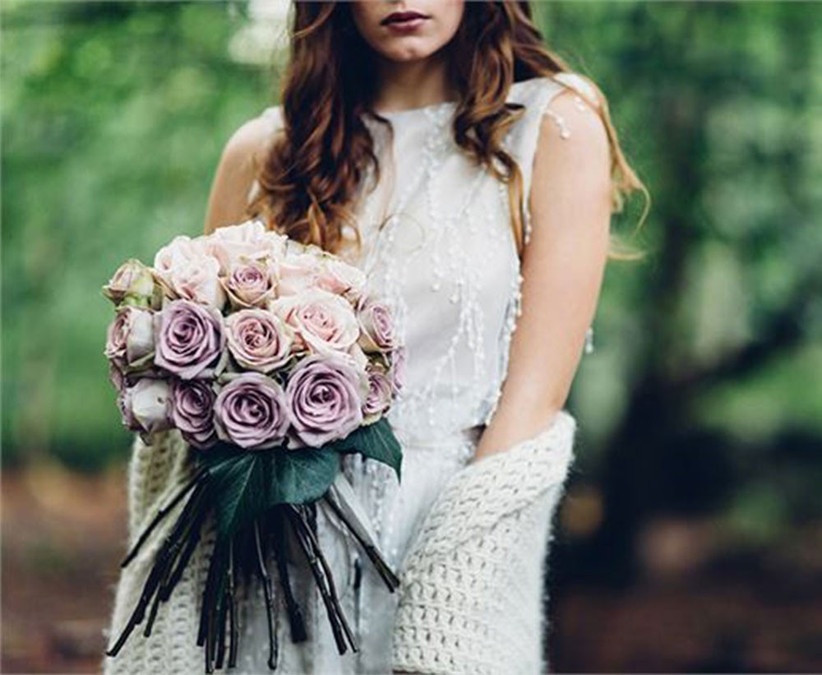 Florist – The Flower Bird
An Expert's Advice
To get some industry expertise, we spoke to Steph Brenner from Wrap and Tie Floral who gave us her top tips on how to have rustic wedding flowers and this is what she had to say…
Colour Advice for Rustic Wedding Bouquets
"Use beautiful muted colours such as greens, pinks, reds and goldy oranges along with beautiful foliage to create a gorgeous rustic bouquet."
Steph advises the use of pastel colours for a more toned down rustic look, when you mute the colours it tends to give a more subtle feel to the bouquet but for months like Autumn, vamping up the colour to a vibrant orange or red can stay in the rustic theme, but bring a splash of colour to your wedding floral style.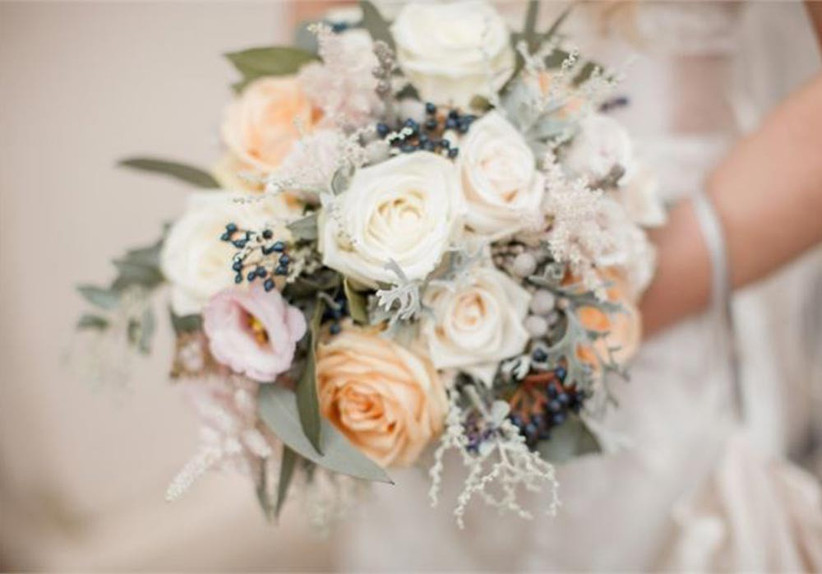 Wrap and Tie Rustic Bouquet 
Which Flowers Make a Great Rustic Wedding Bouquet
"Good flowers to use in the autumn months are berried eucalyptus, dennis boden, thistles, succulents and roses."
Using fruity flowers and other things such as thistles, berries and astranthias can also make the bouquet feel more rustic.
READ MORE – Wedding Flowers: A Guide to Wedding Flower Names
Top Rustic Bouquet Tip
"If you are using hydrangeas for your rustic wedding bouquet, put the hydrangea in a water vial within the bouquet. As its name suggests, this flower loves water and without the vial the colour may fade throughout the day."
Alternatively, if you are looking for a more pastel coloured hydrangea, not using a vial could be a good way of getting the dusky vintage colour you want for your rustic wedding bouquet.
Foliage Advice
When it comes to rustic bouquets, they are usually less formal than other floral arangements and you can afford to have different flowers placed more sparingly. Using foliage can really help fill gaps and create a more rustic, woodland-style look.
If you are looking for a more formal bouquet like some of the rose bouquets, use less foliage for a neater appearance and embrace the rustic theme more in the colours of the flowers rather than the 'messier' arrangement.
Now you have all the advice on rustic bouquets, make sure you read up on questions to ask your florist – take it from us, you can never ask too many questions!