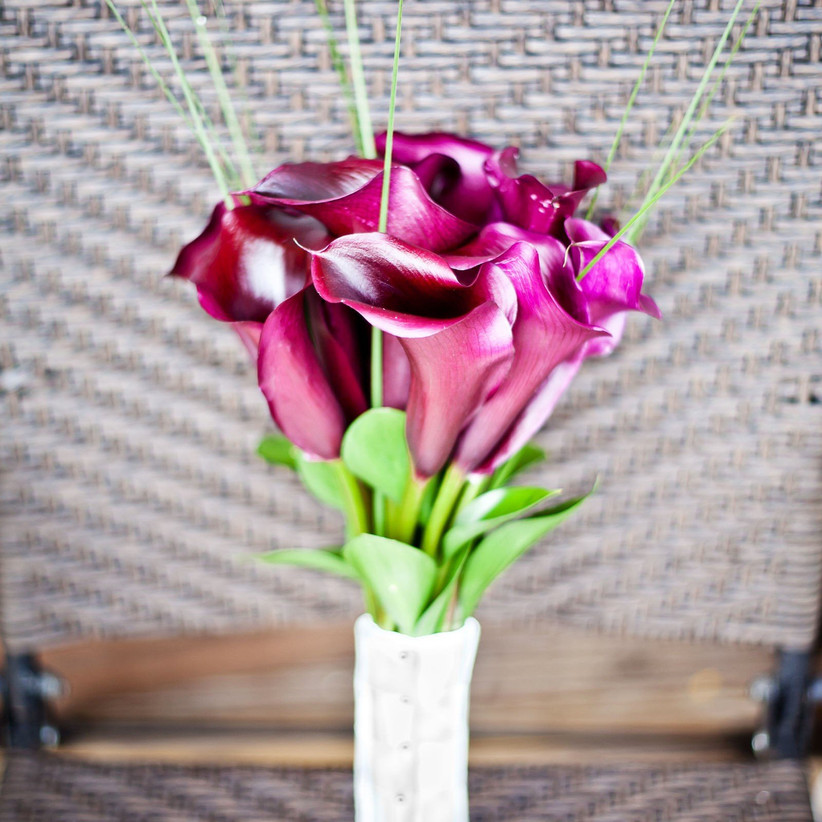 A subtle new look to wedding flowers is blooming in churches and registry offices.
As wedding fashions change, so do the kinds of flowers bought to accompany the blushing bride on her big day. Not everyone wants a big white dress, and equally, a large display of brightly-coloured flora and fauna is not everyone's idea of chic. The new ingredient leans towards a more subtle, simple look, as Interflora's Debbie Phillips explains.
"What people are going for these days is the white lily look, hand-tied as opposed to the old-fashioned, traditional way of wiring flowers," she explains.
Although this can be a more expensive way of arranging your flowers, it has becoming increasingly trendy.
"People tend to be turning toward a natural way of having flowers as opposed to an artificial way," says Debbie. "Foliage has become very popular — different kinds give different textures and contrasts.
"Sometimes", she says, "people have an all-green foliage bouquet with no flowers at all. When you consider that the bride, bridesmaids, church or registry office, reception, men's buttonholes, and sometimes even wedding car must all be decked out, it's hardly surprising that people might want to skip the petals and stick to the roots.
"The amount spent on flowers at an average wedding varies on what kind of a day it's going to be. If the wedding is being held in a registry office, the flowers needed may come to just £75. For a marquee, the price can be as much as £800 — the range is very wide."
The lily look may strike some as a macabre choice for what is meant to be such a joyful day, once a popular choice for funeral flowers. Not so, says Debbie. "Lilies used to be used for this, but not so much now. As far as the traditional bouquet goes, a popular combination used to be roses, freesias, carnations and things like that."
Some customers still require this kind of look, but most often with a variation. Debbie says, "They'll maybe have the freesias and the roses, but with something different. A popular choice at the moment is what we call the Singapore Orchid."
The overall idea is to give the display a more flowing look, rather than the old-fashioned stiff-looking display. But if you want something entirely individual, then a chat with your local florist is the best option. They will discuss what colours you will be wearing, and what the setting is going to look like. They should be able to give you estimates, and can provide advice on what looks good with what.
For those on a budget, costs can be trimmed by using blooms supplied from relatives or friends' gardens; by weaving in handmade flowers — or by opting for simplicity. This means sticking to the current trend for green foliage like ivy, which makes a beautiful garland for the top table at the reception, and can also look smart when combined with white candles at a buffet setting.
Choosing the correct flowers can be the factor responsible for the final 'look' to your wedding, so careful planning is needed. But don't forget that simplicity can be just as attractive as a more detailed approach. Go with what suits you both, what you both like, and what you can both afford. And never be afraid to ask for help, since that's what florists are for!