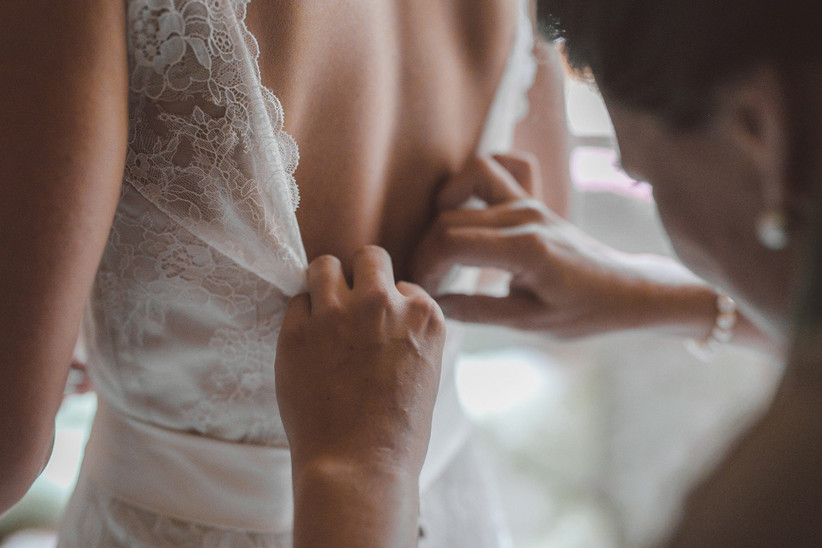 With huge variation between shops, it can be tricky to know exactly what your dress size is or what that translates to in inches. It's even more confusing with wedding dresses as they often comes up slightly smaller than regular women's clothing.
We've put together a handy dress size chart for wedding dresses and bridal separates for you. If you have bridesmaid dress fittings, these are the sizings you'll need too.
Before you go dress shopping, you'll need to measure yourself so you can go prepared with your dress size and what that converts to in waist, bust and hip measurements. There's a visual guide below showing you exactly how and where to measure yourself.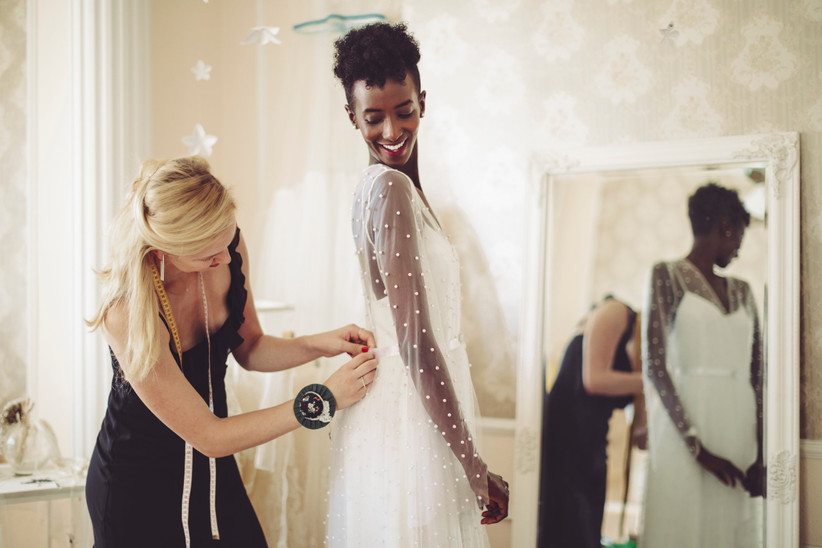 Image: Getty
Whether you're a bride-to-be going dress shopping, ordering a wedding dress online or wanting to compare their measurements to a dress designer's size chart, it's essential to know your correct dress size. And it'll reduce the need for expensive alterations!
READ MORE: Everything You Need to Know About Wedding Dress Alterations and Fittings
Scroll down to discover how to measure yourself and to find our size chart. This tells you your waist, bust and hip size depending on your measurements, as well as your UK dress size. At the bottom, you'll find out how to use this information to make sure you get the right size wedding dress.
So if you want to know what a size 12, size 14 or a size 16 waist is in inches and so on, you've come to the right place!
How To Measure Your Waist, Bust and Hips
Here's the important bit – how to actually measure yourself!
There are three key points: your bust, waist and hips. You should measure against your body, not through clothes, to get the most accurate measurements. Use a flexible tape measure and make sure it's not too tight or too loose.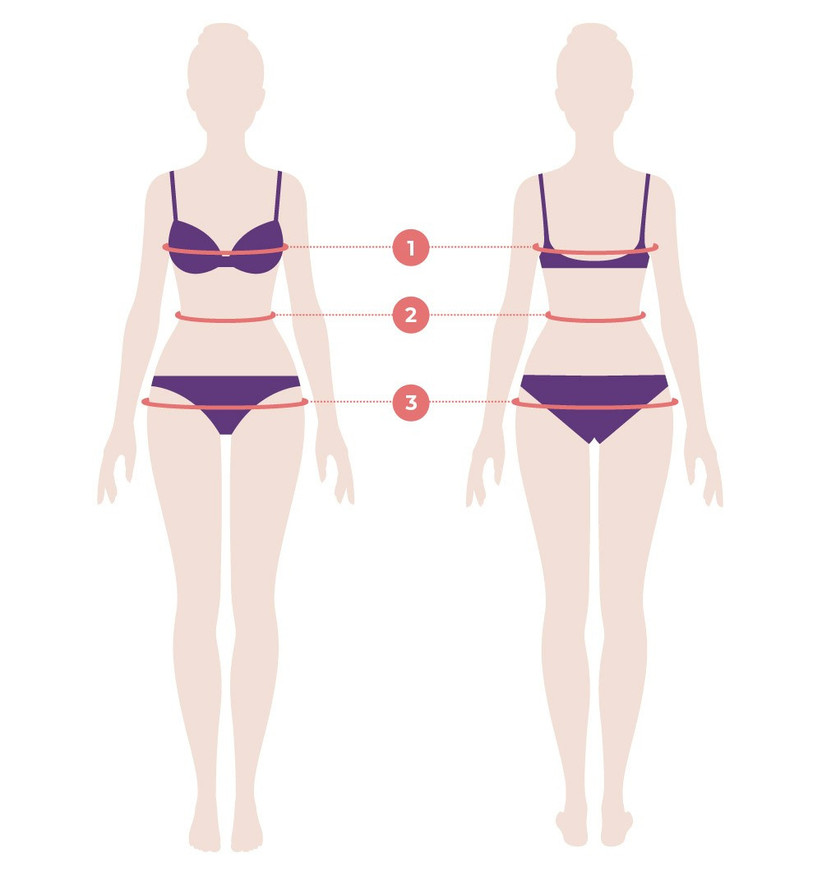 Bust (1): Measure around the fullest part of your bust, ensuring the tape measure is straight across your back.
Waist (2): Measure around the smallest part of your waist. To find this, bend to one side like a teapot and where the crease forms is your natural waist.
Hips (3): With your feet together, measure around the fullest part of your hips, usually 20cm down from the natural waistline.
READ MORE: The Best Wedding Dress Shops in London
Hitched's Women's Dress Size Guide
These are the most common measurements for a woman whose height is 5'6″ (168cm) and go from a UK size 4 to a size 26. They're accurate for a wedding dress or if you're in a two piece wedding dress with a separate top and skirt.
However, these measurements should only be used as a guide because – as we know – fit varies depending on cut, fabric, style and brand.
Size
Bust
Waist
Hips
4
31″
24″
33″
78cm
60cm
83.5cm
6
32″
25″
34″
80.5cm
62.5cm
86cm
8
33″
26″
35″
83cm
65cm
88.5cm
10
35″
28″
37″
88cm
70cm
93.5cm
12
37″
28″
39″
93cm
75cm
98.5cm
14
39″
31″
41″
98cm
80cm
103.5cm
16
41″
33″
43″
103cm
85cm
108.5cm
18
44″
36″
46″
110.5cm
92.5cm
116.5cm
20
46″
39″
49″
116cm
98cm
123.5cm
22
48″
41″
51″
123cm
105cm
130.5cm
24
51″
44″
54″
130cm
112cm
137.5cm
26
54″
47″
57″
137cm
119cm
144.5cm
You'll find petite (normally for women under 5'3″) and tall (over 5'9″) ranges will differ proportionally to fit shorter or taller body shapes, so remember to take your height into account.
READ MORE: The A-Z Guide To Wedding Dress Designers
How To Use The Size Guide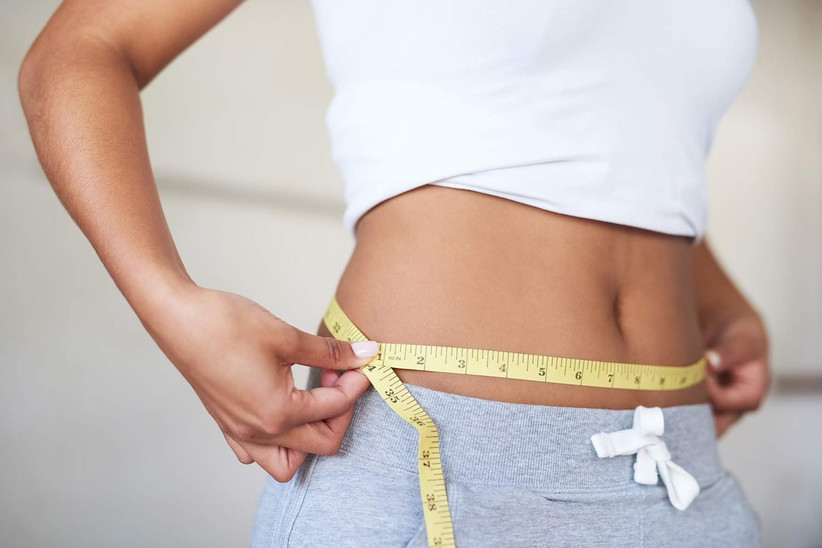 Although your wedding dress shop should (*should*) measure you, it's important to have your own measurements to hand. It important for being able to call ahead and see if a boutique has a sample dress in stock in your accurate size, for ordering the right size dress online or in store, and being able to tell a seamstress what you need altering.
You can use this size chart to convert either your dress size into inches or your measurments into your dress size.
Bear in mind that each wedding dress designer will have a standard inches-to-dress-size chart that is specific to them.
READ MORE: The Emotional Stages Of Choosing Your Wedding Dress
Using this chart, you can easily compare your bust, waist and hip measurements to the size guide from your chosen bridalwear designer. Your dress size in normal clothing might be very different to your designer's sizing. Just remember that's no reflection on you!
If you come up with a size 14 bust, size 12 waist in inches and size 16 hips, we recommend you go for a size 16 dress and get the rest of it altered down to fit your body. This will be most flattering on your body, and it's important to feel as comfortable as possible on your big day.
Want to know what our brides think about dress sizes? Check out this forum on real waist and hip sizes in inches.
If you're trying to find that perfect wedding dress, check out our edit of amazing dresses under £1,000 and our advice for wedding dresses for mature brides.