Choosing Your Bridesmaid Dresses – Our Top Tips
After the hustle and bustle of choosing your own wedding dress, it's now the turn of the bridesmaids...
We have included third party products to help you navigate and enjoy life's biggest moments. Purchases made through links on this page may earn us a commission.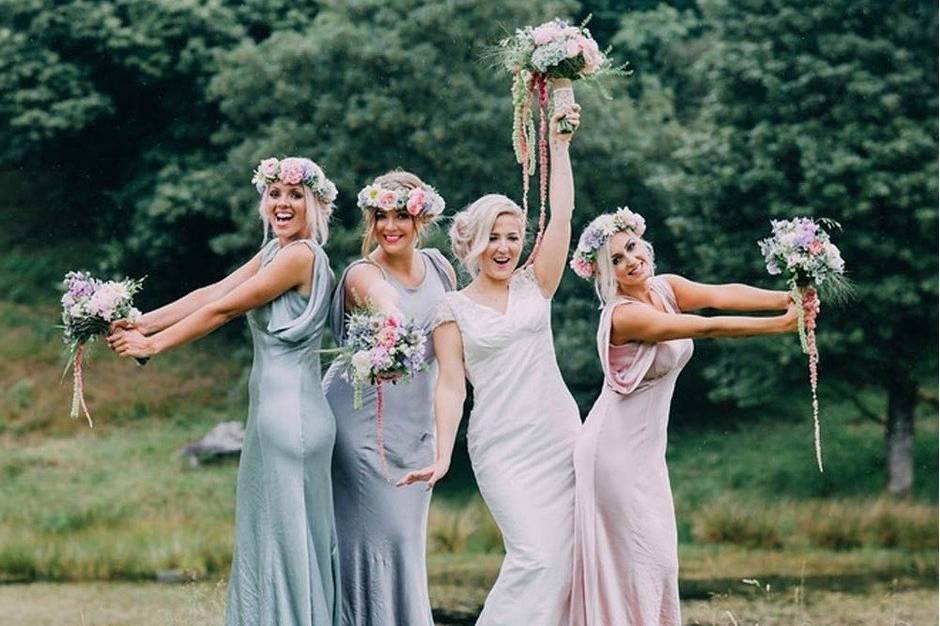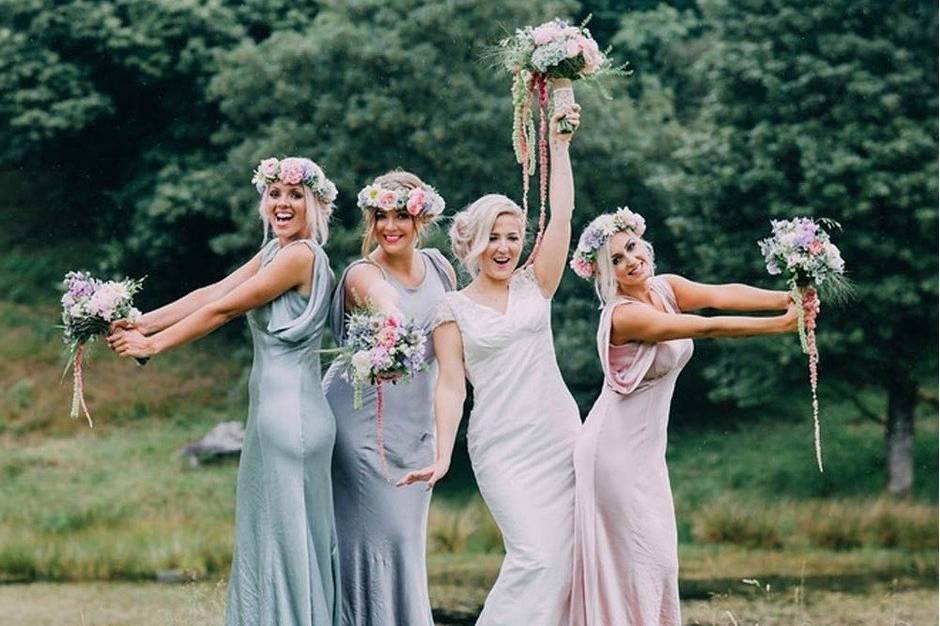 The second most important dresses, after yours, has to be your bridesmaid dresses and choosing them can be hard.
Nowadays there is so much choice available from sequin bridesmaid dresses to mismatched designs – how can you possibly narrow it down?
We've gathered together our top tips for choosing your bridesmaid dresses so it becomes less of a chore and more of a fun wedmin to-do.
Pick Your Bridesmaids
When it comes to picking your bridesmaid dresses, it's almost impossible to decide on a style when you don't even know who your bridesmaids are.
Make sure you pick your bridal squad first – once you know who your special girls are, it will be much easier to decide on the dresses.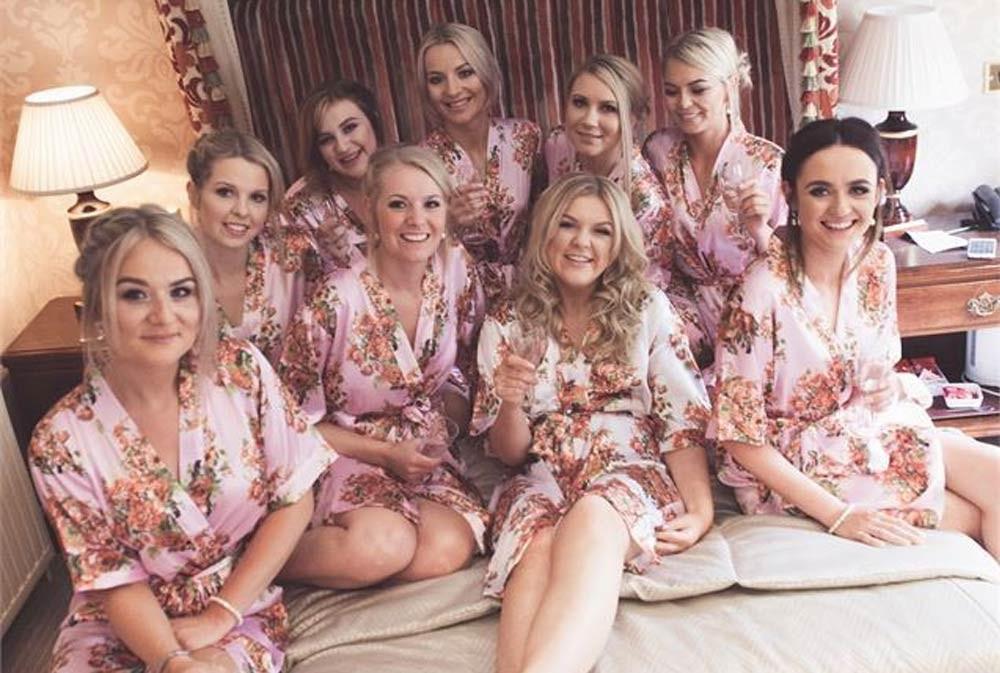 Photographer: Jo Bennett Photography
Wedding Dress Comes First
Your bridesmaid dress choices will depend hugely on the style of your wedding dress so make sure you have made your final choice on your dress before the bridesmaid shopping commences. You want to make sure that your bridesmaid outfits flatter your dress and overall bridal look.
READ MORE: Mistakes Not To Make When Choosing Your Wedding Dress
Venue: The Tythe Barn Launton
Consider the Season
It's really important to make sure your bridesmaid dresses match the season you're getting married in. If your wedding is in the height of summer, you may not want to dress your girls in long dresses made from thick and heavy material and winter weddings may not be the home for mini-dresses with no cover-ups.
READ MORE: Stunning Bridesmaid Hairstyles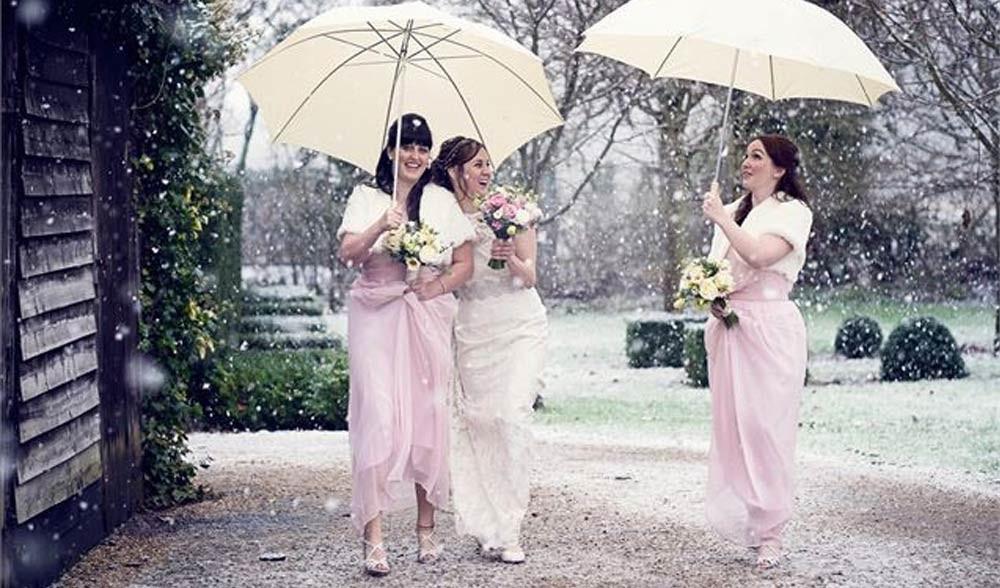 Hair and Makeup – Sarah Larvin Hair Stylish and Makeup Artist
Decide on Your Vision
Deciding on your bridesmaid dress vision is such an important step in the process. It's when you make the decision on what overall look you want for your girls. Do you see them in mismatched bridesmaid dresses that all follow a colour scheme, identical outfits for each or same colour and different dresses.
READ MORE: Vintage Bridesmaid Dresses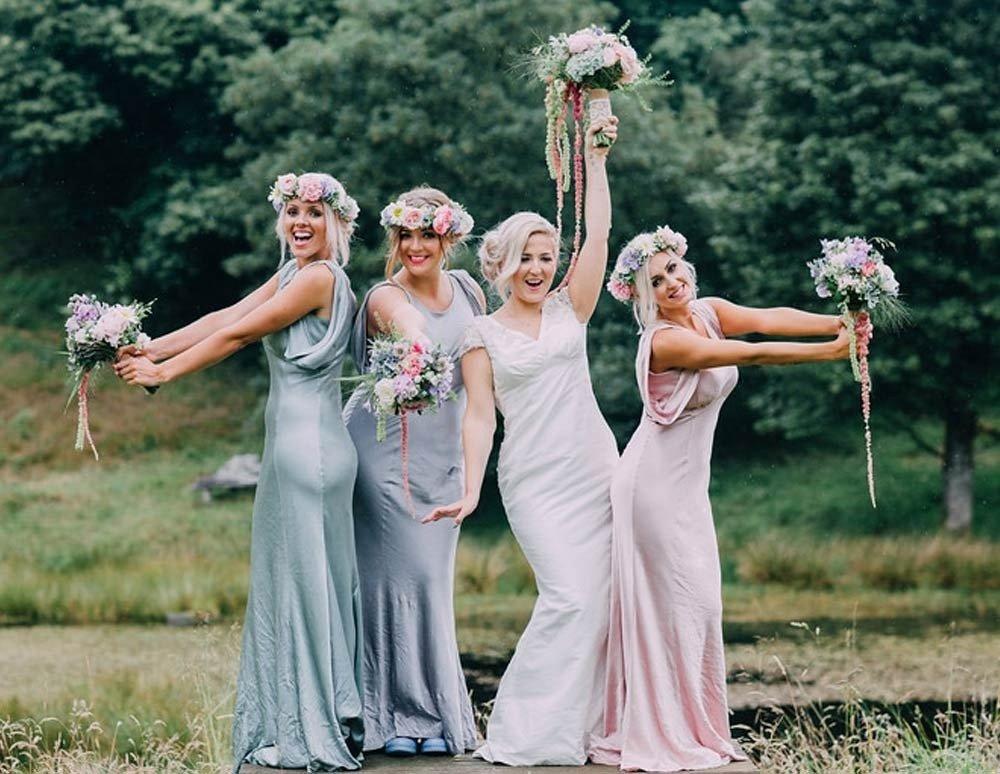 Venue: The Wild Boar
Give Yourself Time
As well as giving yourself time to find the bridesmaid dresses, delivery and alterations also need to factor into this time-scale. There is no way of predicting things getting lost in the post, not fitting or needing slight alterations so leaving a few months breathing space is always a good idea.
READ MORE: Plus Size Bridesmaid Dresses
Set a Budget
Unfortunately, every part of a wedding has to have a budget whether it's big or small. Giving yourself a cut-off price for the dresses will rule out ones that are not an option and help you decide on what brands are for you.
If your bridesmaids are paying for, or contributing for their own dresses, think about what each can afford. One may be able to pay for a seriously expensive dress but that may not be the case for all so putting a budget on it can be a real helping hand for the girls who have less to fork out.
For advice, be sure to check out our Hitched budget planner – it can really help you decide what to spend and the areas to spend it on.
READ MORE: Bridesmaid Dresses Under £100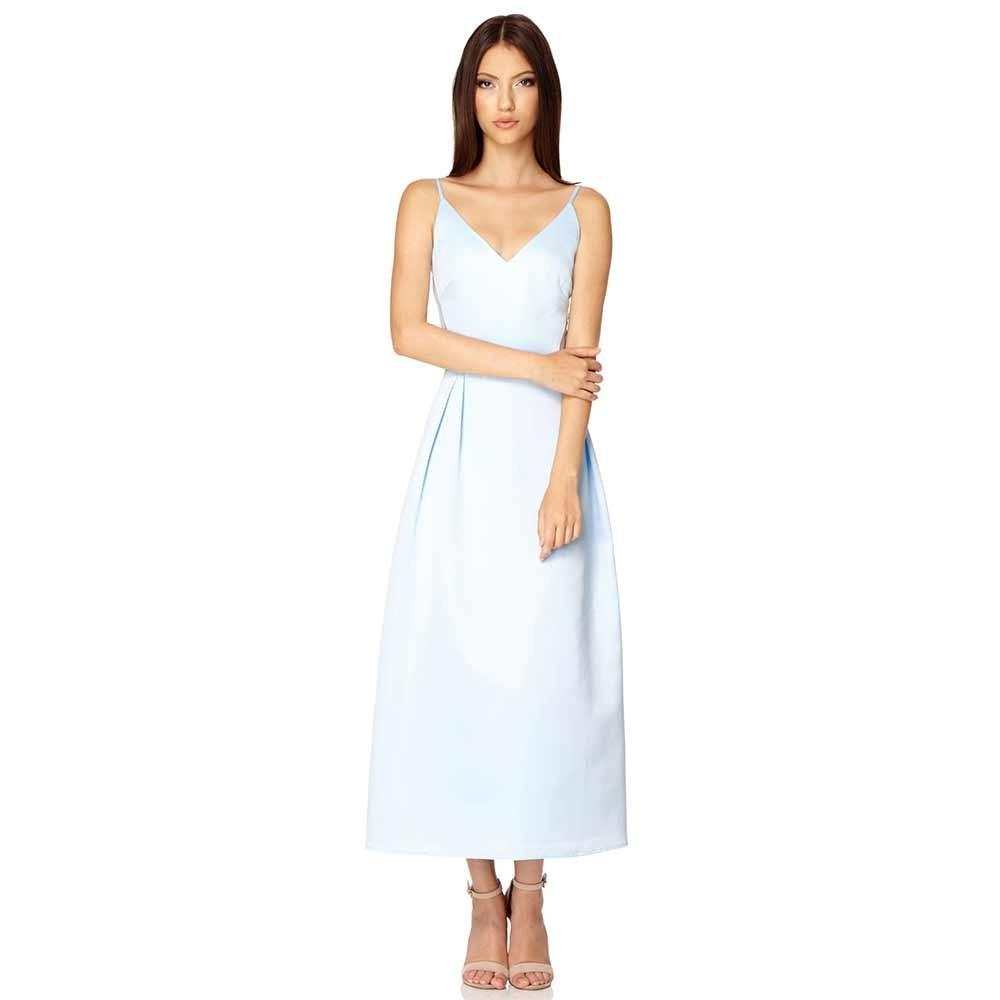 Start Looking at Styles
Each of your bridesmaids are likely to have different body shapes, heights and styles. Whilst it is still your wedding, taking these things into consideration is a really nice thing to do and will be much appreciated by your girls. Have a think about the styles and shapes of dresses you usually see them wearing and see if there are any that suit them all.
Alternatively, there is always the option of having miss-match bridesmaid dresses as we mentioned above. This is a really popular wedding trend which we are seeing more and more of in recent years.
READ MORE: Bridesmaid Dresses Under £50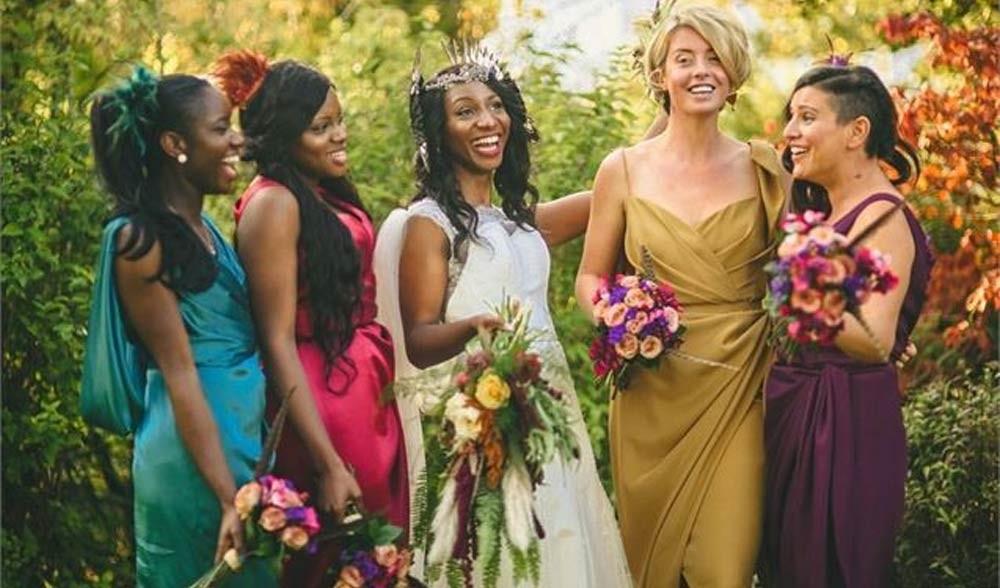 Hair and Makeup: Cambridge Makeup Artist
Have a Fun Day Shopping
Although choosing your bridesmaid dresses can be a stressful process, make sure you have fun with it. Arrange a day out with your girls to go and try on as many dresses as their hearts desire. You may end up finding the one, but keep your expectations for this low. Use this day as a great chance to have a girly break and see what styles your bridesmaids like. Be sure to stop off and grab a champagne lunch because…why not!
READ MORE: Highstreet Bridesmaid Dresses
Is Pregnancy on the Horizon?
Post and pre natal bridesmaids are always worth thinking about. If one of your bridesmaids is likely to have recently given birth at the time of your wedding or still be pregnant, factor this into the styles. Empire line dresses are a great choice for pregnant bridesmaids or buying a longer version of the dress so that it fits nicely over the bump can also be a great alternative to maternity-wear. Speak to the bridesmaid and see what she would feel comfortable wearing – there are so many beautiful options to choose from.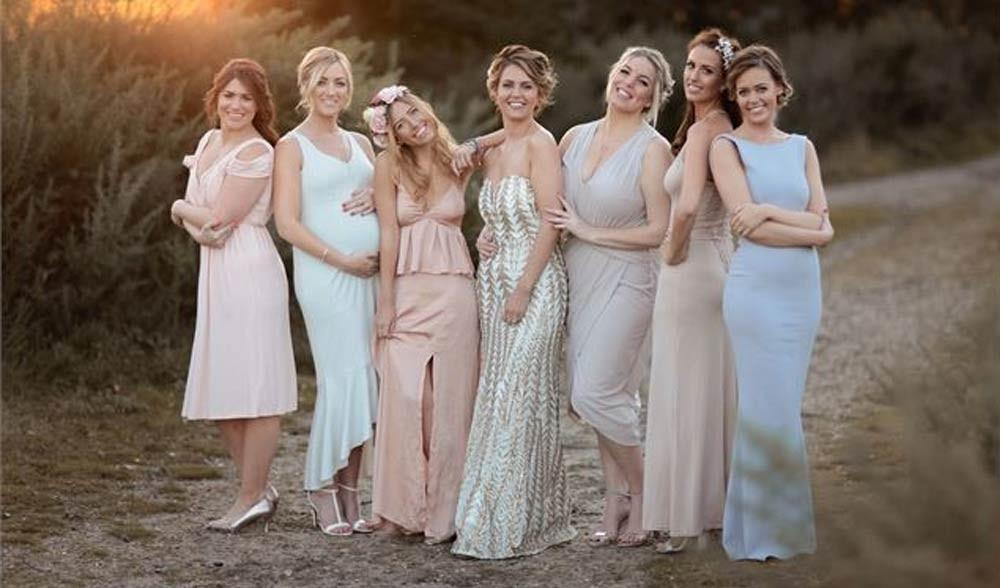 Hen Party Photoshoot: Braid and Bloom
Narrow Down Your Choices
If shopping didn't result in finding the dresses, narrow down your own choices for your bridesmaids to look at. You are the bride and it is totally okay for you to take charge in giving them some gorgeous options that they can look at. Doing it this way will leave you with the final choices in no time.
Getting Alterations
Most bridesmaids will find themselves doing quite a lot of running around on the day – they play a massive role and will need to be able to move around for pictures, bridesmaid duties and getting the dance floor moving in the evening. Because of this, you must make sure that when the alterations are happening, that the bridesmaids can move around freely in their dresses. They will thank you for this one!
READ MORE: Pink Bridesmaid Dresses
Have a Group Fitting
To make sure you all look great together as a bridal party, have a final dress fitting where you all come together, the bride and bridesmaids. Seeing the wedding dresses and bridesmaid dresses all being worn together will allow you to see the finishing touches – we can imagine this moment could get pretty emotional.
The Finishing Touches
As well as shopping around for accessories, shoes and deciding on your bridesmaids hairstyles, be sure to give your groom a heads up on your choices. As well as matching your theme and wedding dress, it's always a nice touch to have the bridesmaid dresses tie in with the suits worn by the best man and ushers – even if it's just a pocket square or a matching tie, it makes all the difference.
READ MORE: Black Bridesmaid Dresses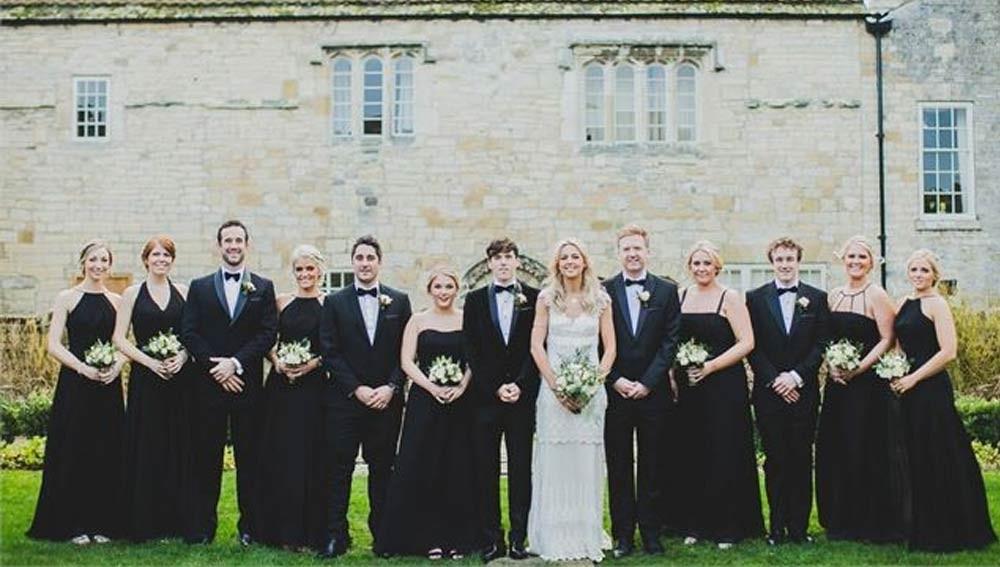 Venue: Priory Barn & Cottages Syningthwaite
Now you have their outfits sorted, it's time to look at our edit of the bridesmaid roles – do your girls know what they're supposed to be doing?