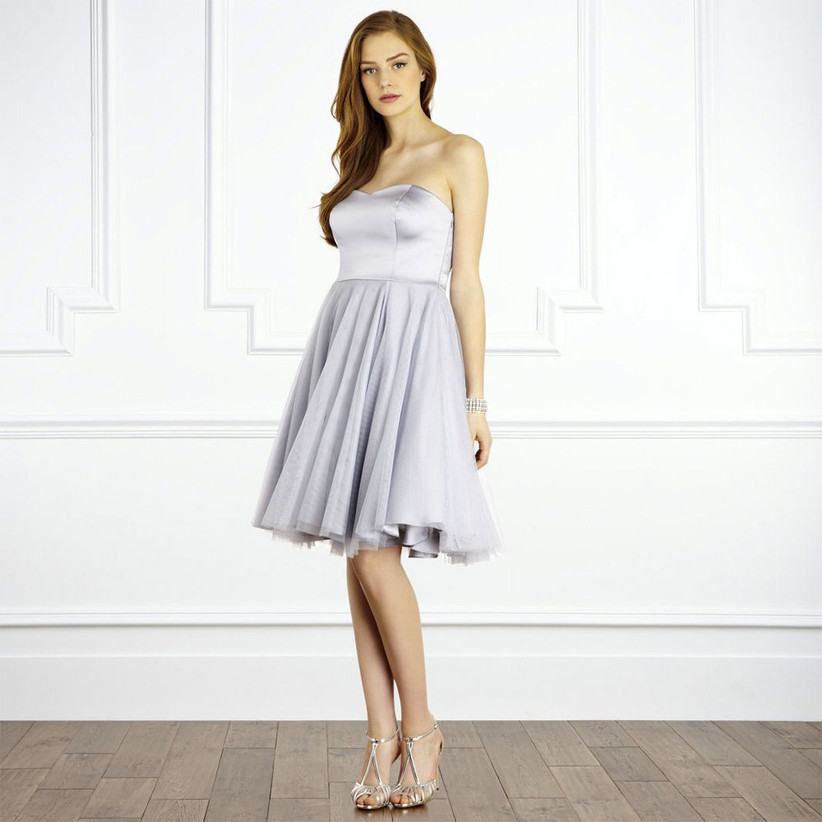 Silver bridesmaid dresses are a great colour choice, especially for wintery weddings and they come in all shapes and styles. They tend to have the glam factor and are versatile in the sense that you can pair them with different colour schemes which is super handy. Here are 17 of our favourite picks for you to browse through.
Style 8108 – Sorella Vita
How could you resist this stunningly shiny, silver dress by Sorella Vita? The strapless design is complimented perfectly with a thick black belt on the waist which gives the dress a striking look. Because of the contrast in colours, we think this look would be perfectly finished with a black clutch bag and killer black heels.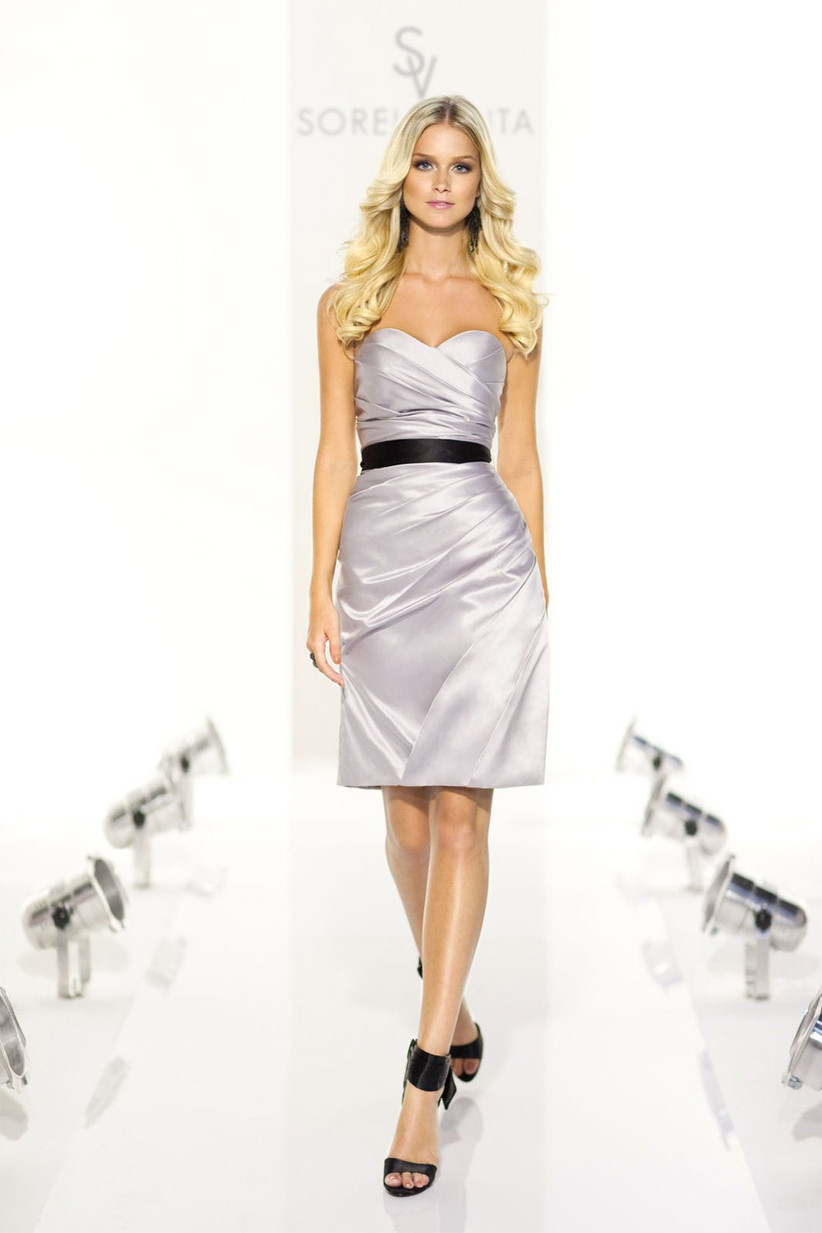 Style 2878 – Dessy Collection
Silver is a great colour to highlight lace detail, as you can see with this Dessy Collection dress. We love the cuteness of the pattern and the satin floppy bow is so pretty. Dainty heels and accessories with this dress will create the perfect bridesmaid look. The blue silver tone would also make a perfect winter bridesmaid dress.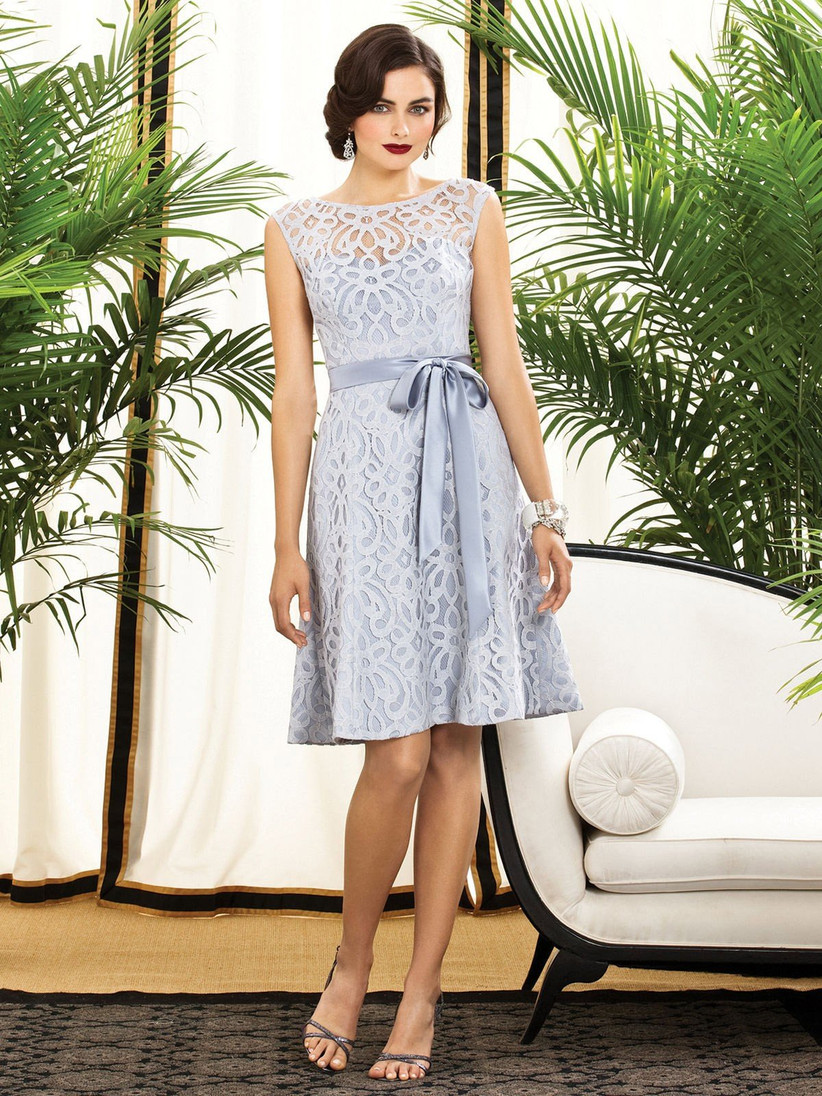 Style 50164 – Kelsey Rose
This gorgeous Kelsey Rose gown may seem like a strapless shape to the naked eye, but this dress has a very sheer top to it which gives it a whole new design. The lace bodice is a stunning feature and the scalloped pattern is super flattering and pretty. We also love the layered chiffon skirt! Soft waves will be the perfect hair do to work with this chic number.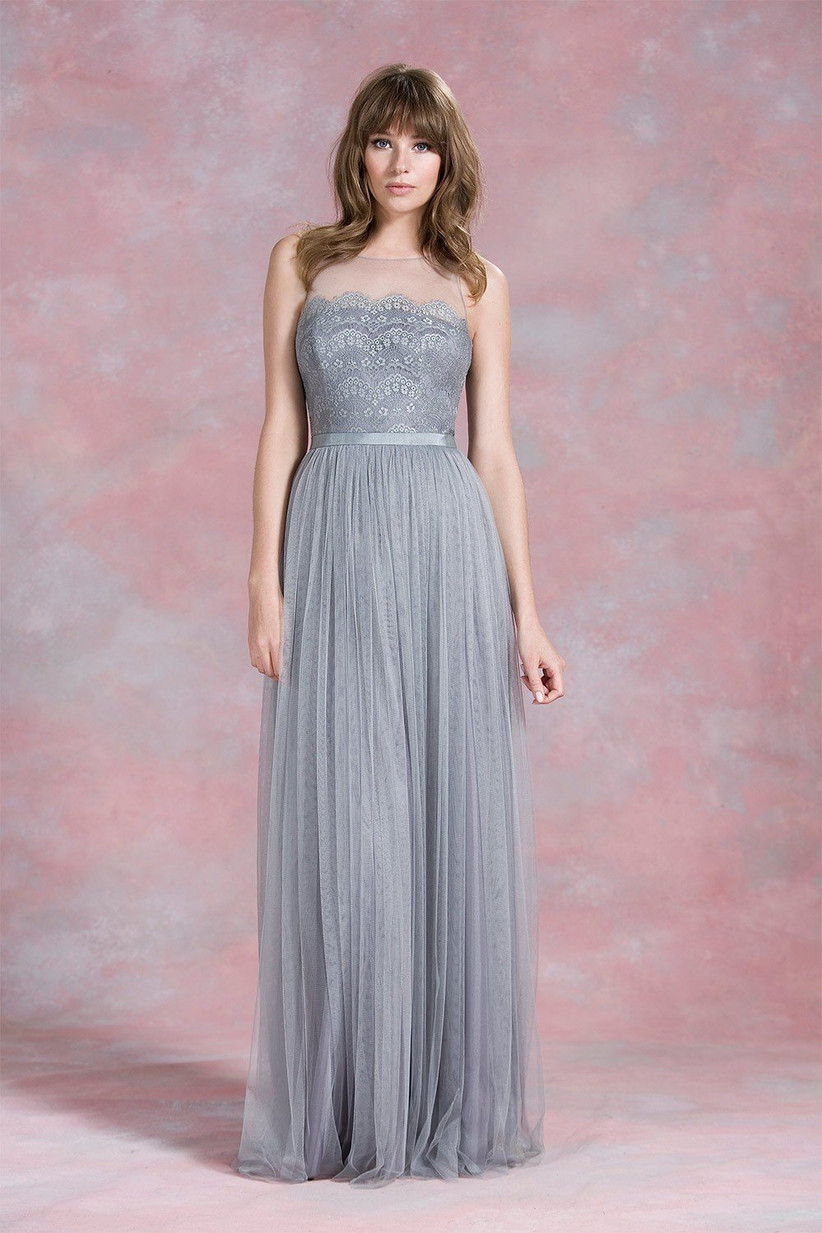 Lainie Dress – Monsoon
This Grecian style silver dress from Monsoon is super classy and holds a shape which will flatter different body shapes. The jewel embellishment on the waistband and shoulder straps gives the dress that much needed detail to create a beautiful look. The sweeping neckline and the pleats around the waistline really flatter this material, making the dress fall very elegantly.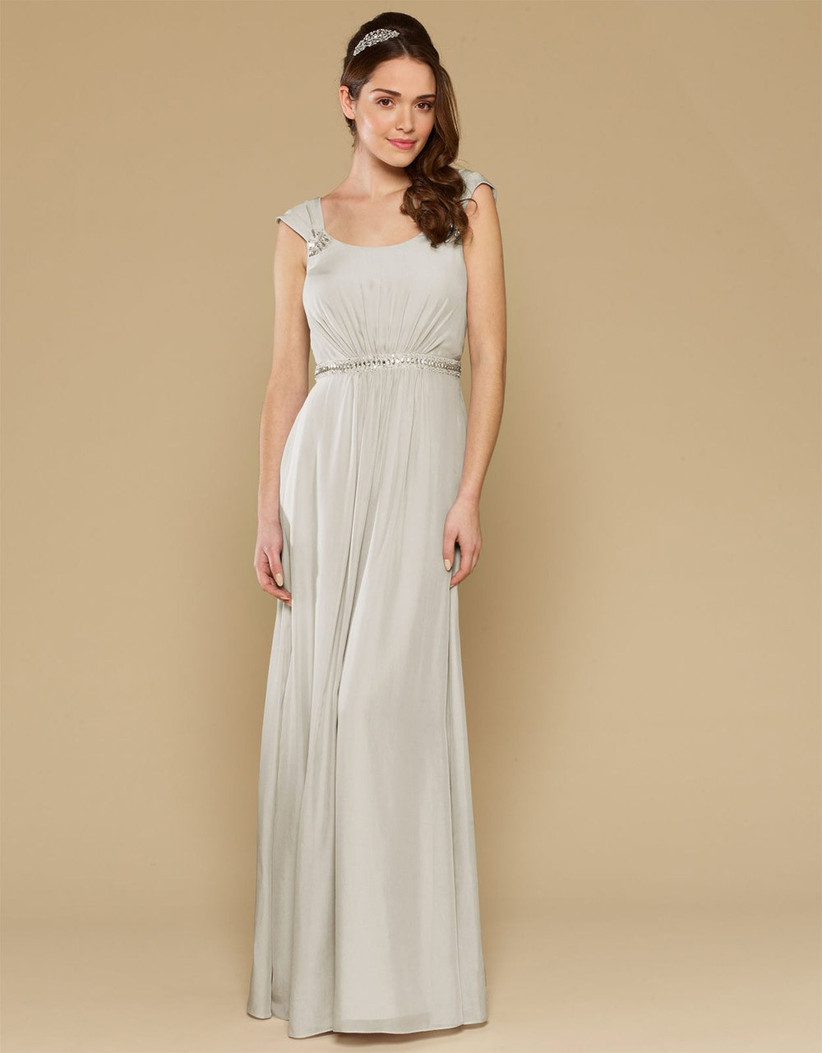 Style D34 – Love Enzoani
There is so many things to love about this dress from Love Enzoani. We can't ignore the stunning black lace detain adorning this dress, it is simply striking. The layered top adds individuality to this gown and we have to say, the design itself is very graceful and would suit a vintage or winter wedding.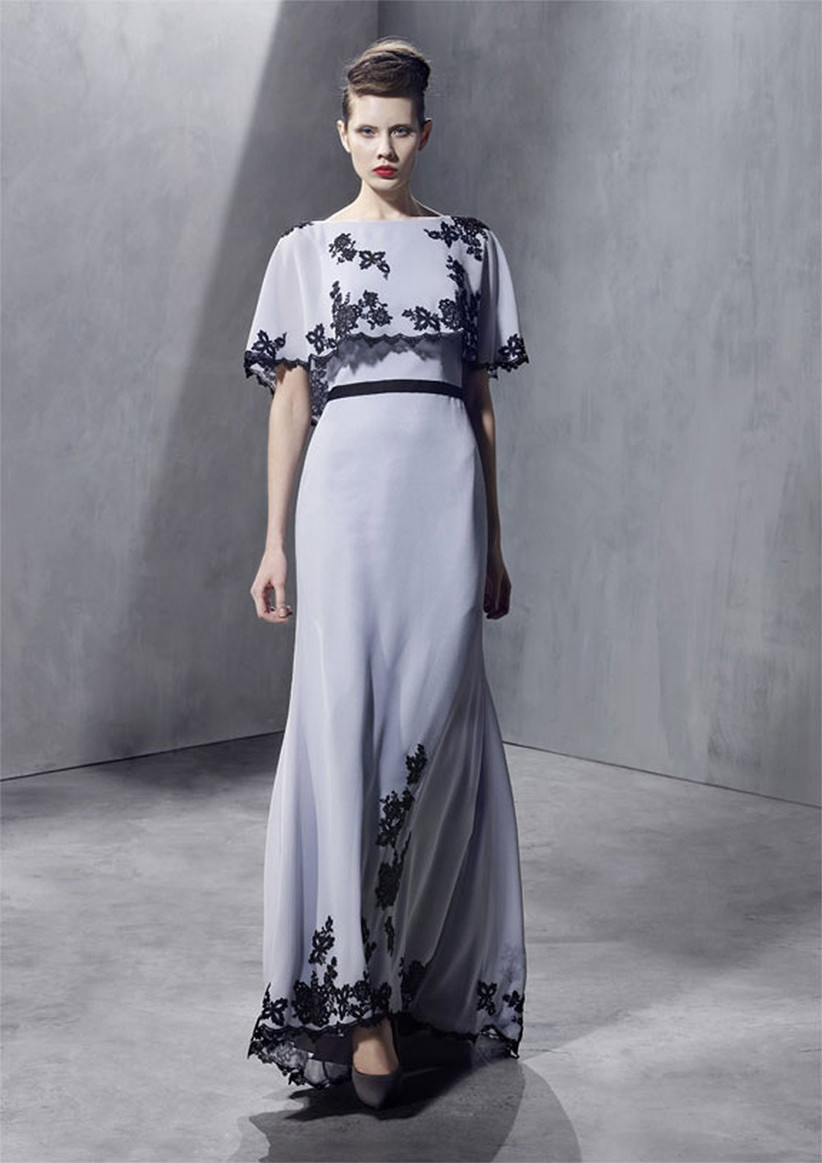 Peplum Dove – Maids to Measure
Peplum dresses are so flattering on the female figure as they allow a fitted top area, but then have the peplum effect to hide anything you don't quite want to show. The style and colour has a young, chic look to it and would be perfect for a set of bridesmaid dresses. This design from Maids to Measure is simply done and therefore very easy to accessorise and jazz up.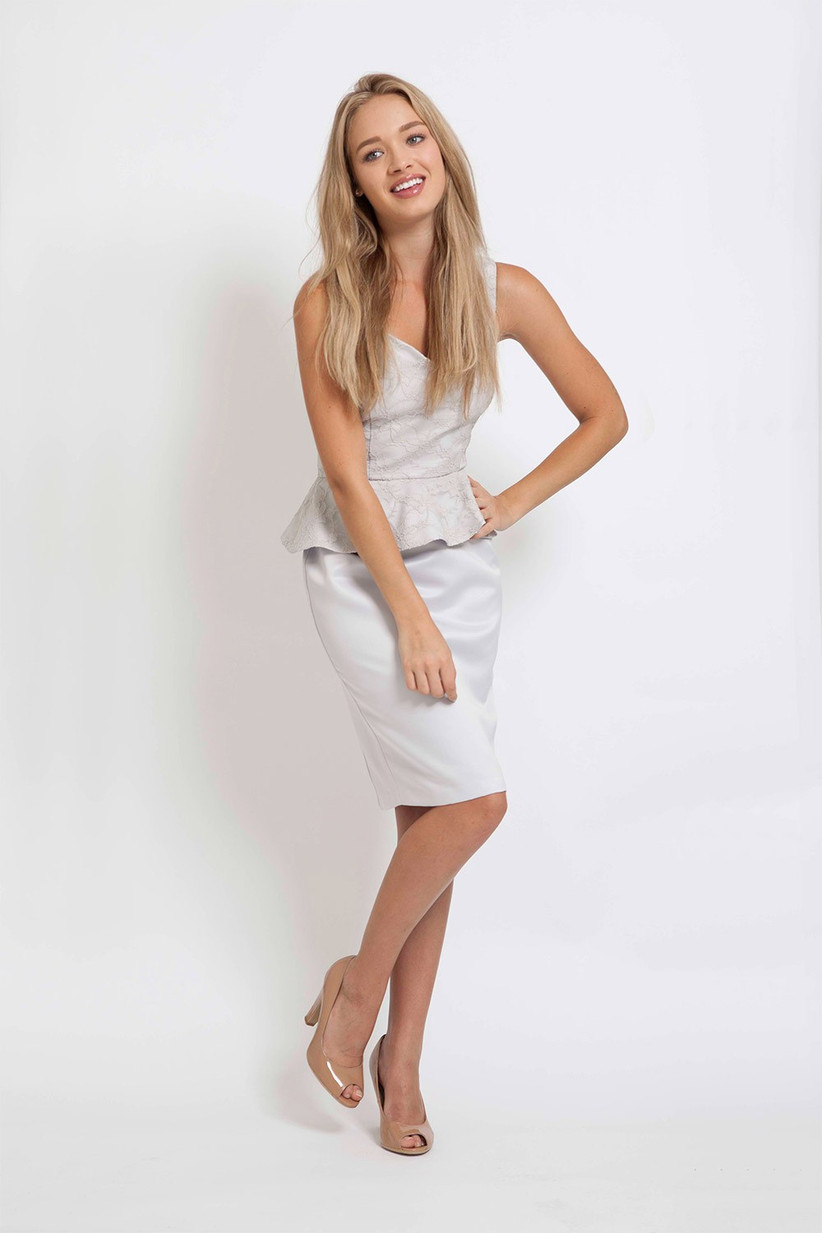 Darling Dress – Coast
How cute is the Darling Dress by Coast!? The satin bodice mixed with the tulle skirt makes for an adorable design which could be easily accessorised with some pearls or a lace jacket to complete the stunning silver look. This is super cute and would definitely put a smile on your bridesmaids' faces.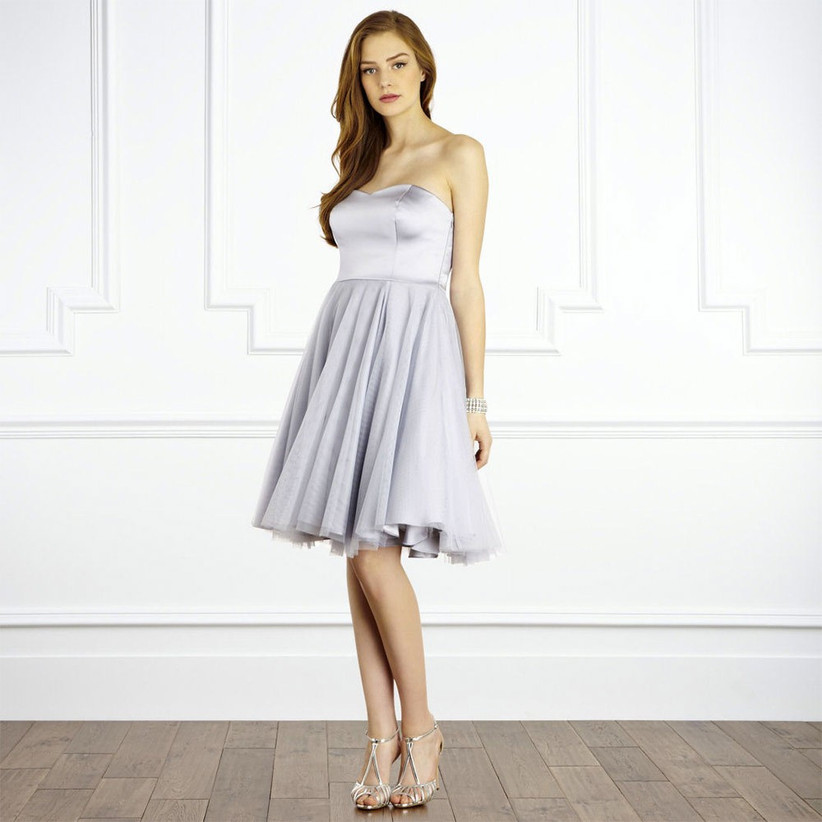 Style 2864 – Dessy Collection
This wintery wonder is a beauty of a dress from Dessy. The soft silky material gives it the shine of a true silver bridesmaid dress and the off shoulder neck line is the epitome of class. It is an elegant design and would look great with pearls or a beaded clutch to add some detail.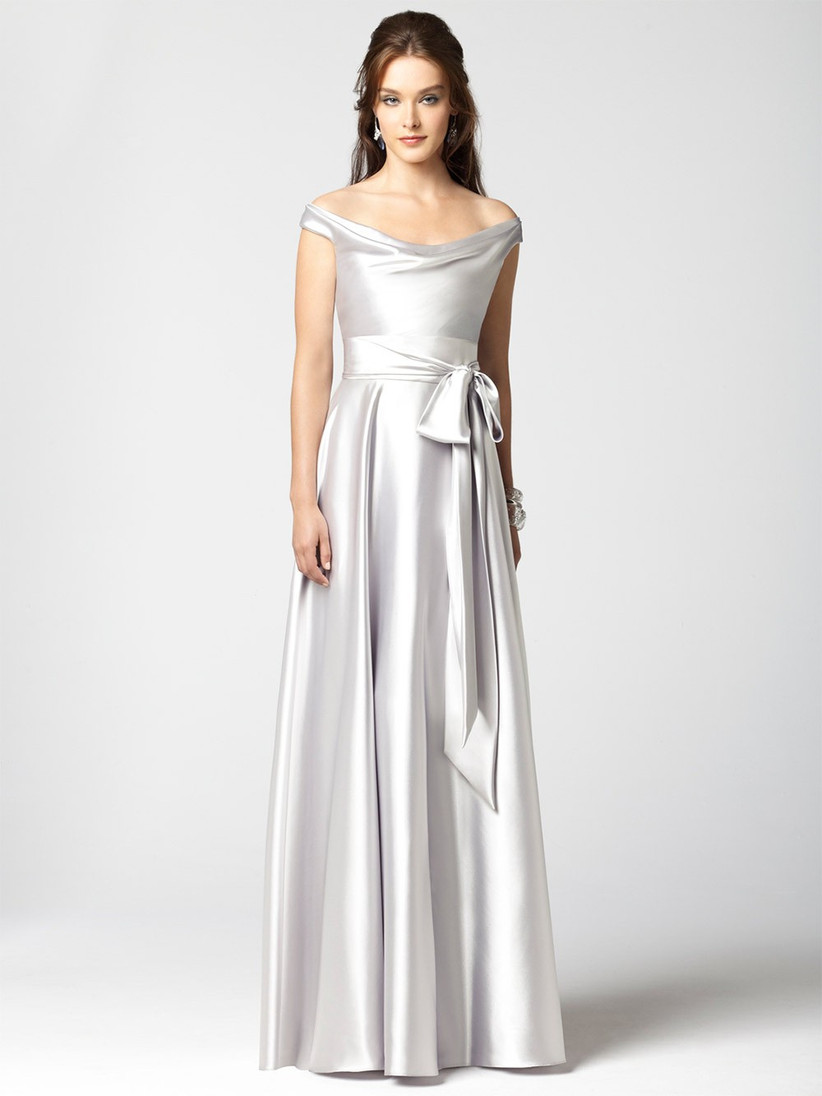 Style 8686 – Sorella Vita
If your wedding is huge, glamorous and show stopping, why not have bridesmaids dresses to match. This gorgeous gown from Sorella Vita is everything you want in a show stopping bridesmaid dress. It is a real statement wear and we think you should have your bridesmaids embrace the glitz and glamour.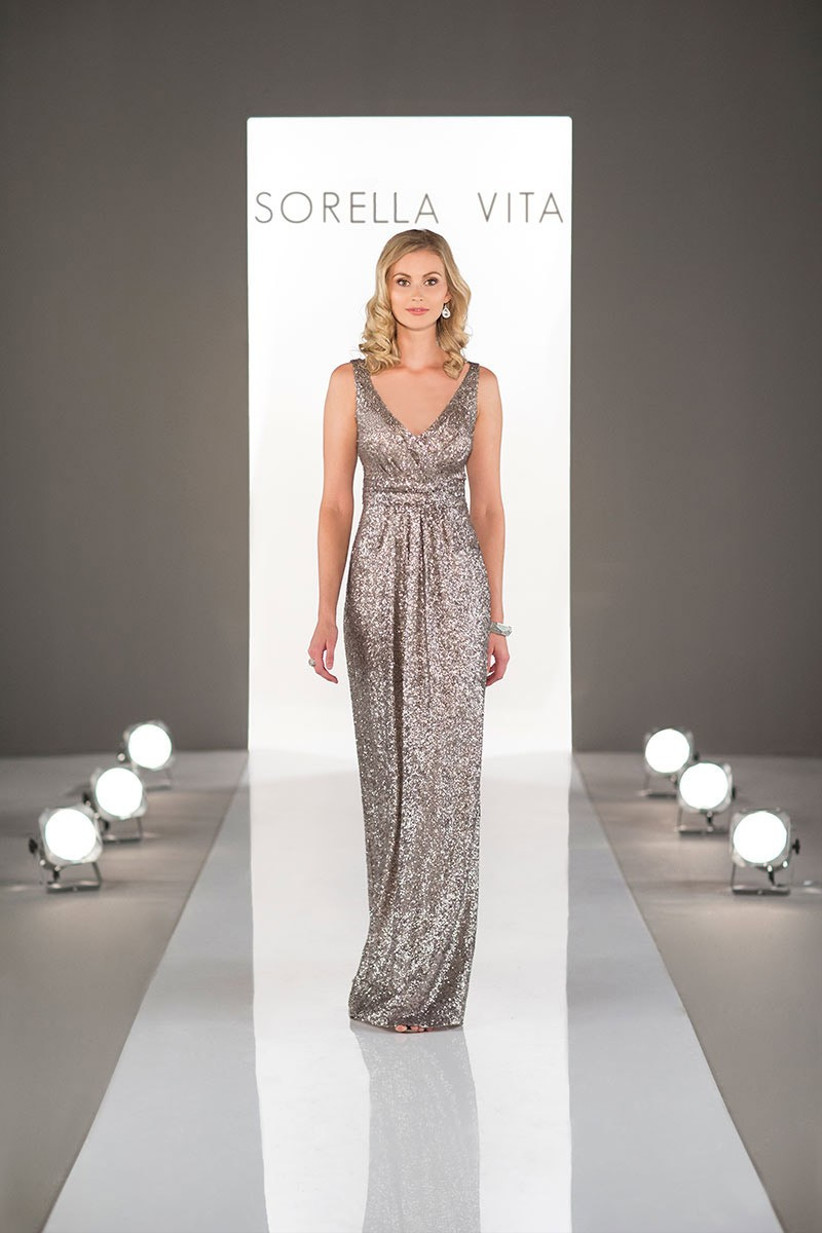 Style 518 – Alfred Angelo
This stunning strapless gown from Alfred Angelo has lovely vintage vibe to it and feels almost enchanted in its look. The grey and silver tones work perfectly with the organza overlay and the lace detail is a beautiful addition. This would have all of your bridesmaids looking amazing and could be finished off with some strappy heels and softly waved hair.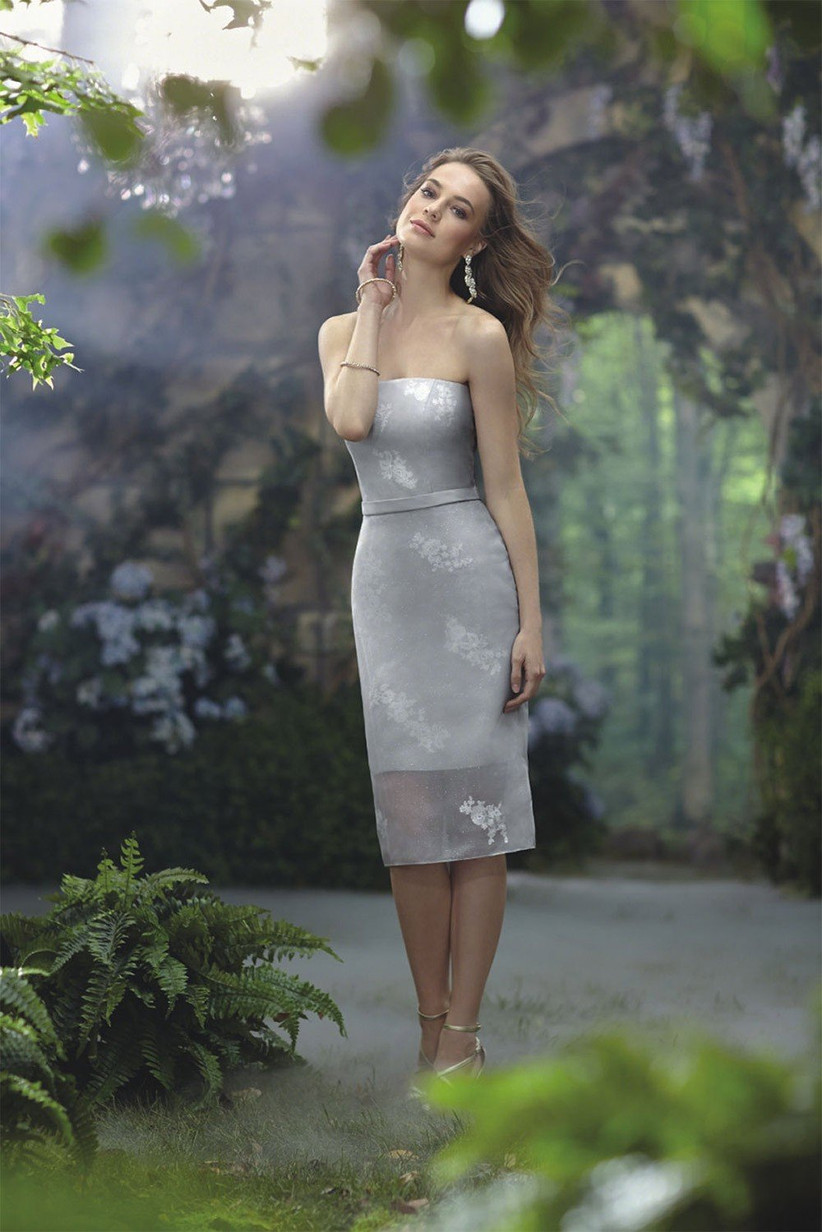 Style E03 – Love Enzoani
Stun your guests by putting your maids in this sexy one shoulder bridesmaid gown from Love Enzoani. The red embellishment on the side of the dress adds a flirty feel to it and the slit in the leg enables your bets girlies to show off some skin whilst wearing something floor length. The fabric chosen is perfect for the style as the pleats and folds bring out the shine.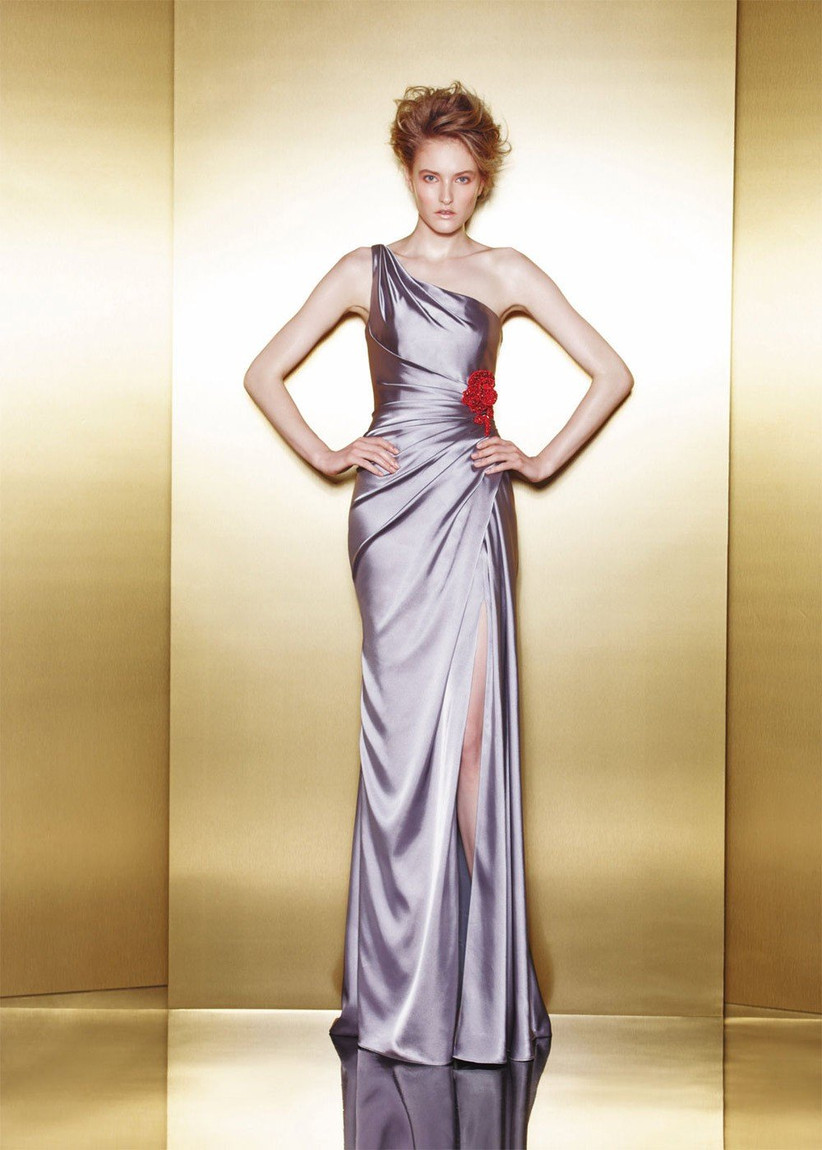 Style 29980 – Ronald Joyce
This A-Line design by Ronald Joyce is simplistic but beautiful none the less. The combination of silver and black creates a sophisticated look and the bow adds the finishing detail needed. Satin is a great fabric for silver as the finish is clean and fresh. This dress would look great with a sparkly or bold coloured clutch.
Style 1329 – Allure Bridals
The shade of silver used for this dress is beautifully complimented by a chocolate waistband and embellishment. The pencil shape is super nice for bridesmaid dresses and creates a really flattering silhouette for photos. Nude heels, like the ones shown in the picture are the perfect accessory to compliment both colours used by Allure.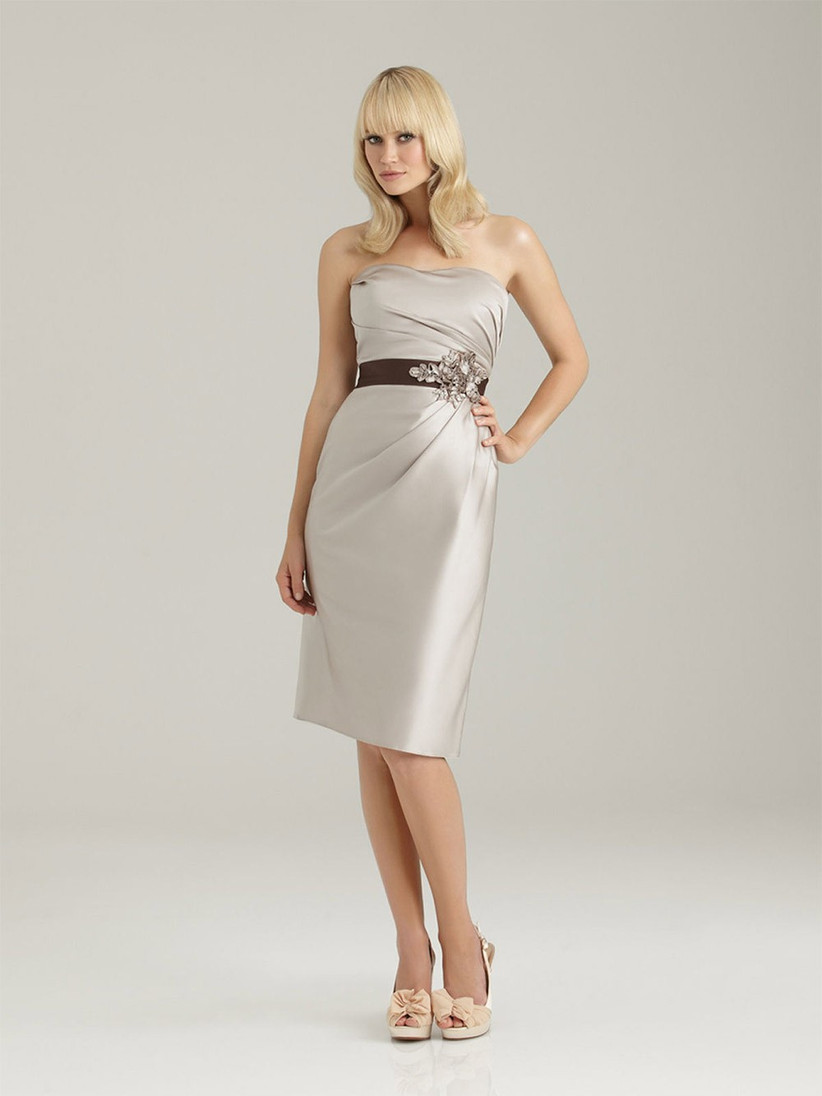 Style 9430 – Alvina Valenta
This Alvina Valenta dress is one of our favourite designs in the silver shade. The style is so modest and super sophisticated. Pleats around the neckline and waistband are always flattering and even more so with this gorgeous material. The simplicity of the dress allows you to accessorise it to fit perfectly with your wedding theme.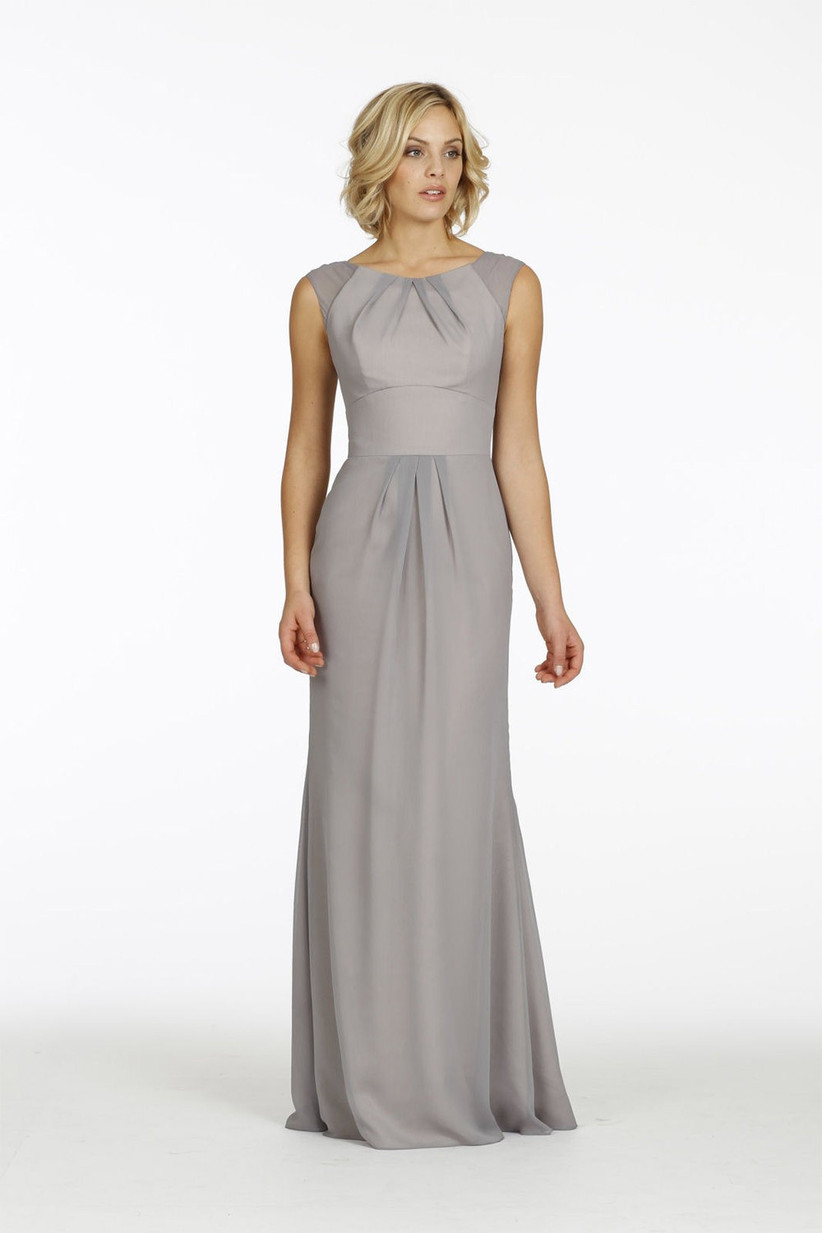 Style D17 – Love Enzoani
One shoulder dresses are always going to be a good choice for your bridesmaid dresses, but this one from Love Enzoani makes a true statement. The dramatic folding and volume of this shoulder strap is to die for and is ideal for a standout look. The folds and pleats in the dress are really cute and will look gorgeous alongside a variety of different wedding dresses.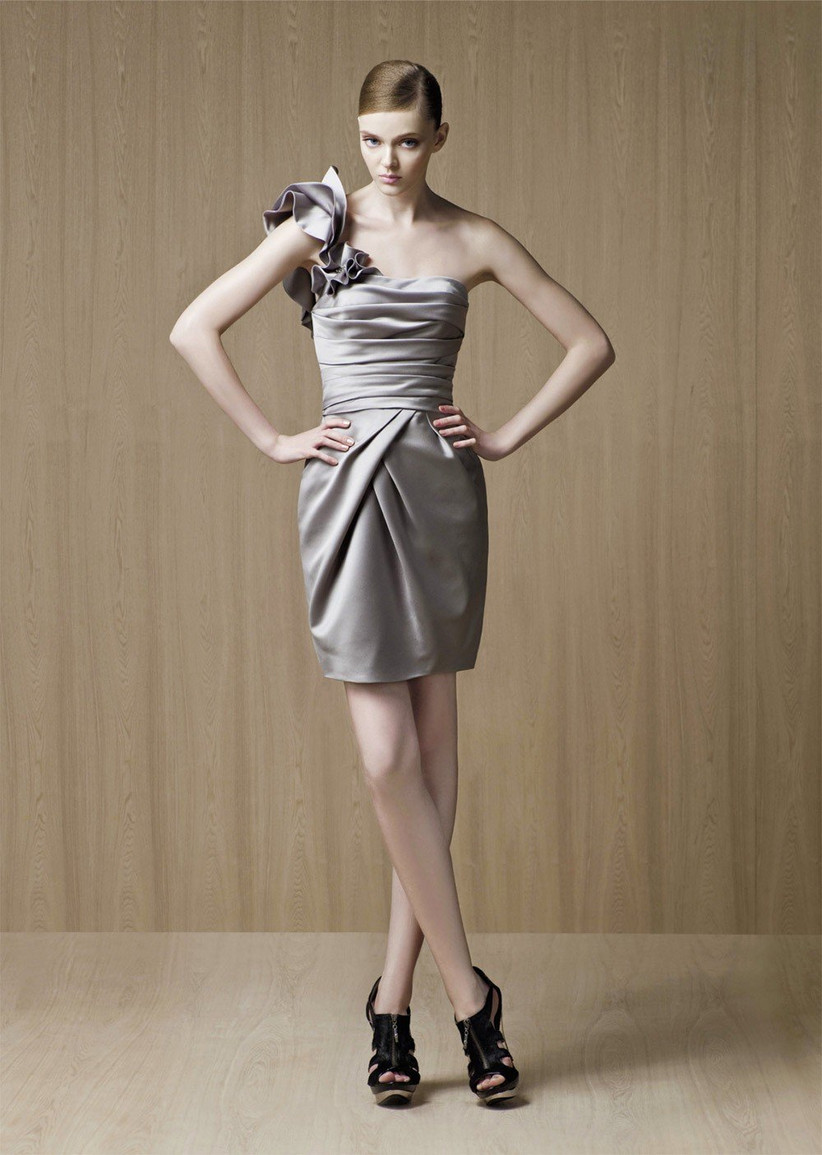 Hope – Luna B
If your bridesmaids are daring, how about putting them in this racy, but stunning gown. The slight cowl neckline is a great way to show off the beauty of this fabric and let snot ignore the fabulous back detail. Backless dresses aren't for everyone, but if you want that type of look for your girlies at your wedding, this is a strong contender! The jewel detail makes it super glamorous and is a perfect fit for this gown.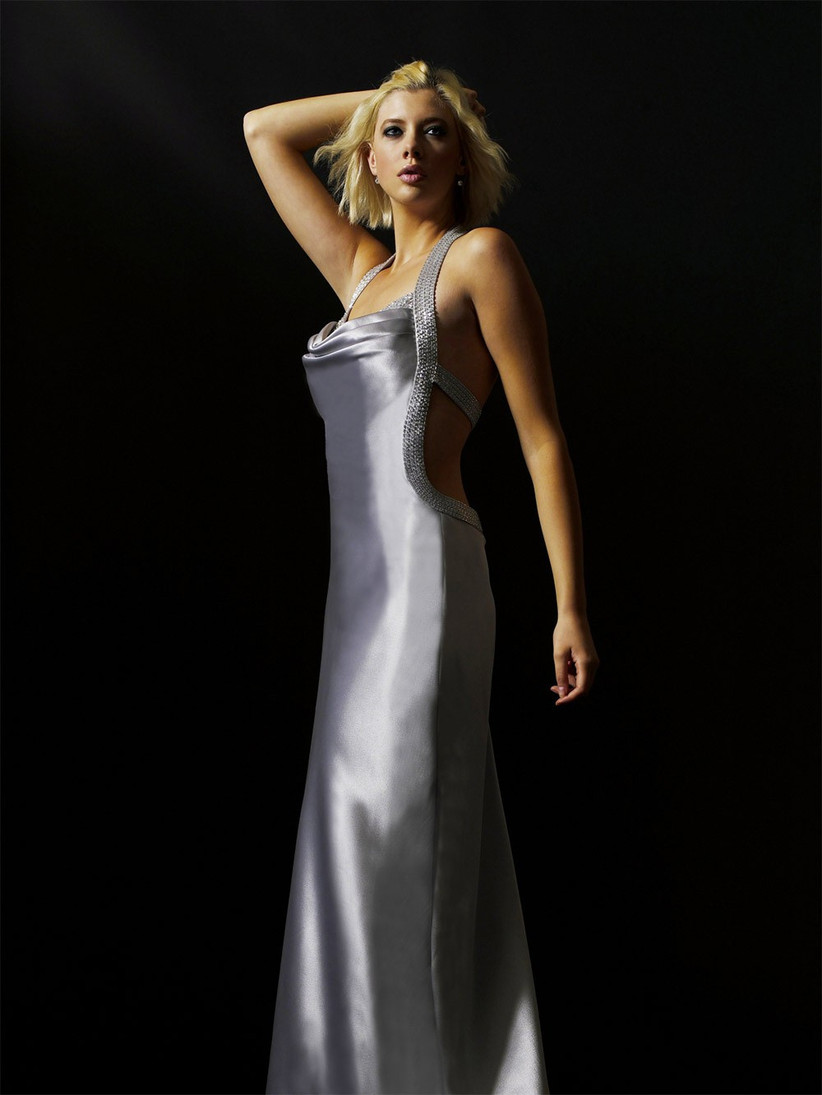 Anisa Dress – Monsoon
This Monsoon dress is so adorable! The lace flower patterns are really cute and give the dress a truly girly and romantic feel to it. Around the neck, they have given it a patterned line which adds even more detail to this design and this is one of the rare silver designs which would suit a summer or spring wedding. Pretty pearls and nude accessories would bring this dress even more to life.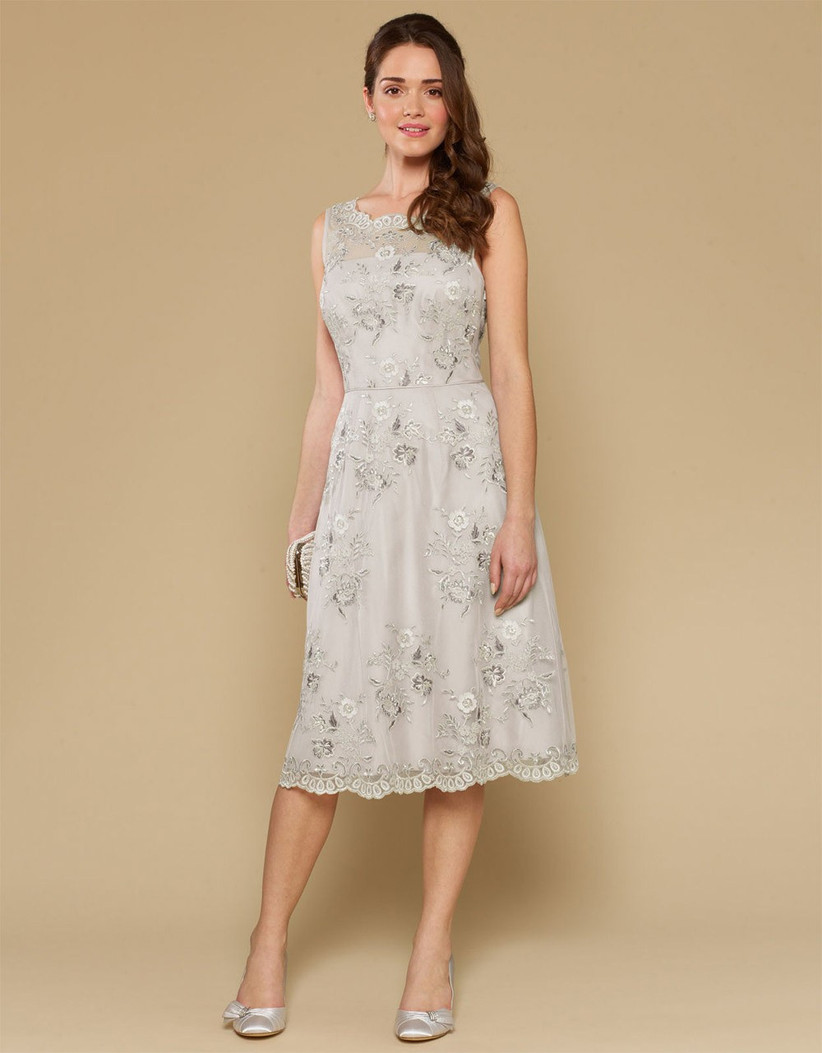 If you love the idea of silver bridesmaid gowns then start browsing the perfect silver bridesmaid shoes to team with them.