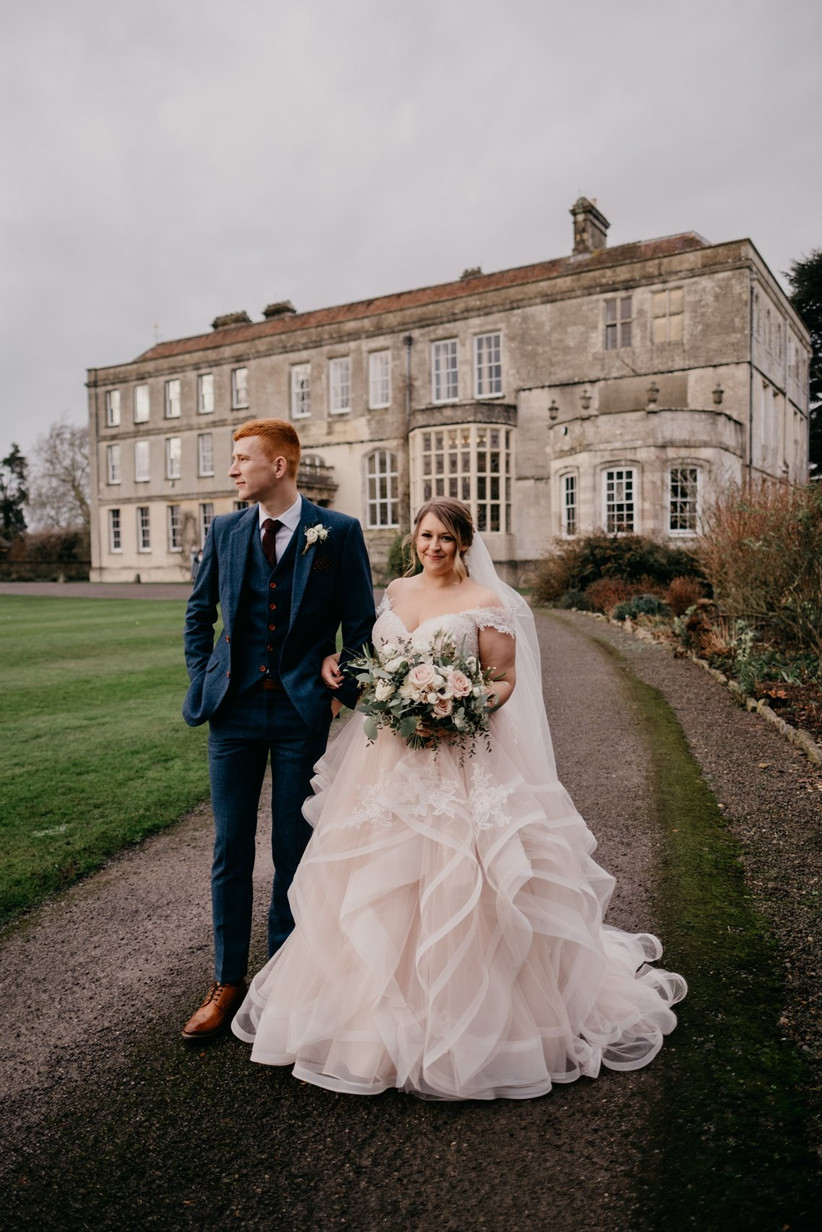 If winter is your favourite time of the year, like it is for Leah and Aaron, what better occasion to tie the knot!
The couple got married in December 2018 at Elmore Court where they enjoyed a very special day with 80 friends and family members.
Leah and Aaron first met online 10 years ago. In 2017, Aaron took Leah for dinner at their favourite restaurant in Melbourne, where they were living at the time.
After a delicious meal together, Aaron got down on one knee to propose. Despite the Australian heat, he was wearing chinos, boots and football socks – inside which he'd hidden the ring!
Aaron gave a speech which made Leah sob and the entire restaurant started clapping and cheering when she said "yes!"
"I found out afterwards that the proposal was supposed to happen on a hot air balloon ride that morning and the meal was to celebrate. But, at 4am that morning, the balloon ride was cancelled due to bad weather. We did get to go on the balloon a few weeks later which was lovely!"
As the couple were living in Australia, they planned most of their wedding from there! Thankfully, everything came together beautifully to make their big day really special.
Photographer: Ed Godden Photography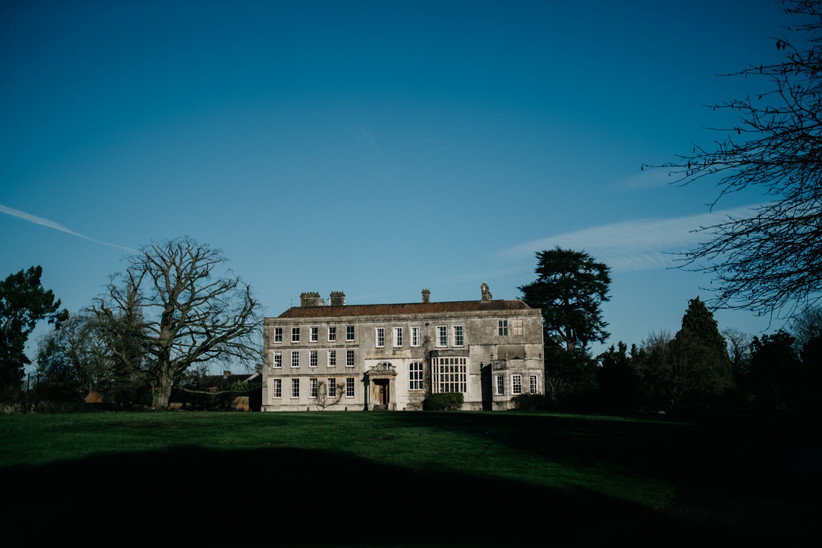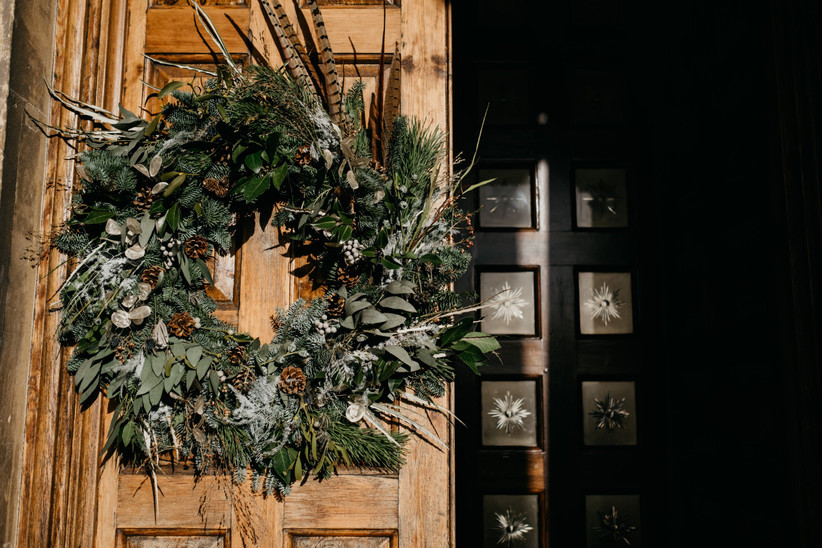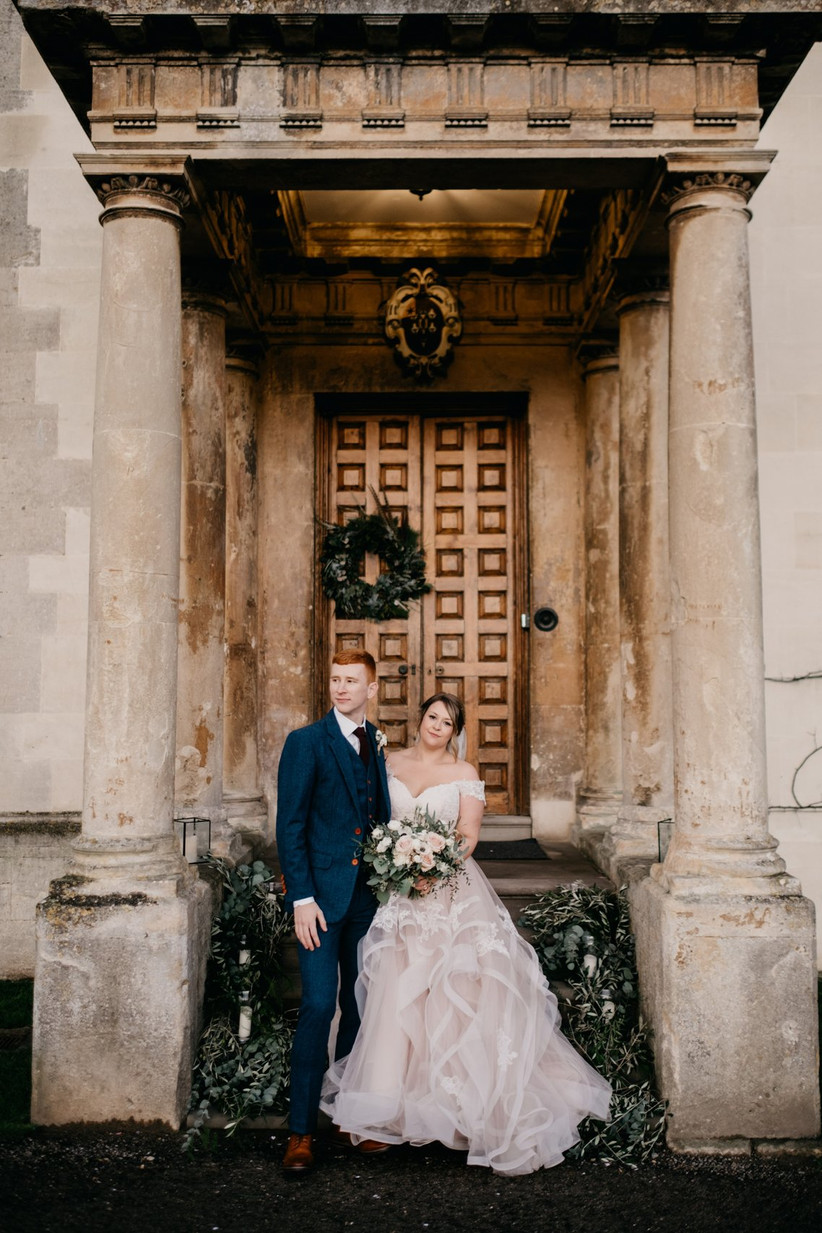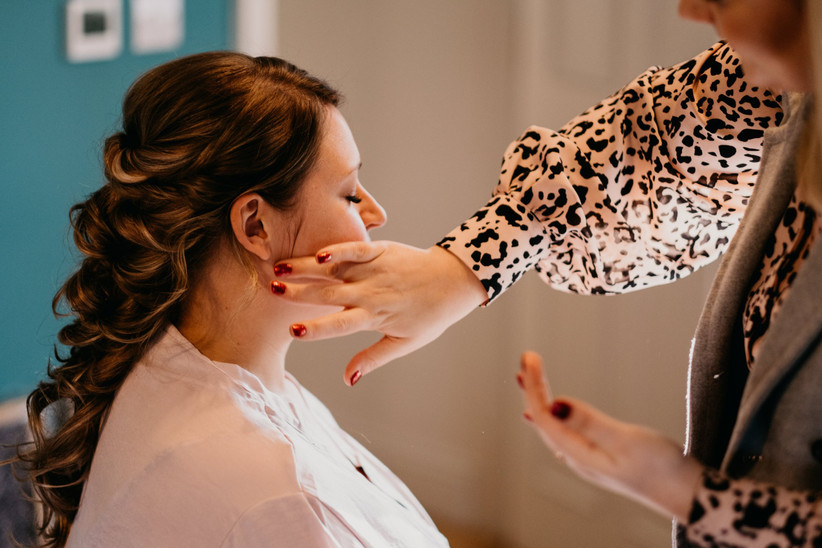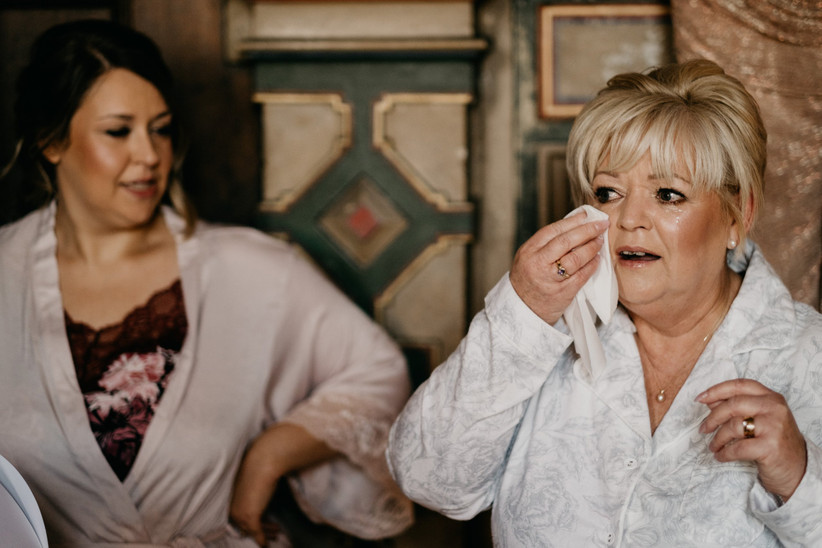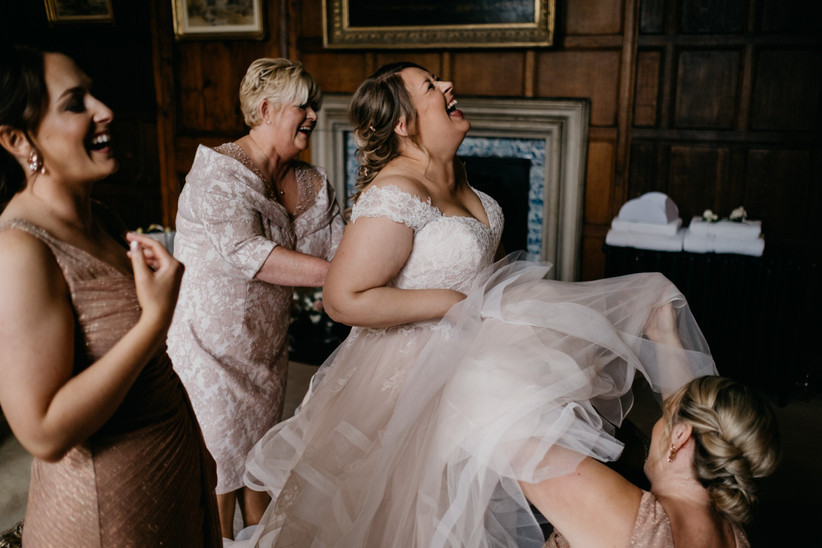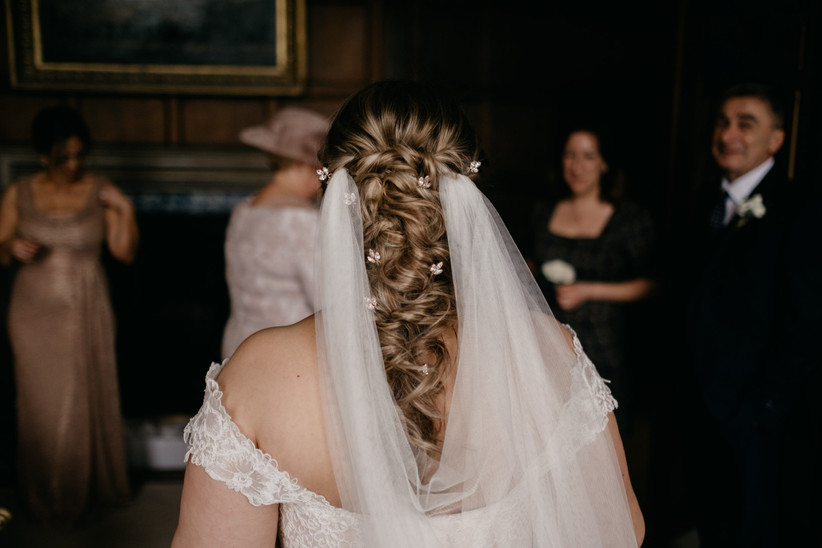 The Wedding Dress
Leah's parents visited Melbourne to help her choose the perfect wedding dress. She tried on 27 dresses in just one day! But, it wasn't until she was back home in the UK for Christmas that she finally found The One.
"My dress had a fitted bodice with a huge skirt made from layers and layers of fabric with a horsehair hem and lace detail.
"I had it in the colour Moscato, which is a very pale, blush pink colour. I also had
the seamstress add off-shoulder straps in matching lace. It was designed by Stella York and I bought it from The Wedding Room in Nottingham.
"After trying on so many dresses I was beginning to lose hope that my perfect one was out there. While in the shop I saw all the layers peeking out and had a feeling that it was the one. It wasn't like any that I had seen before and I loved it as soon as I saw it.
"I had a beautiful, draped cathedral-length veil made by Sian at Blossom and Bluebird. I can't thank Sian enough as she was so helpful and patient with me when I contacted her a week before my wedding after originally thinking I didn't want a veil.
"I gave my Mum a handmade Nottingham lace handkerchief just after we had our makeup done. My cousin read the embroidered poem out and the whole room burst into tears including all my suppliers. We all had to have a makeup touch up after that."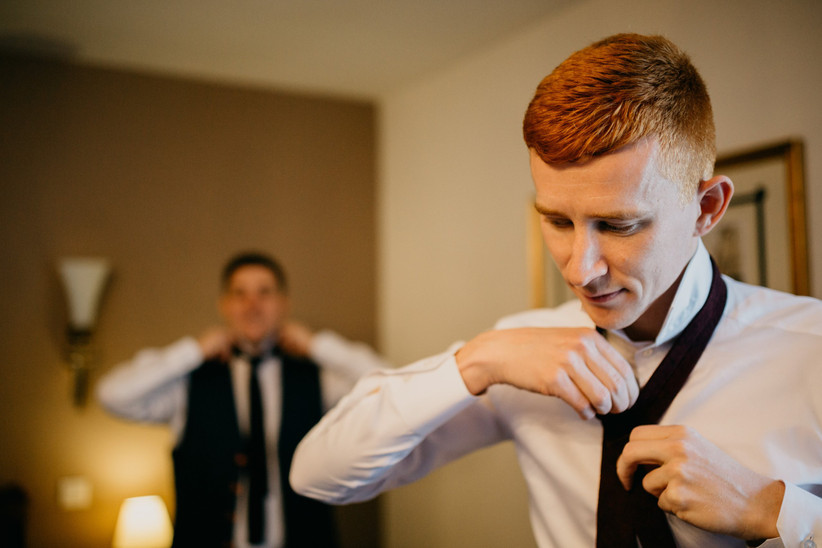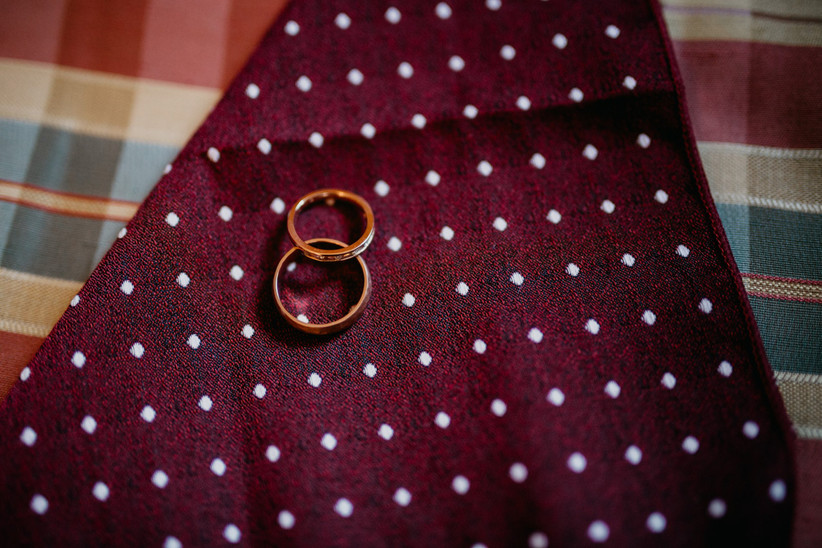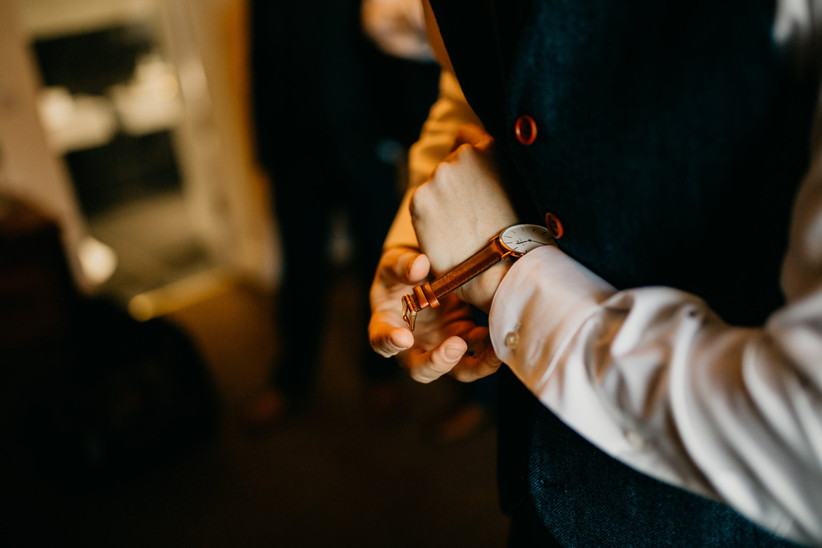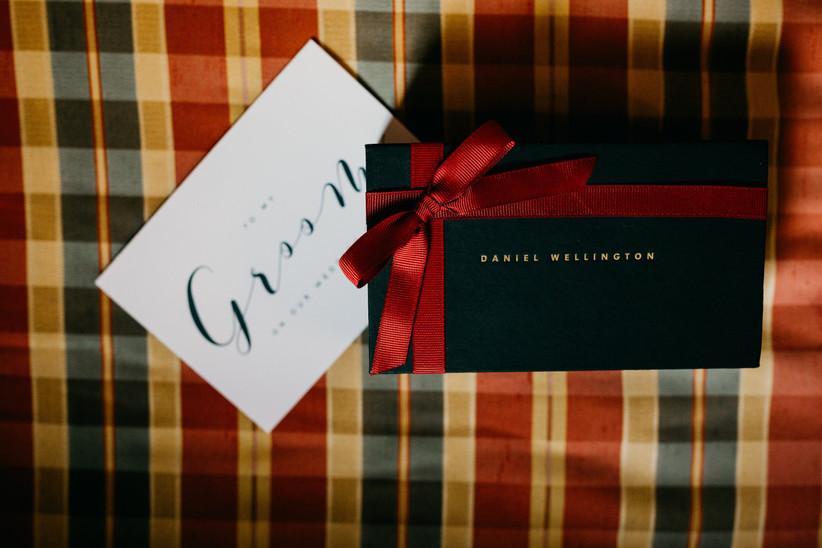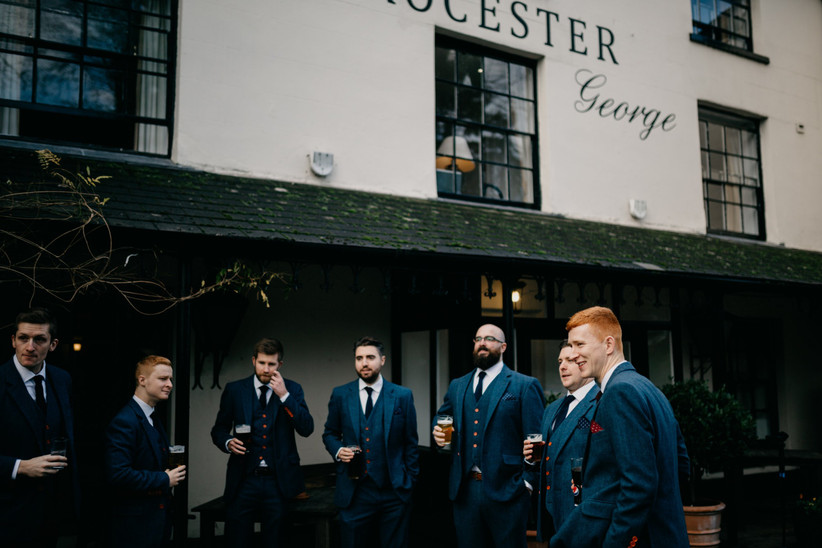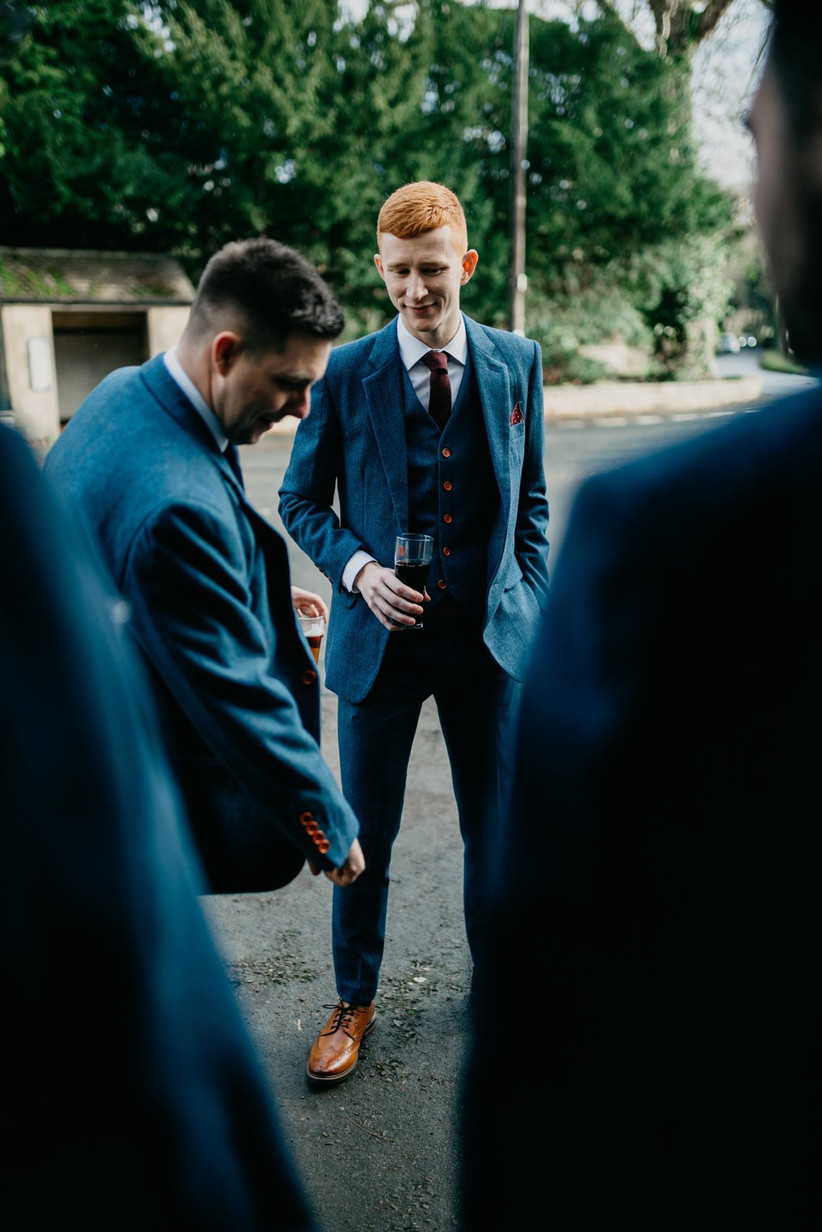 Bridal Beauty
Bryony Dalton did Leah's makeup for her big day and gave her a fairly natural look with subtle rose gold eyes and a pink lip. Louise Alway gave the bride a long mermaid braid with some clip-in extensions for added volume and length.
"I bought some lovely rose gold hair clips which I had throughout my braid along with my veil.
"I originally had four bridesmaids but my friend was pregnant and couldn't attend the wedding as she was due any day! My maid of honour was my oldest friend Janine and then I had Bella and Sarah who are friends from Australia.
"Their dresses were lovely rose gold, floor-length dresses that were so flattering on them. Janine actually found them while out shopping.
"We were unable to shop together as half of us were in Australia. Luckily, John Lewis has international delivery so I ordered two for Australia and two for the UK. We tried them on at the same time across the globe!"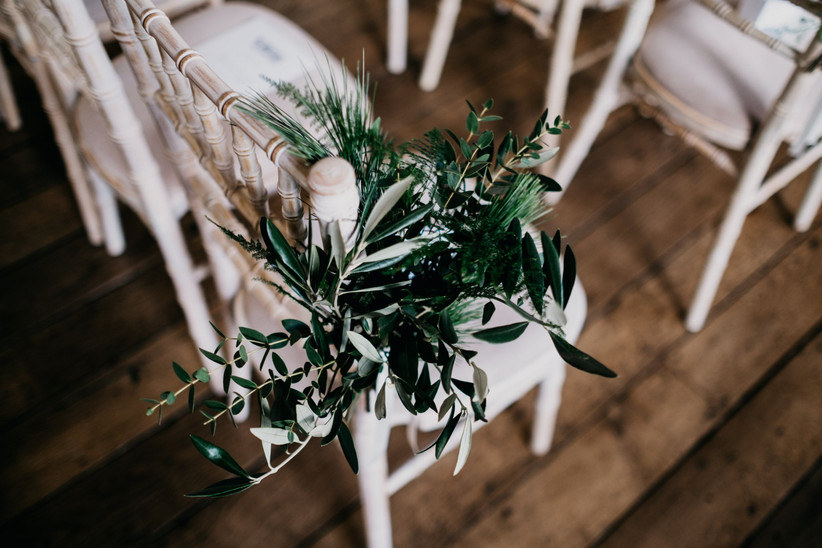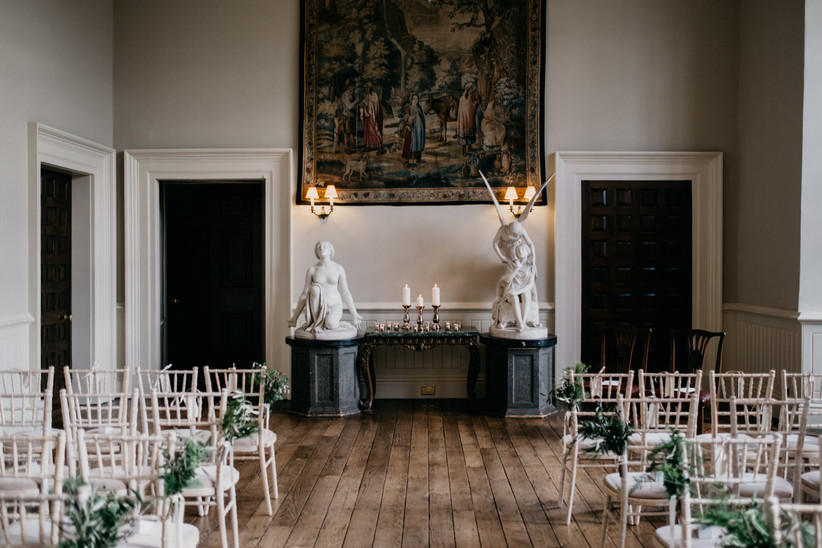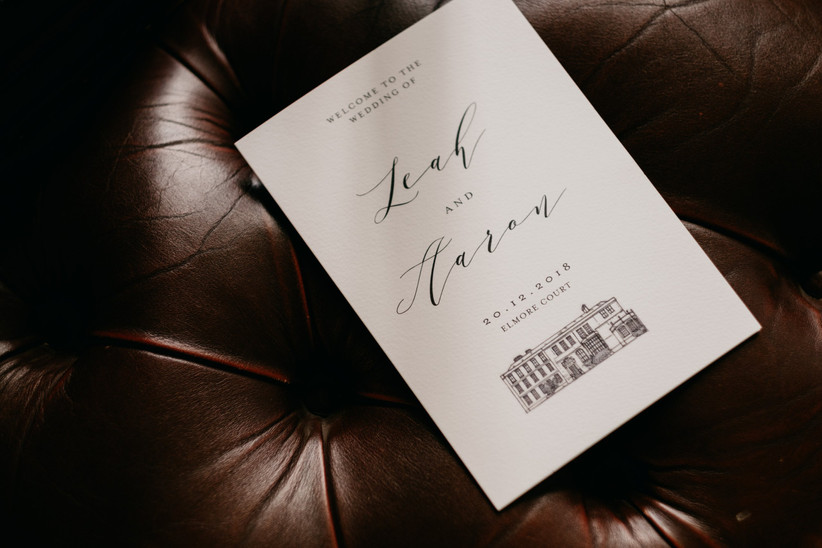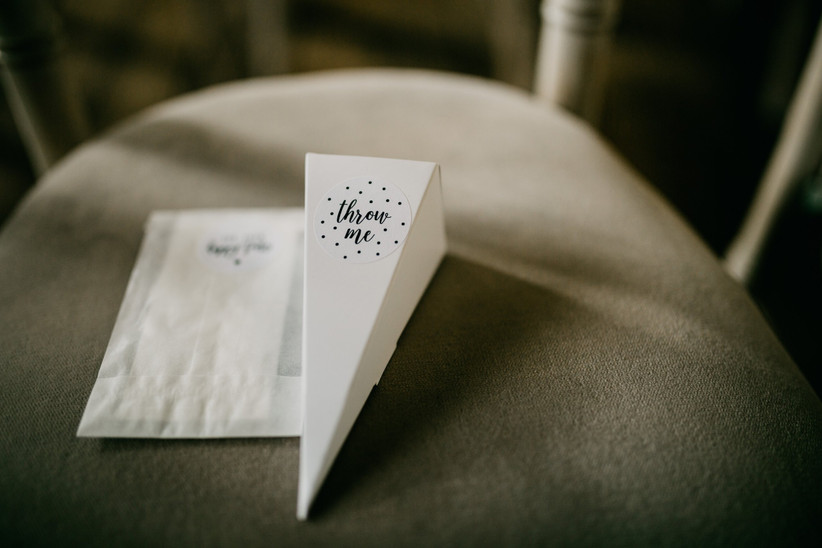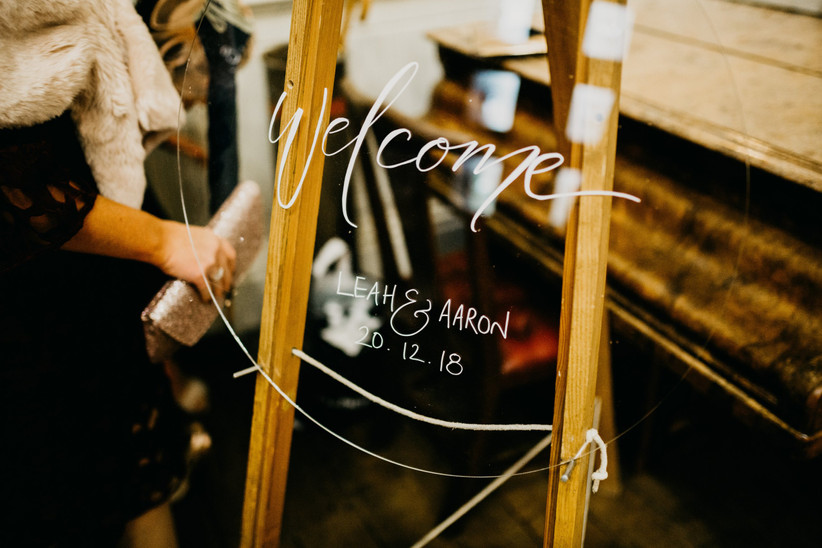 The Groomswear
The groom and his groomsmen wore the Southwold suit from the Vintage Suit Hire Company.
"My groomsmen wore their suit with navy polka dot ties and pocket squares and mine were burgundy.
"I chose the suits myself along with my best man Liam who came with me. Mine was purchased and then the best man decided to buy his as well. The other five were hired.
"Leah bought me a lovely rose gold Daniel Wellington watch which I opened on the morning and wore for the whole day.
"My groomsmen and I kept everything very chilled the night before with a couple of drinks and dinner in the pub we were staying at. A few of us went for a run in the morning before breakfast to burn off some nervous energy and it was a great start to the day."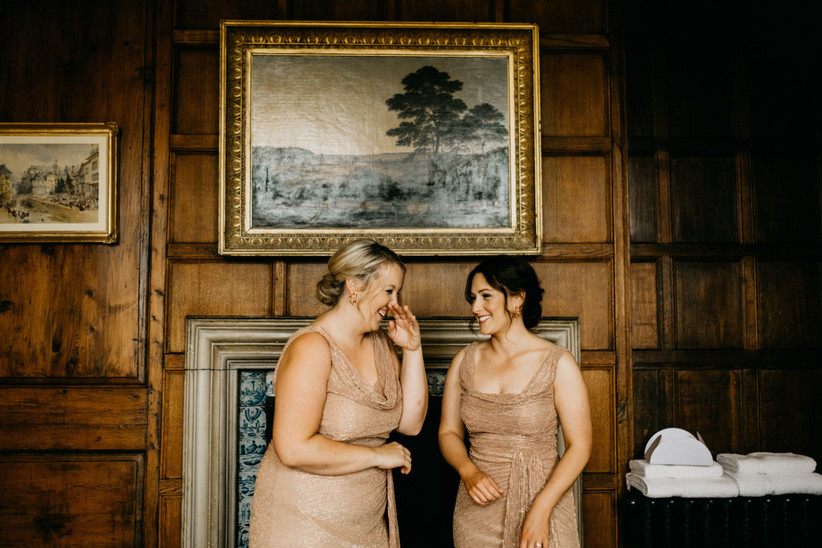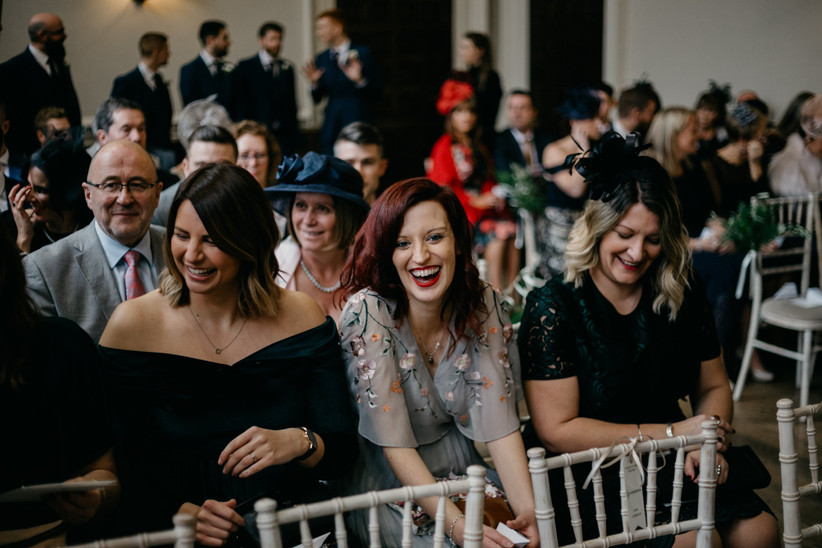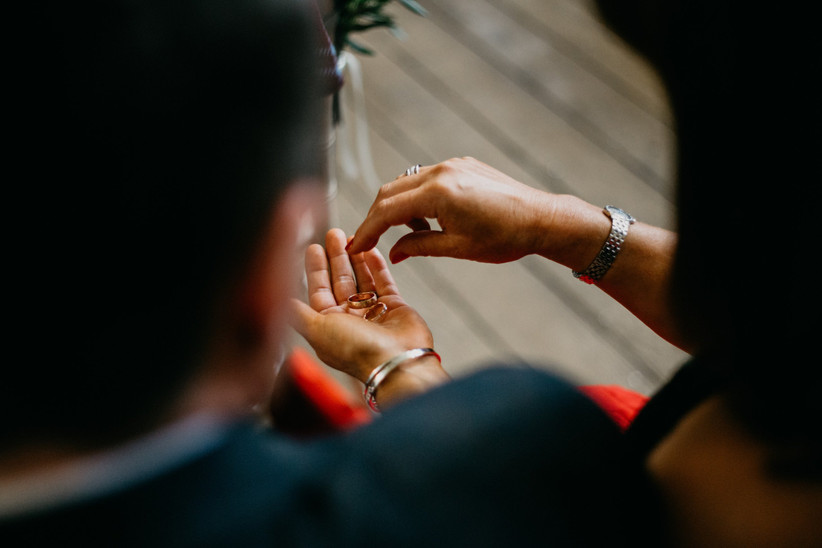 The Ceremony
The couple tied the knot at Elmore Court and threw their reception there too. They chose a celebrant to perform their ceremony and included a very special and beautiful ritual called a 'ring warming'.
"We had a celebrant, Hannah Hart, who was just brilliant. We decided to go with a celebrant after attending a few Australian weddings which were a similar style. We loved how personal and tailored it was.
"We had several chats with Hannah and she wrote the whole thing, weaving in stories and jokes from our lives. For the readings, I had my Uncle Ian welcome everyone in Welsh. Then, Aaron's groomsman Simon, who had flown in from Vancouver, read Everybody's Free by Baz Luhrmann. Finally, our friend Emma read Blessing Of The Hands.
"We also did a ring warming. Our rings were passed to all of our guests to hold with the idea being that they are warmed by your nearest and dearest when you come to put them on. All of our guests said how lovely the ceremony was because it was so personal and filled with joy.
"Aaron cried A LOT and I was horrified when he pulled out an old hanky to wipe his eyes, which everyone thought was hilarious. I thought I had thought of everything but obviously not.
"I walked down the aisle with my stepdad Paul to To Build A Home by Cinematic Orchestra which I haven't listened to since because just the thought of it makes me want to sob.
"We got our rings made in Melbourne. I had a rose gold baguette diamond band and Aaron has a rose gold band with a hammered textured finish. My engagement ring is a beautiful Heidi Gibson design that Aaron had sneakily travelled to pick up whilst he was away with work in America. He did lots of research and bought the main diamond separately and had that sent to Heidi."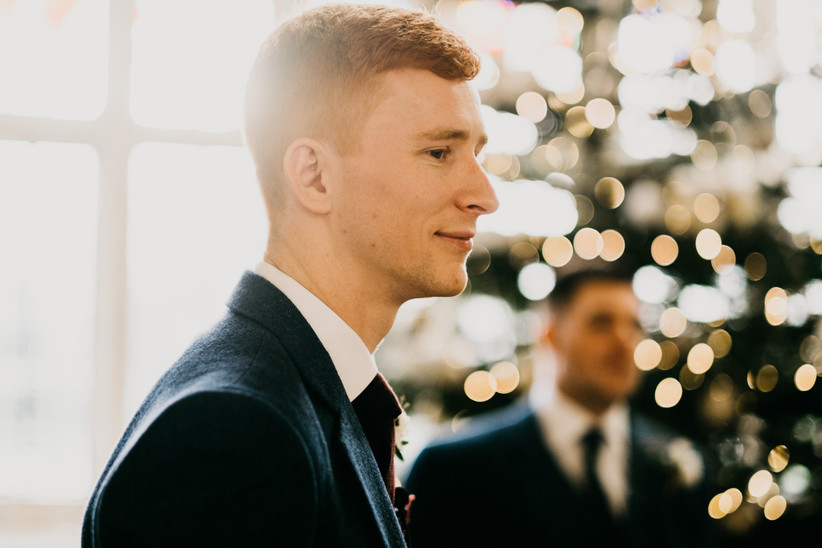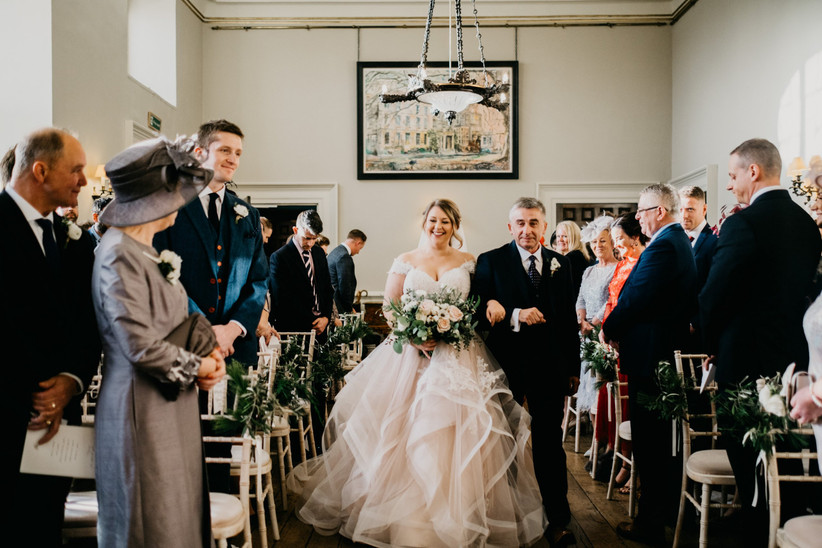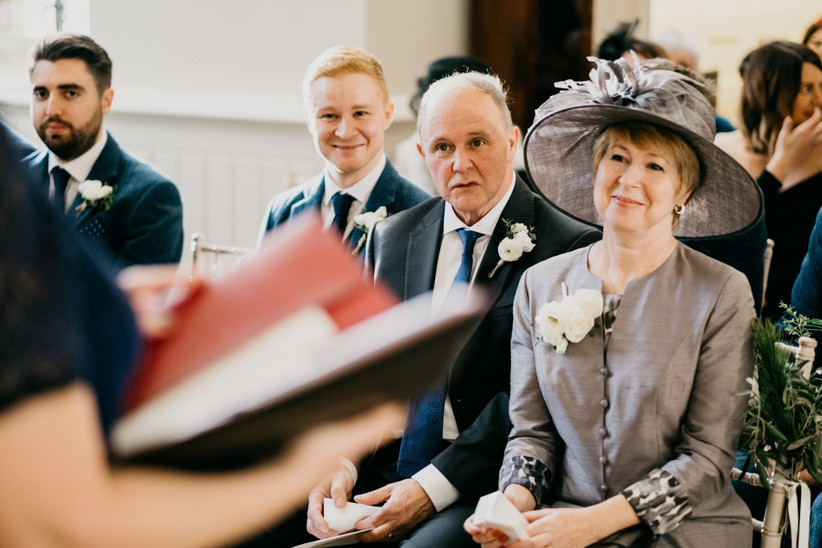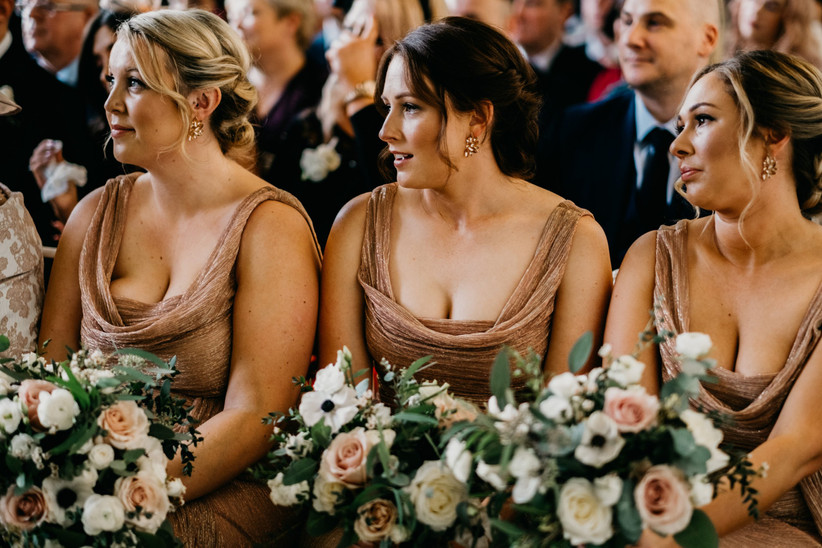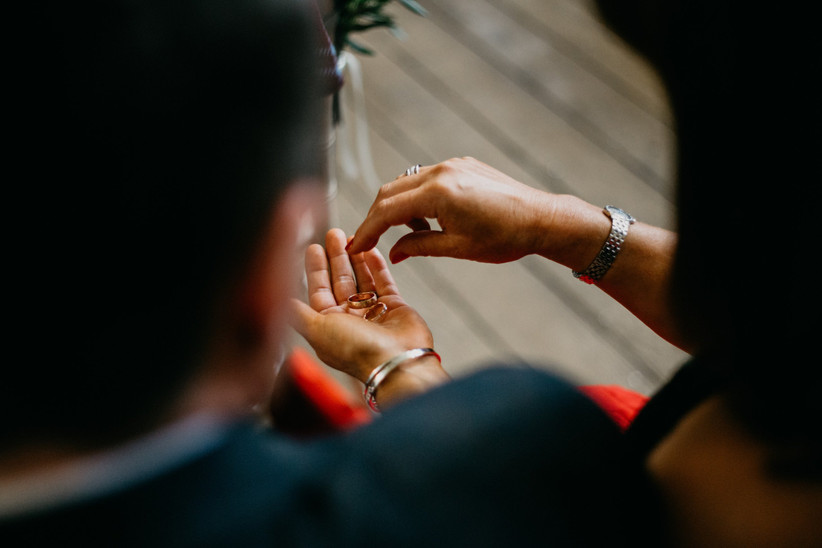 The Wedding Venue
The couple were drawn to Elmore Court because of its history and the fact that both ceremony and reception could be held in one place to prevent the need for travel.
"I had been researching for what felt like weeks but couldn't find anything suitable for us and then Aaron had a look and found Elmore Court straight away.
"It's also in a beautiful part of the country and has rooms there which was a bonus as many of our guests could stay.
"Everything was amazing but I loved staying in the coach house the night before and we loved the purpose-built wedding reception venue, the Gillyflower. It was an amazing space for our dinner and party. Also, the food and staff are incredible!
"For starters, we had a whole baked Camembert with bread each. Our main was a pavé of beef with mashed potato and crispy onions and dessert was a lemon tart.
"For our evening food, we had tacos with tortilla chips and guacamole. We also had a gin bar during the drinks reception with Christmas gin I bought over from Melbourne
and gins from the places we grew up along with a selection of canapes."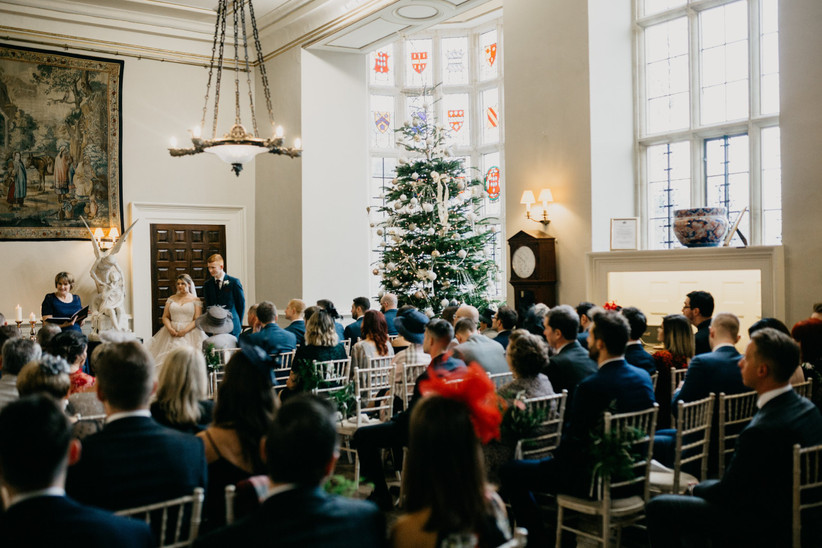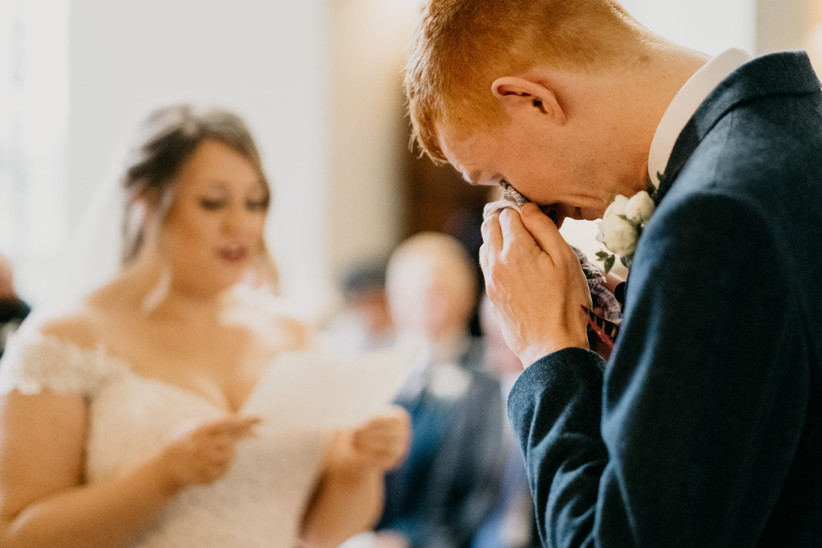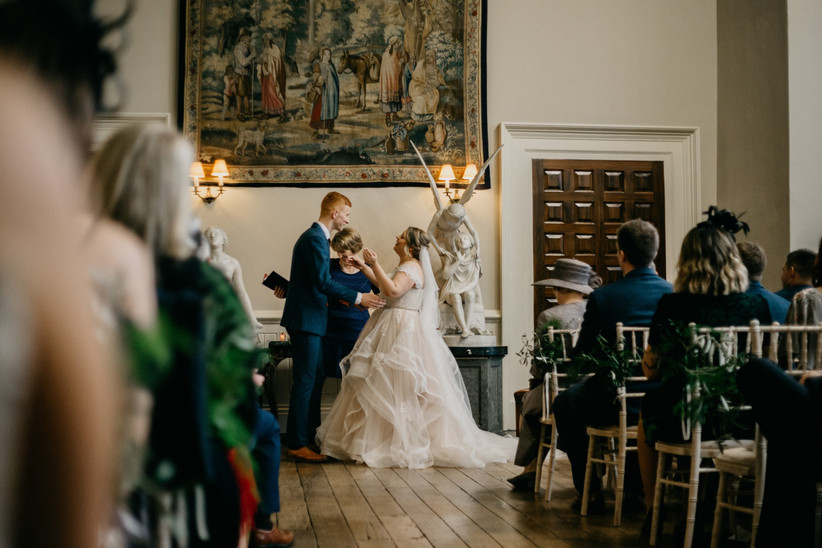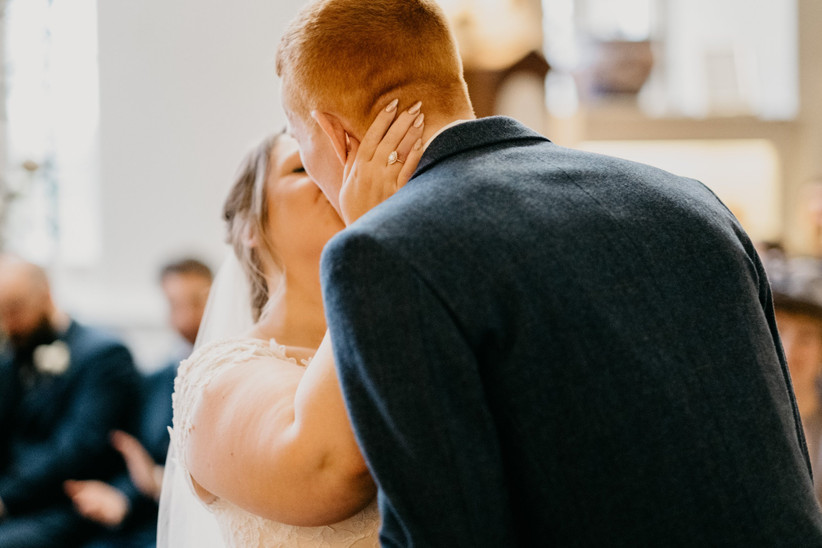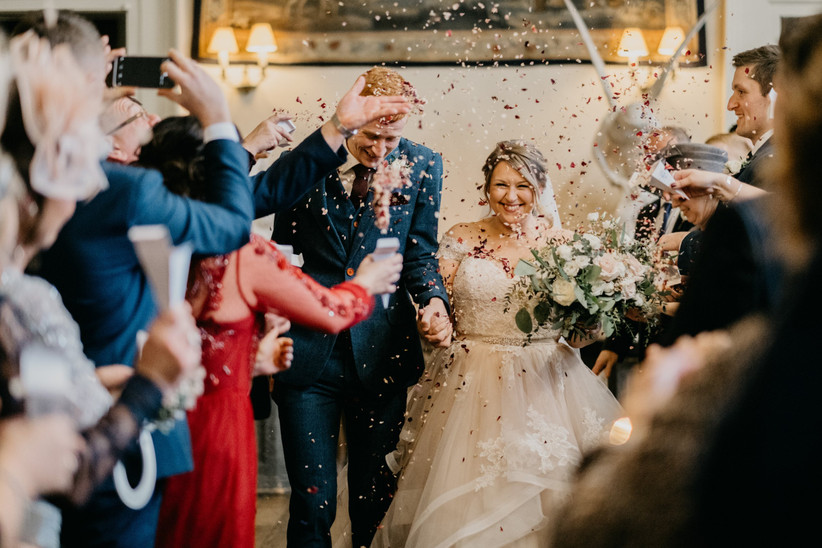 The Flowers and the Cake
Rachel at The Rose Shed was in charge of creating gorgeous, wintry arrangements for Leah and Aaron's wedding.
"As it was a winter wedding I had winter blooms in my bouquet: white ranunculus, blush quicksand roses with lots of foliage and two different types of eucalyptus. We had loads of beautiful foliage for our décor and mistletoe over doorways, as well as loads of candles.
"Rose gold featured quite a lot throughout the day but there was no strict theme. We only knew that we didn't want any hint of Christmas as we were going for a cosy winter vibe. My friend even named a group chat 'It's NOT a Christmas wedding' as I had said it so many times.
"We had a three-tier cake made by Isabelle from Zaza Marcelle in Bristol. It was white on the bottom two with subtle piped spots and gold leaf on the top. The bottom was lemon curd, the middle was raspberry and almond and the top was carrot cake. We served it on the night."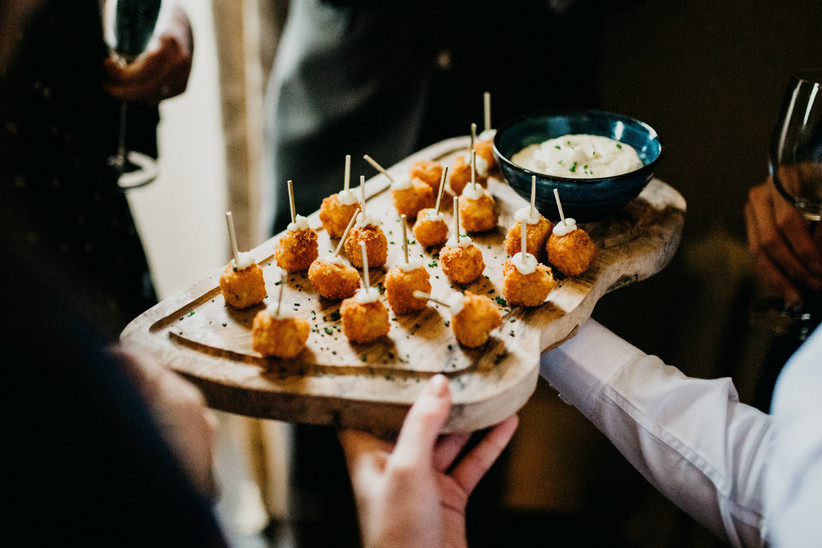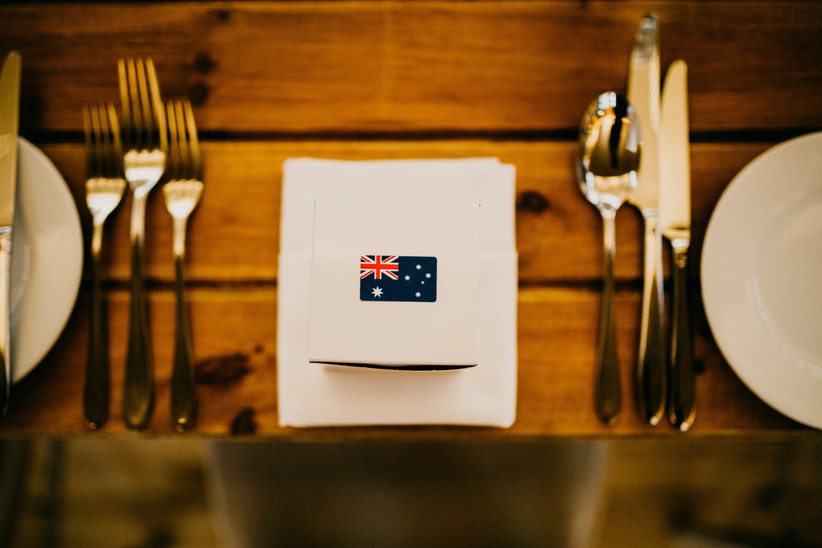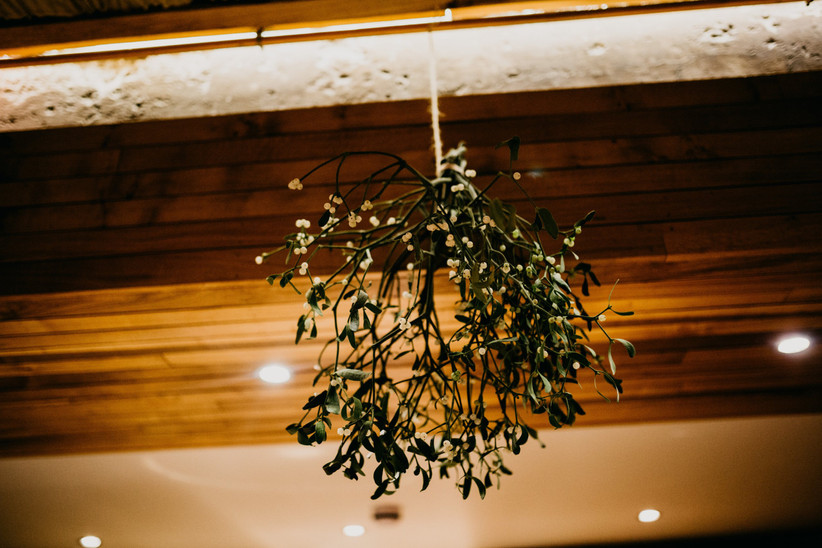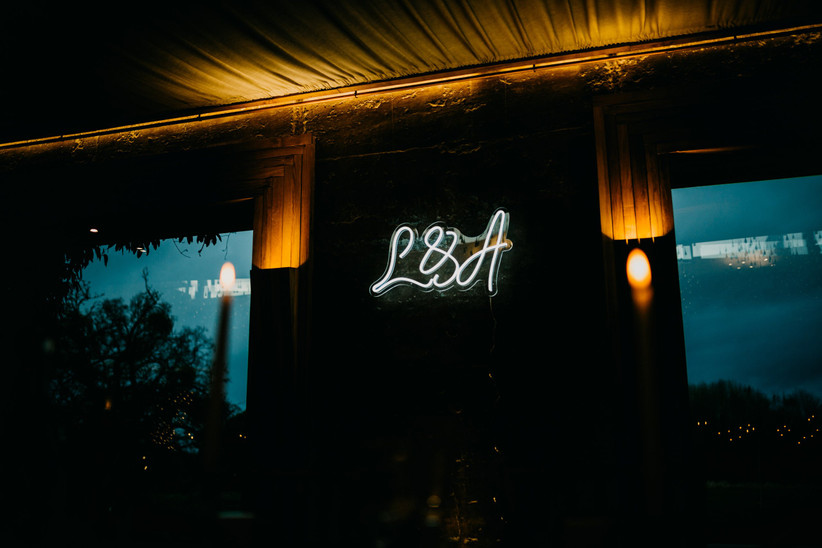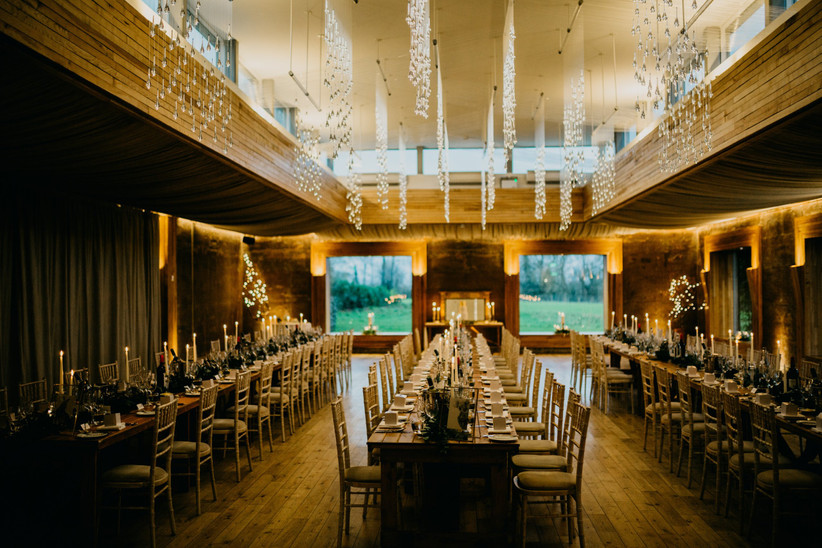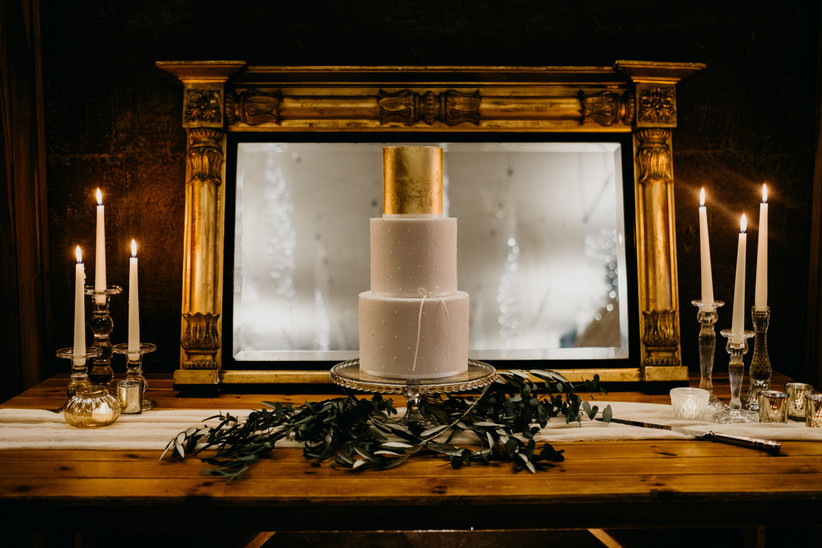 The Stationery
Leah chose to create all of the stationery herself which was a steep learning curve but definitely worth the effort as it resulted in a beautiful, personal touch!
"Our save the dates were little postcards with a drawing of Elmore Court on them. The invites were navy with rose gold foil with vellum belly bands with the same Elmore Court drawing from the save the dates.
"The order of service also had the same image. I used Canva to design them
and various print companies. I also did the welcome sign, gin bar sign and table plan on perspex which was decorated with foliage."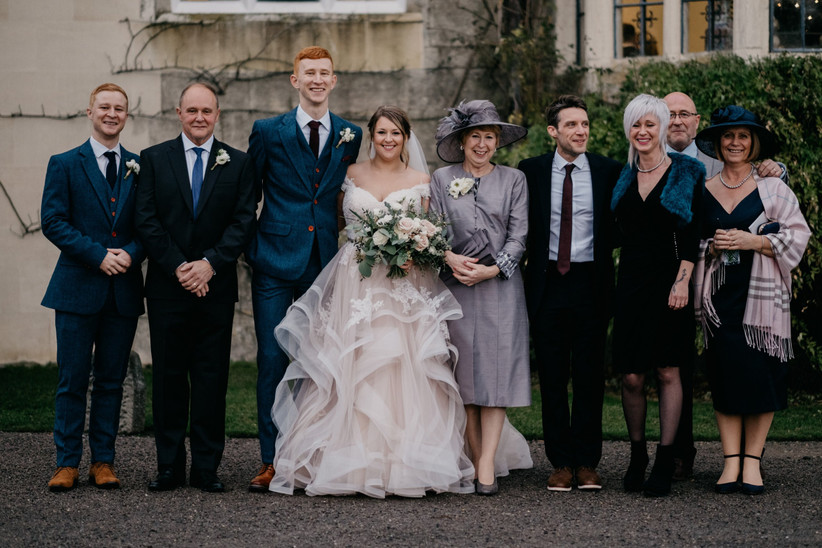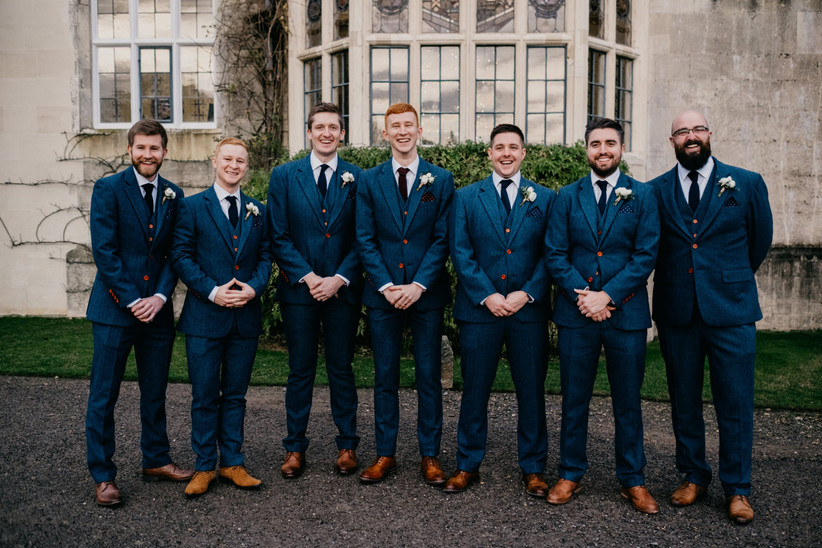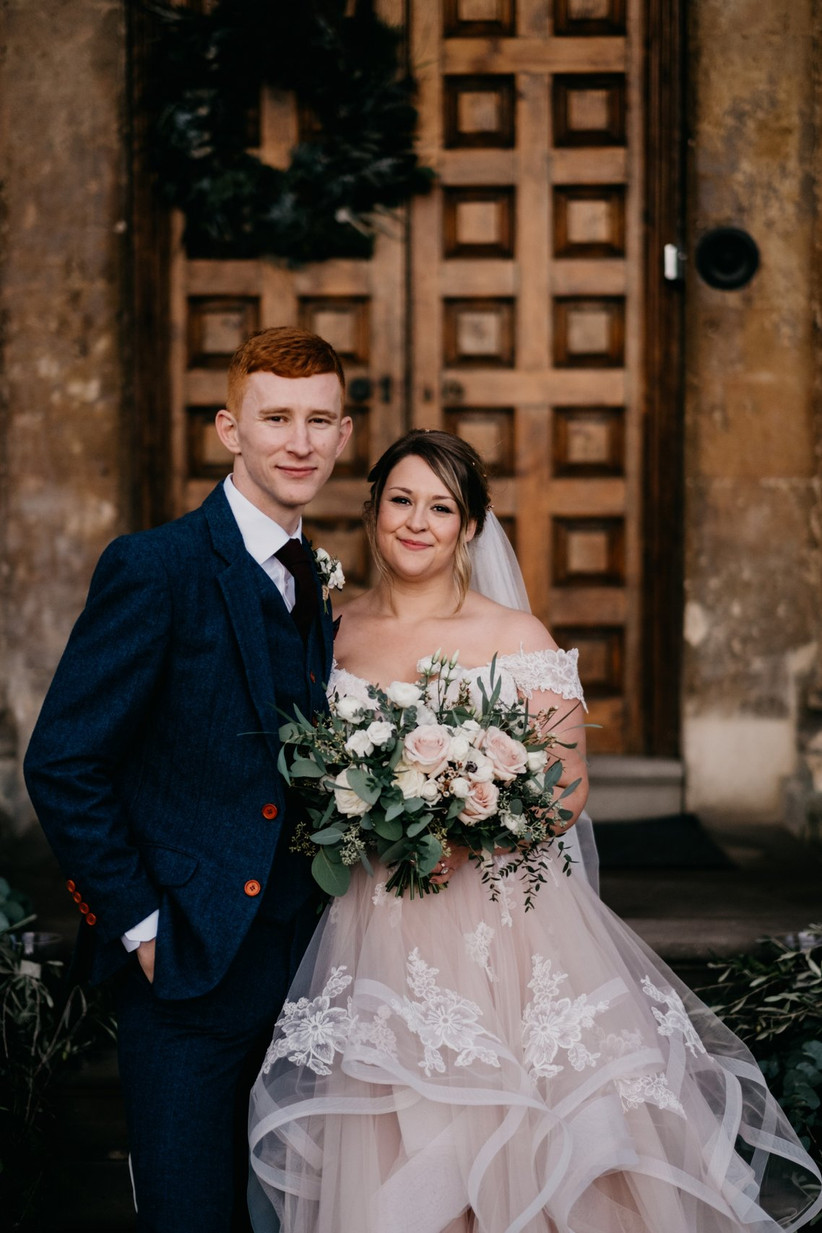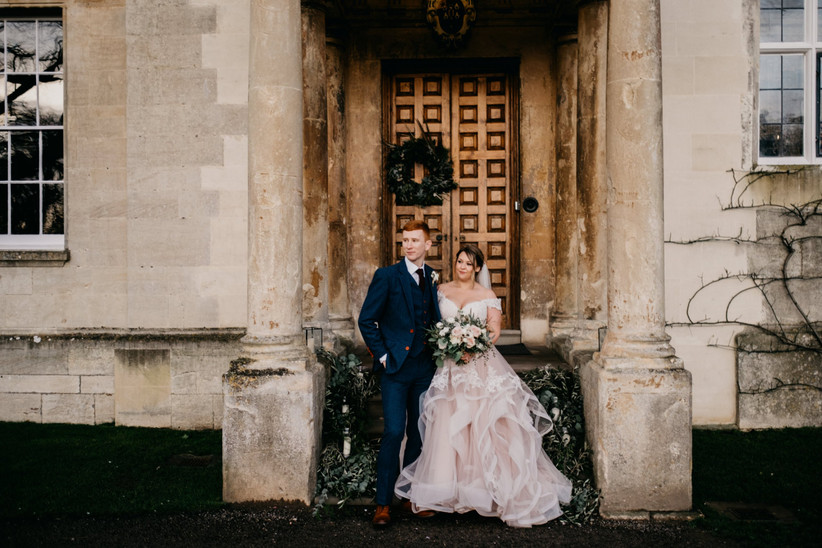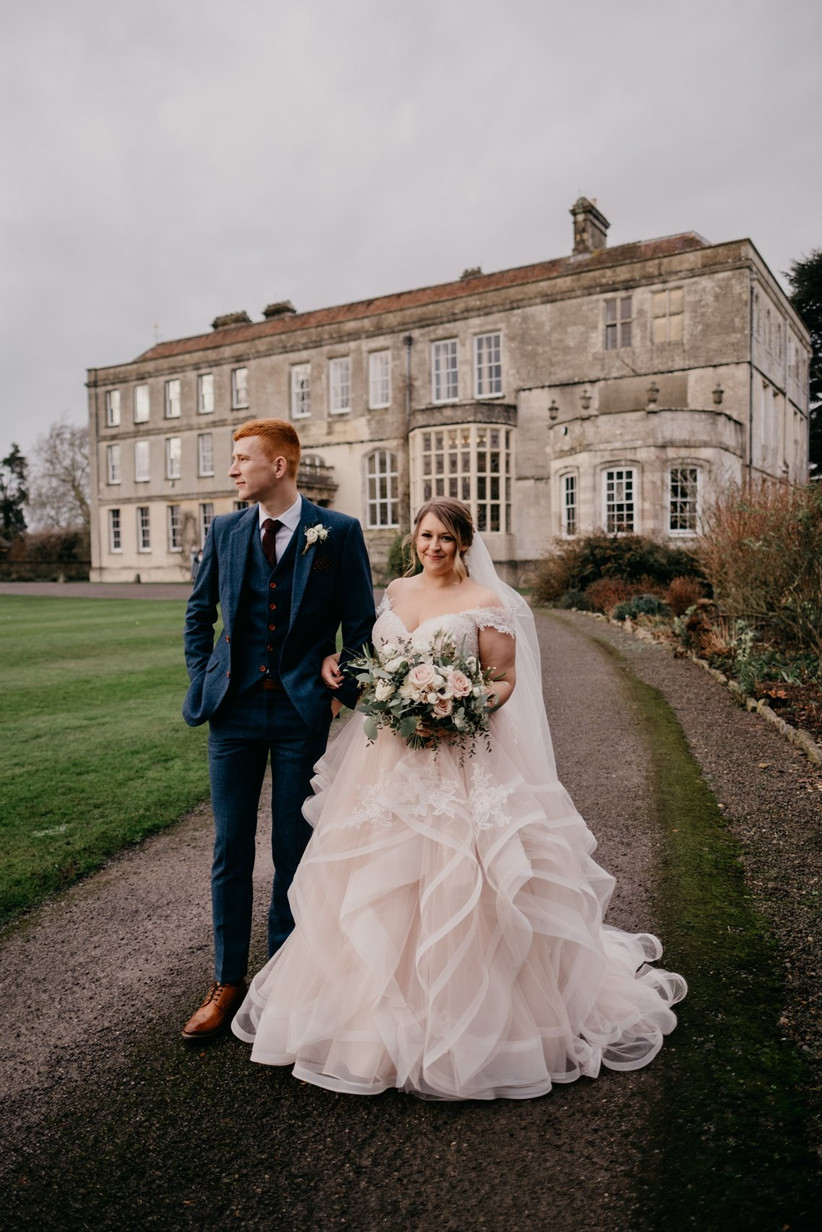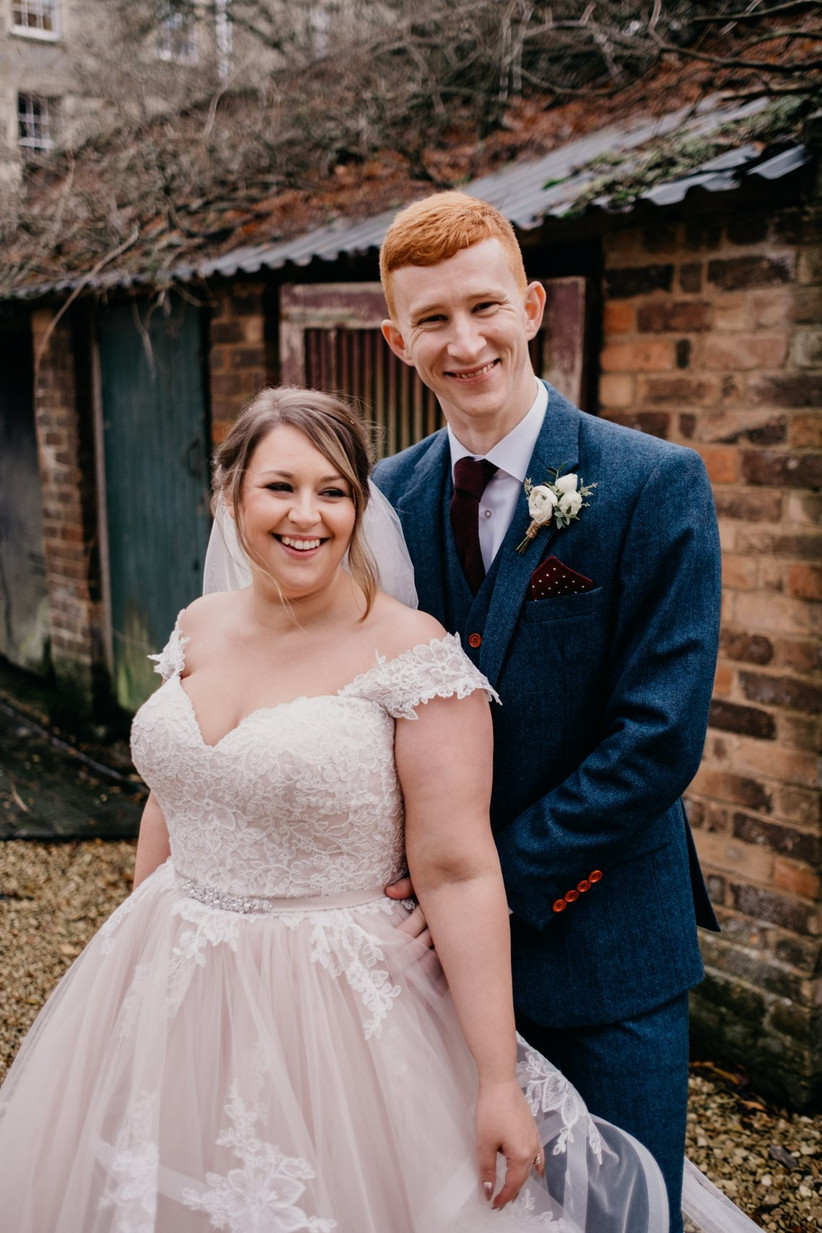 Favours and Special Touches
As the couple had spent time living in Australia, they wanted their big day to have touches of Down Under from their favours to their table names!
"For our favours, I bought 150 Tim Tams with me from Australia (like a penguin biscuit but way better) and put them in little boxes with an Australian flag on top.
"In the box was instructions on how to do a Tim Tam slam which is when you bite the corners off and slurp your tea or coffee through the Tim Tam so it goes all gooey. It was pretty hilarious watching people trying to do it with their wine or in the tea and coffee later and having chocolate all around their mouths for the evening.
"For our table centrepieces, we had long banquet tables with foliage runners and lots and lots of candles in glass candlesticks. Our tables were named Kangaroo, Koala and Kookaburra to continue the Australian touches and I had drawings of each in frames at the front of the tabes.
"We had a photo booth which was provided by the Lux Booth and also a glitter bar that I did myself.
"Our gift list was with The Wedding Shop and we were really happy with the service!"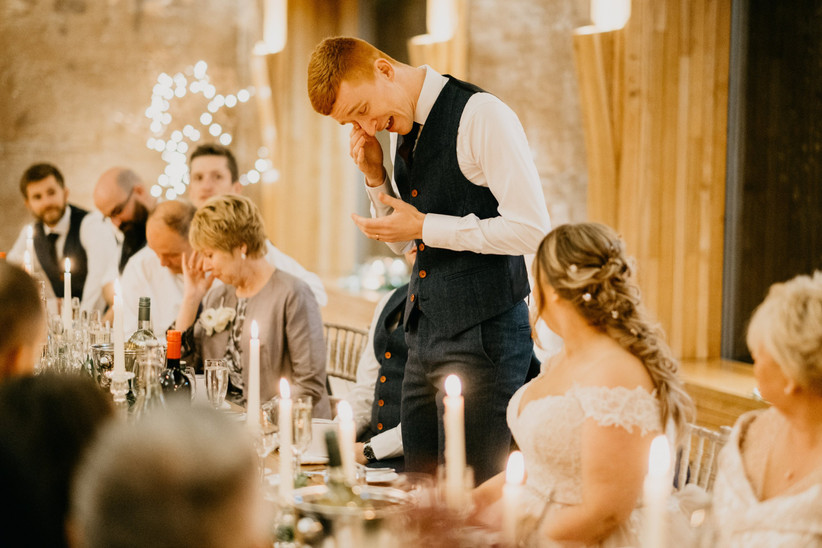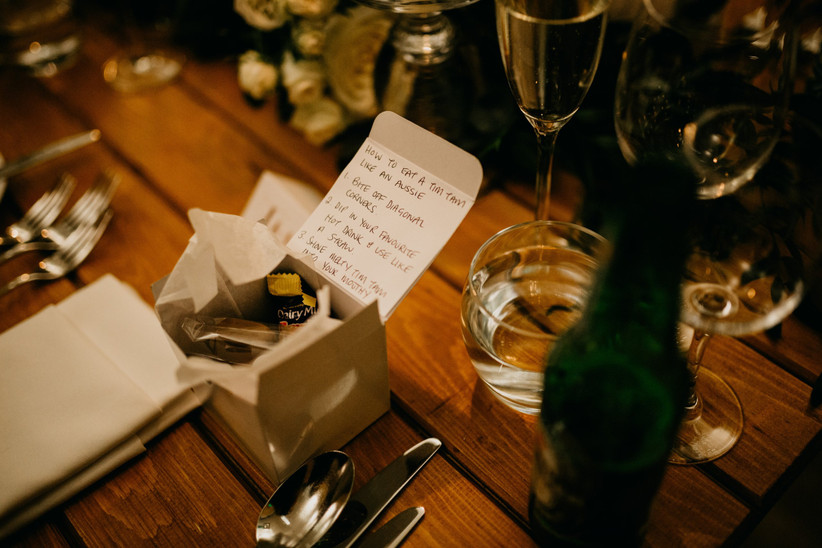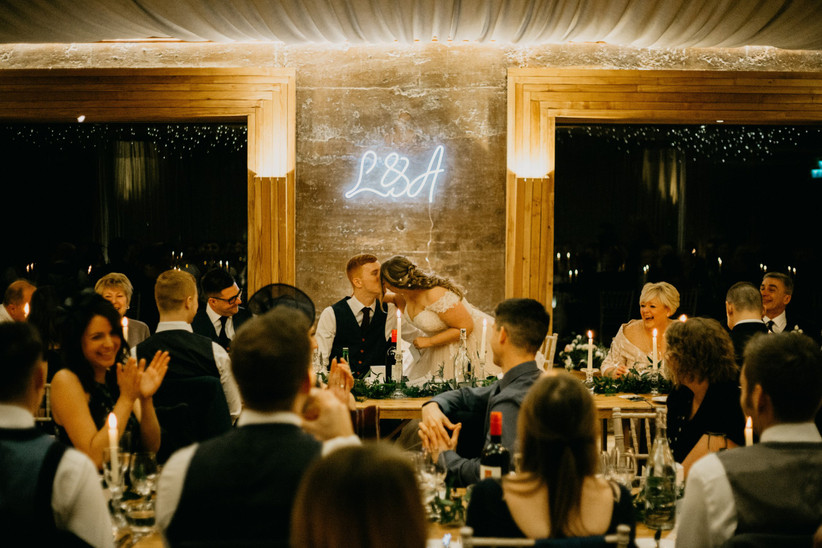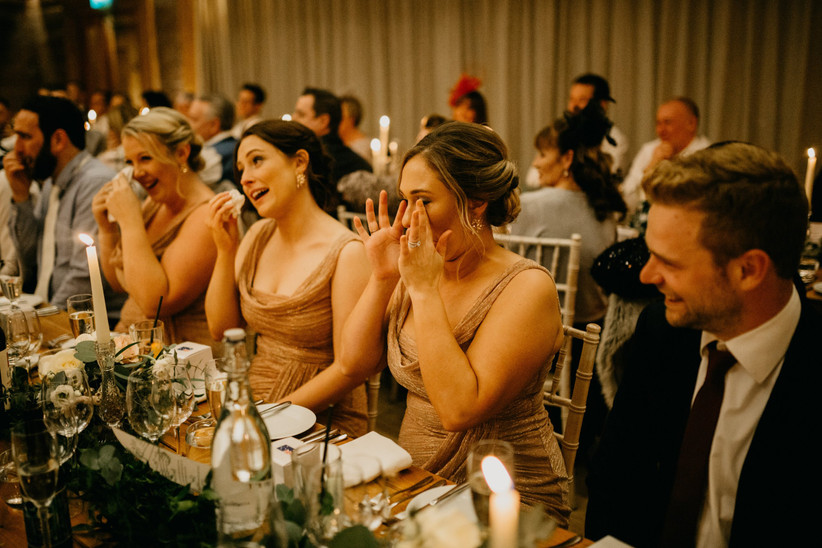 The Entertainment
As well as hiring a band, the couple decided to hire Richard Parsons, a magician, who wowed guests during the drinks reception.
"In the evening we had Mister Kanish who are an awesome five-piece band. Aaron is very into music and so we knew we wanted a band. Mister Kanish were amazing and had done some fantastic covers of '90s dance music which we knew would get everyone going.
"Our first dance was All Night Long by Lionel Richie, played by the band. We really struggled to think of what to have and, in the end, we went with it as it's such a fun song and we thought it would set the tone for the evening. We also had a couple of dance lessons so we wouldn't be awkwardly shuffling around!
"The band were very accommodating and let me join them on stage and sing a few songs which I loved. Luckily our videographer and photographer had gone by that point so there's no professional footage of a very worse for wear bride belting out Mr Brightside. But I loved having a sing and seeing my new husband and all our loved ones dancing away in front of me.
"Also seeing the Gillyflower all made up as I imagined was wonderful and Aaron and I had a bit of alone time with a pot of tea for him and a G&T for me to chat through what had happened so far and be in the moment."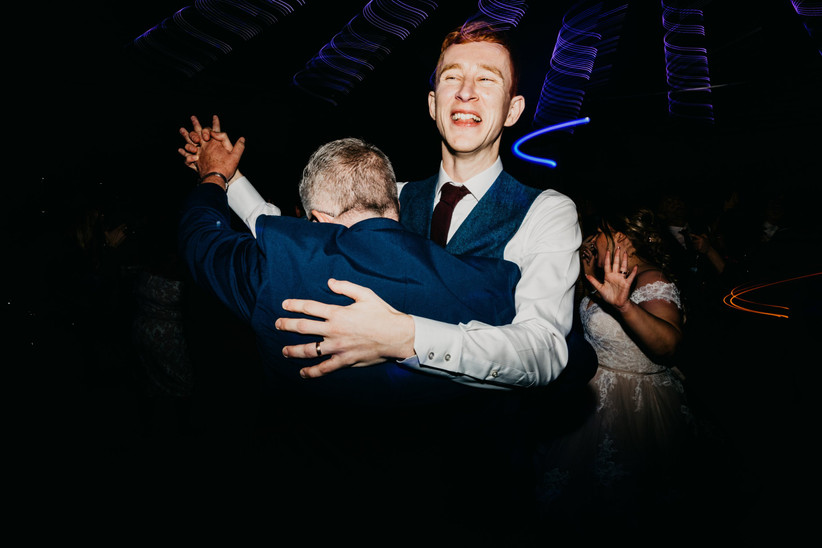 The Honeymoon
The couple moved back to the UK after their wedding. They calculated that they came in under budget but spent money on a luxurious honeymoon.
"We had to delay the honeymoon as Aaron had an accident after the wedding which meant he was in the hospital for a while.
"We decided to move back to the UK and take a trip on the way back which turned into a three-month trip around South America and Japan with a week in Thailand at the end to relax.
"We had such an amazing time and saw and did so many incredible things including doing the Inca Trail to Machu Picchu and visiting the Galapagos Islands."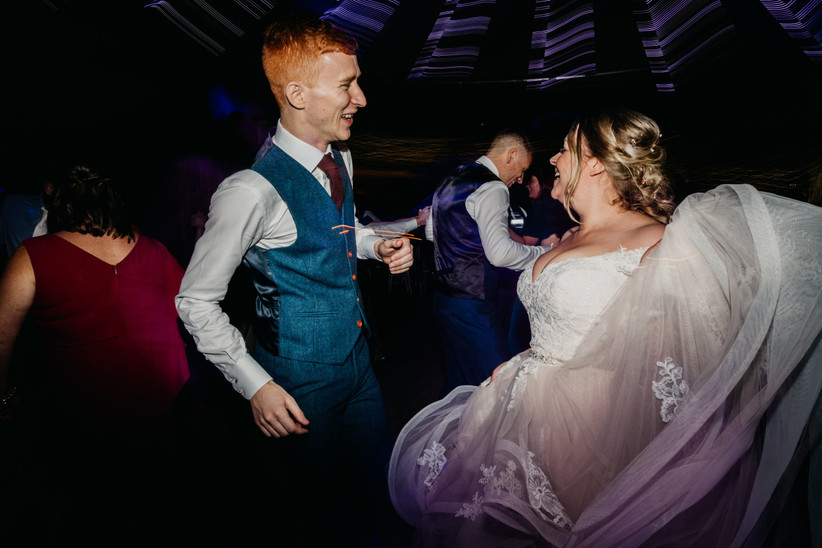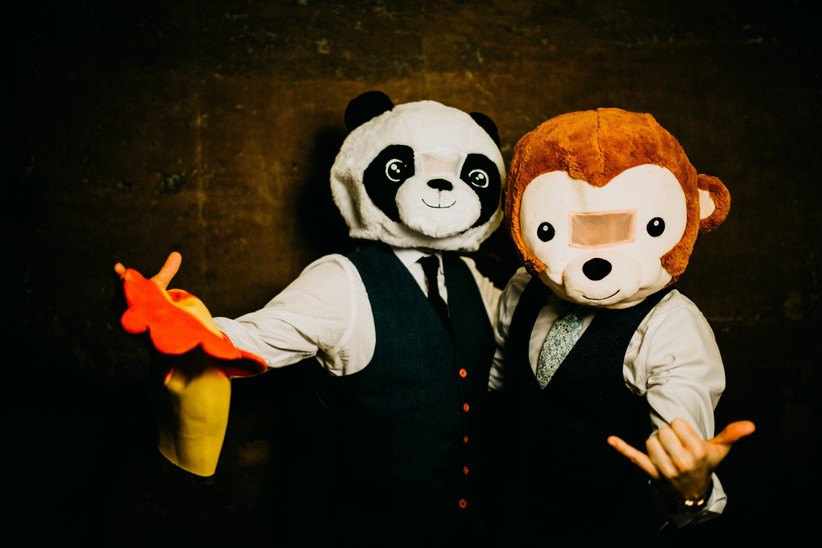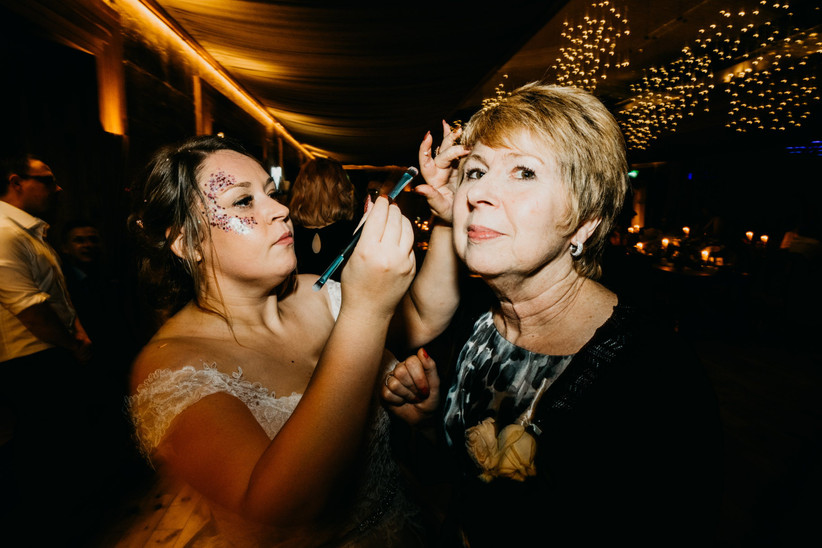 The Couple's Advice
Leah was heavily involved in every aspect of planning her big day. As a result, she has some useful advice for others hoping to do the same.
"In hindsight, I would probably delegate some of the day jobs instead of doing them all myself. We had a glitter bar and I ended up manning that for about an hour when I really wanted to be dancing.
"I would also make sure I looked in a mirror and got rid of all the confetti that had stuck to my hair.
"My tips for other couples are to do what makes you happy and don't try to please others. It's your day. The day goes so quick and so many people want to chat to you that you can realise you haven't seen your partner for a while. We made sure to keep finding each other throughout the day and having little moments together."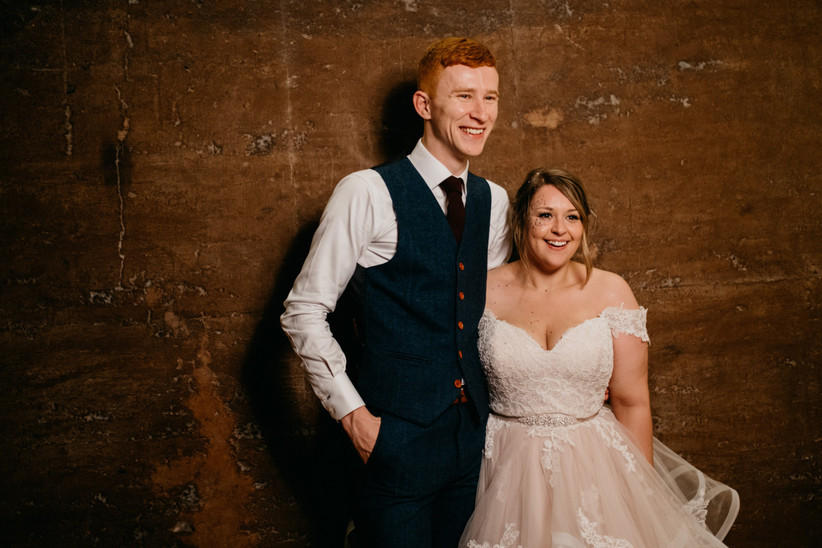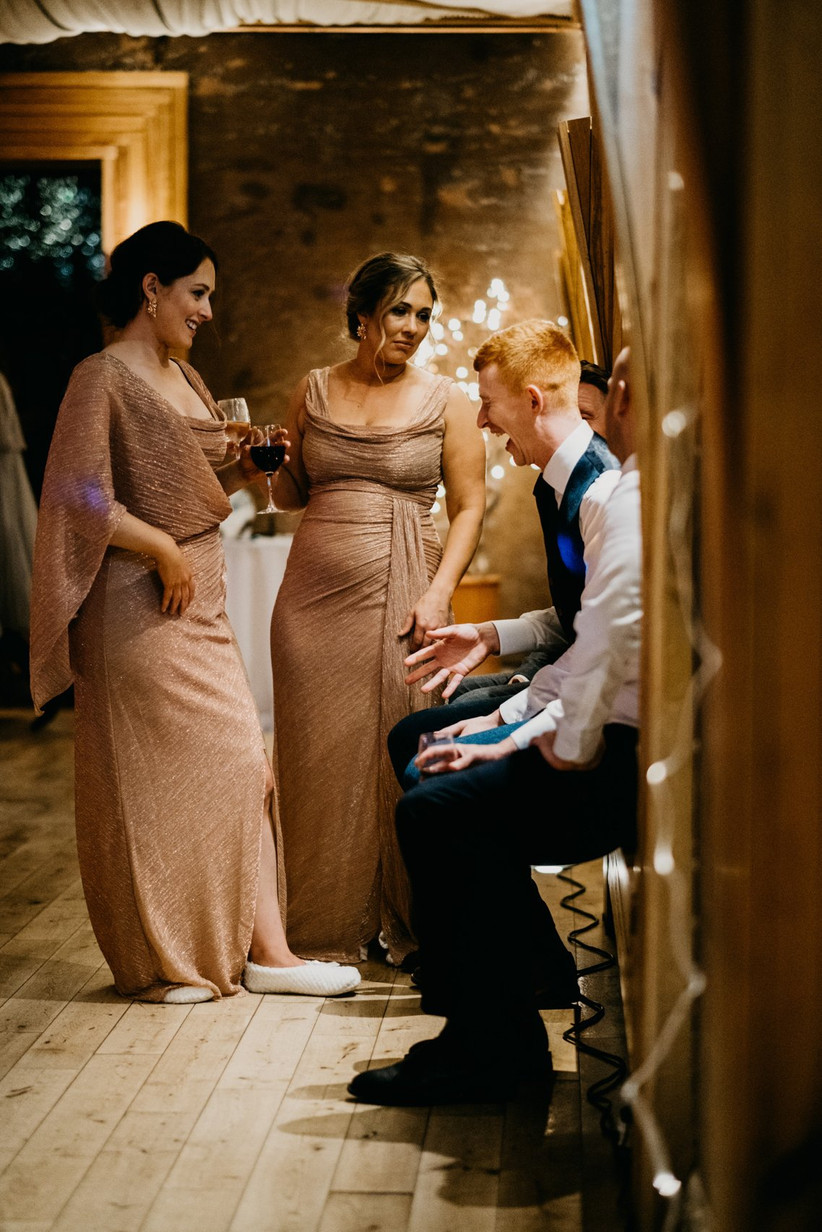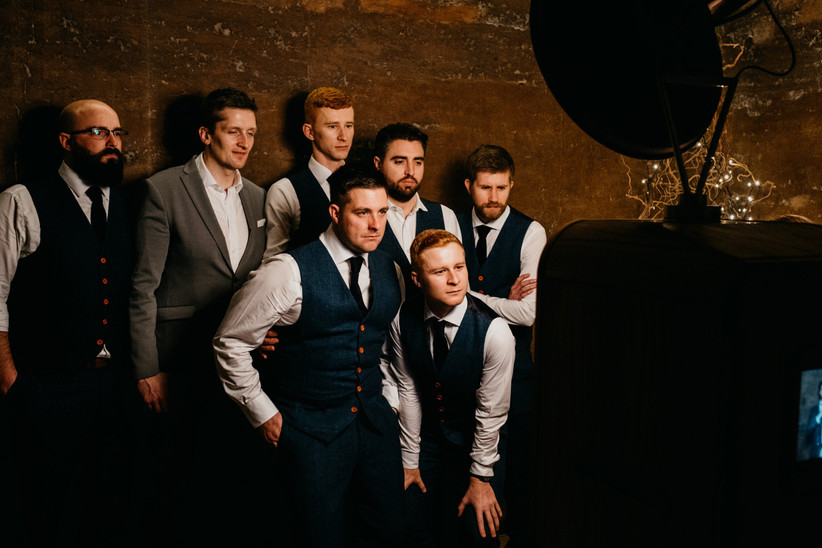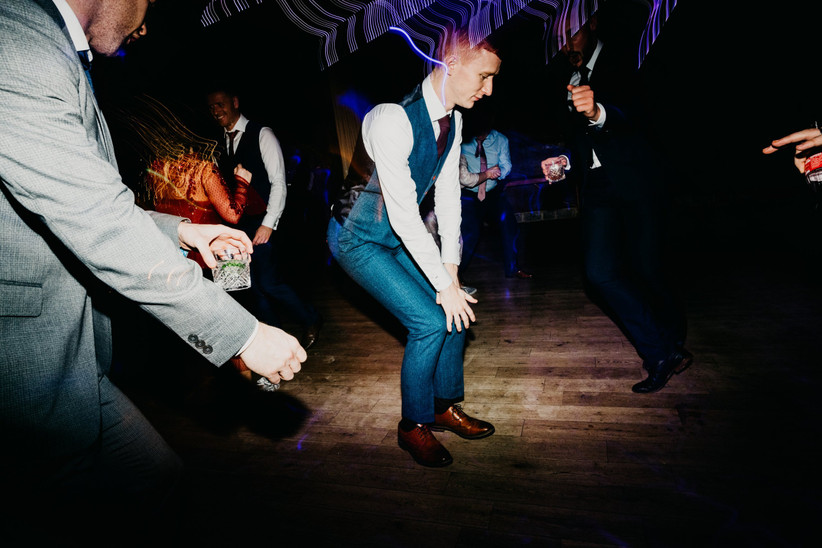 Suppliers
Photographer: Ed Godden Photography
Ceremony and Reception: Elmore Court
Wedding Dress: Stella York from The Wedding Room
Veil: Blossom and Bluebird
Bridesmaid Dresses: John Lewis
Makeup: Bryony Dalton
Hair: Louise Alway
Florist: The Rose Shed
Photobooth: Lux Booth
Wedding Cake: Zaza Marcelle
Rings: Heidi Gibson
Groomswear: Vintage Suit Hire Company and Daniel Wellington
Entertainment: Richard Parsons Magician and Mister Kanish
Gift List: The Wedding Shop
A huge thank you to Leah and Aaron for allowing us to feature their stunning day!