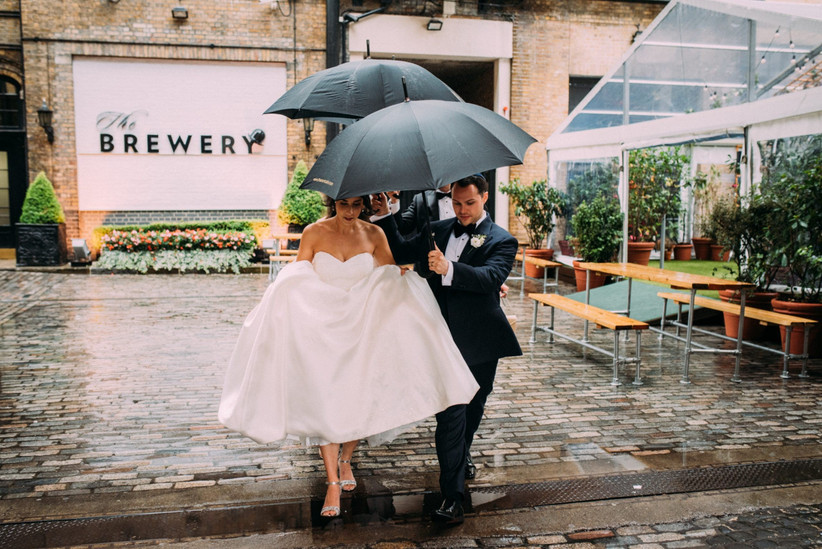 Having a longer engagement doesn't necessarily make wedding planning any easier. But, for Charlotte and James, two years was the perfect amount of time to ensure they could include everything they wanted in their big day.
From a star-lit first dance to salted caramel espresso martini syringe shot favours and stationery designed by the bride herself, their day was full of magical personal touches.
The couple met through a mutual friend before going on a night out at the Ministry of Sound in London. After three years together, James popped the question while they were on holiday together in Florence. It just so happened to be Charlotte's parent's wedding anniversary on the same day too!
"He did it in the evening as we arrived at the hotel, I think he was down on one knee for a few minutes without me even noticing (typical!) and I wouldn't have had it any other way!"
James knew Charlotte well enough to propose with a dummy engagement ring so she could choose what she truly wanted.
After a two-year engagement, the couple got married at The Brewery in London in August 2018 in front of 180 guests.
Photographer: Adam and Hannah Photography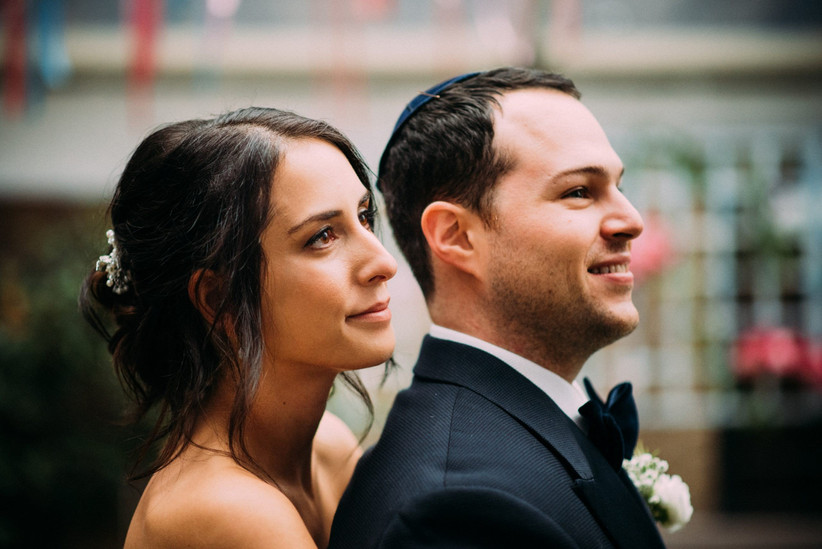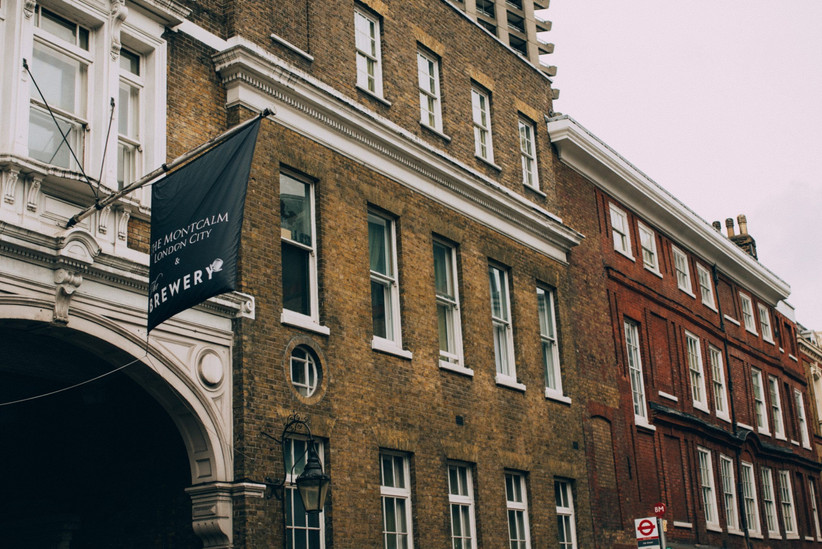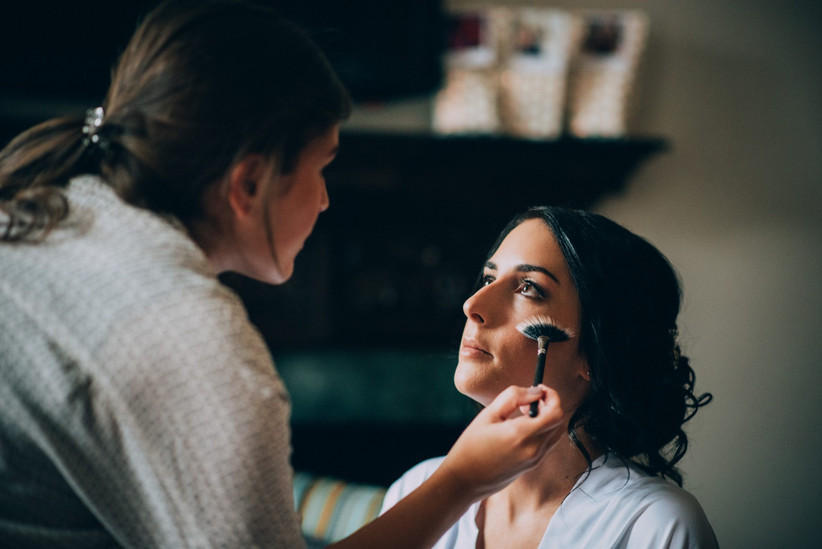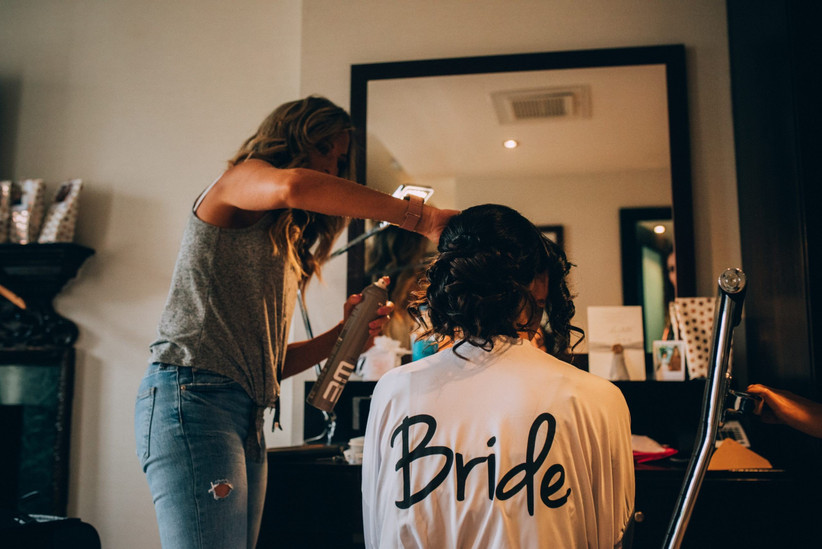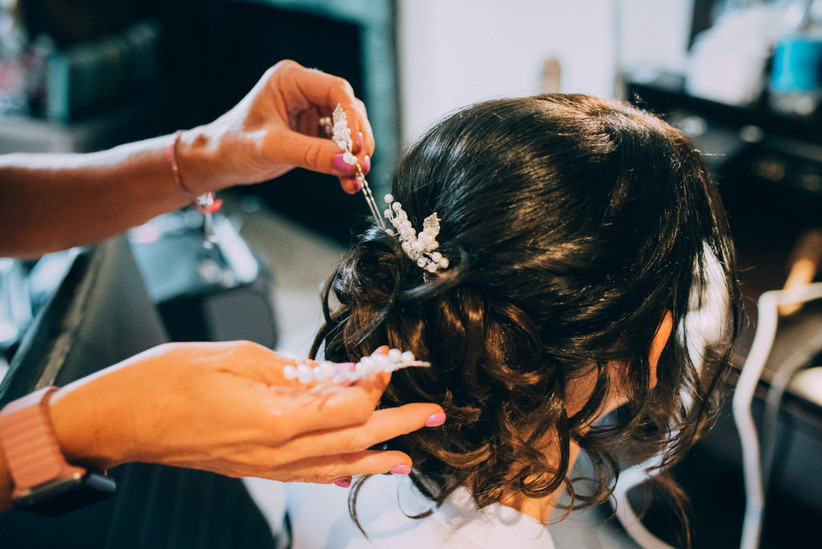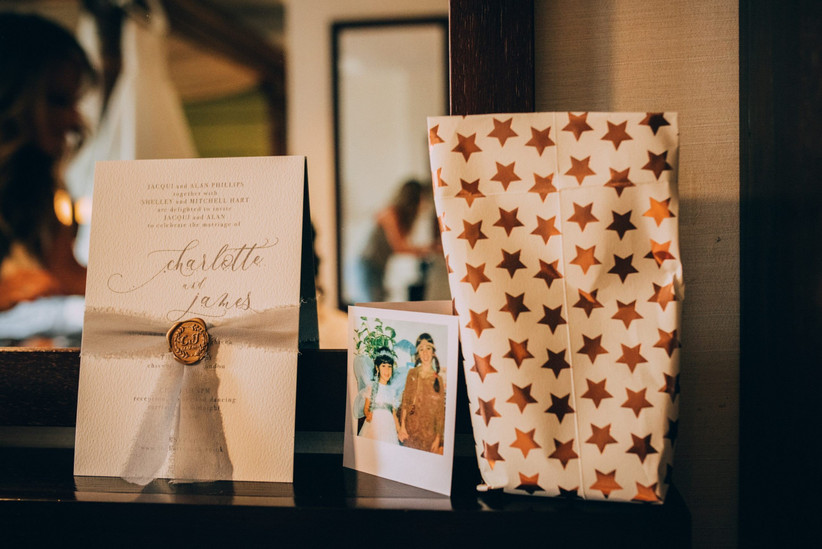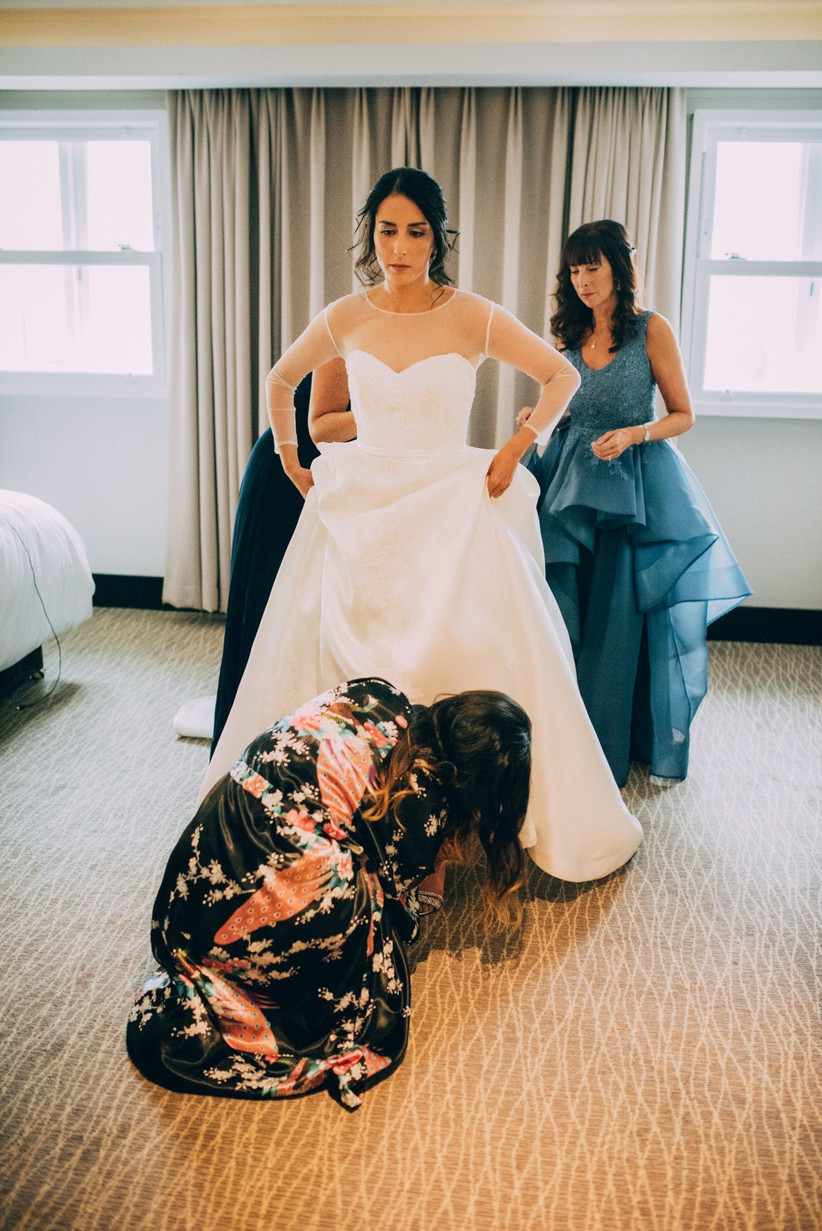 The Wedding Dress
Charlotte wore a stunning strapless, A-line, Mikado silk dress with a long train. It had gorgeous lace appliques on the bottom half of the dress and a fully embellished bodice.
"I purchased my dress from Pronovias, in Bond Street. I had been looking at it for such a long time and knew that I wanted something classic and timeless. I tried on three others and saved the best till last.
"I had a cathedral-length veil with a Chantilly lace trim around the edge and blusher. For the ceremony, I wore a mesh topper from David's Bridal that had covered buttons down the back that matched my dress."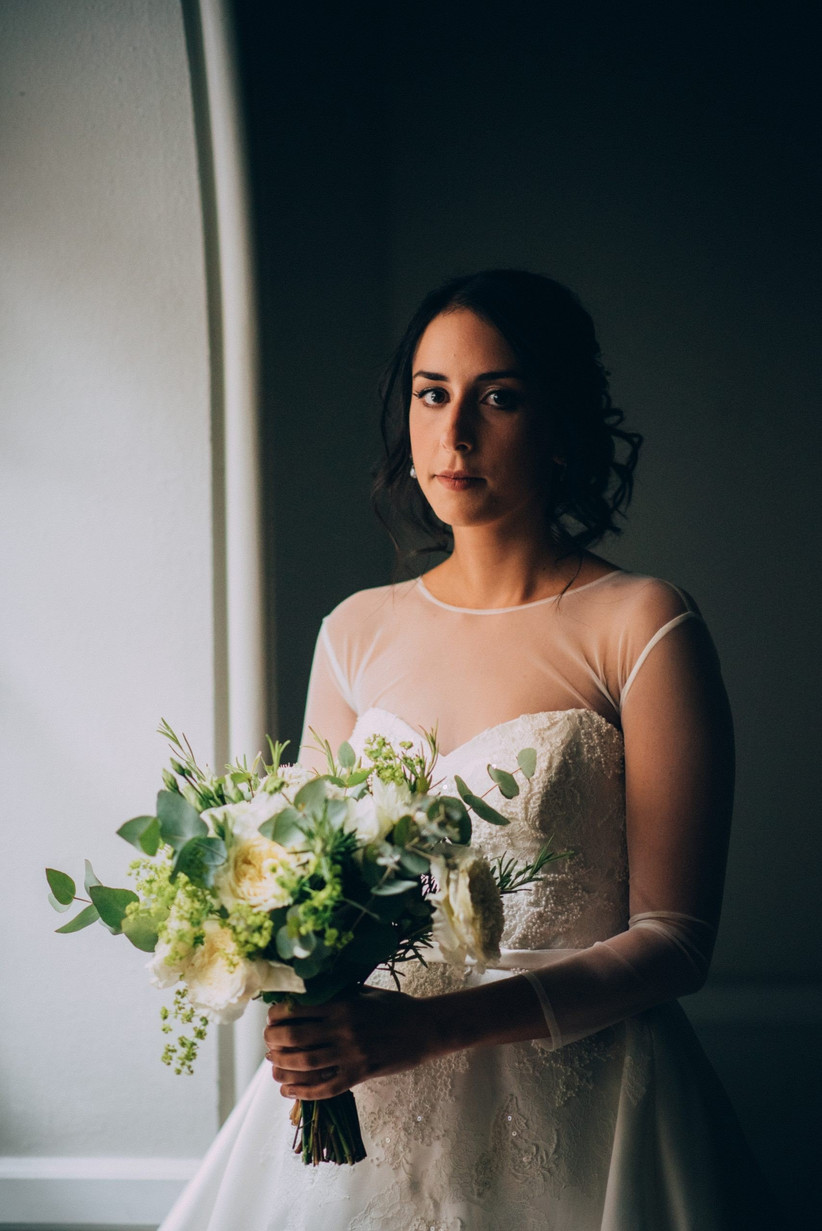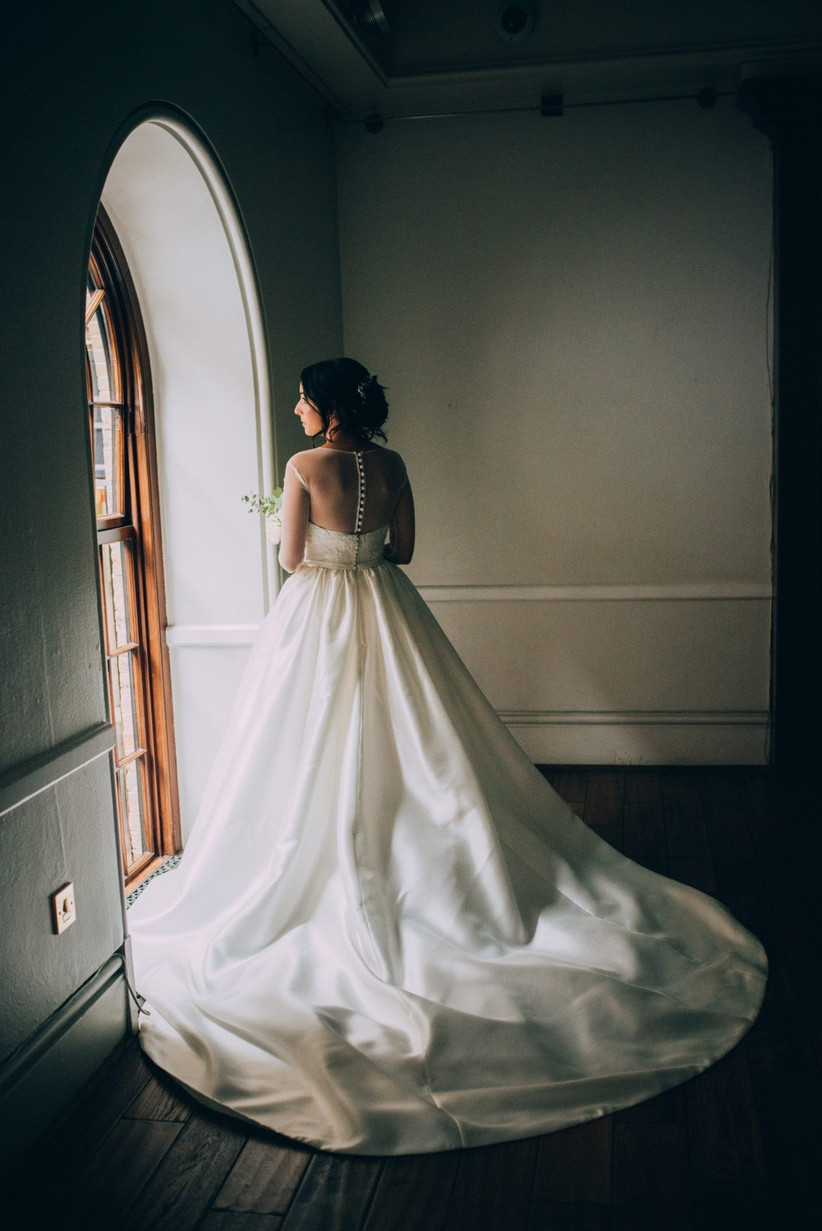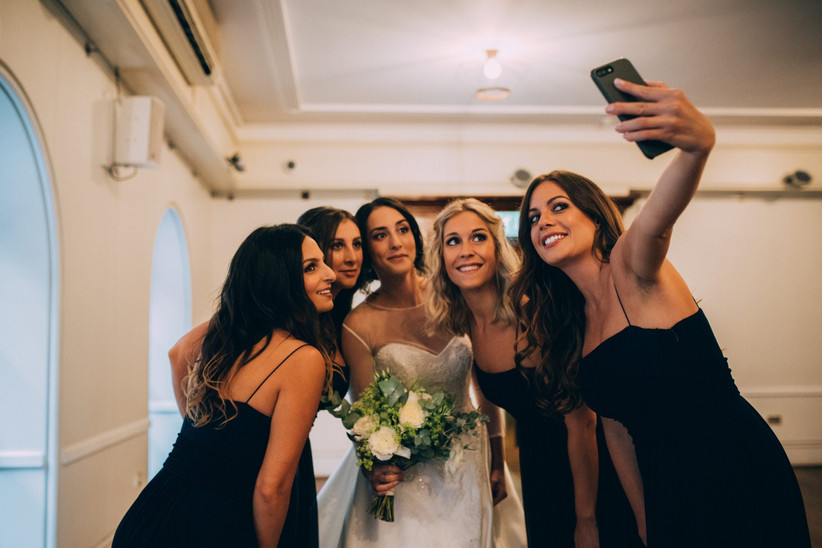 Bridal Beauty
On her big day, Charlotte knew she wanted something which wasn't fussy so she chose to have her hair up and framed by wavy curls.
"I had my first cousin who is a wedding hairdresser, Gemma Harris, do my amazing bridal hair. It didn't move at all and I didn't have to worry about it!
"I also had my close friend, Naomi, do my makeup on the day. I was very lucky to have two people who were at my wedding making me look my best.
"I went for very natural makeup with a smoky eye, a nude lip, and a bronzed glow. I didn't want to feel too unlike me.
"I am not the biggest jewellery wearer so I wanted to look like me but bridal at the same time. I actually ended up finding hair accessories on Amazon. I wore three combs with silver leaves with little pearls. My earrings were from Debenhams. You wouldn't be able to tell that they didn't cost the earth and were perfect on the day!
"I wanted shoes that I could dance all night in, that felt bridal, but that I could also wear again. They were silver with a simple band of glitter on a thin strap, a small stiletto heel, and they were extremely comfortable.
"I must have tried on at least 30 pairs before finding the one. My shoes were from Nine West and I found them on the website Shoeaholics. I changed later in the evening into some smaller heels from ASOS."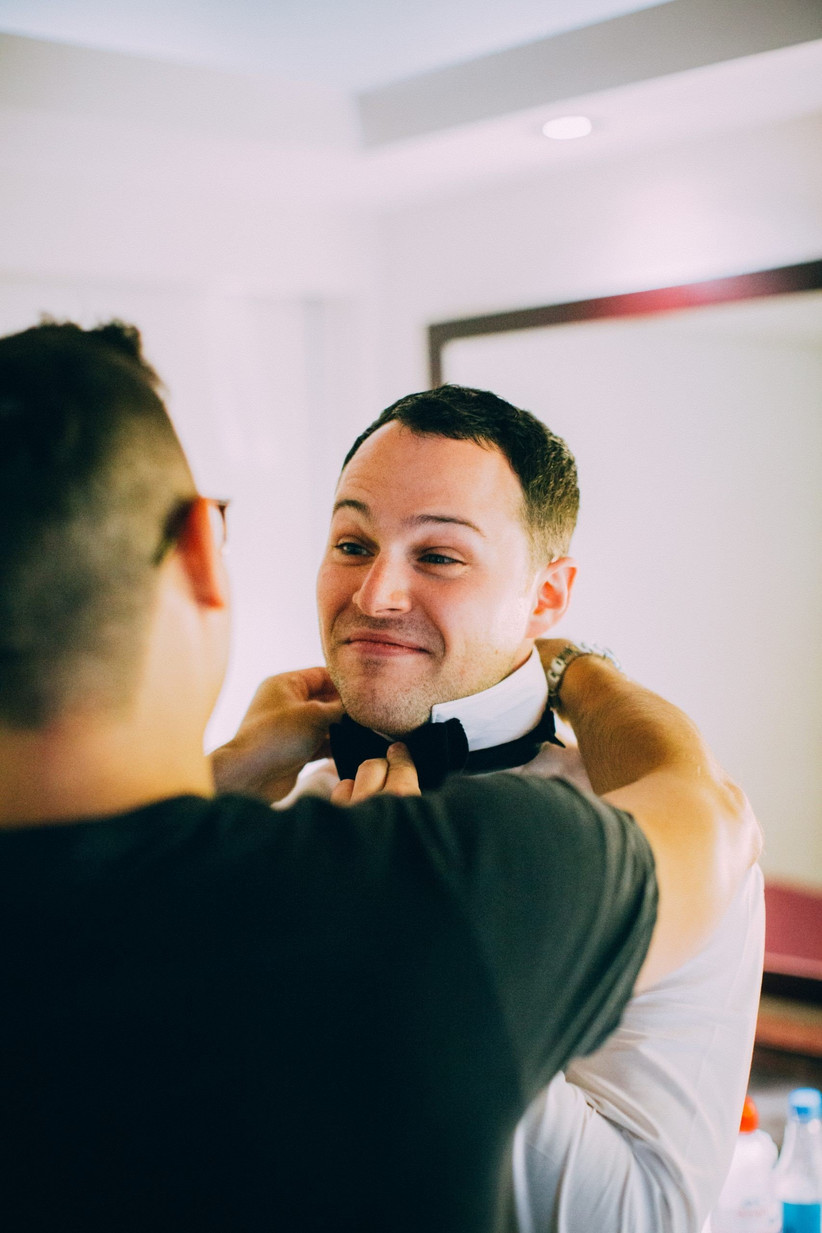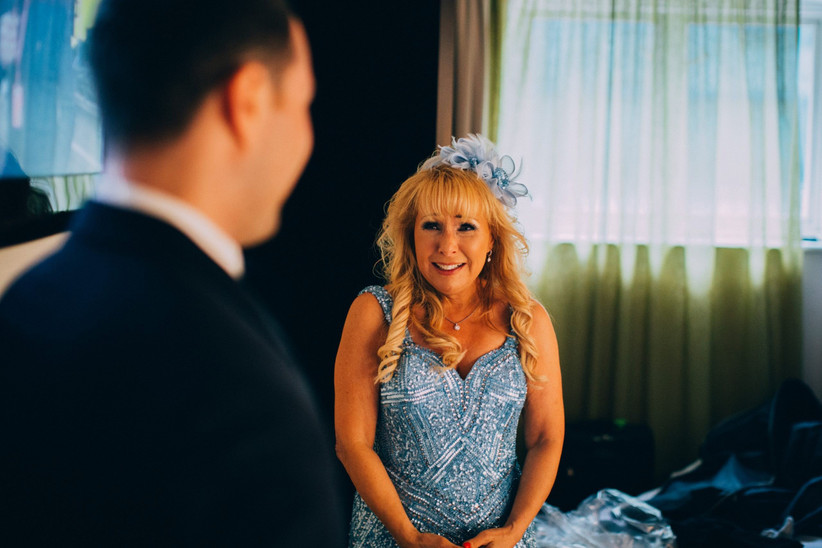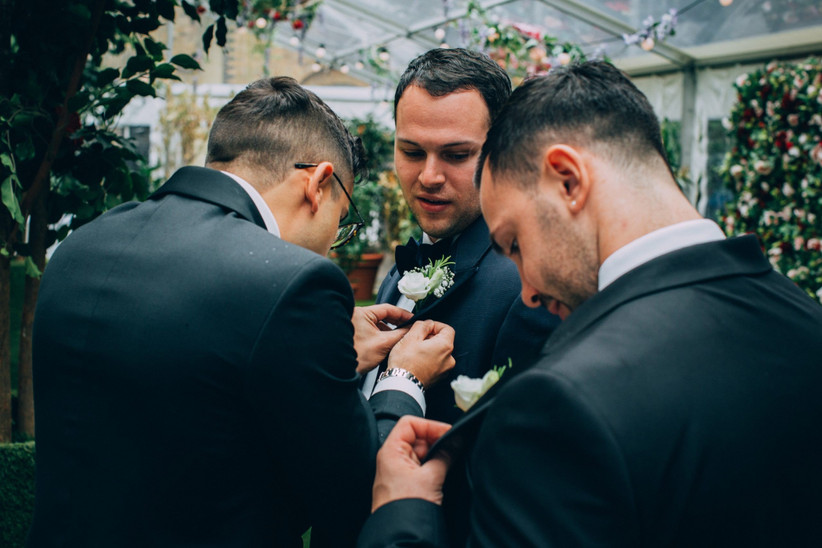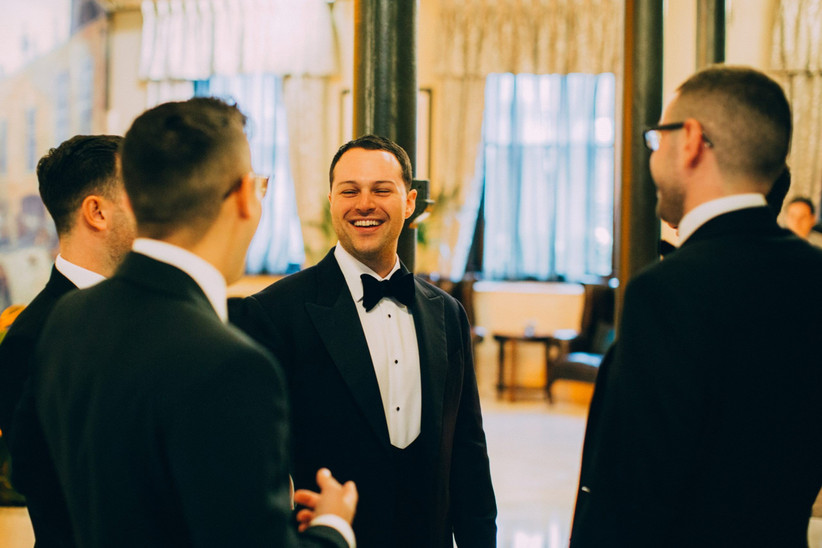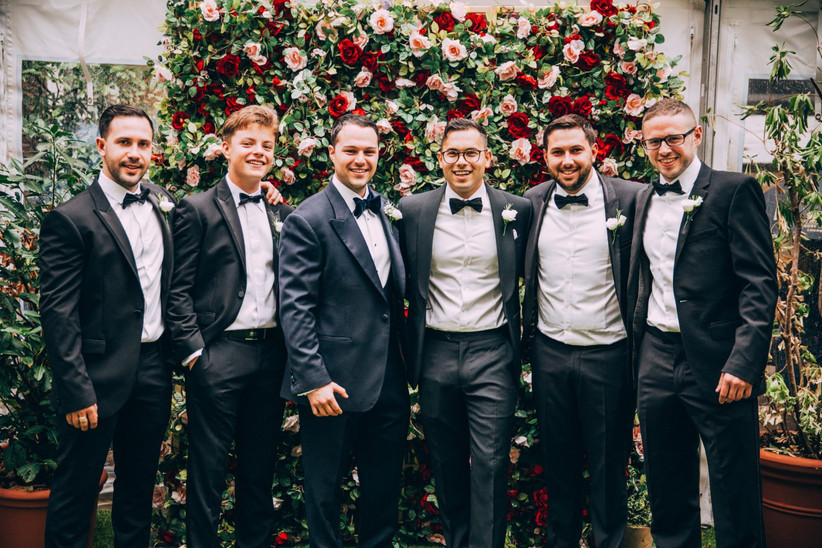 The Wedding Party
Charlotte's bridesmaids wore navy dresses from Phase Eight while the groomsmen wore black dinner suits with black bow ties.
"I had four bridesmaids – my sister and three best friends. I had three flower girls who are my first cousin's daughters.
"I wanted them to be in something classic and with simple detailing. And my flower girls were all matching in navy tulle dresses, which I managed to find from eBay!
"James wore a suit by Casely-Hayford from The Wedding Gallery which was navy textured with a matching waistcoat. He had our first dance song embroidered with our wedding date in the lining of the suit jacket.
"His shirts were from Gieves and Hawkes with navy matching buttons. He wore shoes from Kurt Geiger.
"I booked James an appointment at The Wedding Gallery as he is hugely indecisive. I knew that he wanted something tailor-made to him. I went with him to all of his appointments. Anyone who has been to The Wedding Gallery would understand why – it is beautiful there!
"He bought the suit and has had a lot of use out of it at many of our friends' weddings."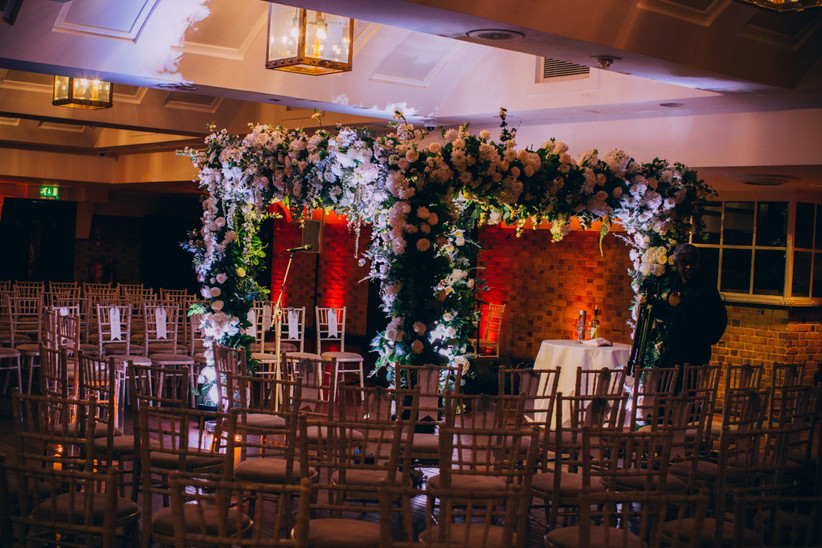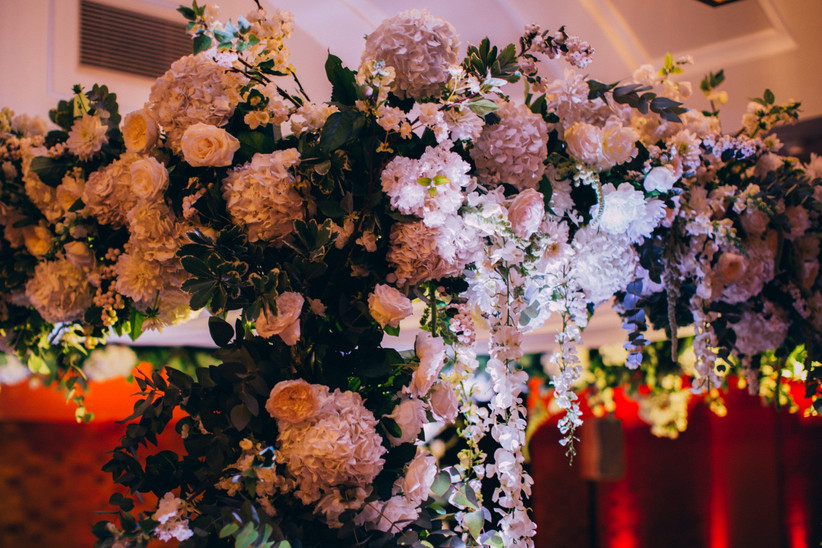 The Ceremony
The couple had a Jewish ceremony held by a Rabbi and had a cantor who sang as they walked down the aisle.
"We had the entire wedding at The Brewery which was one of the many reasons we chose this venue.
"Our ceremony was held by James' family Rabbi who is quite the character. When we didn't drink enough wine for him during the ceremony, he got all five best men up to finish the glass of wine together.
"As we had a traditional wedding ceremony, I walked down to Hallelujah but sung in Hebrew to Boi Kallah. I walked down with my parents.
"For our rings, we found inspiration in Hatton Garden, but had a close family friend make them."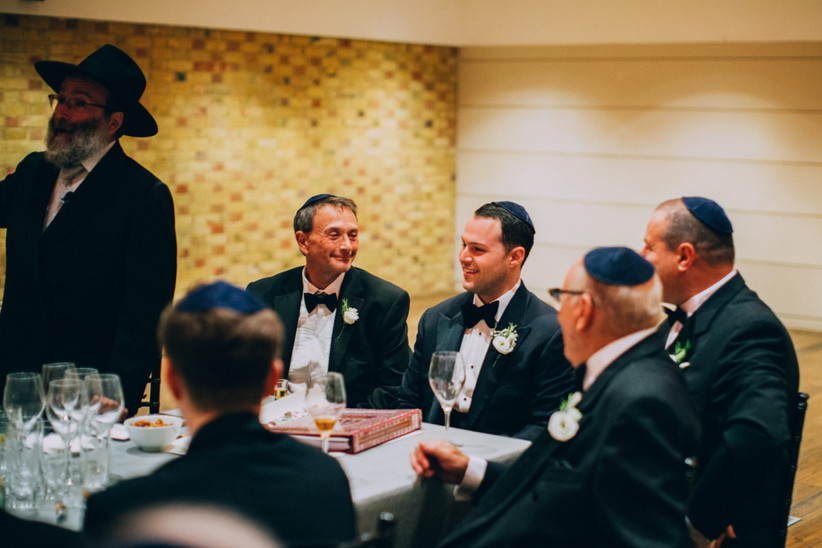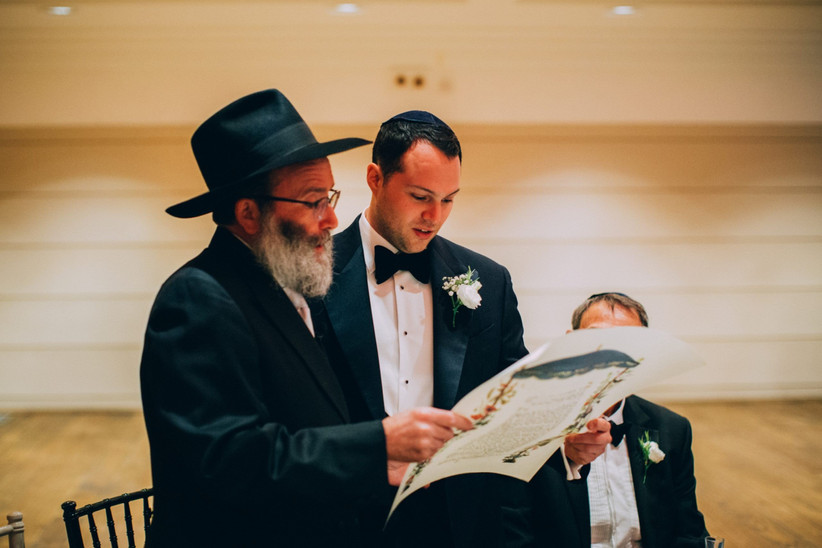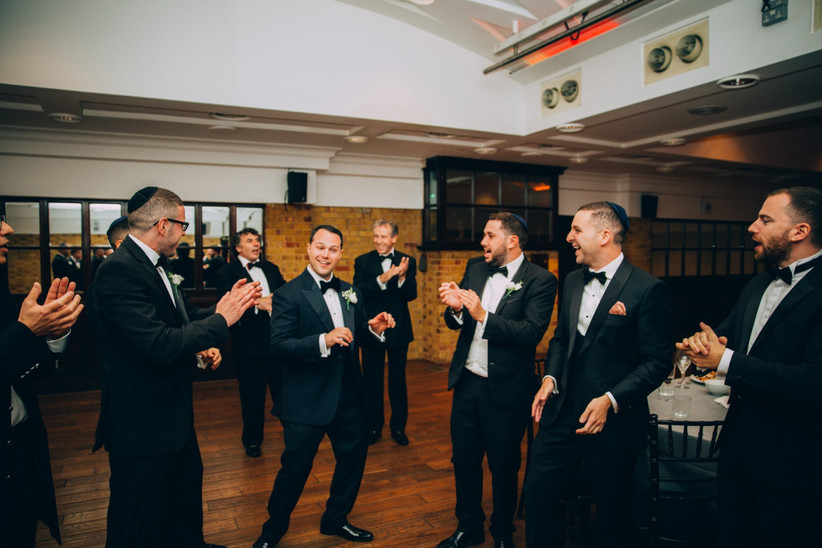 The Reception
The couple chose to hold their ceremony and reception at The Brewery and claim it was the only London venue they saw that ticked all of their boxes!
"With its bare brick walls and wooden beamed ceilings, it's a venue with the wow factor and we just couldn't see ourselves getting married at a London hotel. There is a lot you can do with that venue to make it unique to your day.
"As James proposed in Italy, we wanted that time of our lives to be incorporated into a theme for our wedding day. We dreamt of getting married in Tuscany so we decided to bring the rustic outdoor Italian theme to The Brewery.
"We decided to have long banquet tables, which felt more relaxed and sociable. The tables were decorated with high and low white flowers with lots of greenery and candles scattered throughout.
"We had a smoked salmon starter, an incredible shoulder and confit of lamb for main, and chocolate fondant for dessert."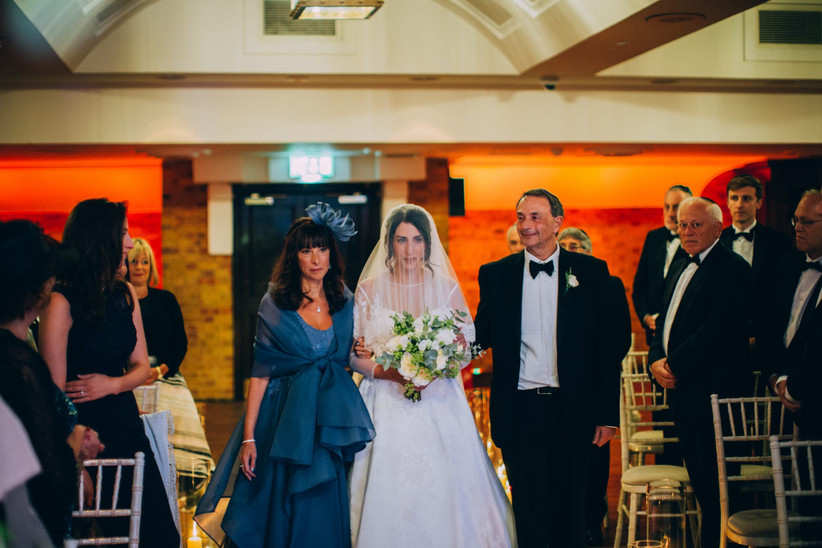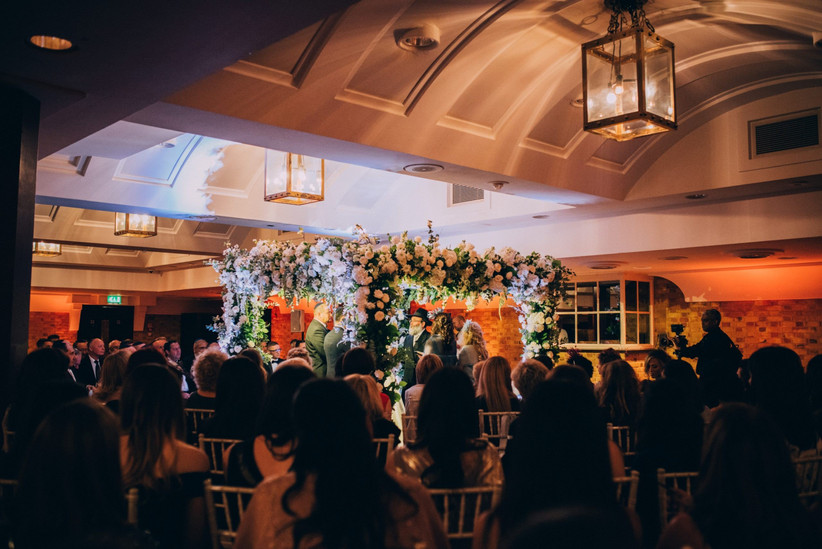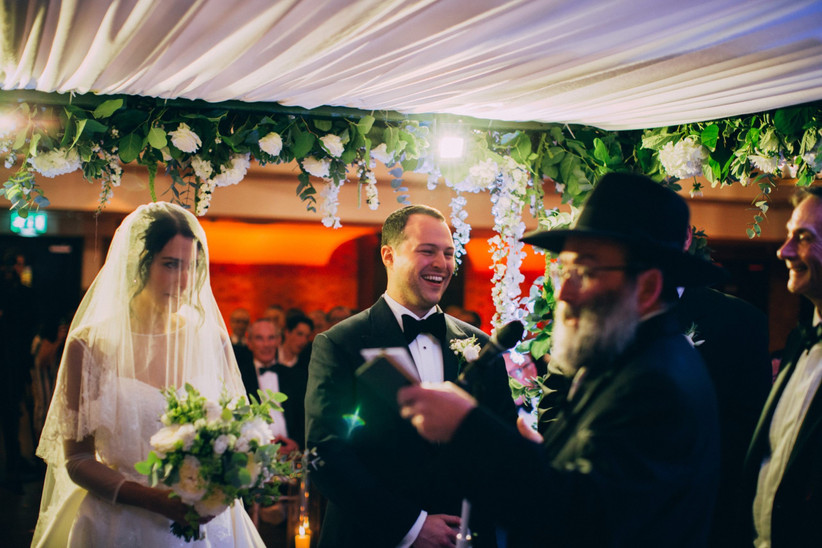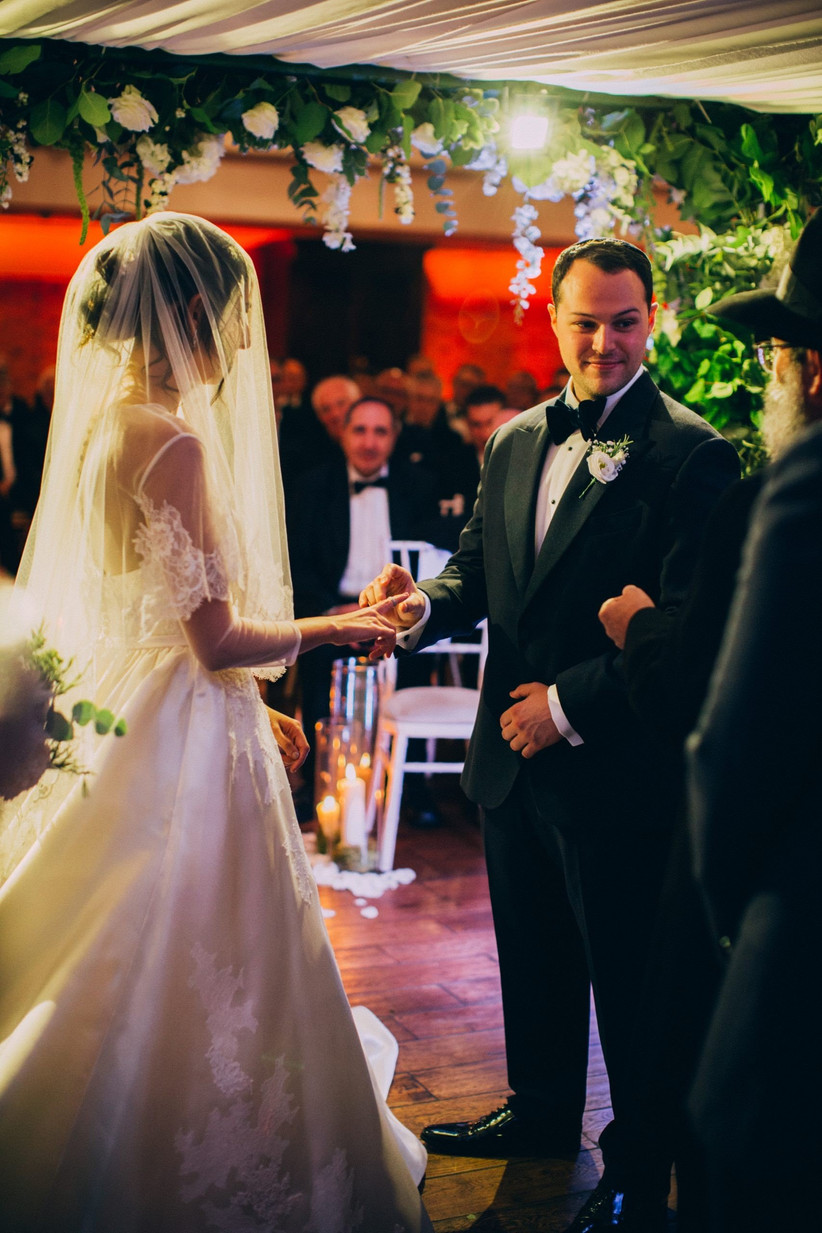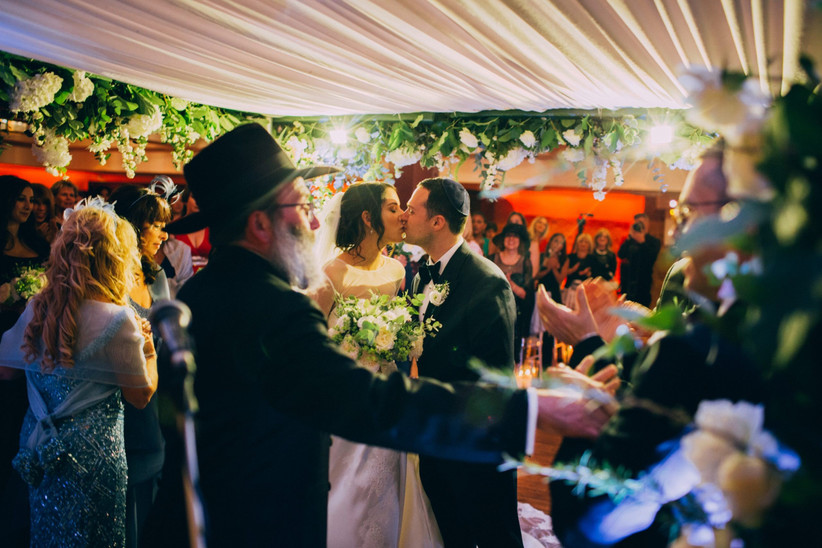 The Flowers
Charlotte chose loose greenery and white flowers for her bouquet which was made up of eucalyptus and peonies.
"Flowers played a huge part in making our day feel like we were in Tuscany. We knew we wanted something dramatic and elegant for our chuppah/wedding arch as this would be our guests' first peek at our wedding theme.
"Our amazing florist was Liz from Funky Flowers. She got my vision from the start and I came with a lot of imagery that I found on Pinterest.
"I wanted a lot of texture with different white flowers and not to feel too arranged and quite loose and relaxed.
"We had hanging white flowers with greenery over the top table and reused a part of our chuppah to sit in front of the table with candles framing us.
"The long tables had a mixture of high and low flowers. The high flowers were on top of rose gold metal frames. Each arrangement felt different and not too formal. There were low flower arrangements scattered across the tables all in different rose gold vases.
"Liz even wrapped foliage around our Mr and Mrs signs that hung behind our chairs for the evening."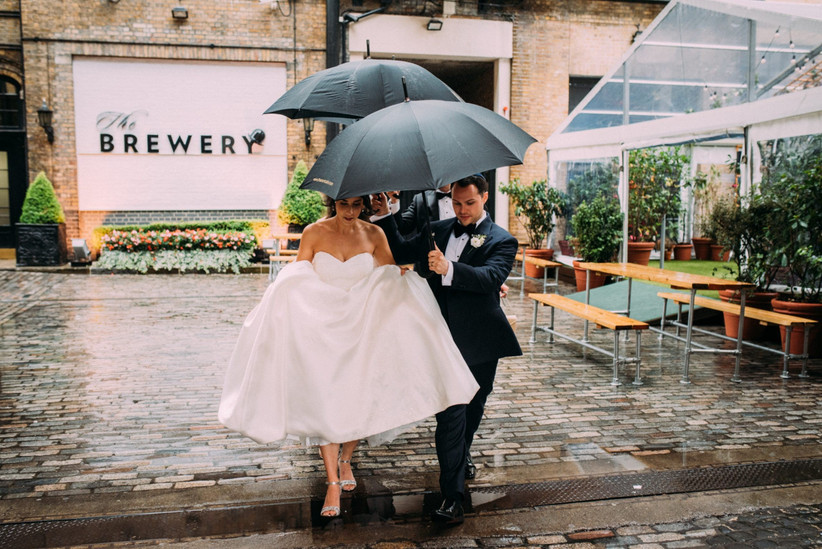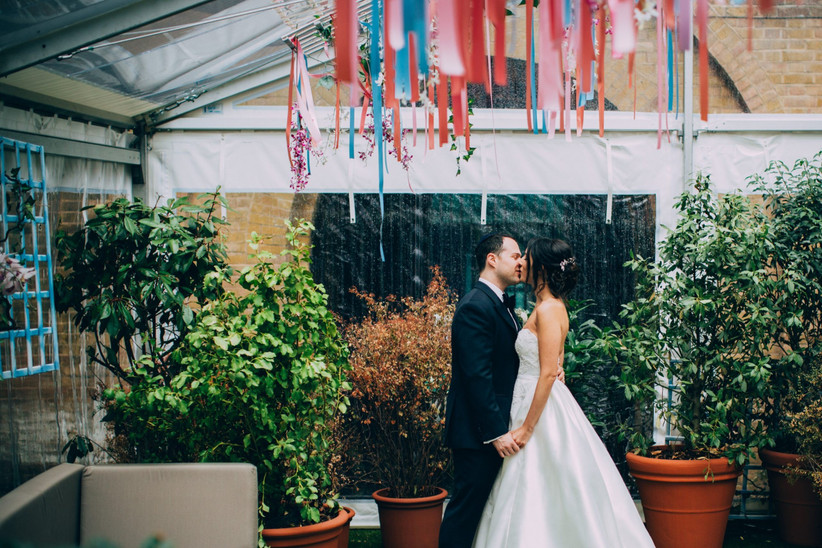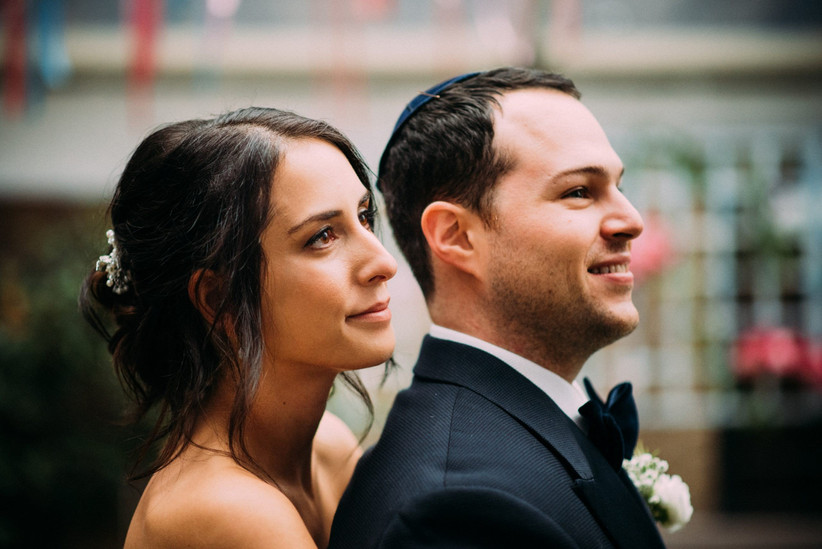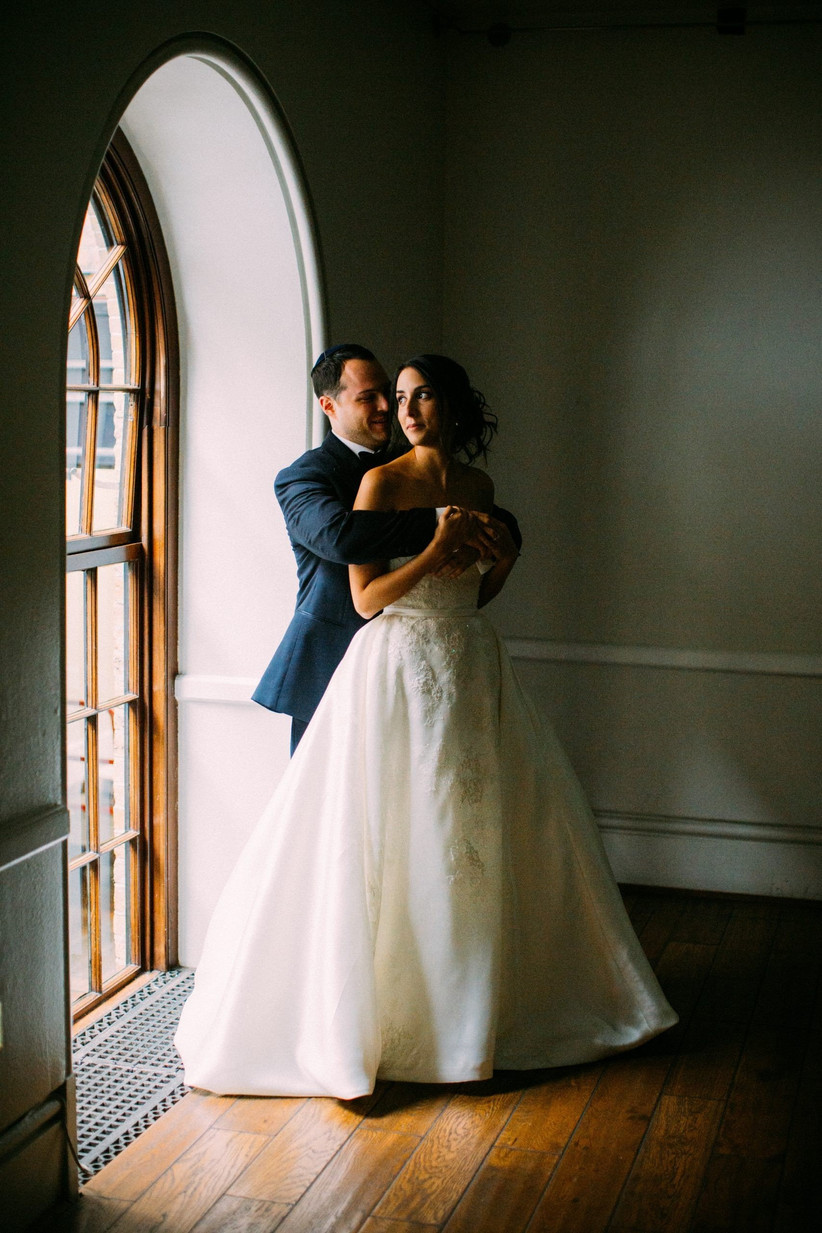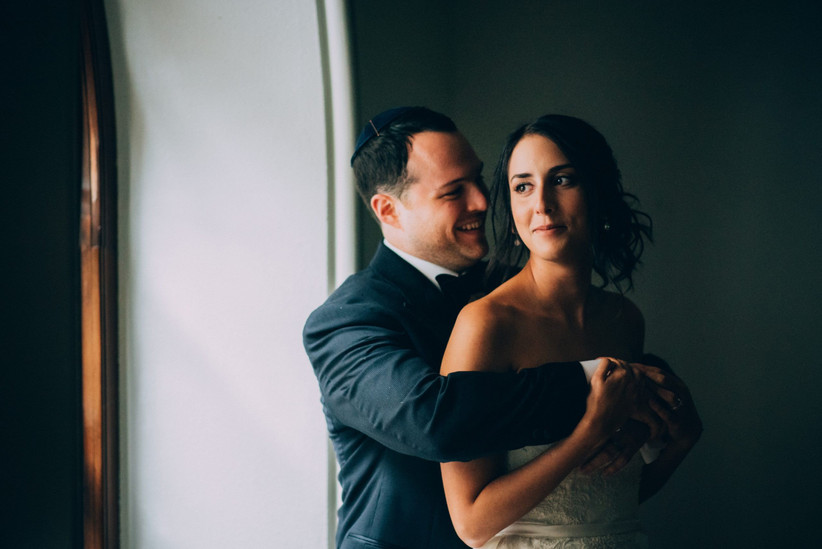 The Stationery and Favours
As Charlotte is a wedding stationery designer and owns Hart Creative Studio, she knew she would be designing her own stationery!
"I wanted something quite simple: grey and white, tied with a grey ribbon and a wax seal that had a laurel wreath on to tie it all together.
"It matched our wedding theme completely. One of our bridesmaids had bought us the wax seal which had a laurel wreath with our initials and the date of our wedding on. It felt special to use it as a part of our invites.
"As favours, we provided salted caramel espresso martini syringe shots throughout the dancing!
"For our gift list, we used Prezola. It was so easy to work with and has such a huge selection of products. We were also given cash and honeymoon donations."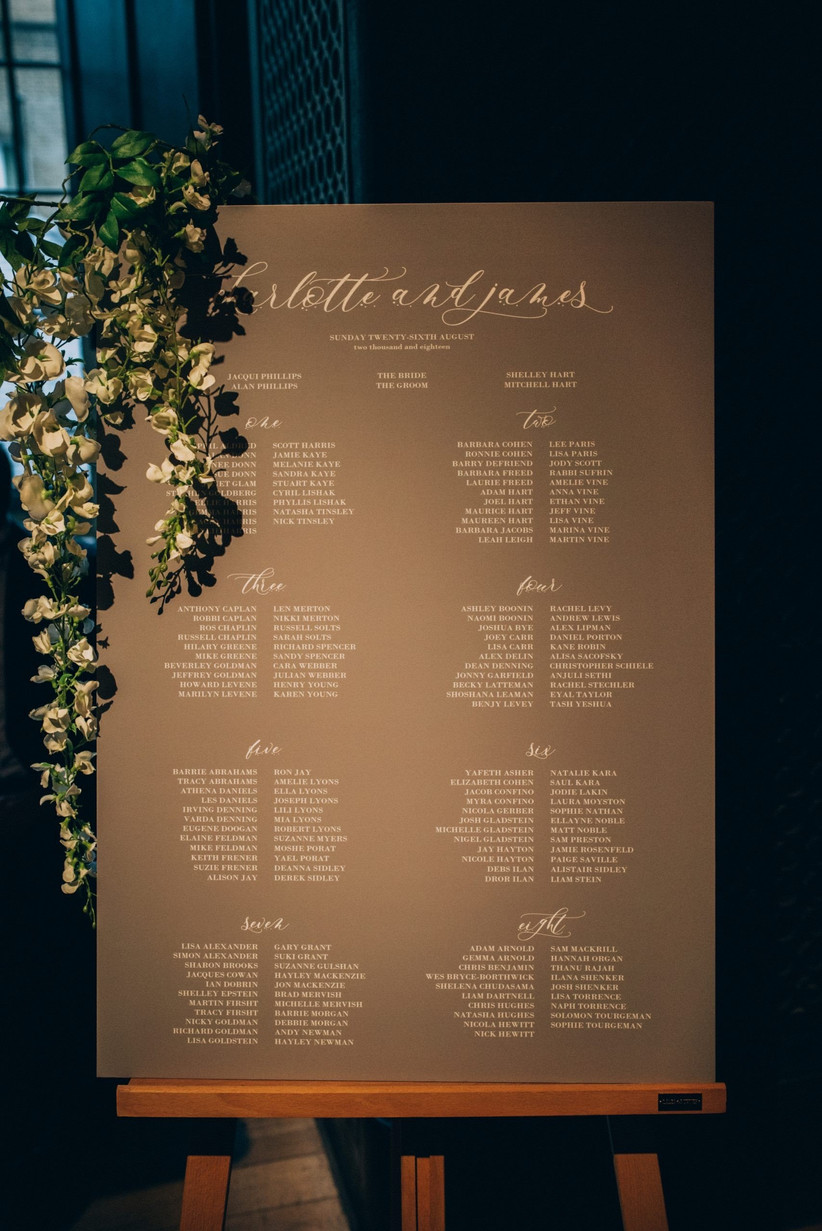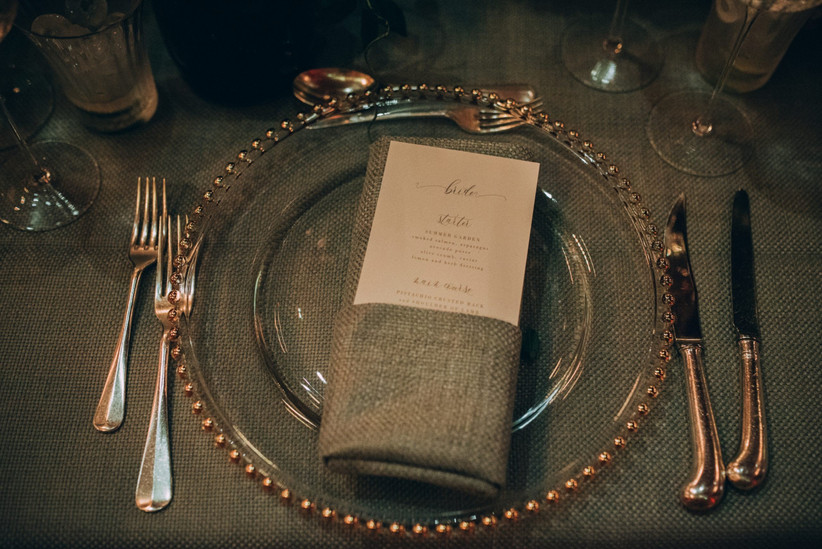 The Entertainment
The party continued late into the night with Charlotte and James raving with guests to drum and bass music and singing their hearts out.
"We chose Creation as our band. They also did our production on the day. We met with Simon a couple of months before the wedding and he took on board our many playlists and understood our love for music.
"Throughout the evening, they kept joining us all on the dance floor. You could tell they enjoyed it as much as we did!
"Our first dance was to A Sky Full of Stars by Coldplay. The room went dark and it filled with stars when it was playing. This was my favourite moment of the day where we got to be alone with each other, be surrounded by all our friends and family, and to just take it all in for a second!
"As the live music ended, we continued partying with a live DJ set. There was a big group of us singing our hearts out to Don't Look Back in Anger by Oasis. It was a great end to our perfect evening!
"As it was a Jewish ceremony and evening, we had Israeli dancing which is always intense and amazing! We were both lifted on chairs in the air. James was thrown up in the air on a sheet. It was a very fun part of the night!"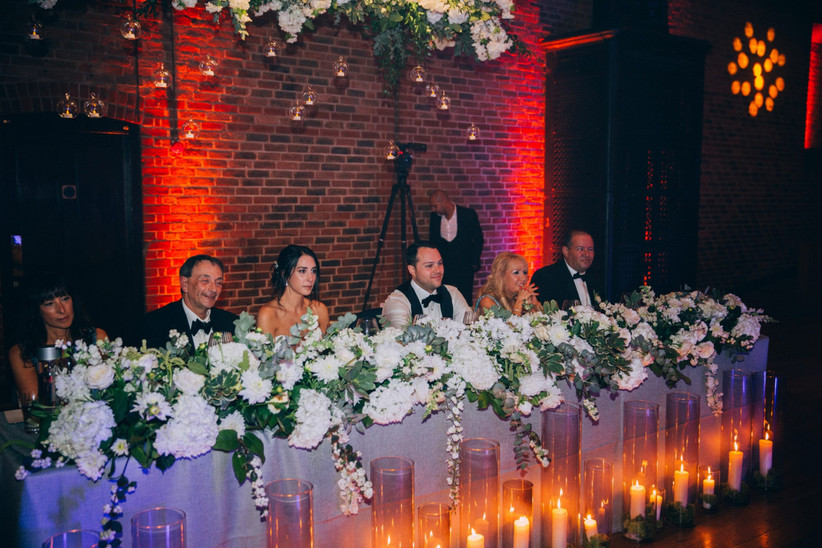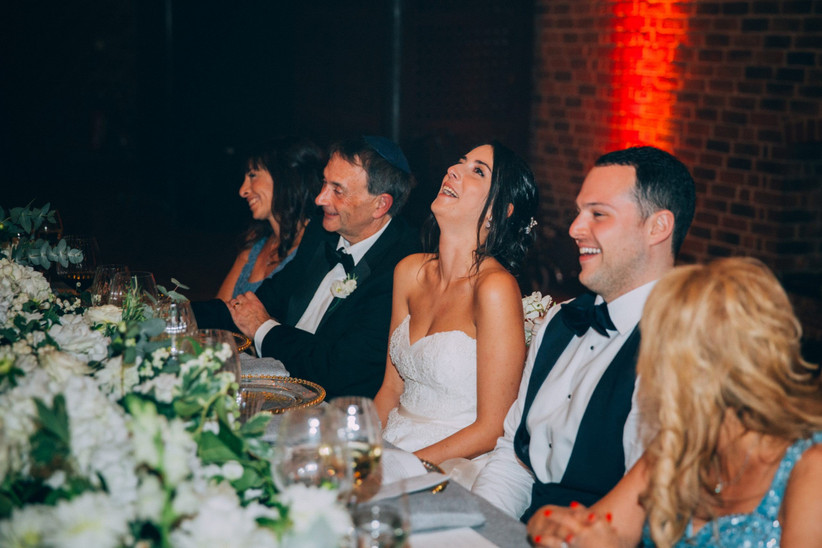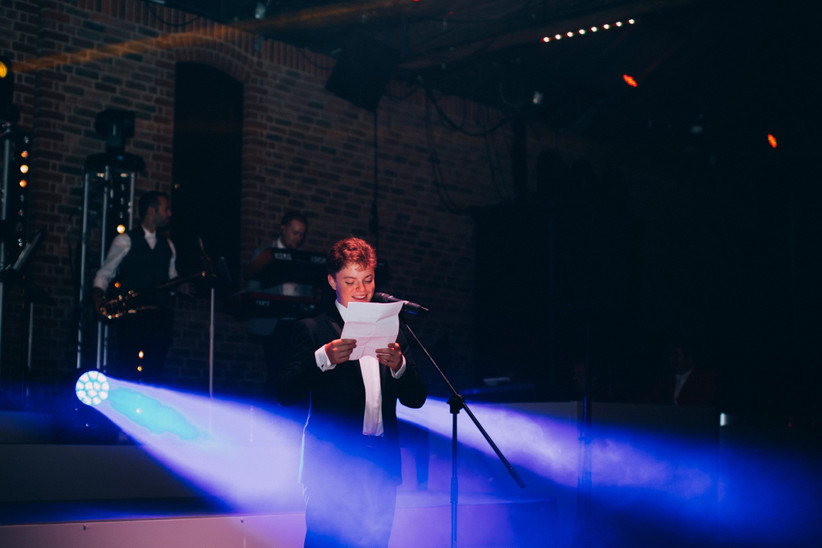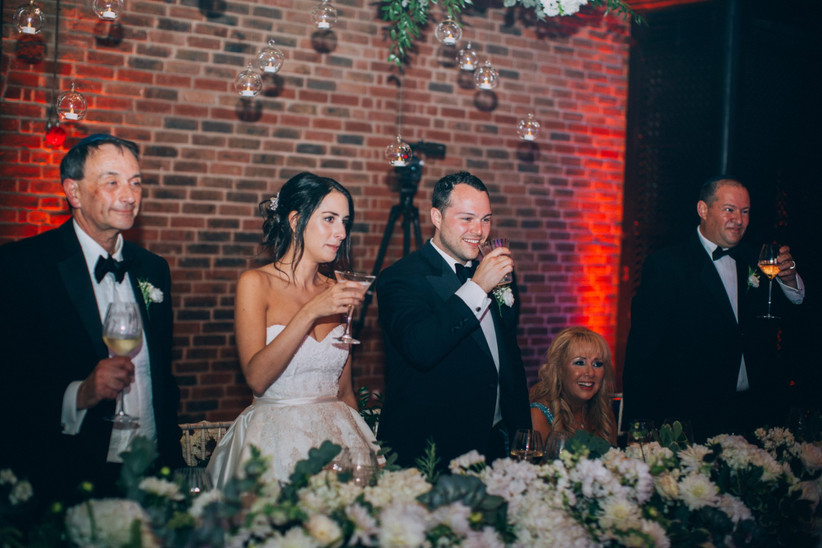 The Honeymoon
After getting engaged in Florence, the couple knew that they would love to go back to Italy again. James arranged for them to spend a month in the country for their honeymoon.
"We travelled from Lake Como to Milan, Venice, Florence, Rome and ended in Sorrento.
"James arranged the whole honeymoon. We decided to go back after getting engaged in Florence, we both have a love for Italy! We wanted to do some relaxing for the first and last week with lots of sightseeing in between.
"We had been to Florence, as we had got engaged there. We were in Rome over James' birthday and went to an incredible Michelin-star restaurant on the day which was very special. Our honeymoon was incredible and just what we needed after the wedding!"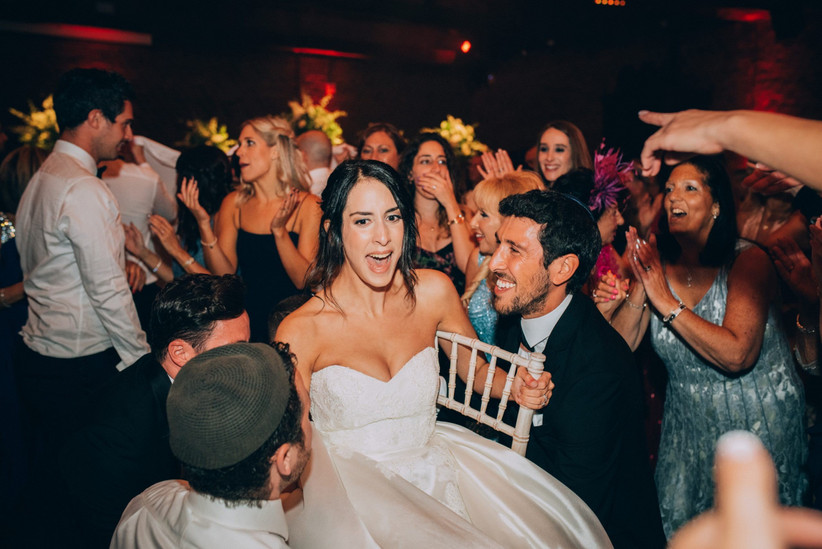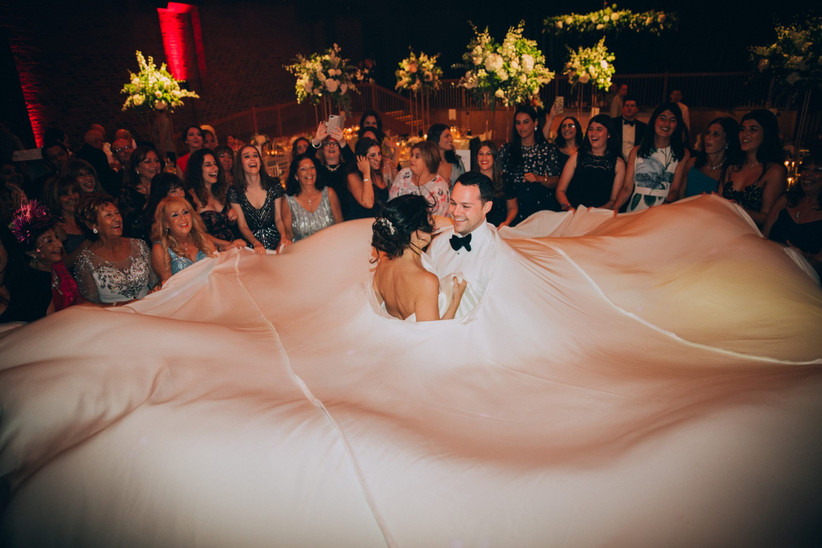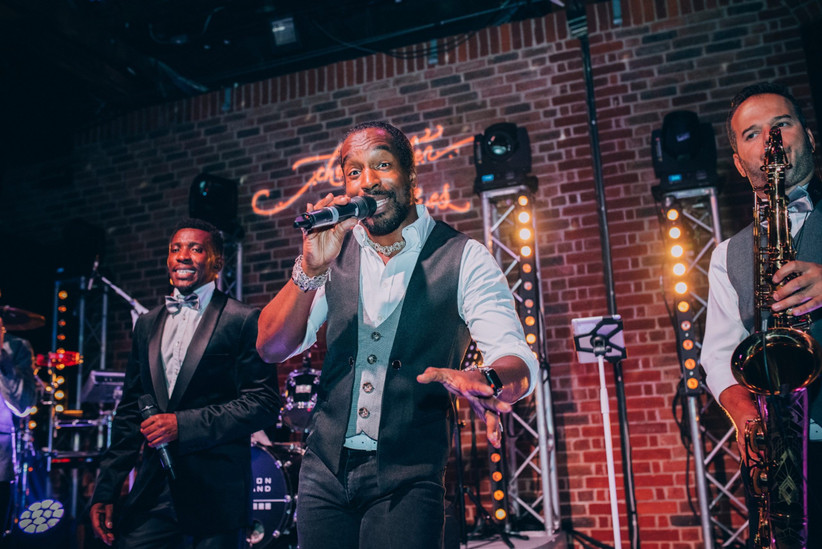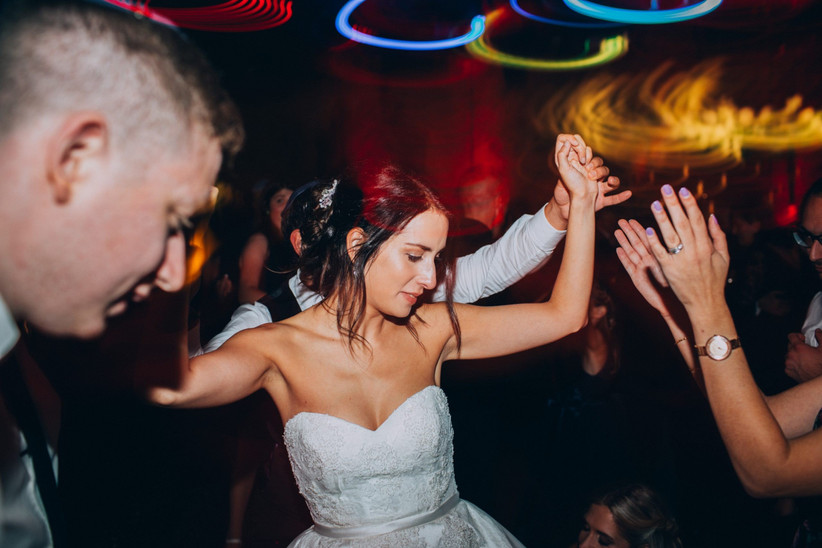 Suppliers
Photographer: Adam and Hannah Photography
Videographer: Atmotion
Venue: The Brewery
Wedding Dress: Pronovias and David's Bridal
Accessories: Amazon, Debenhams, ASOS, and Nine West from Shoeaholics
Groomswear: Casely-Hayford from The Wedding Gallery, Gieves and Hawkes, and Kurt Geiger
Bridesmaids Dresses: eBay
Hair: Gemma Harris
Caterer: Tony Page
Florist: Funky Flowers
Stationery: Hart Creative Studio
Entertainment: Creation
Toastmaster: Simon Green
Gift List: Prezola
A huge thank you to Charlotte and James for allowing us to feature their gorgeous wedding!