Real Covid Wedding: Shanice and Stephen, Deer Park Country House in Devon
Despite having to drastically cut their guest list, Shanice and Stephen still managed to keep to most of their original wedding plans. Their beautiful country house celebration was filled with joy and happiness - and some seriously covetable décor!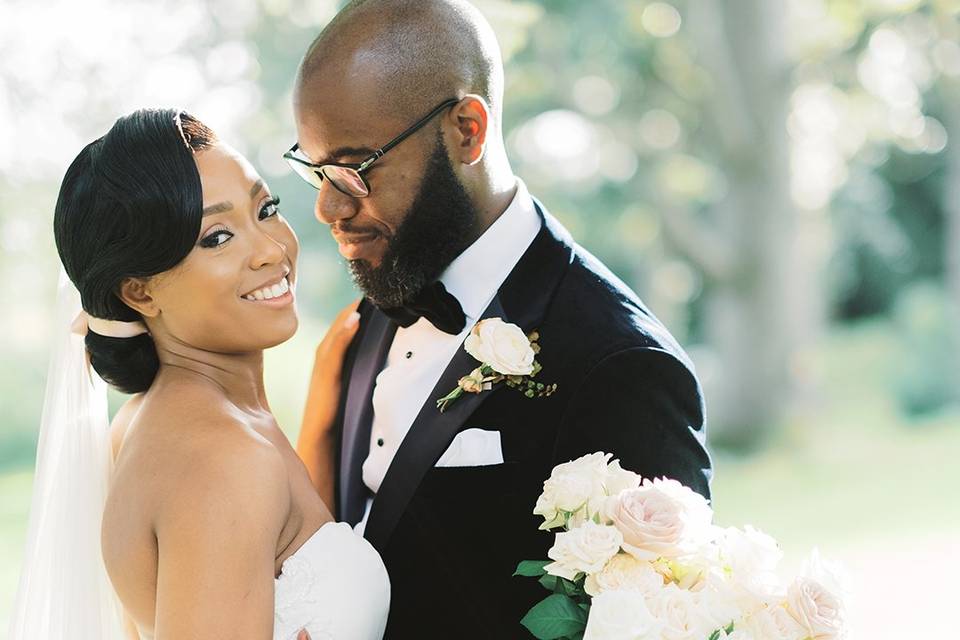 Shanice and Stephen may have married during the Coronavirus pandemic, but they were lucky enough to be able to stick to many of their original wedding plans. The date, venue, décor, menu, wedding party and outfits all stayed the same. There was, however, one major change: the guest list.
"We had invited 150 guests but had to reduce to 30 due to the restrictions in place at the time," say the couple. "That meant we had no uncles or aunties, no cousins and Shanice couldn't have her grandparents either."
Despite the restrictions, the couple still had a magical wedding that was a true celebration of their relationship.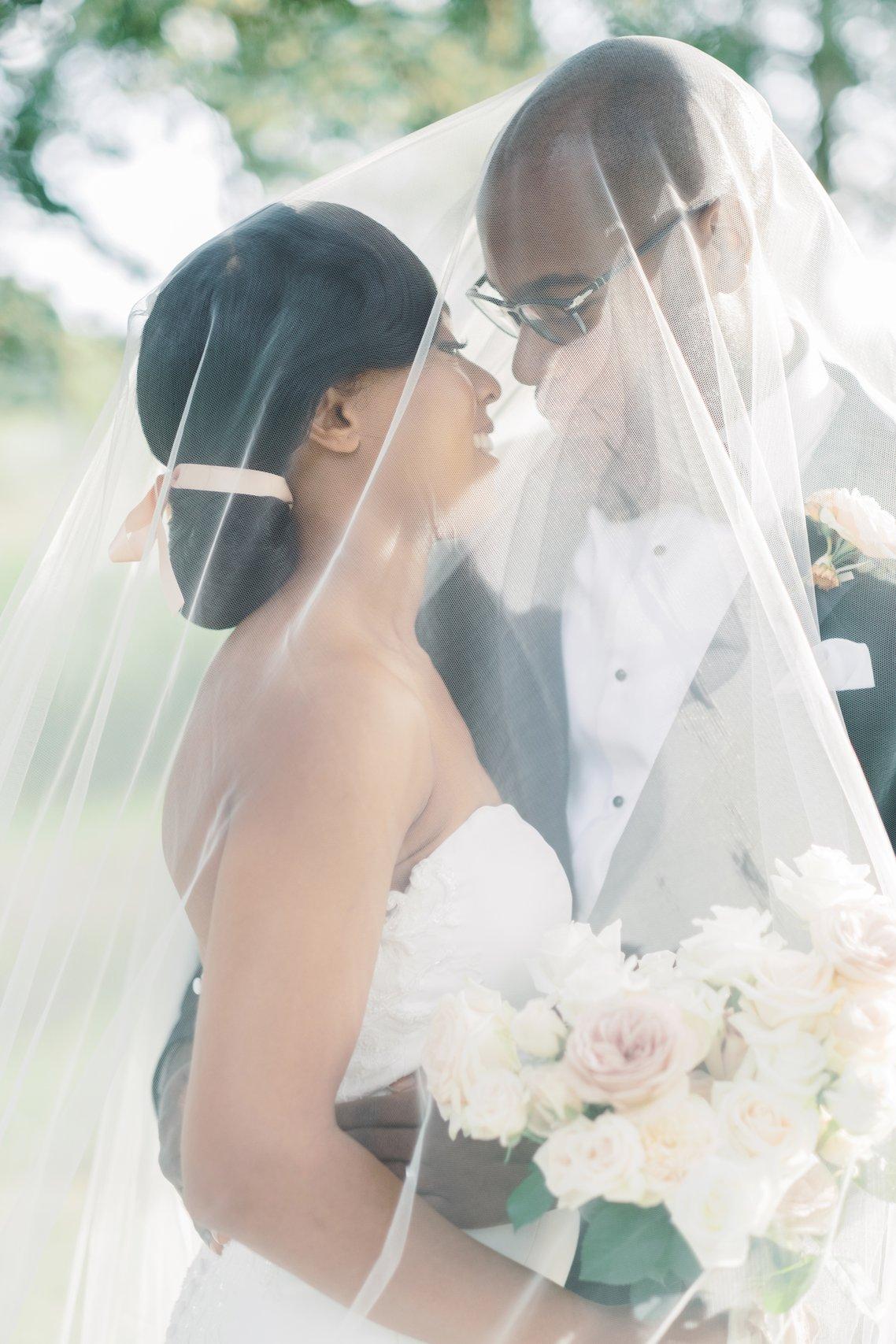 Shanice and Stephen were introduced by his sister. After almost two years together, Stephen popped the question - over the course of a week!
On the Monday, Shanice received flowers with a card from Stephen explaining that she would have surprises all week. Over the next few days, this romantic groom organised a special dinner with Shanice's brother, beauty treatments with a friend and a meal of her favourite Thai food, alongside letters with themes including spirituality, family and friendship. On the Friday, the couple went to a National Trust heritage site, where Stephen had booked a private tour of the house because Shanice loves history. During a walk in the grounds, Stephen got down on one knee and asked Shanice to marry him - he'd even arranged for her cousins to be there to immortalise the moment in photos!
After such as heartfelt proposal, the wedding was every bit as meaningful as you'd expect.
Photography by Emma Pilkington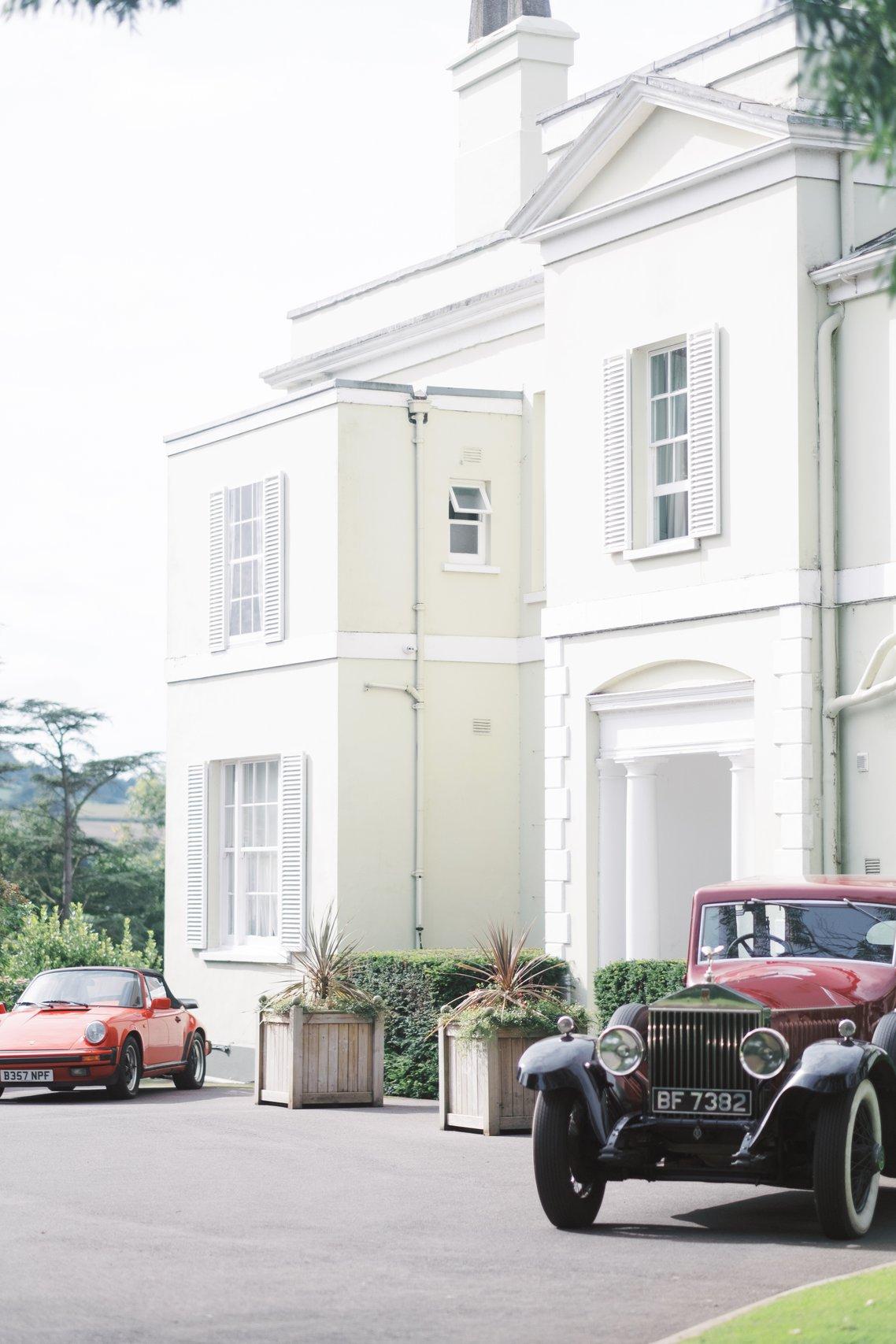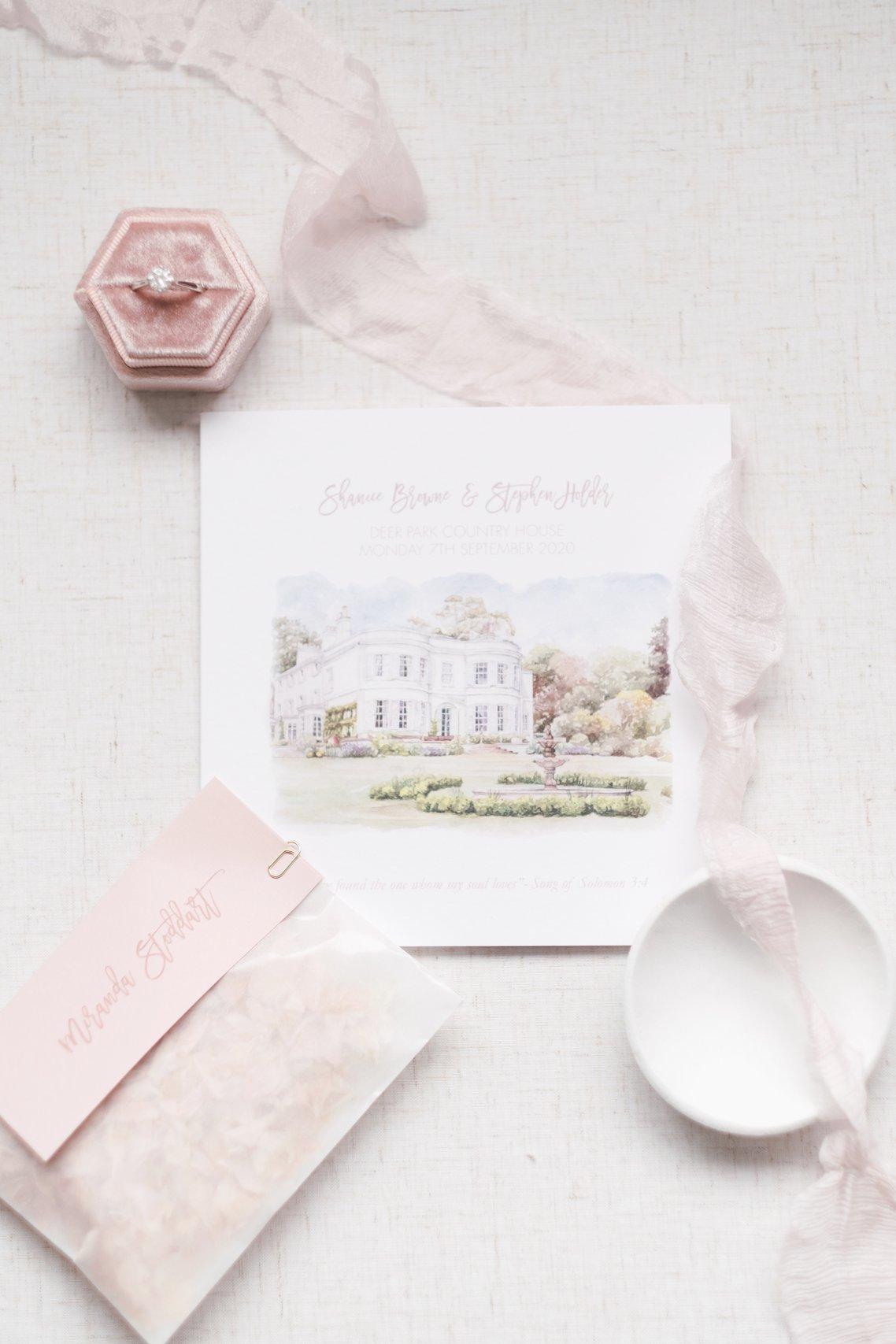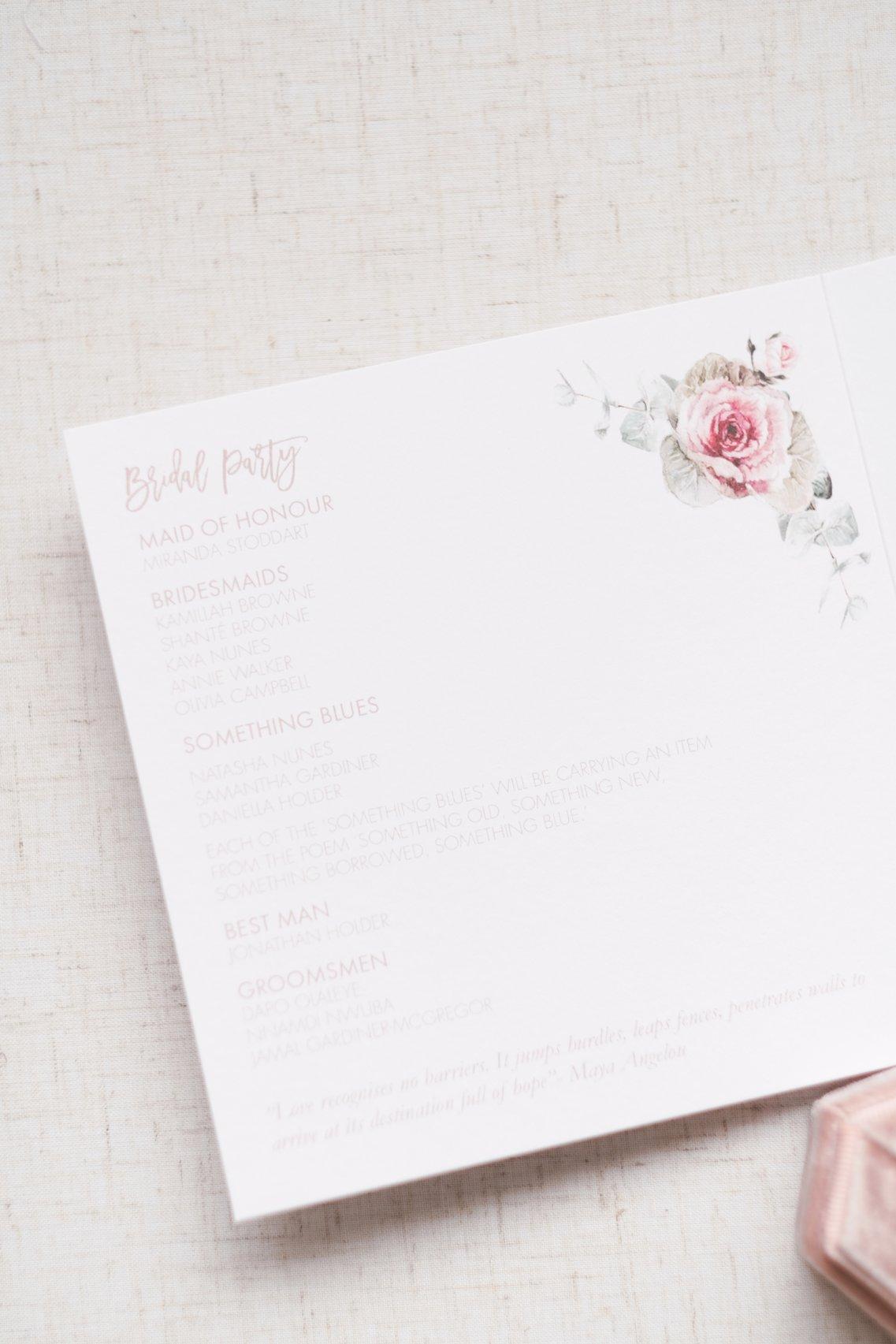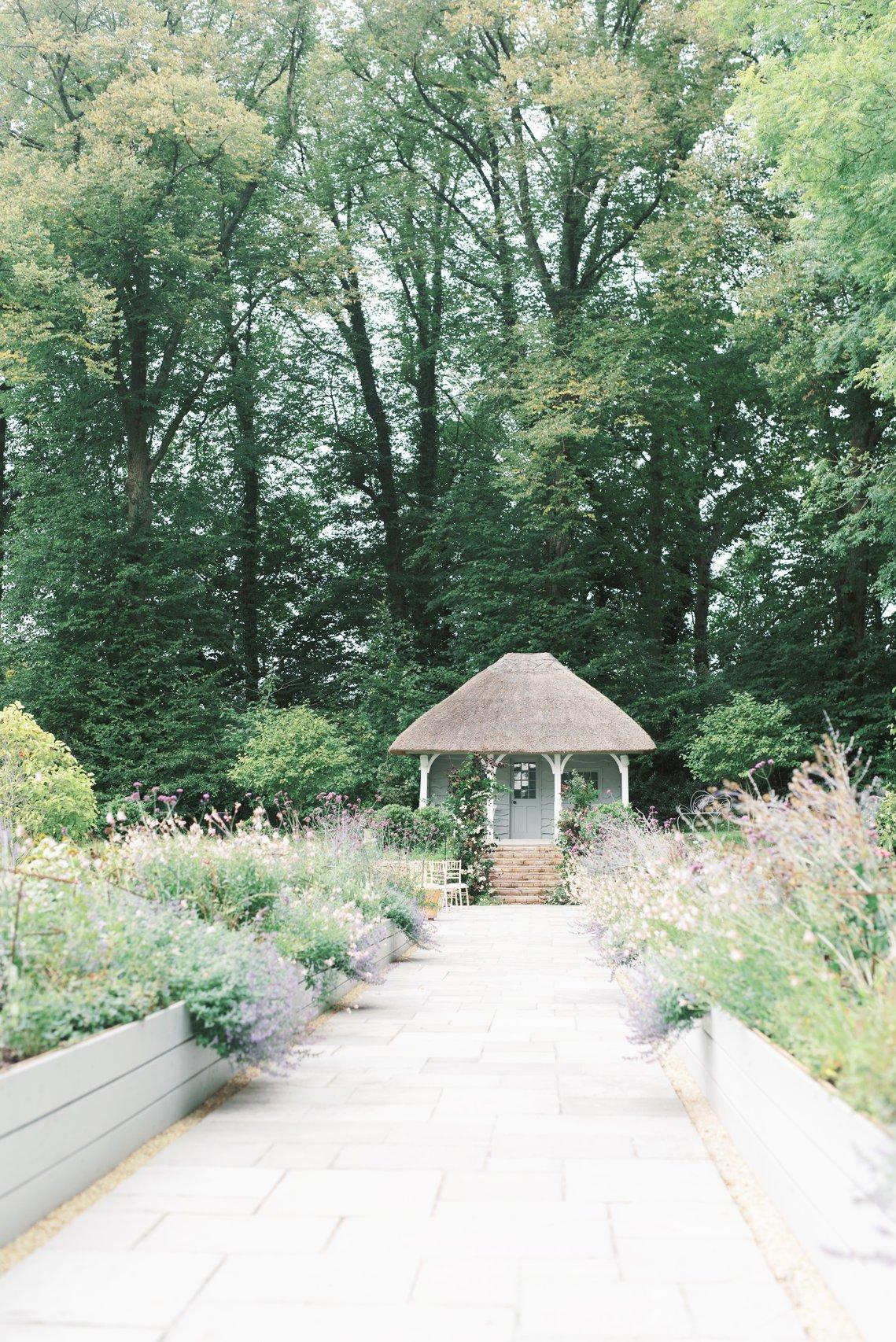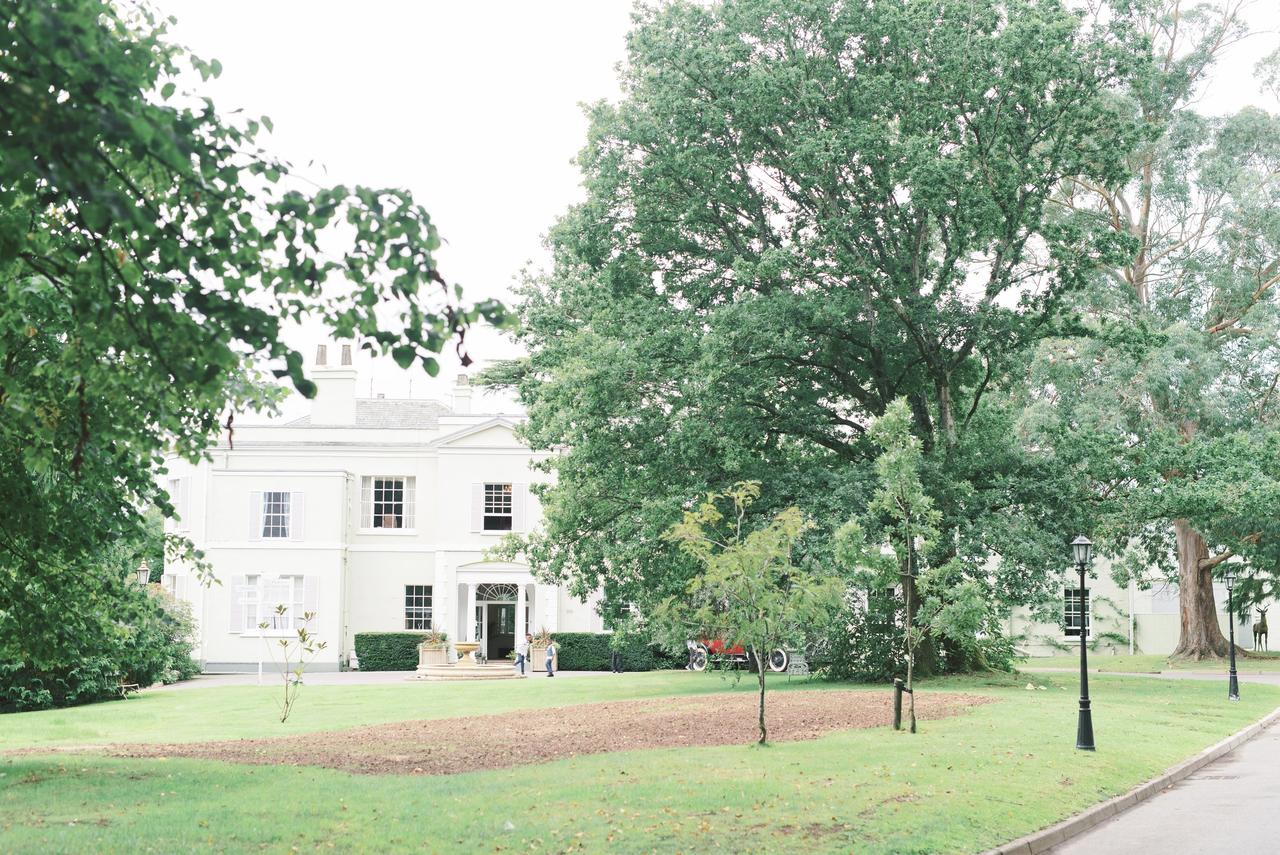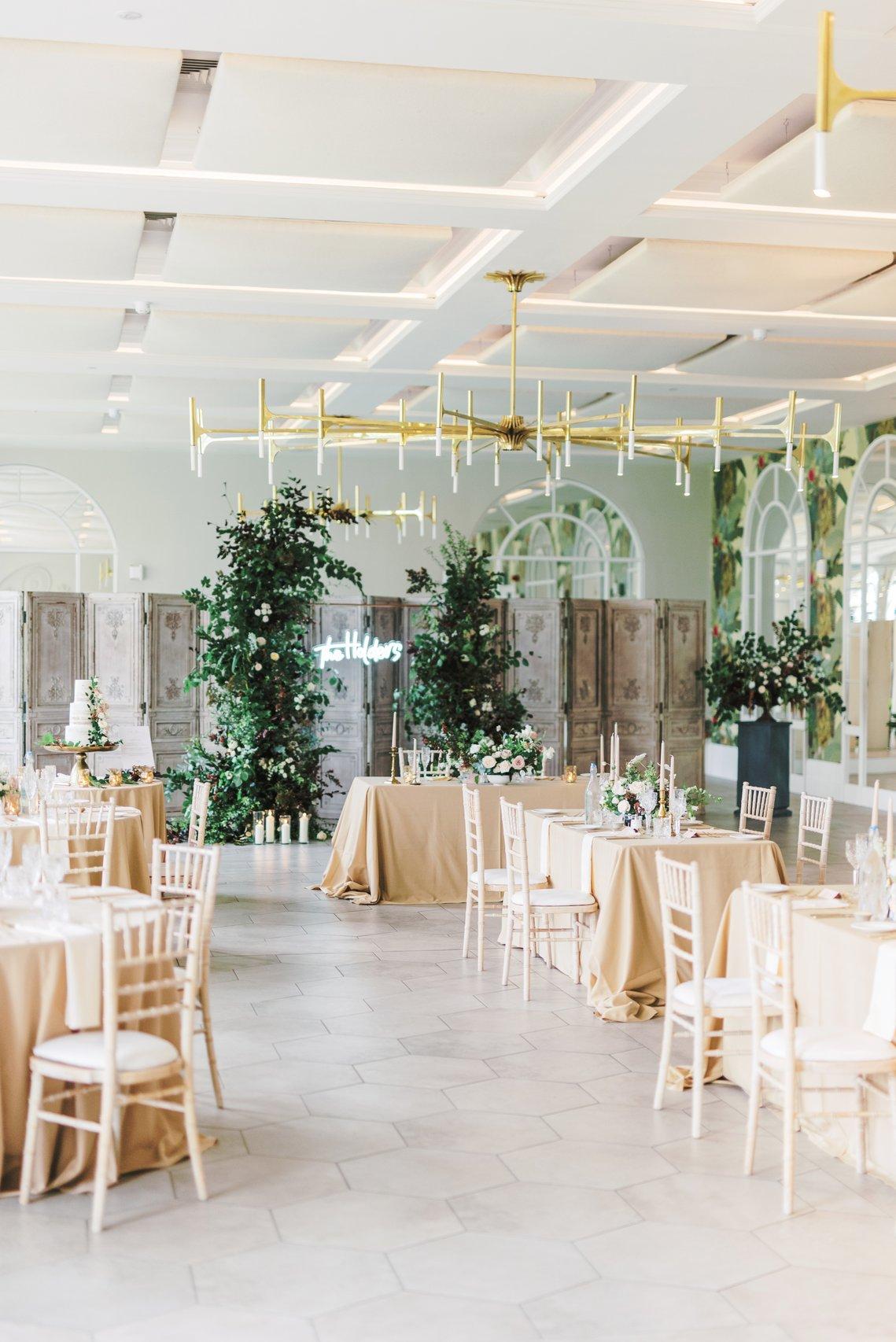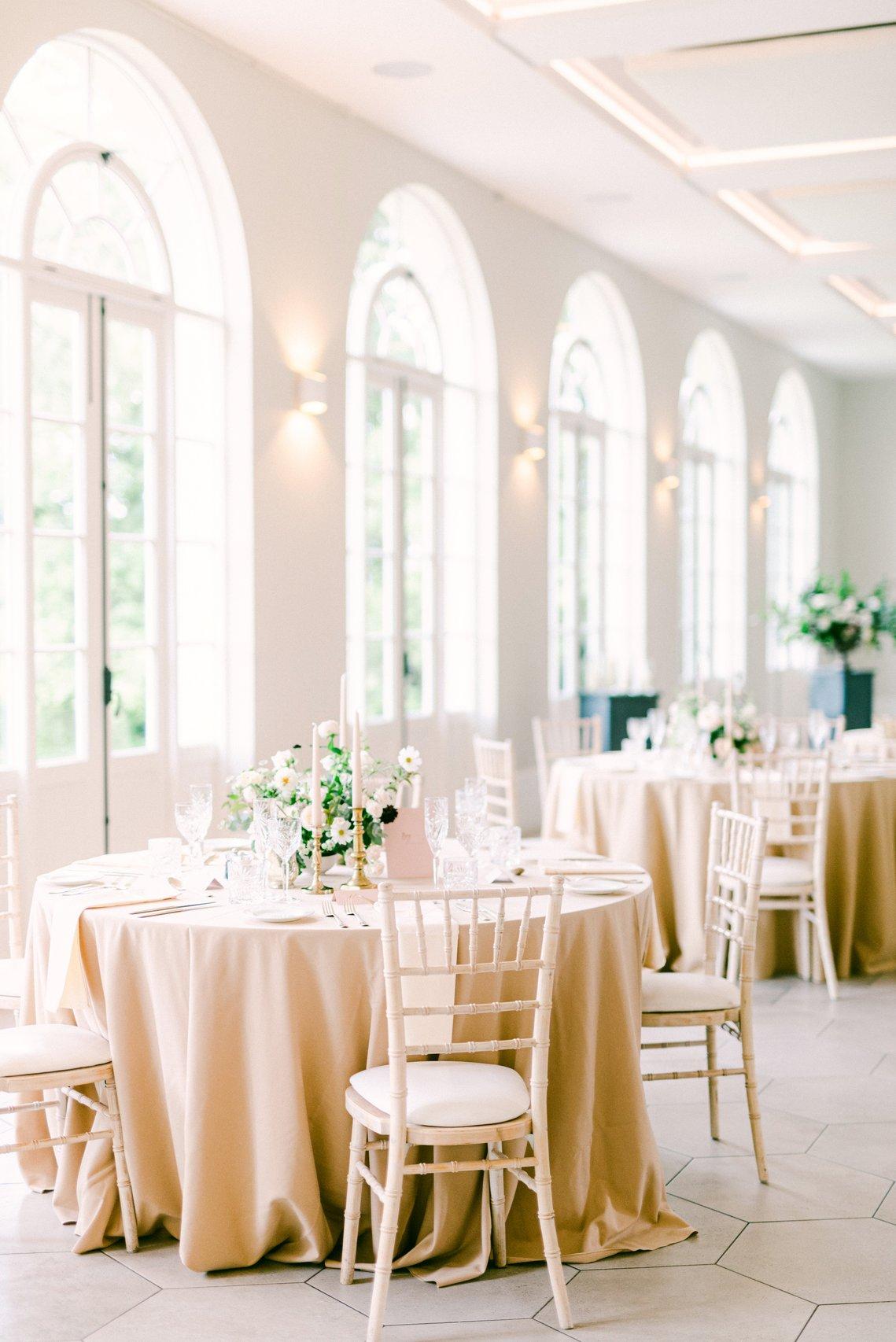 The Venue
Shanice and Stephen wanted a classically elegant venue surrounded by greenery, and Deer Park Country House more than met the brief. As restrictions came in, the couple decided to keep the same location for their reduced guest list - a decision that definitely paid off. "The staff at Deer Park went above and beyond consistently for us - so much so that the guests came to us on numerous occasions to sing their praises and asked how to leave them a review online!"
The venue played a starring role on the couple's gorgeous wedding stationery, designed by Knots & Kisses.
Planning a wedding during an ever-changing situation is no easy feat, but luckily, the couple's Fern Godfrey helped reduce the stress.
"She was the most calming influence throughout the stressful process of planning a wedding and then even more so when the pandemic added pressure," say the couple. "She realised our vision and listened to everything we wanted. We are so grateful to have had such an understanding, kind and experienced wedding planner who sourced us the best suppliers."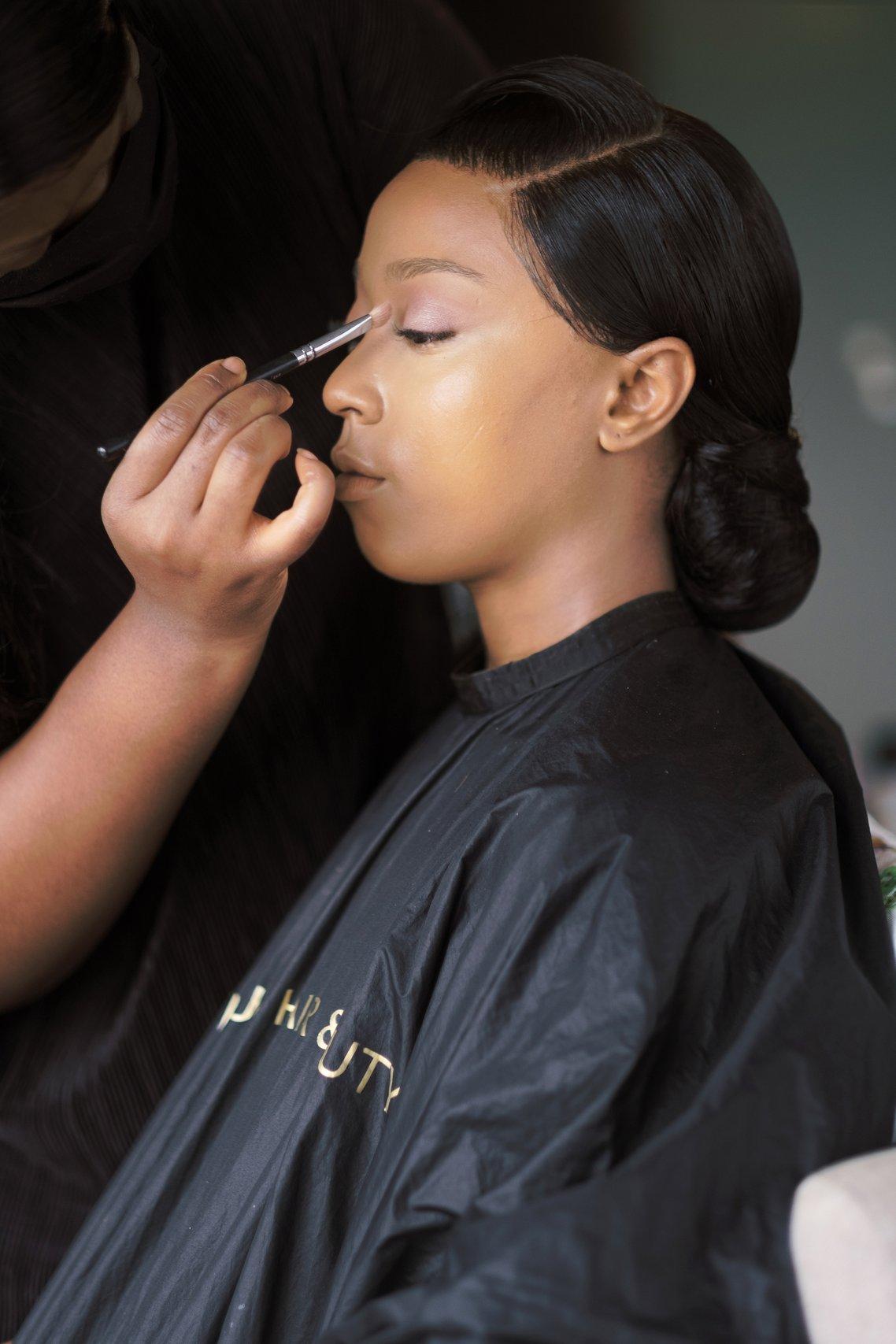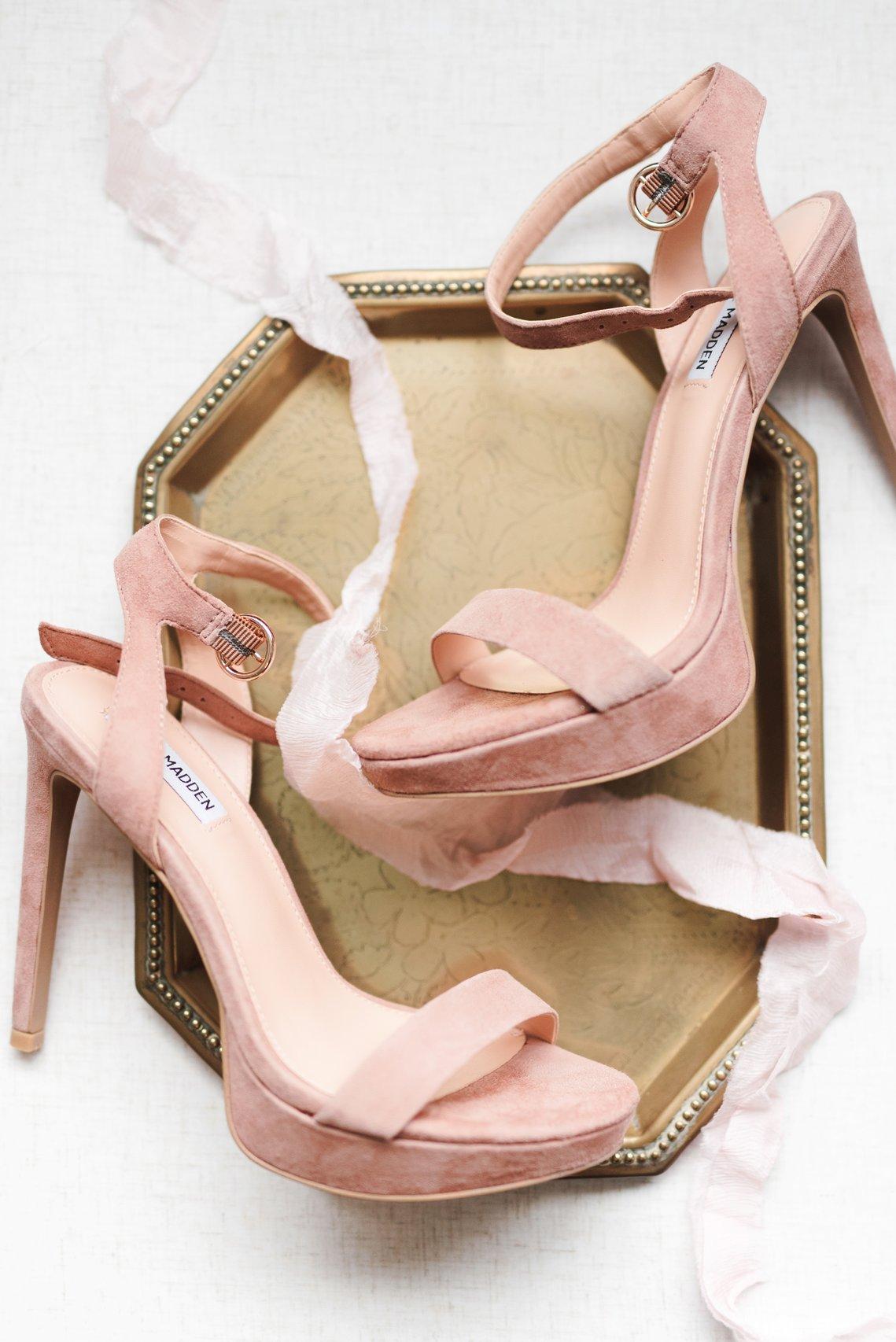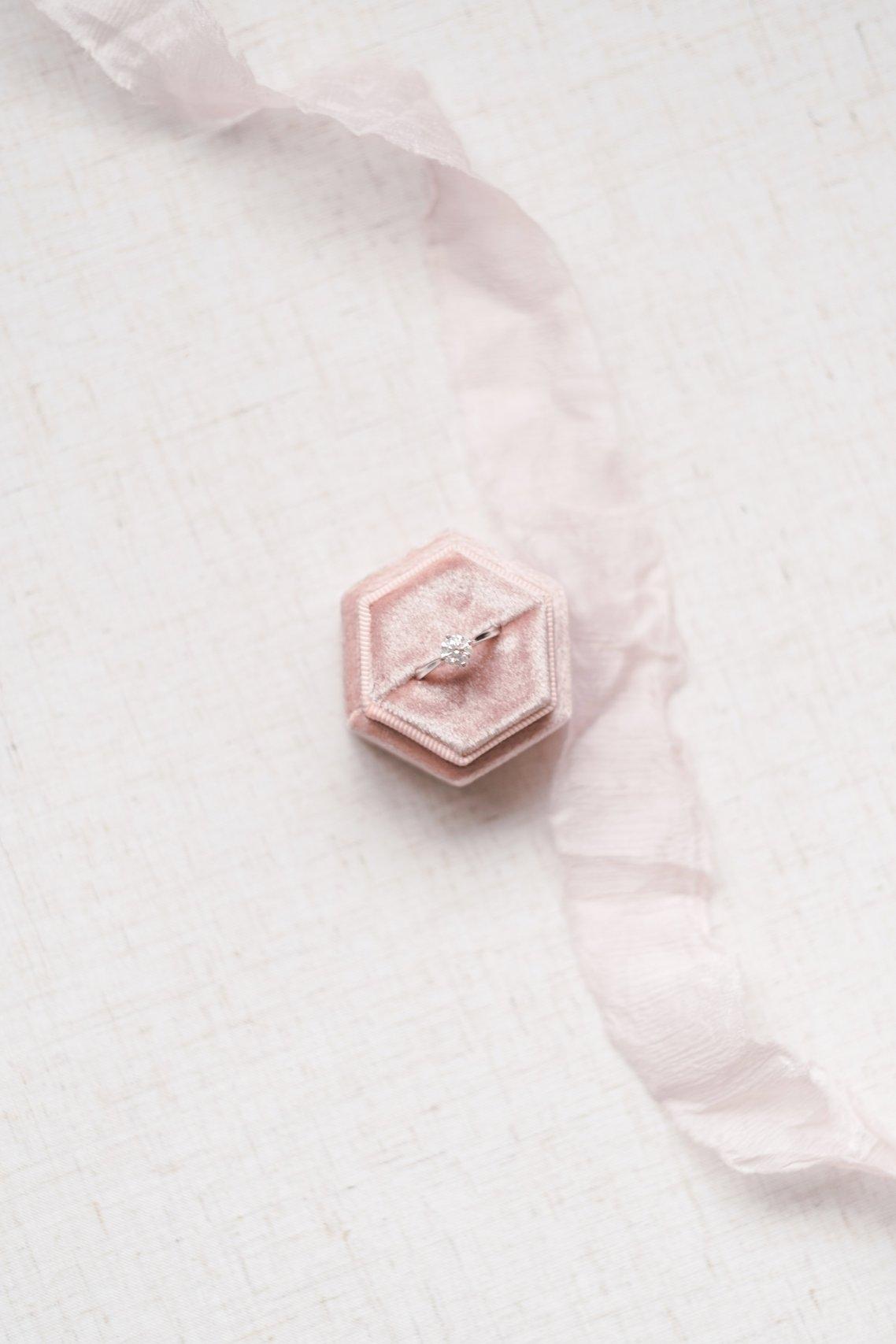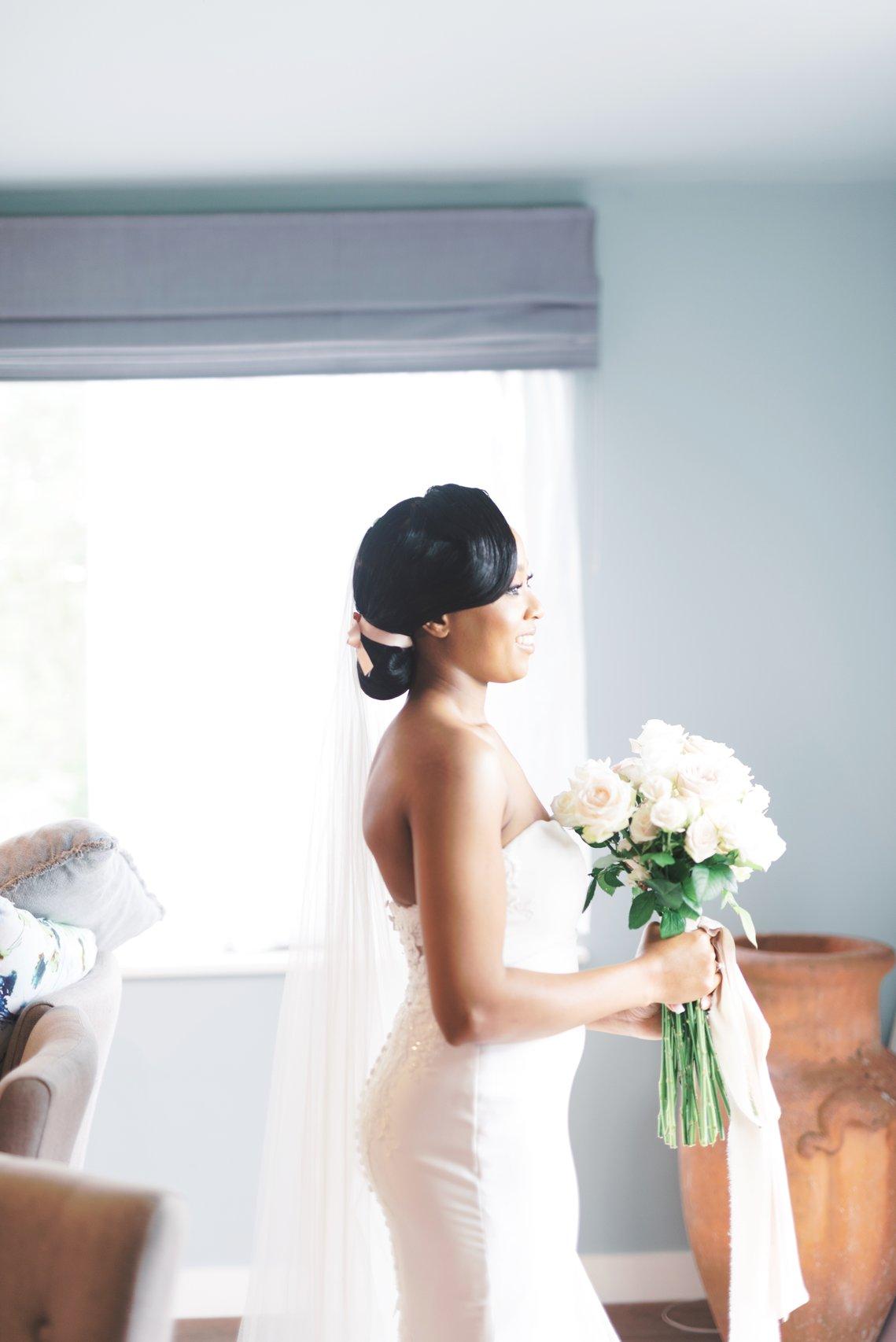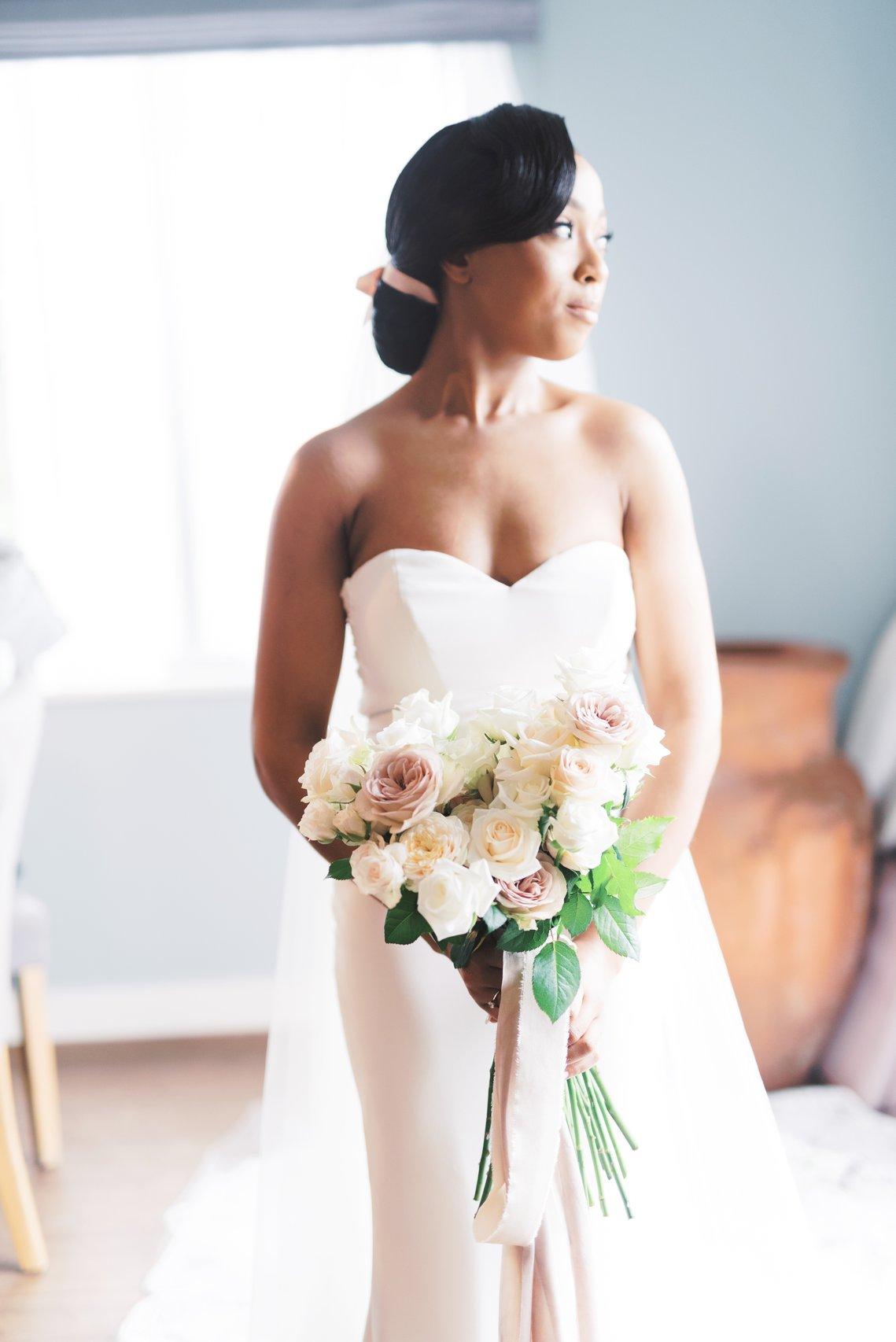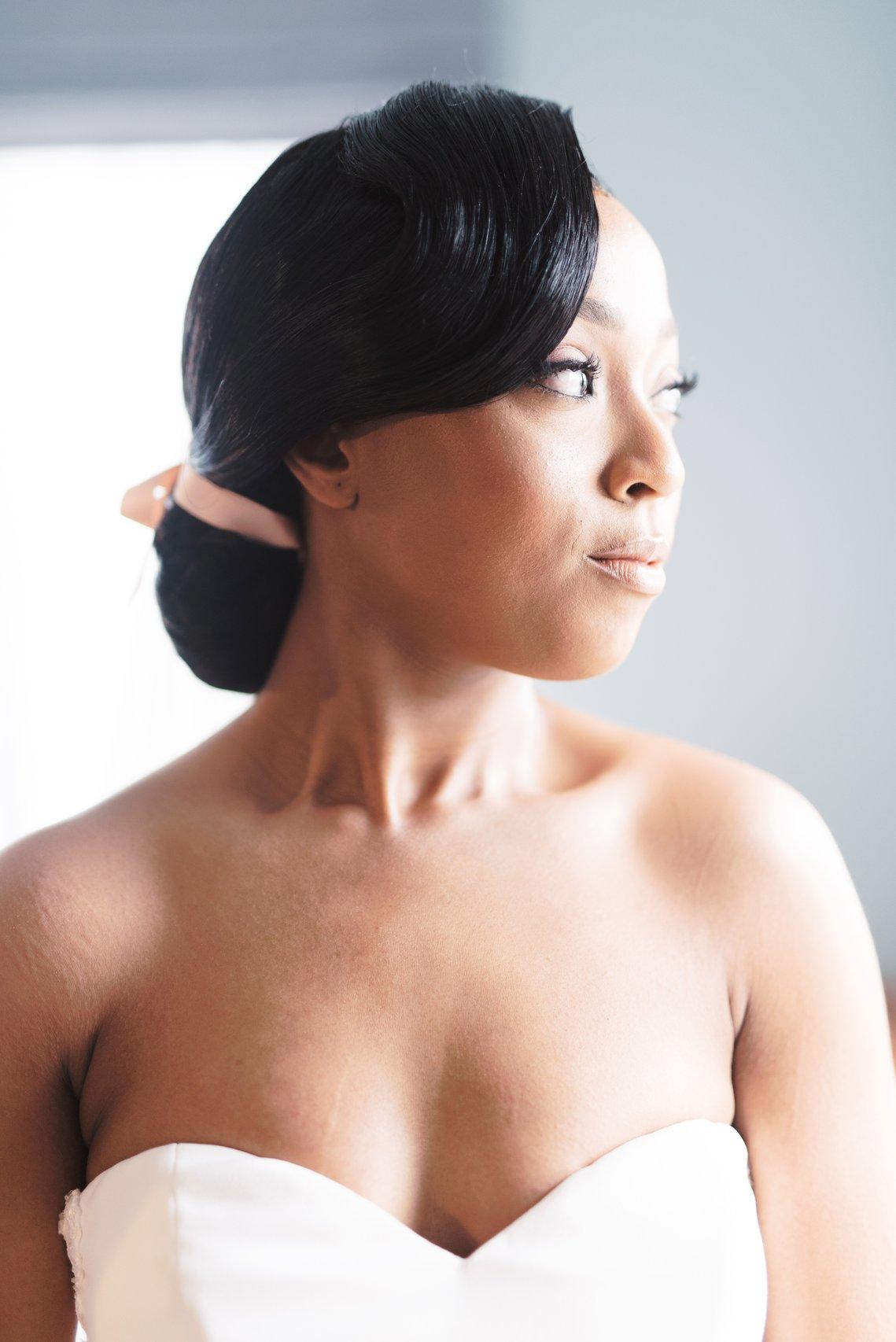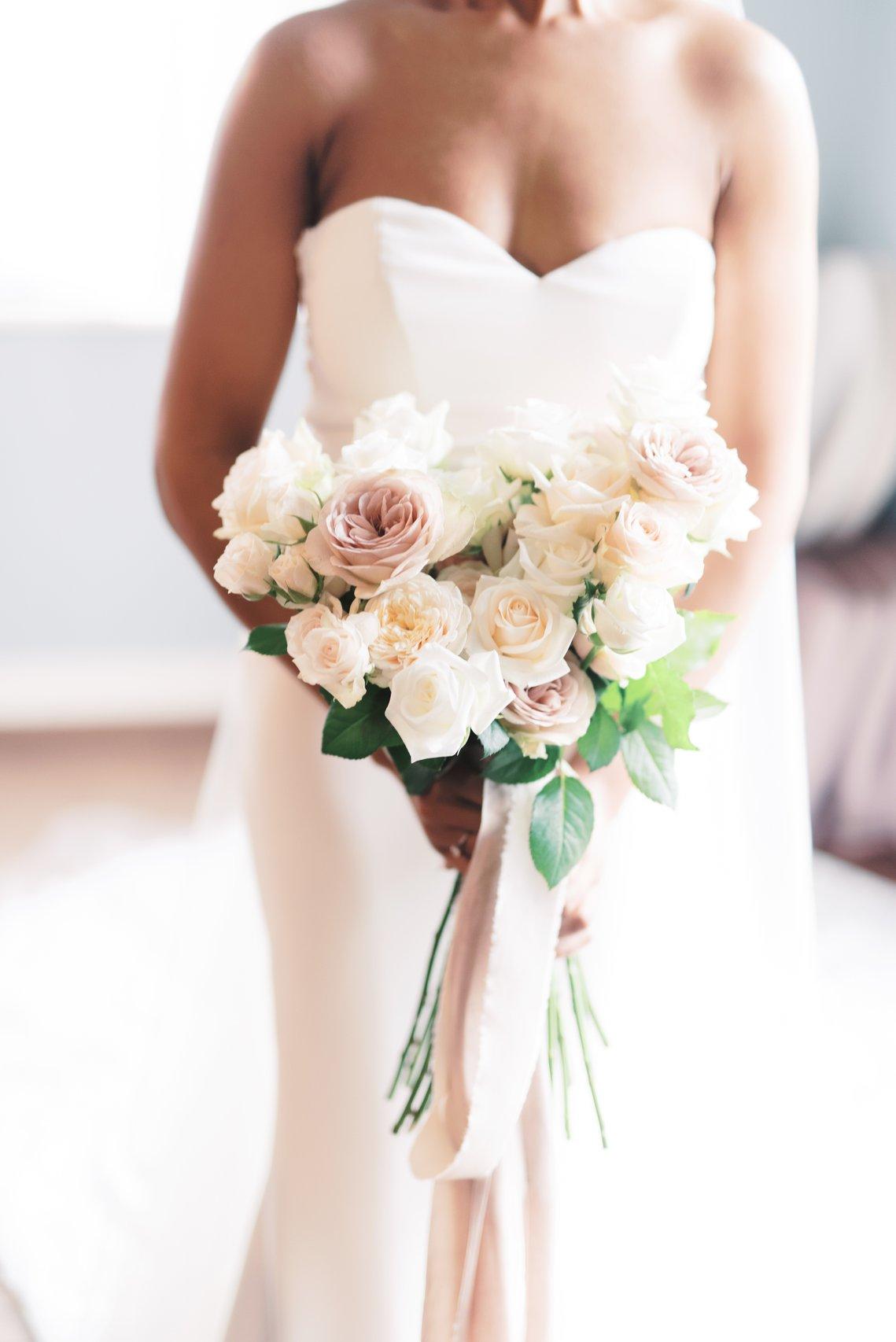 The Wedding Dress
Shanice wasn't convinced she'd find her dream gown in a boutique and had been thinking about going bespoke. However, at her appointment at Birmingham's TDR Bridal, the consultant produced a wedding dress that was everything she wanted: Odelia-C by Enzoani.
This mermaid design perfectly suited Shanice's bridal aesthetic: elegant, timeless and minimalist. She kept her accessories to a minimum - rings, hair ribbon and a veil made by her aunt - and briefed makeup artist Terika Chantal to give her a pared-back and refined beauty look. The bridal bouquet was white and blush roses tied with a ribbon.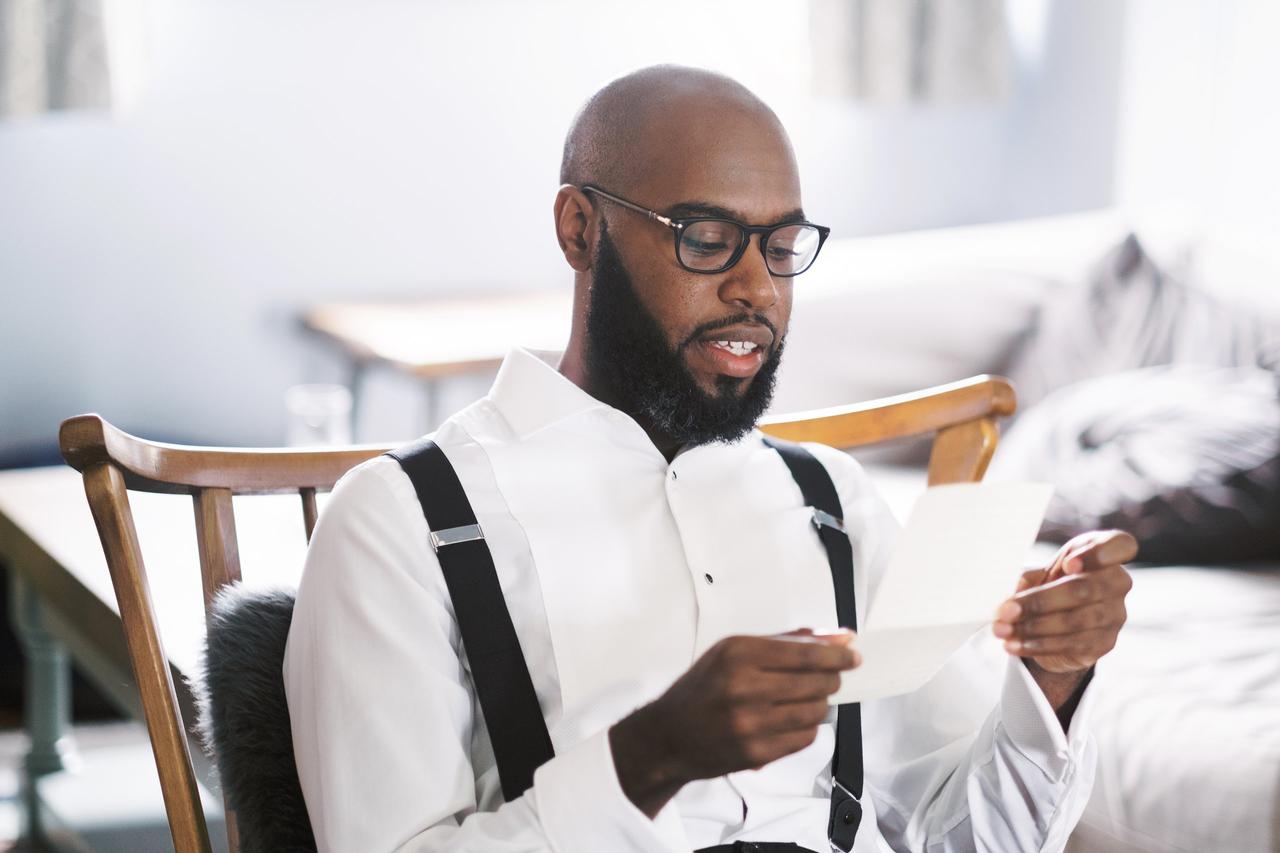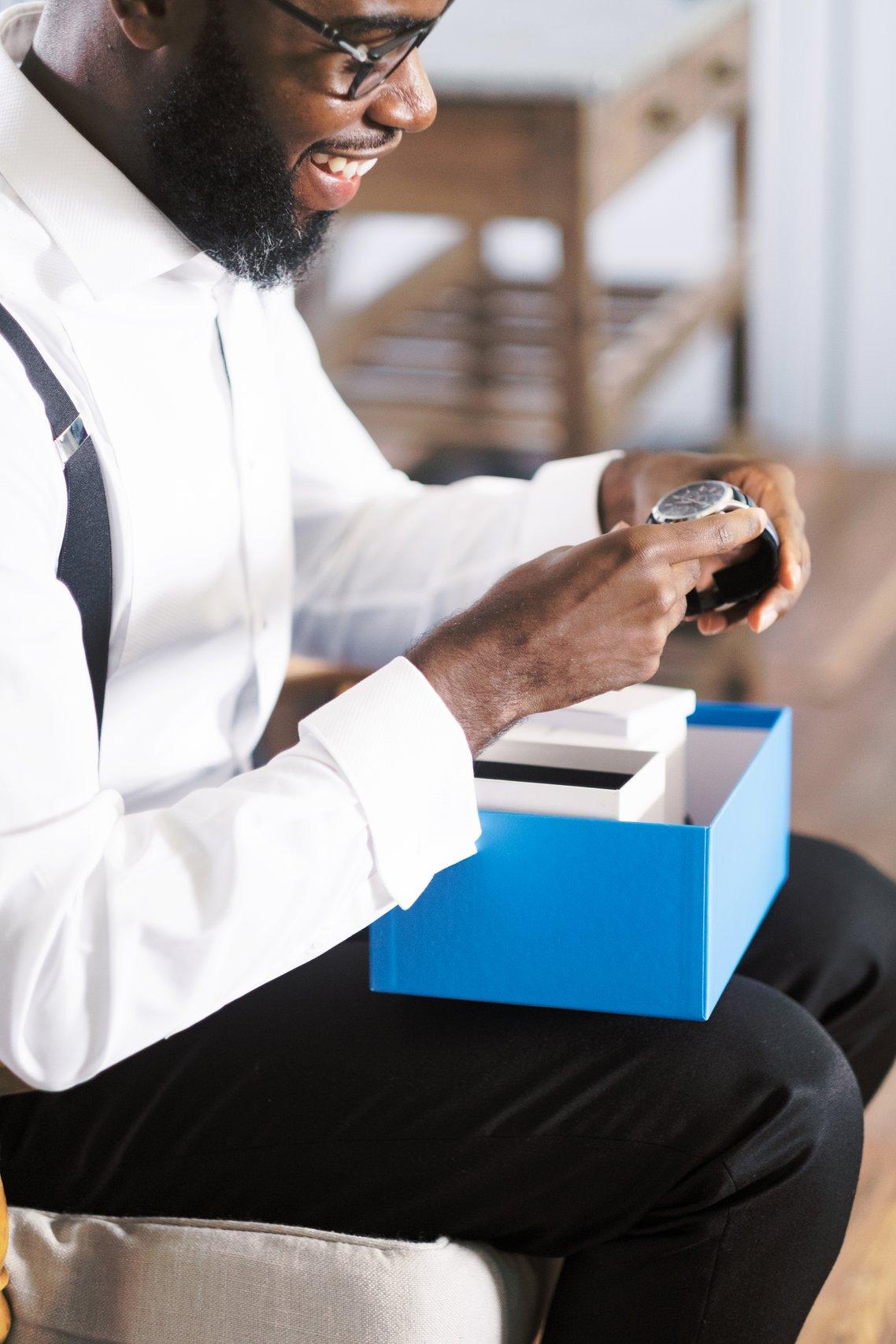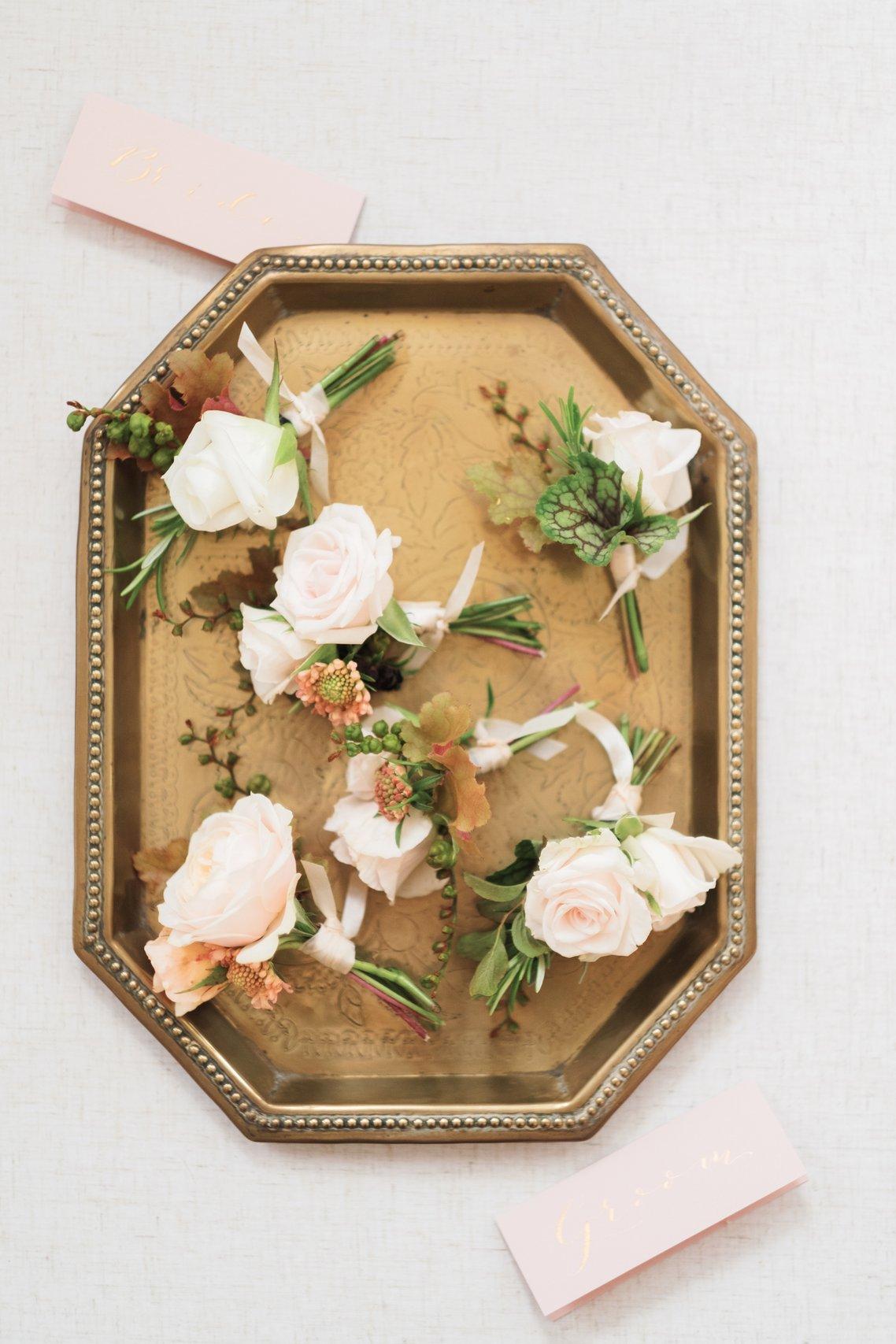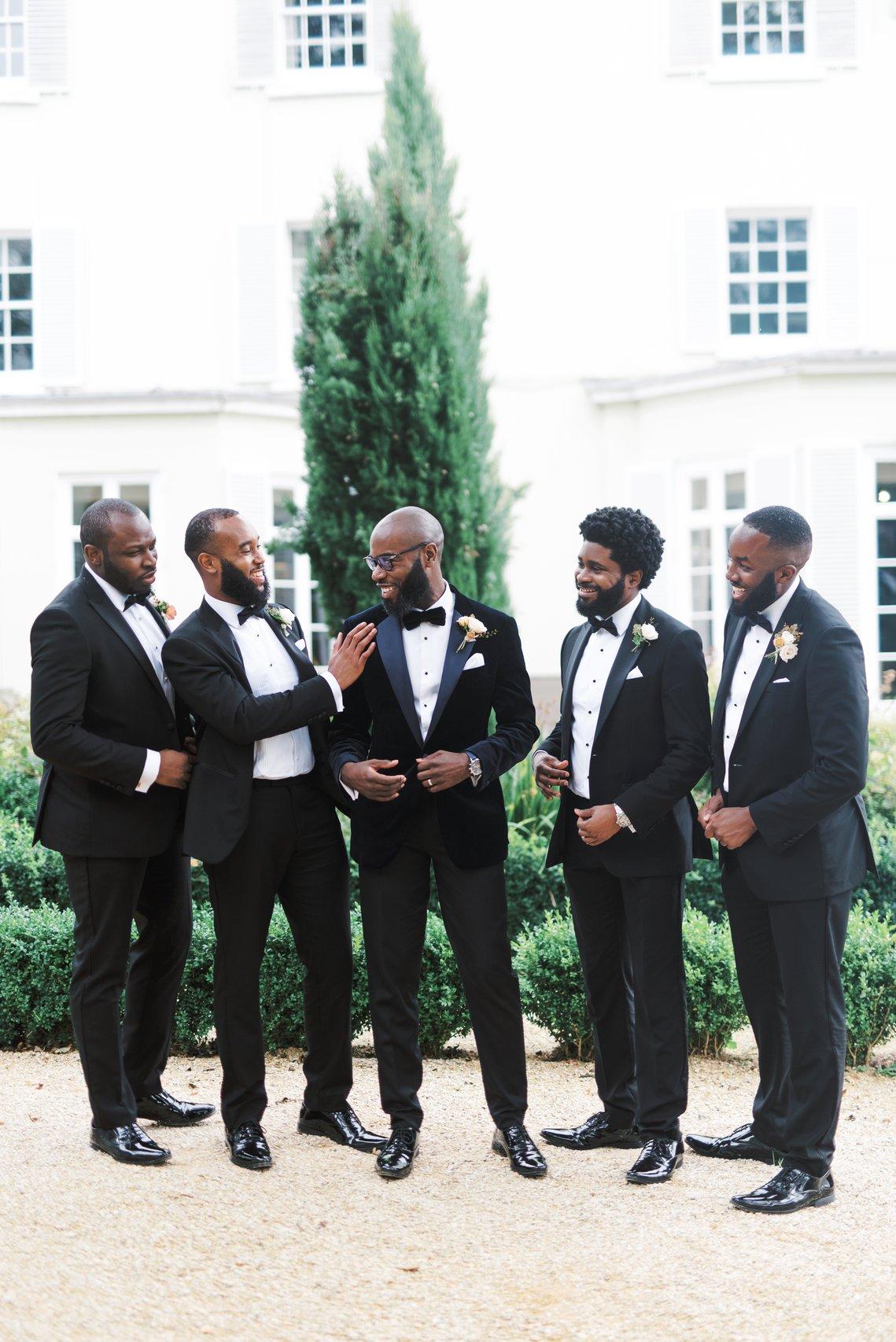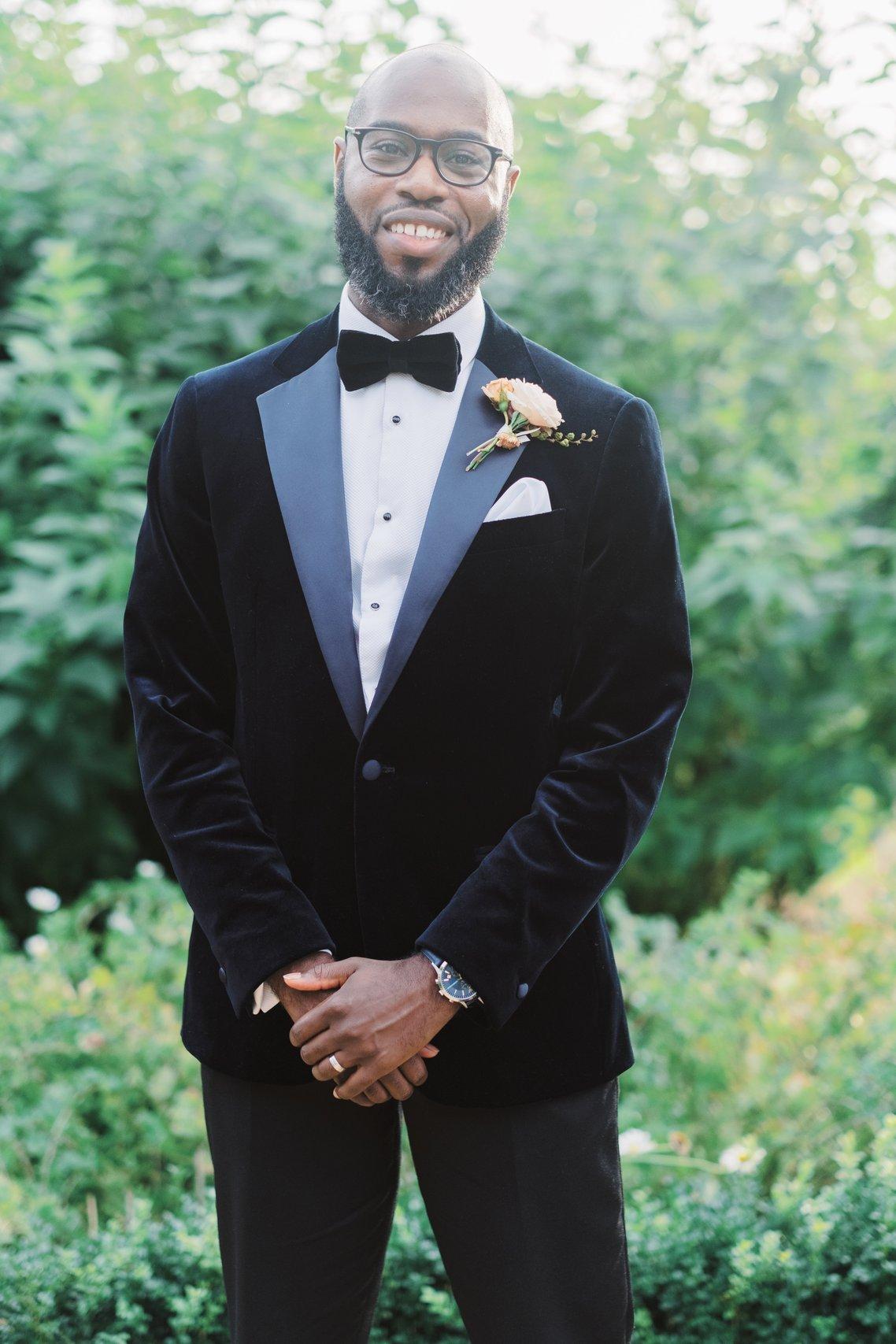 The Groom's Look
Stephen wore a jacket and bow tie from Reiss, with trousers by Richie Sacks. His shirt was from Moss Bros and the shoes from Kurt Geiger.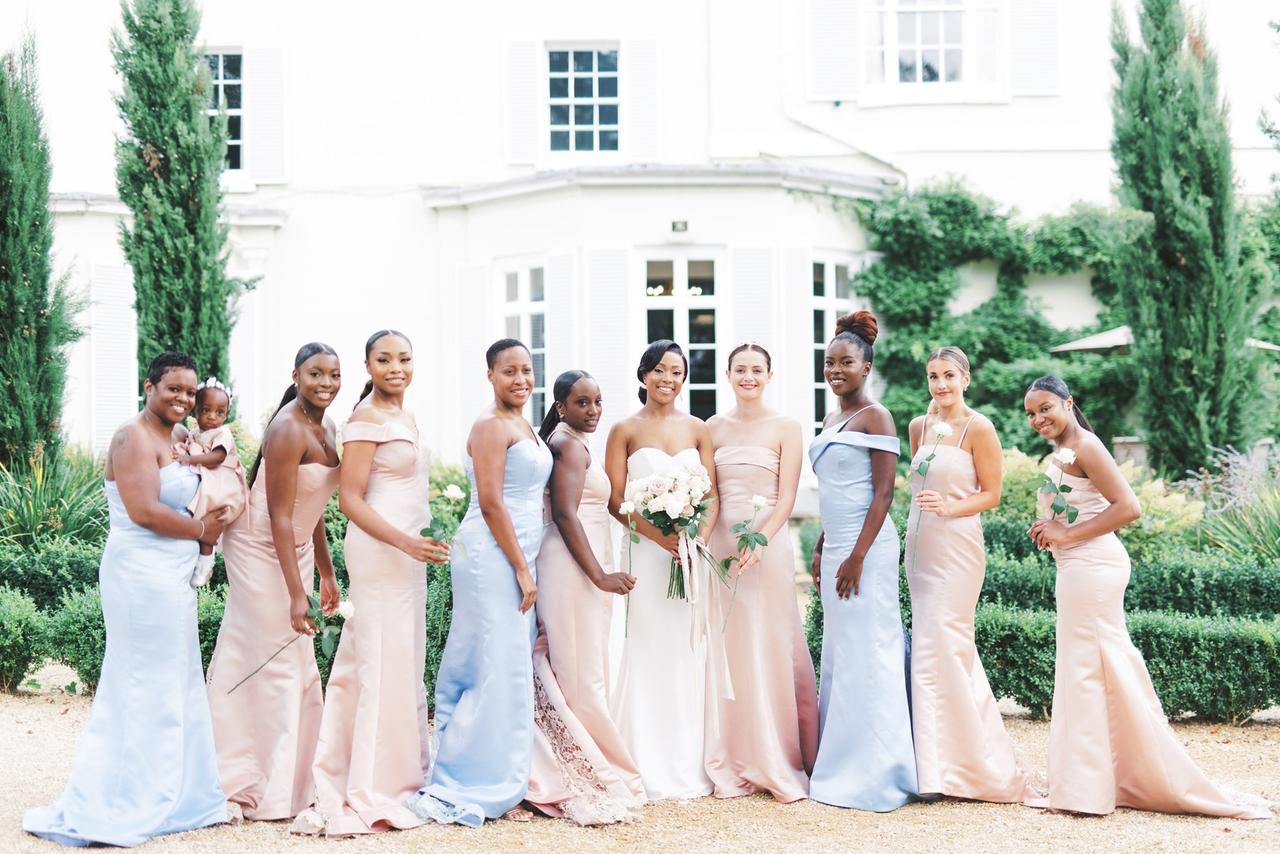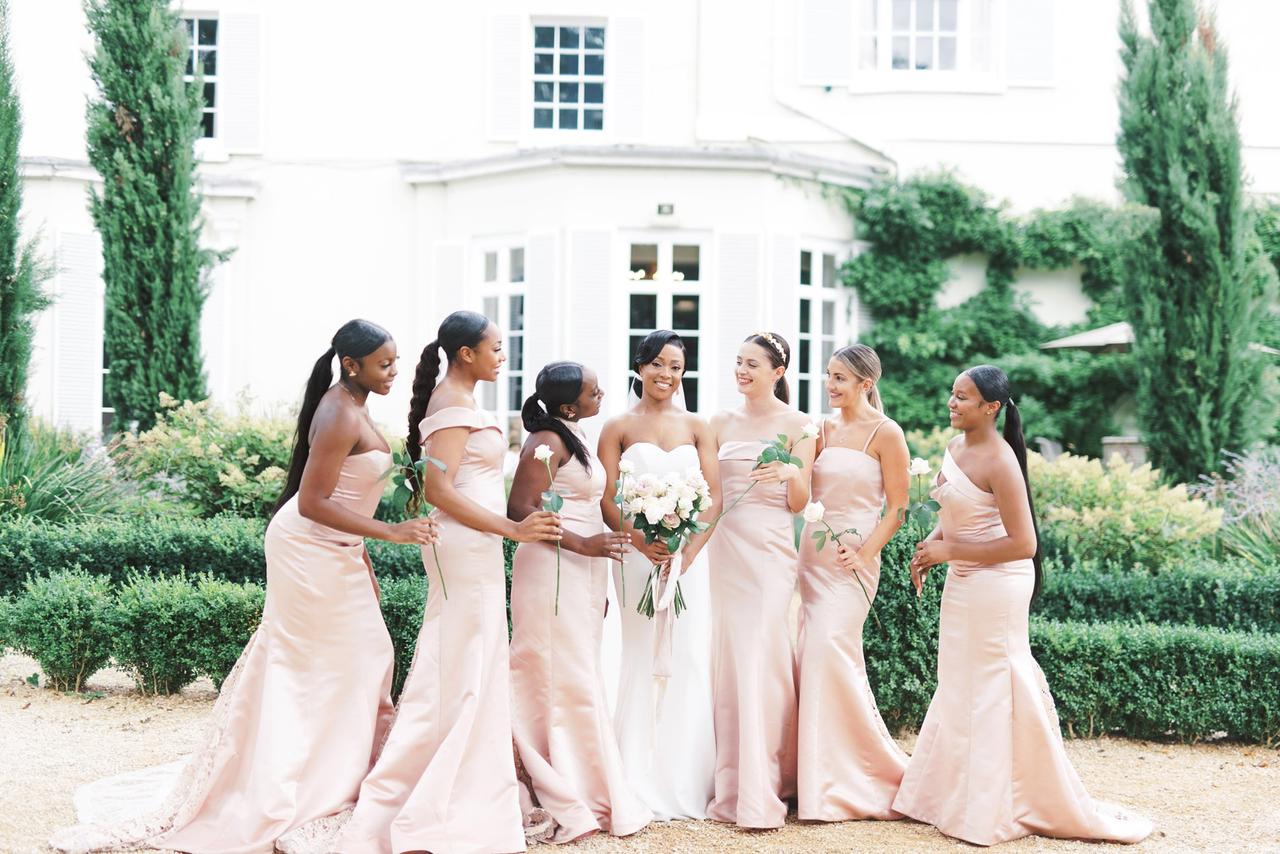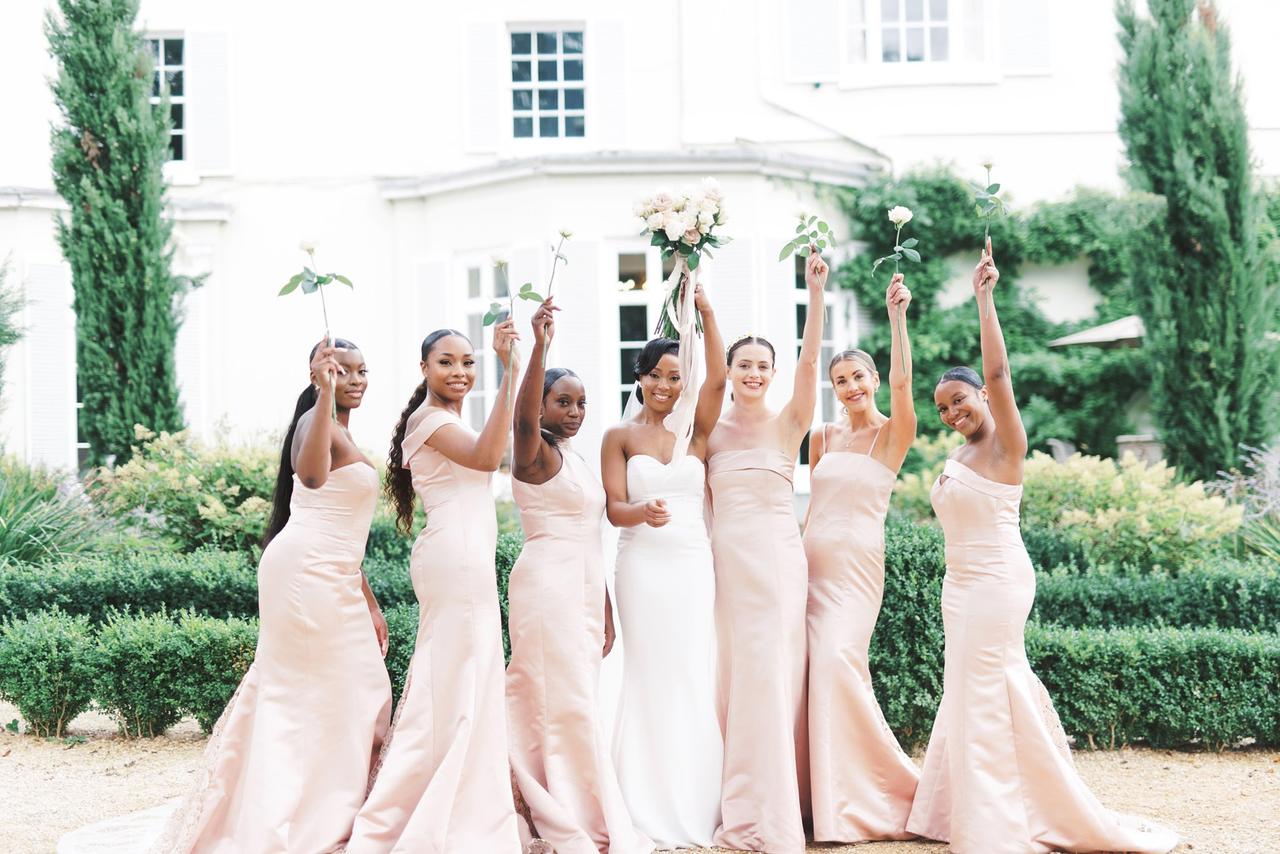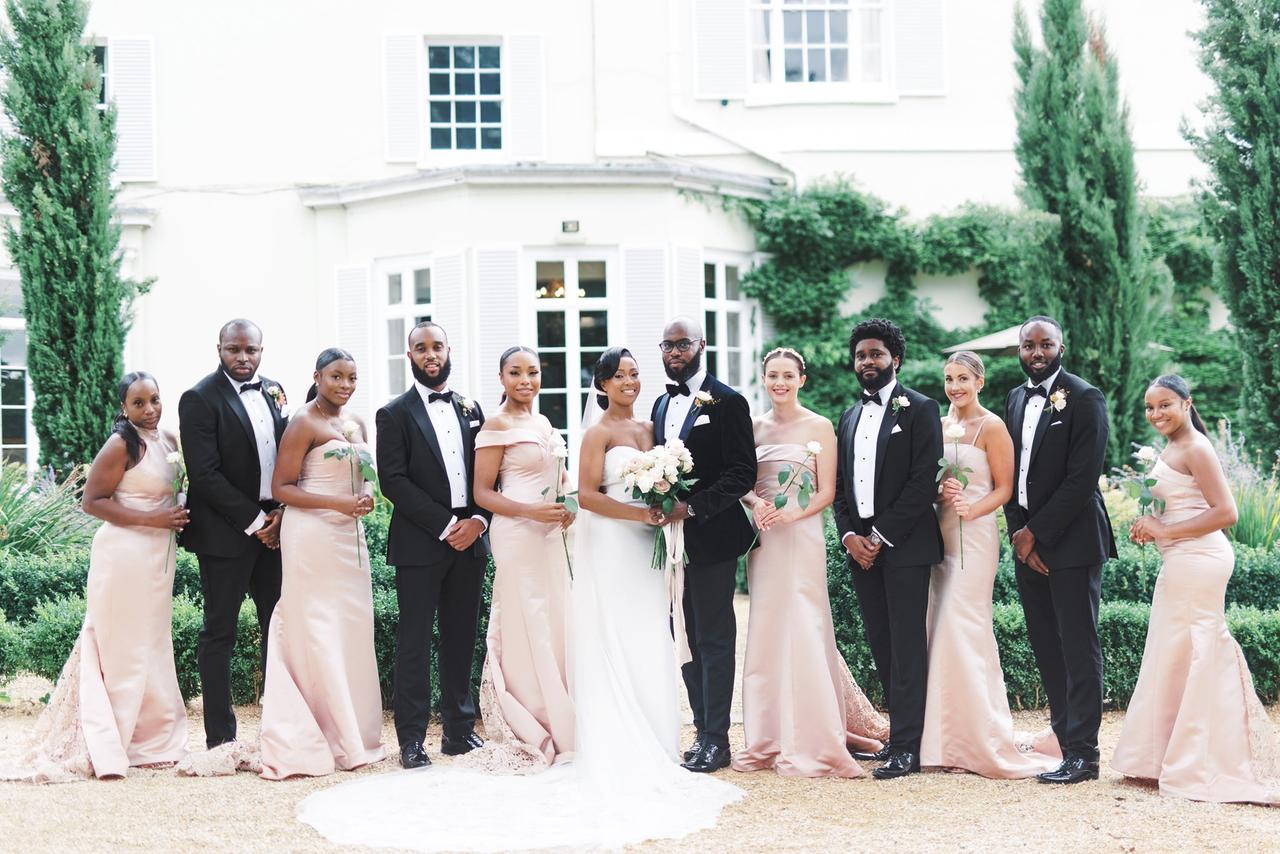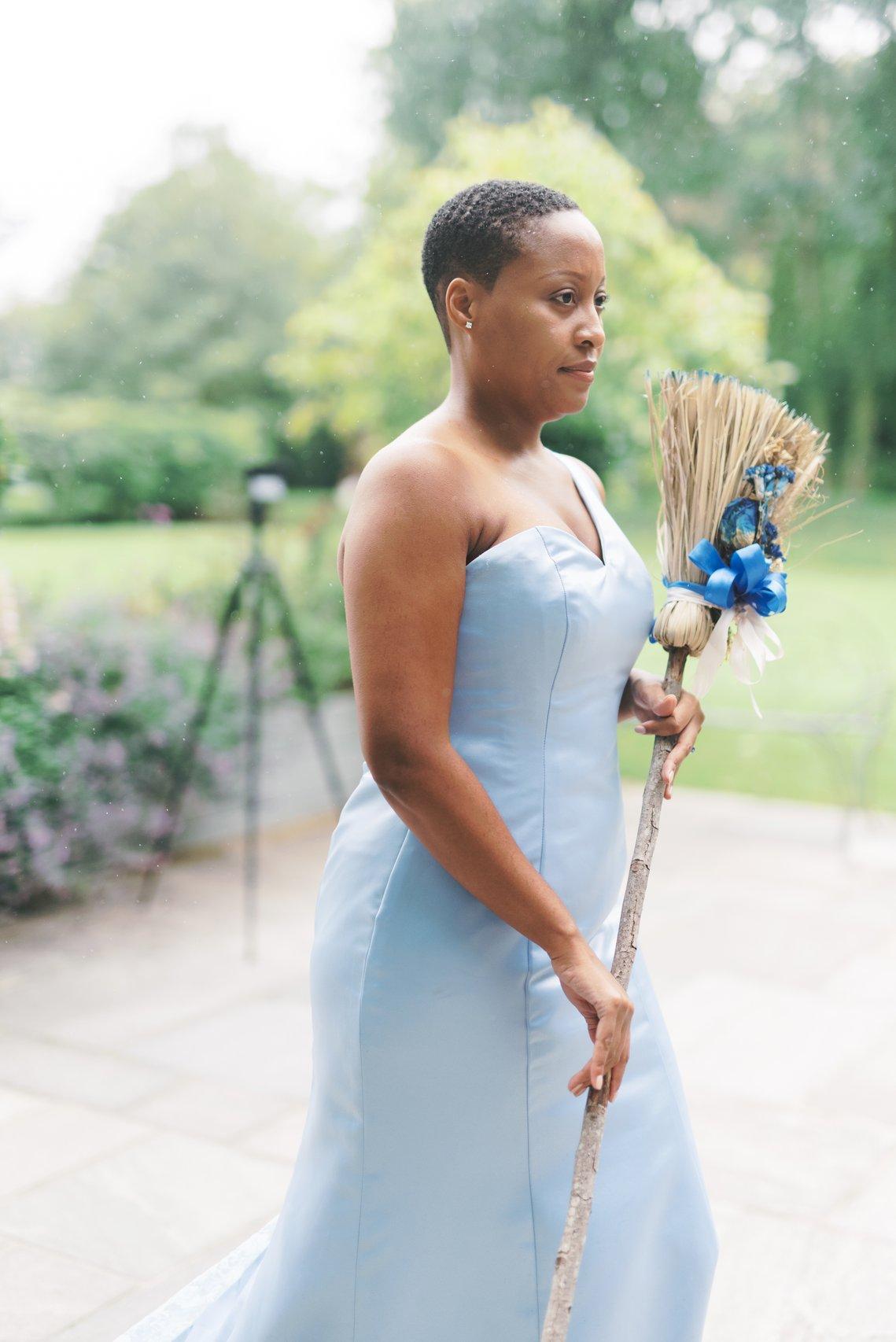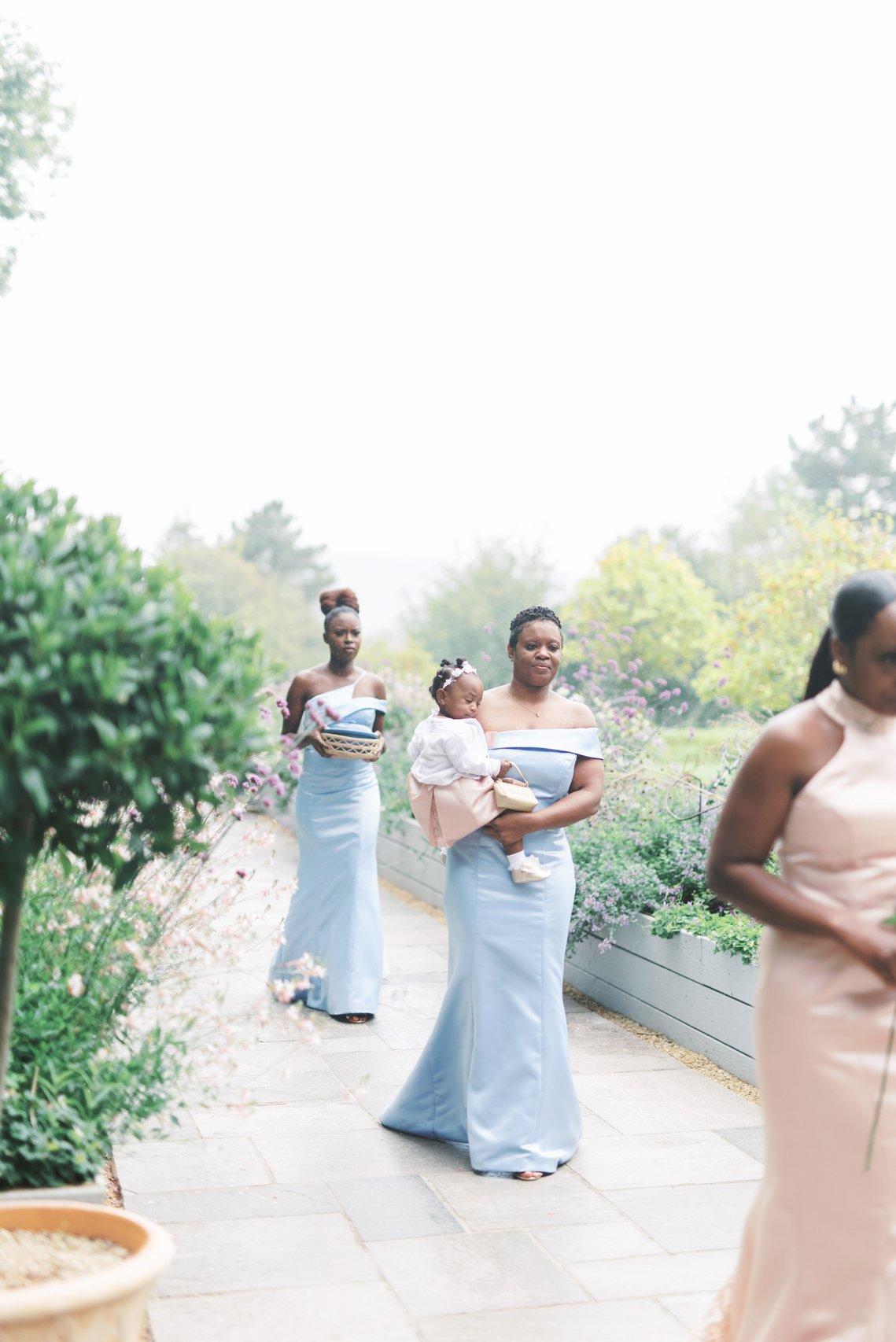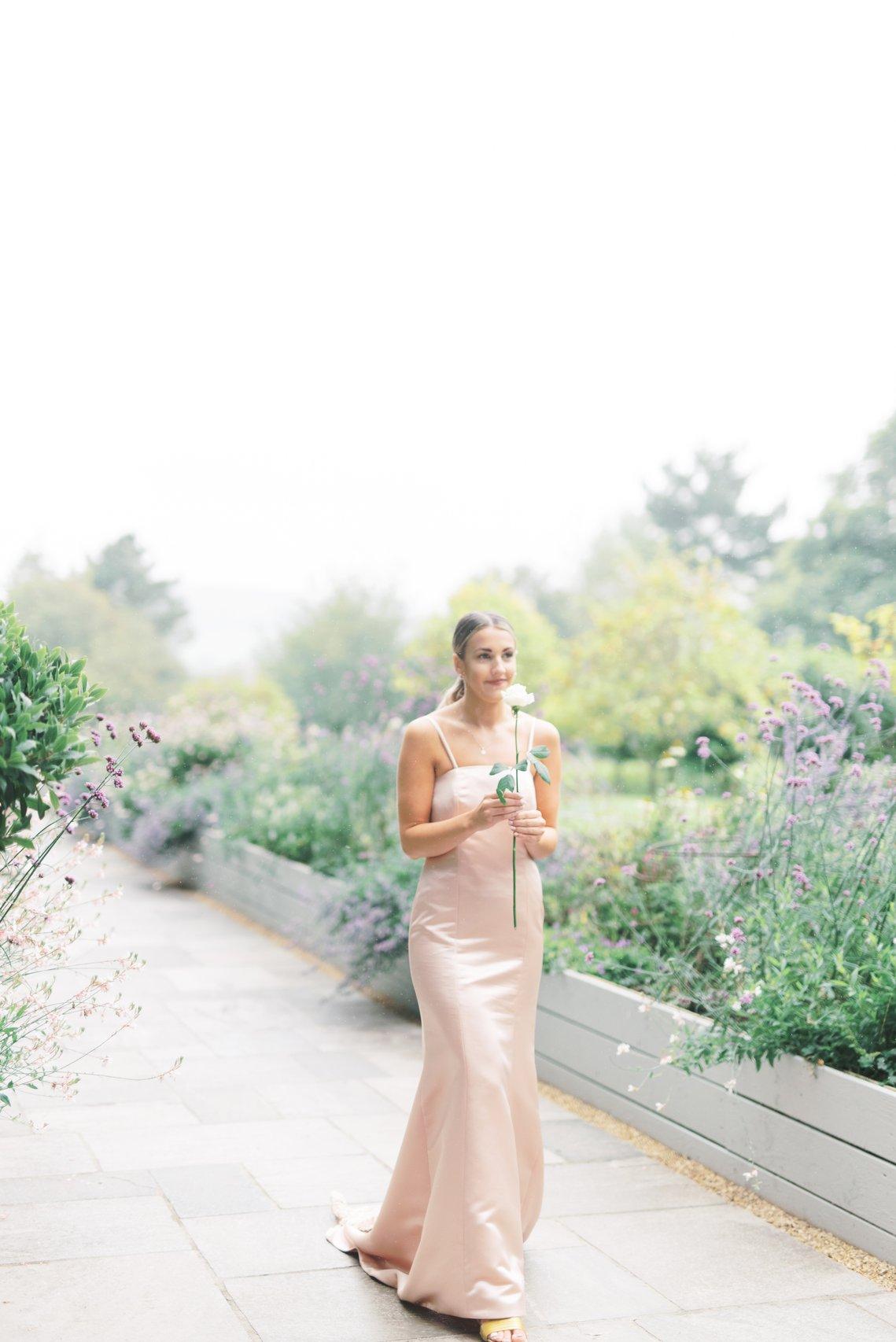 The Wedding Party
Shanice had six bridesmaids in pink and three 'something blues'. All wore dresses made by her aunt with the same fishtail skirt and a bodice that suited their individual styles.
"I had the something blues as a representative of the poem something old, something new, something borrowed and something blue," explains Shanice. "My sister Tasha carried my baby niece as the something new, my sister-in-law Samantha carried the broom she jumped over with my brother at their wedding as the something borrowed, which we jumped over during our ceremony, and my sister-in-law Daniella carried an old casserole dish from Stephen's late grandmother (which made me cry!) as we love to cook."
The groomsmen's suits were from Moss Bross, with Kurt Geiger shoes.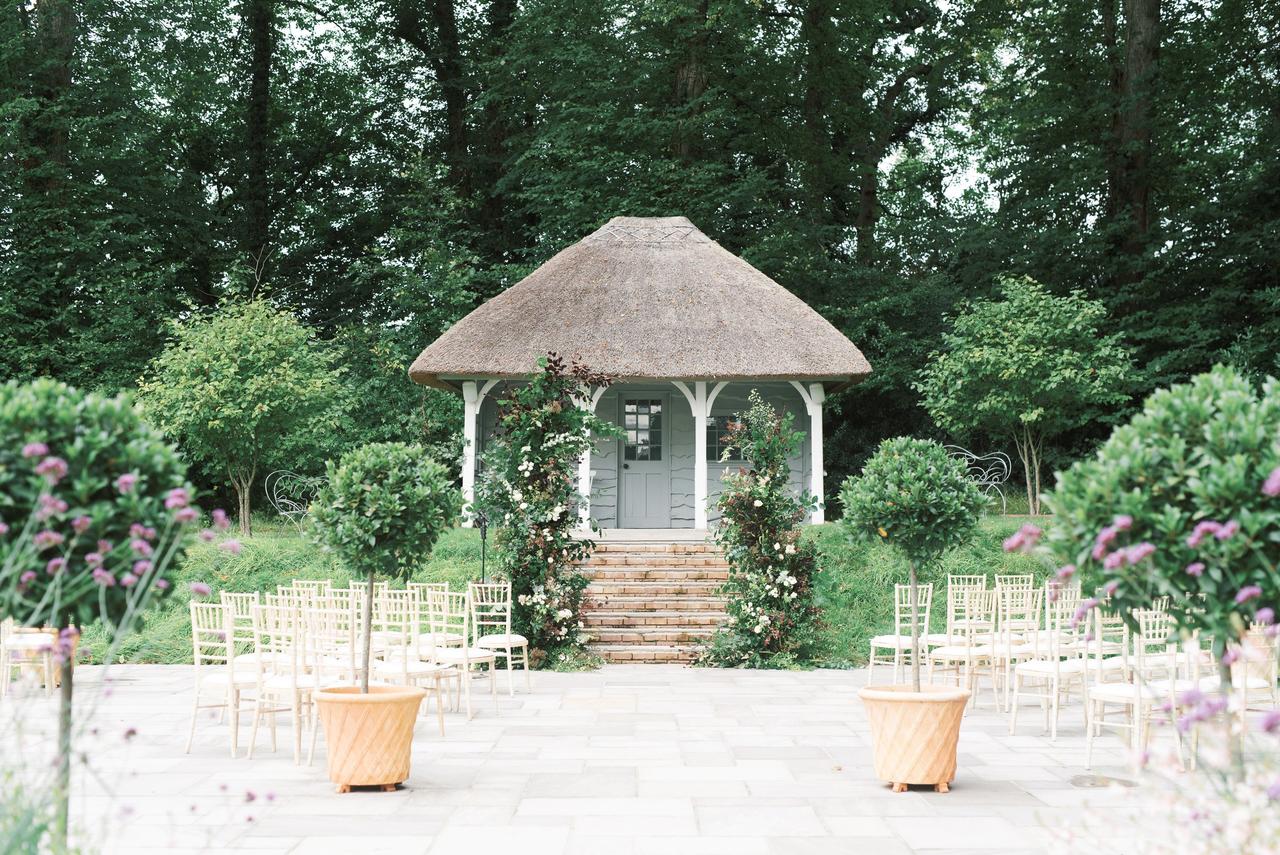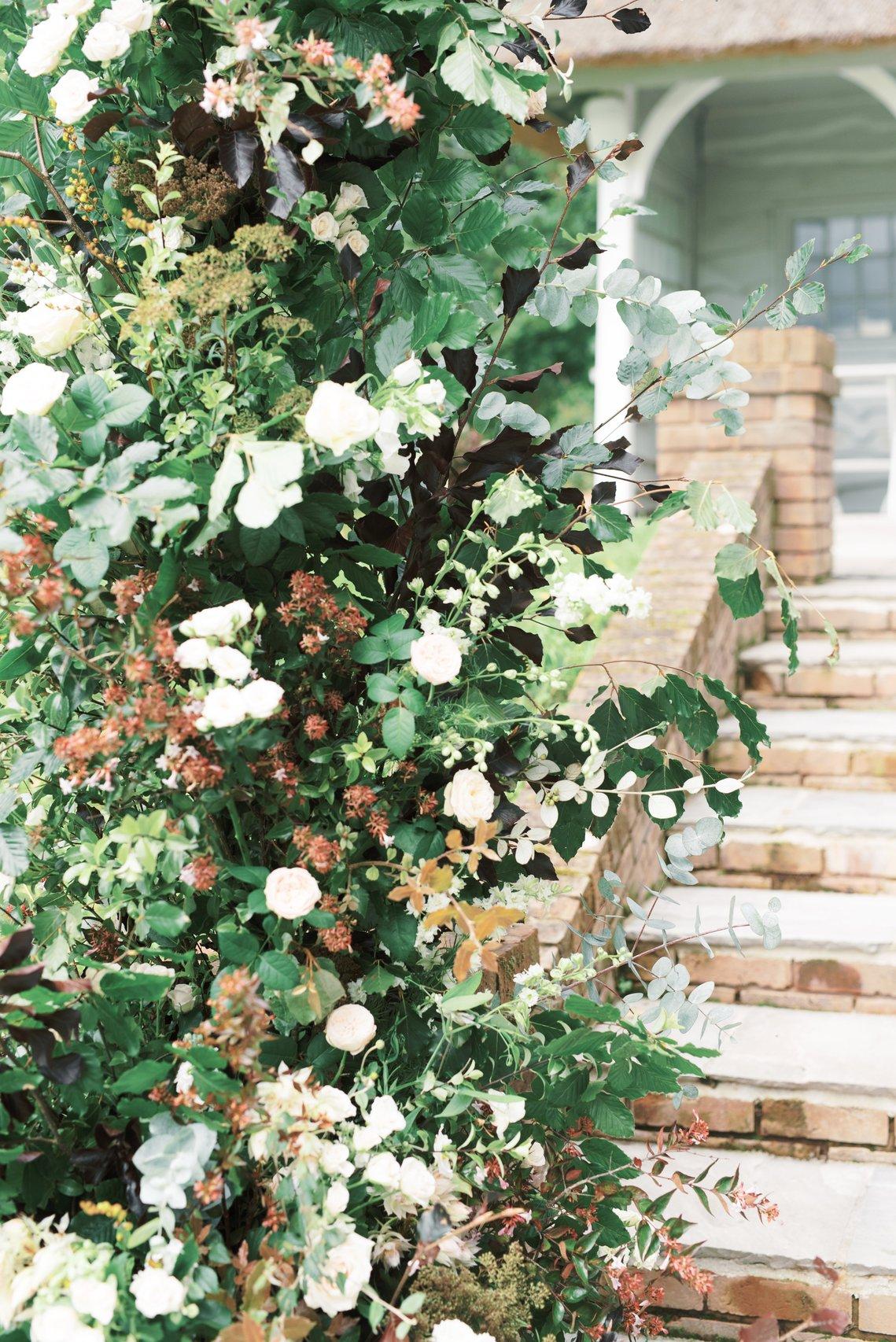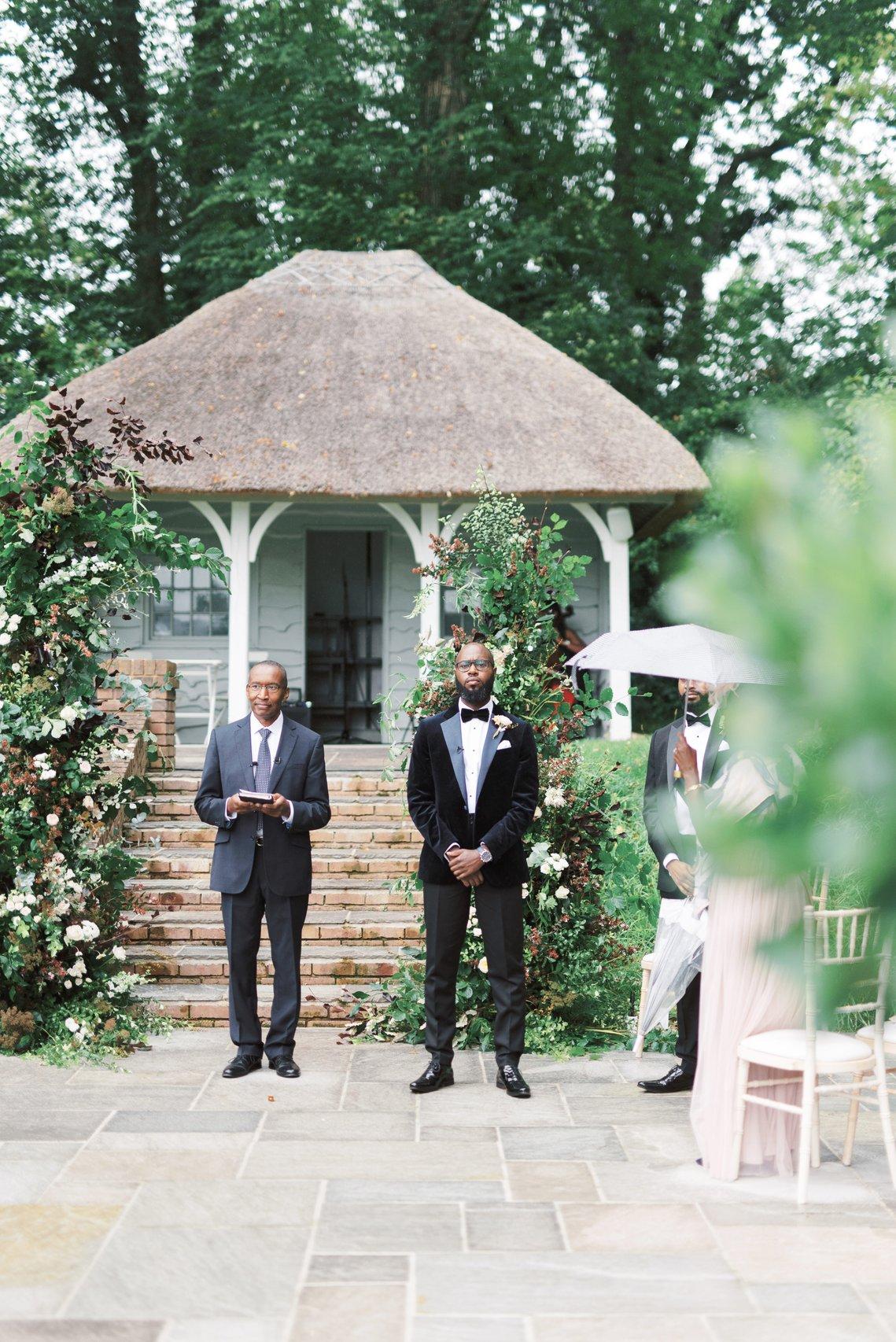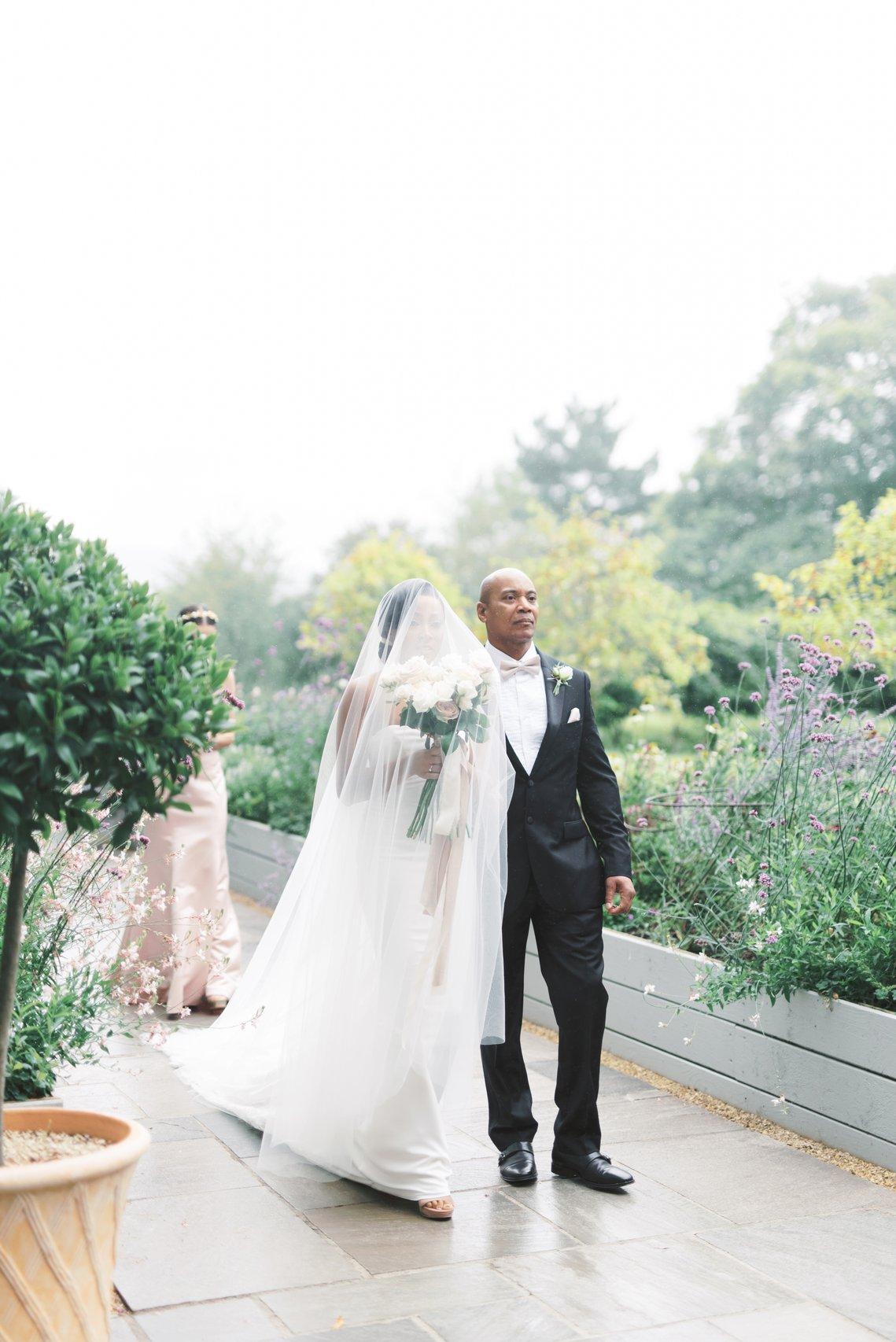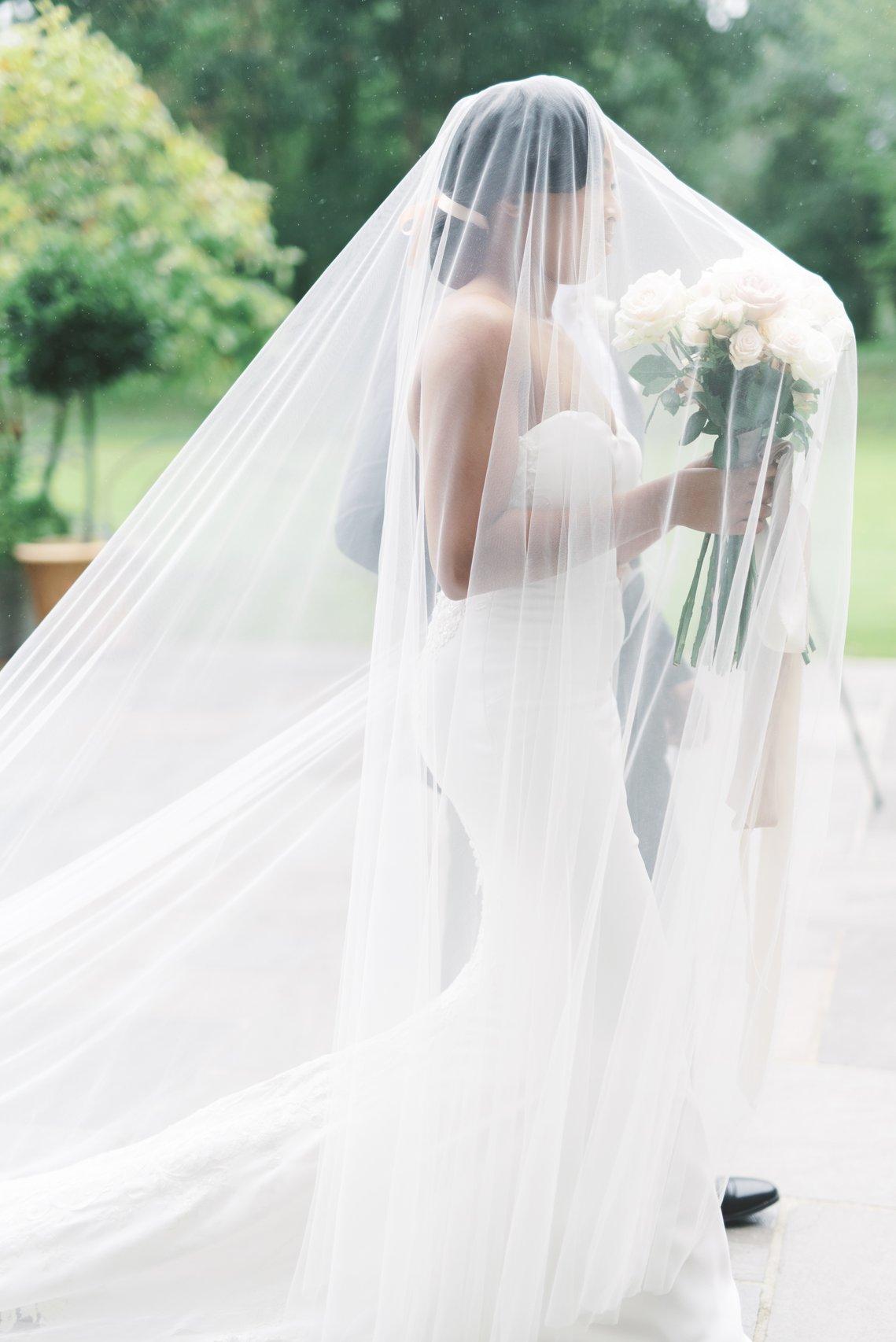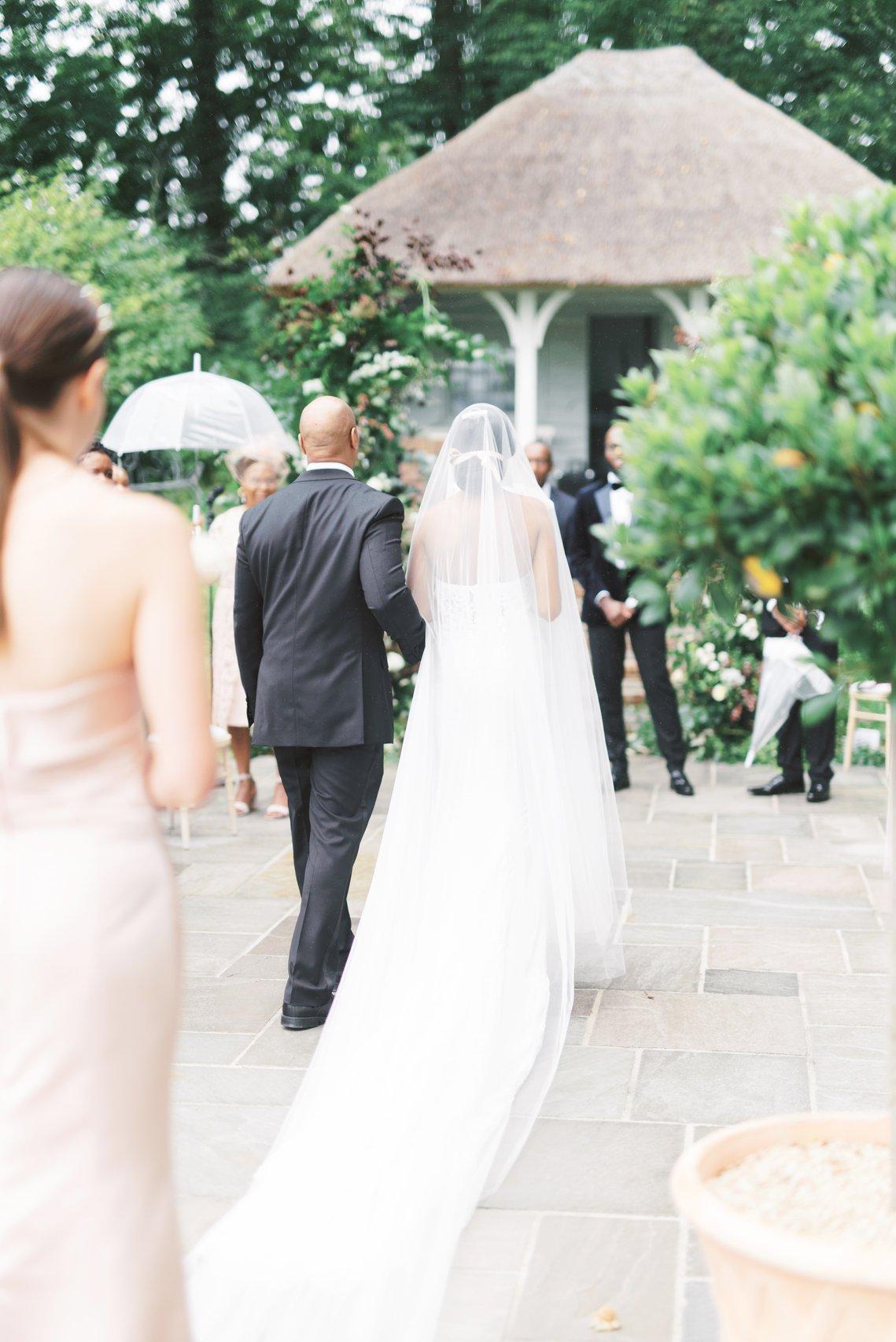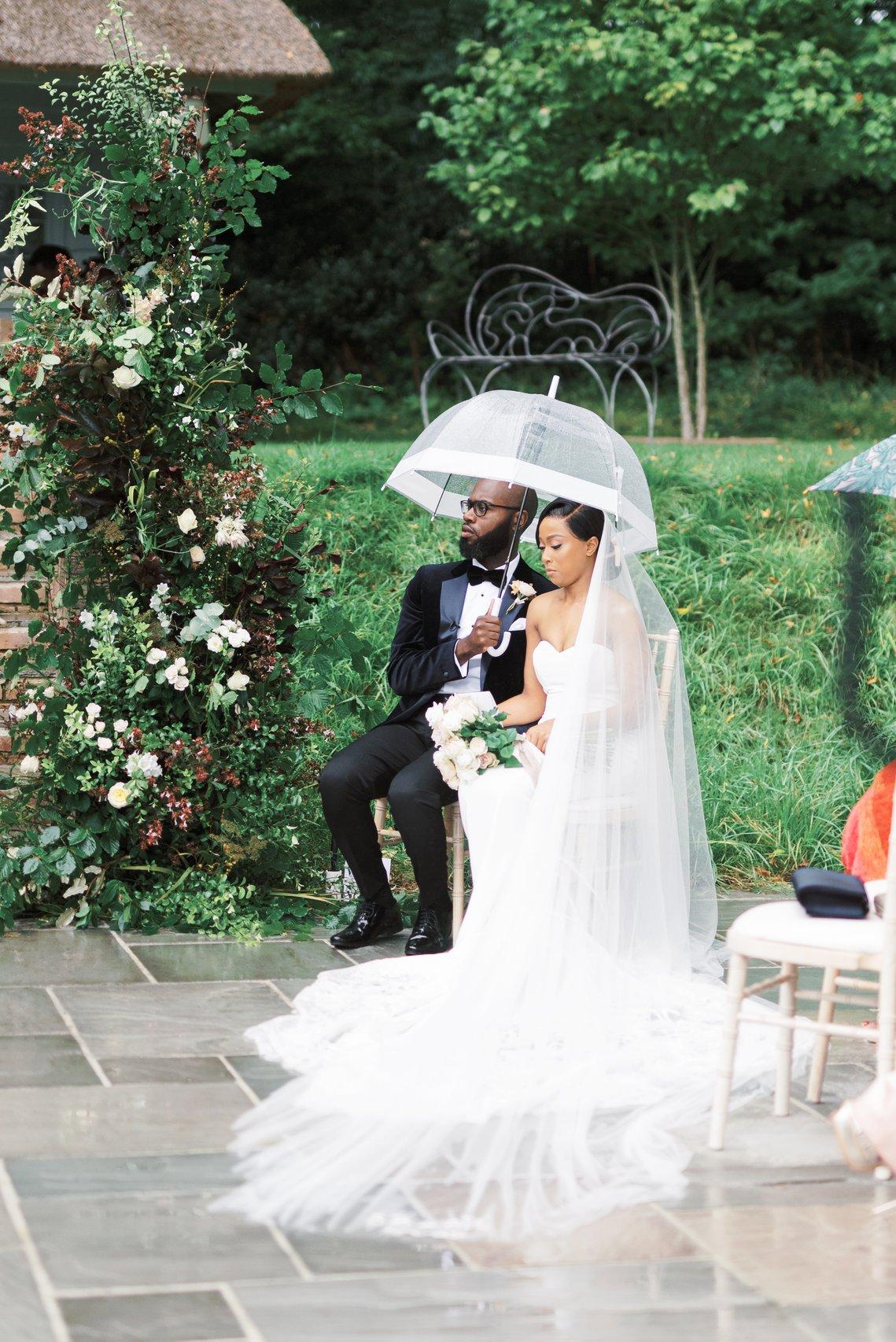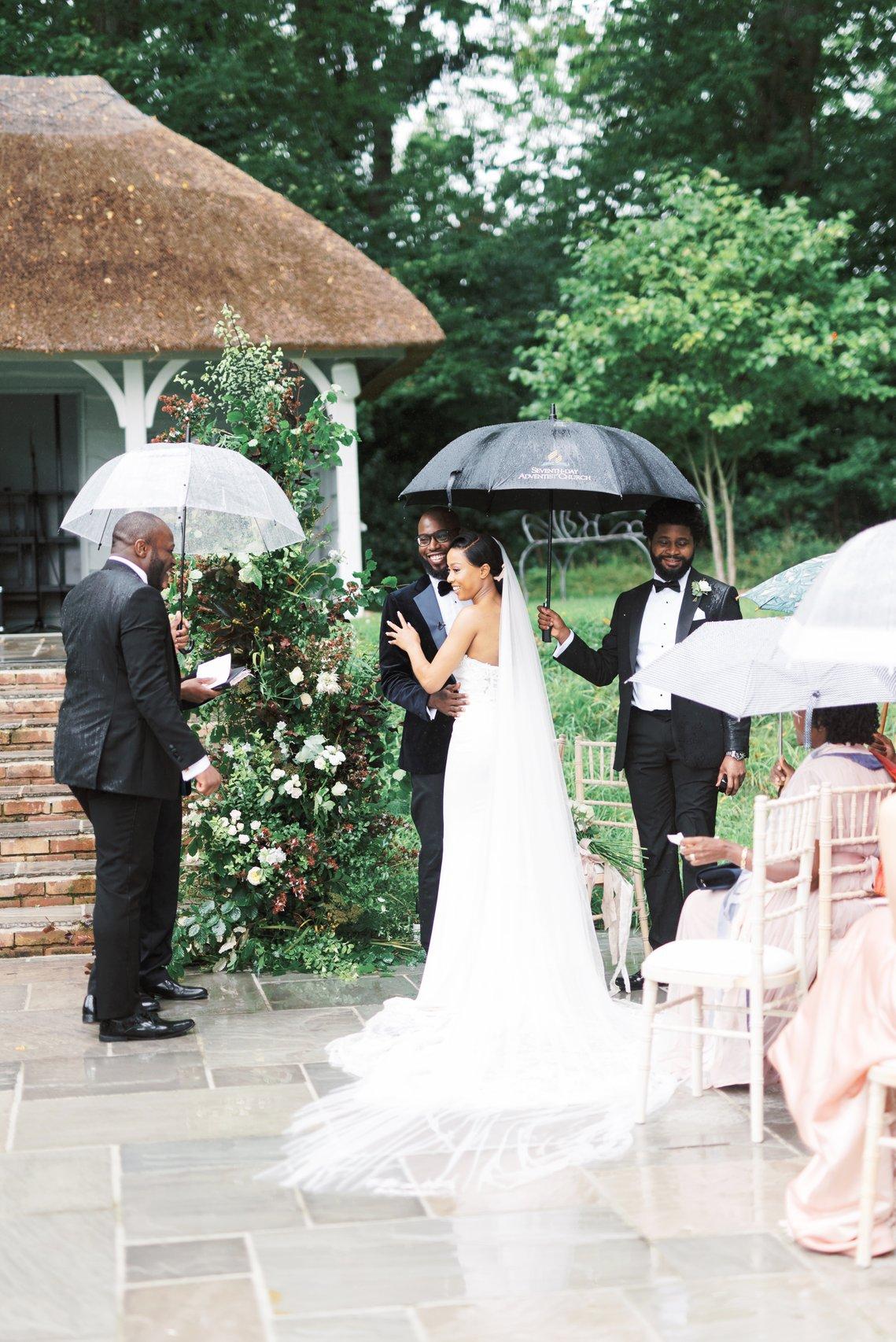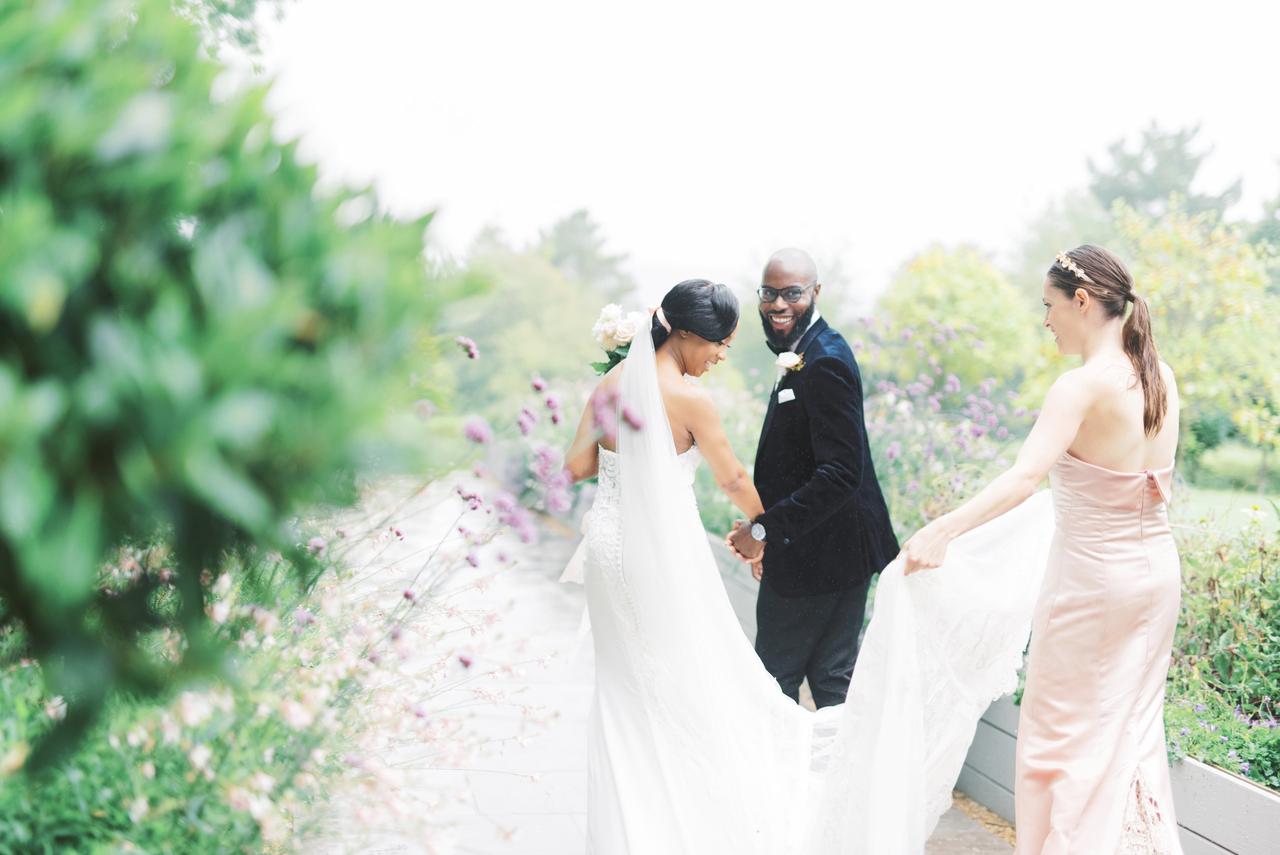 The Wedding Ceremony
The ceremony was at the heart of Shanice and Stephen's wedding. As Seventh-Day Adventist Christians, they had a religious ceremony. Shanice walked down the aisle to a cello rendition of Kissing You by Des'ree.
"We had waited so long to be legally blessed and it held such great significance and importance for us," say the couple. "Although it rained and we were outside (typical England!), the ceremony was so personal and all those who took part spoke heartfelt words which we took into our marriage with us."
The couple personalised the ceremony with readings. Stephen's mum's readings for the ceremony were taken from 1 Corinthians 13 and Proverbs 3:5-6, while Shanice's mum's was a poem called A Happy Marriage Recipe and Bible readings taken from Ephesians 5:25-33 and Hebrews 13:4. Shanice read a poem called The One, and one of her sisters-in-law made a speech about the jumping the broom tradition.
The Change of Plans
Due to Covid restrictions, the couple couldn't have their planned evening party with music. However, they could enjoy a special meal with their loved ones.
"We also had to create bubbles so guests stuck with the same people, as we were at the venue for two nights, which actually worked really well. We had to wear masks when moving around the venue."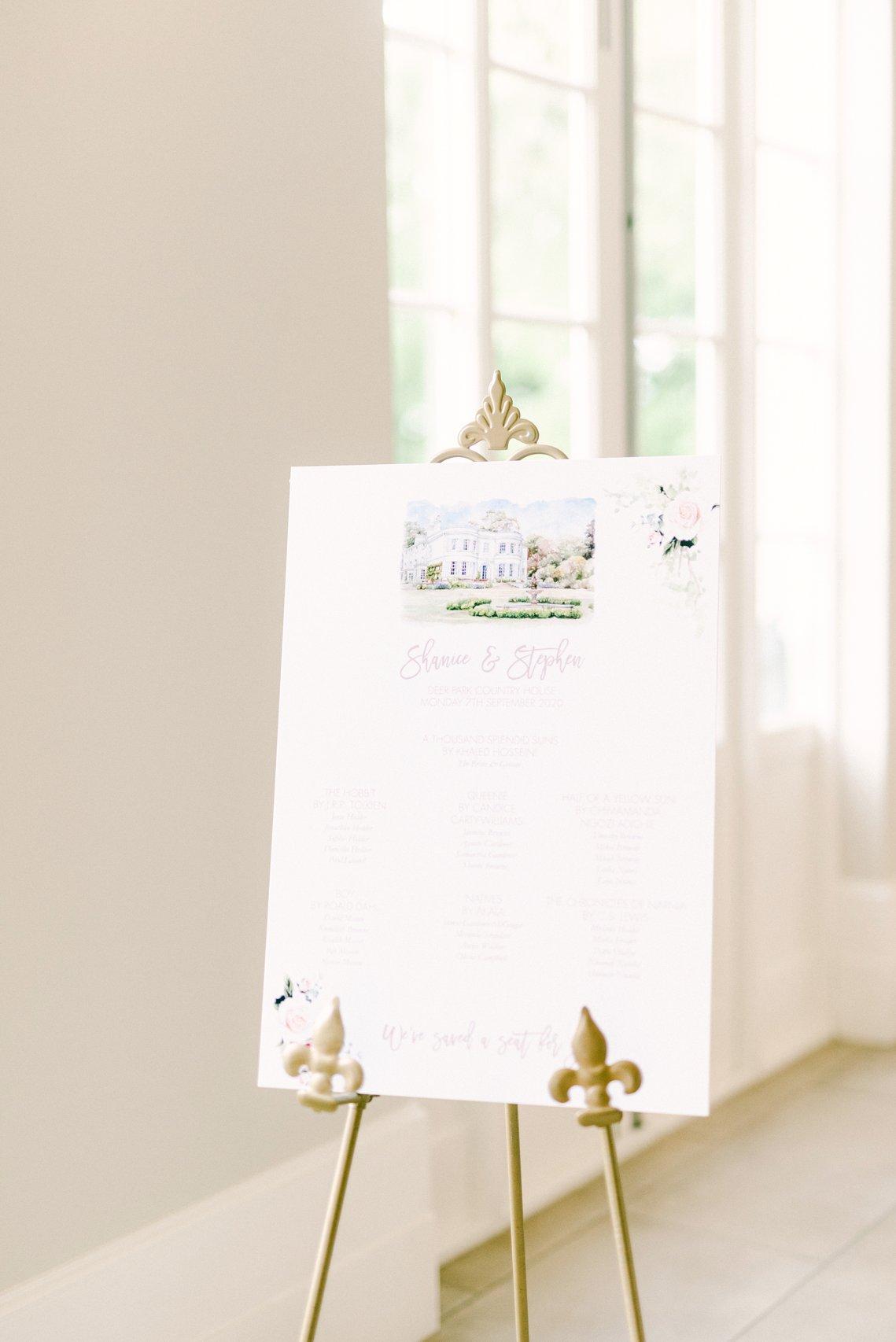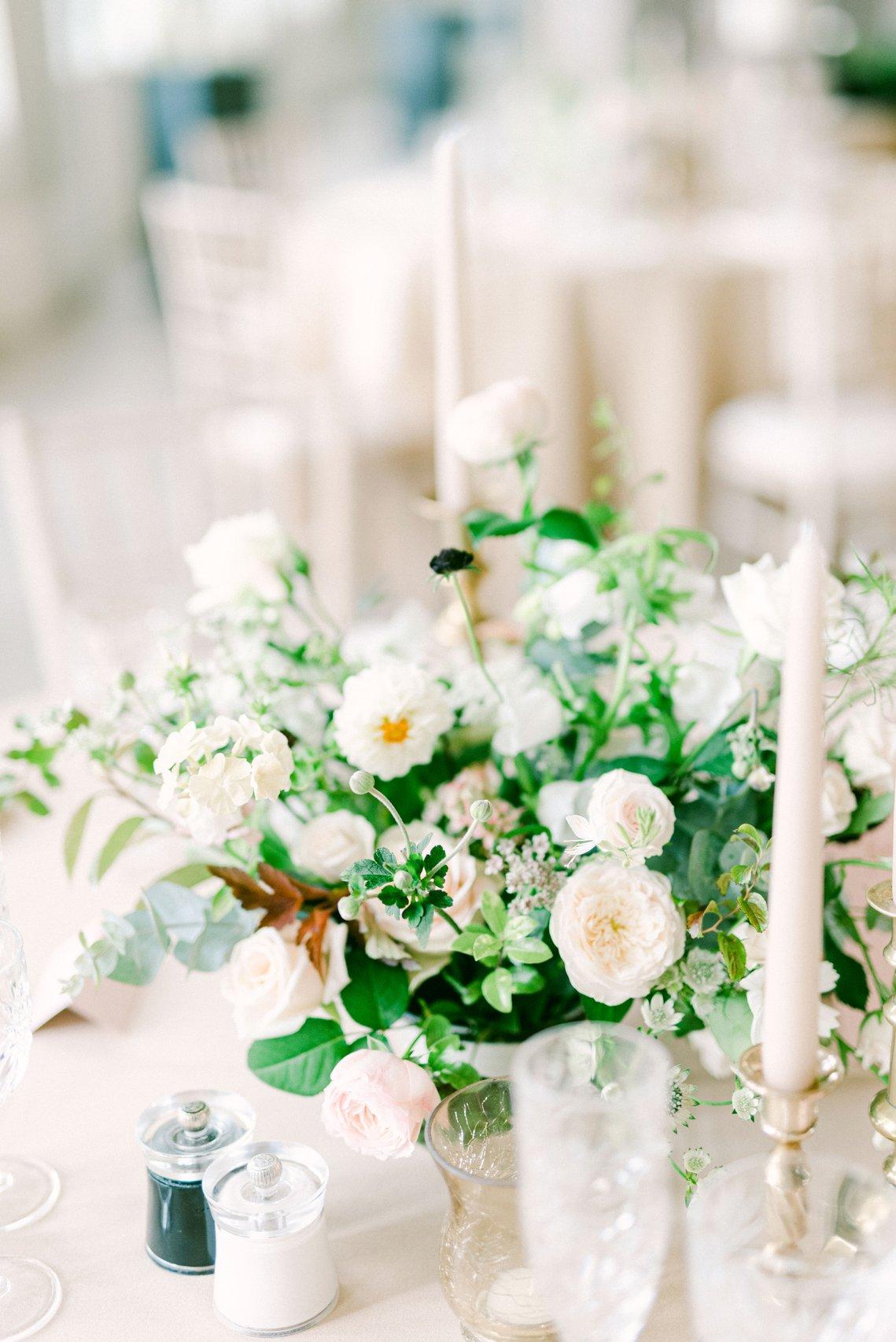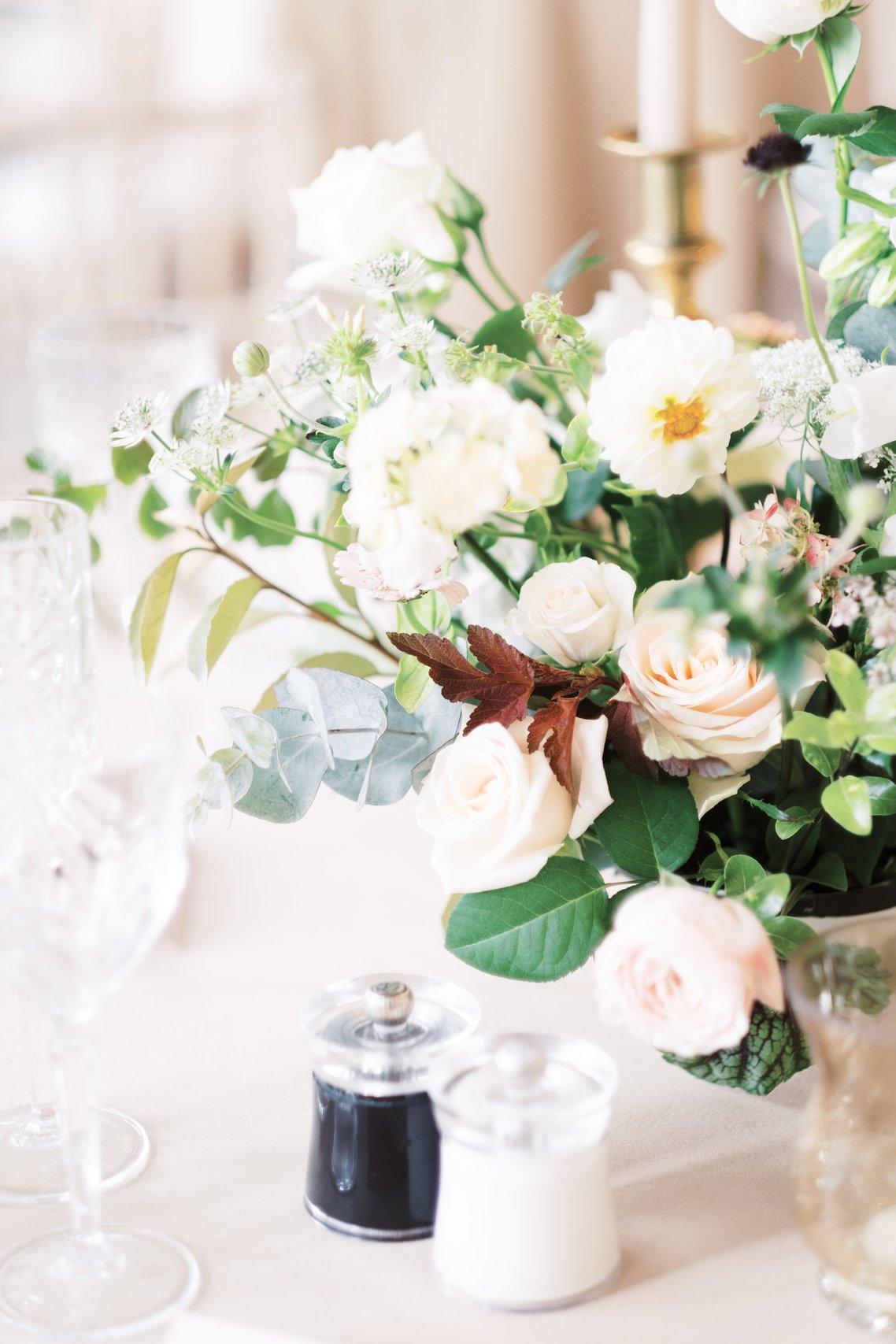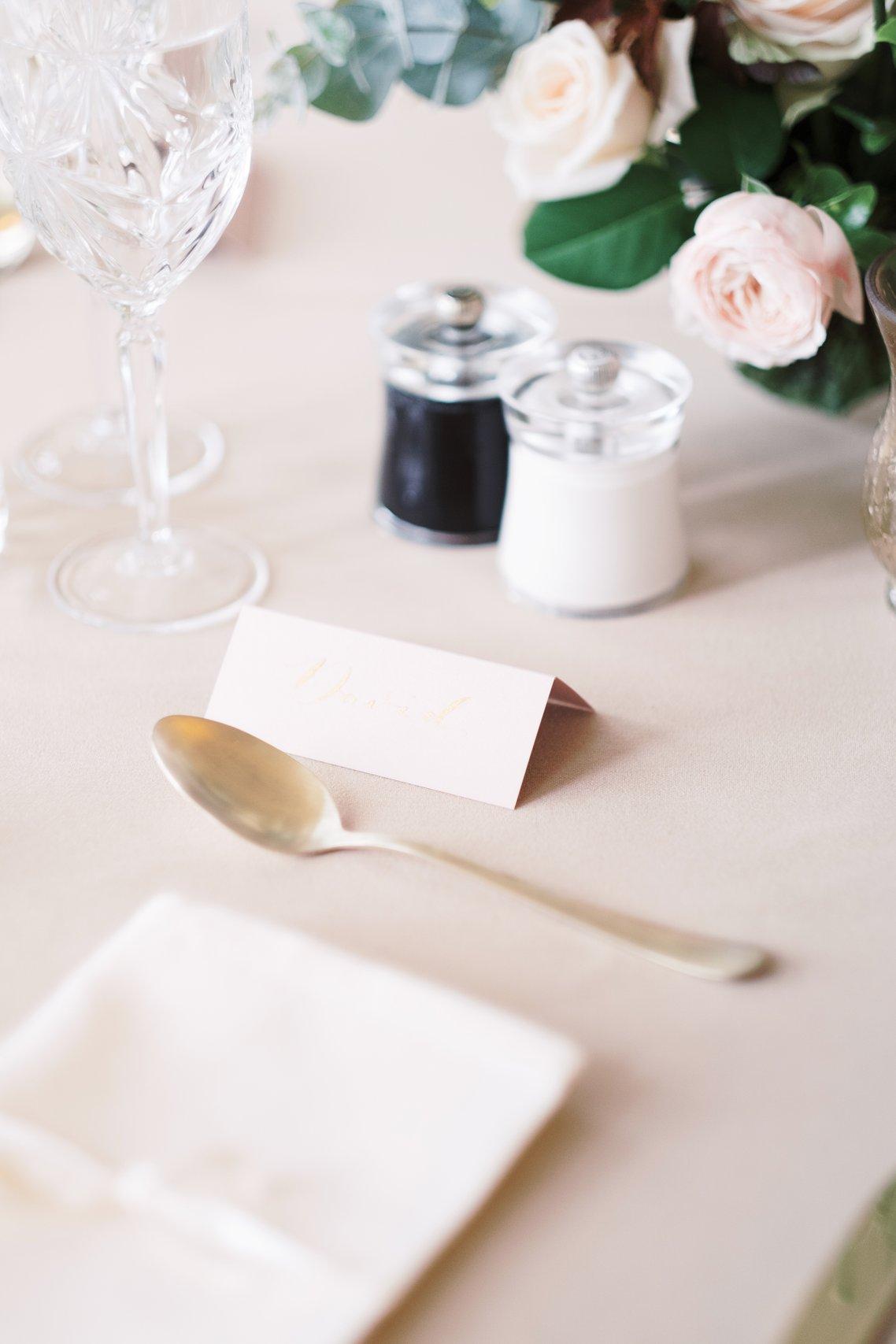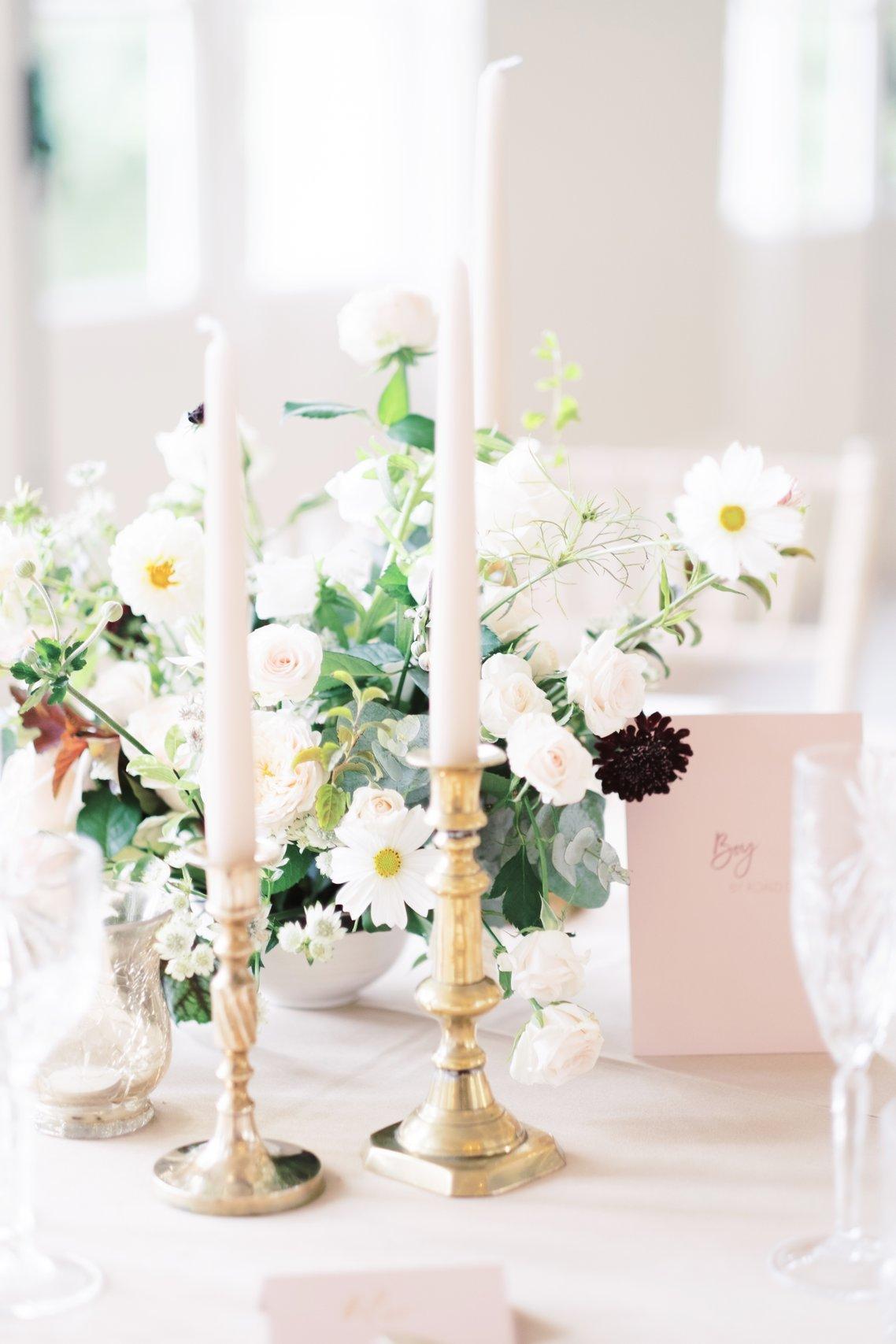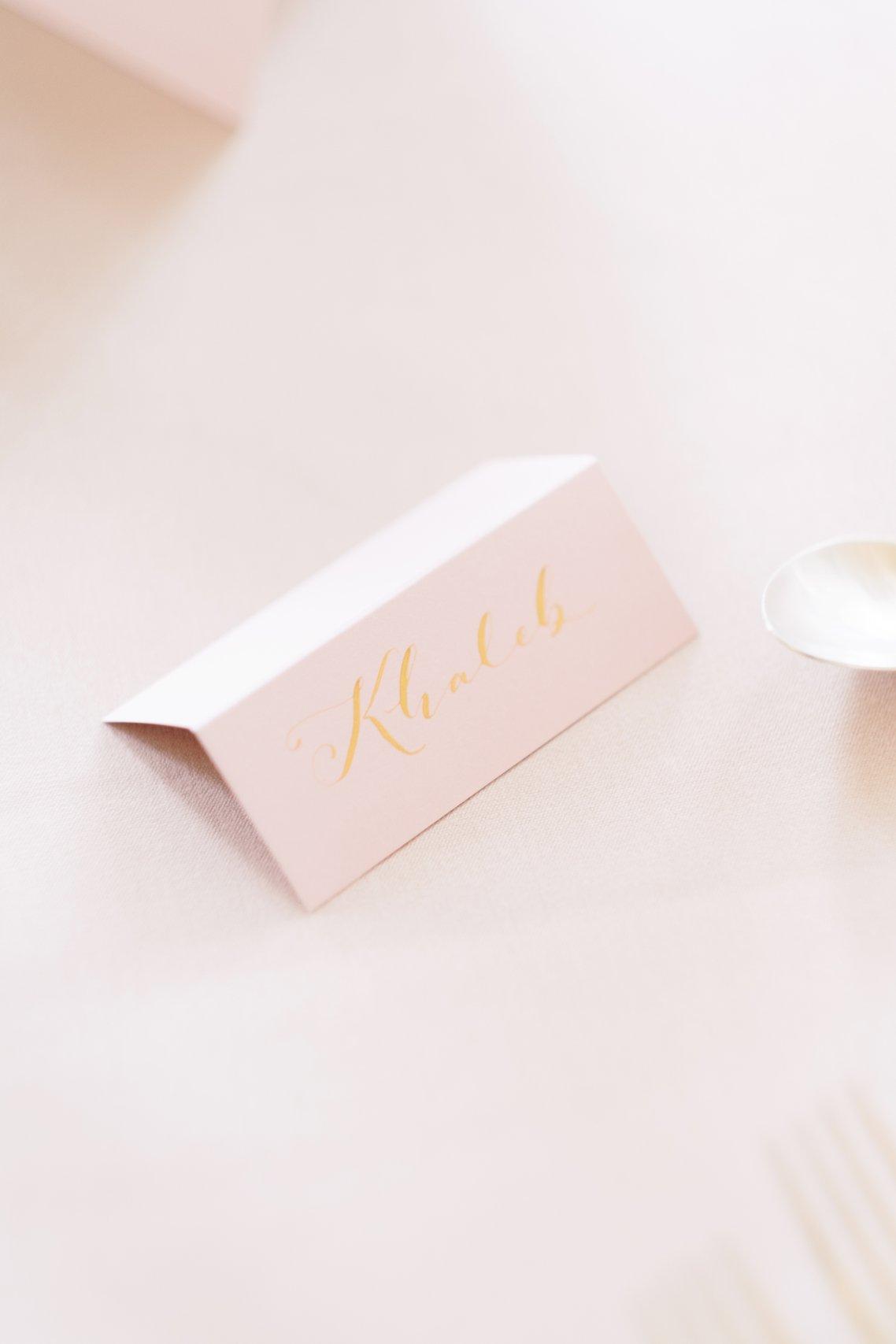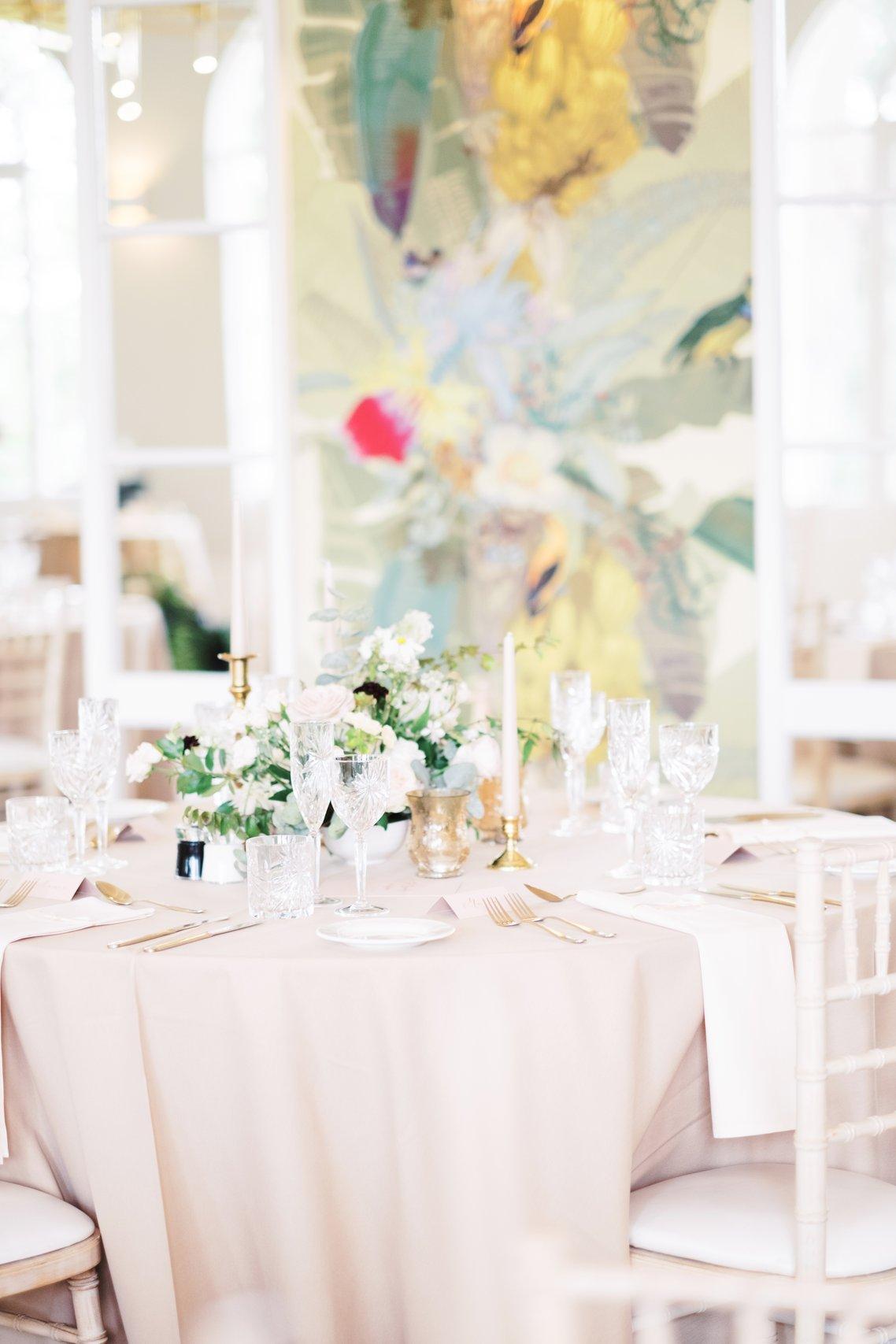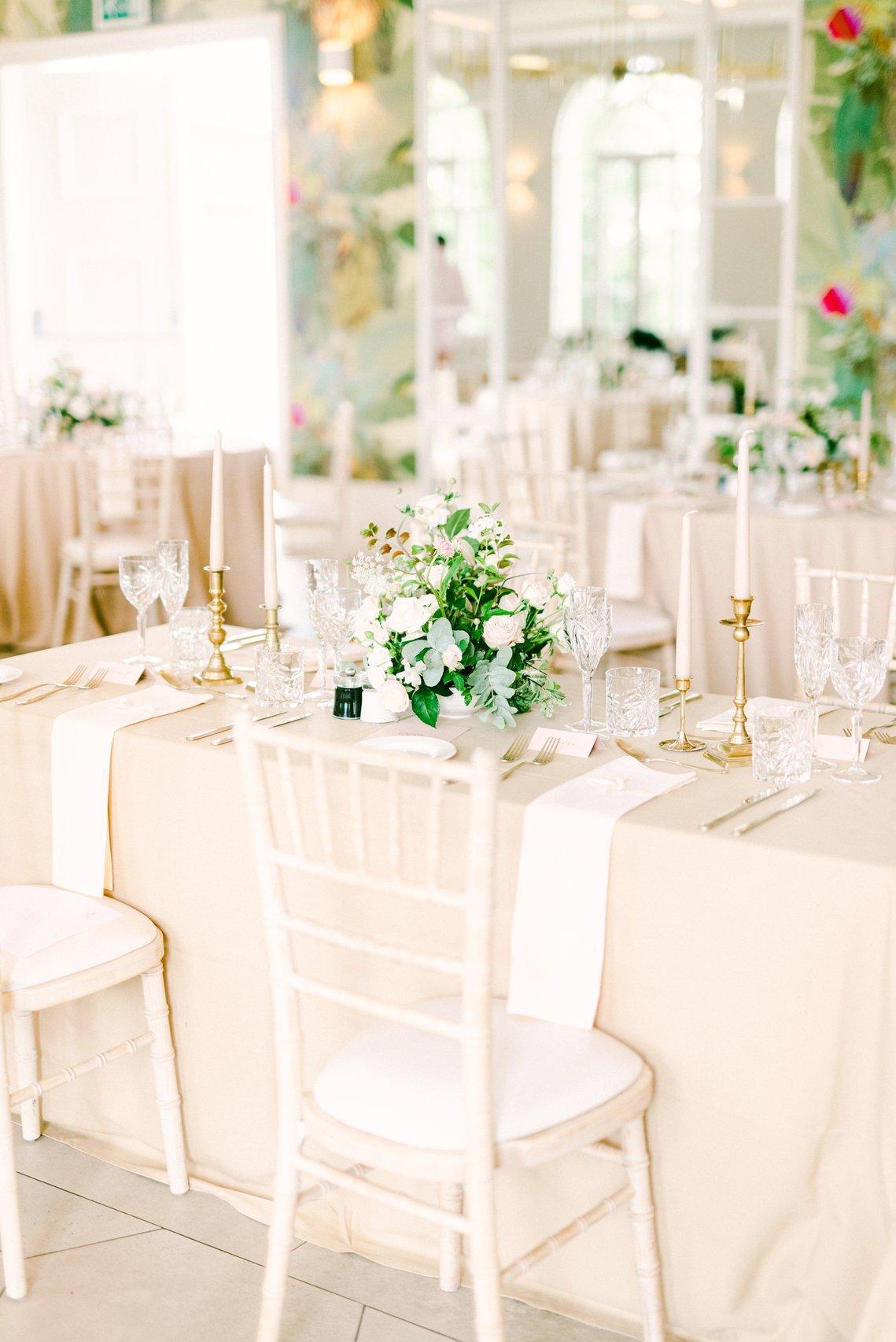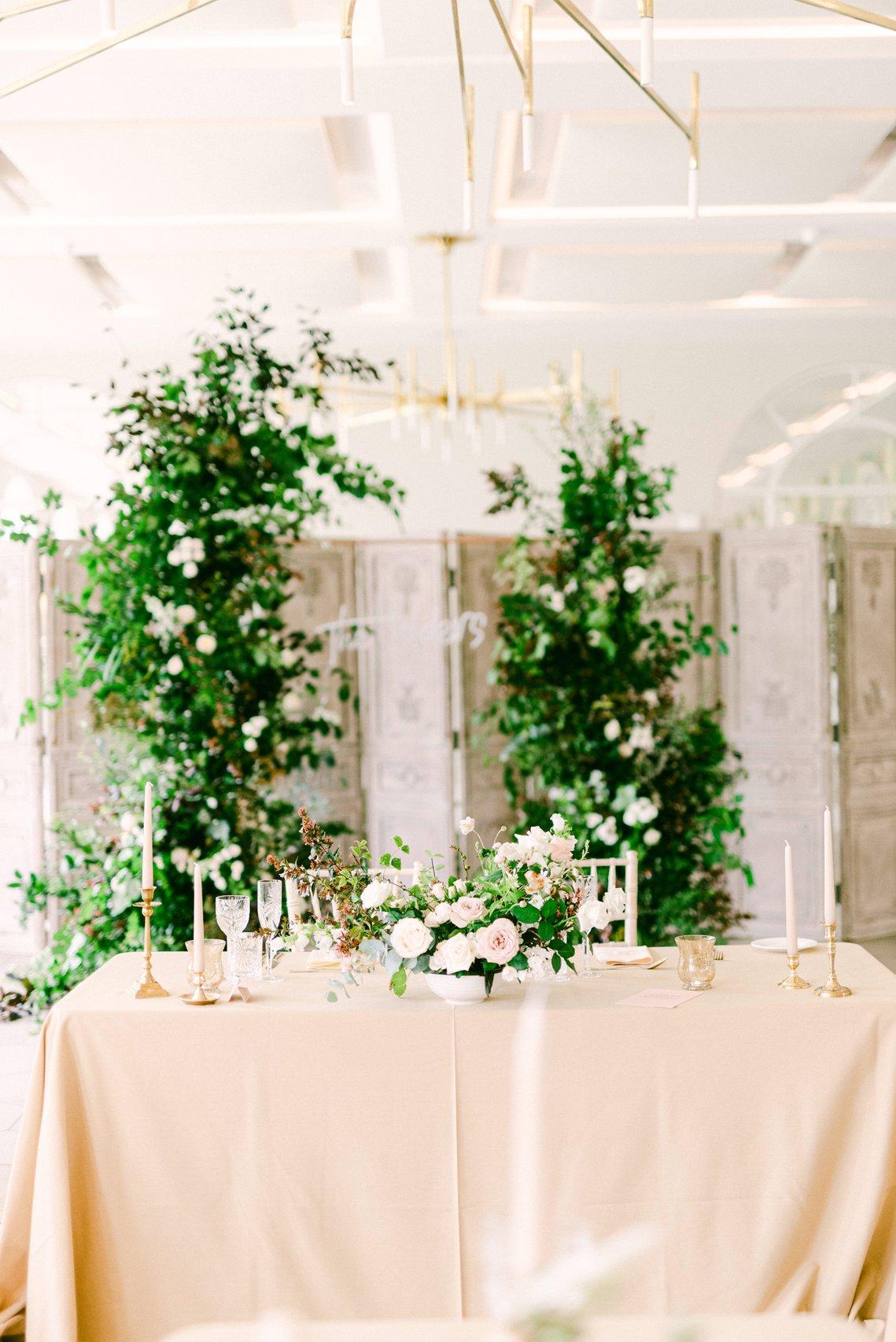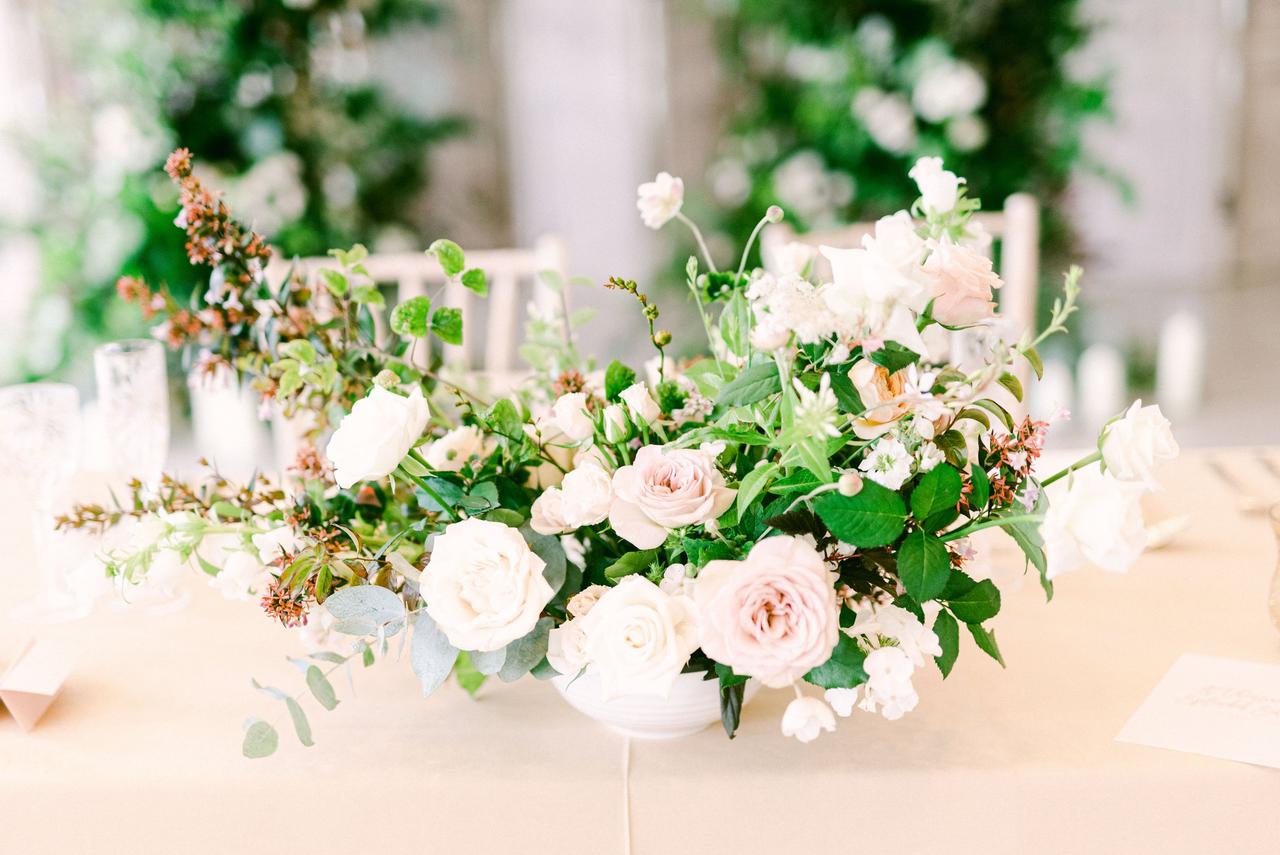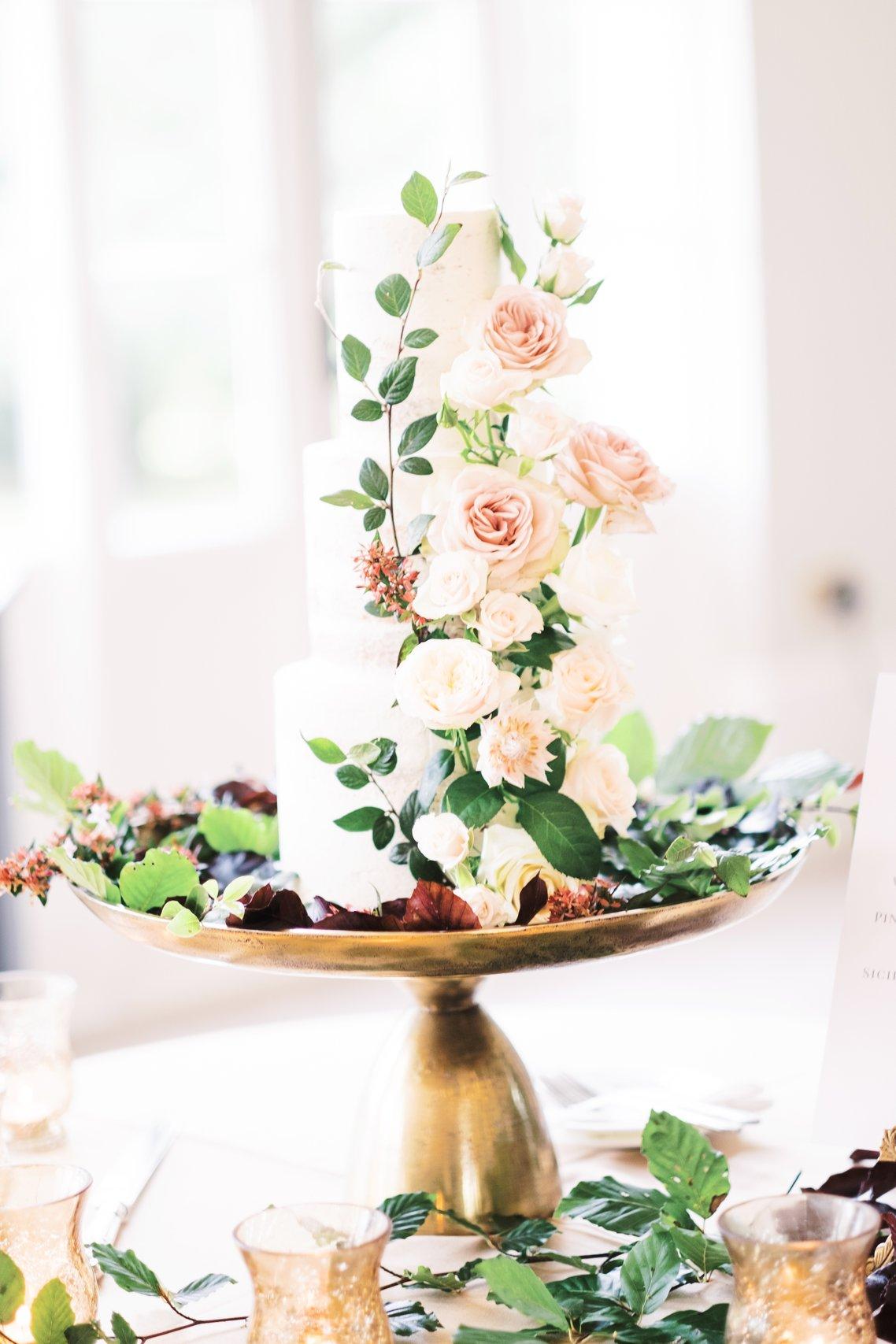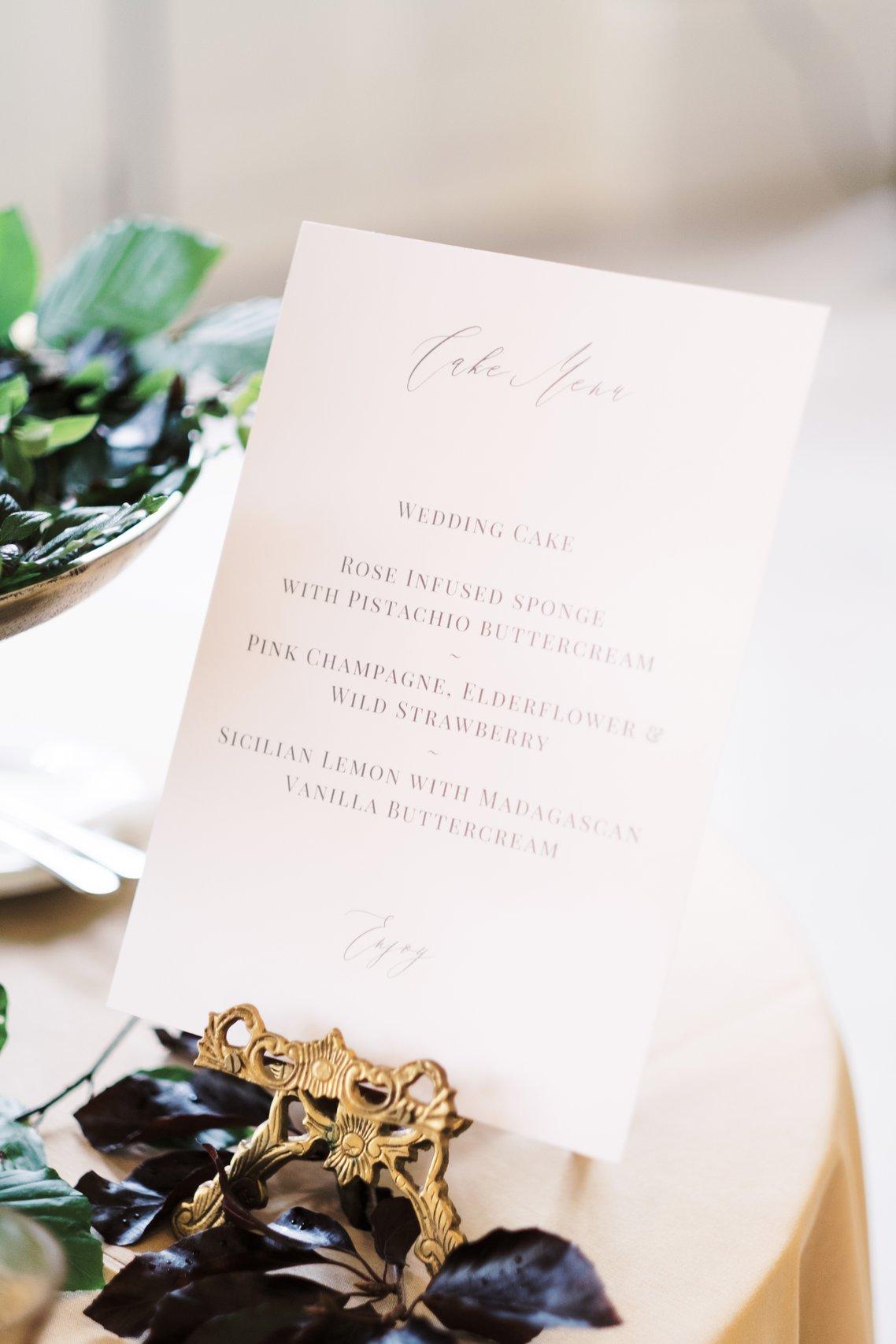 The Wedding Menu
Starters
Home Cured Salmon, Pickled Pink Ginger, Soy, Sesame and Wasabi
Crispy Roll of Feta, Courgette and Mint, Salad of Garden Leaves and Cucumber Chutney
Asparagus Bavarois, Feta White Asparagus, Tomato and Olive
Mains
Garden Tomato Tarte Tatin, Puy Lentils dressed with Greek Yoghurt, Lemon and Spinach
Pan Roasted Fillet of Bream, Crushed Potatoes with Lemon Oil and Chives, Confit Fennel
Roast Rump of Devon Lamb, Rosemary and Parmesan Polenta, Ratatouille and Spinach
Pudding
Baked Vanilla Cheesecake with a Tasting of Strawberries
Dark Chocolate Torte, Praline Ice Cream, Salted Caramel
Passion Fruit Tart, Meringue, Fresh Raspberries, Raspberry Sorbet
Guests also tucked into a wedding cake by Edible Essence. The beautiful bake had three tiers: lemon on the bottom, pink champagne and elderflower in the middl,e and rose and pistachio on the top. "I don't usually eat cake, but it was the best cake I've ever tasted!" says Shanice.
The reception tables were named after books, as a nod to the couple's love of reading.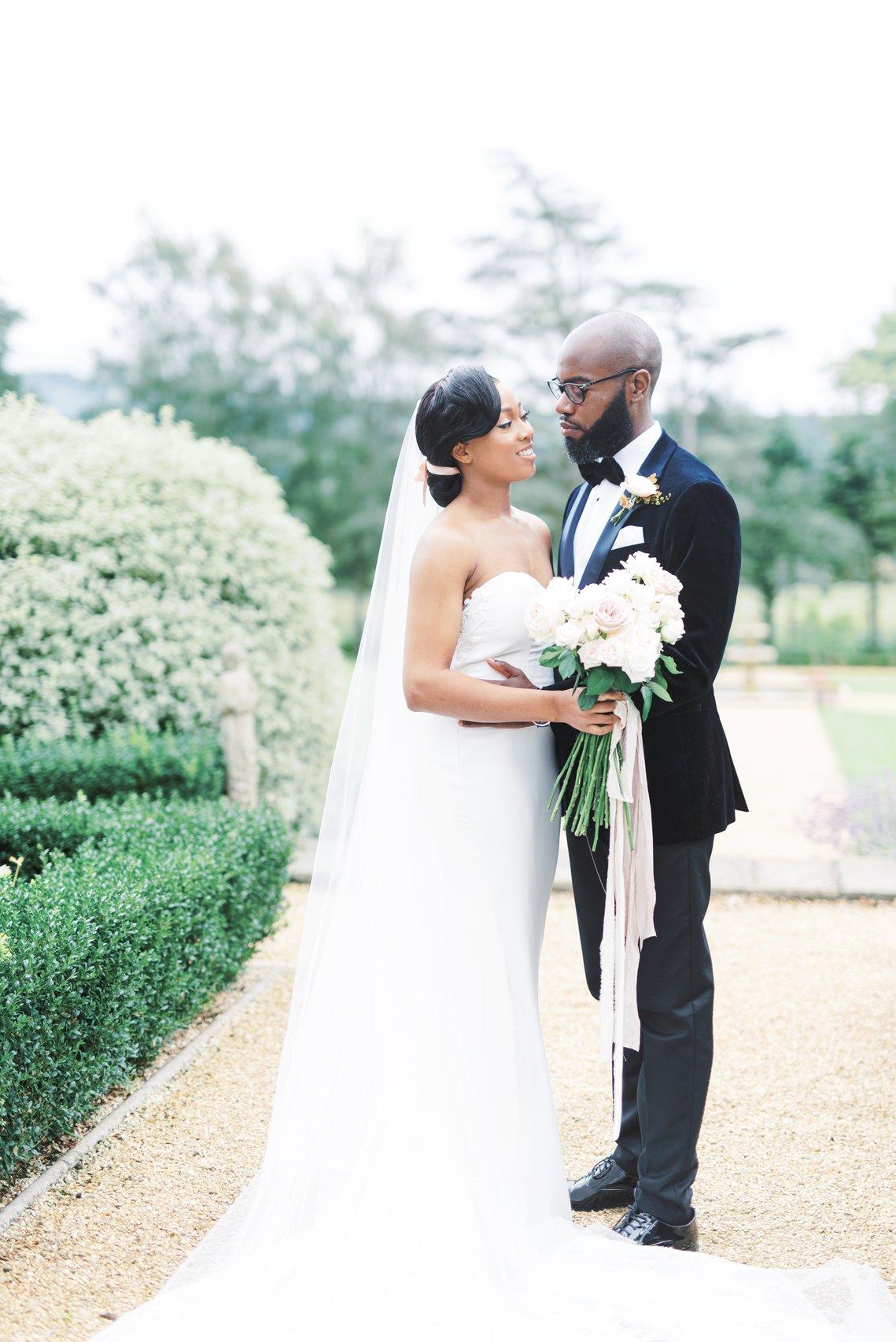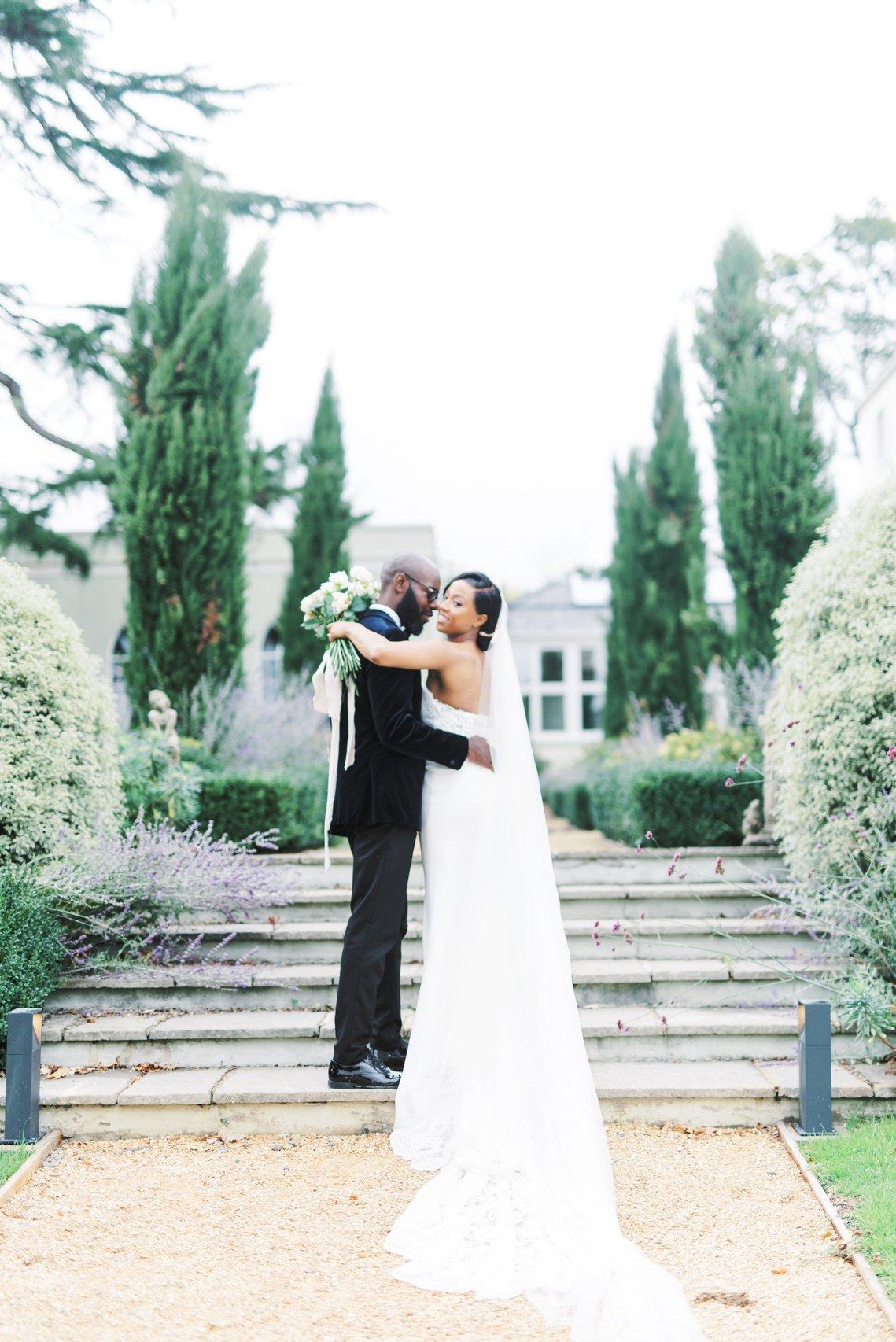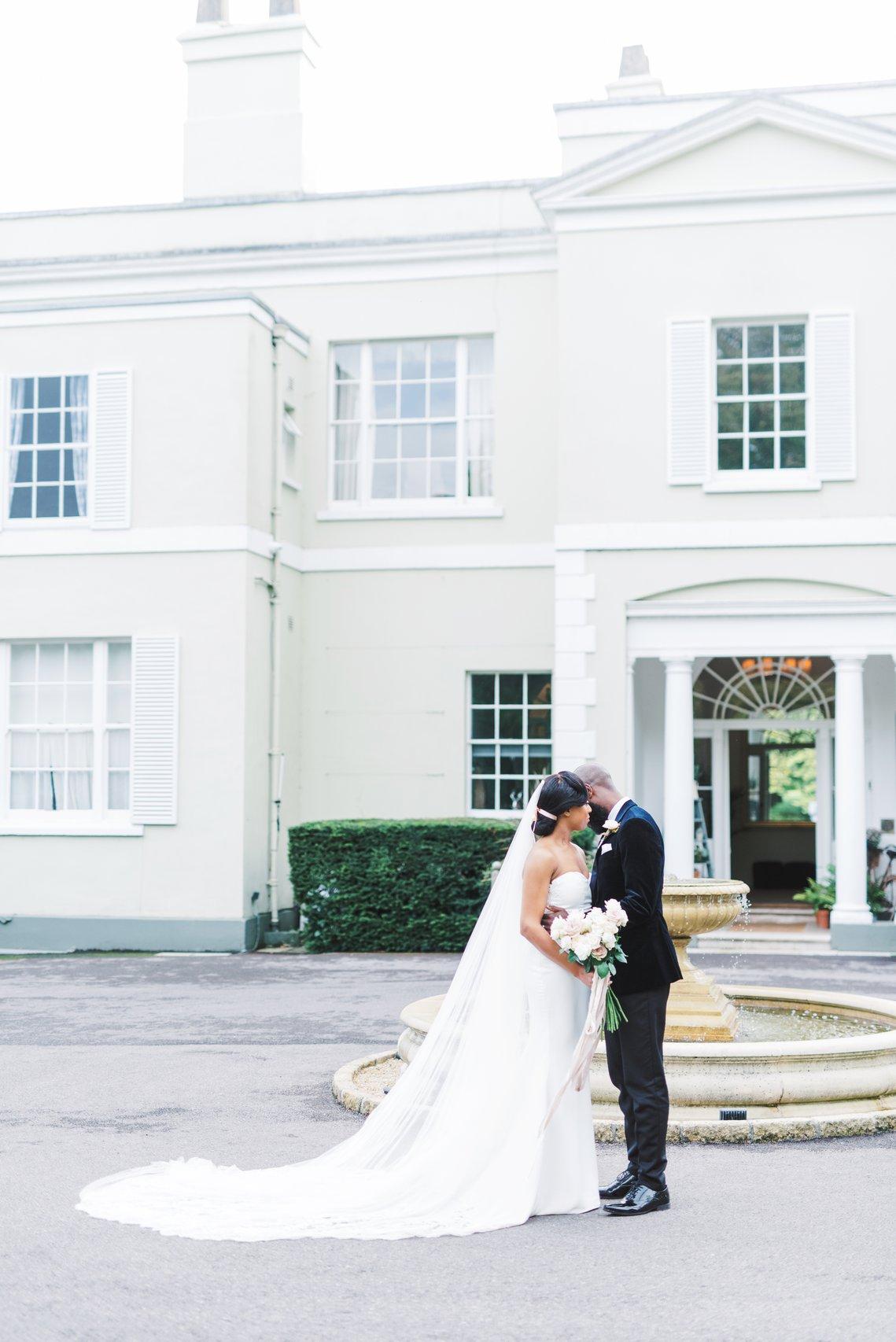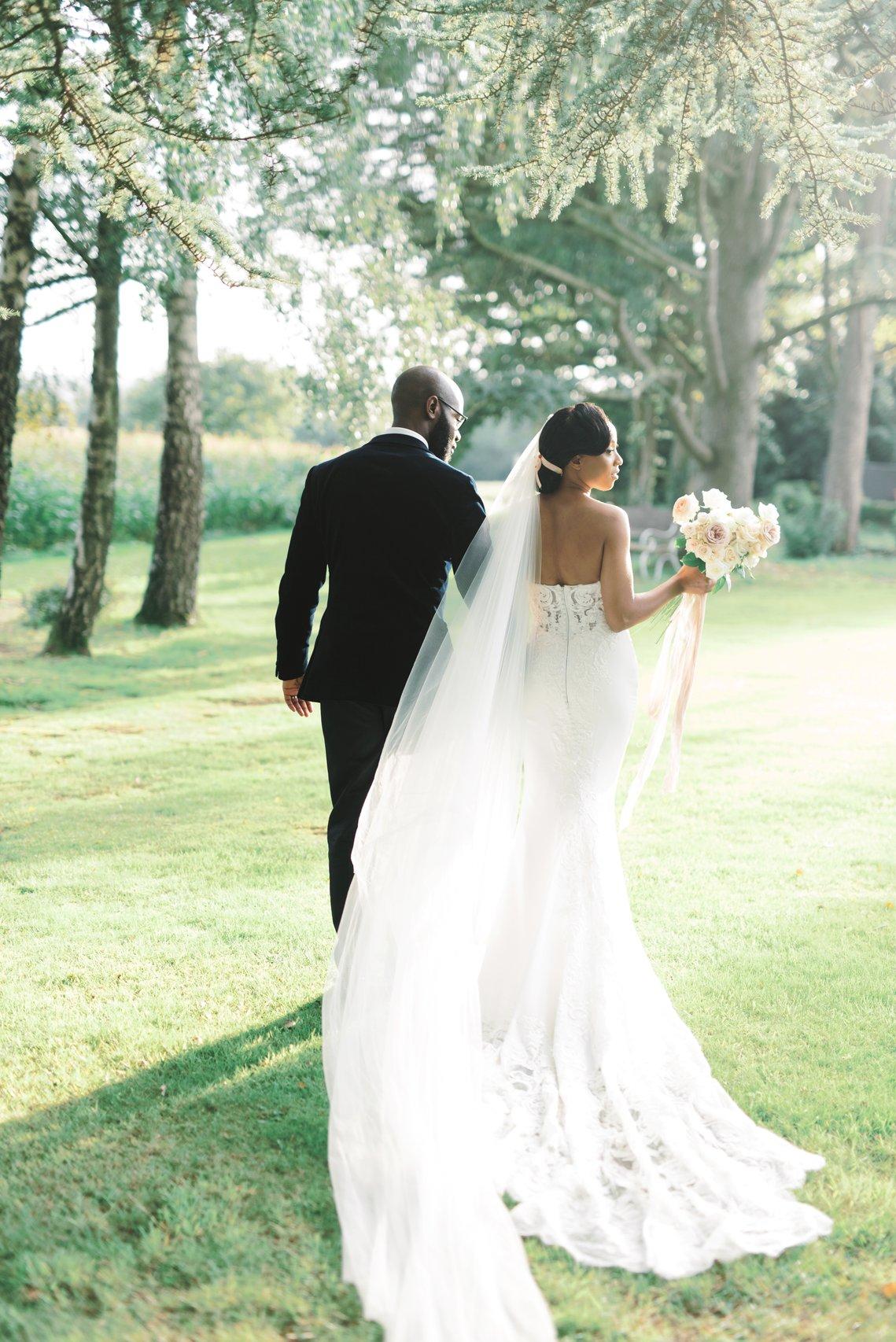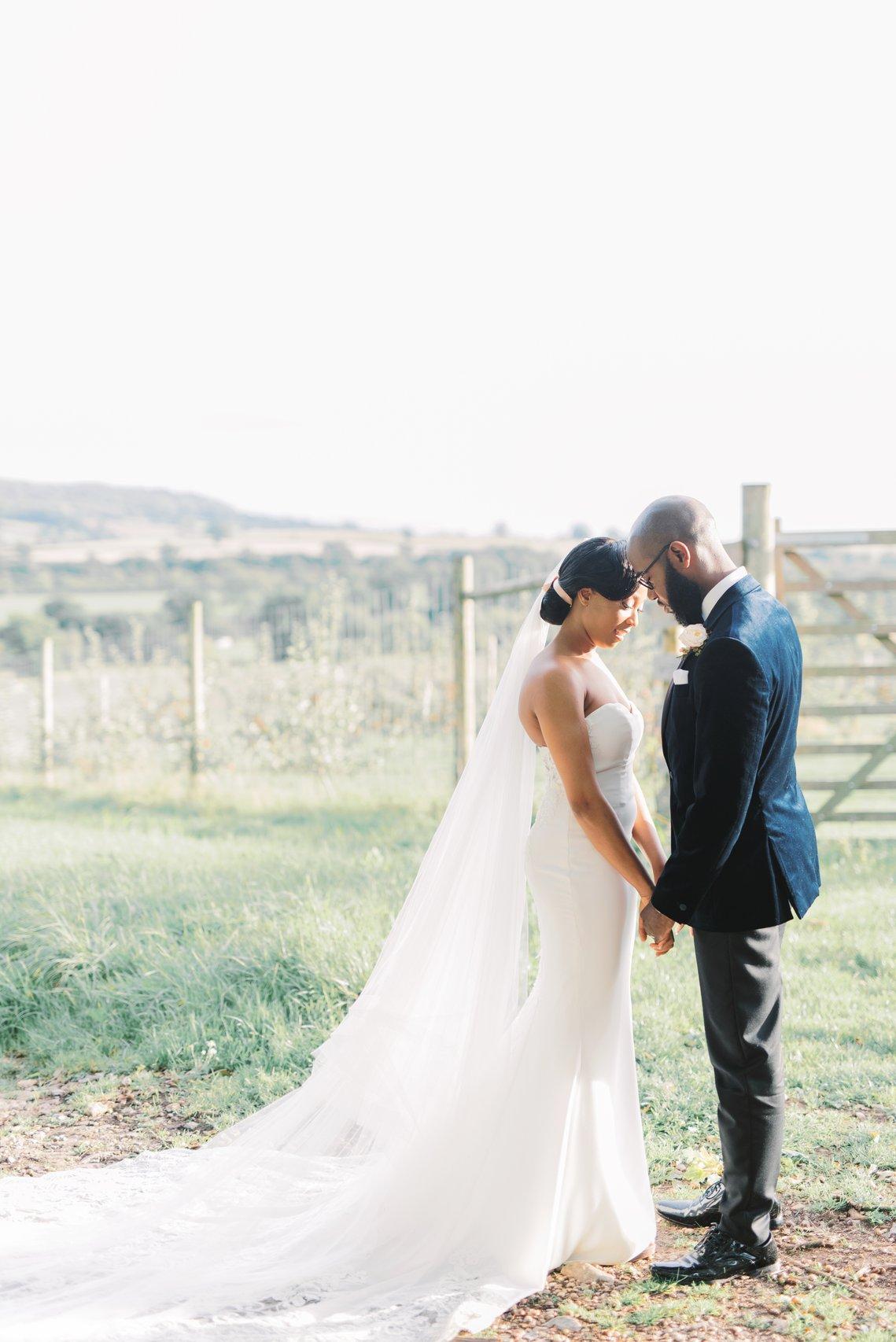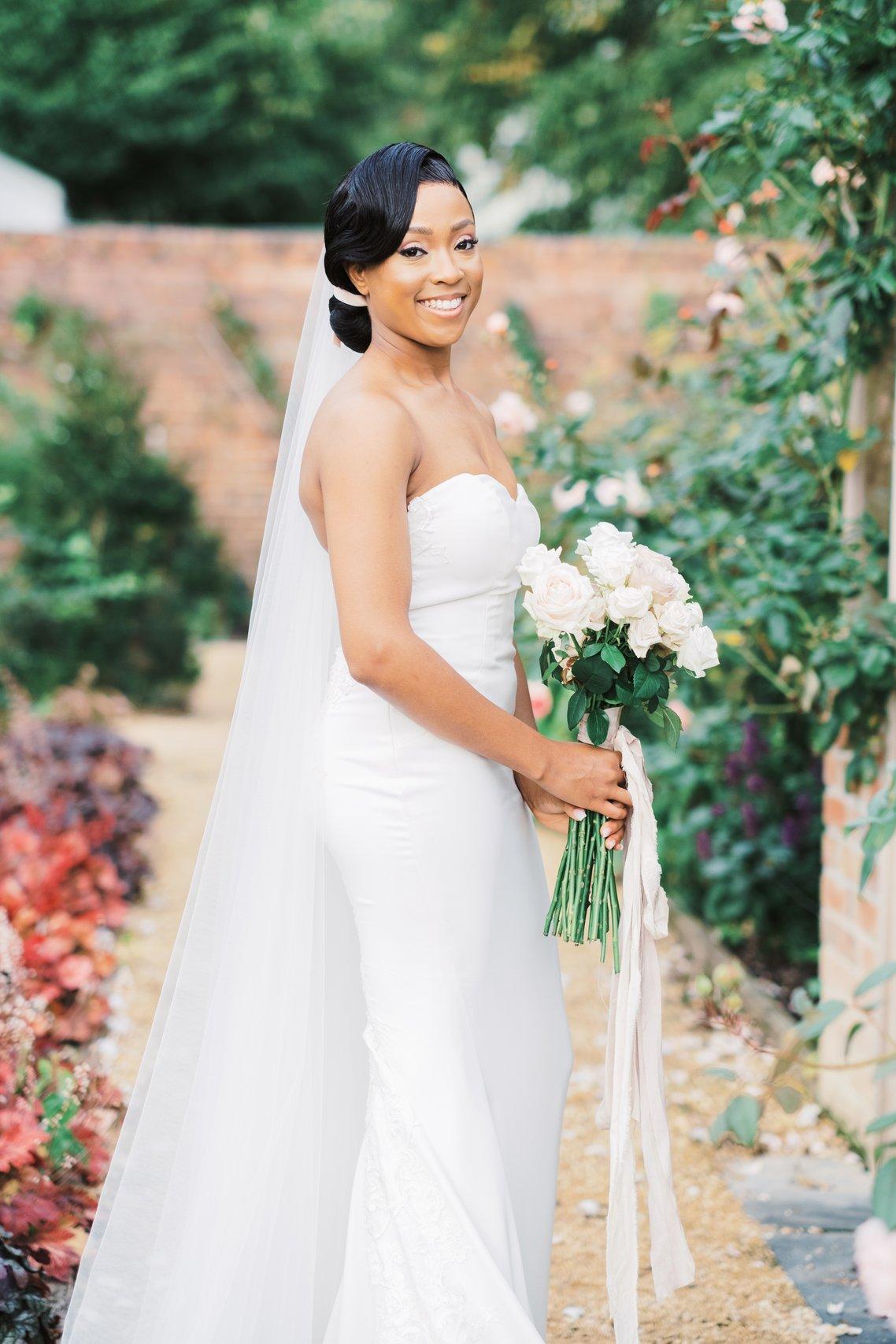 The Wedding Advice
The newlyweds' advice for other engaged couples? "Take time out for the two of you, and don't become consumed by the wedding (although it is very easy to become so)."
What their beautiful, heartfelt day shows is that even when there are restrictions, it's still possible to have a day that's full of joy. "We would have liked to be able to have more people," say Shanice and Stephen. "Other than that, it was perfect."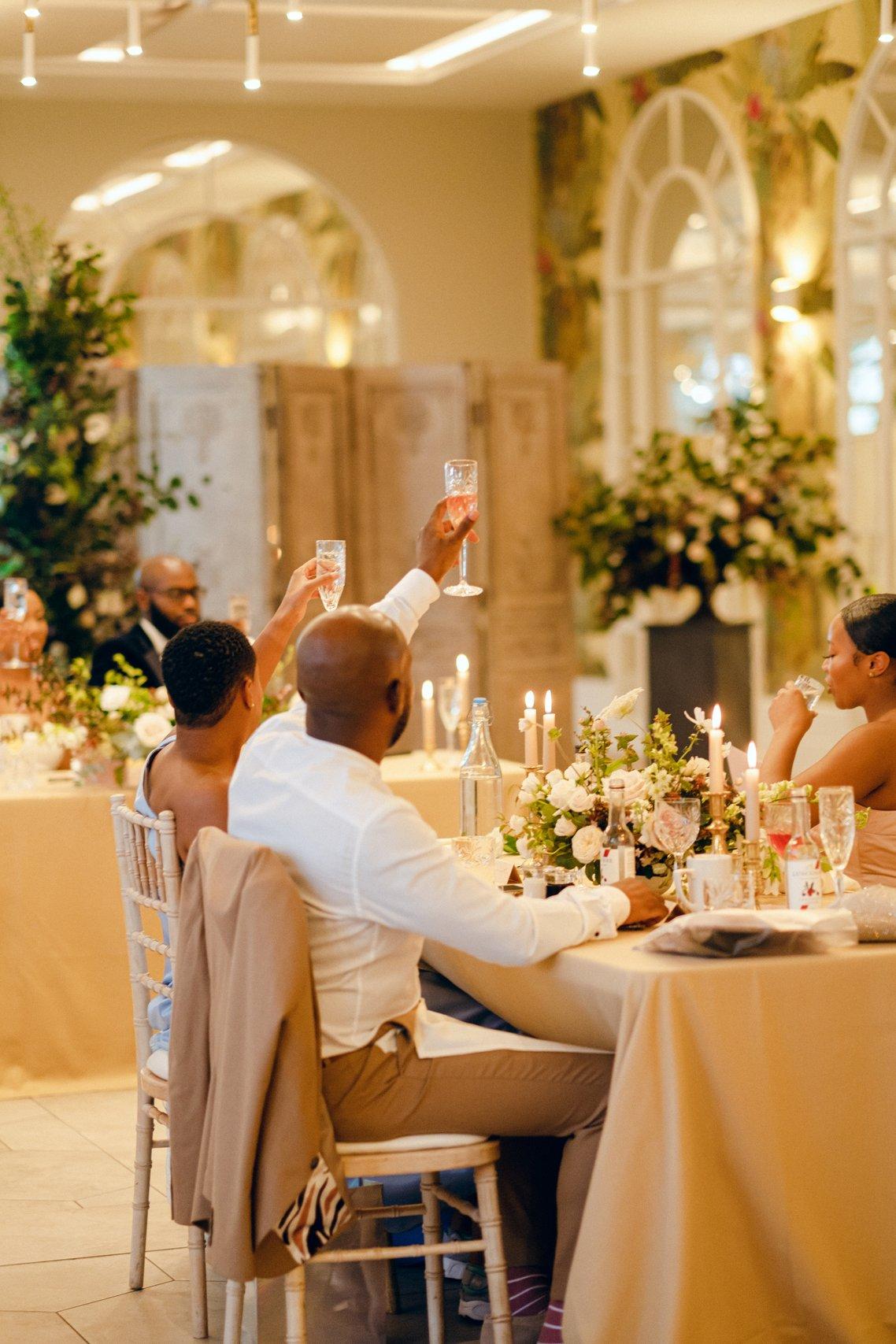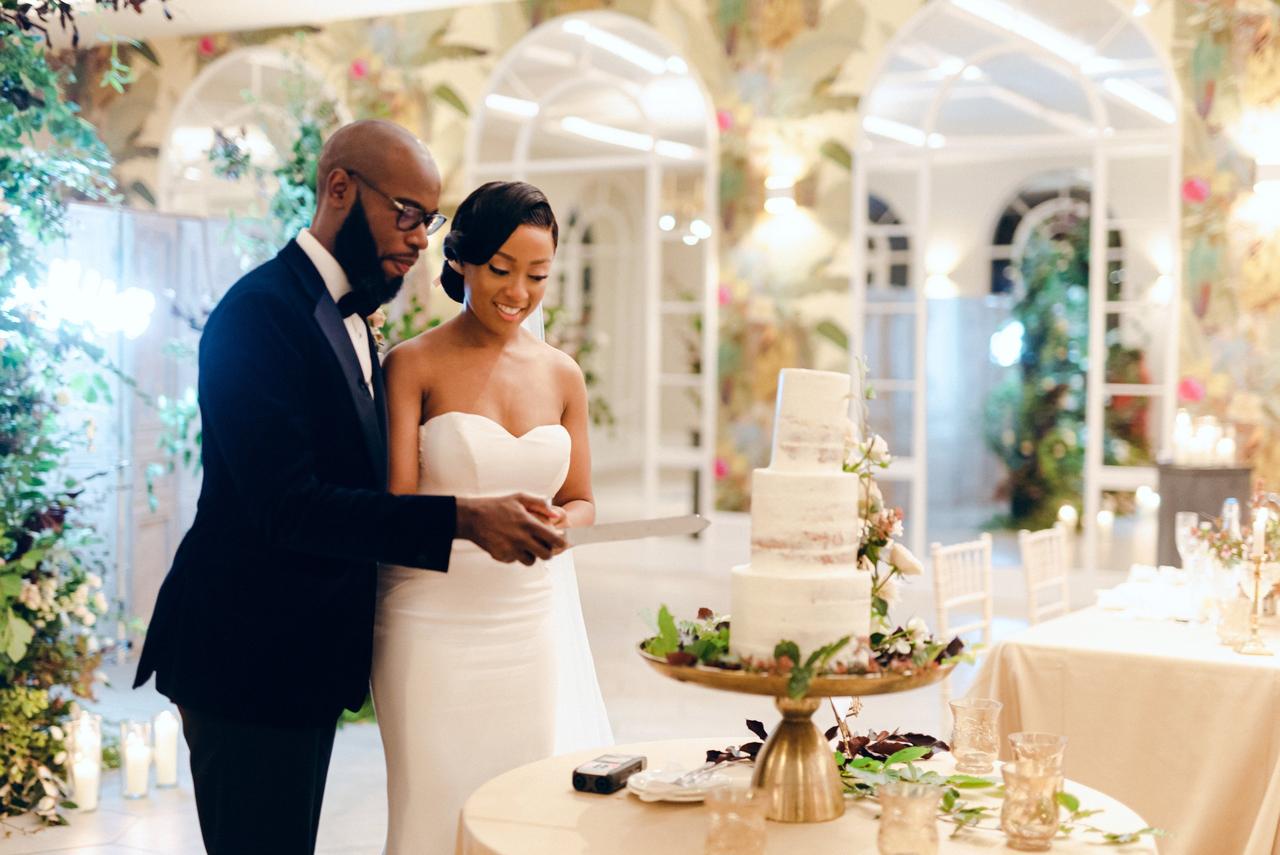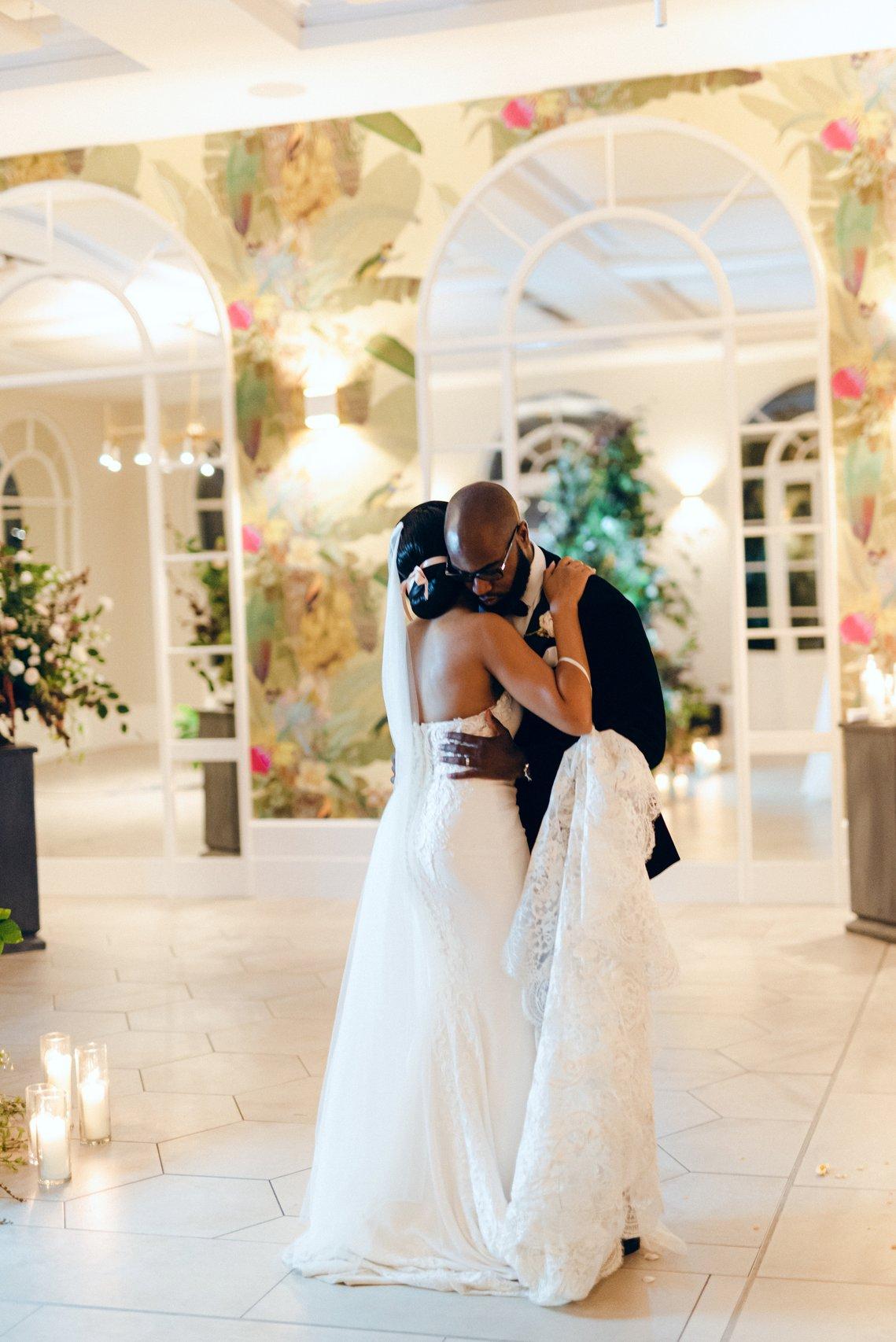 The Suppliers
Venue: Deer Park Country House
Photographer: Emma Pilkington
Videography: Handcraft Pictures
Wedding Dress: Enzoani
Makeup: Terika Chantal
Groom's Outfit: Reiss & Richie Sacks
Groomsmen: Moss Bros.
Florist: Laura Hingston
Cake: Edible Essence
Stationery: Knots & Kisses
Cellist: Jay Émme
Décor: Keeping It Vintage & Abbotts Event Hire
Sound System: NUB Sound
Thank you to Shanice and Stephen for sharing their wonderful wedding!