Real Covid Wedding: Melissa and Matt, Fairyhill, Swansea
It was an unexpectedly early wedding day for Matt and Melissa when they tied the knot at their intimate Welsh wedding. They pulled off the most magical day and will get to relive it at their second ceremony next year!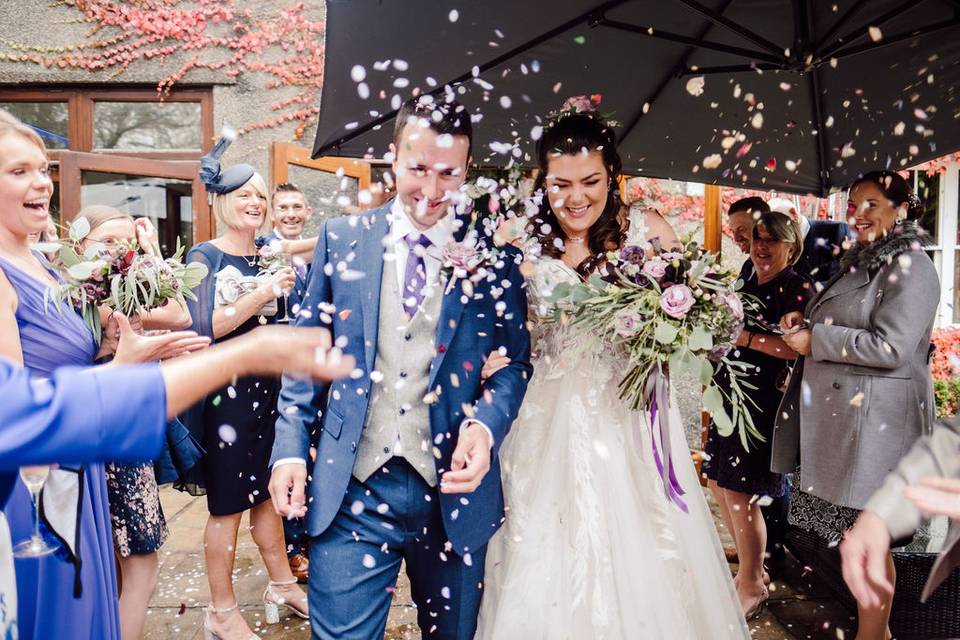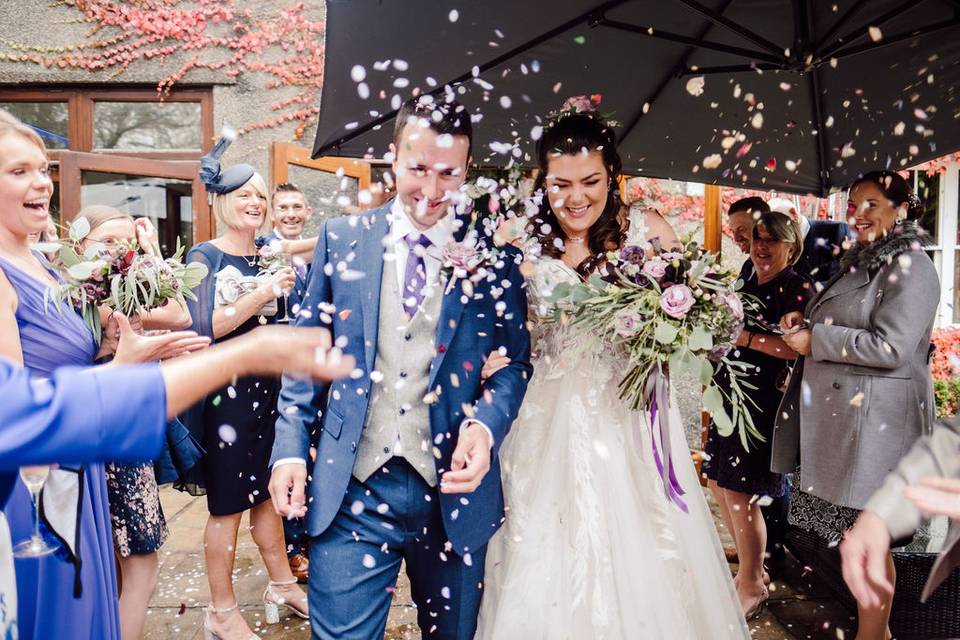 With Welsh lockdown restrictions set to tighten two days before their wedding, Melissa and Matt quickly decided to move their intimate day forward. They married on the 21st October at Fairyhill, an elegant country wedding venue in the heart of the Gower, with 27 guests.
The couple met on Tinder in 2014 and Matt was Melissa's very first match. Seven years later, they tied the knot.
"For our first date we went to Southerndown Beach in Bridgend. We had a picnic and almost got washed away by the tide!" said Melissa.
"On 5th January 2019, we went for a walk to the same spot. It was a cold and wintry day, we sat on top of the cliff and Matt said, 'Will you be Mr Carrel?' (yes, he said Mr). I'm still not sure if I said yes…
"But it was perfect, just the two of us."
Scroll on to see their wonderful first look and read Melissa and Matt's excellent advice for anyone else changing their wedding plans.
Photographer: Chris Andrews Photography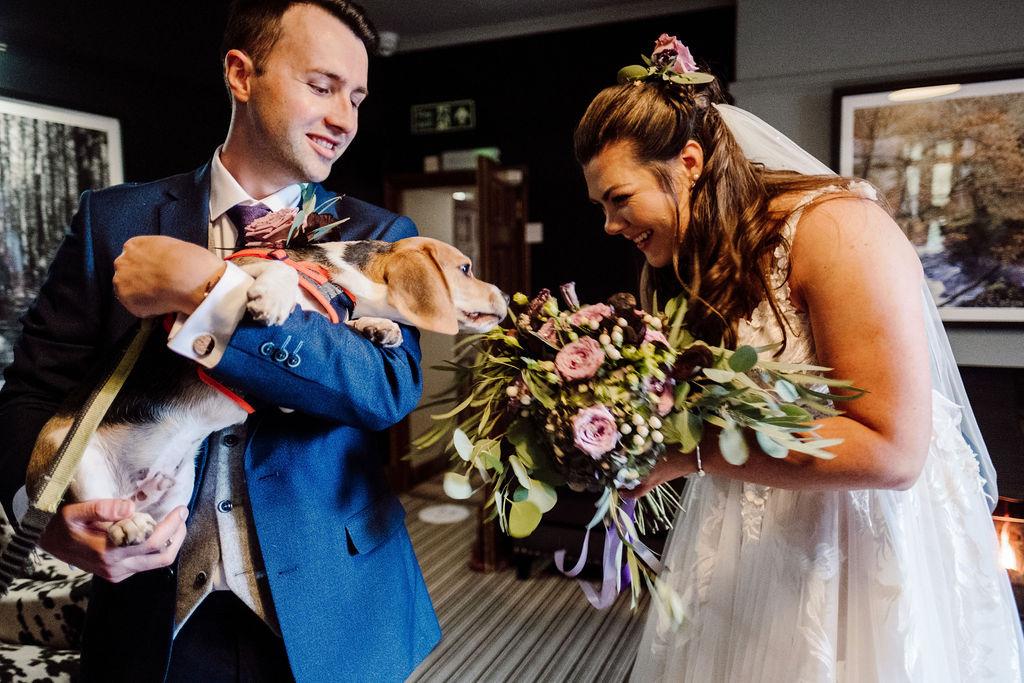 The Wedding Dress
Melissa wore the beautiful 'Juliet' dress from the Riki Dalal Shakespeare Collection, bought from Eva Ashley Bridal in Swansea.
"I loved my dress so much! It was the only dress I wanted to try on. I'd seen the dress on a few brides at Fairyhill and I just knew I had to see it in person," explained Melissa.
"It wasn't the first dress that I'd tried on, but I went to Eva Ashley and there it was. I fell in love with it. The fact is had so much detail: the 3D flowers, the boning and the body was beautiful – it gave me a waist! The skirt had seven different layers including a Champagne layer which really complemented my skin tone. It just fell together perfectly.
"I'm so lucky I get to wear it again next year for our second day at Fairyhill. We didn't have an evening do due to the local restrictions in Swansea so we've got a big celebration again in March 2022. I mean, what bride gets to wear her dream dress twice!?"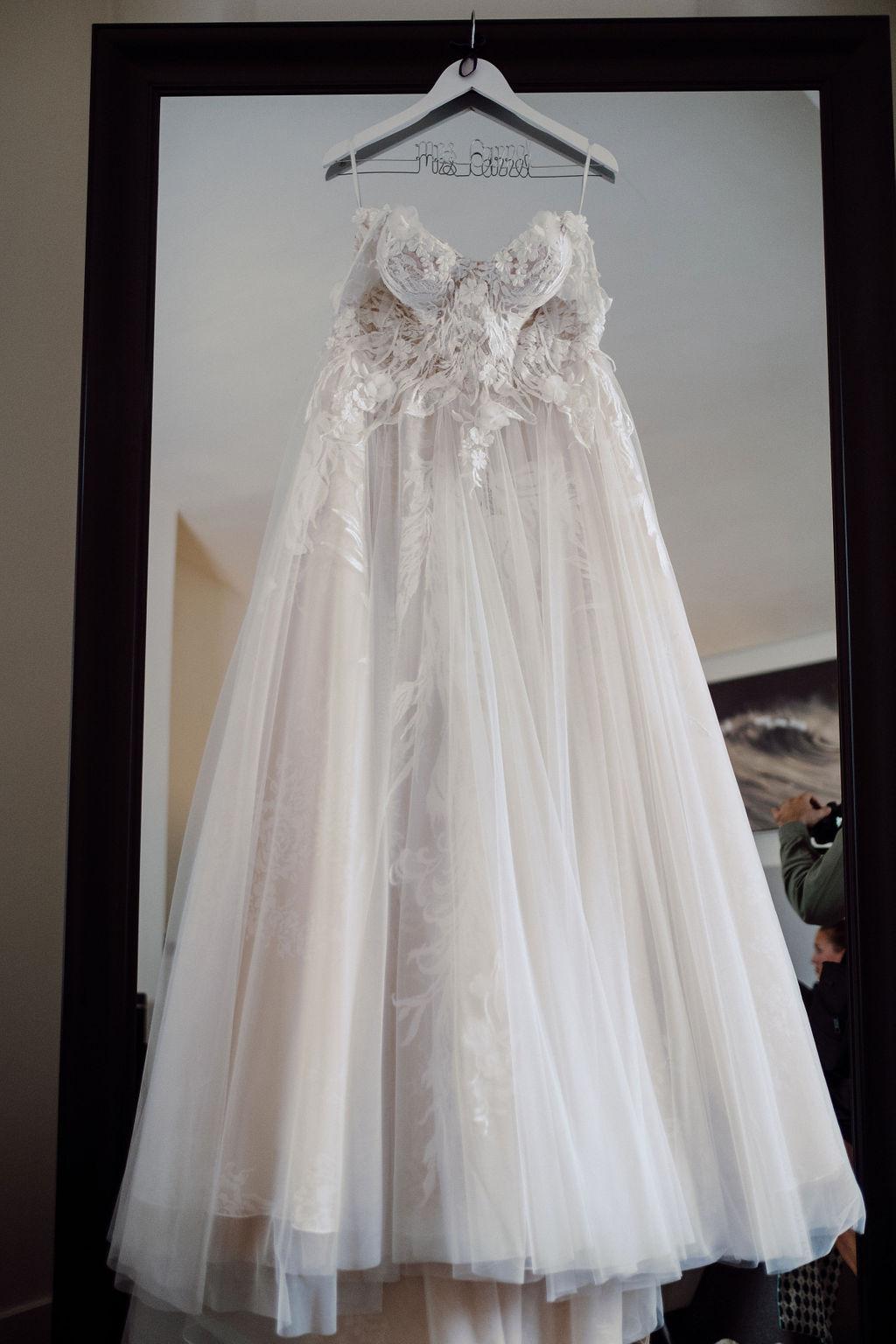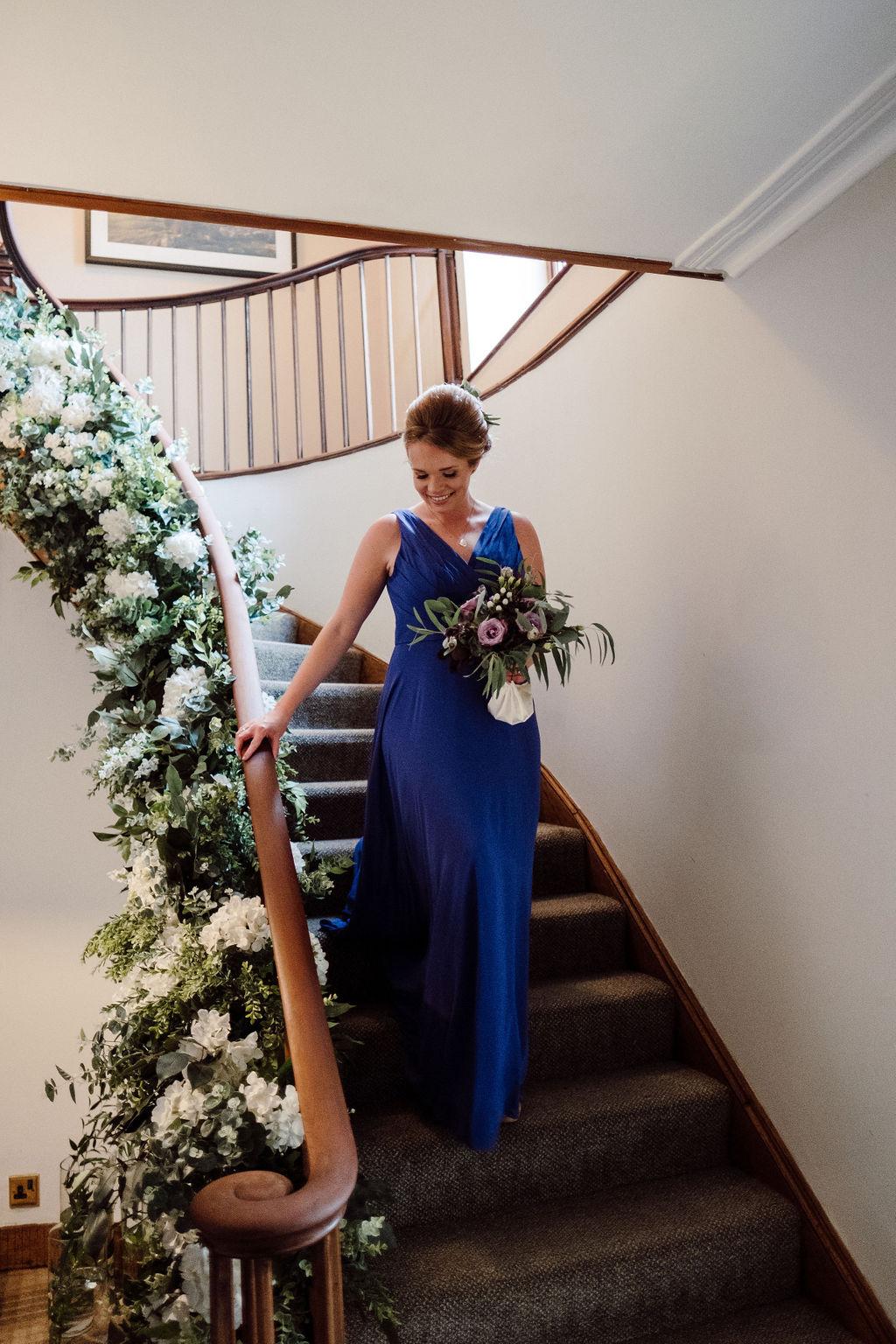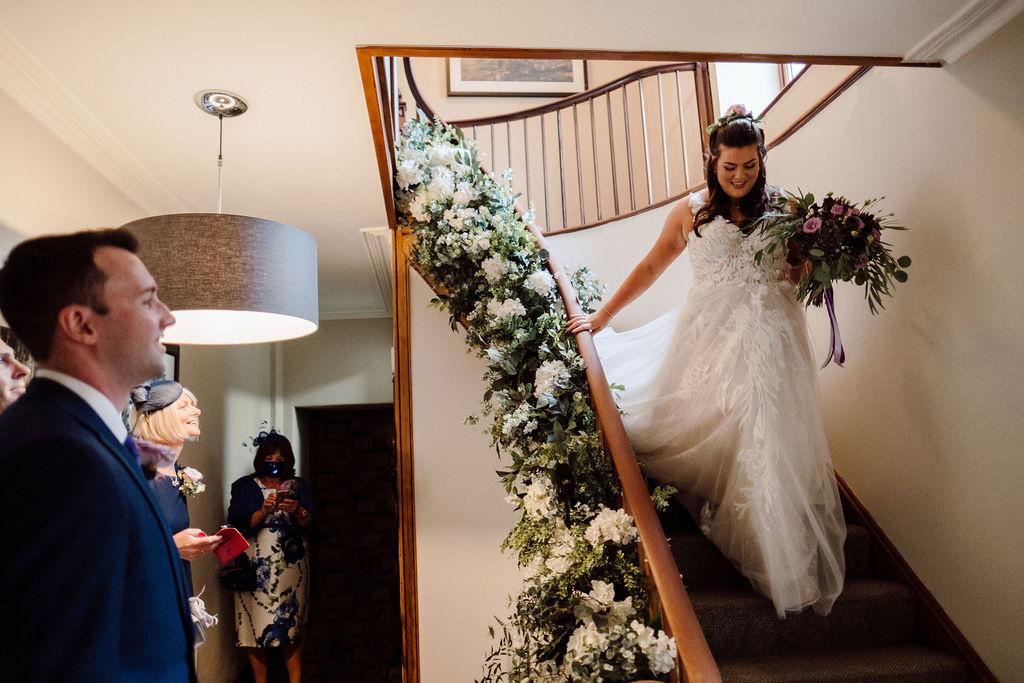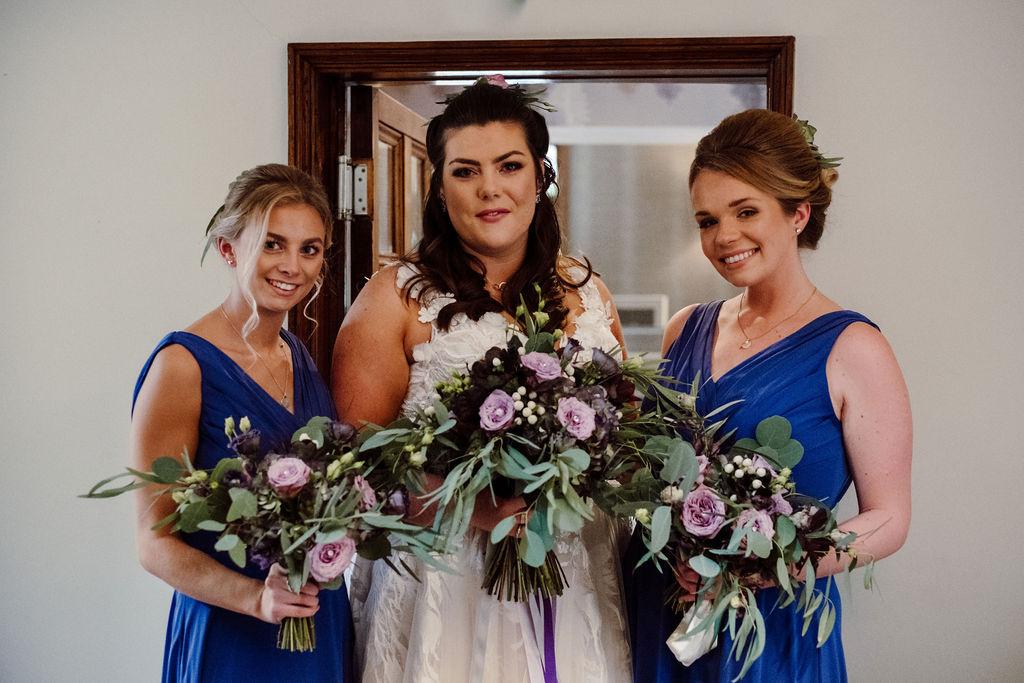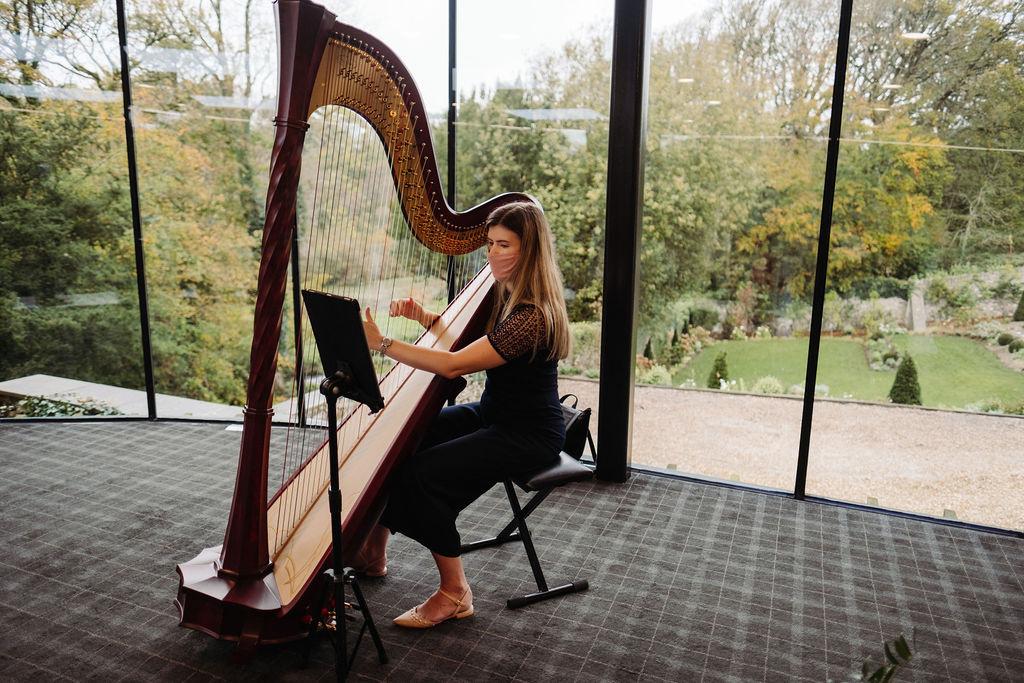 The Wedding Party
Melissa got ready with her two bridesmaids, Lucy and Olivia. Lucy is her sister-in-law and Olivia is a friend she met in Turkey in 2009 and has been inseparable from ever since.
Melissa's glam team were Katie Lancey of Gower Glow and Sarah Marie Hair.
"The bridesmaids dresses were from WED2B. They had a cowl back to them and were in this gorgeous purple. It's my favourite colour but it was hard to find a purple that wasn't tacky. They were floor-length, open back, and they had their hair up so you could see the design and detail."
Likewise, the groomsmen wore Melissa's favourite colour purple to match the bridesmaids - this time in their ties.
"Their suits were from Slaters in Cardiff. They were all navy blue expect for Matt's, he had the same suit but his waistcoat was grey," she said.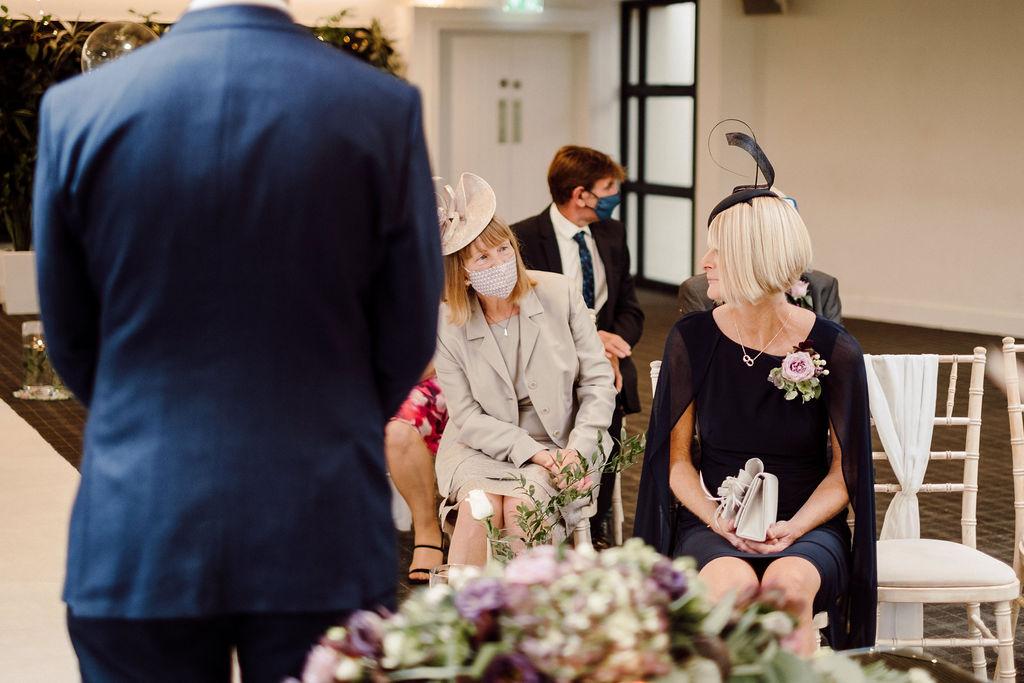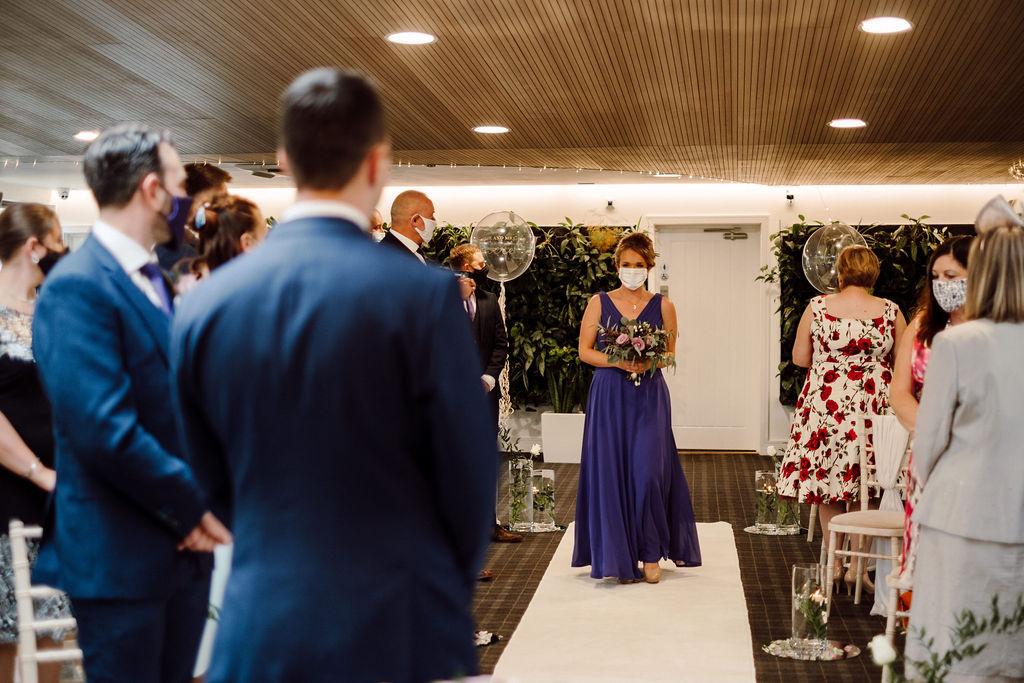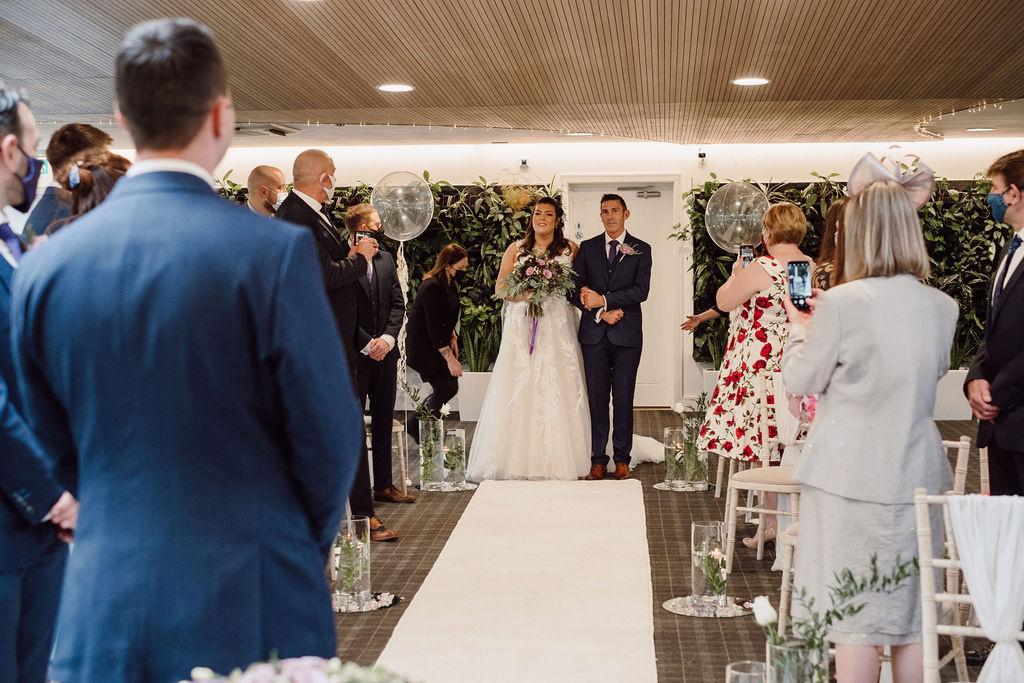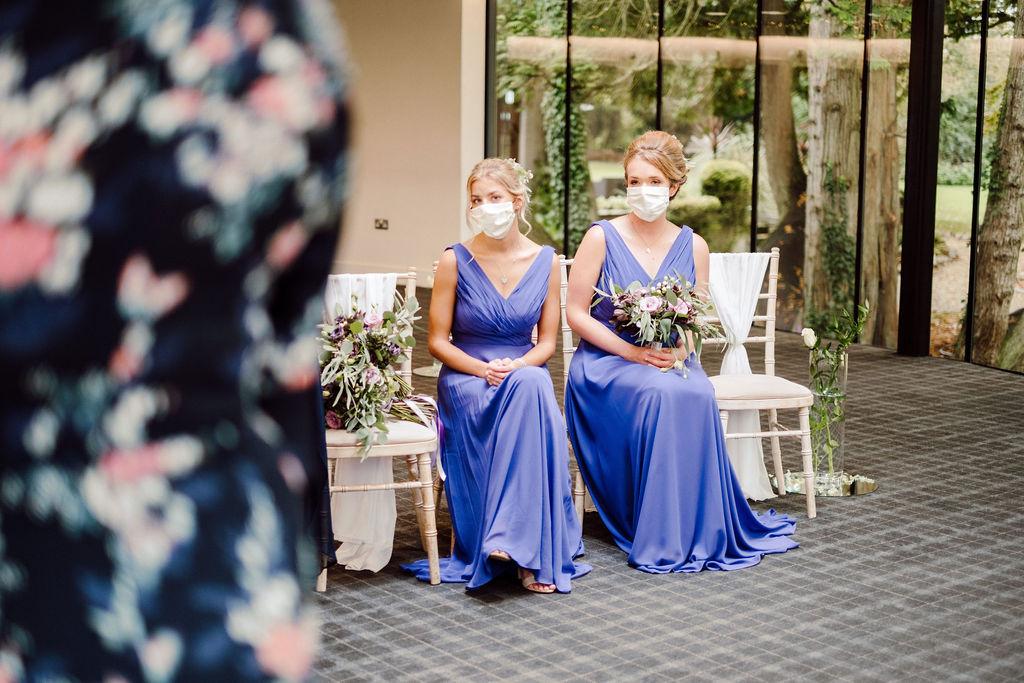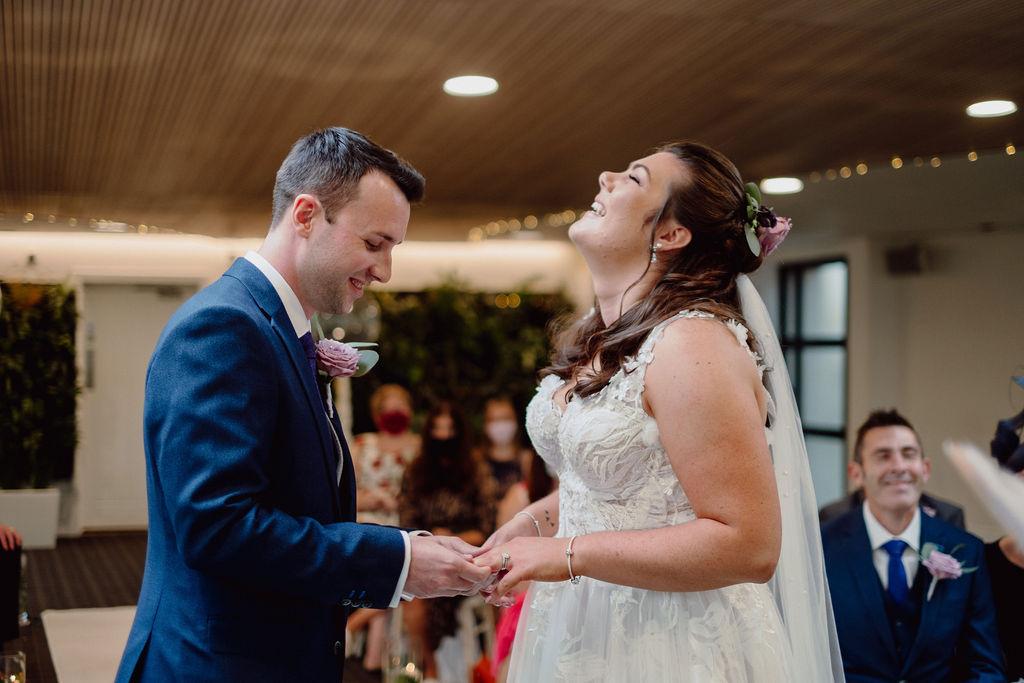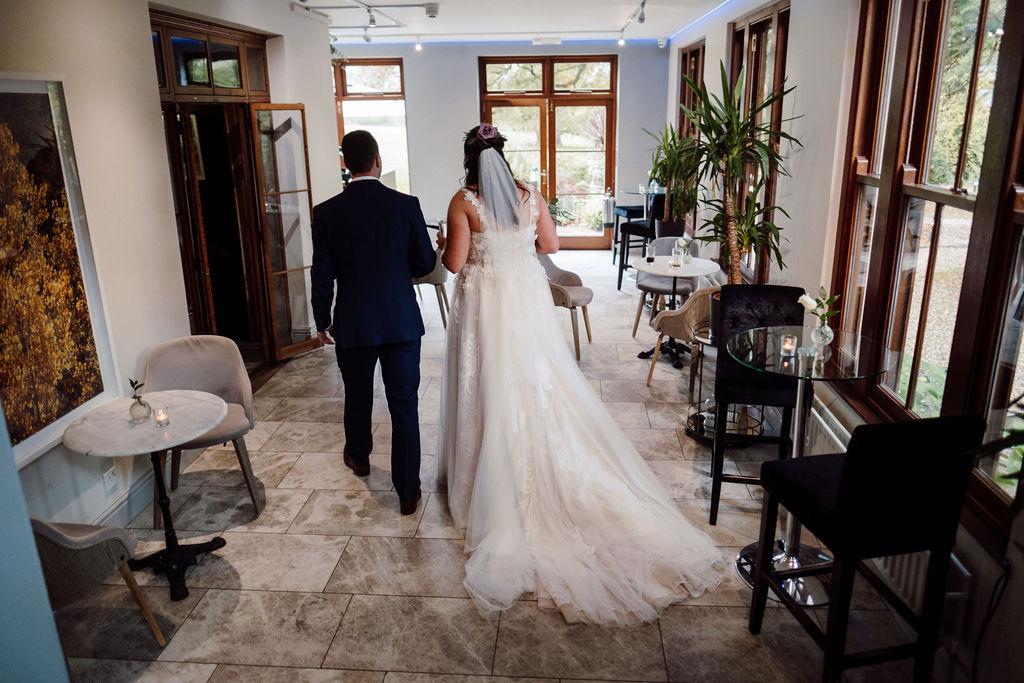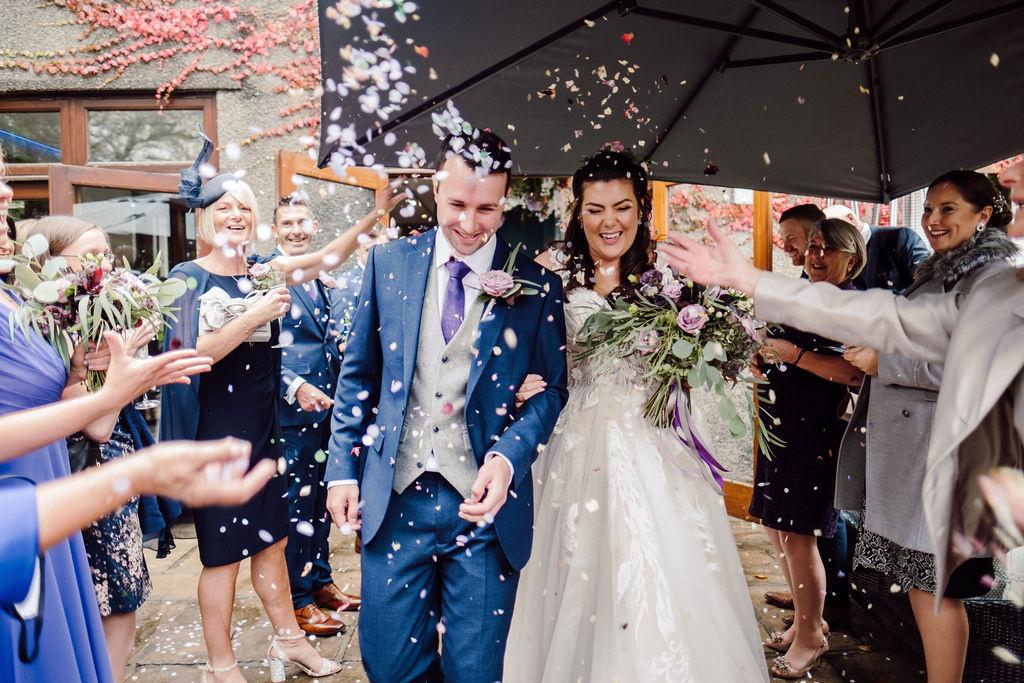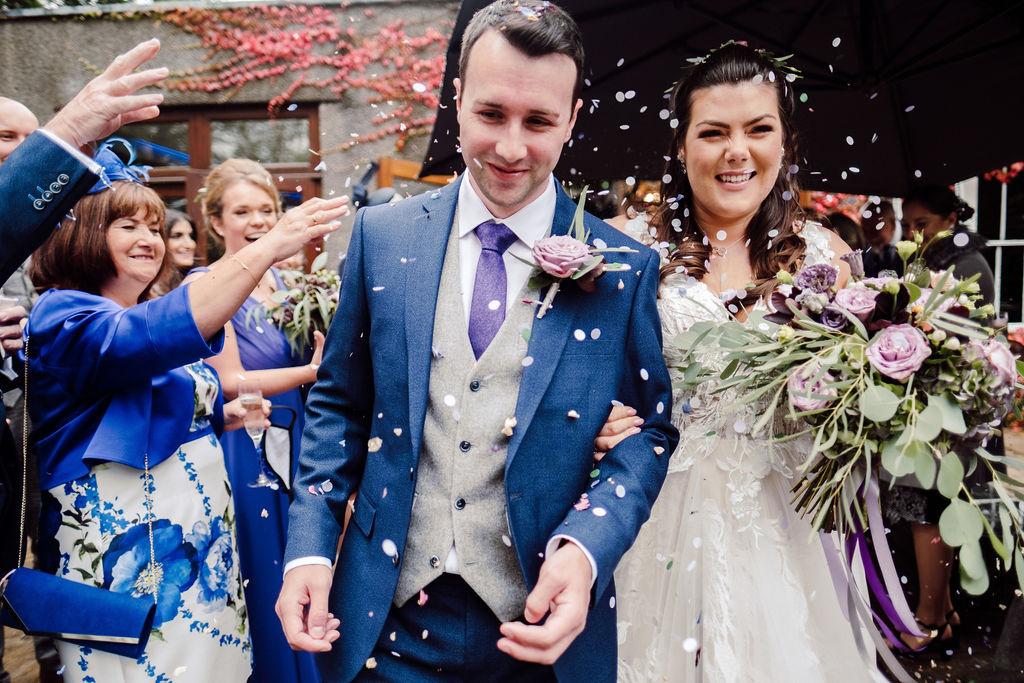 The Change of Plans
"We were originally due to get married on 25th October 2020, but the Welsh Government were due to bring more restrictions in place from the 23rd," explained Melissa. "Greg [Fairyhill's wedding coordinator] called us a week before and advised us to bring it forward by a couple of days which we did. We wanted something positive to come out 2020 and we were determined to get married!"
They moved their wedding four days early and married on Wednesday 21st October with 27 guests.
"Wedding planning during Coronavirus was one of the most stressful things I've ever done," said Melissa. "They say wedding planning is stressful anyway but trying to plan through a global pandemic didn't help. I can't praise Greg enough. The amount of times I cried on the phone to him, he really did go over and above.
"We're so lucky that we had a venue that was there for us when I needed to call and cry. The situation changed for us every week due to the restrictions but we're so glad we went along with it.
"On the day, it was like Covid didn't exist. We completely forgot about it and all the stress was worth it."
The couple adapted their day for the restrictions: they arrived early to the venue and got ready in the honeymoon suite, and had their guests wear masks inside, "but the weather was so dry we tried to spend as much time outside as we possible could."
Their reception was saved for a later date.
"We've booked our big celebration for March 2022. We're having the full day again starting from the drinks reception and literally picking up from where we left off.
"For us, we want the sit-down meal and a good party in the evening! After everything last year and this year, we're all certainly deserving of a big party!"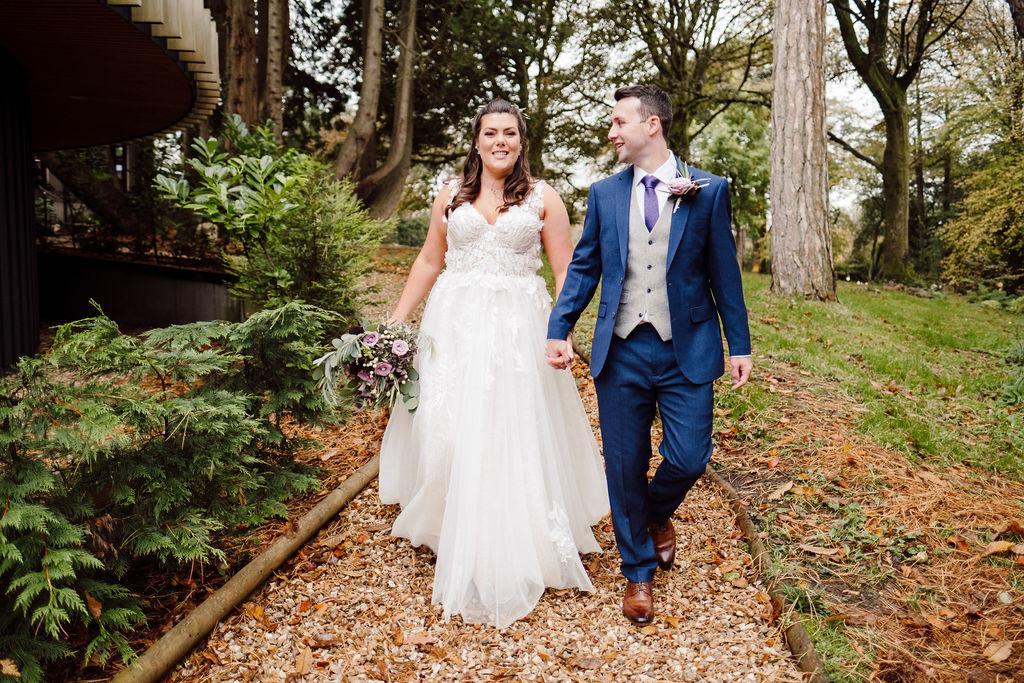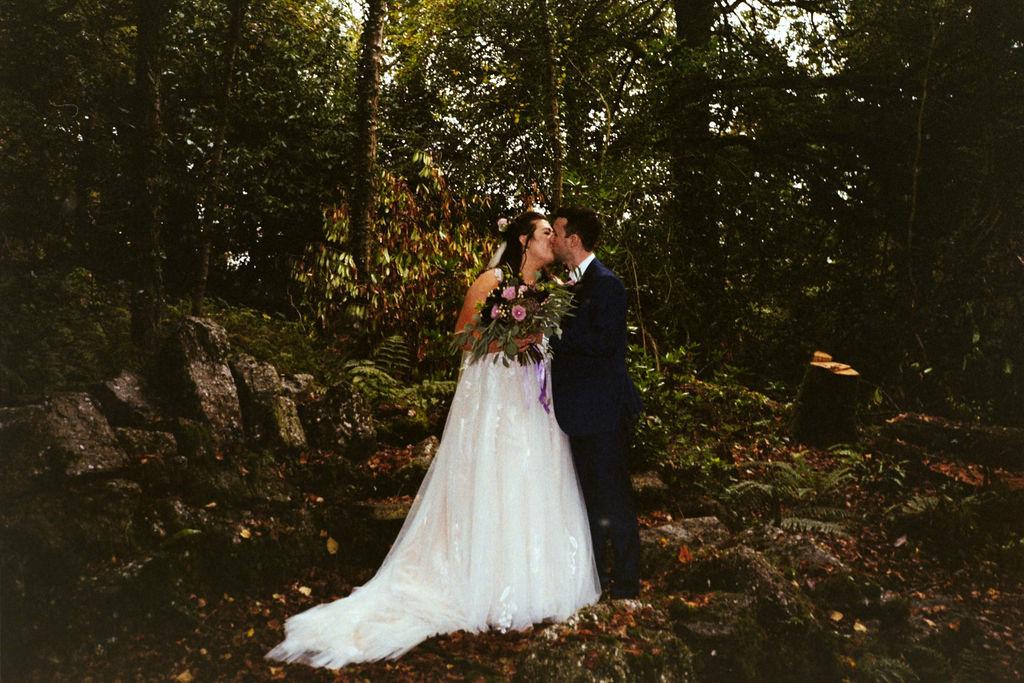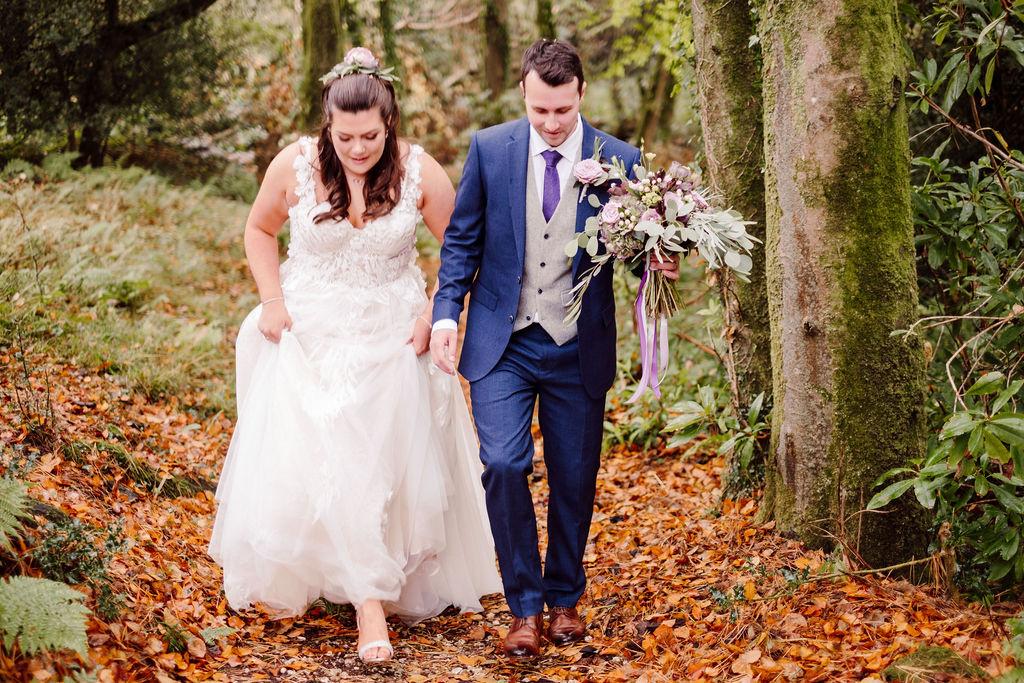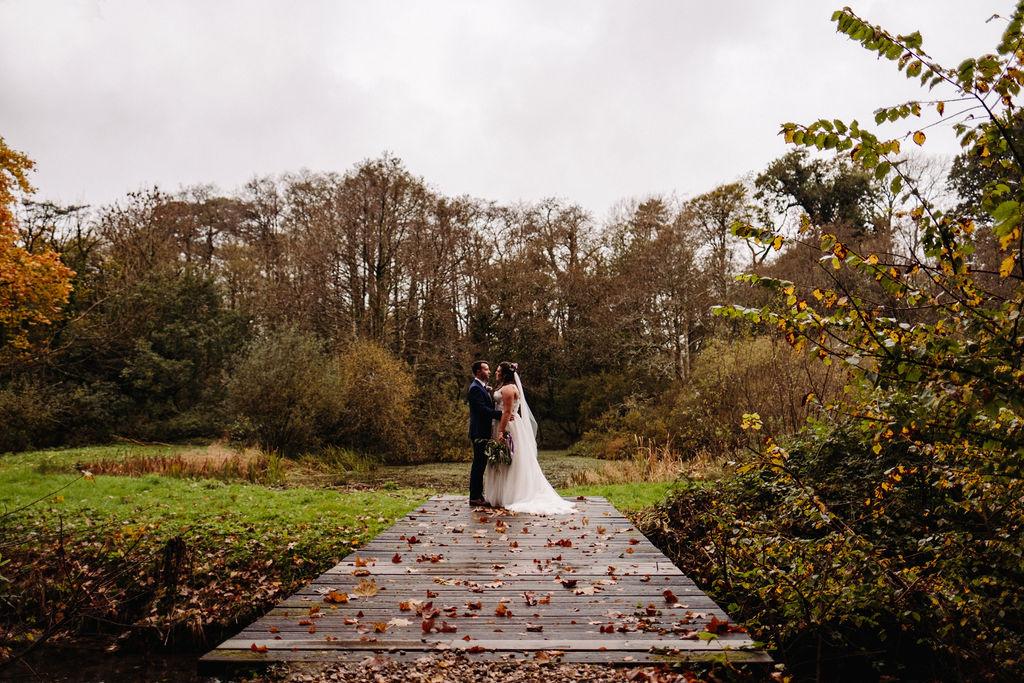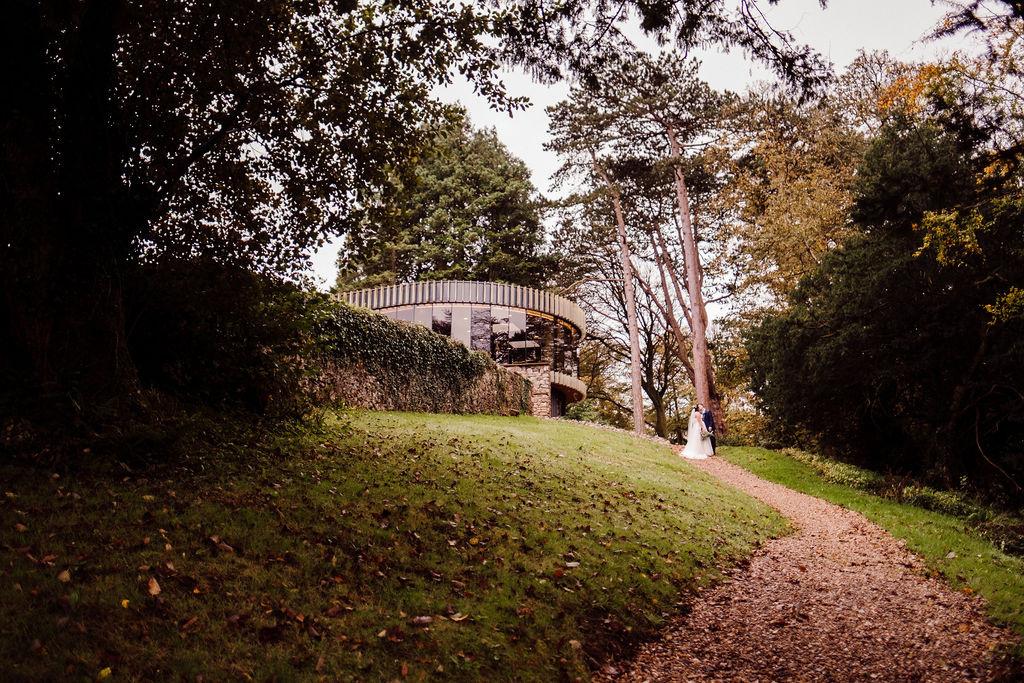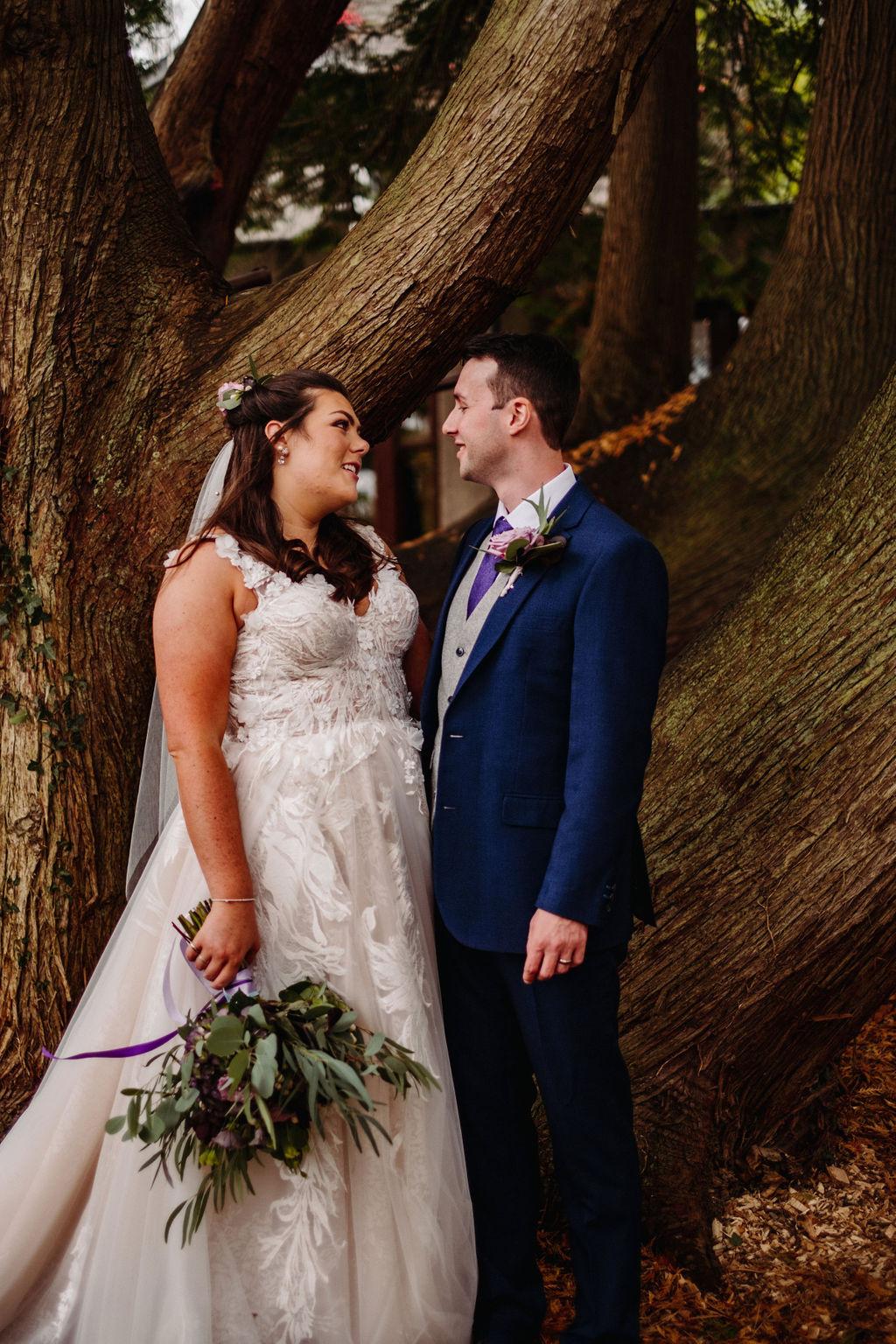 The Wedding Ceremony
Melissa and Matt chose the beautiful venue of Fairyhill but opted for a slightly different start to the traditional wedding ceremony due to the Covid restrictions.
"Because of the restrictions and the fact we had to wear a mask, we decided to have a 'first look' before the ceremony. The bridesmaids and I walked down the stairs at Fairyhill and Chris, our photographer, captured the first look when Matt saw me.
"It was amazing, because I got hear Matt's reaction to my dress. If I'd have been the other end of the aisle I wouldn't have been able to hear him say 'Oh wow'. It was such a lovely moment.
"Our photographer mentioned doing the first look, and we're so glad we did it."
Melissa walked down the aisle with her dad to the Kina Grannis version of 'Can't Help Falling In Love' from the movie Crazy Rich Asians. More than 100 people watched their live stream of the ceremony, including work colleagues watching it live during their work day!
"Our elderly relatives were also able to watch us too which was amazing. They said it was brilliant. Matt was all mic'd up so they could hear everything perfectly too," said Melissa.
For the bride, the most memorable part of the day was walking into the K Room. "I remember thinking, 'It's finally here, I'm in my dress doing it now.' Especially after the year we've had, we're just so lucky we got to have our day."
However, her favourite moment was definitely the first look with Matt. "I really enjoyed the first look, it was so lovely. We also enjoyed everyone mingling and chatting. Due to the intimate set-up, it was so lovely to have the opportunity to chat with everyone that was there and thank everyone."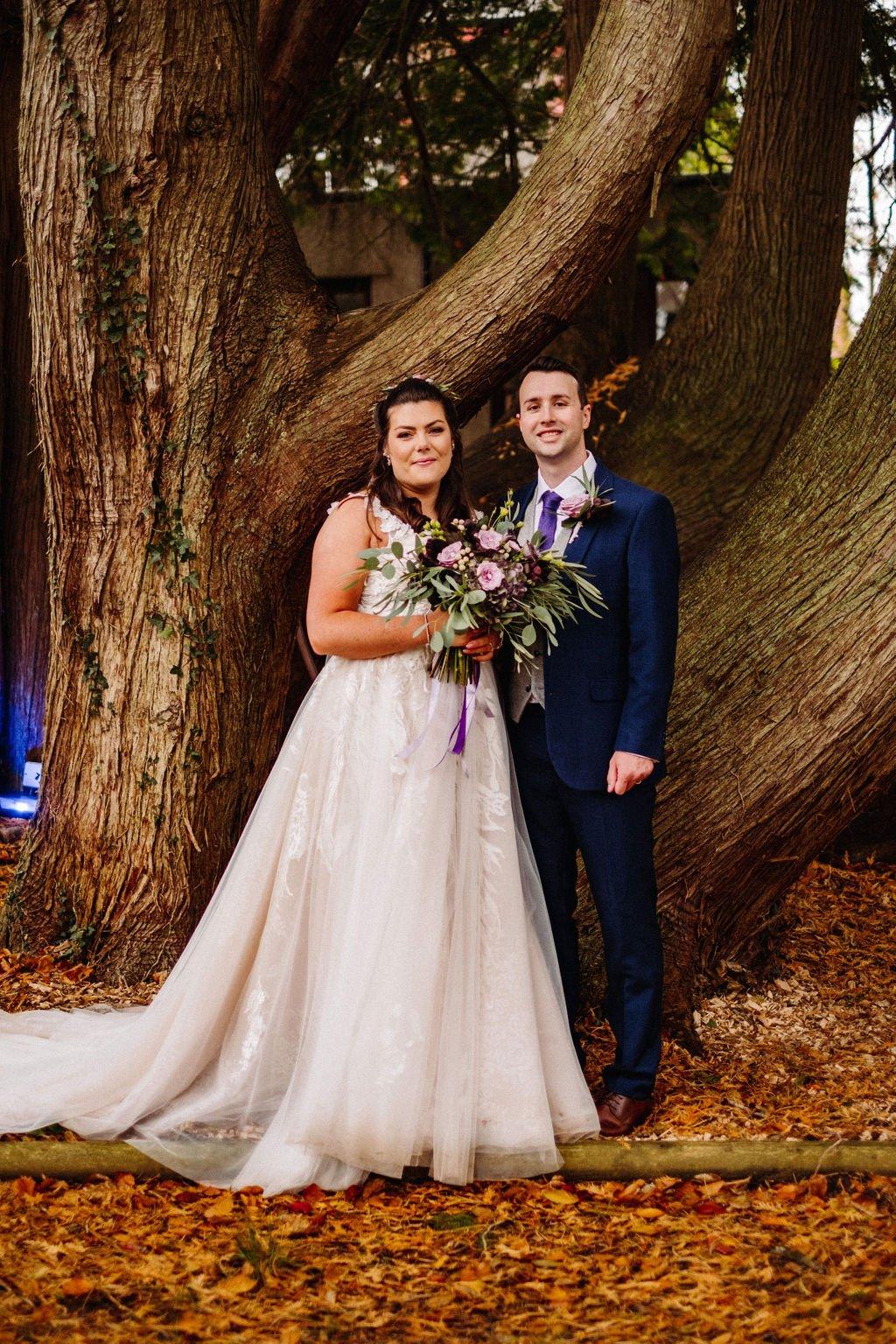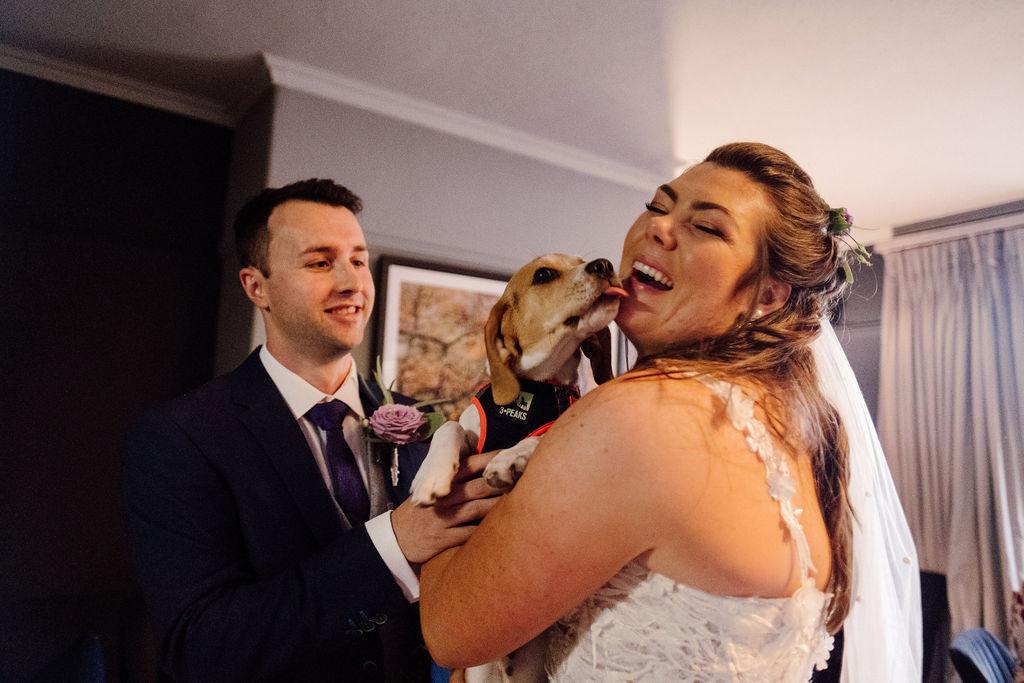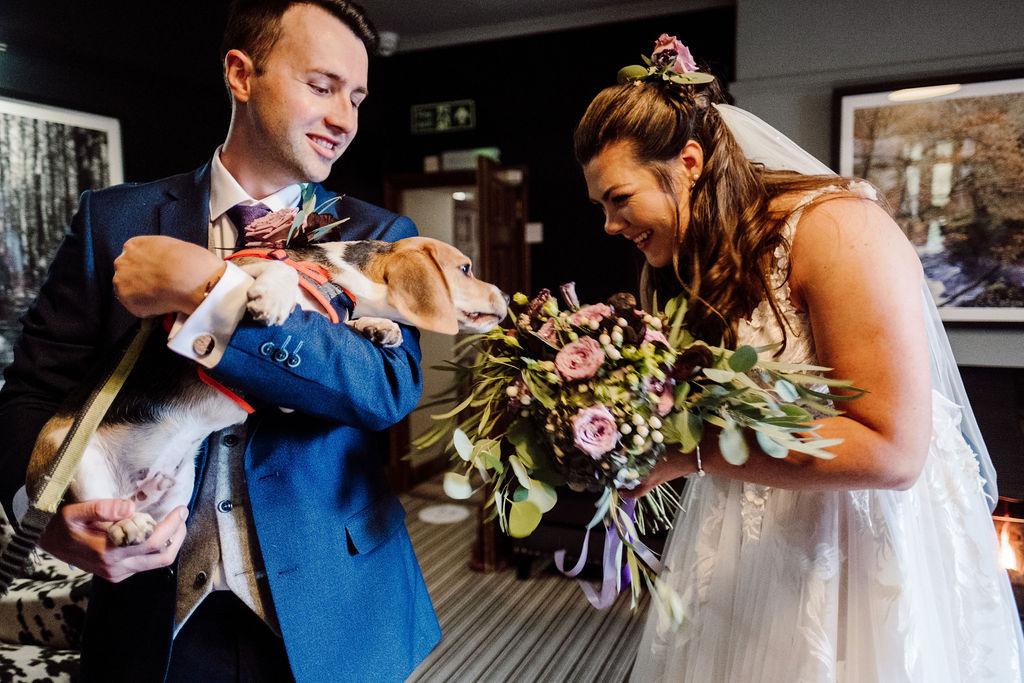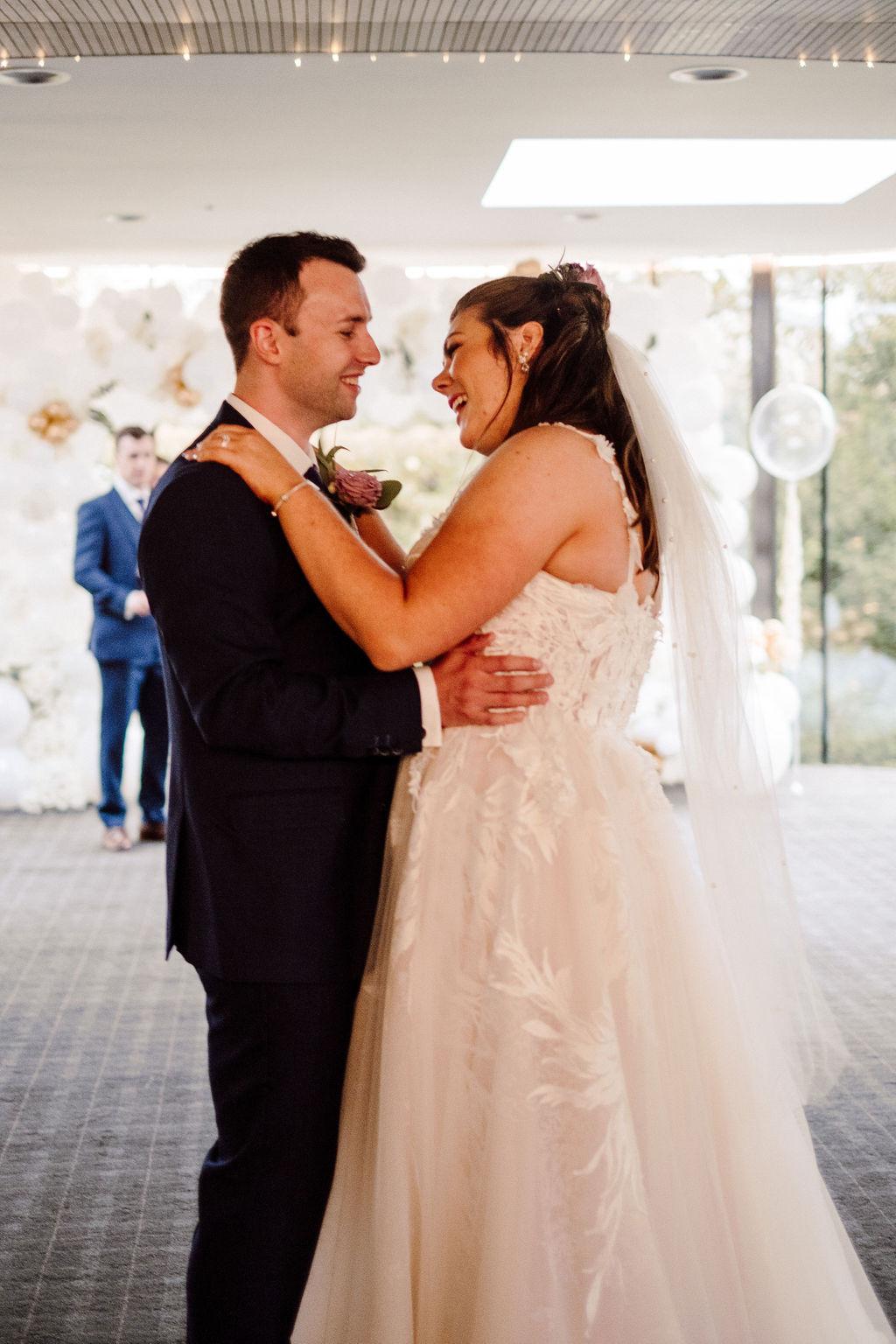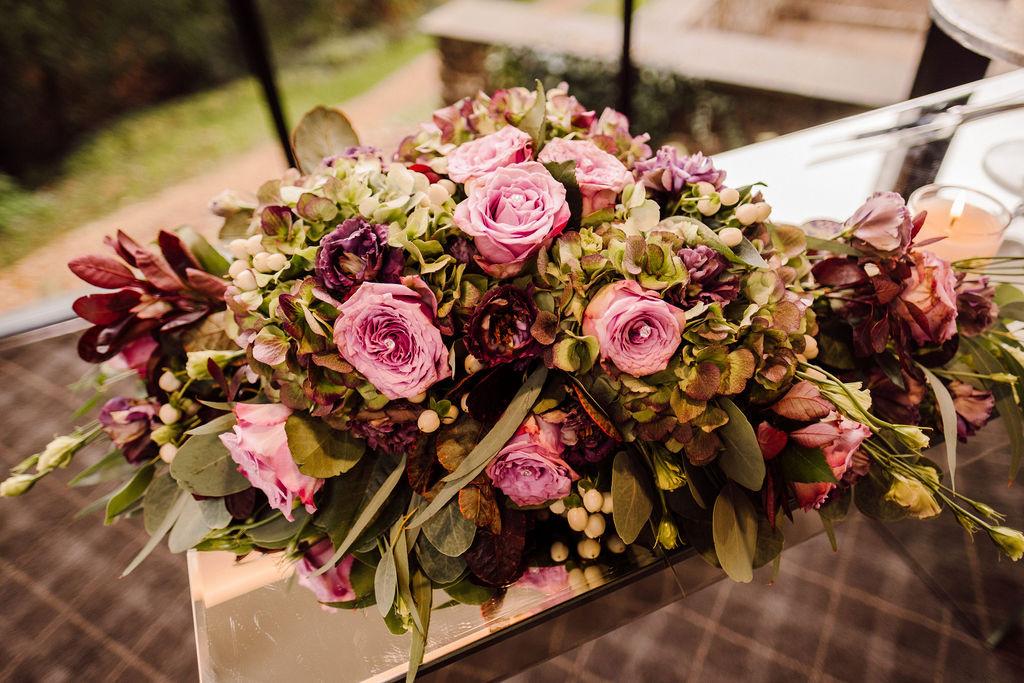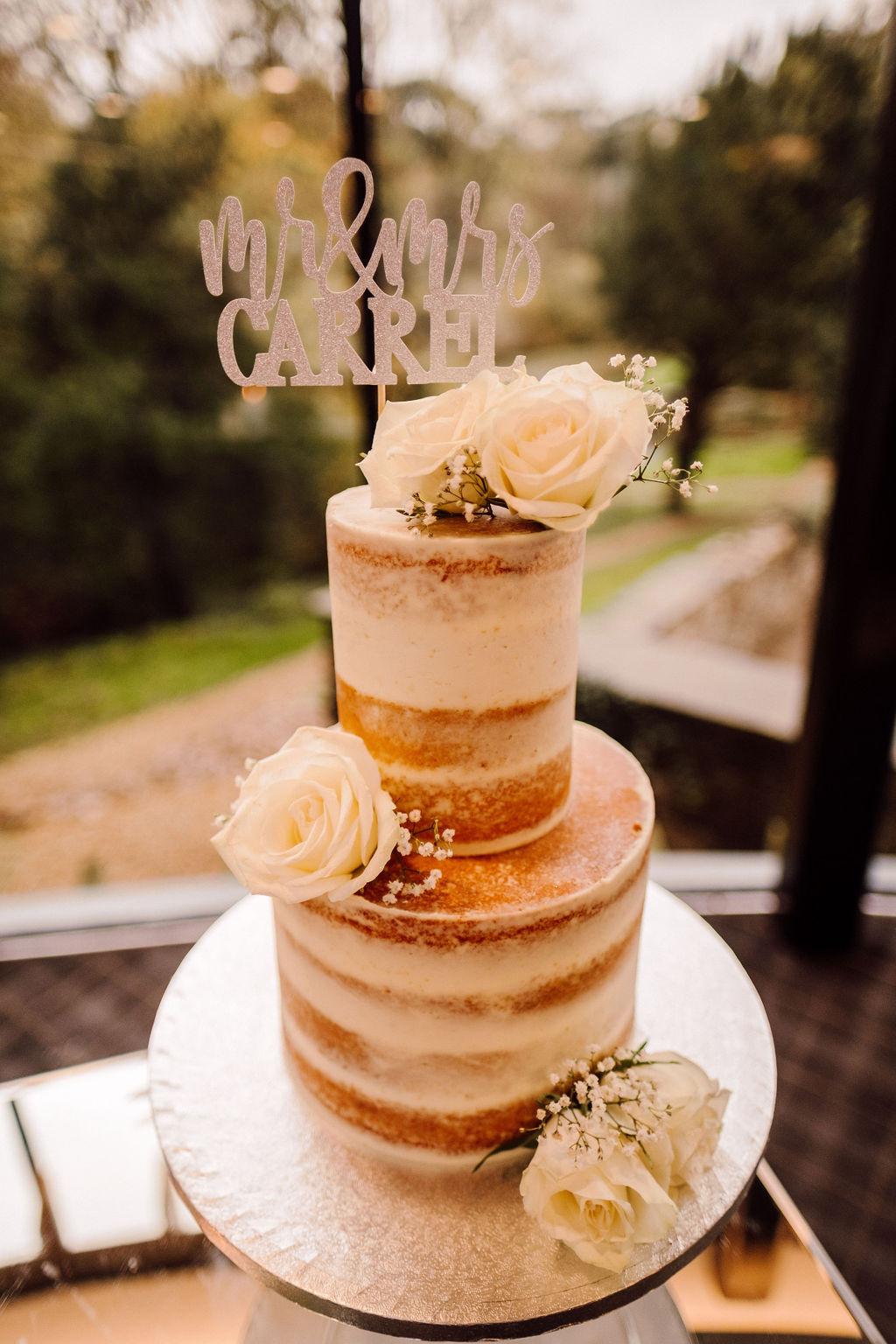 The Wedding Venue
The K Room, with its magnificent glass walls that offer a stunning panoramic view across the surrounding countryside, was what made the couple fall in love with their venue. A silver lining to Covid is that they will be having two incredible celebrations at the venue - the ceremony on the 21st October 2020 and a second party with all their guests in March 2022.
"Fairyhill was the fourth venue we'd seen and we were wowed from the moment we went there. When we walked into the K Room and I saw Matt's face, I could see that he'd fallen in love and we just knew," said Melissa.
"The room was totally breathtaking and his reaction was enough. We took our parents down a week later and they both sobbed in the K Room, it was definitely the right venue for us. It's just amazing, there's nothing like it in South Wales, the room is just incredible.
"There are so many reason why we chose it. It's gorgeous, the grounds for photos, and the staff. Every time we visited, we were treated to a glass of prosecco and the team were always so friendly.
"Food was also a big factor for us, Matt loves good food and again they didn't disappoint."
Unfortunately, they weren't able to have the reception with a sit-down meal that they'd planned.
"This is one of the main reasons we've having a second day at Fairyhill as we really want the sit-down meal. The food taster we had attended was out of this world, we simply cannot miss out on the food!"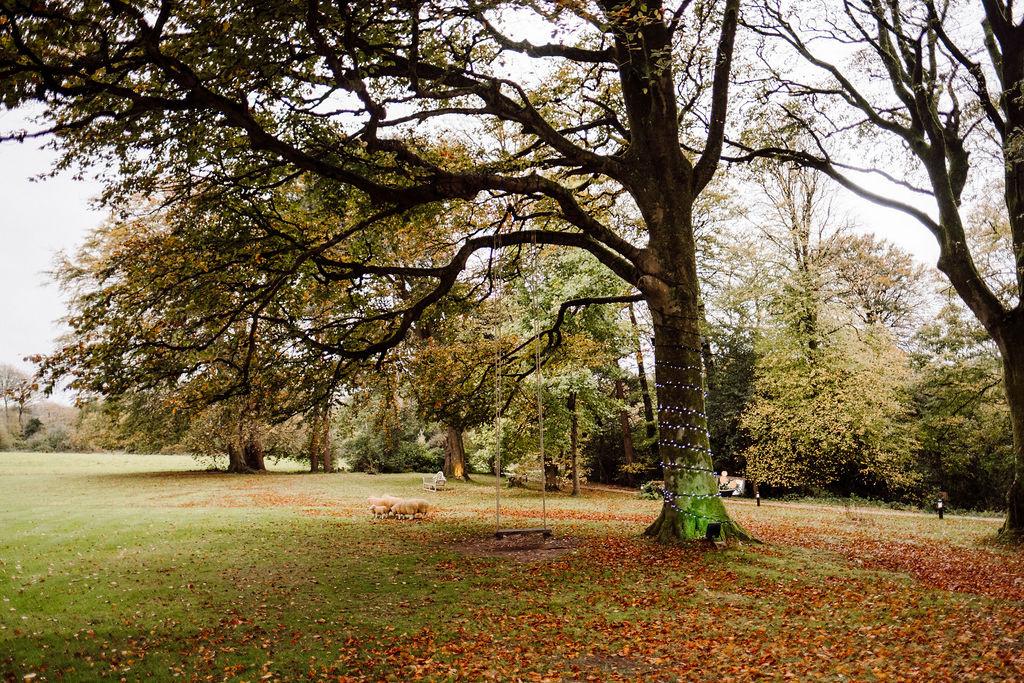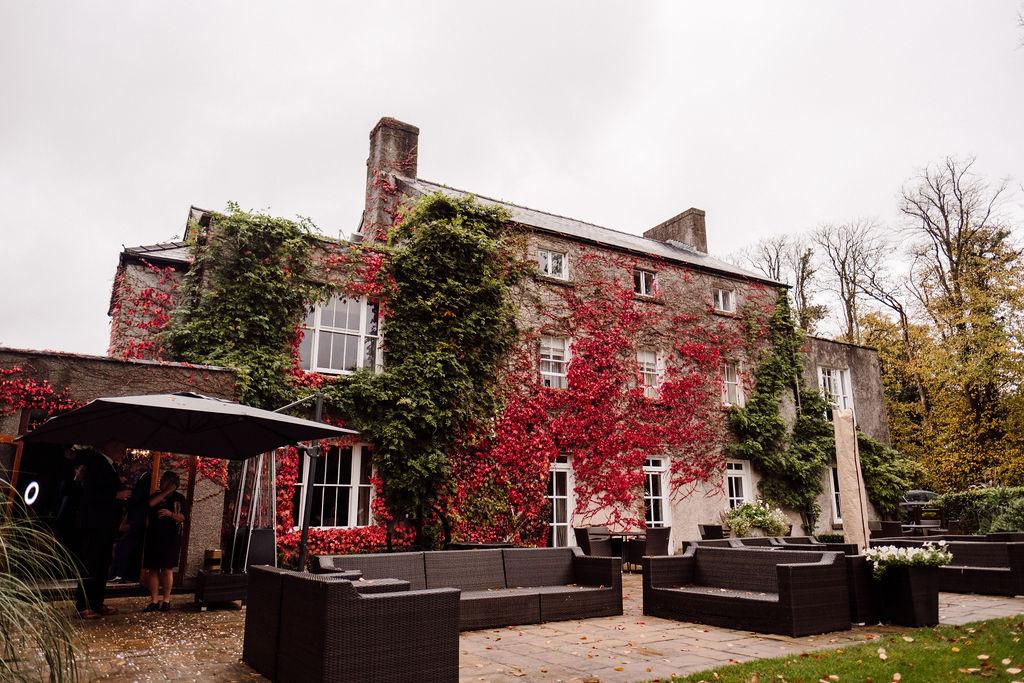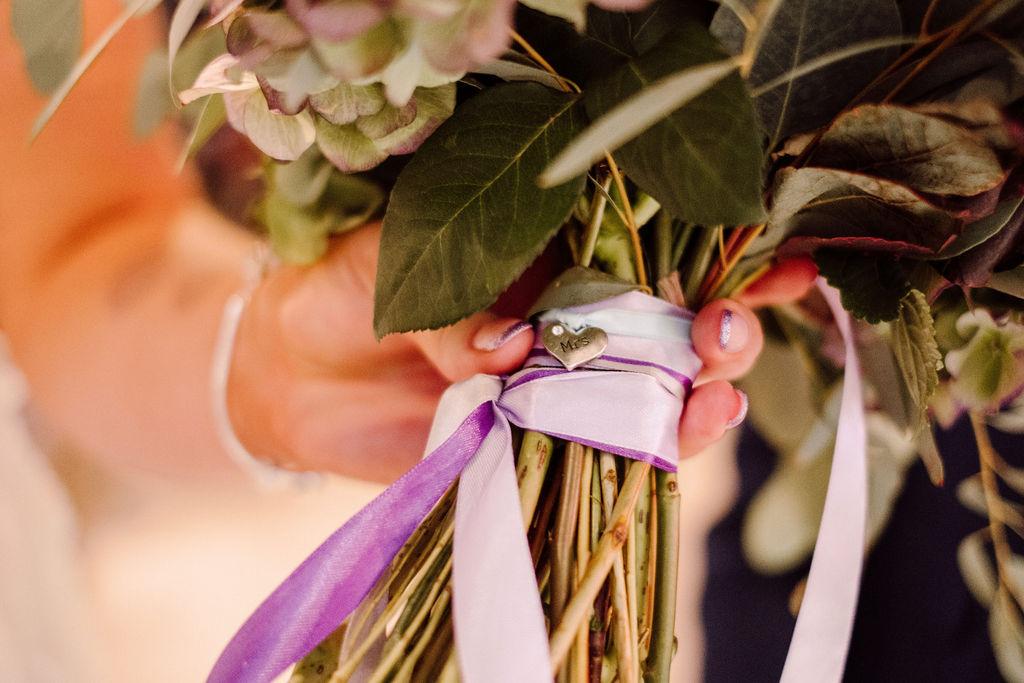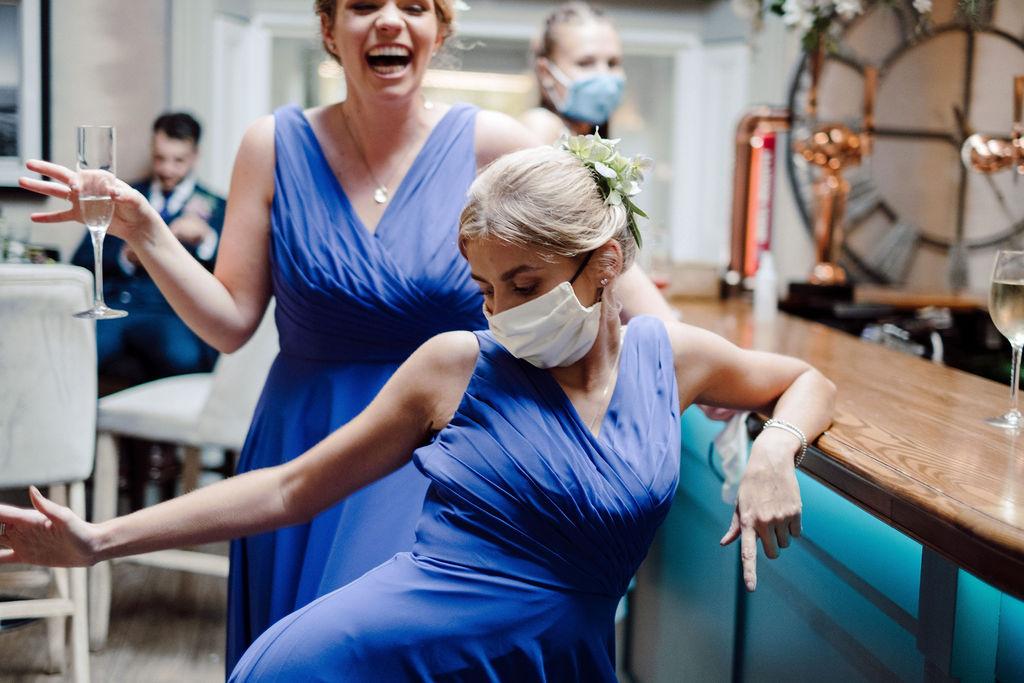 The Décor, Wedding Cake and Flowers
The couple chose different shades of purple as their colour scheme to add to the autumnal vibes of the day.
"I have no idea about flowers. I said to Hayley at Misselthwaite Flowers that I wanted purple and roses and to create whatever you want. I did want a big, dramatic bouquet and she certainly delivered on that – she had fun with it."
The bridesmaids carried complementary bouquets and the groomsmen wore a beautiful lilac rose as their buttonhole.
The cake was a gorgeous semi-naked two tier cake from Beth's Bakes in Newport, decorated with cream roses.
"They were all vanilla sponge, with salted caramel through one tier, and chocolate ganache through the other – it was really yummy!"
The panoramic windows of the K Room, looking out across the beautiful surrounding of the Gower Peninsula, provided the dreamiest natural backdrop. It was in front of here that Melissa and Matt had their first dance.
"It was to 'Hello My Love' by Westlife. We never wanted a slow dance song, it's just not us. But it was funny, throughout the whole dance no one was allowed to join in, so we did count down the minutes till the song finished."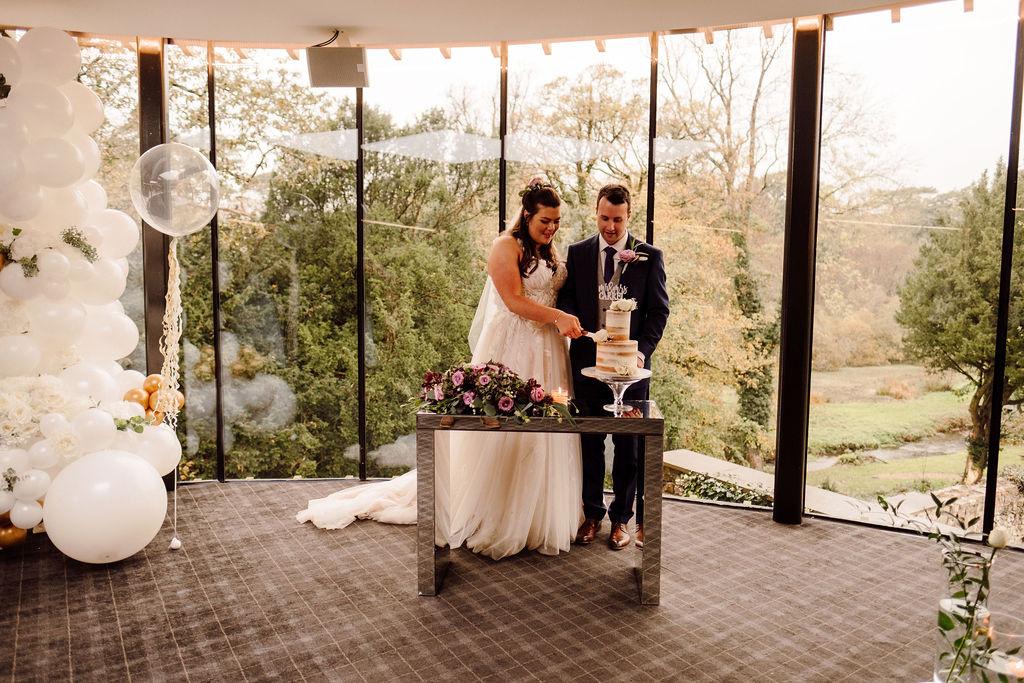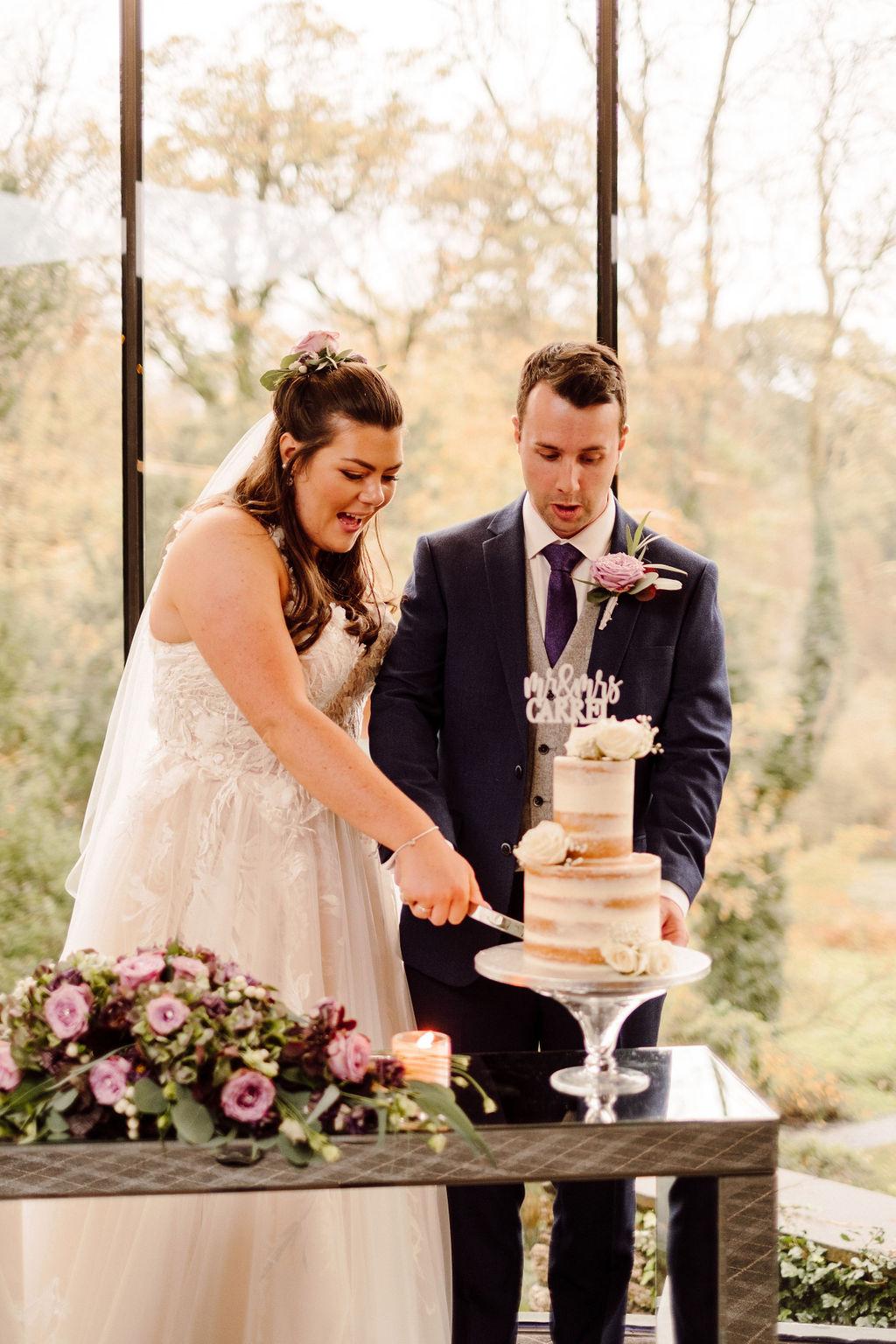 The Couple's Advice
"Genuinely, on the day Covid didn't exist," said Melissa, "and it didn't matter that we only had a small number of people there, it was just as amazing. Plus, you can have a second day next year or later this year and have the other half of it. (And get to wear your dress twice!)
"It's really cringey but love does win and that's the most important thing you can have. You can have the most amazing day even with an intimate do.
"The most important thing for us is that we got to end the year as husband and wife and we're so grateful that we were able to do so. The stress is worth it.
"If you're really determined to get married, just do it. People need to remember why they're getting married. If getting married is the most important thing to you, then you should go ahead regardless."
The Suppliers
Venue: Fairyhill
Photographer: Chris Andrews Photography
Wedding Dress: Riki Dalal from Eva Ashley Bridal
Bridesmaid Dresses: WED2B
Make-Up: Katie Lancey Gower Glow
Hair Stylist: Sarah Marie Hair
Groomswear: Slaters
Florist: Misselthwaite Flowers
Cake: Beth's Bakes
Thank you to Melissa and Matt for sharing their beautiful day with us.