Real Covid Wedding: Ian and Sue, Chiseldon House Hotel, Swindon
When the car pulled up to take Sue to her wedding ceremony, it was far from what she was expecting! And it was just the start of a gorgeous day filled with family, friends and so much laughter.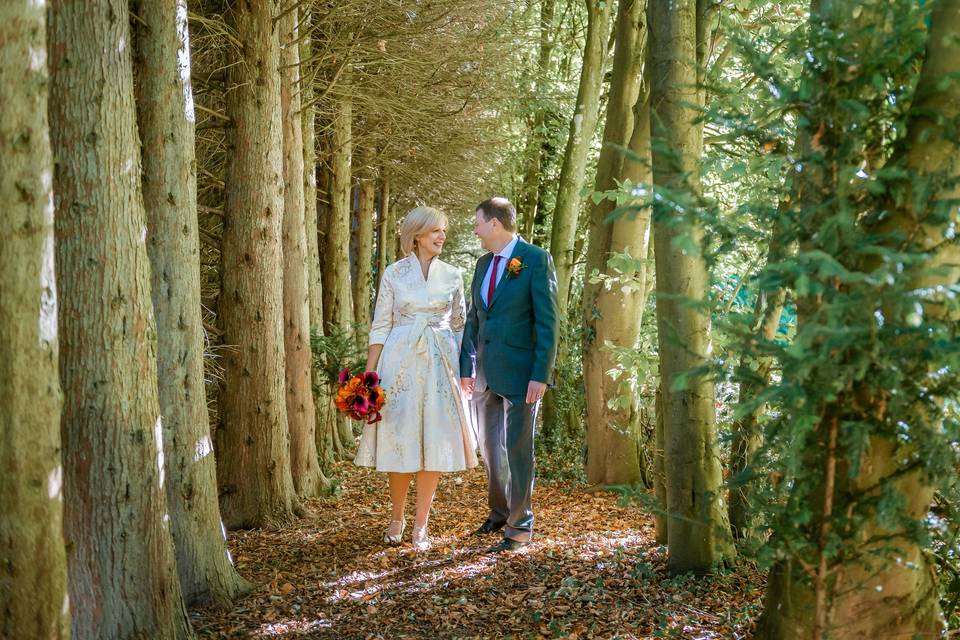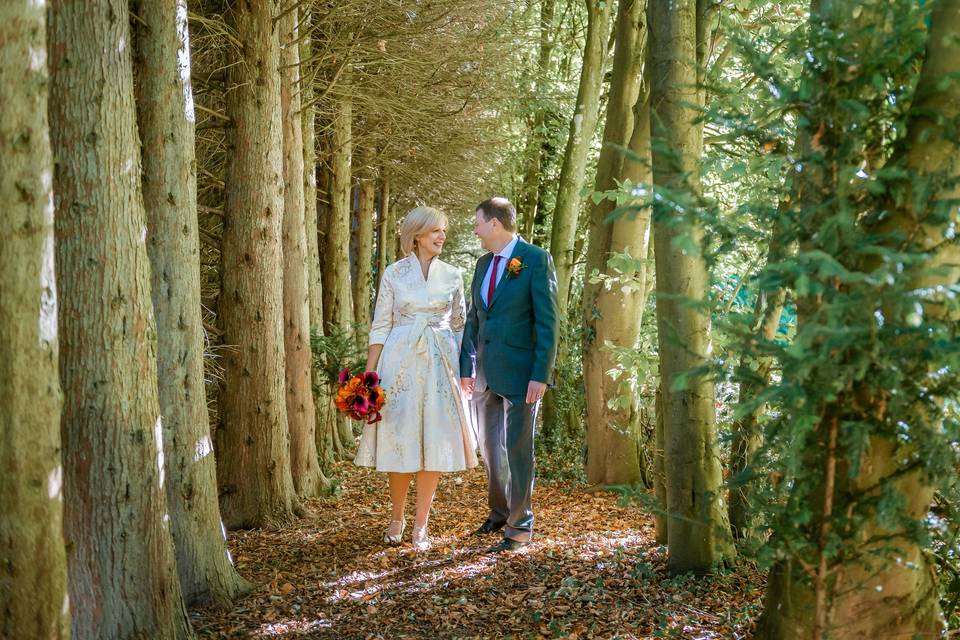 Sue and Ian had planned a wonderful autumn wedding for 80 guests, but the pandemic soon saw them cut their guest list down to 30. When the Prime Minister announced he was due to cut guest lists down further to 15 people just days before their wedding, they acted quickly to pull together a beautiful early wedding day - with a fantastic surprise for Sue!
Ian and Sue met the old fashioned way at a pub in town. "We exchanged numbers on a night out and he texted the next day, the rest is history," Sue said. After 10 years together, and five living together, the couple started talking about the future and how things would be if they got married.
"Going to the jewellers with Ian was interesting - he was very much out of his comfort zone and more interested in the football results! He ended up buying the engagement ring and wedding ring at same time, which he then hid under the bed on the promise I wouldn't tell anyone.
"Just before Christmas we visited my parents and he went out to the shed with my Dad where he asked his permission to marry me. Very sweet as we're both in our 50s and he was hardly likely to say no!
"We always stay in on New Year's Eve, we get dressed up and cook a nice meal followed by Champagne. This time he got down on one knee in our lounge just after midnight on 31st December 2019 and finally the secret was out. Our families and friends were thrilled!"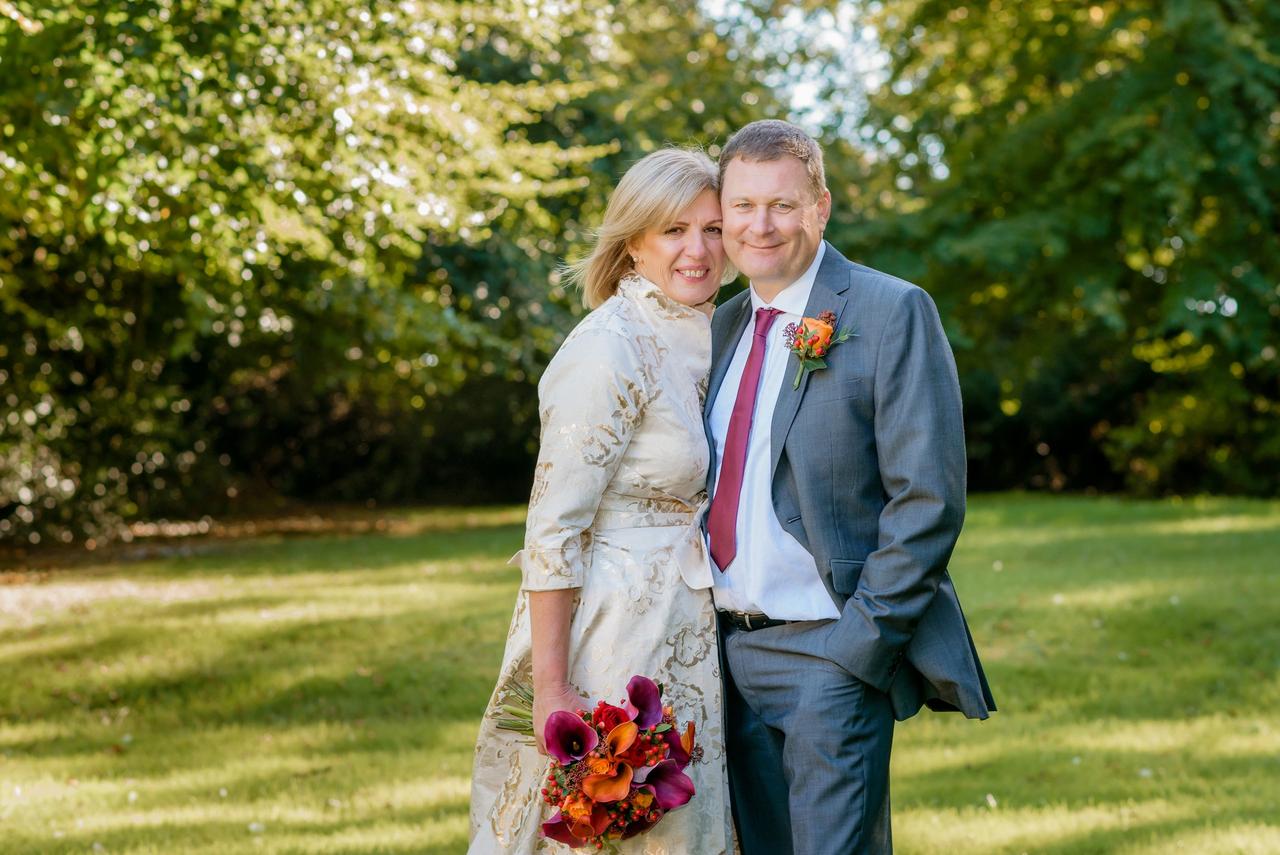 The couple were engaged for nine months with a wedding planned for the 3rd October 2020, but they ended up bringing it forward by a week to the 27th September when the rules changed.
Joined by 28 guests, they had a charming red and gold themed wedding at Chiseldon House in Wiltshire.
Photography by Carol Elizabeth Photography.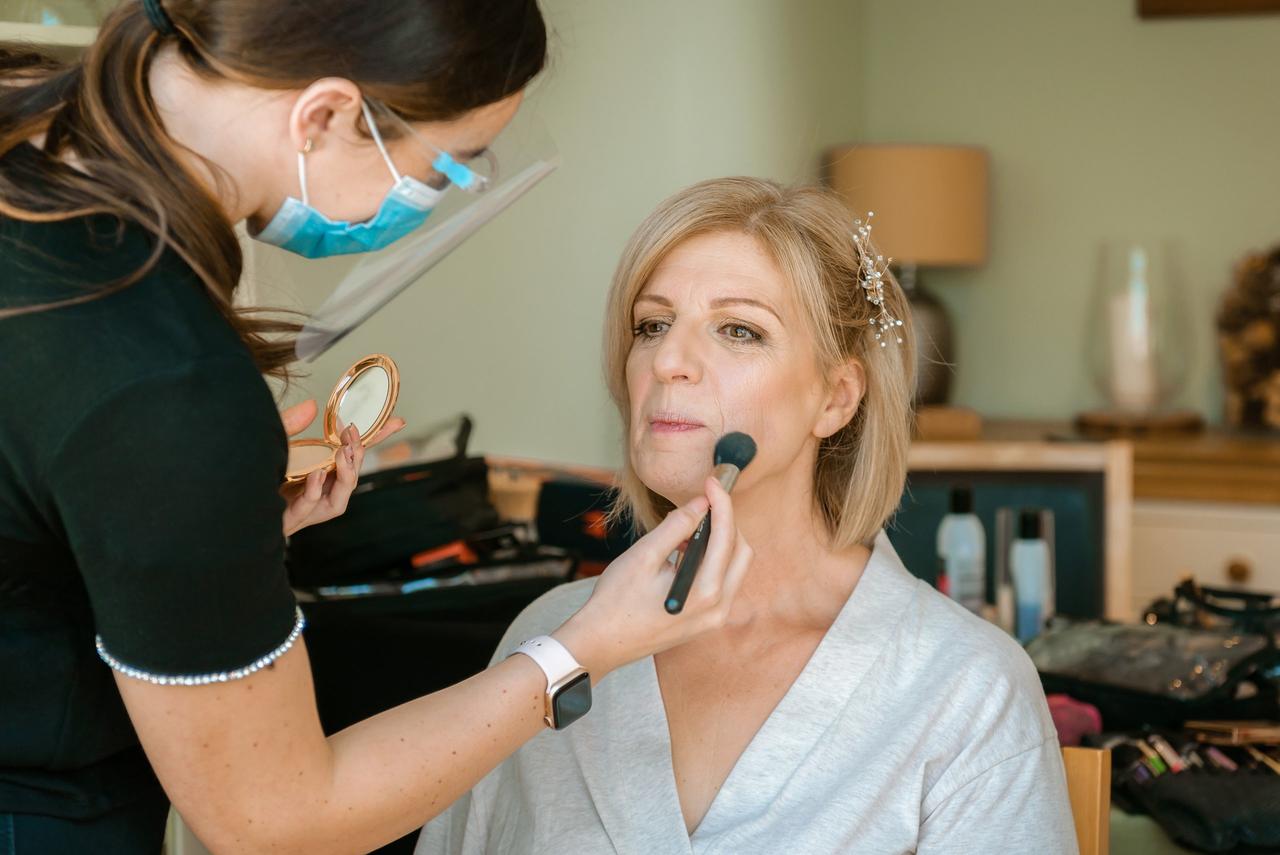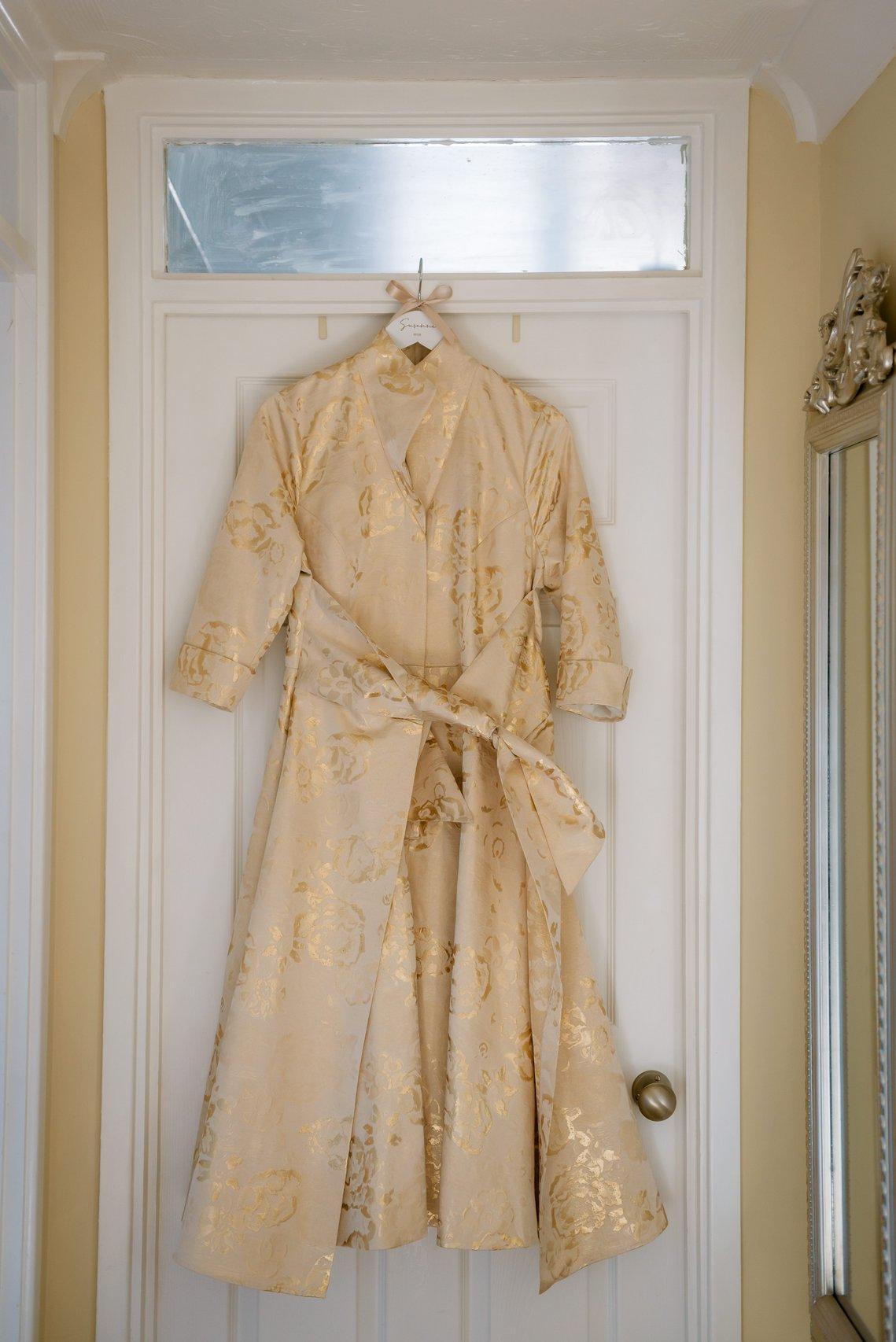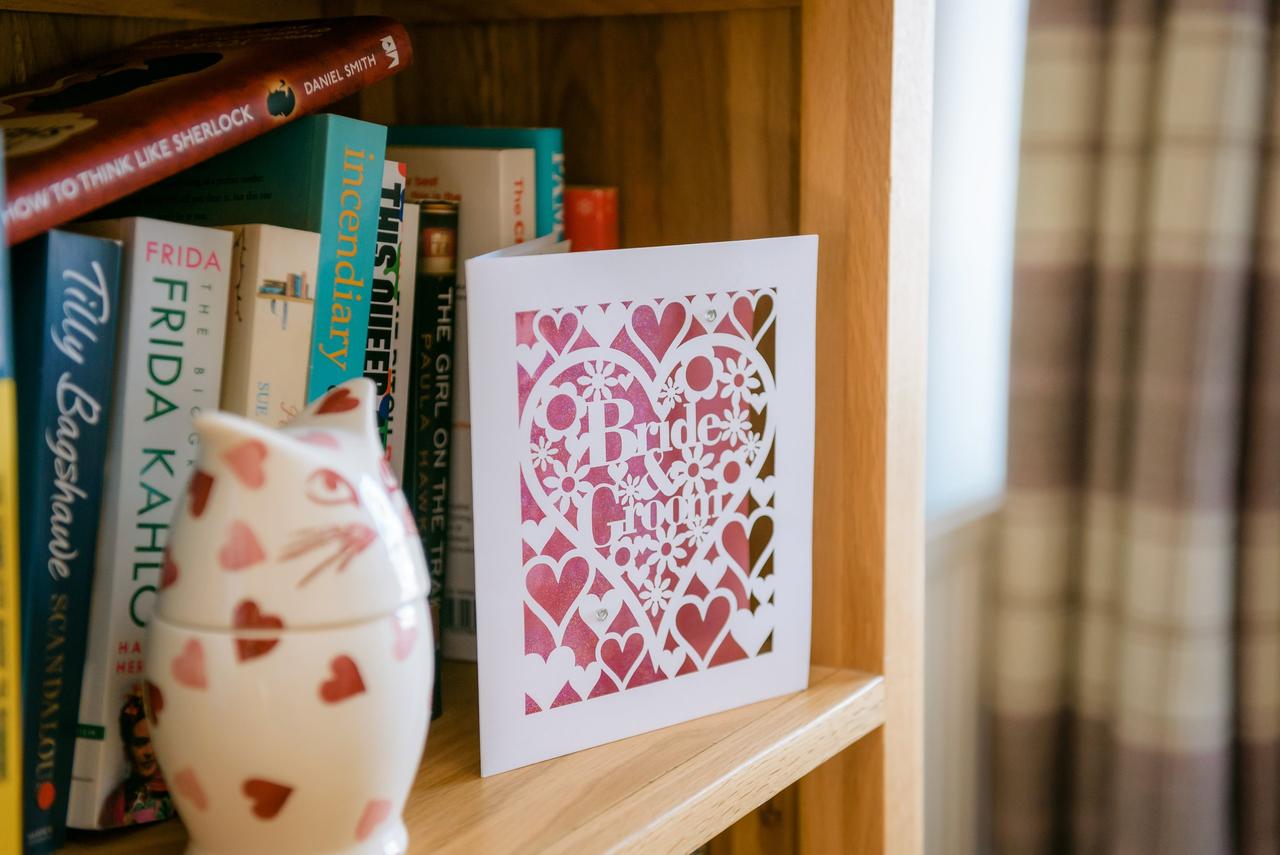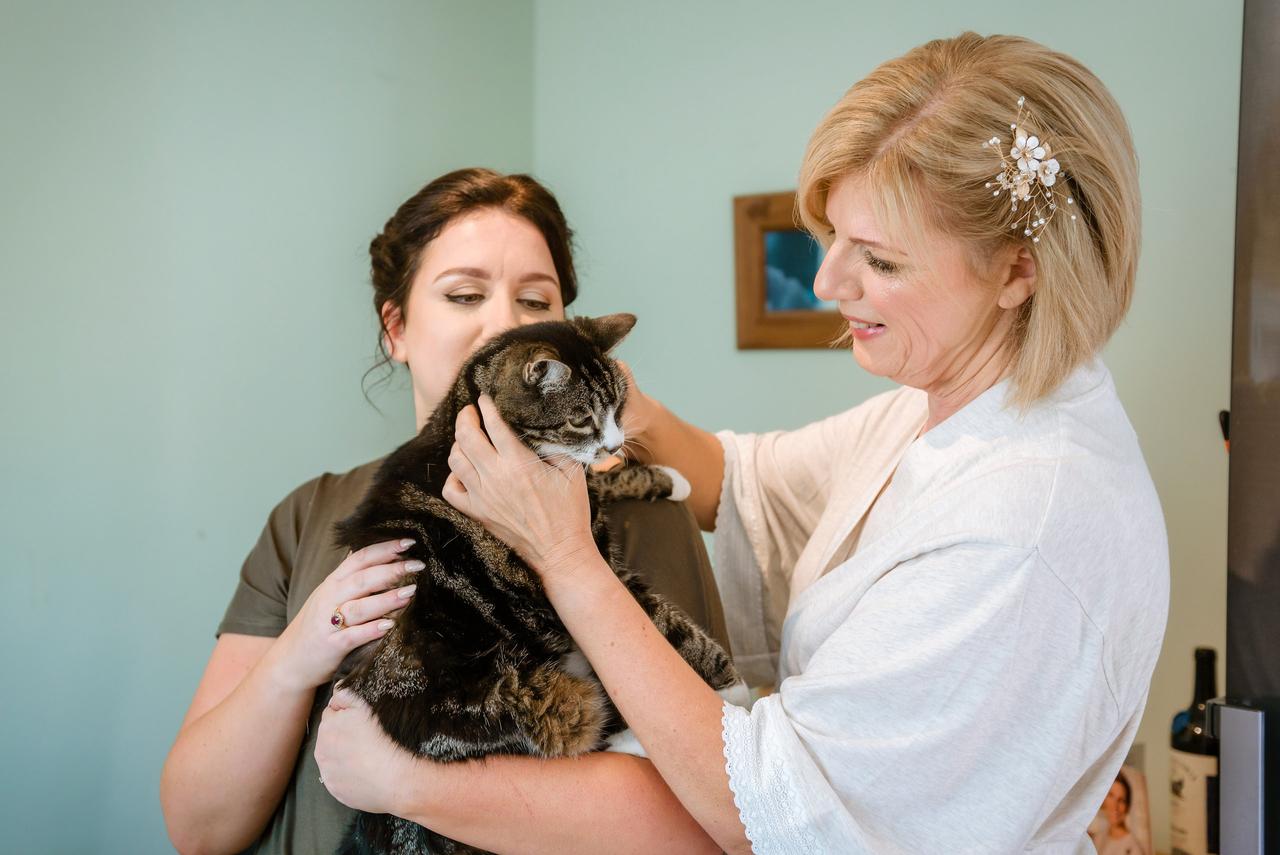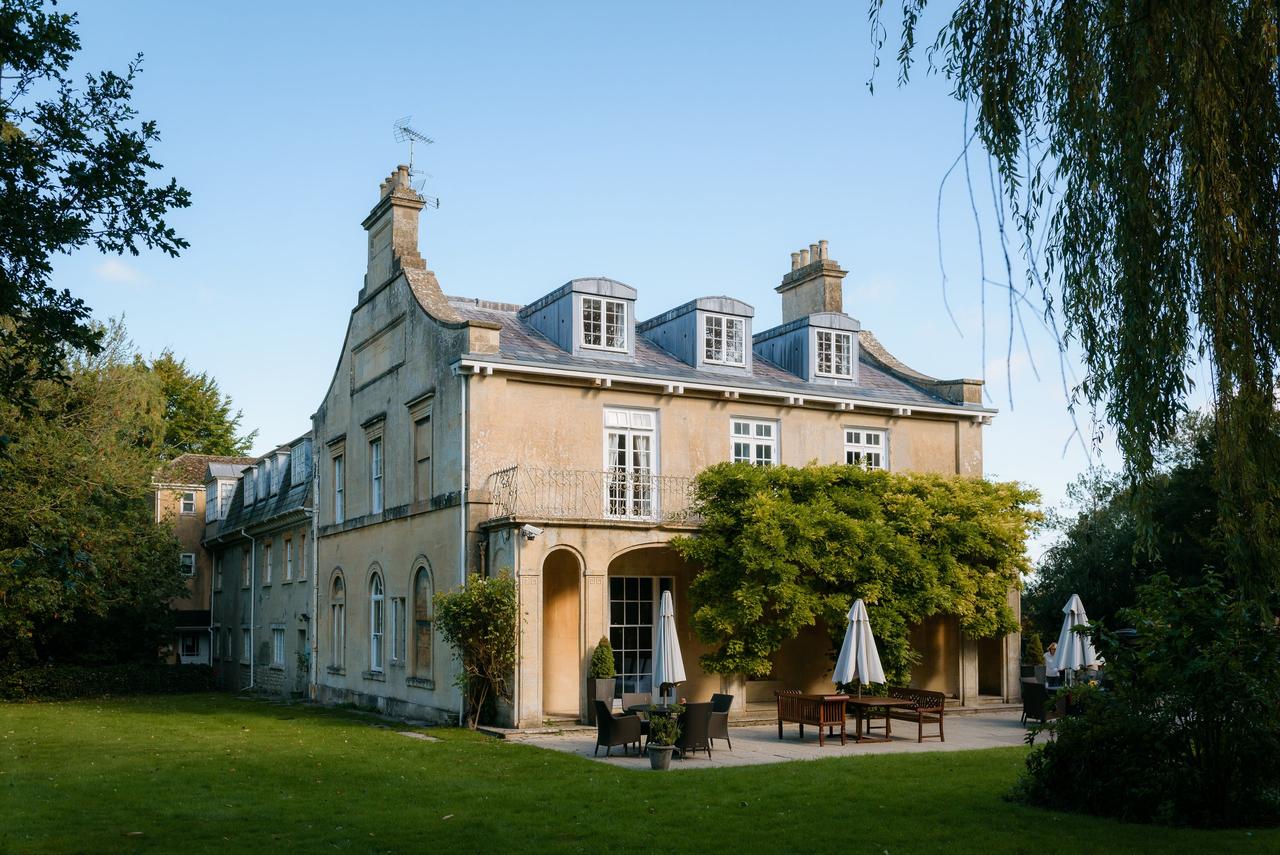 The Wedding Dress
Sue decided against the traditional white dress and opted for a beautiful gold-flecked coat dress from Bombshell London.
"It's by Katya Wildman, who does proper womanly dresses and I had found her website a few months before.
"I chose a cream and gold below-knee, silk coat dress in a classic vintage style… It had to be age appropriate and didn't want too much skin on show!
"I knew this was the one and didn't look anywhere else. It just ticked all the boxes so I ordered it without hesitation. It covered me up, the tailoring was spot on and the fabric was beautiful. I was useless at keeping it secret and most of my friends got to see a little glimpse of it before the day."
Due to Covid, the couple couldn't have their reception so they're delaying it until September 2021 when Sue will get a second chance to wear her gorgeous dress.
She finished her outfit with a "vintage pearl necklace and earrings, Rainbow Club shoes dyed to match my dress, and my Mum's wedding ring which she gave me a few months ago. I was bridesmaid at her wedding 47 years before and the ring reminds me of then, its timeless and looks brand new."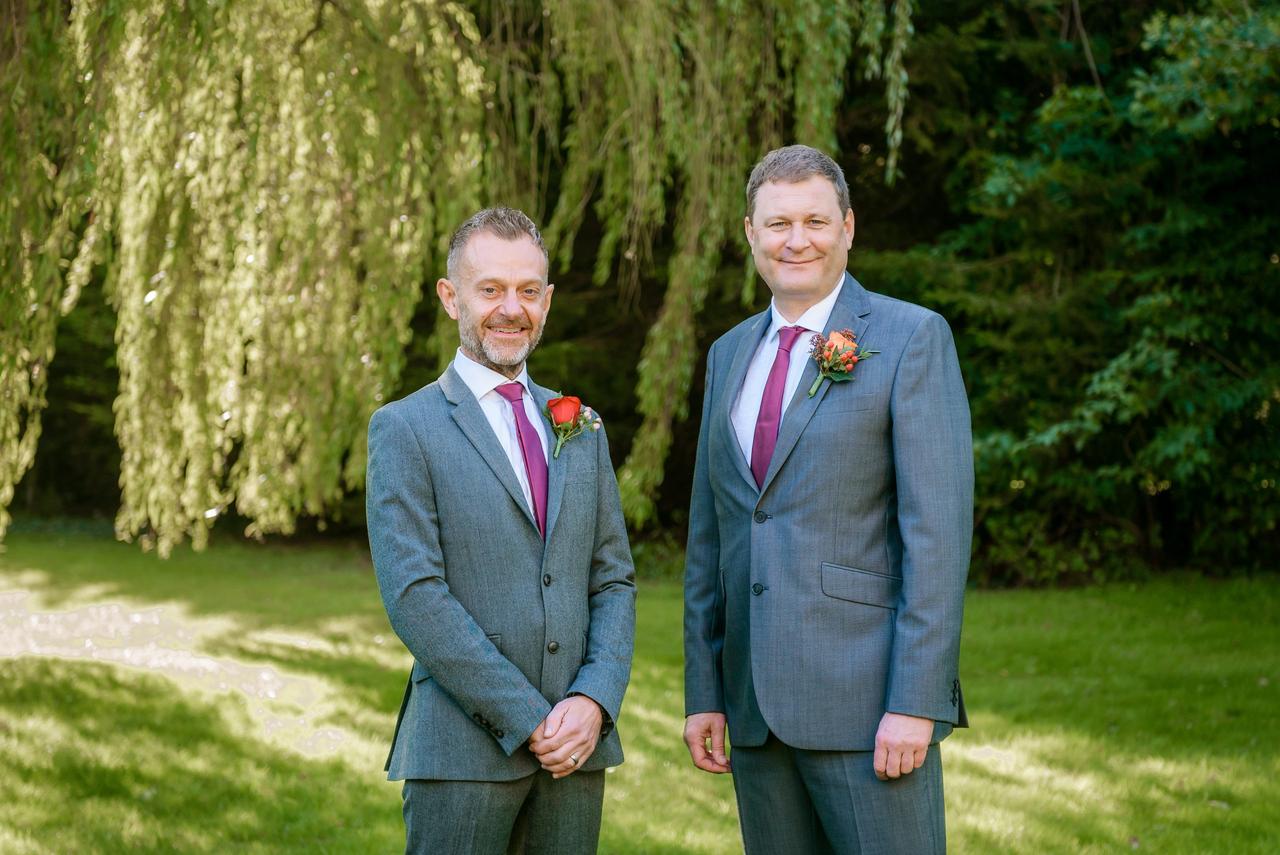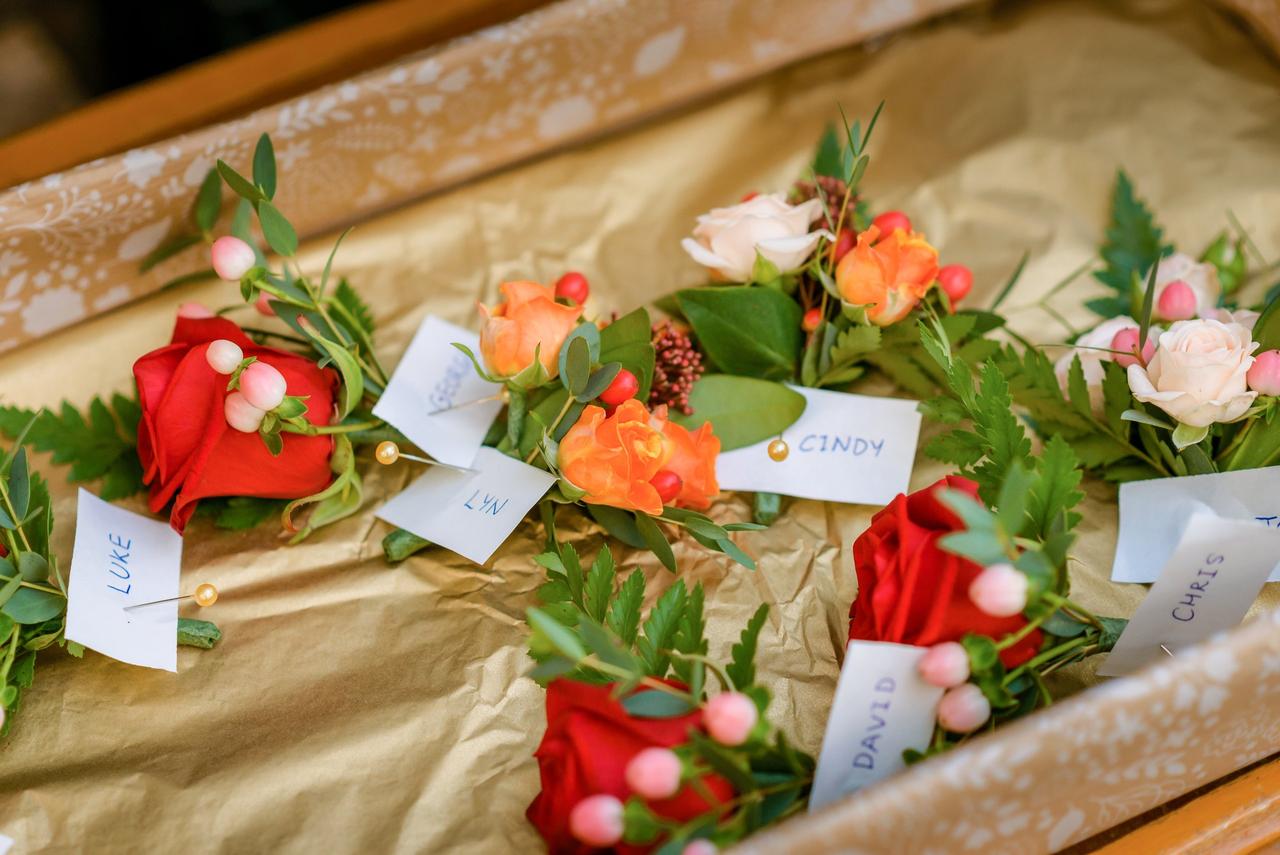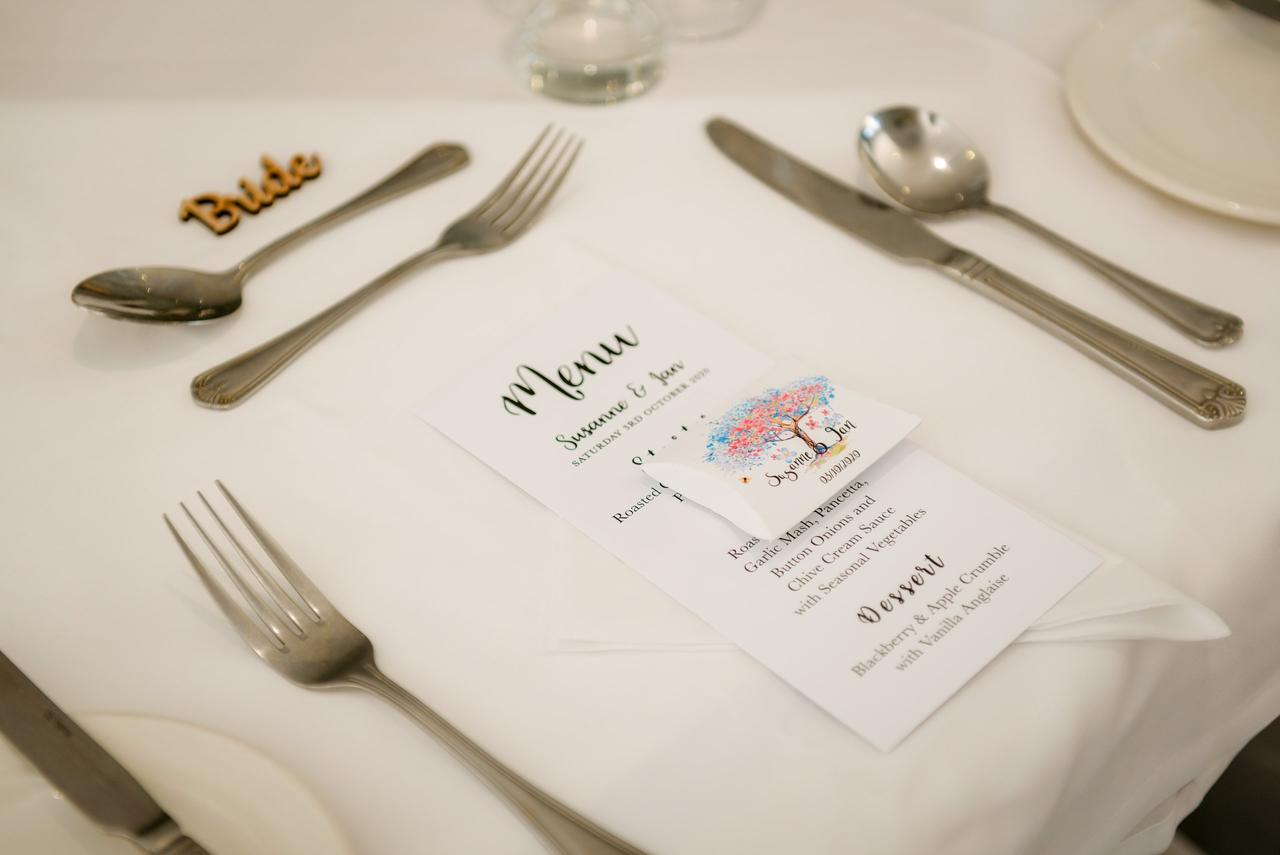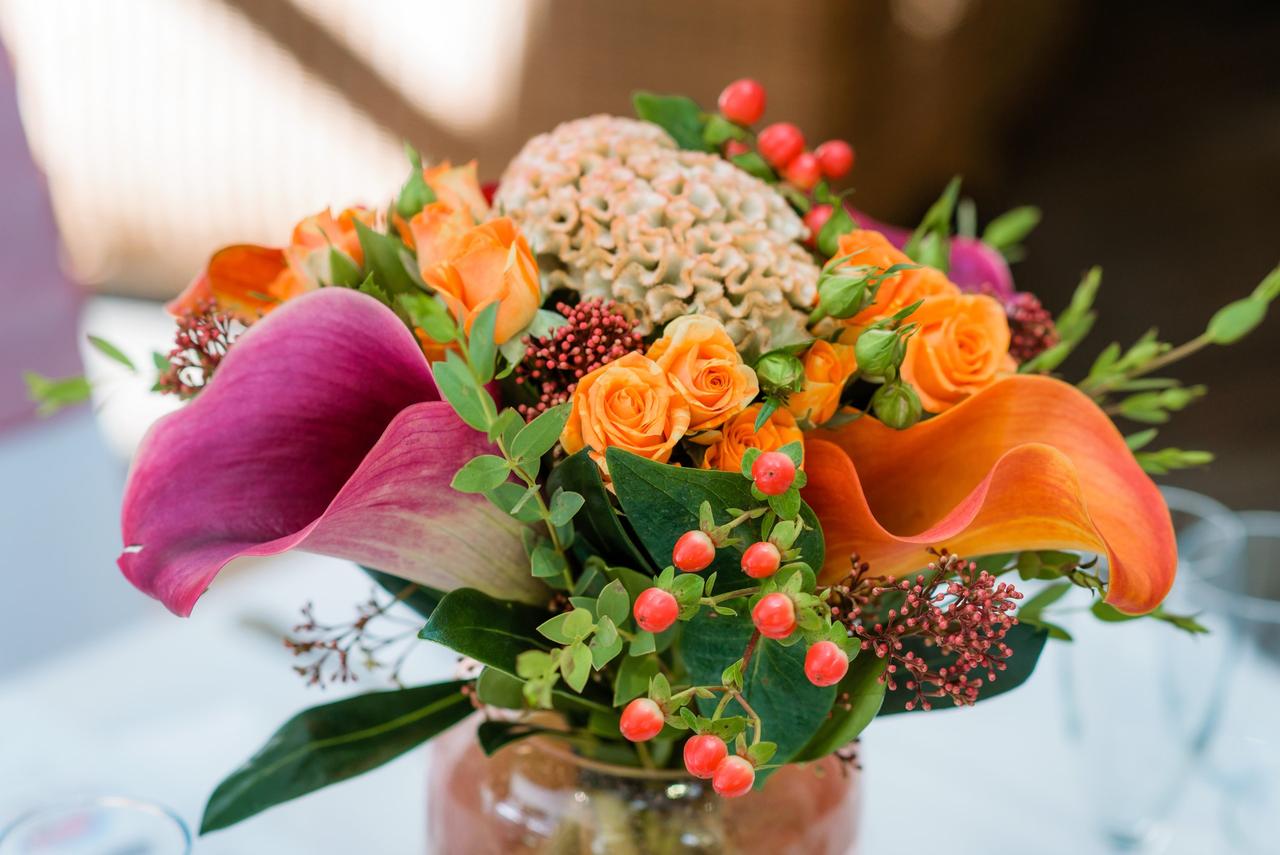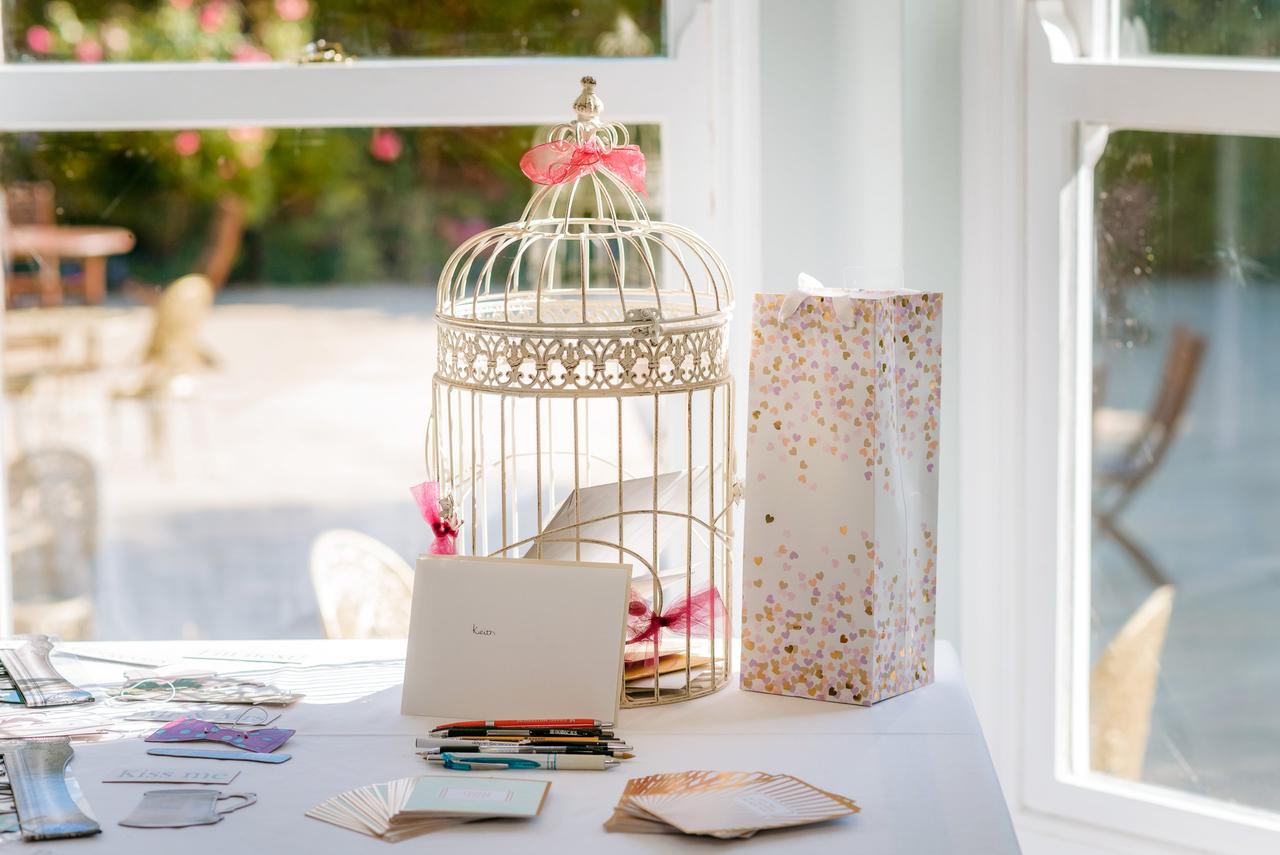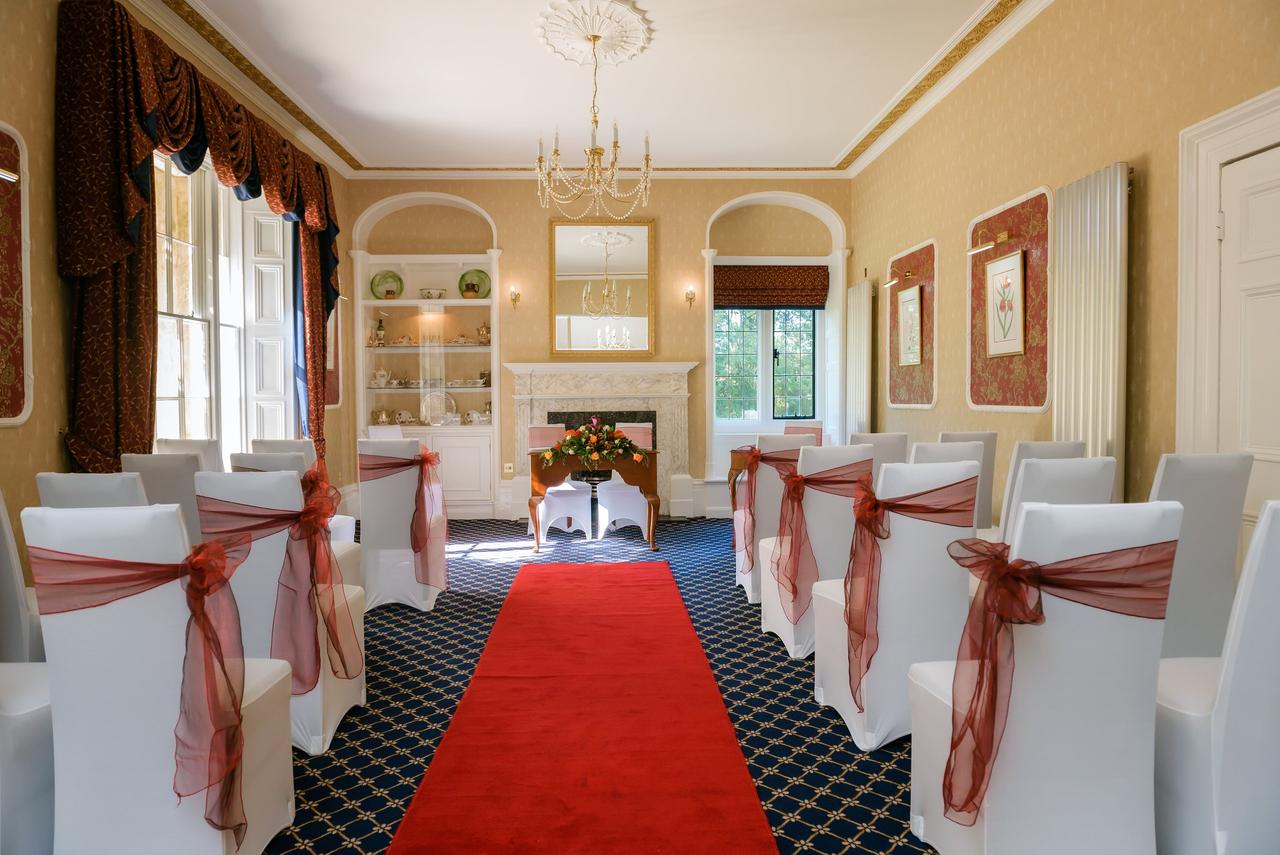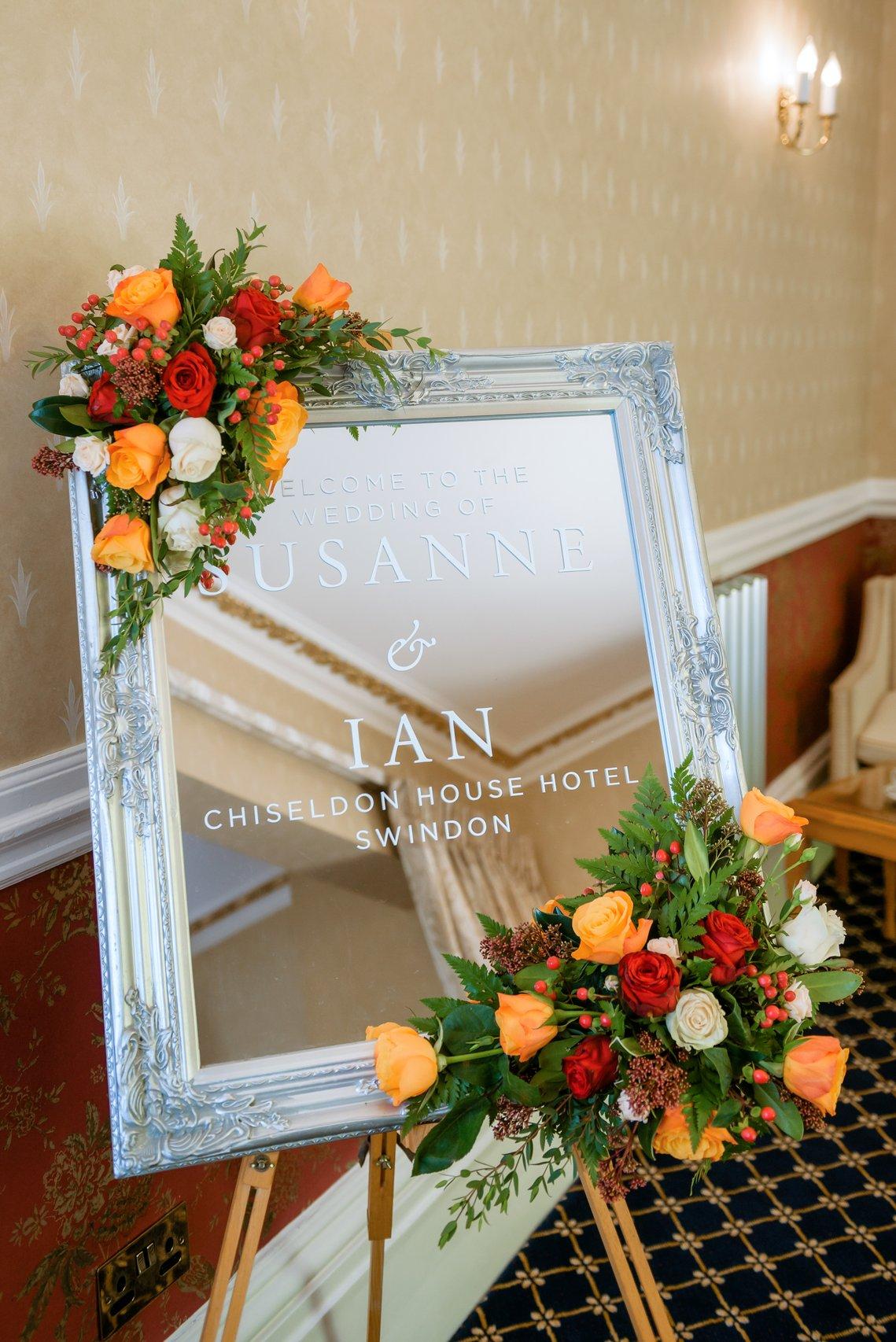 The Wedding Morning
Sue got ready with her daughter Alicia and Ian's daughter Victoria, who were her bridesmaids for the day. "They certainly kept me organised," she said.
The girls wore matching fit and flare burgundy dresses from Debenhams - "choosing for them was a million times harder than choosing the wedding dress as they were so specific about things. They tried on about 20!" - and styled their hair in updos for the occasion.
The bride had Louie Fitzgerald from the Hair Group in Cirencester come to her house and makeup artist Aimee Baddeley on hand to do her hair and makeup. "My hair has always been really short but had been growing it just for the wedding. It was straightened and accessorised with a comb encrusted with cream fabric flowers," she explained.
Once they were all ready, Sue was in for a special surprise when her wedding car arrived to take her to the venue.
"The plan was for my son-in-law to take me to the venue in his car, they'd even bought a ribbon (they lied)…Just as I got ready I caught sight of a vintage wedding car pulling up outside my house with my Dad sat in the back, I burst into tears.
"Ian had arranged it all as a surprise to make a nice memory with my Dad who was staying at a nearby hotel with my Mum."
The car and a special visit from her Dad was Sue's favourite moment of the day. "It was so special and a complete surprise. When I got to the aisle, Ian asked me how I had got there!"
The man behind the surprise spent his morning getting ready with his best man, Keith, who has been his best mate since childhood. They both looked dapper in grey suits with burgundy ties.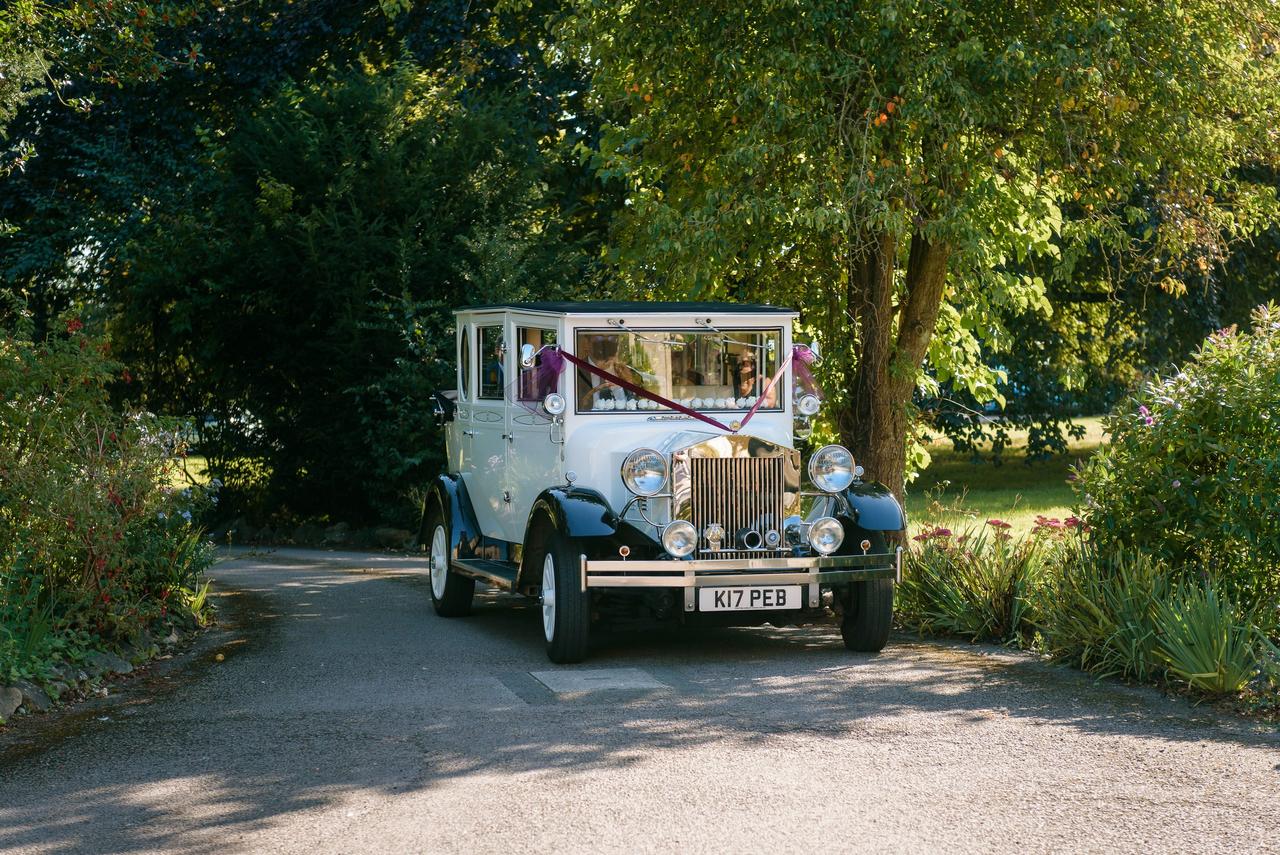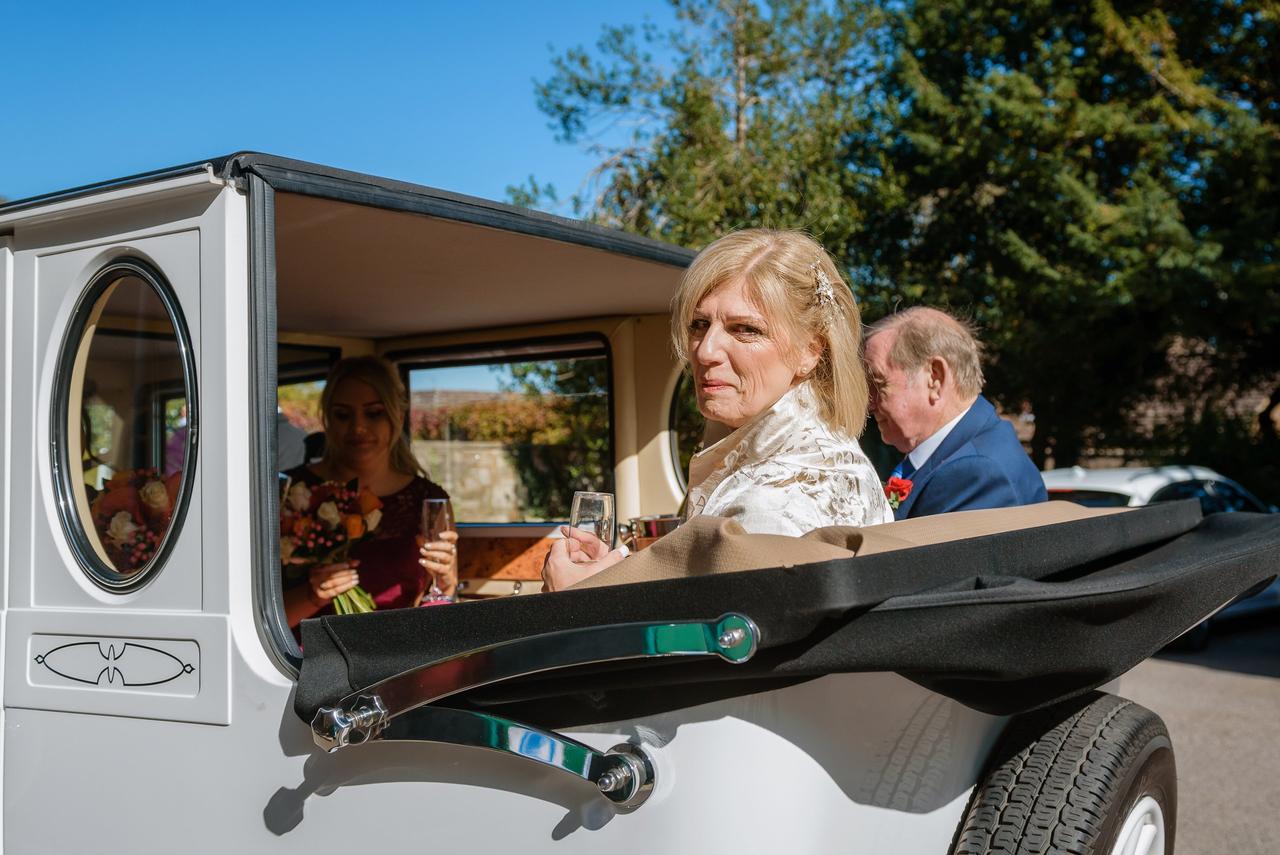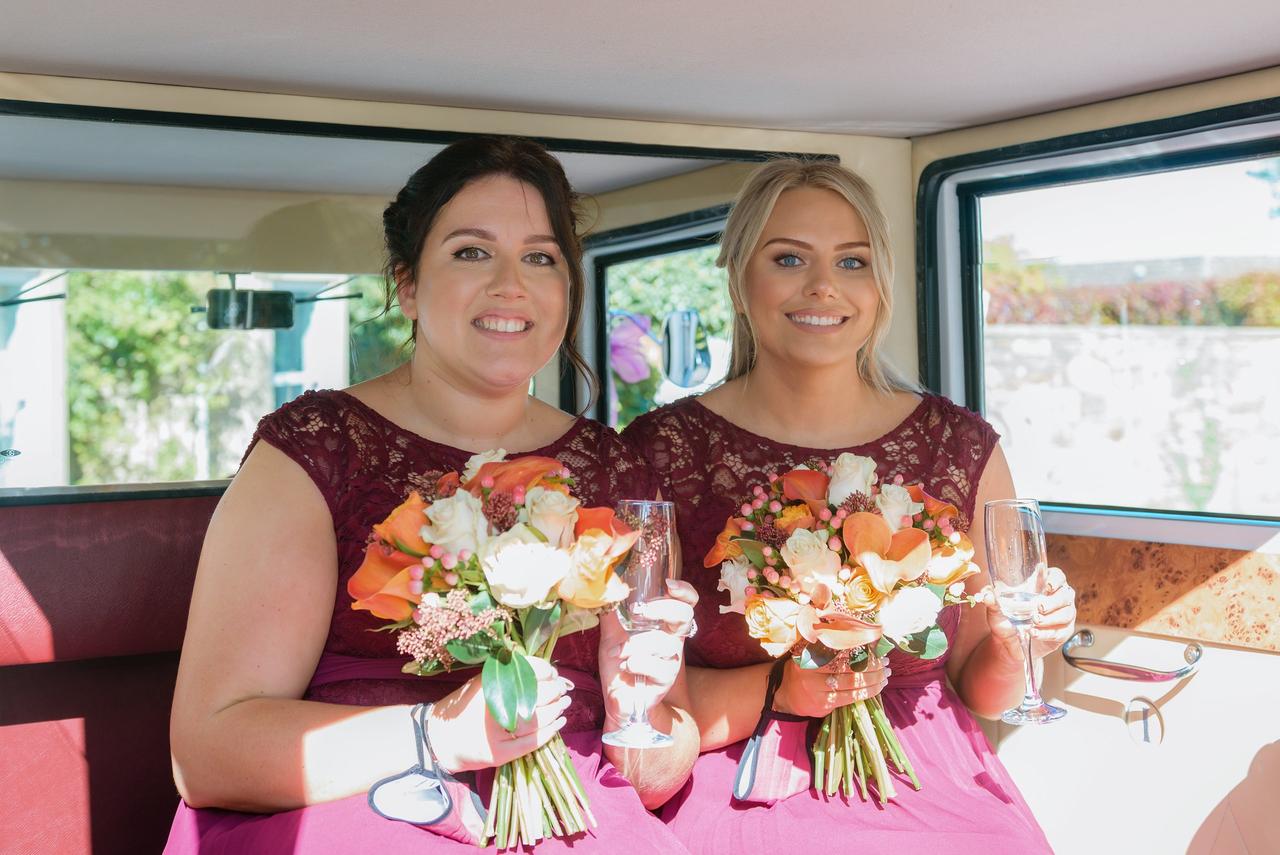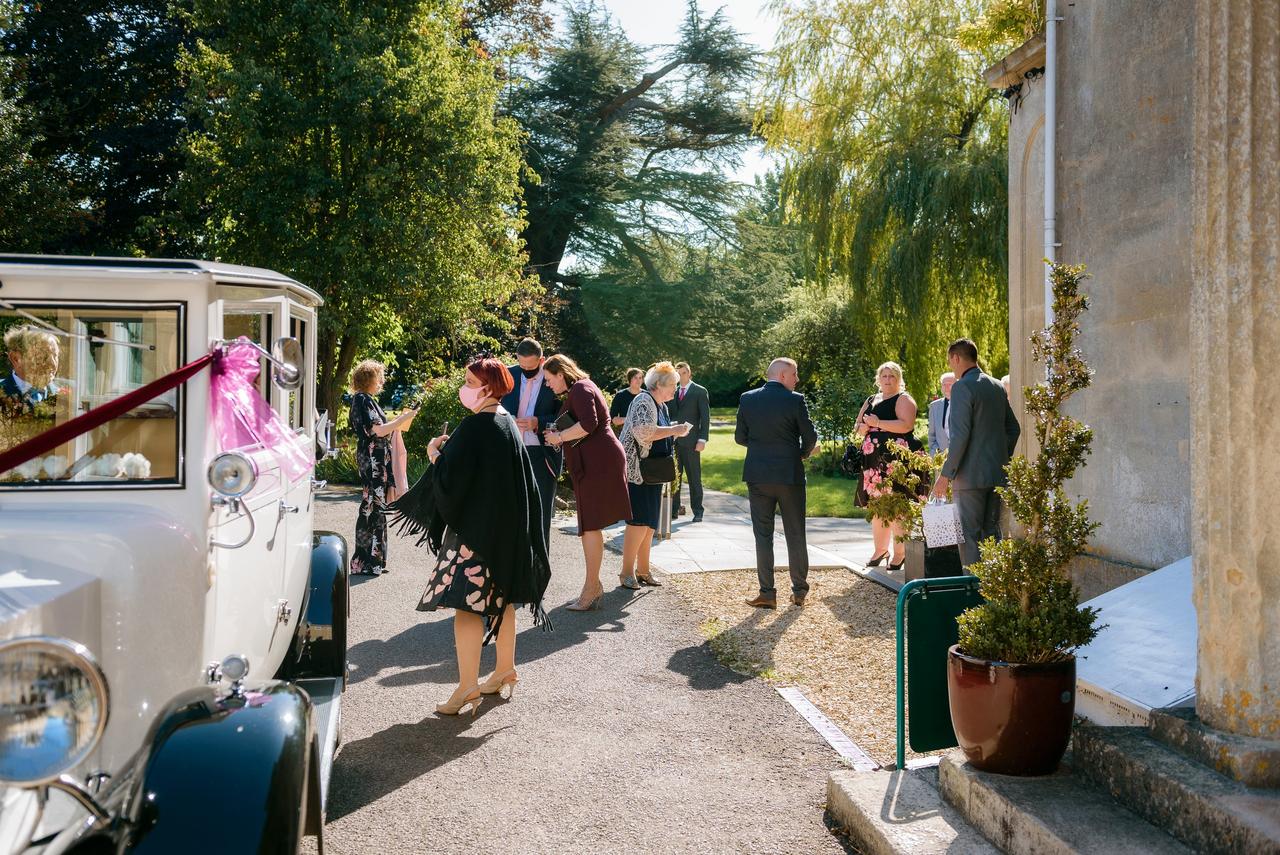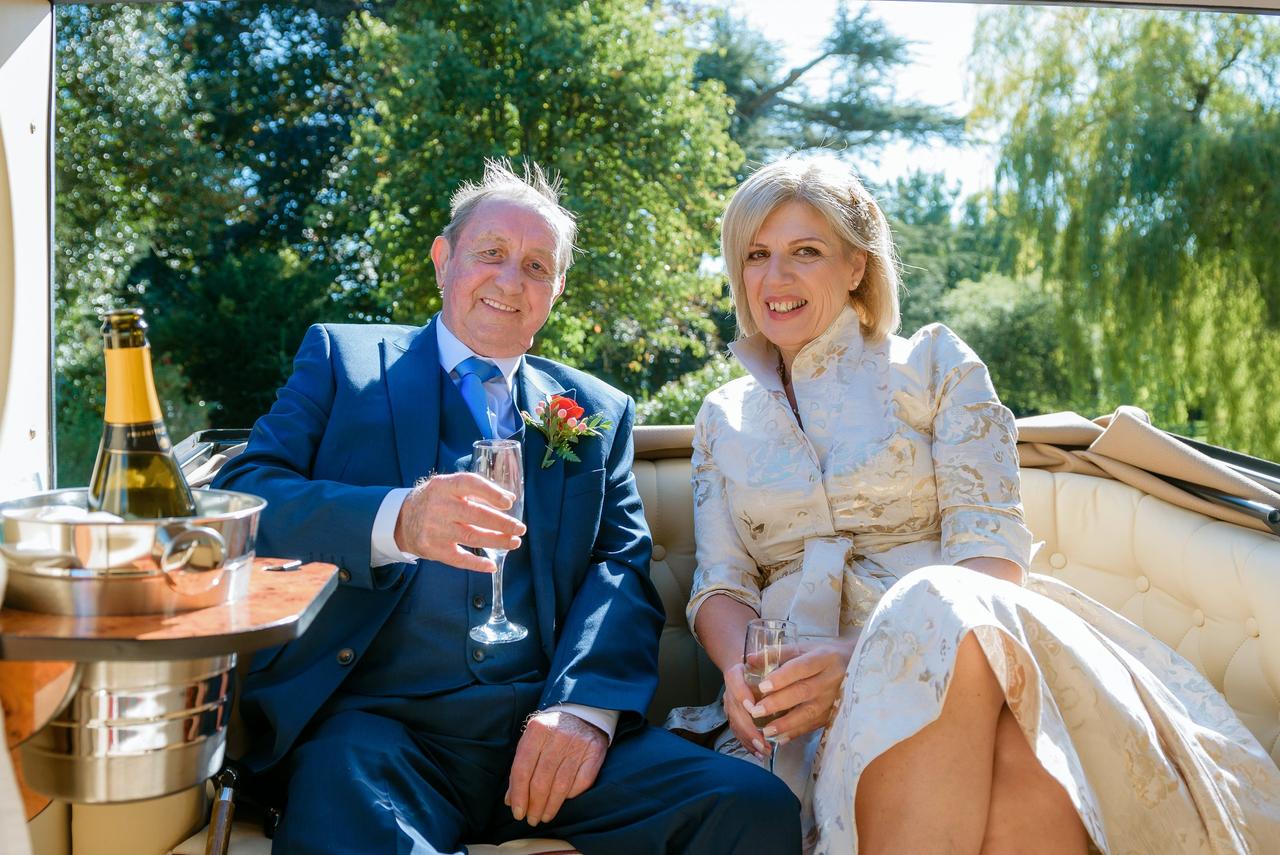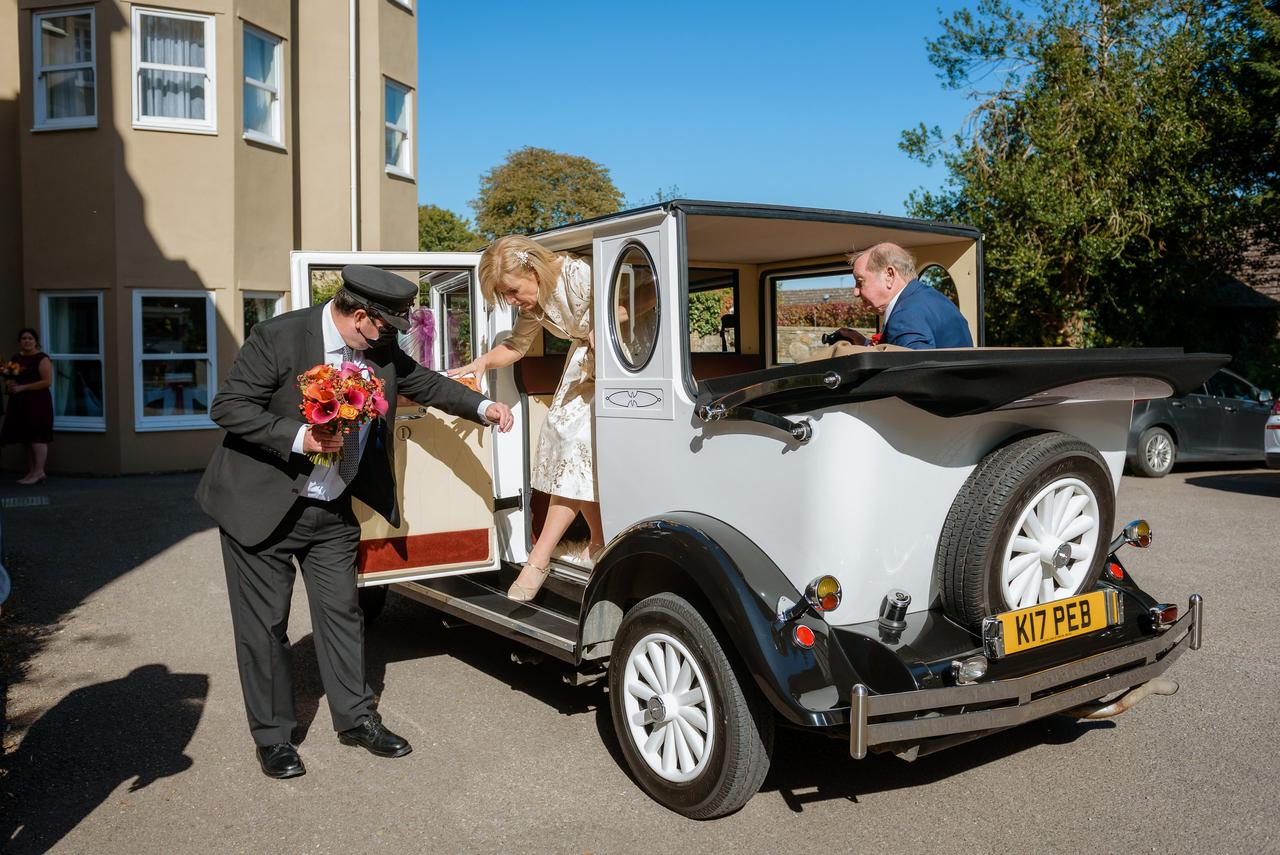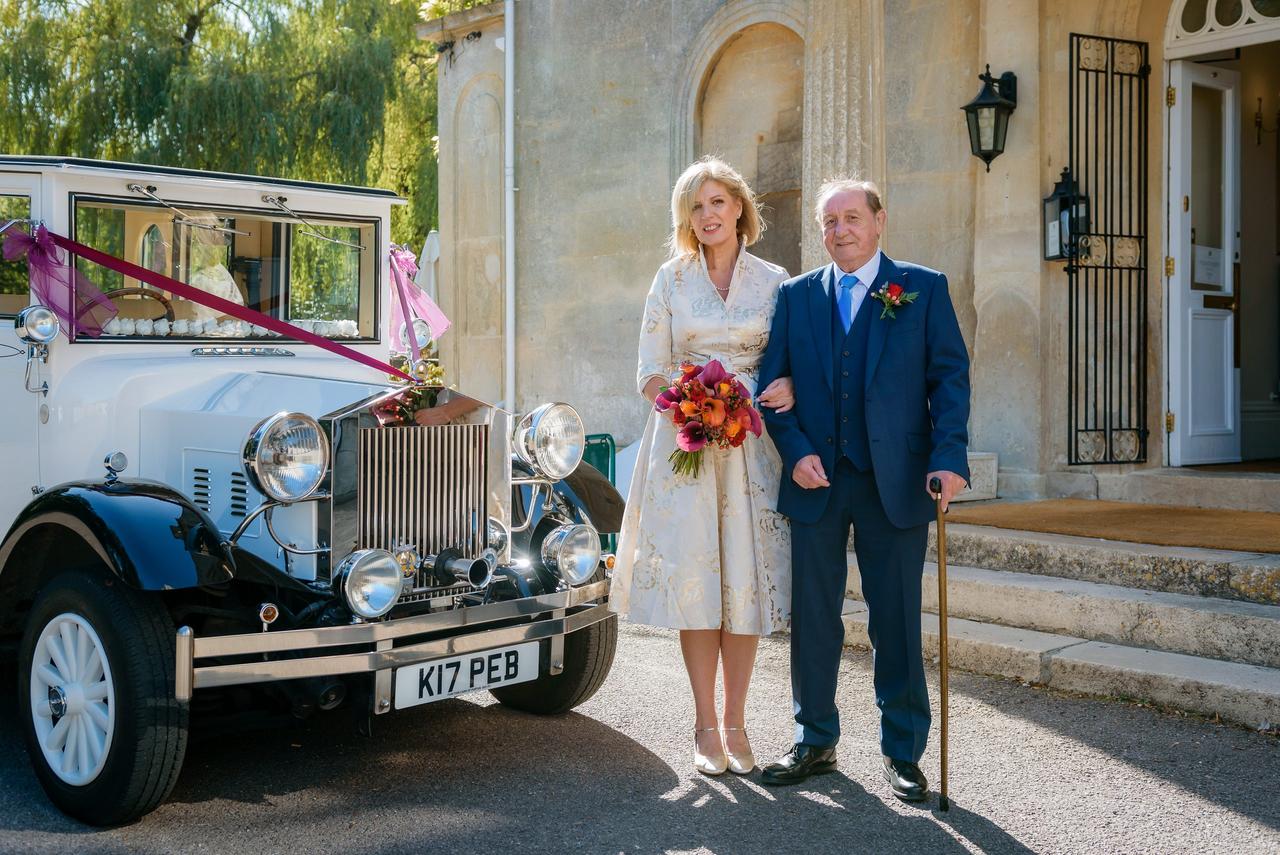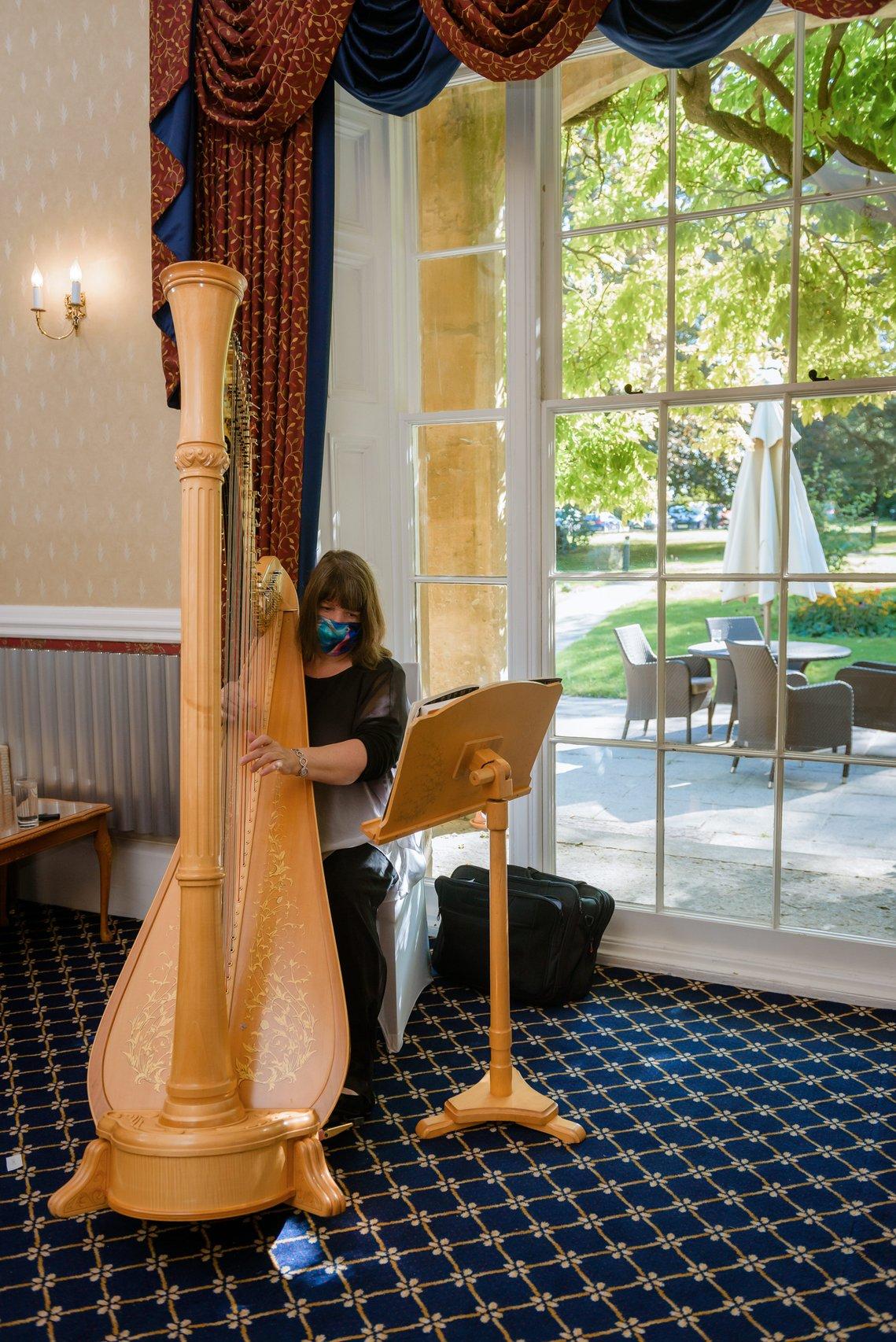 The Change of Plans
"Our original wedding date was the 3rd of October," explained Sue. "On 22nd September, Boris announced that from 28th September wedding number would be reduced to 15.
"Out of nowhere and in a blind panic, I approached the venue about whether we could bring it forward. Once they quickly confirmed and the registrar was available, everything fell into place.
"Our suppliers can-do attitude meant that everyone pulled out the stops. It was a hectic few days. A few guests couldn't make the changed date but most could and it was perfect."
They were luckily able to keep everything the same for their new wedding date. "Some of the minor details like the favours had the wrong date on but we will look back and smile at that as part of the madness that was 2020."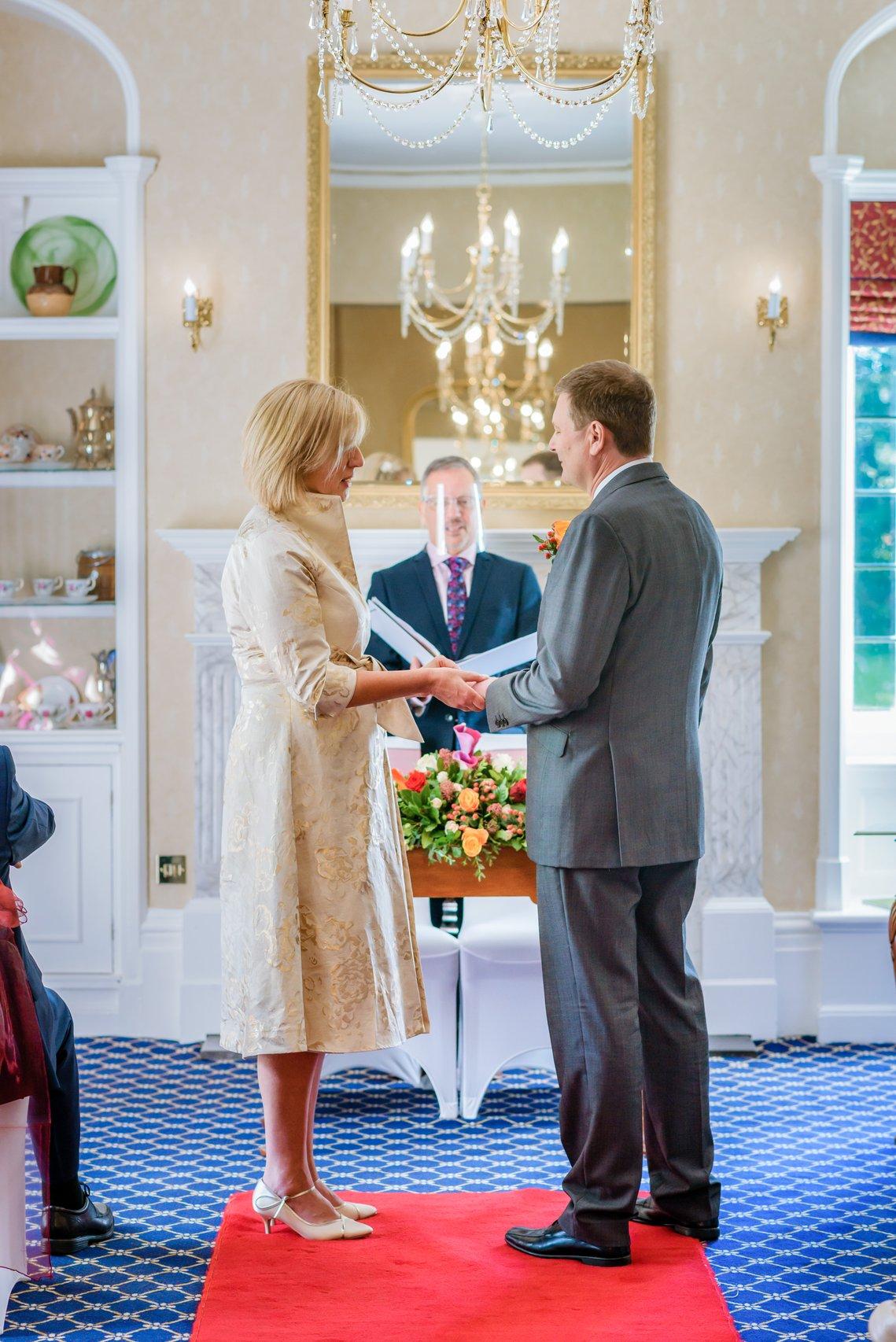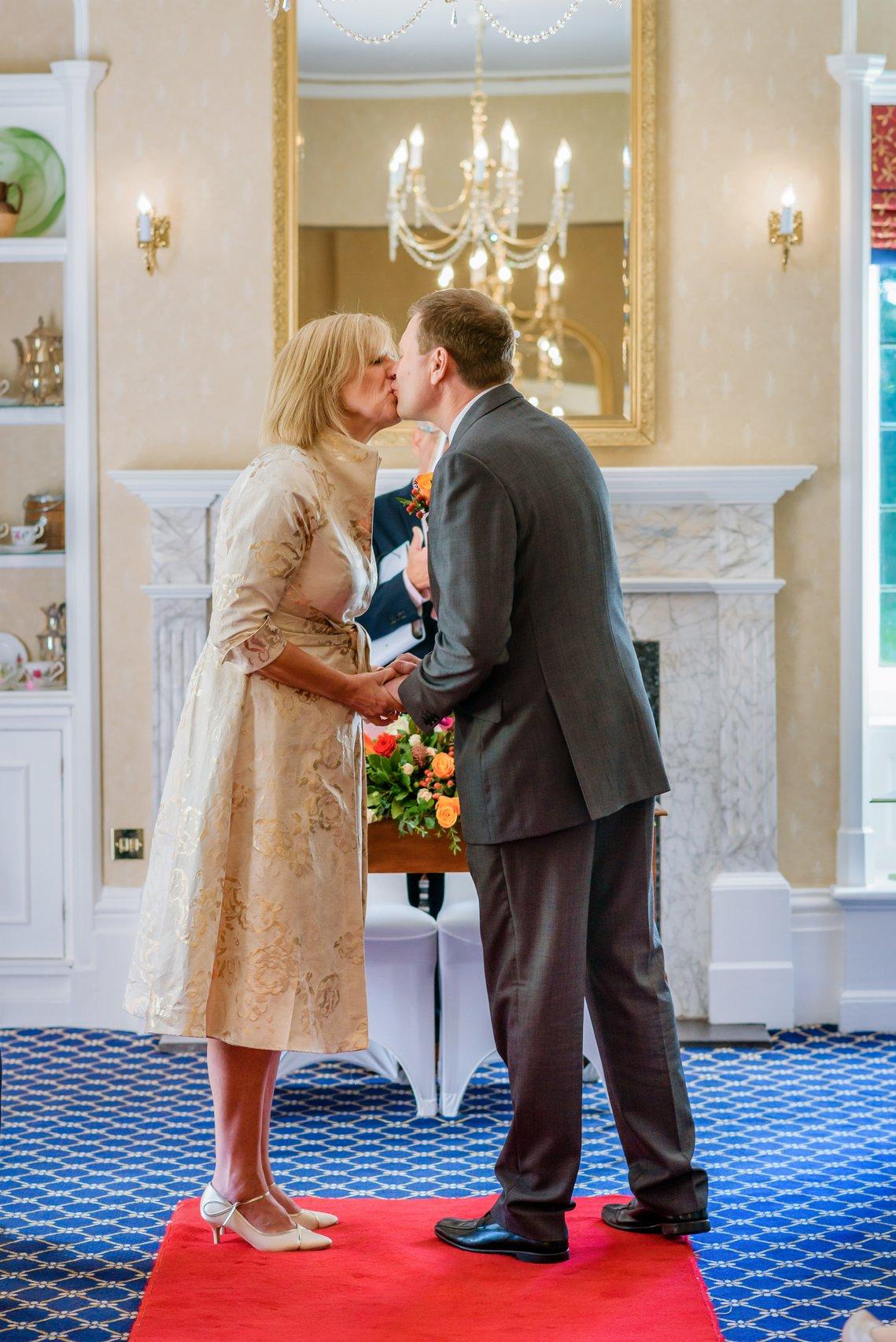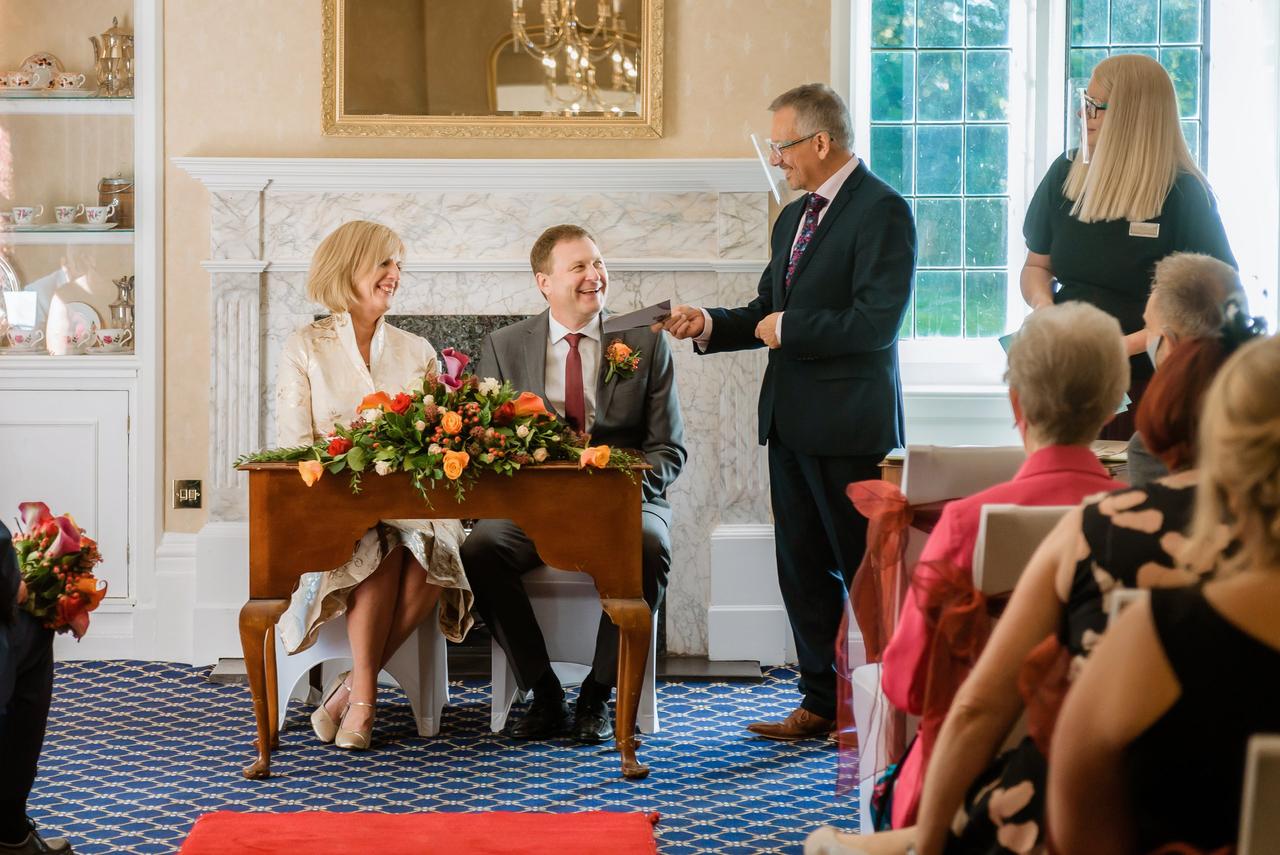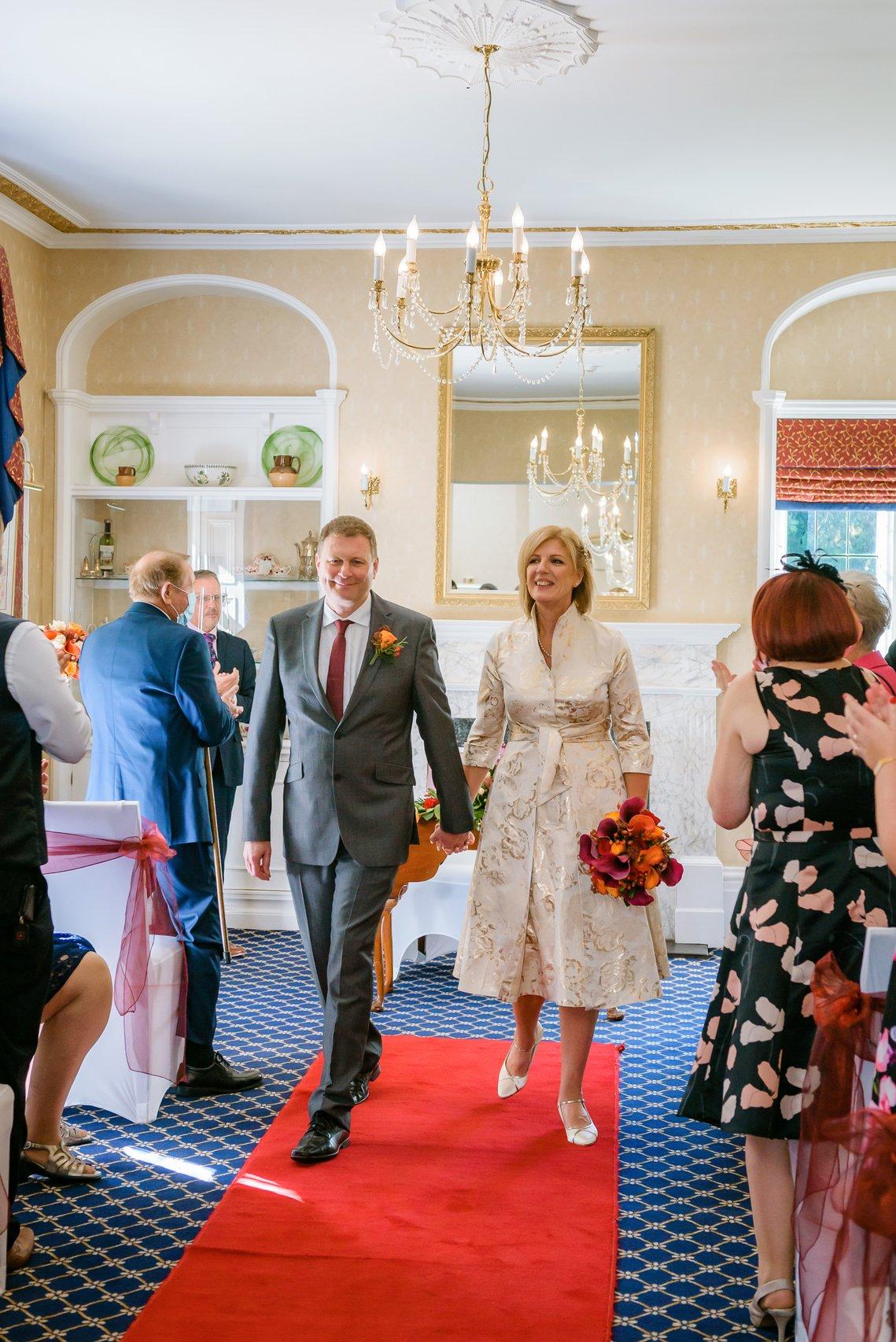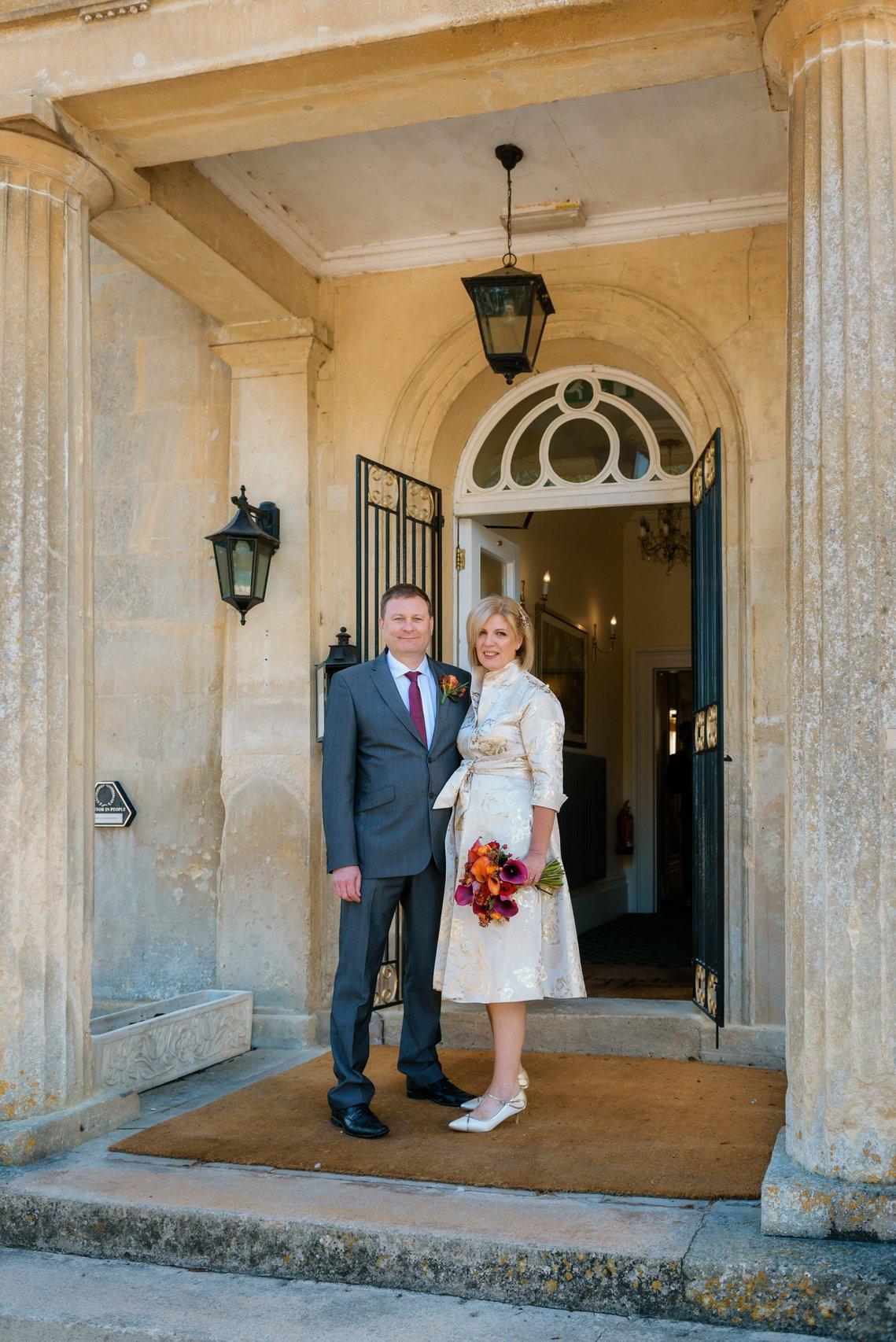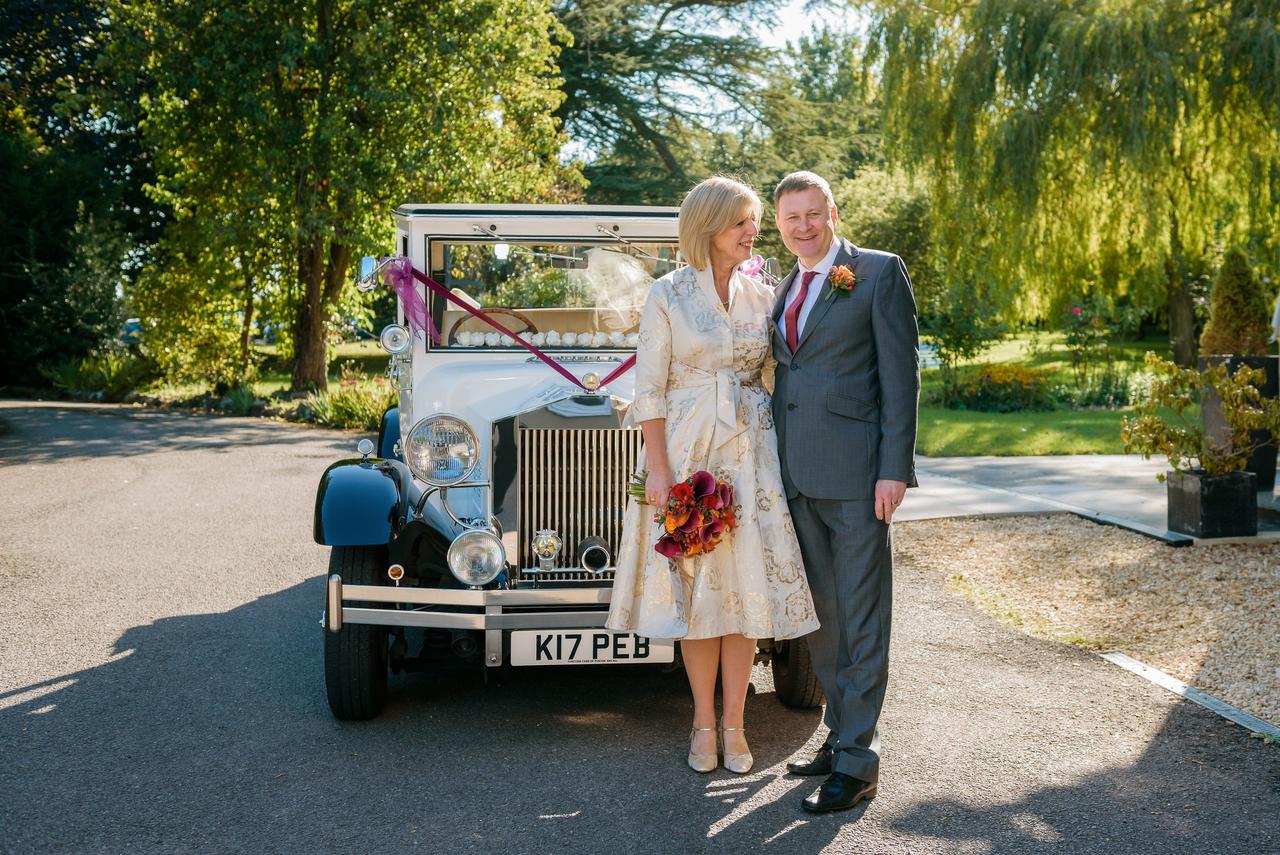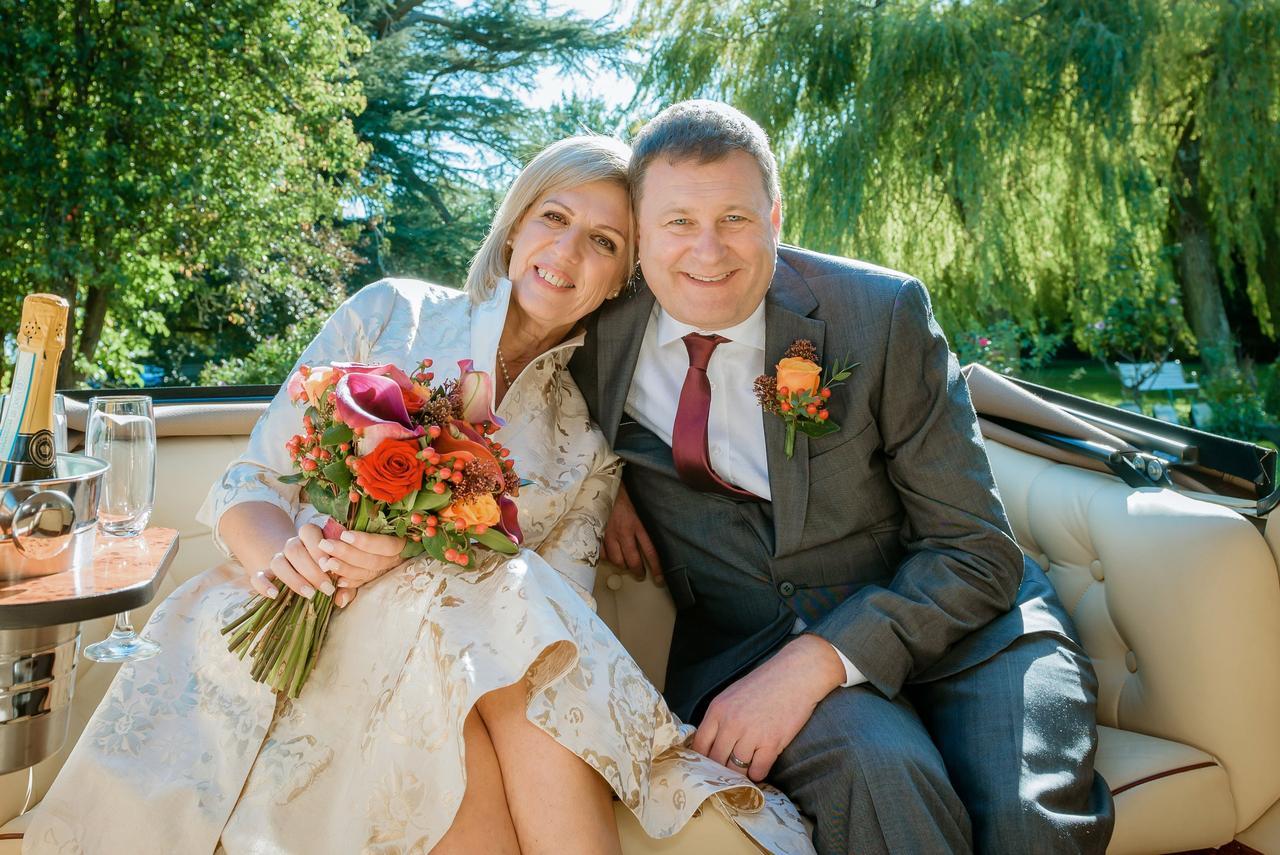 The Wedding Ceremony
Ian and Sue tied the knot in an emotional civil ceremony at Chiseldon House Hotel, near Swindon.
"It was pared back because of the pandemic and the reading couldn't take place," said Sue.
"We had a harpist, Christine Kinder. Whilst waiting to enter, she looked at me, nodded to signal she was about to play and there I go, burst into tears again…I was surprised how emotional I was at points in the day."
Sue walked down the aisle to 'And I Love You So' by Perry Como, played on the harp. "I walked down with my dad who told me to smile."
Their most memorable of the day? "Just looking at each other, saying our vows, and meaning every word."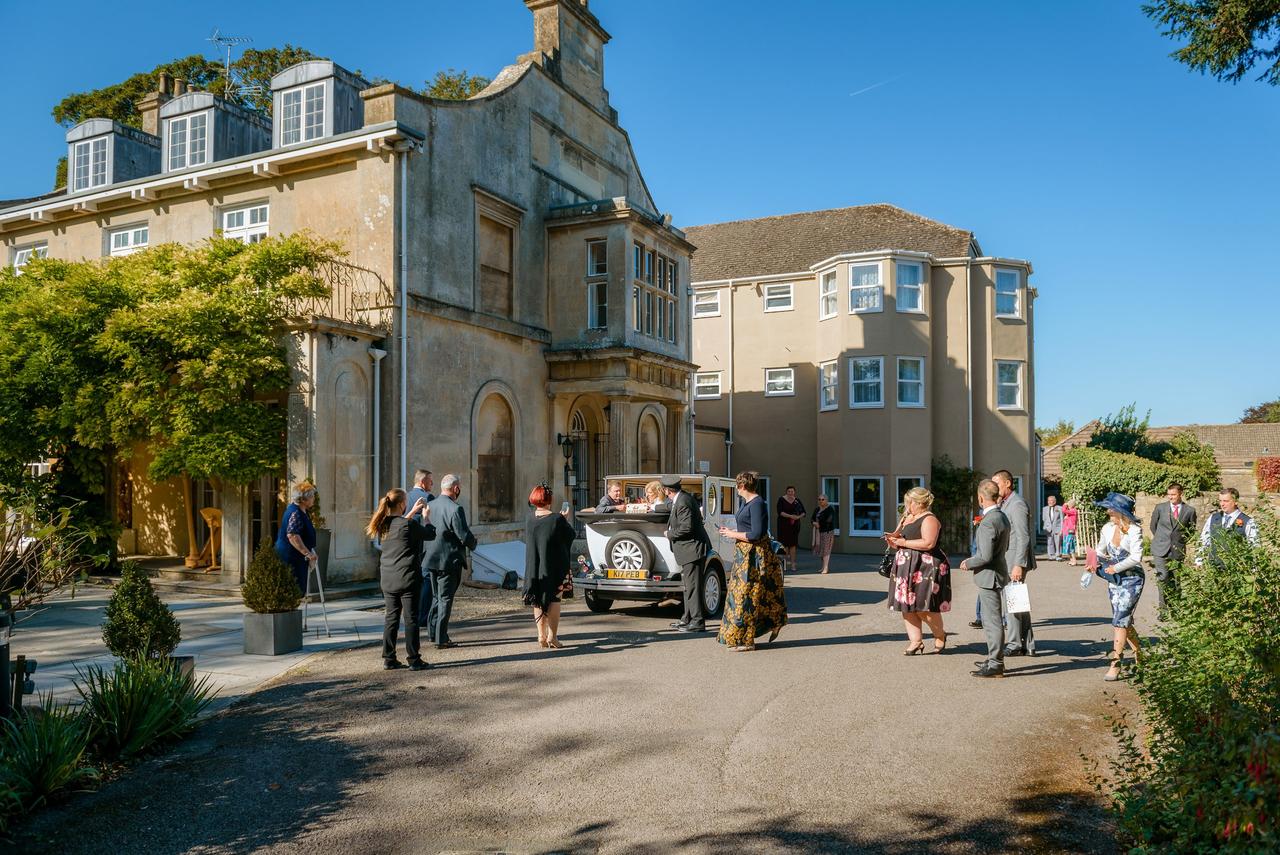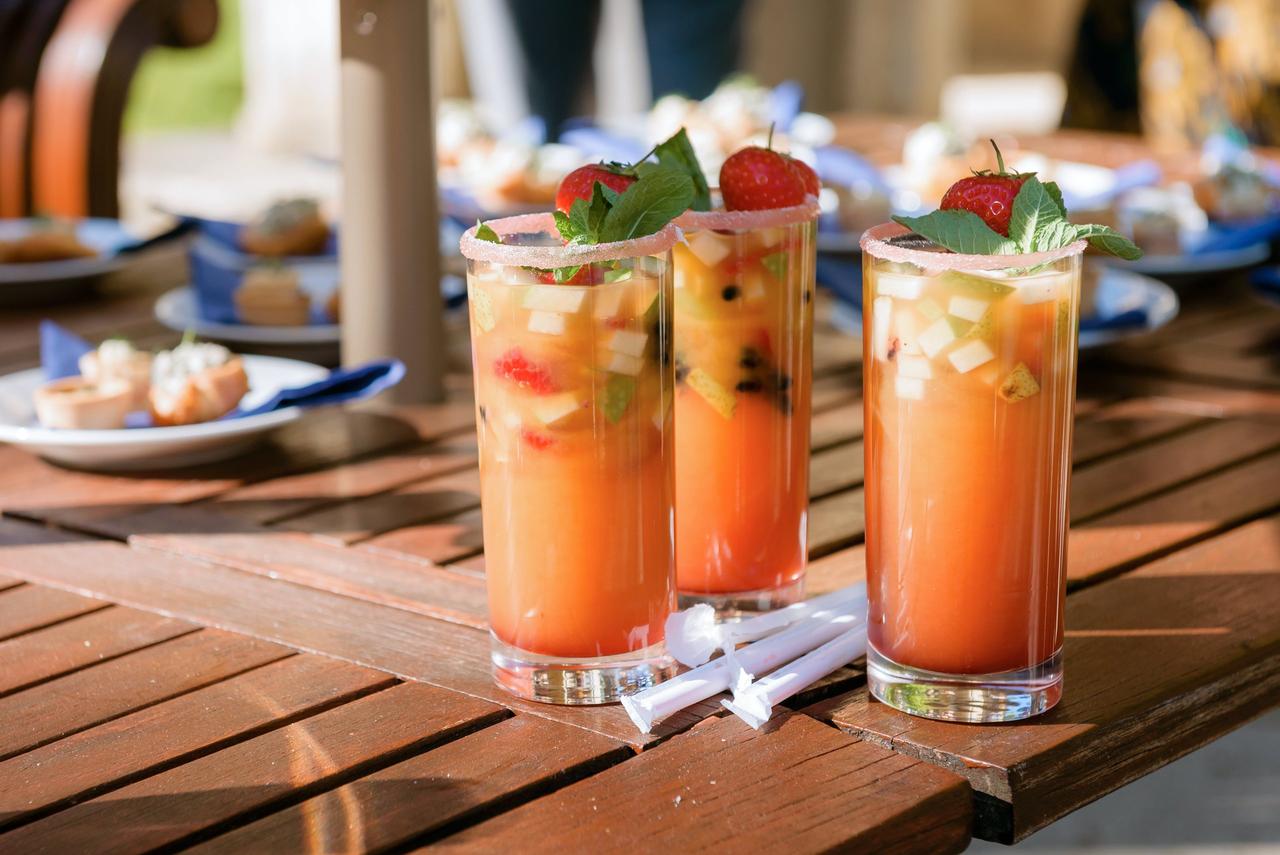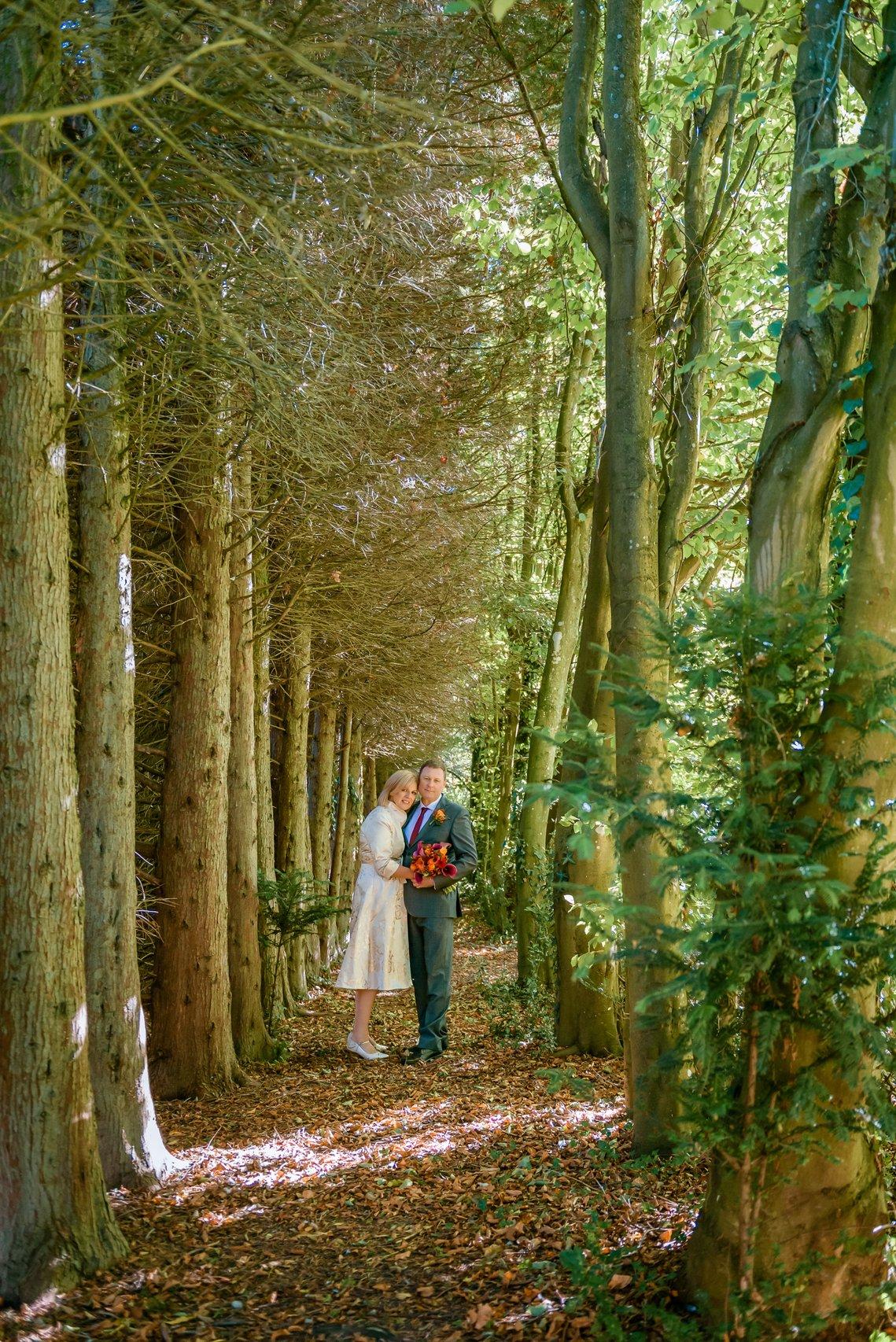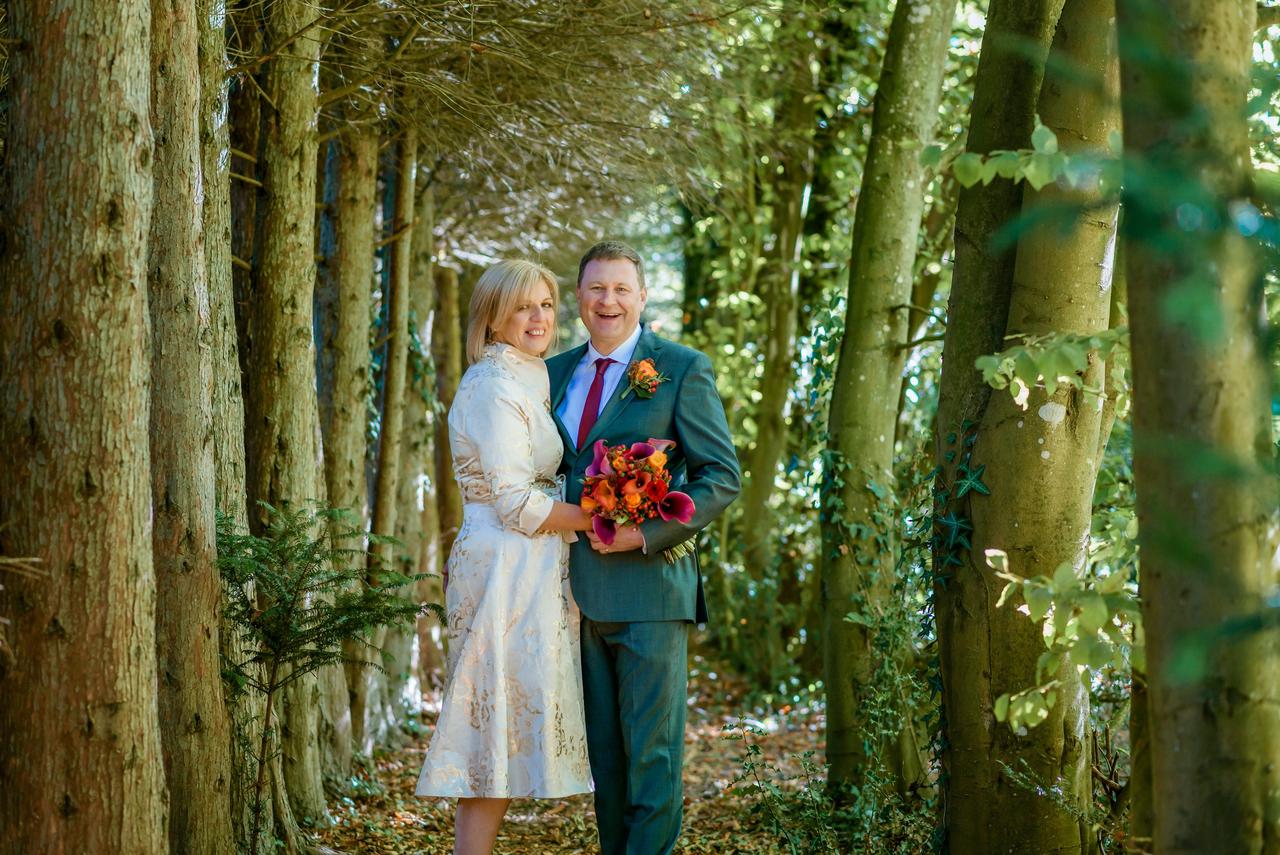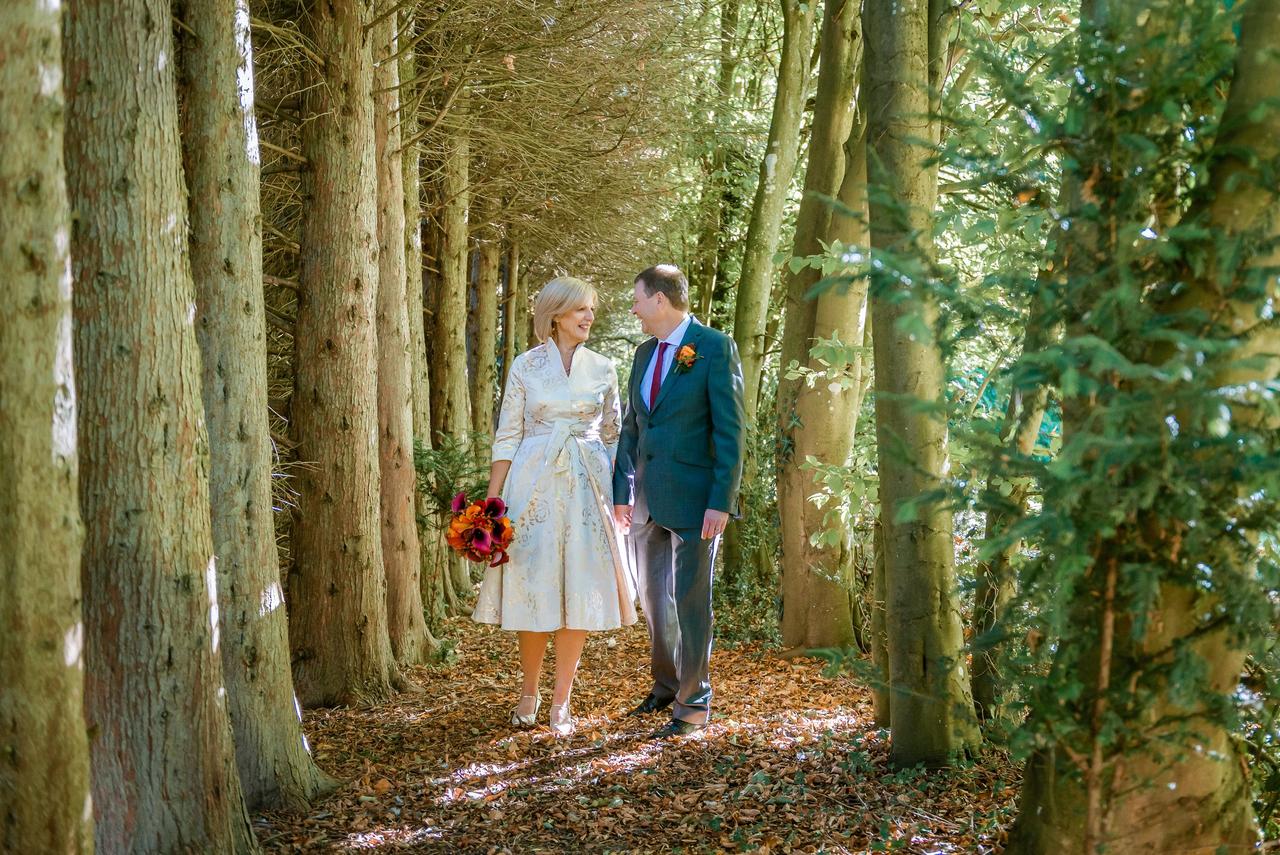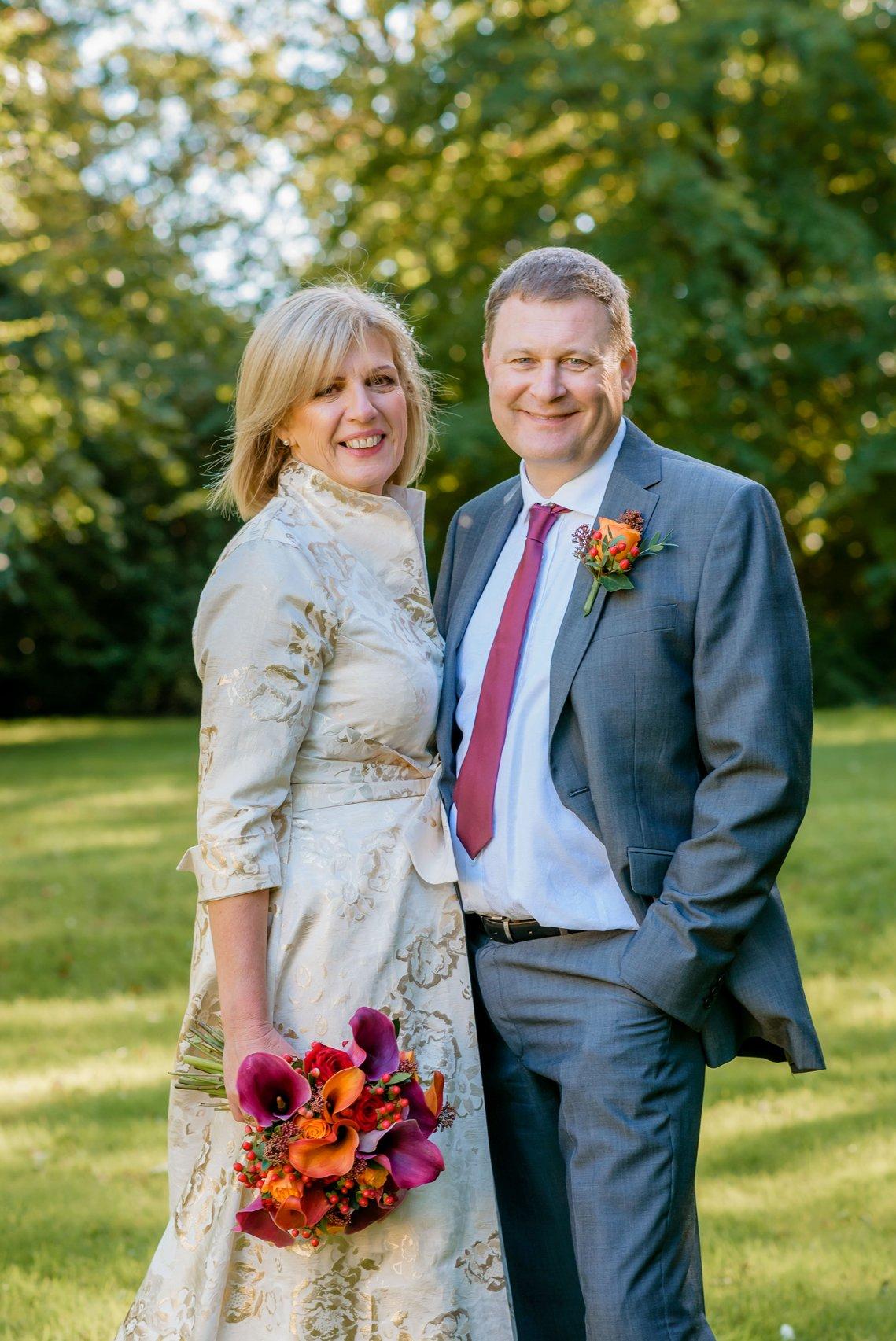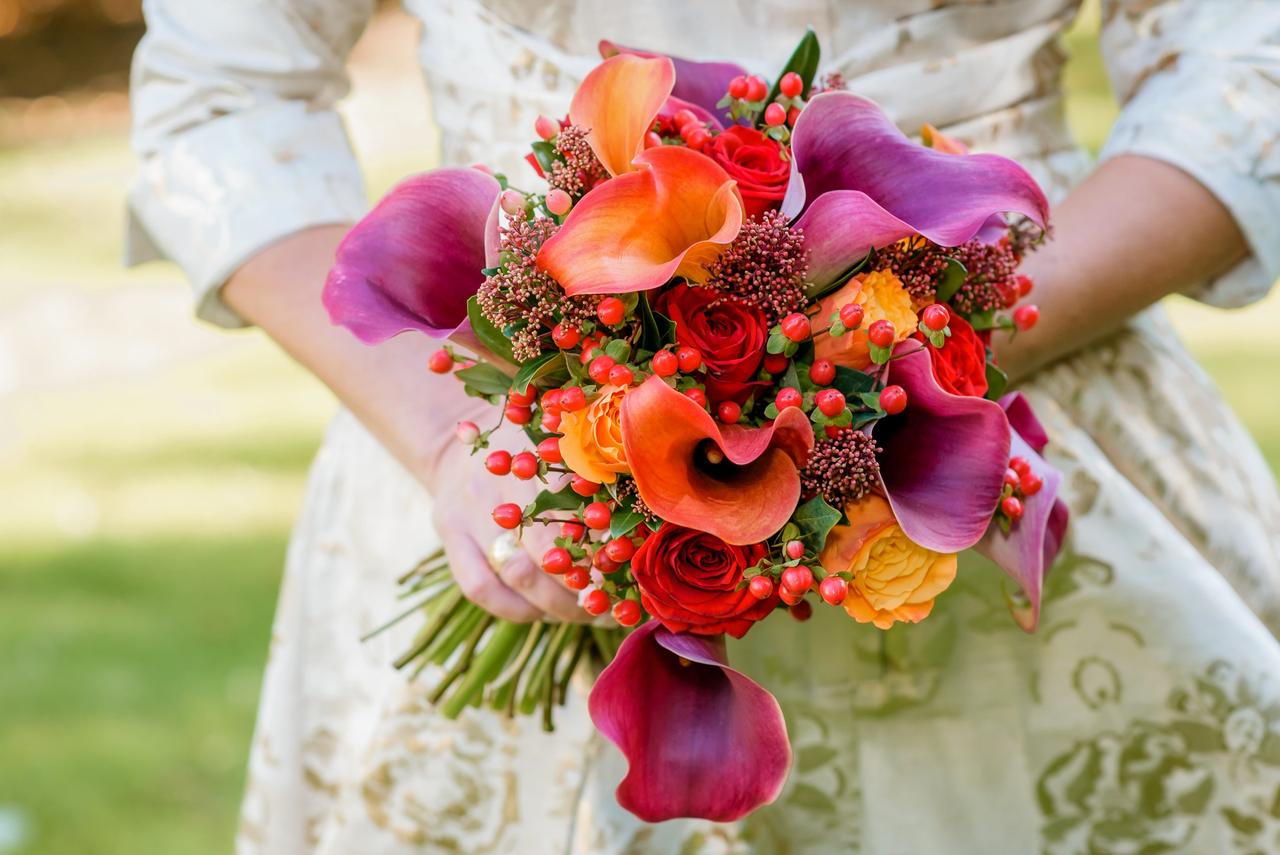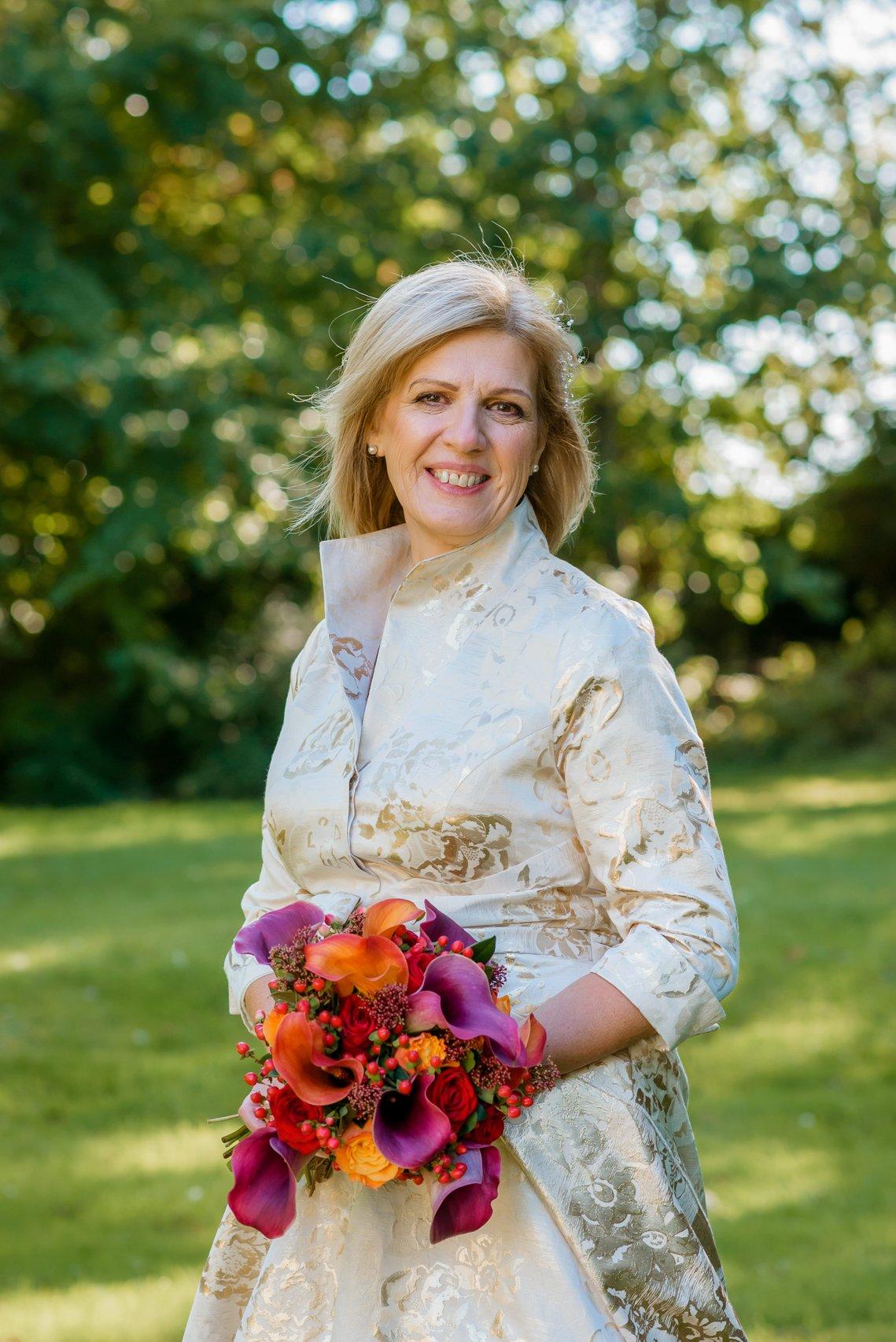 The Wedding Venue
The couple chose Chiseldon House in Wiltshire as their venue, a Grade II-listed manor house set in three acres of lovely gardens.
"We'd been to a wedding fair there and liked the feel of it and that we could have everything in one place. It's a privately-owned country house hotel with grounds including a tree-lined avenue which made for some stunning photos.
"It's out in the country, the grounds are beautiful and the architectural detail meant it looked splendid in the sunshine. It was good that everything was in one place."
Although they didn't have a wedding planner, Claire at Chiseldon was on hand to help with the details - "and she kept me calm when required," confessed Sue.
Sue and Ian leaned into the autumnal wedding date with reds and golds as their colour scheme and a seasonal menu of carrot soup, chicken breast and vegetables for main, and an apple and blackberry crumble for dessert. Later in the afternoon, they served mezze plates with continental meats, cheese and crusty bread.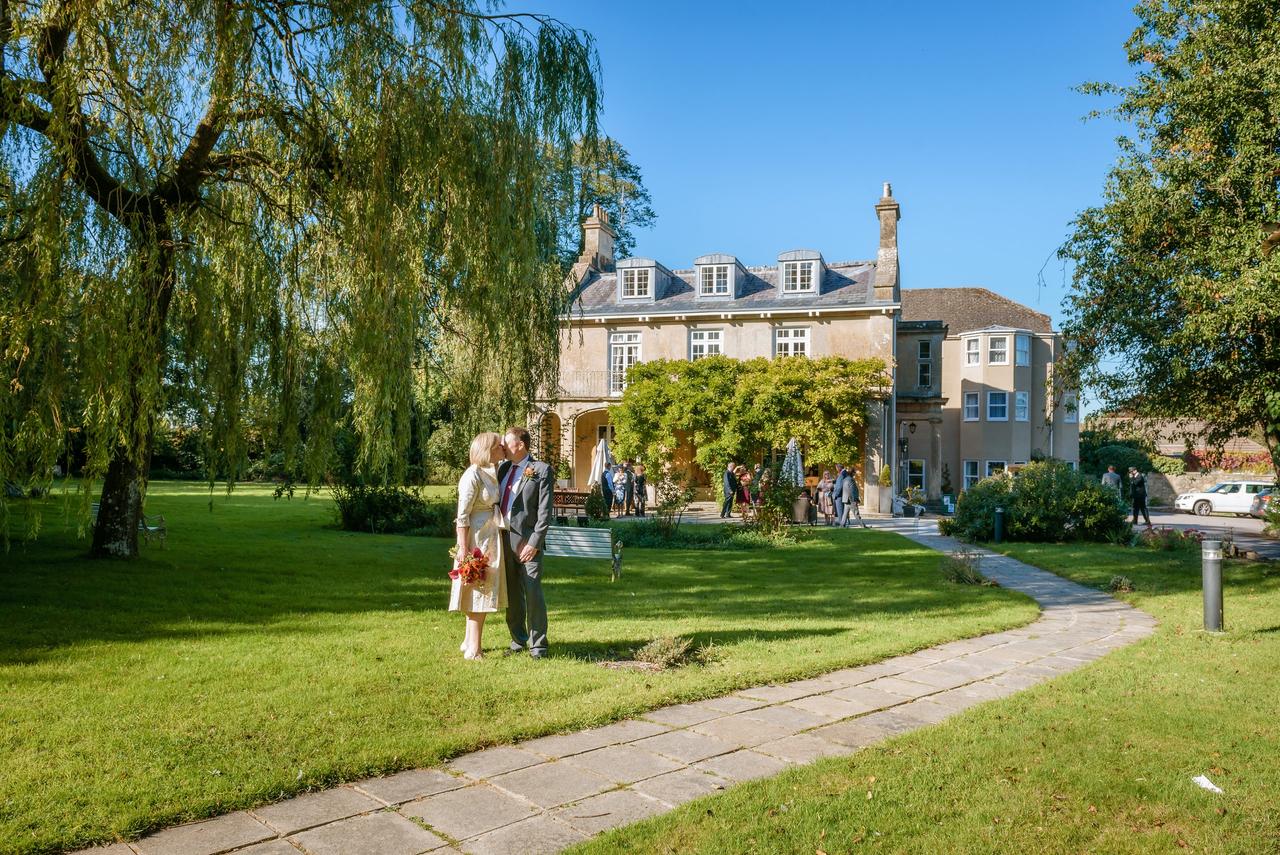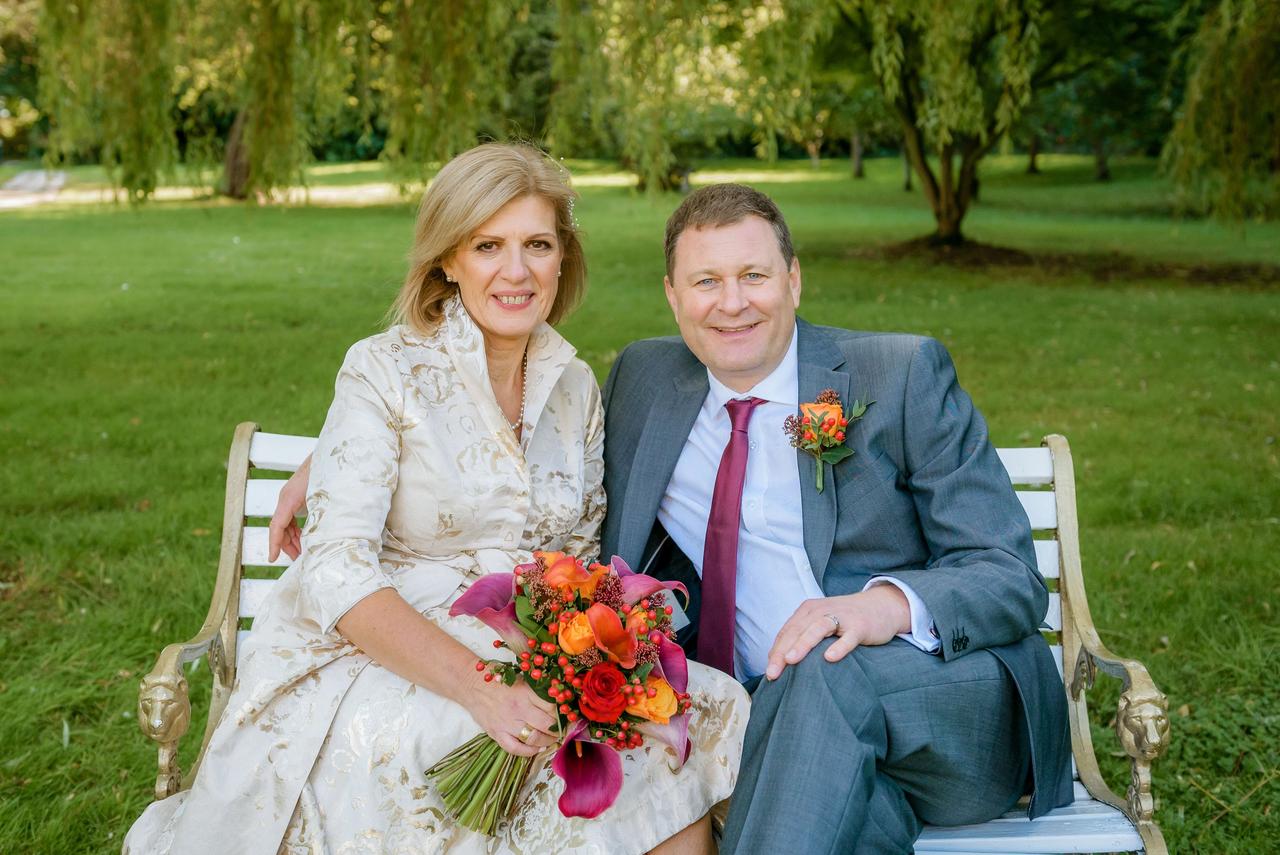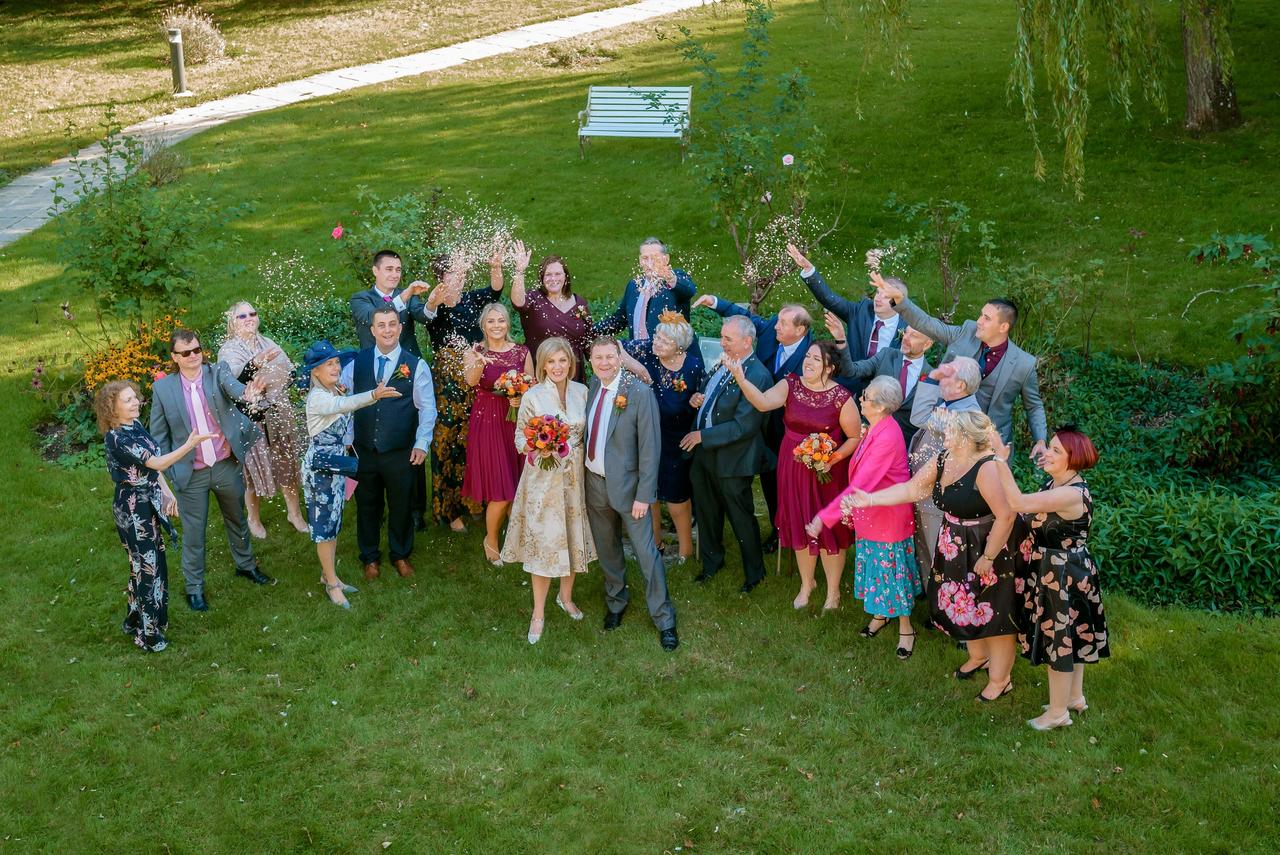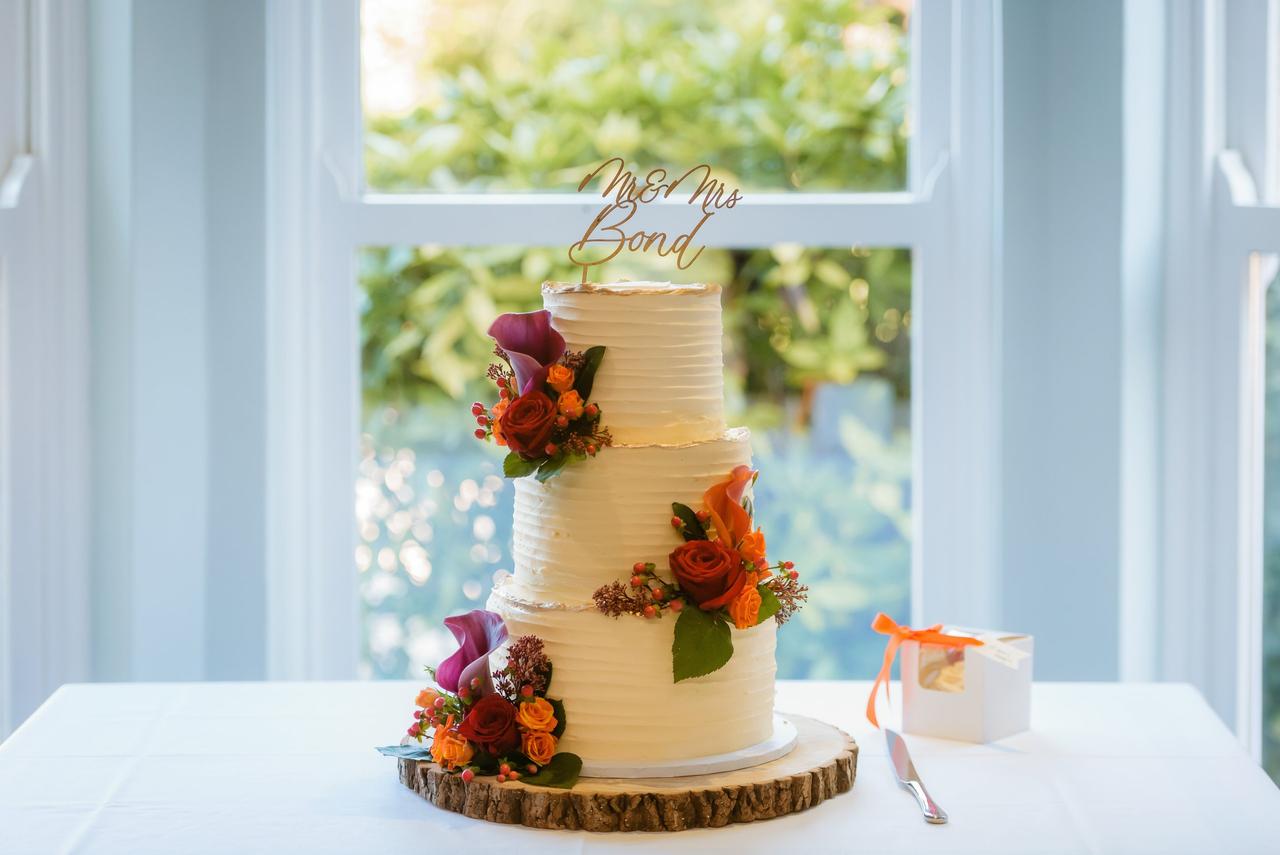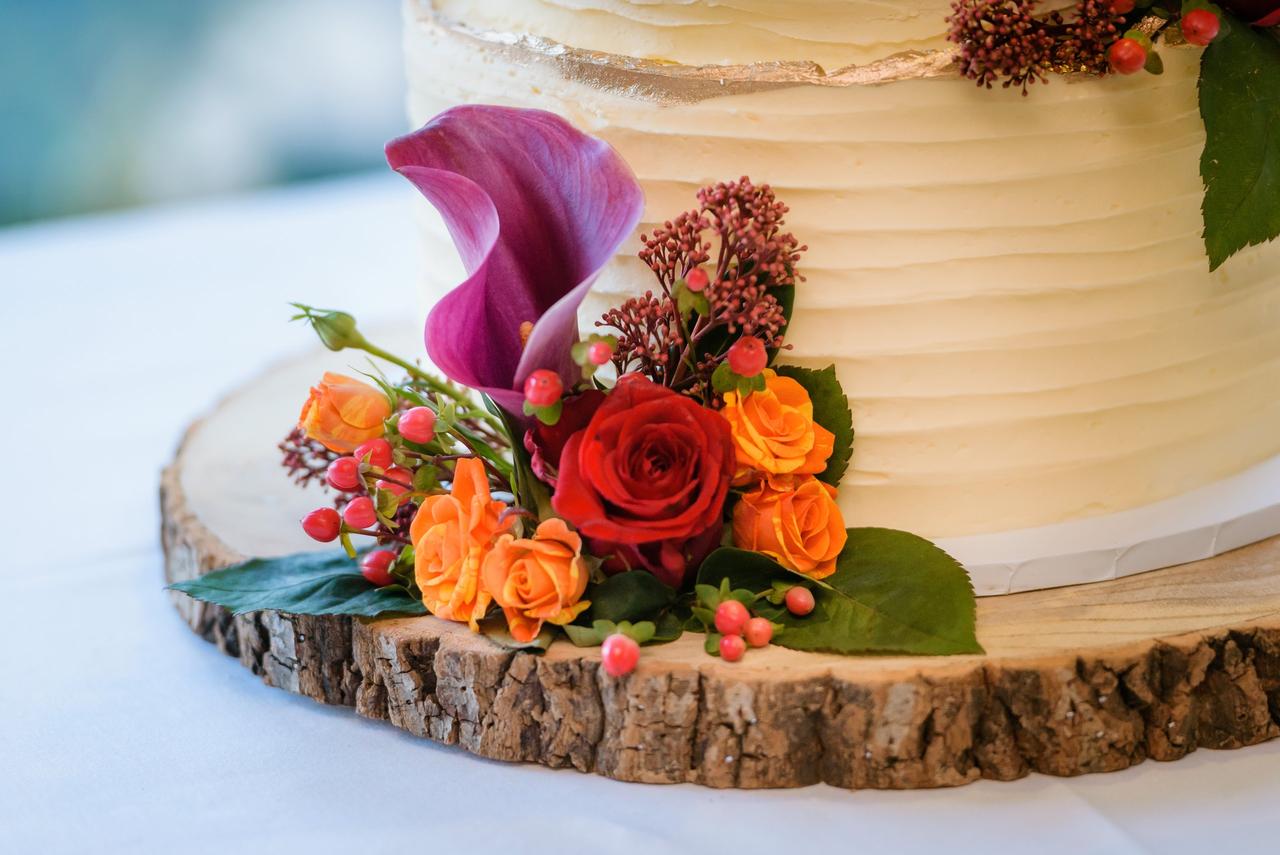 The Flowers and Décor
In keeping with the autumnal theme, Sue carried a bouquet of red and orange roses, purple lilies and red hypericum berries. There was also a welcome mirror decorated in the same flowers and matching arrangements as centrepieces on the tables with a large spray arrangement for the top table.
"Sandie Eustace at Floral Design Swindon arrange the flowers. I have known her for years as she runs a flower school I attend so she instinctively knew what I wanted. I would never have attempted anything so important myself!"
Flowers were also the wedding favours, as Sue and Ian gifted their guests with a small pack containing a wild flower seed capsule, bought from Etsy.
Their table centrepieces were hand-tied flower bouquets in orange glass vases.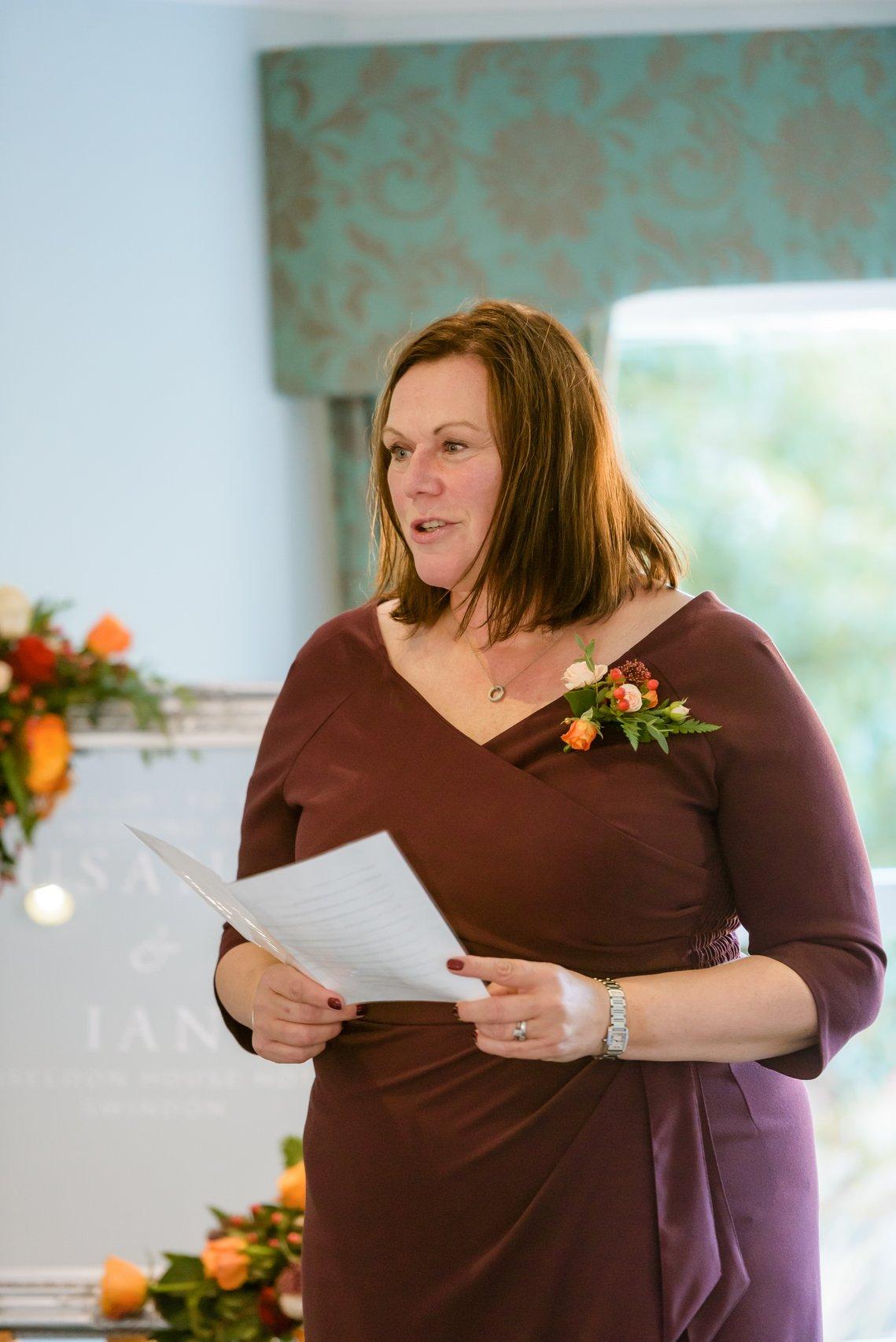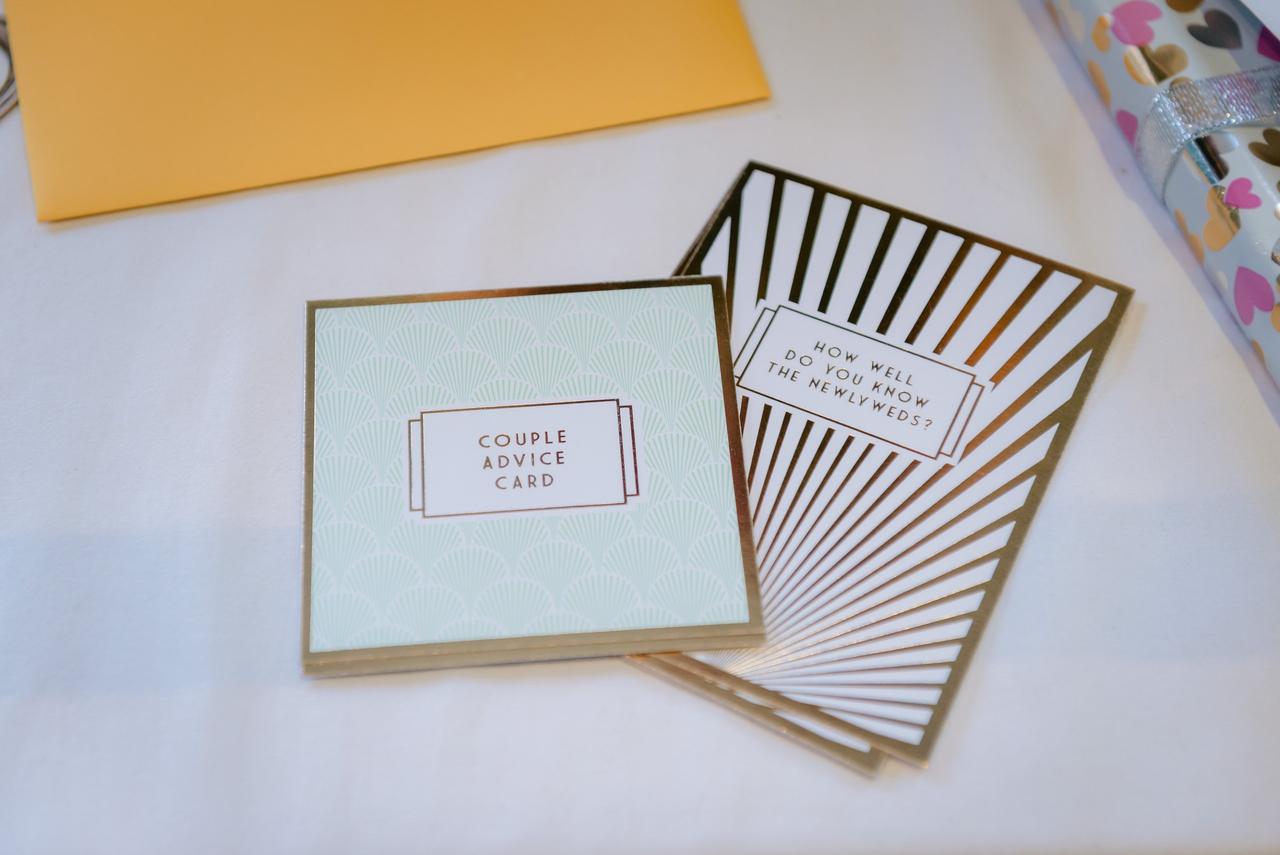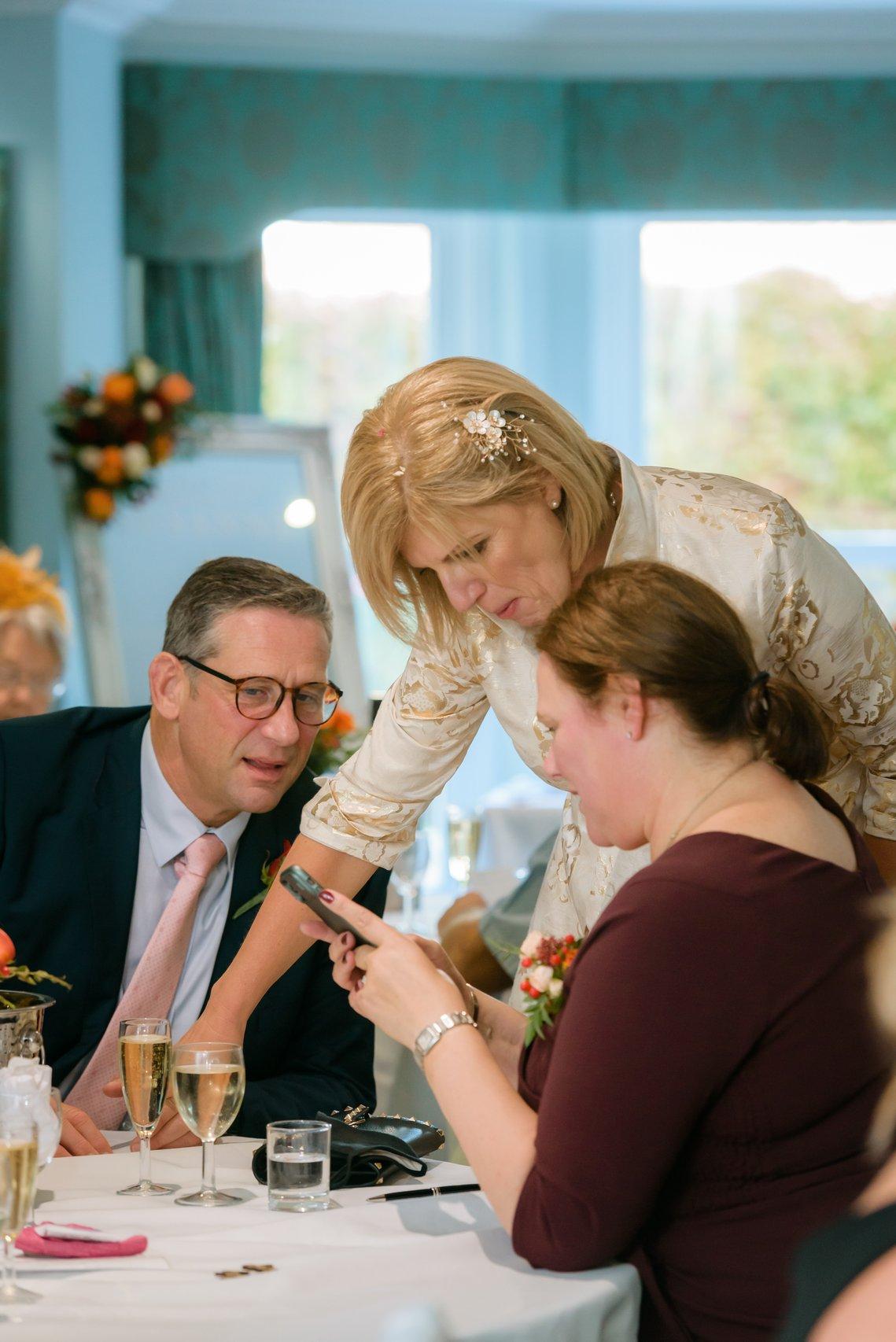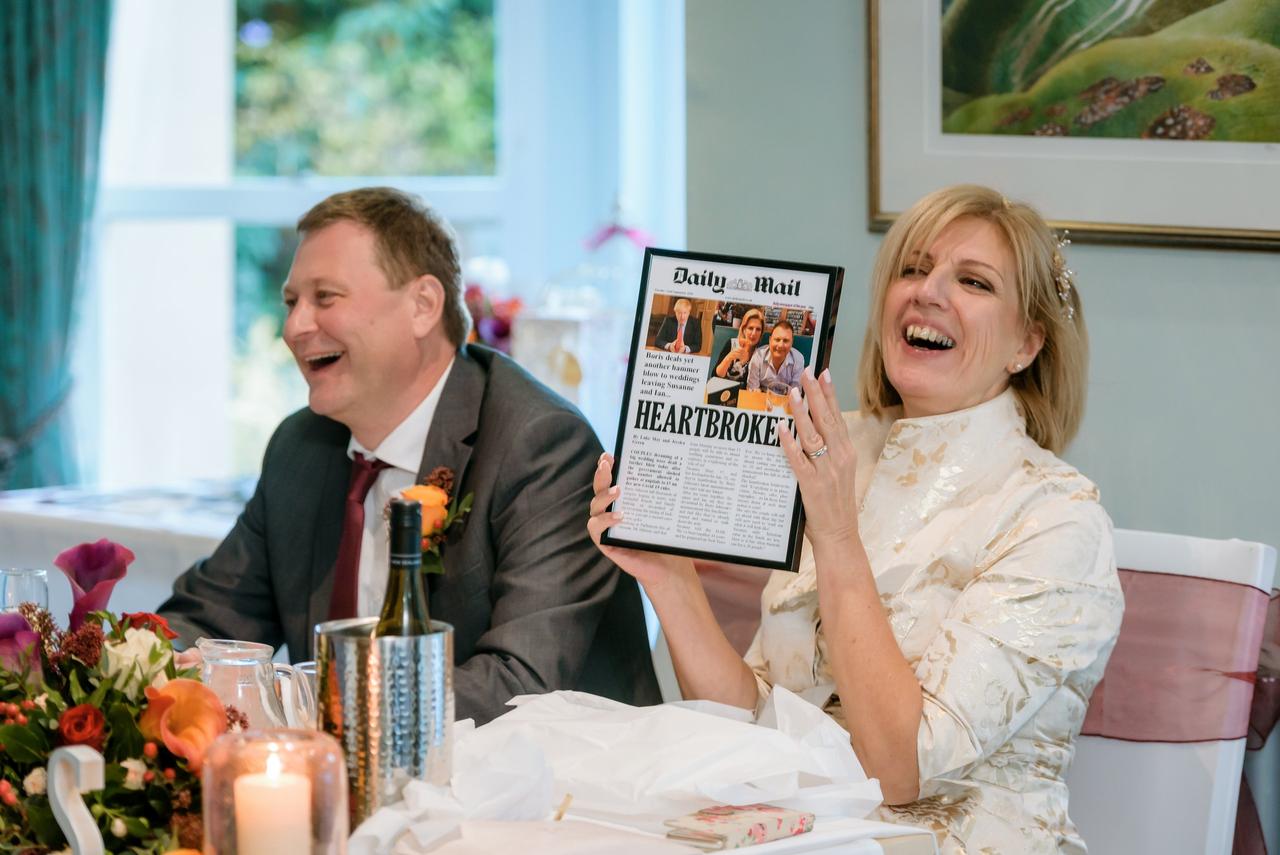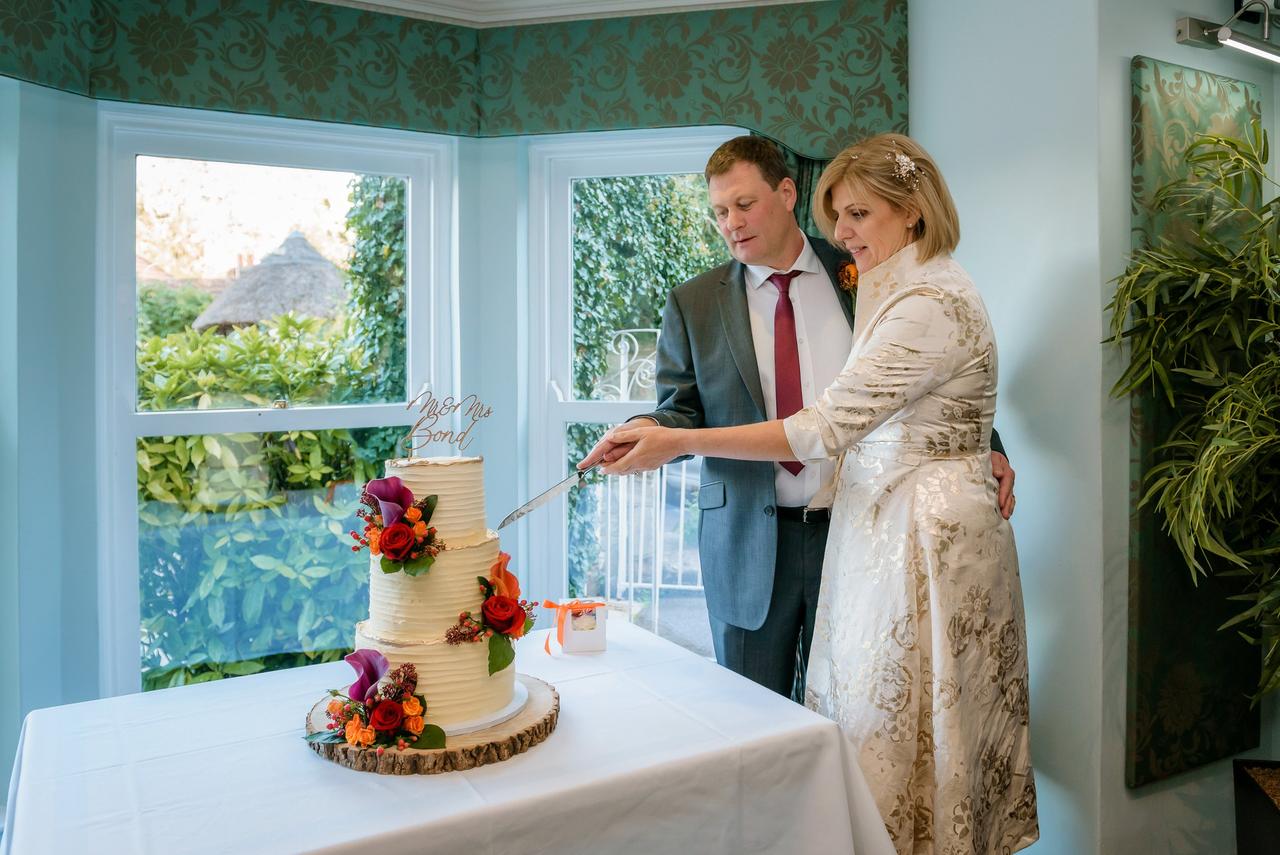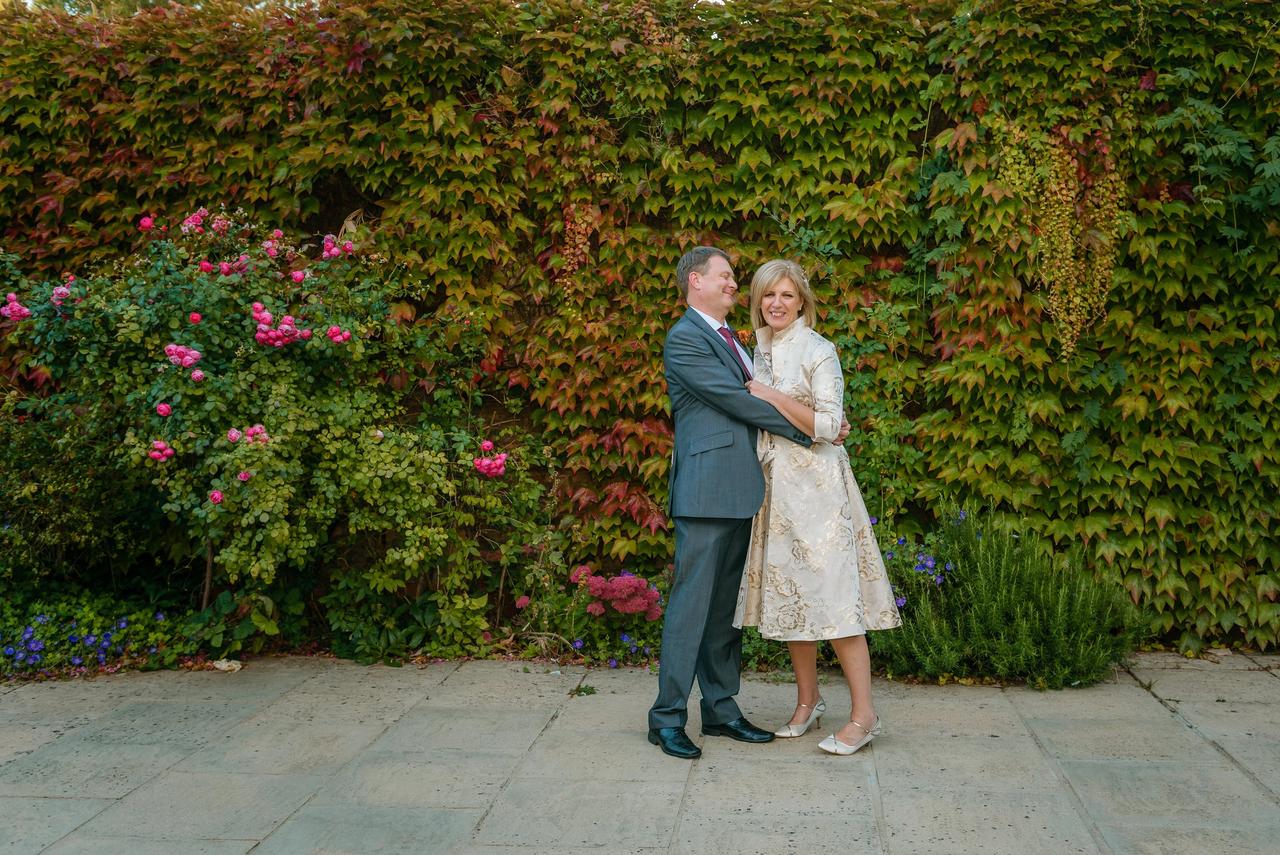 The Wedding Cake
"We had a three-tier sponge decorated with buttercream, trimmed with gold and decorated with flower sprigs to match my bouquet," said Sue.
Their gorgeous cake was made by Kim Curtis from Kimmi's Cakes in Swindon and they'll be having an exact duplicate at their reception later this year.
While the couple weren't allowed entertainment, they were able to do a cake cutting in front of the guests and have their first dance.
"We danced to 'Never Tear Us Apart' by INXS. No disco but the hotel allowed us to play it on their speaker system."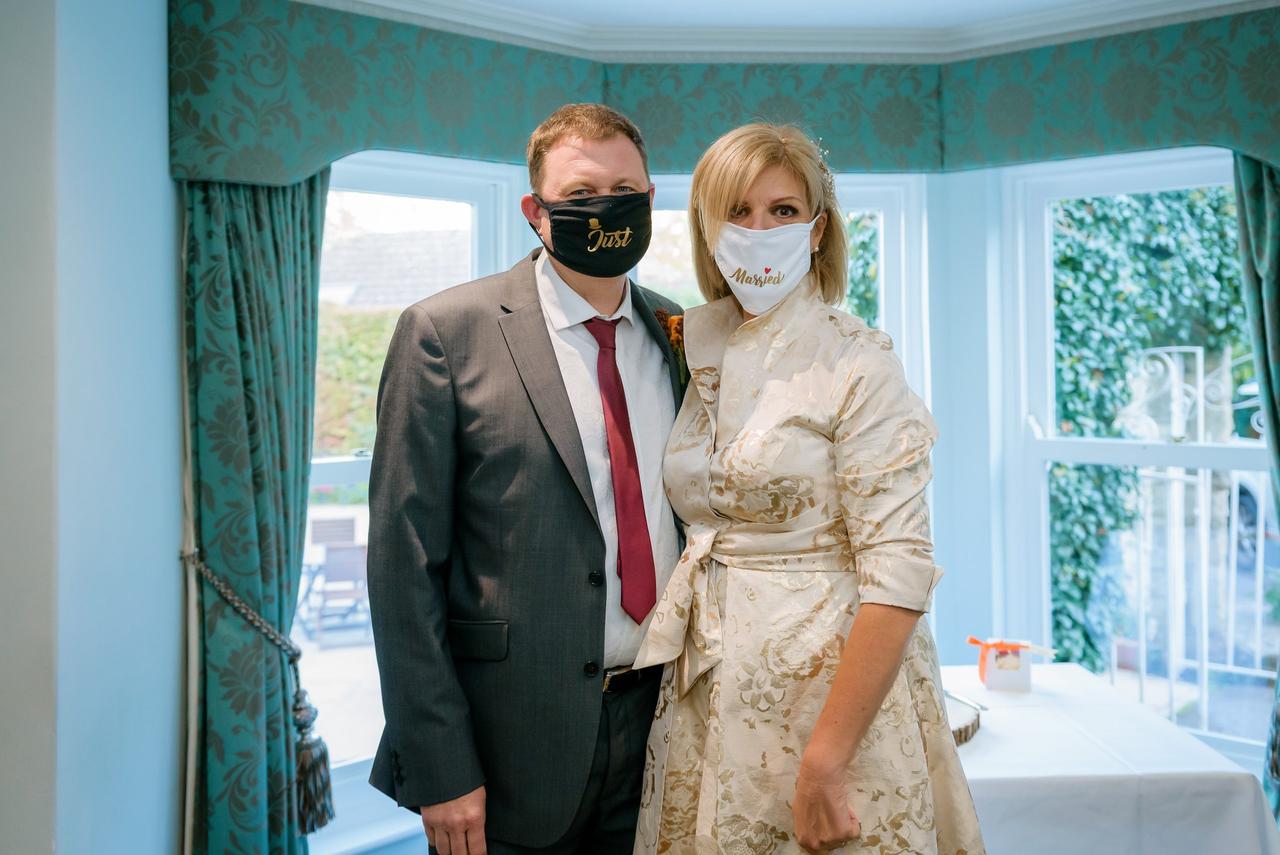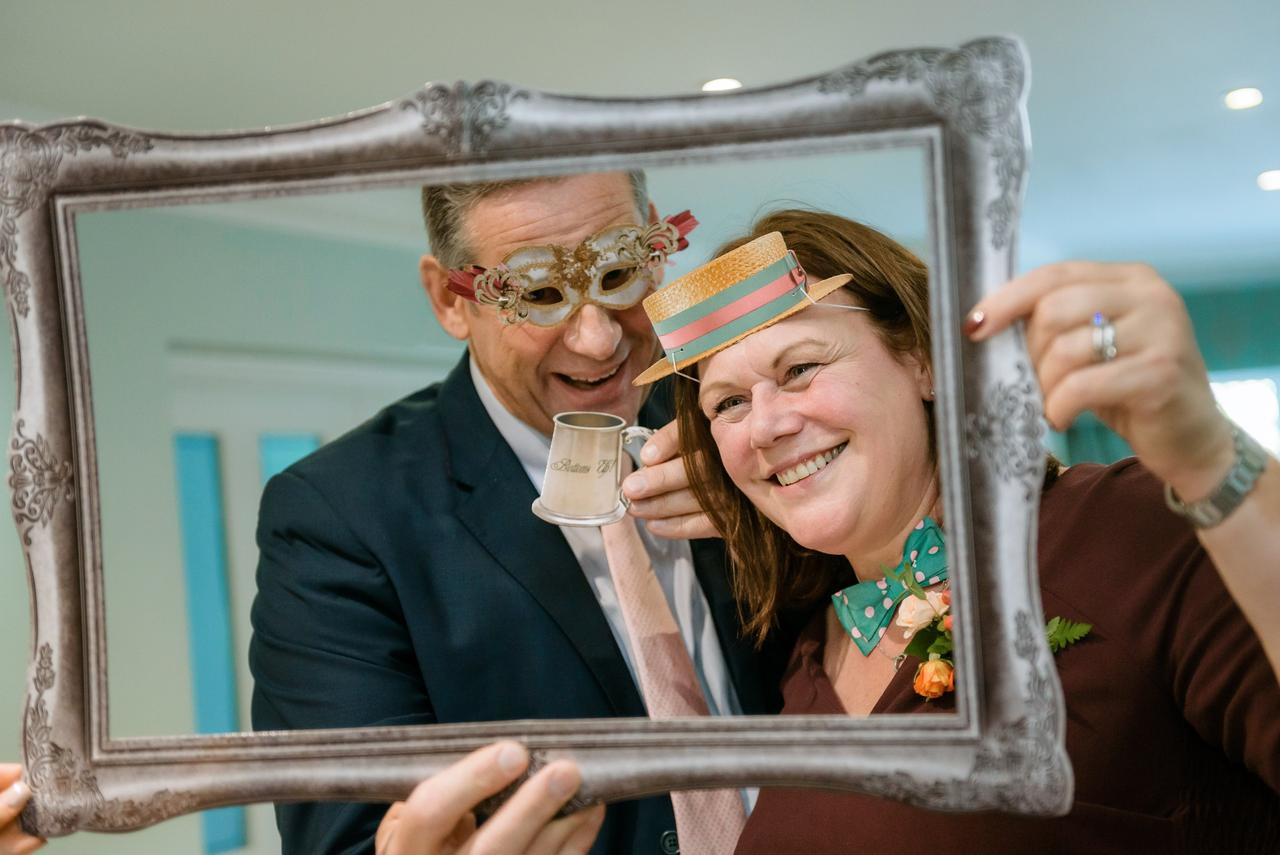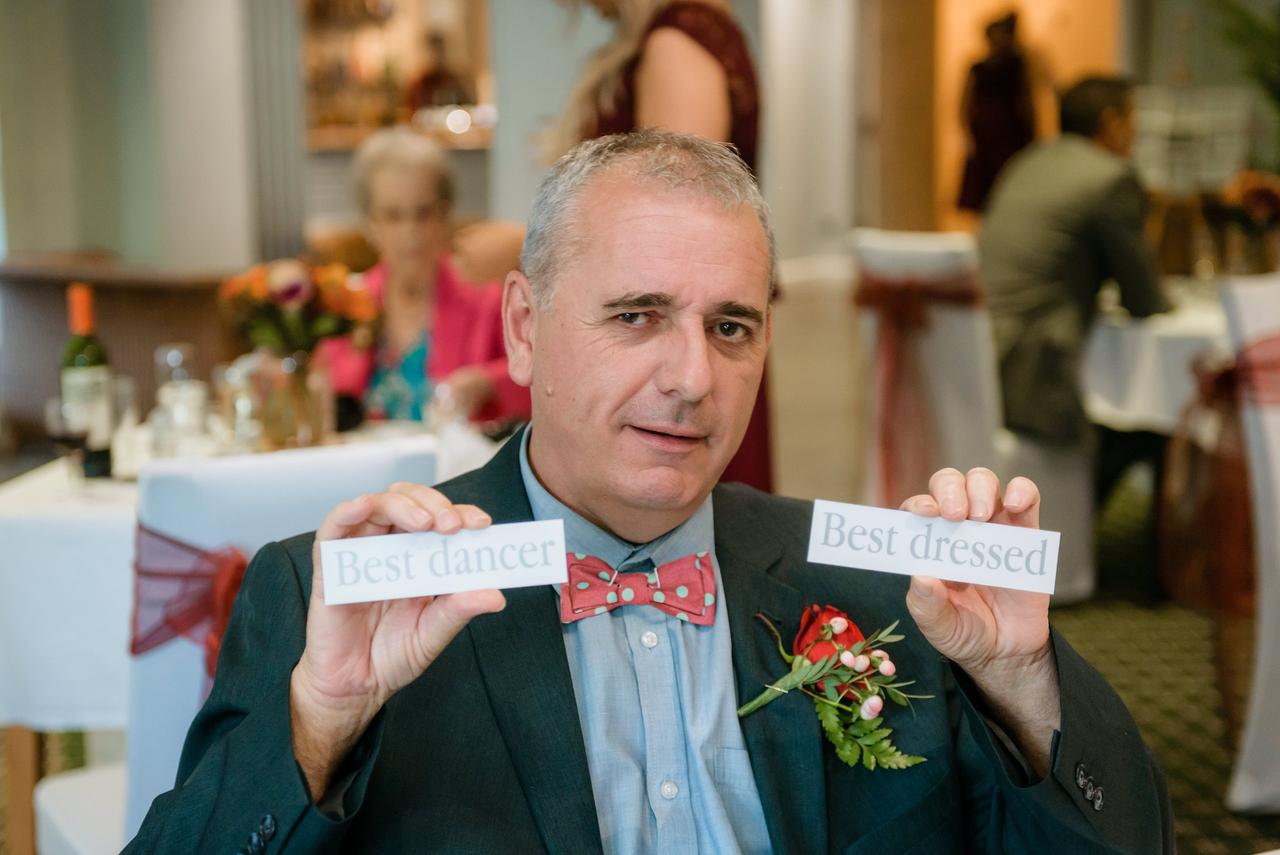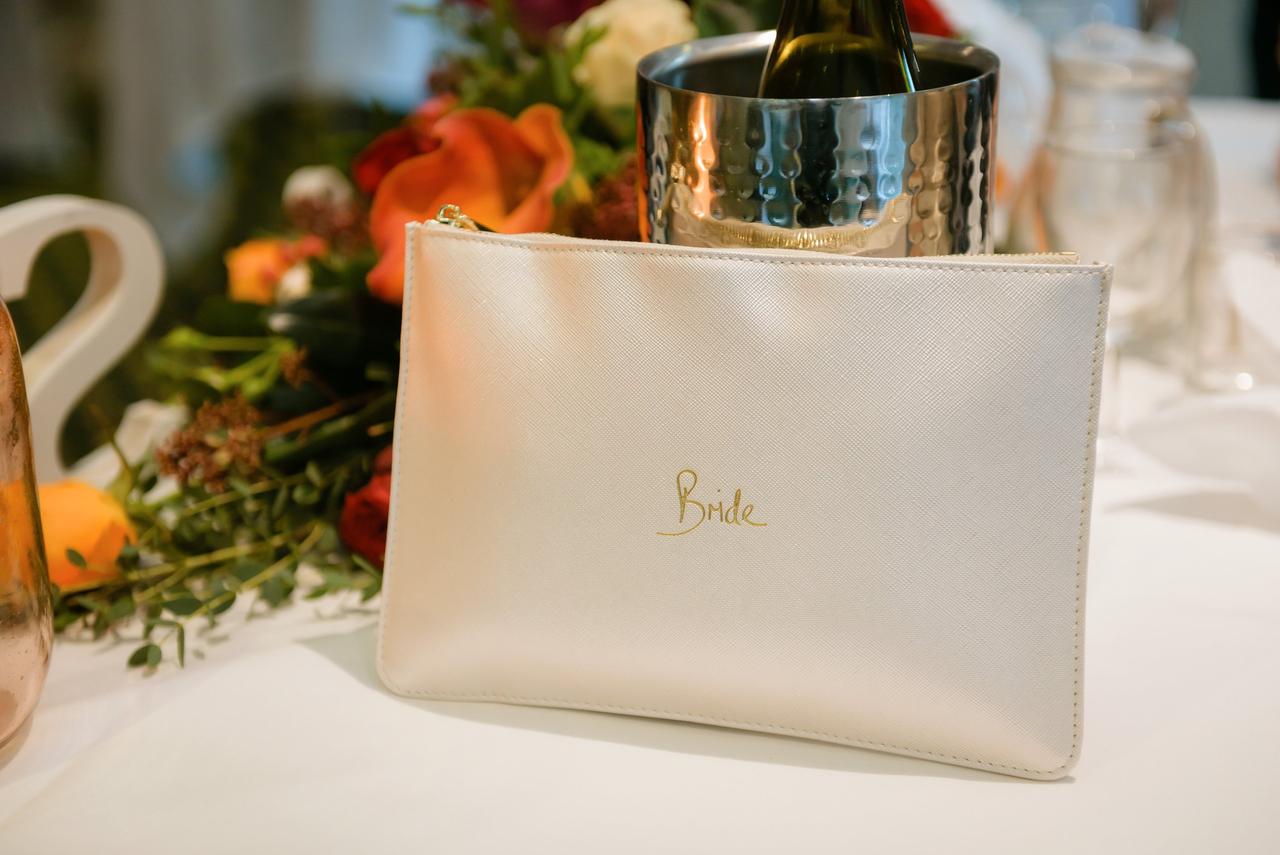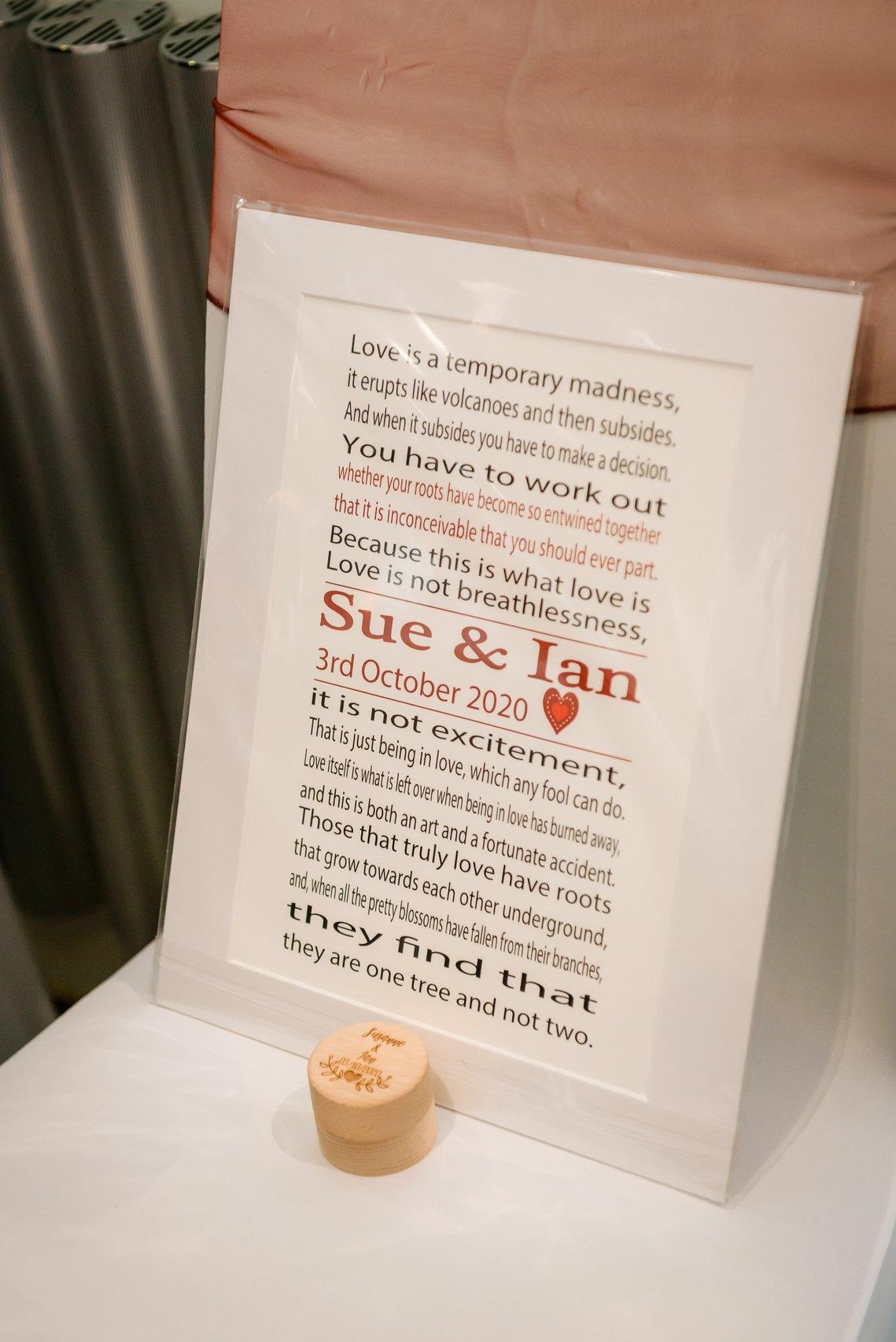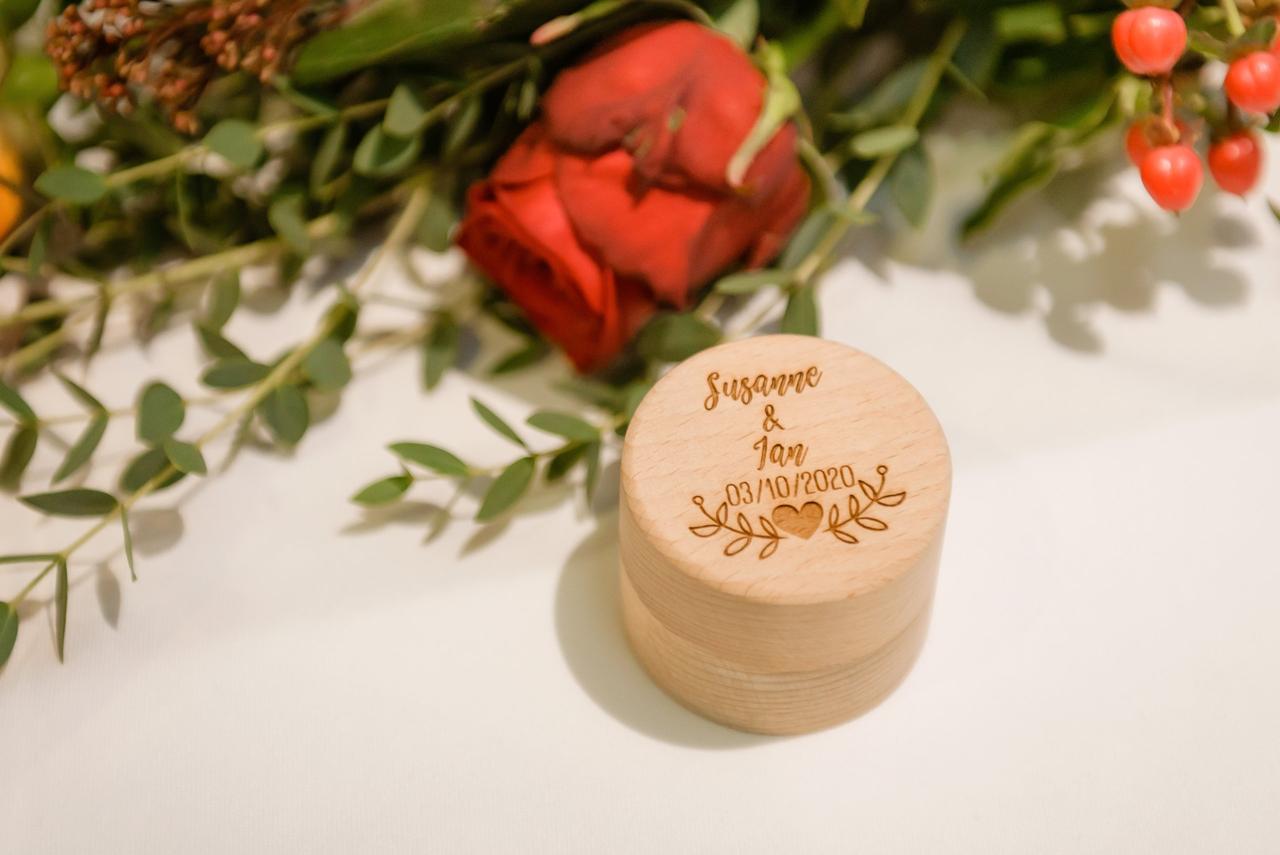 The Couple's Advice
Although no honeymoon is planned yet, Sue and Ian are looking forward to their reception with their loved ones in September 2021.
Sue said they would have changed "nothing" about their wedding day - "the pandemic was beyond our control" - but she did have some advice for couples facing the same situation.
"Don't sweat the small stuff. On the day nobody cares about the font on the menu cards! Try and relax, time moves super quick on the day," she said.
They actually went beyond their planned budget for the day as they realised they had underestimated the cost of some items. Instead of gifts, Sue and Ian asked for donations to Cancer Research and Parkinson's UK: "these charities mean a lot to our families".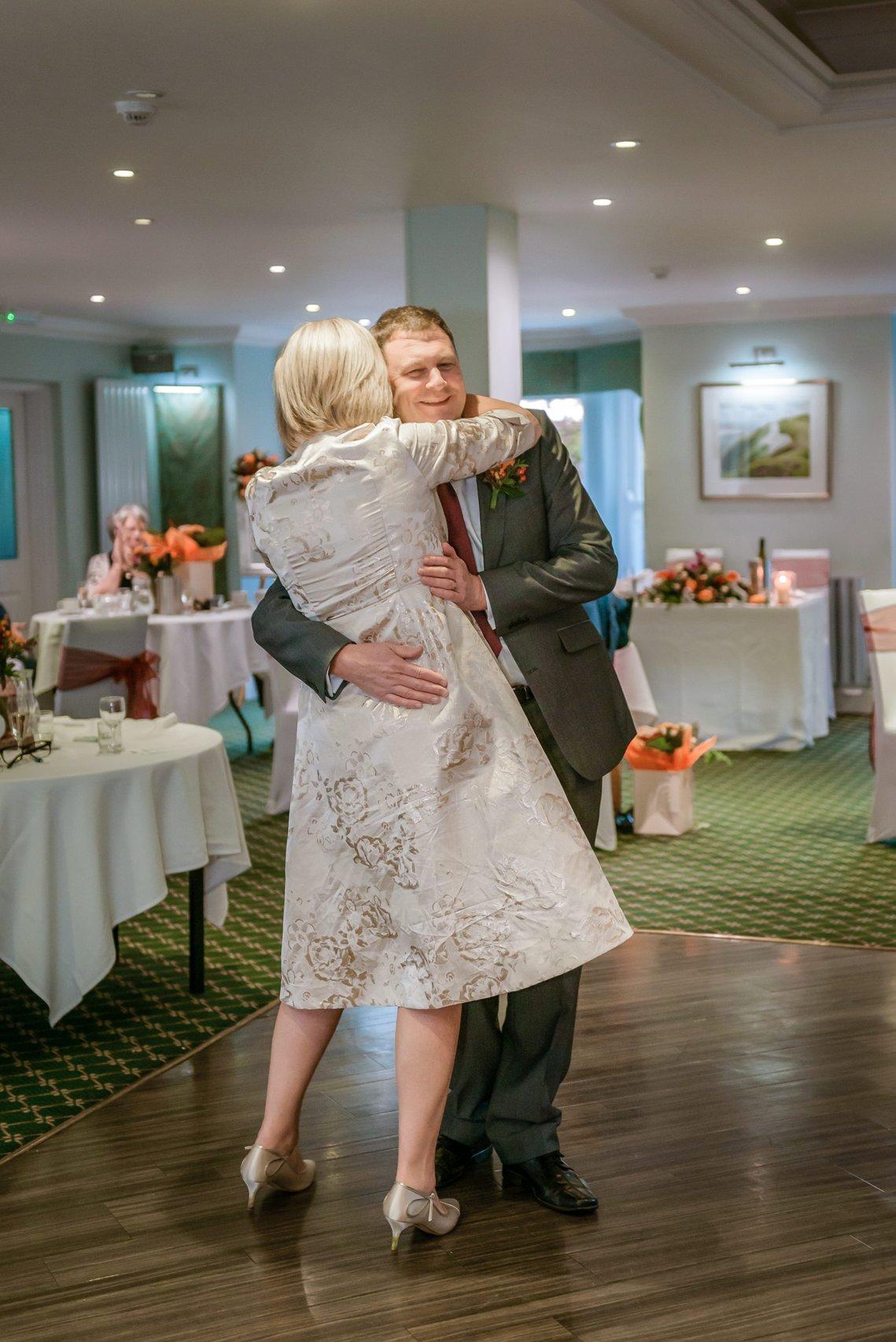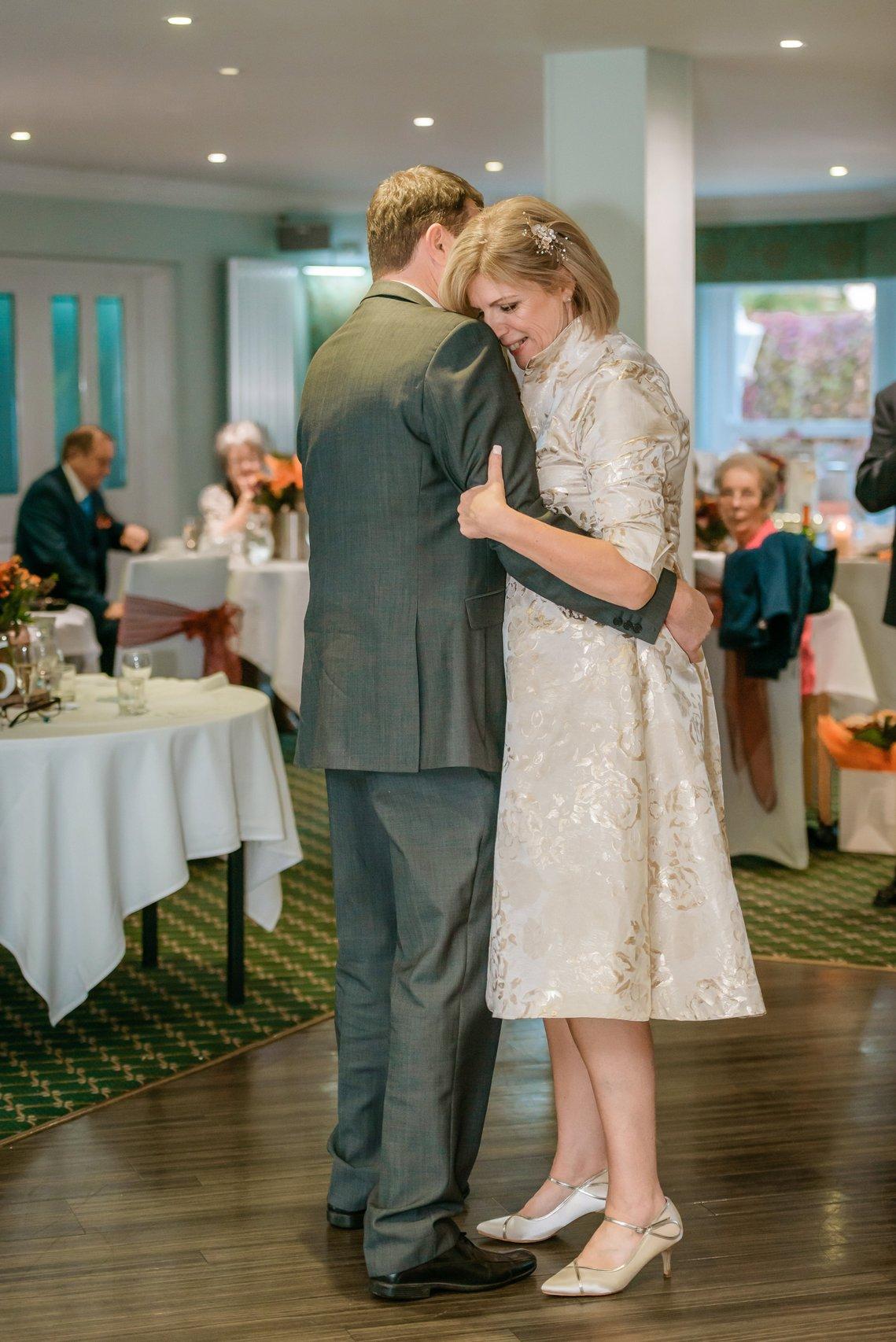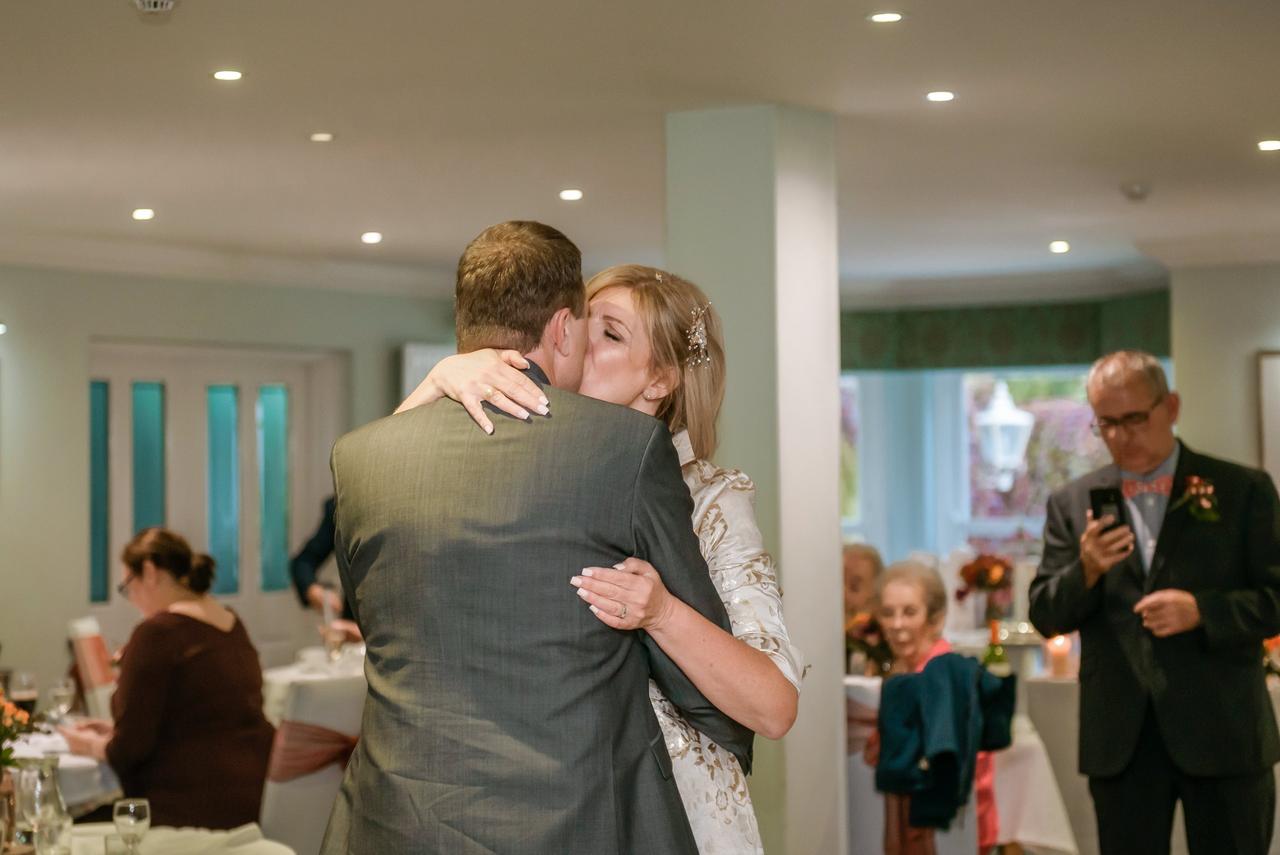 The Suppliers
Venue: Chiseldon House Hotel
Photographer: Carol Elizabeth Photography
Wedding Dress: Katya Wildman at Bombshell London.
Bride Shoes: Rainbow Club
Bridesmaid Dresses: Debenhams
Hairstylist: Louie Fitzgerald
Makeup Artist: Aimee Baddeley
Musician: Christine Kinder Harpist
Cake: Kimmi's Cakes
Flowers: Floral Design Swindon
Invitations: Daisy Chain Invites
Wedding Favours: Etsy
Thank you to Sue and Ian for sharing their wonderful day with us.