Real Covid Wedding: Emma and Ross, Wotton House in Surrey
Emma and Ross had to change their wedding plans three times, eventually finding a whole new venue for their intimate October wedding. It was worth the wait as they hosted an elegant, fairytale day for themselves and 14 guests.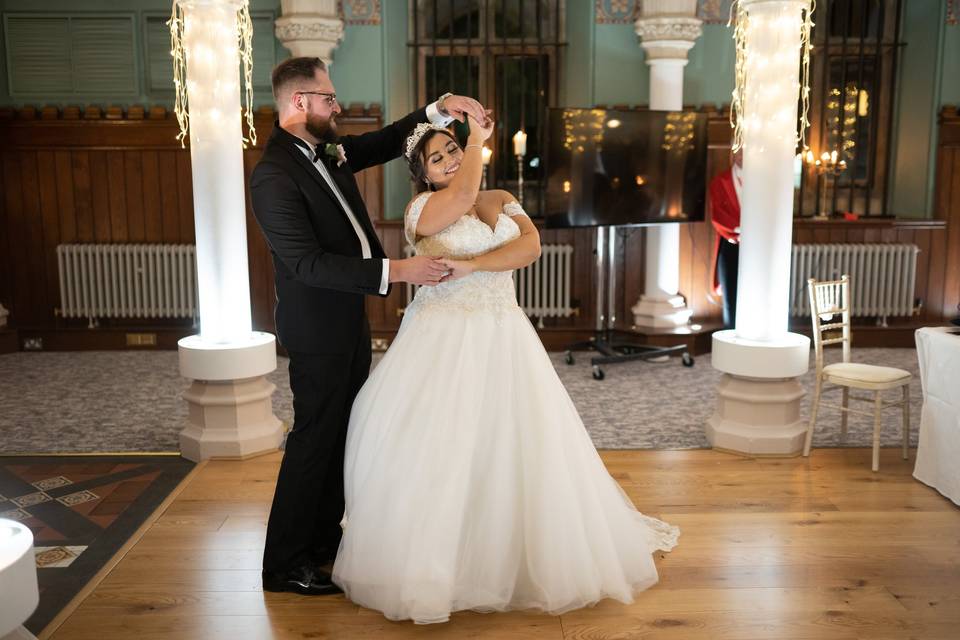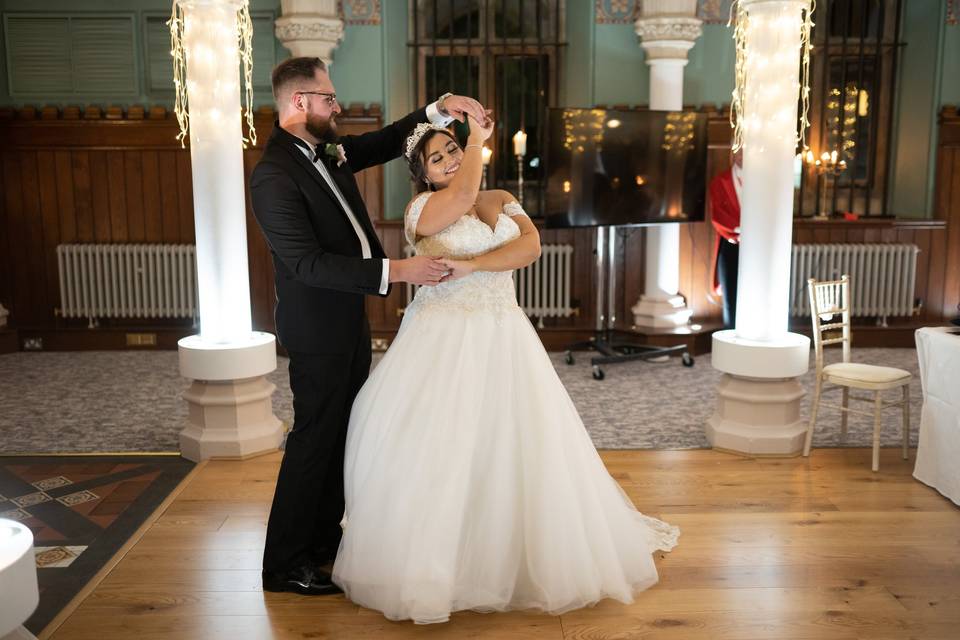 If you're after inspiration for a fairytale Covid wedding, Emma and Ross's big day is the perfect example - and not just because of the proposal inside Buckingham Palace!
Emma and Ross had to rearrange their wedding three times, eventually tying the knot in front of 14 guests in October 2020 at Wotton House in Surrey. With an intimate church ceremony, gorgeous banquet dinner inside the vaulted Old Library, and the beautiful accompaniment of a live string duo, the day was full of perfect moments they'll treasure forever.
The couple met on Tinder in 2017. Emma was away on holiday in Mexico and Ross says he couldn't wait for her to come home so they could meet in person. Inseperable since their first date, they bought their first home together a year later with Ross proposing just days before they moved in. And what a proposal it was!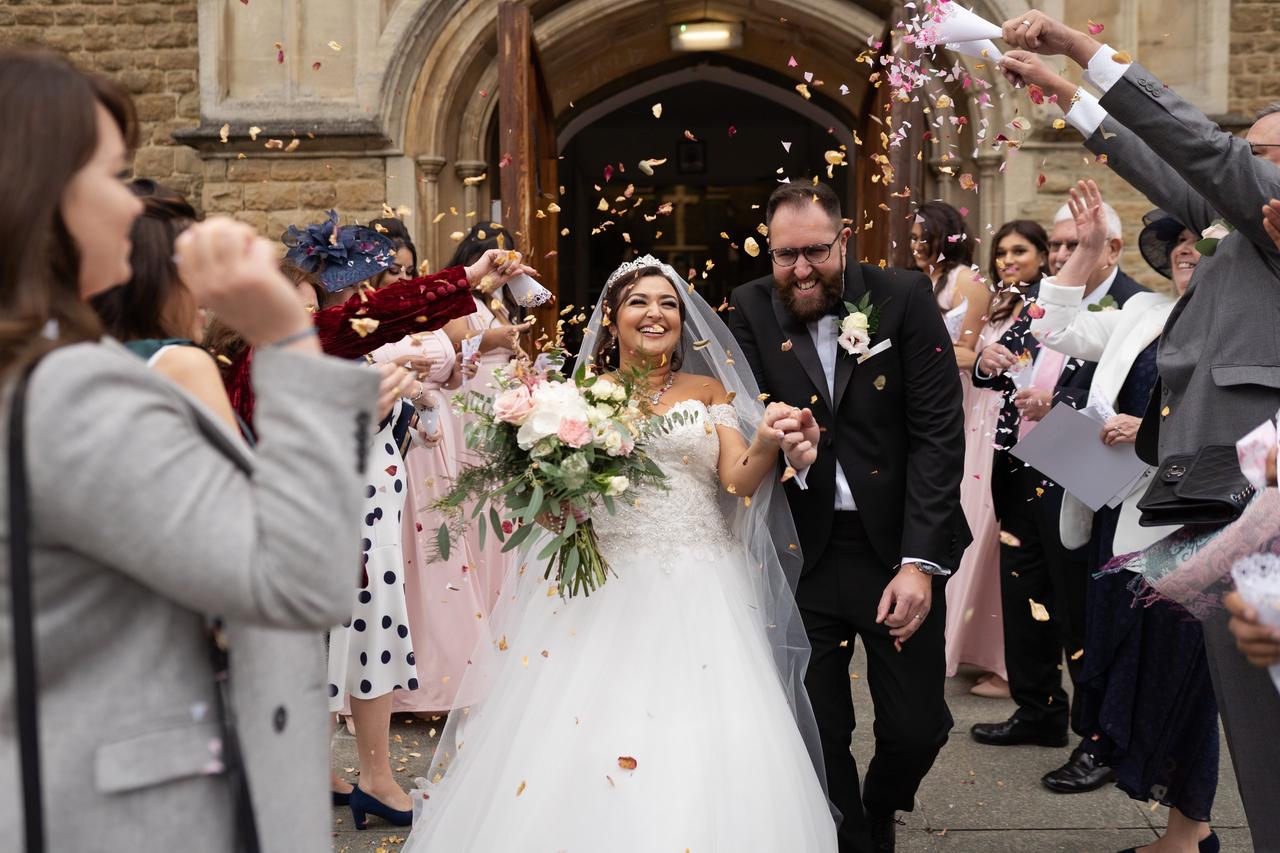 Emma was completely in the dark as he whisked her off to a fancy London hotel and an afternoon tea opposite Buckingham Palace. Little did she know that they were booked onto a private tour of the Queen's residence where Ross had arranged to pop the question.
"I was nervous as the jacket containing the ring went through security, but it made it through without a hitch!" said Ross. At the end of their tour, they headed to the White Drawing Room. "My heart began to pound as the tour guide gave me the nod and took the rest of the guests out of the room and closed the door behind him. This was it!
"When Emma turned around, she quickly realised we were all alone in the ornately decorated parlour as I began to tell her just how much she means to me. I knelt down and presented the ring while asking 'Will you marry me?'. Amid some strange whelps, she managed to say yes!
"As we made our way out of the room and down the stairs, we were met with congratulations from the rest of the group, and a glass of champagne from our tour guide. We were also presented with a special bottle of Buckingham Palace champagne as a keepsake from a wonderful afternoon. As we made our way out of the Palace, we were treated to our own private golf buggy which whisked us to the front gates."
Like the proposal, their wedding day was fit for royalty. Emma wore a stunning princess gown, Ross dressed up in a dapper tux and the whole manor house setting of Wotton House was a majestic backdrop. Keep reading for the details of their wonderful day.
Photography by David Christopher Photography.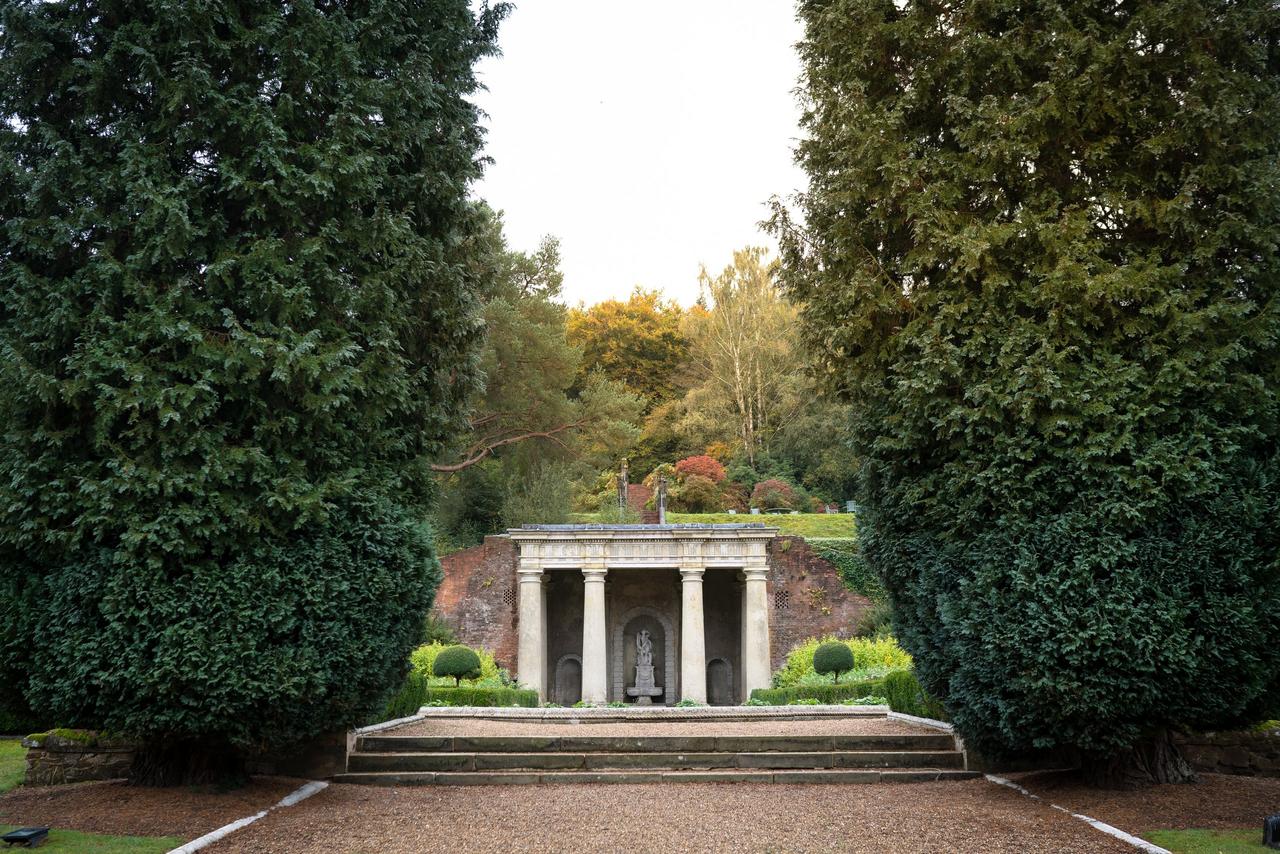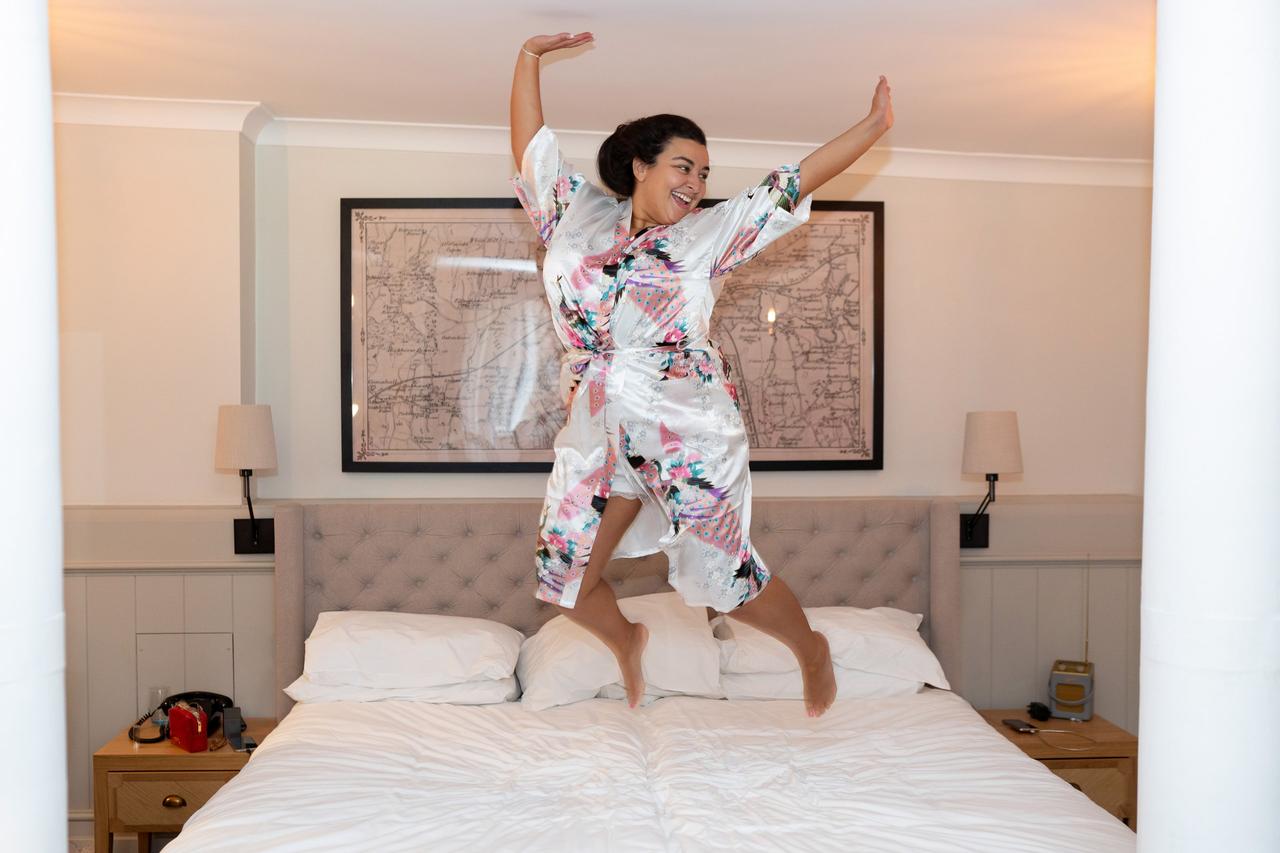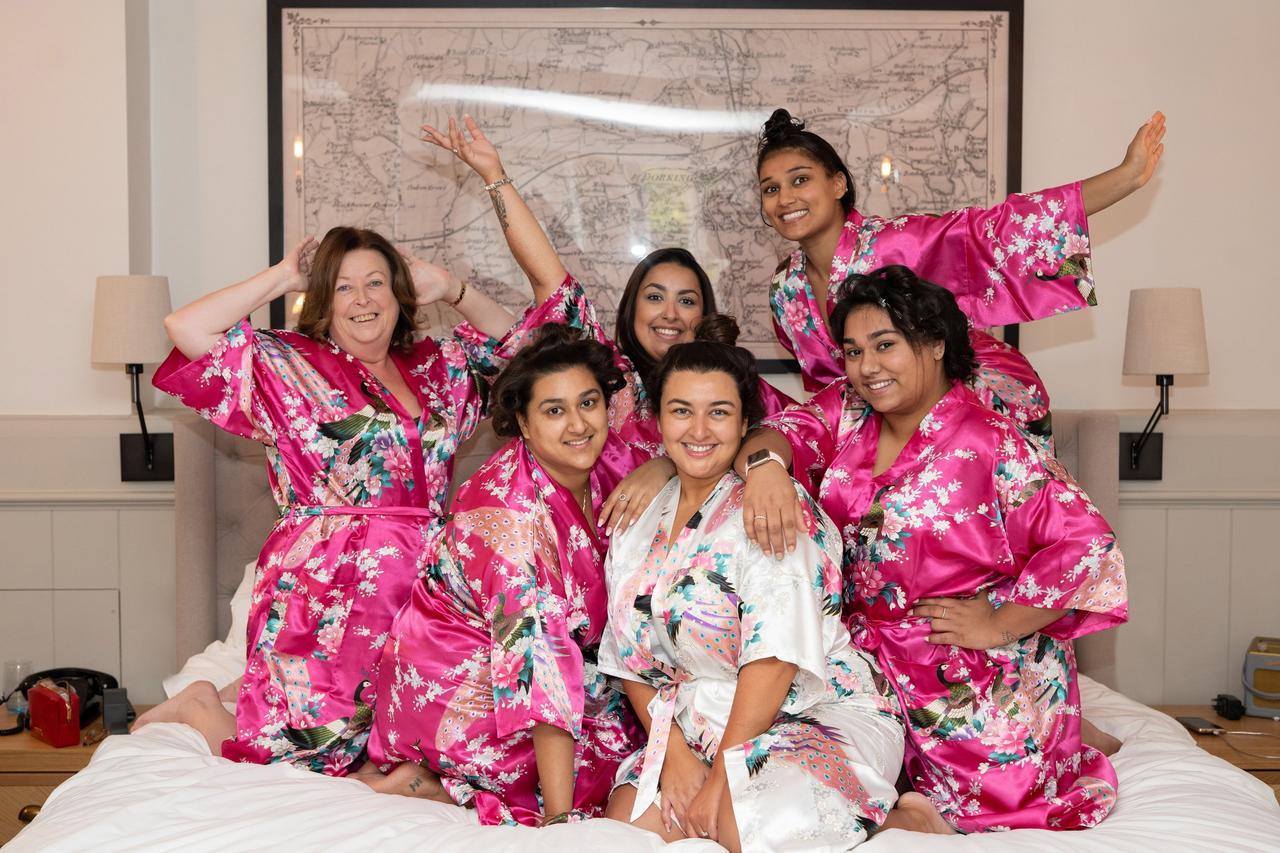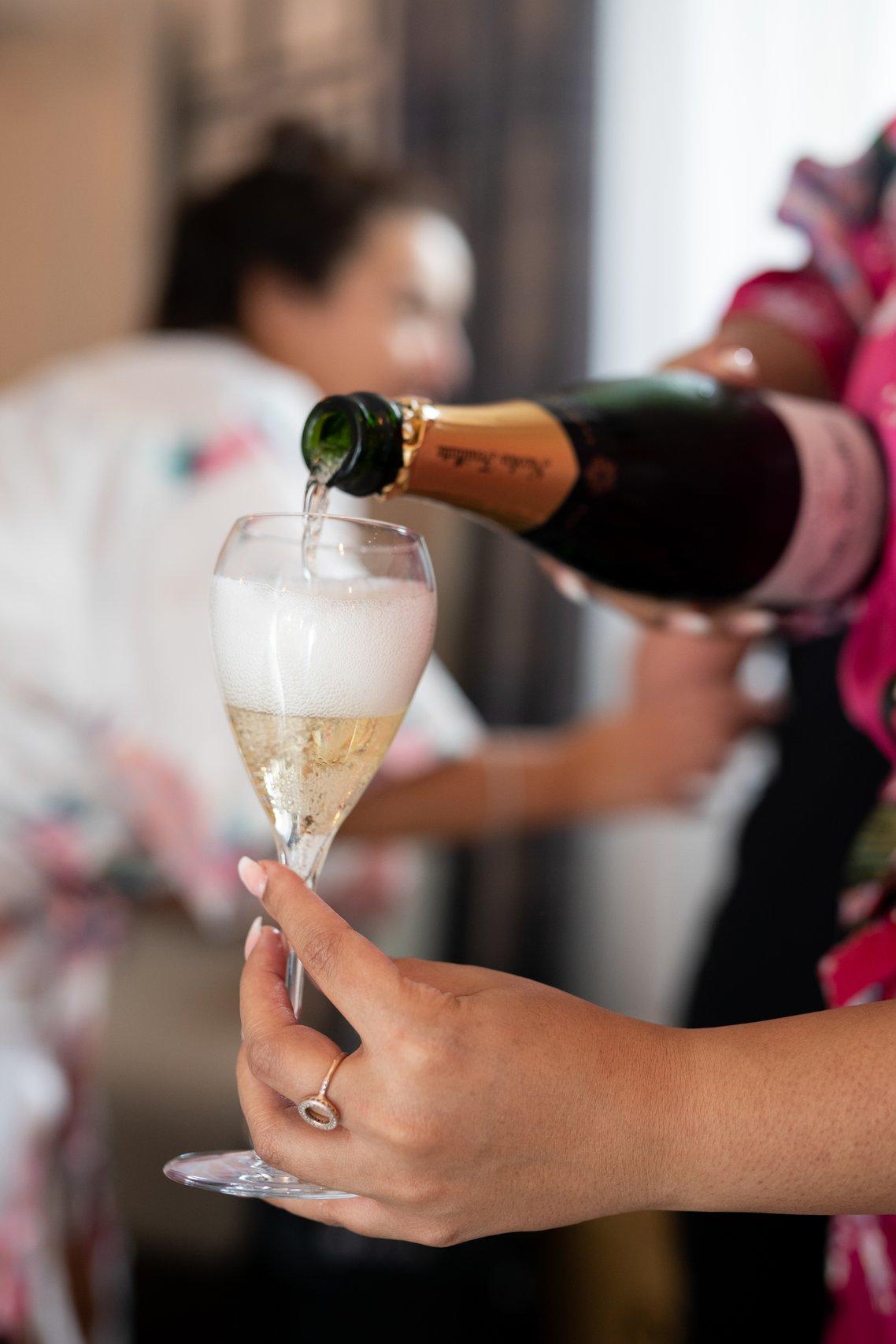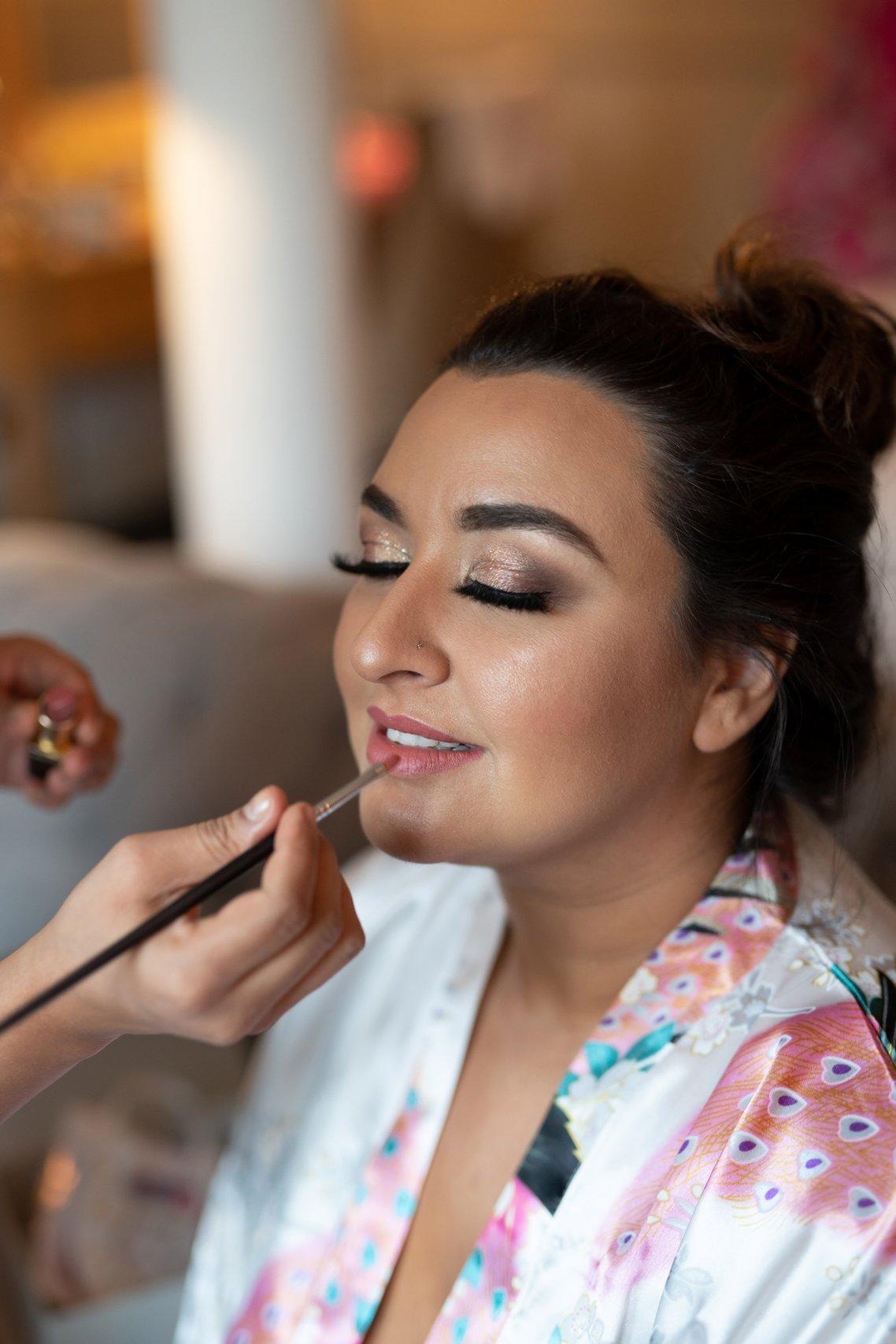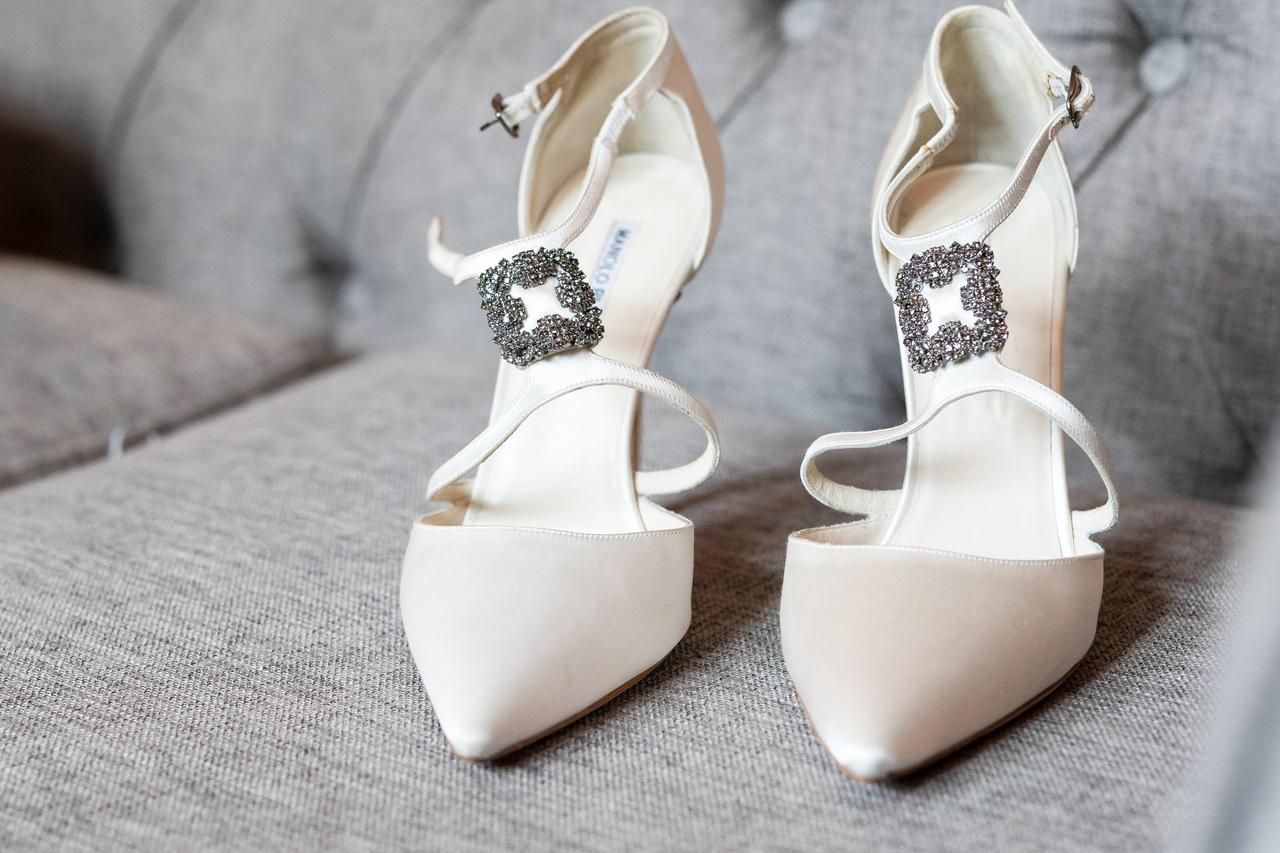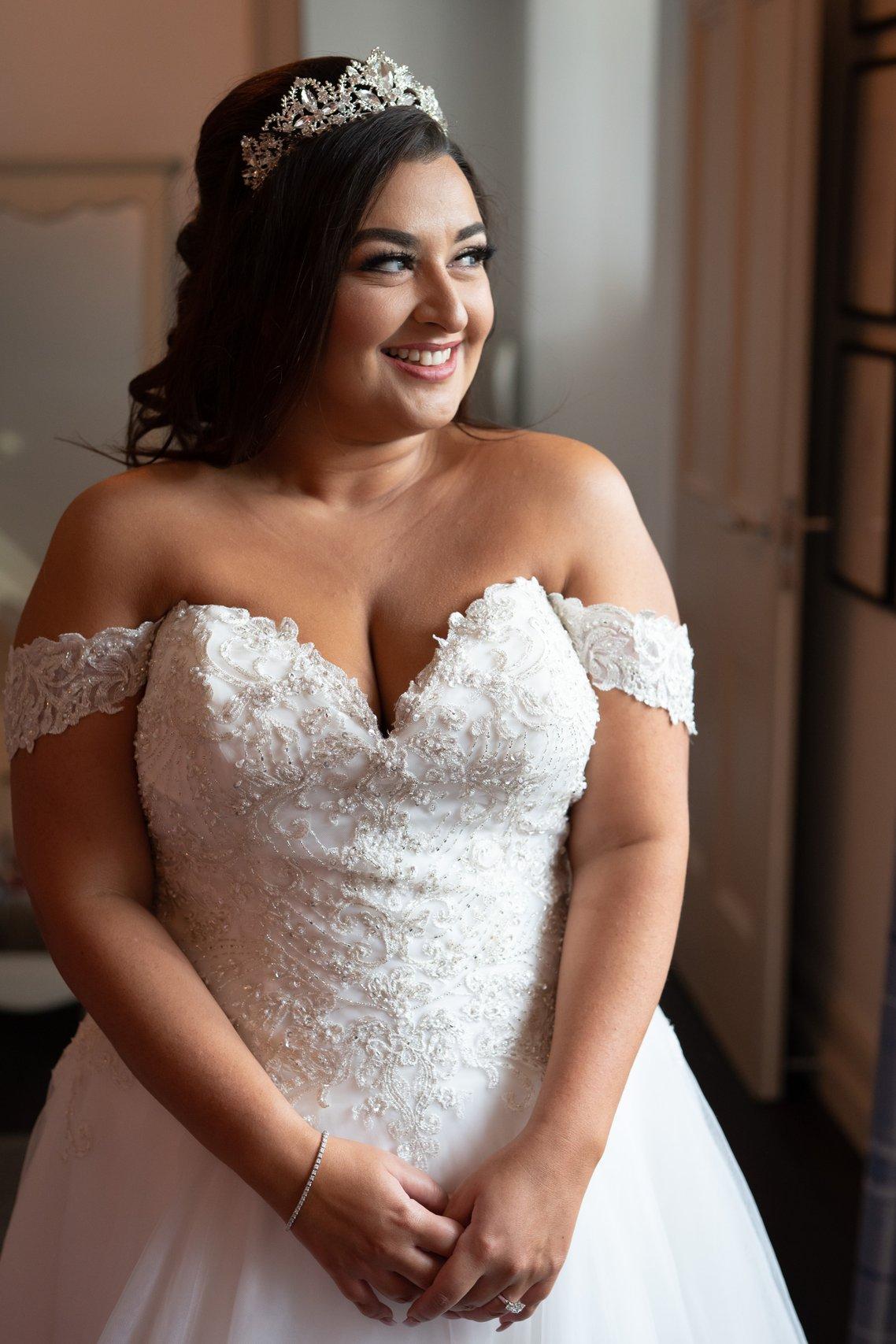 The Wedding Dress
Emma wore the Morganite dress by Sophia Tolli, bought from Claire de Lune Bridal in Eastbourne.
"The wedding dress was the perfect princess gown: an off-the-shoulder, sweetheart neckline with an A-line skirt and cathedral train.
"I tried about seven or eight dresses across three other stores before I found it, along with EXTENSIVE online research. It was the end of a long day dress shopping and I was feeling a little deflated at not finding the one. The boutique owner picked it and I said I would try it. It was pretty on the hanger but I wouldn't have picked it, but when she put it on... we all knew immediately. It was The One."
She completed the look with a cathedral-length drop veil, a tiara, matching earrings and necklace, and a diamond bracelet Ross sent her the night before the wedding. Underneath the dress, she wore her mum's garter from her wedding!
"The morning went so quickly, it was a blur," said Emma. "It was such a lovely atmosphere having my mum and bridesmaids all getting ready together. We had brilliant photo moments and music and bubbles; memories I will cherish."
Emma chose B Beautiful by Binita to do her wedding makeup. "Binita specialises in Asian wedding makeup. Being mixed race, I wanted someone who knew how to make up my skin tone perfectly, which I've had trouble with in the past. Binita's work was beautiful and after a personal recommendation, I booked a trial with her."
She opted for a golden smoky eye with dramatic lashes to finish it off and a healthy blush on her cheeks and lips.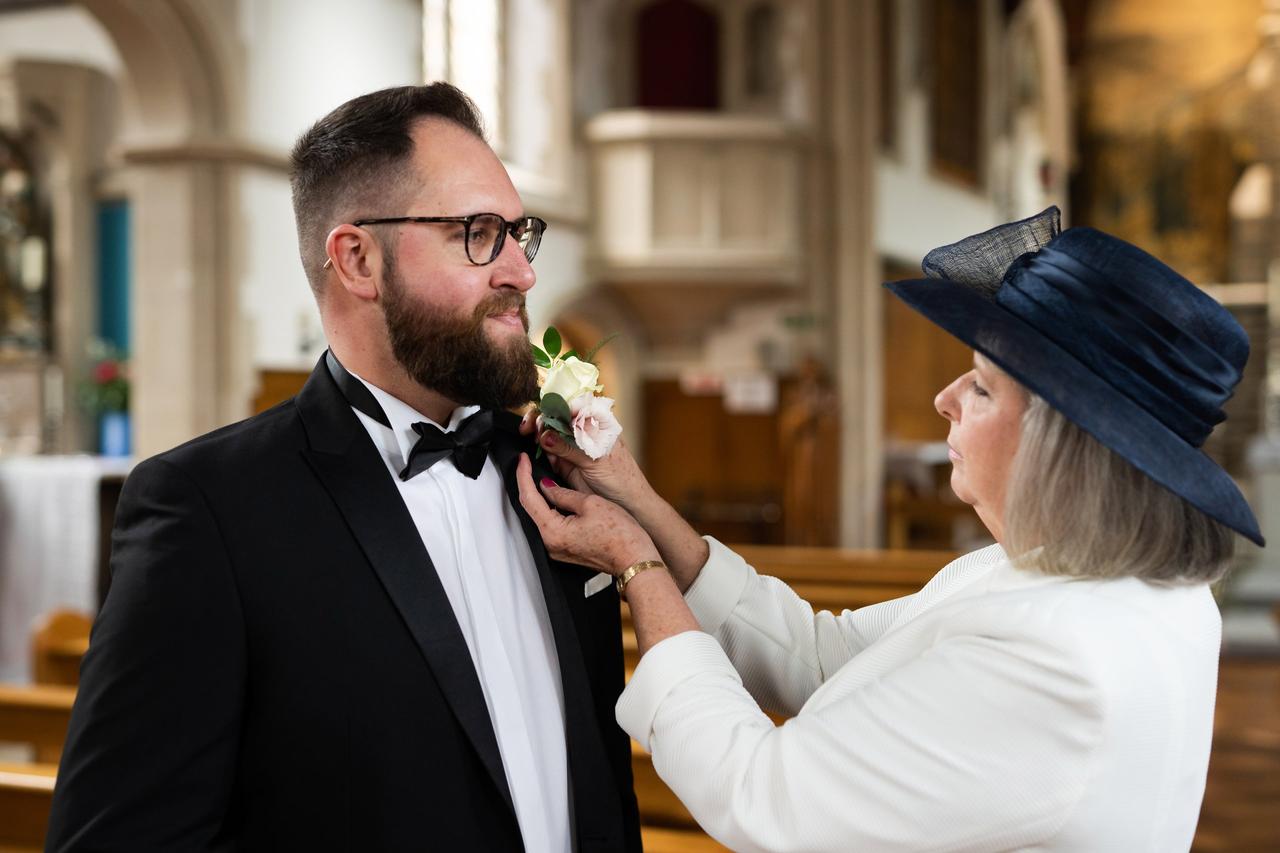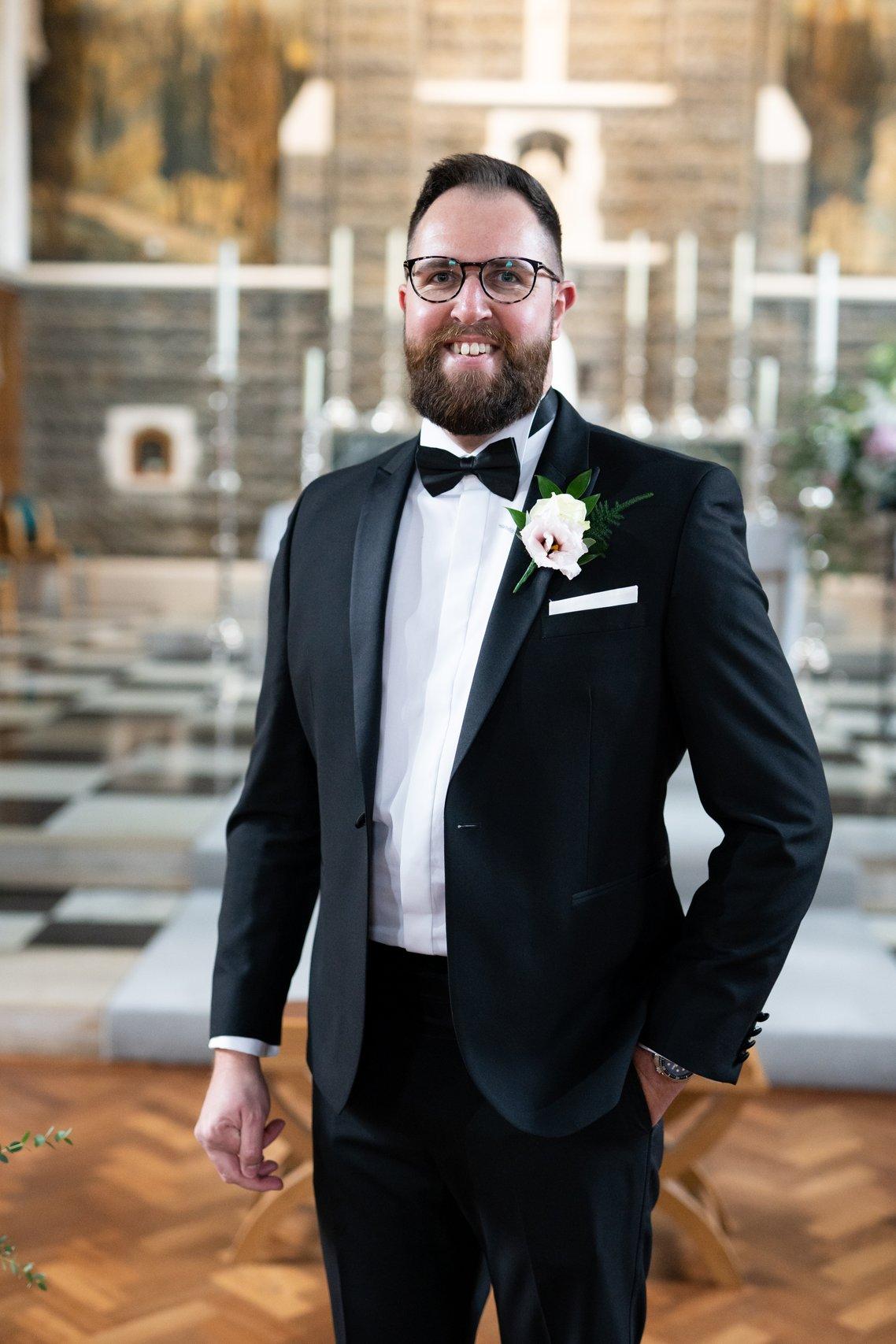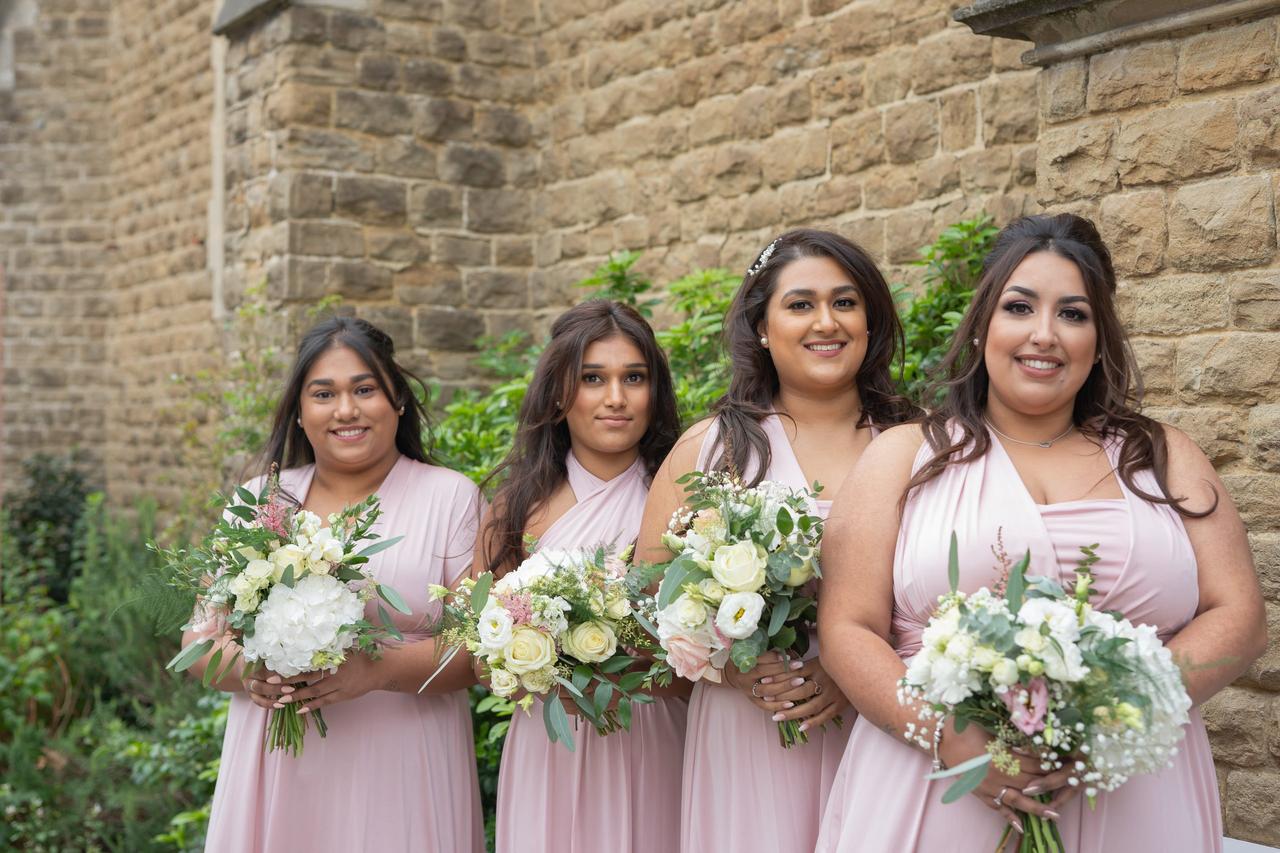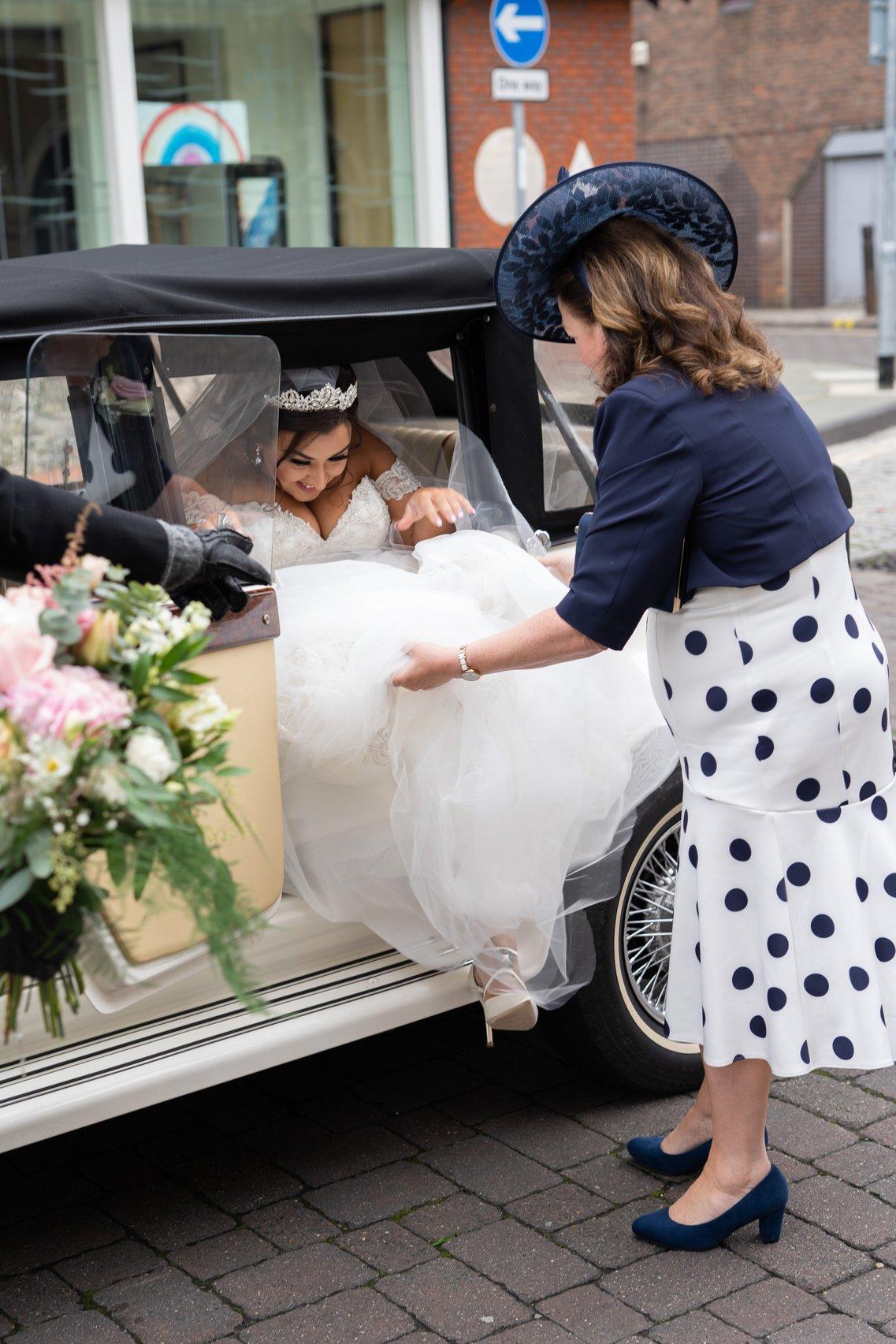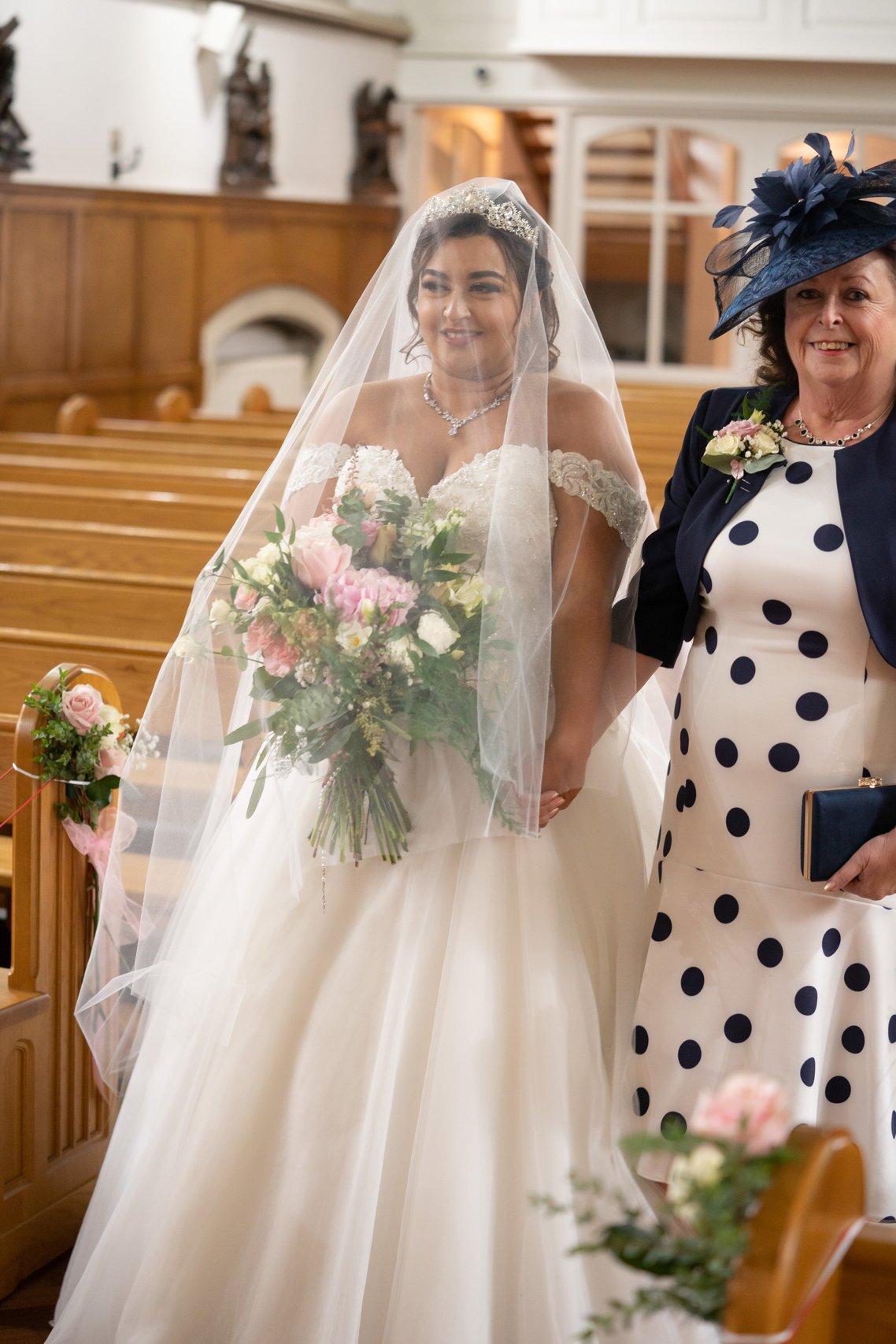 The Wedding Party
Four of their 14 guests were Emma's bridesmaids: her sister and three cousins.
They all wore blush, multiway, floor-length gowns from Debut at Debenhams. "The girls liked the versatility of these ones – they came with a bandeau boob tube strap for modesty which was more appropriate for a church wedding."
Unfortunately Ross wasn't able to have his best man or ushers with him on the day.
"Sadly, my groomsmen live in The States, and were unable to travel over for the wedding due to the pandemic," Ross explained. That didn't mean they couldn't find a way to involve them, with the best man joining in the reception by video call!
Ross looked sharp in a tailored-fit tuxedo from Next, with black patent Oxford shoes from Aldo. He chose it together with Emma - "I valued Emma's opinion as she would be the one looking at me!"
He finished the look with a Seiko Great White watch given to him by Emma before their wedding day.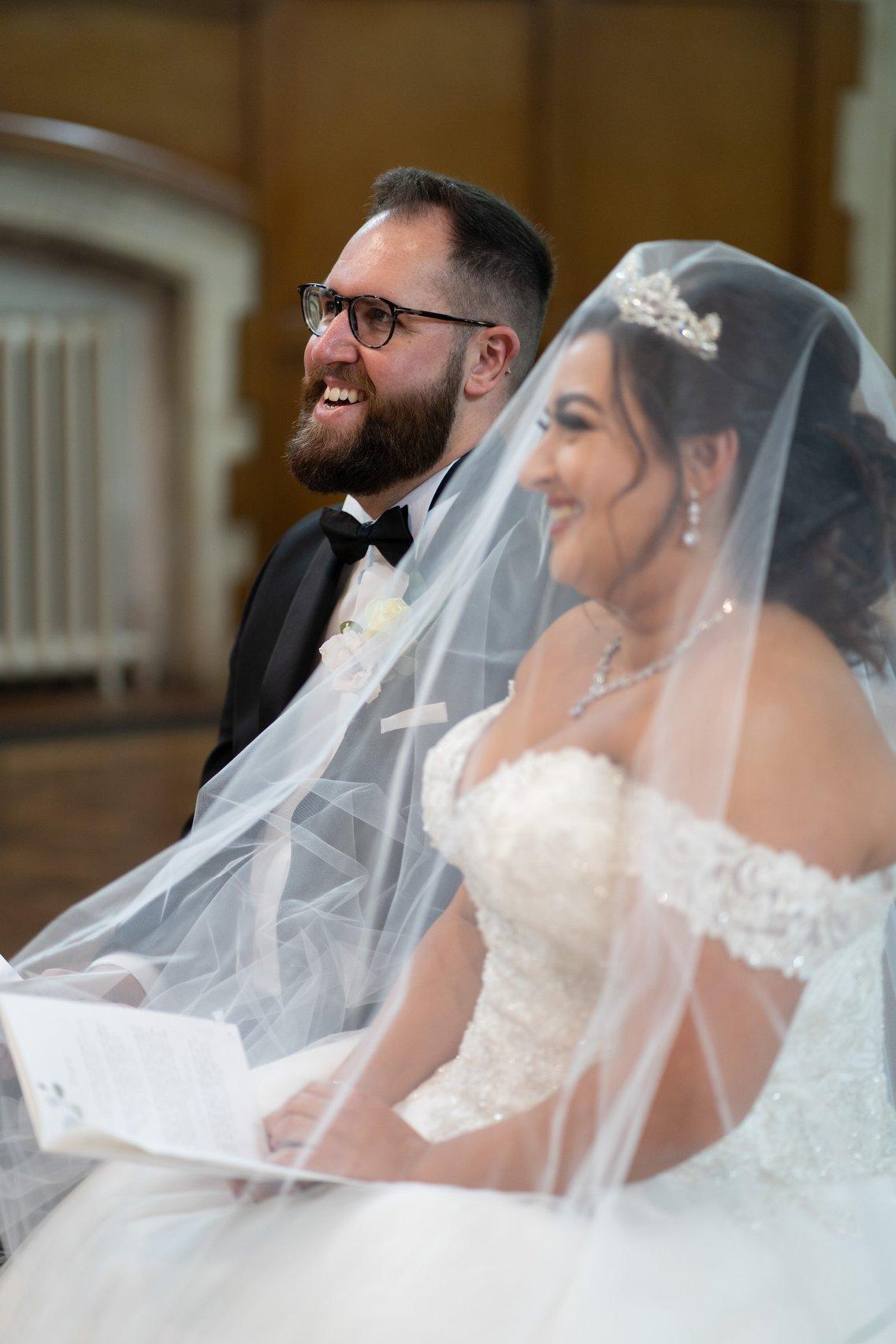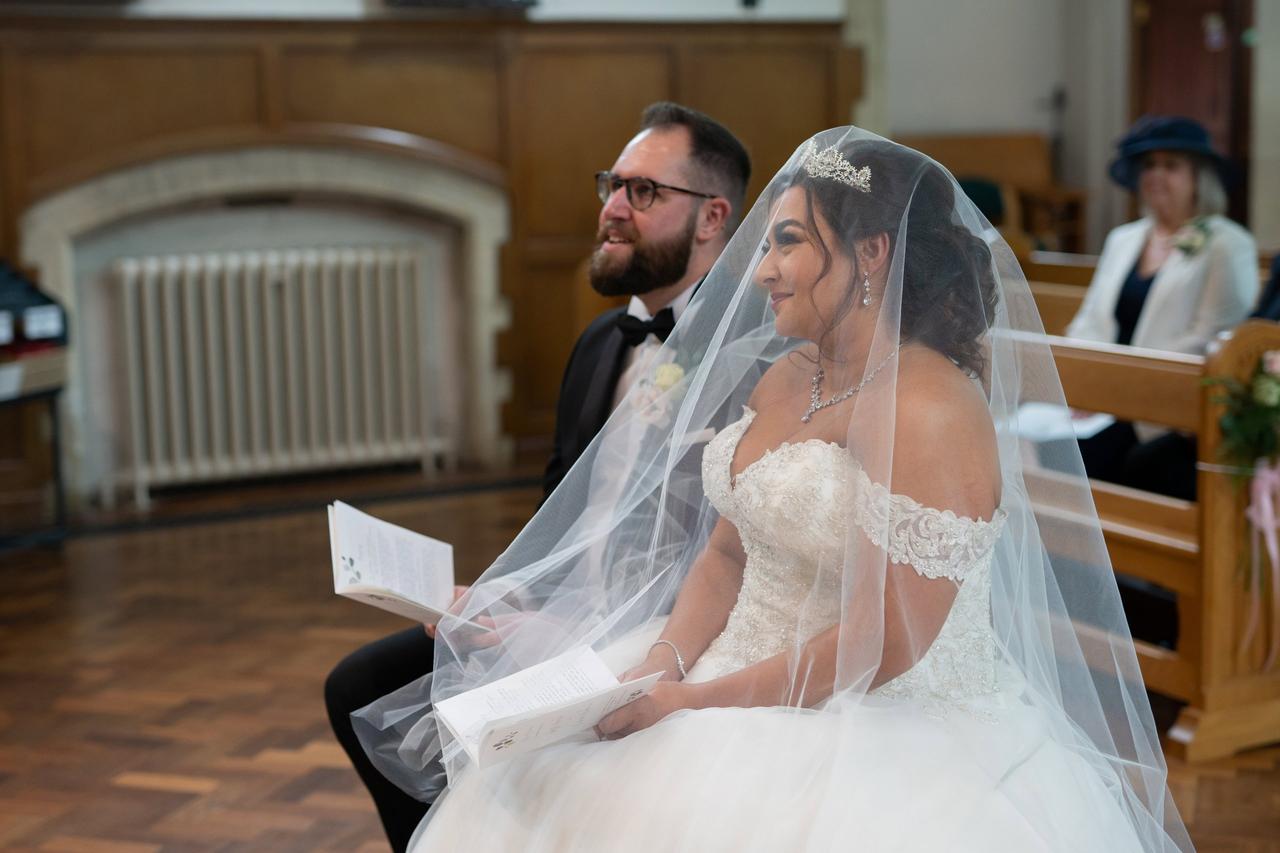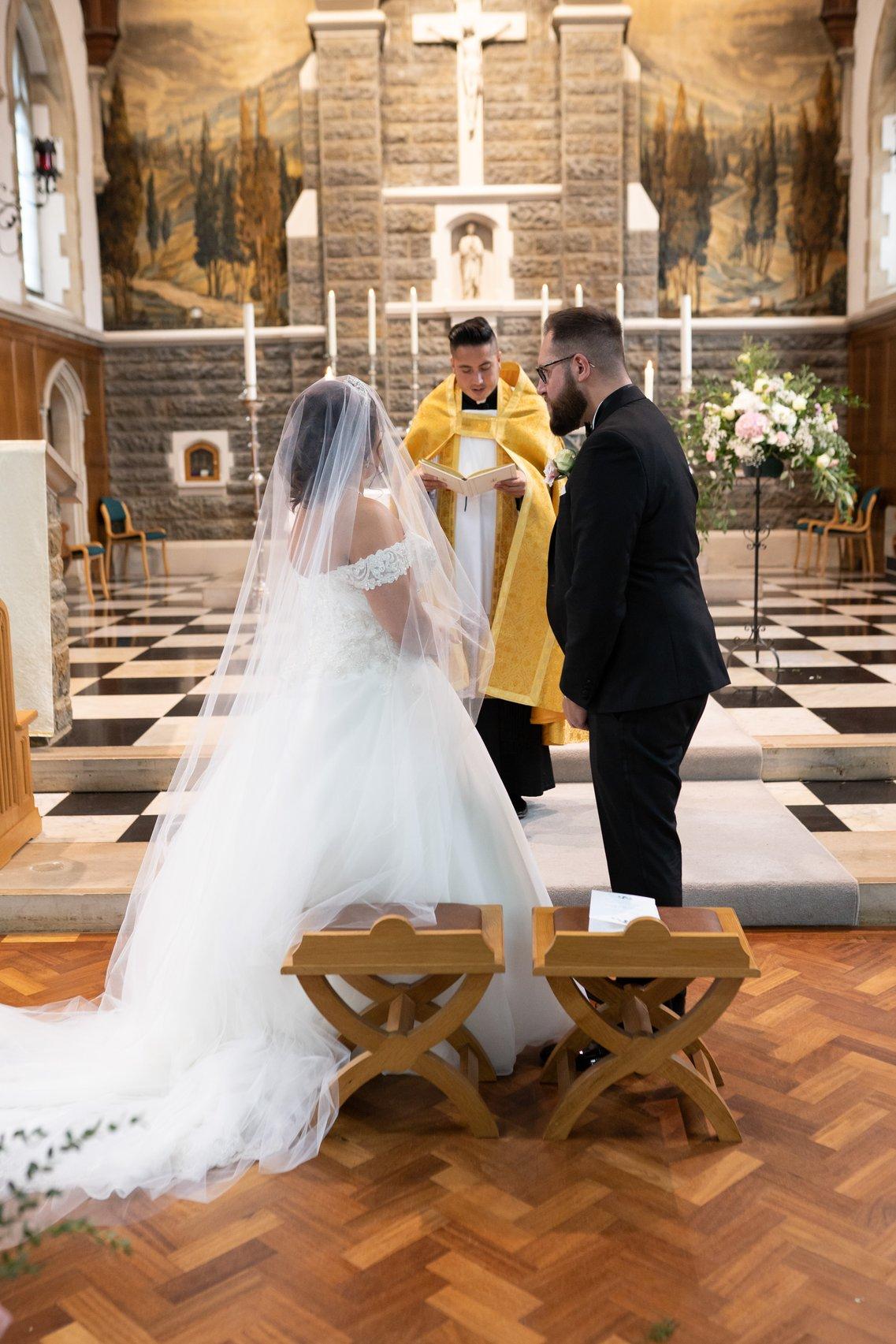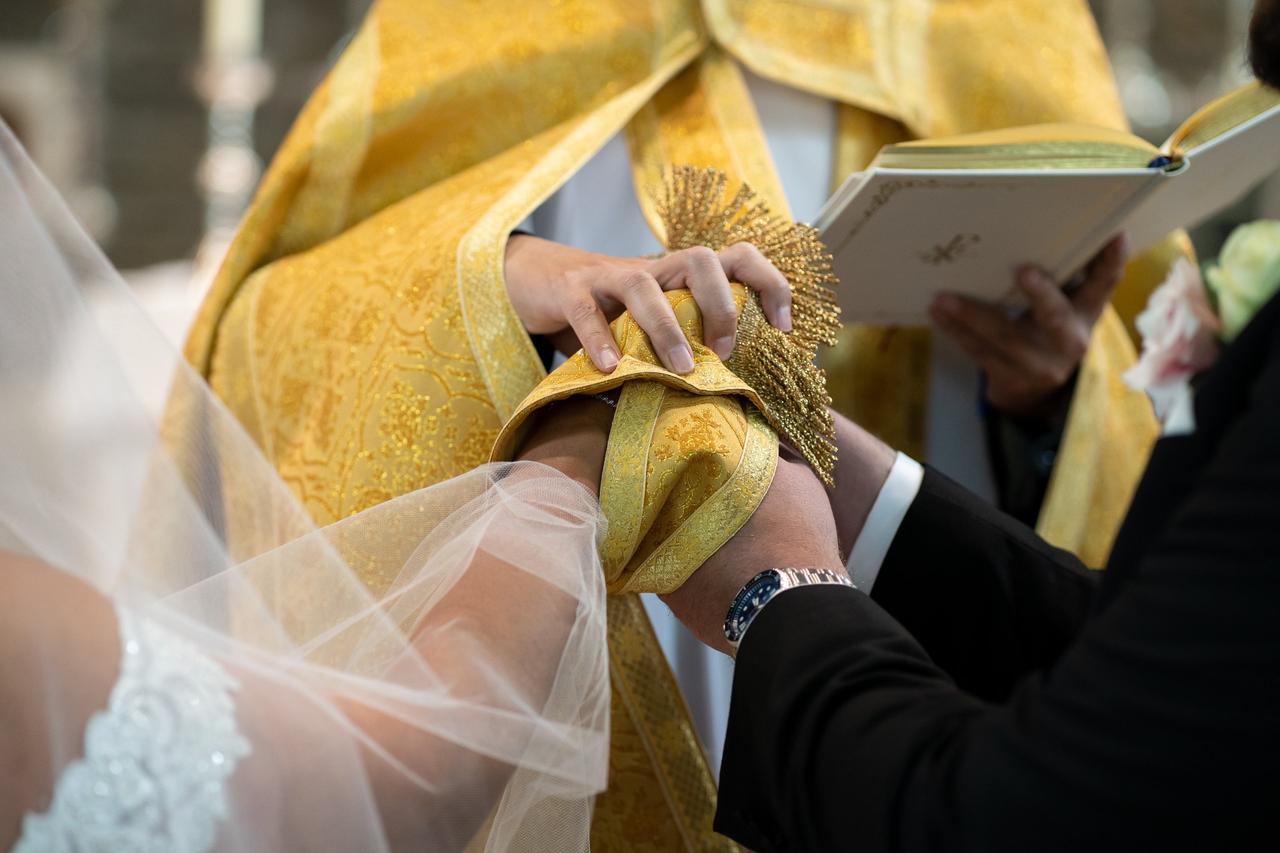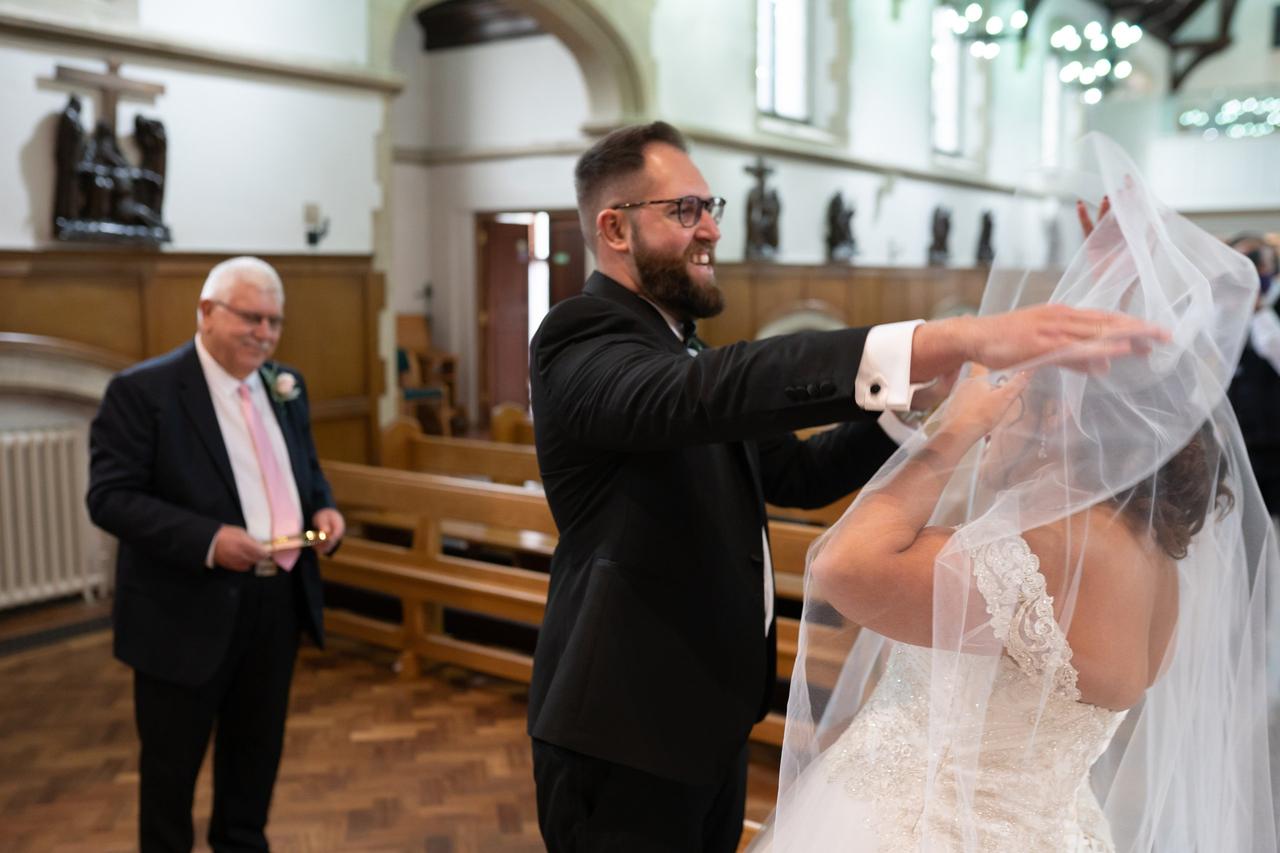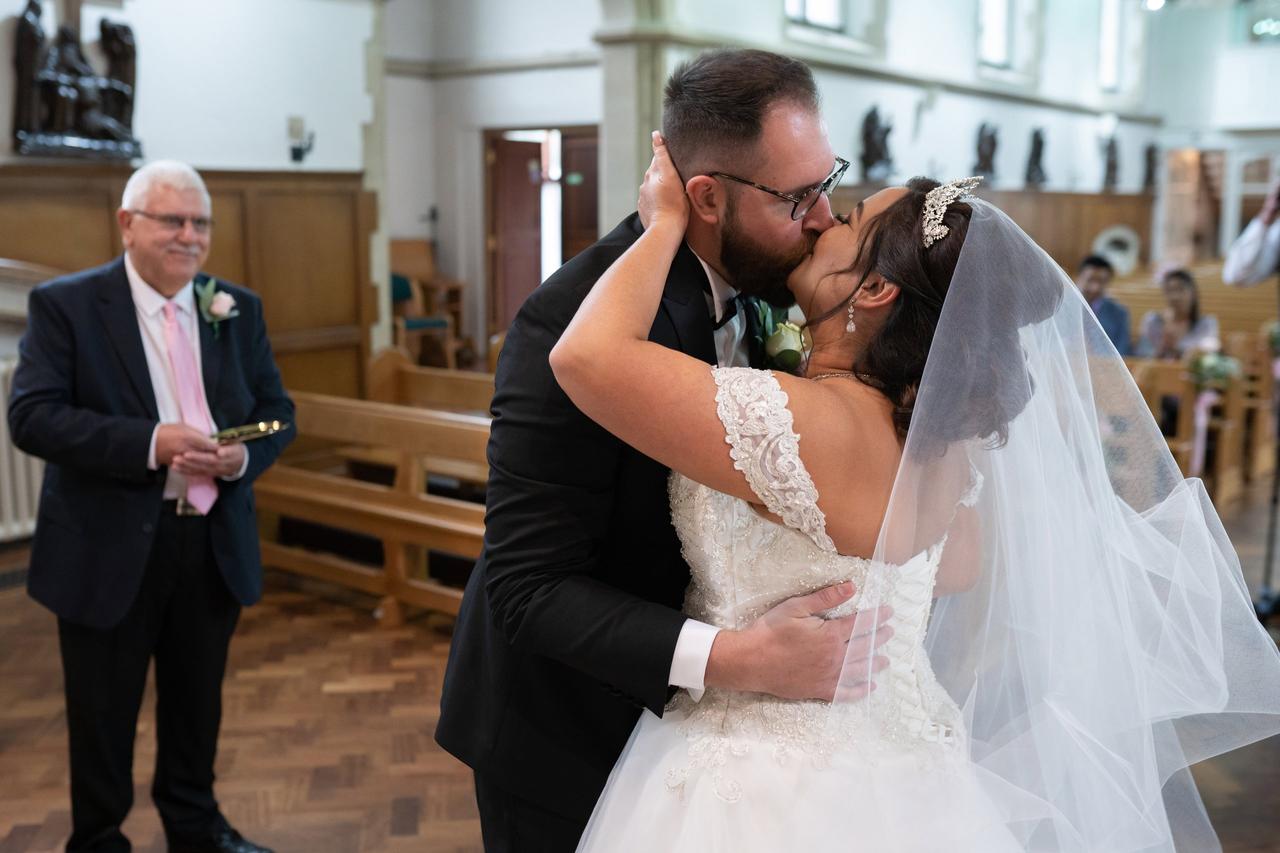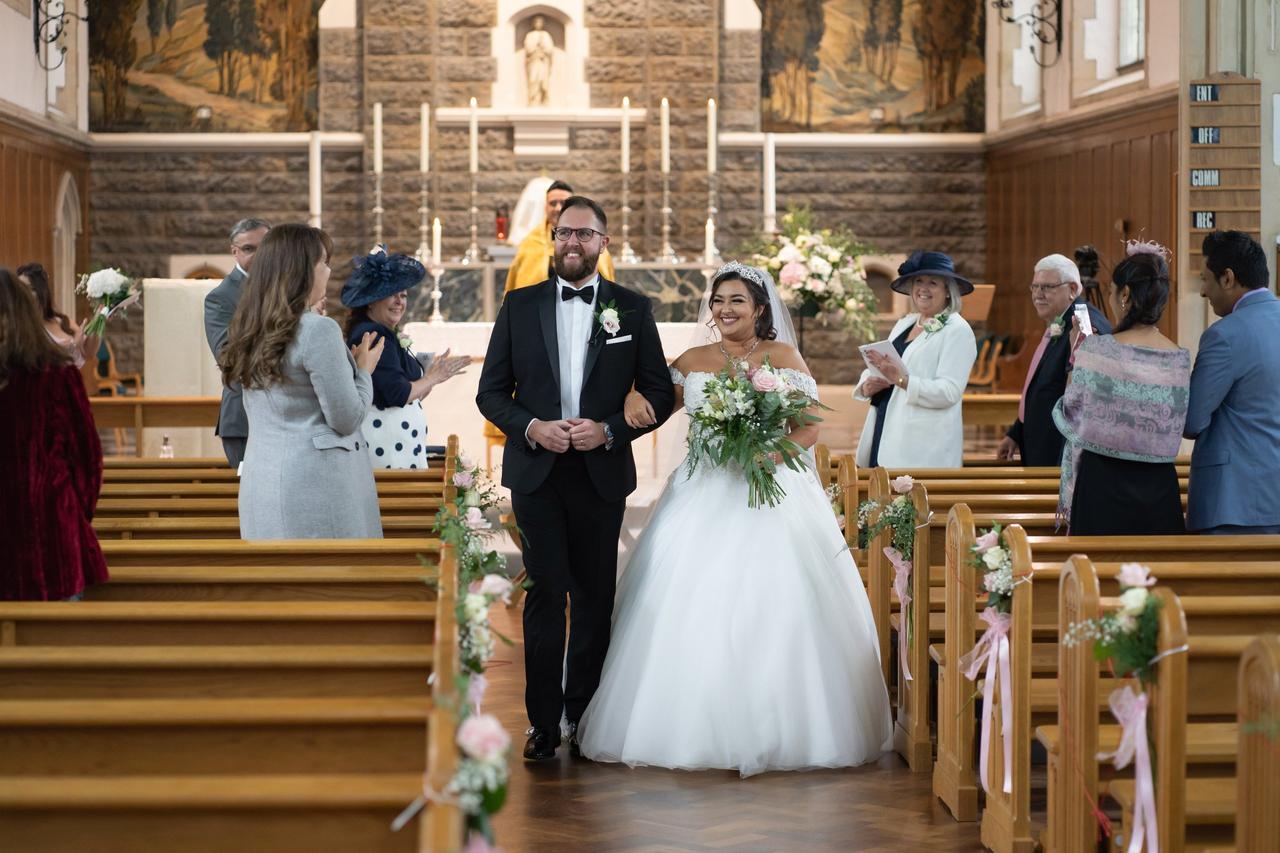 The Change of Plans
When the pandemic stopped Emma and Ross' original plans, they not only had to downsize their wedding, but seek out a whole new venue.
"We originally planned to have our ceremony at St John the Evangelist Catholic Church in Horsham, followed by our reception at Wiston House in April 2020.
"As soon as the first lockdown occurred, Wiston House refused to rebook for any dates in 2020. They were, however, incredibly understanding and refunded us straight away with no hassle at all. I have heard some horror stories from venues who have not been as accommodating, and I would recommend Wiston House to anyone who is looking in future.
"We then managed to secure a date with Wotton House in Dorking, which was truly a dream venue. The staff were lovely and we had the most incredible day."
As difficult as replanning their day was (twice!), Emma and Ross rose to the challenge, including embracing a new, intimate aesthetic.
"We had a new vision and it was intimate, elegant and beautiful. We were able to go for a more luxe vibe with fewer guests and create a more enchanting experience.
"Due to the restriction in the allowed number of guests, we went from 75 invitees down to 14. We found that having 15 guests was actually slightly easier than 30 guests, as it was purely family. With 30, we were forced to choose a few friends to attend, which was both difficult and awkward.
"We are so thankful to have tied the knot when still allowed. This was our third wedding date, and we couldn't have done it again!"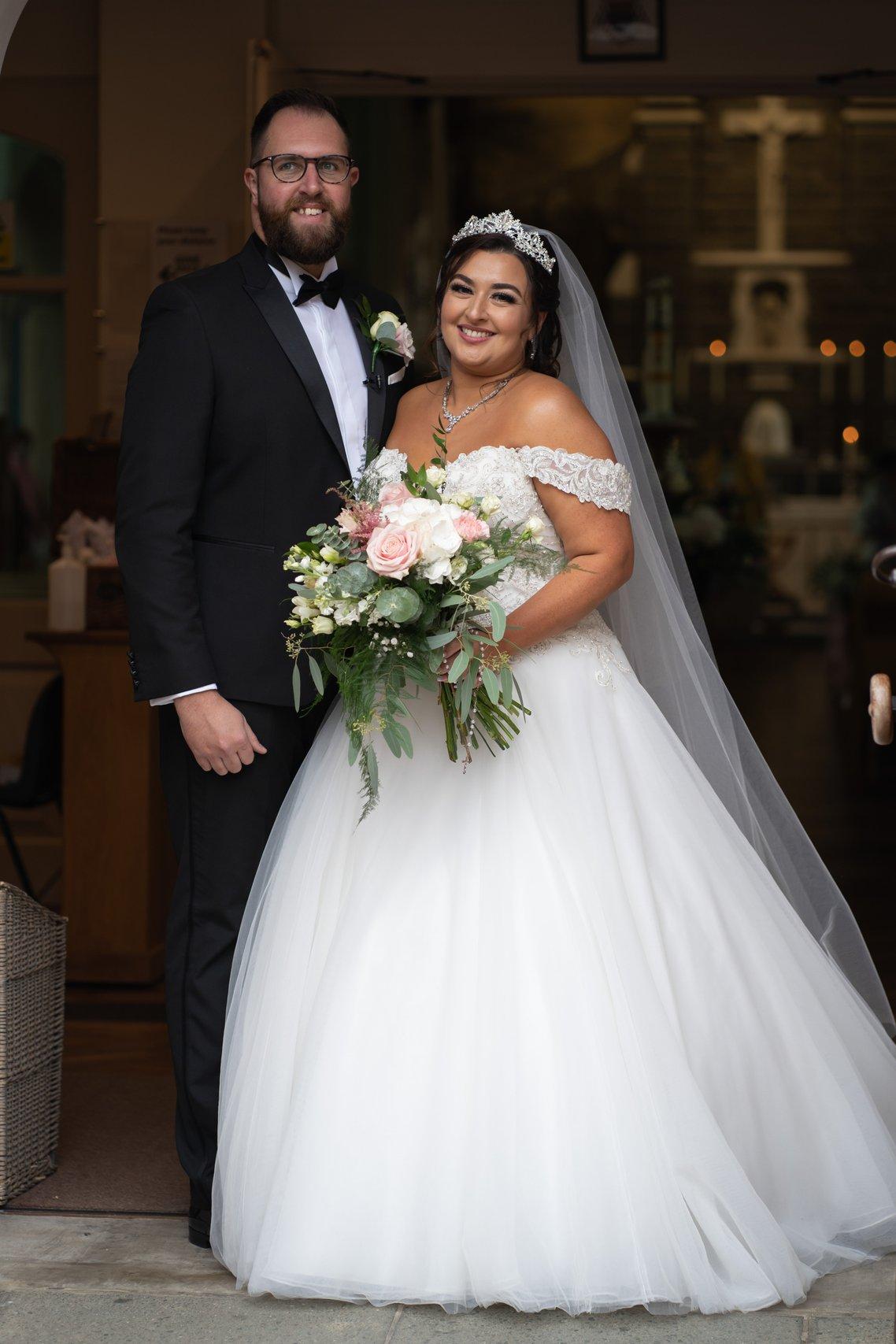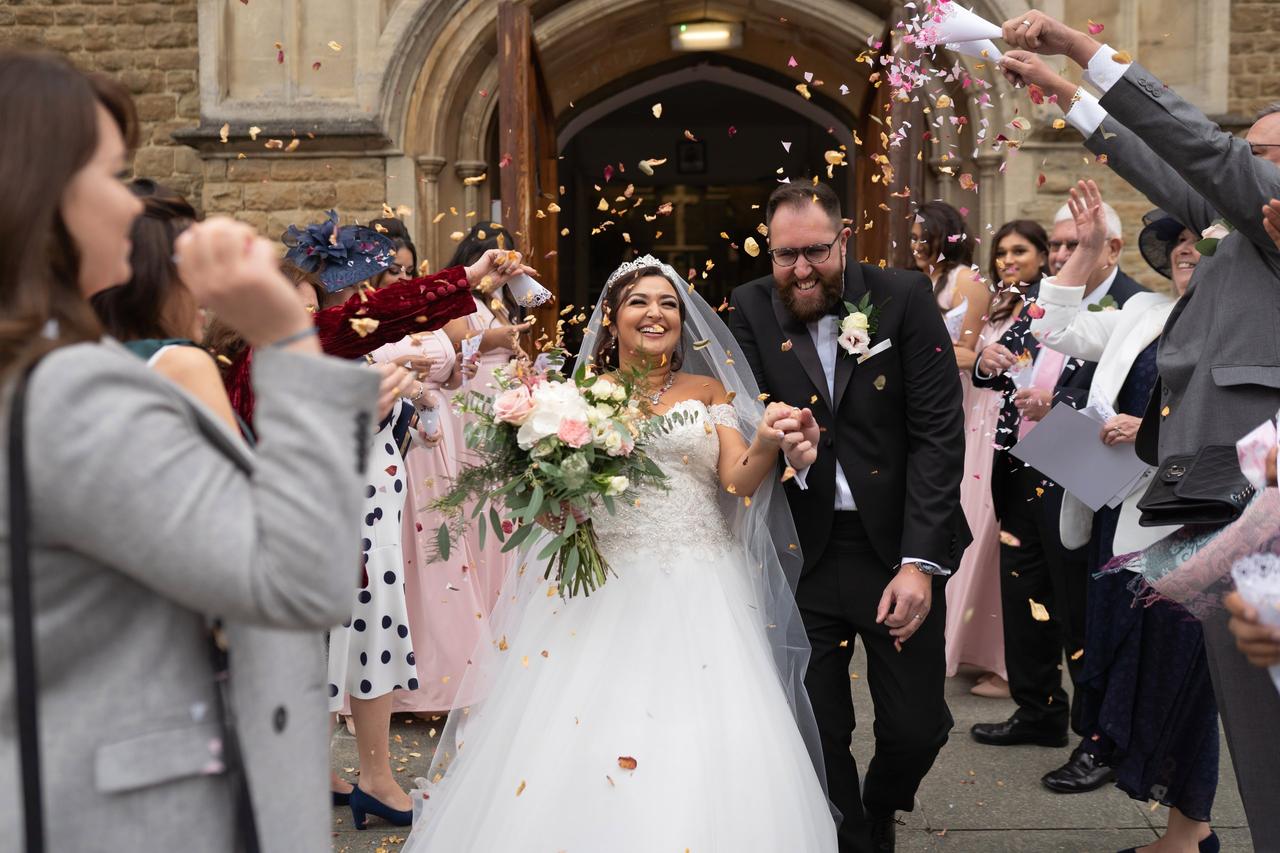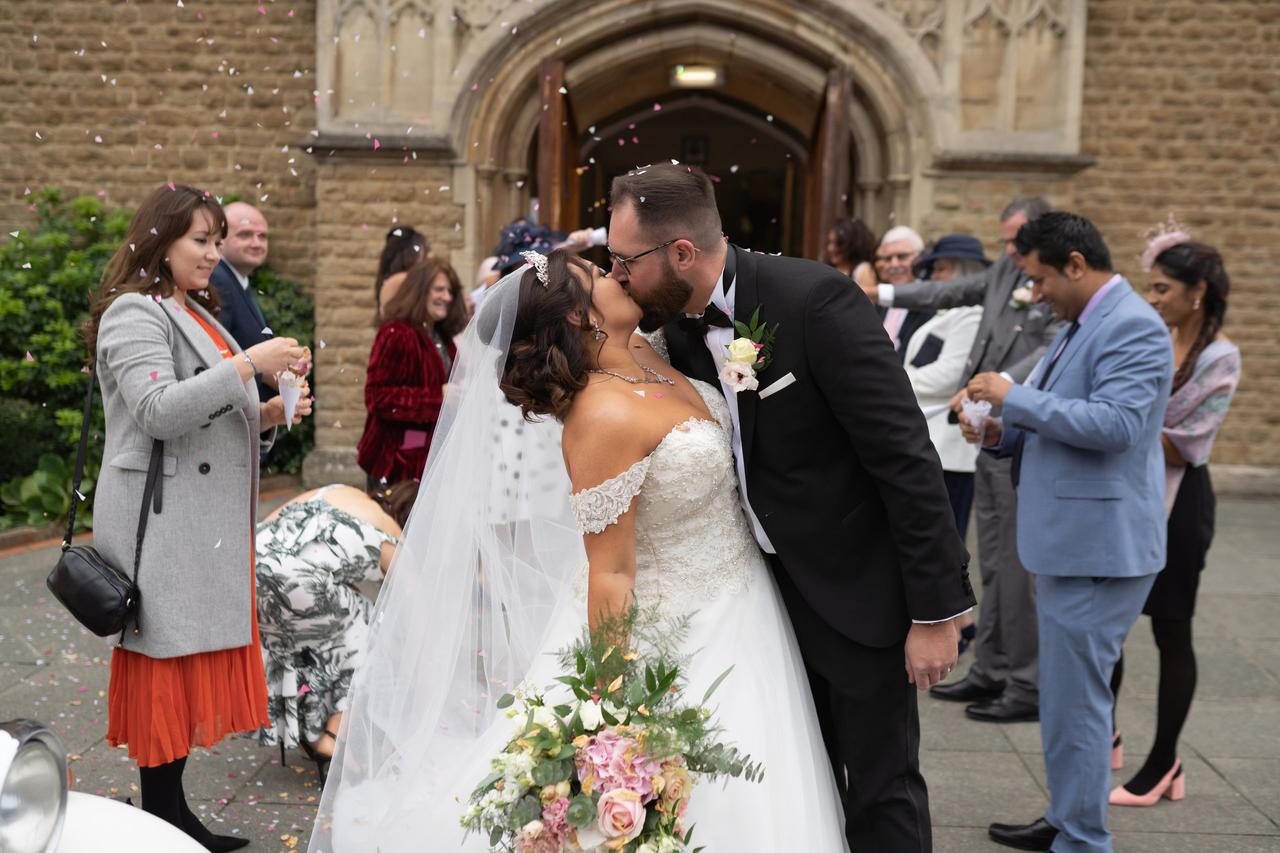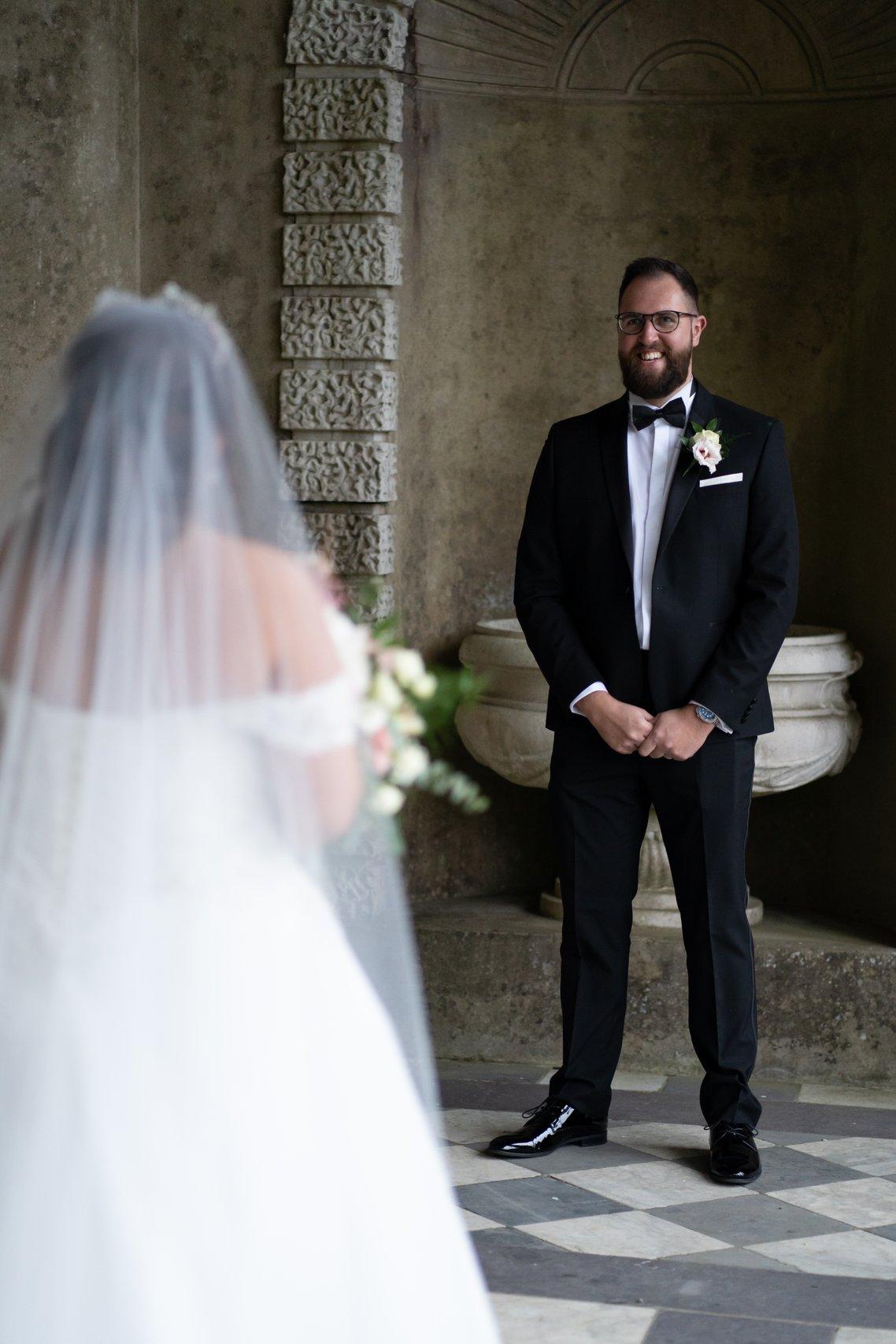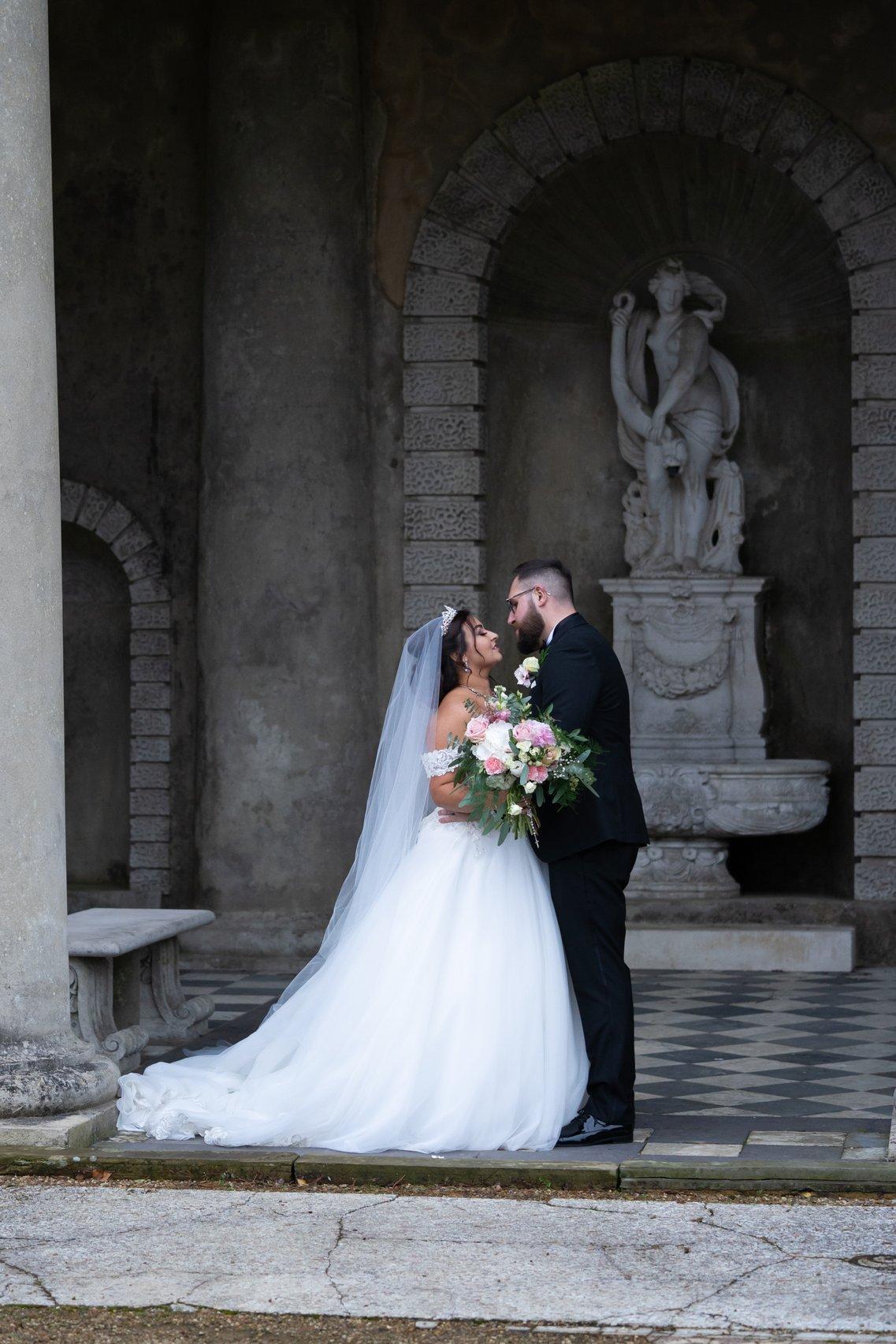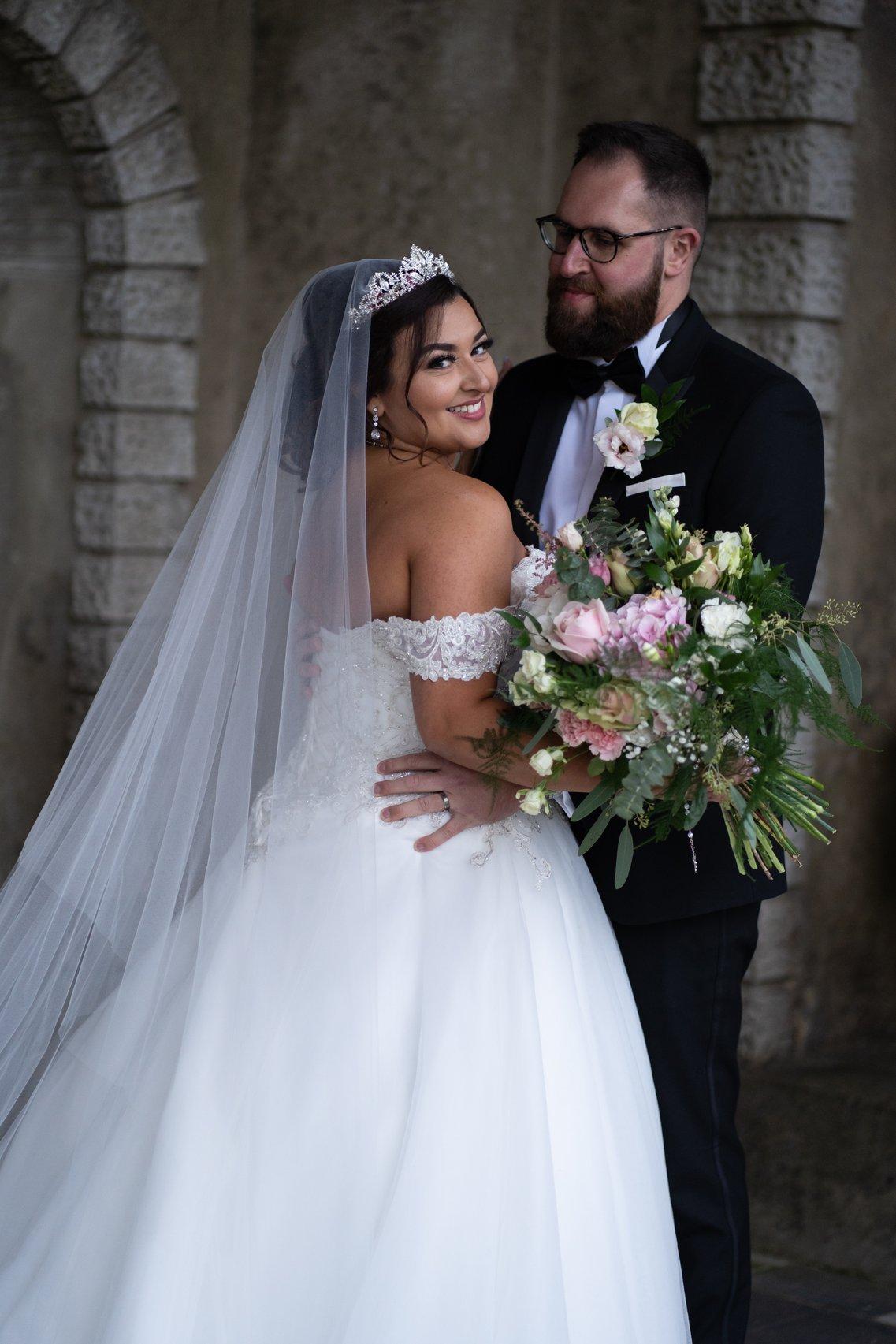 The Wedding Ceremony
Emma and Ross were fortunately still able to have their Roman Catholic ceremony at the same church as originally planned, St John the Evangelist in Horsham.
"I had long envisaged my church full of my family and friends, and it was a little strange walking into a very empty church, but it was intimate and actually very beautiful," said Emma. "We were not allowed to sing hymns collectively, so I had an organist and a singer for some hymns scattered through the ceremony.
"The bridesmaids said bidding prayers which were moving and my maid of honour read a beautiful passage from the Bible. We loved walking out of the church to a confetti shower knowing the stress was over and we had done it!"
Emma was walked down the aisle by her mum, with a memorable moment as they reached the altar. "My veil got caught on a floral display at the end of the pew so I had to be untangled to continue my walk down the aisle. A little embarrassing but quite funny and lightened the nerves!
"My favourite moment of the day was being stood at the church entrance, looking in the door, with mum adjusting my veil. It was a mind-blowing moment. The anticipation and expectation was at its peak, and seeing my groom at the end of the aisle, it felt like nobody else was in the room anyway. So it wouldn't have mattered if it was 50 or 500 guests!"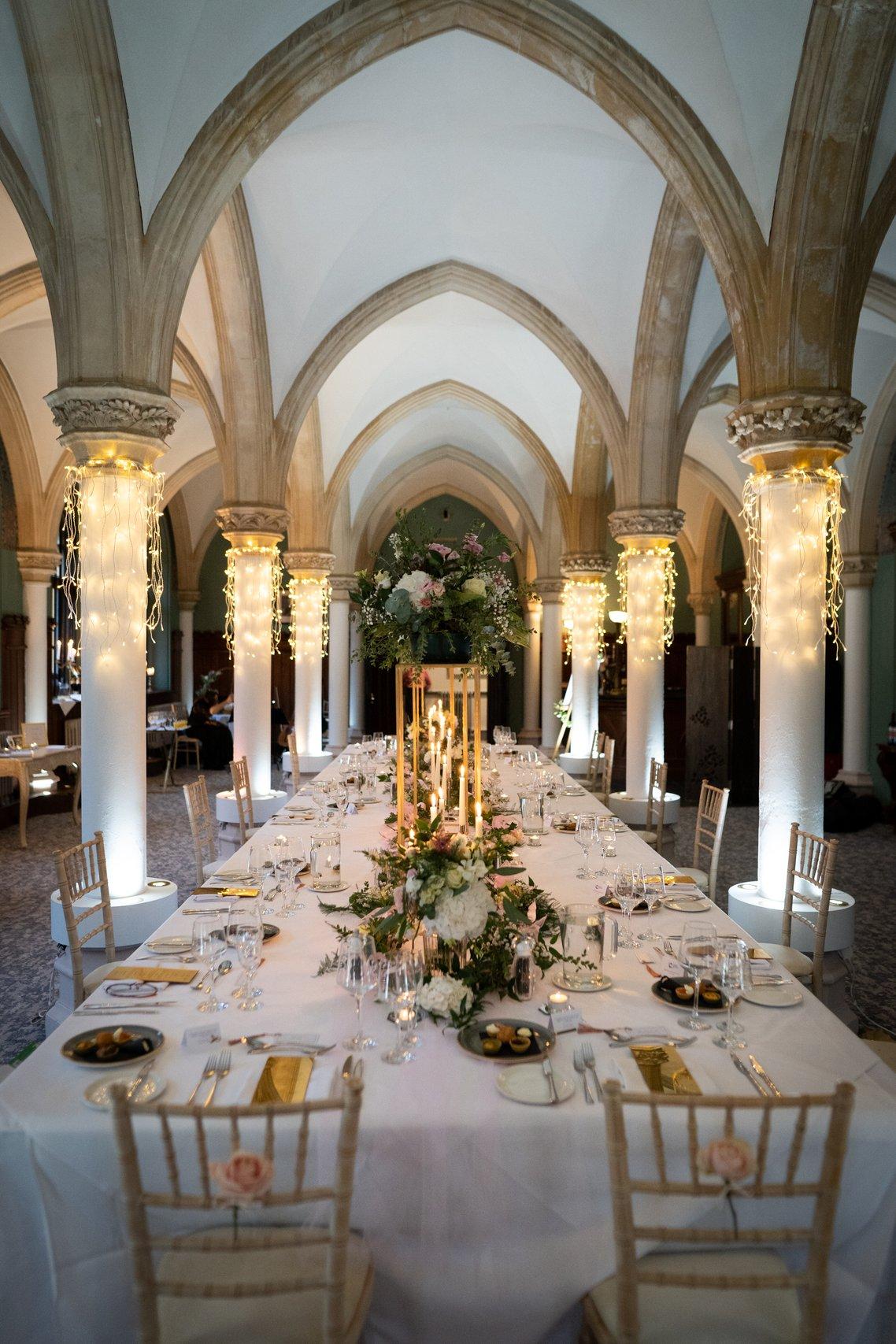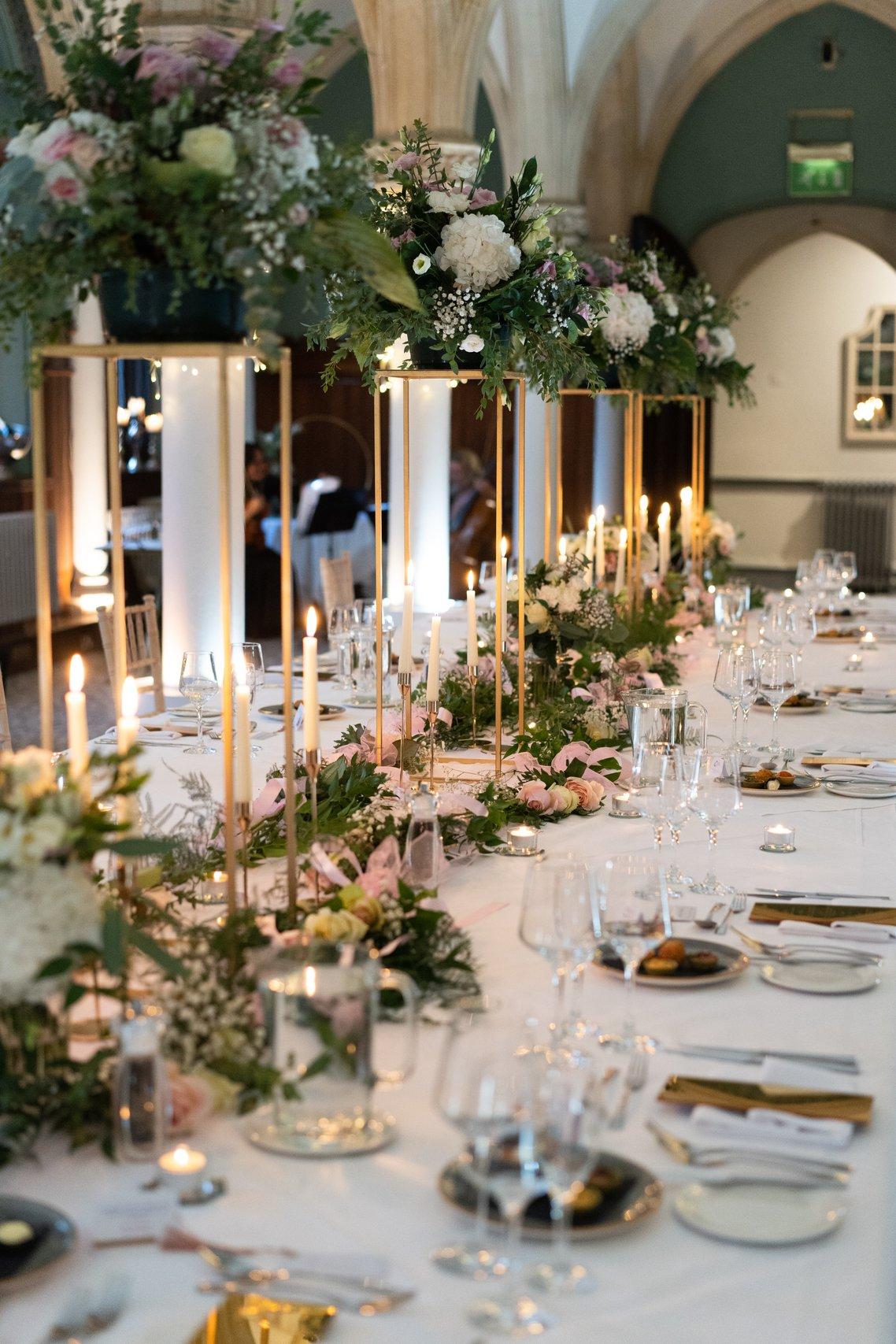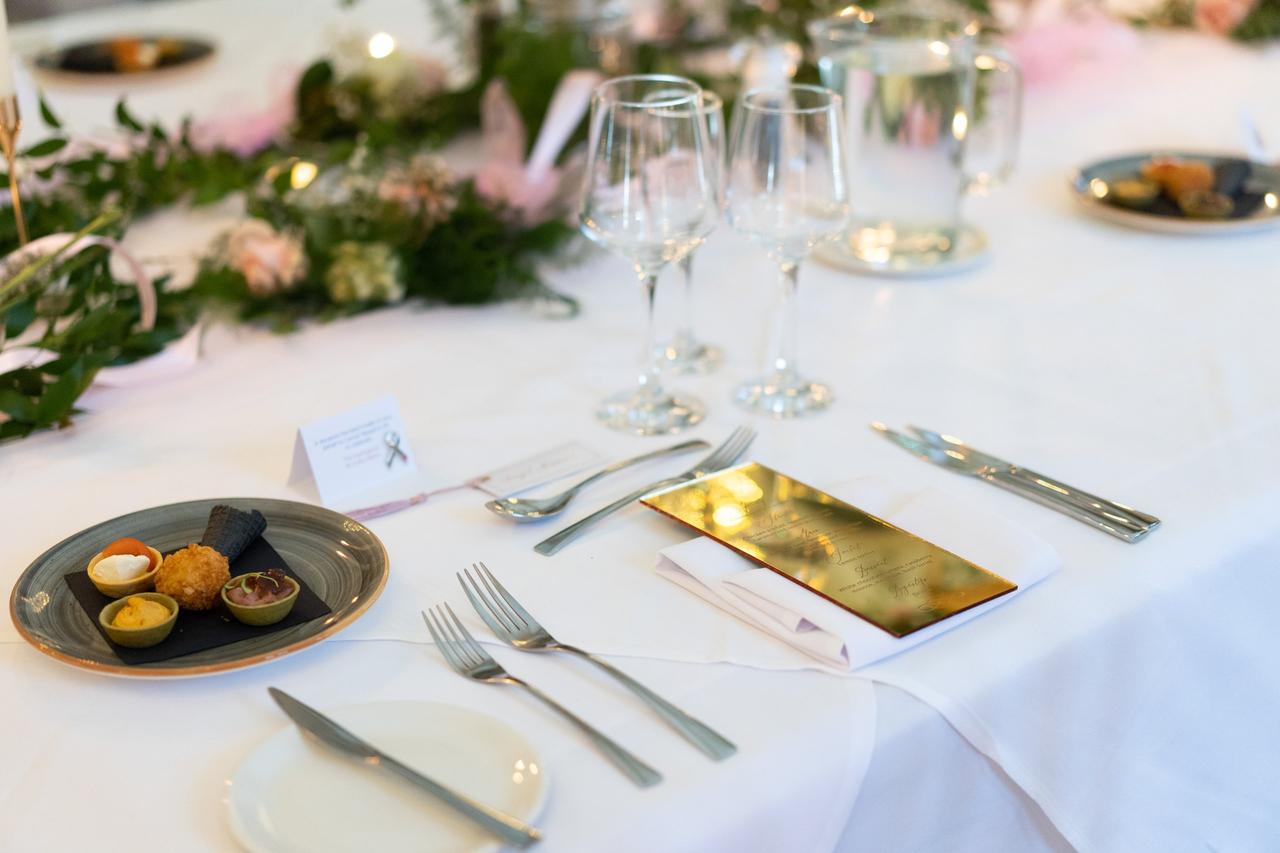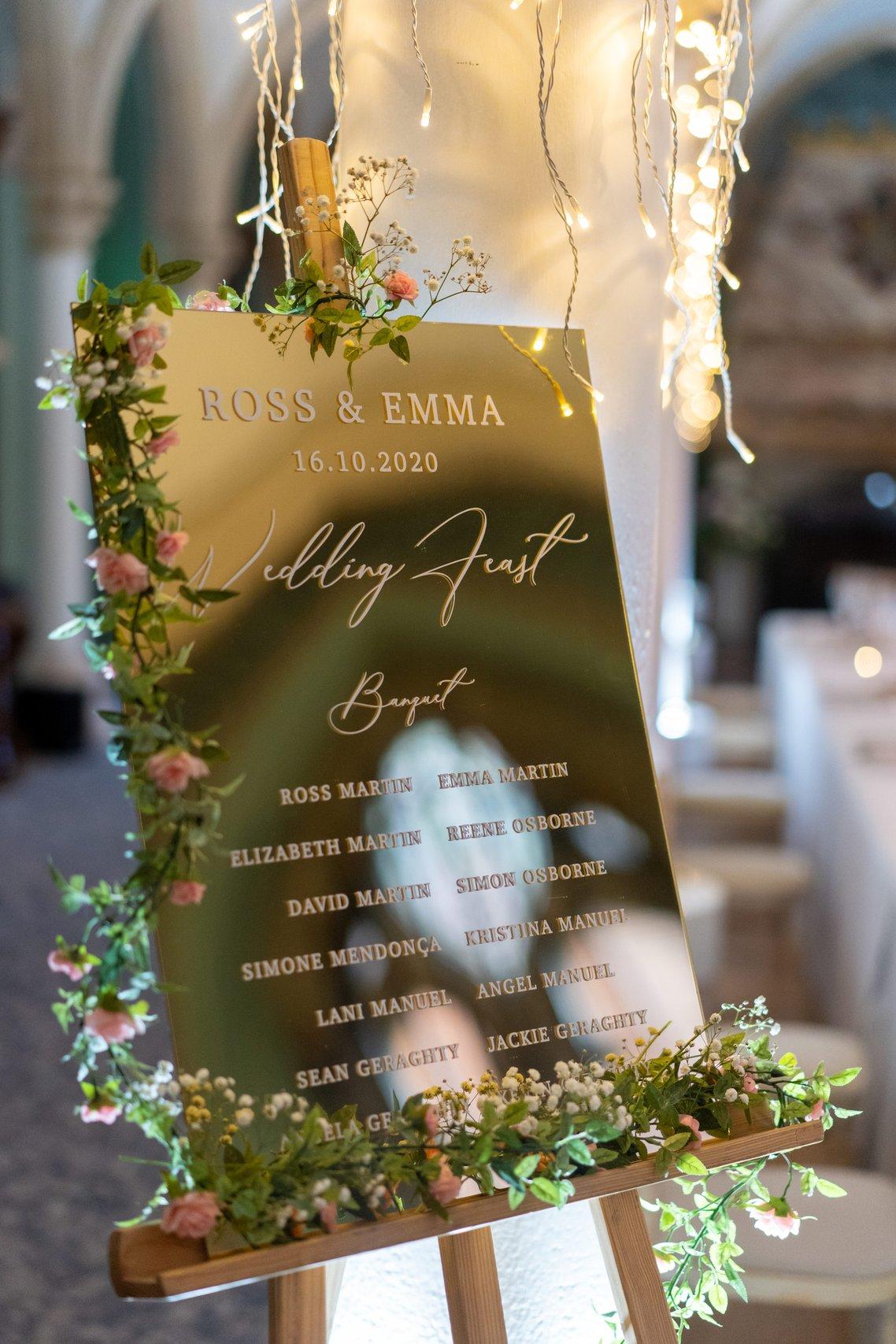 The Wedding Venue
The couple chose Wotton House, a grand manor house in Dorking, Surrey as their new venue. The majestic, vaulted Old Library was the setting for their reception, complemented by their classic ivory and blush colour scheme with gold accents.
"We fell in love with Wotton the first time we saw it. It's beautiful: the driveway sets the scene, and the gardens and outdoor grottos create perfect photography locations.
"The staff were wonderful, and the food was incredible. These elements combined with a stunning setting created the perfect day."
Wotton Hall provided the catering for their intimate wedding breakfast. The couple had chicken parfait, toasted brioche and caramelised onion marmalade for their starter, and fillet of beef, beetroot and potato gratin, caramelised shallot and sautéed greens for the main course. Dessert was a picture-perfect white chocolate sphere with raspberry mousse, meringue and basil syrup.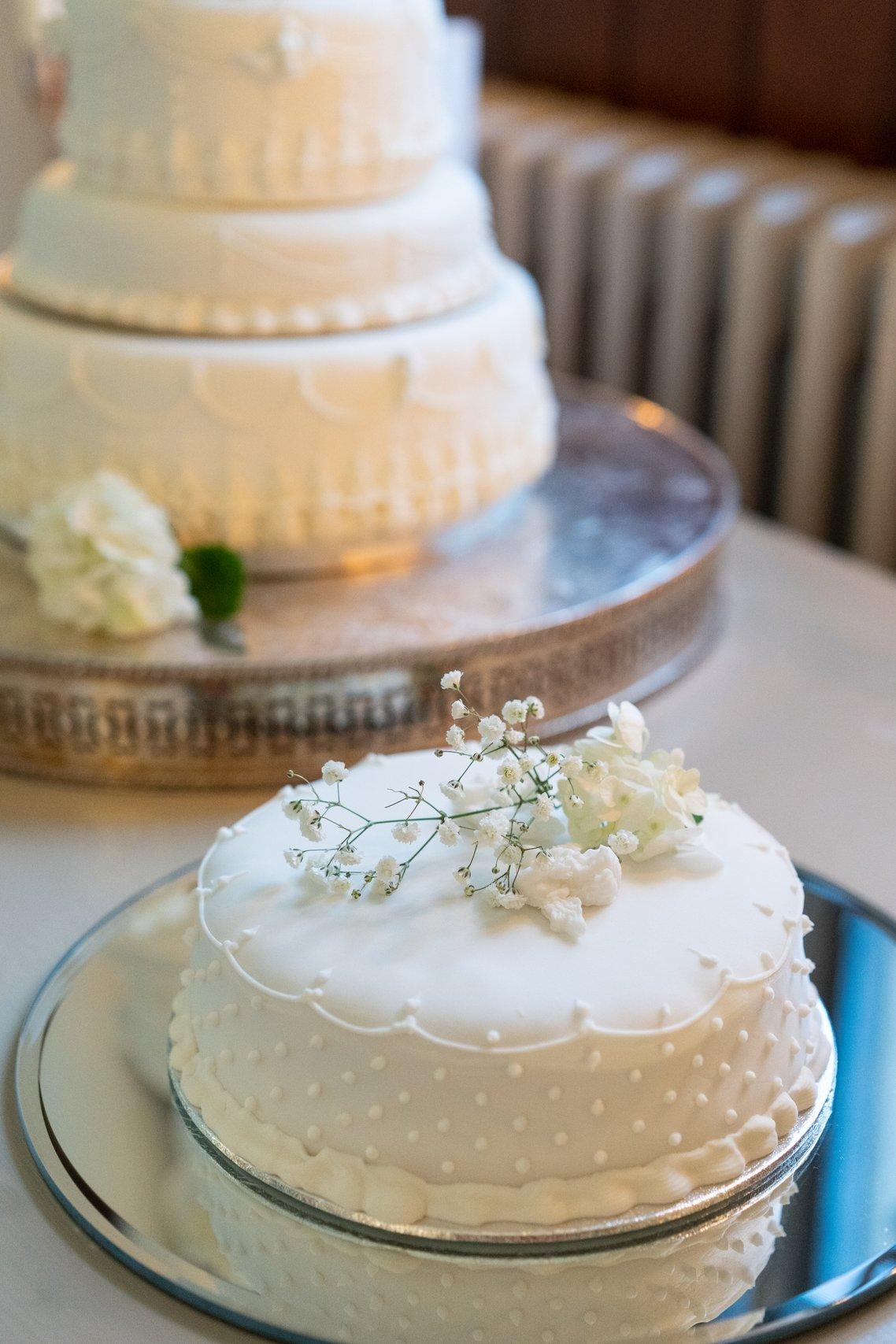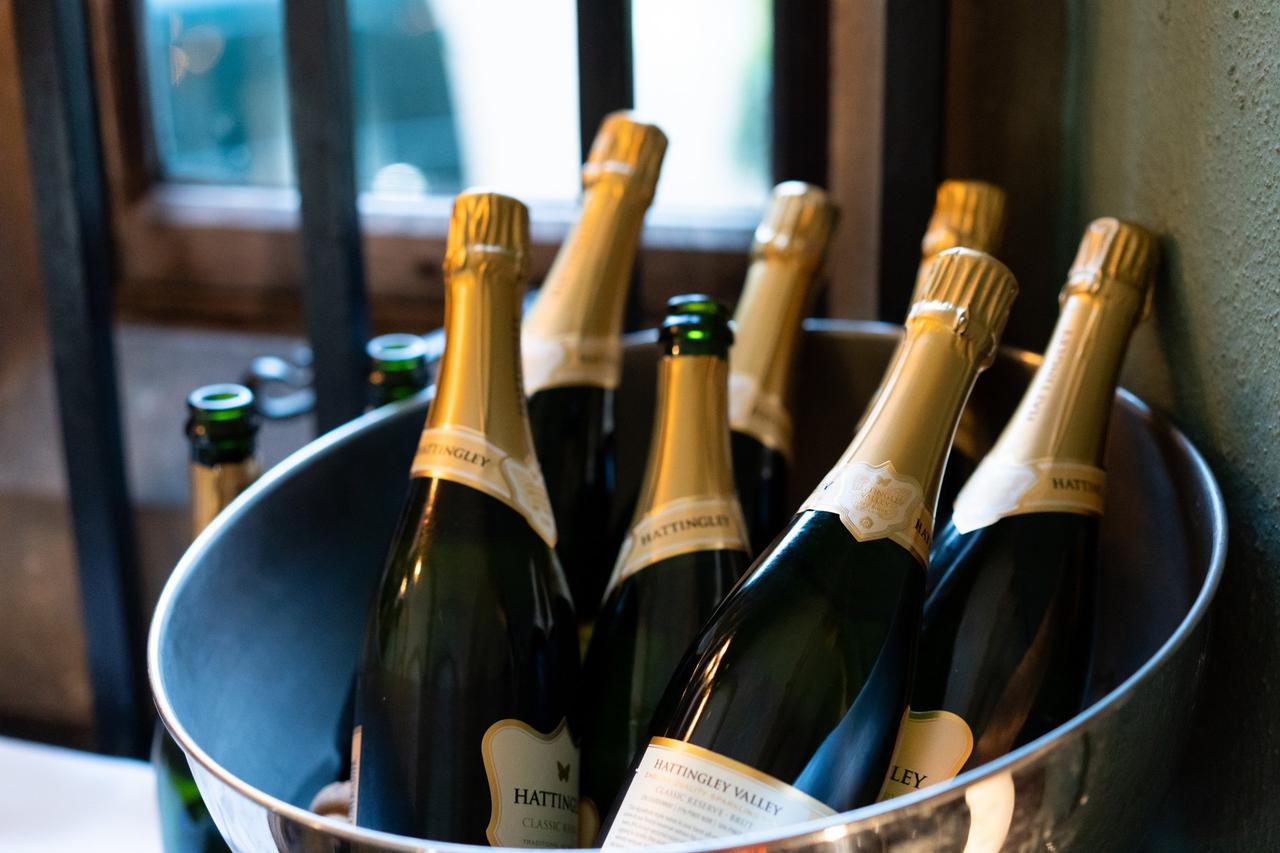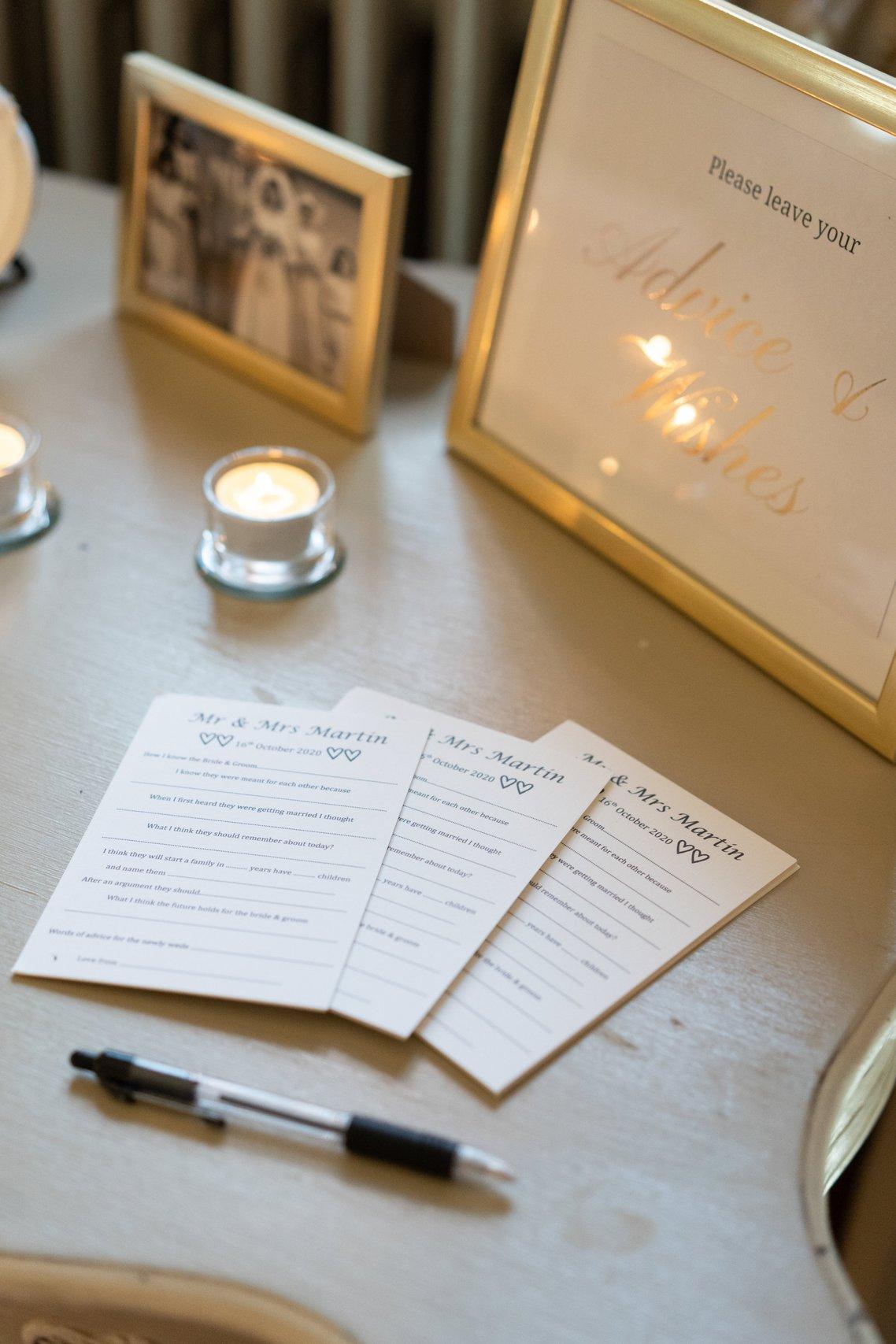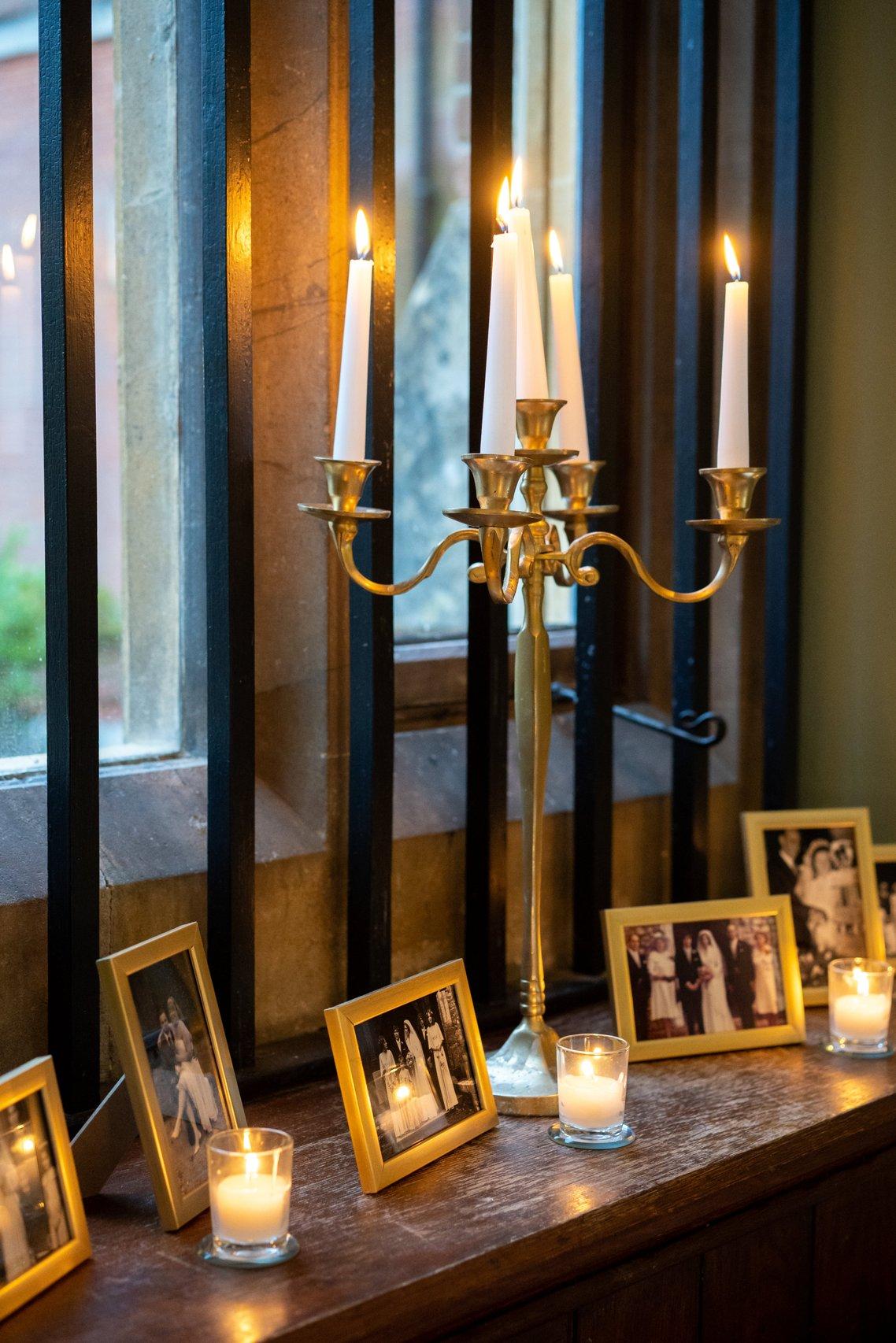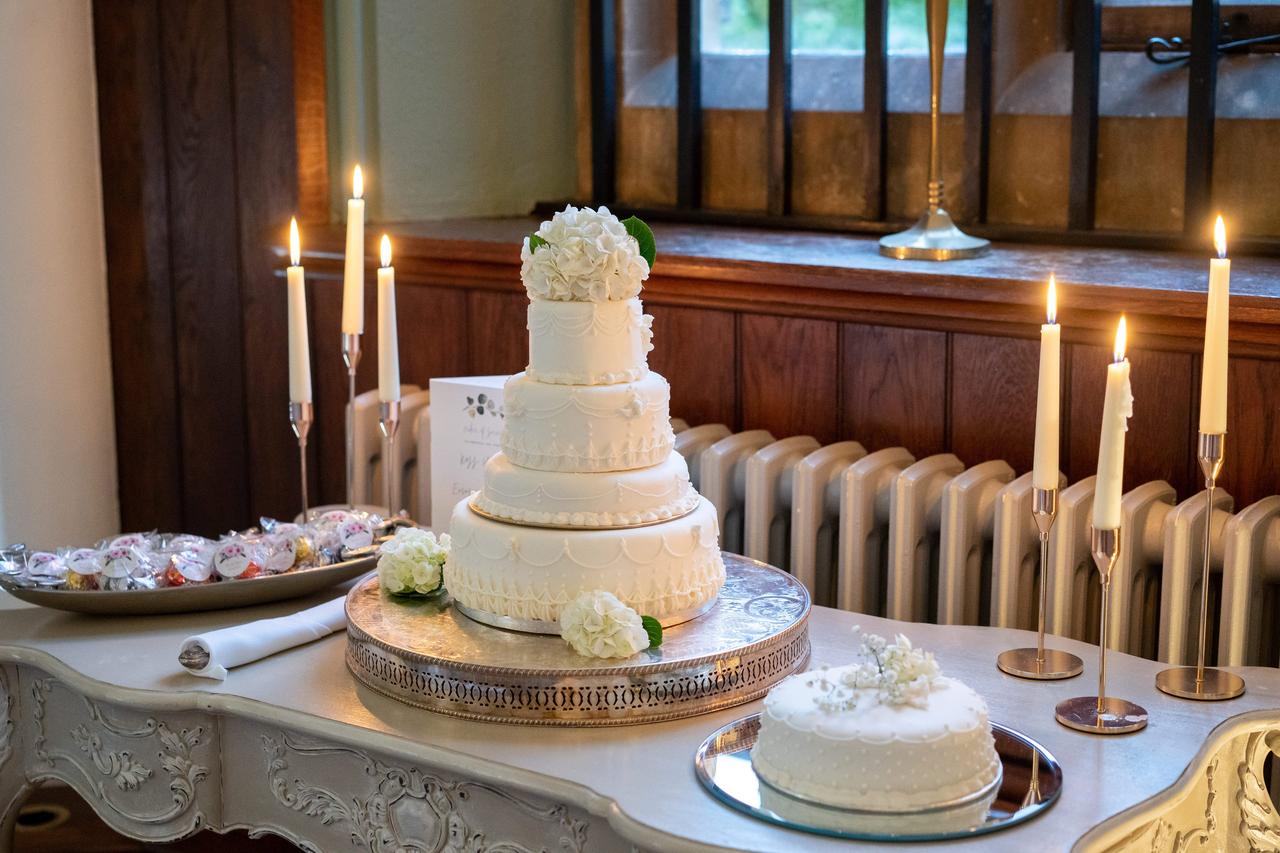 The Wedding Cake and Flowers
The cake and flowers were both a family affair! Emma decorated their wedding cake herself, after using lockdown to perfect her icing skills.
"Our wedding cake was a four tier cake, and three of them were dummy tiers," said Emma. "I practiced the Lambeth icing method on furlough and became pretty good at it so iced the dummy tiers myself, then added a plain white iced cake and added some detail so they looked perfect together.
"I was really pleased with how it came out and how cost effective it was. We didn't want to risk giving a cake maker an order to have it cancelled again given how unreliable things were."
The cake was served after dinner along with teas and coffee.
Emma's Auntie Jackie, who owns Findon Flowers, was in charge of their floral displays. "She did an incredible job. The bouquet was arranged with spring flowers for an original April wedding. After rescheduling, I asked if we could try and stay within the same colours."
White hydrangeas and pink roses formed the heart of their bouquets and the centrepieces down the banquet table. "We had tall floral centrepieces, long and low flowers as a runner, tall candlesticks and low tealights scattered around. It looked very elegant."
On the tables, gorgeous gold acrylic menus followed their theme, and they chose meaningful wedding favours which sat with place cards.
"We recently lost a family member to cancer who should have been a guest on the day. We chose to make a donation to Cancer Research and gave everyone a card with cancer research pins and tie pins," said Emma.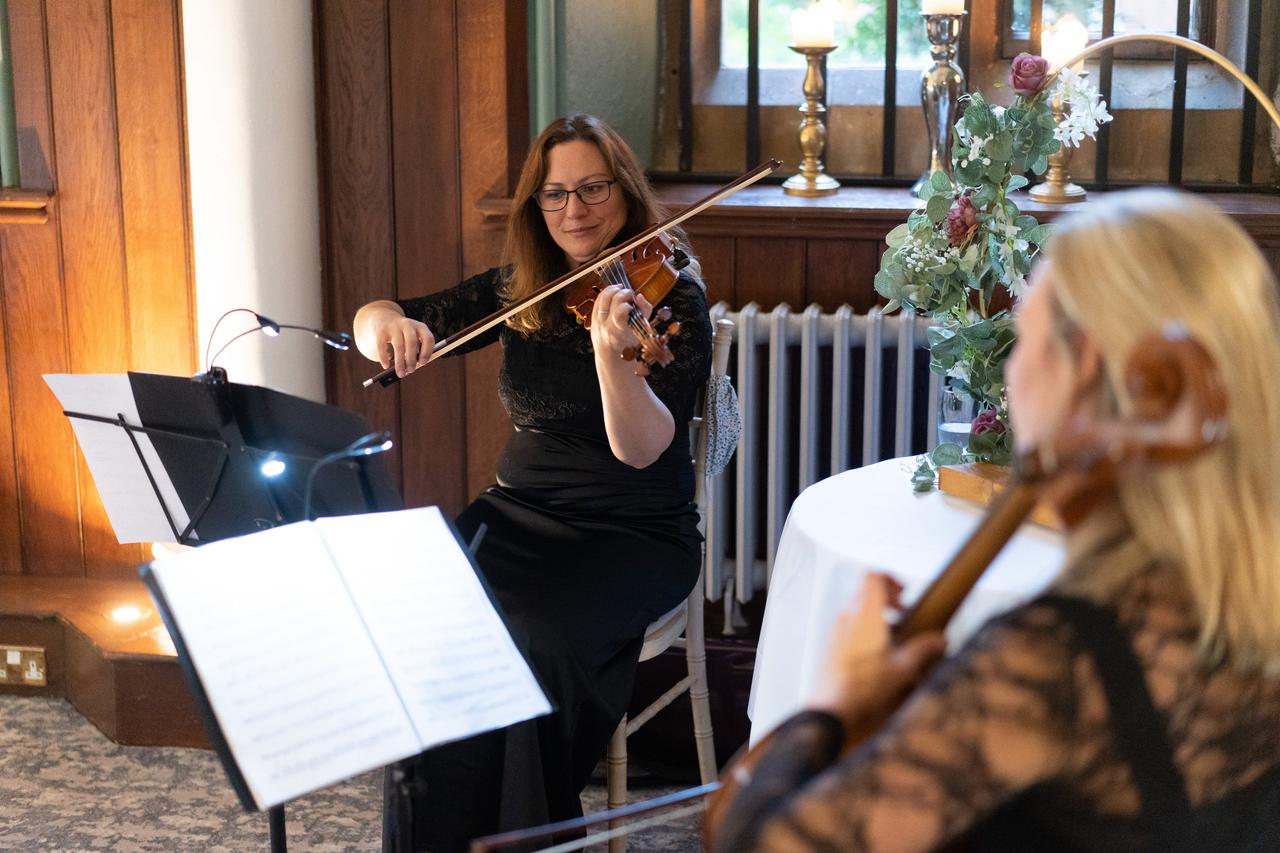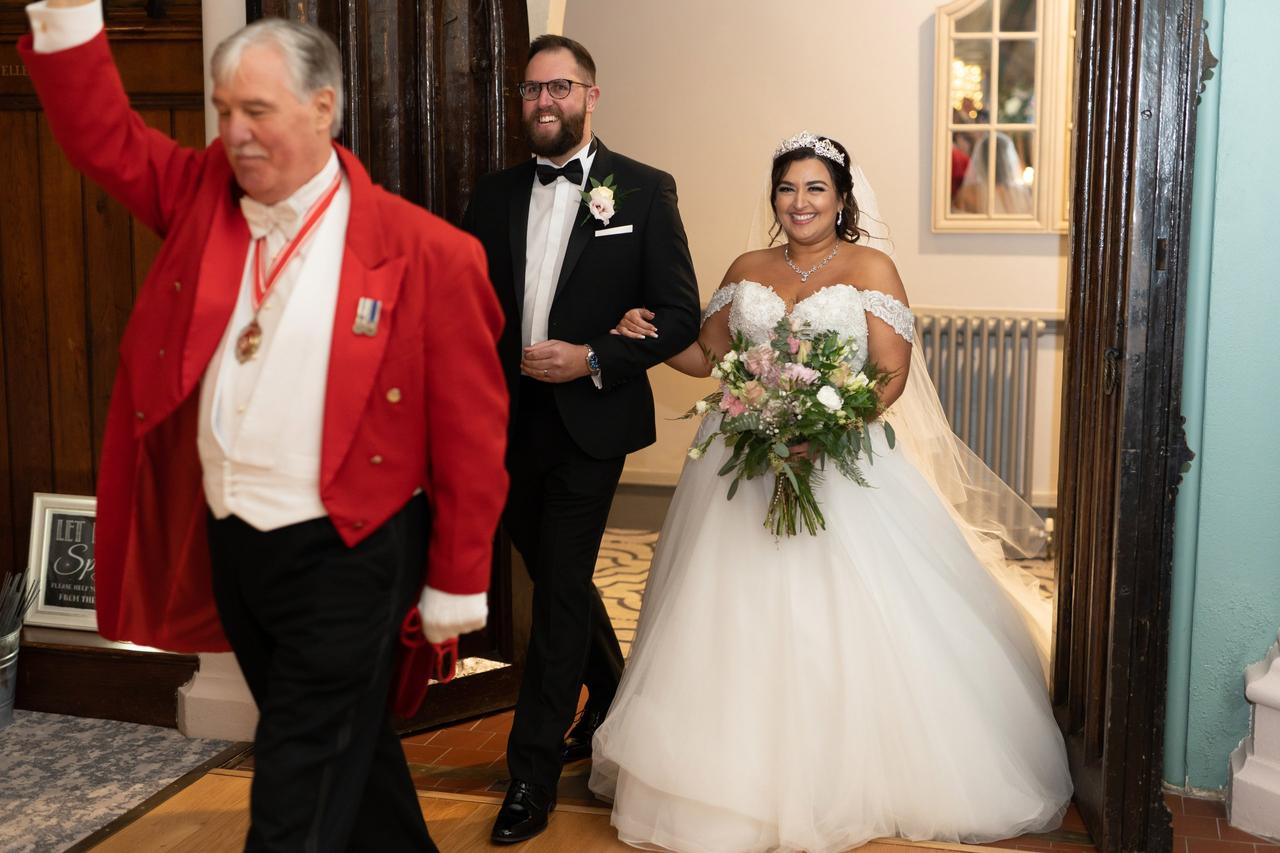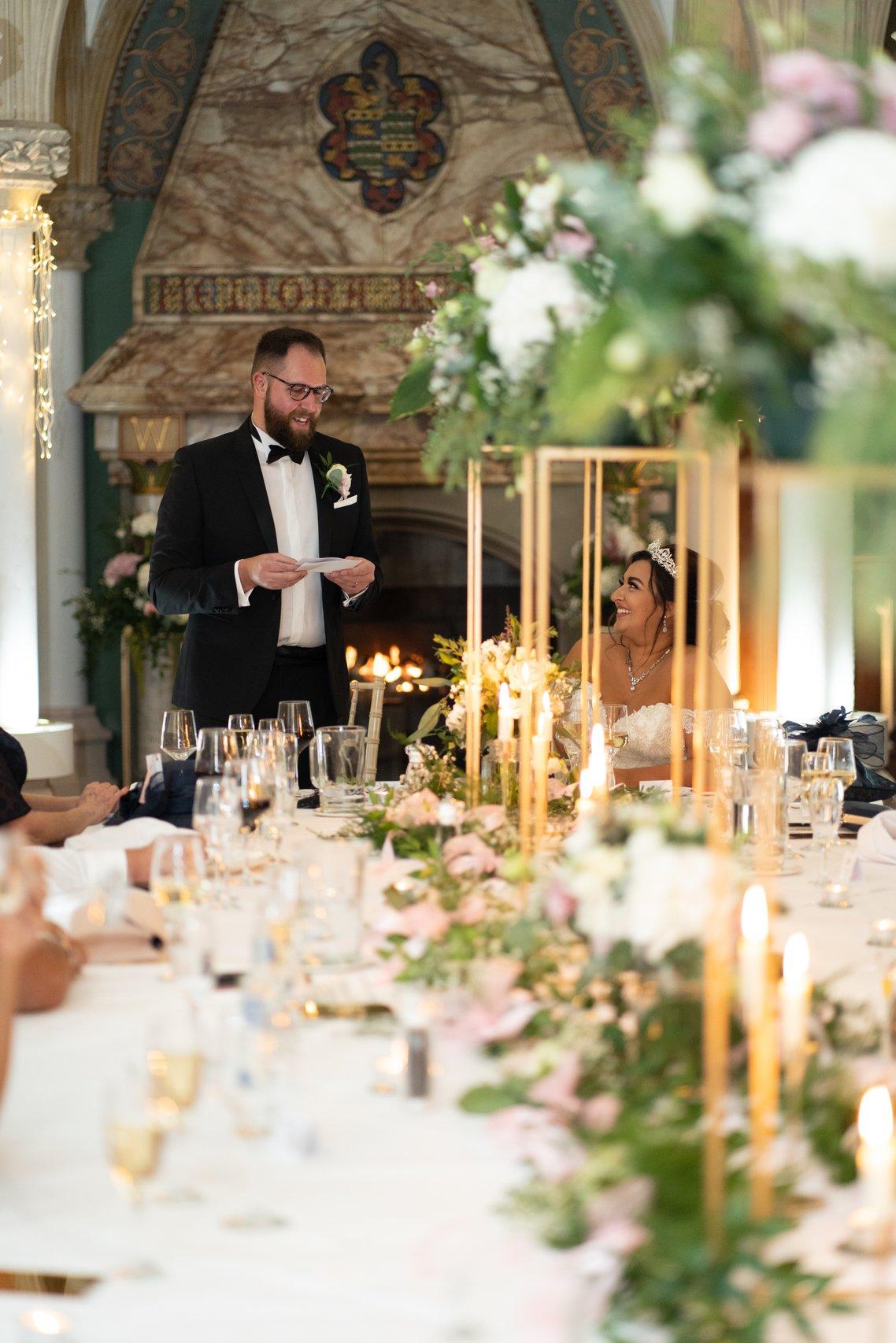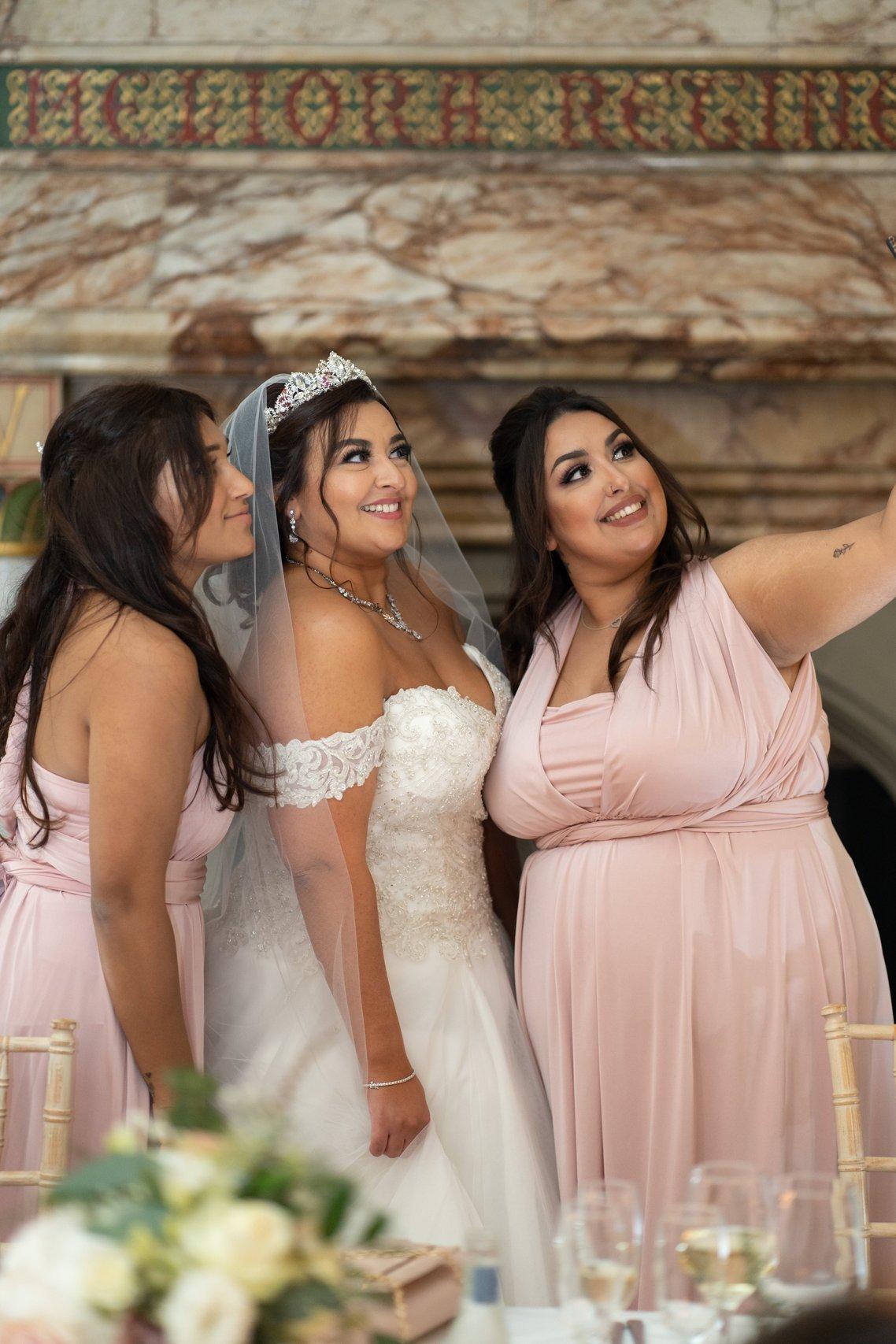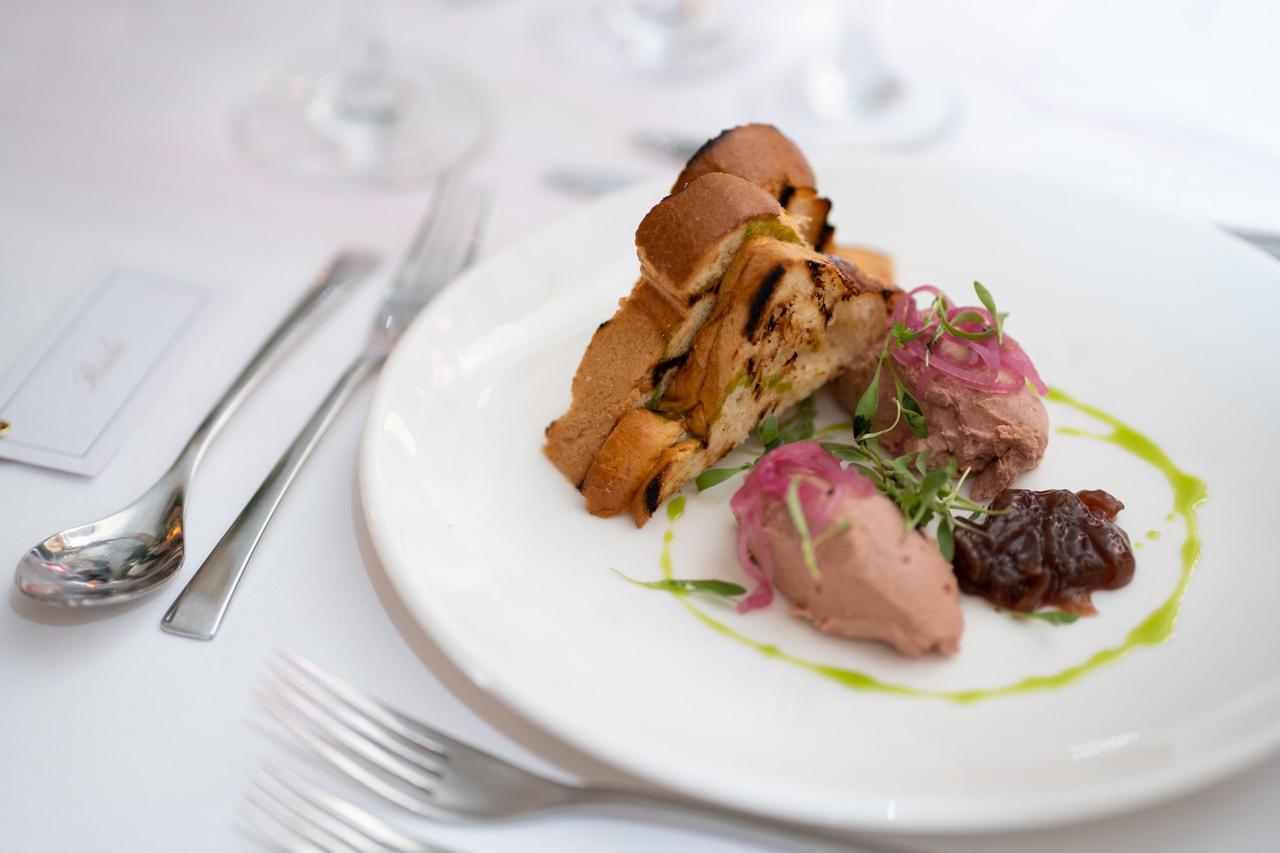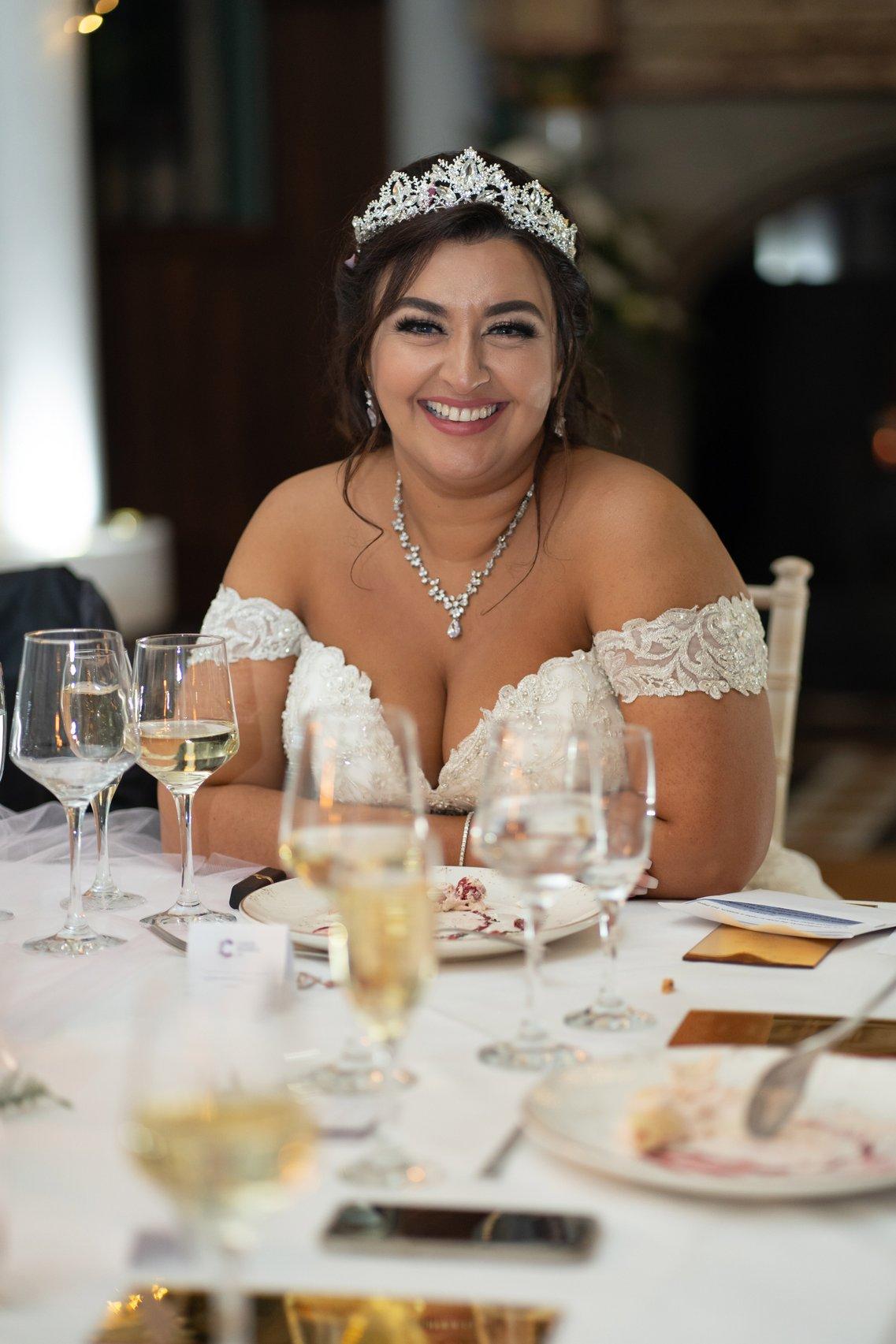 The Reception
The couple wanted to keep their supplier numbers to a minimum so forwent some of their planned entertainment and prioritised live music.
"We had the most wonderful string duo. Sheraine at South Downs Strings was the most understanding and supportive supplier we had the pleasure of working with, and cannot recommend her highly enough to any couples looking for a string duo, trio, or quartet in the Sussex/Surrey area.
"Our first (and only) dance of the night was an acoustic cover of My Love Is Your Love by Whitney Houston, sang by Kara Marni. It was a really beautiful, intimate and emotive version of the classic song.
"At first, we were a bit nervous getting up and dancing in front of everyone sat at the table, but we just made the most of it and ended with a romantic dip!"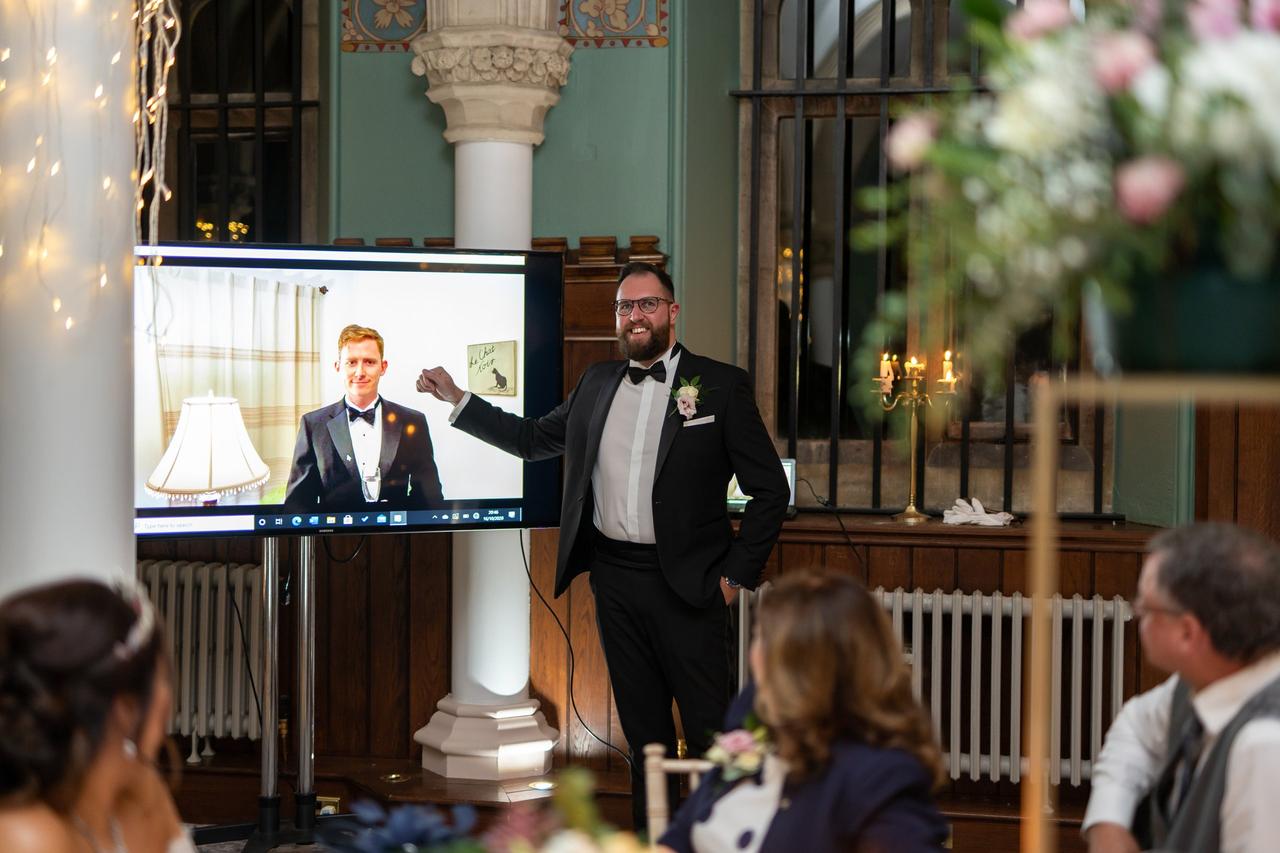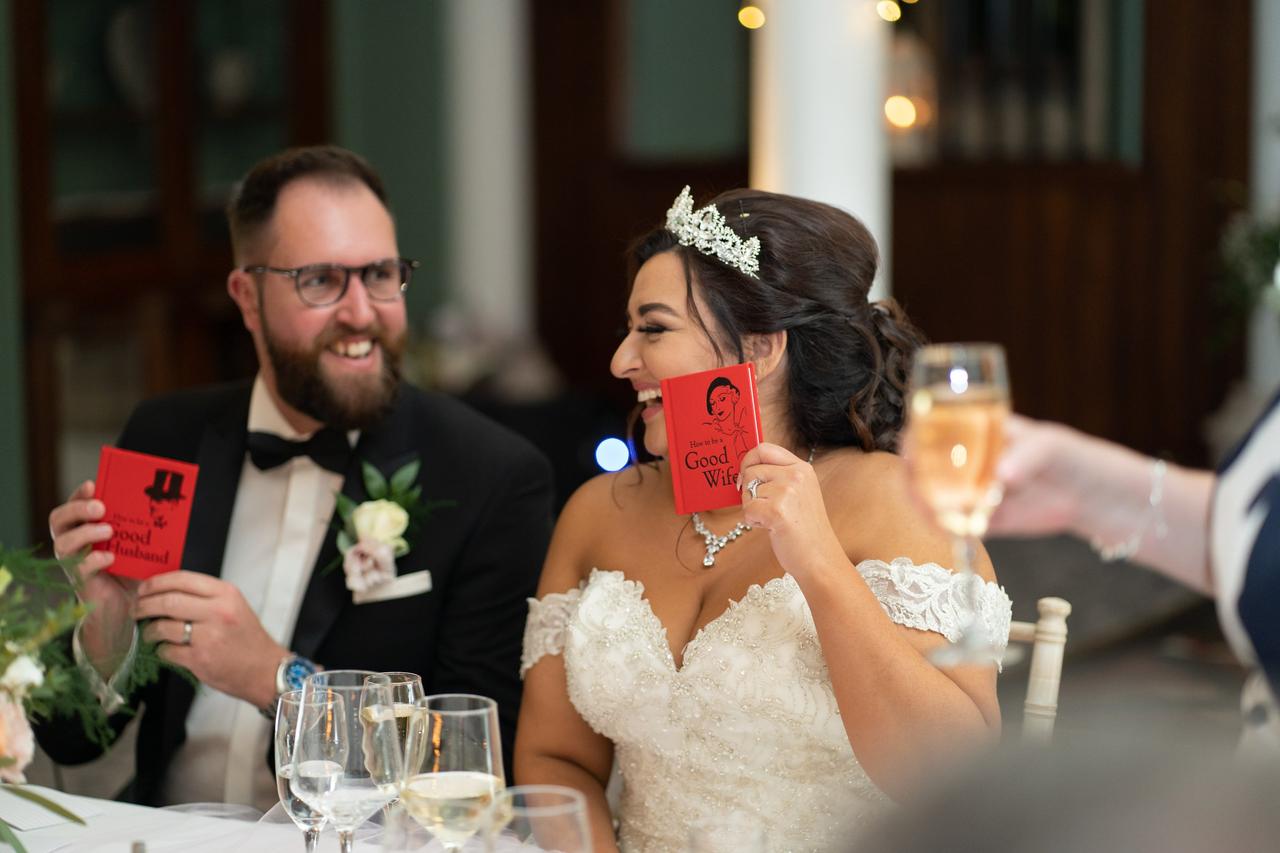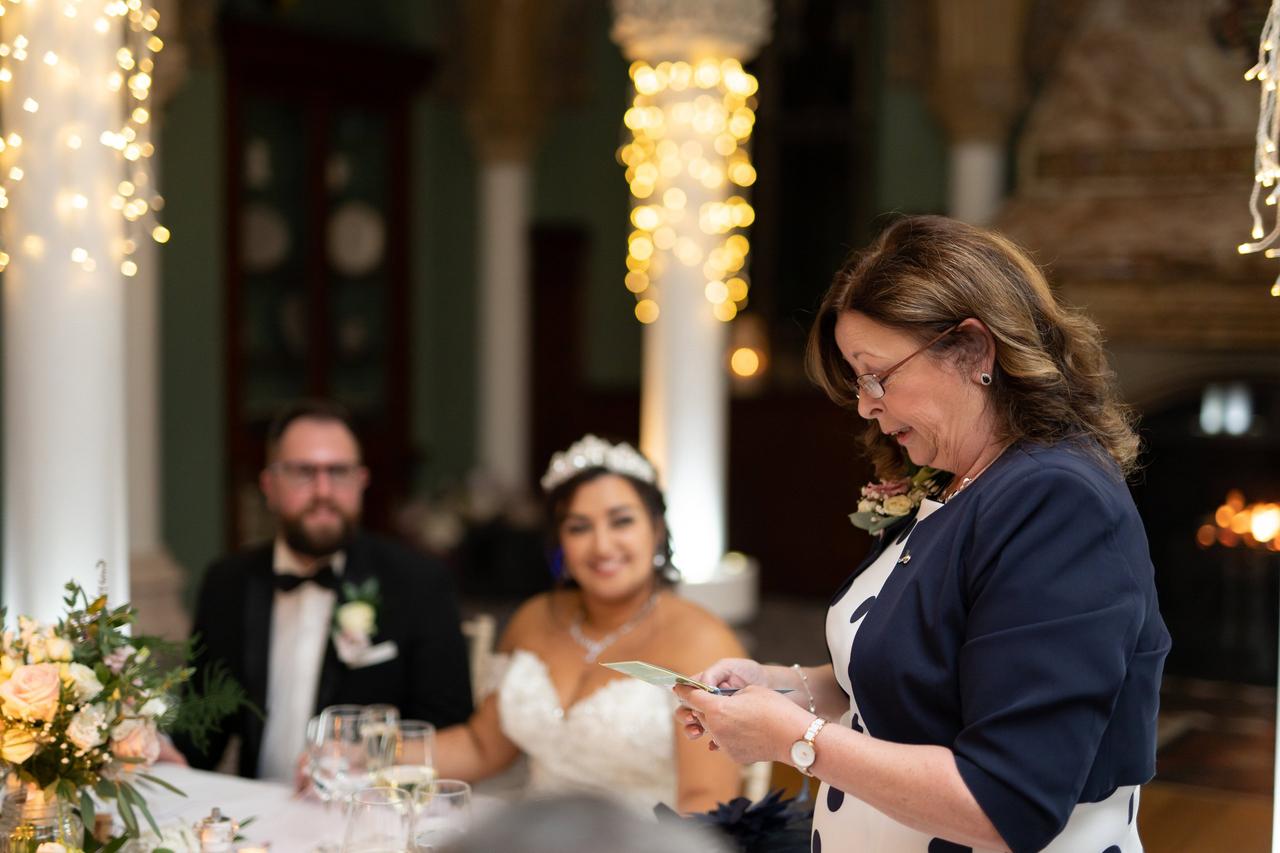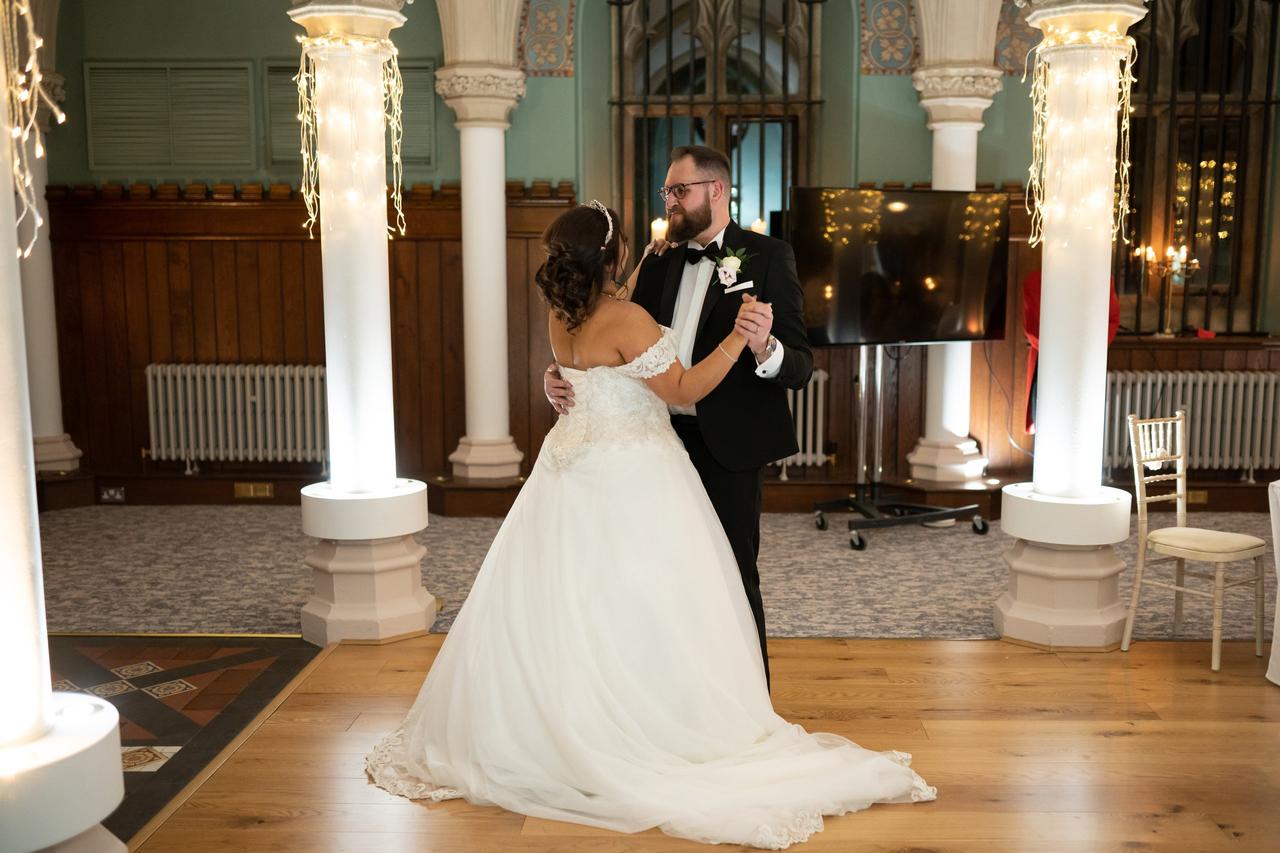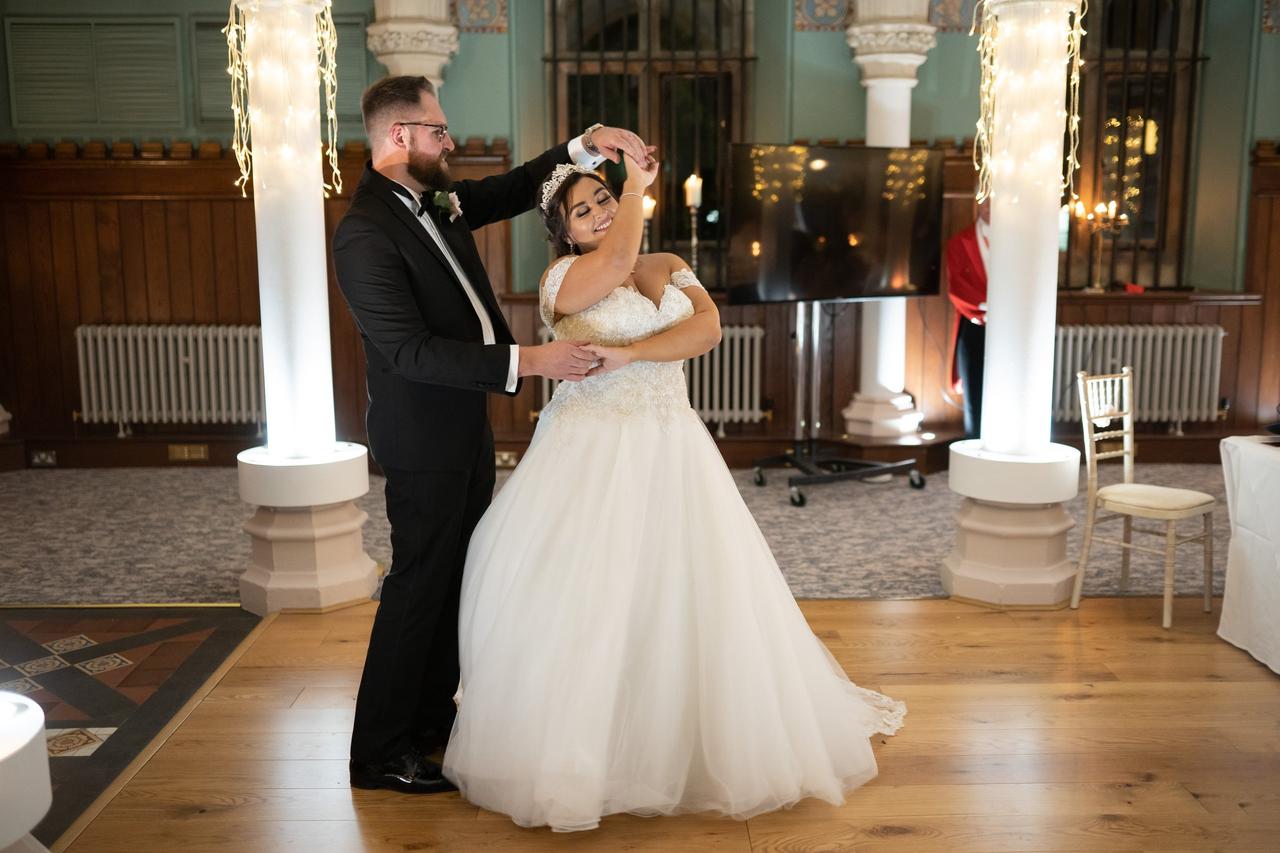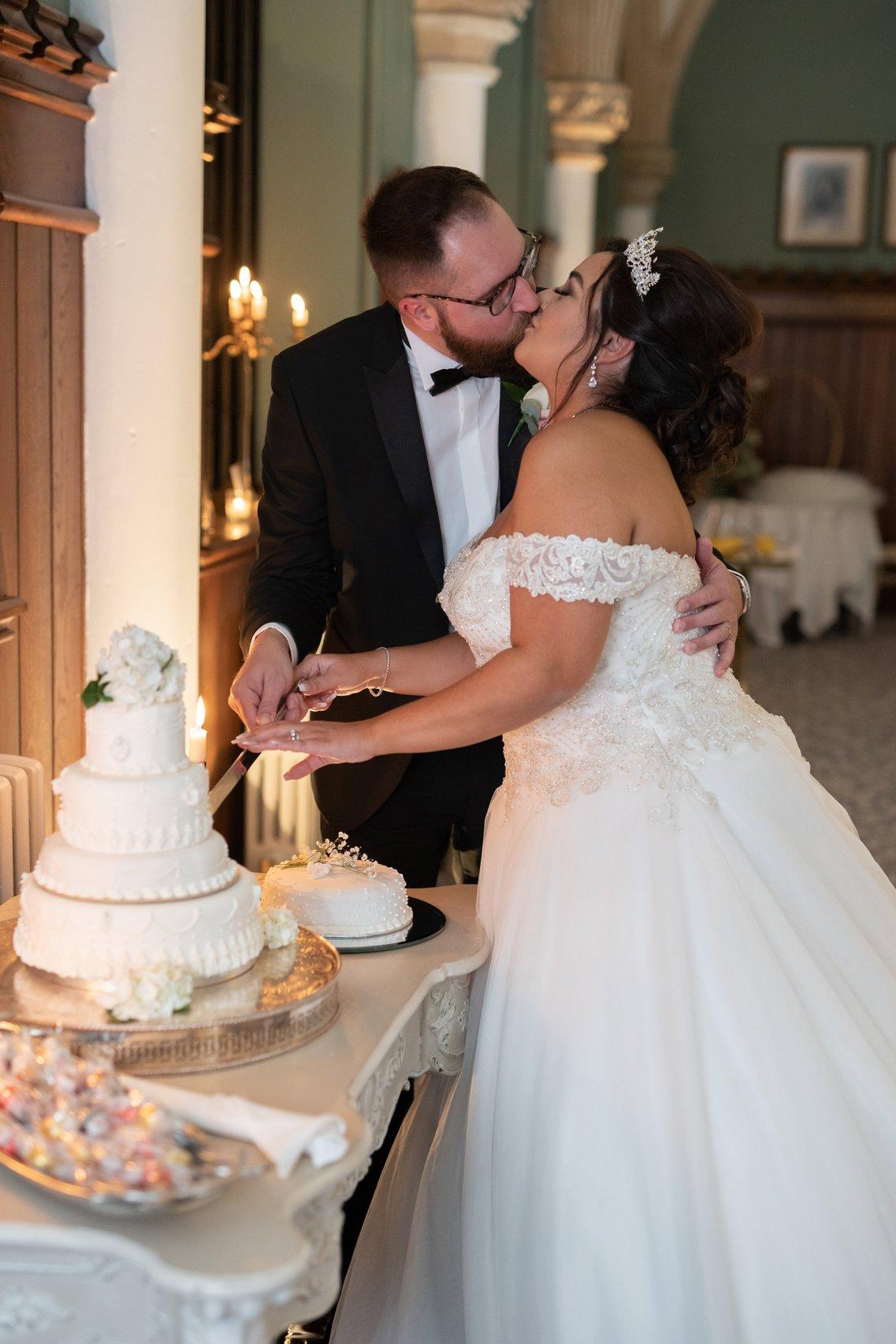 The Couple's Advice
Like many couples, their honeymoon has been pushed back too, but they're taking it in their stride. "We were supposed to be flying out to the Maldives on the 7th January, but that has been cancelled once again. We are hoping to get there before the end of March this year.
"We are both certified scuba divers and cannot wait to dive with the manta rays."
The couple had set up a gift list with Prezola where guests could contribute to their honeymoon if they wanted. It's a great way to save some of your budget, although Emma and Ross said the one positive to reducing their number was that it made their day come in way under budget.
Having gone through the process of rearranging their wedding, the couple had lots of advice to share: "Stay open-minded and don't get too hung up on the details. It's easy to become obsessive over how you want it but the pandemic takes the control away from you.
"If you choose to have an intimate wedding with a celebration later, we are sure you won't regret it. We wish we did it sooner and saved the stress of replanning so many details."
The only change the couple would have made to their day was to have more time with their loved ones.
"We would have had the ceremony slightly earlier to give us more time at the reception venue. The day flew by so quickly, we wish we could do it all again!"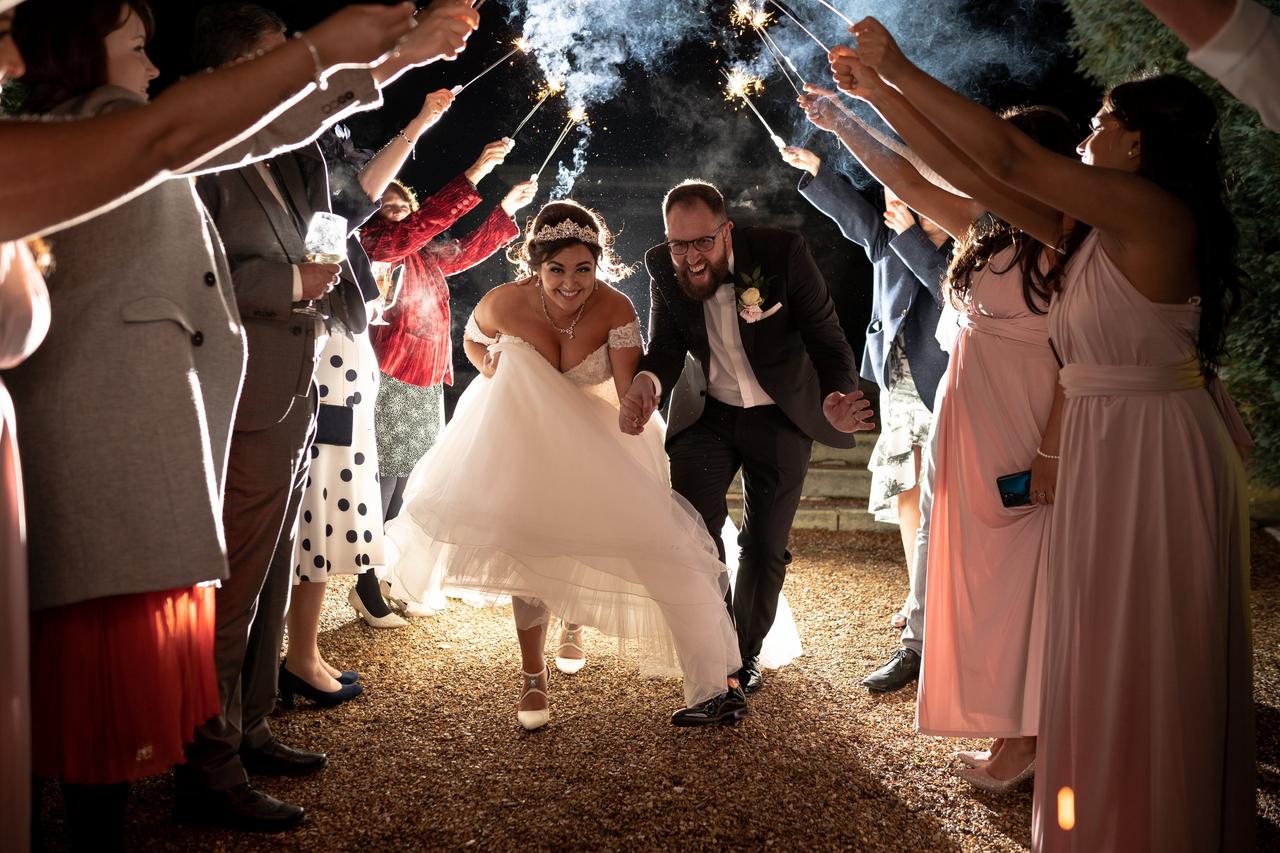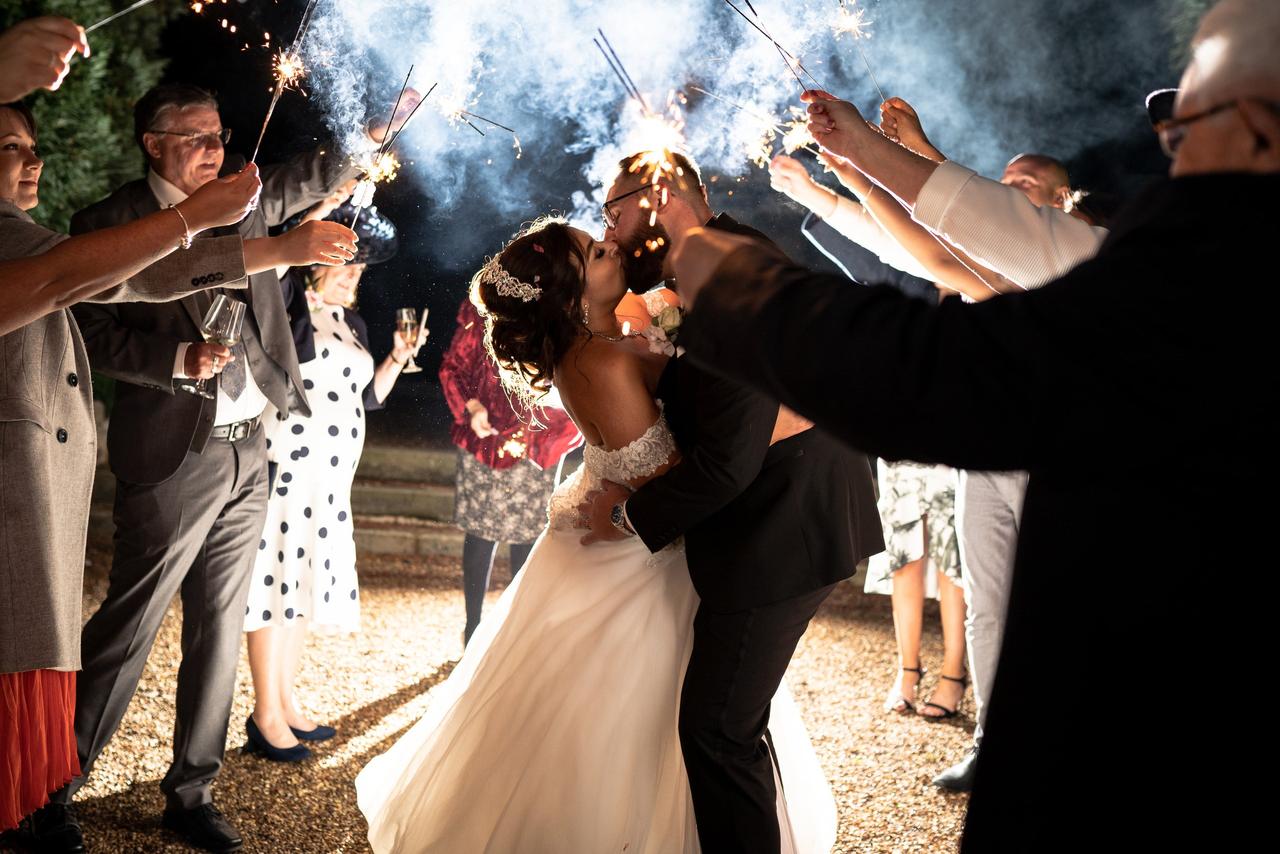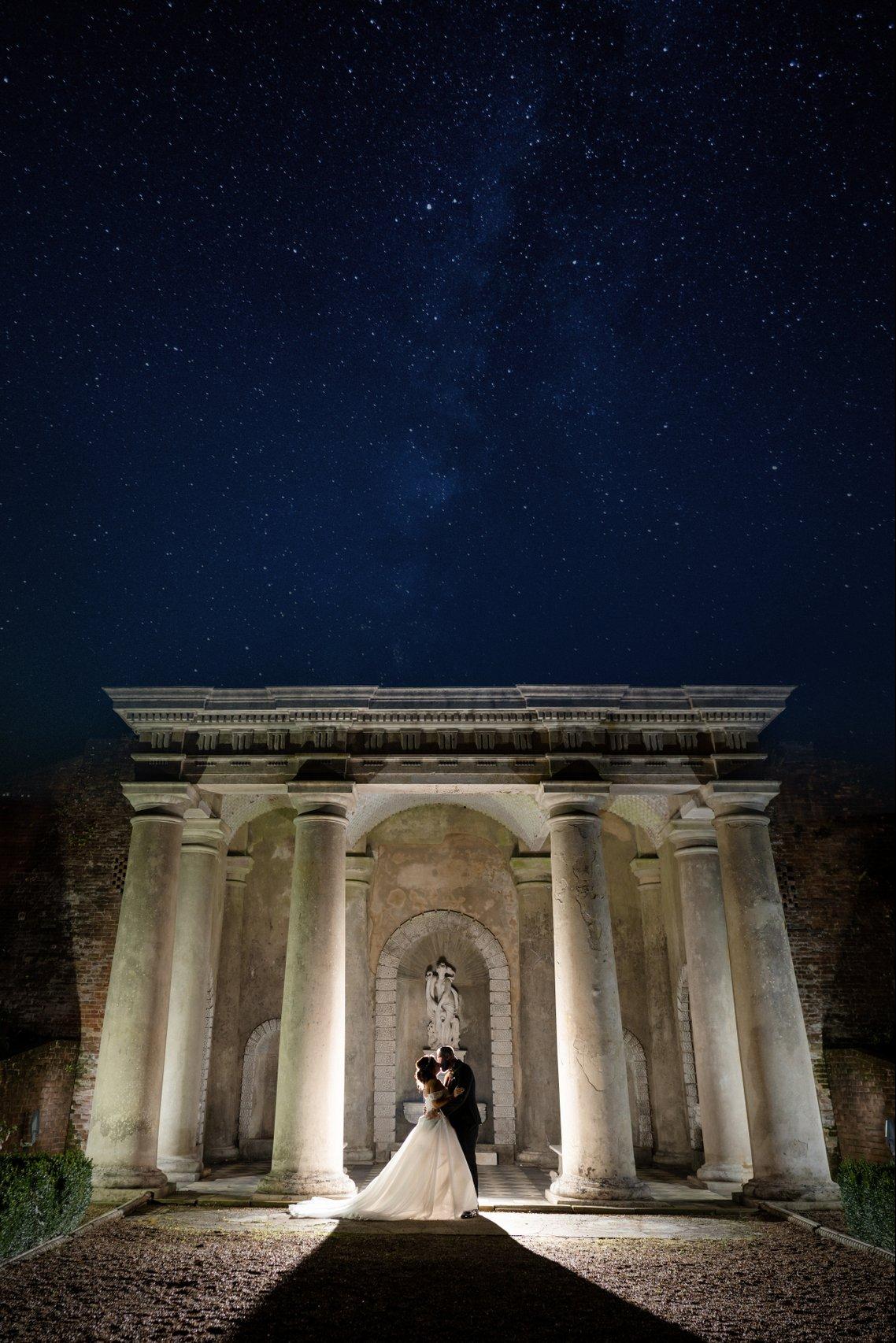 The Suppliers
Venues: St John the Evangelist and Wotton House
Photographer: David Christopher Photography
Videography: Adam Rowley Creative
Wedding Dress: Sophia Tolli from Claire de Lune Bridal
Bridesmaid Dresses: Debut
Bride's Shoes: Manolo Blahnik
Makeup Artist: B Beautiful by Binita
Spray Tan: Spray Tans by Steph
Toastmaster: Paul Mitchell
Stationery: Wedding Lux and Signed With Love UK
Wedding Favours: Cancer Research
Music: South Down Strings
Florist: Findon Flowers
Décor Hire: To Have and To Hold Events
Transport: Finest Wedding Cars
Gift List: Prezola
Thanks to Emma and Ross for sharing their gorgeous day!