Real Covid Wedding: Caitlin and Stephen, Cullykhan Bay in North East Scotland
It wasn't the wedding they'd planned, but Caitlin and Stephen's outdoor celebration was still full of magic, including a special twist on the traditional first dance...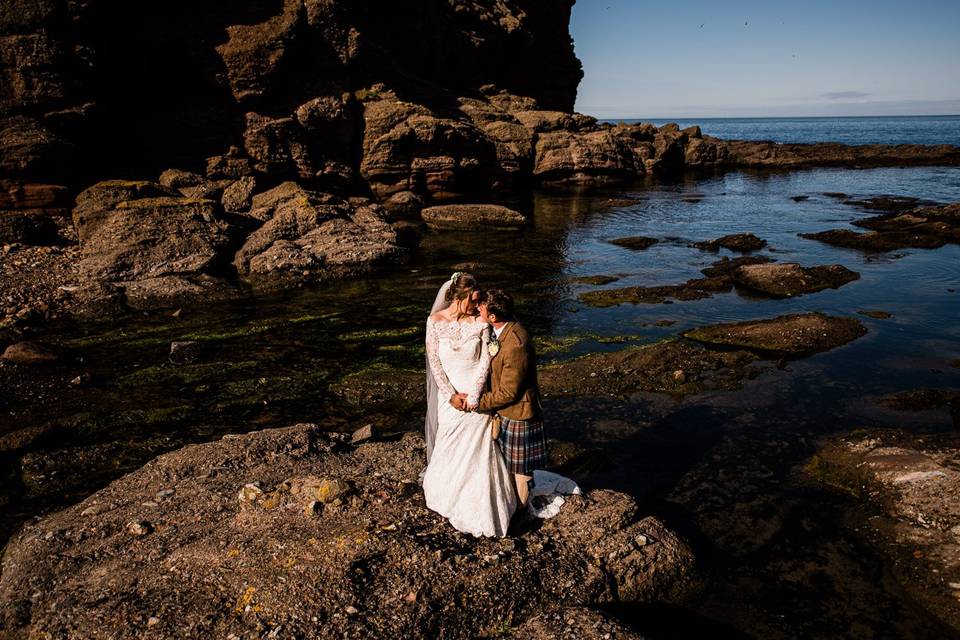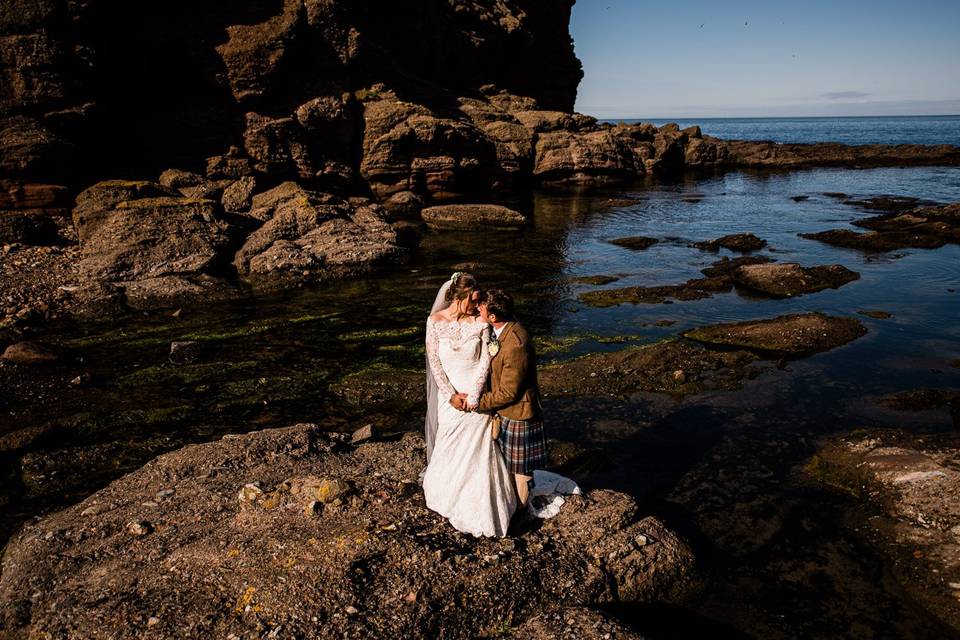 Caitlin and Stephen's original wedding was for 60 people at a rather special Scottish venue - the couple were to be among the first to get married there. Unfortunately, however, the Coronavirus pandemic forced a rethink.
Their new venue? A local beach for the ceremony - and their own house for the reception!
The couple met when they were teenagers and quickly became inseparable. "We were each other's best friend, and still are," says Caitlin.
After five years together, Stephen proposed halfway up picturesque Ben A'an, showing how well he understands his now-wife. "He had planned to propose at the top but realised how busy it was going to be and knew I'd have hated making a scene!"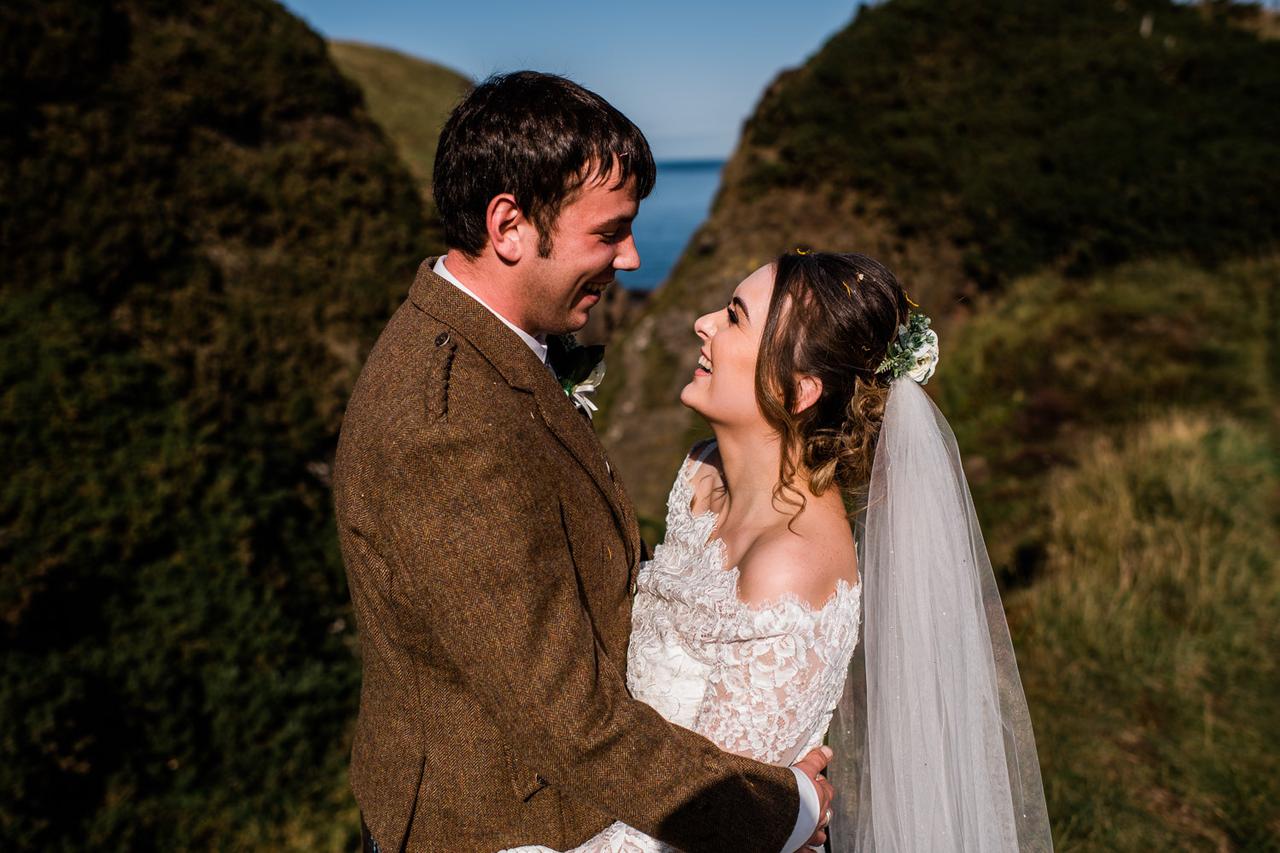 The couple set about planning a laidback celebration complete with pizza van, DJ decks and a large tipi. As the Covid restrictions came in, it became clear that their plans would have to change. "We tried to think of ways to adapt the day to keep it at this location, even changing the date," says Caitlin. "In the end it became impossible to organise and we had to cancel."
However, in a country as spectacularly beautiful as Scotland, it wasn't long before they found their perfect alternative. Read on to discover how they adapted their wedding and still had a brilliant day - as well as getting some amazing photos!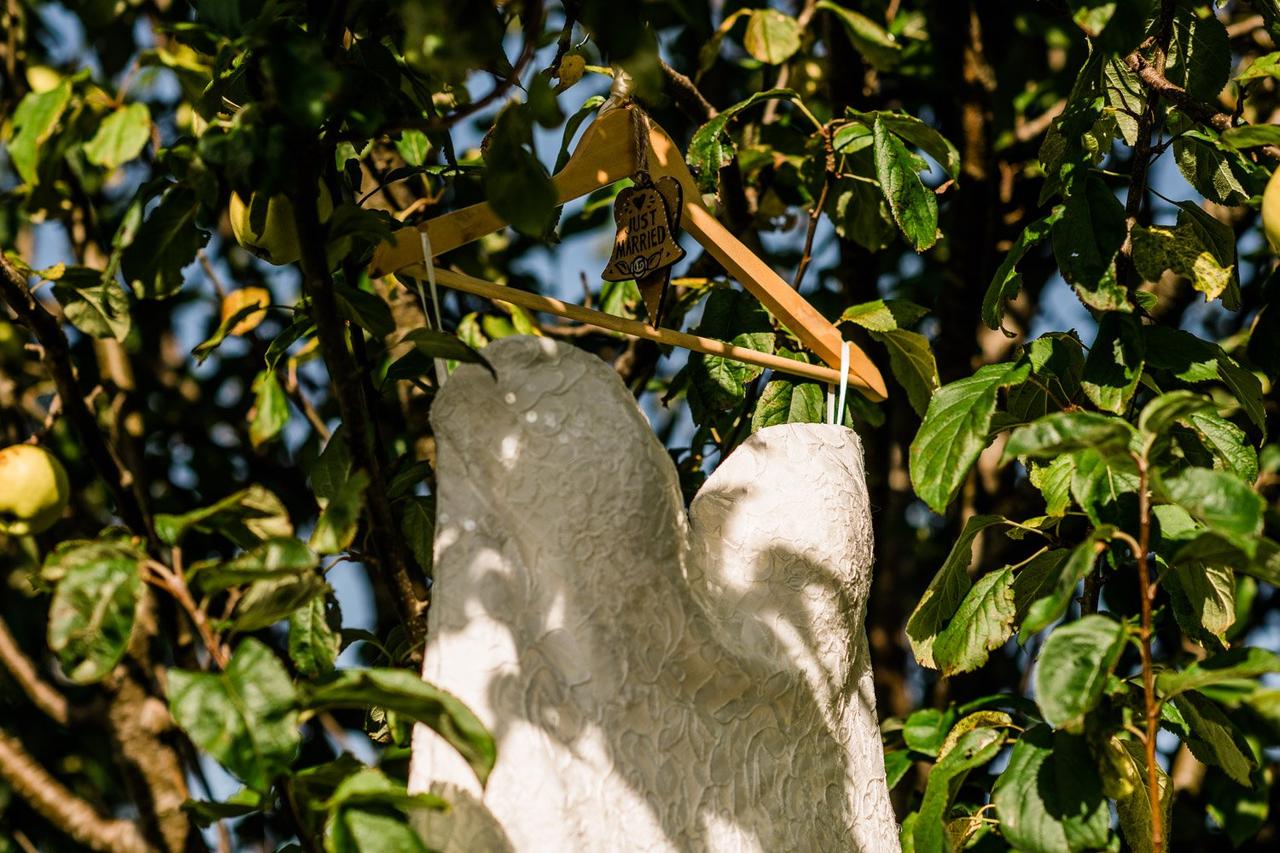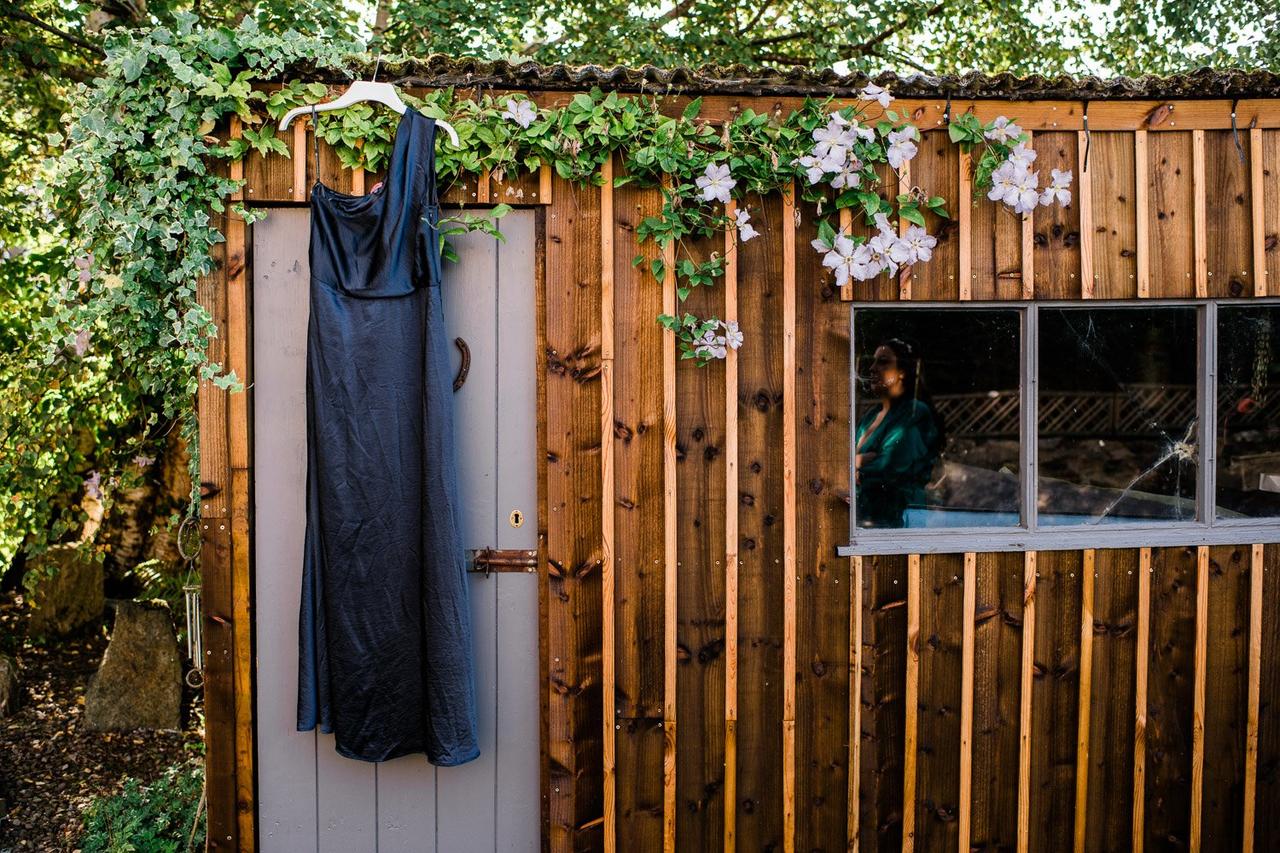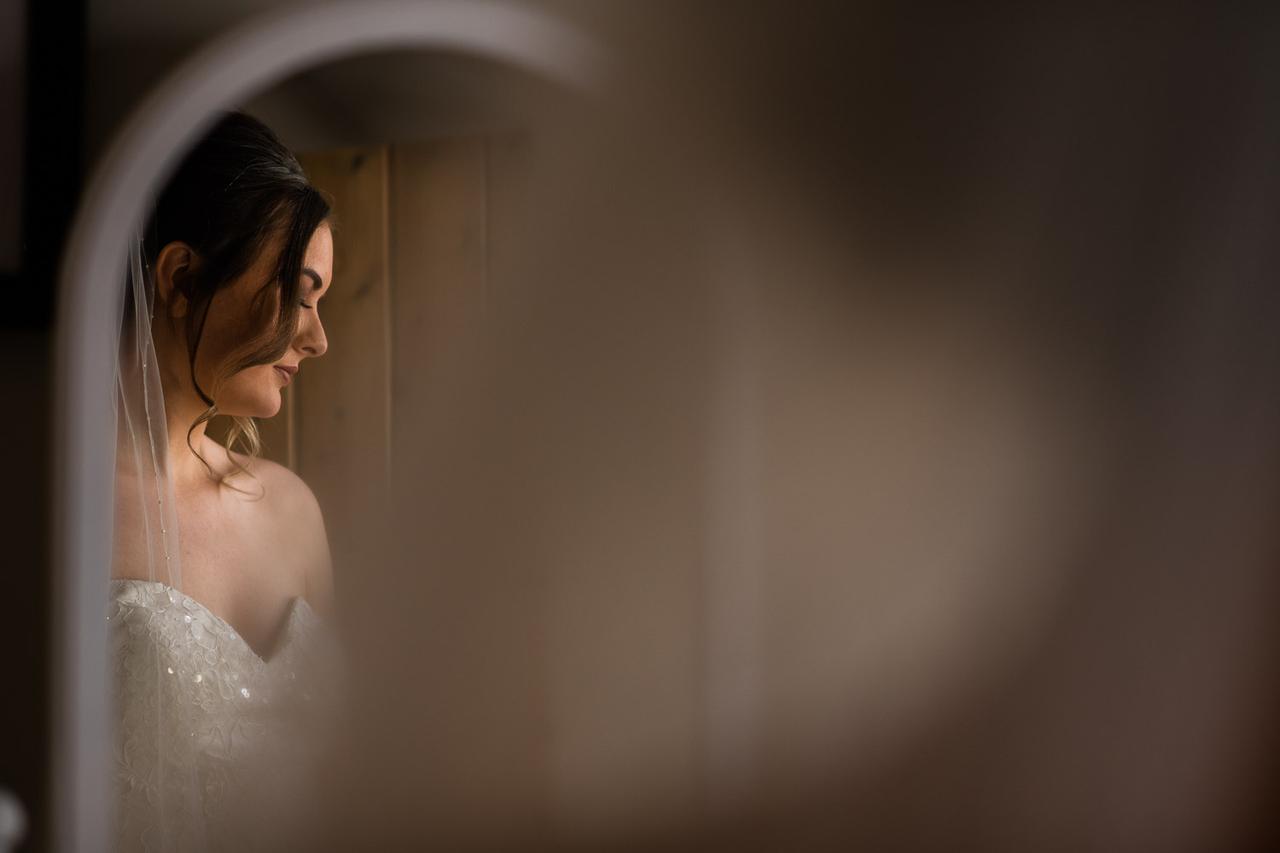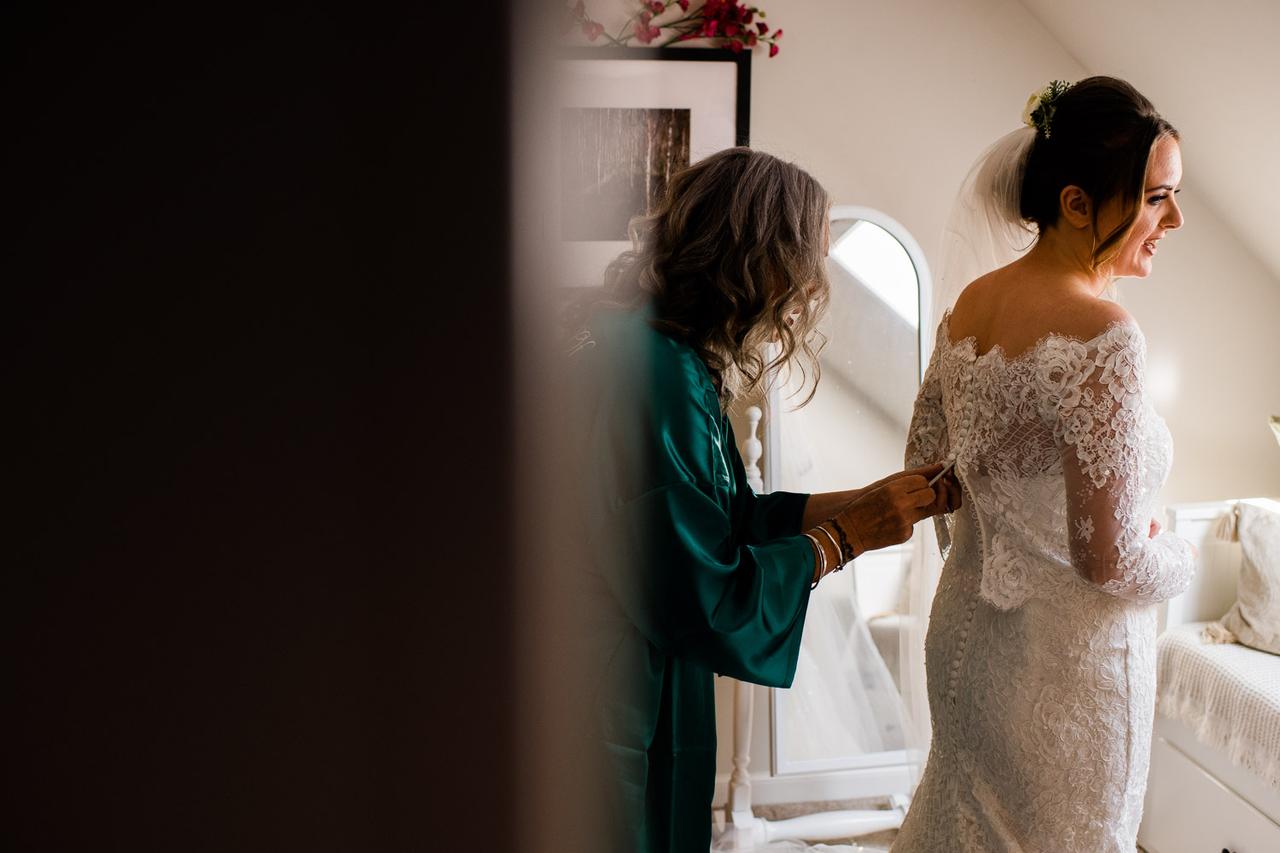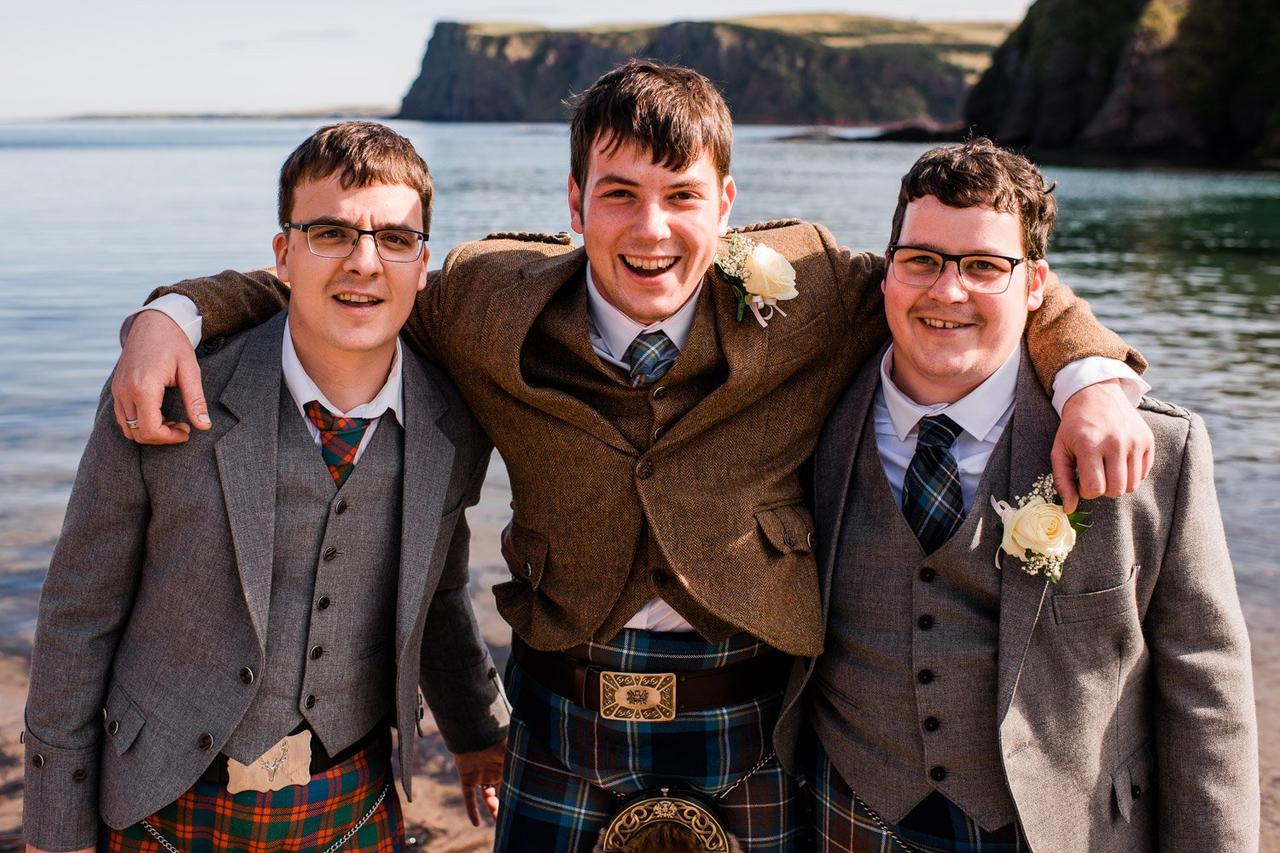 The Change of Plans
"Originally we were supposed to have a small outdoor wedding at Forglen Estate," explains Caitlin. "We were going to be one of the first people to get married there in the gardens of the estate. It had been the place we had envisioned getting married at for years.
"We had hired a large tipi, a pizza van, dj decks, and several houses around the estate for guests to stay in.
"It was going to be quite a relaxed wedding - we just wanted to have fun, and our guests too."
The couple were forced to come up with a new plan, and inspiration struck while on a short break.
"We camped out on Cullykhan Bay a couple of months prior to the wedding," says Caitlin. "We watched the sun rise in the morning over the cliffs, and decided it would be perfect. And it was!"
This bewitchingly pretty sandy beach became the location for their ceremony, followed by a reception at the couple's home. While they had originally planned for 60 guests, the restrictions meant they had to cut the list to 10.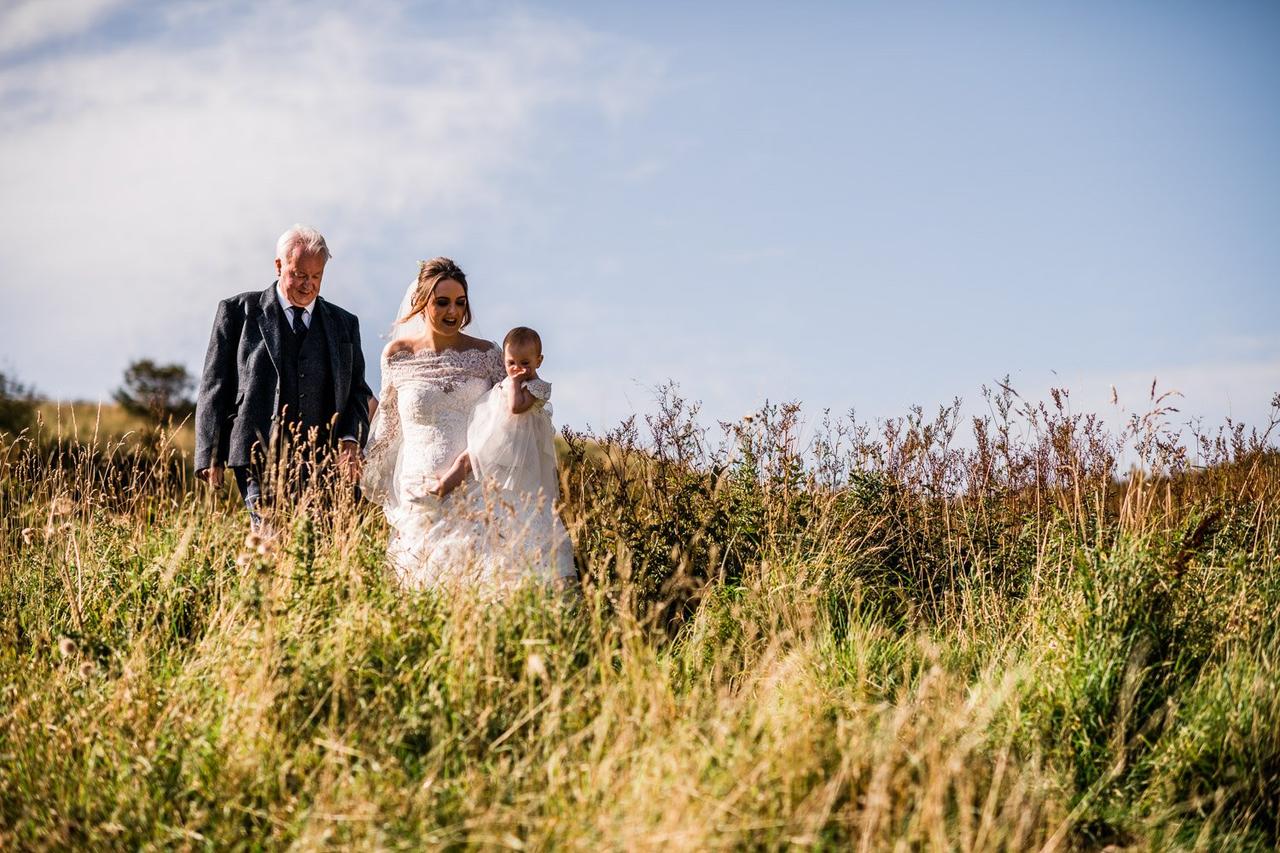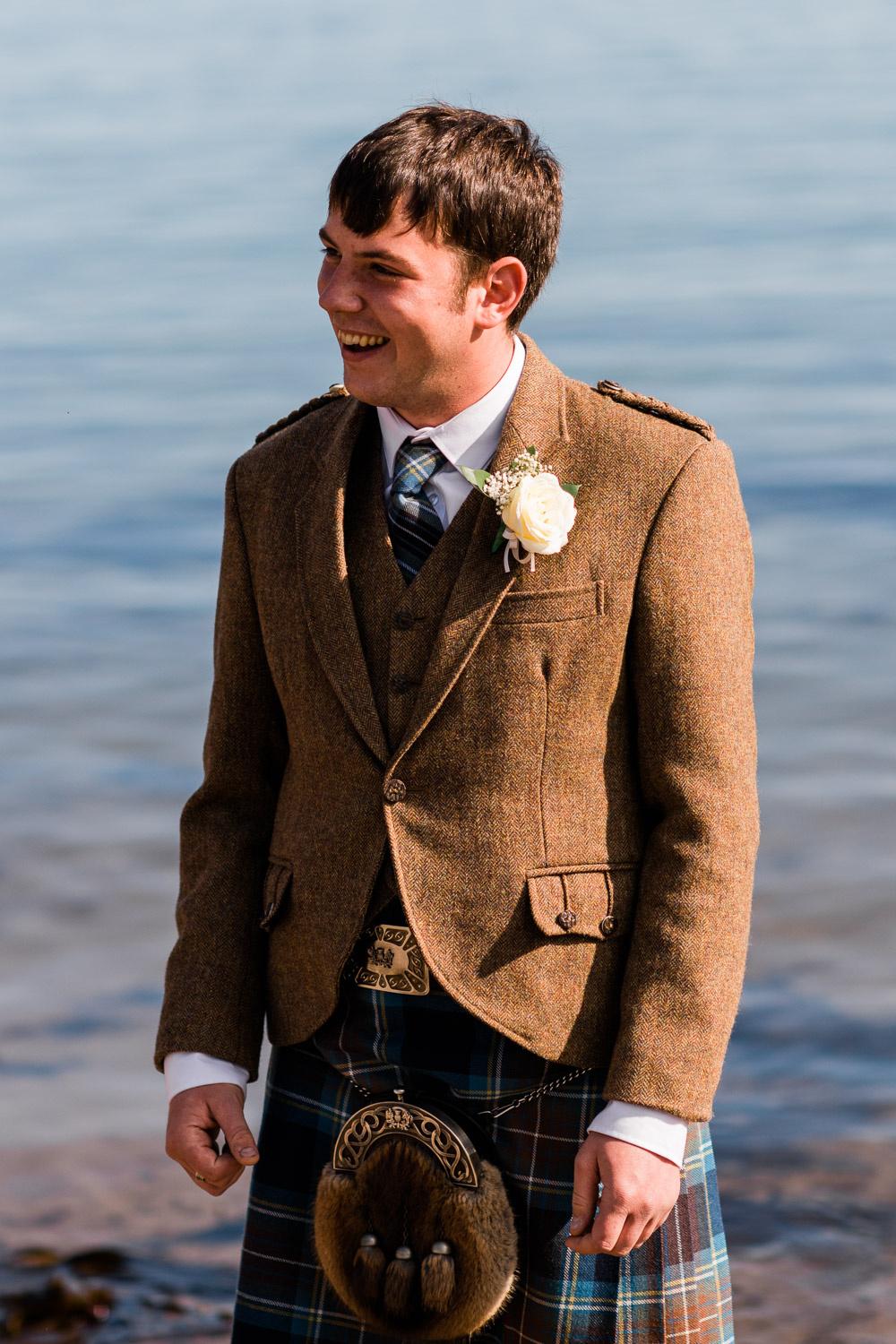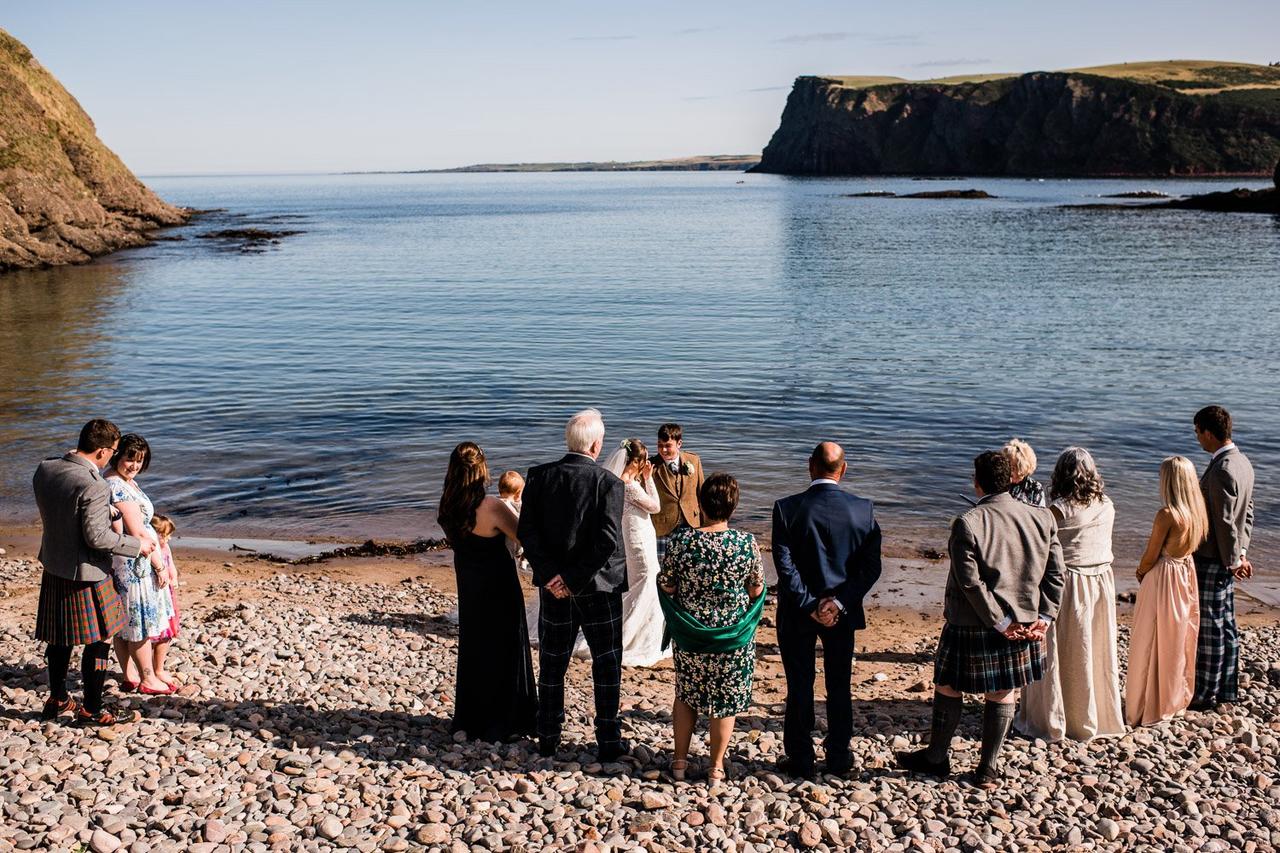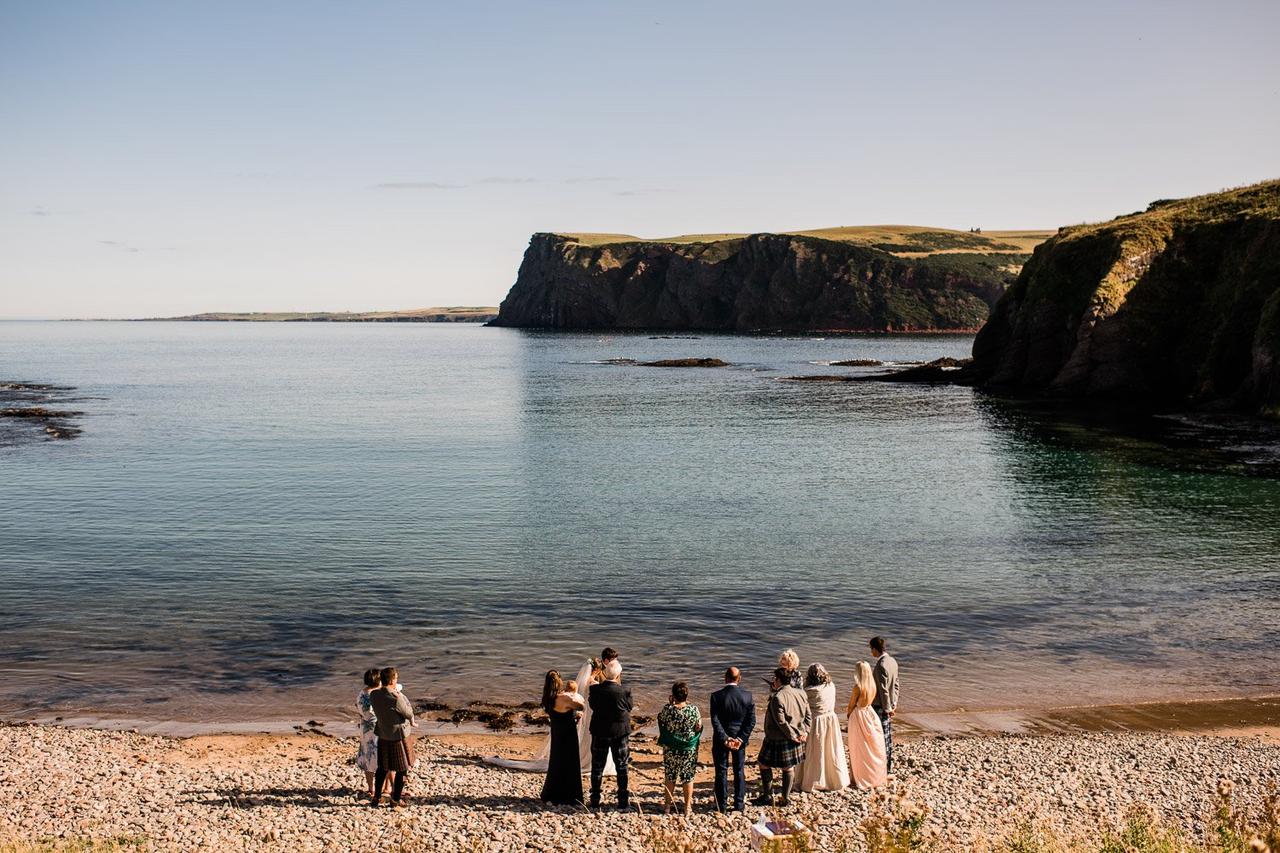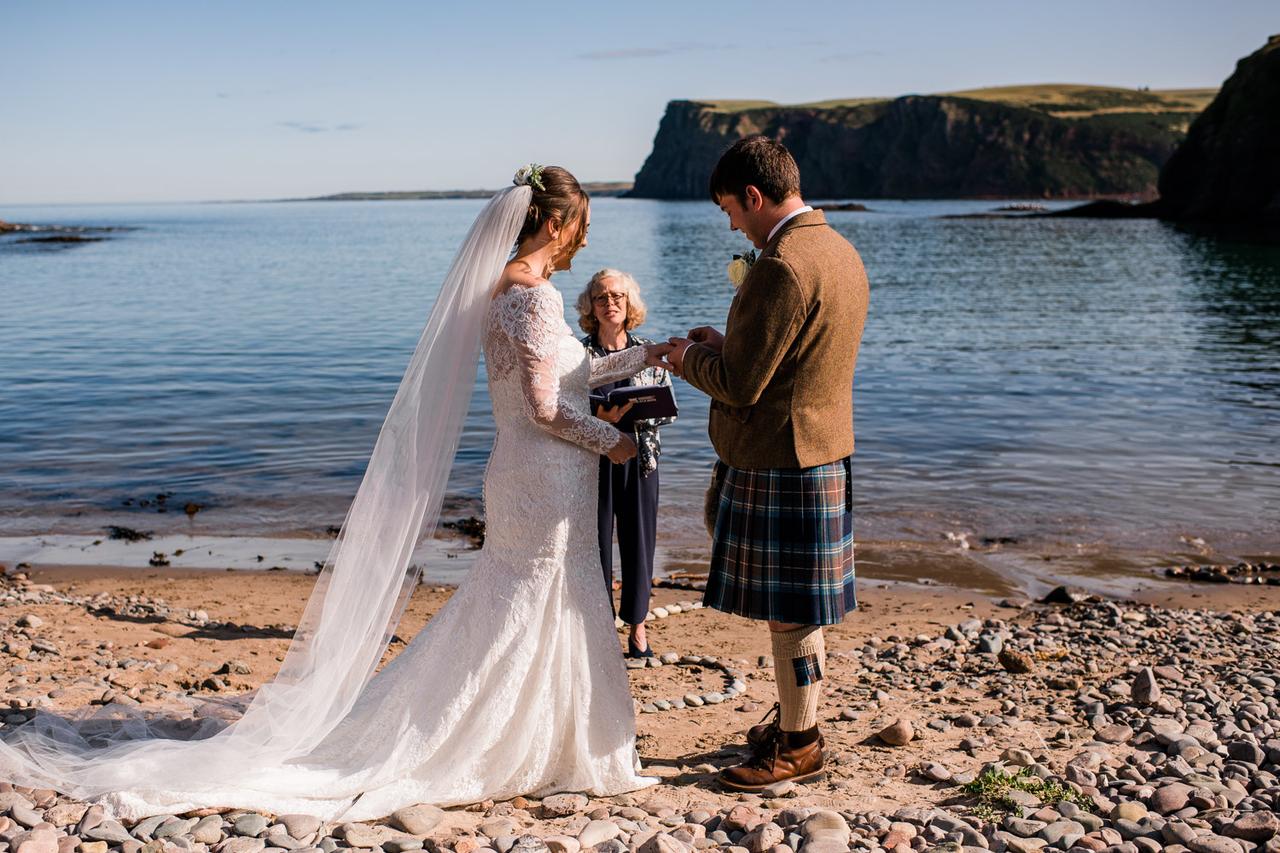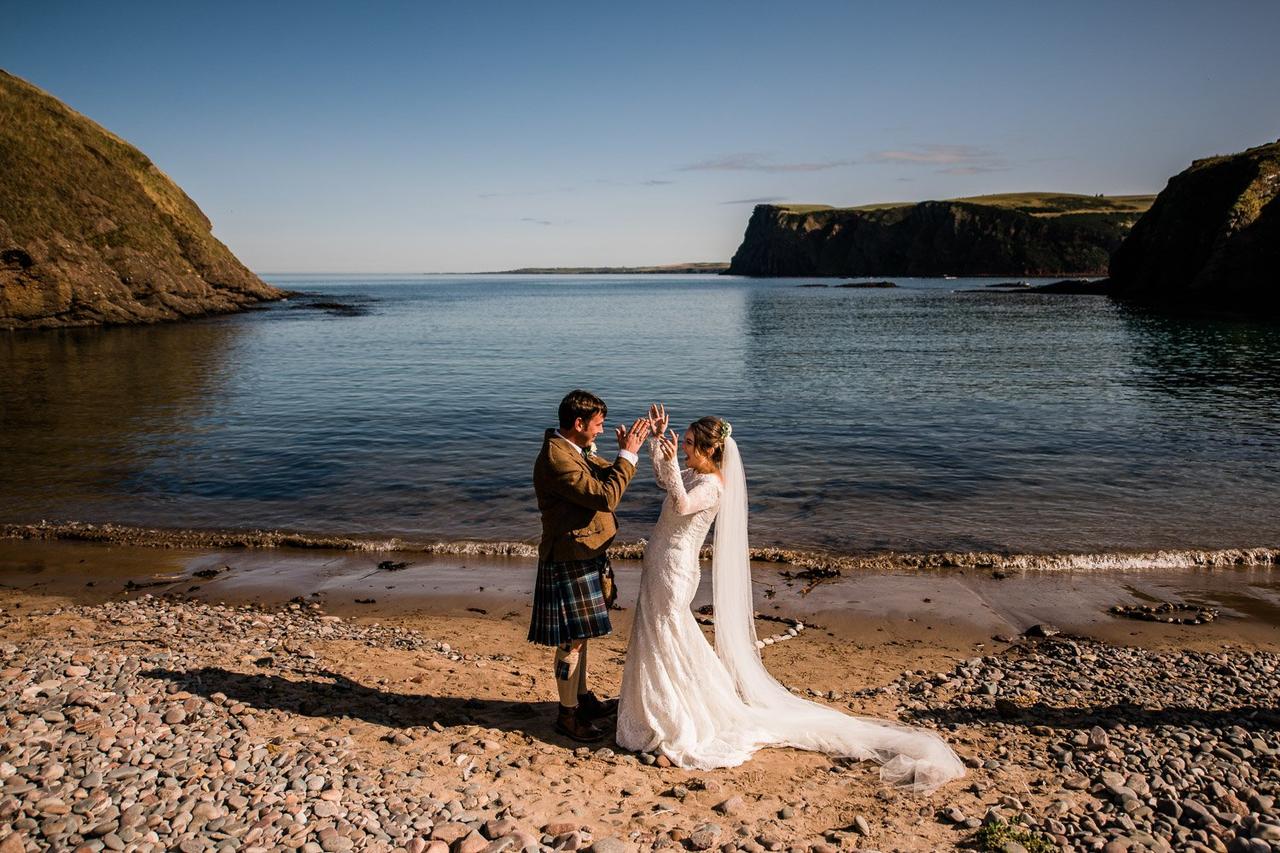 The Ceremony
Caitlin walked down the 'aisle' - actually a small hill - to the beach, escorted by her father and carrying her and Stephen's beautiful daughter.
The couple had a Humanist ceremony. They decided to keep it relatively short in case of bad weather, but it was still a very special experience with some lovely personal touches. The ceremony included a poem written by Stephen's grandmother, and Caitlin's wedding ring was a gift from her mother.
To make it even more special, Caitlin's sister, a talented singer, performed Songbird by Fleetwood Mac as the couple's first dance straight after the ceremony.
"It was probably the most magical moment of the whole day," says Caitlin. "Dancing in front of the sea, on a beautiful day, with those closest to us... I can't even put into words just how special that moment was."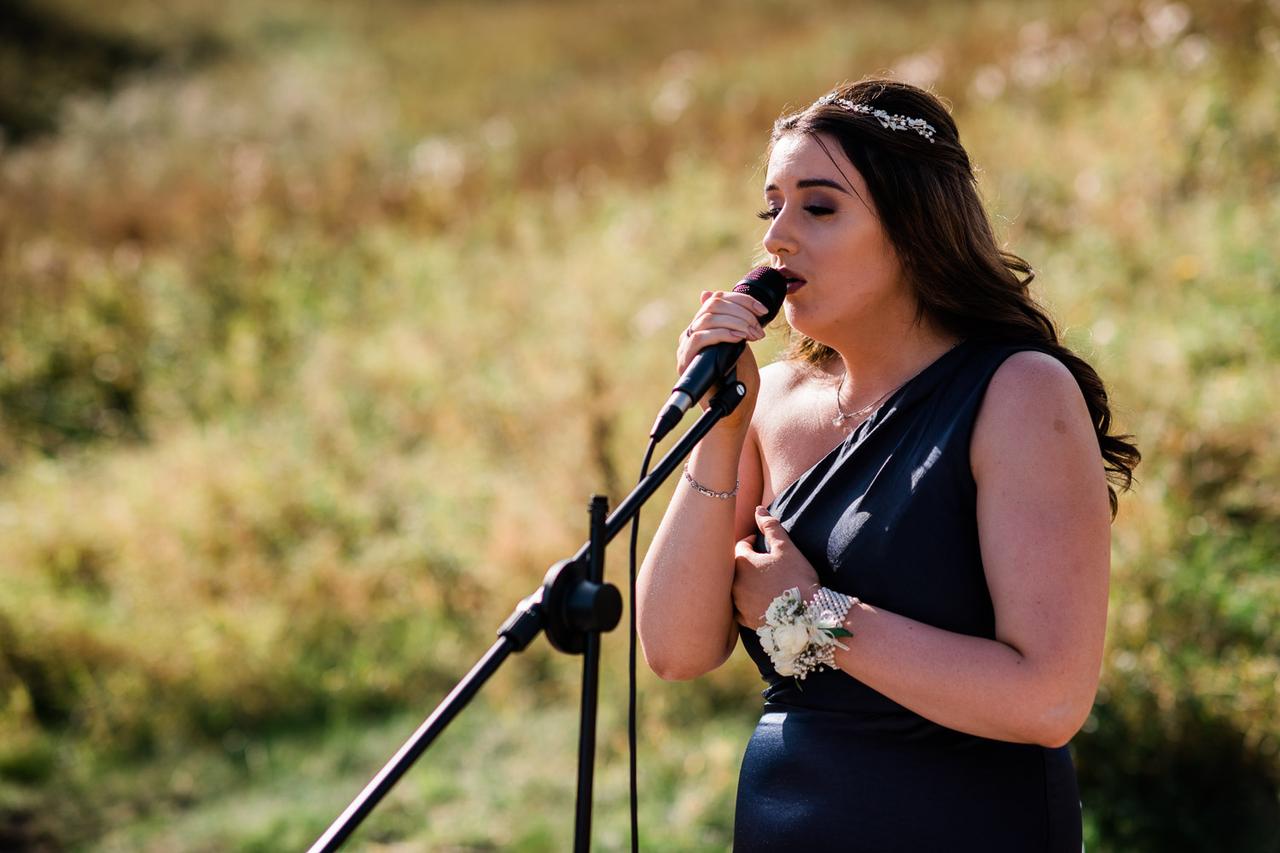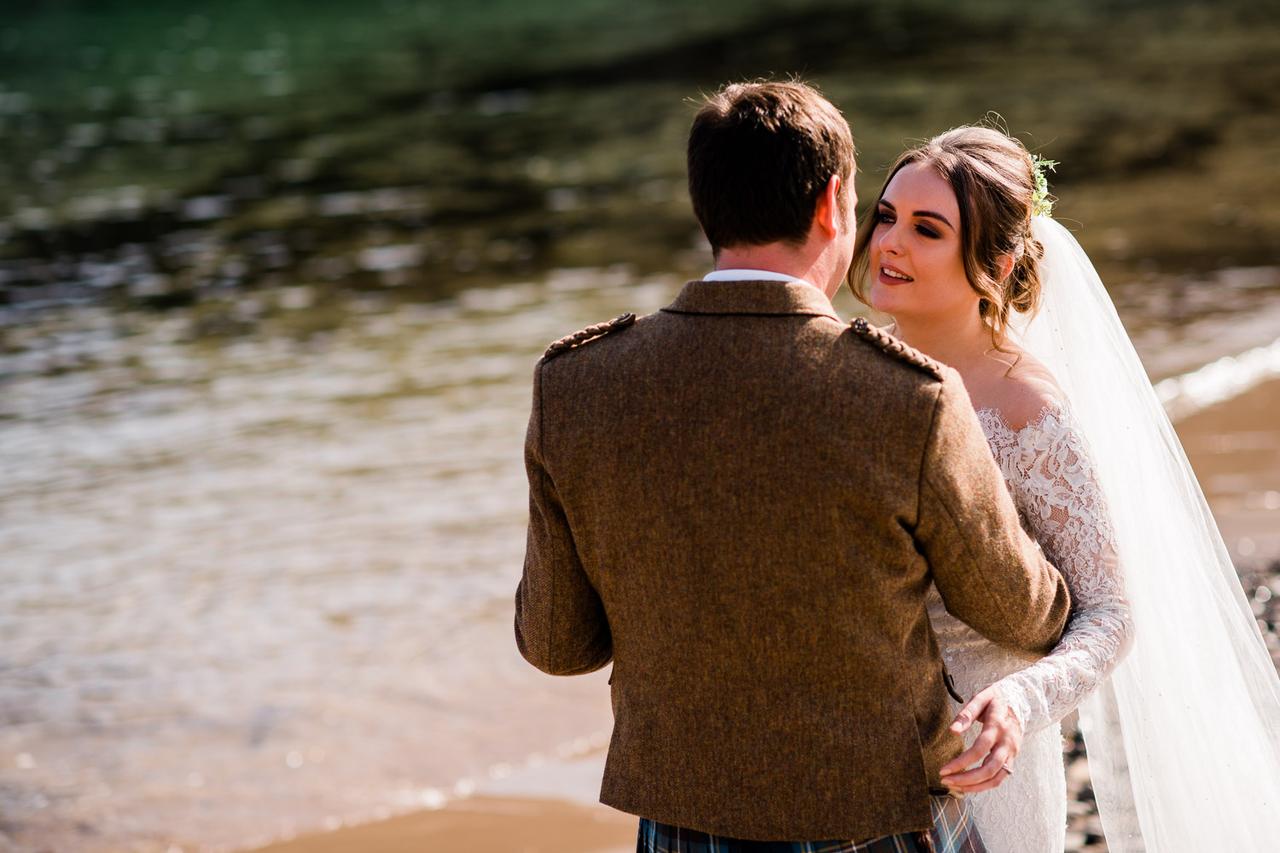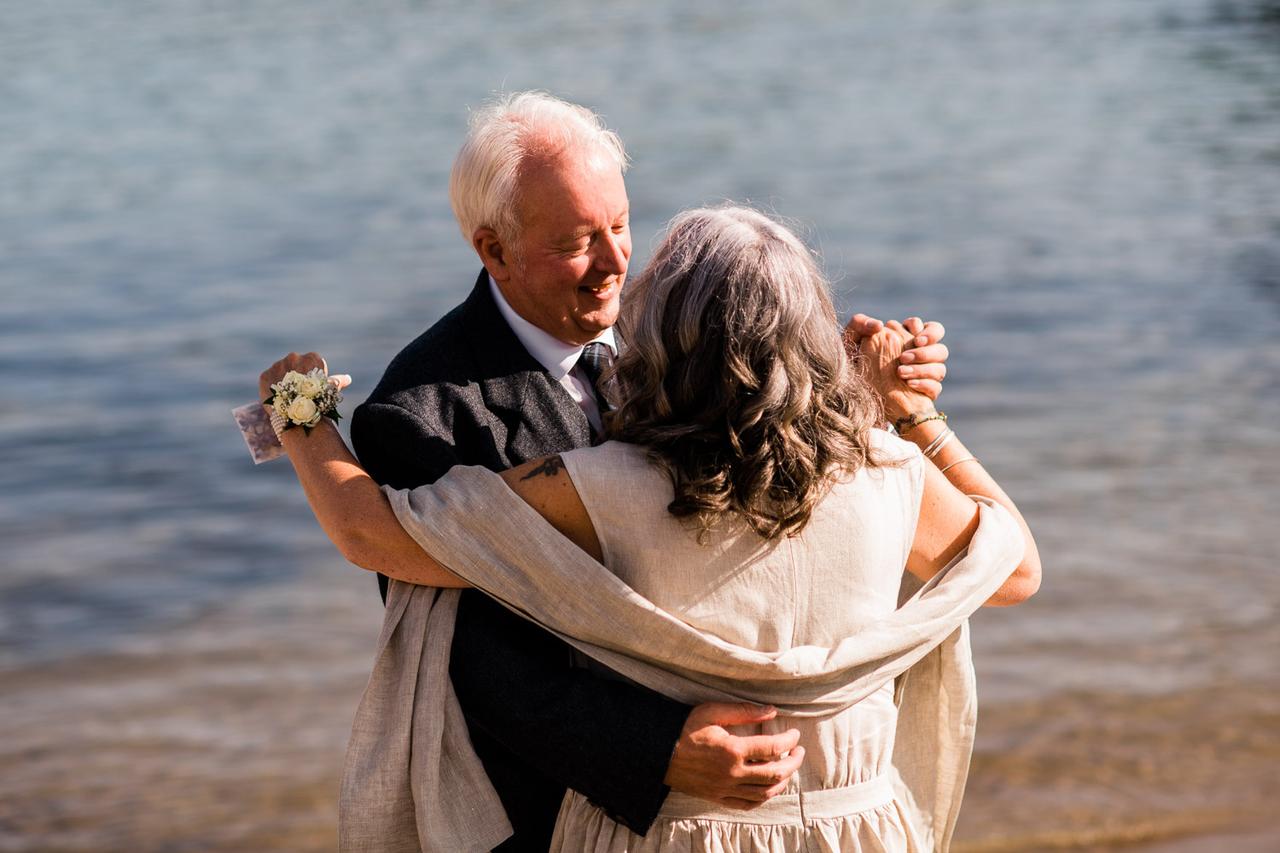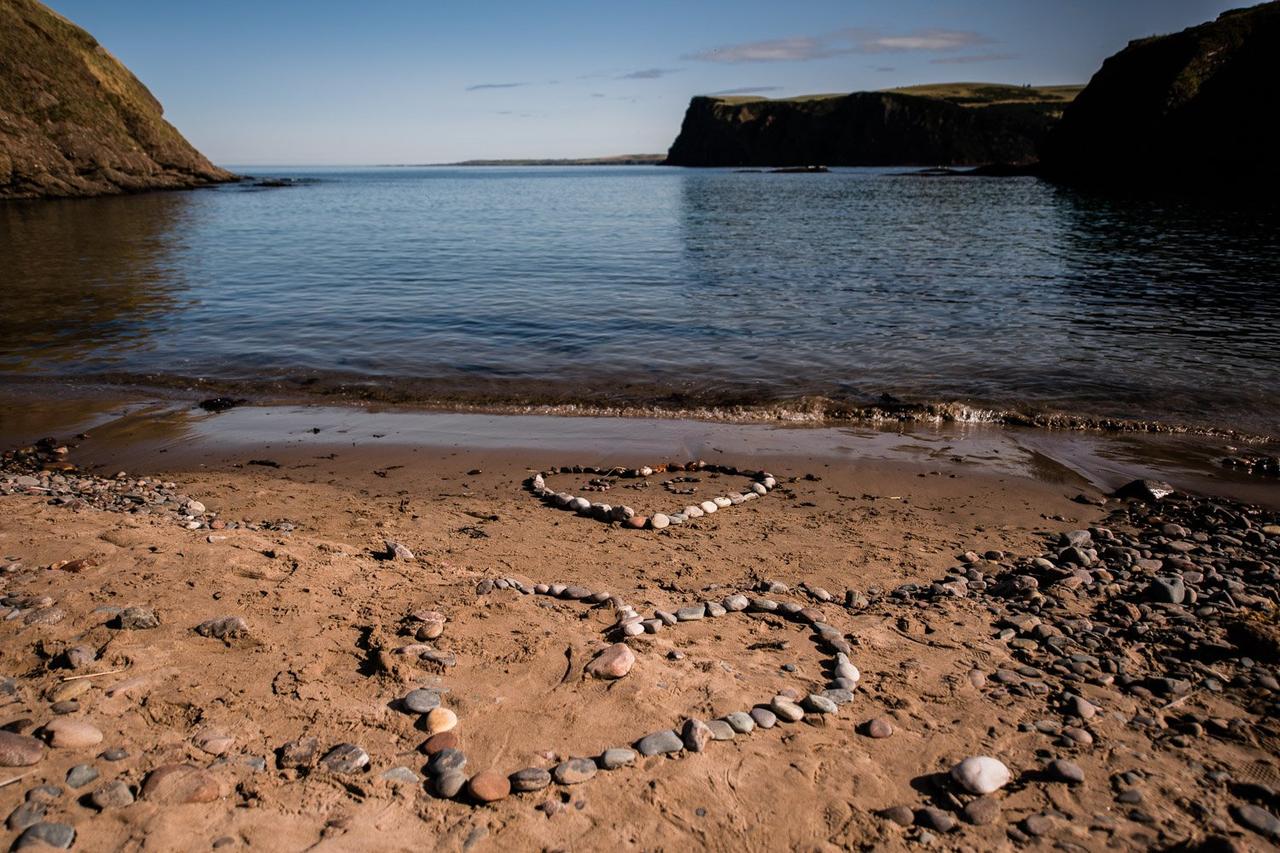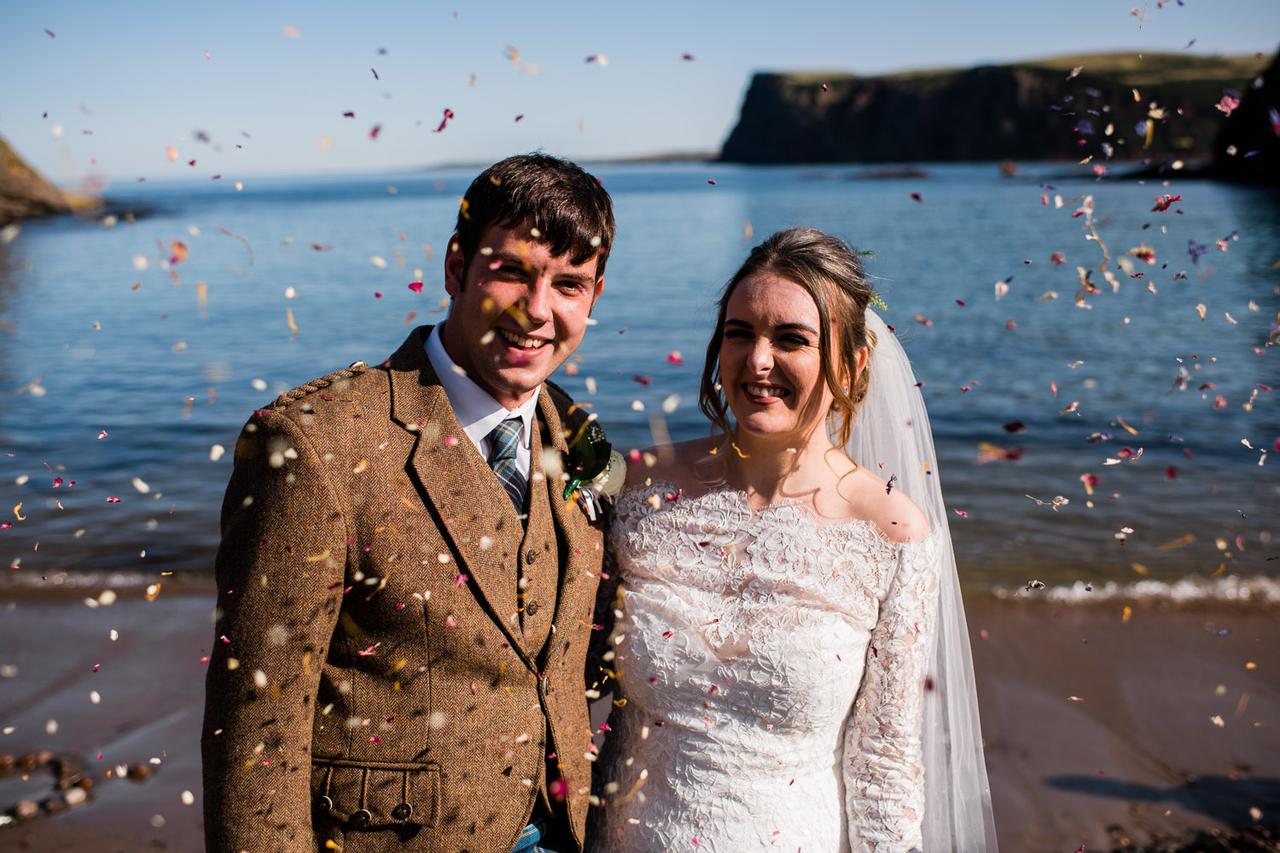 The Wedding Outfits
Caitlin had always imagined wearing a long-sleeve lace wedding dress, and as soon as she tried on her Justin Alexander off-the-shoulder gown, she knew it was the one.
Her brief to makeup artist Melissa Cheyne was for a subtle, natural look. For the original wedding, she'd planned to have her hair down, but she decided that an updo would work better for a beach wedding.
Caitlin finished her timelessly beautiful bridal look with a bracelet given to her by her mother, a bracelet inherited from her godmother and a cathedral veil.
While she may look serene in the photos, Caitlin had a tricky time on the wedding morning. "I was so nervous, and was 10 weeks pregnant with my second child and had bad morning sickness," she explains. "The whole getting ready stage was quite nerve wracking - and no champagne to calm the nerves."
Her sister, Niamh, was her bridesmaid, and managed to source her own dress at short notice. Caitlin and Stephen's daughter, Fern, wore an ivory lace Monsoon dress.
Stephen and his groomsmen wore traditional blue and brown kilts.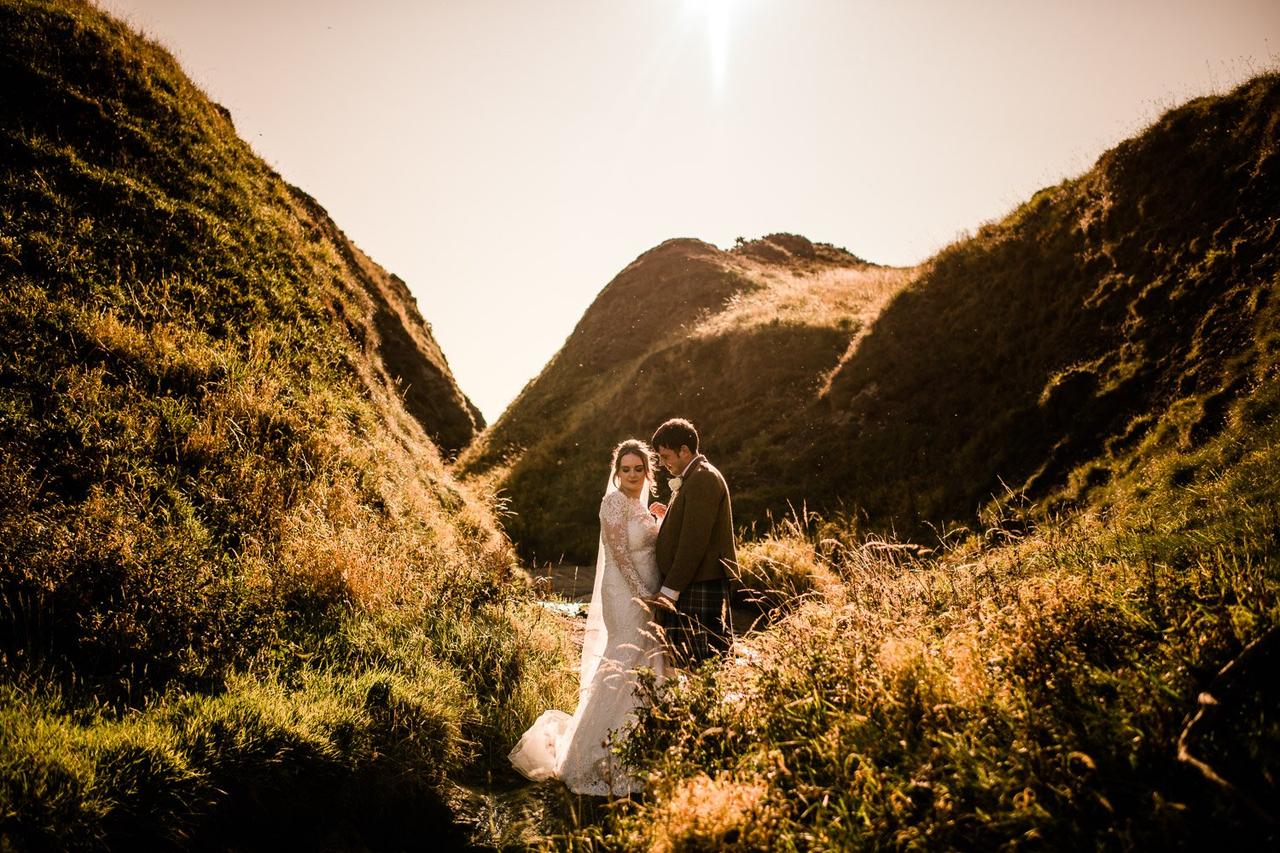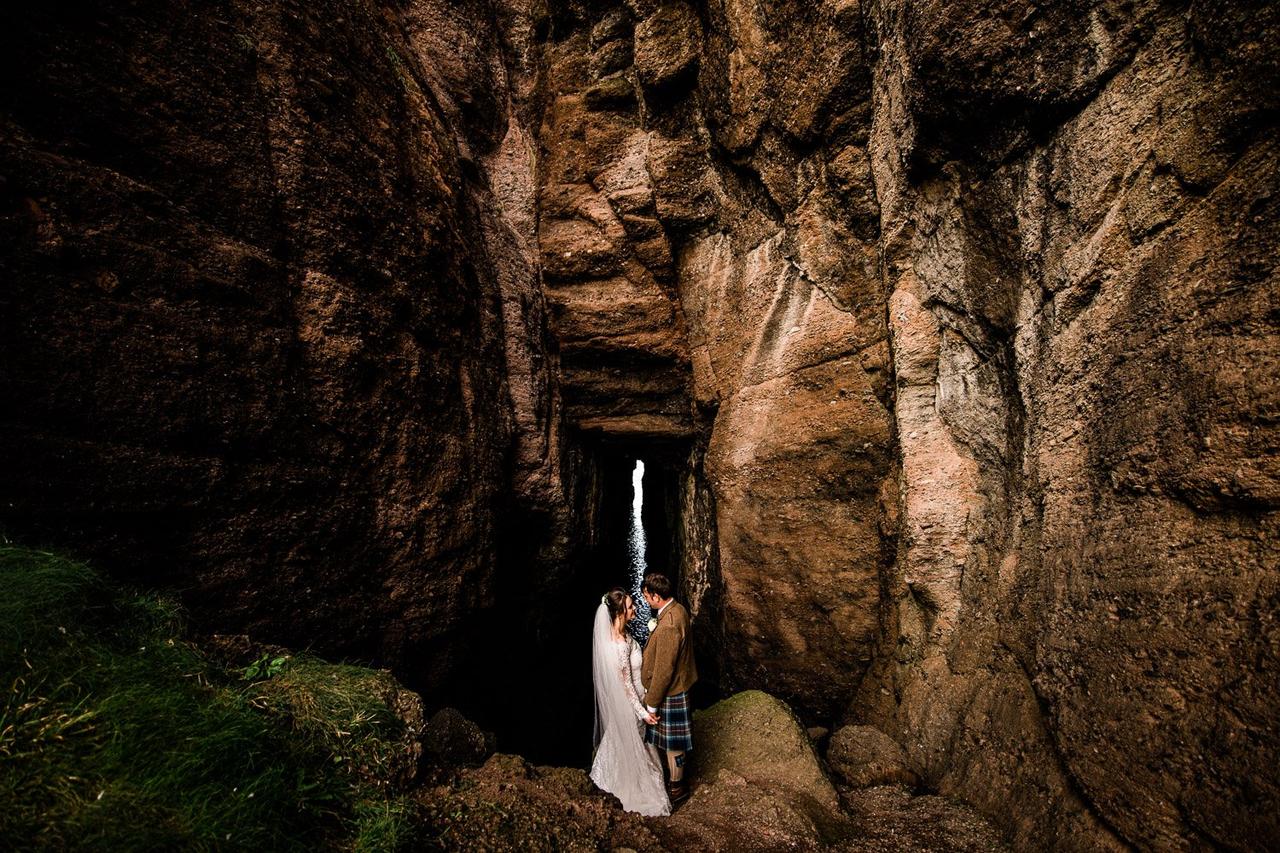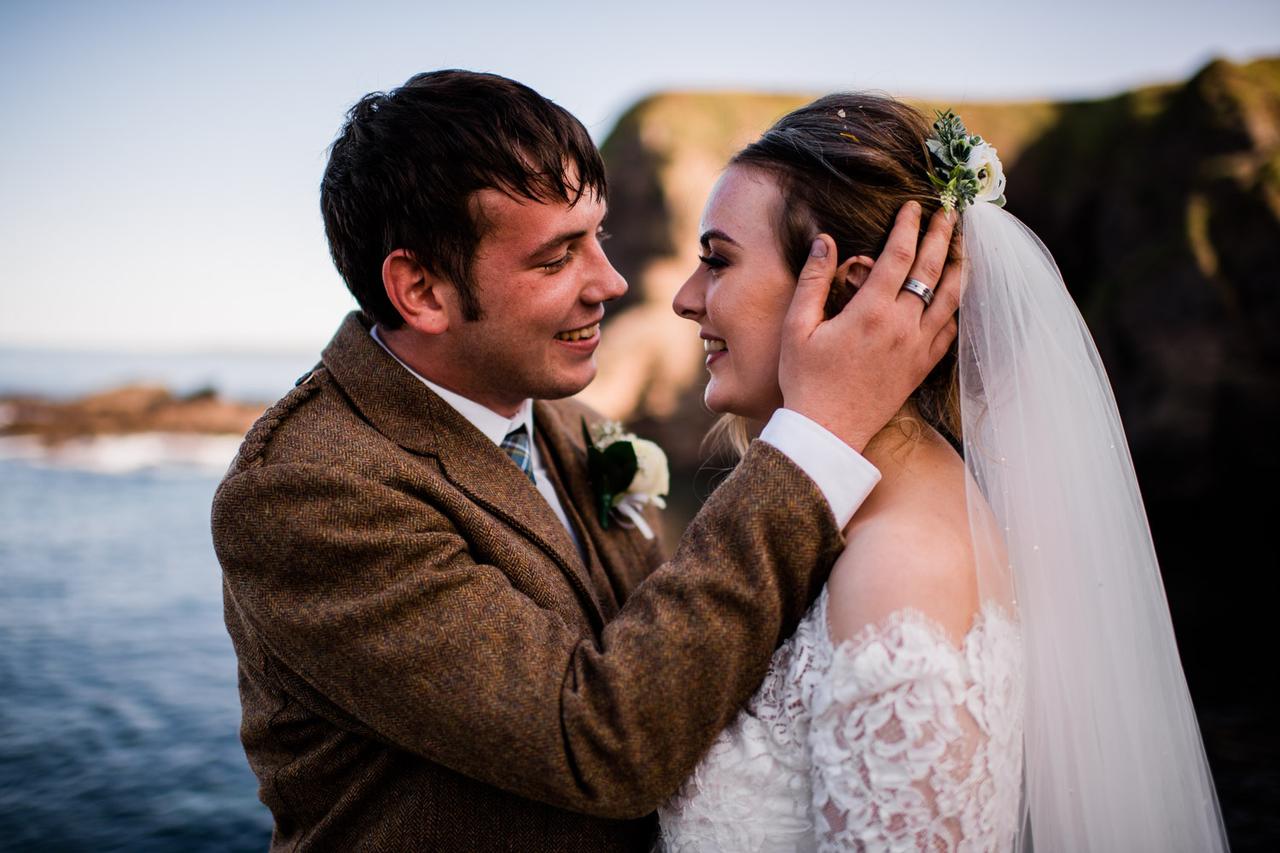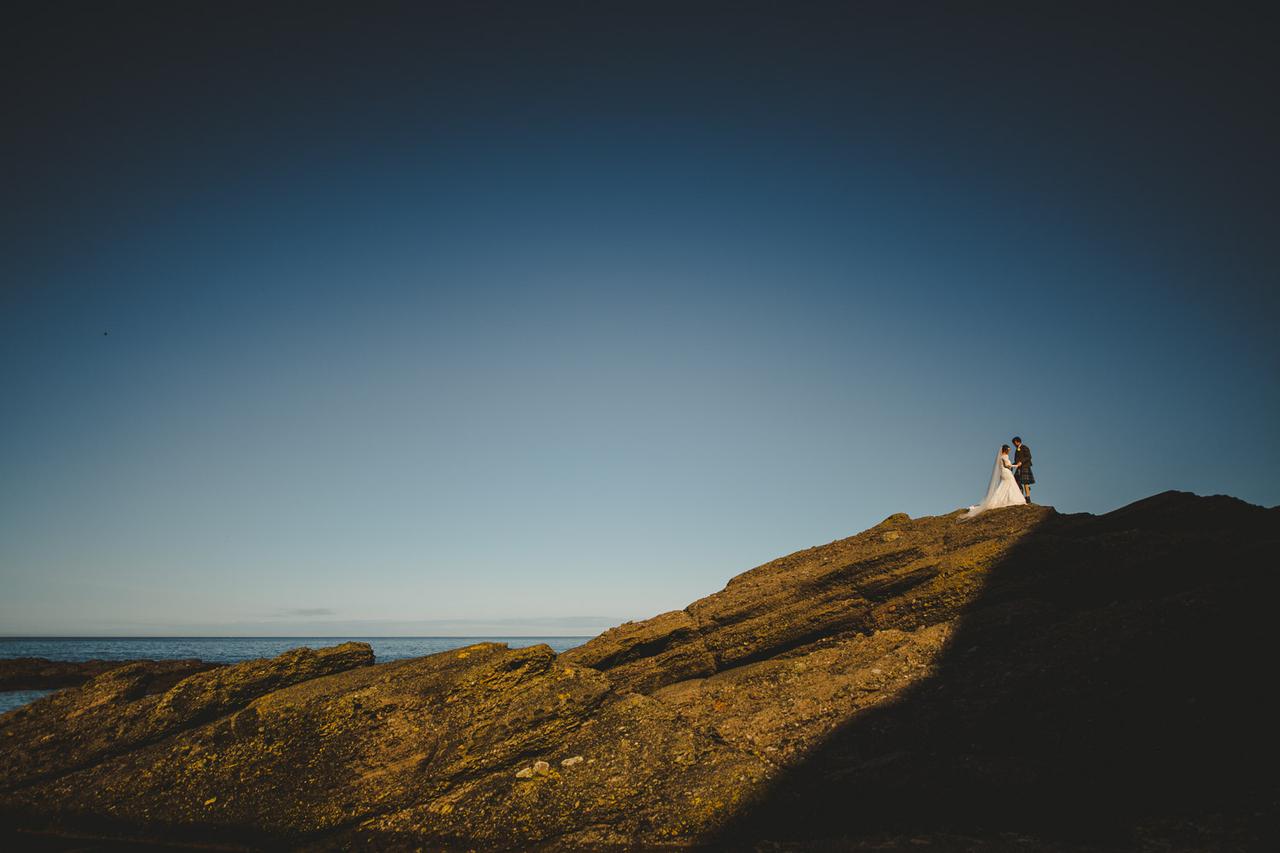 The Wedding Reception
The couple decided against going big on décor as they had very little time to plan. Instead, they had flowers arranged by a friend of Caitlin's mum, and put candles in tea lights around their house.
The wedding breakfast was party food from Marks and Spencer, followed by a slice of the two-tier naked wedding cake with a personalised topper.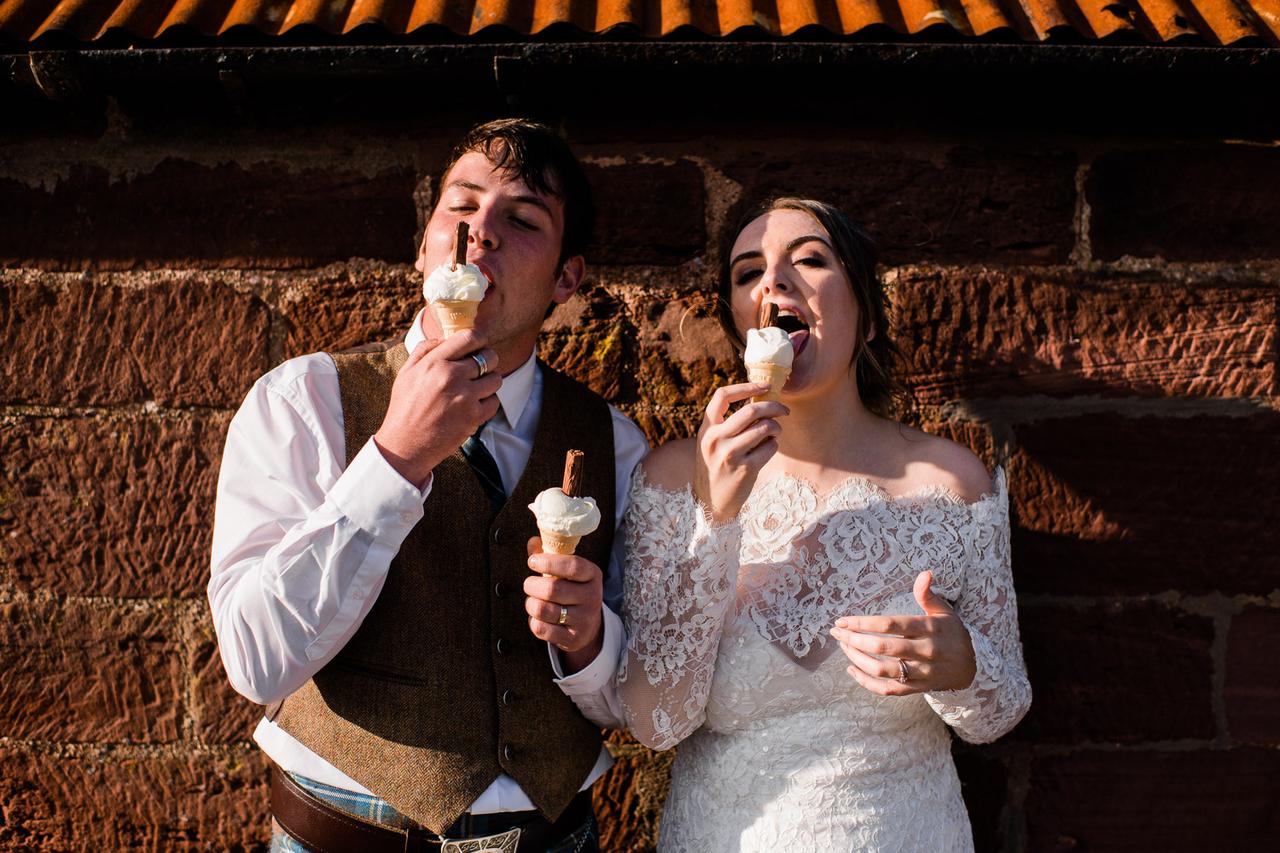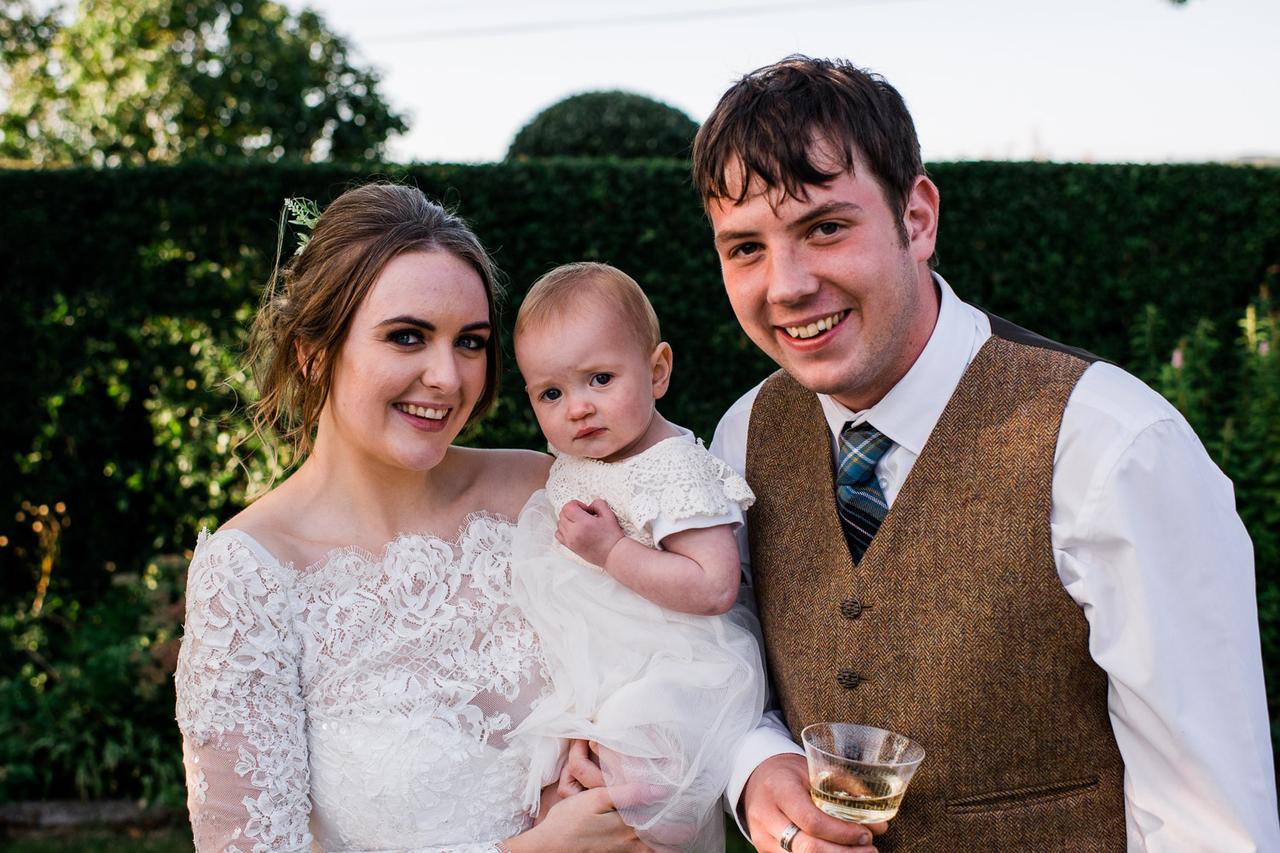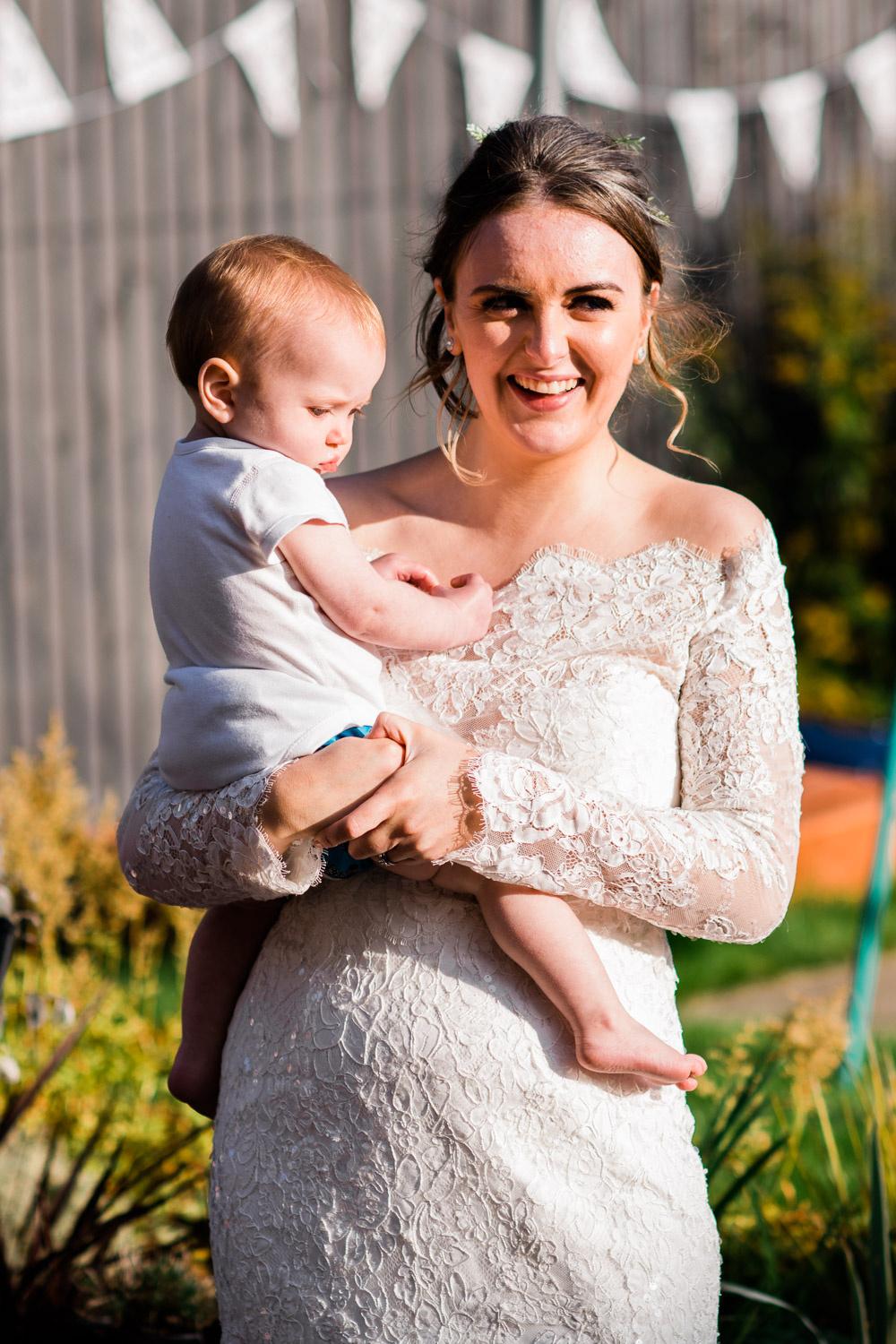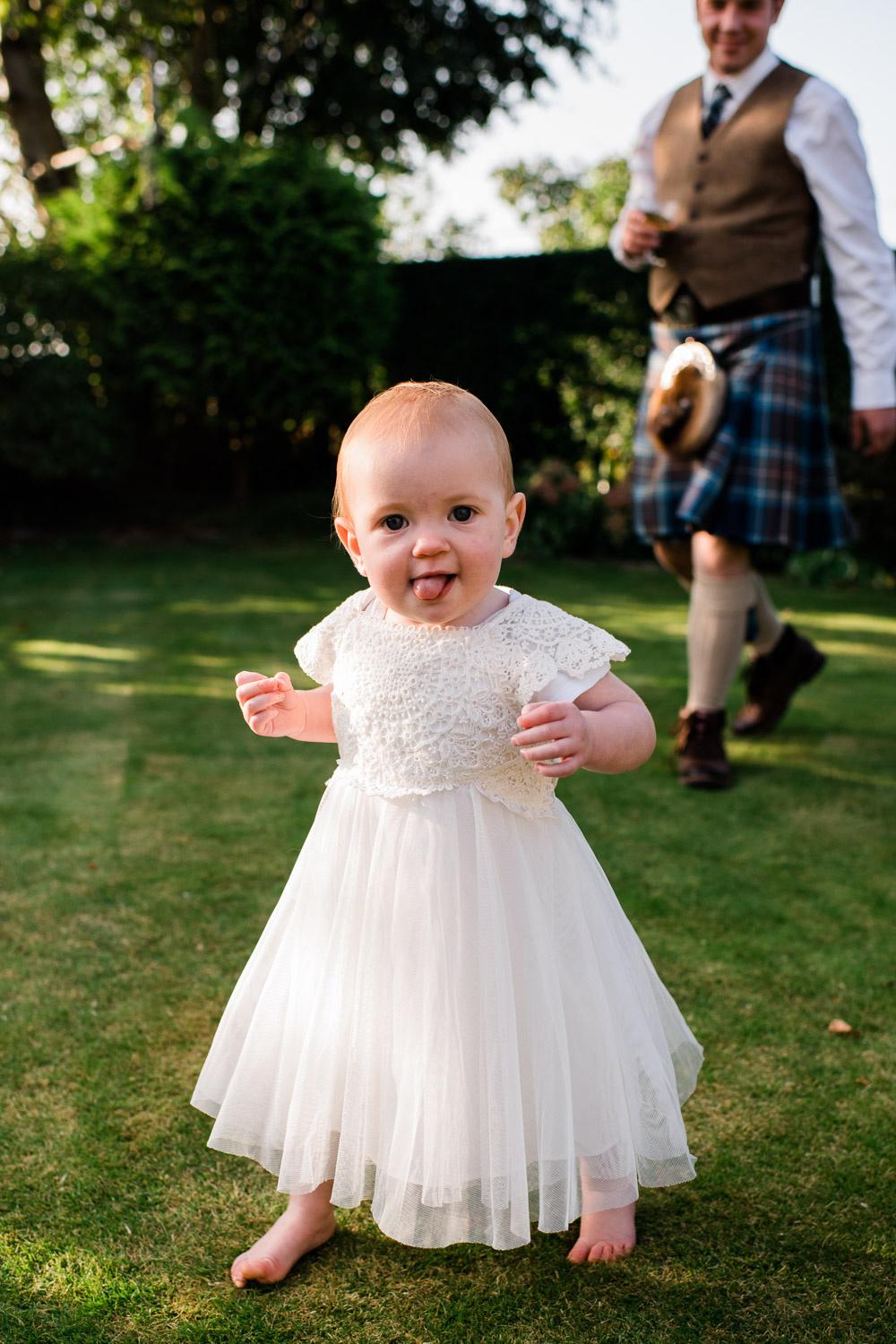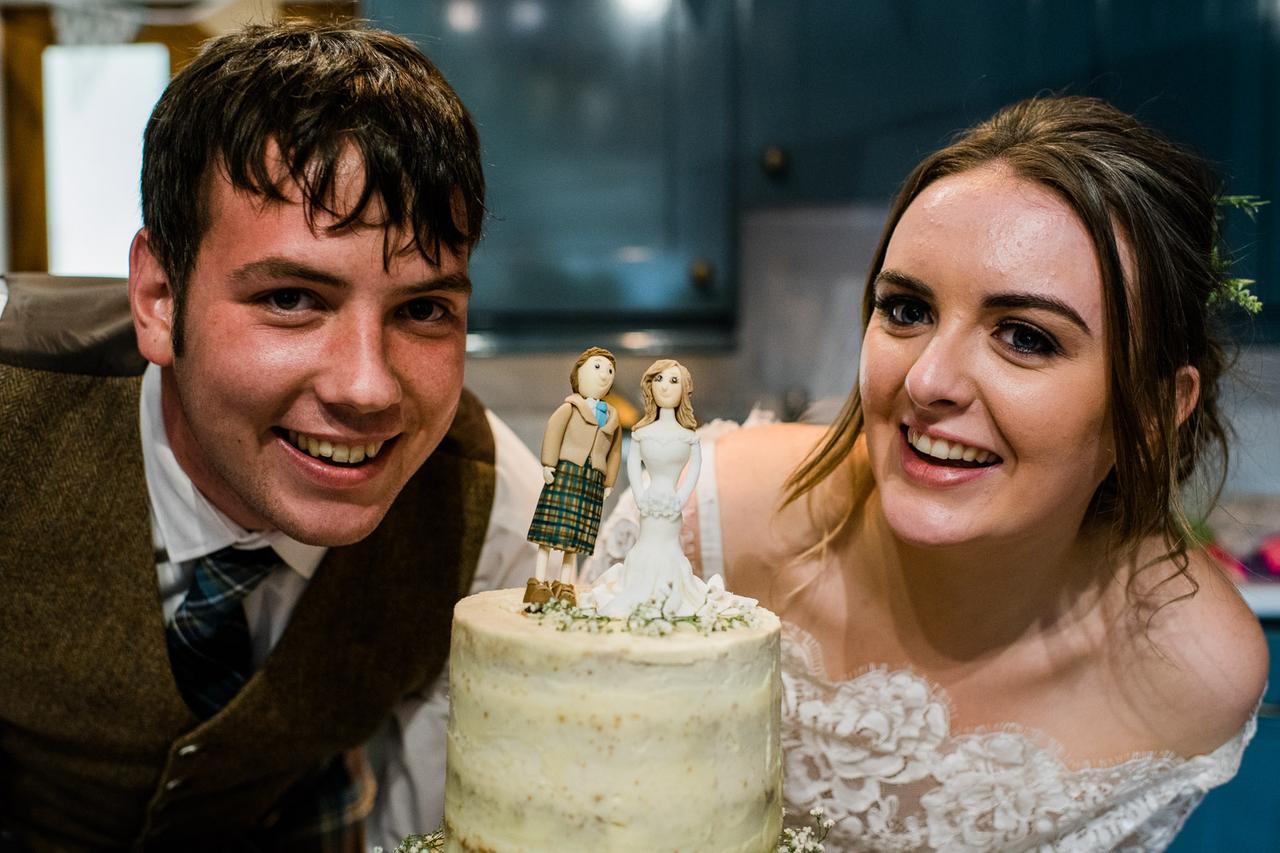 The Wedding Advice
In the end, Caitlin and Stephen's only wedding regret is that they weren't allowed to have more of their family and friends at their celebration. Their advice to other couples in the same situation is to focus on what's important.
"Don't lose sight of why you are getting married," says Caitlin. "Sometimes less really is more."
The Suppliers
Photographer: David Grant Simpson
Wedding Dress: Justin Alexander
Bridal Boutique: Midnight Elegance
Bride's Hair: Serena Kelman
Bride's Makeup: Melissa Cheyne
Flower Girl's Dress: Monsoon
Celebrant: Clare Harris
Wedding Cake: The Lil Company
Thank you to Caitlin and Stephen (and Fern!) for letting us share such a beautiful celebration.