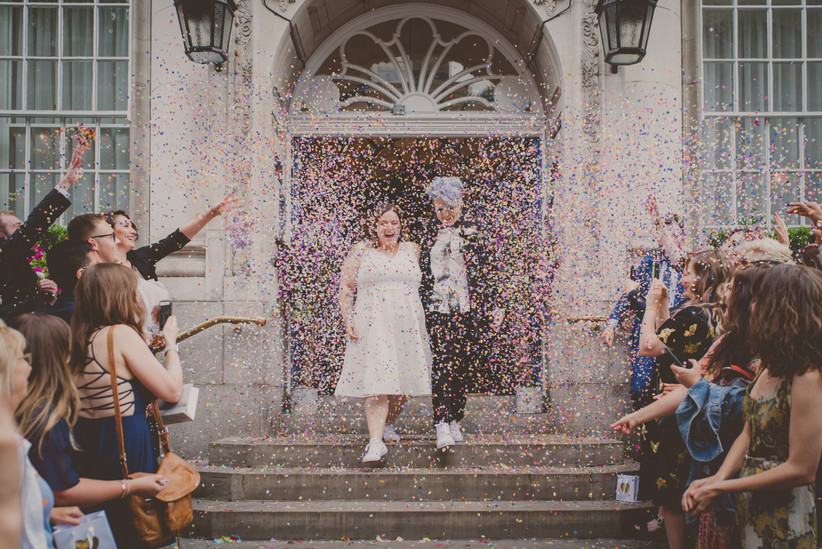 After four years together, Anastasia and Abbey got hitched in August this year at the National Theatre's rooftop events space, The Deck.
The couple first met in 2015 while studying at The London Academy of Music and Dramatic Art (LAMDA). In May this year, Abbey decided it was time to ask Anastasia to marry her in the most romantic way.
For Anastasia's birthday, Abbey organised for all of their friends to play baseball. At sunset, after an exhausting yet fun-filled day, Abbey covered Anastasia's eyes and led her to a bandstand which she had decked out with flowers and candles. She proposed and Anastasia's "yes" was immediate!
As Anastasia is American, the couple needed to plan their wedding in just three months to ensure relatives could be present. The result is a very cool wedding with an artistic photoshoot around urban areas of London.
Photography by: Laura Rhian Photography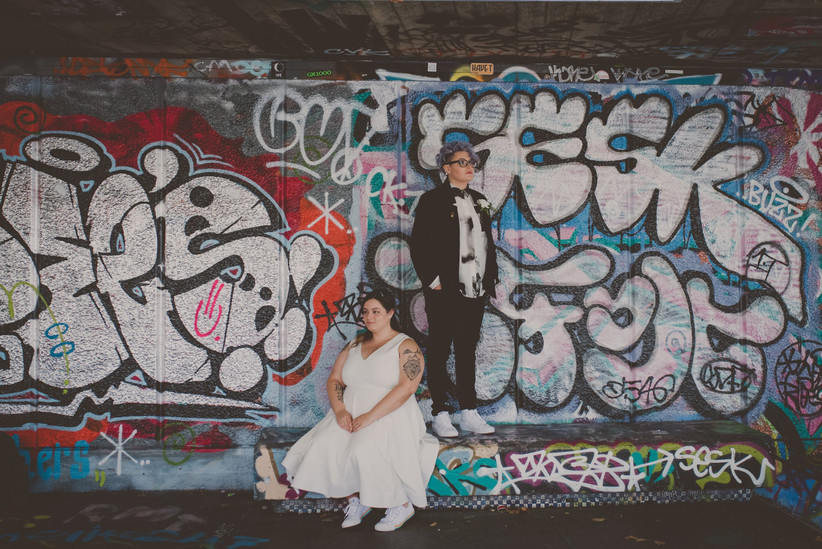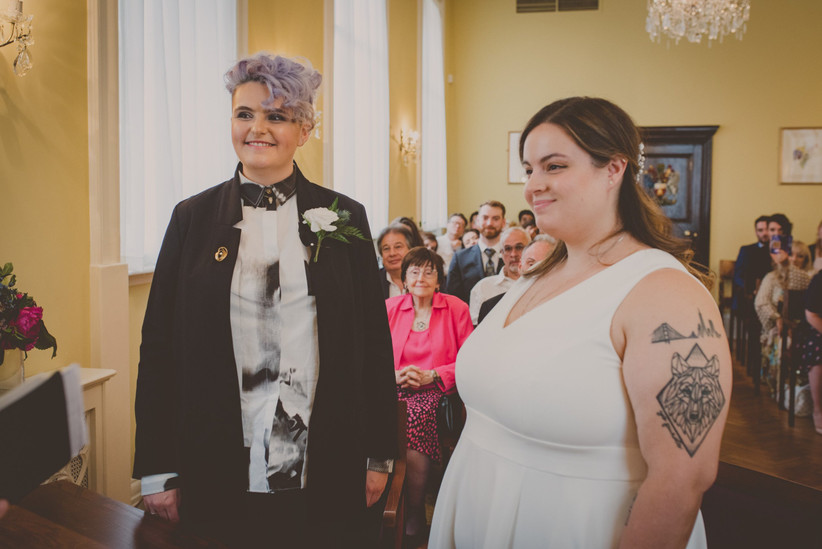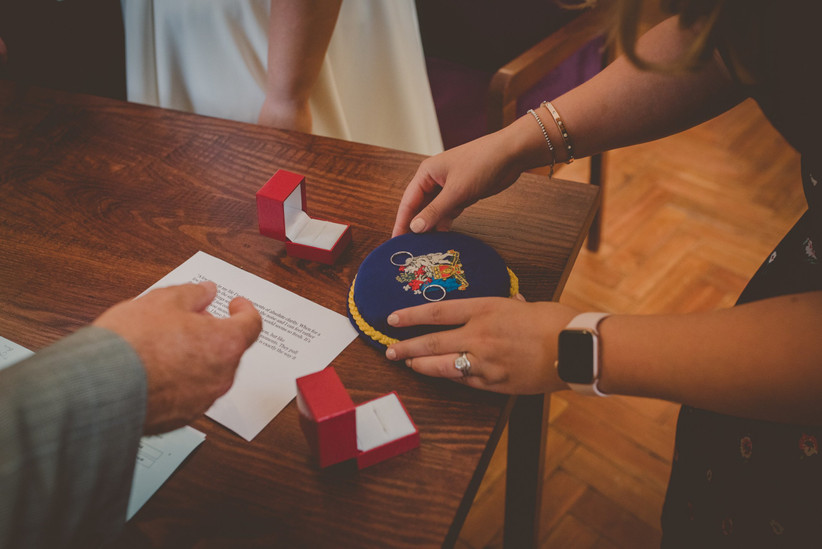 Anastasia's Wedding Dress
Anastasia's priorities for a wedding dress were that it was comfortable, had pockets, and showed off her tattoos.
"I wore a 1950s-esque skater dress from Torrid. I had ordered a few dresses to try and it was just the perfect dress, with only a slight alteration to be made under the arms.
"I ordered new white low-top Converse with rainbow soles and stripes around the bottom of the shoes.
"I had white and silver flower pins in my hair, silver earrings, and a white gold locket that belonged to my great-great Aunt. It held pictures of my great-great-great grandparents and was loaned to me by my grandmother who is now over 100 years old!"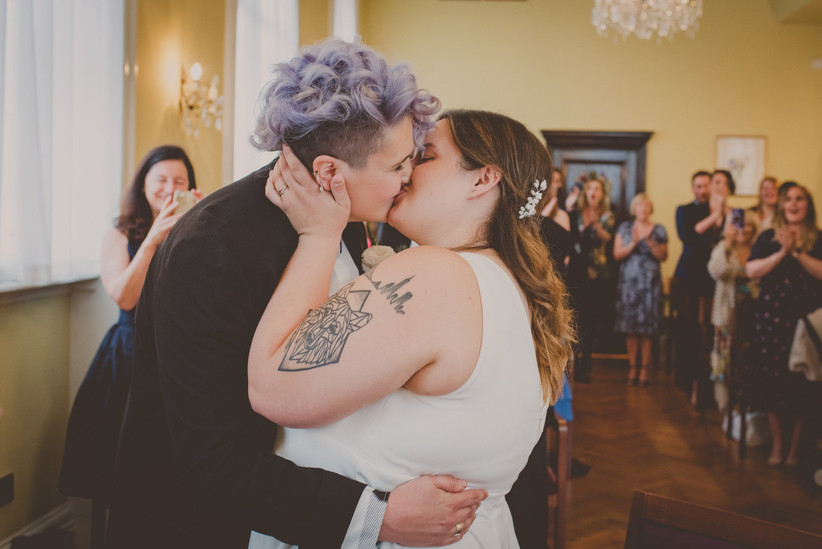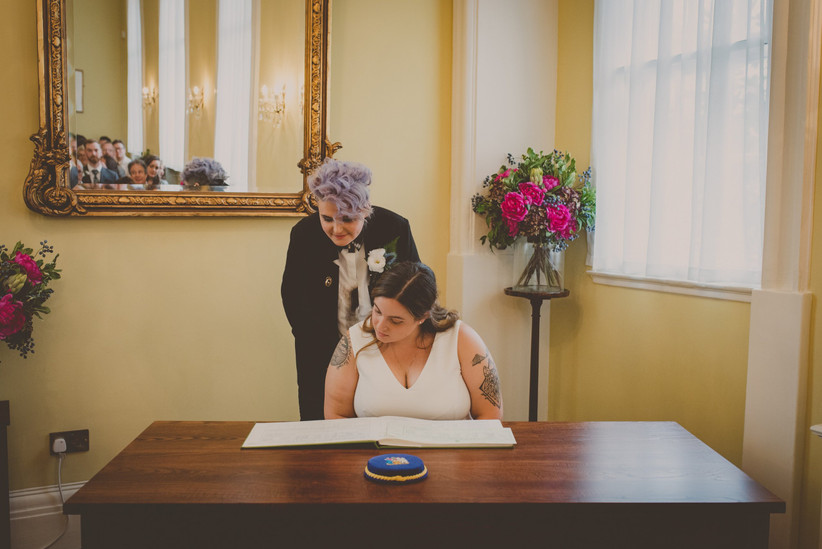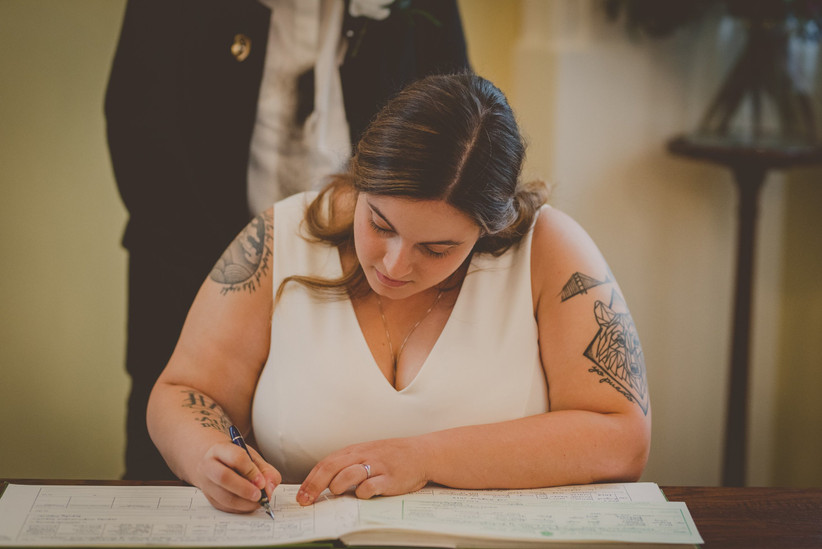 Abbey's Wedding Outfit
Abbey knew that she didn't want to wear a dress but a traditional suit wasn't her style either so she went shopping with her mum to find something that worked for her.
"I tried on many things and came home with a few shirts but the real thing came along when my Mom sent me a link a couple of weeks later to the Paul Smith website that had shirts that were equally formal but artsy and unique at the same time.
"Two of them worked so well that I got both and opted for a costume change! I wore a black and white shirt and black collarless blazer for the ceremony and a blue shirt for the reception, both from Paul Smith.
"I ordered new white high-top Vans which then travelled with us everywhere on our honeymoon and now have the name of every place we went written on them. I also wore my Tiffany ring that my parents gave me when I graduated from university. I had my hair dyed purple for the big day too!"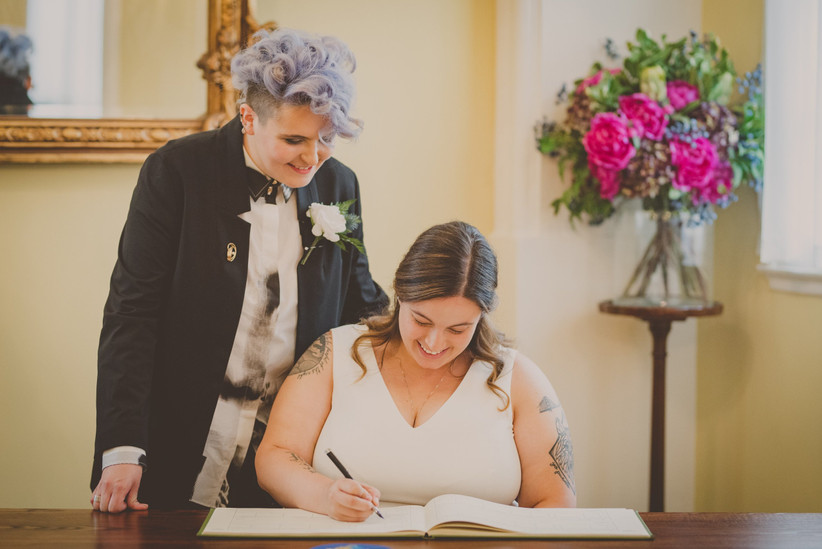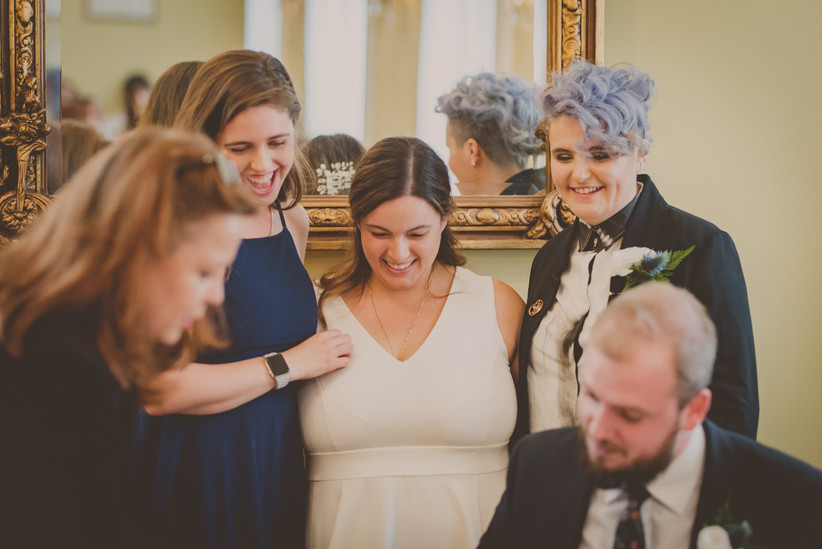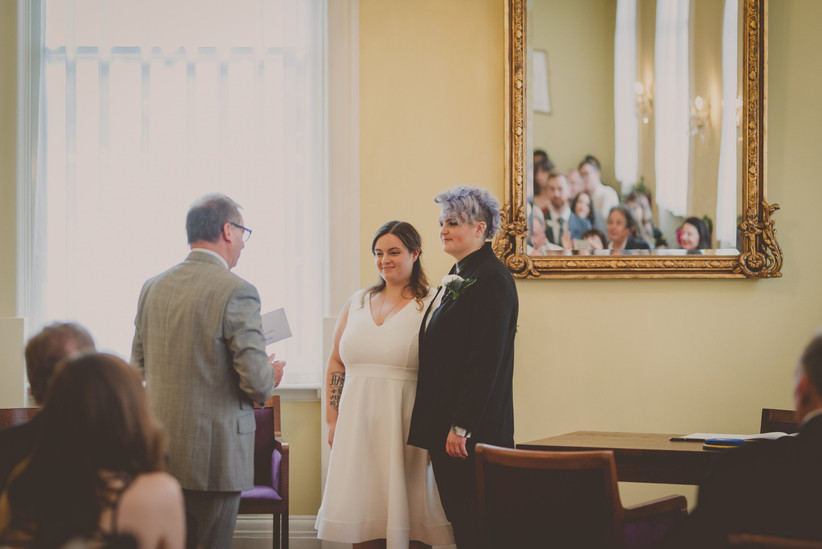 Bridal Beauty
As the couple had too many people they wanted to include in their wedding, they decided against traditional wedding parties. Instead, they got ready together at Toni and Guy in Clapham.
"We both went to the same hair salon to get our hair done and they all clicked that we were the two getting married and it was a very nice time.
"We did our makeup ourselves. Abbey had decided to do her makeup herself so bought all of the supplies and made sure to do a trial run a couple of times a week.
"I did a trial at Benefit but, never being the kind to wear makeup in general, the look was too extreme so I decided to do it myself as well.
"Abbey's standard make up is eyeliner and I generally don't wear any so our looks were just a step up from normal. Abbey played with different styles of eyeshadow and toning and I did a nice simple fresh face look."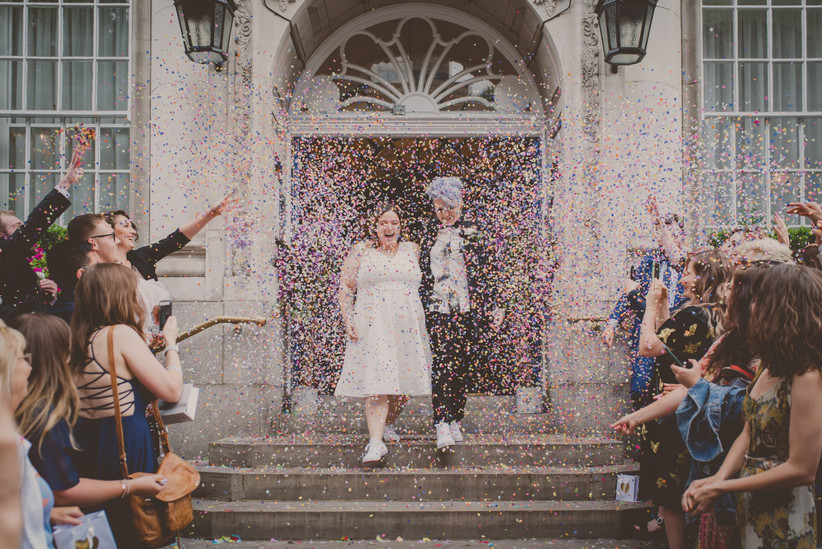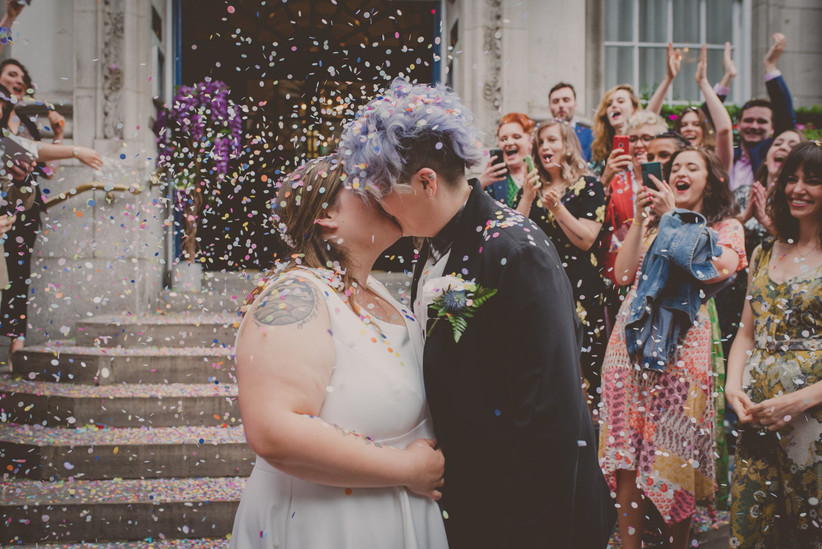 The Wedding Ceremony
To get to the ceremony and reception, the couple travelled in a white taxi hired by Abbey's parents to remind them of her grandfather, who was a cab driver.
"We do not practise any religion so chose a civil marriage. The ceremony was held at Chelsea Old Town Hall and the two people leading the ceremony made it very special and not cold and contractual like we were expecting. The steps outside the venue made for the best confetti photos!
"We had a reading from one of Abbey's brothers, Rob. He read one of our favourite excerpts from A Single Man. Ana, Rob's wife, delivered the rings. As our witnesses, we asked my best friend of 14 years, Maddie, and one of Abbey's dearest friends, Alex.
"When the gentleman leading the ceremony proclaimed us married, all of our guests cheered so loudly, he commented that in his 20 years of performing ceremonies, he hadn't heard a cheer quite like that ever.
"Abbey walked down the aisle first with her Dad, Graeme, and then I walked with my father, Charlie, both to an instrumental version of Welcome To The Black Parade, originally by My Chemical Romance, performed by the Vitamin String Quartet.
"We decided a long time ago that we would both want engagement rings as well as wedding bands, so we spent a long time looking for something unique as neither of us are the diamond or stone types.
"We looked through different kind of metal bands, wood and resin bands but nothing was ever quite right and we liked the idea of being matching. Then we came across a designer from the US called Anna Sheffield who was perfect.
"We went to Liberty's London and ordered custom white gold wedding bands from Kojis, the same width as our engagement rings. They look incredible together!"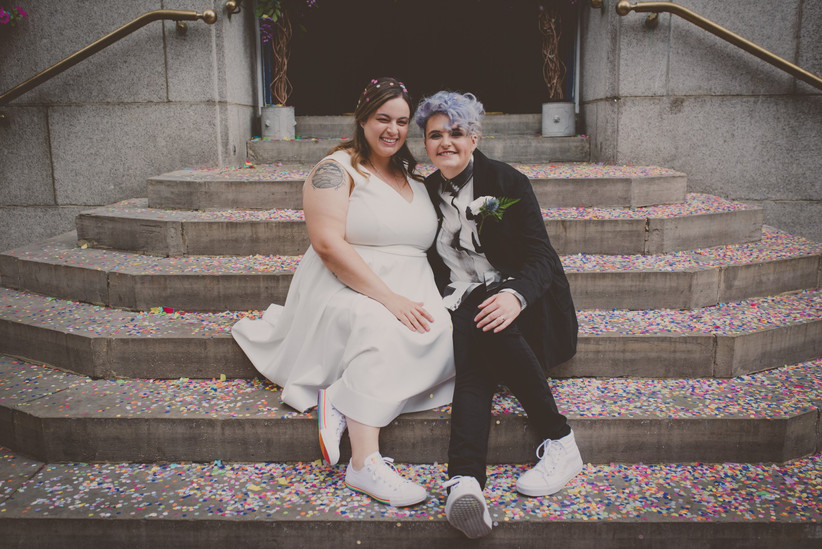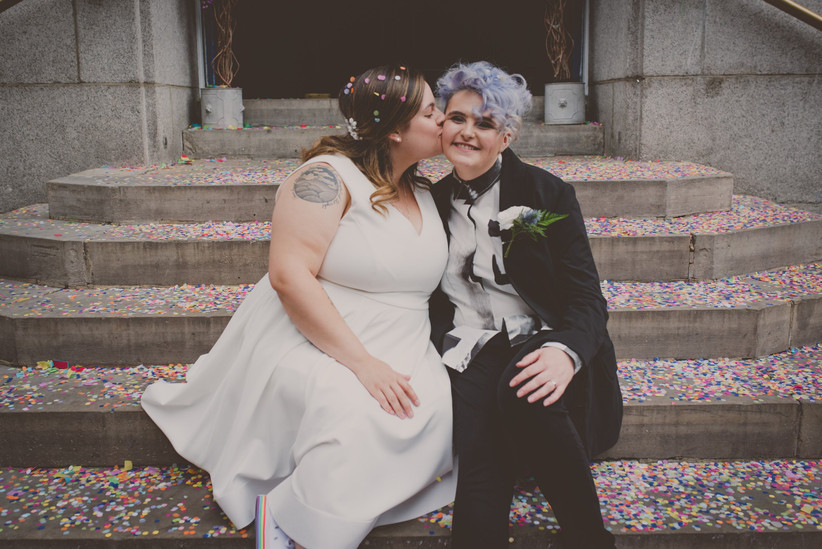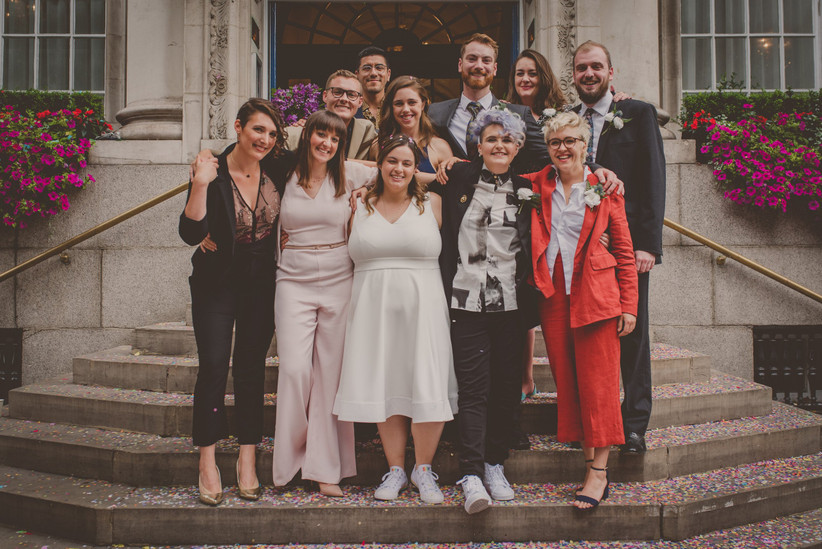 The Reception
Abbey and Anastasia both work in theatre and decided that The Deck at the National Theatre would truly reflect their interests as a couple while also being big enough to host 70 evening guests.
"When we first started planning, we were going to have a very small wedding so we thought a town hall wedding would work nicely. When we visited Chelsea Old Town Hall, we fell in love with it so when the wedding got bigger we decided we wanted to stick with it.
"We considered having a very relaxed day with a small ceremony and a nice pub garden but when we emailed The Deck at the National Theatre just on the off chance they might have availability, they said our ideal date, the 3rd of August, was the only day they had available for months.
"It seemed meant to be as we both work in theatre and love the work that the National Theatre does and spend many nights hanging out at the South Bank as we love the area.
"We named our tables after theatres. The head table was the Dorfman Theatre – our favourite theatre at the National – the second table with all of Abbey's Sheffield University friends was The Crucible and Glossop Road after the rehearsal space they had and used at university.
"Our LAMDA drama school friends were at the Sainsbury table after the new main house space at LAMDA. The rest were named after famous London Theatres like The Globe, The Old Vic and Battersea Arts Centre which we live right down the street from."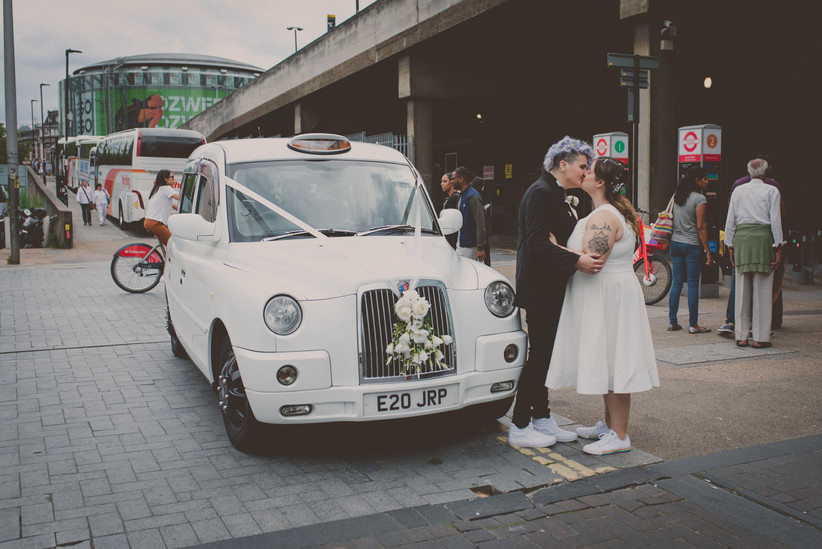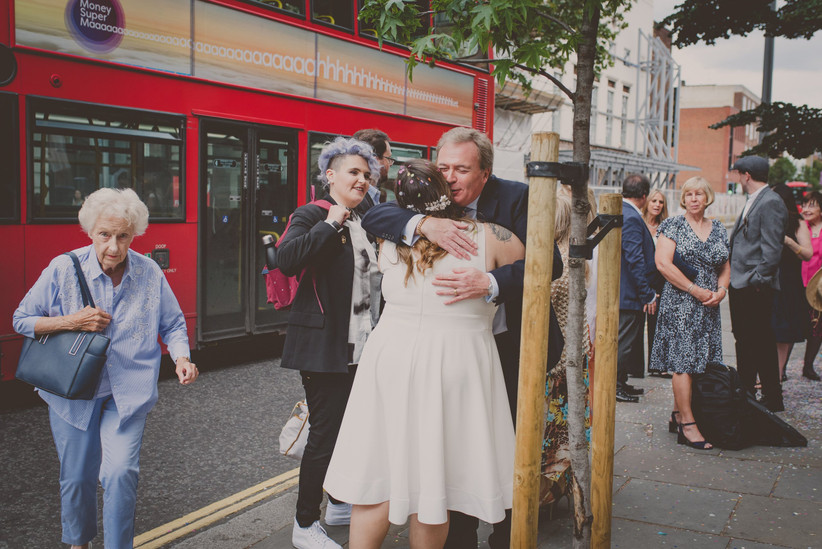 The Food and Wedding Cake
The couple made sure all of their guests were looked after and chose to serve a meat menu and a vegan menu. At 9 pm, after hours of drinking and dancing, the couple served vegan cupcakes from Flavourtown Bakery instead of a traditional wedding cake.
"The canapes were vegan chorizo with miso-roasted aubergine, Bombay baby corn dipped in coconut yoghurt raita, a summer veggie nori wrap, and salt and pepper crispy soya bean curd with yuzu.
"The meat menu was a starter of gin-cured salmon with kohlrabi, goji berries and parsley. A main of free-range Caldecott White Rock chicken with a fricassée of vegetables and sourdough bread pudding.
"The vegan option was a starter of a poke bowl, the main was roasted aubergine, cauliflower bhaji, summer green beans, spiced mung beans and a coconut yoghurt raita. Dessert was baked chocolate and cherry marquis with strawberry sorbet.
"We had eight dozen vegan cupcakes made by Flavourtown Bakery served in place of a wedding cake. Half were their cookies and cream cupcakes and the other half were their vanilla birthday cake cupcakes."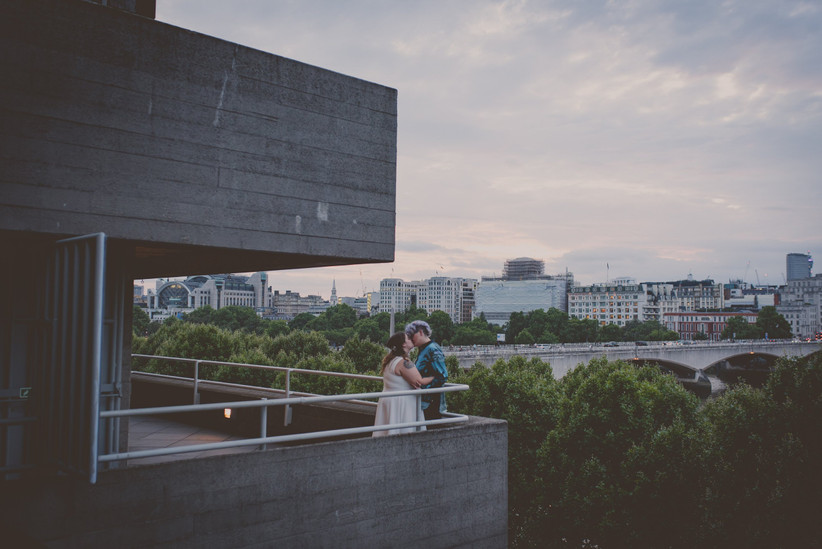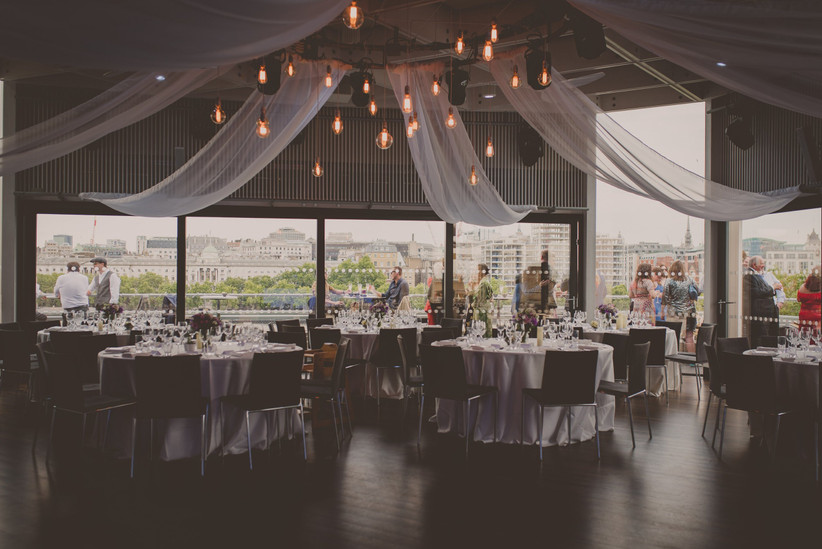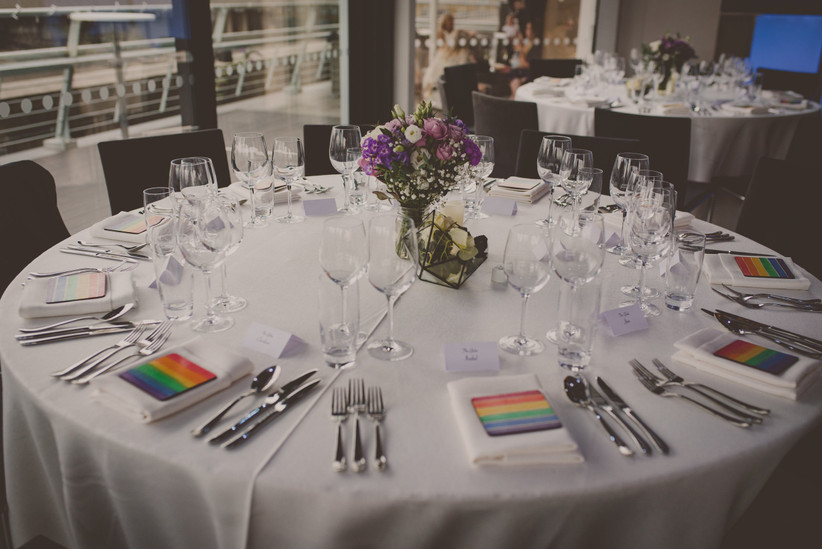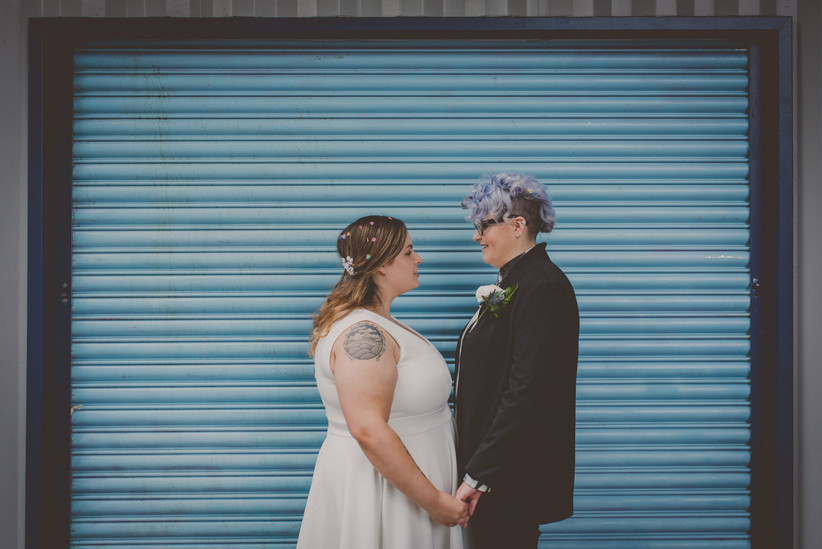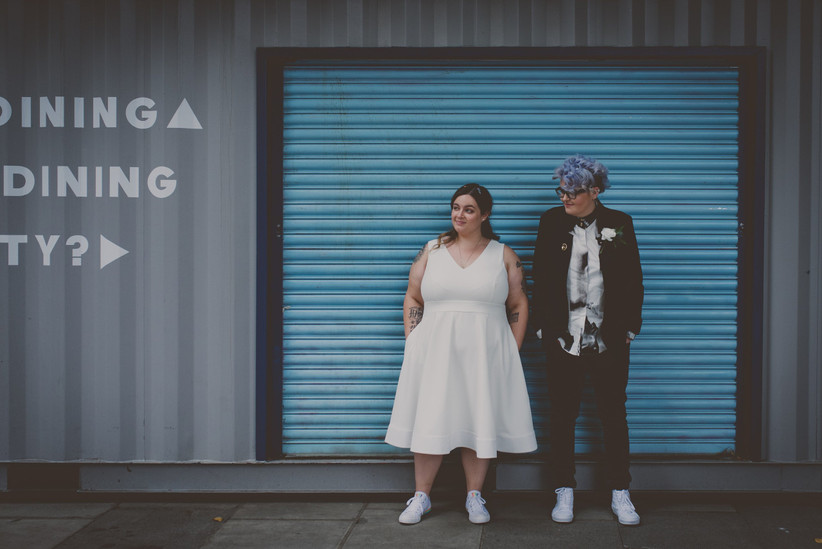 Special Touches
For their big day, the couple focused on keeping things personal from homemade coaster favours to eco-conscious invitations.
"For our invitations, we used Paperless Post in an attempt to be more eco-conscious. They looked like they had been written on a nice card and had greenery draped as a border.
"We didn't have a theme or colour scheme but our flowers were purple and white with greenery. They were arranged by our favourite small shop outside Clapham Junction station called Igloo Flowers.
"We had flowers as our centrepieces on the tables. They were purple and white arrangements in mason jars and small tealights that were used at the engagement.
"Anastasia had painted rainbow coasters to put at every table setting that the guests could take home, she made 30 more than needed and they all got taken!
"In place of a guest book, we had a canvas and sharpies in silver, gold and bronze that people could sign their names to. We also had a registry with The Wedding Shop.
"The Deck had an amazing events team to help us. At first, it was Fleur O'Hare to get us all booked in. Then, the incredible Daisy Mouatt helped us plan and run the party.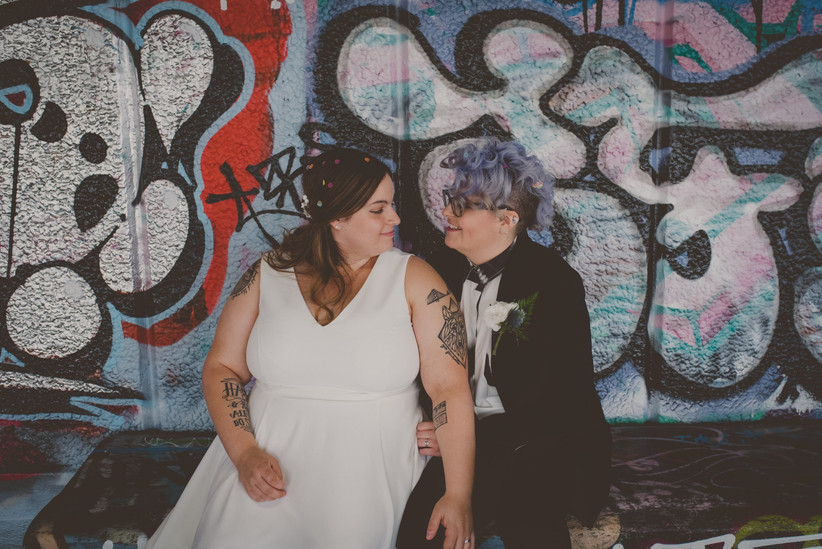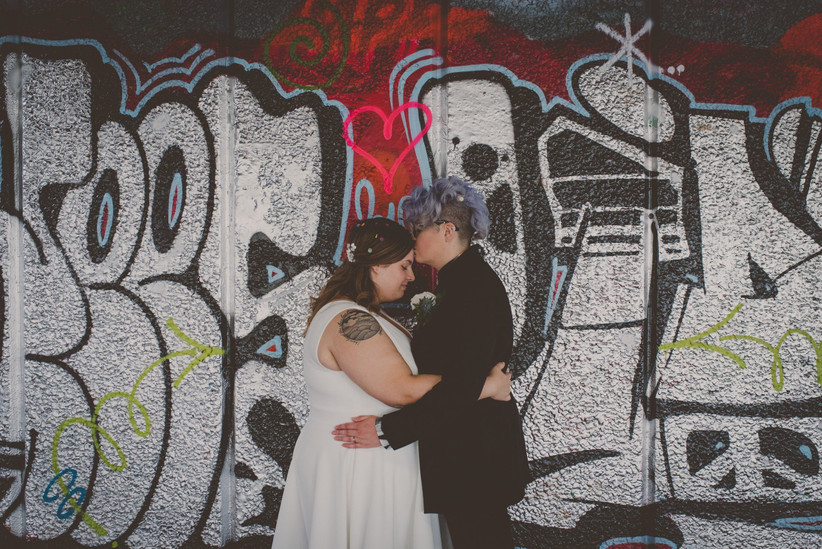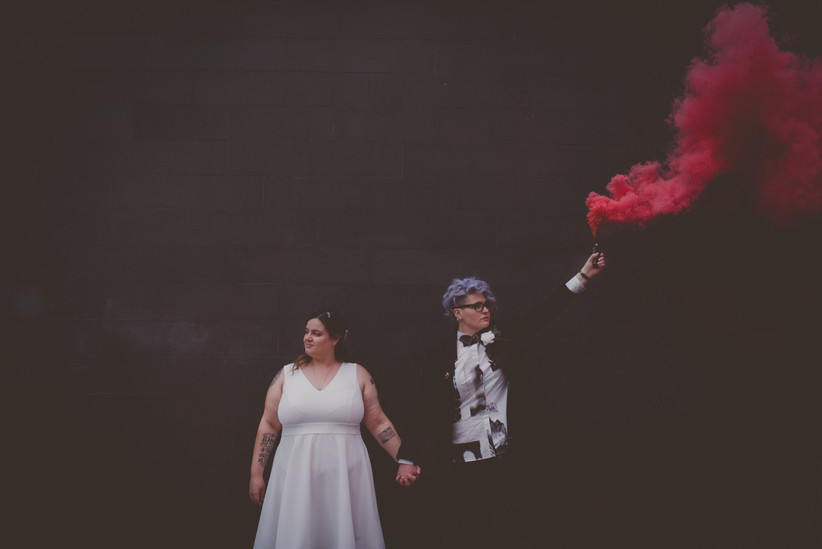 The Entertainment
Anastasia and Abbey used their big day to focus on female talent and empowerment. As well as hiring a female photographer, they also turned to SpinSisters, the all-female collective of DJs, to provide entertainment for their evening party.
"We had DJ Stef from SpinSisters entertain us for the night and she is one of the best things we chose for the wedding. She played a mix of electro-swing and lounge music for dinner and then had everyone on their feet dancing the rest of the night.
"We were originally going to use someone from a company that works with the Deck a lot. But, when most of their usuals were booked out, we did a search and decided we wanted to support more female artists, as we did with hiring our photographer.
"We found SpinSisters, an all-female collective of DJs, which brought us Stef. These were ultimately some of the best decisions we made and we are so happy we did!
"Our first dance was Poetry by Wrabel. Our father-daughter dance was What a Wonderful World by Louis Armstrong.
"Two of Abbey's very close friends, Chloe and Dan, did a joint speech and it was hilarious. It ended in the recitation of a poem Dan had written, which we now have printed on our wall at home."
The Honeymoon
After tying the knot in London, the couple flew to San Francisco to host another wedding reception for Anastasia's extended family who couldn't make it to the UK.
"After our reception in California, we'd both wanted to do a road trip. We want to get a dog in the next year which will make longer trips away harder to do so this seemed like the perfect time to do it!
"We did a road trip from Yosemite National Park to Vancouver, Canada. We visited Lake Tahoe, Portland, Oregon, and Seattle, Washington.
"Anastasia grew up in the Bay Area and had visited Tahoe, Portland and Seattle before but this time was in a different light, exploring with her new wife instead of just visiting family.
"It was an amazing trip: 1,800 miles driven, incredible sights, lots of music, never-ending conversations. All ending in a five-star hotel in Canada where all we needed to do was relax and enjoy!"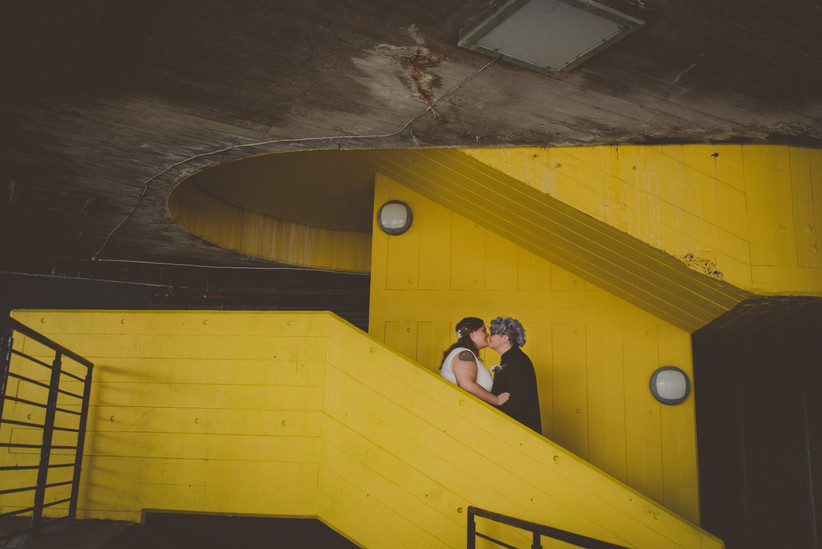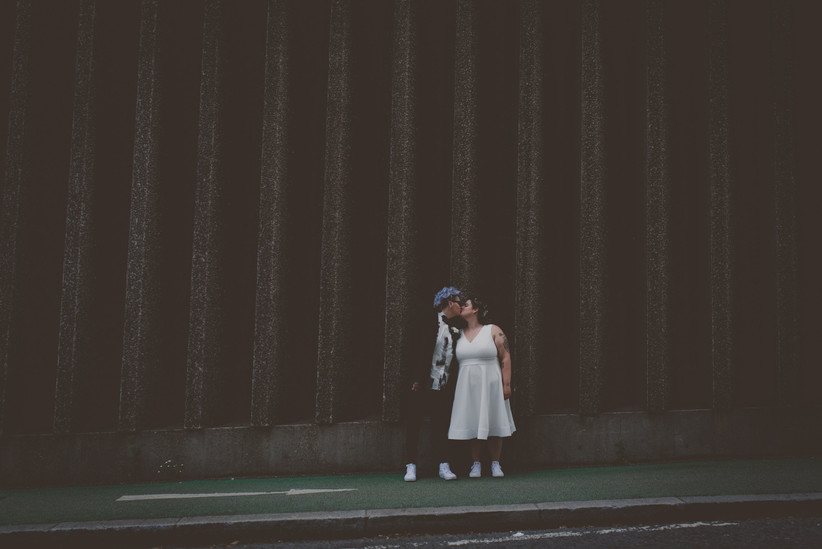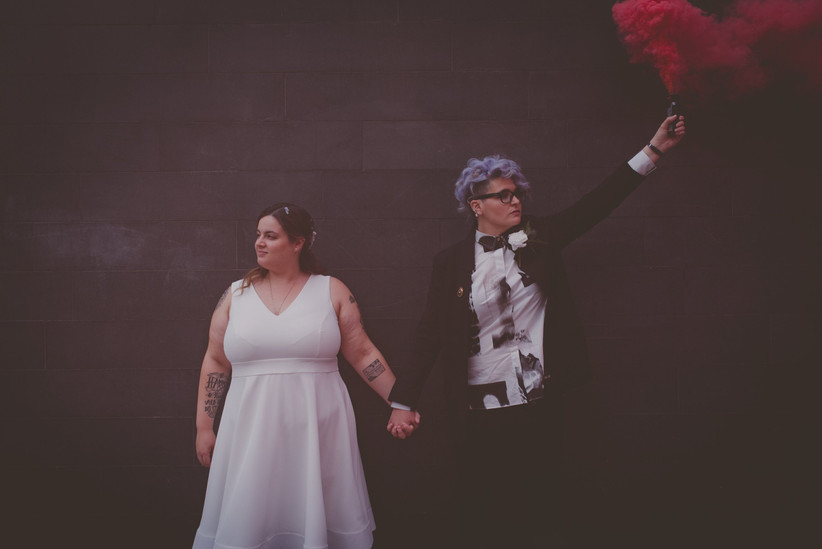 The Couple's Advice
Abbey and Anastasia say that they wouldn't change a thing about their wedding day. After hours of endless conversation on their honeymoon, they have a few tips for couples currently planning a wedding.
"I would say don't sweat the small details, you won't notice them on your big day. The blessing in disguise of having three months to plan a wedding was that we had to make decisions quickly. If we had more time to make decisions it would've been a much more stressful task.
"After all was said and done, the best moment was – after the wedding, after the after-party at the bar downstairs – walking across Waterloo Bridge at 3:30 in the morning to get to the hotel we were staying in that night and just holding hands and smiling with my new wife."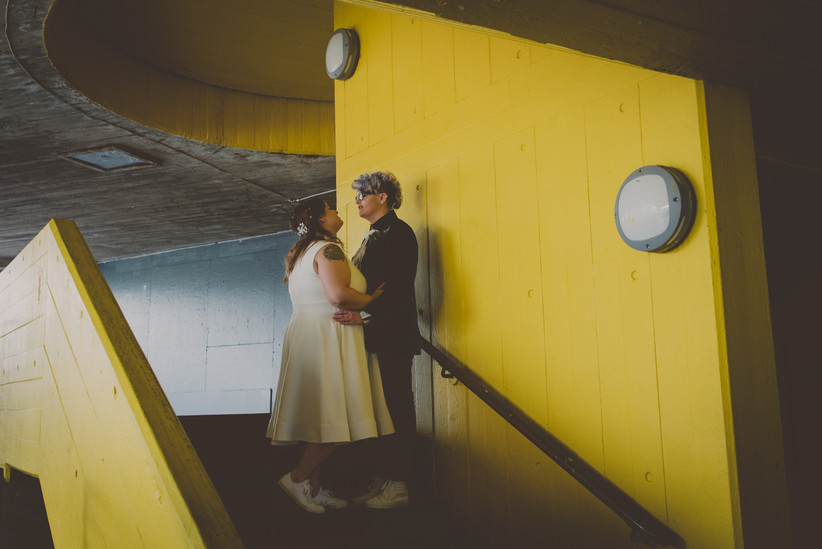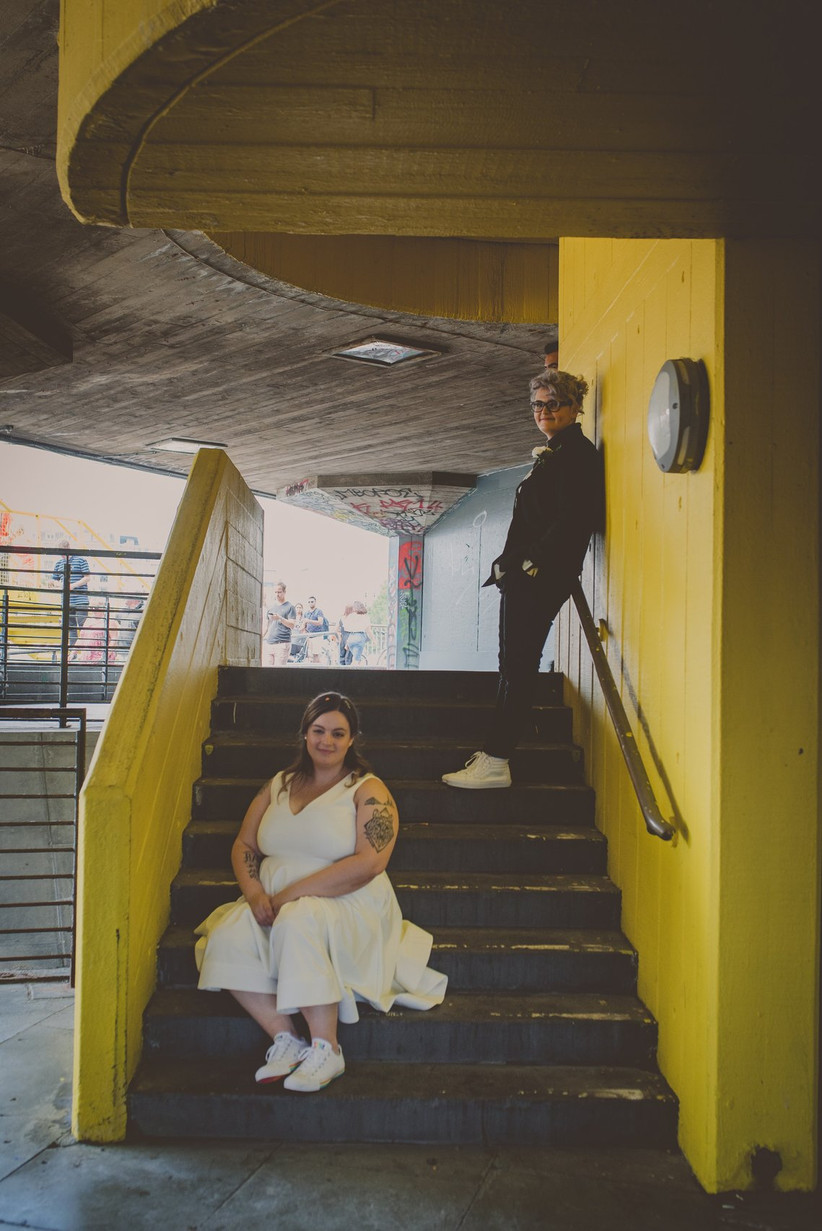 Suppliers
Photographer: Laura Rhian Photography
Ceremony: Chelsea Old Town Hall 
Reception Venue: The Deck at The National Theatre
Anastasia's Wedding Outfit: Torrid and Converse
Abbey's Wedding Outfit: Paul Smith, Tiffany and Vans
Rings: Anna Sheffield and Kojis from Liberty
Hair: Toni & Guy
Flowers: Igloo Flowers
Wedding Cake: Flavourtown Bakery London
Stationery: Paperless Post
Entertainment: DJ Stef from Spin Sisters London
Gift List: The Wedding Shop
A huge thank you to Abbey and Anastasia for allowing us to share their gorgeous wedding day!