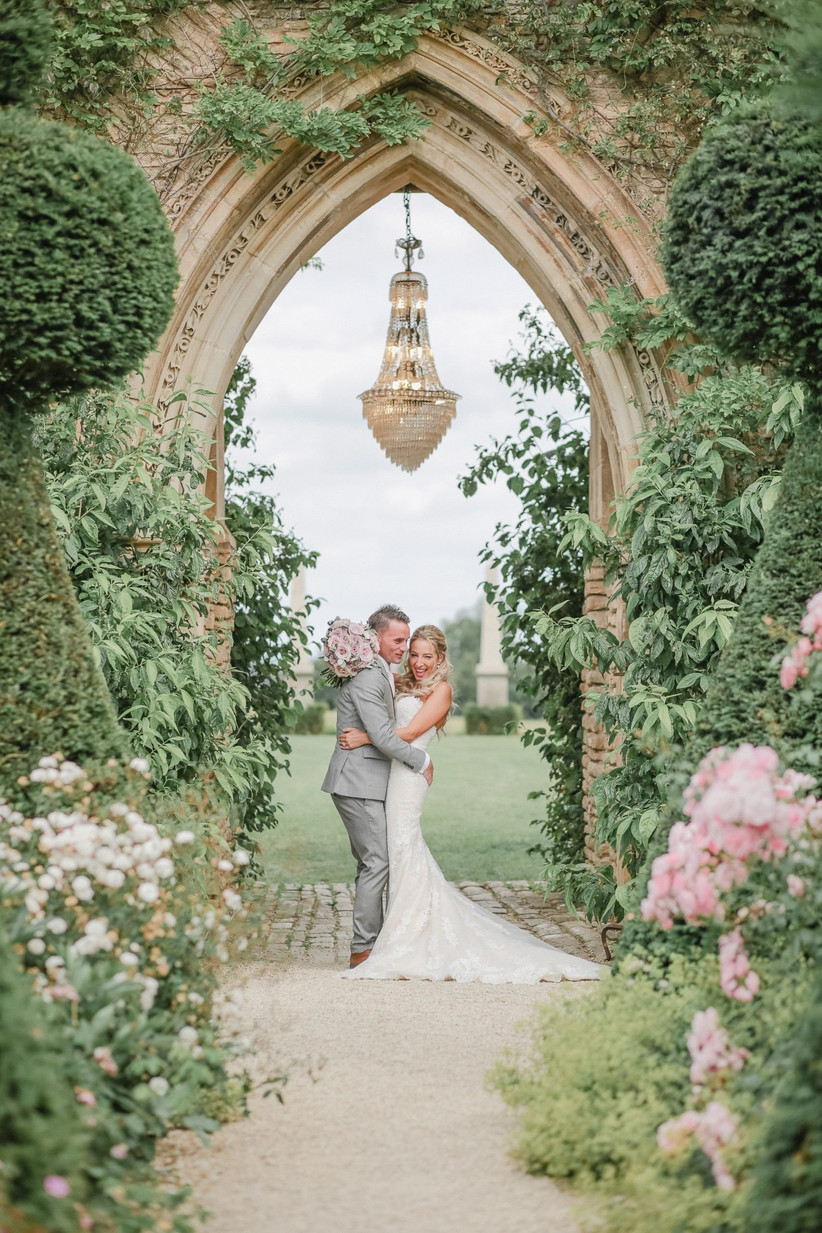 Kim and Craig's day perfectly combined a whimsical and romantic garden party aesthetic with the glitz and glamour they had grown accustomed to while living and dating in Dubai. If you're looking to inject a little city-style opulence into your country nuptials, you've certainly come to the right place for inspiration.
A chance Tinder meeting (yes, that's right) led to the pair becoming inseparable and even sharing their first holiday together just one month after meeting. Seven months later, Craig staged one of the most romantic proposals Hitched has ever seen.
"We had a spent a normal Saturday sat by the pool and when we got home, I booked a nail appointment and left him at my place. When I got back, he was not there but I found a note on my bed saying we were going on a magical mystery tour and to put on a dress and a car would pick me up at 6pm.
"The car pulled up at the Armani hotel and Craig met me at the entrance and took me to a bar with a terrace overlooking the dancing fountains with Enrique Iglesias' Hero playing to the fountains. I straight away thought, 'Oh my god, this is it, he is going to propose,' but he didn't and as we headed off to our next stop, I was a bit deflated!
"We arrived at Pier Chic, a beautiful seafood restaurant out in the sea looking out onto the Burj Al Arab, and it was there he got down on one knee and proposed – I think he had a lot more to say but I cut him off screaming, 'Yes, I do!'. It was the most romantic night of my life and he has set the bar high for future anniversaries!"
After just under two years of careful planning, Kim and Craig became Mr and Mrs Mortimer-Harris at The Lost Orangery in the Cotswolds.
Photography: Helen Russell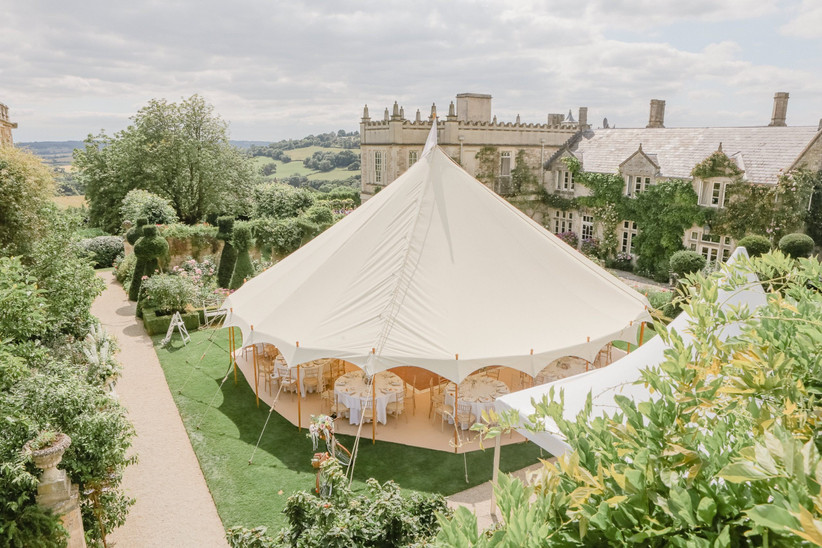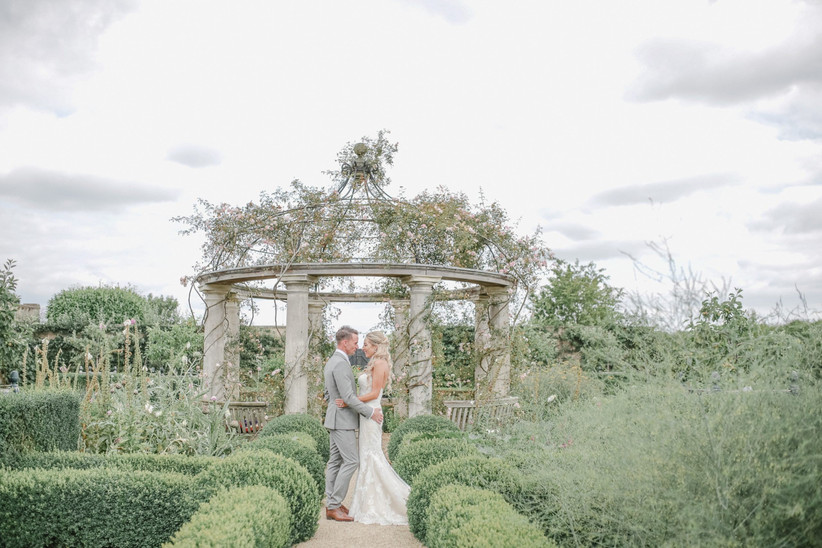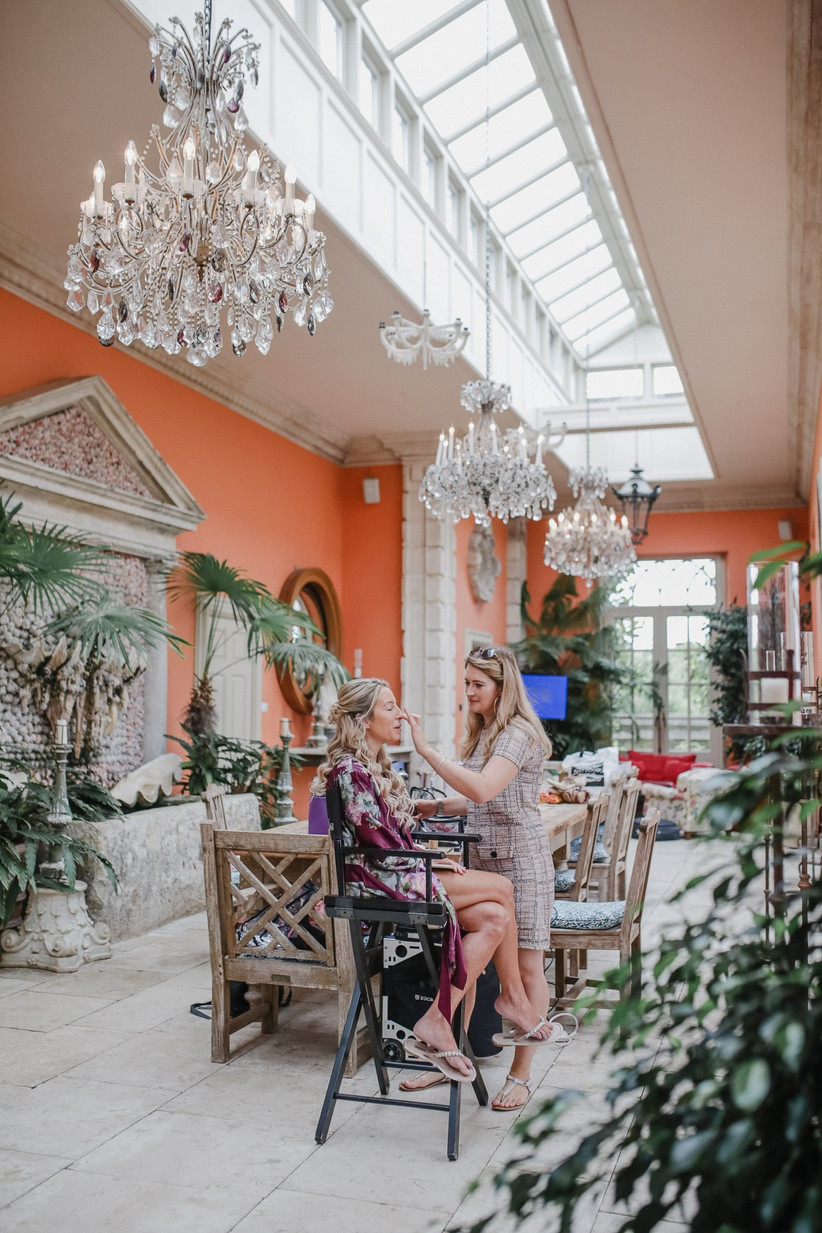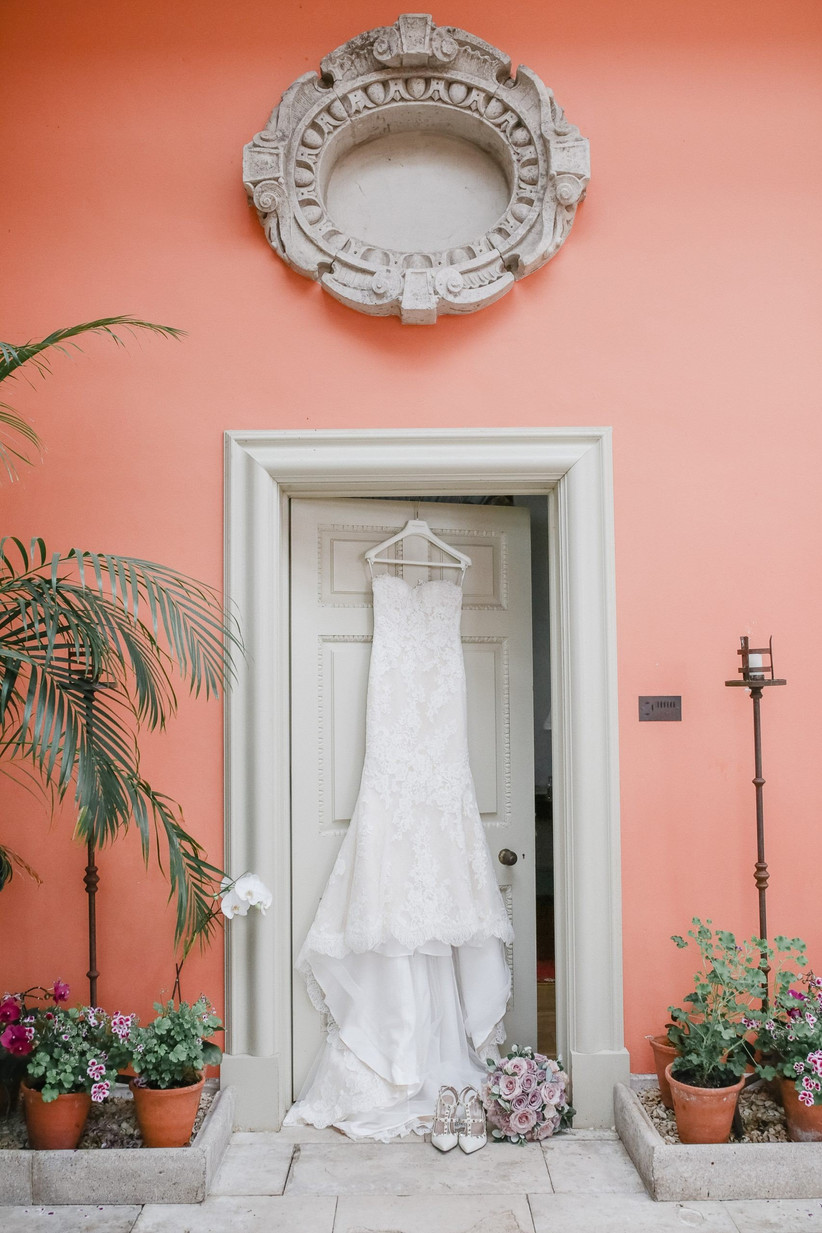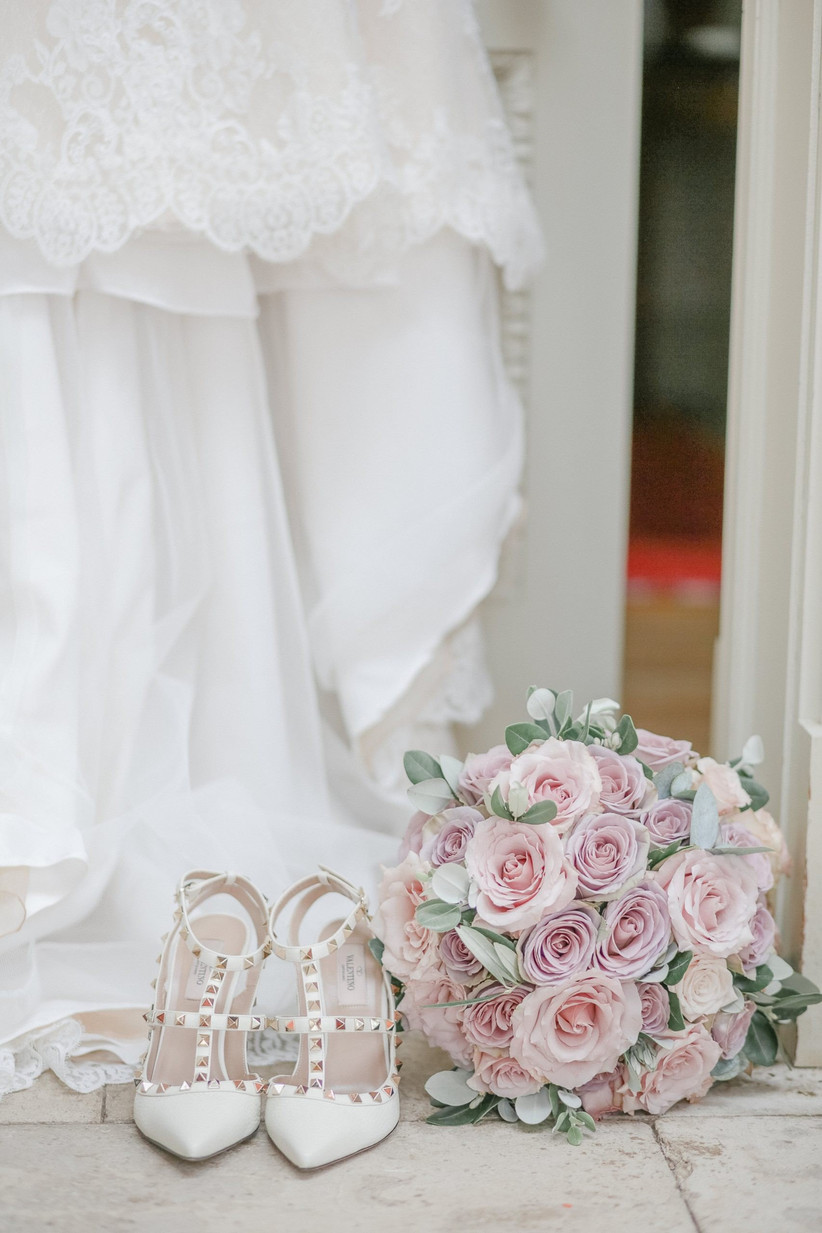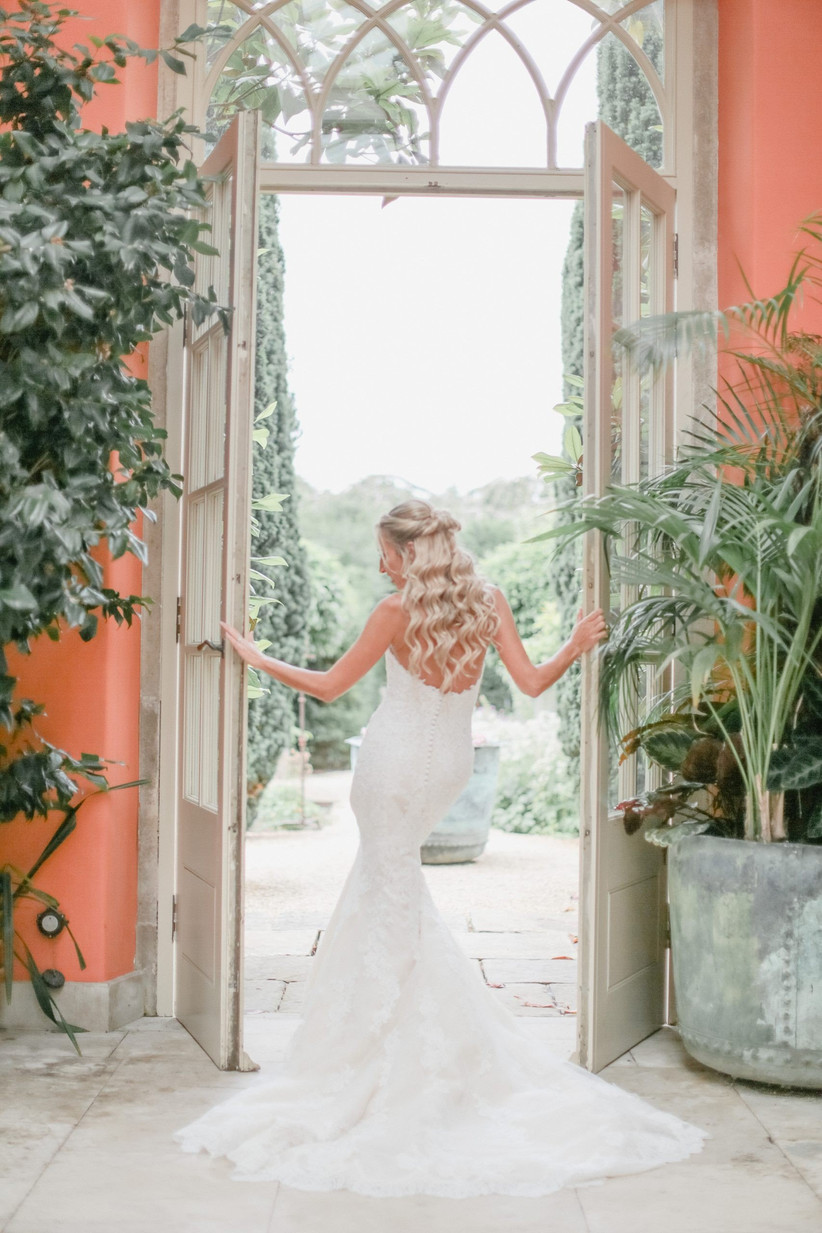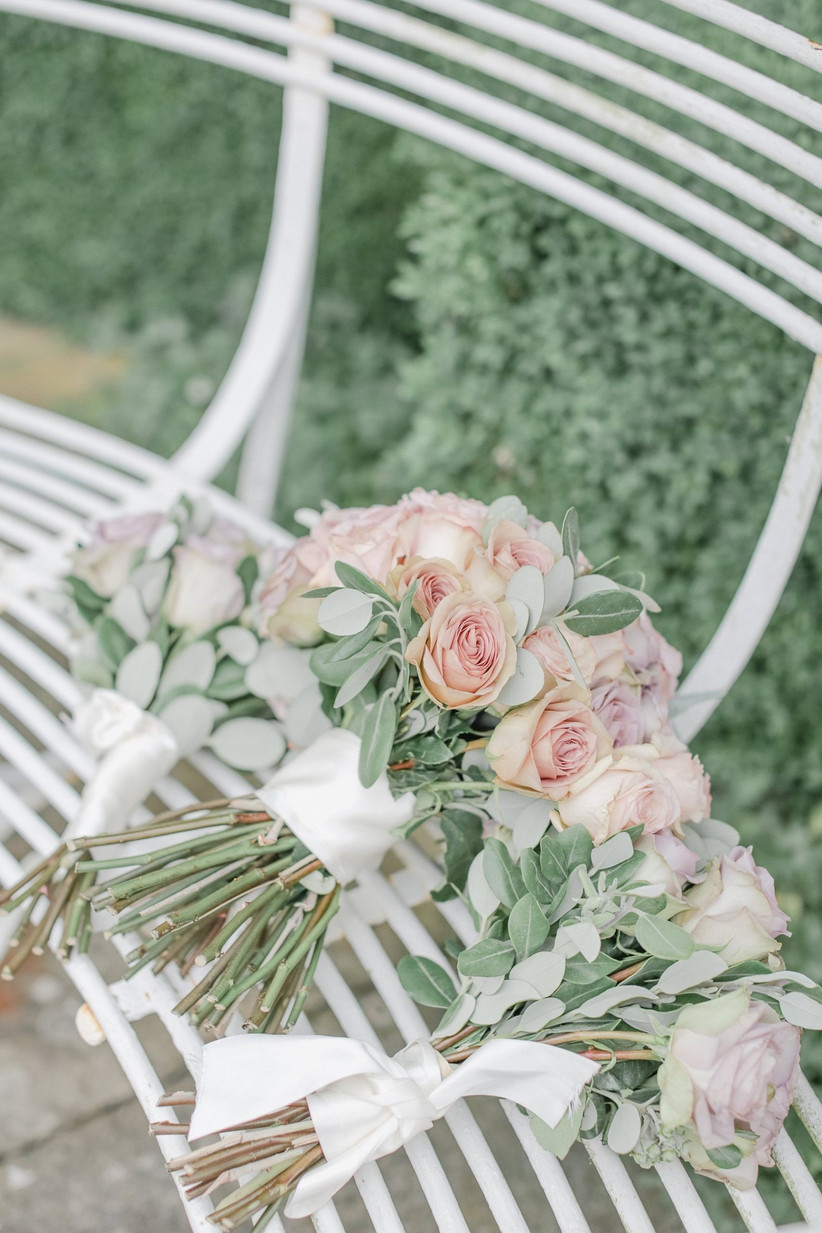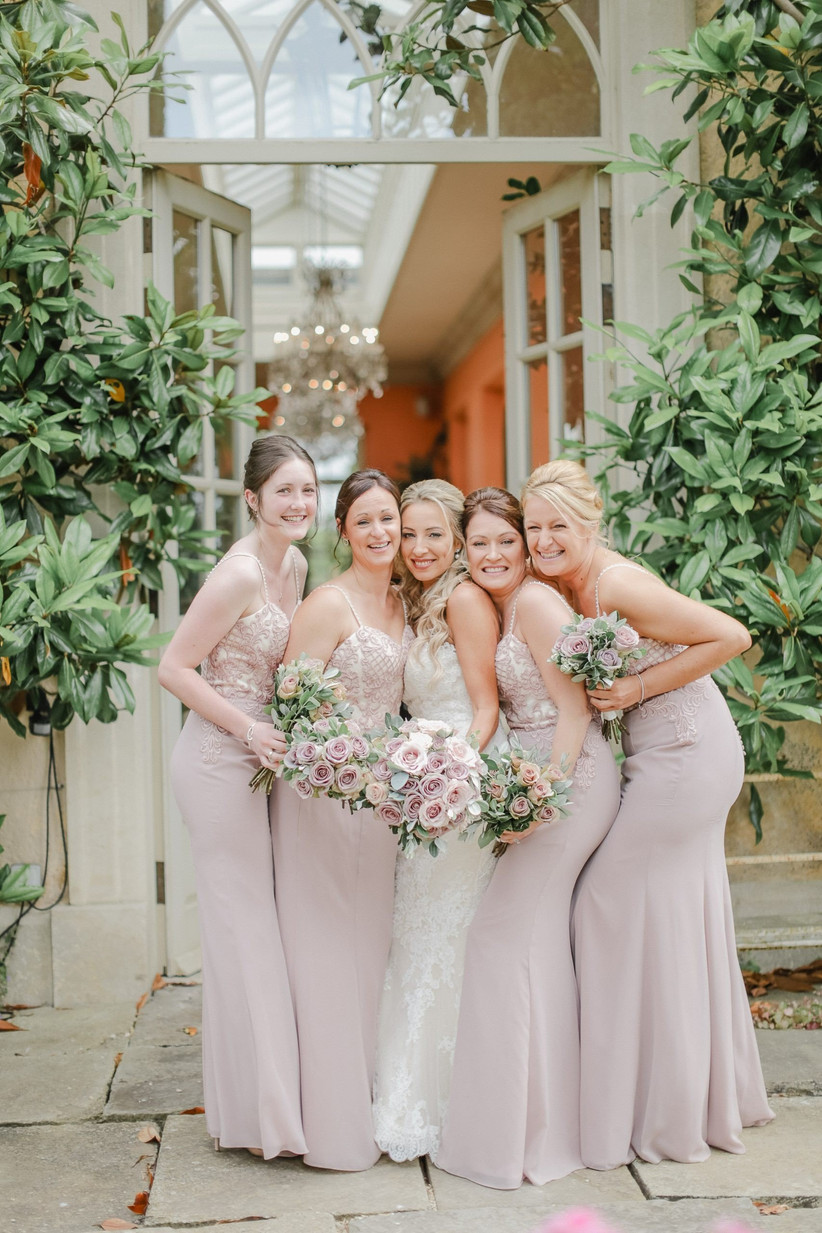 The Wedding Dress
Kim chose an ivory lace, fishtail gown with a sweetheart neckline by Pronovias and bought from The Pantiles Bride in Tunbridge Wells.
The look was finished with high-end, high-fashion details that kept the bridal look modern and fresh. "I wore Valentino Rockstud sling back pumps in ivory and Chanel pearl and diamond drop earrings."
When it came to dressing the bridesmaids, the most important thing to Kim was making sure her girls felt good. "I wanted the girls to feel elegant and sexy in their dresses and I wanted the colour of their dresses to match the flowers in our bouquets. The girls wore a Luna by Nicki Flynn dress called 'Paris' in cameo brown (which is actually more of a dusky pink colour) which we got from Ocean Bride in Hove."
And the groom and his groomsmen? "Well, I was basically told that the suits would have to be light grey to work with the flowers and the bridesmaid dresses!" laughed Craig. "We wore three-piece suits that were handmade at a tailor in Dubai, so they fitted like a glove and were matched with pale dusky pink ties."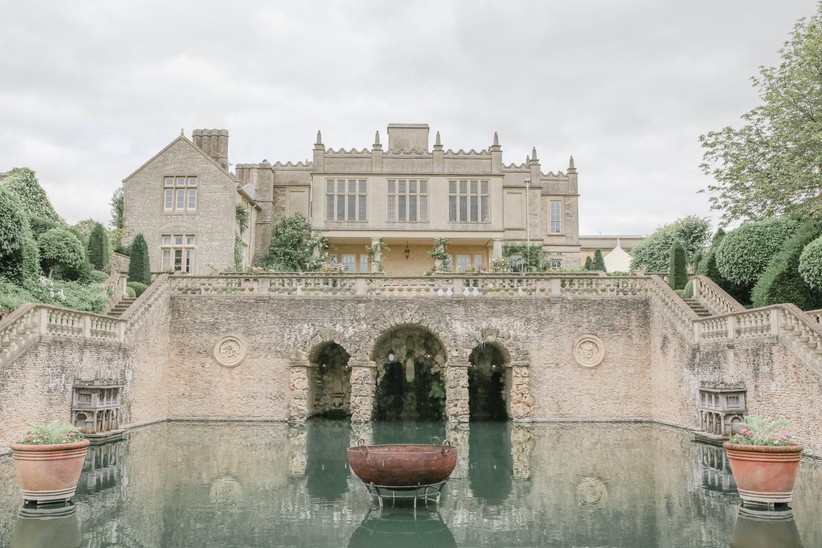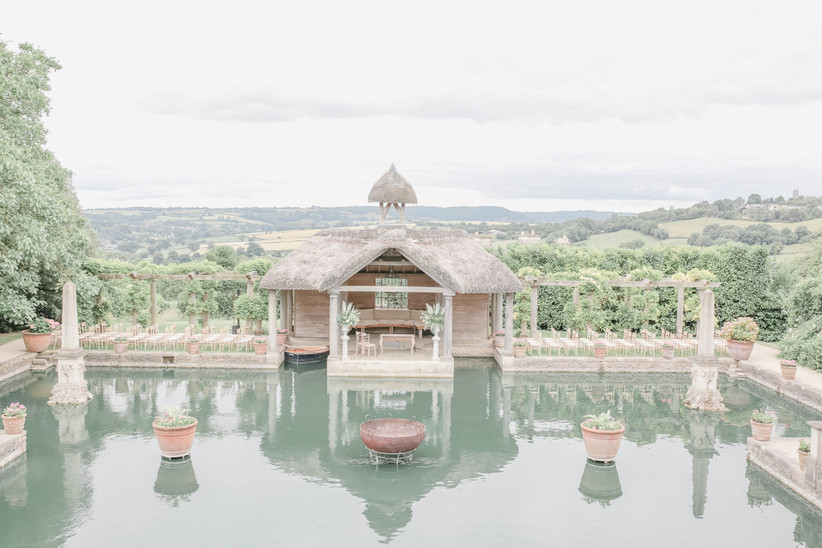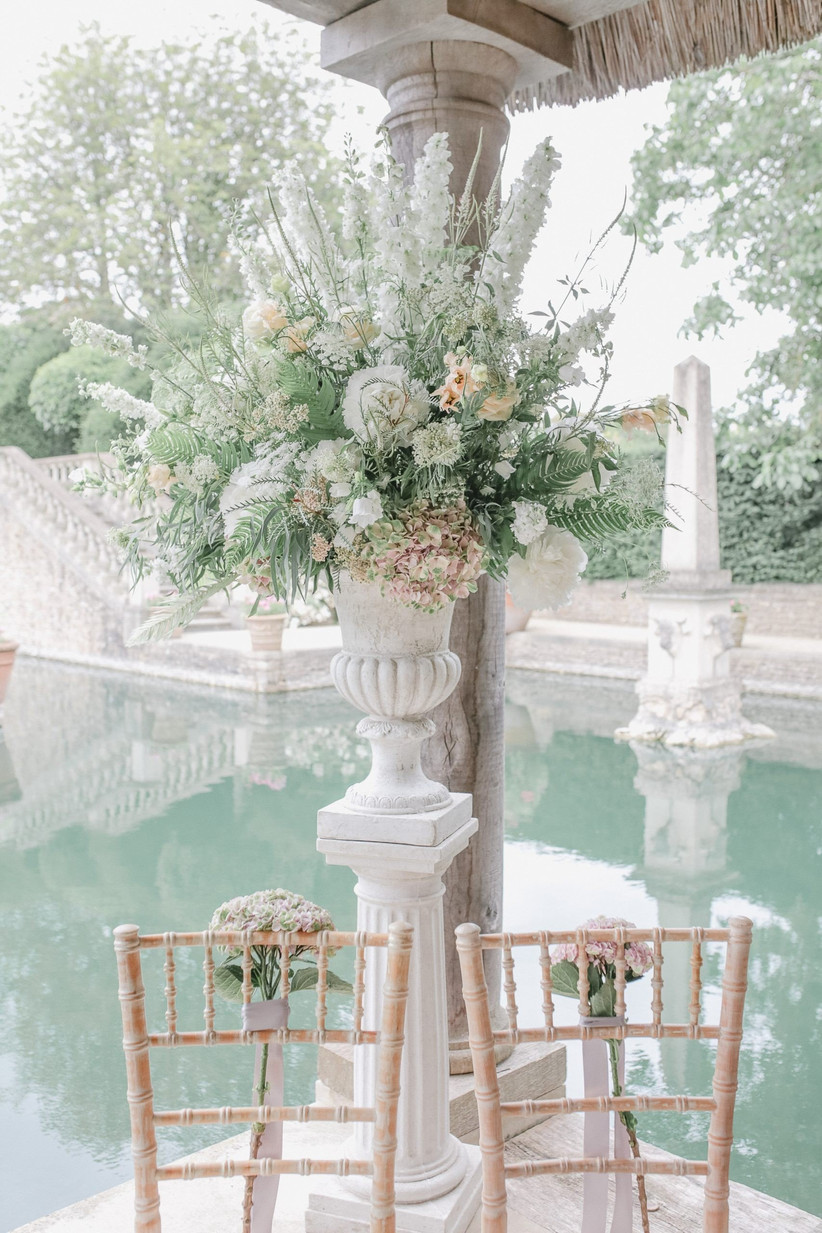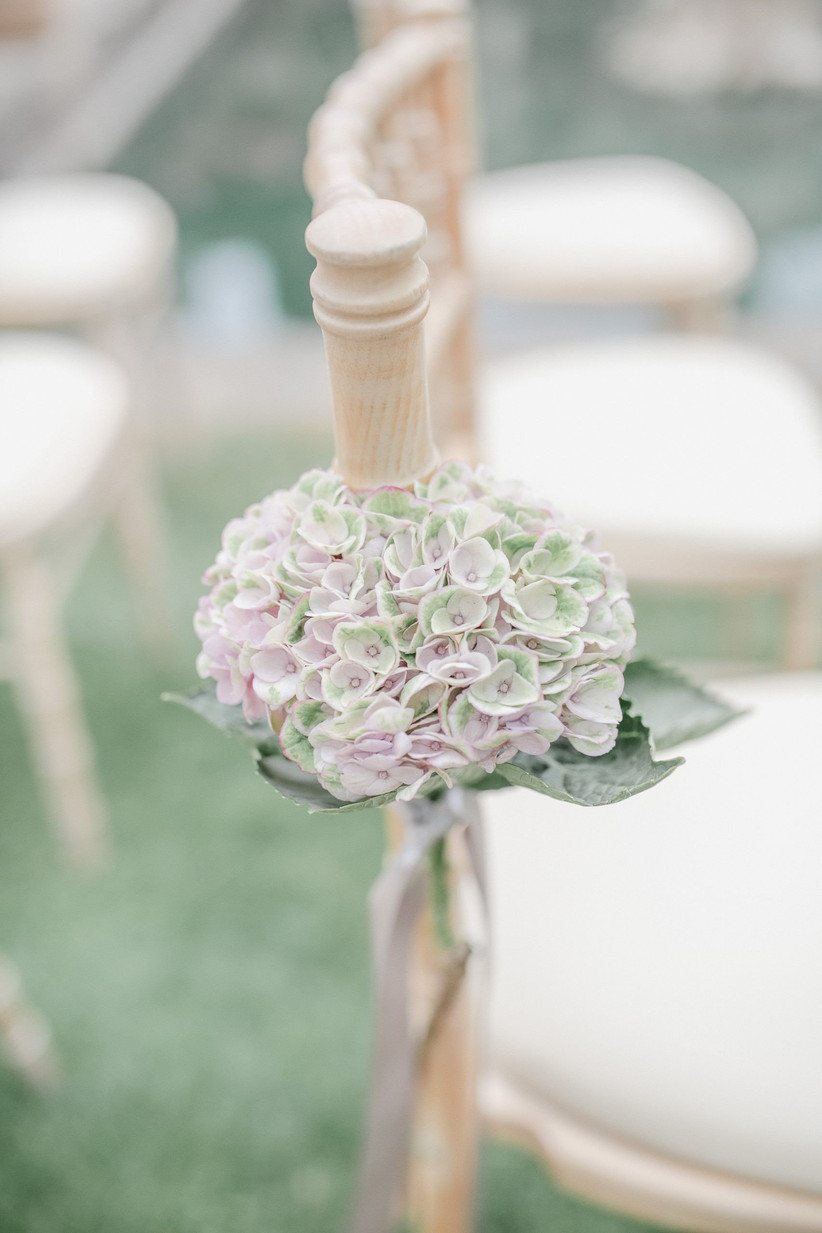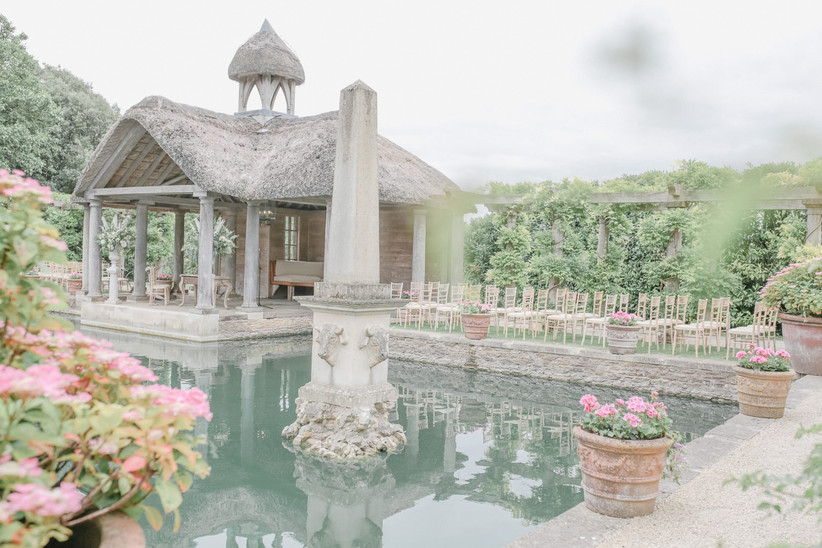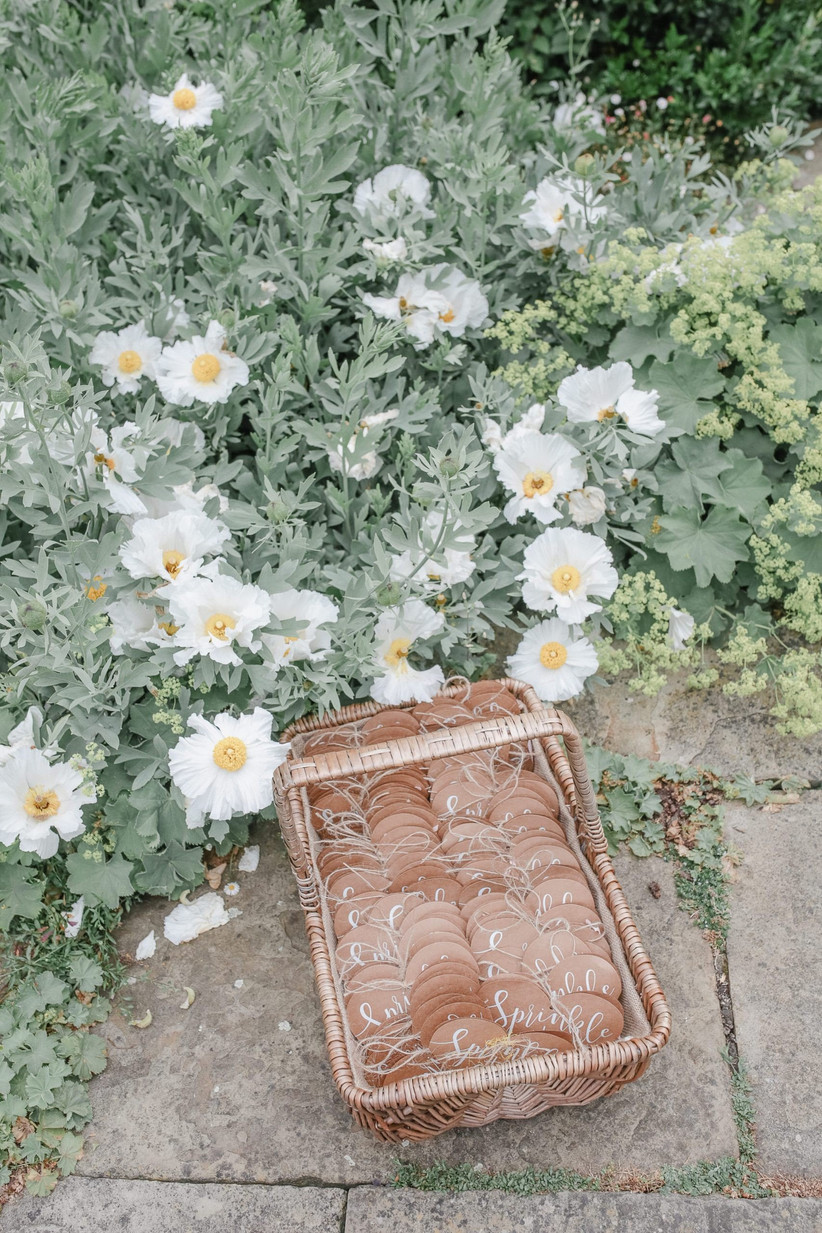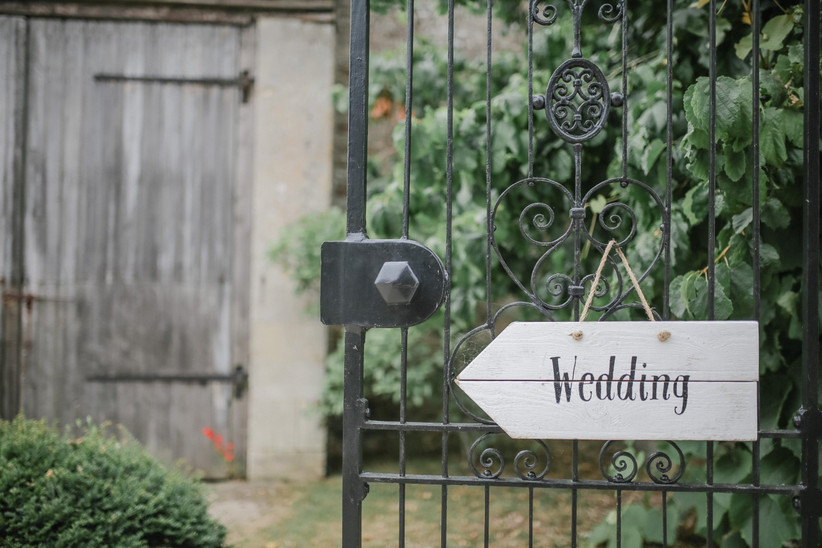 The Wedding Venue
Kim and Craig chose The Lost Orangery at Euridge Manor – voted the best country wedding venue in the 2020 UK Wedding Awards – as the setting for their wedding, but tracking down the perfect spot from four thousand miles away wasn't exactly easy.
"As we are based in Dubai but wanted our wedding to be in the British countryside, I was limited to searching online for wedding venues," Kim explained.
"It took about three months of trawling the internet and contacting venues before I came across the The Lost Orangery at Euridge Manor and we booked it straight away. It was quite nerve wracking booking a venue before viewing it, but we were not disappointed when we went back to the UK a few months later and had the viewing as it was everything we imagined it would be from what we had seen online.
"We chose this venue because we wanted an outdoor wedding and the stunning architecture, water features and gardens against a backdrop of the Cotswolds countryside were perfect for the type of wedding we wanted. It also had lots of locations for different stages of the day – we had the ceremony in the boathouse, the drinks reception on the lawn overlooking the boathouse and the wedding breakfast in the rose garden.
"The other major pulls were the exclusive hire (you hire and stay there for three nights) and the fact that it was a dry hire meant we had full control over all the suppliers we used and the type of set up we wanted."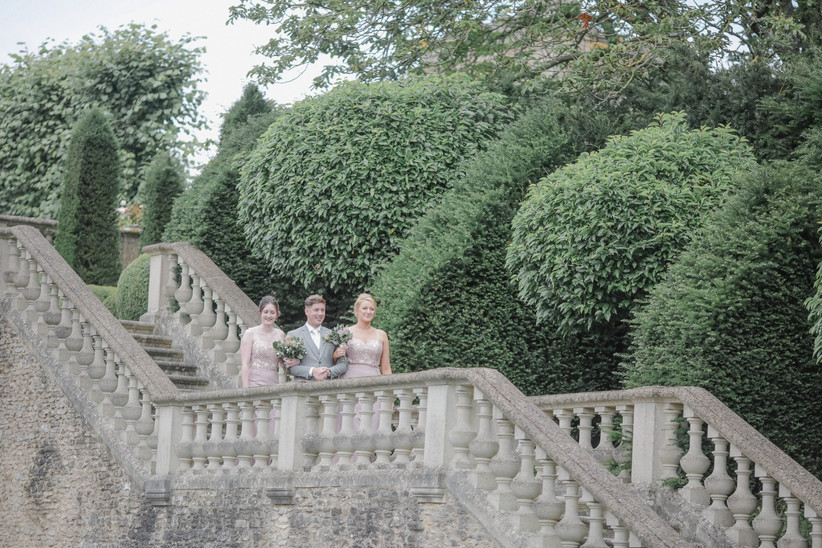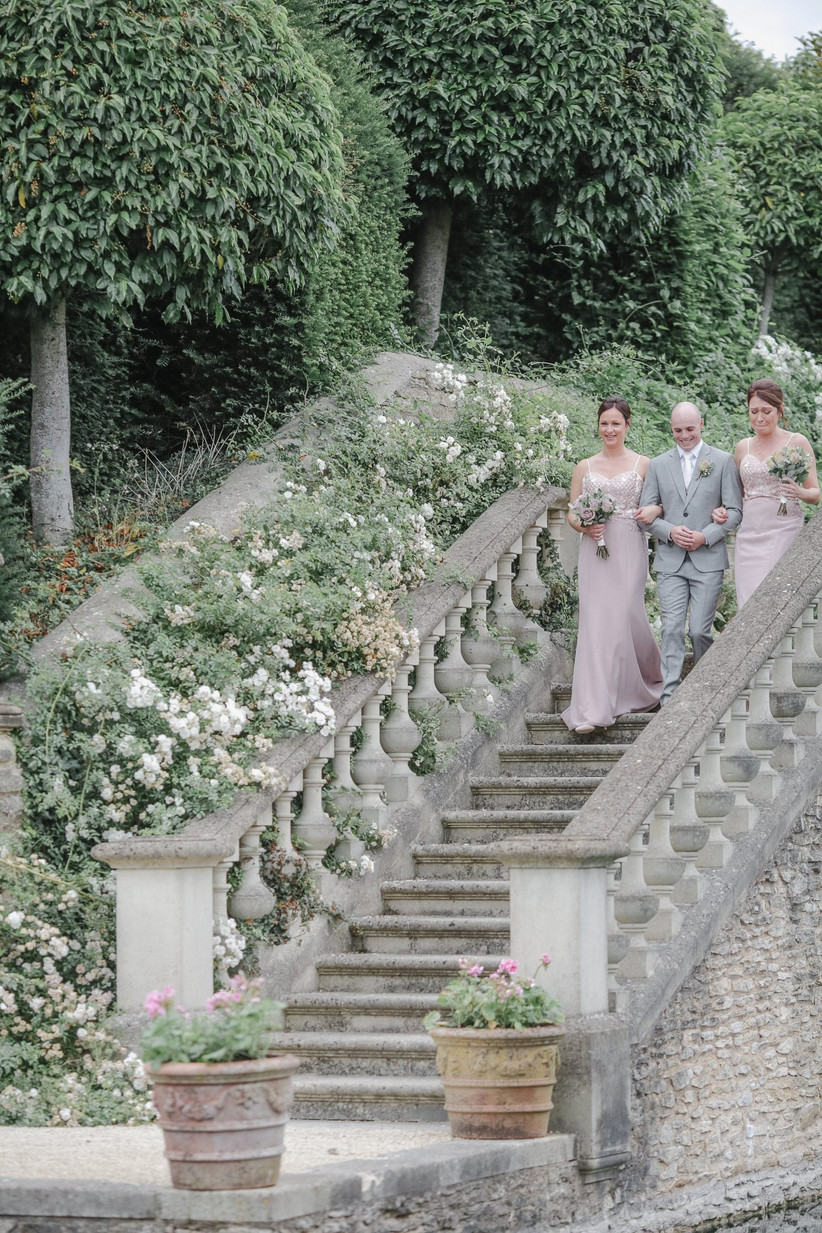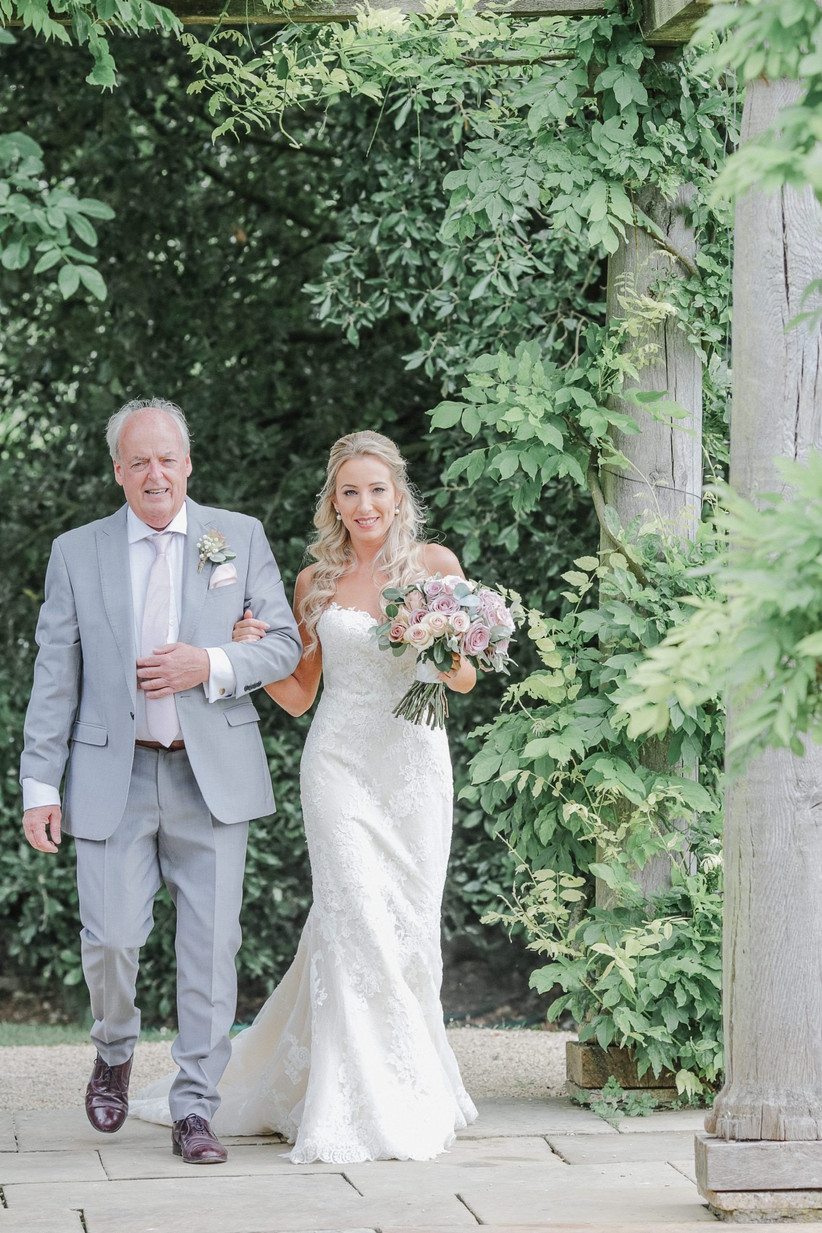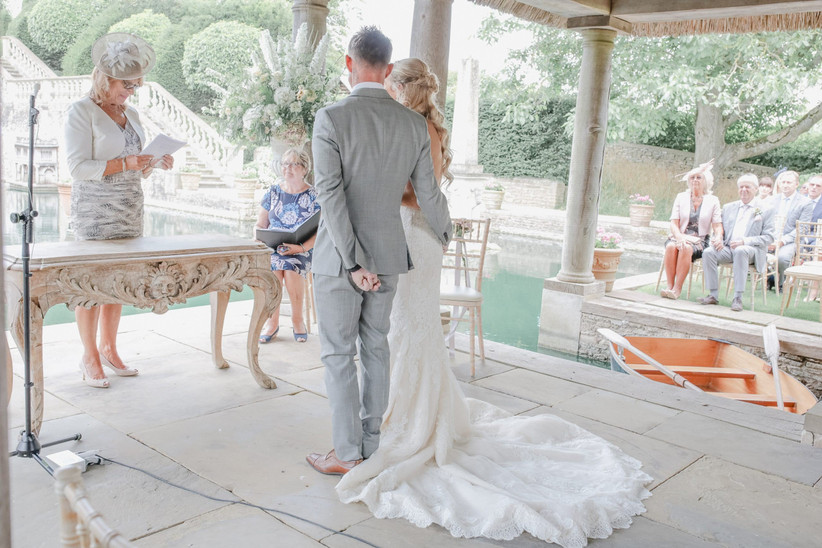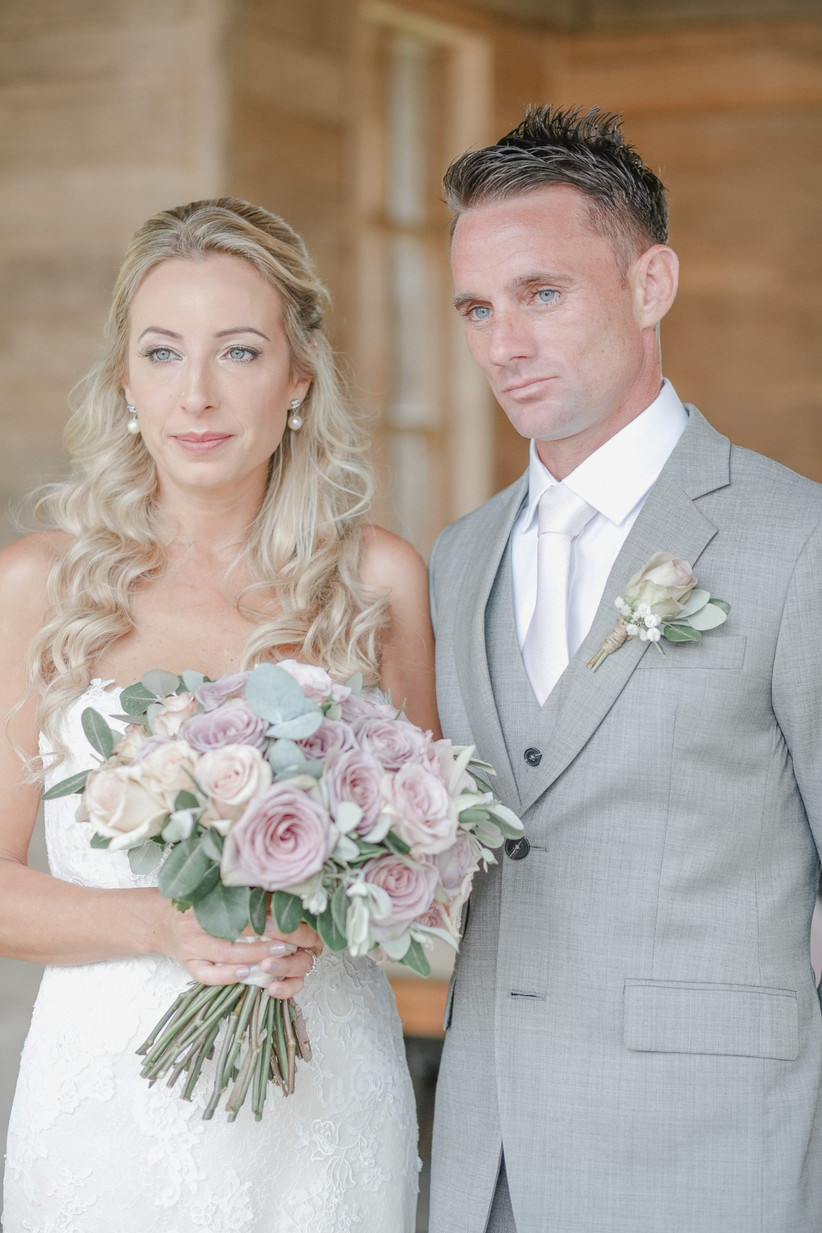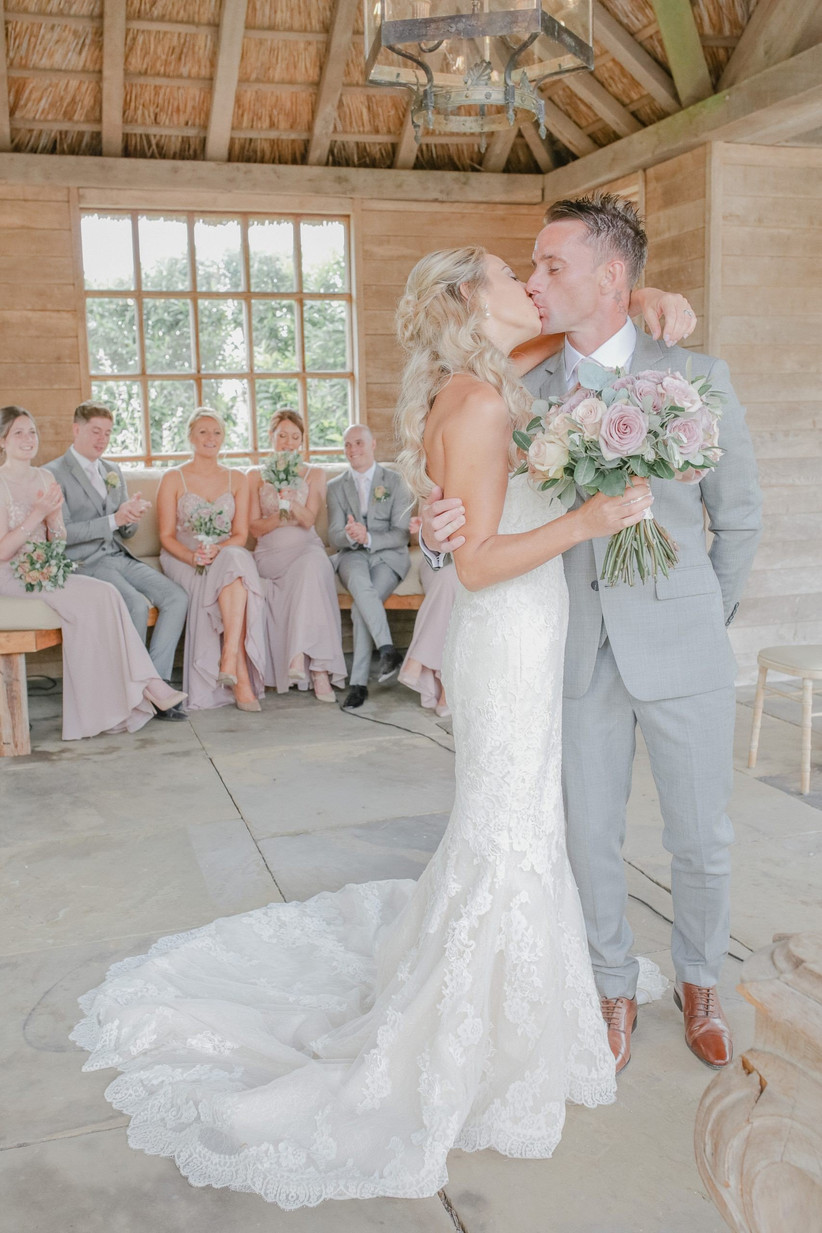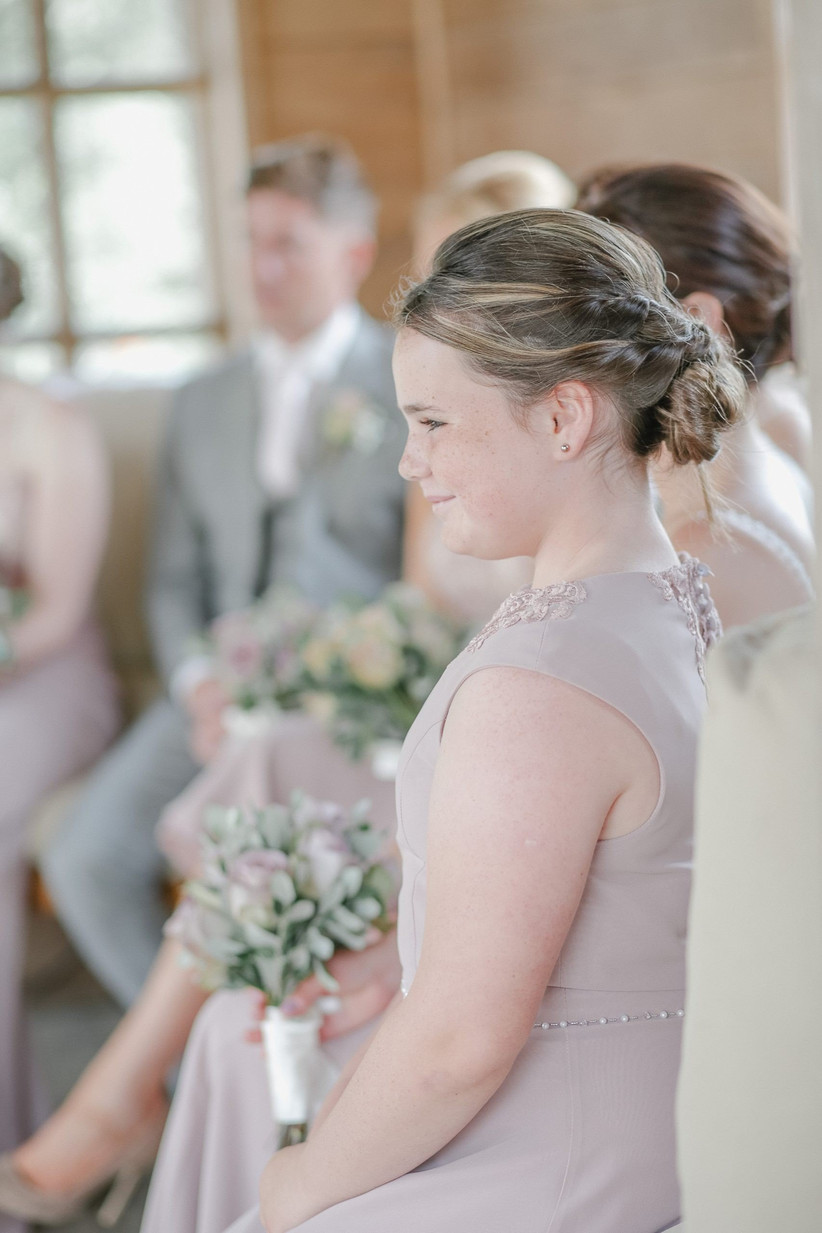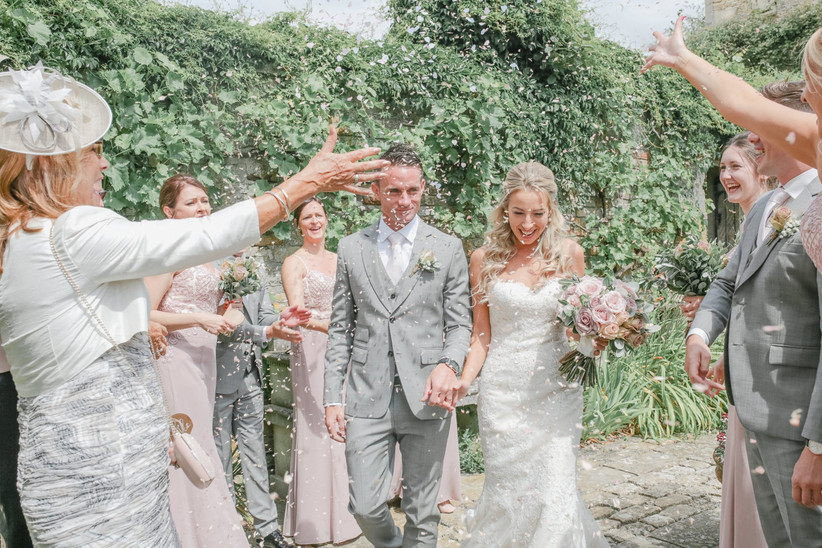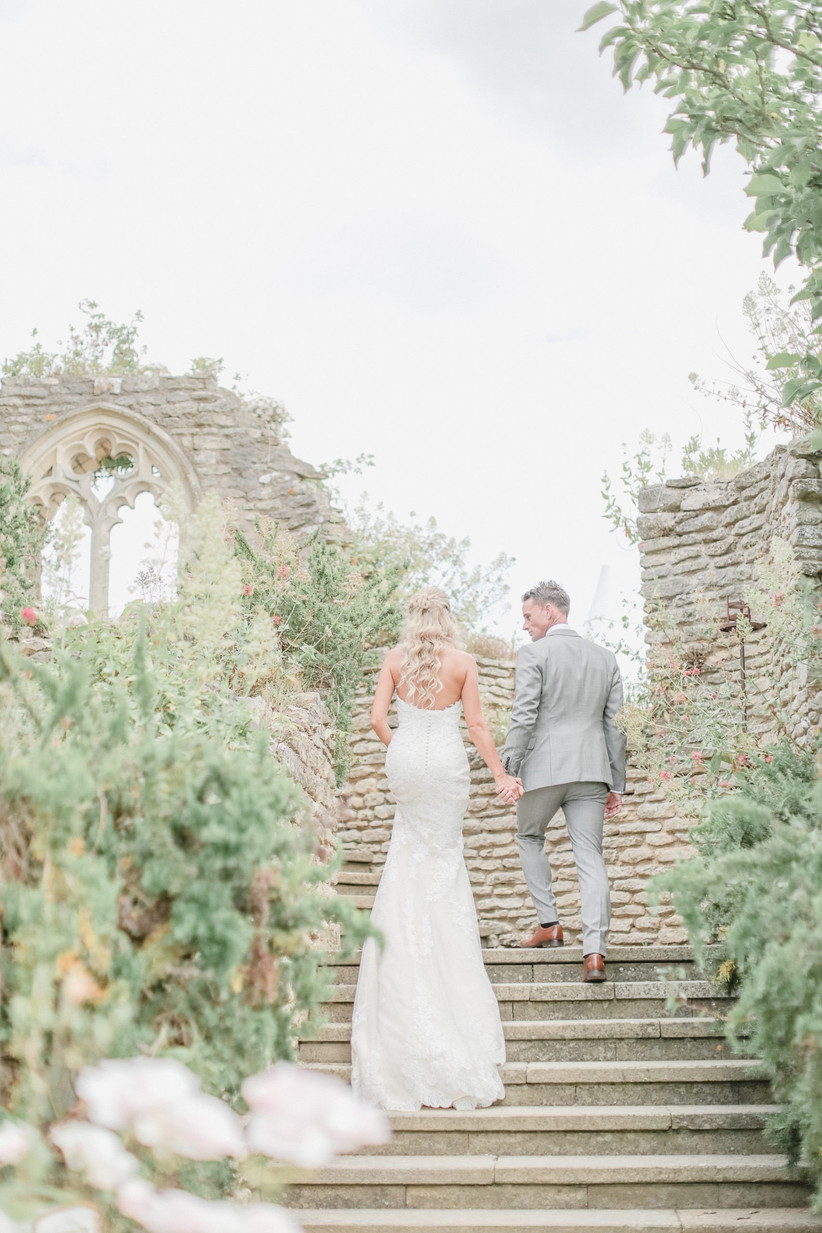 The Wedding Ceremony
"The ceremony was conducted by a Wiltshire council registrar and was held within the grounds of the venue in a boathouse overlooking the water with our guests lined up either side of the boathouse," explained Kim.
Kim and Craig chose not to create their own vows, instead asking the registrar to personalise their words. Kim's mum and her friend Christie gave readings, adding another personal touch to proceedings.
To make sure the couple got their perfect confetti moment, the flower girl was equipped with 'Spread the Love' heart shaped confetti pouches that she handed to guests as they left the ceremony.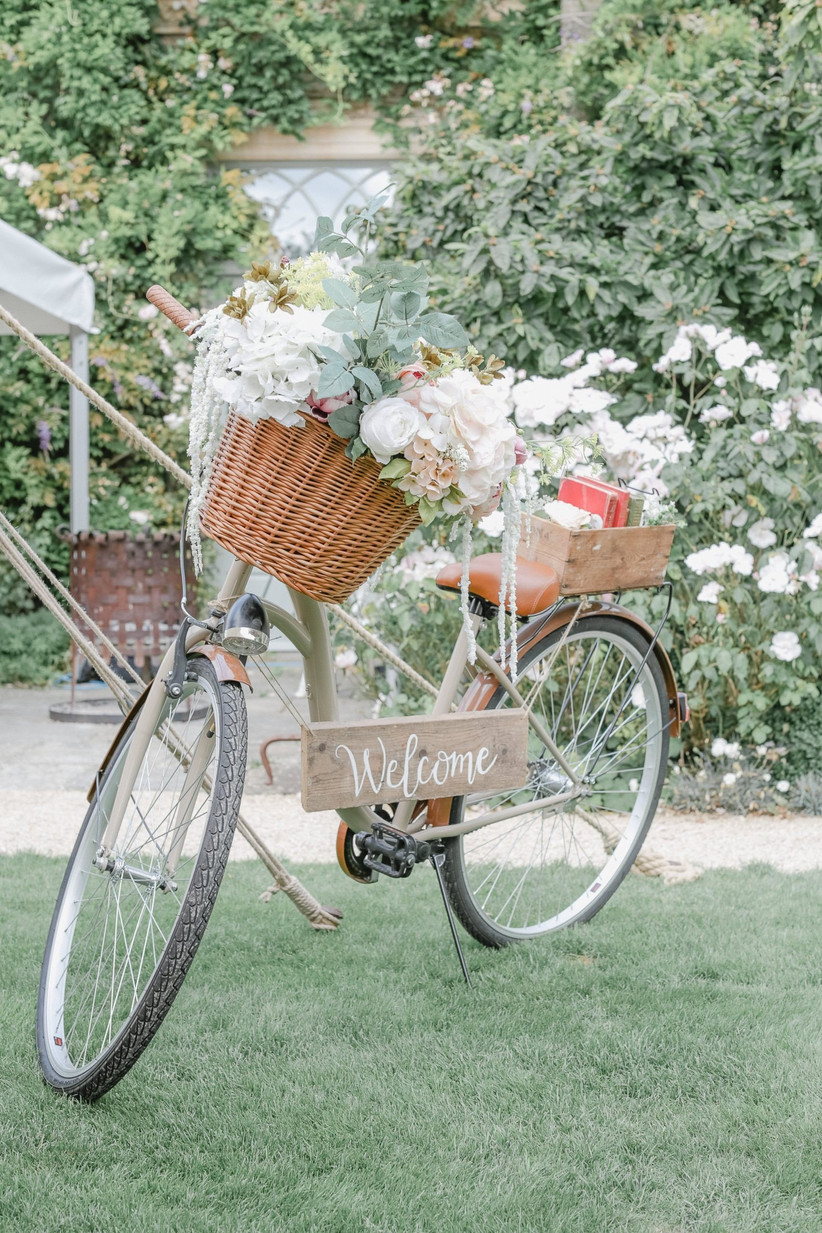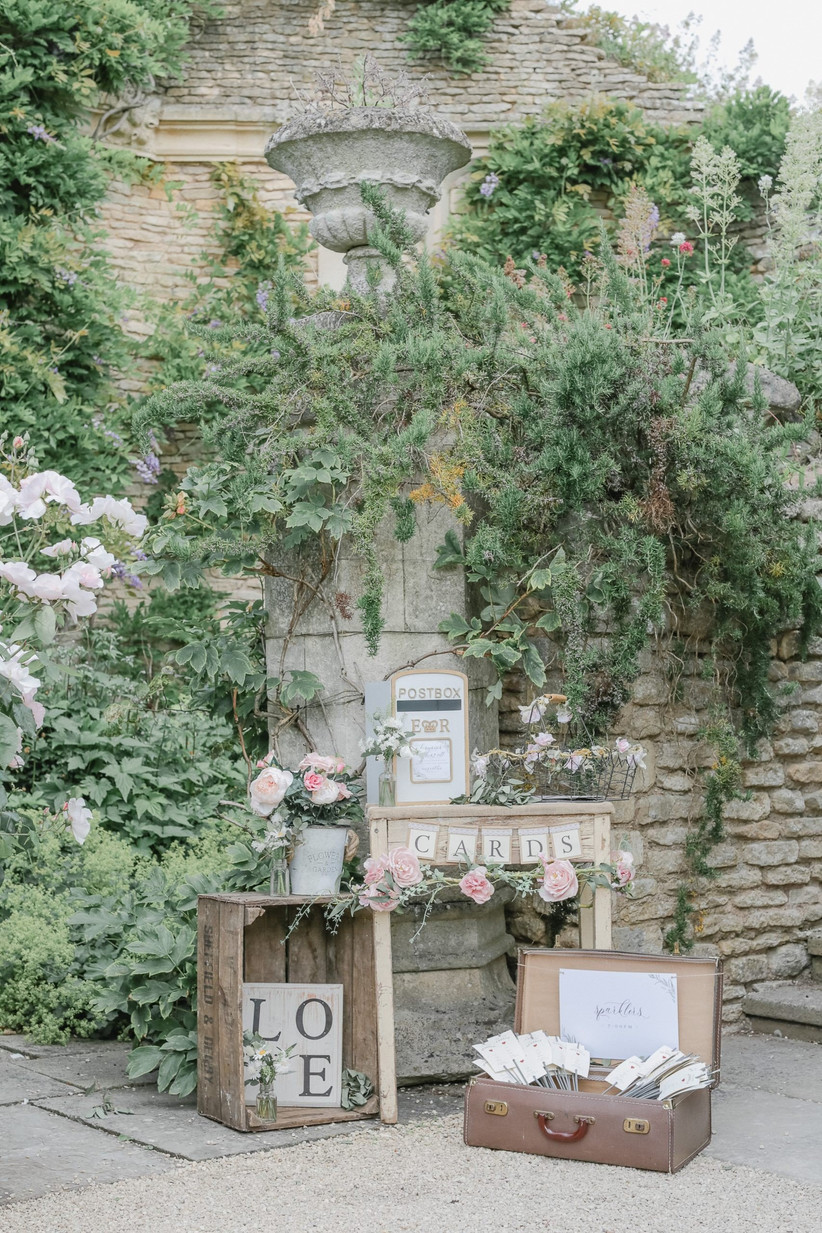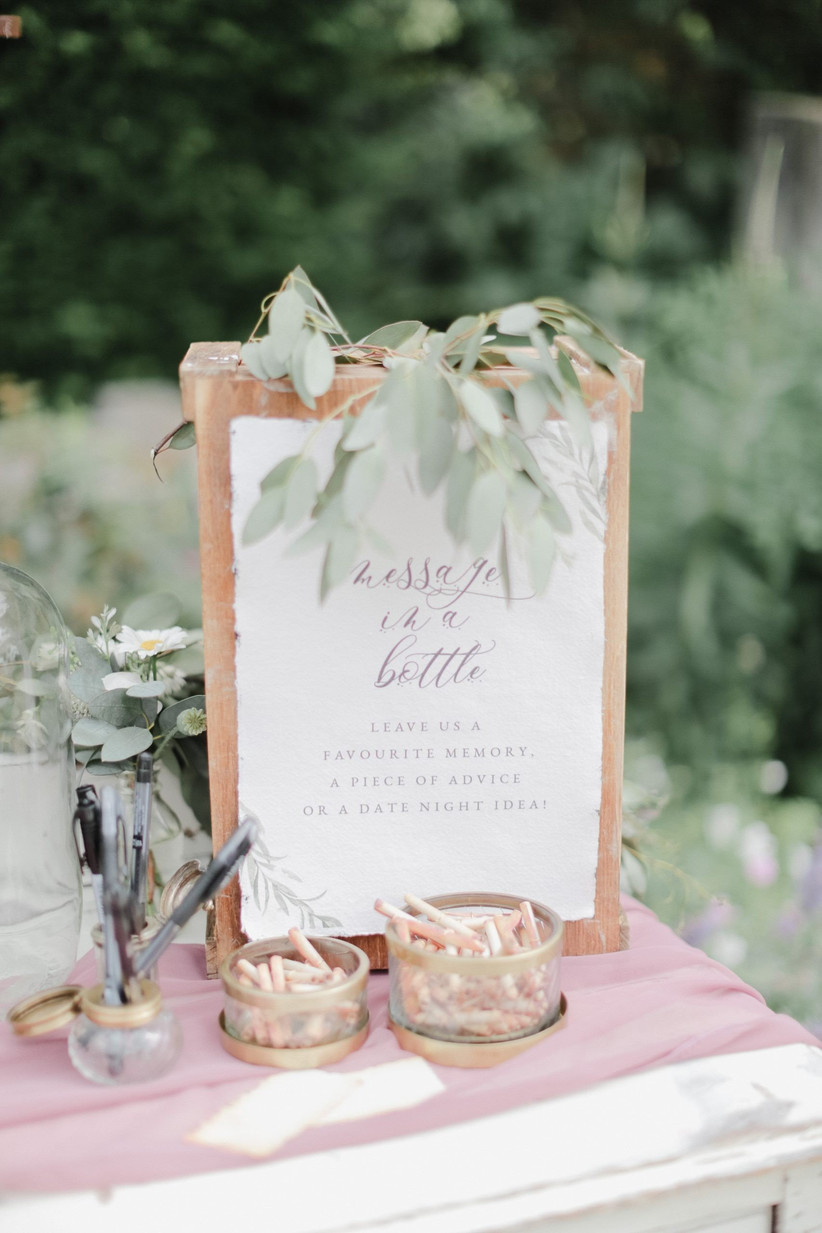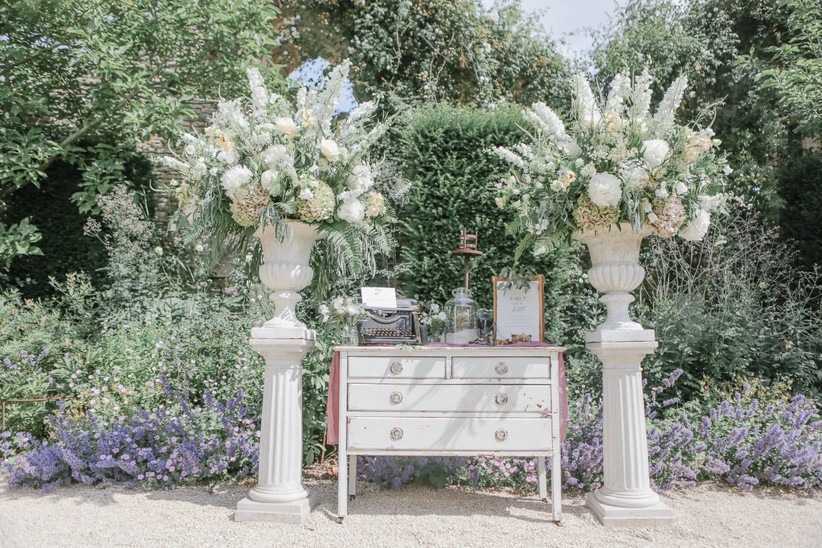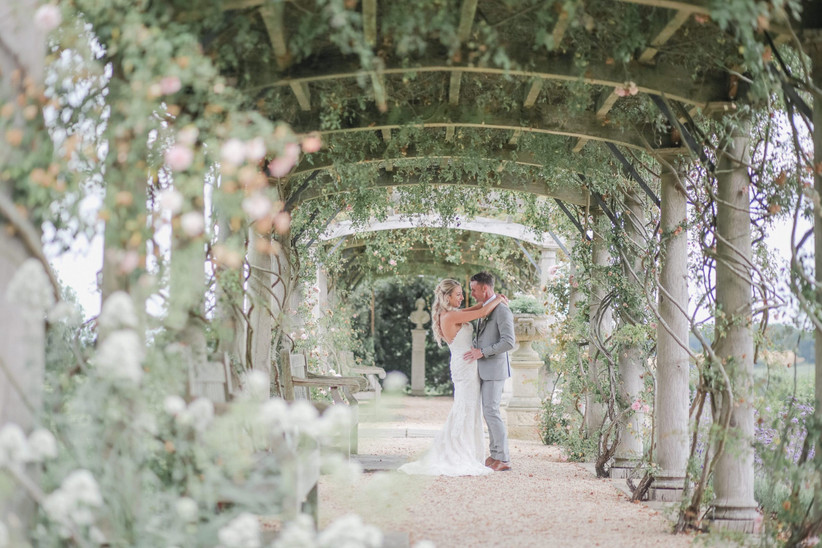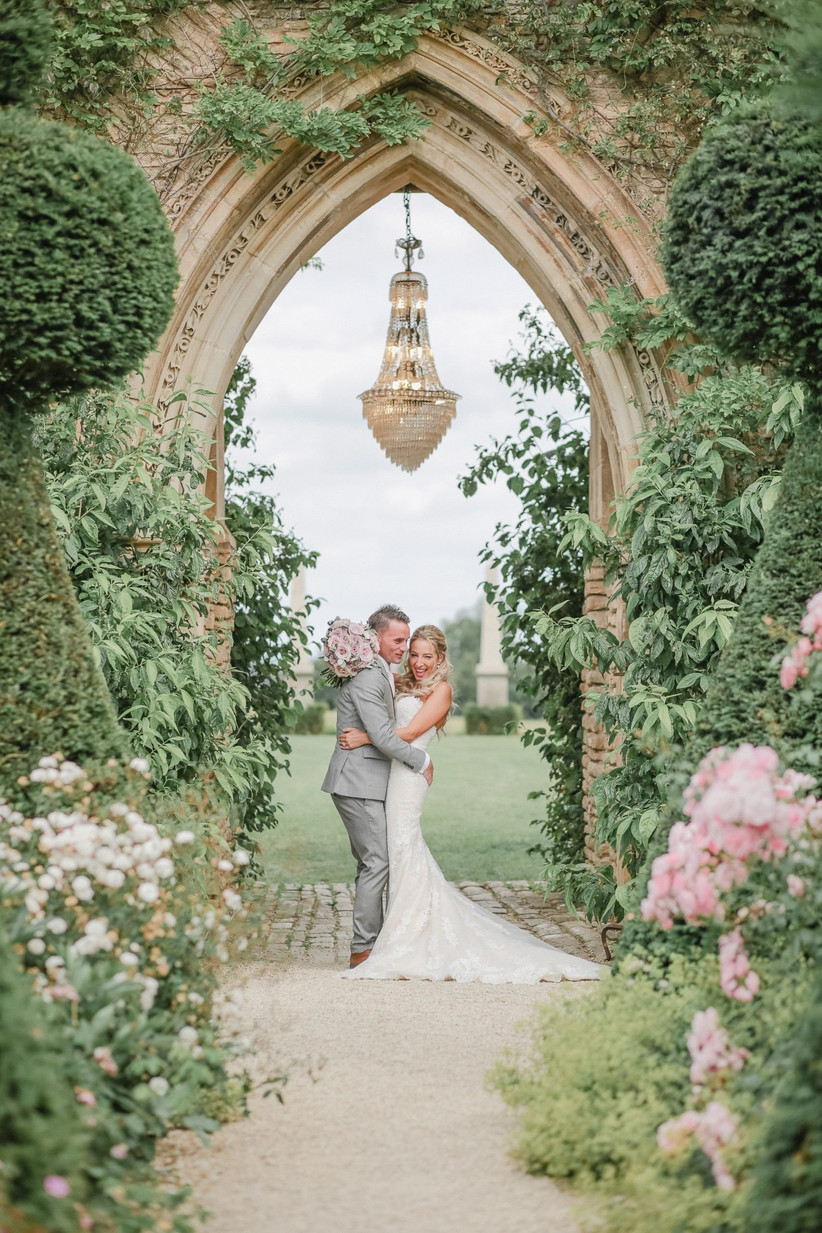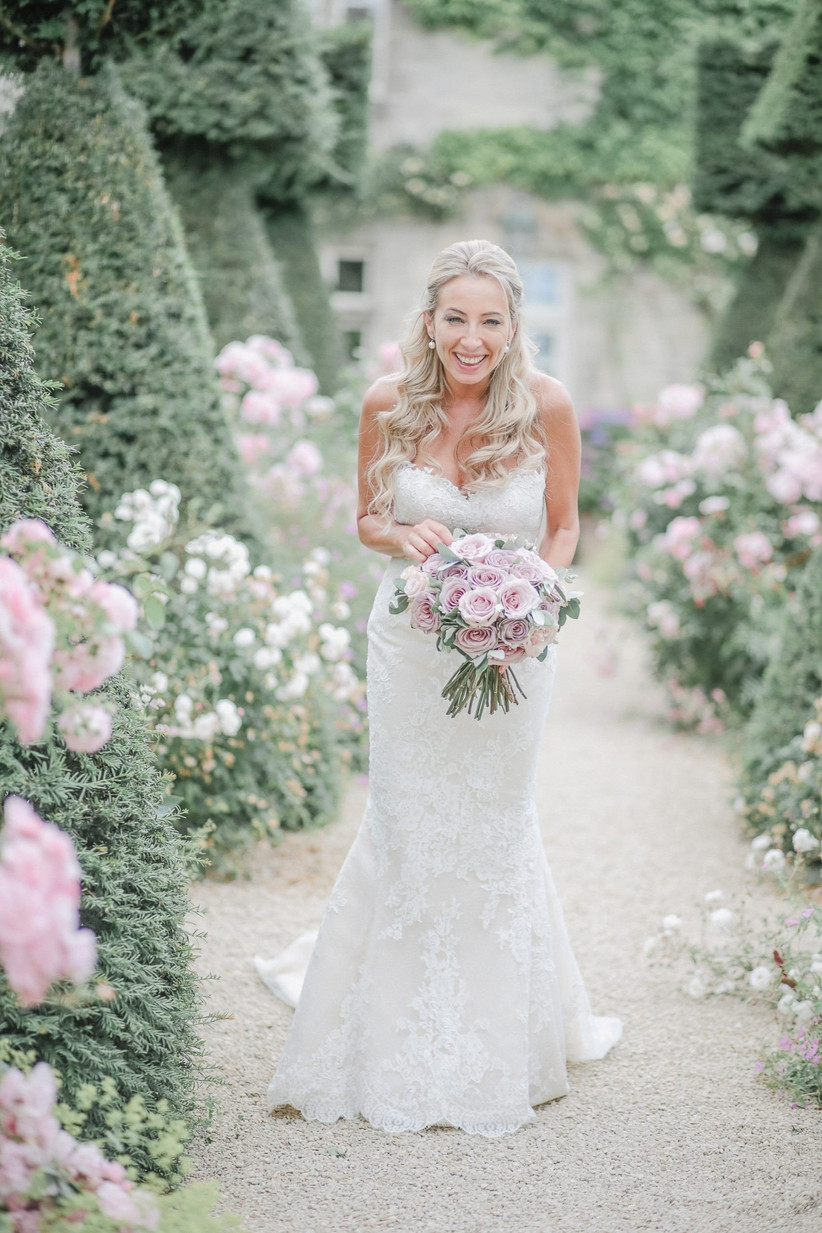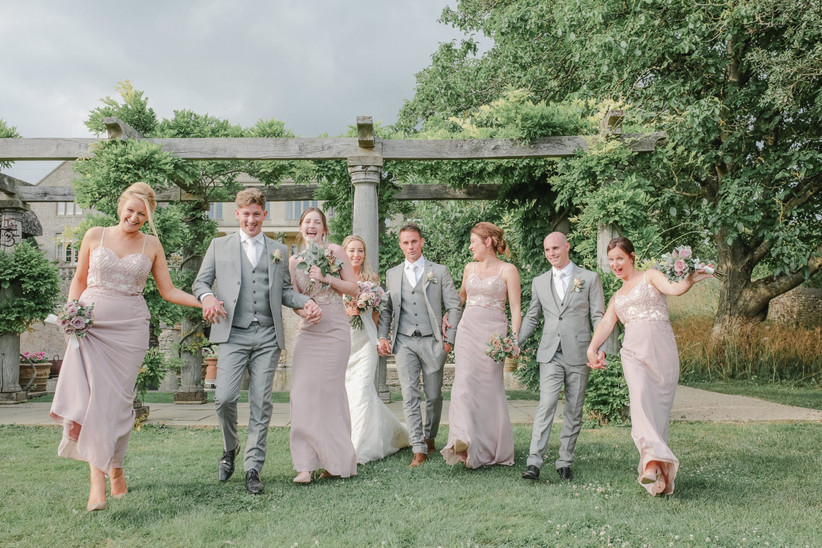 The Wedding Breakfast
When it came to their first meal as husband and wife, Craig knew his bride wanted to serve up something extra special: "Kim is the biggest foodie I know so the food had to be stand-out."
"We used Paul from Tailor-Made Top Nosh and the amount of comments we received regarding the quality of his food was amazing!" Kim said.
"He did a lovely selection of canapés for the drinks reception including rice paper rolls with Cornish crab, coriander and lime; grilled skewers of langoustine wrapped in pancetta and sage; warm cheese beignets; and mini Yorkshire puddings with rare Scotch roast beef and horseradish cream.
"For the wedding breakfast, we wanted table service and for our guests to have a choice of food. So, for starters they had the option of confit duck or Morecambe Bay potted shrimps and smoked salmon; for mains, fillet of Scotch beef with roast shallots and braised beef cheek in a red wine and bone marrow sauce or pan-fried fillet of sea bass with fresh crab and champagne sabayon. A trio of desserts followed, including tarte au citron, Eton mess and chocolate and orange mouse in a chocolate cup, or a selection of cheese, biscuits and chutney."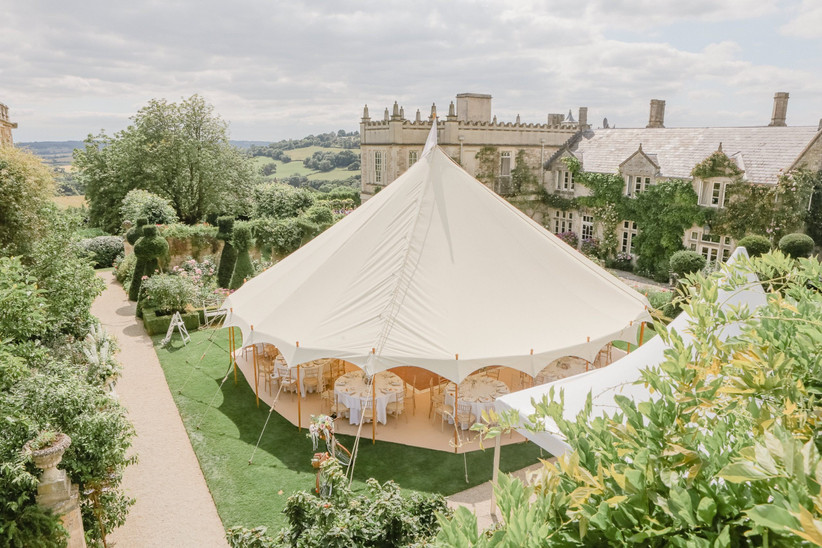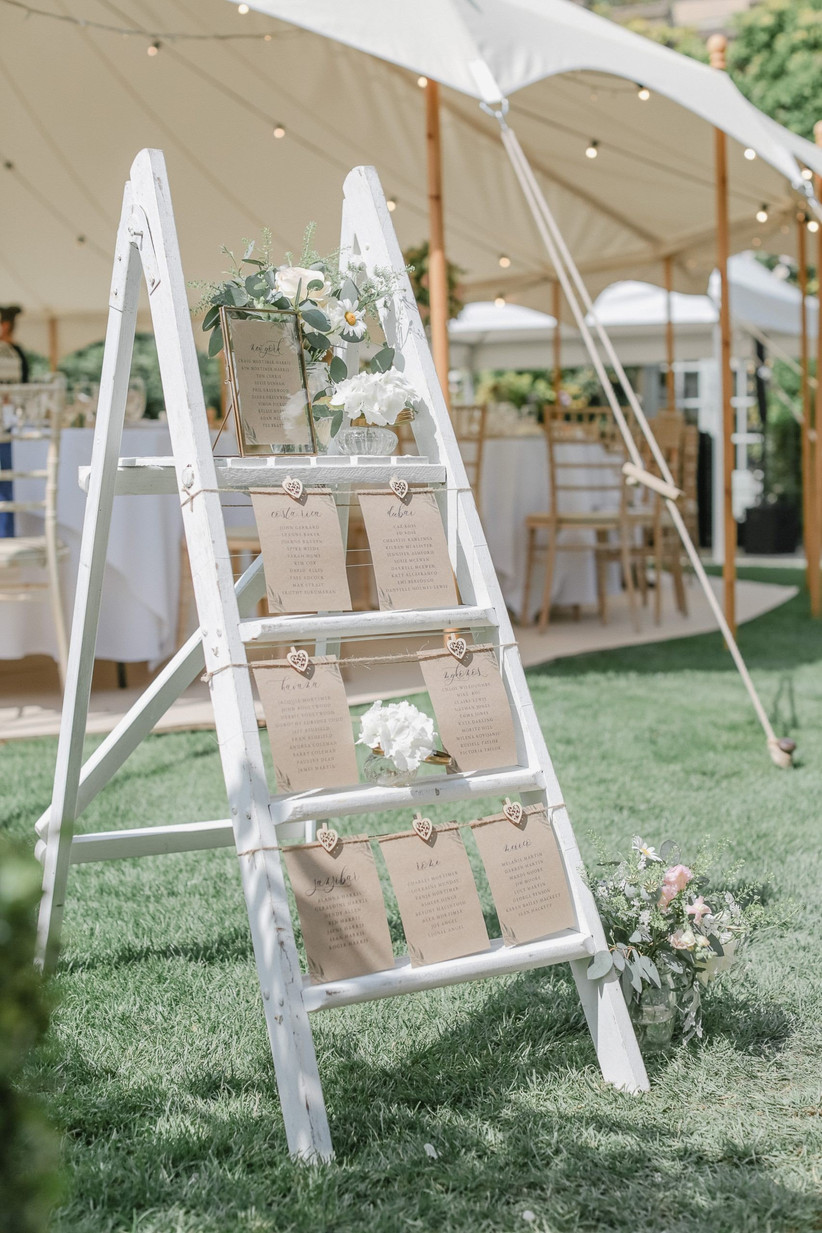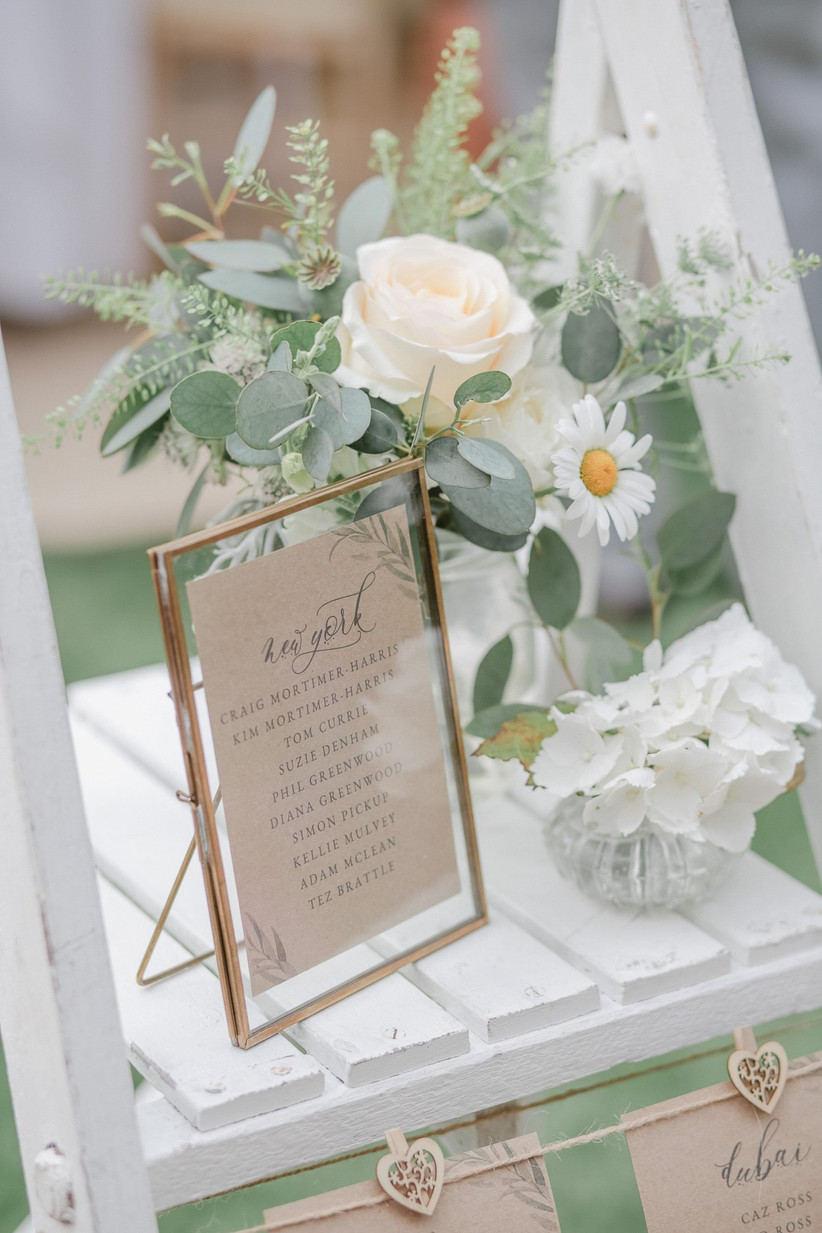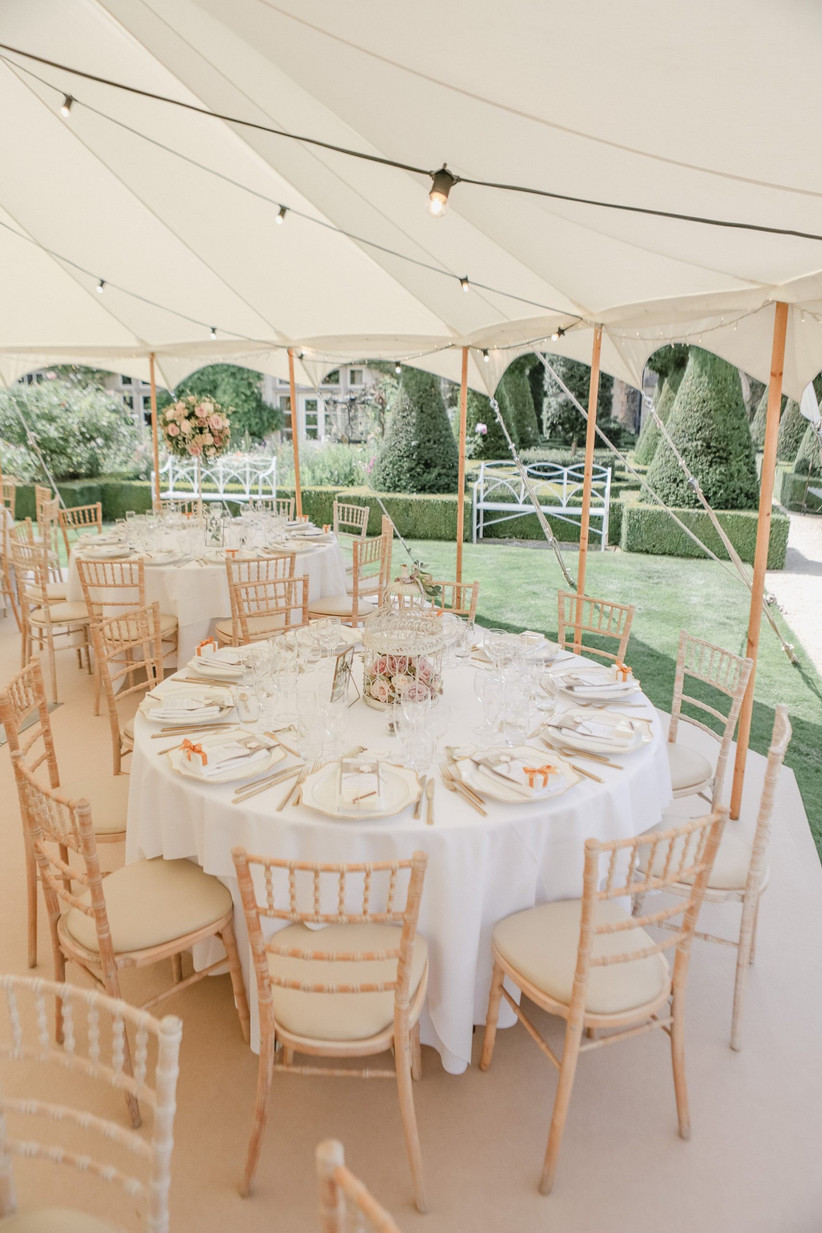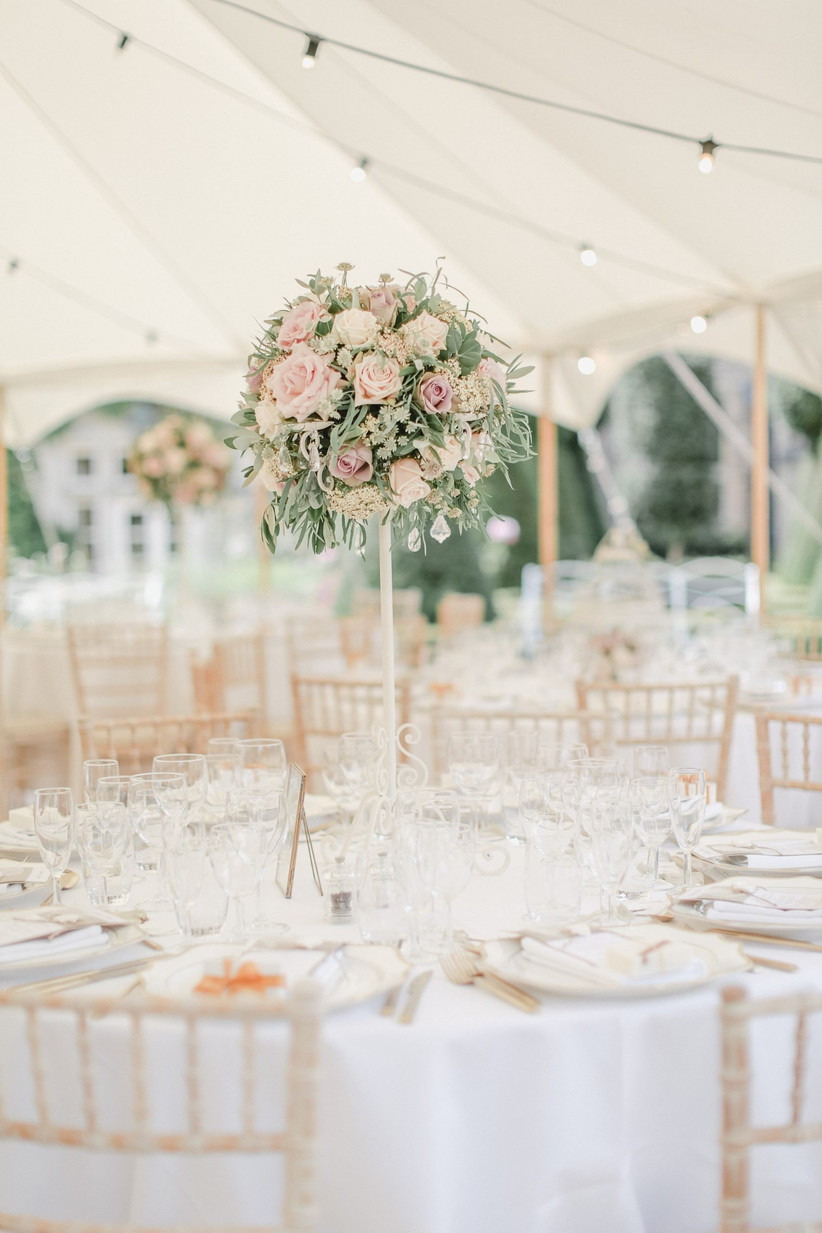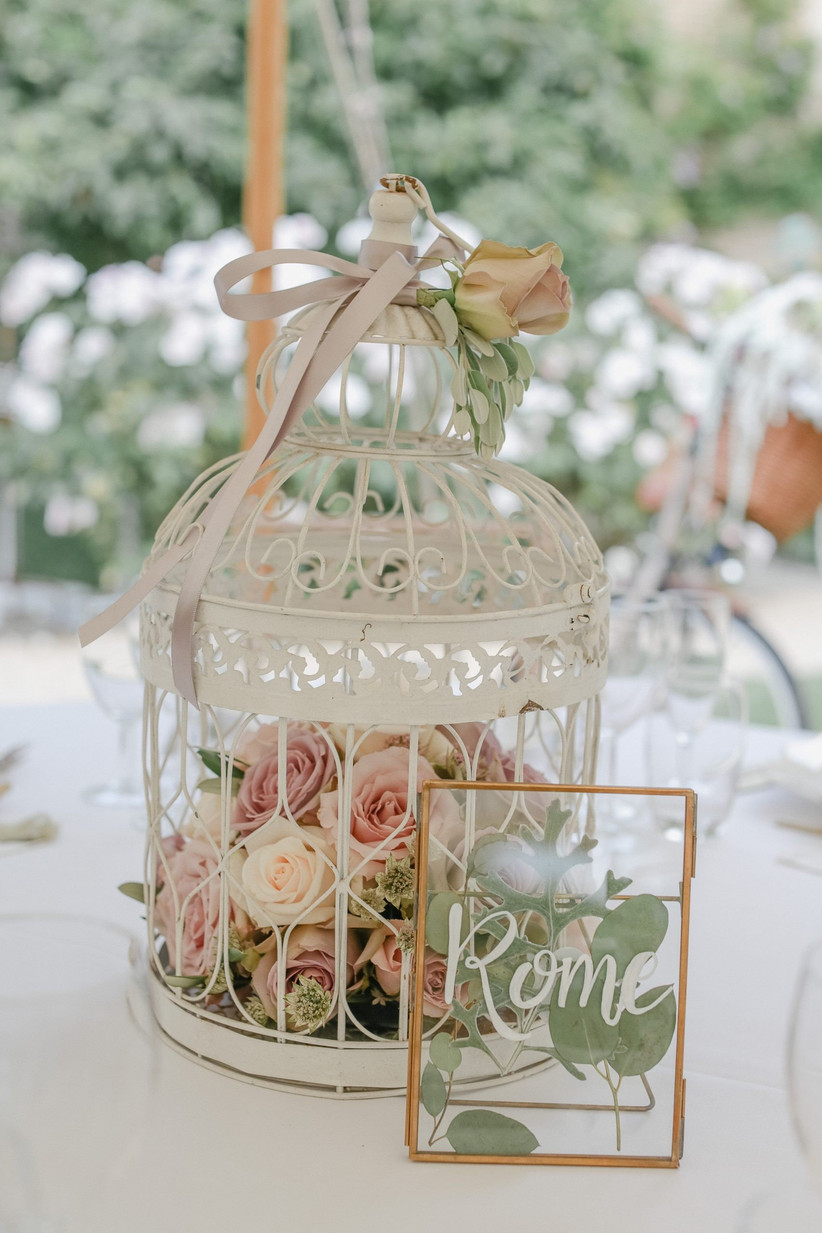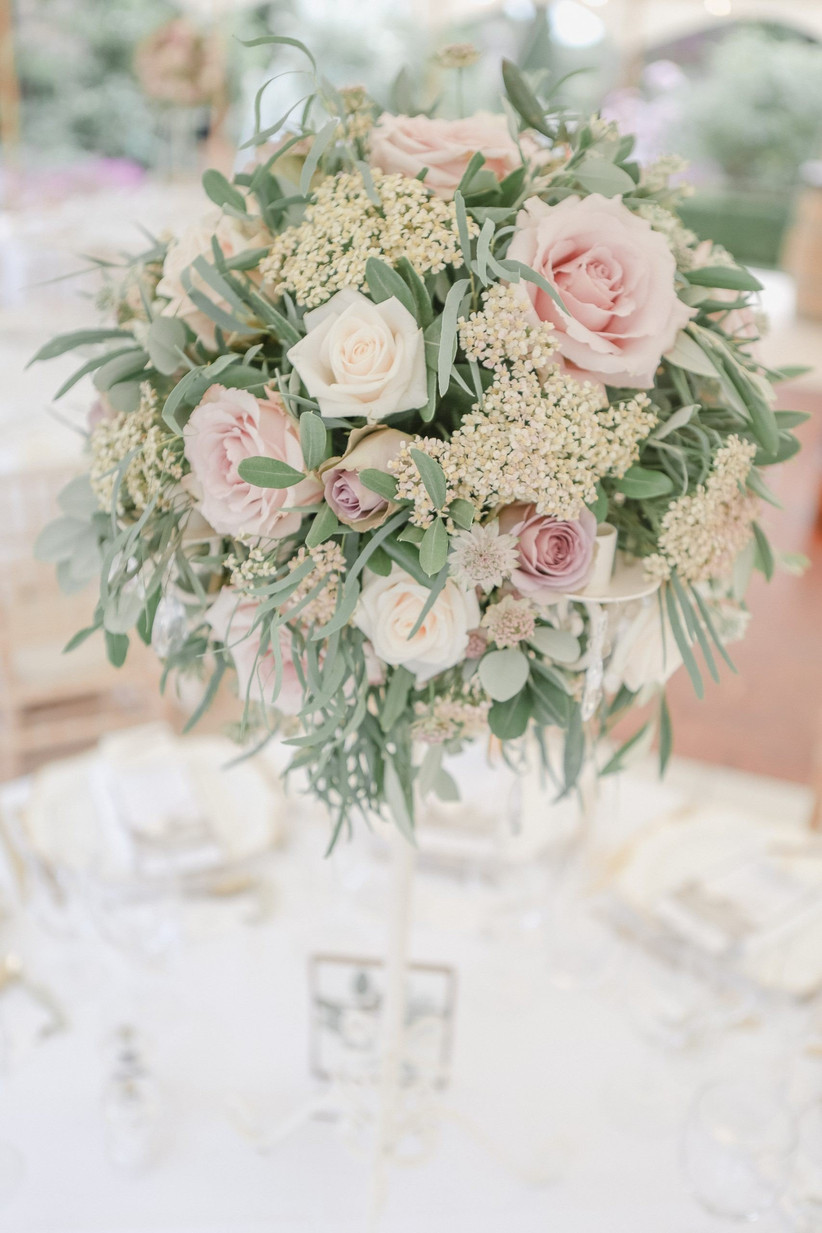 The Wedding Flowers and Cake
Kim selected dusky pink and lilac amnesia vintage roses as her starting point when it came to deciding on the wedding flowers. From there stemmed sage green, cream and gold touches.
"My bouquet was a mix of amnesia and quicksand roses with eucalyptus, the bridesmaids had simple hand-tied posies of amnesia roses with senecio, and the boys had amnesia rose and gypsophila buttonholes.
"We had two large urns in the boathouse with vintage and ivory colours to match the bouquets and simple hydrangea pew ends for the guest seating.
"The table centrepieces were a mix of amnesia and quicksand roses, metalina roses, vendela, hydrangea, astrantia, seed heads, porcelana and herbs. We decided to mix up how the flowers were presented with some tables having rustic cream birdcages filled with flowers and others tall candelabra centrepieces. We used Jill Jeffries, based in Colerne."
The three-tier, semi-naked, drip cake that served as the centrepiece to the stretch-tent reception was crafted by Hannah from Baby Cakes of Bath and finished with a quirky topper sourced by Kim online.
"The decoration was simple, with champagne coloured drip on alternate sides of the tiers and decorated with amnesia and quicksand roses. Each tier was a different flavour which we hoped would please everyone.
"The flavours were zesty lemon sponge drizzled with homemade lemon syrup and lemon buttercream, elderflower drizzle cake with buttercream, and orange sponge with zesty orange syrup and orange flavoured buttercream. Each tier was completed with a layer of white chocolate ganache – a last-minute addition I'm glad we added!
"The cake was displayed on a wine barrel on a chunky wooden cake stand and topped with a cute personalised wooden cake topper that was made by a lady I found through Etsy."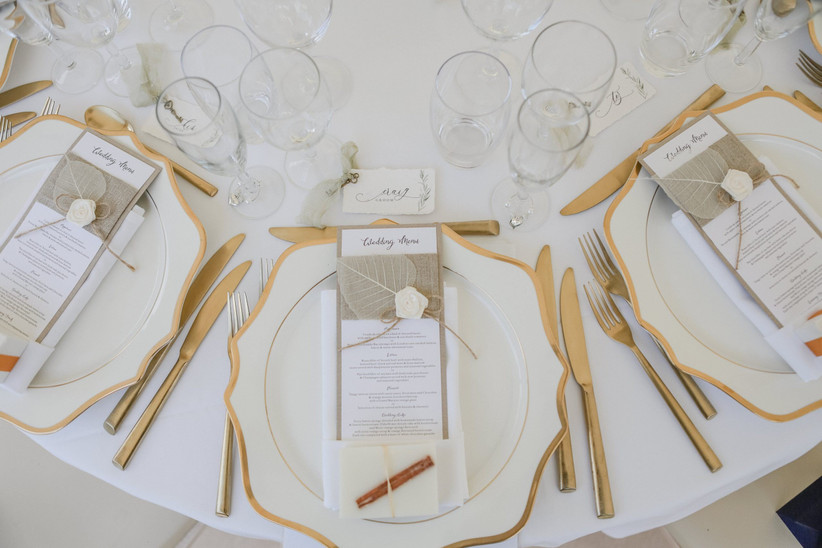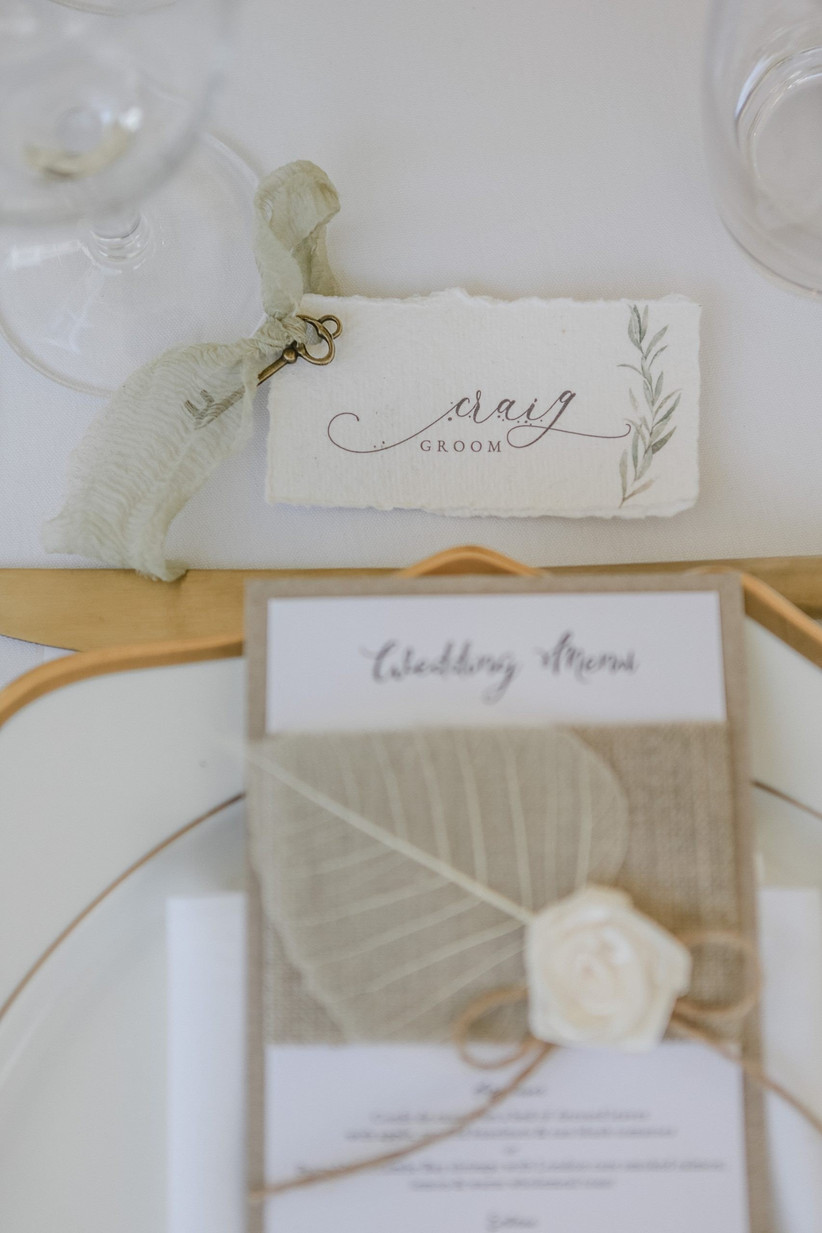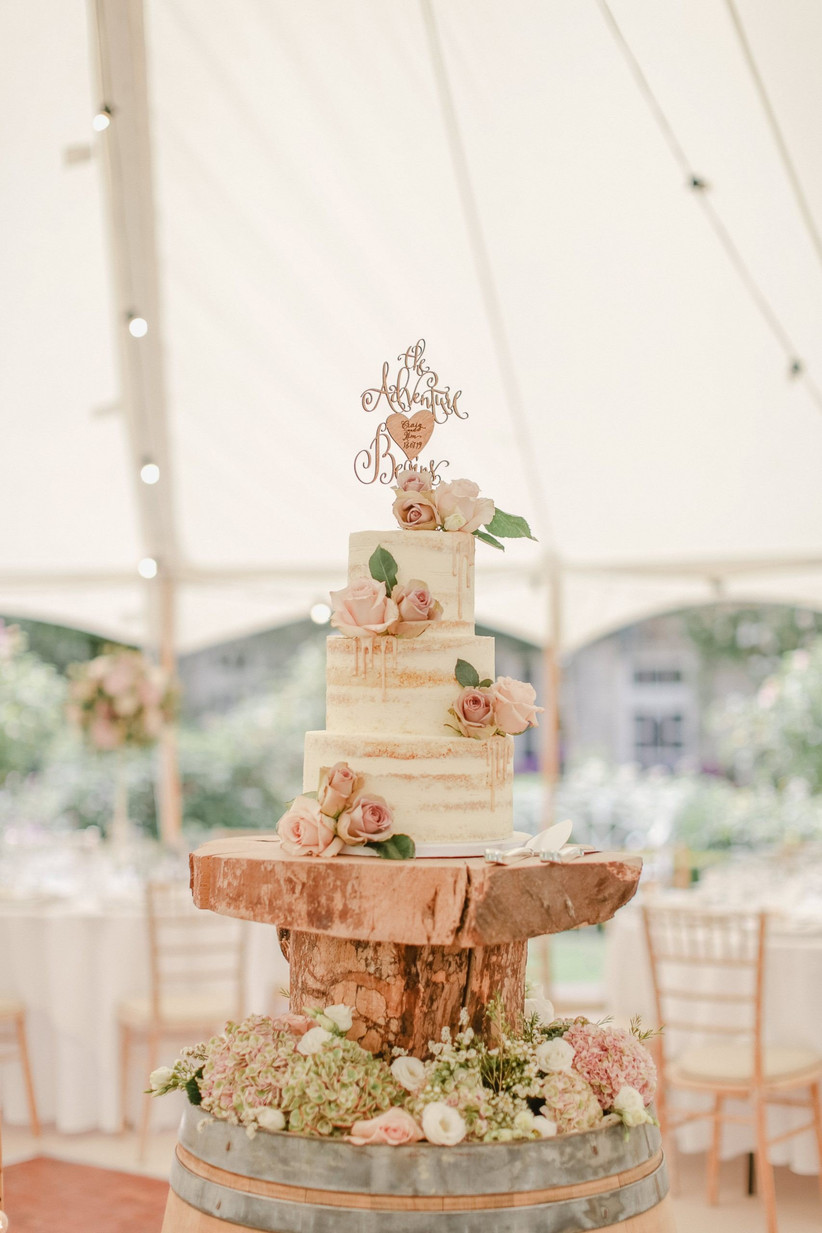 The Décor and Special Touches
Kim was bursting with ideas when it came to adding extra props and décor to the venue and was delighted when she came across Laura at Lulabee.
"Laura was a godsend supplying and setting up all of the props so beautifully! She also did all of the personalised messages on our displays, and the place names and table plan cards.
"We did not want the traditional guest book so instead went for a 'message in a bottle' display. We used a shabby chic dresser with a vintage typewriter called Martha which worked really well.
"As we could not transport presents back on the plane, we asked guests not to bring gifts, but we used a cute cream vintage post box for the cards which was set up on a table with a crate and flowers, together with the vintage suitcase for the sparklers."
Laura also prepared the table names, each named after holiday destinations the couple had been to, including that first trip together in the early days and their honeymoon destinations.
On the tables were the wedding guest favours: honey and cinnamon handmade soaps from Holly Jade and Godiva chocolates.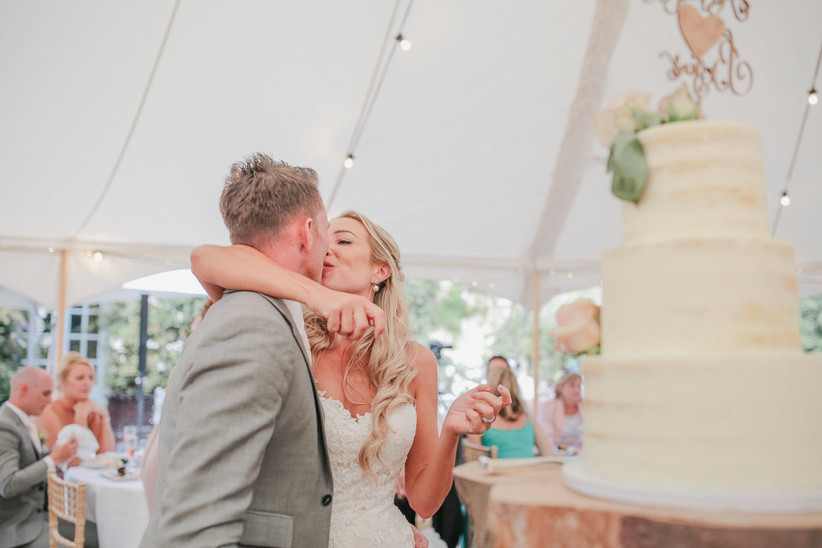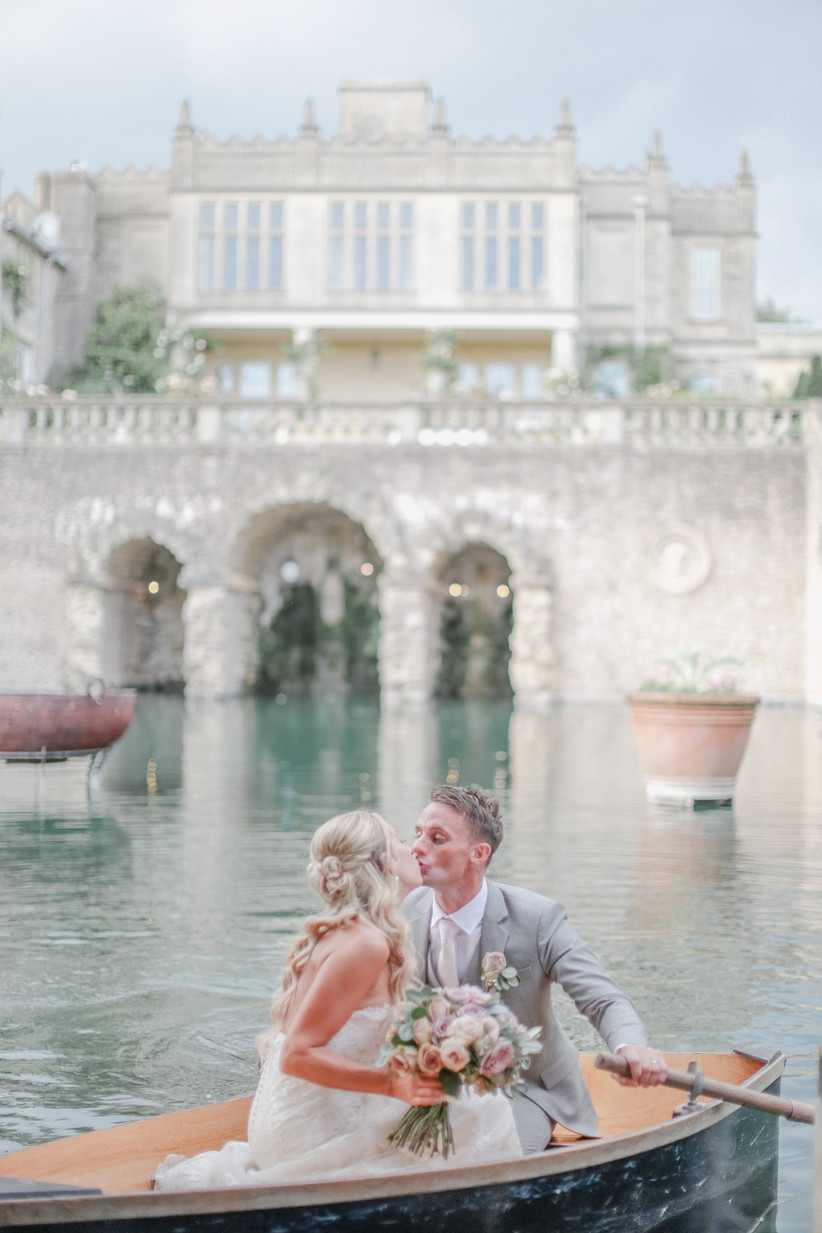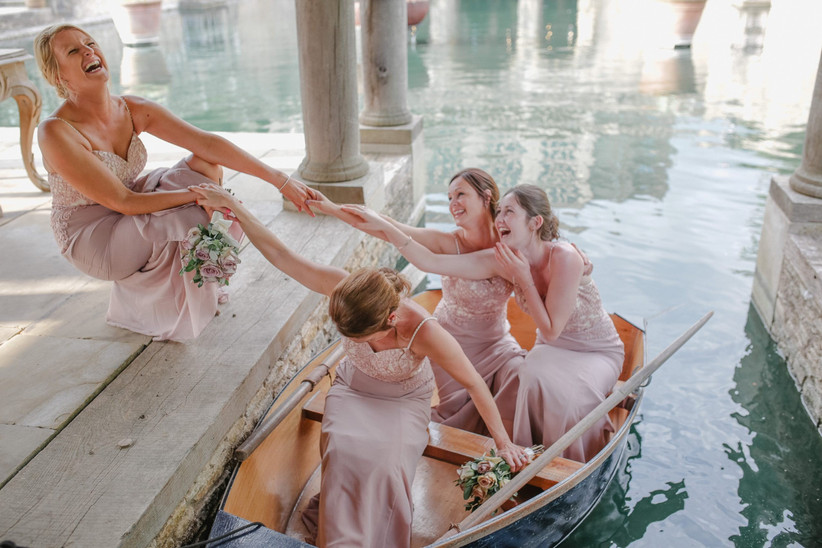 The Entertainment
"We both love music so that was an integral part of the day," explained Craig.
"We booked a DJ for the whole day so there was music from the moment guests arrived until the end of the night. We had jazz for arrival drinks; chill out house for our drinks reception; Motown for the wedding breakfast; followed by the The Swinging Little Big Band who did two fantastic sets of various covers and, in the evening, we ramped it up with commercial house music."
Although dancing was a huge part of their day, Craig recalled a last-minute decision to abandon the traditional first dance and instead invite everyone to get down to a classic.
"The plan was to do a dance from Dirty Dancing but even though we had had a few salsa classes we had not practised the routine and about ten minutes before we were due to do the first dance we decided to instead invite everyone onto the dance floor to join us to Whitney Houston's I Want to Dance with Somebody – saving us the embarrassment of a train wreck of a first dance! It worked really well."
The Suppliers
Photographer: Helen Russell
Wedding Planner: Charlotte Elise Weddings & Events
Venue: The Lost Orangery at Euridge Manor
Wedding Dress: Pronovias from The Pantiles Bride
Bridal Accessories: Chanel and Valentino
Bridesmaid Dresses: Ocean Bride
Entertainment: The Swinging Little Big Band
Favours: Holly Jade and Godiva
Catering: Tailor-Made Top Nosh
Florist: Jill Jeffries
Cake: Baby Cakes of Bath
Stationery: Margo & Bees and Lulabee
Venue Styling: Lulabee
Thank you Kim and Craig for sharing your beautiful day with us!