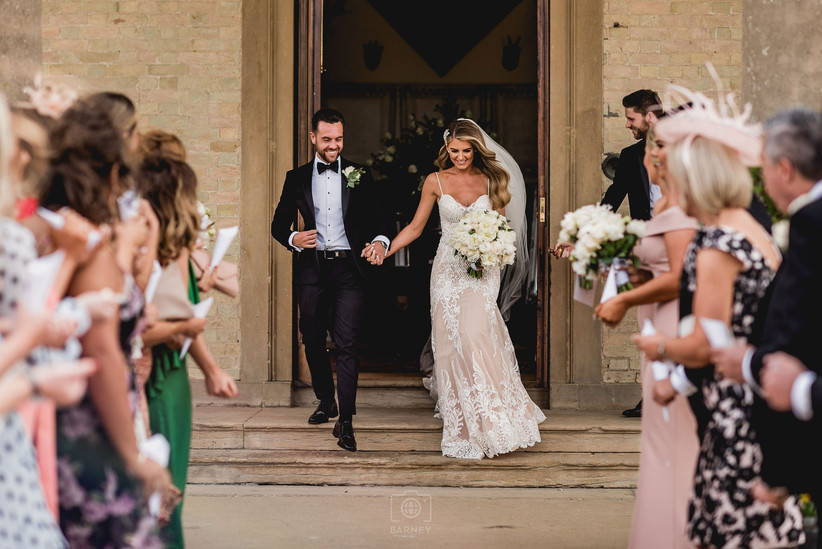 Sophie and Luke's lavish Spring wedding day was serious #weddinggoals. The day began with some of the most glamorous bridal squad preparations Hitched has ever seen and ended with the bride and groom walking through a tunnel of sparklers, waved by their guests – a fitting end to their day considering how they first met.
"Luke and I met on fireworks night, I was 15 and Luke was 16! So, we have been together for over 10 years now. I messaged Luke after seeing him at a gathering at a friend's house, we were messaging for a while and the rest is history!"
Nine years later Sophie and Luke had moved into their first home together and, on the day of their anniversary, Luke planned the ultimate surprise. "It was our nine-year anniversary and Luke said he had arranged a surprise for me in the evening but that I needed to be out of the house all day. So I arranged to go shopping with my mum, 5pm came and I arrived home, opened the door and Ed Sheeran's Perfect was playing, the hallway was covered in candles and petals, I walked down slowly (crying my eyes out!) to find Luke standing in the kitchen dressed smart in a shirt and trousers. The kitchen was filled with candles, fairy lights, flowers, petals – the lot! He expressed his love for me in a few sentences and then got down on one knee!
"The tears kept coming and once I saw the ring I cried even more, it was everything I'd dreamed of and more. After our little moment, we went to the local pub where Luke had arranged for all our family to be there to celebrate. We then went onto the Ivy for dinner. It was just perfect!"
Just under a year and a half later, Sophie and Luke became Mr and Mrs Butler in a romantic ceremony at Stubton Hall.
Photographer: Barney Walters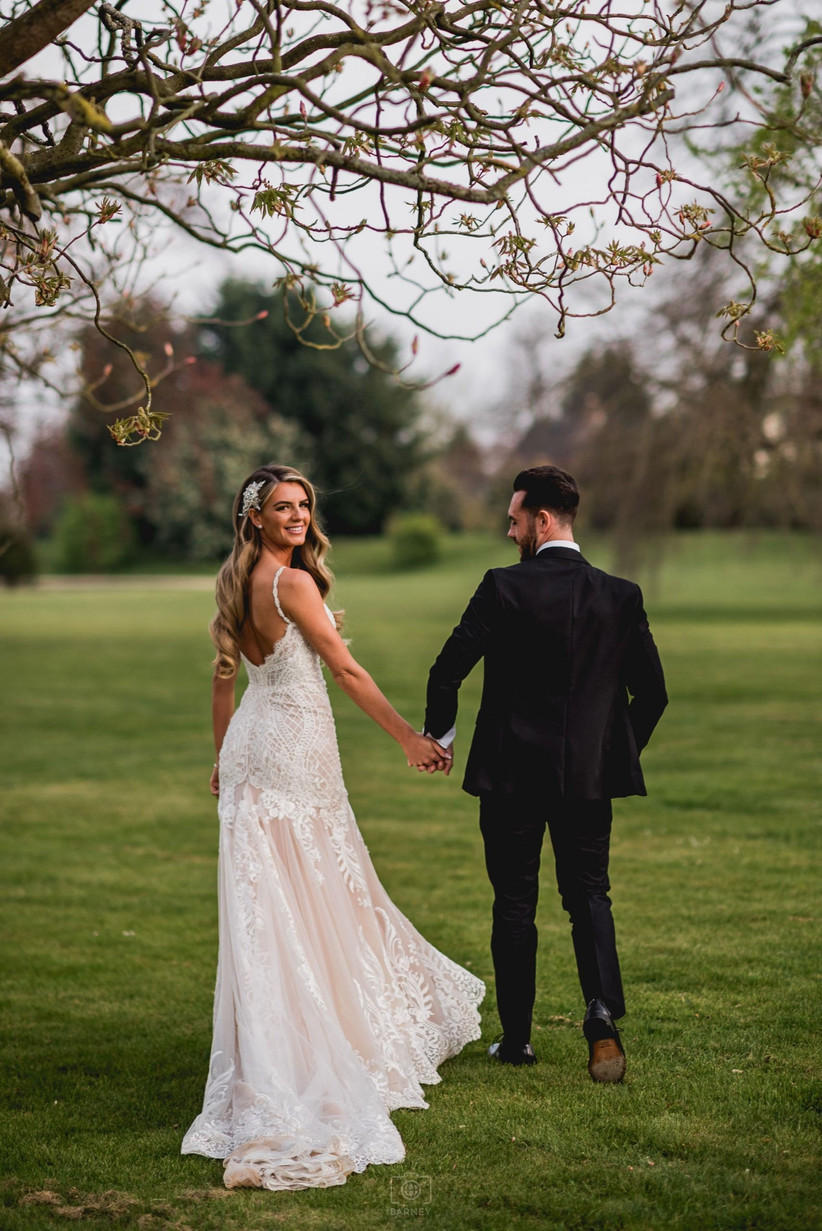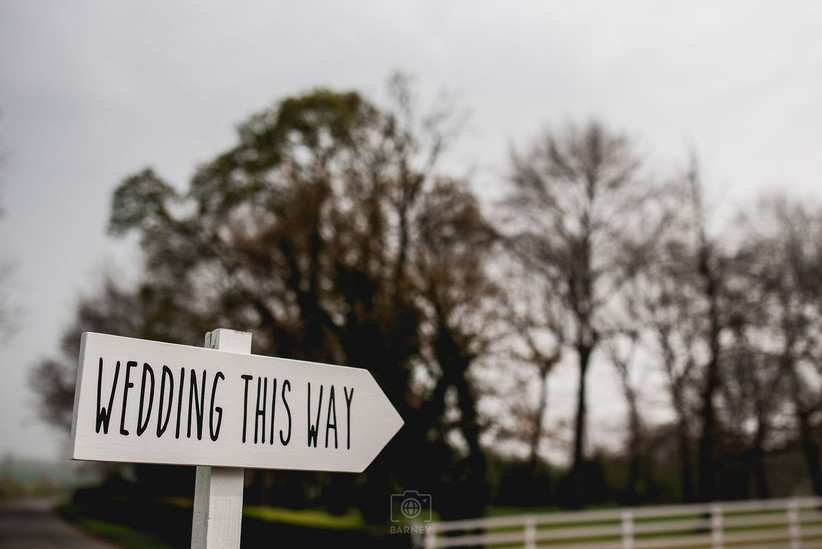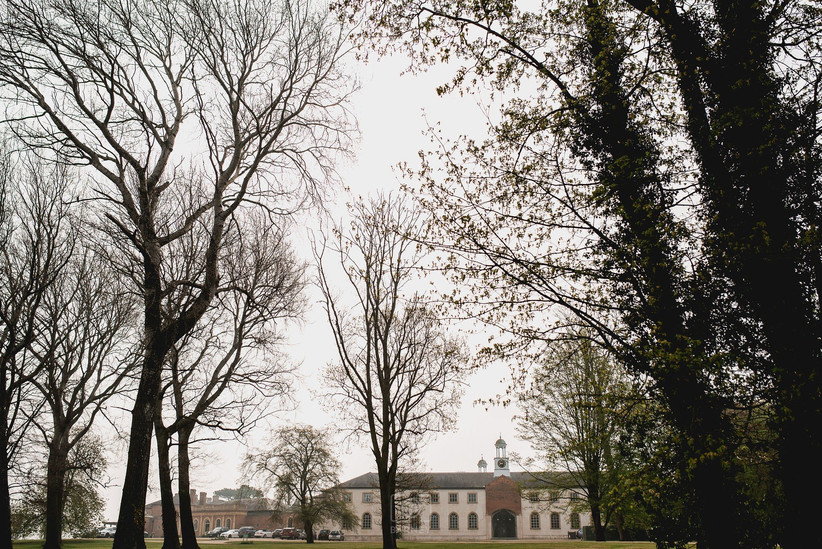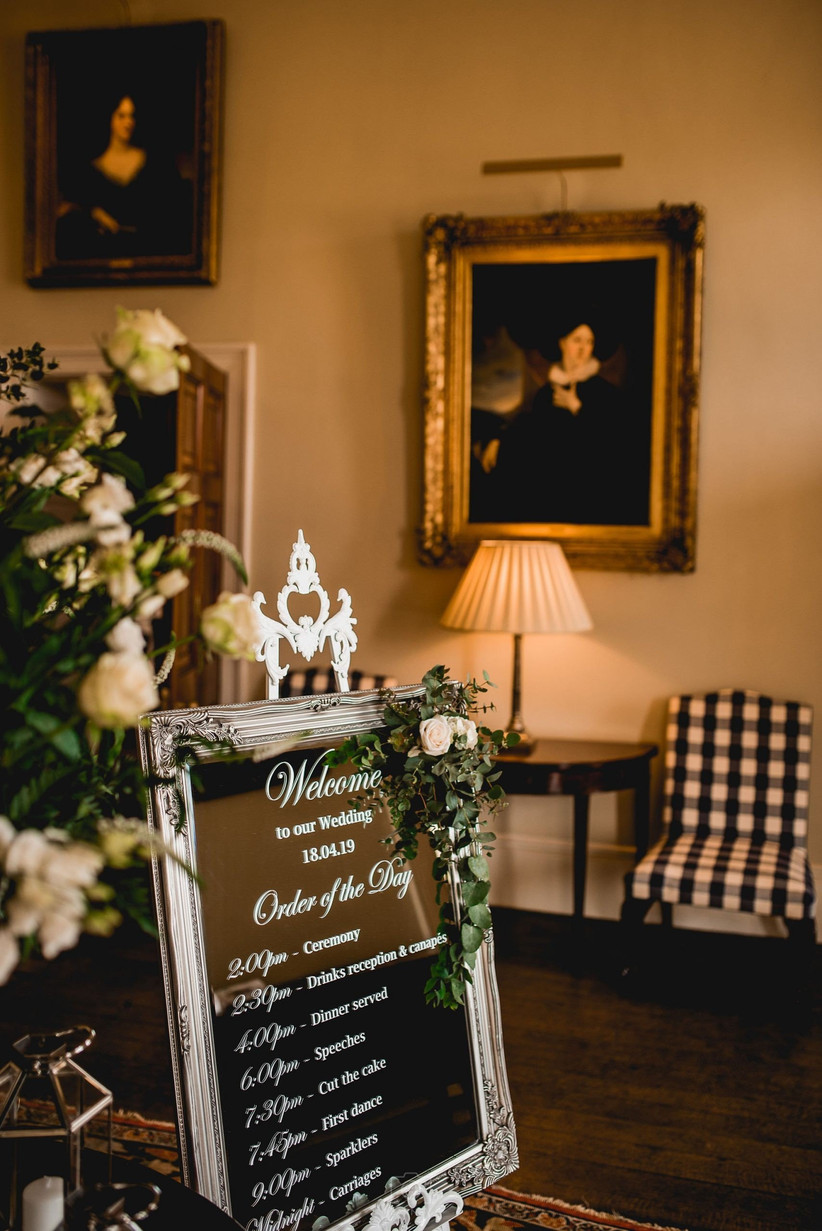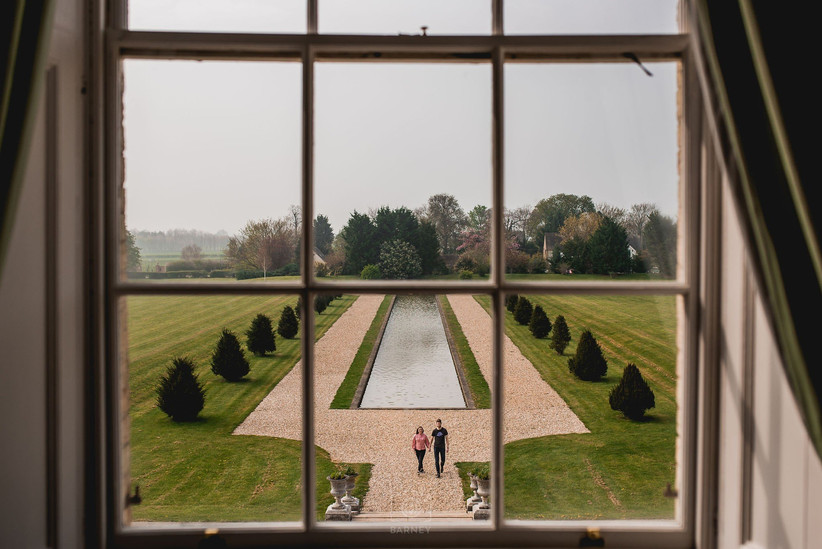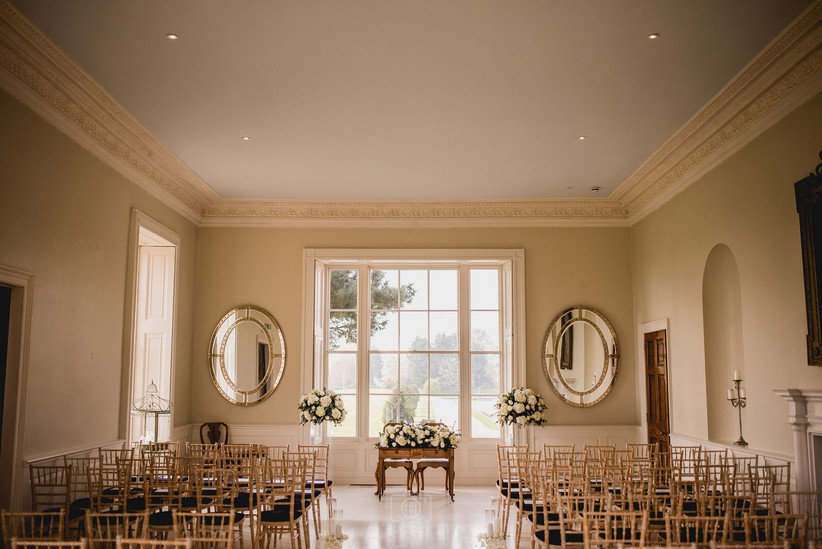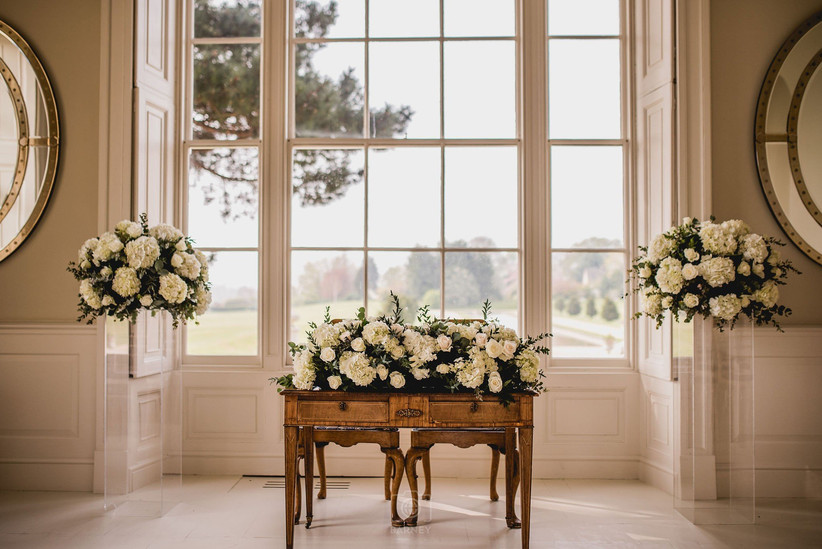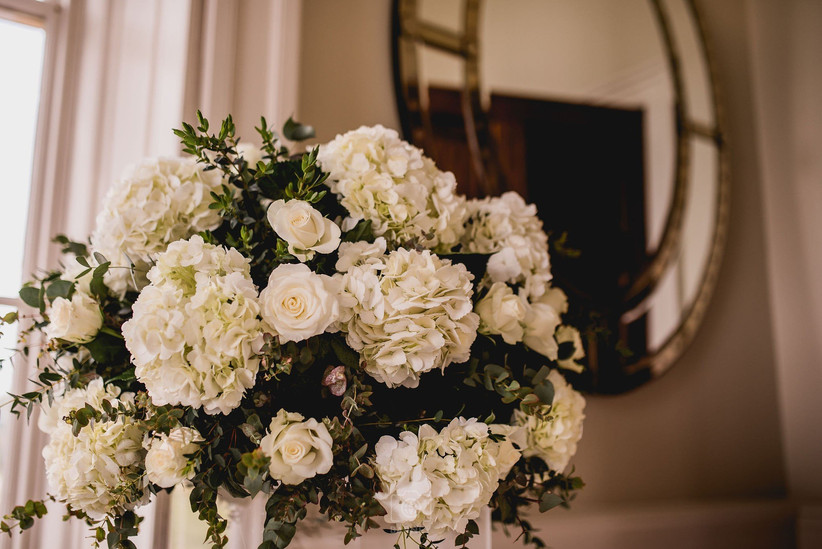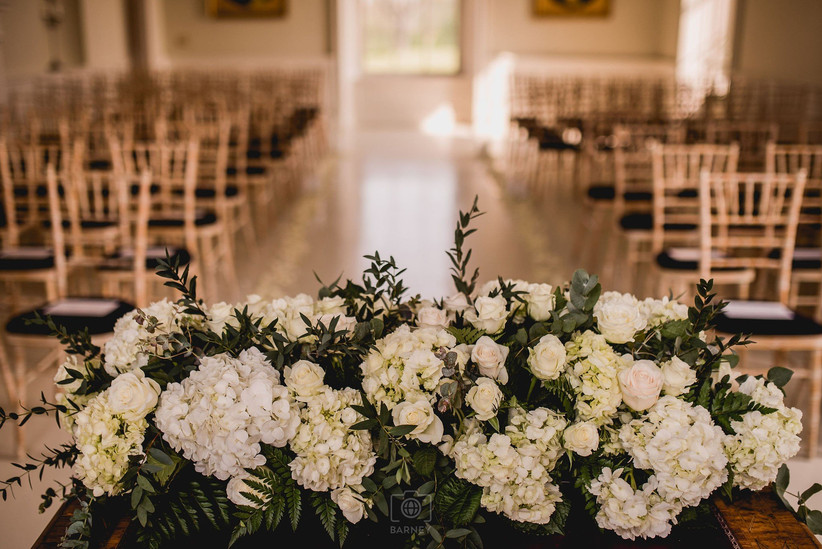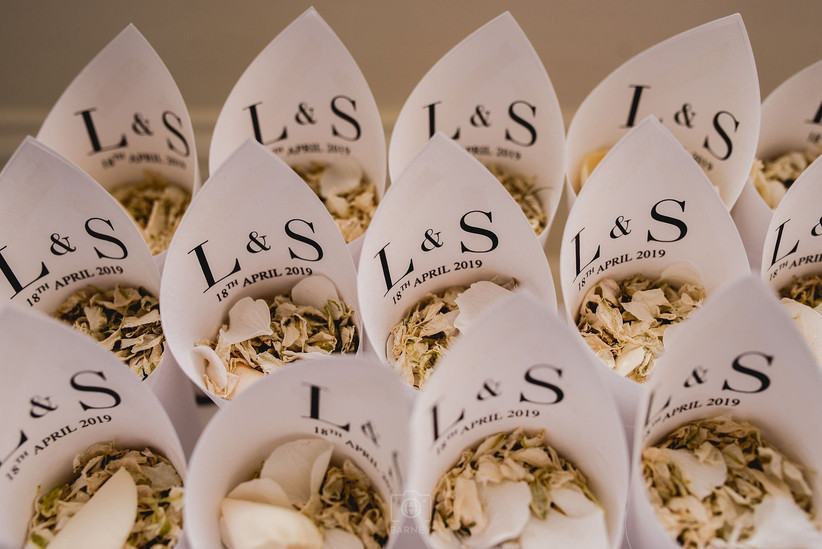 The Wedding Dress
Sophie's show-stopping Calla Blanche wedding dress was purchased from Morgan Davies and personalised especially for the bride.
"The dress was ivory with a nude undertone, heavily embroidered with lace. Fitted from the bodice to over the bum and then flared out with a long lace train. I lowered the back to the dress as originally it had a straight back, I also altered the section over the bum, bringing it up more to a triangle to flatter my bum even more. I also added embellished straps."
Sophie accessorised her dress with a full-length veil, handmade hairpiece from Botias and stud diamond earrings.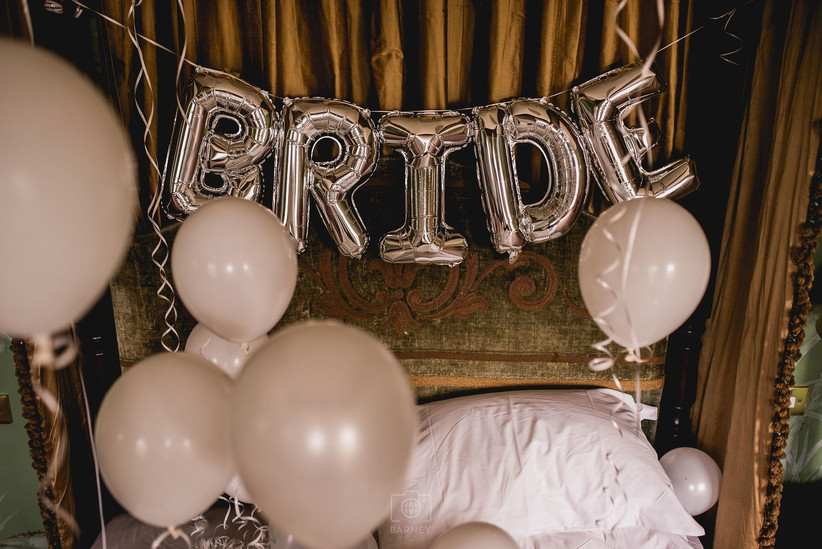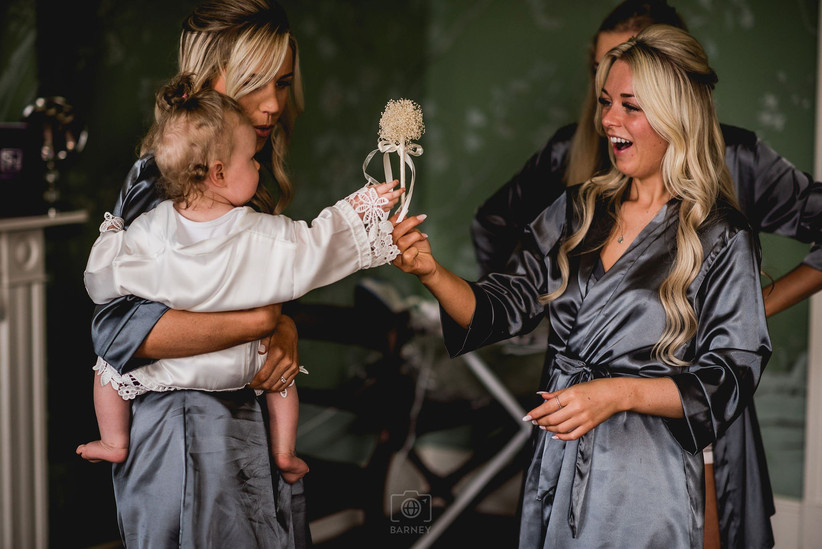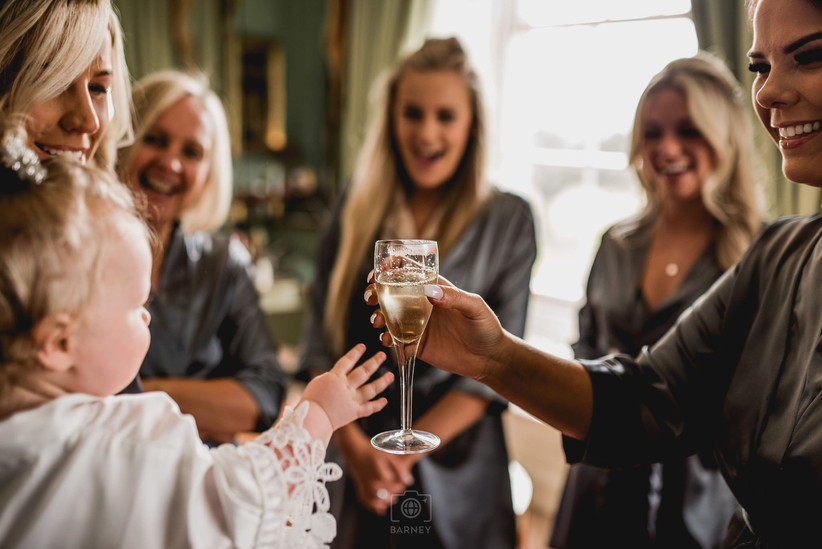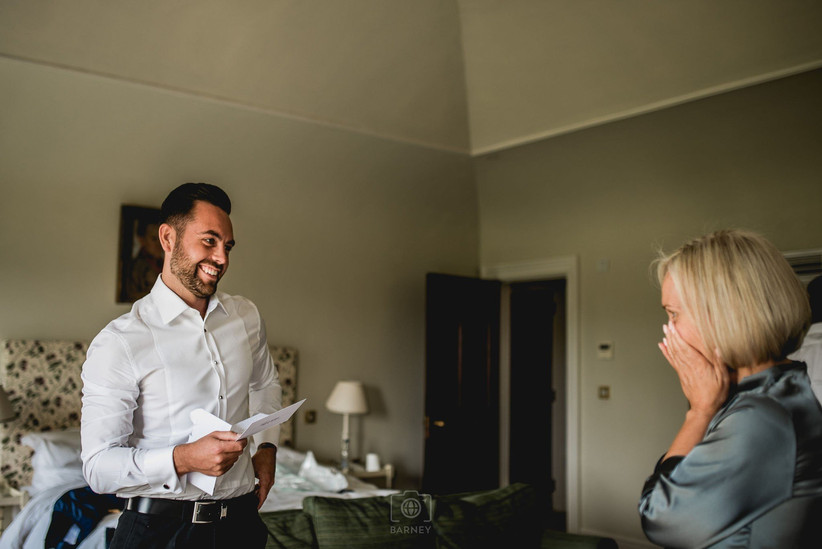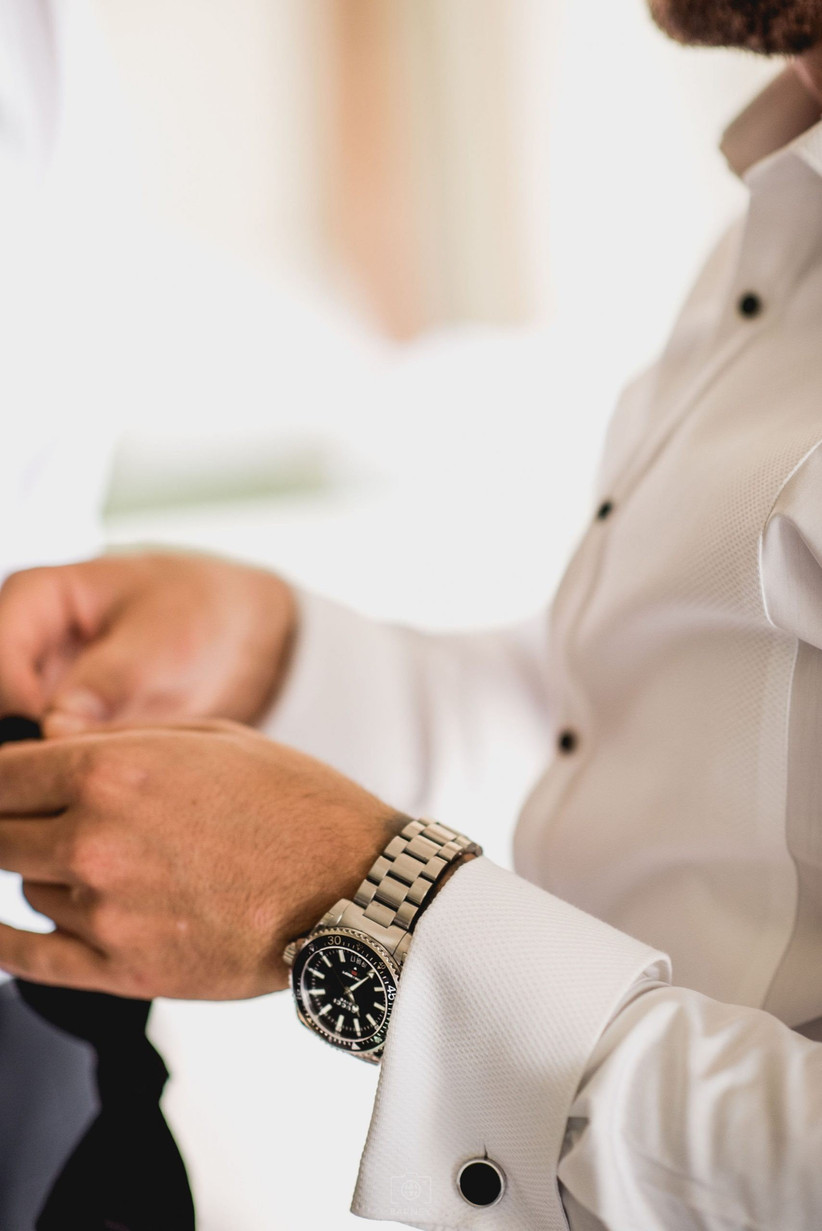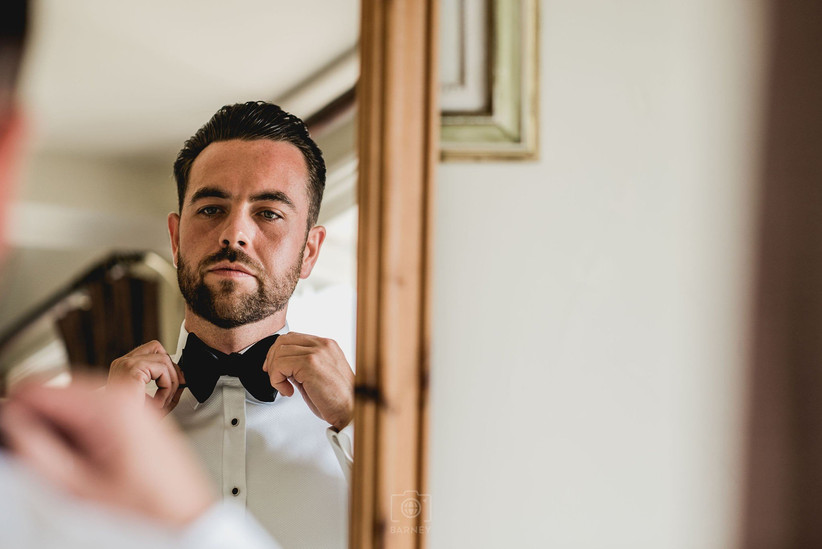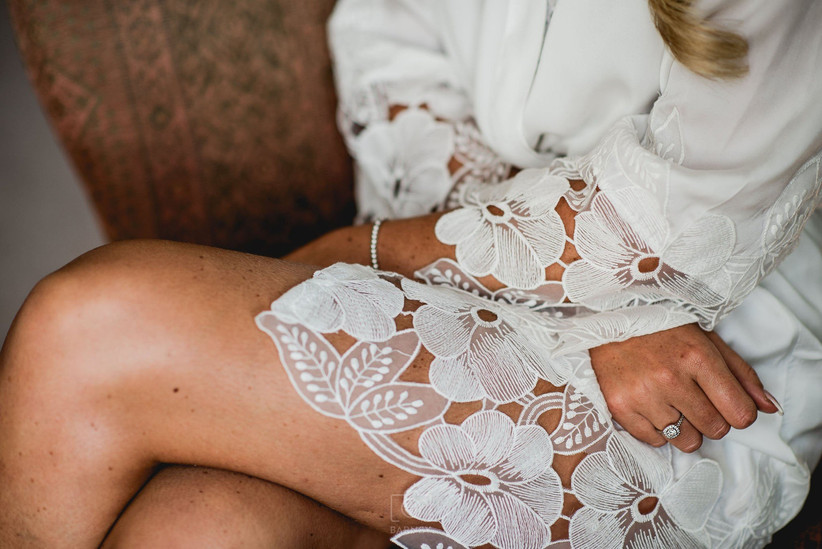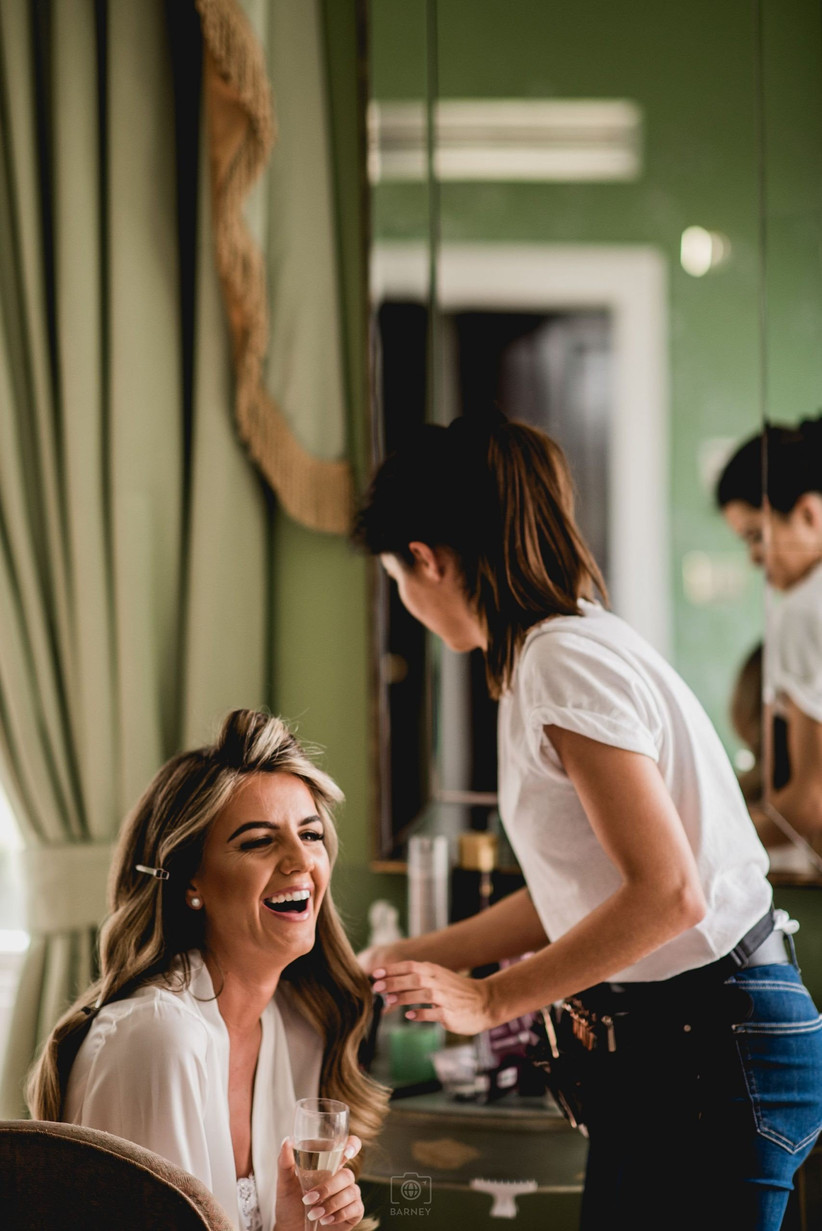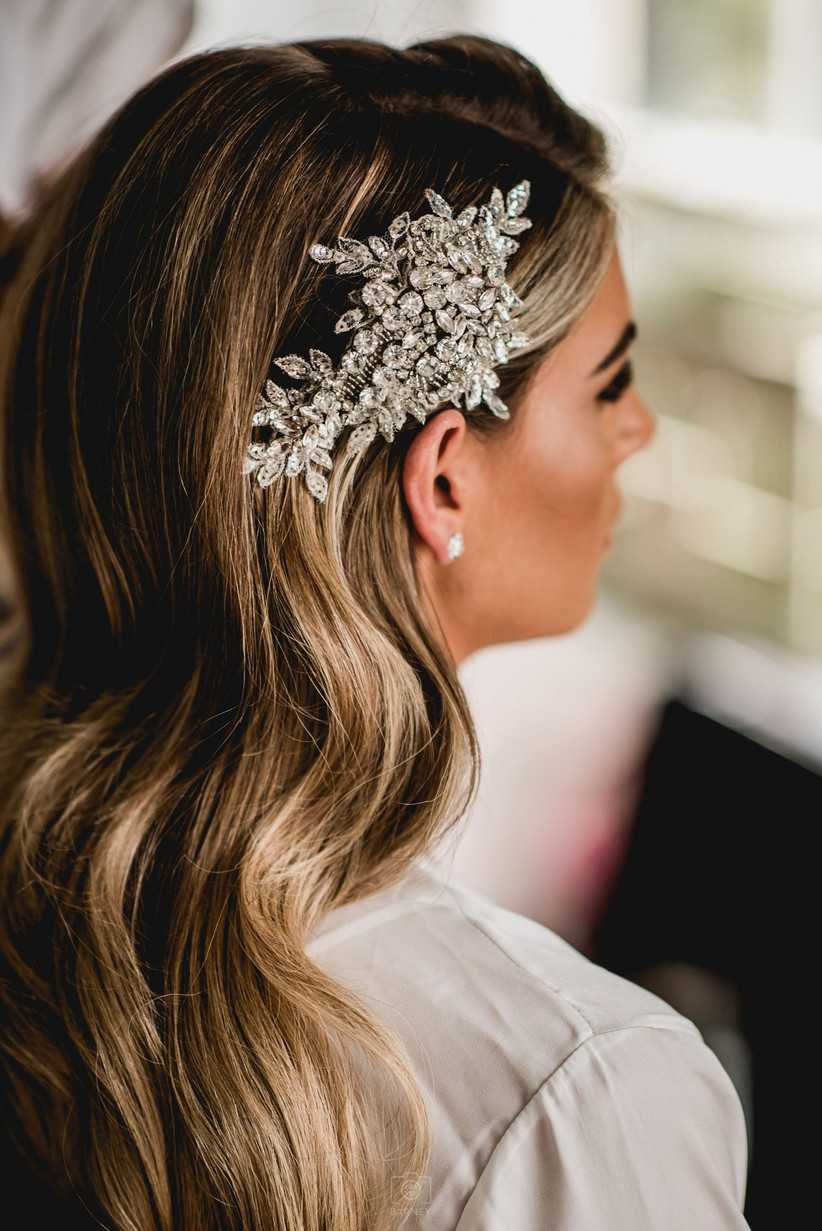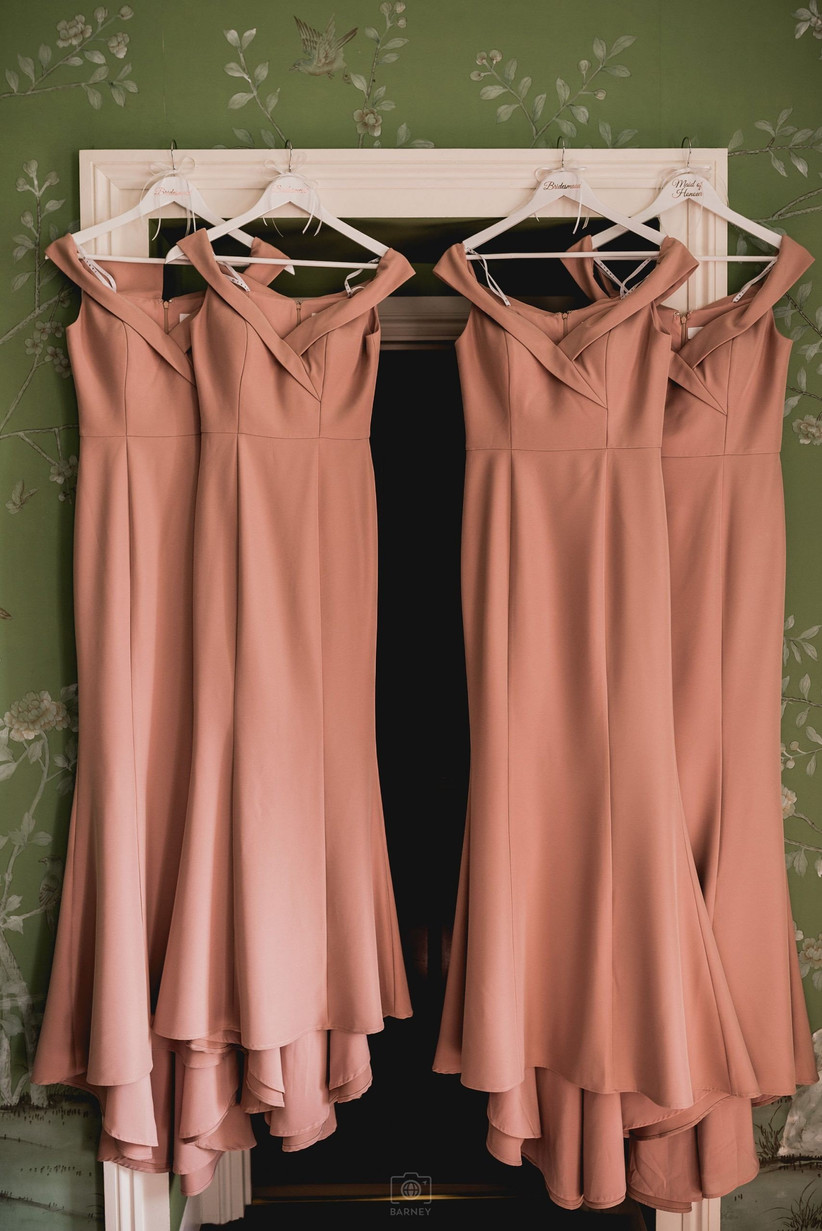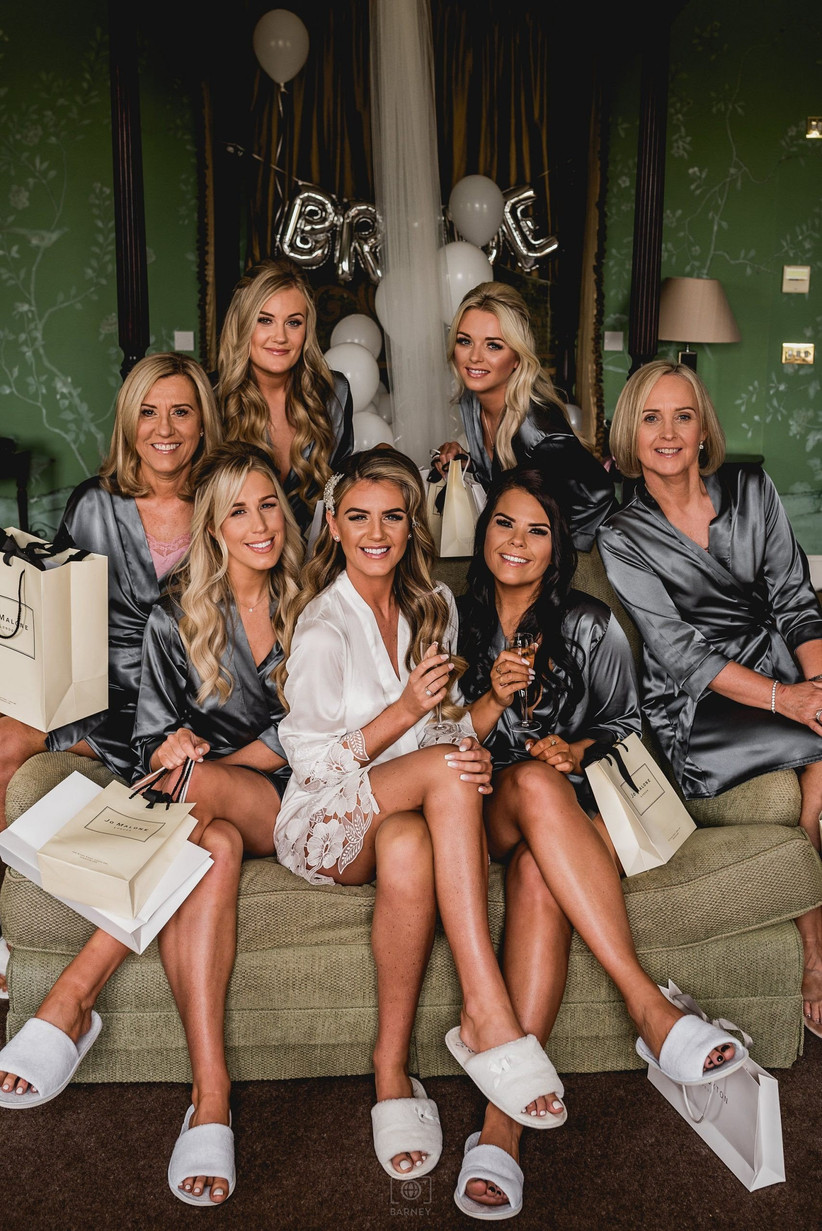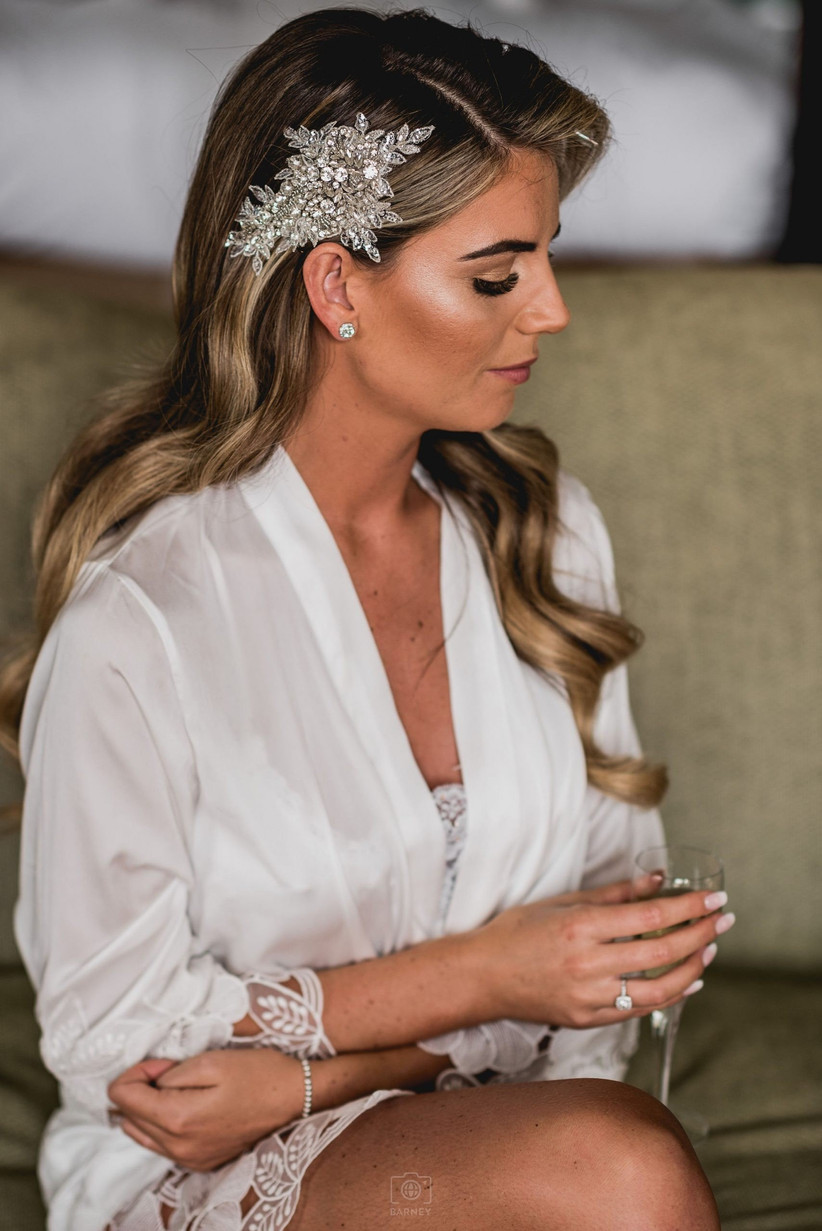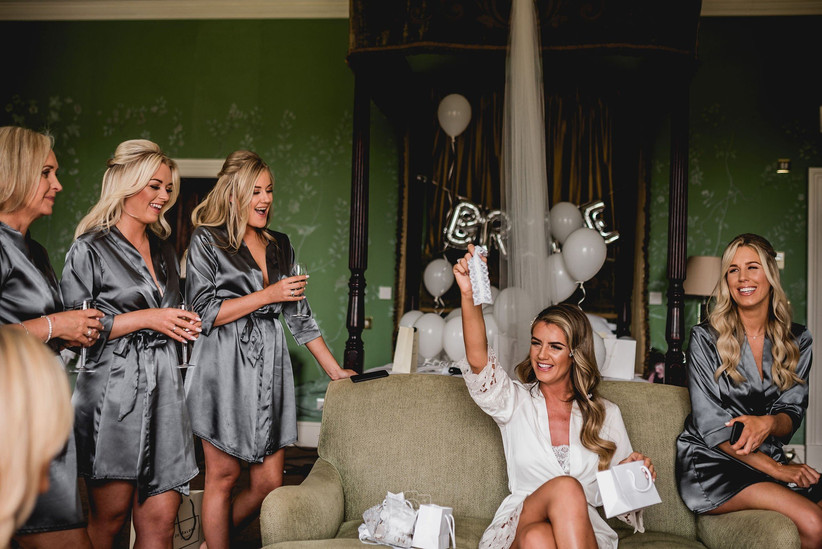 Bridal Beauty
Sophie wore her hair in a side-parting with soft, romantic curls accented with a sparkling headpiece. Sophie's makeup was glamorous and glowing, giving her a classically beautiful bridal look.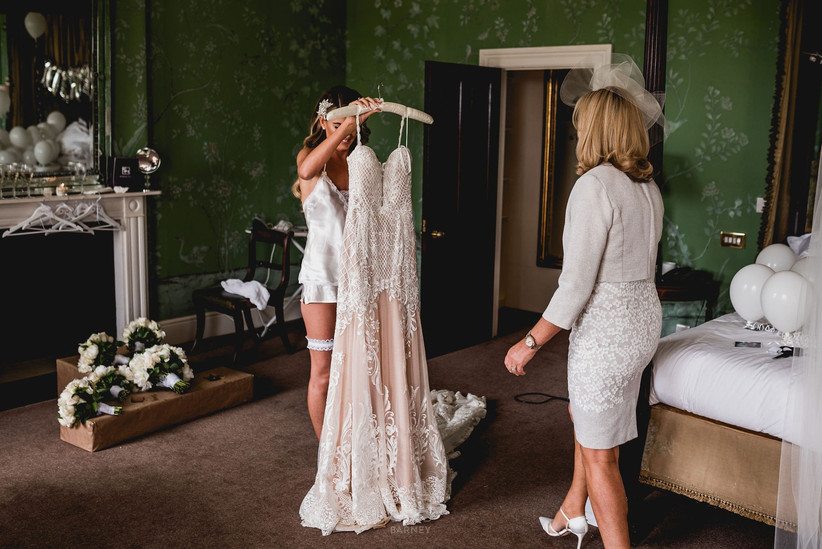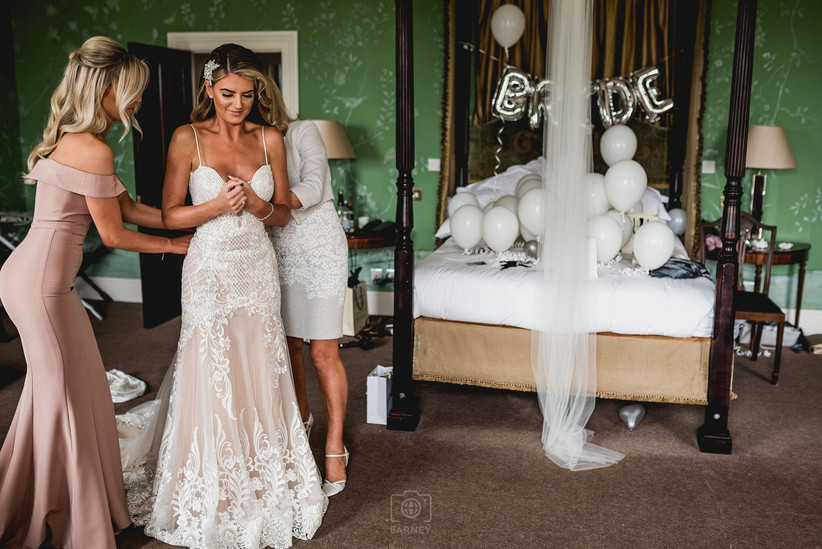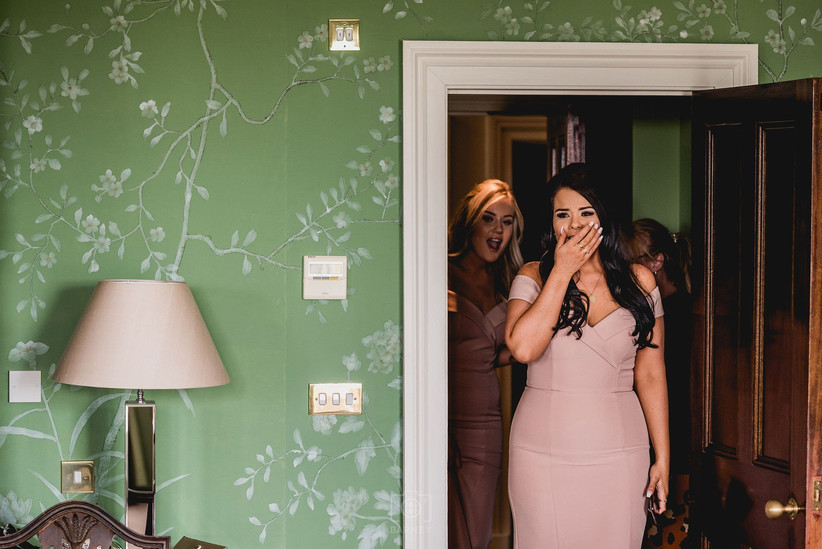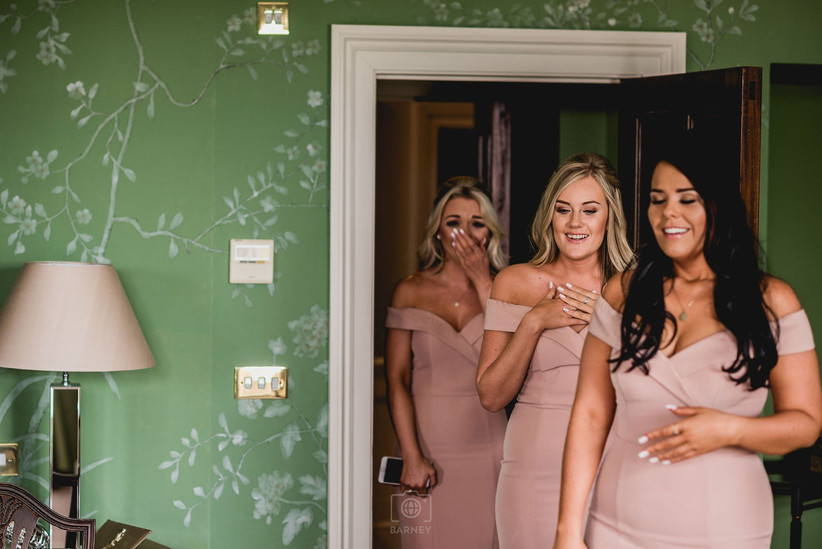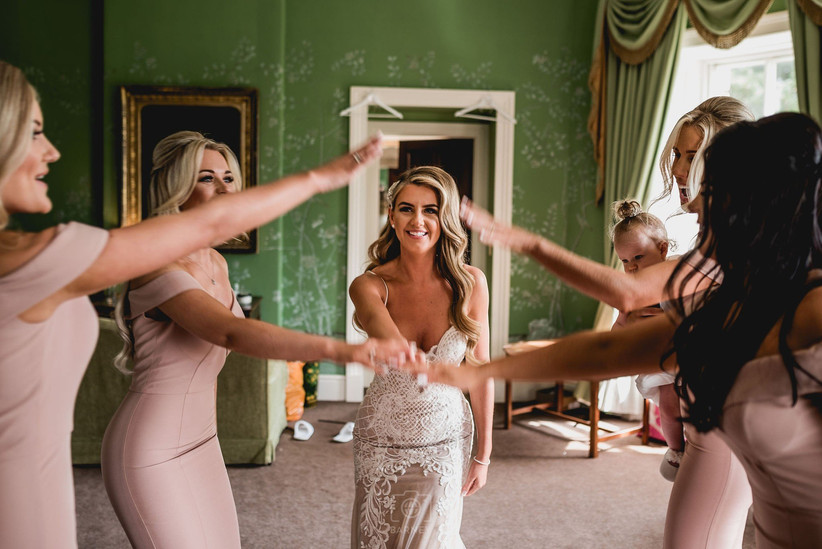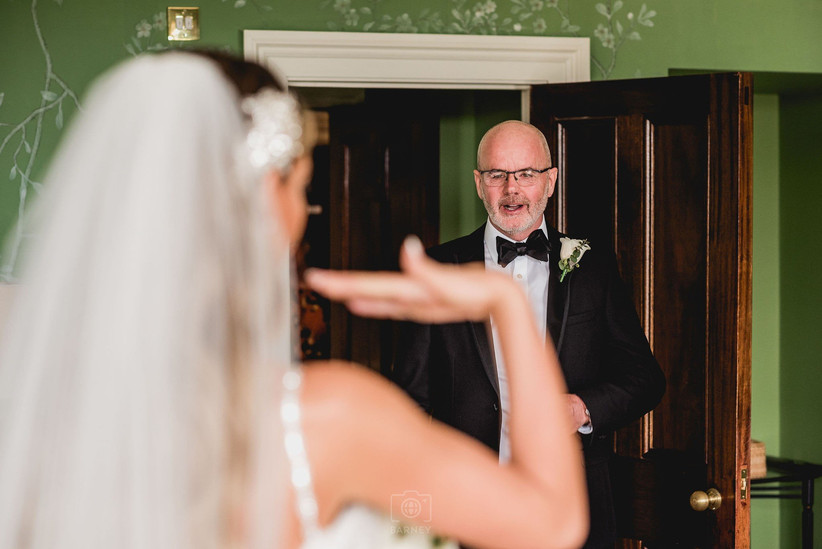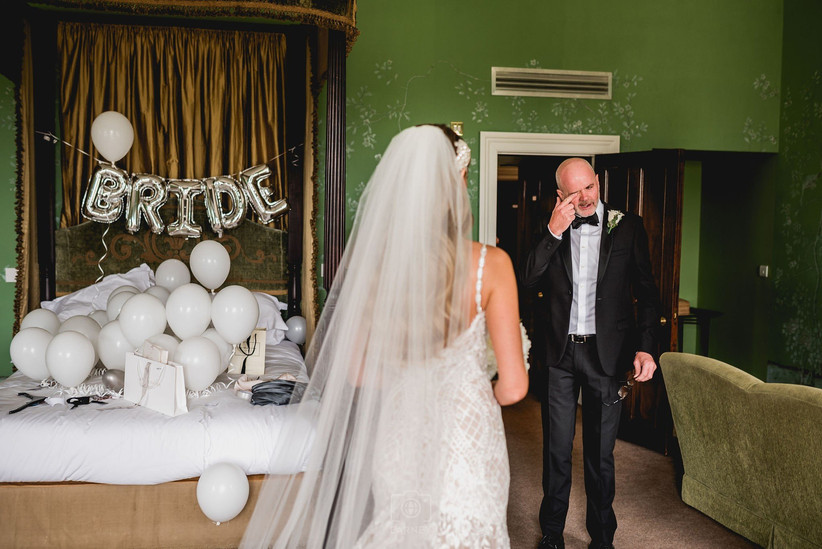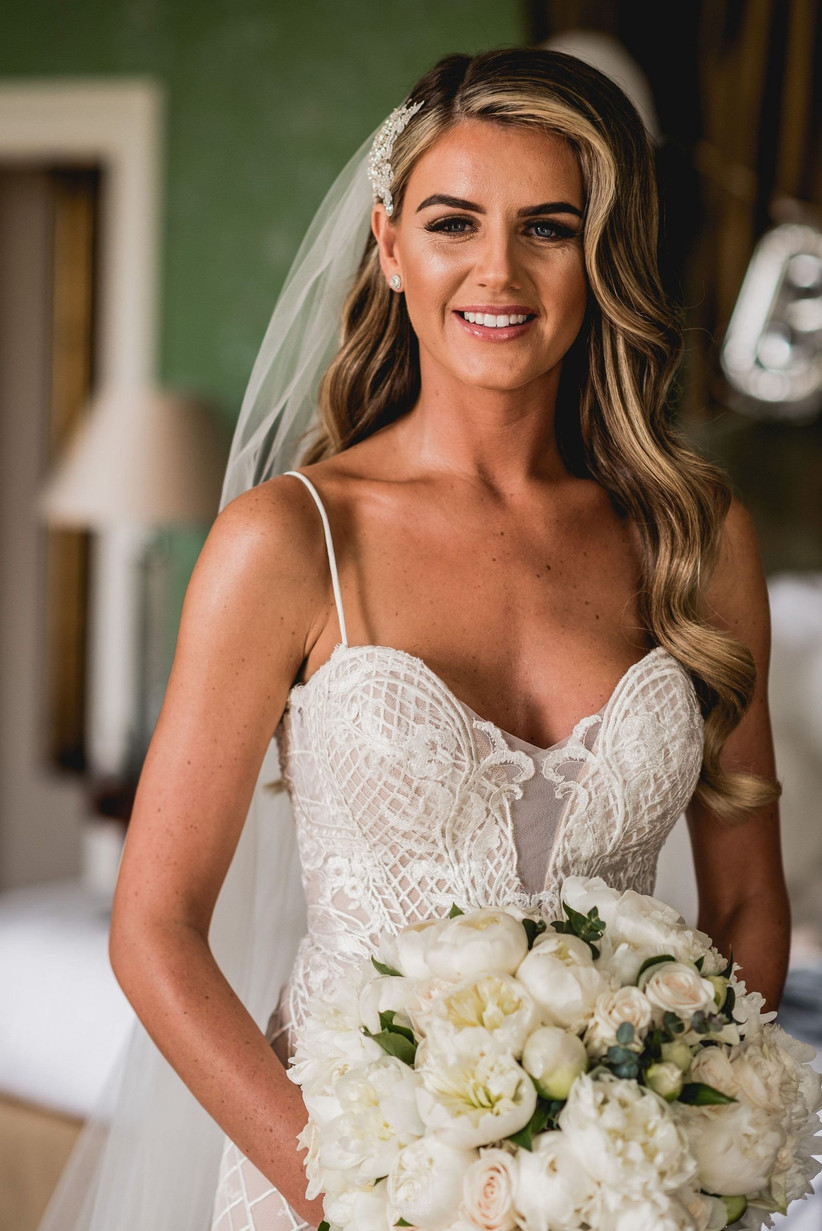 The Wedding Party
Sophie's bridesmaids wore nude, fitted, off-the-shoulder dresses from Jarlo that perfectly complemented her own gown.
"They were tight fitting, off the shoulder, long dresses. They were a beautiful material – nice and thick to hide any lumps or bumps! They all wore their own shoes, but most were rose gold metallic heels. Hair was curled with a half-up, half-down look and a small knot at the back! The flower girl's dress was just from a boutique on Etsy, I had a headpiece handmade for her to match mine but, on the day, she wasn't too pleased with it on her head, so she didn't end up wearing it!"
When it came to the groom and his groomsmen, the couple chose to continue the glam feel with black tie suits and high-shine shoes. "Luke had a different shirt with a more bib-style front and black studs over the buttons to stand out from the rest. The suits were hired from Moss Bros."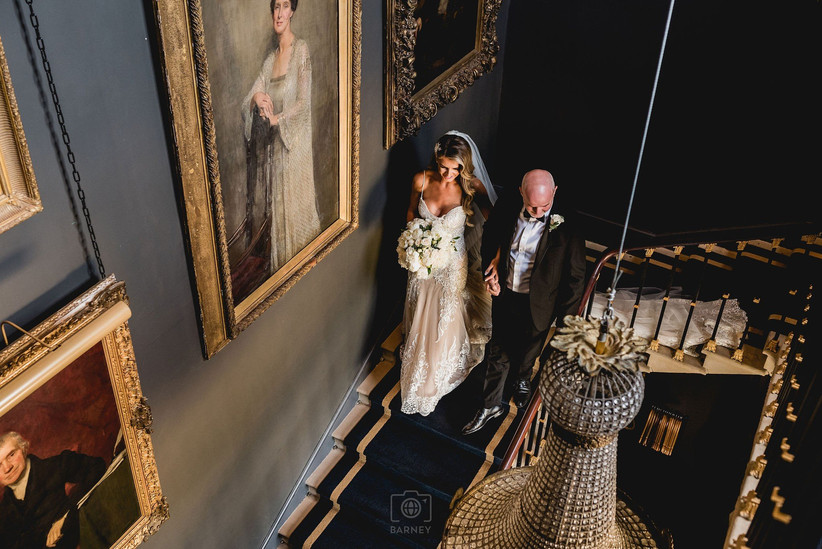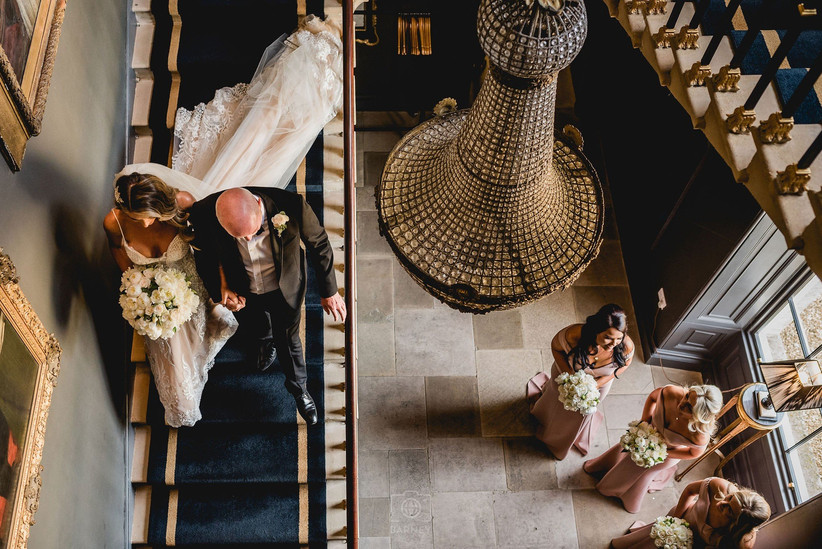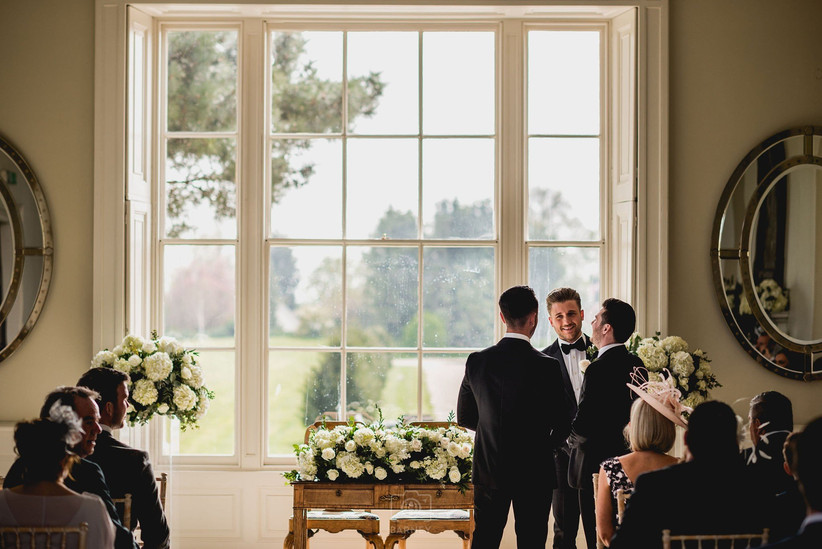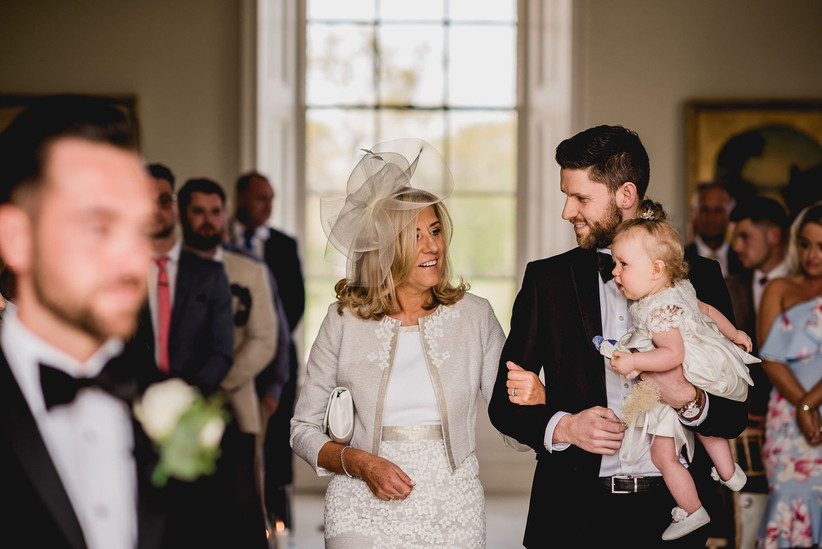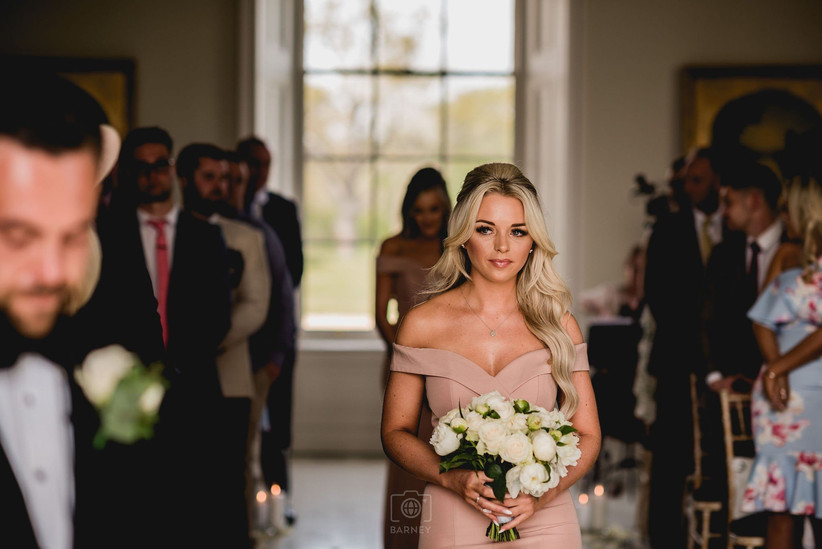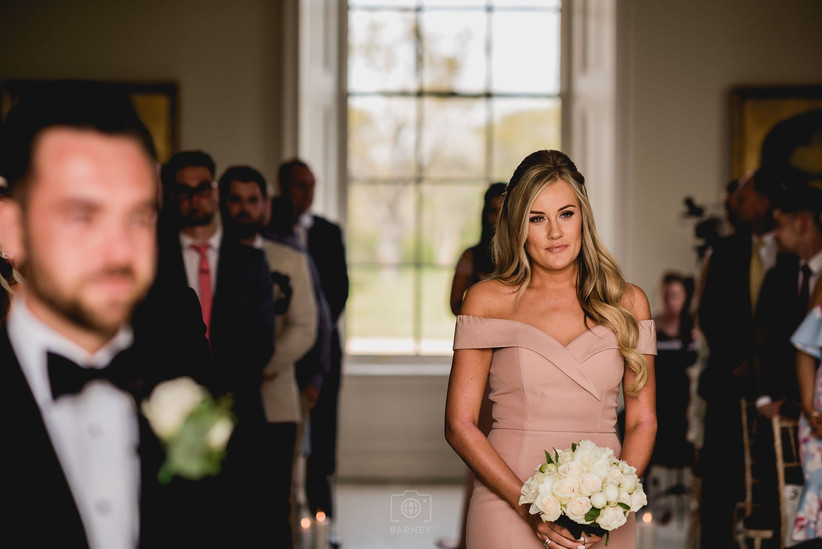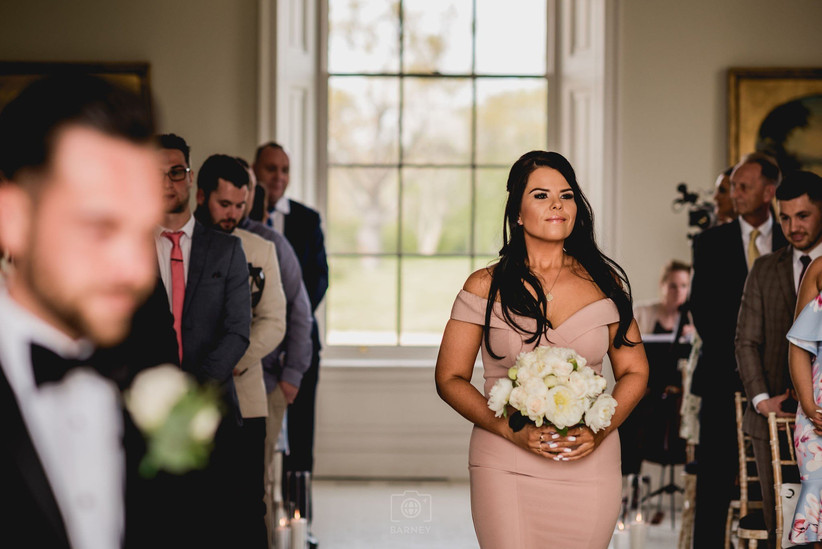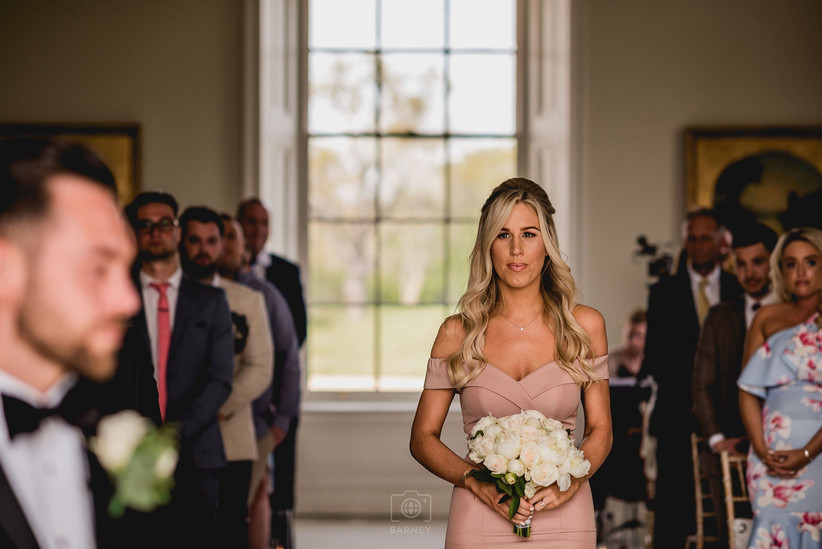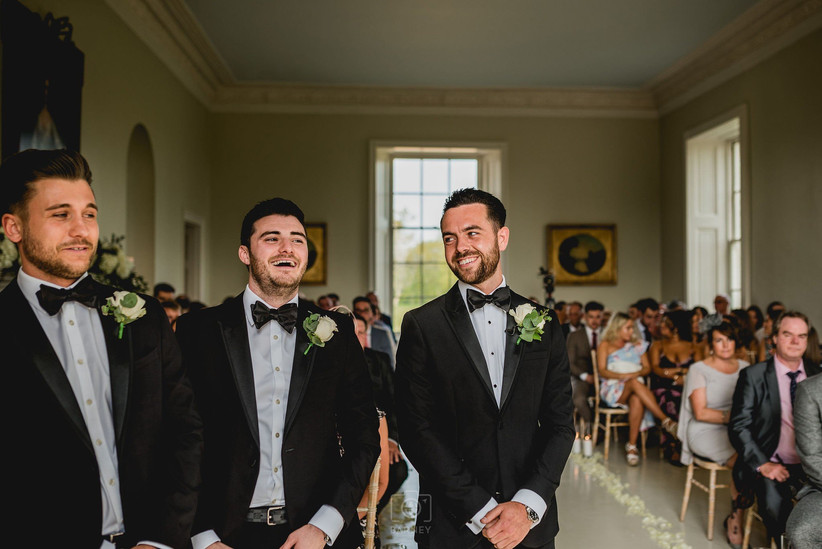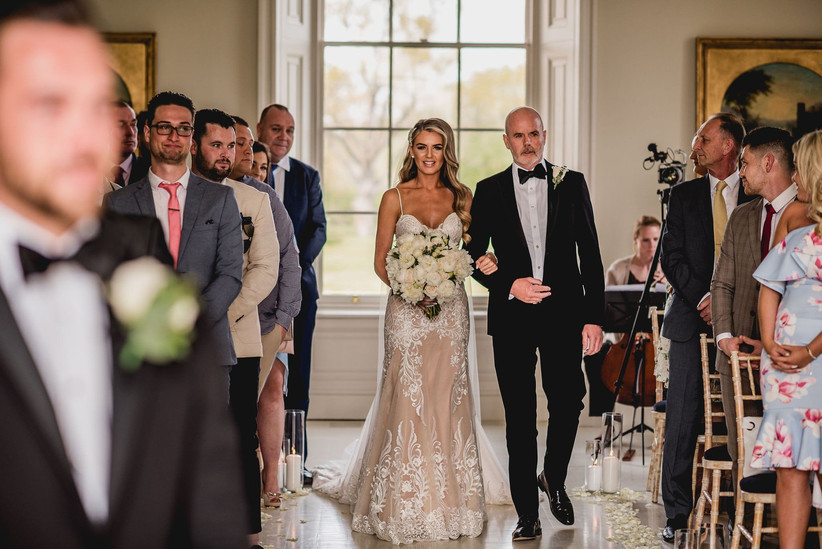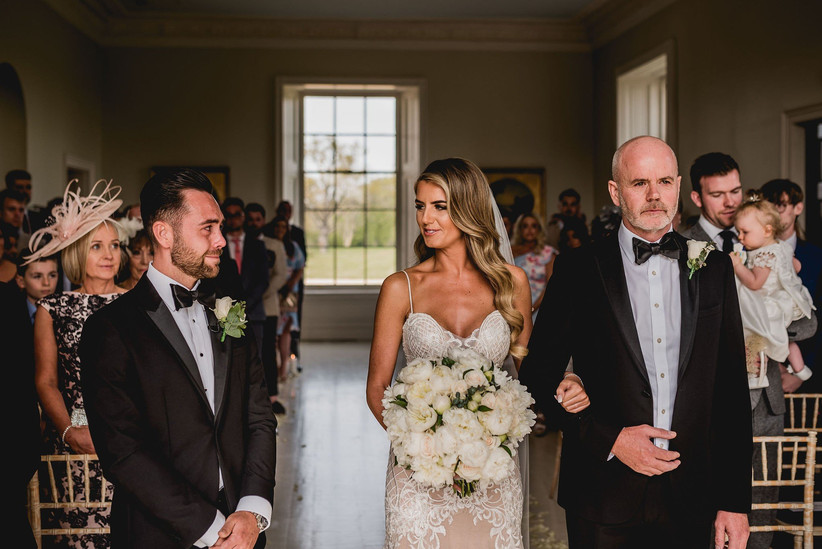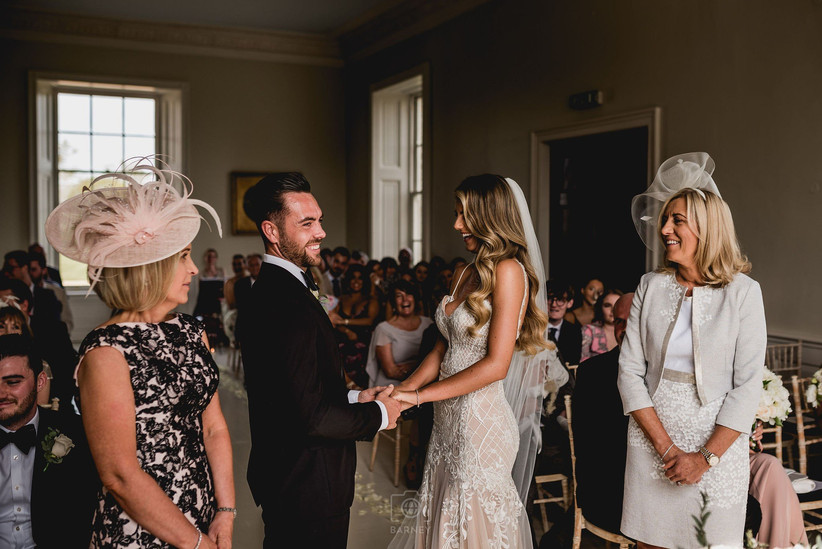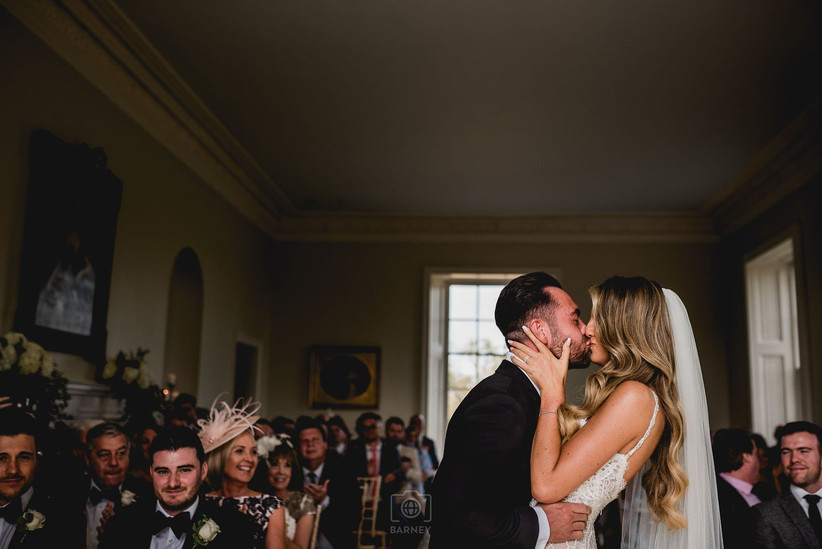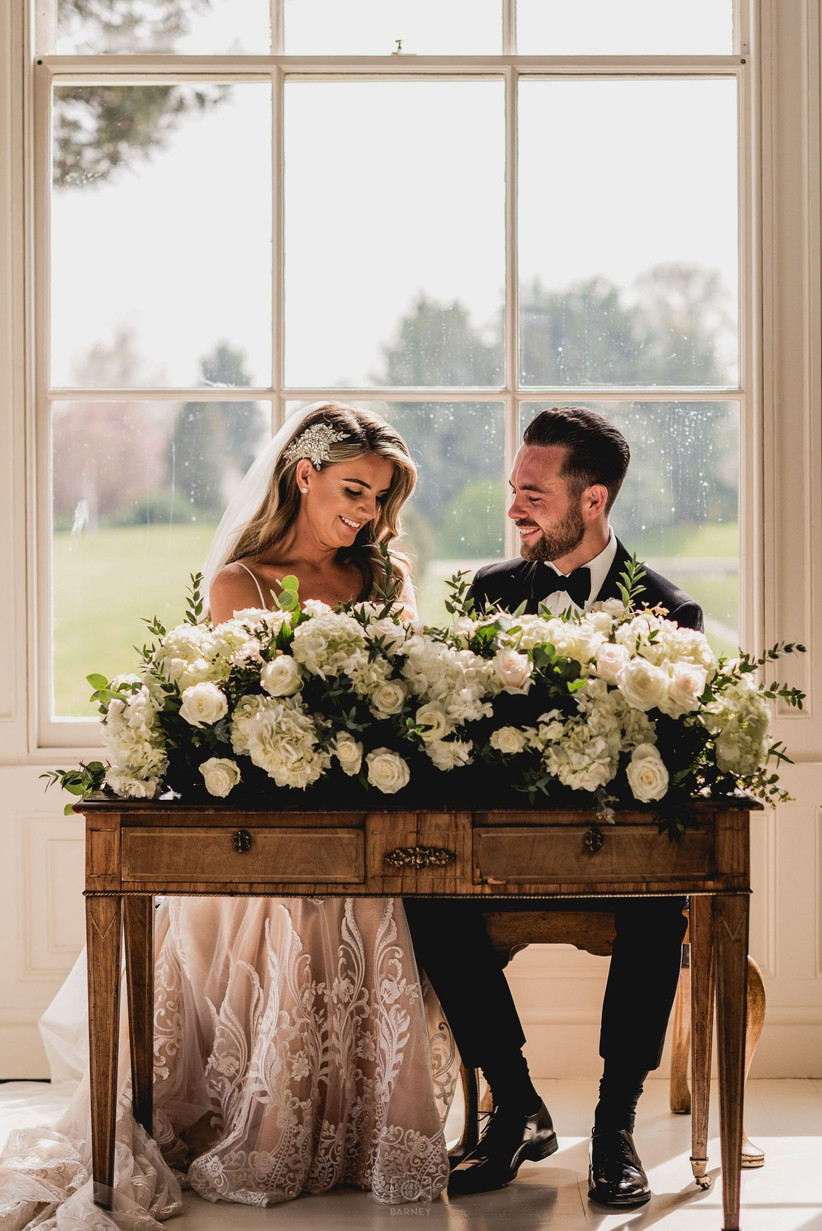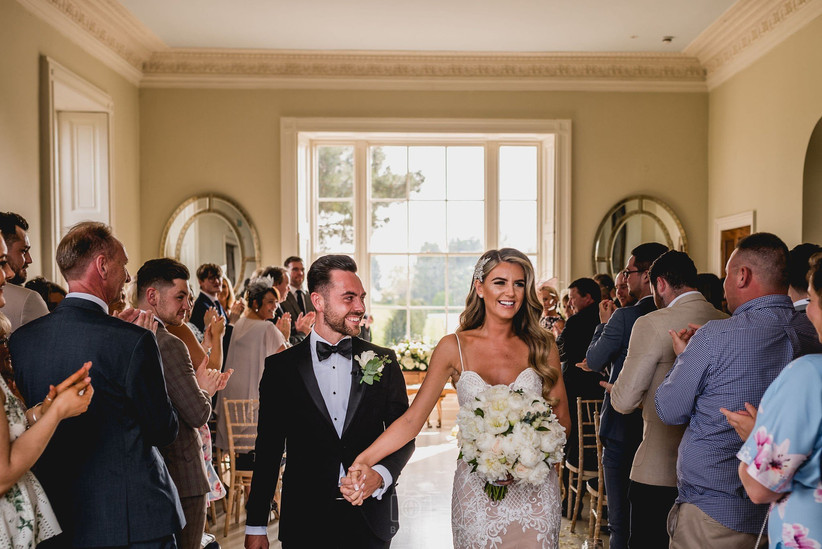 The Wedding Ceremony
The couple had a total of 95 guests join them for the ceremony. Sophie's mum and brother went down the aisle first, carrying their little flower girl, followed by the bridesmaids.
Sophie's dad accompanied the bride down the aisle, which was embellished with petals and lanterns. Sophie was greeted by a very emotional Luke before saying their vows in a civil ceremony.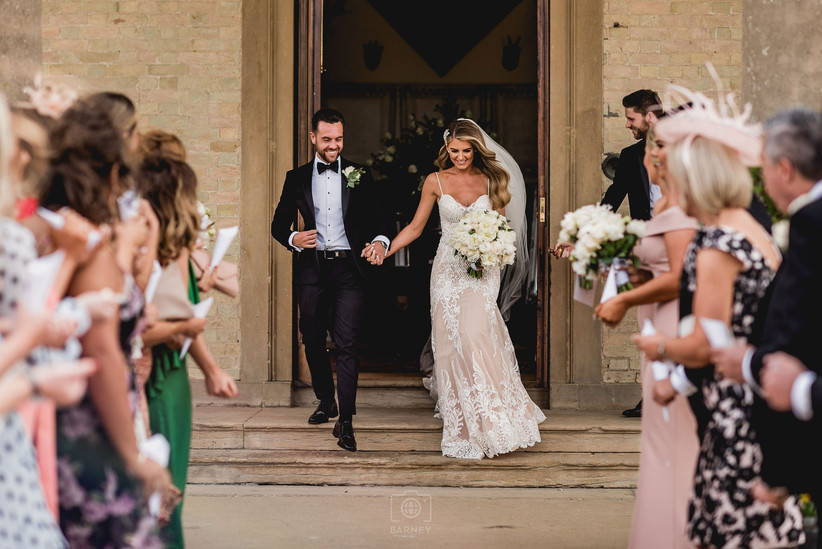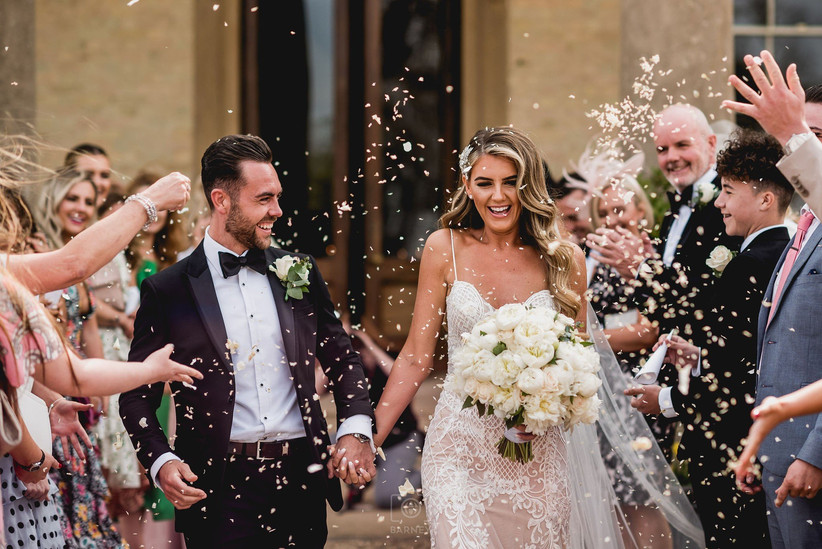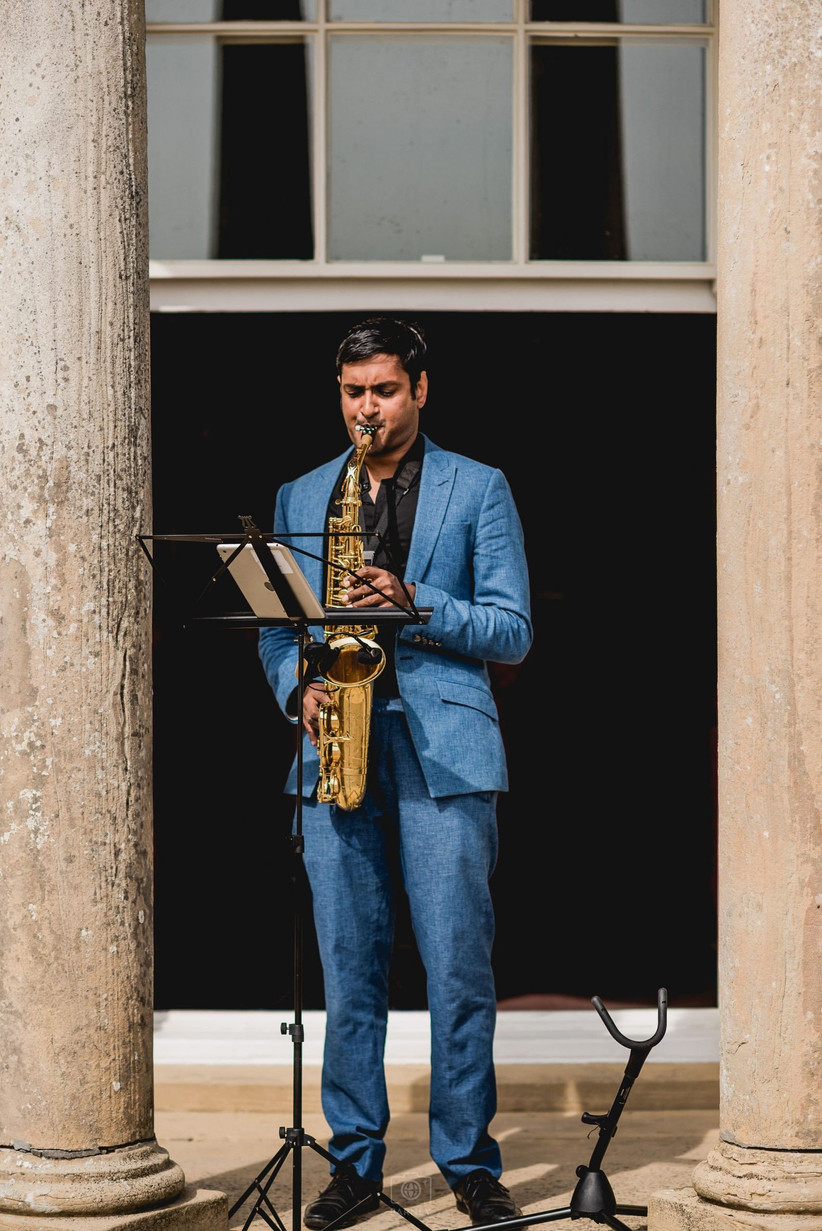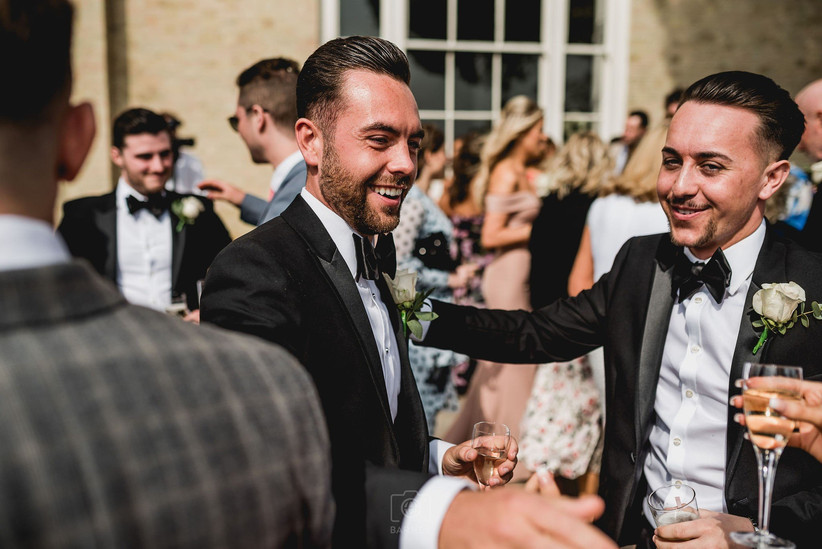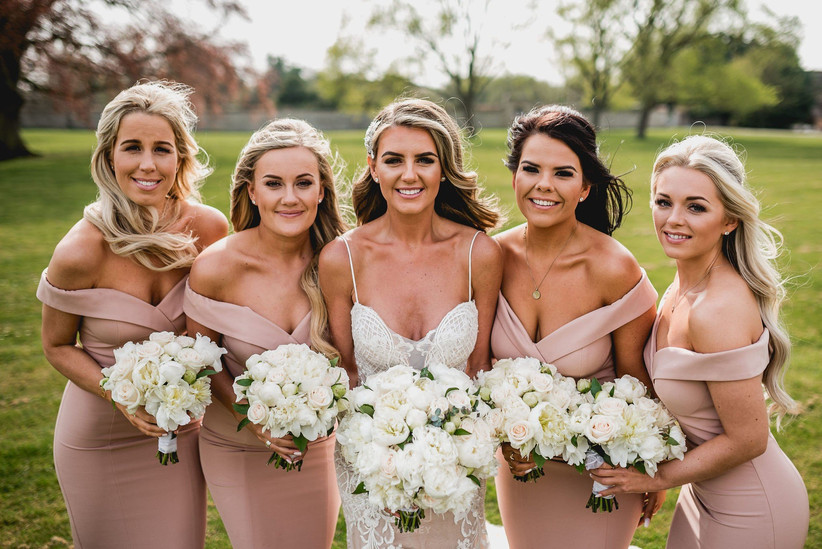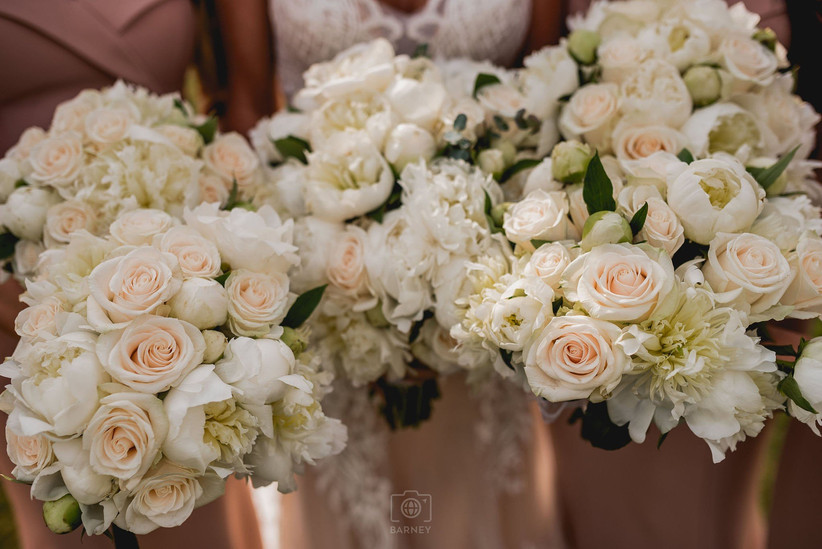 The Wedding Venue
The elegant surroundings of Stubton Hall provided the perfect backdrop for Sophie and Luke's lavish wedding but it took months of dedicated searching for the couple to find it.
"The venue for me was the hardest part! I had a vision in my mind of the type of venue I wanted, I just couldn't find it anywhere. I was also adamant I wanted some type of orangery for where the wedding breakfast took place as for me, the more natural light you can get the better!
"Obviously, we used Hitched to begin our search and Luke did leave a lot of this part down to me. We visited around five venues all over the country but when we visited Stubton Hall, we instantly felt it was the one. It was perfect, it had the orangery, the natural stone colour building, enough bedrooms for my family and friends to stay in, and the views of the grounds are to die for! Total searching time was about three months!"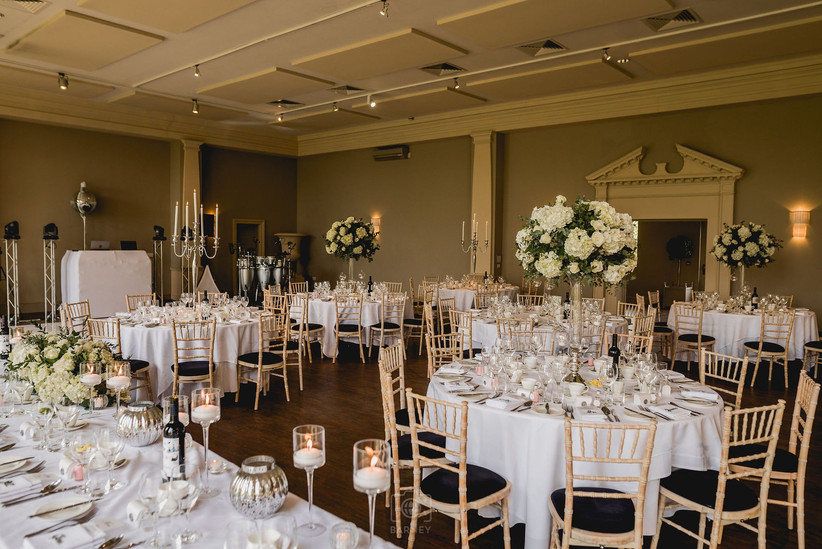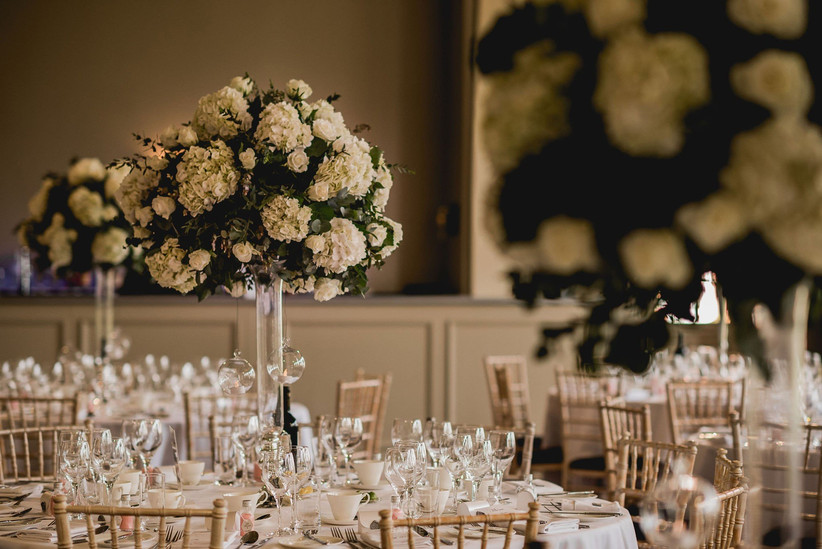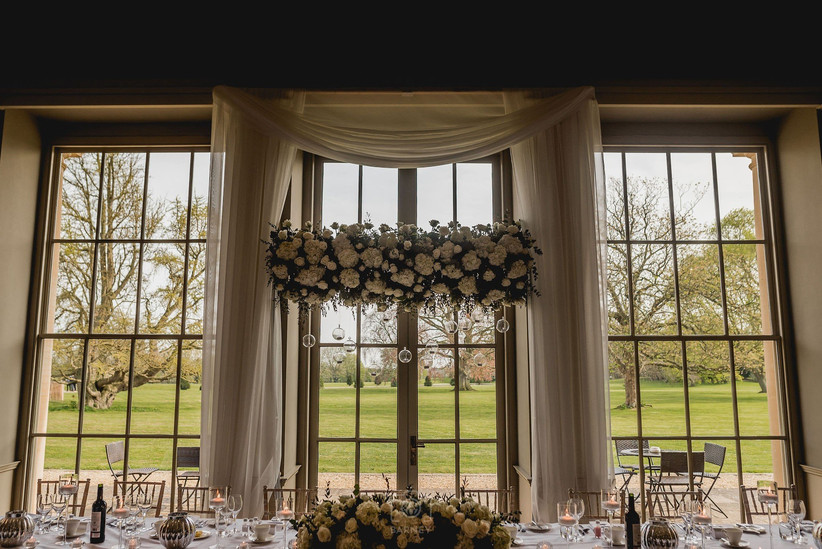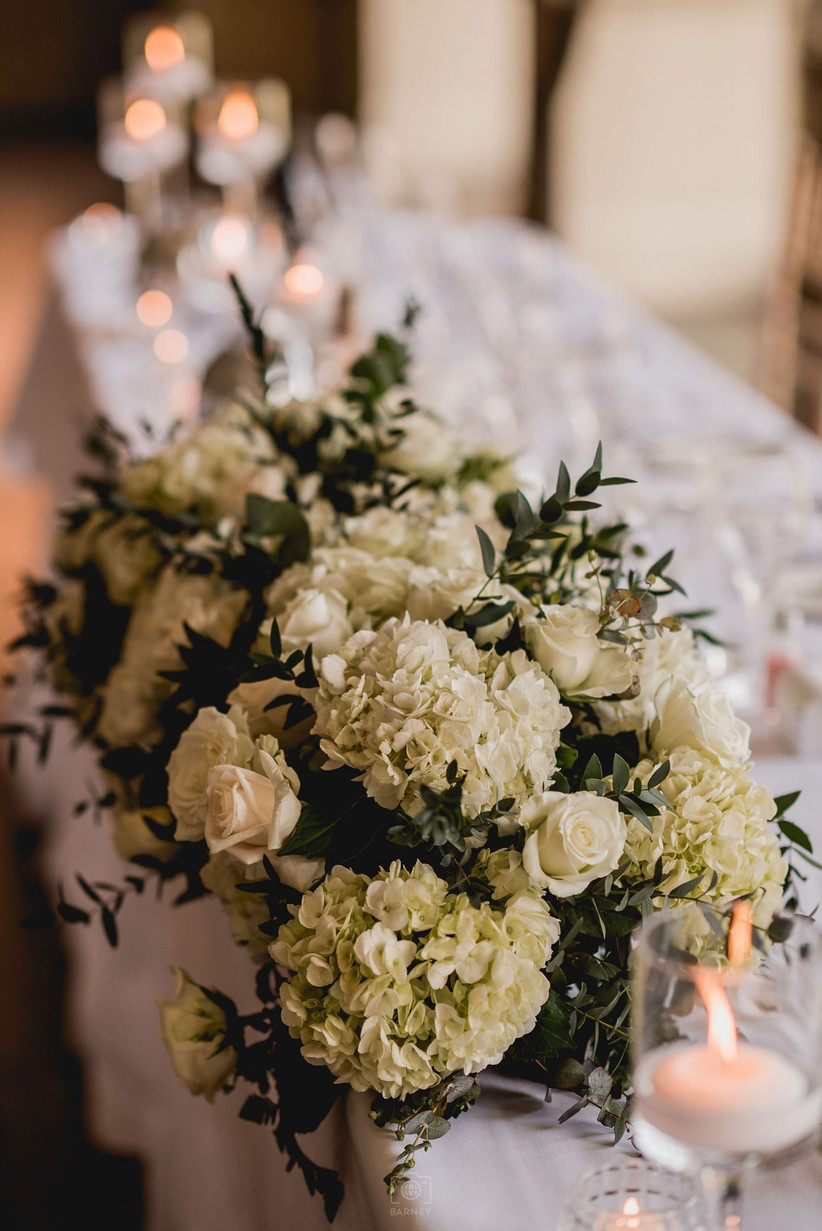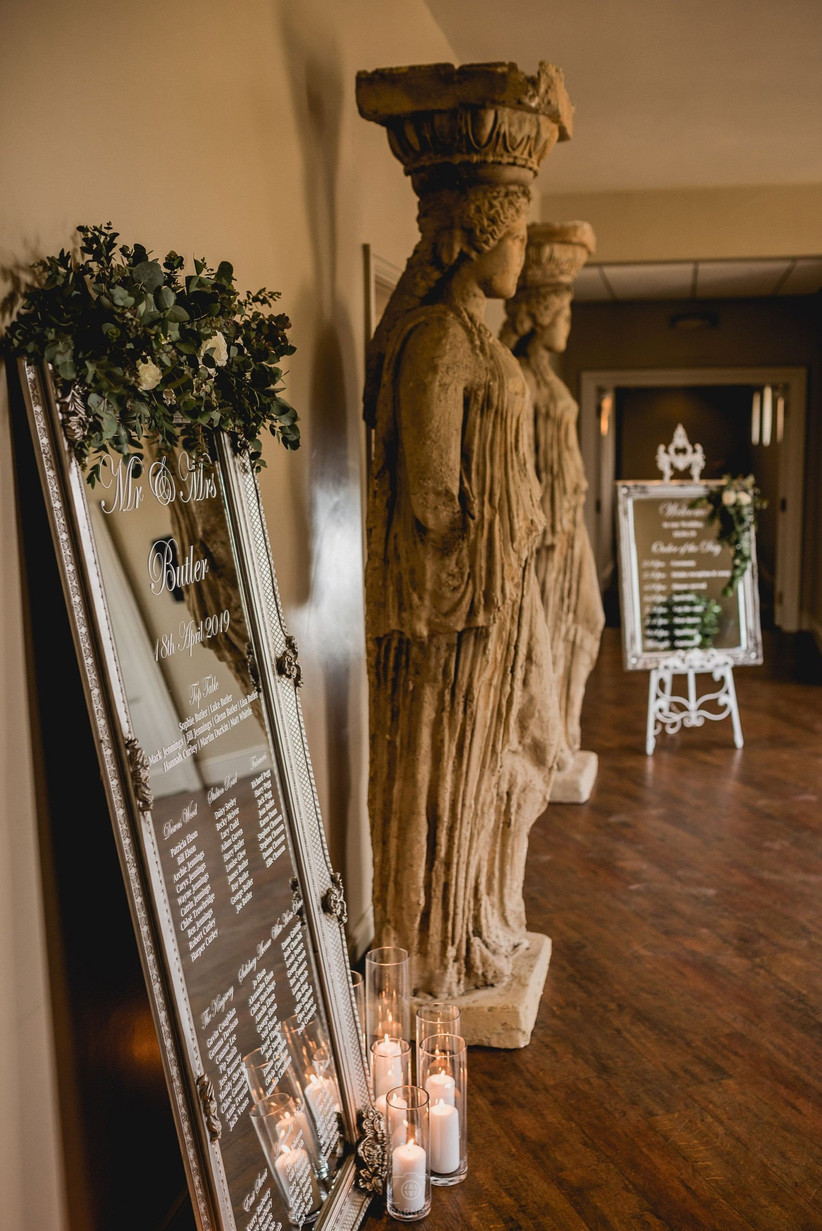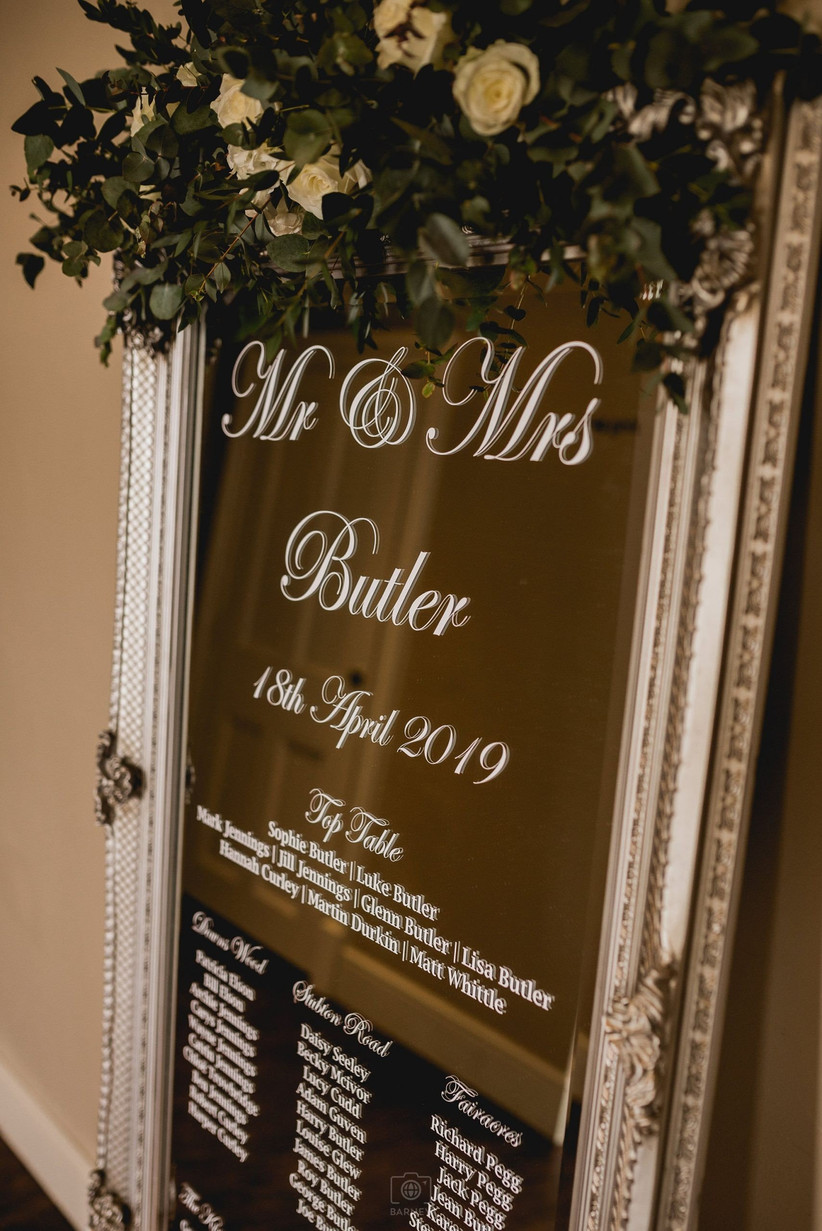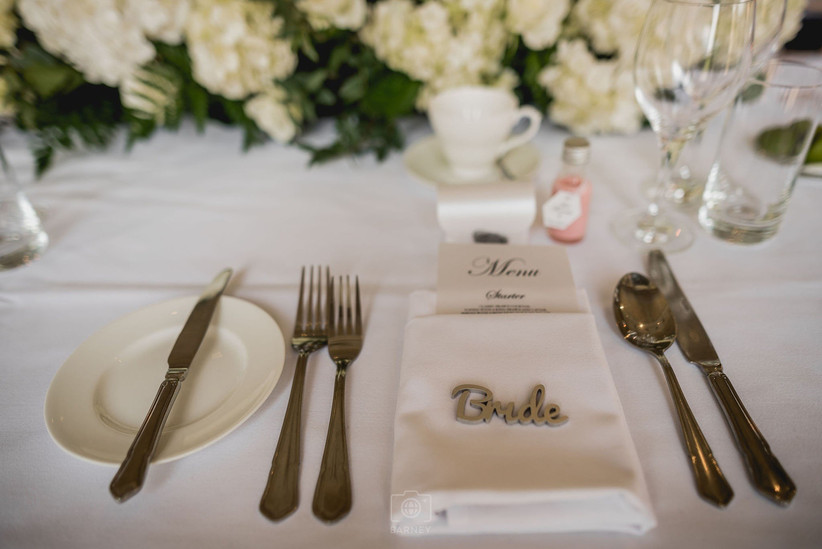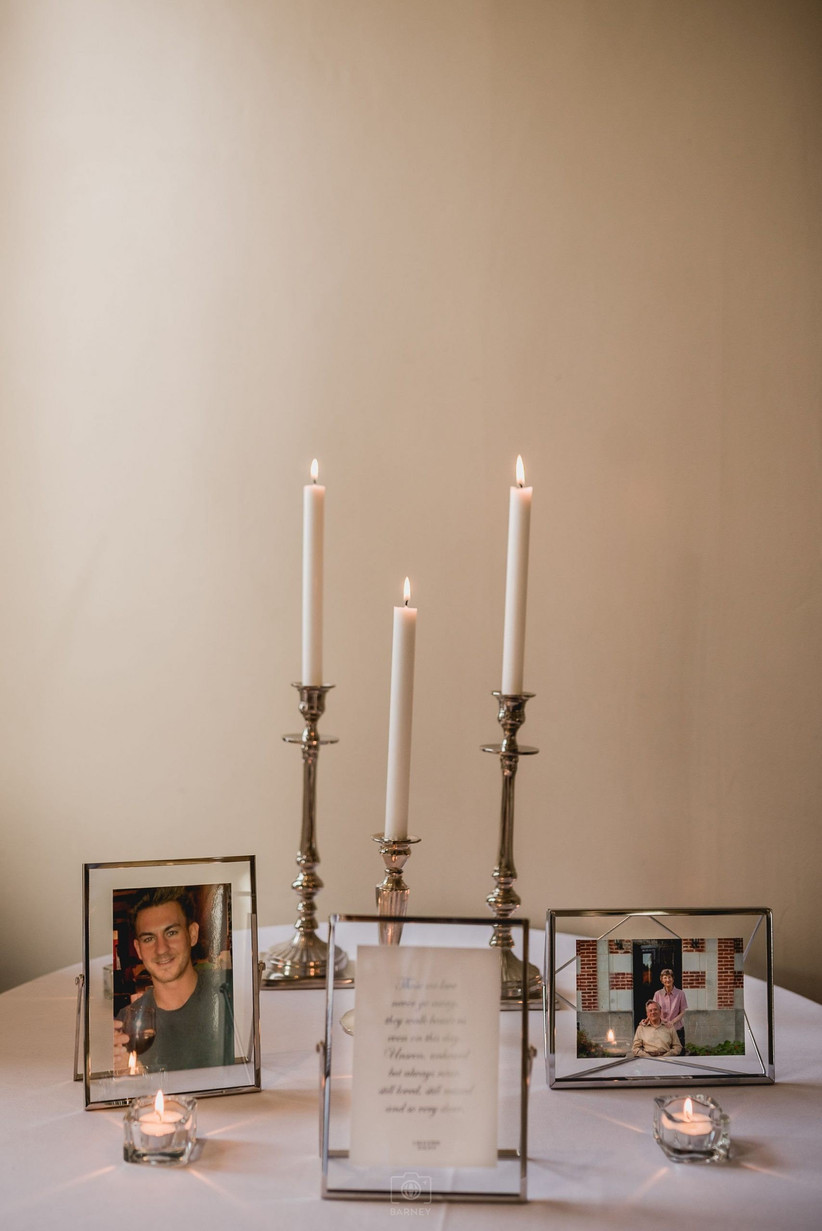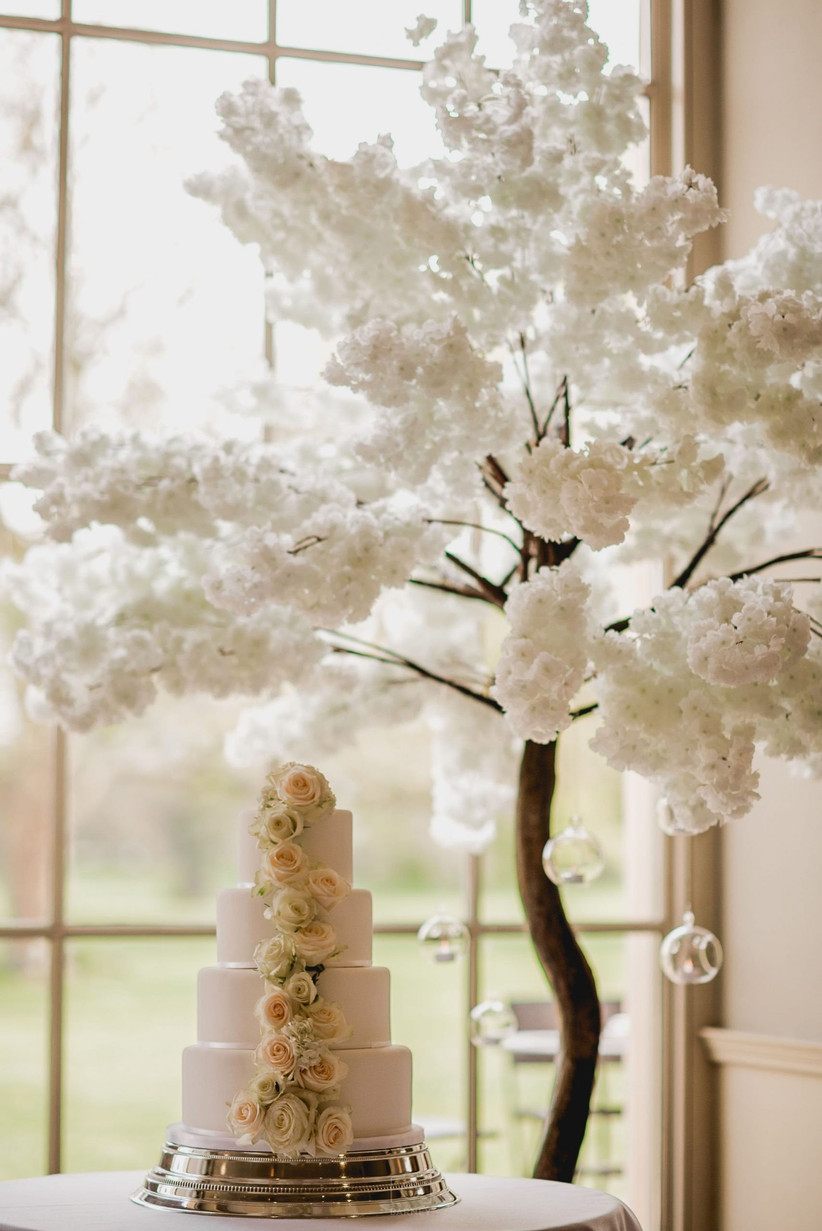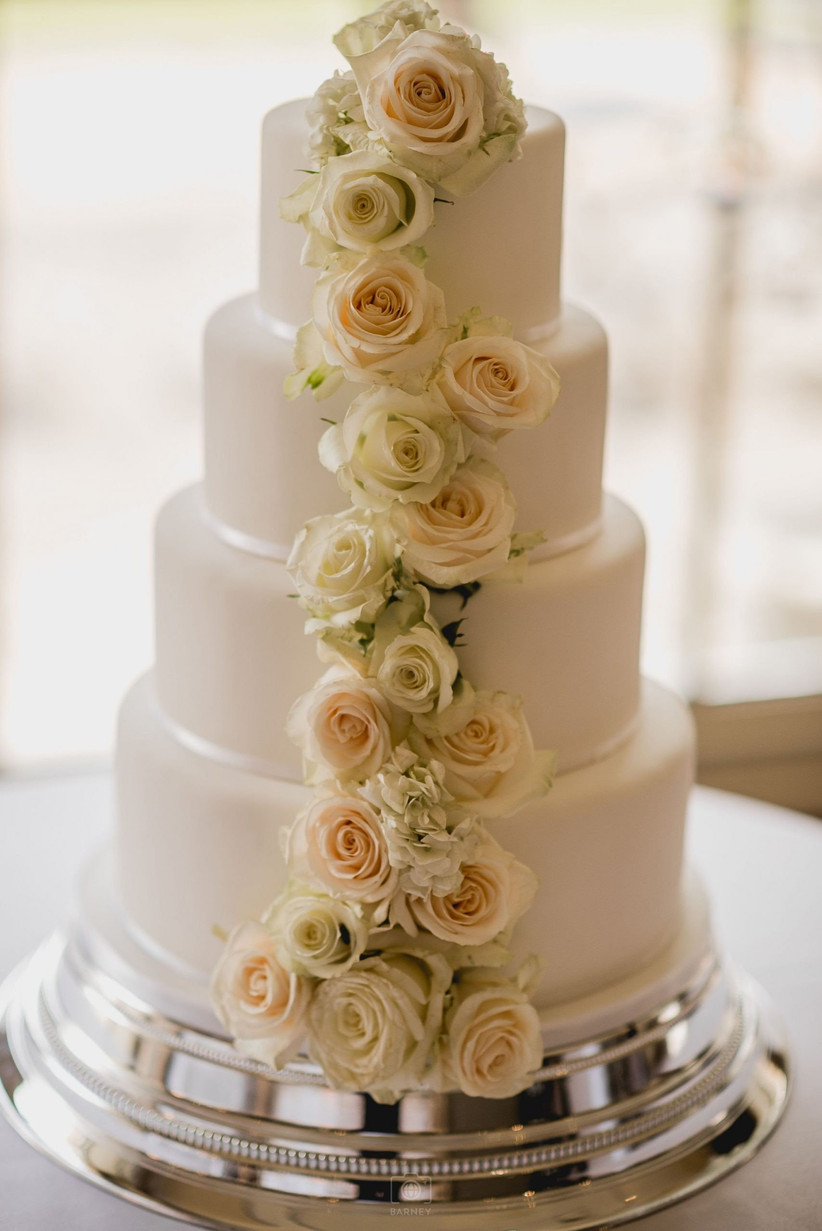 The Wedding Flowers and Cake
The colours of the day were black, white and silver and so white blooms were the natural choice. The bouquets and floral arrangements featured peonies, Ohara Roses and Vendela Roses.
A floral display sat above the top table with blossom trees at either end and five tables featured flower balls while the remaining tables had elegant candelabras.
The white, four-tier, salted caramel cake, made by a friend and carefully transported to the venue by the bride and groom themselves, was also adorned with cascading roses.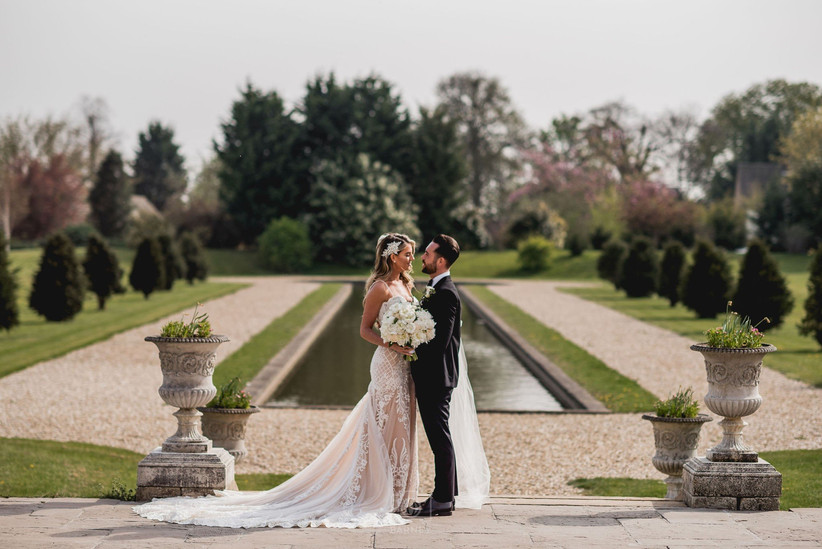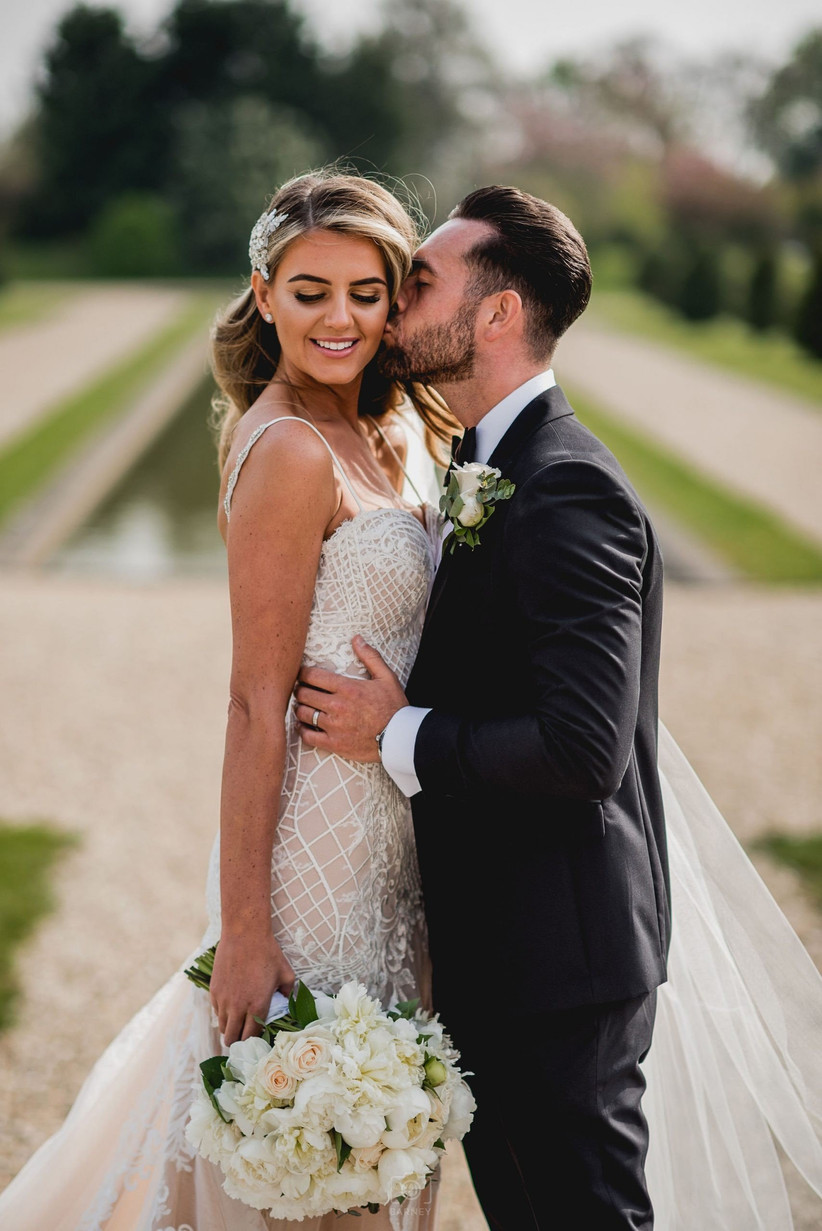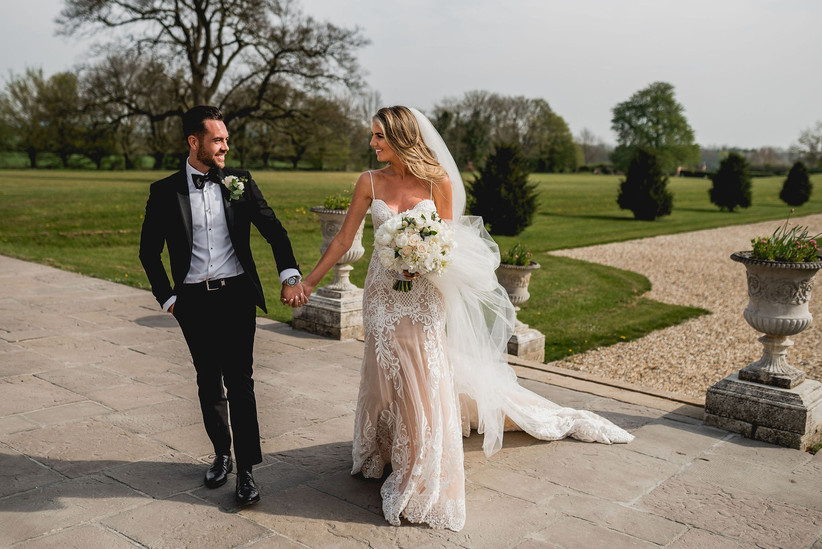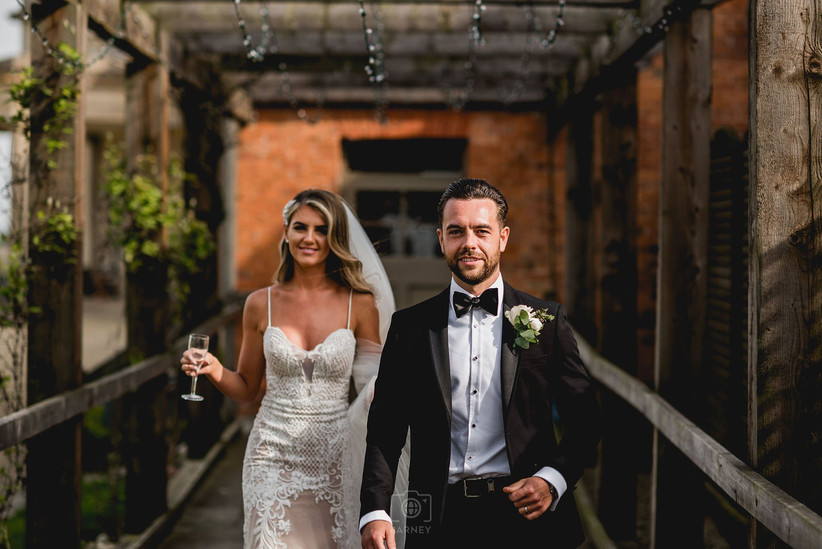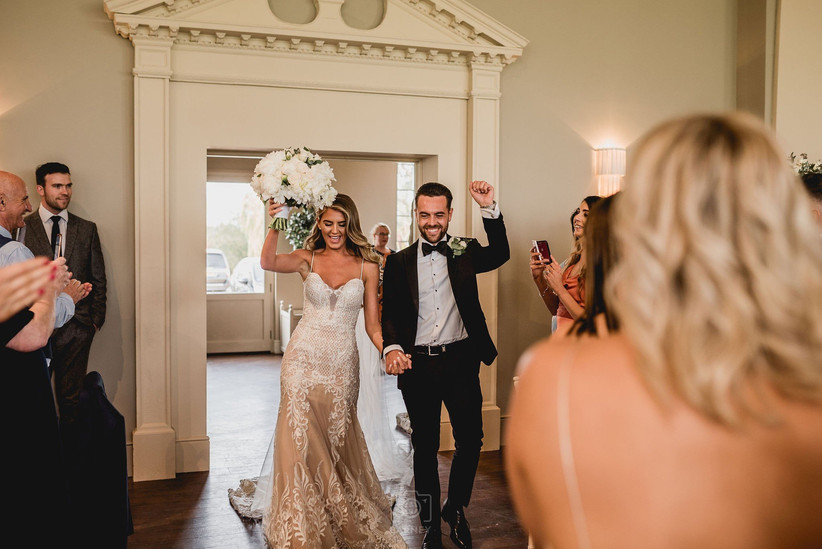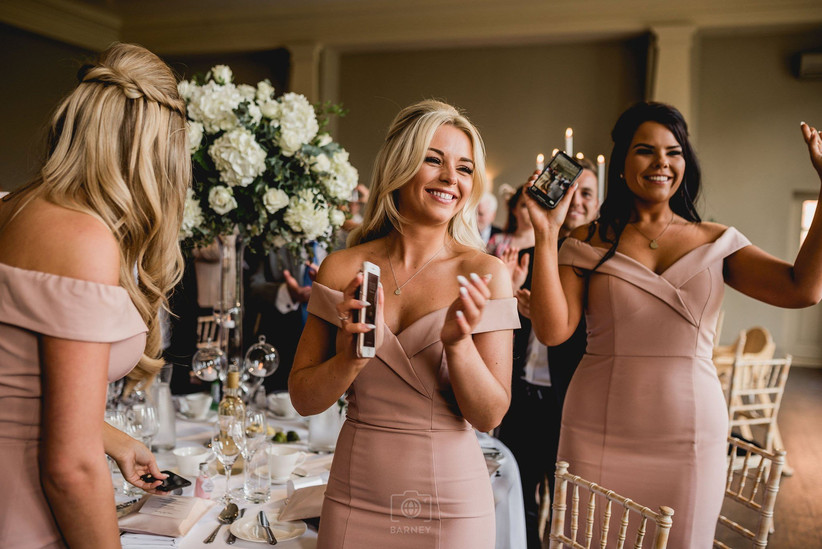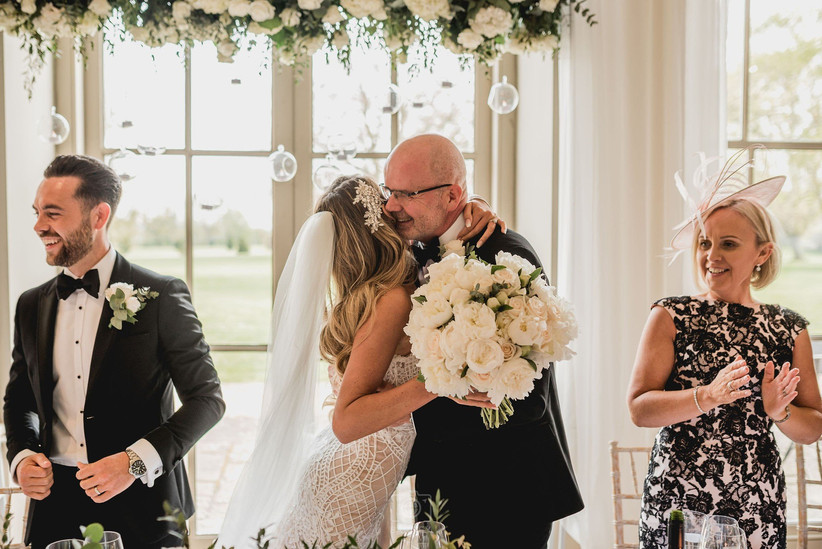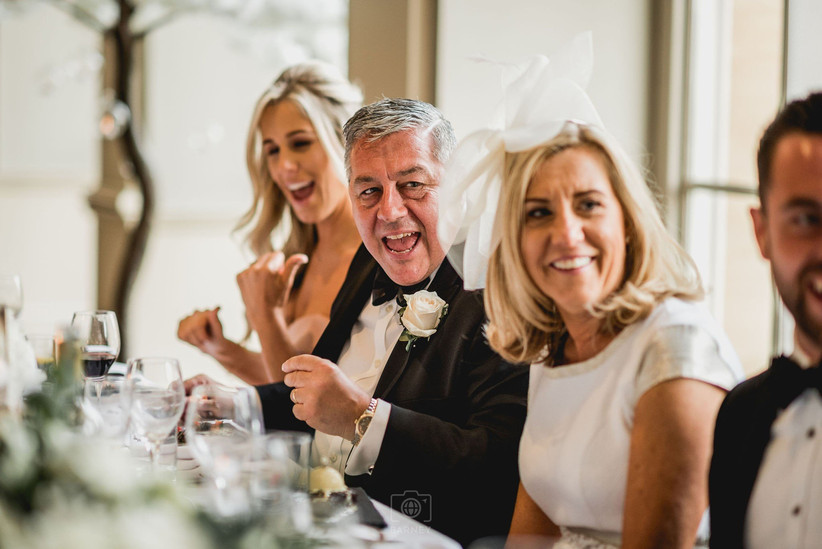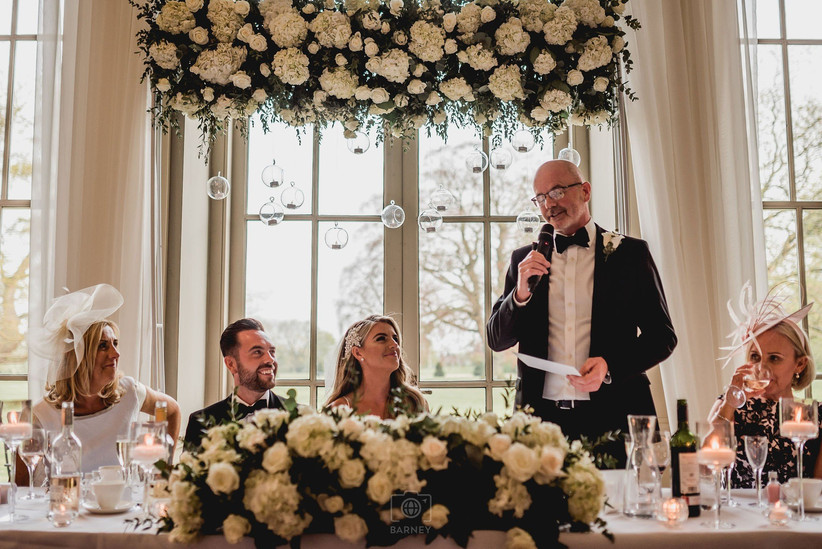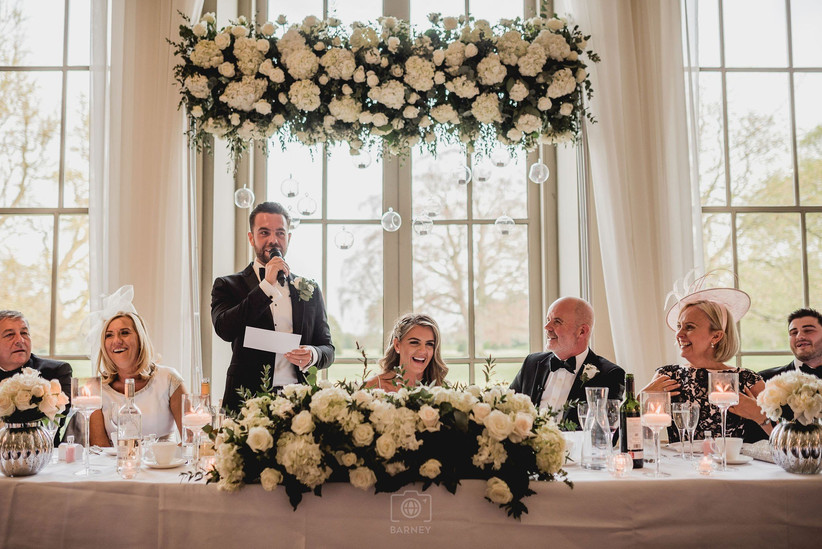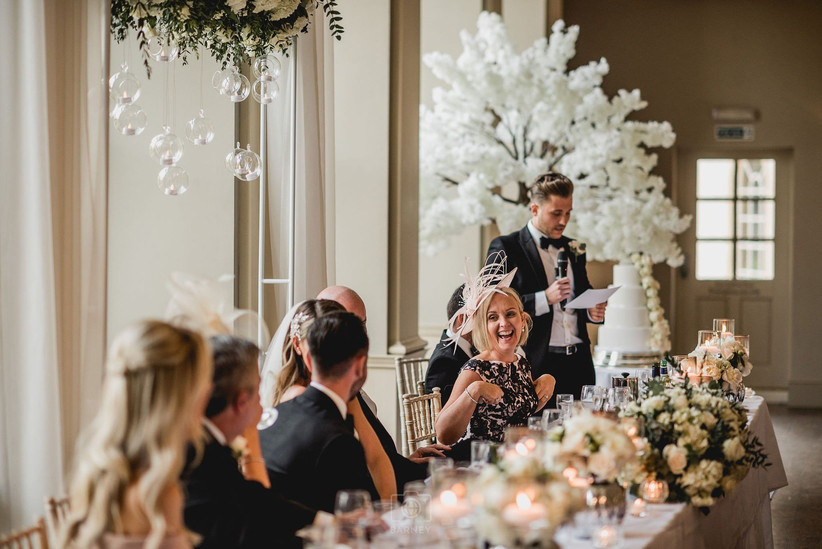 The Décor and Special Touches
Sophie and Luke set the sophisticated tone of their day early on with grey, letterpress invitations complete with personalised wax seals – a touch that also featured on their chocolate wedding favours.
"We had tequila rose shots for the ladies with a label on it saying, 'Her favourite' (my favourite shot of all time!) and then a tequila shot for the boys with a label on saying, 'His favourite'. We then gave them two Ferrero Rocher chocolates in a box sealed with our personalised L&S wax seal (the kids got bunny chocolates instead for Easter)."
Amongst other special touches was a mirrored table plan, framed with florals and surrounded by candles – a detail that could be seen across the venue.
"Each table also had lots of small candles on – candles everywhere! We also had fairy lights throughout the pergola walkway which leads from the house into the orangery, we did these ourselves.
"We had flowers in the corridor with lanterns along the wall which added to the guest's entrance into the orangery. We also had a memory table in the entrance which had photos of our absent guests with candles."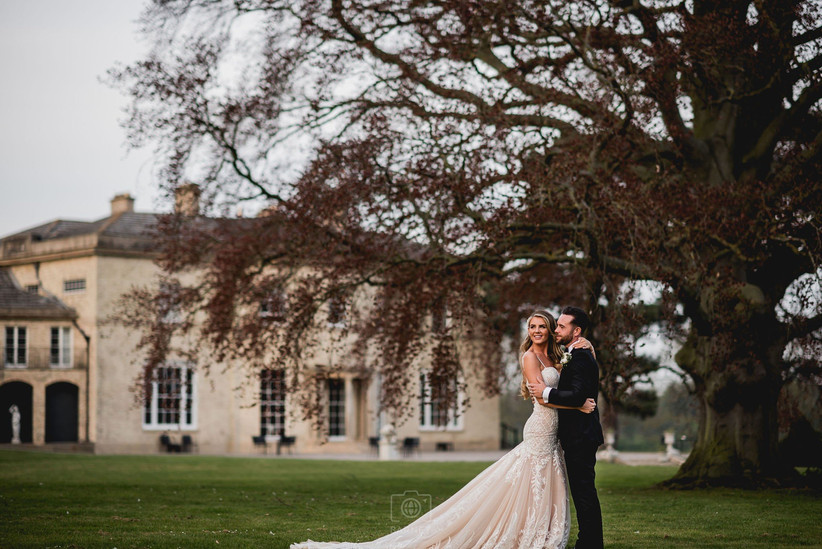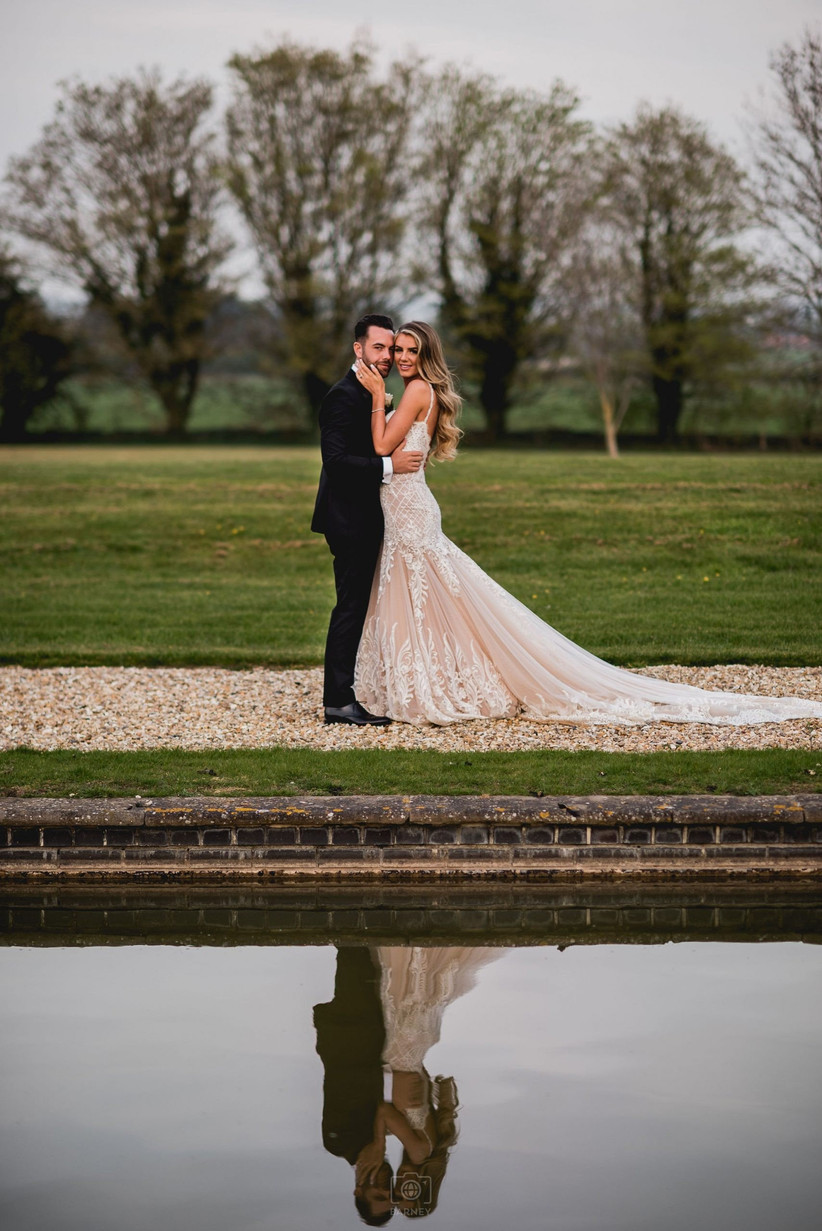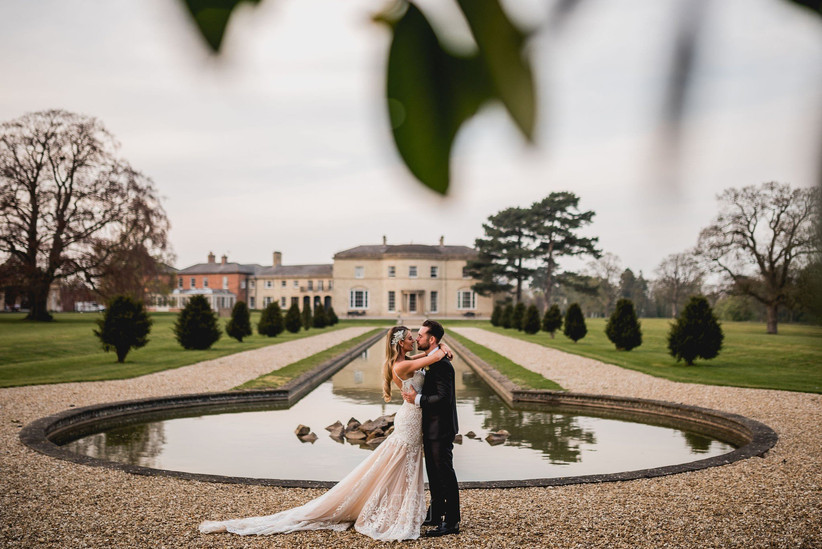 The Entertainment
Music was a key part of Sophie and Luke's day with cello and piano players at the ceremony, a saxophonist adding to the atmosphere of their reception drinks, a singer at the wedding breakfast and a DJ, drummer and sax player forming the evening's entertainment.
"Luke and I always love a party so the music side to the wedding was very important to us and I feel based on how many people were on the dance floor all night, we put on a great party! Ibiza style!"
The party was kicked off with the couple's first dance to Perfect by Ed Sheeran – the song Luke had proposed to – and the couple also provided a doughnut wall and a magic mirror for their guests.
And the bride's advice to couples planning their weddings?
"Research! When you find something you like, don't just commit straight away, research it more to see where or how you can make it cheaper. Don't rule an idea out just on the price, keep researching and I bet you find a way to make it work."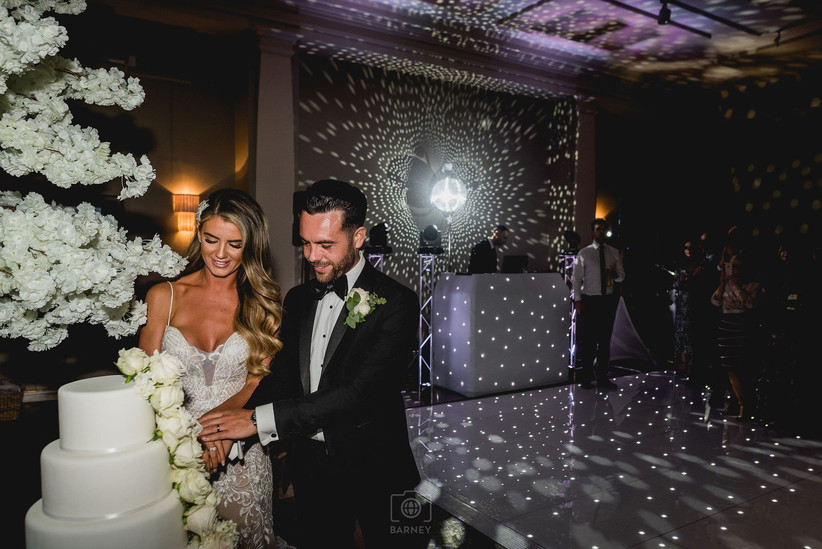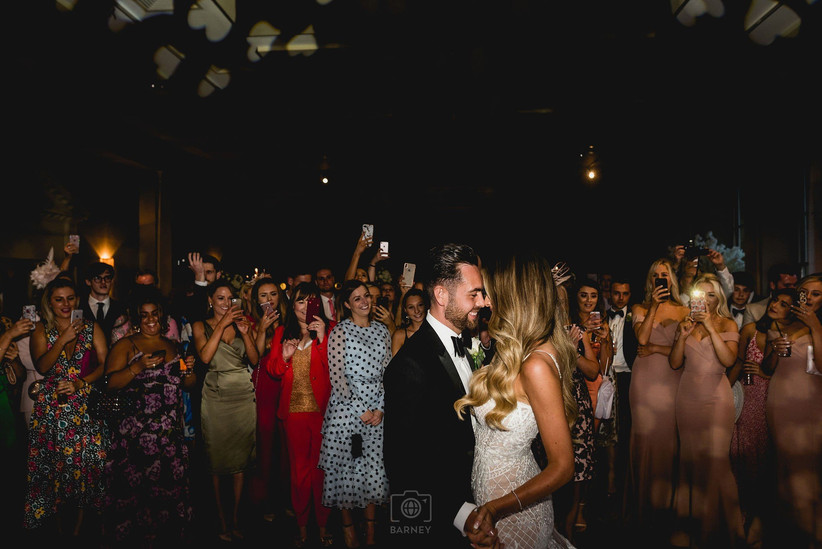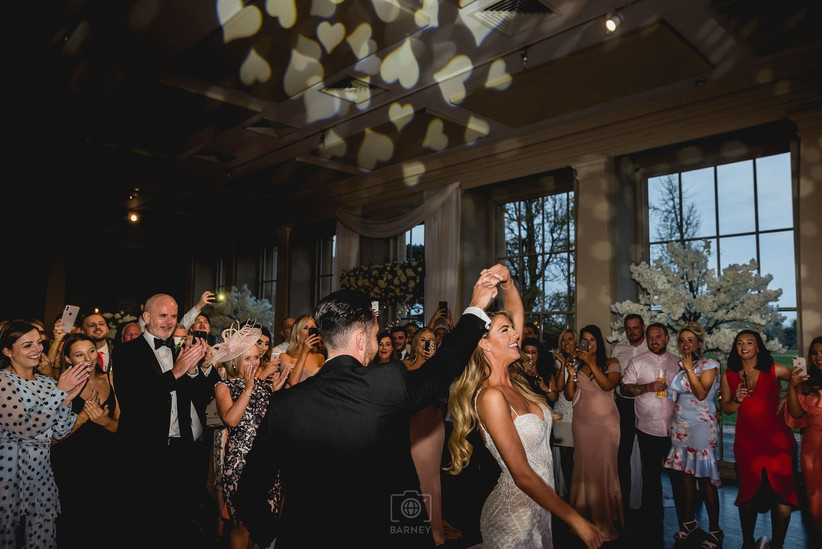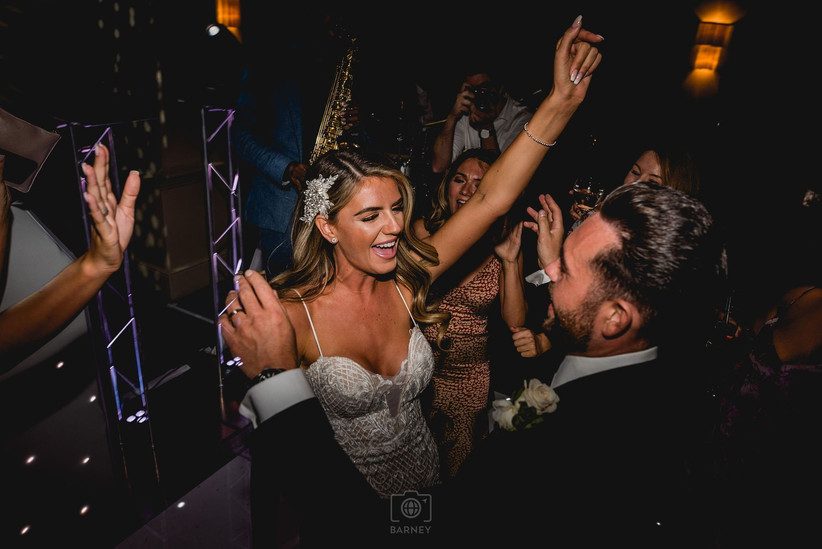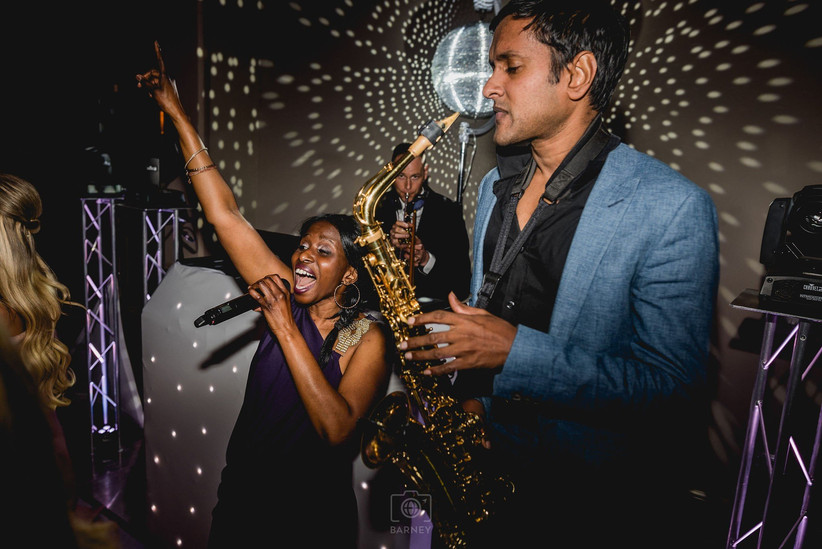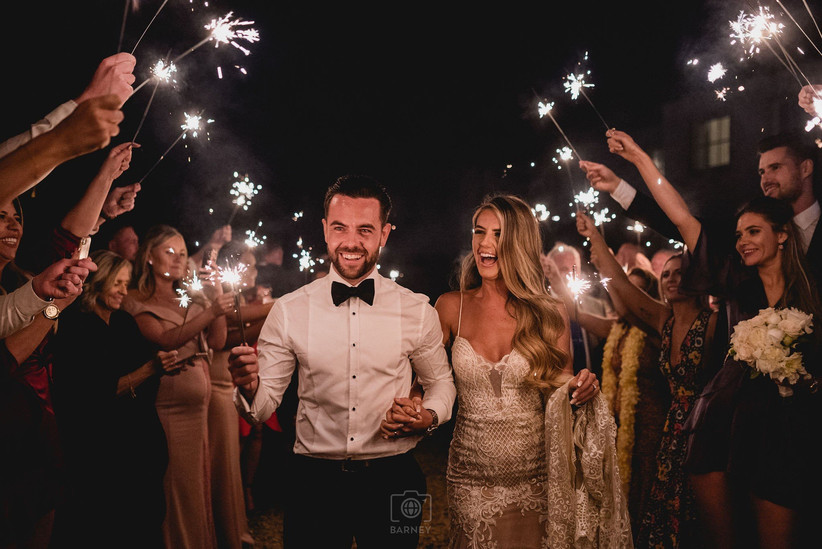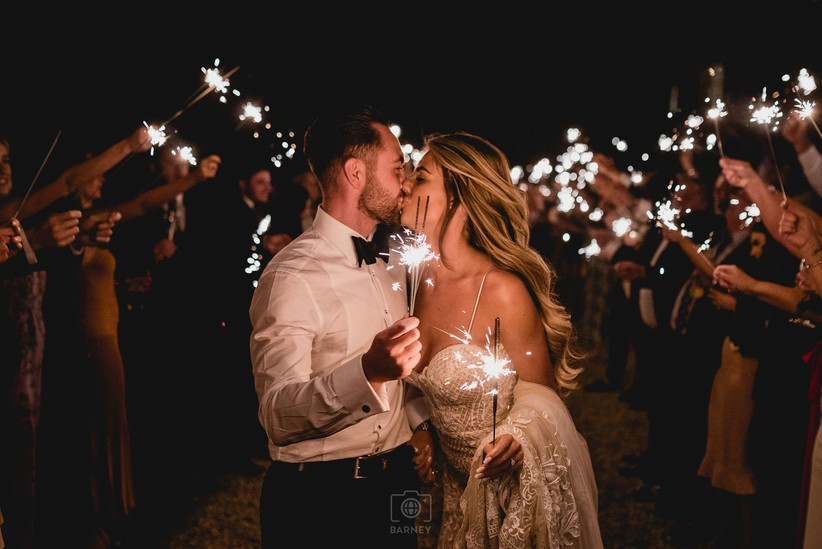 The Suppliers
Photographer: Barney Walters
Venue: Stubton Hall
Wedding Dress: Calla Blanche at Morgan Davies
Accessories: Botias
Bridesmaid dresses: Jarlo
Groomswear: Moss Bros
Florist: Jacaranda Flowers
Videographer: Storybox Films
Thank you to Sophie and Luke for sharing their gorgeous day with us!