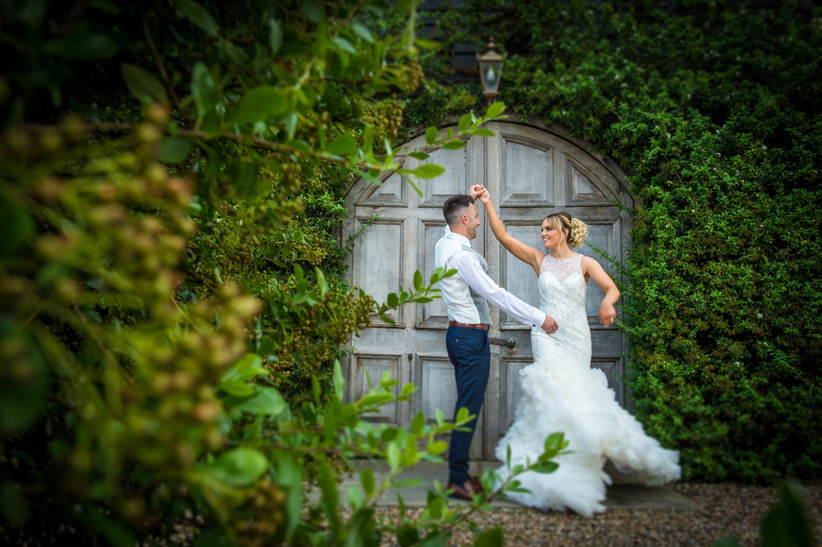 Is there anything more romantic than getting engaged during a picnic on the beach in France? Scott proposed to Vicky after four years together while they were on holiday with friends.
The moment was very unexpected yet incredibly romantic, especially as he pulled out a platinum diamond solitaire ring.
"I had previously had a nosey at some rings in a local jeweller with my Mum for a bit of fun and found 'The One'. Unbeknownst to me, Scott went in and bought it!"
The couple first met at a mutual friend's house party and, after a five-year engagement, tied the knot in front of 87 guests at the gorgeous Winters Barns in Canterbury in July 2019.
Photographer: Steve Barber Photography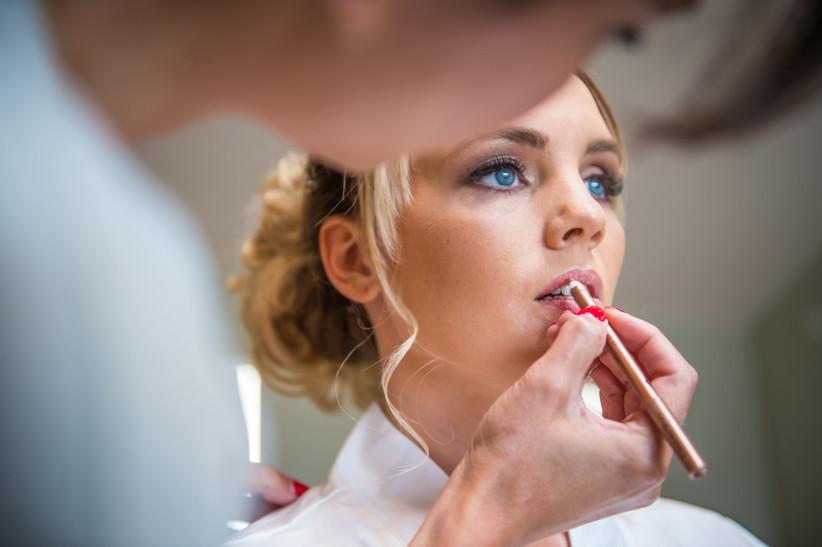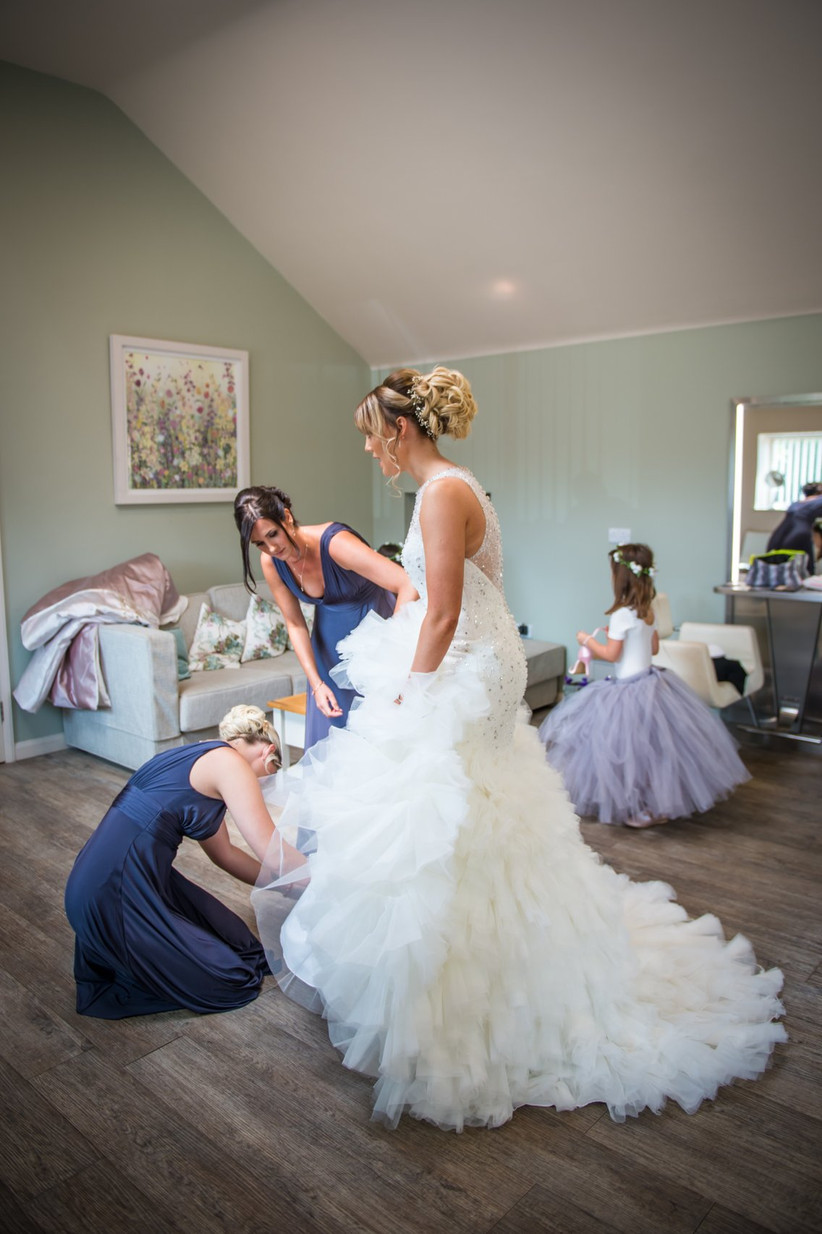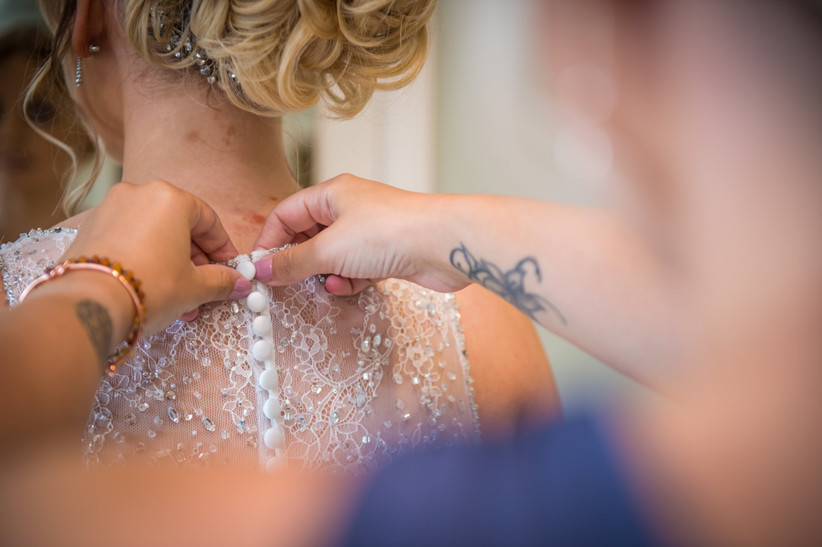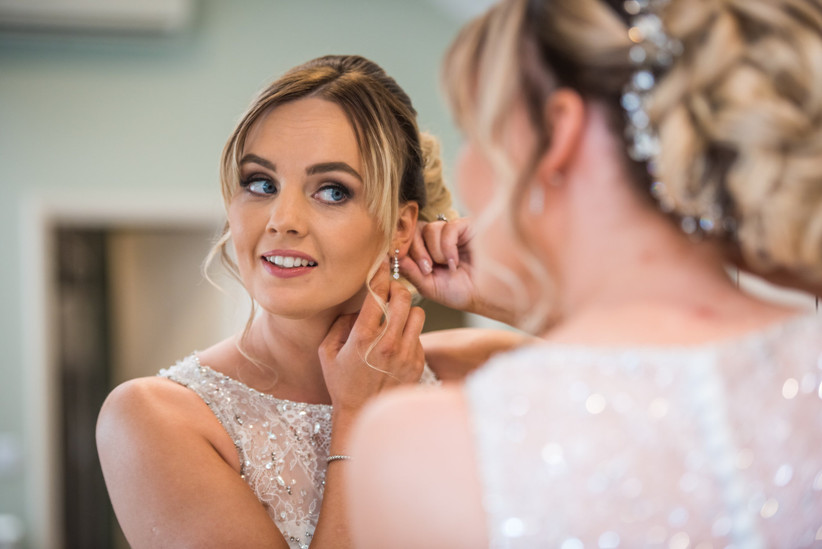 The Wedding Dress
Vicky wore a mermaid-style dress with an embellished bodice, illusion neckline, ruffled skirt, and buttons all the way down the back. As Vicky loved her dress so much, she decided against changing into a different dress for the reception.
"A picture of it came up on social media and I thought, 'I have to try this dress on'. I made the trip out to try this particular dress on but I made sure to try others on too.
"The designer was Morilee and the dress was from the AF Couture Collection. I found it at Alta Costura Bride in Maidstone.
"I must have tried on over 10 dresses – it has to be done. I tried on every shape, colour, material, neckline, but it always came back to that dress!
"There was another particular designer I wanted to try at another shop, but it's true what they say about finding 'The One'.
"I had a trusty hoop to keep the shape of the skirt and a beautiful veil. However, I did decide not to wear my veil on the day."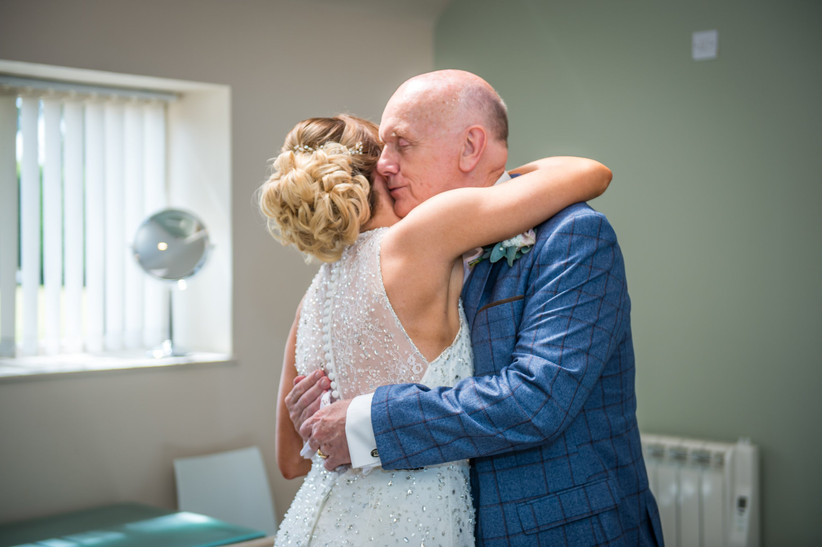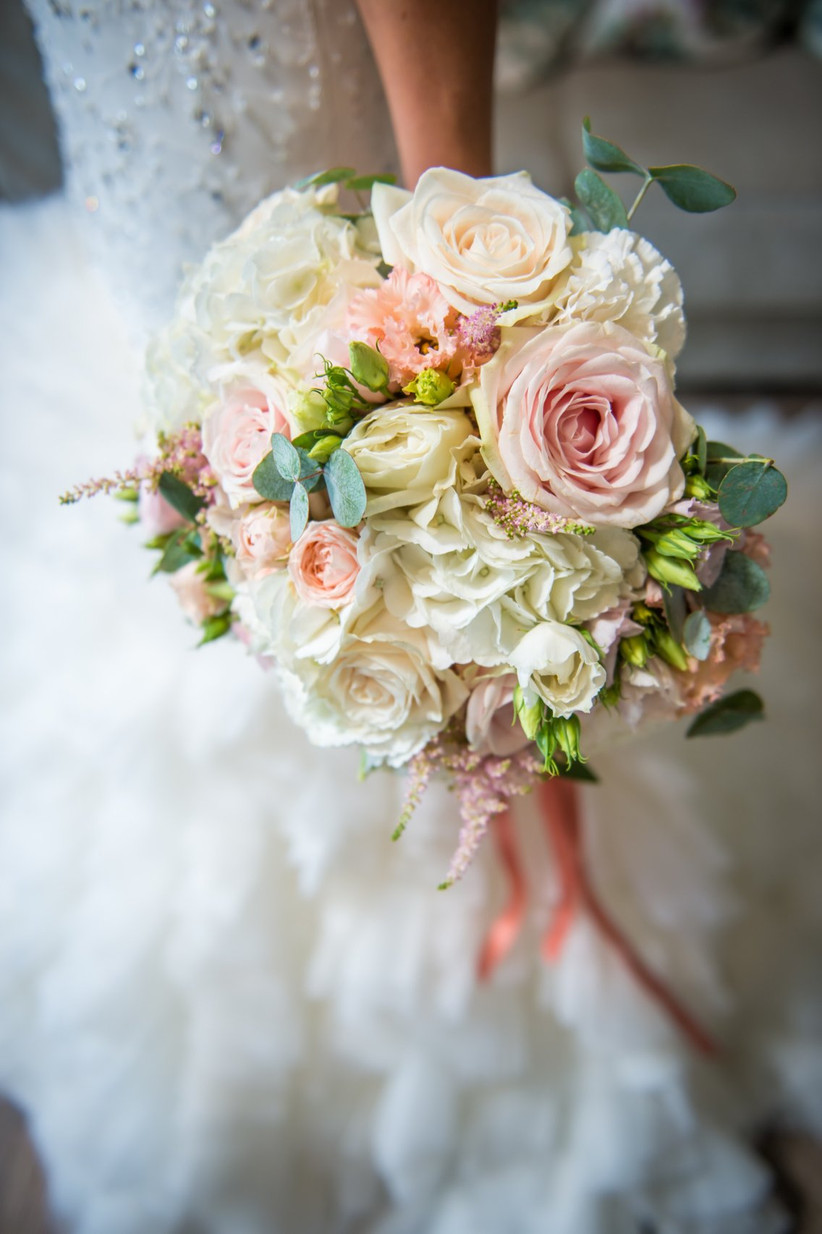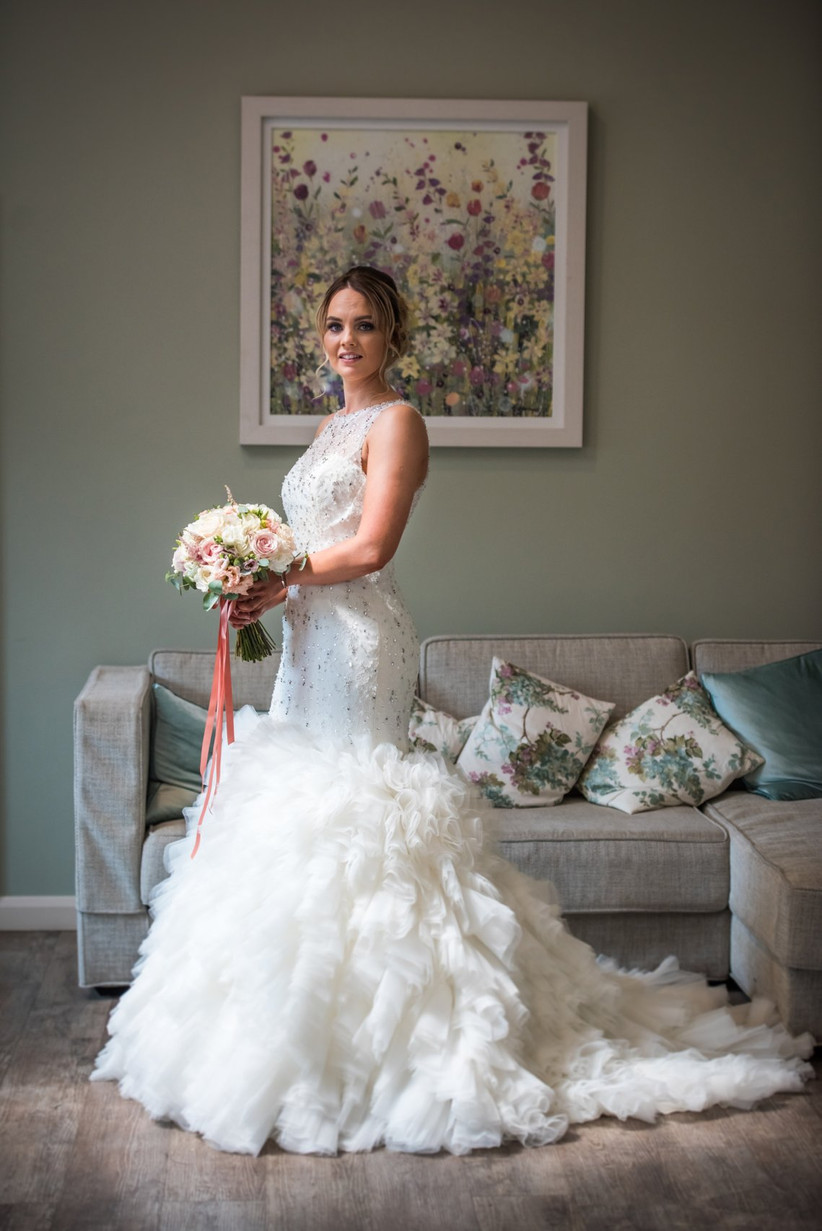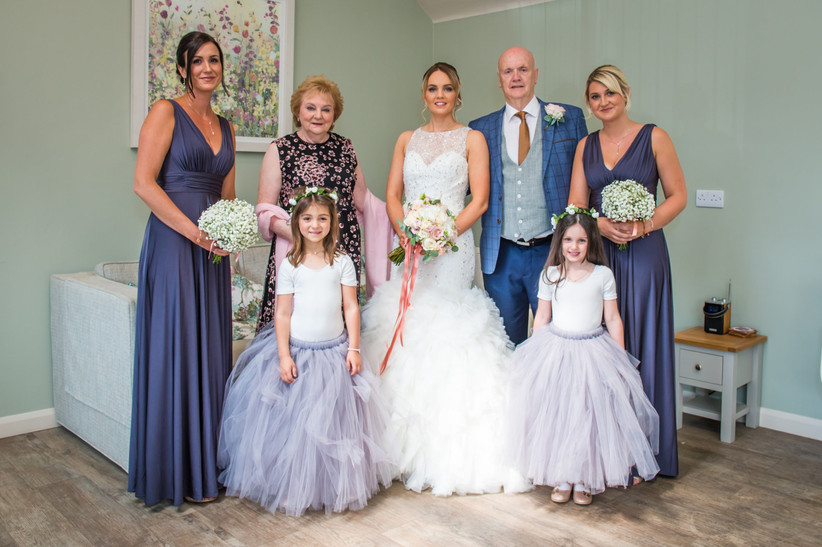 Bridal Beauty
Vicky chose an up-do for her big day as she knew the weather in July would be too warm to have her hair down. She also wanted to show off the back of her beautiful dress!
"I wouldn't say it was my usual style, but it was exactly how I wanted to look on the day. My hair was done by a friend of ours, Liz, who was also a guest at the wedding.
"She was absolutely amazing and was so lovely to have her getting ready with all of us. My hair was incredible and I was so happy with it.
"My makeup was done by the insanely talented Emilie Morrissey. She is a recommended supplier of the venue and you can see why! She was amazing to have as part of our day and was like she was one of us.
"I had a pair of sparkly drop earrings, a bracelet that one of my bridesmaids had gifted me that morning and a sparkly hair vine too."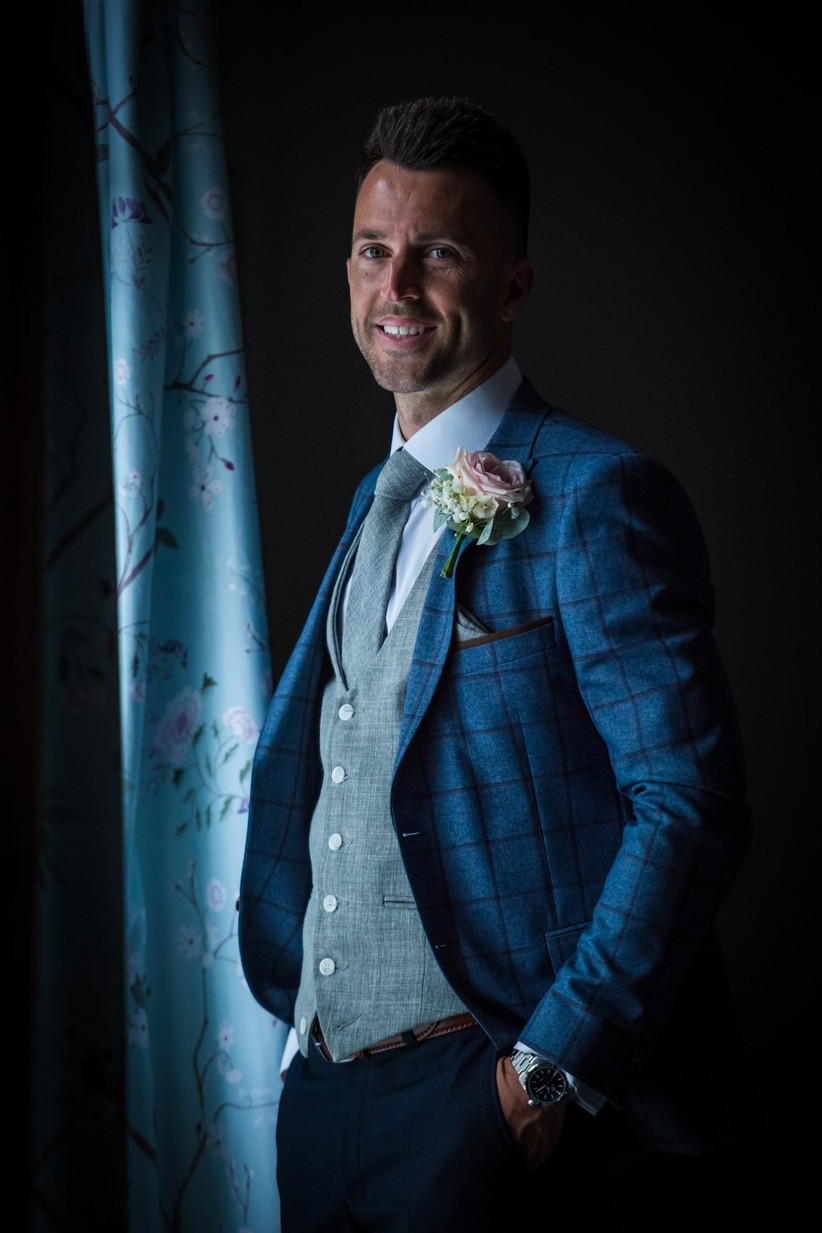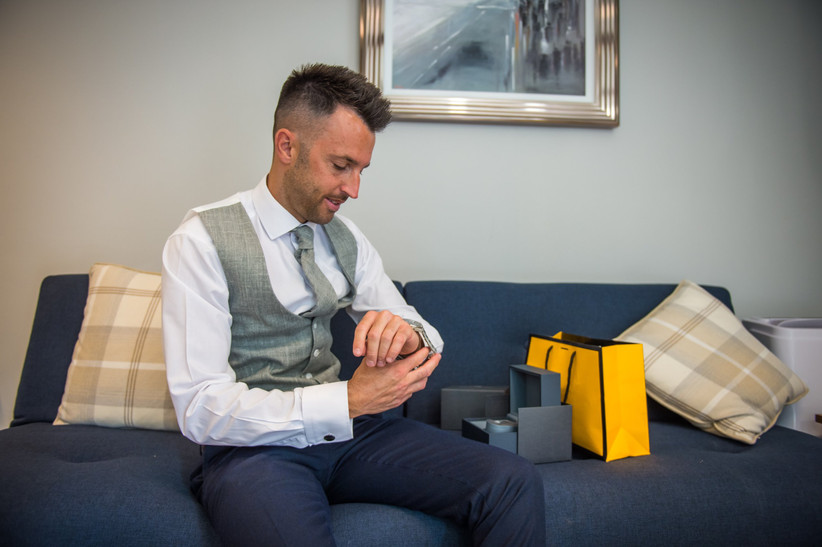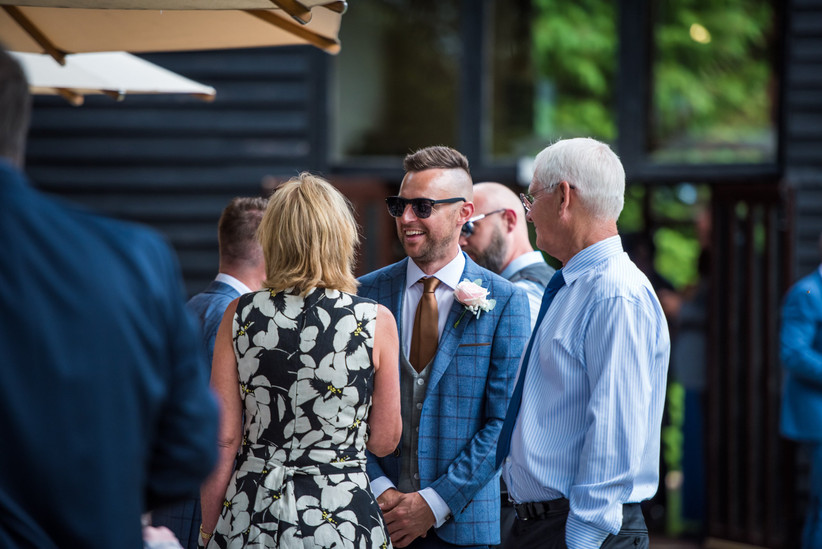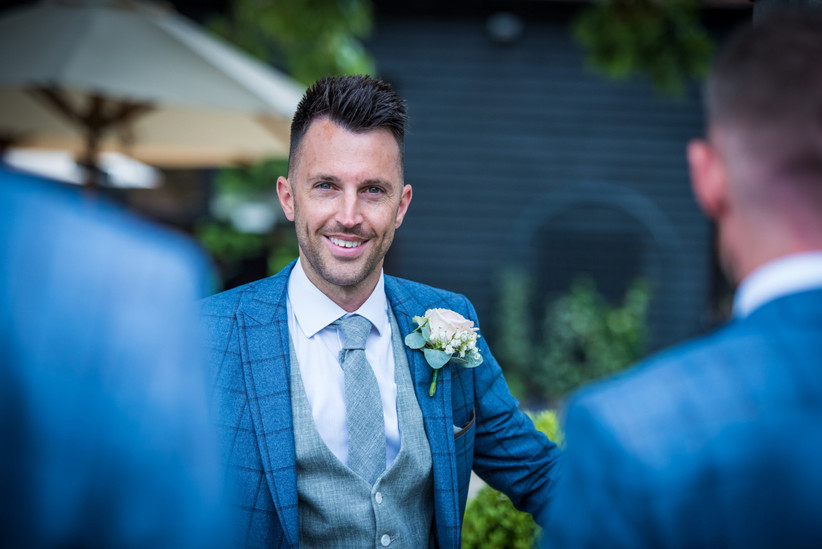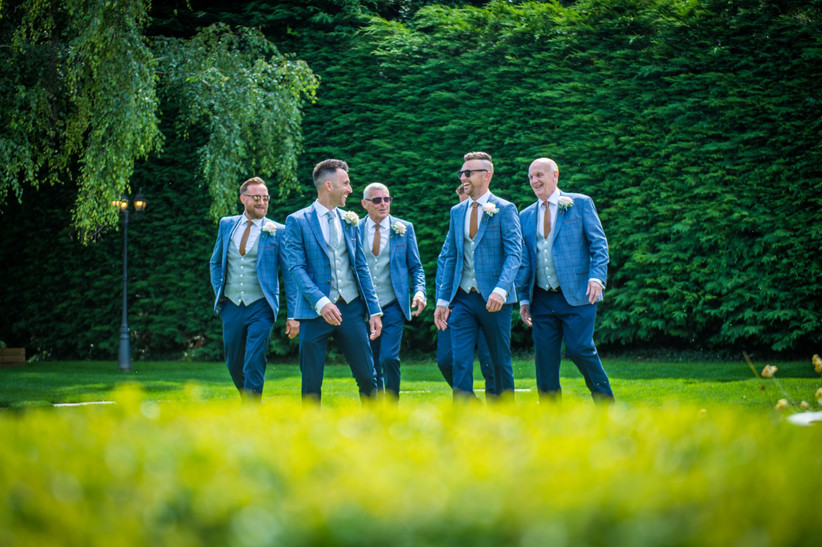 The Bridal Party
Vicky had two bridesmaids, her best friends Jess and Bonnie. Her two nieces were flower girls.
"The bridesmaid's dresses were from House of Fraser and the flower girls' outfits were handmade to order by the amazing Lucy from Six Stories on Etsy.
"I had an image in my mind as to what I wanted them to wear. I was confident that I knew them well enough to know that they would like them too.
"I wanted to make sure they were comfortable and confident. I got them to try a few on to make sure they were happy, which they were."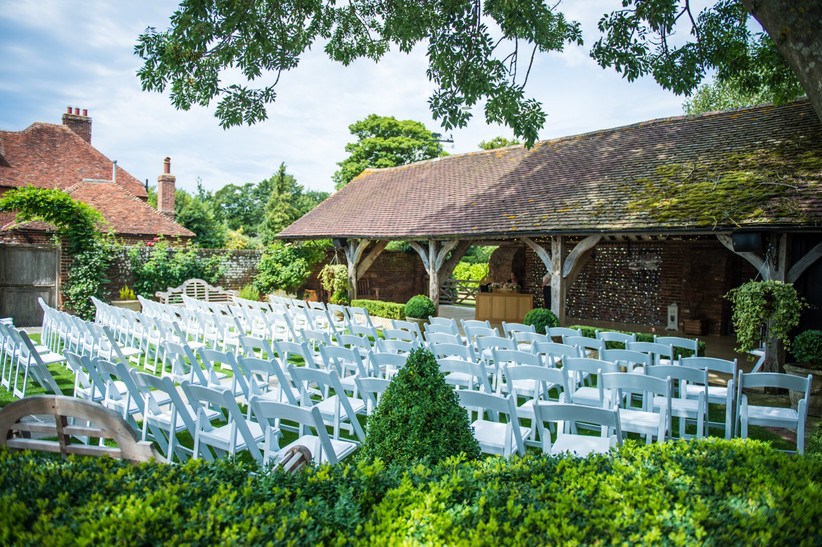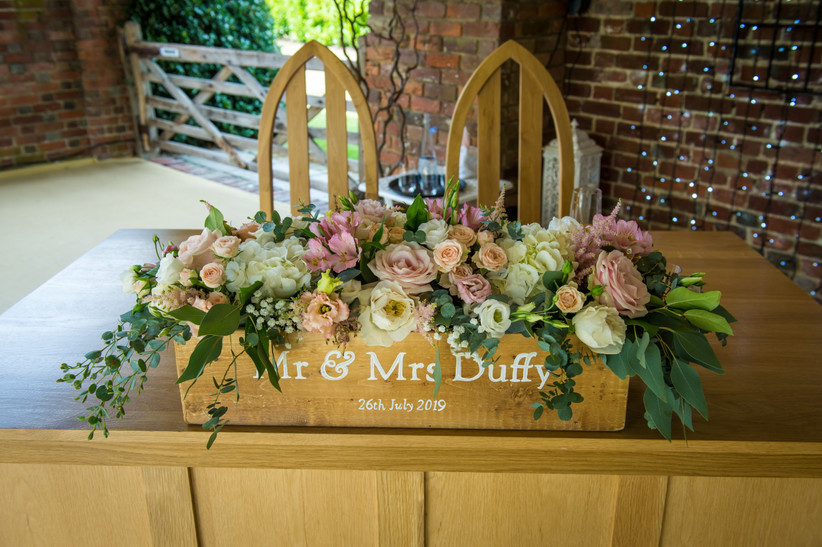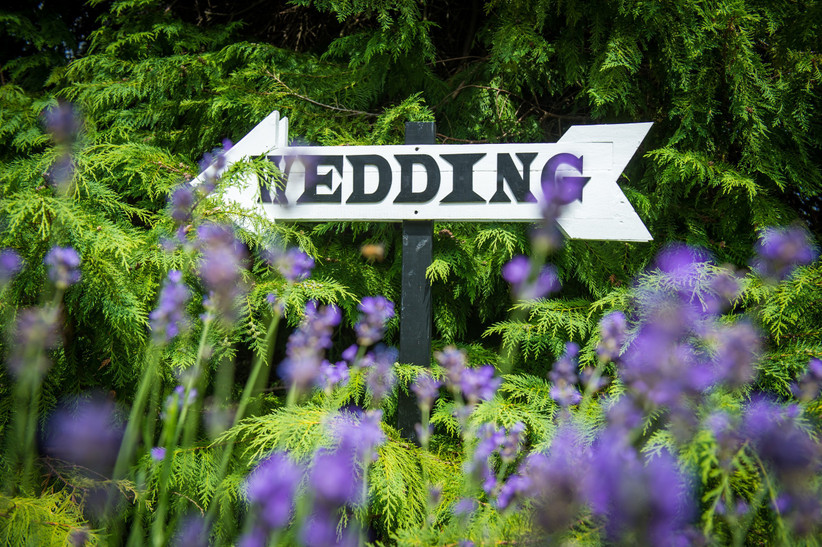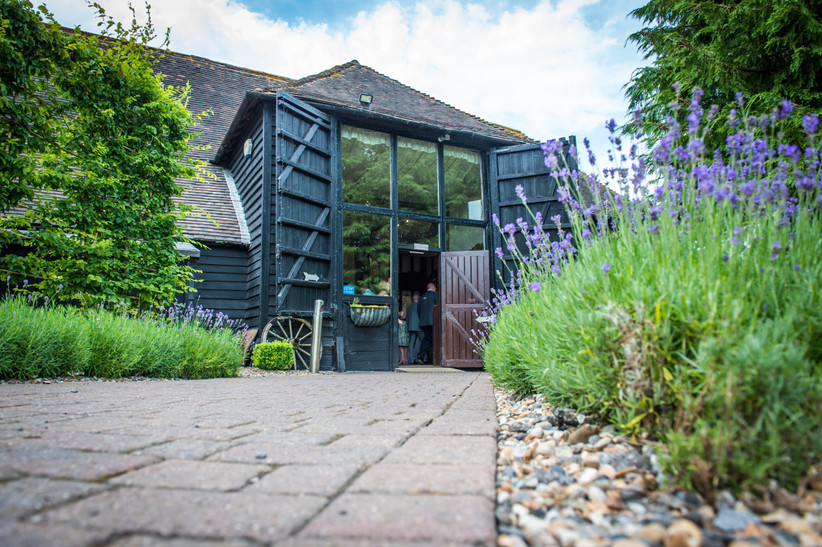 The Groomswear
Scott wore a three-piece checked suit with a grey tie to complement the colour theme, hired from Lapel Mens Hire.
"We had been recommended to use a local company by a lot of friends and met Mark from Lapel Mens Hire at a wedding fair.
"Scott is quite particular in what he likes and I thought it was going to be impossible to find something he liked. It was entirely his choice what he wanted. After all, it was his day too!
"I went along with him, expecting to walk away with nothing sorted. But he found exactly what he was looking for!
"Mark provided cufflinks with the roles of each of the men on them which was a nice little touch."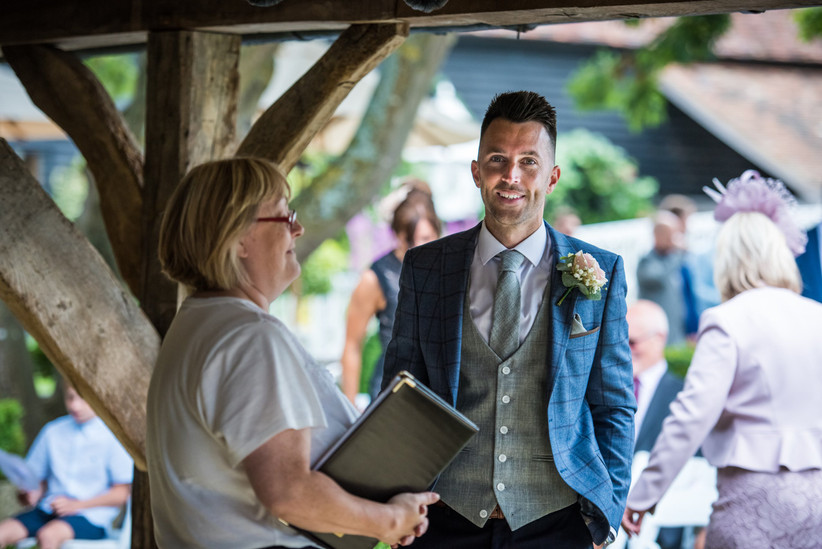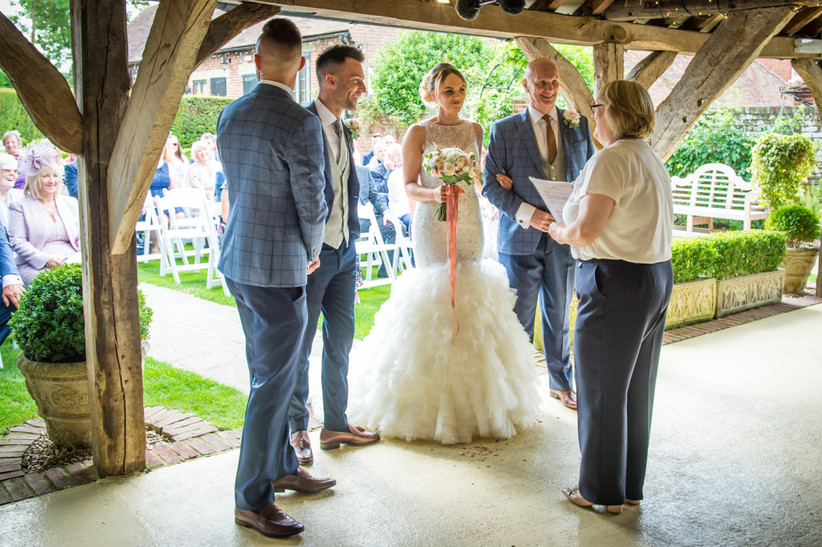 The Ceremony
The couple chose to have a civil ceremony at Winters Barns in Canterbury and hosted their reception there too.
"We chose to have no readings or hymns during the ceremony. The wedding was on the day after the hottest day of the year, so it was still exceptionally warm (especially in a wedding dress).
"We provided little heart-shaped hand fans for the guests, but these turned into umbrellas as there was a quick shower during the ceremony which the guests were equally grateful for.
"I walked down the aisle with my Dad to Nothing Really Matters by Mr Probz. Our rings were from Rings Rock."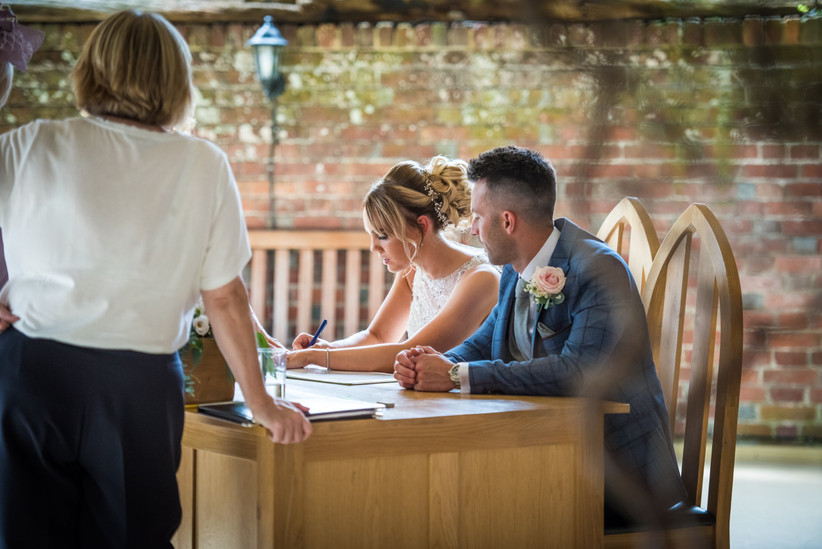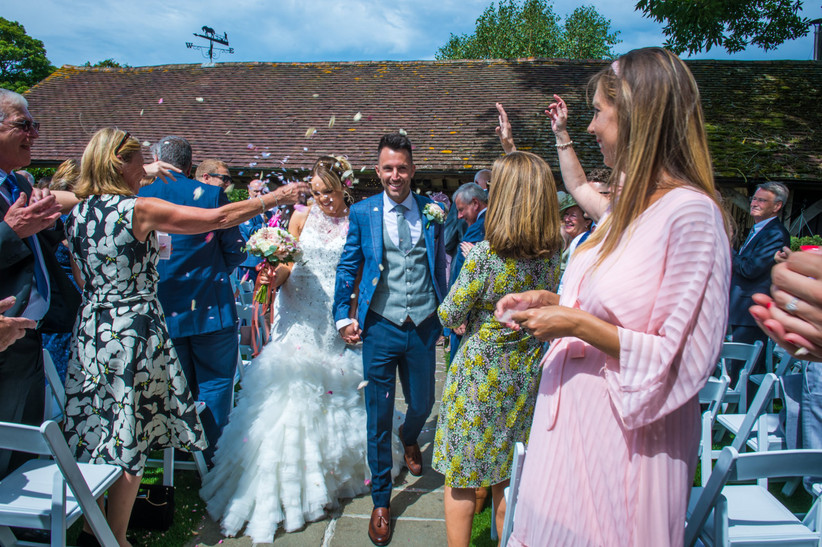 The Reception
The couple had looked at many different venues before they came across Winters Barns which made them smile as soon as the pulled into the car park.
"My mother-in-law mentioned an open day at Winters Barns so we all went, my parents and Scott's. Lizzie, one of the venue's coordinators, met Scott and me for a tour of the venue.
"Our parents followed us around for a bit often getting chatting with the other suppliers that were also there, which left us to take it all in. We were sold! And Lizzie was like our best friend and we could tell this was it.
"We arranged to go and take another look around the following week on our own and that's when we sealed the deal.
"It was the perfect setting for our perfect day and everything is so well-thought-out. The value for money considering what is included in your package is also brilliant."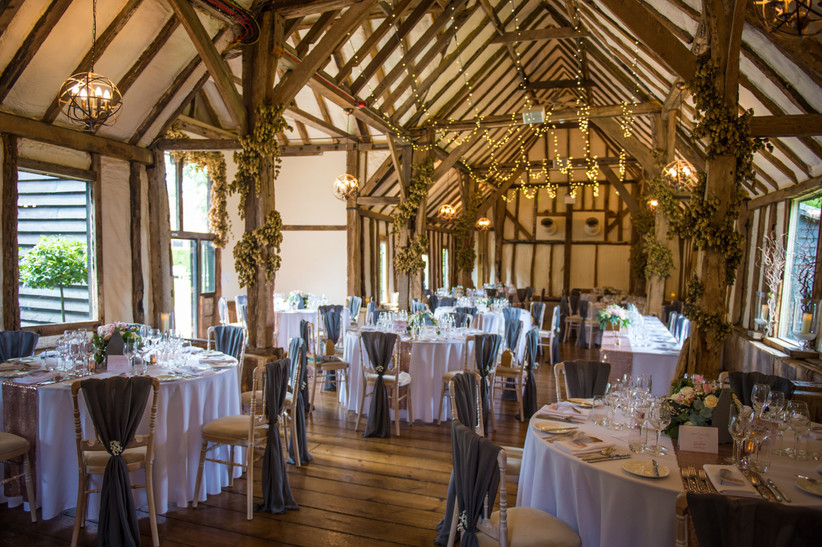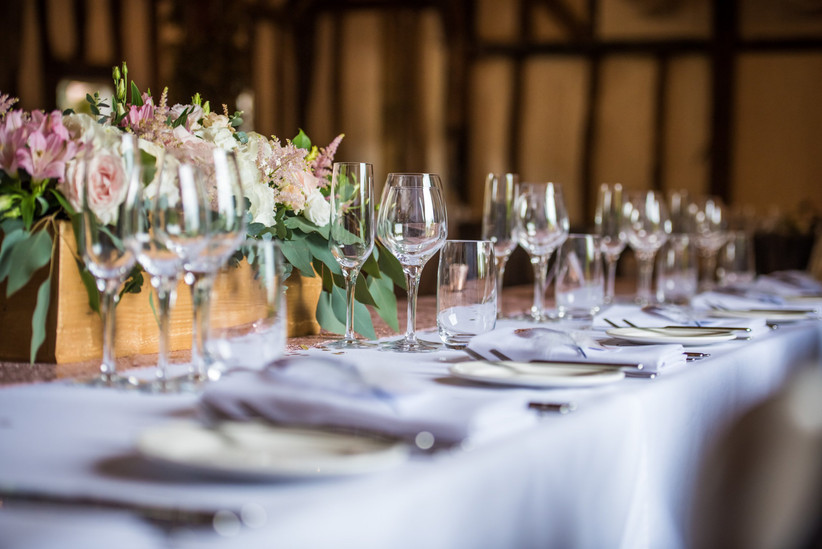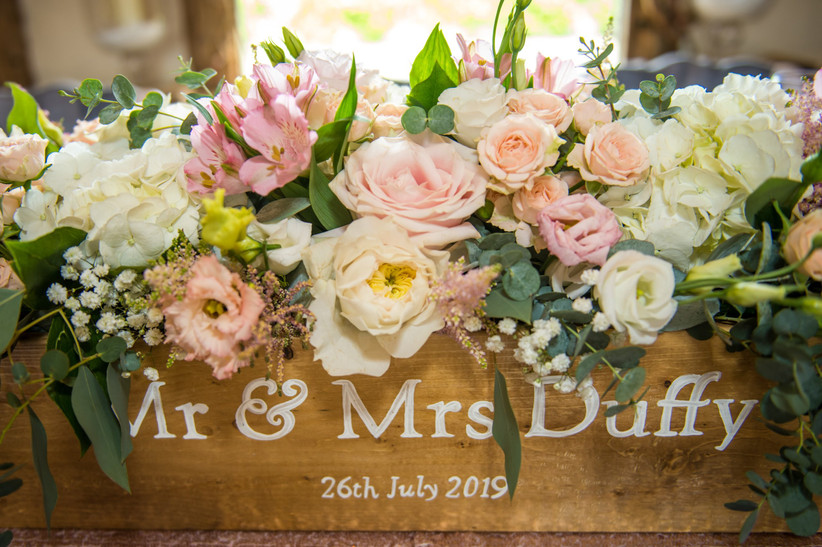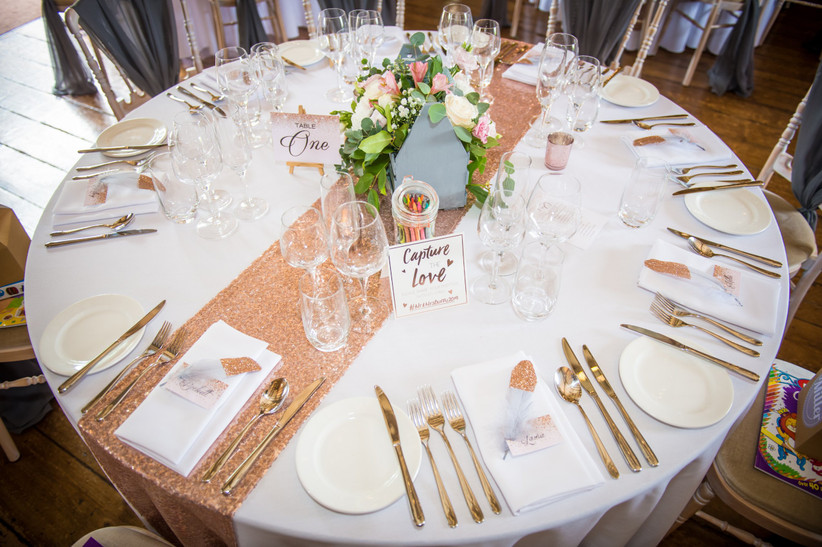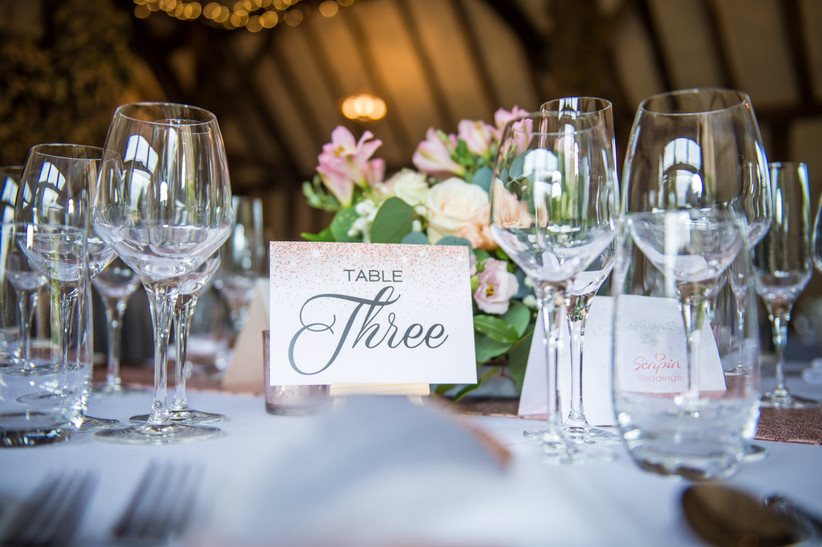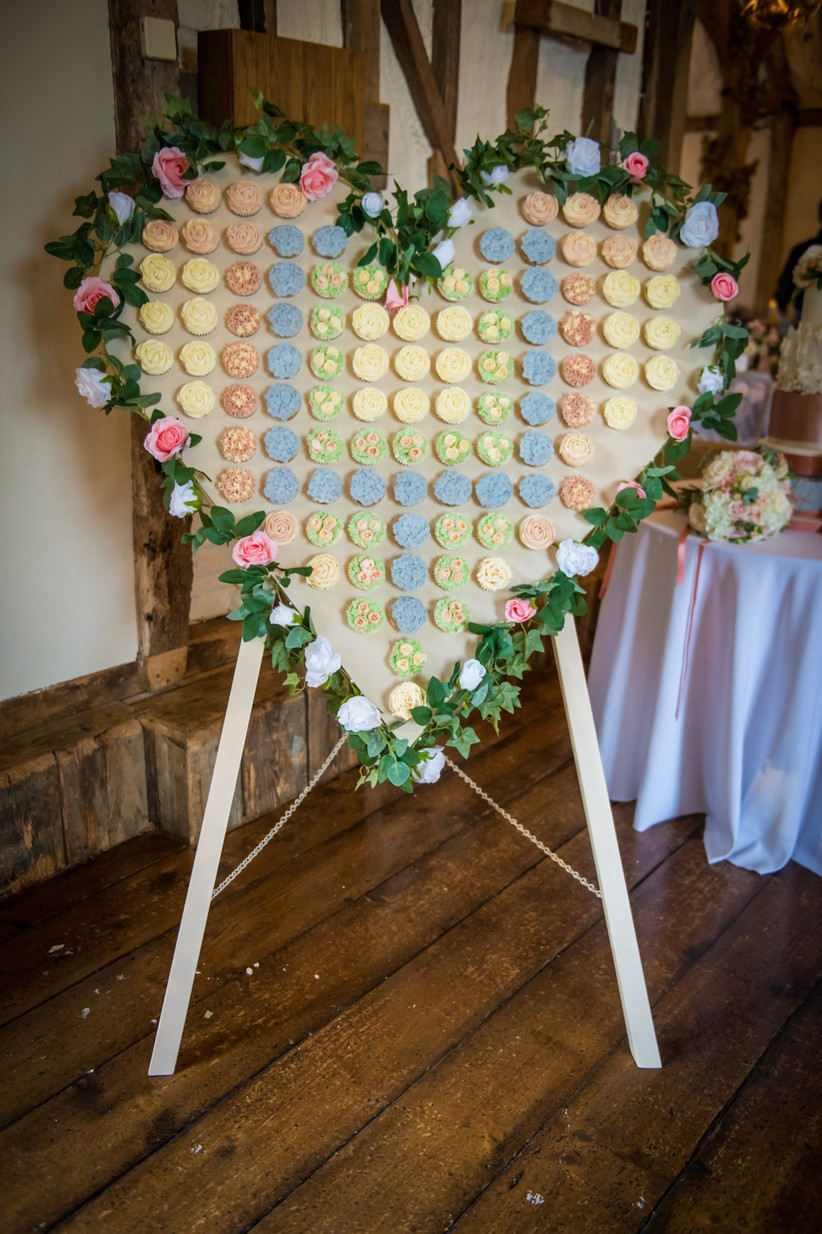 The Flowers and Stationery
Vicky and Scott chose a colour scheme of grey, copper and rose gold, with complementary feathers. Emily and her team from event styling company I Do Devoted Dreams were in charge of the couple's flowers and stationery.
"I had a hand-tied bouquet with dense blush and ivory florals and grey/green foliage, with a rose gold ribbon with long ends.
"The flowers used in the bouquet were also used in the centrepieces and on the top table. They were arranged in crates for the guests' tables and then I had a personalised box for the top table. I gave the crates to members of the family and friends as a keepsake at the end of the day.
"Our wedding stationery was a blush colour with copper/rose gold glitz confetti overlay. We did a bit of DIY with our wedding invites.
"My brother designed them for us after I'd given him some details of what I was looking for. A friend of ours got them all printed and then I sat for hours placing individual coloured gems on each part of the invite. It made them that bit more special. I also made envelope inserts and also got some personalised stickers made to seal the envelopes also.
"The rest of the stationery was provided by Emily and her team from I Do Devoted Dreams. She recreated our design and carried it through the day.
"Our table plan was a favourite of mine. It was a copper frame with a big flower display on one side and the details hanging from the frame alongside the hand-dipped feathers that I had created for the favours. The colours and design were used throughout our stationery.
"I decided to have another bit of DIY for the favours and had grey feathers which I dipped in rose gold glitter. I then got Emily to create name cards for each of the guests which the feathers then threaded through."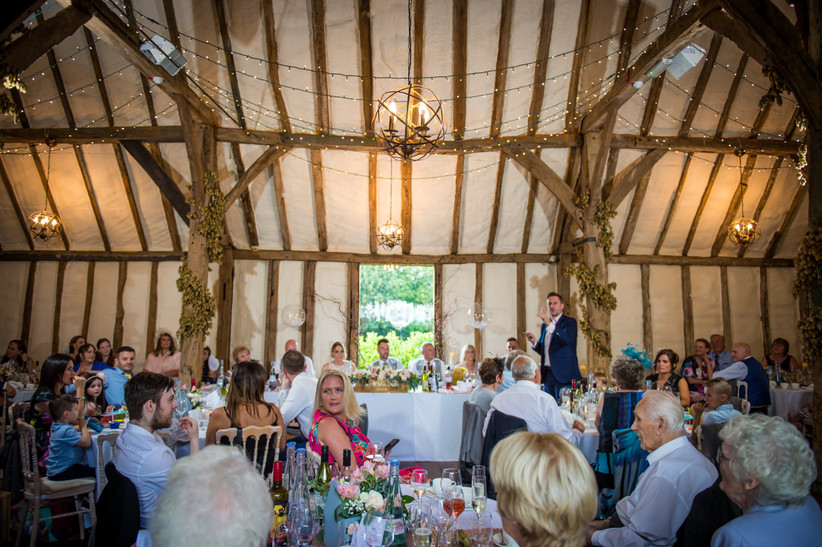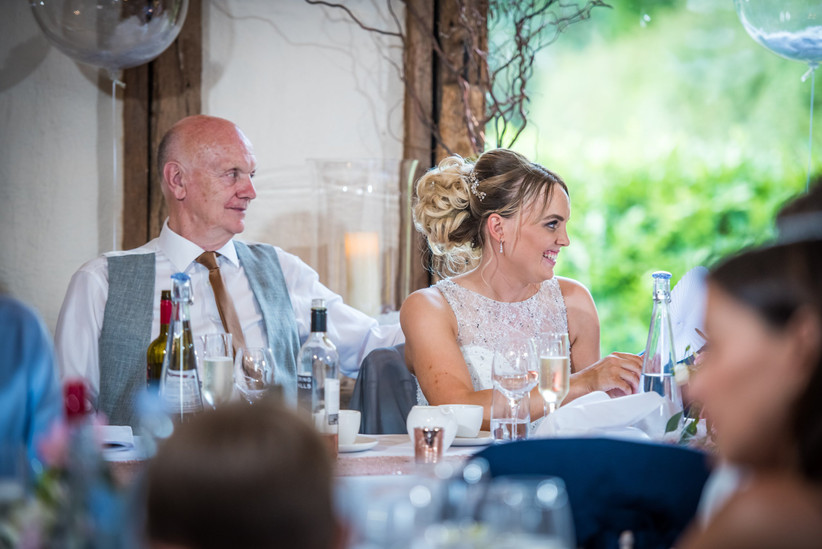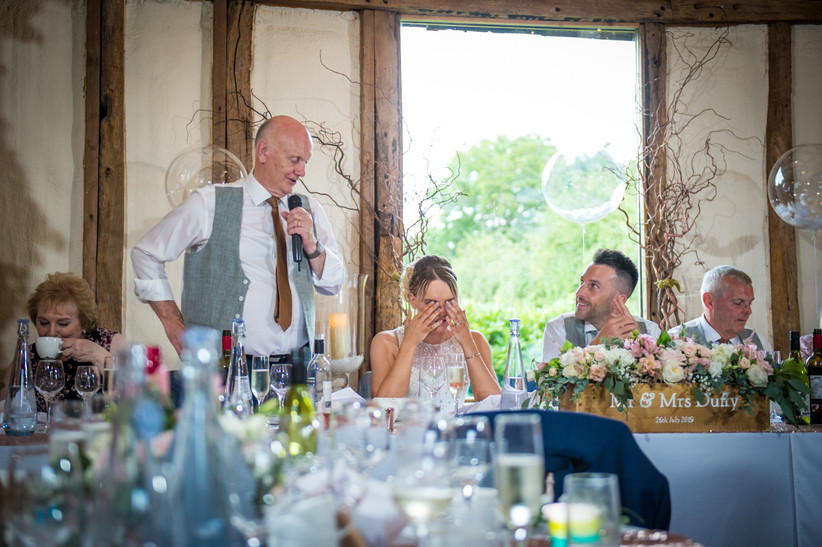 The Cake
Interestingly, the couple chose a "cupcake flower wall" where each of the cupcakes was decorated to make it look like a different flower.
"I had a five-tier wedding cake. Each tier was a different height and design and was decorated with flowers used throughout the venue. Half of the bottom tier was served on the night along with our cupcake wall. It was all done by the amazing Natalie from Sweet Majic.
"Along with our cake wall, we had a selfie-mirror provided by Berry Booths which was great fun and captured loads of fab moments of our guests having fun and being silly."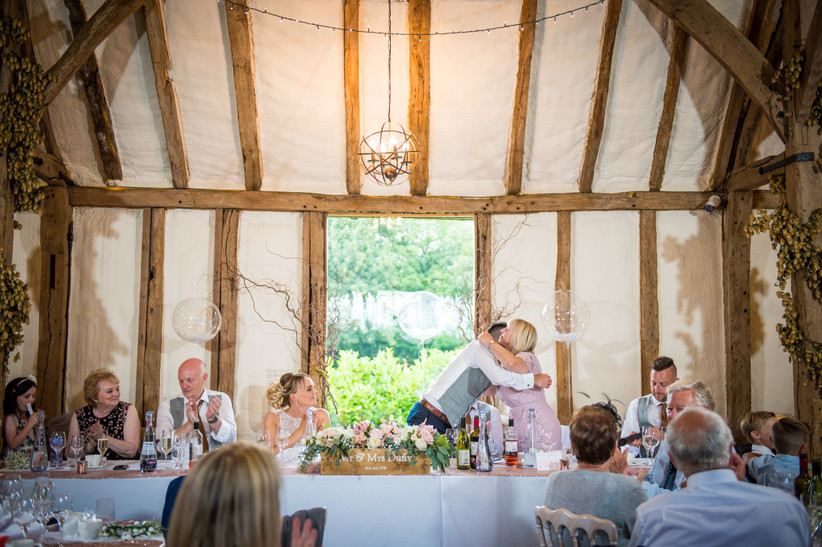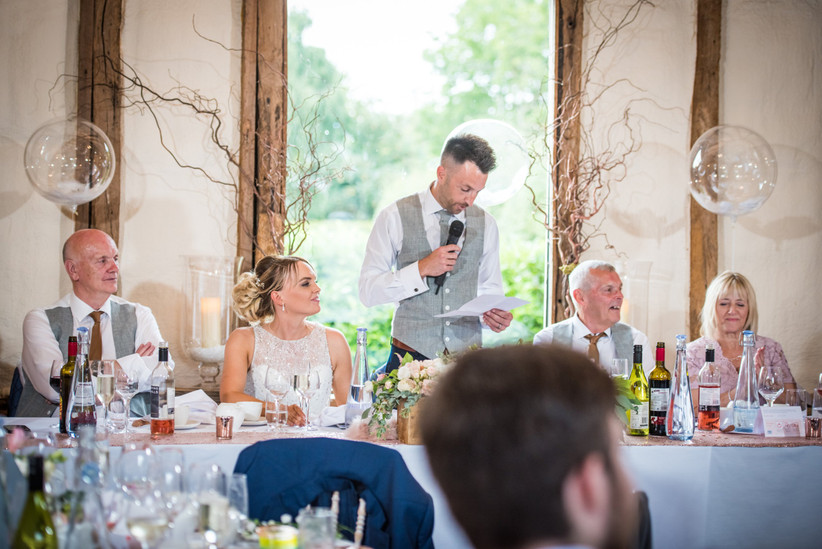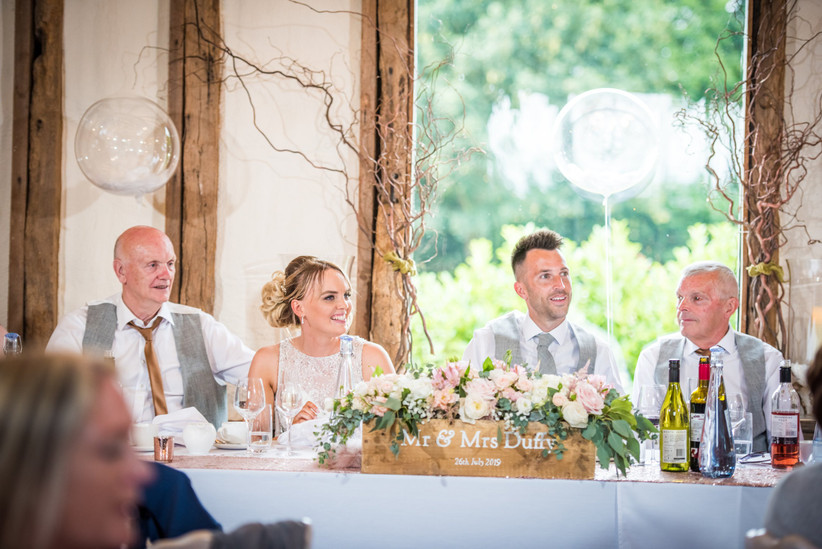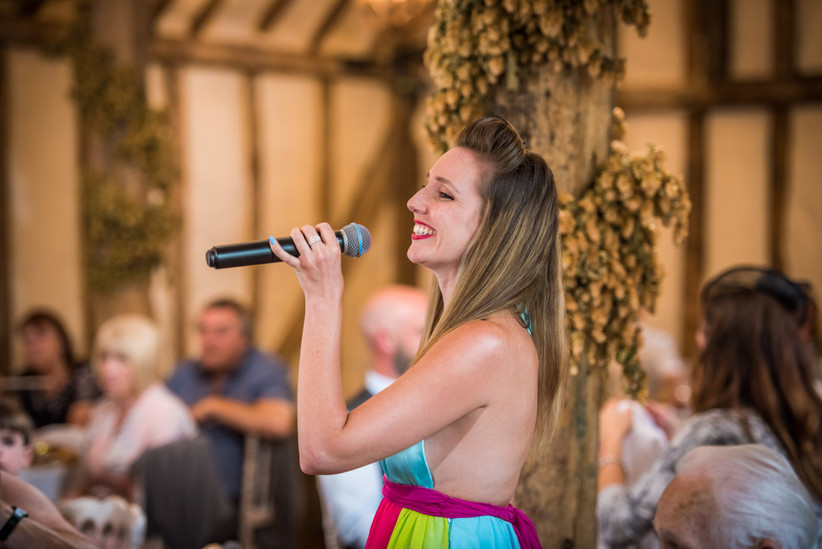 The Entertainment
Vicky and Scott's first dance was to Morning Light by Justin Timberlake. To keep guests amused, they provided a few other forms of entertainment.
"We had the coolest magician there called Spencer Wood. He had our guests gobsmacked and they still talk about him now! He was so much fun and was a great part of our day. I would highly recommend him and we will have him at our next party or event – any excuse we can.
"We had a few garden games out for the kids to keep them occupied which were also provided by Emily. We were aware that we would be so busy with photos and mingling that we wanted there to be something else going on to get people chatting and have something else to remember from our day.
"Our mothers arranged a surprise singer to perform after the speeches which was a lovely surprise. I look a little shocked initially when looking through the photos! She sang a few songs from The Greatest Showman, which everybody enjoyed – especially the kids."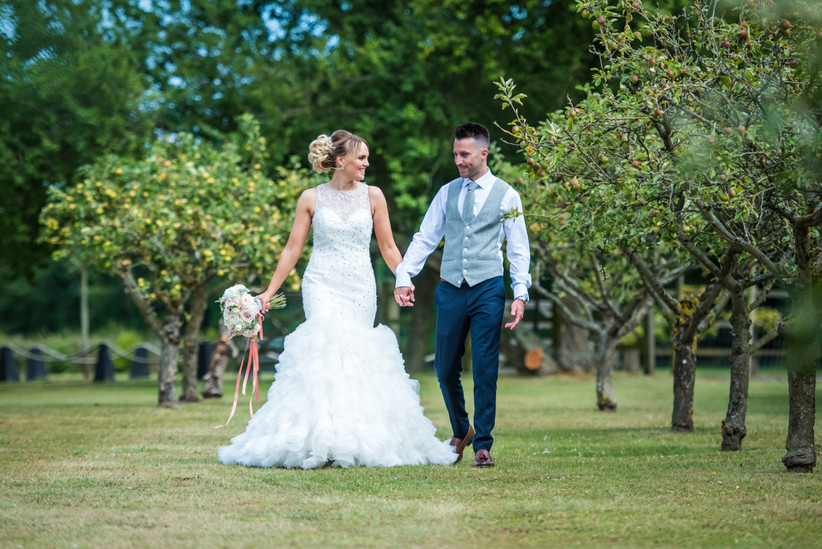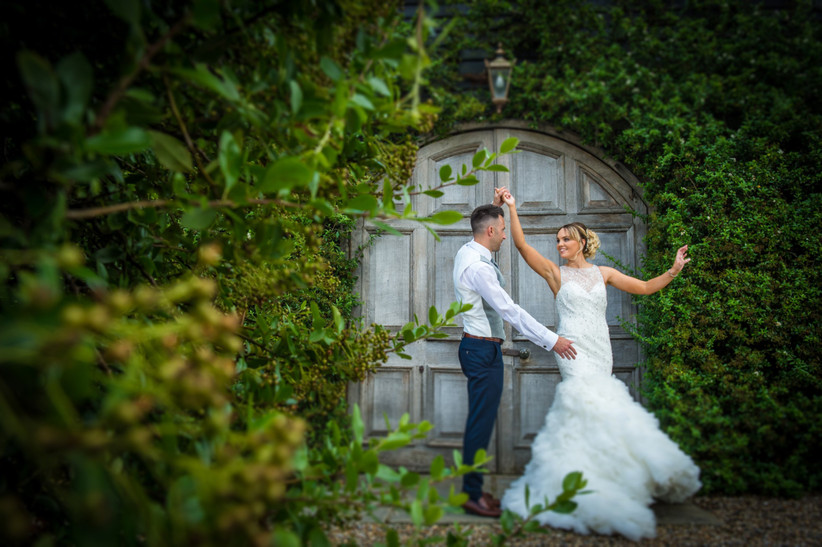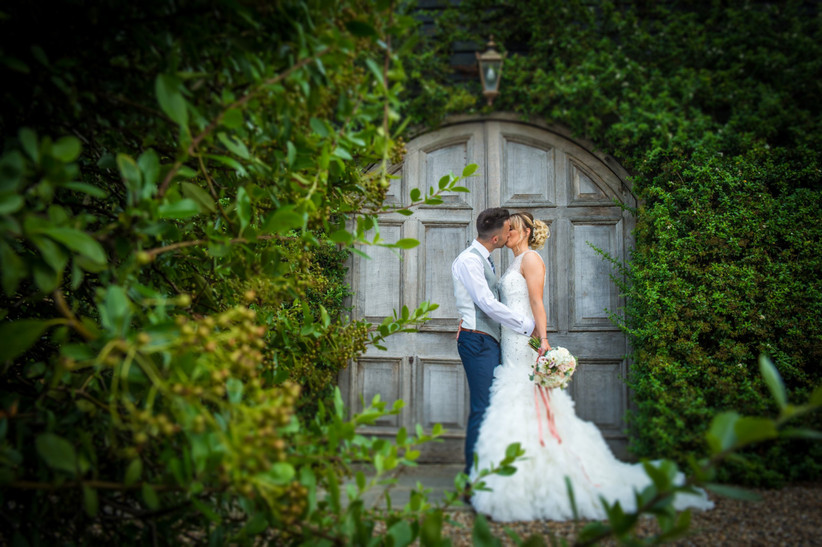 The Couple's Advice
Vicky and Scott decided to put their honeymoon on hold and move house instead. But, they did enjoy a relaxing mini-moon at Champneys Forest Mere where they reflected on their big day. They have some useful advice for couples currently planning a wedding!
"If we could change one thing about our wedding day, we would make it last longer. It's true what they say, it flies by. Take it all in while you can!
"Our advice is easier said than done, but don't stress about the little things. I focused on so much that I struggled to relax on the day which was my fault entirely. The day was perfect and everyone else had the most amazing time.
"Also, build a good relationship with your suppliers. We have made friends for life with ours and we are so happy to have had them be a part of our day!
"There's no way we could pick just one favourite moment. We wish we could do it all again and we wouldn't change a thing about it!
"We want to say thank you to everyone who made our day so very special to us. A special thanks to Steve our photographer, who captured the most incredible images of our day and is a well-deserved winner of the Kent Wedding Awards."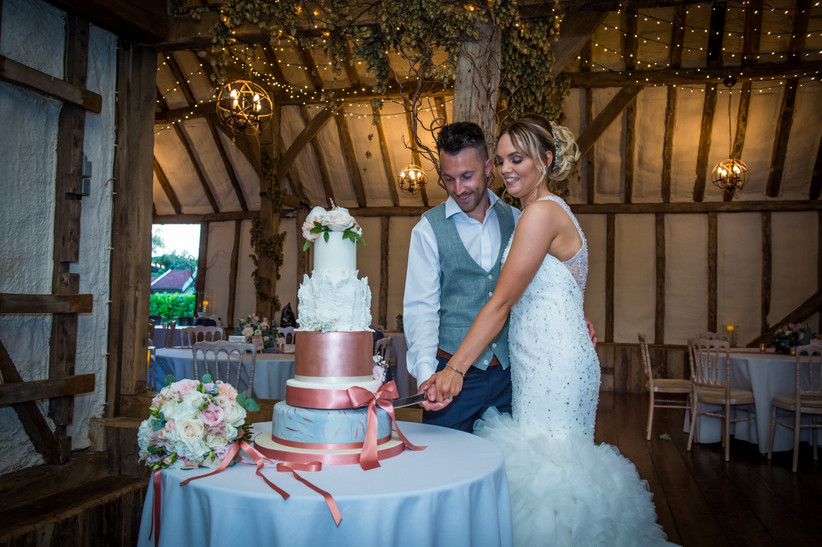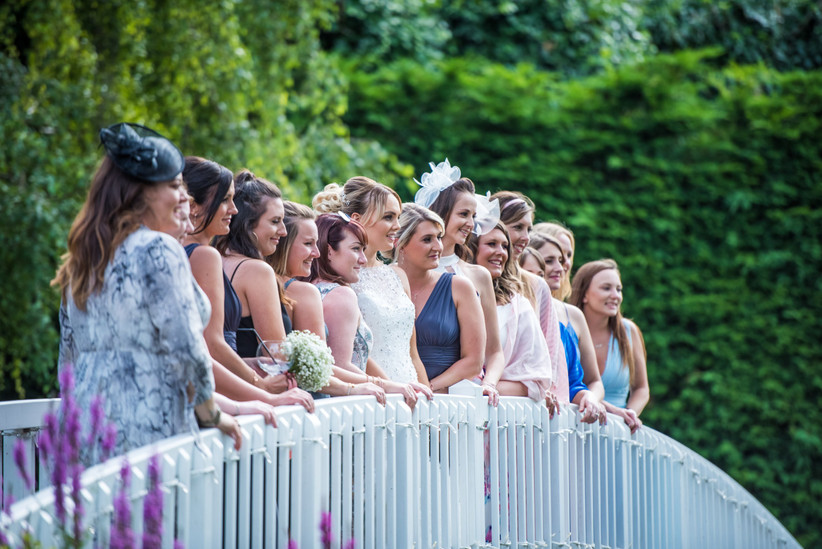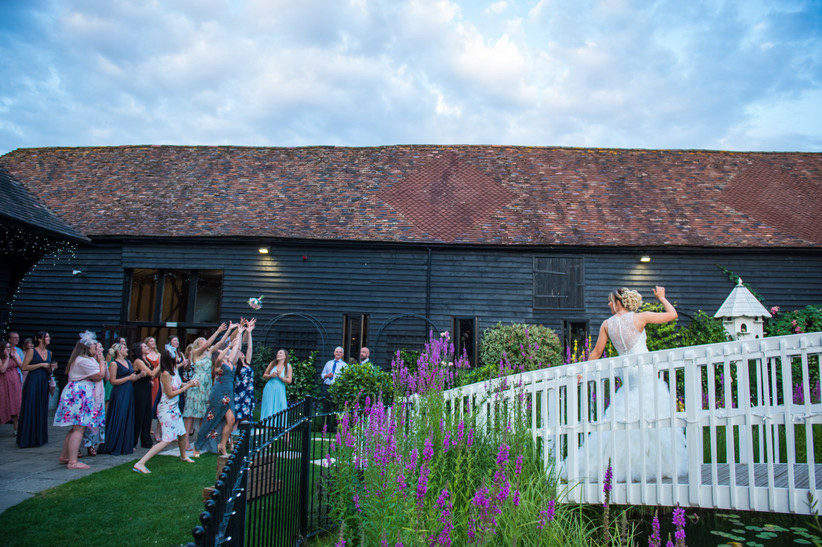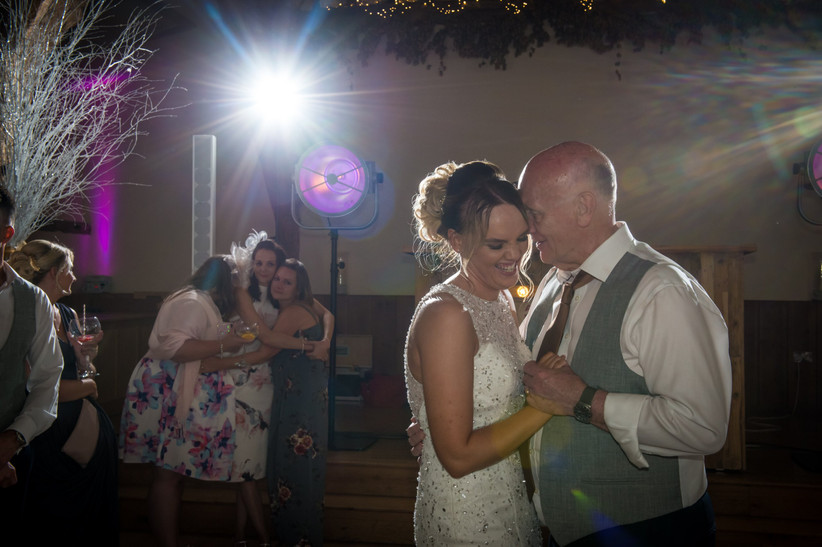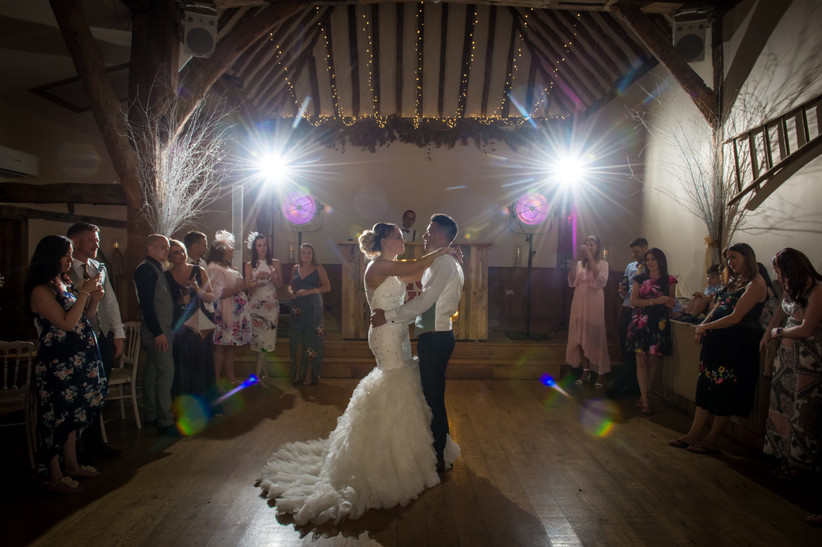 Suppliers
Photographer: Steve Barber Photography
Ceremony and Reception Venue: Winters Barns
Wedding Dress: Morilee
Makeup: Emilie Morrissey
Bridesmaid Dresses: House of Fraser
Flower Girls' Outfits: Etsy
Florist and Stationery: I Do Devoted Dreams
Wedding Cake: Sweet Majic
Selfie Mirror: Berry Booths
Groomswear: Lapel Mens Hire
Rings: Rings Rock
Entertainment: Spencer Wood
A huge thank you to Vicky and Scott for allowing us to feature their beautiful big day!