With seemingly endless ideas for fun and creative hen do's, it can seem like the guys get a little bit forgotten. But here at Hitched we've got you covered as we've teamed up with Freedom to bring you the best active stag party ideas around! Forget tired old pub crawls and dodgy nightclubs, instead take a look at our list of active stag do ideas for the adventurous groom, including a post-apocalyptic zombie survival boot camp and the curiously titled Bubble Football. Be wary though, once all is said and done, you might need to buy your best man or future father-in-law a pint to smooth things over after a taking part in these seriously competitive activities!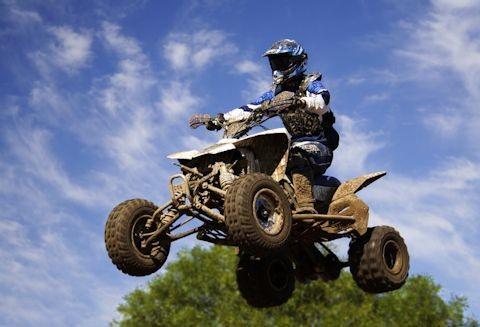 As the name quite rightly states, this is a fun filled day where active stags can take part in goofy games. You can ride the rodeo bull, attempt to outrun your buddy on the bungee run and play a super skilled version of penalty shoot outs, along with loads of other activities. If you're a competitive bunch then this package is definitely the one for you; the more of you take part, the more activities the company provides.
For the stag do's to end all stag do's, try the Boys Toys or Crazy Gang package. This multi activity day has a huge amount of options for the adrenaline junkie grooms amongst you, with Rage Buggies, Blindfold Driving, Target Shooting and a JCB experience, in which we can only guess that you do some serious digging! There are so many positive reviews for the Boys Toys or Crazy Gang package that you'd be mad to miss out.
For an alternative stag do, face your fears and try to survive the Zombie apocalypse. This half day of action is a great option for parties looking for an awesome daytime activity before they start the traditional pub crawl. There's a pretty cool story line (that we won't ruin for you) but it's basically you vs. them, survival of the fittest and time to prove your manhood! This all inclusive package provides you with photographic mementos, basic training, actors with movie quality makeup and much needed refreshments throughout. Place bets on who will be the first of your groomsmen to surrender for an extra competitive element. Will you survive the apocalypse and make it to the church on time?
This crazy game is taking the UK by storm. A great bonding experience for active, footie loving stag parties, Bubble Football is a hilarious twist on the beautiful game. You'll find yourself bumping, bouncing, rolling and laughing your way around the pitch, whilst encased in a giant zorb-ball all the way down to your knees. Not only can you have a shot at Bubble Football, you can also try Bubble Bulldogs and Bubble Ring of Fun.
The Woodland Ranger is another popular multi activity package that combines the best outdoor pursuits for the ultimate pre-wedding day celebration. You could chose Paintball, Quads, Rage Buggies or Clay Pigeon Shooting, all recommended as top days out by Freedom's expert event runners. The Woodland Ranger package is available at multiple locations across the UK for a fantastic day at an affordable price.
Take a look at our stag (and hen) party section for more great ideas and deals.