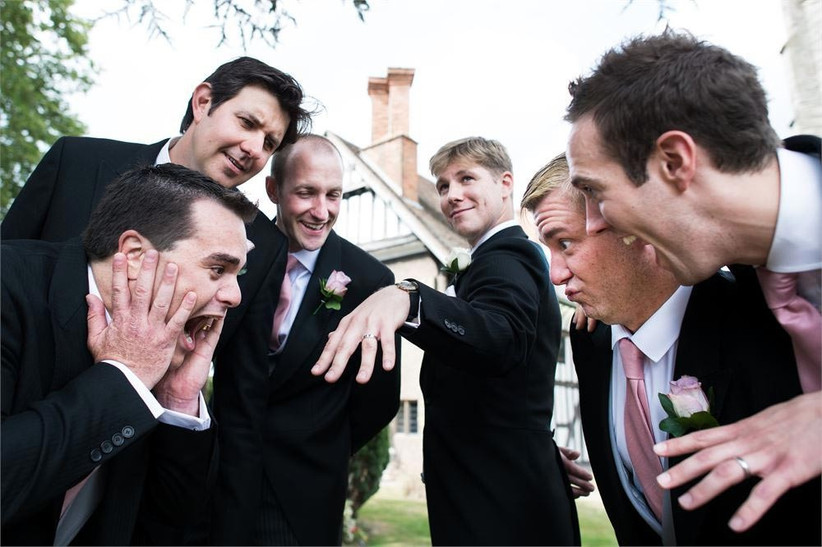 Your wedding photos mean you'll never forget the details of your wedding day, but they don't all have to be serious. We've rounded up some of our favourite funny wedding photos to inspire you. Add them to your wedding photography checklist and give it to your photographer to ensure you have plenty of hilarious snaps to look back on!
Undead & Wed
If you and your partner are both obsessed with zombies, why not talk to your photographer about staging a zombie inspired photo (or ten)? This picture by Andrew Dobell Photography has everything – zombie groomsmen, a gun-toting page boy, a burning venue and more!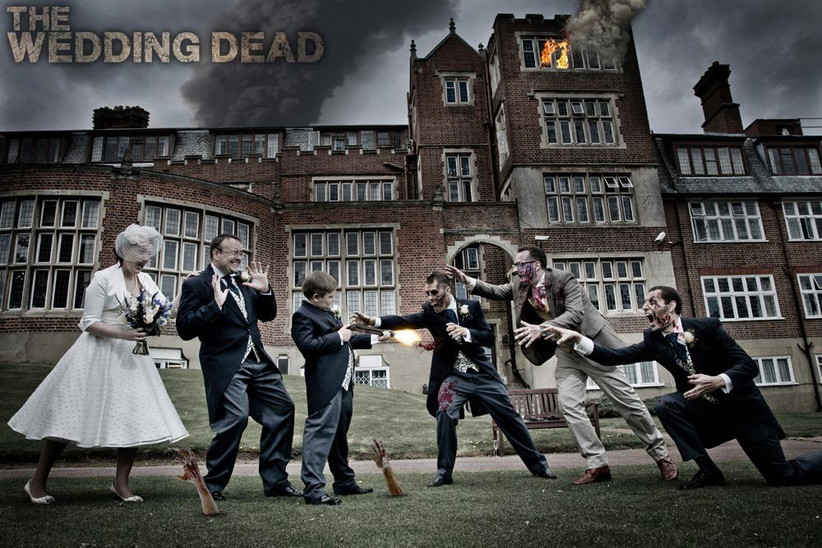 Naughty Guests
This picture shows the importance of supervising your guests! As Mark from Click Clack Photo explains: "Immediately after this photo was taken, Nicola and Simon pushed the young boy into the pond and removed him from the guest list."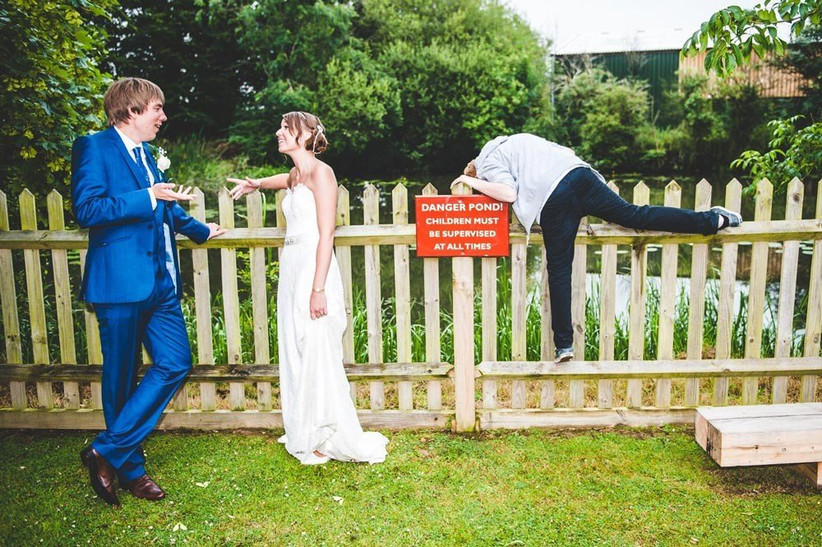 Jumping for Joy
Jumping is a popular pose for funny wedding photos – just make sure you time it right! We love this picture by Andy Bennett Photography of the bride showcasing her jumping groom.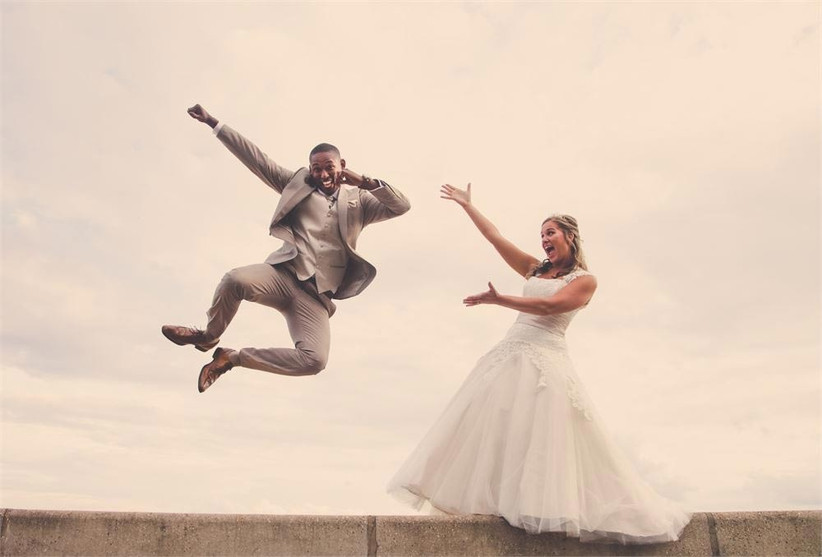 If you and your bridesmaids are feeling brave, stage a shot like this one from Arina Photography – the groomsmen jumping over the bridesmaid looks nail-bitingly tense but makes for an awesome picture.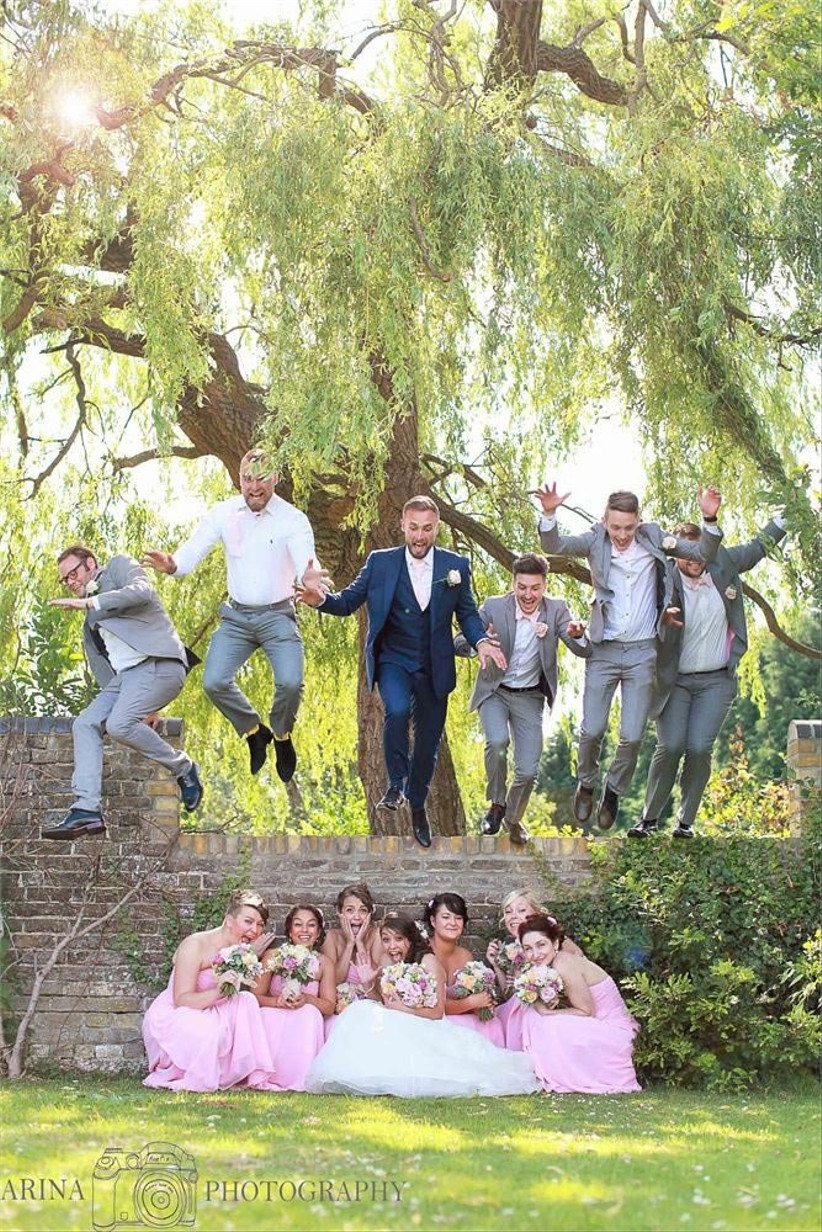 This groom is totally endearing – he is quite literally jumping for joy, look at his face! ASRPHOTO captured the moment perfectly.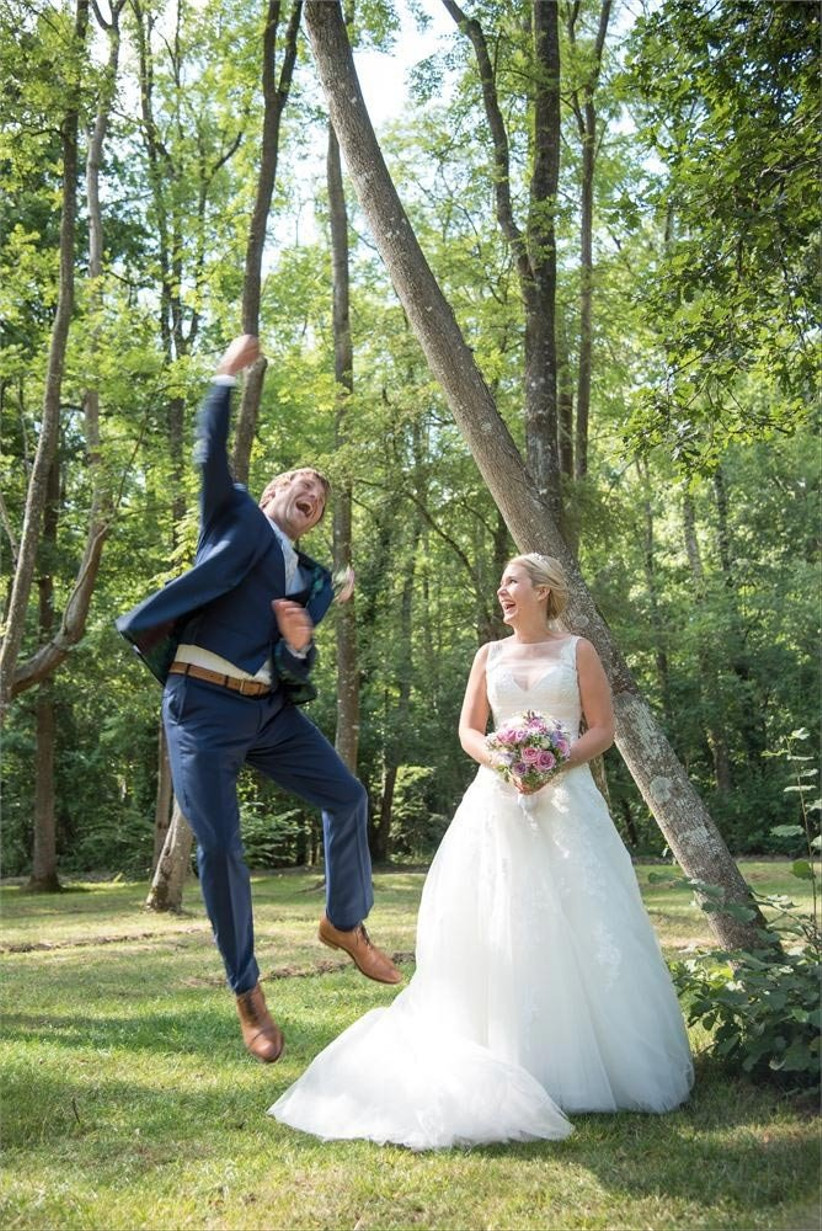 Peartree Pictures snapped the moment a bride elegantly leapt across her groom – start practising your best leap now!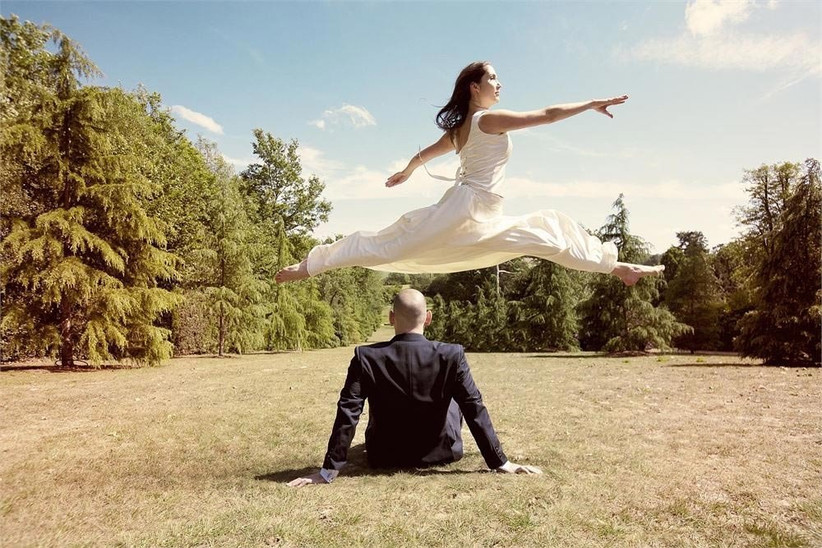 Judging by the amount of bare-foot guests in this picture by Silverton Photography Studios, the dancing had been going on for quite some time. But it hasn't deterred the bride who is still going strong on the dance floor.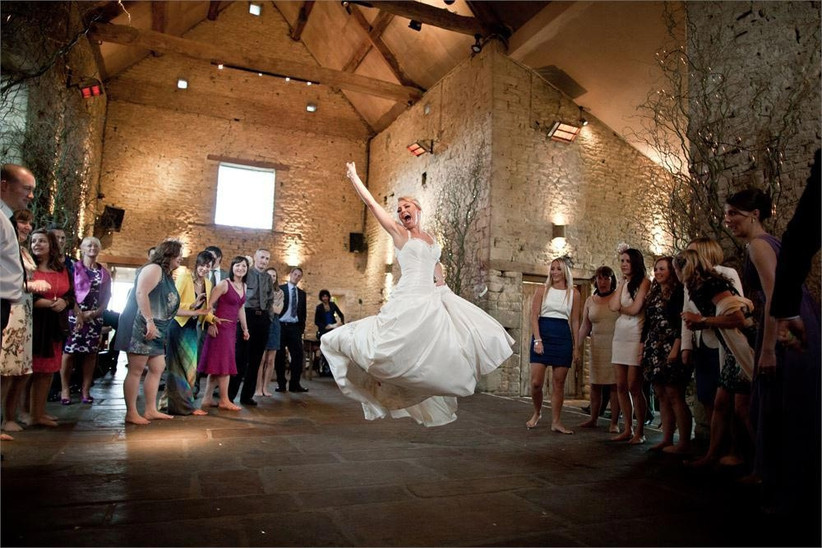 Give your photos a surreal twist with quirky props, like this couple, snapped by SMP Weddings, did. The fox mask and the red balloon definitely add something different.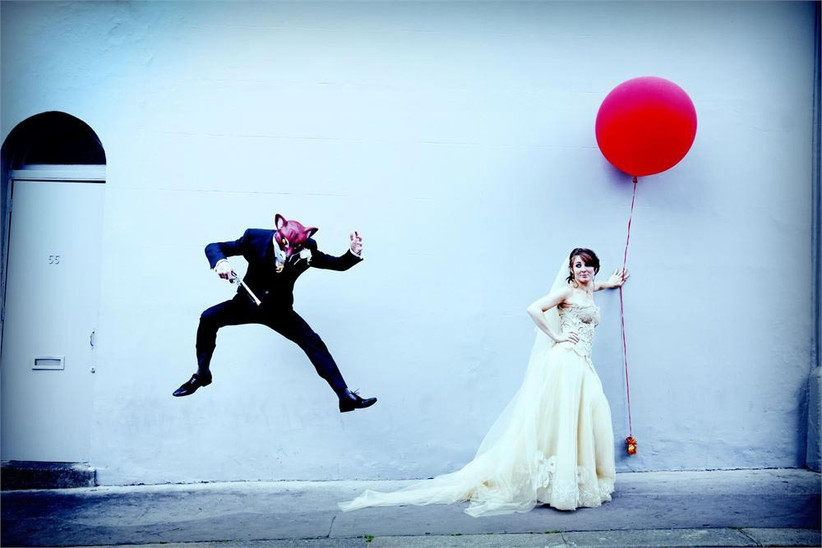 We just can't resist a groom jumping for joy. We love how Stone Photos captured this couple as they left the church.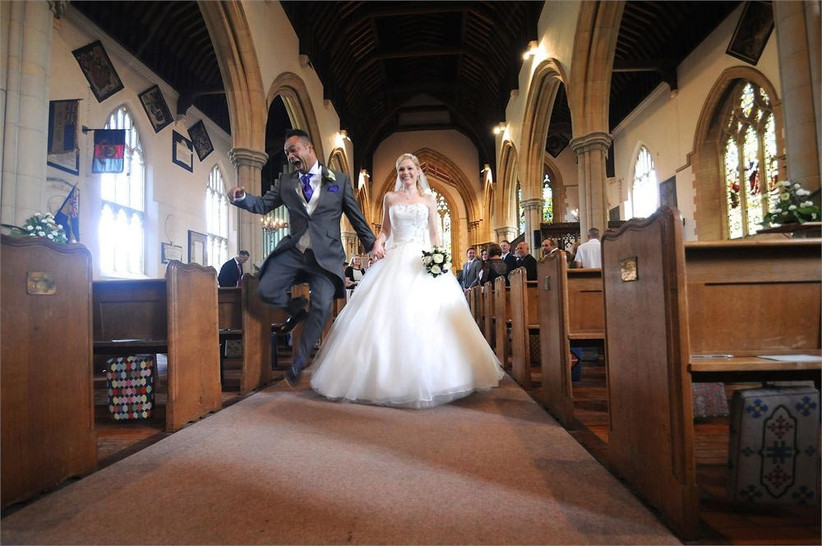 The Spiderman Kiss
If your groom is your superhero, why not stage a Spiderman inspired upside down kiss, like this couple, caught on camera by Suzi Lawrence Photography. Find even more superhero wedding ideas if you love this one!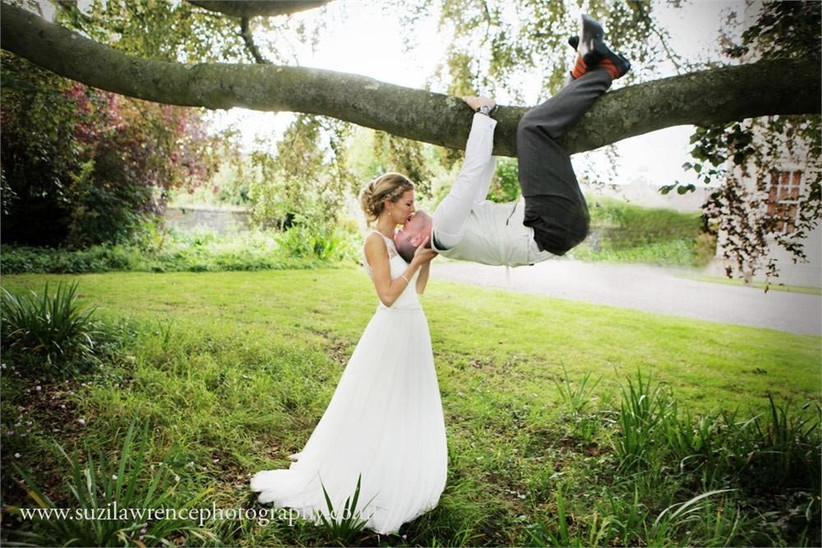 The Reluctant Groom
You'll see it on cake toppers everywhere, so why not bring it to life? A photo of the bride dragging a reluctant groom (or a hesitant bride being carried in) is bound to make your guests smile. We're sure this couple, photographed by Debbie Sanderson Photography, made sure the ground was clean before the groom lay on it!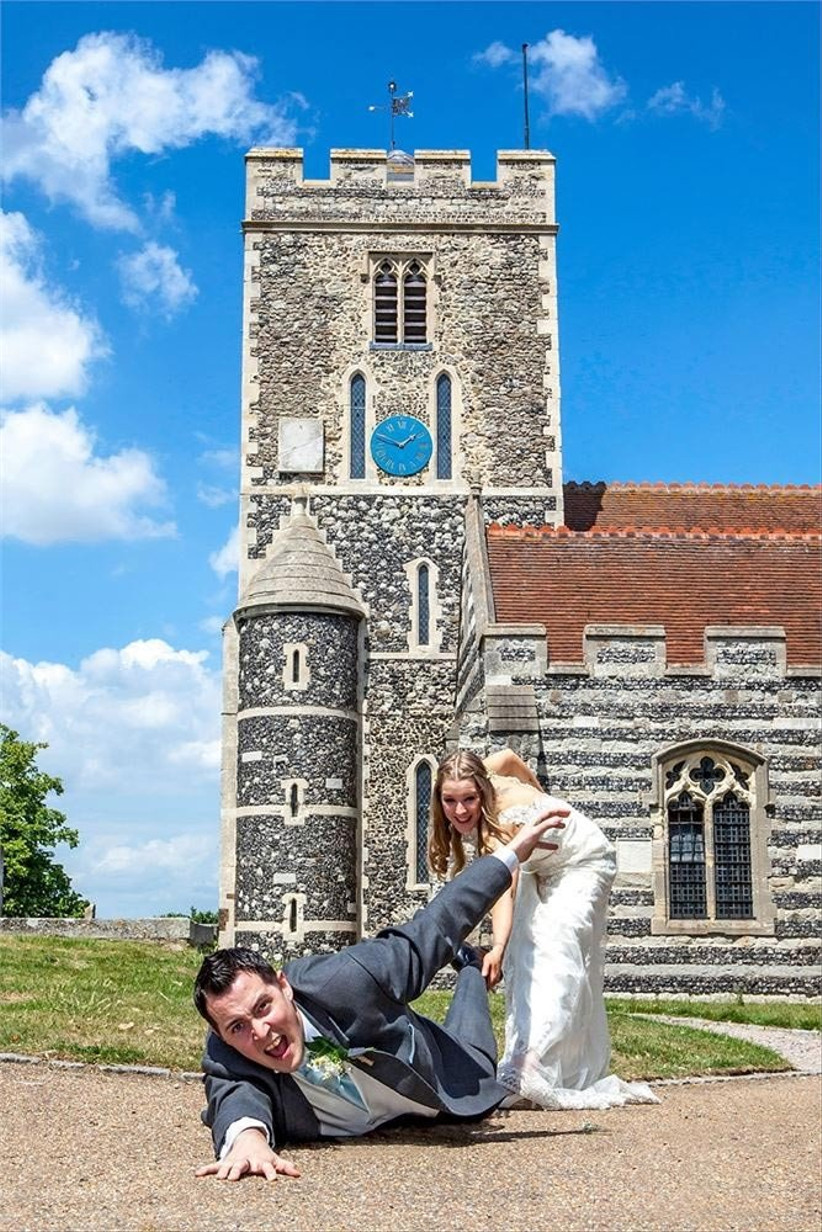 Marilyn Monroe Moment
Brides who have chosen a 1950s style wedding dress definitely need to have a photo depicting their very own Marilyn Monroe moment, like the couple in this photo by Big Day Weddings. Just wait for a strategic gust of wind.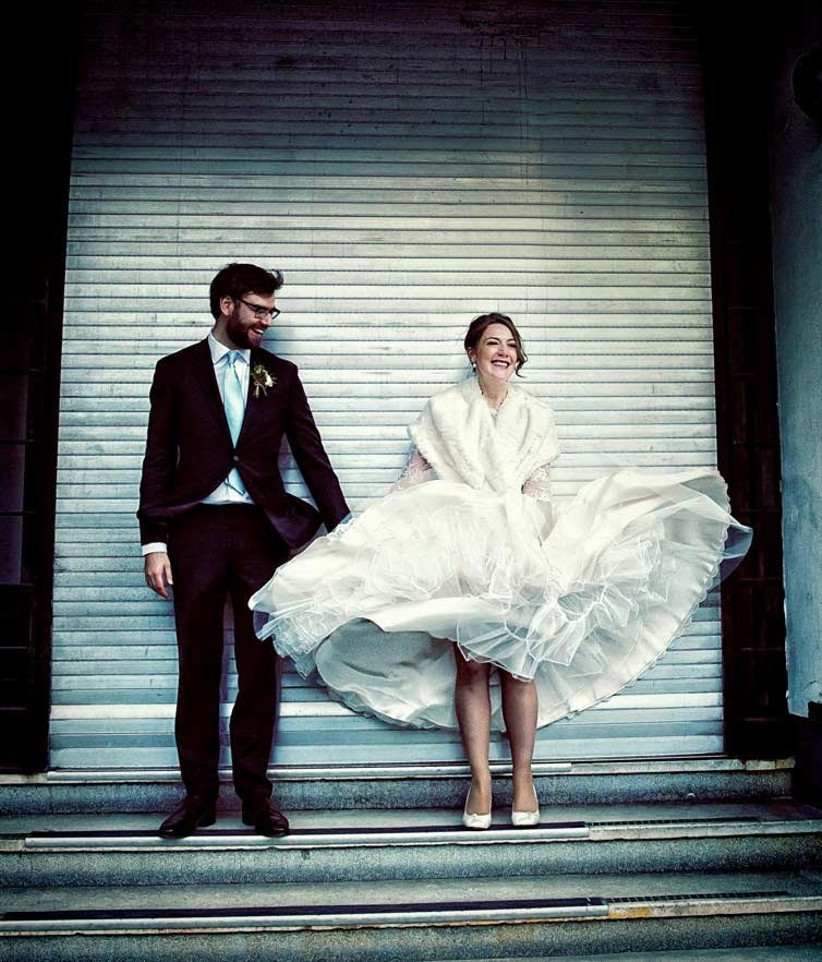 Playing Catch
Never mind throwing the bouquet, have you thought about throwing the groom? A snap of the groomsmen flinging the groom in the air will make you smile for years to come. Wedding photographer Brad Wakefield explains how this photo came to be: "I wanted to create a striking image that was memorable and a break away from traditional wedding photographs. George and his groomsmen trusted me and embraced this challenge wholeheartedly. For me, this photograph captures their fun-loving attitude and pure enjoyment of his special day."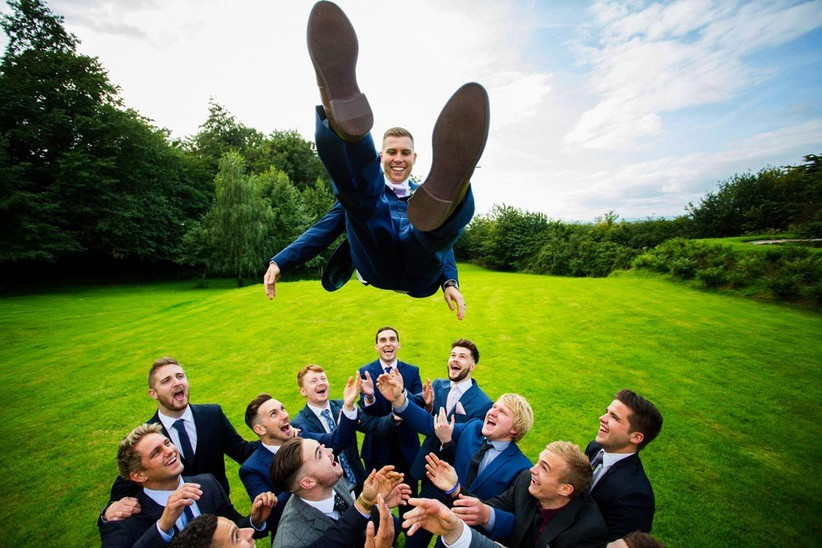 The Hadouken
Fans of the 90s game street fighter should definitely think about including the 'hadouken' move in their wedding pictures. Mark O'Brien from Click Clack Photo explains how this picture came to be: "Nicola was full of ideas during the build up to her wedding day; she wanted to do something original and dramatic so we bounced a few ideas around during the approaching months. I was up for anything as long as the photo was technically possible to finish in post-production. We rounded up the boys and made them jump about six times, the trick was to get them at equal distances away from Nicola and in the air at the same time. Great fun!"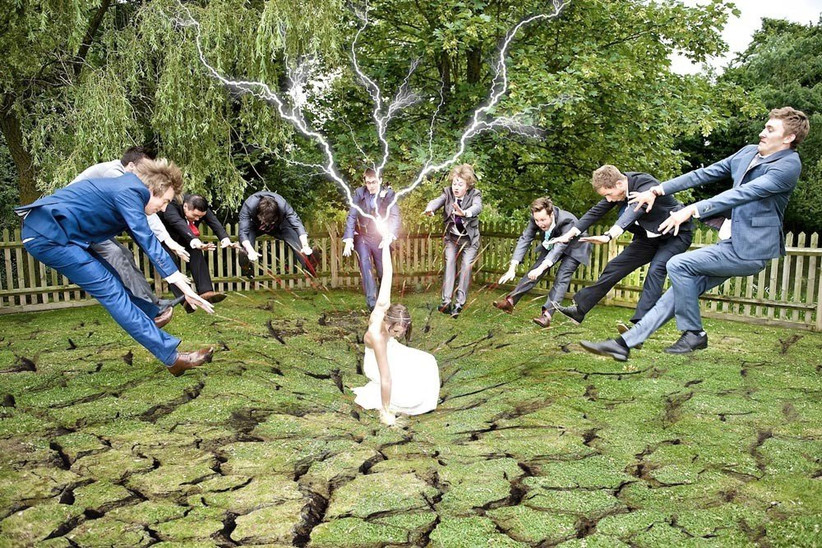 Flashing the Ring
It's a common moment at weddings – the bride holding out her hand to show off her sparkling new wedding band. It also makes a great picture opportunity. We love the photos below by Jon Harper Wedding Photography and Wonderful Weddings, staging the bride showing her hand with the bridesmaids' overexcited responses but…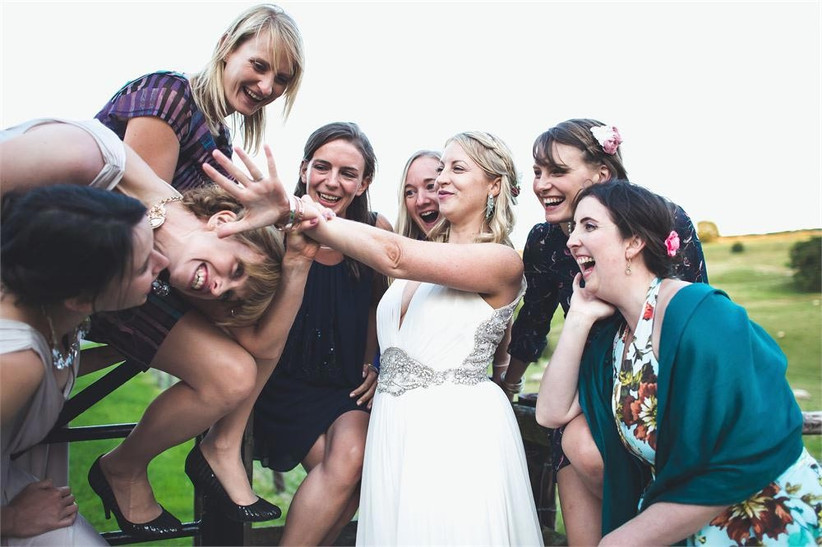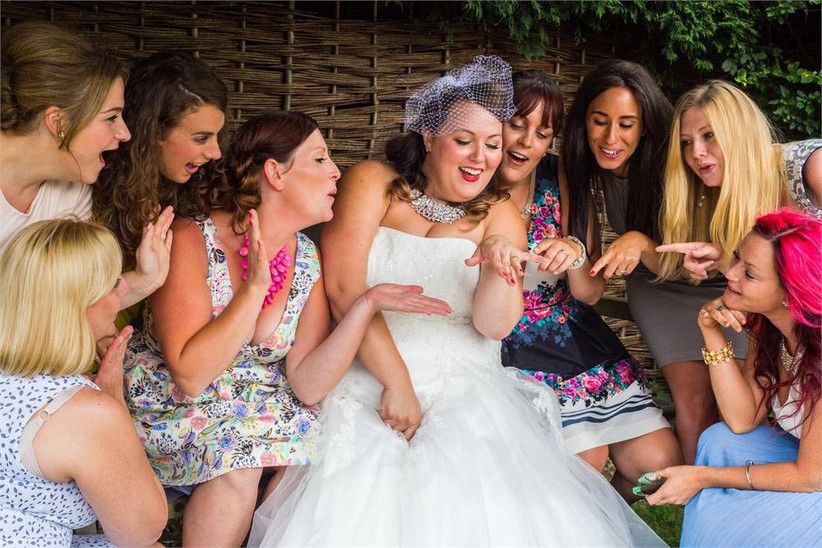 …We love this cheesy picture of the groom doing the same even more! John Harper Wedding Photography completely nailed it.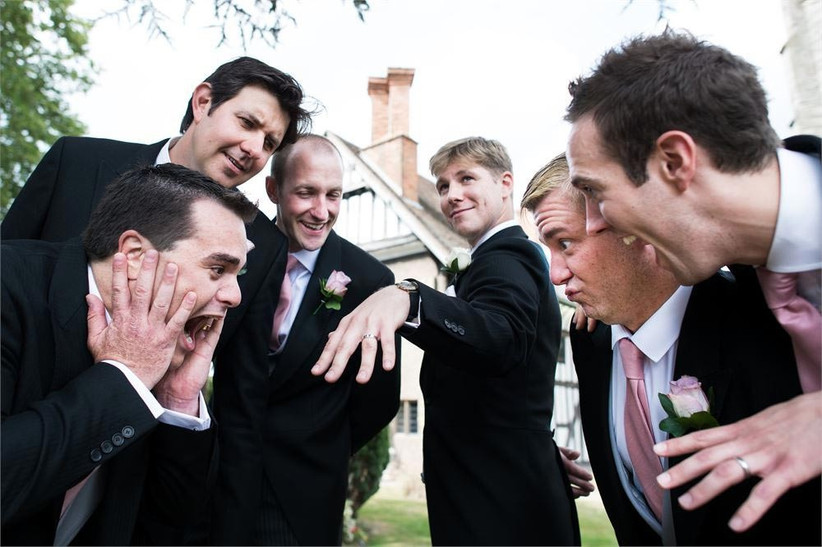 Walking with Dinosaurs
Imagine one day showing your grandchildren your wedding day photos. It'll be the olden days to them, and you can convince them you're as old as the dinosaurs by having an actual T-Rex gatecrash your wedding – thanks to Chris Giles Photography and his magic Photoshop skills.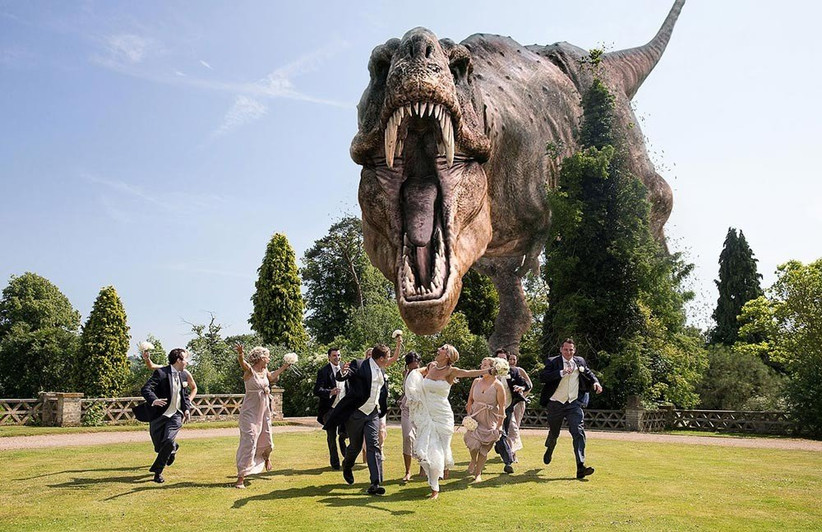 Sock 'Em One
If you've got quirky footwear or the groom has cheeky socks, take inspiration from this snap by Gavin Conlan Photography and make sure you show them off. Browse our round up of groom socks for ideas.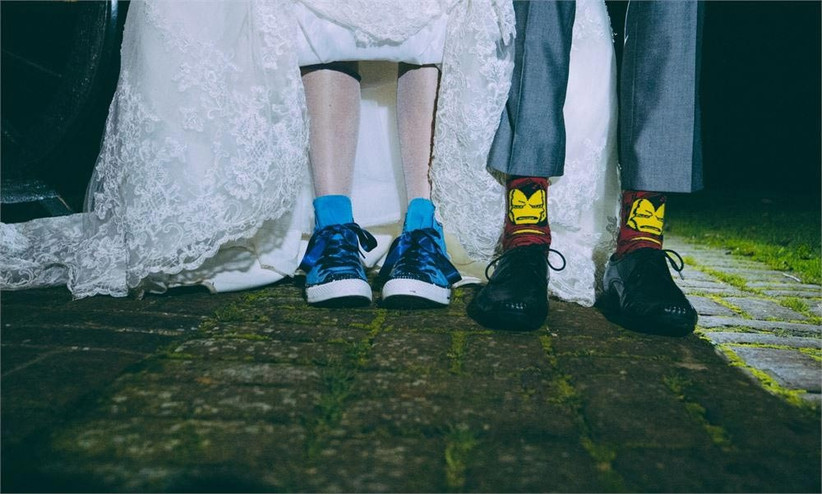 Photo Forrester also has a similar shot of the groomsmen hitching their trousers up to show off their quirky socks.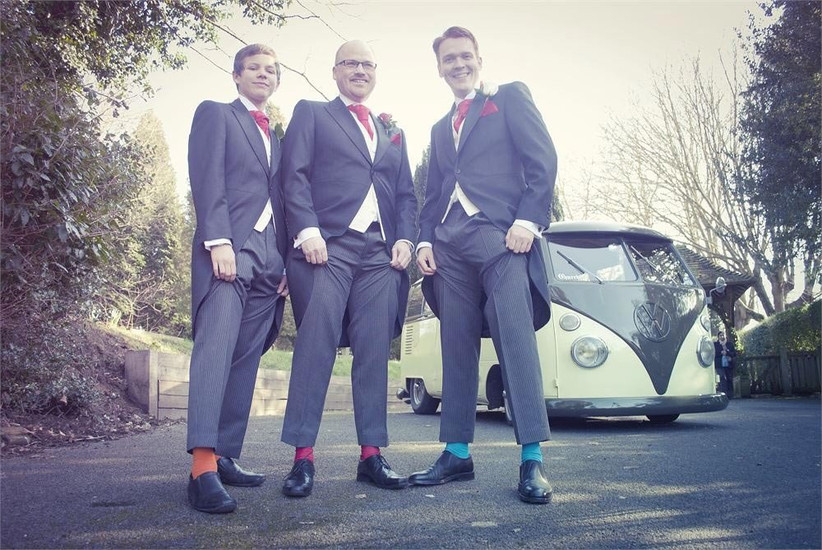 The Usain Bolt
Everyone knows Usain Bolt's iconic winner's pose, and if you feel like a winner on your wedding day it's only natural to recreate it. Gayle James Photography snapped this bridal party doing just that.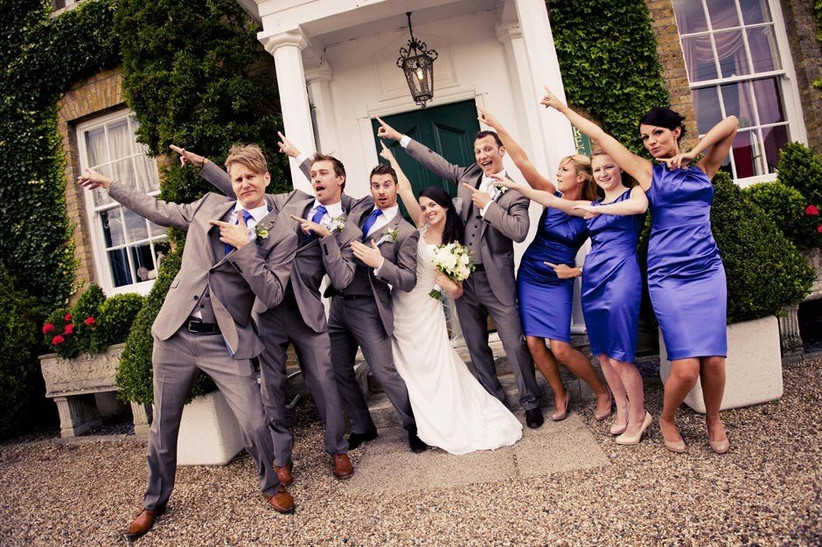 Getting Ready in Style
It's not just at the wedding itself where the funny photos can happen – make the most of your getting ready time and include a few silly pictures there too. We love this bride in the bath, captured by Lisa Lobanova Photography.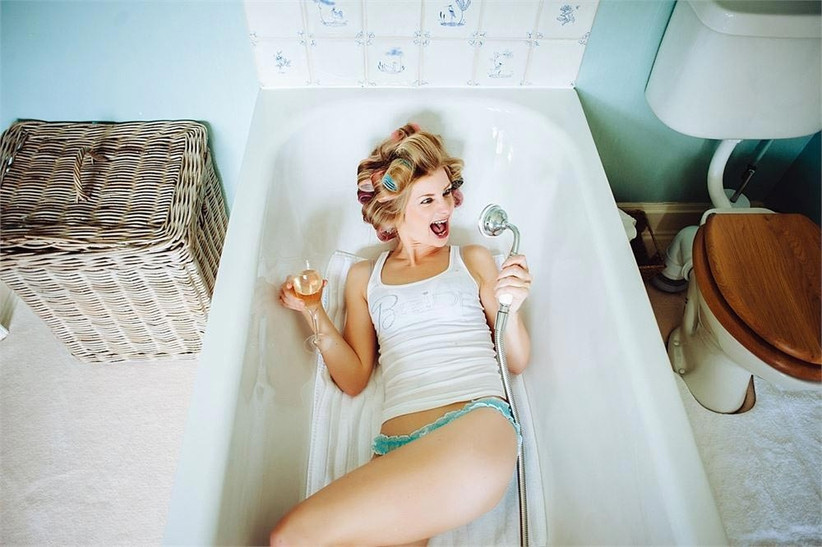 Wheelbarrow Race
It's not a real wedding without a wheel barrow race, is it? Groomsmen and bridesmaids need to team up, like in this photo by Lovemyphotos, for the ultimate challenge. We love the tiny page boy getting involved too!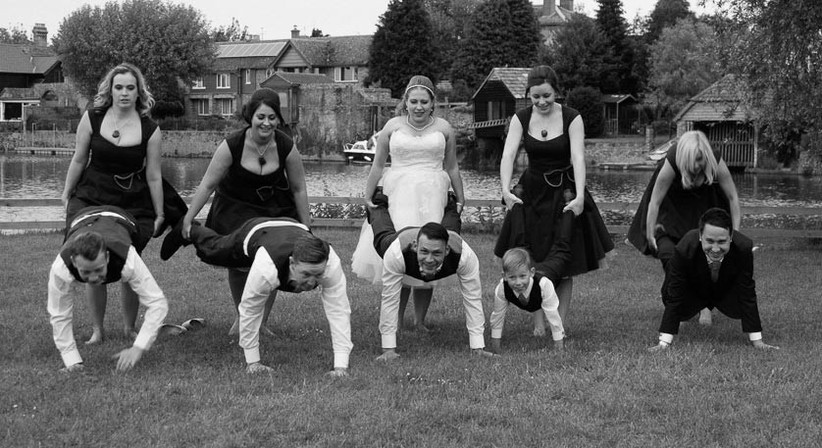 Strike a Pose
If you're struggling for photo inspiration, look around for statues and emulate their pose. It's a sure-fire way to raise a smile, like these groomsmen snapped by Mathew Binks Photography. We admire the fact one of them appears to still be clutching a bottle of wine.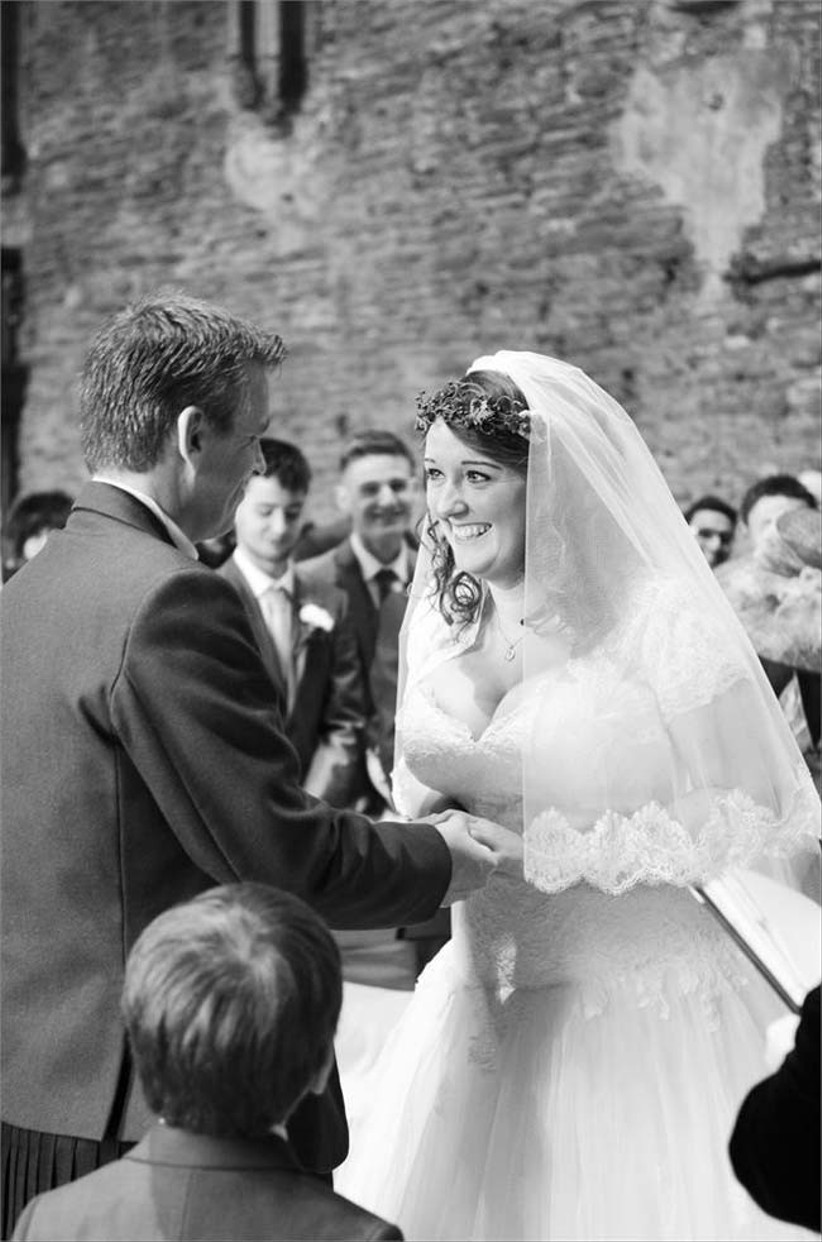 You've Got Mail
Make the most of your surrounding for some funny photos. We love this picture snapped by Peartree Pictures which shows a guest peering through the letter box.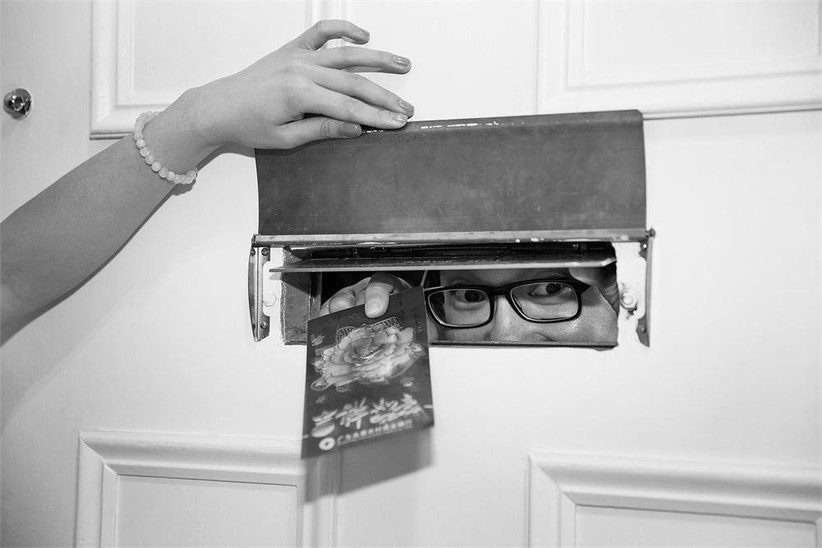 Football Fans
If the groom is desperate to include his love of football in the wedding, but the bride's not so keen, you can capture that battle forever in one of your wedding photographs. We love how thrilled this bride looks with her groom's chalkboard in this photo by Squashed Apple Photography.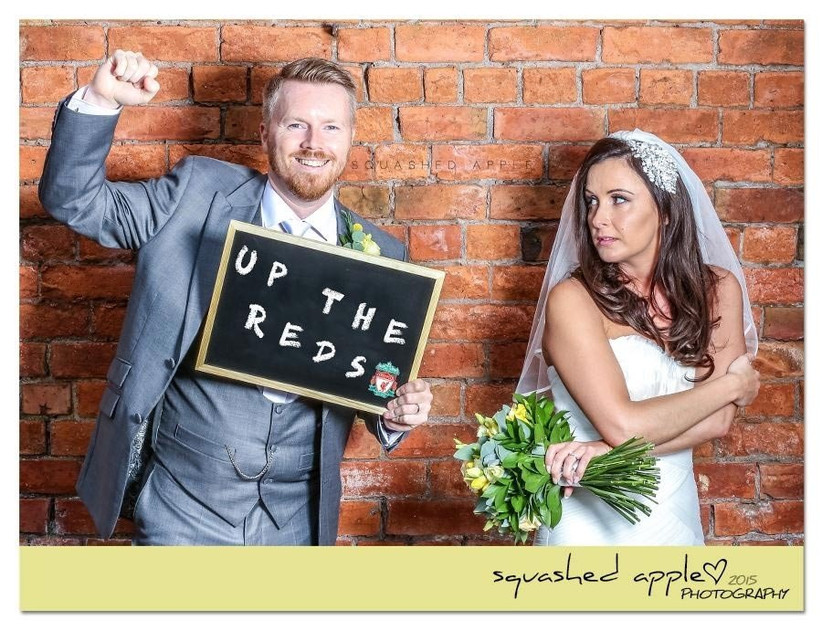 Sheer Surprise
First look photos are our favourite things to look at here at Hitched. But sometimes they are quite funny too – you can't help but giggle at the look of total surprise on this groom's face, captured by Vintage Heart Photography.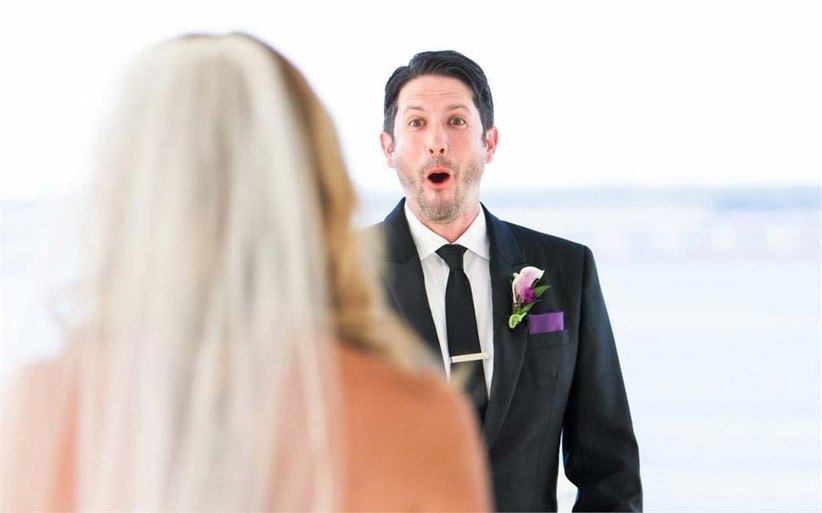 You May Kiss the Bride
Chat to your photographer about staging a photo where you're kissing (your partner, not kissing the photographer) and your guests are in focus in between you, reacting to the kiss. We love it when it's children acting disgusted, but these guests acting childish in this Wonderful Weddings picture is also pretty funny too.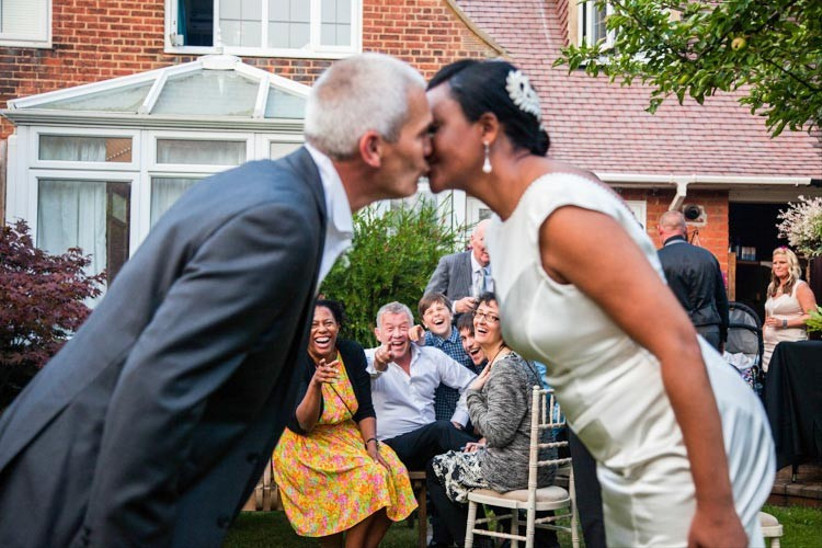 Are you planning on including some funny wedding photos in your photo list? Make sure you read our wedding photography checklist for even more ideas.