REVEALED: The Wedding Capitals of the UK
Wondering which part of the UK has the most to offer when it comes to weddings? Discover the UK's wedding capital right here!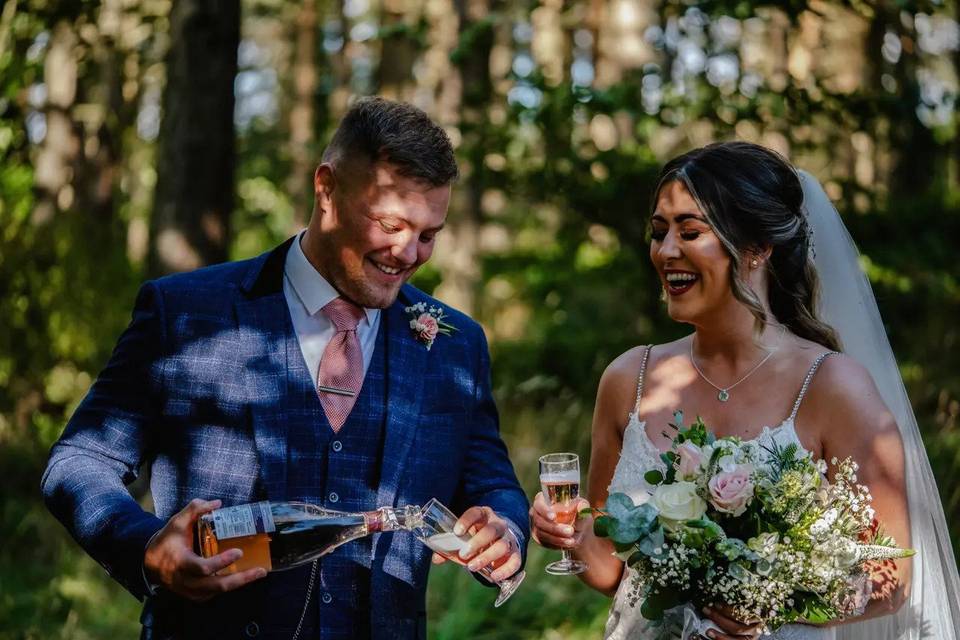 It's easy to feel spoilt for choice when planning your wedding as there are so many wonderful wedding vendors to choose from in the UK - so spare a thought for those extra spoilt people of Durham, who are living in the wedding capital of the UK!
Durham boasts an average of 260.72 wedding vendors per 100,000 people, making it perhaps the easiest (or most difficult, if you're indecisive) spot in the UK to plan your dream wedding.
We broke down our data of wedding venues and suppliers to find the best places across the country to plan a wedding - and with over 15,500 wedding vendors to analyse, it was no easy task!
The online data revealed that Durham in the country's north east is undoubtedly the UK's Wedding Capital, with an average of 260.72 wedding suppliers per 100,000 people listed in the region. This is three times as many as the runner-up region, Greater Manchester, which lists 83.87 wedding suppliers per 100,000 people.
The Wedding Capitals of the UK Revealed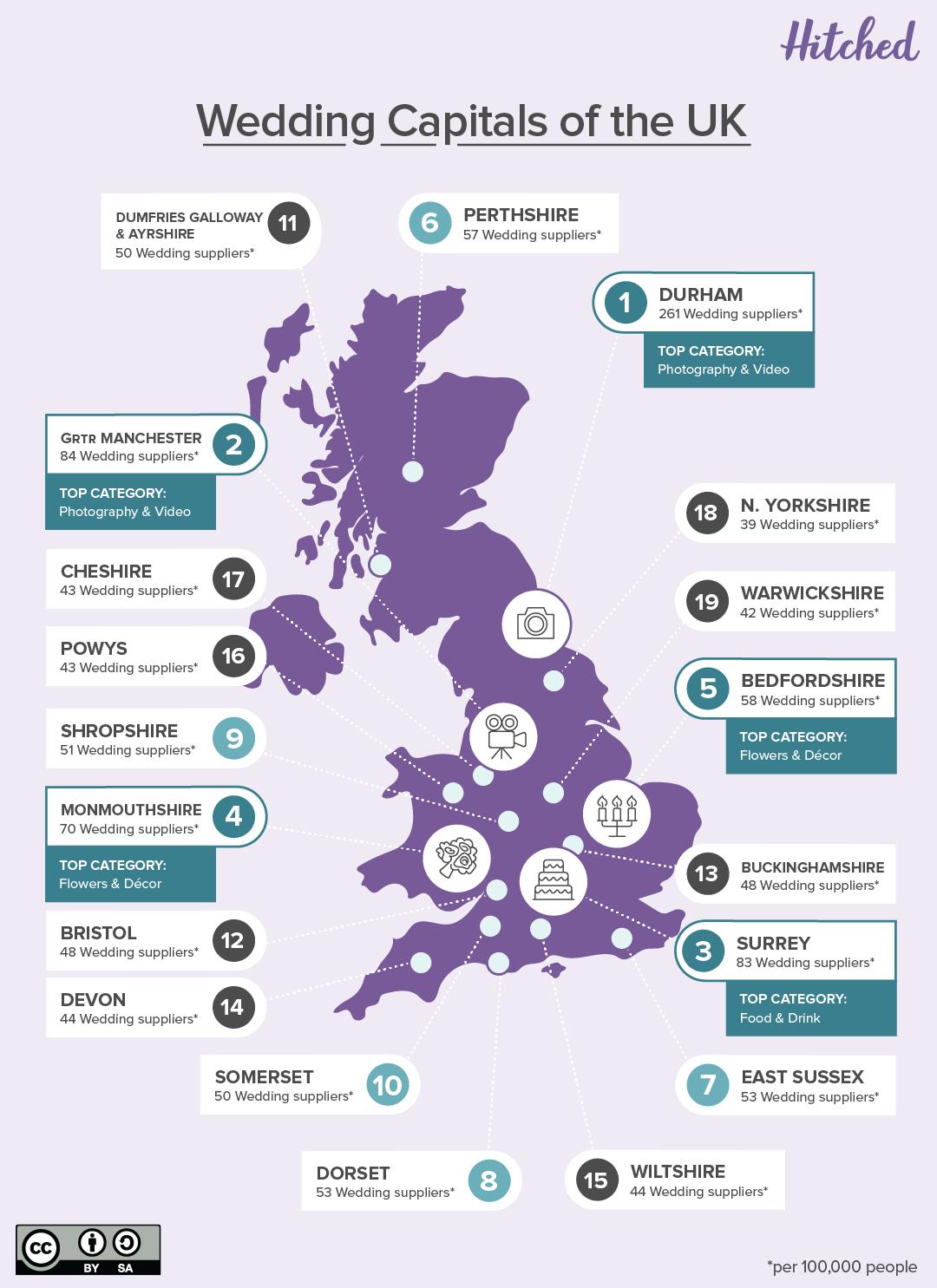 The top five wedding capitals of the UK consist of:
Durham is actually home to 139 listed wedding suppliers, of which the biggest vendor category is photographers and videographers. There are 35 photography-related suppliers listed in Durham on Hitched, and the region's next biggest category is entertainment, with 23 options to choose from, as well as 18 wedding venues.
We asked Davy Belle, of Durham-based wedding photography business Belle Studio, how it feels to know he's part of the UK's wedding capital: "It's pretty incredible, giving how many beautiful venues and cities there are across the UK. But then again, Durham is a place of unique beauty, and we have some stunning venues, fantastic suppliers, and breath-taking scenery. It is also a feeling of pride, that our region is being noticed in this way."
Rounding out the top three wedding capitals is Surrey with 82.77 wedding vendors per 100,000 people listed on Hitched.co.uk. Both Wales and Scotland also have regions that feature in the top ten, thanks to the 69.33 suppliers per 100,000 people in Monmouthshire and the 56.84 suppliers per 100,000 people in Perthshire.
Reflecting on what Durham has to offer to wedding planning couples, Davy explains: "Durham is a special place, a place of historical beauty and stunning country views. There are so many perfect and unique wedding venues in Durham, where else could you choose between grand cathedrals, museums, pump houses, castles, manor houses and farms?
"The people are also at the forefront and lead the way in creating this amazing county. Across the wedding industry, from wedding coordinators, to florists, to singers and cake makers, people go above and beyond to create memorable experiences for couples, make each wedding unique, so couples talk about their day forever."
If you're looking for creativity and community whilst wedding planning, it's easy to see why Durham would appeal. "The north is a creative hub in the UK and certainly across our region we are leading across creative services. We have fantastic education establishments in the County and some leading colleges and university courses in photography and videography that really give people the foundations to get started," says Davy.
"We would definitely say there's a community spirit here. We have been recommended by many photographers locally and likewise never hesitate to recommend friends in the industry. It's the only place where I attend wedding fairs and others genuinely want to chat, become friends, have drinks with you etc when essentially you are competitors. Most recently we were at a wedding fair and another photographer fixed our iMac for us so we could present our work to attendees, how amazing is that?!"
Top Wedding Vendor Categories in the UK
So you know where the wedding capitals of the UK are, but what about the top categories by county?
Wedding photography and wedding videography are the most common vendor type on Hitched - almost a quarter (23.51%) of our listed wedding businesses offer these services. Choosing your wedding photographer is a personal and significant decision, so it makes sense to see such a broad variety of photographers available across the UK. Wedding venues are the second most popular, with over 2,200 to choose from across the UK.
In both Durham and Greater Manchester, photography and videography are the most common type of wedding vendor, whereas in Surrey, it's all about the wedding caterers! Rounding off the top five is Monmouthshire and Bedfordshire, with plenty to choose from when it comes to flowers and décor.
Wherever you're based, you'll find everything you need to plan your dream wedding on Hitched! Start browsing our wedding marketplace today.