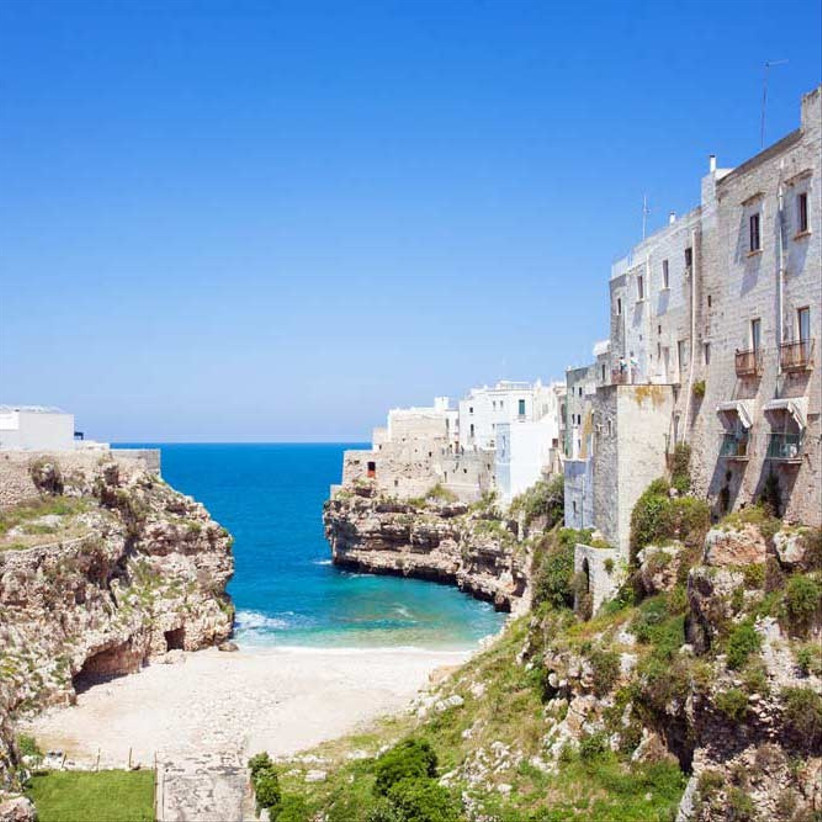 We are so obsessed with Italian wedding venues – they all have something extra special to offer couples, from the sun-kissed terraces to the picturesque sea views.
One area in particular which we have totally fallen in love with is Puglia. Also known as 'Le Pugile', this part of Italy is filled with beautiful architecture, pristine beaches and plenty of hotspots to have your wedding abroad.
READ MORE: 17 Reasons to Get Married in Italy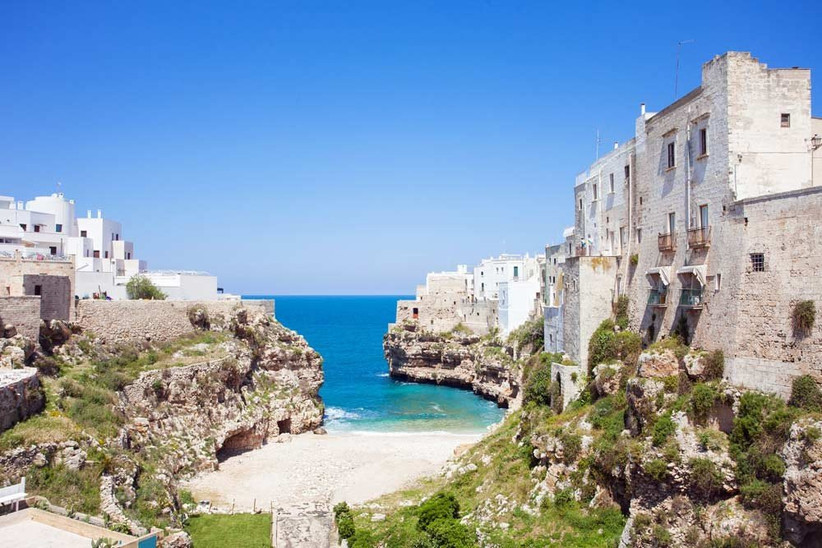 Getting to Puglia
Situated in the heel of the Italian boot, Puglia has an array of incredible locations to visit. Getting to this wonderful part of Italy is very easy – it has two international airports, Bari and Brindisi, both of which you can fly into from a vast array of locations, including plenty in the UK.
Couples who fancy seeing a bit more of Italy can also choose to fly into Naples international airport and drive 3-4 hours to Puglia. It's a gorgeous trip and could also be a better option for your guests, as flights to Naples are more frequently available.
READ MORE: The Ultimate Guide to Getting Married in Sorrento
Why Puglia?
Puglia is known for its incredible cuisine options. The food there is SO good your wedding guests won't know what's hit them. Traditional Italian food can be served up for your wedding breakfast using locally produced ingredients, including olive oil that really add authenticity to the dishes – it doesn't get much more Italian than that.
The scenes are stunning too, and with so many areas and towns to explore it's almost impossible to pinpoint the best spots – but we'll try our hardest!
READ MORE: Getting Married in Lake Garda, Everything You Need to Know
Areas in Puglia
There are six main provinces in Puglia; Bari, the regional capital, Brindisi, Foggia, Lecce, Taranto and Barletta-Andria-Trani.
Bari, Puglia
Bari is a well-known tourist destination and is famous for its commercial harbour. The masses of land in this area have mostly become farmland and vineyards, meaning there is plenty of rustic and outdoor wedding venues for you to choose from. It's the perfect place for a charming Italian wedding in a city which oozes character. If you get married here be sure to visit the Itria Valley – we've heard amazing things!
READ MORE: Everything You Need to Know About Getting Married in Tuscany
Brindisi, Puglia
The entire stretch of the Brindisi coast is lined with pristine white sand and dreamy beaches that go on for miles. Thinking of having a beach wedding in the summer? If so, this is the place to be.
As well as beautiful beaches, Brindisi is also filled with plenty of fun things to do including Italy's largest wildlife park – home to lions, tigers, bears, antelopes and plenty of other species which live within the park's Mediterranean vegetation.
READ MORE: A Guide to Getting Married in Lake Como
Foggia, Puglia
This part of Puglia is enriched with history, archaeological excavations and charm that's almost impossible to find anywhere else. The cuisine here is one of the most incredible in all of Puglia, with traditional artisan menus for you and your wedding party to enjoy.
READ MORE: Wedding Venues Perfect For Foodie Couples
Lecce, Puglia
The Province of Lecce is an area oozing with medieval architecture and spots so pretty it can only be described as paradise. It's home to two coastlines met by two different seas which create a gorgeous stretch of coastline perfect for newlyweds and their friends and family to enjoy a spot of scuba diving.
It's often referred to as a 'living history book' because of its enriched culture and endearing traditions making it the perfect spot for couples looking for a historical wedding venue in one of Italy's most beautiful locations.
SEE MORE: Honeymoons in Italy
Taranto, Puglia
Another area with plenty of coastline, Taranto is home to 87 miles of Italian beach and luxurious resorts by the green maquis. It's a place of pure tranquillity with miles and miles of wide valleys, picturesque hills and rocky paths making up much of its landscape.
As well as the natural scenery, Taranto is also still home to traces of the many cultures that have come and gone over the years, with churches, castles, palaces and remains all contributing to the rich heritage of this Province.
SEE MORE: Coastal Wedding Venues
Barletta-Andria-Trani, Puglia
Let us introduce you to the newest Province in Puglia, Barletta-Andria-Trani. This is an area that totally embraces its natural surroundings, with dense woodland that changes colour by the season and networks of canals, bordered by cultivated fields; there really is so much to appreciate.
It's the perfect spot for couples who want a tranquil and truly beautiful wedding location to host their big day.
Want to know more about other Italian wedding destinations? Why not check out what the Amalfi Coast has to offer?