We Visited Masia Cabellut in Spain - Here's Everything You Need to Know
We were invited to go and review Masia Cabellut, a private vineyard in Spain. Our Marketing Manager, Chloe Lansdowne, visited to discover more about weddings at this secluded Spanish Vineyard...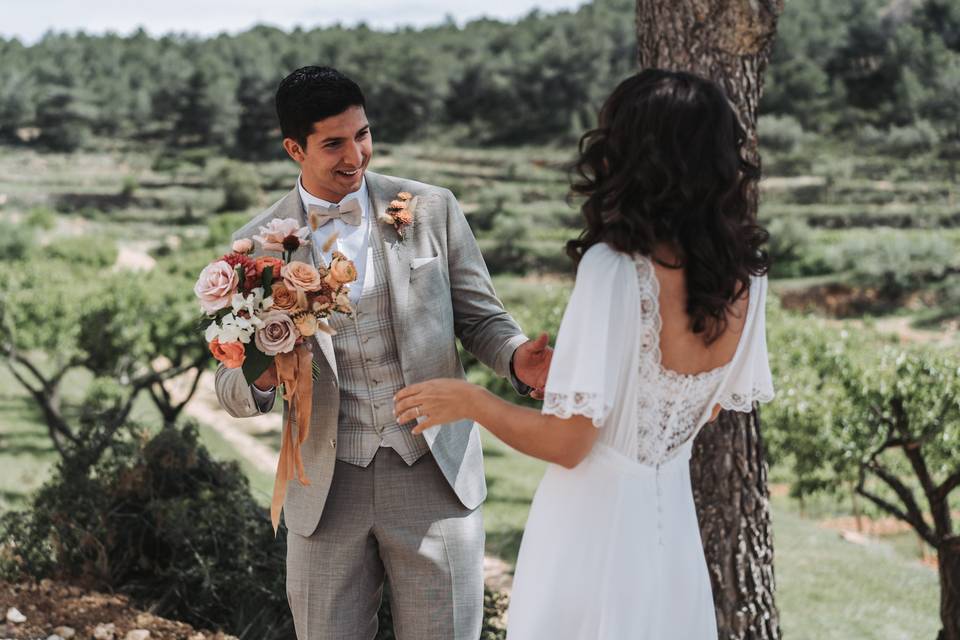 We were invited to go and review Masia Cabellut, a private vineyard in Spain. Our Marketing Manager, Chloe Lansdowne, visited to discover more about getting married at this Spanish Vineyard...
Where is Masia Cabellut?
Masia Callebut is located in Northern Spain about an hour away from Barcelona. The venue sits on a beautiful private vineyard in the small village of Masllorenç. The flight from London is approximately 2 hours, plus a further 45 minutes drive from Barcelona airport.
Masia Cabellut has just opened, and after lots of careful planning and building, it is now a dream wedding venue for couples seeking an authentic Spanish escape. As it's recently opened, the venue has a large selection of dates available to book your wedding, including some dates for 2022!
READ MORE: Why You Should Consider a Vineyard Wedding Venue
Getting Married at Masia Cabellut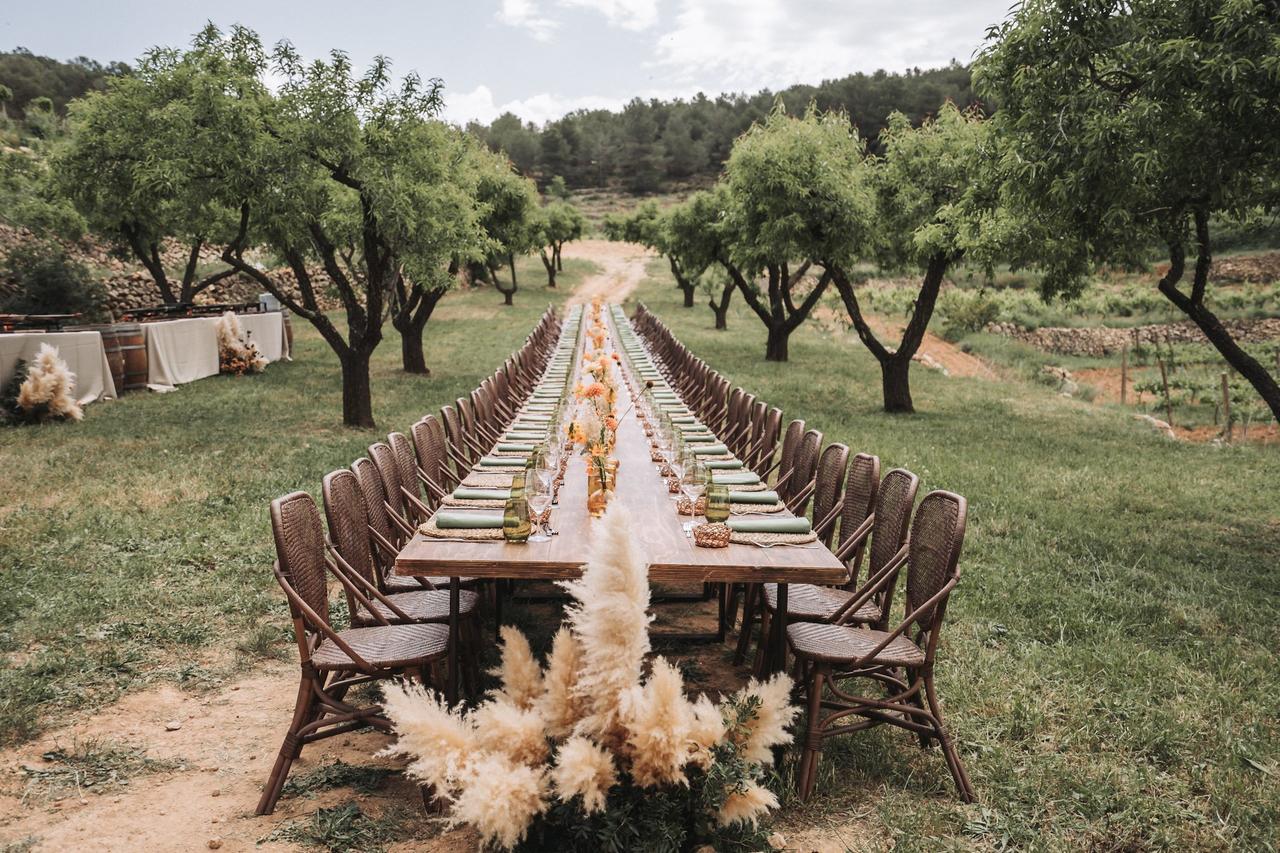 If you're looking to get married in Barcelona, Masia Cabellut is a perfect spot! The wedding reception space can cater for up to 210 guests with several different outside spots for the ceremony. Whether you're having a more intimate wedding or one with a bigger guest list, the venue can alter the seating arrangements to fit your needs. A personal favourite spot was in the Mediterranean gardens with an arch of plants made to last throughout the summer.
Couples also have the option to go deeper into the Vineyard where a red carpet and flowers can be added to create that extra special feeling. Whilst saying your vows, you'll be overlooking the gorgeous Vineyard.
When we visited it was raining (yes, even in Spain there is rain!) however, the wet weather plan can keep you dry whilst adding fairy lights and flower arrangements to provide a pergola feel. The tent can be easily built within hours, a huge weight lifted off your shoulders to know that the weather won't impact your special day.
In between the venue and the reception area you'll find a beautiful garden space with a miniature pool feature. This area is perfect for guests to move around, catch up and simply take in the day!
Staying at Masia Cabellut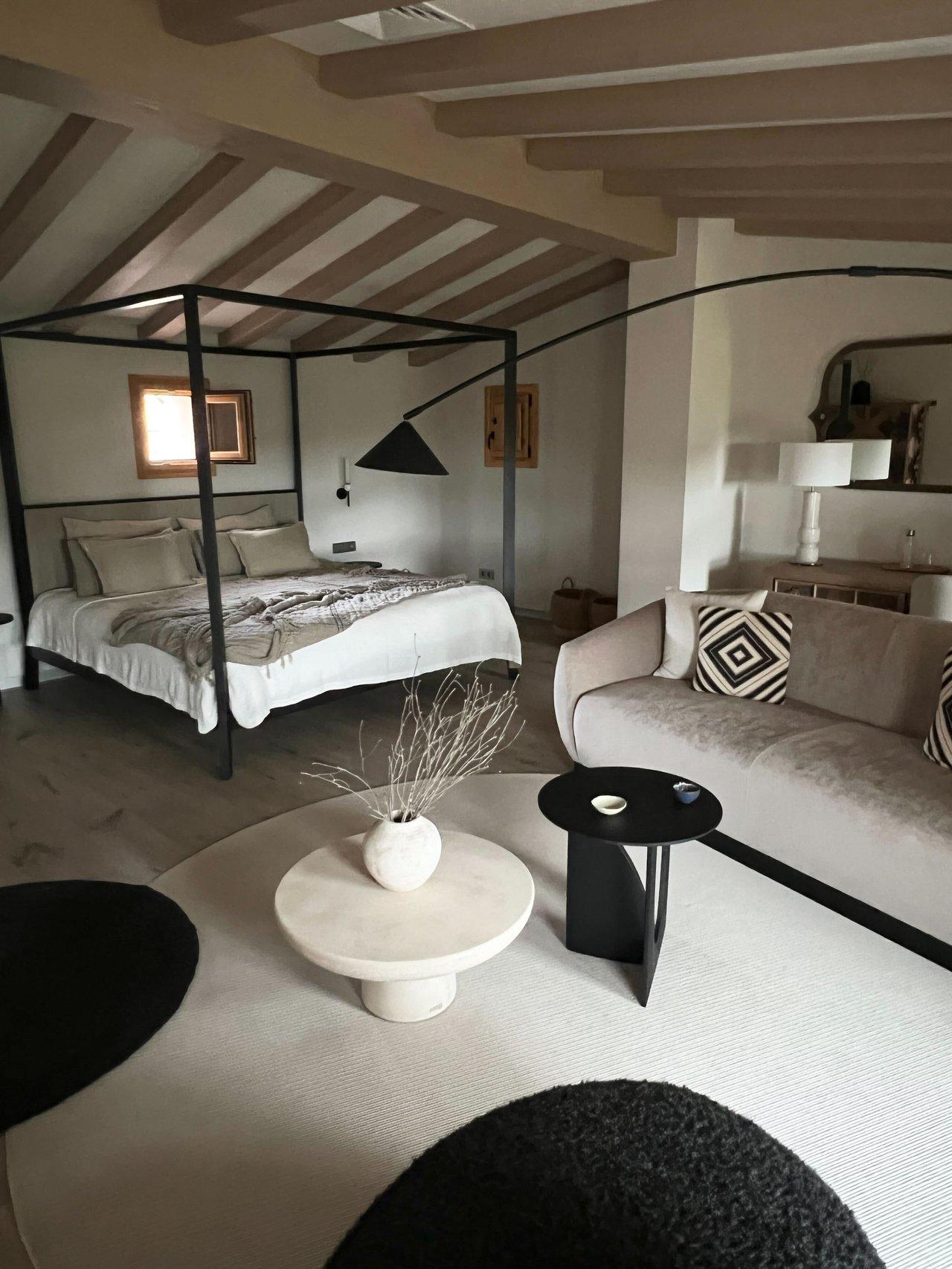 The venue can accommodate up to 16 guests across seven contemporary bedrooms, each with its own en-suite bathroom. The bedrooms range in size but the largest room is of course the wedding suite. This room includes an en-suite with a bath facing the vineyard; the perfect moment to have a soak whilst sipping on a glass of cava and taking in the views.
The venue has disability access with a larger room including a bigger bathroom space to allow for wheelchairs. There is also a lift that not only helps accommodate disabilities but also elderly guests who may struggle walking up the stairs.
Throughout the venue you'll notice very special touches, for example, all of the napkins and towelling include the Masia Cabellut logo stitched on. These small but very noticeable details make the venue feel extra special.
Not to mention, the beds themselves are extremely comfy with black-out blinds creating the perfect night's sleep before your big day!
READ MORE: The World's Best Honeymoon Suites
Venue Facilities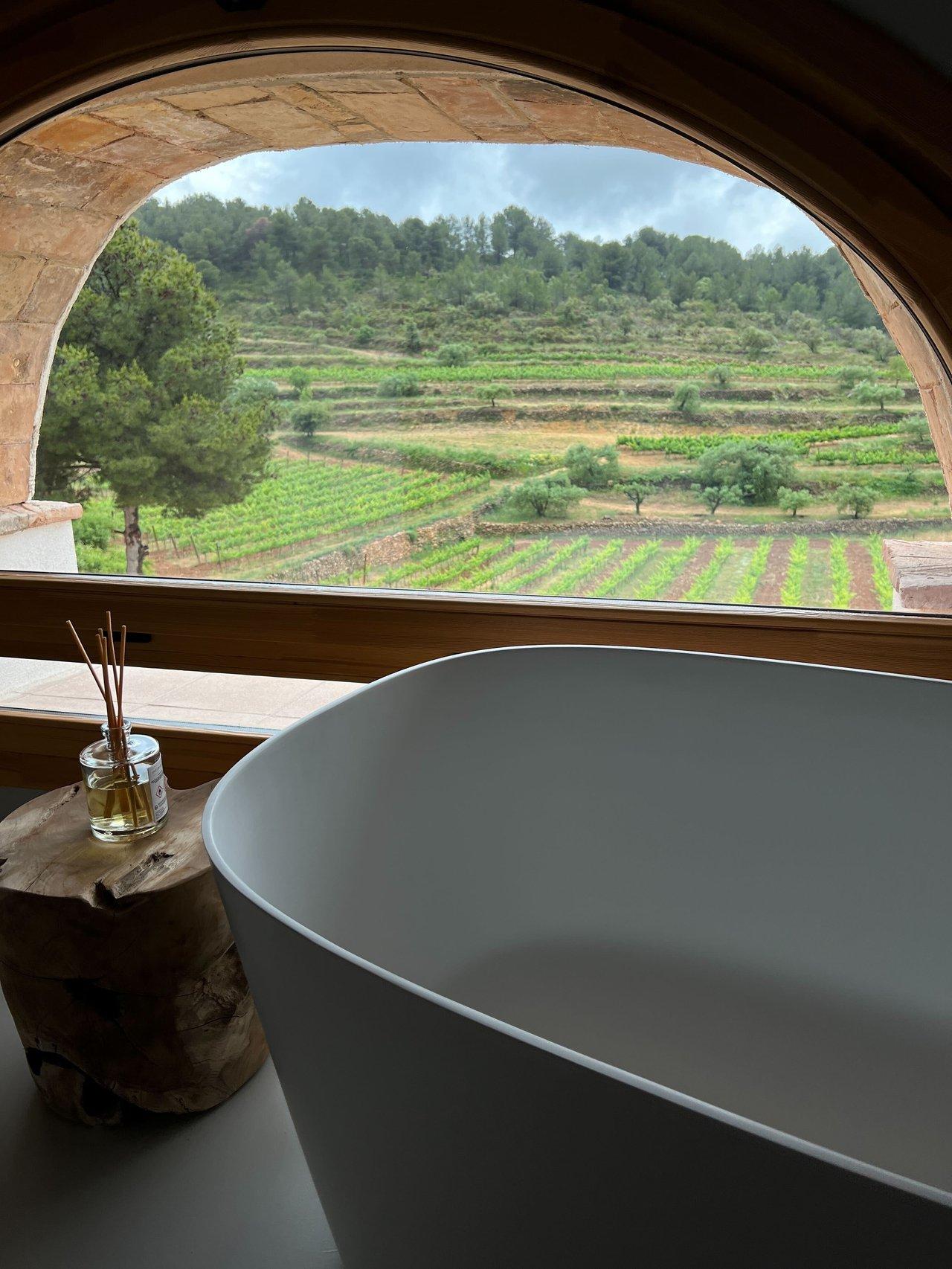 The venue interior has been so carefully selected and you can tell the owner, Jurate, has an eye for modern elegance. When you step outside, the luxury continues. The venue has an infinity pool area with several lounge chairs and beds around the side. Just below this area is a second outside space with outside seating furniture. This area is the perfect place to start your day with a cup of coffee or end your day with a glass of wine while watching the sunset. The sun sets perfectly over the vineyard making the view quite spectacular, a perfect photo opportunity and moment to take it all in.
The venue has many different lounge spaces, including a large living room and a dining room featuring a long table to hold all of your guests. This dining room overlooks the vineyard and balcony area so you can enjoy your evening feast with a view.
Wine & Olive Oil at Masia Cabellut
All of the wine served at the venue is sourced directly from its own private vineyard, making your wedding drinks feel unique. Whilst we viewed the venue we luckily were able to taste the different flavours and it was quite honestly, some of the best wine we've ever tasted!
Each bottle is named after the owner's children which adds an extra special touch and reflects the family-owned feel of the venue. The wine is beautifully displayed in a wine cellar which is an experience itself to walk through and view the selection.
Masia Cabellut is also known for its award winning extra virgin olive oil sourced directly from the vineyard.
Whilst staying at the venue, you have the option to enjoy a private chef experience - this was delicious! The chef brings out a selection of unique Spanish dishes providing insight into the unique flavours. A perfect treat for your wedding party the night before the big day.
Surroundings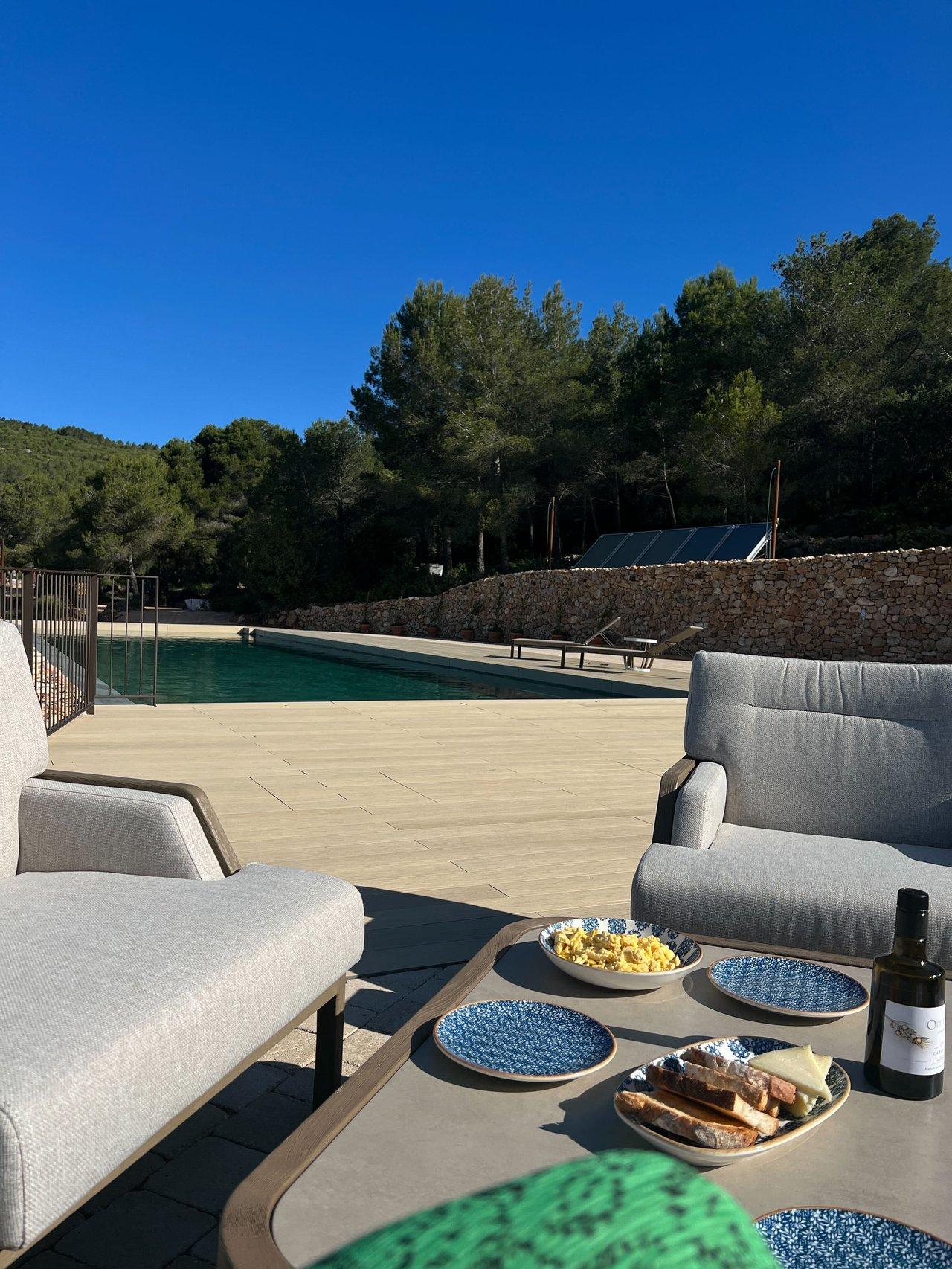 Within a short drive from the venue, you can find a variety of hotels for guests ranging between 3-5 stars, therefore accommodating for all budgets. This small village has a variety of restaurants and bars for guests to enjoy in the build-up to your big day.
A little further out (roughly 40 minutes from the venue) you'll find the iconic town of Sitges. This beautiful town is full of restaurants, bars and shopping. The cobbled streets and palm trees offer a true Spanish feel.
The venue owners are extremely accommodating and you can feel the amount of passion that has gone into this venue. This project has been a passion since 2014 and the level of detail and careful consideration doesn't go unnoticed. If you're looking to have a destination wedding, then Masia Cabellut ticks all boxes. Discover more by visiting their website!
Chloe Lansdowne was a guest of Masia Cabellut on a press trip from 24th May - 26th May 2022.