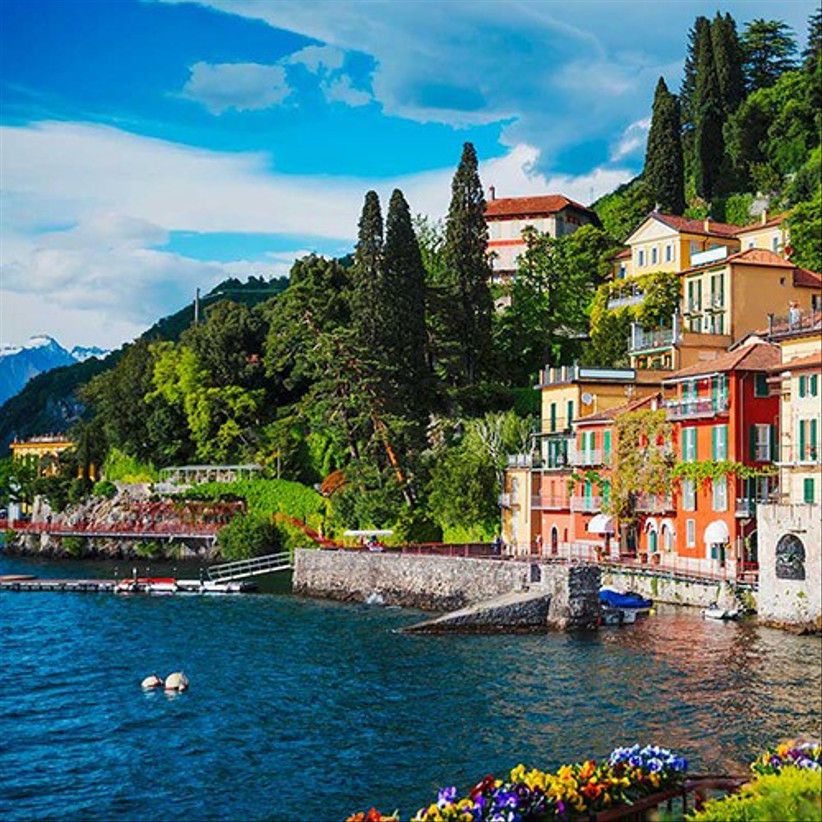 Lake Como is an upscale and glamorous setting in Northern Italy that is popular with many Hollywood stars.
George Clooney, Madonna, Gianni Versace, Sylvester Stallone and Richard Branson have all had homes in Lake Como so you know you will be in fabulous company if you choose to have your wedding abroad in Lake Como.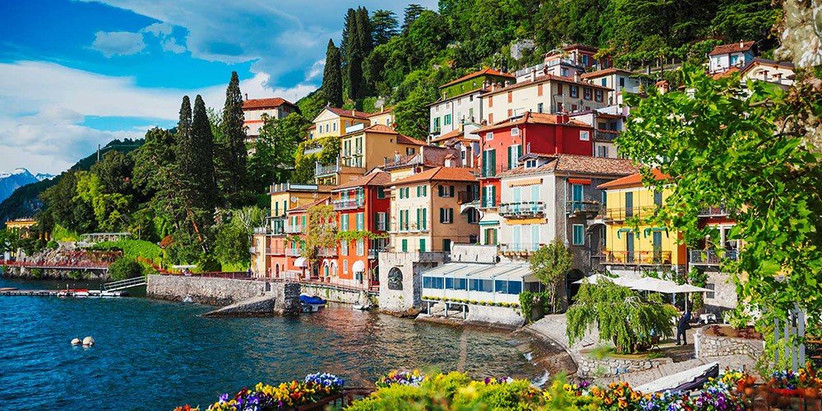 About Lake Como
Idyllic Lake Como is surrounded by stunning mountains and is dotted with tiny towns and villages with panoramic lake views – can you imagine a more romantic setting for your big day? Lake Como itself is 28 miles long and forms a y-shape and has long been a hotspot for the rich and famous looking for a piece of tranquil luxury.
Take a look at some of our favourite towns and villages in and around Lake Como or explore our favourite wedding venues in Lake Como:
Como
The capital of the province, Como sits at the end of the lake and has a vibrant cosmopolitan feel, which makes it a perfect location for a vibrant and glamorous wedding with absolutely stunning scenery and lots of stunning Gothic architecture.
Bellagio
This pretty town sits at the section where the three parts of the lake branch off and is referred to as the pearl of the lake. If it's unbeatable water views you are looking for then Bellagio is the perfect location for your wedding – the town also includes some stunning luxury hotels that would be ideal venues for your Lake Como wedding.
Musso
Musso is a quaint little town on the western shore of Lake Como that has a deep history of marble mining. This idyllic location has ancient houses lined along the coast, giving this pretty town a traditional Italian feel.
Tremezzo
Across the lake from Bellagio, Tremezzo is a small town on the waterfront that is so pretty. Famous for its beautiful botanical gardens, you will be able to have some stunning wedding photos in this picturesque town.
Varenna
Nestled in the eastern shore of Lake Como, Varenna is a pretty village overlooking the centre of Lake Como, across to Bellagio. The pretty fisherman's houses and tiny stone beach make it the perfect destination of a peaceful and more intimate wedding day.
Lake Como's Celebrity Connections
As well as its beauty, Lake Como is also known for its Hollywood connections, take a look at a few of the highlights here.
Casino Royale
In 2006, Casino Royale was filmed at Villa Balbianello – where Daniel Craig made his Bond debut. There were also scenes filmed here for Quantum of Solace, as well as in nearby Lake Garda.
READ MORE: Weddings Abroad in Lake Garda
Star Wars: Episode II Attack of the Clones
As well as in Casino Royale, Villa Balbianello also appeared in Star Wars. Lake Como was chosen as the location for Varykino.
Ocean's Twelve
The super glam Ocean's Twelve featuring Brad Pitt and George Clooney was filmed in Lake Como – keep a look out for the stunning scenery in the final scenes at Night Fox's Mansion.
Start browsing the best Lake Como wedding venues so you can throw your very own stylish celebration.